1878-CC
Variety 104
Obverse 2.2: Medium Level Date, Die Scratch In Shield, Die Crack Rock To Right of (UNI)TED
Reverse D: Polished Reverse of 1877-CC (Type II Shattered Rev A), [mm C,C,TR]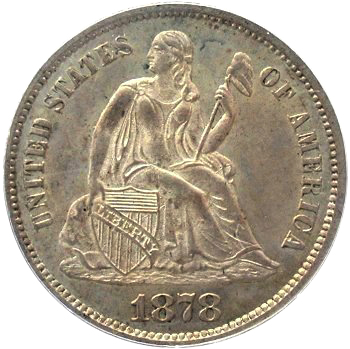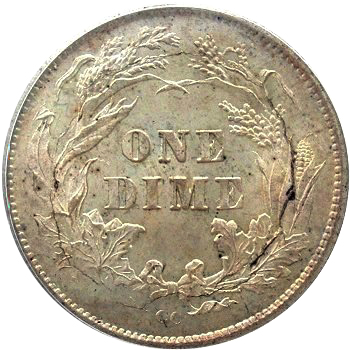 Obverse 2.2 Reverse D
Obverse Diagnostic Point(s) Reverse Diagnostic Point(s)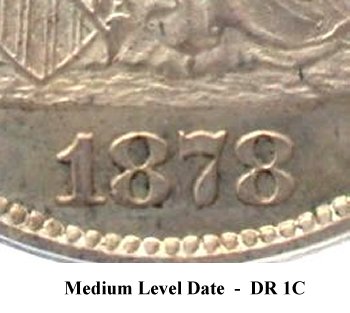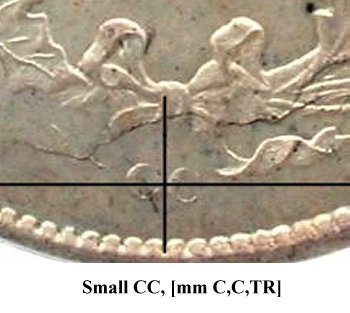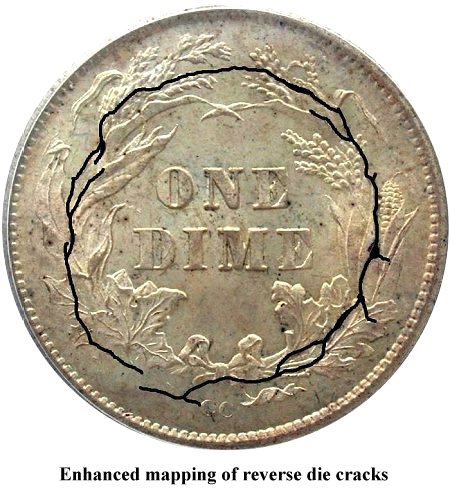 Comments: 1878 Carson City Obverse 2, in its final die state, is paired with a left over and shattered reverse die from 1877 (Type II Reverse A).
1877-CC Type II Reverse A was previously paired with at least two obverse dies during 1877 production. During the pairing with 1877 Obverse 8 (Variety 110), the reverse die is severely cracked. Ahwash speculates that the reverse die shattered, taking away the lower left ribbon and part of the bottom of the left maple leaf. After studying the 1877-CC Type II Variety 110 coin and this 1878-CC shattered reverse coin side by side, I believe that this die was severely polished or lapped throughout its face to produce the remaining coinage needed in 1878. There is reduction in details throughout this die, not only in the lower left wreath area. A shattering or cracking of the die in the lower wreath would have produced retained metal, instead we find a smooth polish surface with little device details in the lower left wreath. Please check 1878-CC Variety 102 and 103. Both Reverse B and C also exhibit similar weakness in the lower left wreath and left ribbon area. I suspect that all three Type II reverse dies may have been left over from 1877 and were polished or lapped before being put into service for 1878 coinage. Unfortunately, I have not been able to match 1878-CC Reverse B or Reverse C with a reverse die from 1877. This will be left up to the future researchers of this series.
During August 2009, Alan Morgan contacted the author to acknowledge the Obverse 2 die scratch in the upper shield but also pointed out the existence of a long thin die scratch starting at Liberty's thumb up through her armpit. A check of the plate coin in late September 2009 confirmed the additional diagnostic point. Following is an image of that diagnostic.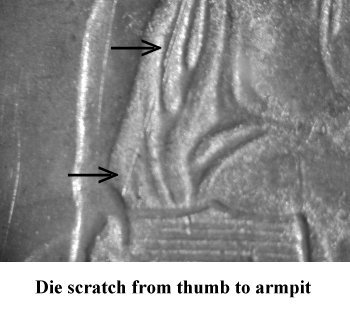 The 1878-CC Polished Reverse is a popular variety and is included in the Top 100 Varieties set. All 1878 Carson City dimes are in strong demand due to low mintage.
Plate Coin: G. Fortin Collection, PCGS MS64 CAC Green