1842
Variety 108
Obverse 7: Proof Die, Medium Date, Slight Upward Slope
Reverse G: Proof Die, Die Line Through A(M)ERICA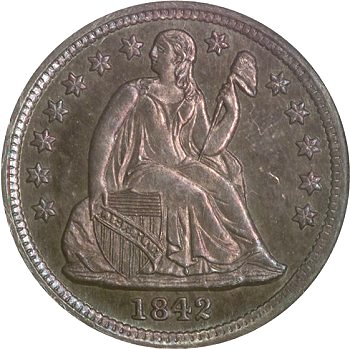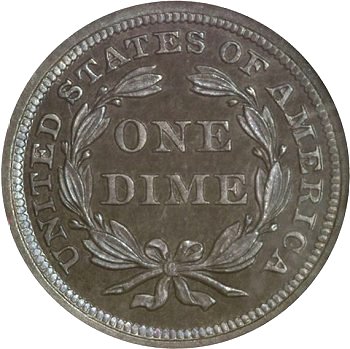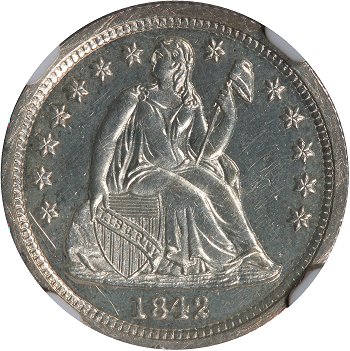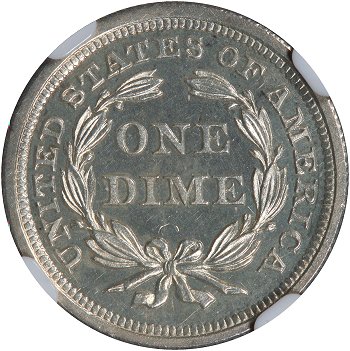 Obverse 7 Reverse G
Obverse Diagnostic Point(s) Reverse Diagnostic Point(s)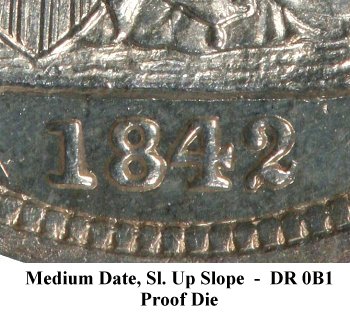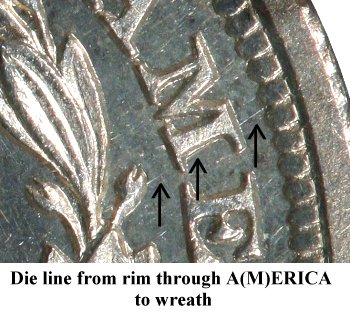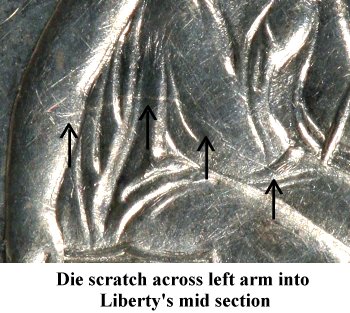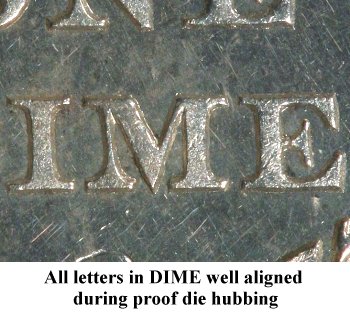 Comments: An extremely rare proof date. Breen estimated that four examples may be extant today.
The date punch on proof die Obverse 7 exhibits DR 0B1 measured position and has a slight upward slope. There is a long die scratch across Liberty's mid section that starts at the left arm below elbow and proceeds right across the gown folds towards the bottom of the pole.
On proof Reverse G, there is a die line starting from rim through the right side of A(M)ERICA and terminating at a right wreath berry. The letters in the denomination are perfectly matches and aligned.
Two 1842 obverse dies have a date punch measurement of DR 0B1, however a comparison of the date placement images for Obverse 1 (Business Strike) and Obverse 7 (Proof) confirms that the two dies are different.
Obverse 1 (Business Strikes) Obverse 7 (Proof Strikes)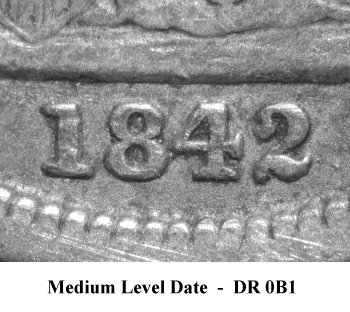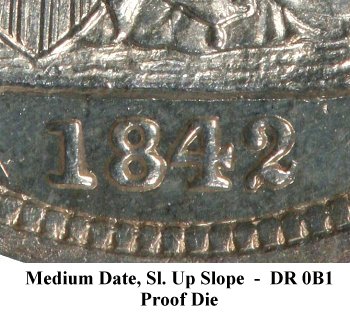 Known 1842 Proof Appearances
Heritage Auction Archives - 2008 Central States Numismatic Society Auction
1. PR65 Cameo NGC. The Kaufman specimen. The Norweb Collection (Bowers and Merena, 10/1987), lot 468; Allen F. Lovejoy (Stack's, 10/1990), lot 211. The Norweb cataloger indicates that the provenance is unknown, but believed to have been obtained circa 1908-1910.
2. PR65 NGC. Floyd T. Starr (Stack's, 10/1992), lot 361; Richmond Collection, Part III (David Lawrence, 3/2005), lot 1237.
3. PR62 NGC. Superior (10/1990), lot 3491.
4. Proof. American Numismatic Society Collection.
5. Proof. Smithsonian Institution.
Plate Coins: Courtesy of Richmond Collection/www.davelawrence.com, NGC PF65 (top images) and Eugene H. Gardner Collection, NGC PF65 Cameo (bottom and macro images)