1854-O
Variety 112
Obverse 3.2: Late Die State, Cracked Obverse At Date, Open 54
Reverse B: Large O, [mm C,C]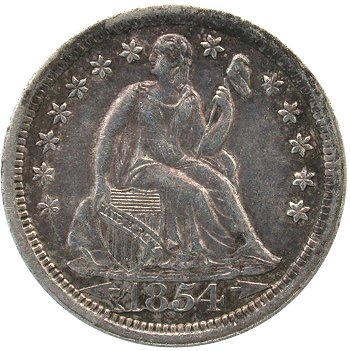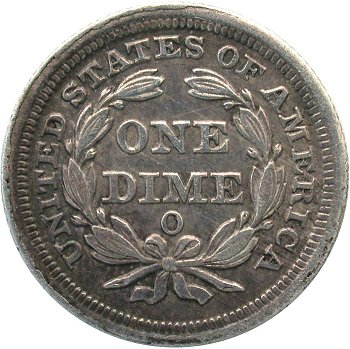 Obverse 3.2 Reverse B
Obverse Diagnostic Point(s) Reverse Diagnostic Point(s)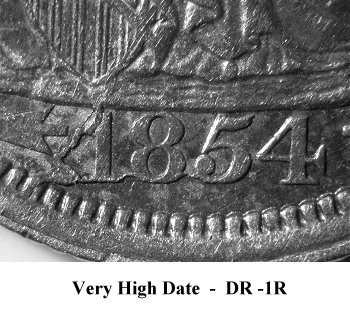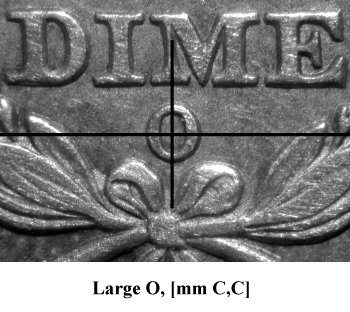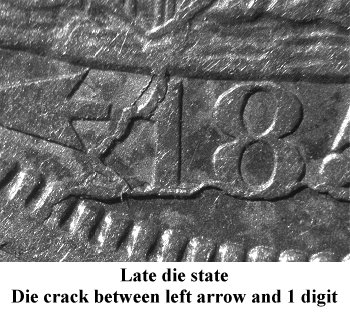 Comments: Interestingly, Obverse 3 is paired with Reverse B to produce another shattered obverse die pairing variety. The severity of the die cracks on Obverse 3 is most noticeable to the left of the base of the 1 digit and across the bottoms of the 185 digits in the date. A small die cud is present between the bottom of the left arrow and the left base of the 1 digit. The obverse die cracks present during the previous die pairing with Reverse C are slightly stronger when Obverse 3 is paired with Reverse B.
Reverse B is in the same die state as seen during its pairing with Shattered Obverse 2. The mintmark is well centered. The reverse rim die cuds on the plate coin match those on the reverse of Variety 102, therefore confirming that the New Orleans mint used Reverse B with two separate shattered obverse dies. Considering the extreme rarity of both Variety 102 and now, Variety 112, it can be theorized that the mint attempted to extract the maximum number of dimes from its badly cracked obverse dies in one production run. They may have paired Reverse B first with the late die state and shattered Obverse 2 until it was not longer fit for any additional coinage, then pairing Reverse B with cracked Obverse 3 until it was badly cracked and no longer usable
The plate coin was purchased from an eBay auction during December 2005. Furious bidding for this very rare die pairing variety resulted in a final price of $512. Presently, it is the only known example and is initially listed as R7.
Plate Coin: G. Fortin Collection, PCGS EF45