1870
Variety 106
Obverse 6: High Level Date, Broken S, Die Crack Through Date
Reverse E: Perfect Die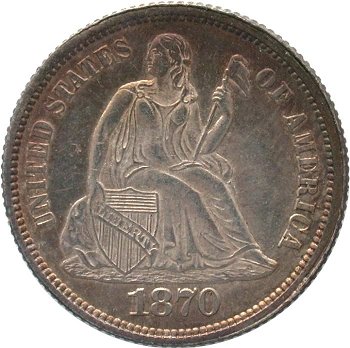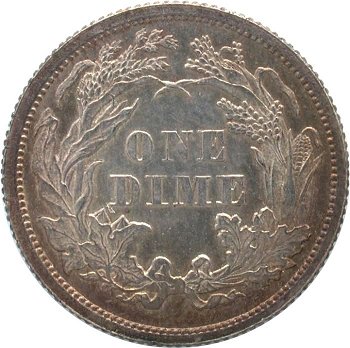 Obverse 6 Reverse E
Obverse Diagnostic Point(s)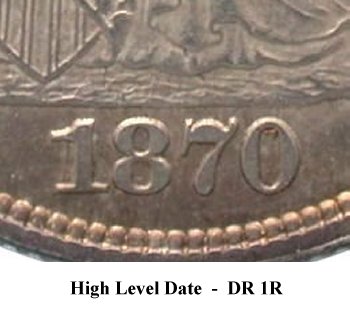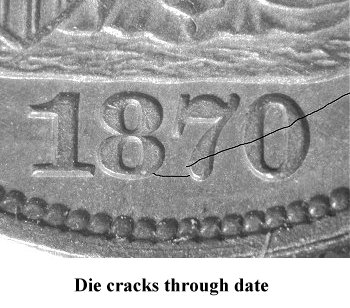 Comments: On Obverse 6, a faint die crack connects the lower bases of the 8 and 7 digits. Another die crack starts at the left side of the lower base of the 7 and travels diagonally across Liberty's foot and up through A(MERICA).
Plate Coin: G. Fortin Collection, MS63
Recently, Paul Bradley has submitted a specimen from the Obverse 6 and Reverse E die pair that could be considered a proof. The fields on both the obverse and reverse are lightly mirrored with faint hairlines. There are very faint traces of the die cracks through 870 digits up into AMERICA, but one needs to know where to look for them. I am hesistant to call this dime a true proof due to the lack of crispness of strike in the obverse legend. Out of curiosity, I checked the Heritage Auction Archives to see if this die pair has been certified as a proof by either PCGS or NGC. Out of eleven proof dimes with photographs, one example was struck with Obverse 6. Therefore at a minimum, we know that a grading service has acknowledged that examples from this die pair can be found with strong proof characteristics. I would welcome comments from website subscribers on this matter.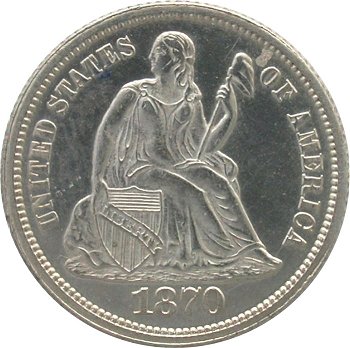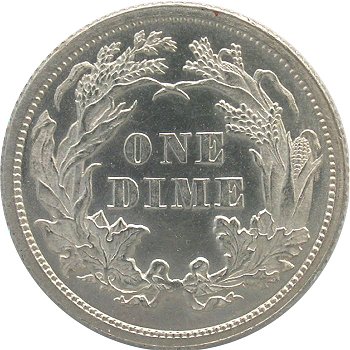 Footnote Plate Coin: Paul Bradley Collection, PF62 or MS62?