1874
With Arrows
Variety 102a
Obverse 2.2: Cracked Die, High Date, Downward Slope, Misplaced 8 Digit
Reverse B: Perfect Die, Slight Die Rotation Right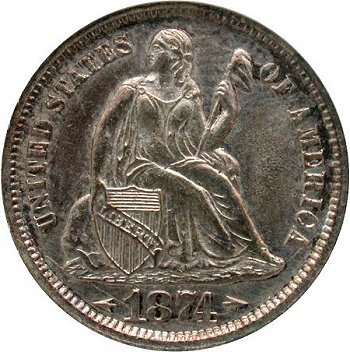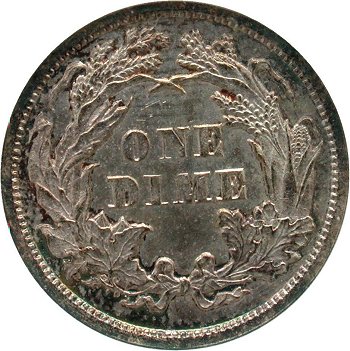 Obverse 2.2 Reverse B
Obverse Diagnostic Point(s)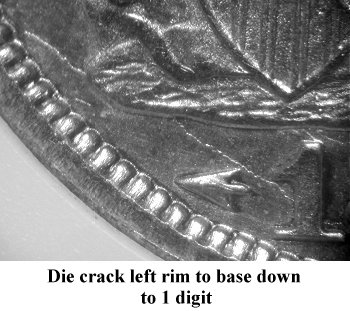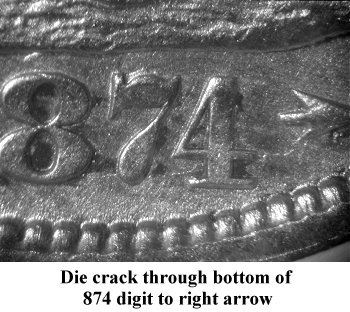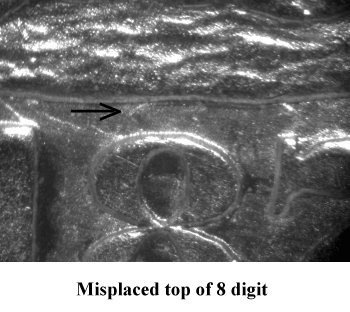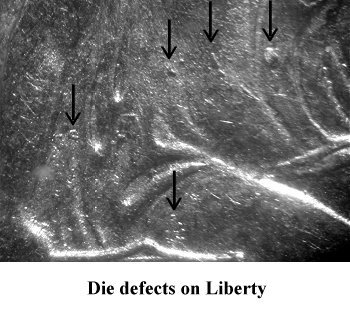 Comments: Ahwash mentions die cracks during a later die state of Obverse 2 in his encyclopedia. The mint state plate coin presents an opportunity to closely examine this later die state obverse die in detail. There are several important anomalies include die cracks, die defects and a misplaced date digit.
The most obvious late die state characteristic is long die crack from rim to left base and then down into the date digits. The die crack proceeds through the bottom of the 874 digits and then up through the right arrow. There is an additional die crack from the foot through AMERIC(A) to rim.
Previously unlisted is the discovery of a faint misplaced top of 8 digit directly below the base. One could argue that this is a repunching artifact but the distance from the final 8 digit punch to the top of the extra 8 suggests a misplaced digit designation may be appropriate.
Liberty's mid section is covered with die defects as illustrated above.
Reverse B is rotated right slightly also as illustrated.
Plate Coin: Rare American Coins Inventory, ANACS MS62