1884-S
Variety 106
Obverse 2: High Date, Downward Slope
Reverse D: Small Bold S, Proof Like [mm Lt,H]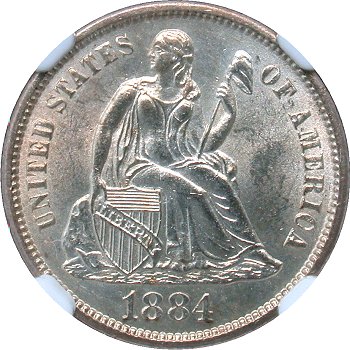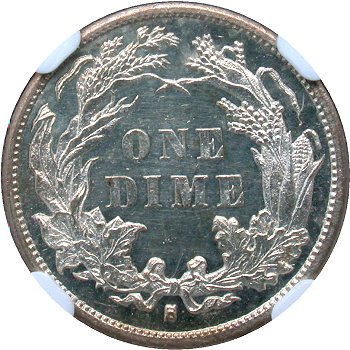 Obverse 2 Reverse D
Obverse Diagnostic Point(s) Reverse Diagnostic Point(s)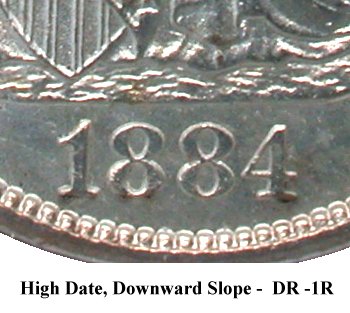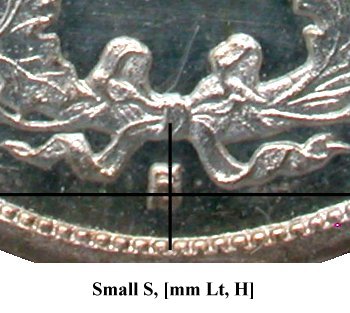 Comments: A new reverse die for the 1884 San Francisco date was discovered by a Heritage cataloguer during lot preparations for the June 2015 Long Beach auction. Lot 3483 was described as, "1884-S 10C MS63 NGC. Fortin-Unlisted. Fortin's obverse 2 is paired to an unlisted tail die. The reverse is in a perfect die state and is fully prooflike, with the mintmark perfectly centered between the ribbon ends. The obverse is frosty with mild abrasions. A bold strike and light golden toning ensure strong eye appeal." The new reverse is labeled as Reverse D.
The mintmark was deeply punched on Reverse D as the appearance is bold and well centered while filling a substantial amount of the space between ribbon ends. This reverse die is also well polished producing proof like fields while Obverse 2 surfaces are frosty. Could this be the Medium S that Kamal Ahwash listed as Ahwash-1 is his ground breaking Encyclopedia while using an 1886-S medium S mintmark image to illustrate? I believe this is doubtful as the illustrated Ahwash-1 obverse die is Obverse 1 and not Obverse 2.
I am often surprised at the new die varieties that surface years after publishing the Liberty Seated dime web-book especially for the 1884 San Francisco date given the number of pieces examined. This new reverse die variety is initially listed as R6.
Plate Coin: Gerry Fortin Rare Coins Inventory, NGC MS63