1873
No Arrows - Closed 3
Variety 106
Obverse 6: Medium Level Date, Broken S, Die Scratch In Lower Shield
Reverse F: Perfect Die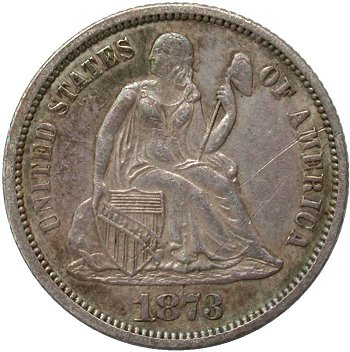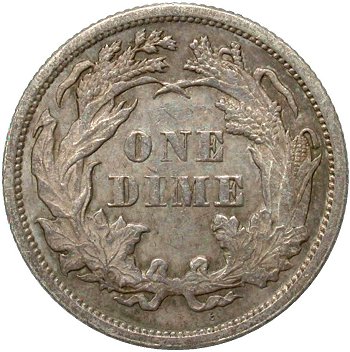 Obverse 6 Reverse F
Obverse Diagnostic Point(s)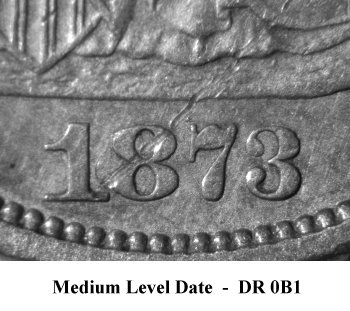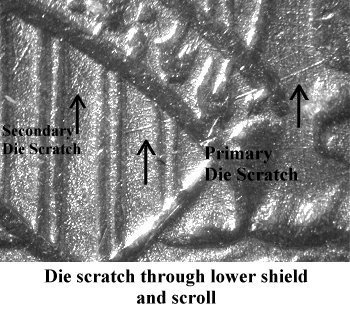 Comments: Die punched is well centered and level with Denticle Ruler measurement 0B1. There are several die scratches traversing the shield on Obverse 6. The most obvious die scratch originates at shield line 6 and proceeds diagonally upward through LIBERT(Y) on the scroll and into the gown. There is a short secondary die scratch between shield lines 6 and 7 and directly below E on the scroll.
Reverse F is perfect in this die state with no die cracks but will start to crack during the die paring with Obverse 6. Reverse F is employed multiple times to strike 1873 No Arrows coinage when exhibiting die cracks. It is paired again with an additional Closed 3 obverse (Obverse 7) and an Open 3 obverse die (Obverse 1).
This Closed 3 obverse and reverse die pair typically comes well struck with full head and wreath details.
Plate Coin: Courtesy EBW Coin, AU55 Details