1890-S
Variety 119
Obverse 13: Date Furthest Left, High Date, Downward Slope
Reverse M.2: Lapped Die, Medium S, [mm C,H,TR4]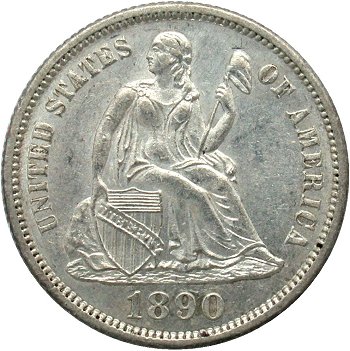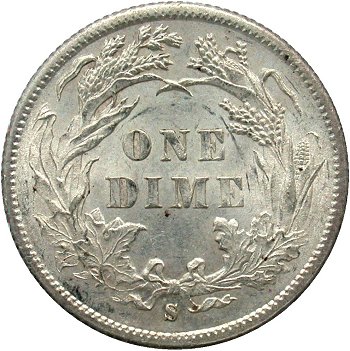 Obverse 13 Reverse M.2
Obverse Diagnostic Point(s) Reverse Diagnostic Point(s)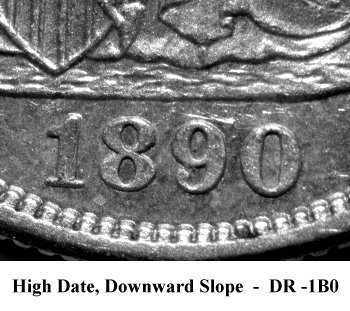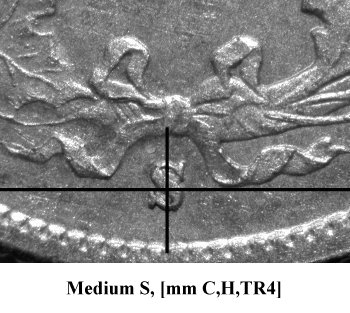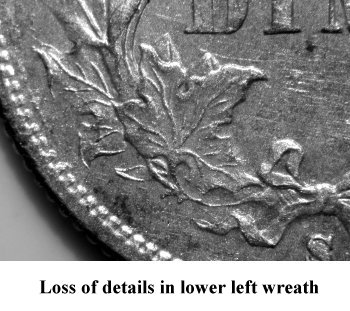 Comparison of Reverse M Mintmark Appearance
Variety 115 Pre Die Lapping Variety 119 Post Die Lapping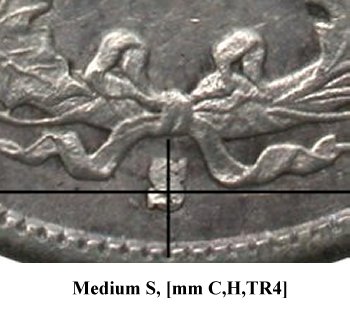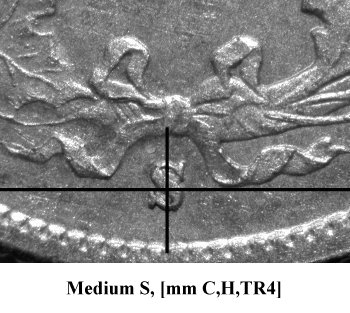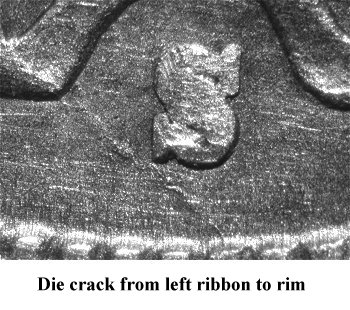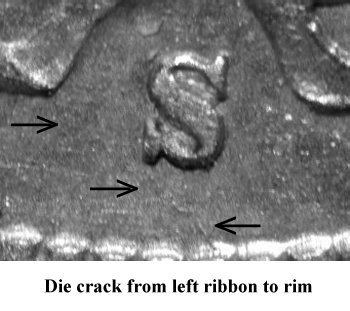 Comments: Obverse 13 is in a very early die state and is easily identified by a date punched with DR measurement of -1B0. This date punch is the furthest left of all 1890-S dies. The obverse area above and to the right of the shield is heavily polished and lacks details. Obverse 13 is paired with a lapped reverse die.
Based on the Medium S mintmark position and tilt and faint die crack to the left of the mintmark, it is proven that Reverse M was lapped before being paired with Obverse 13. The die lapping removed the left ribbon end and portions of a maple leaf in the lower left wreath. Additional device weakness is seen in the corn ear on the right wreath. There are die cracks in the areas where lower wreath device details are effaced.
This incremental 1890 San Francisco obverse was identified by Dr. Tim Cook during late 2013 and submitted for publication in early 2014. Considering the amount of research conducted for this date in the past 15-20 years, it is surprising to have a new obverse die paired with a significantly polished reverse die appearing at this point in time. Examples with the date punch being furthest left should have been detected early on. An initial rarity rating of R6+ is assigned to this die pairing variety and will be adjusted based on incremental pieces surfacing or the lack there of.
Plate Coin: Courtesy of Dr. Tim Cook Collection, AU58