1849-O
Variety 103ab
Obverse 2.2: High Level Date, Lapped Die, Weak Date and Base
Reverse Bad: Small O, [mm C,H], Reverse Rotated Left 65 Degrees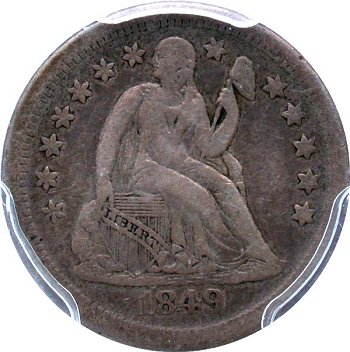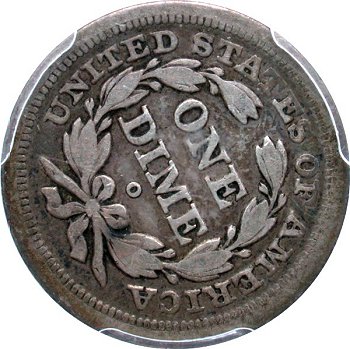 Obverse 2.2 Reverse Bad
Comments: During the 2017 Winter FUN show, Aaron Brummer approached the GFRC table with several noteworthy Liberty Seated dime varieties and die states. One of those offerings was an 1849-O F-103 dime residing in PCGS VF30. This piece had a previously undocumented reverse rotation of 65 degrees left. This example joins two other rotated reverse die states; 85 and 105 degrees left.
With the documentation of three separate reverse misalignments, a strong case can be made for a loose set screw holding the hammer die (reverse) in proper coin turn die alignment.
As a result of the continuing discovery of F-103 rotated reverse positions, these occurences are document as F-103a (lapped obverse die state) along with (b), (c) and (d) suffixes for the individual reverse rotations.
Plate Coin: Courtesy of Aaron Brummer, PCGS VF30