1856-O
Variety 101
Obverse 1 : Medium Level Date, Die Chips Stars 3 to 6, Die Line In Lower Shield
Reverse D.3 : Large O, [mm Rt,H], Polished Die, Weak Legend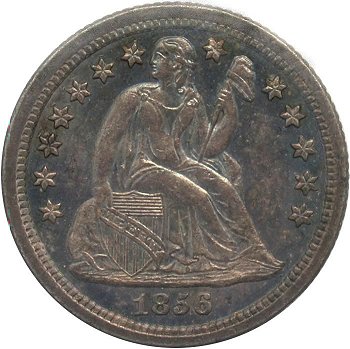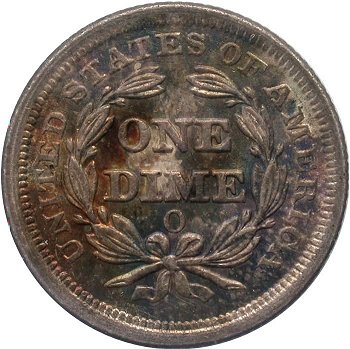 Obverse 1 Reverse D.3
Obverse Diagnostic Point(s) Reverse Diagnostic Point(s)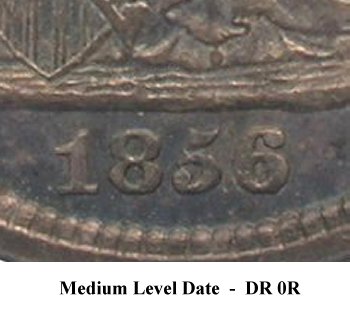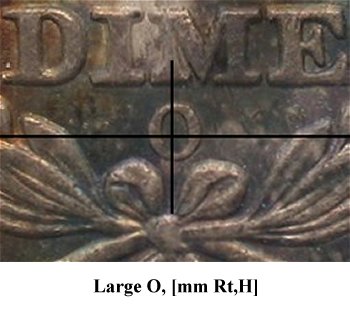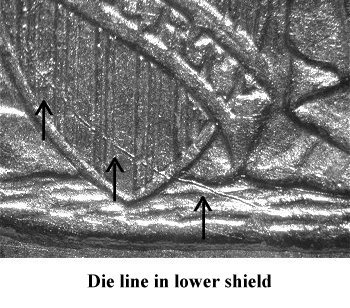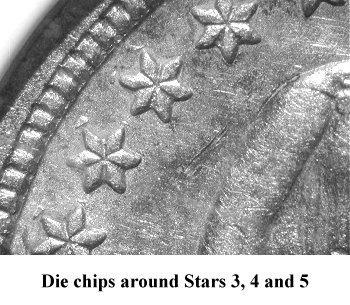 Comments: The early die state of Obverse 1 can be identified by die chips around the points of Star 3 through Star 6 and a die line in the lower shield. This die line starts in the lower shield at shield line 2, proceeds out of the shield at shield line 8 and ends in the base directly above the 5 digit in the date. The obverse is lightly clashed and die cracks are beginning to form on both sides of Liberty's head.
Reverse D was previously paired with Obverse 4 and is presently in its final die state. The die has seen significant lapping or polishing resulting in a weakened legend and wreath elements. The Large O mintmark is also thin and weak. Circulated specimens in lower grades will be found with very weak legends and may grade at least a full grade lower than the obverse.
Reverse A and Reverse D Identification
Reverse A Reverse D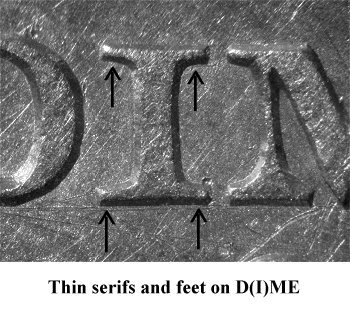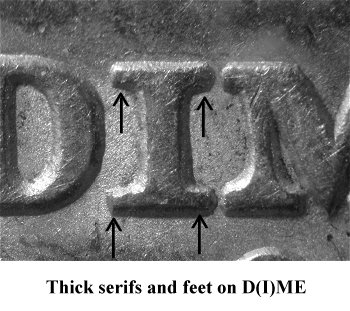 During July 2005, I changed the designation of Variety 101 reverse die from late die state Reverse A.3 to late die state Reverse D.3. Both Reverse A and Reverse D have seen considerable polishing during their usage. Due to similar Large O mintmark positions, it is very difficult to identify the differences between late die states of Reverse A and Reverse D. After much examinations, I have found a die marker that does facilitate the separation of the two reverse dies during their late die states. The die marker is the shape of the serifs and feet on D(I)ME. On Reverse A, the serifs and feet are thin, while on Reverse D, the serifs and feet are noticeably thicker. See the new photographs above for a comparison of D(I)ME between Reverse A and Reverse D.
Plate Coin: G. Fortin Collection, PCGS MS64 CAC Green ex. Jim Gray Collection