1856-O
Variety 105
Obverse 3: Repunched 56 Down, Rusted Die
Reverse A.2: Large O, Late Die State, Minimal Traces of Die Lines From Rim To (UNITED)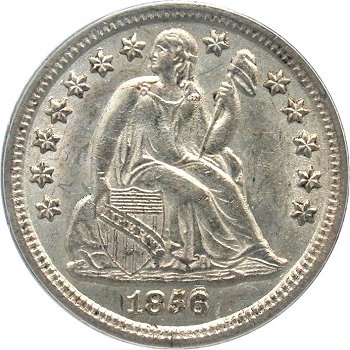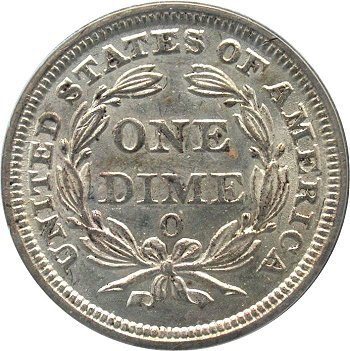 Obverse 3 Reverse A.2
Obverse Diagnostic Point(s) Reverse Diagnostic Point(s)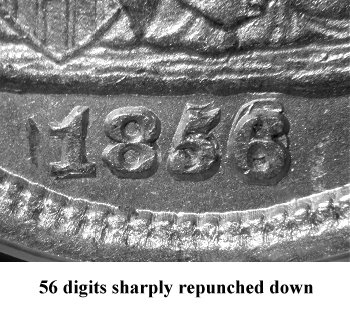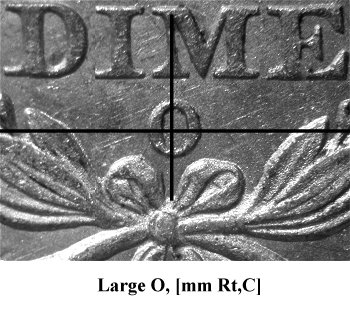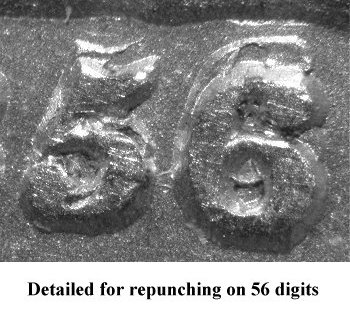 Comments: The final date punch on Obverse 3 has been repunched in a clockwise downward direction over the previous date punch. Significant traces of the previous date digits are visible below the 1 digit and above and within the 56 digits. Die chips are visible around Stars 3 through 6. Obverse 3 is slightly rusted and generally found weakly struck.
Reverse A, while in the same late die state as Variety 104a, is paired with Obverse 3 to produce additional coinage. Greer indicates that this variety is difficult to locate in grades above VF.
Within the Seated dime series, this variety ranks as one of the boldest repunched dates available to collectors and is included in the Top 100 Varieties set. The plate coin remains as the finest known example of Variety 105 at this time.
Plate Coin: G. Fortin Collection, PCGS MS62 CAC Green