1875-S
S In Wreath
Variety 104
Obverse 2: Medium Level Date, Broken S, Clashed Die
Reverse A: Medium S, [mm Rt,L], Clashed Die, Faint Die Crack Below Right Ribbon End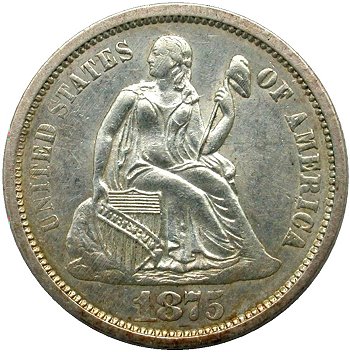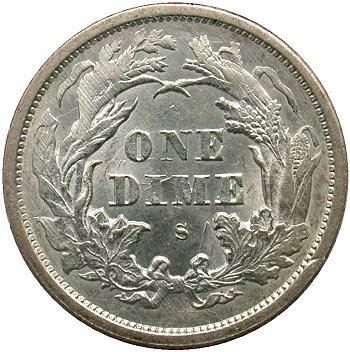 Obverse 2 Reverse A
Obverse Diagnostic Point(s) Reverse Diagnostic Point(s)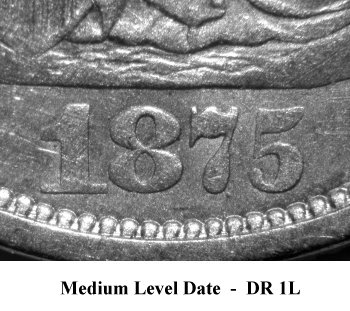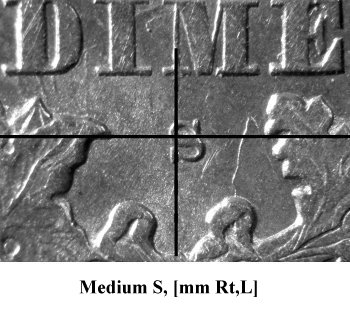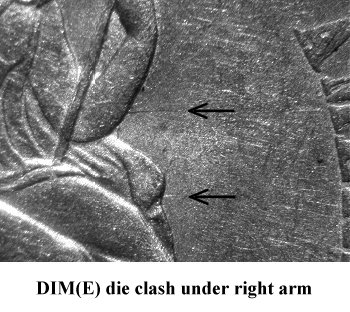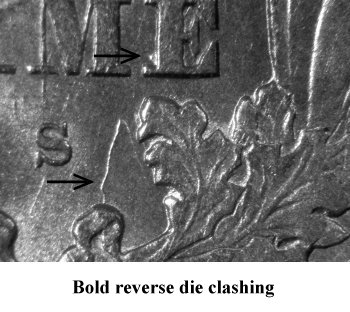 Comments: Obverse 2 is initially paired with Reverse A. During this die pairing, Obverse 2 strike quality is quite good with bold head and shield details. Note how the legend UNITED STATES OF AMERICA is weakly hubbed into this working die along with a weak date punch. Due to low quality obverse die preparation, flat strikes are common for Obverse 2 especially during later die states. The 1 digit in the date is positioned closer to the denticles than that of Obverse 1. The first S in STATES is broken while the lower shield details are marginal.
Reverse A begins to show a die crack starting from the left ribbon end across to slightly below the right ribbon end and then down to the rim. Reverse A will continue to degrade once paired with Obverse 1 for more coinage.
Obverse 2 and Reverse A are heavily clashed.
Plate Coin: G. Fortin Collection, AU58