1875-S
S In Wreath
Variety 106
Obverse 2.2: Severely Eroded Die, Medium Level Date, Broken S and O
Reverse E: Medium S, [mm Rt,L], Die Crack In Lower Left Wreath to 9:00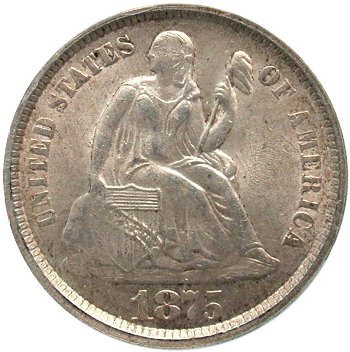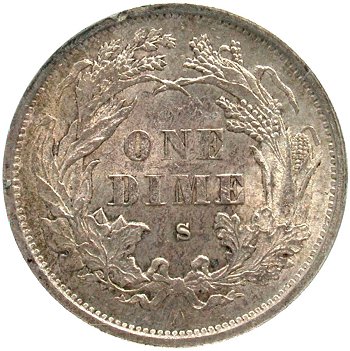 Obverse 2.2 Reverse E
Obverse Diagnostic Point(s) Reverse Diagnostic Point(s)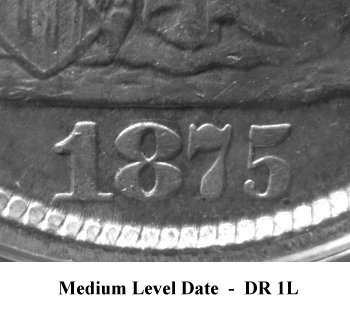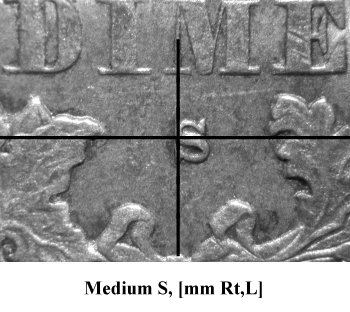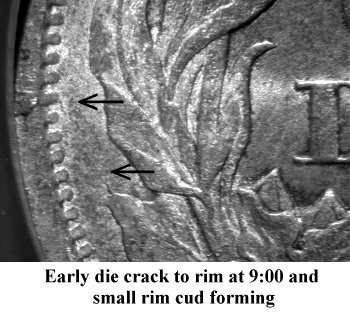 Comments: Regardless of the Obverse 2 die state and poor condition, it is paired with a third In Wreath die for more coinage. At this point, Obverse 2 is badly eroded with no head details, very weak legend and the lower shield nearly effaced. 1875-S In Wreath dimes in this late die state appear to grade at least one full grade lower due to eroded die quality. The plate coin is good example as it has lovely original toning and is essentially mark free but only graded MS62 at ANACS.
The reverse mintmark placement on In Wreath dimes are similar and of no use as a diagnostic tool. Checking the images below, the left edge of the S mintmark is consistently placed directly under the left upright of DI(M)E. Variety specialist have no choice but to use die clash marks and die cracks to separate Reverses A, C, D and E. For Reverse B, the mintmark is positioned slightly lower than on the other reverse dies.
Mintmark Placement Comparison
Reverse A Reverse C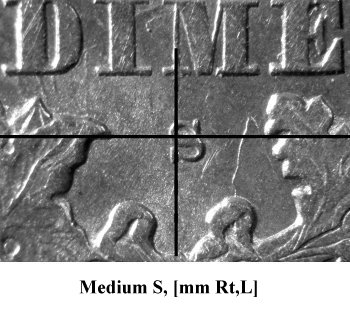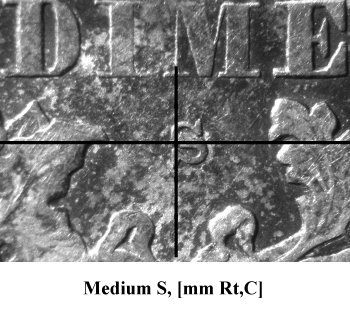 Reverse D Reverse E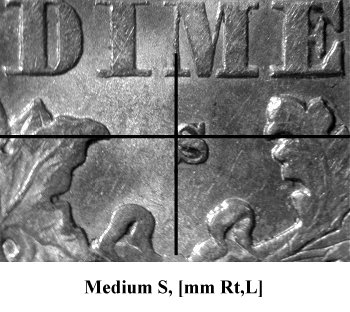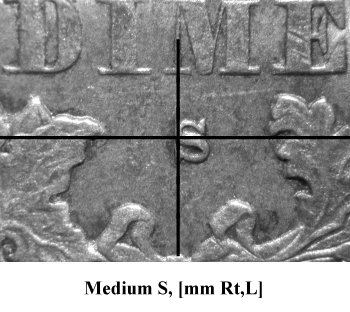 The die cracks on Reverse D and Reverse E are quite similar and that careful study to differentiate. Isolating Variety 105a from Variety 106 and 106a must be done back on die crack characteristics in the lower left wreath. For Reverse E, the die crack starts at a point on the rim that is slightly higher than Reverse D. A detailed comparison via macro images is provided in the Variety 106a listing.
Plate Coin: G. Fortin Collection, ANACS MS62