1890-S
Variety 102a
Obverse 2: Doubled Die Obverse, Medium Date, Downward Slope, Die Scratch In Base
Reverse A.3: Cracked and Heavily Polished Die, Medium S, [mm Lt,H]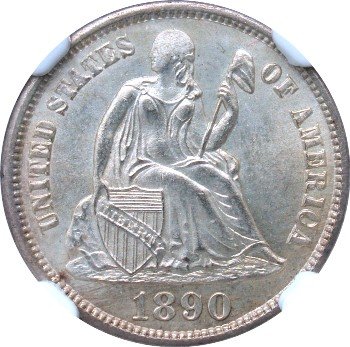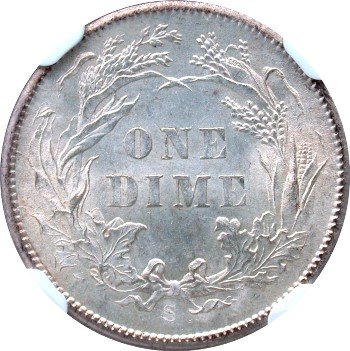 Obverse 2 Reverse A.3
Obverse Diagnostic Point(s) Reverse Diagnostic Point(s)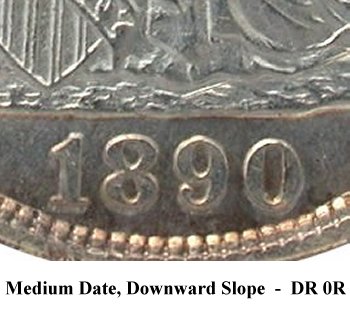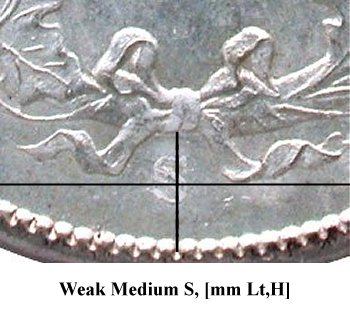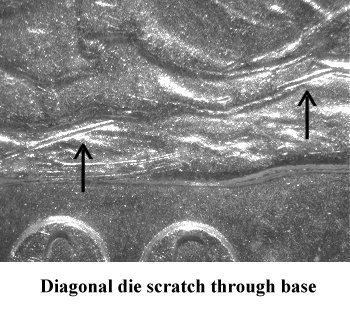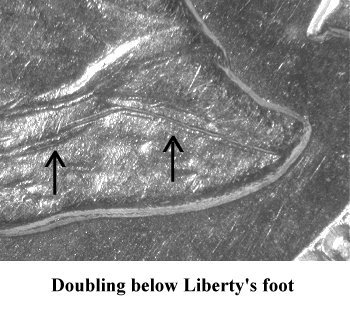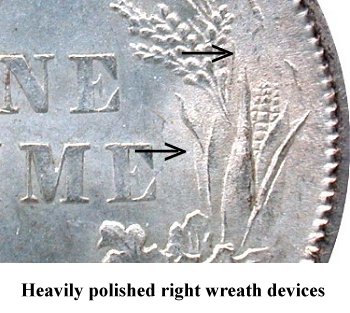 Comments: Reverse A is approaching or is at terminal die state. All reverse devices are weak and filled with metal stress lines resulting from excess die wear. The device weakness is uniform across the die including a weak remaining Medium S mintmark punch. Wreath leaves at 9:00 at heavily polished with several bold die cracks connecting the leaves to the rim. Similarly, the right wreath has been polished with significant loss of corn ear details.
Obverse 2 continues to exhibit bold die doubling in multiple locations including the horizontal shield lines, throughout AMERICA, lower gown line and below Liberty's foot. There is a dramatic difference between Obverse 2 and Reverse A die characteristics. Obverse 2 devices are crisply impressed on the plate coin with no signs of die lapping or polishing. Reverse A is eroded, cracked and heavily polished.
Both Variety 102 die states are rated R5 in terms of rarity as few examples have been seen or reported. The author suspects that the plate coin was most likely struck near the end of Reverse A die life.
The above plate and discovery coin was located at the February 2016 Lakeland, Florida coin show but the author and subsequently sold.
Plate Coin: Courtesy of Grey Soldier Collection, NGC MS64