Top 25 Liberty Seated Dime Shattered Dies
The collecting of Seated coinage with shattered dies and die cuds is quite popular among Liberty Seated Collector Club members with certain individuals being quite passionate on the matter. E-Gobrecht and Gobrecht Journal advertisements for buying Seated coins with major die cracks are prevalent. Therefore, it was obvious that the first Seated Dime specialty set should focus on the major shattered dies in that series. Seated dimes shattered dies can be spectacular in appearance regardless of whether in circulated or in mint state condition. The 1839 Pie Shaped shattered obverse is by far the key date to the Top 100 Variety set and now the Top 25 Shattered die set. The boldly cracked reverse of 1839-O designated F-104 and appropriately called "The Cobweb" shattered reverse has been popular for years among LSCC members. The 1854-O shattered obverse with its massive raised die crack through the date and arrows is another highly desirable prize for variety specialists. Some of you may question the difference between a cracked die and a shattered die? To be included in the "shattered dies set", each cracked die variety must be significant and in a late die state. The late die states should constitute and justify the labeling as a shattered die.

Availability is important if collectors attempt a new collecting objective. Selecting candidates for the Top 25 Shattered Dies set was a balance of eye appeal and the ability to locate examples with diligent searching. Some of the set entries are easily found with the 1839-O Cobweb reverse coming to mind along with the 1875 Carson City and San Francisco entries. Other set listings are obviously rare. They will take years of searching at local and national coin shows. Having a strong network within the LSCC is useful for having first claim on duplicates that may appear from time to time.

Shattered dies by their nature result from a progressive degradation of working dies due to striking force stress on the die steel. Many of the set entries feature different and progressive die states whereby the dies disintegrate. I expect that collectors will question the die state requirements for a dime with shattered die attributes to be acceptable for inclusion in the Top 25 set. For clarity on this point, each listing will have an explanation for its cracked die attributes that must be visible and constitutes the die state threshold for inclusion into the Top 25 set.

Two noted Liberty Seated Dime varieties collectors and advanced experts, Tim Cook and Jason Feldman, aided with the definition of the Top 25 Shattered die candidates and final selection. I wish to thank them for their inputs and look forward to working with them on future Top 25 set projects.

Following are the Top 25 Shattered Dies in table format. By clicking on the date link for each Top 25 Shattered Die variety, you will access a full page web-book descriptions. Beyond the table is a pictorial guide and description of each of the late die state varieties. I hope that you enjoy this exciting collecting challenge!
Top 25 Liberty Seated Dime Shattered Dies
Click on the underlined dates to see images and web-book descriptions of each Top 25 shattered die.
| | | | | |
| --- | --- | --- | --- | --- |
| Variety Number | Date | Variety Location | Fortin Reference | Descriptions and Requirement for Variety |
| 1 | | Obverse | 101c | Large Date, pie shaped die cracks on obverse with heavily clashed obverse and reverse dies. |
| 2 | | Reverse | 103b | Heavy vertical die crack on reverse, die crack starts at STATE(E) then down through O(N)E and D(I)ME into left bow knot. Die crack must be complete from top to bottom rims for variety. |
| 3 | | Obverse | 106a | Double die cracks starting between Stars 6 and 7 and at Star 7, then down through Liberty passing on right side of (1)891. Both die cracks at Stars 6 and 7 must be visible for variety. |
| 4 | | Obverse | 110a | Strong obverse die crack starting at Star 7 proceeding diagonally through Liberty, then to rim below foot. |
| 5 | | Obverse | 111a | Strong obverse die crack starting at Star 6 proceeding diagonally through Liberty, then to rim below foot. Reverse die crack from rim through ST(AT)ES must be visible for variety. |
| 6 | | Obverse | 104 | Strong obverse die crack starting at Star 2 proceeding downward through lower shield and exiting to lower rim across right side of 3 digit. The die crack must rise above the shield lines for variety. |
| 7 | | Obverse | 105c | Three full Pie Shaped die cracks meeting in center of obverse die are necessary for the variety. The key variety for Top 25 set |
| 8 | | Reverse | 104a | A long horizontal reverse die crack starting at UN(I)TED through left wreath and across DIME bisects the die. The die crack must be a late die state and fully bisect the reverse die for the variety. |
| 9 | | Reverse | 106a | Cobweb Shattered reverse die with die cracks throughout legend and ribbon bow. There must be raised metal over STAT(ES) for the variety. |
| 10 | | Obverse | 104a | Pie shaped die cracks start at 4:00 and 7:00 and join at Liberty's upper left leg. Both die cracks must be fully visible for variety. |
| 11 | | Reverse | 105 | Reverse of 1842-O; multiple die cracks from rim through legend into wreath leaves. Die cracks at UNIT(E)D, STAT(E)S, A(M)ER(I)C(A) must be strong for the variety. |
| 12 | | Reverse | 102a | Medium O mintmark and shattered reverse die, major diagnostic is a reverse die crack from rim through STA(TES O)F. |
| 13 | | Obverse | 110b | Severe obverse die crack across the bottom of the date digits. Die crack must be heavy and thick for the variety. |
| 14 | | Reverse | Hubbed 105 | Shattered reverse with heavy die crack from rim down through STATE(S), then right wreath. A second major die crack through UNIT(E)D. Die cracks must be heavy and "ride" on top of the right wreath for the variety. |
| 15 | | Obverse | 104a | Shattered obverse die, major die cracks visible in the base above the 8 digit and to the left of the base near Star 1. Raised metal between Star 1 and the rock are necessary for variety. |
| 16 | | Obverse | 102 | Dramatic shattered obverse die, a massive circular die crack through the date and arrows. Die crack must be bold from Star 1, through arrows and date and up to Star 13 for variety. |
| 17 | | Reverse | 108b | Shattered reverse die most evident at the left stem end and rim. Raised metal between the tip of left stem and wreath must be present for the variety. |
| 18 | | Reverse | 101 | Dramatic shattered reverse die with circular die cracks throughout wreath but concentrated mostly between 5:00 - 11:00. Raised metal is necessary at major 9:00 crack for variety. |
| 19 | | Reverse | 105a | Second shattered In Wreath reverse die with die cracks concentrated on left and right wreaths exiting to rim. Major die crack exiting to rim at 9:00 with raise metal is necessary for variety. |
| 20 | | Reverse | 105a | Shattered reverse die with circular die cracks throughout wreath from 1:00 through 10:00. Heavy die cracks from 8:00 to 10:00 with rim exit at 9:00 are necessary for variety. |
| 21 | | Reverse | 107a | Shattered reverse die with circular die cracks throughout wreath but primary concentration between 8:00 to 10:00 with heavy cracks necessary for variety. |
| 22 | | Obverse | 109 | Circular Cracked Obverse, die cracks connect UNITED STATES OF AMERICA with date and Liberty's head. Strong die crack through Liberty's head to rim at 1:00 and die cracks through date are necessary for variety. |
| 23 | | Reverse | 107 | Shattered Reverse Die, spectacular die cracks form a radial inner ring that covers about 60% of the wreath and has four entry points to the rim. The die crack from bow knot down to rim at right side of S mintmark is necessary for variety. |
| 24 | | Reverse | 108 | The reverse die is completely shattered with seven different die breaks into the rim. A major die break between 8:00 to 9:00 with raised metal approaching cud formation is necessary for variety. |
| 25 | | Reverse | 121 | The reverse die is completely shattered with seven different die breaks into the rim. Primary concentration of die breaks between 6:00 to 9:00 with raised metal on the wreath leaf at 9:00 necessary for variety. |
Top 25 Liberty Seated Dime Shattered Dies Gallery
Shattered Die #1 - 1837 – F-101c
Pie Shaped Shattered Obverse and Clashed Dies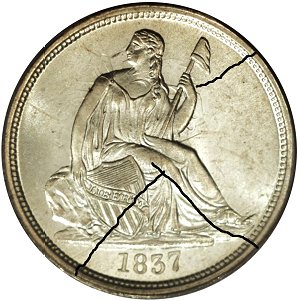 Shattered Die #2 - 1838 – F-103b
Vertically Cracked Reverse Die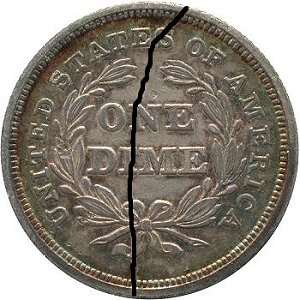 Shattered Die #3 - 1838 – F-106a
Very Late Die State of Cracked Obverse #1
Shattered Die #4 - 1838 – F-110a
Late Die State Cracked Obverse #2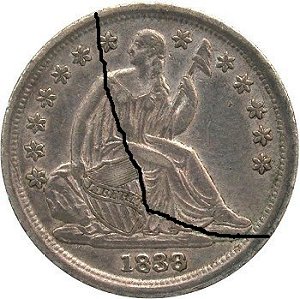 Shattered Die #5 - 1838 – F-111a
Late Die State Cracked Obverse #3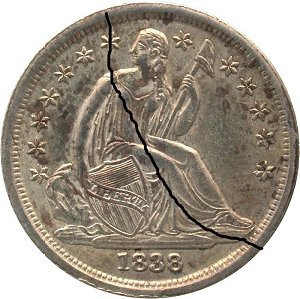 Shattered Die #6 - 1839 – F-104
Late Die State Cracked Obverse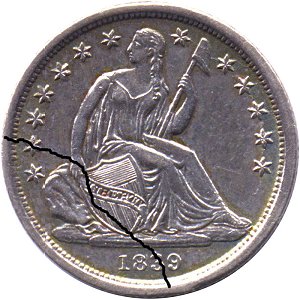 Shattered Die #7 - 1839 – F-105c
Pie Shattered Obverse
Shattered Die #8 - 1839-O – F-104a
Bisecting Reverse Die Crack and Repunched O Mintmark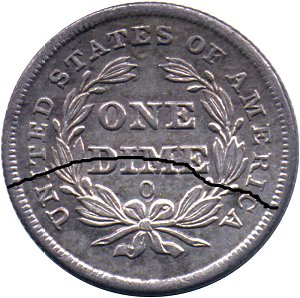 Shattered Die #9 - 1839-O – F-106a
Shattered Cobweb Reverse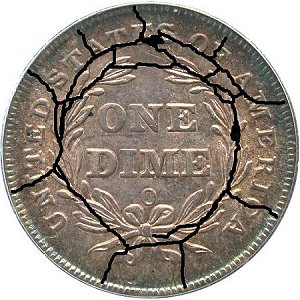 Shattered Die #10 - 1840 No Drapery – F-104a
Pie Shaped Cracked Obverse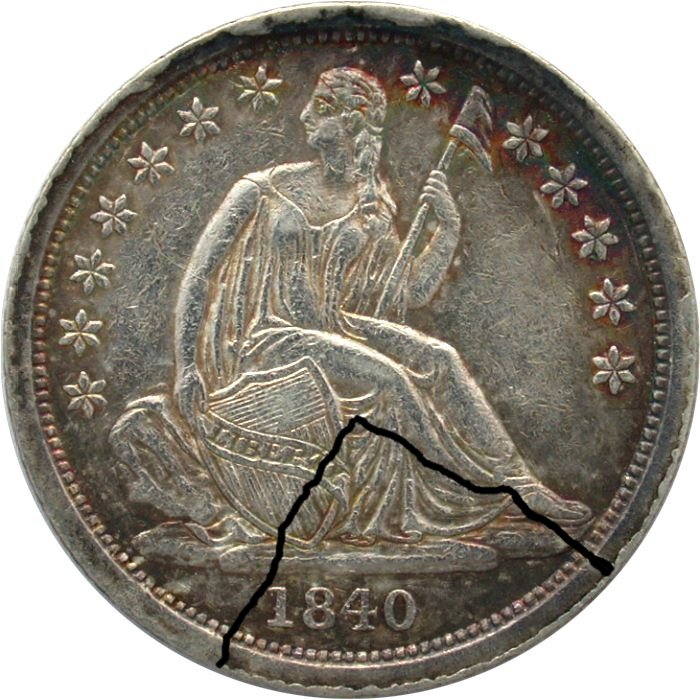 Shattered Die #11 - 1841-O Open Bud Reverse – F-105
Cracked Reverse Die of 1842-O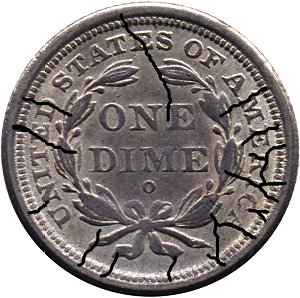 Shattered Die #12 - 1842-O – F-102a
Shattered Reverse #2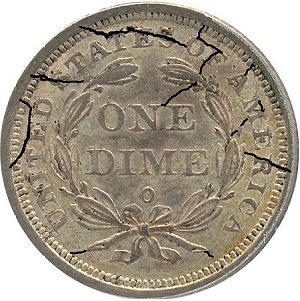 Shattered Die #13 - 1852 – F-110b
Severe Die Crack at Date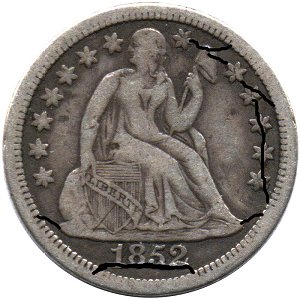 Shattered Die #14 - 1853 With Arrow – F-105 Hubbed Die
Shattered Reverse Die
Shattered Die #15 - 1853-O – F-104a
Shattered Obverse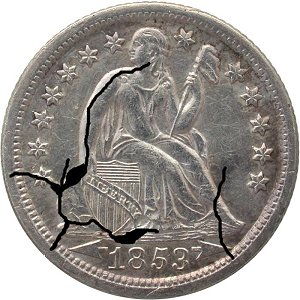 Shattered Die #16 - 1854-O – F-102
Shattered Obverse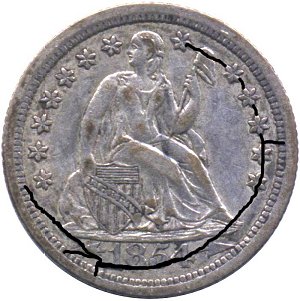 Shattered Die #17 - 1856-O – F-108b
Shattered Lower Reverse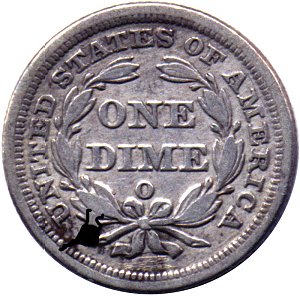 Shattered Die #18 - 1875-S In Wreath – F-101
Shattered Reverse Die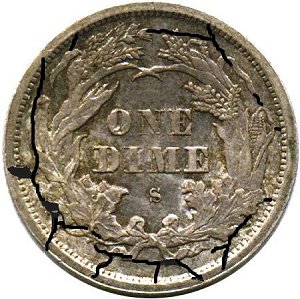 Shattered Die #19 - 1875-S In Wreath – F-105a
Shattered Reverse Die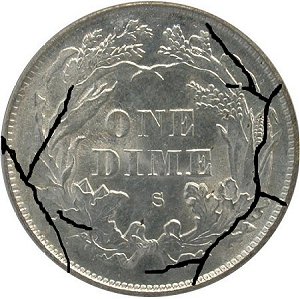 Shattered Die #20 - 1875-CC In Wreath – F-105a
Shattered Reverse Die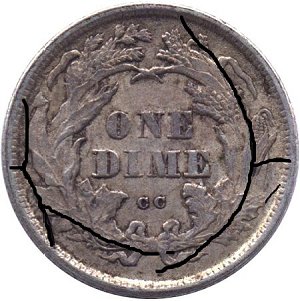 Shattered Die #21 - 1875-CC In Wreath – F-107a
Shattered Reverse Die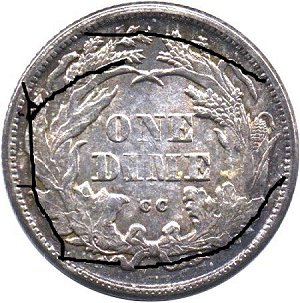 Shattered Die #22 - 1875-CC In Wreath – F-109
Shattered Obverse Die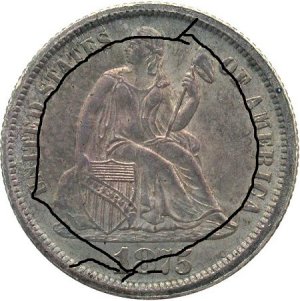 Shattered Die #23 - 1887-S – F-107
Shattered Reverse Die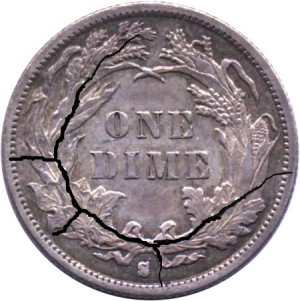 Shattered Die #24 - 1891-O – F-108
Shattered Reverse Die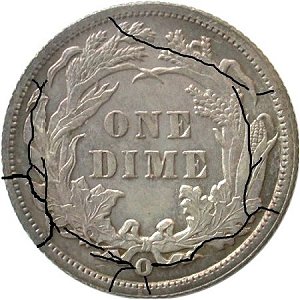 Shattered Die #25 - 1891-O – F-121
Shattered Reverse Die