Welcome to the web-book resource for Liberty Seated Dime varieties and Gerry Fortin Rare Coins; desirable coins for Seated and Bust collectors.

Gerry Fortin has been collecting and researching Liberty Seated Dime since 1988 and launched his Liberty Seated Dimes - Die Varieties, 1837 - 1891 web-book during 2004. The web-book expanded die variety knowledge beyond the efforts of Kamal Ahwash and Brian Greer in their respective numismatic research guides. Contained within the Fortin web-book is a wealth of new information about Liberty Seated Dime die varieties, die states and rarity coupled with a presentation format using exceptional photography.

You are free to link to web-book content for numismatic purposes, while written content, images, rarity estimates and pricing guides are copyrighted by the author and must be accurately referenced as to the source in other paper or online publications.


Authorized Dealer, Member ANA, FUN, JRCS and LSCC
Coin Show Schedule

Gettysburg Battlefield Show - September 20, 2014 - Buying/Selling Vest Pocket
Westford, MA Show - September 28, 2014 - Buying Only
NH Coin Expo - October 10 - 11, 2014 - Buying/Selling Vest Pocket
Denver Coin Expo - October 24 - 26, 2014 - Table 210
Whitman Baltimore Coin Expo - October 30 - November 2, 2014 - Table 1505
Orlando FUN Show - January 8 - 11, 2015 - Table with W. David Perkins
Whitman Baltimore Coin Expo - March 26 - 28, 2015 - Table with W. David Perkins

What's New?

September 18: Finally taking time to add new web-book varieties. The first is a plate coin for the 1891-O F-102a variety from Scott Grieb. With his dime in hand, the double die clashing with two different reverse dies was identified and properly described. See the New Discoveries link or 1891-O F-102a page for details.

September 17: The North Georgia Seated dime collections are updated in the Open Registry. Also Dale Miller updates the balance of his sets in the Open Registry. Both individuals are systematically upgrading and employing CAC validation for their seated coinage holdings.

September 12: Completed Basic US Pre 1965 Coinage Type Set in Open Registry as defined by Matt Berry. His set is loaded and available. Separated out proof Seated dime from the Seated Dime AU/MS price list into a new Seated Dimes Proofs price list.

September 9: Roger Terry publishes a Basic Seated Type Set with 71% CAC approval in the Open Registry...very impressive! I've loaded a portion of Dale Miller's Open Registry updates; many sets in different seated dime categories and worth a look as Dale continues to patiently build many advanced sets. There are more customer updates to be loaded and will do a portion each day.

September 8: An advanced West Coast seated dime specialist publishes his Top 25 MPD set with 33% CAC approved. The Matt Oliva set is the fourth published in this Open Registry category. John Okerson publishes his Basic Seated Type set.

Liberty Seated Collectors Club - 2013 Hall of Fame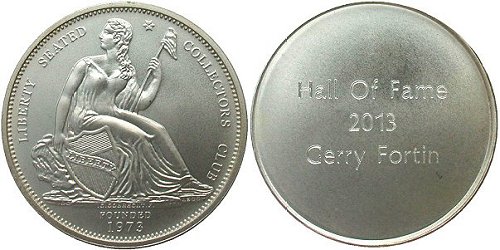 PCGS/NGC Awards - Liberty Seated Dime Collection
PCGS: Best Presented Sets 2006, Best Classic Sets 2007 - 2013, Platinum Level 2014
NGC: Best Presented Sets of 2004, Most Informative Signature Set 2007
Collectors Weekly Website - 2009 Hall of Fame Award, December 2009 Interview
Welcome to the definitive resource for Estes Model Rocketry Kit collectors.

Estes Model Rocket Kit Collecting Guide

Individual kit database pages are updated and reflect eBay sales from February 2008 through June 2011. Recorded pricing observation in the database now stands at 9680 entries. All updated kit prices and totals are black colored. Due to a very busy 2011 business schedule, I had no choice but to place the Estes Kit Database on hold. I did manage to collect eBay kit pricing into the June 2011 timeframe and those prices are published. There are a number of new kit variety listings so checking the revised database could be worthwhile for serious collectors.

What's New?

May 5: Starting to update eBay pricing results in all three databases for the March-May 2013 timeframe. This update will be done by end of day May 6. My apology for not paying attention to the Estes databases for a long period of time. On average, it appears prices for original and problem free Estes kits are climbing.

February 5: Added K-45 1970 and 1971 Astron Beta, 1340 Scud B and 1367 Vindicator individual kit description pages. Added K-23 Big Bertha pictorial guide page.

January 6: Added rare K Kit group (X-Ray, Beta, Apogee II, Big Bertha, Thor Agena) with pre Damon yellow hang tags and countdown hang tags to the database and pictorial guide. I won the X-Ray and Apogee II kit and should have big higher for the Beta kit. This was a once in several year opportunity to acquire early K Kits in original condition.

The pictorial pages also provide links into kit description pages inside the database. To my knowledge, this Estes database is becoming the most comprehensive study of Estes model rocket kit packaging and artwork varieties ever assembled.