Welcome to the web-book resource for Liberty Seated Dime varieties and Gerry Fortin Rare Coins; desirable coins for Seated and Bust collectors.

Gerry Fortin has been collecting and researching Liberty Seated Dime since 1988 and launched his Liberty Seated Dimes - Die Varieties, 1837 - 1891 web-book during 2004. The web-book expanded die variety knowledge beyond the efforts of Kamal Ahwash and Brian Greer in their respective numismatic research guides. Contained within the Fortin web-book is a wealth of new information about Liberty Seated Dime die varieties, die states and rarity coupled with a presentation format using exceptional photography.

You are free to link to web-book content for numismatic purposes, while written content, images, rarity estimates and pricing guides are copyrighted by the author and must be accurately referenced as to the source in other paper or online publications.


Authorized Dealer, Member ANA, FUN, JRCS and LSCC
Coin Show Schedule

Westford, MA - July 27, 2014 - Buying Only
Chicago ANA - August 5 - 9, 2014 - Table 835 with W. David Perkins
Long Beach CA - September 4- 6, 2014 - Buying Only
NH Coin Expo - October 10 - 11, 2014 - Buying Only
Denver Coin Expo - October 24 - 26, 2014 - Table 210
Whitman Baltimore Coin Expo - October 30 - November 2, 2014 - Table 1505

What's New?

July 21: Added 3 Cent Silver Proof set to the Open Registry. This set was assembled by Terry Hess.

July 18: Added Open Registry updates for Trey McGovern seated quarters, John Okerson bust quarters and the North Georgia seated dimes.

July 16: Based on positive feedback on the GFRC CAC Only price list, I've added a TPG only price list which features only NGC and PCGS graded inventory.

July 15: Added Capped Bust Quarter Date and Major Varieties sets to the Open Registry. Ultimate set is in progress. All consignment coins are posted on For Sale list along with Sunday coin show purchases.

July 13: Just back from small Maine coin show and did surprisingly well for Newps. Also one of two new consignments is priced, imaged and will be loaded later today.

July 10: A CAC only Pricelist is added to For Sale page. John Okerson provides a substantial improvement to Capped Bust Half Dime Ultimate set with many R3 and R4 entries in PCGS holders. It is a pleasure to watch this set being constructed.

July 8: Expanded the Capped Bust Half Dime sets in Open Registry to include Date, Major Varieties and Ultimate sets. Still some more work needed on the Ultimate set.

Liberty Seated Collectors Club - 2013 Hall of Fame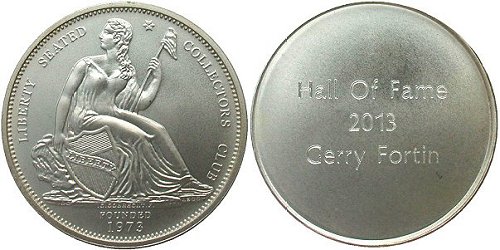 PCGS/NGC Awards - Liberty Seated Dime Collection
PCGS: Best Presented Sets of 2006, Best Classic Sets of 2007, 2008, 2009, 2010, 2011, 2012 and 2013
NGC: Best Presented Sets of 2004, Most Informative Signature Set 2007
Collectors Weekly Website - 2009 Hall of Fame Award, December 2009 Interview
Welcome to the definitive resource for Estes Model Rocketry Kit collectors.

Estes Model Rocket Kit Collecting Guide

Individual kit database pages are updated and reflect eBay sales from February 2008 through June 2011. Recorded pricing observation in the database now stands at 9680 entries. All updated kit prices and totals are black colored. Due to a very busy 2011 business schedule, I had no choice but to place the Estes Kit Database on hold. I did manage to collect eBay kit pricing into the June 2011 timeframe and those prices are published. There are a number of new kit variety listings so checking the revised database could be worthwhile for serious collectors.

What's New?

May 5: Starting to update eBay pricing results in all three databases for the March-May 2013 timeframe. This update will be done by end of day May 6. My apology for not paying attention to the Estes databases for a long period of time. On average, it appears prices for original and problem free Estes kits are climbing.

February 5: Added K-45 1970 and 1971 Astron Beta, 1340 Scud B and 1367 Vindicator individual kit description pages. Added K-23 Big Bertha pictorial guide page.

January 6: Added rare K Kit group (X-Ray, Beta, Apogee II, Big Bertha, Thor Agena) with pre Damon yellow hang tags and countdown hang tags to the database and pictorial guide. I won the X-Ray and Apogee II kit and should have big higher for the Beta kit. This was a once in several year opportunity to acquire early K Kits in original condition.

The pictorial pages also provide links into kit description pages inside the database. To my knowledge, this Estes database is becoming the most comprehensive study of Estes model rocket kit packaging and artwork varieties ever assembled.