1875-S
Small Filled S - Variety 121a
Obverse 18.2: Die Cracks, High Date, Slight Downward Slope
Reverse R.2: Small Filled S, Die Crack 4:00-5:30, [mm Lt,C]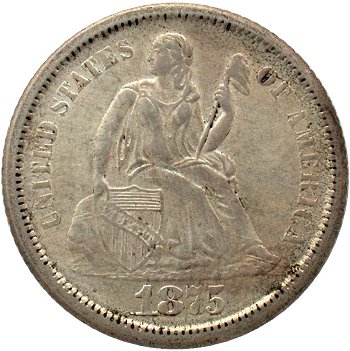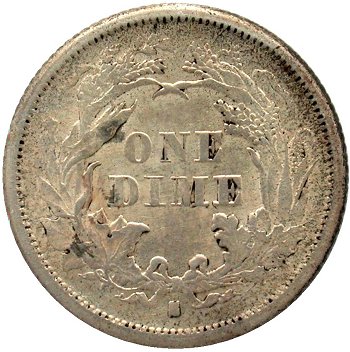 Obverse 18.2 Reverse R.2
Obverse Diagnostic Point(s) Reverse Diagnostic Point(s)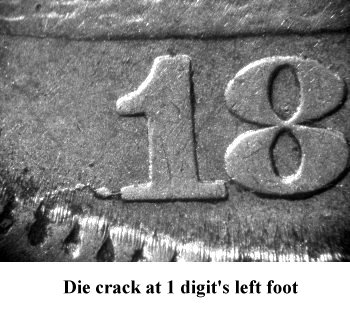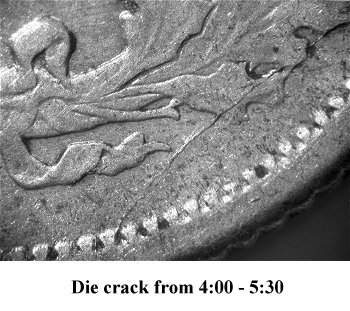 Comments: Later die states for Obverse 18 and Reverse R are obvious on the plate coin.
On Obverse 18, there is a die crack from rim above (U)NITED through the letters NITED and continues through STATES and into Liberty's head. The die crack or metal lump to the left of the 1 digit's base has become obvious. The legend UNITED STATES is weak as is the left scroll area with the letters (LIB)ERTY. There are strong metal flow lines between the legend and denticles.
A die crack in the lower right wreath from 4:00 to 5:30 is readily seen on Reverse R. During this die state, Reverse R is next paired with Obverse 16. See Variety 119 listing.
Sean Shaughnessy passed along this dime to the author during the LSCC annual meeting at the 2012 Philadelphia ANA show.
Plate Coin: Courtesy of Sean Shaughnessy Collection, AU50