1869
Variety 101
Obverse 1: Short Flag 1, High Level Date, Broken (S)TATES
Reverse A: Die Lines Between (D)IME and Wreath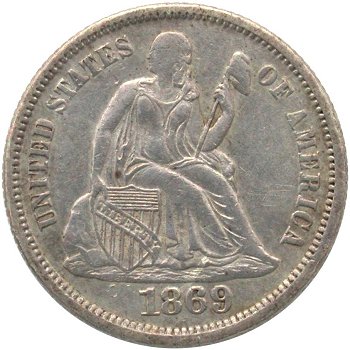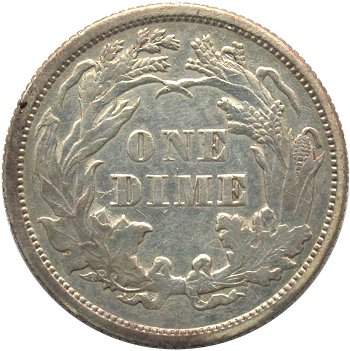 Obverse 1 Reverse A
Obverse Diagnostic Point(s) Reverse Diagnostic Point(s)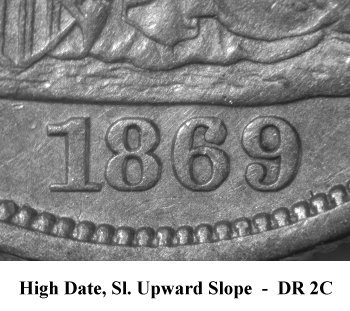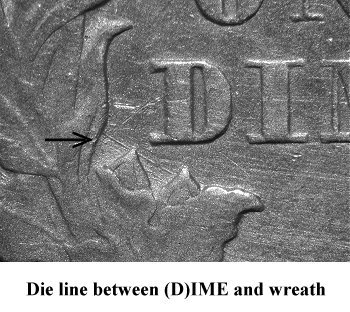 Comments for Variety 101: This date placement variety is the rarest of the five known Short Flag 1 varieties. After 15 years of searching out examples of 1869 Short Flag 1 dimes, I have located two examples that graded F12 and the plate coin purchased from an eBay seller in Argentina. This rare date placementy variety can be identified by a nearly level date that is positioned high and far right.
Reverse A exhibits die lines between the bottom of (D)IME and the left wreath.
Since defining the Top 100 Liberty Seated Dime varieties in 2004 and building the subsequent open registry, more examples of Variety 101 have appeared than expected. Please use caution when attributing 1869 Short Flag 1 dimes for the difficult F-101 variety and look for a date placement that is furthest right with Denticle Ruler measurement of DR 2C.
Plate Coin: G. Fortin Collection, AU50
Comparison of Short and Long Flag 1 Dates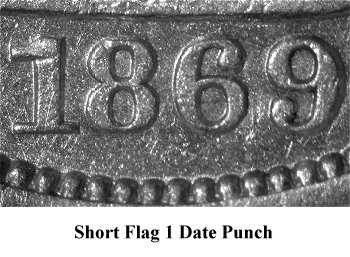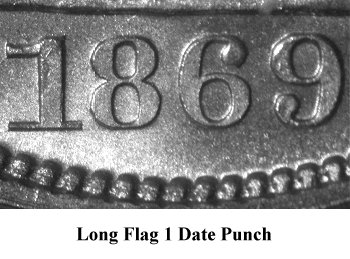 Comments: A comparison of the digit styles within the Short Flag 1 and Long Flag 1 dates clearly indicates that all four digits within each date are different. Therefore it can be concluded that two different date punches were used for the dies of 1869. Most notable differences between the two date punches, besides the flag lengths on the 1 digits, are the size variations in the lower loop of the 6 digits and the upper loop of the 9 digits.