1869
Variety 104
Obverse 4: Proof Die, Short Flag 1, High Level Date
Reverse D: Proof Die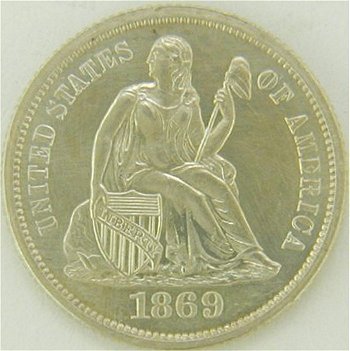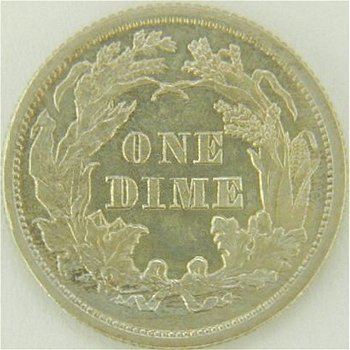 Obverse 4 Reverse D
Obverse Diagnostic Point(s)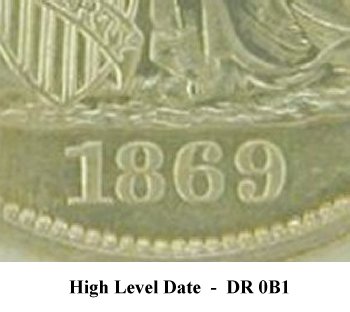 Comments For Variety 104: A single Short Flag 1 obverse die was used to strike a portion of the 1869 proof coinage. The date punch on Obverse 4 is positioned high and level. No business strikes have been seen from this die pair. For many years, I was not aware that proof coinage had been strike with a Short Flag 1 obverse die. After locating the plate coin on eBay, an investigation of the Heritage Auction Archives was performed to determine the rarity of Short Flag 1 proof examples with respect to the more common Long Flag 1 proof examples. Upon inspecting seventeen 1869 proof dimes with photographs in the Heritage Auction Archives, it was determined that three of the seventeen 1869 proof dimes were struck with Obverse 4. Quick math indicates that one in six 1869 proof dimes could be expected to be a Short Flag 1 variety based on the limited Heritage auction sampling.
Plate Coin: Ebay, PF60
Comparison of Short and Long Flag 1 Dates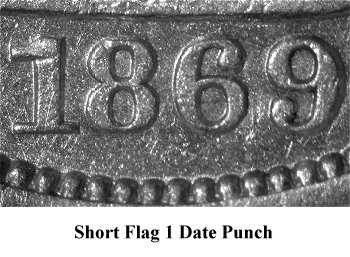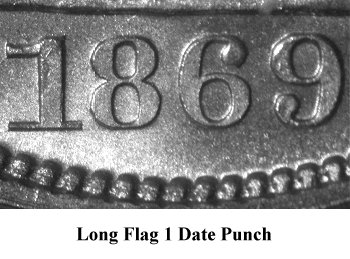 Comments: A comparison of the digit styles within the Short Flag 1 and Long Flag 1 dates clearly indicates that all four digits within each date are different. Therefore it can be concluded that two different date punches were used for the dies of 1869. Most notable differences between the two date punches, besides the flag lengths on the 1 digits, are the size variations in the lower loop of the 6 digits and the upper loop of the 9 digits.