1869
Variety 105
Obverse 5: Proof Die, Long Flag 1, High Date, Slight Upward Slope, Die Lines & Defects In Shield
Reverse E: Proof Die, Random Die Lines In Lower Left Wreath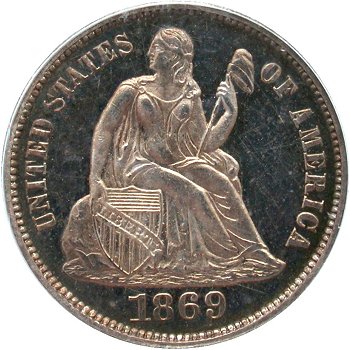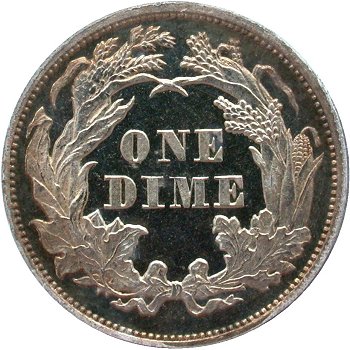 Obverse 5 Reverse E
Obverse Diagnostic Point(s)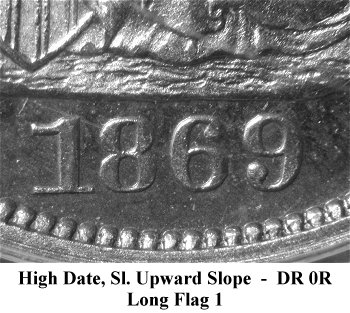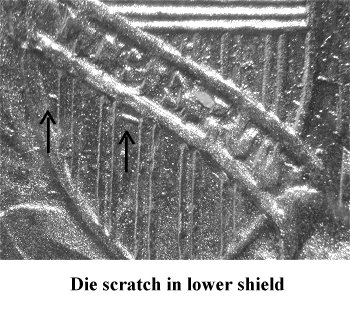 Comments For Variety 105: A Long Flag 1 date punch is employed on this obverse die to strike proof coinage. The date has a slight upward slope; use this slope to identify Obverse 5 examples The Obverse 5 die shows a strong die scratch in the upper section of the lower shield under the "B" in Liberty, between shield lines 4 and 5. Numerous other die lines and die defects are present within the lower shield. This die pair is also used for business strikes. Long Flag 1 proof examples from Obverse 5 make up the majority of 1869 proof dimes. A recent review of the Heritage Auction Archives revealed that 70% of the listed 1869 proof dimes were struck with Obverse 5.
Plate Coin: G. Fortin Collection, PCGS PF64 Cameo
Comparison of Short and Long Flag 1 Dates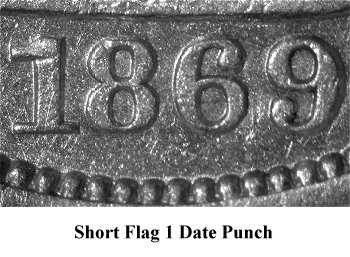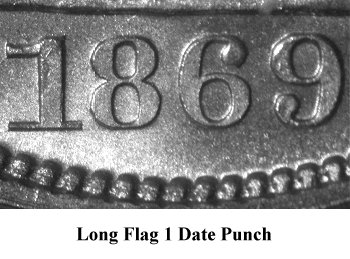 Comments: A comparison of the digit styles within the Short Flag 1 and Long Flag 1 dates clearly indicates that all four digits within each date are different. Therefore it can be concluded that two different date punches were used for the dies of 1869. Most notable differences include the size variations in the lower loop of the 6 digit and the upper loop of the 9 digit.