1869
Variety 104a
Obverse 4.2: Short Flag 1, High Level Date, Broken (S)TATES
Reverse D.2: Minor Die Crack Between Ribbon Ends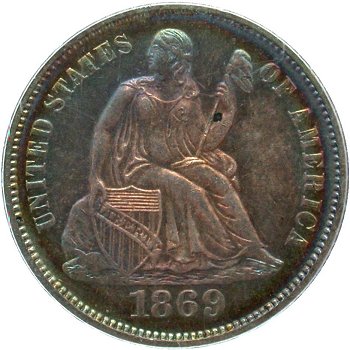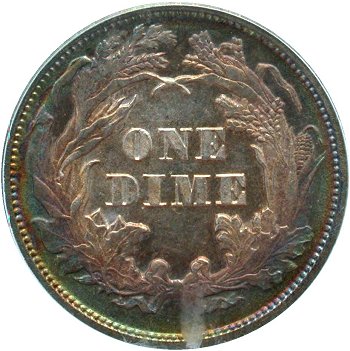 Obverse 4.2 Reverse D.2
Obverse Diagnostic Point(s)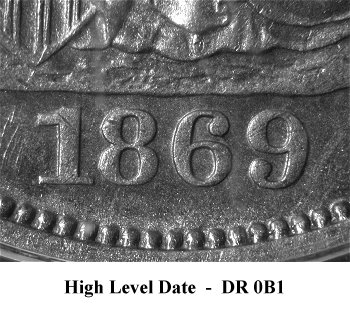 Comments For Variety 104a: A business strike example of Obverse 4 and Reverse D was located in early 2006. Until that point, only Proofs were known from this die pair. Presently, this is the only known example of F-104a, but it is expected that additional pieces may appear as a result of this listing. Locating a Mint State example of any of the four Short Flag obverse dies will be very challenging and could take years of searching.
Plate Coin: G. Fortin Collection, PCGS MS63
Comparison of Short and Long Flag 1 Dates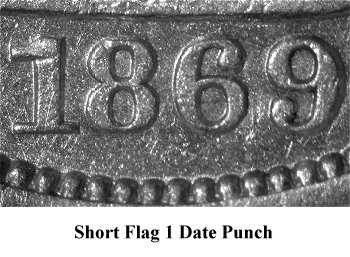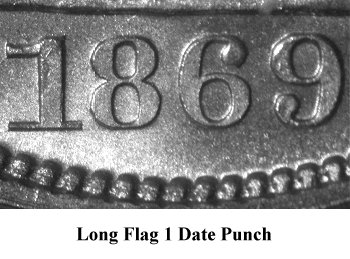 Comments: A comparison of the digit styles within the Short Flag 1 and Long Flag 1 dates clearly indicates that all four digits within each date are different. Therefore it can be concluded that two different date punches were used for the dies of 1869. Most notable differences between the two date punches, besides the flag lengths on the 1 digits, are the size variations in the lower loop of the 6 digits and the upper loop of the 9 digits.