1839-O
Variety 105c
Obverse 3.3: Late Die State, Die Cracks Through Stars, Rim Cud 1:00 to 6:00
Reverse D.3: Terminal Die State, Internal Cuds Lower Right Wreath, Eroded Devices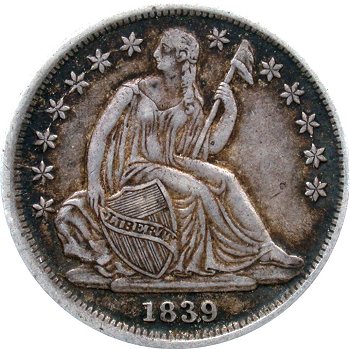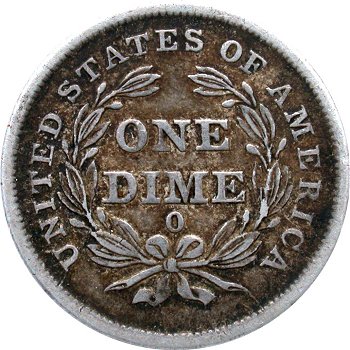 Obverse 3.3 Reverse D.3
Reverse Diagnostic Point(s)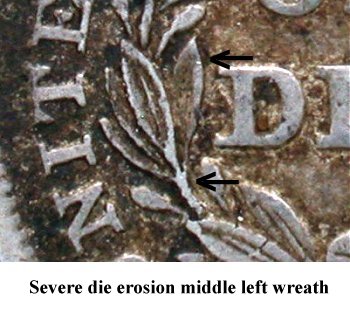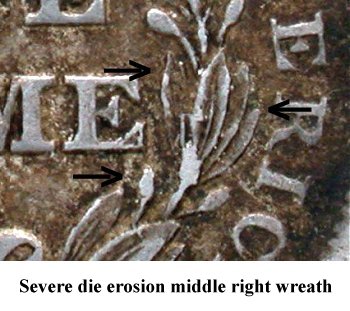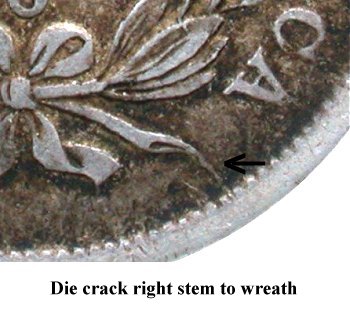 Comments: The F-105 1839 New Orleans die pairing is the most common for the date. The higher mintage allows for die state collecting since Obverse 3 and Reverse D were paired throughout their life cycles. The result is several distinct die states including this new discovered terminal die state that has been designated as F-105c.
After searching out Liberty Seated dimes for two decades, I firmly believed that the F-105b die state was the latest known. This assumption changed during the Novcmber 2016 Whitman Baltimore show when the discovery example, now the plate coin, was offered to me as part of a small Seated dime lot for purchase. The collector had noted the very late reverse die state and set the piece aside for potential inclusion into the web-book.
During the F-105c die state, Obverse 3 remains consistent with the F-105b die state. Large die cracks connect Star 3 through Star 7. However, Reverse D is now badly eroded with weak central wreath devices and cuds eliminating the right wreath buds in that area. There is also a substantial die crack from right stem to the wreath.
The plate coin is the first example seen with severe reverse erosion and a terminal die state designation is probably warranted. An R6 rarity rating in VF or better grades is conservative as a starting point.
Plate Coin: Courtesy Grey Soldier Collection, EF45