1853
With Arrows - Unhubbed Date and Arrows
Variety 107
Obverse 7: Repunched Date, Early Die State, Medium Level Date
Reverse G: Perfect Die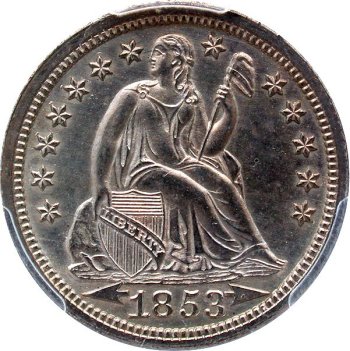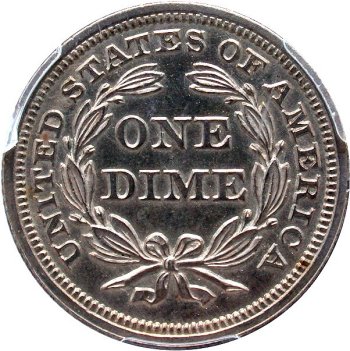 Obverse 7 Reverse G
Obverse Diagnostic Point(s)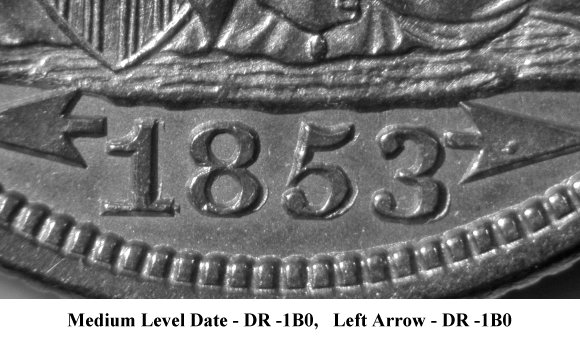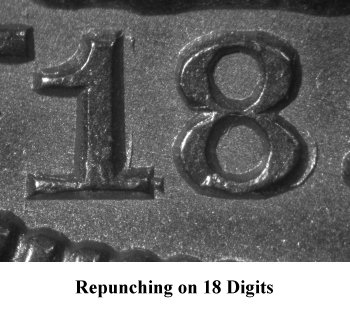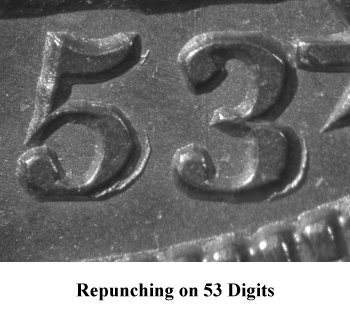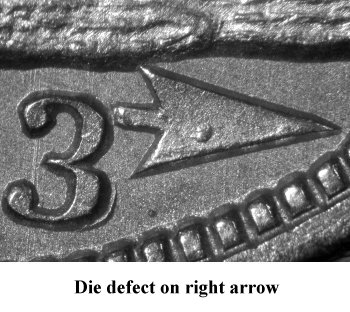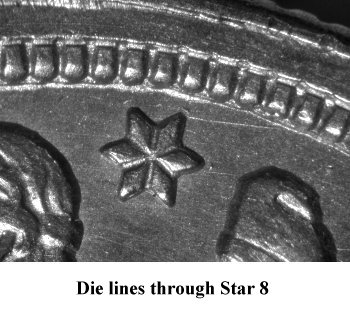 Comments: At the 2012 ANA Philadephia, a first strike example of the famous 1853 With Arrows repunched date variety was located. This proof like specimen presents a host of diagnostic points never seen before. Obvious repunching is readily visible to the bottom right of each date digit. On the right arrow, there is a die defect type pimple. Die chips are evident at Stars 3 through 6. Die polish lines are seen throughout the obverse die with a slight downward slope from left to right. There are radial die lines behind Liberty's chest and lower gown areas.
The reverse die is also proof like with no diagnostic points.
As the obverse and reverse dies age, the date repunching is diminished and the appearance of reverse die cracks become more prevalent. After purchase of this first strike specimen from well known dealer, Eugene Bruder, it was decided to separate the F-107 repunched date varieties in F-107 and F-107a die states. The F-107 die state is illustrated here. The F-107a later die state includes those repunched date examples when the date repunching is weak and the reverse die exhibits die cracks at STA(TES) and at A(MERICA). The F-107a die state does not quality for inclusion in a Top 100 Varieties set due to weak repunching on the date digits.
John McCloskey first published the 1853 With Arrows repunched date variety in the March 1980 issue of the Gobrecht Journal. Brian Greer listed this variety as Greer 103.
Plate Coin: G. Fortin Collection, MS65 (PCGS UNC-Details)???