1856
Small Date
Variety 107
Obverse 7: Misplaced Digits Below Pendant, Medium Date, Slight Downward Slope
Reverse G: Die Lines Behind UN(ITE)D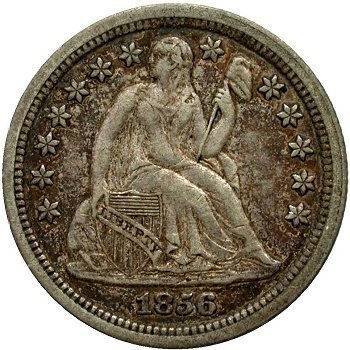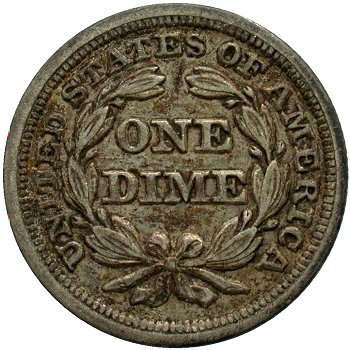 Obverse 7 Reverse G
Obverse Diagnostic Point(s)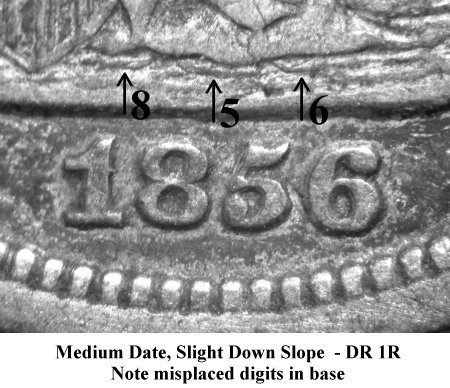 Reverse Diagnostic Point(s)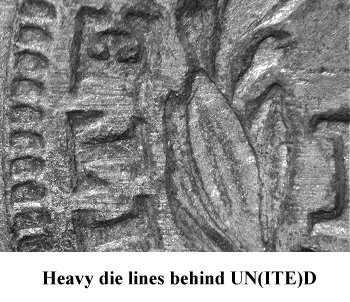 Comments: The bottoms of extra 856 digits are visible up in the rock just below the pendant. These extra digits are difficult to identify on circulated specimens. However, the date punch is positioned the furthest right of any 1856 obverse die. Date position measurement is DR 1R and is the primary diagnostic for cherry picking this variety on less than AU examples.
Reverse G has heavy die lines behind UN(ITE)D and is an additional diagnostic point.
This variety was discovered by Bill Bugert and was first listed by Brian Greer in his guidebook.
Plate Coin: G. Fortin Collection, PCGS EF45 - Greer Variety Plate Coin