1856
Small Date
Variety 111
Obverse 5: Repunched 18, Doubled Obverse Die East, Medium Level Date
Reverse K: Die Line Rim to UNI(T)ED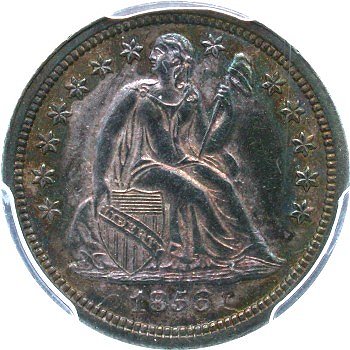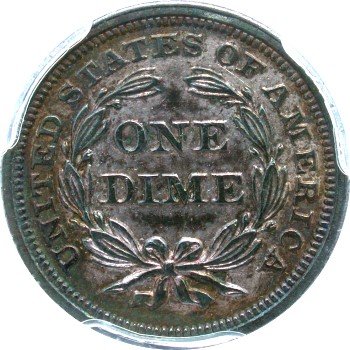 Obverse 5 Reverse K
Obverse Diagnostic Point(s)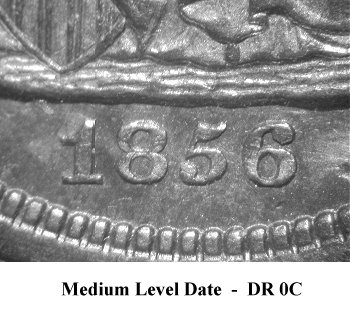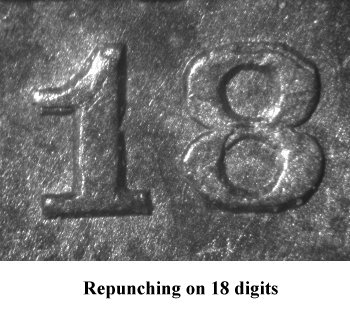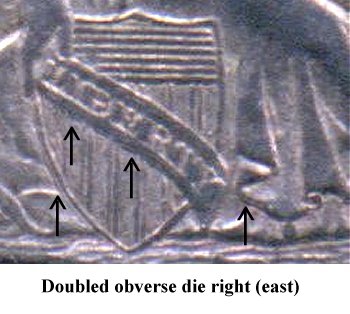 Comparison of Obverse 5 Die States
Obverse 5 Early Die State (F-111) Obverse 5.2 Lapped Die (F-105)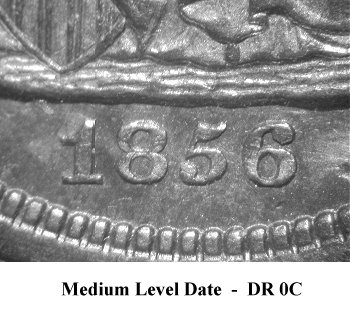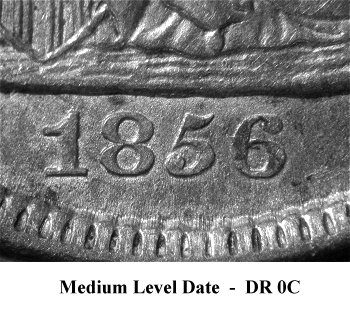 Comments: Obverse 5 presents another obverse die with significant doubling in the shield and gown area above the pendant. Obverse die doubling is evident below the lower edge of the scroll and along the left edge of the shield. The vertical shield lines are doubled right. Additional obverse doubling is found on the gown fold to the immediate right of the scroll end. The 1 and 8 digits are repunched with repunching seen under the flag of the 1 digit and above the top loop and within the cross segment of the 8 digit.
Reverse K exhibits a die line from the rim to UNI(T)ED.
As with other 1856 Small Date obverse dies that exhibit die doubling, Obverse 5 die is lapped resulting in two different die states. Kam Ahwash had previously recorded the Obverse 5 lapped die state as Ahwash 5 in his encyclopedia. The Ahwash 5 die state does not show repunching on the 18 digits. The author listed this lapped die state as Variety 105 and the earlier die state as Variety 111 not recognizing that both varieties utilized the same obverse die. This correction to the web-book is effective March 2013 with the sequence of 1856 Small Date obverse dies being renumbered between Obverse 10 through Obverse 21.
Plate Coin: G. Fortin Collection, PCGS AU55 (MS61)