Gerry's Daily Blog Archives - April 2016
April 30, 2016
Welcome to the Daily Blog as we wrap up the month of April. Today brings the last Central States show day along with return flight to Boston and bus transport to Maine.
Yesterday's LSCC regional meeting was a resounding success with over 20 attendees. Numismatics and specifically, collecting Liberty Seated coinage, is alive and well in the Chicago area. Stephen Petty chaired the meeting with Len Augsburger and myself providing club updates and a presentation on rare subtle varieties/die states for 1839 Philadelphia strikes. Has anyone seen this R7+ 1839 F-106ab die state with reverse die rotation of nearly 90 degrees left? This was one of the several highlighted die states that have proven to be so elusive for Seated dime variety collectors.
Central States Numismatic Society Show Report - Day 3
GFRC continued to enjoy a very strong Central States show on Friday. Collectors were out in force and were ready to add quality coins to their collections. Once again, the GFRC table was busy throughout the day with a broad range of sales. Online customer sales were also robust as I attempted to multiplex between customer table discussions, answering emails orders and also responding to phone orders. The day's sales highlight were the Woodlands 1878-CC PCGS MS65 CAC Seated quarter along with Grey Soldier's 1861-O W-15 PCGS AU50 half dollar and a large gold order which included several Poetic Candy CAC pieces.
At this point in the show, GFRC did very little buying as difficult to leave the bourse table while most wholesalers had already left the venue. However, I did acquire a better date 1803 Draped Bust half dollar graded PCGS F12 with choice original gray surfaces. The ongoing challenge at GFRC these days is locating quality coins consistent with my sales philosophy and standards.
Quality Consignments are needed and solicited to maintain GFRC inventory momentum! Please email me to discuss potential consignments and marketing strategies.
Upcoming Denver Coin Expo - May 4 through May 6
The Denver Coin Expo arrives much too quickly as GFRC only has two days to recover from Central States and prepare inventory for Denver Expo. Sunday and Monday will be hectic days as online orders are packaged and shipped followed by repositioning inventory for Tuesday's Denver flights.
A new inventory and display case strategy will be attempted for the Denver Coin Expo towards matching GFRC offerings with customer collecting preferences. Following is what Denver area customers can expect. If you plan to attend the Denver show and wish to see specific coins in GFRC inventory, then please email me no later than 3:00pm on Monday.
Case 1 - United States Gold, Toner Morgans, Mint State Walking Liberty Halves and Gold CAC Mercury dimes
Case 2 - Green and Gold CAC Bust and Liberty Seated coinage
Case 3 - TPG certified Liberty Seated coinage priced between $50 - $200
Case 4 - Raw Capped Bust and Liberty Seated coins
Global Financial News
I've been keenly focused on an emerging currency war between the major global economies in recent Daily Blogs. Signals were in place that the United States dollar and the Chinese Yuan must be weakend to ensure that the top two global economies avoid recession. Last week, the Federal Reserve punted on any interest increases in the near term while the Bank of Japan also maintained status quo for the Yen. The result is a weakening US dollar and a strengthening Japanese Yen. Gold as priced in US dollars took the appropriate queue and is moving upward with the most recent price quote being $1292 and just shy of $1330 for a substantial technical breakout. The following Kitco.com 5 year technical analysis chart illustrates the latest development.
5 Year Gold London Fix PM Daily with 60 and 200-day moving averages
Let's wrap up the Daily Blog at this point. A shower, packing and breakfast are necessary before the Central States bourse floor opens at 9:00am. Thank you for visiting, as always, and thank you for the ongoing GFRC support. I shall be back on Sunday morning but probably not too bright and early. Let's hope for a smooth flight back to Boston without any O'Hare delays.
April 29, 2016
Greetings once again from Schaumburg, IL and the Central States coin show.
Visiting Chicago area always brings special local dining opportunities and last evening was not different. Long time GFRC customer and Liberty Seated dime collector, Tony Alberts, suggested we visit another iconic eatery after last year's fun time at SuperDawgs. So last evening, Tony pulls up in his Cayenne Porsche with Potillo's Hot Dog as the destination. Talk about outstanding Chicago style chili dogs and cheese burgers! One immediately knows the food will be outstanding when entering this 1960s era diner with art deco styling. Thank you Tony for another memorable evening!
Central States Numismatic Society Show Report - Day 2
The numismatic market is alive and well in Chicago based on CSNS Day 1 results. After a quick booth setup, a few wholesalers stopped by and the day was underway. By 11:00am the bourse had that loud "buzz" that results when a large number of collectors are visiting tables and actively engaged is discussions. This buzz is my litmus test as to whether a bourse floor is alive and well. The CSNS buzz lasted well into the afternoon hours with a quick lunch at 3:00pm due to continual customer visits.
The GFRC and W. David Perkins table was busy from show open until closing time as a steady flow of customers and friends arrived throughout the day. Key date Liberty Seated coinage and important varieties continued to walk up to the GFRC table as purchase or consignment opportunities. One important highlight was a gorgeous 1846 Seated dime graded PCGS AU50 with CAC approval that walked up to the table and immediately taken in on consignment. When I say gorgeous, the implication is choice original surfaces with natural gray patina along with a full strike. This piece last only several hours and was placed into an advanced collection considering it was the third finest CAC approved example.
There was continual comments from customers and visitors concerning the quality and selection of GFRC's Bust and Seated offerings and quite frankly, I'm proud of the inventory. Working hard to stock choice original early type coins attracts more of the same and this was evident at CSNS. Dealers and customers now see GFRC as the "go to" outlet for trading, selling or consigning choice coins at competitive market prices.
Following are the CSNS Day 2 new purchases and consignments. Please email me on coins of interest for a price quote and quick smartphone image.
Seated 10c: 1846 PCGS AU50 CAC choice original (On Hold), 1857 PCGS AU50 CAC choice original, 1860-O PCGS F15 original even gray with no issues whatsoever
Bust 25c: 1835 PCGS AU53 choice original
Seated 25c: 1842 PCGS AU55 choice frosty luster, such a difficult date at this grade level
Capped Bust 50c: 1811 PCGS VF35 CAC choice gray/gold surfaces
Seated 50c: 1844 PCGS EF45 CAC gem original gray surfaces, 1872-CC PCGS EF45 original gray
Friday morning starts off with an LSCC regional meeting at 9:00am followed by the bourse floor opening at 10:00am. The Pickering Creek consignor will be stopping by today for inventory rotation and the contents of his new consignment are well anticipated and will be featured in tomorrow morning's Blog.
Global Financial News
Once again, financial news is fairly quiet. Spot gold is moving upward and stands at $1277 this morning as there is a silent global central bank effort to weaken the US Dollar back to 2011 levels. I would not be surprised to see spot gold breaking through the $1300 level within the next two weeks. A breakout above $1330 will be substantial. Why am I so bullish on gold? The IMF and other world bankers appear to have struck a deal at February's Shanghai meeting whereby Japan and the Eurozone would move to strengthen their currencies allowing the US Dollar to weaken. Since the Chinese Yuan is loosely pegged to the dollar, the yuan would weaken as well. A weaker US Dollar and Chinese Yuan is critical for sustaining growth in the world's largest two economies. Seeking Alpha headlines also note the continuing improvement in spot oil prices.
China's central bank fixed the yuan 0.56% higher to give the currency its largest one-day appreciation since the historic revaluation. The People's Bank of China set the midpoint of the yuan trading range at 6.4589 to the U.S. dollar. Economists think the strong fixing was triggered in part by inaction from the Federal Reserve. Market reaction to the move has been somewhat mild, with the Shanghai Composite Index and Hang Seng Index both retreating only slightly, while Japan's market is closed due to a national holiday. European stocks are lower almost across the board with fresh Eurozone economic data out for investors to digest.
Oil prices are higher in early trading after yesterday's report by the U.S. Department of Energy showed a decrease in domestic crude production. Some analysts think the recent strong gains in oil will be capped soon with a sustainable rise in OPEC production around the corner, while other maintain undersupply will be the theme in the second half of the year. WTI crude trades at a six-month high of $46.46 per barrel at last check.
Featured Coins from the Trading Desk
Let's punt on the Featured Coin section as a shower is in order followed by breakfast and preparations for the LSCC 9:00am regional meeting and another busy day on the bourse floor.
Thank you for visiting this morning. The Daily Blog will be back early Saturday with another Central States show report. Have a great day.
April 28, 2016
Welcome to the Daily Blog and thank you for visiting once again. Let's move directly into the CSNS show Daily 1 show report as most readers are primarily interested in the state of the numismatic market and GFRC new purchases.
Central States Numismatic Society Show Report - Day 1
The CSNS show is a very well managed event with accurate signage, clean cases and lighting that was worked without issues. Kevin Foley and his team are congratulated for excellent management of show amenties. CSNS is an expensive show due to an a la carte pricing strategy that quickly raises costs along with the lack of alternative dining options within walking distance. Dealers, who fly in, typically will stay at the Renaissance Hotel and convention center for the duration of the show. For example, breakfast buffet is a $25 event with tip but the service and food is excellent.
Wednesday is dealer setup and early bird access at noon for a $100 fee. The GFRC and David Perkins booth is nicely located this year and a straight walk from the entrance. Our combined inventory offers the broadest selection of quality Draped and Capped Bust coinage along with Liberty Seated on the bourse floor. Maintaining that reputation requires careful due diligent when making purchases. Knowledge and experience with the denominations being handled are paramount.
Day 1 focus was on buying as the wholesalers arrived early with fresh coins to sell. GFRC was active and I quickly did a substantial deal with my favorite wholesaler. This individual is smart and has a keen eye for eye appealing and original coins at reasonable prices. Other wholesalers followed and I tried to buy from those individuals when possible. During early afternoon, a regular wholesaler stopped by the GFRC first with a "fresh" double row box of bust and seated coins and unfortunately he walked away without a sale as the quality/pricing did not meet my standards.
Following are the CSNS Day 1 new purchases. Please email me quickly for potential interest. I can snap smart phone images and will quote prices. All coins are already in the case for sale through balance of show. Please note the 1873 F-103 DDO dime for potential inclusion in a Top 100 Varieties set. The shield doubling is amazing for a coin only graded VG8.
Capped Bust 5c: 1830 PCGS AU53 CAC gem original
Seated 10c: 1841 F-108 PCGS AU55 CAC so choice; 1873 F-103 Double Die Obverse PCGS VG8 undergraded with bold doubling on shield.
Seated 25c: 1857 PCGS AU58 CAC gem for grade
Barber 25c: 1908-O PCGS AU58 CAC gem for grade
Capped Bust 50c: 1829/7 PCGS AU53 CAC choice; 1831 PCGS AU53 CAC choice original; 1831 PCGS EF45 CAC choice gray
Seated 50c: 1839 Drap PCGS AU53 choice original; 1841-O PCGS AU55 old holder and choice; 1843-O PCGS EF45 original old time toning; 1844-O PCGS EF45 CAC gem and essentially AU50; 1847 PCGS AU50 CAC choice old time toning; 1849-O NGC AU53 CAC choice gray patina; 1861-O PCGS AU58 CAC CSA W-13 WB-103 Bisecting Date Crack; 1877-CC PCGS MS62 CAC bold luster of MS63/64 (Sold Overnight)
Walking Liberty: 1941 PCGS MS66 choice old time toning
Toner Morgan $1: 1881-S NGC MS65 rich rainbow colors; 1882-CC PCGS MS64 CAC dual sided rainbow; 1882-S NGC MS64 dual sided toning; 1885 PCGS MS65 dual sided rainbow; 1896 PCGS MS63 gem rainbow
Toner Peace $1: 1923 NGC MS64 dual sided original gray/gold patina
Gold $1: 1853 PCGS MS63 frost with bold strike
Day 1 wrapped up with an LSCC strategy meeting as Len Augsburger kindly drove us to dinner at a local sea food restaurant. We chatted for several hours on the forthcoming ANA Summer Seminar, the annual club meeting at Anaheim ANA and finally the resetting of expectations for an LSCC Convention during 2018 rather than 2017.
Global Financial News
The financial world is fairly quiet this morning. Q1 earnings reports are dominating market news. Spot gold has caught an up draft and current stands at $1258 while oil is also moving upward at $45/bbl. The Japanese Yen continues to strenghten as Federal Reserve inaction on interest rates allows the U.S. Dollar to weaken.
The Nikkei has slumped and the yen has jumped after the Bank of Japan surprisingly held off from increasing its already massive monetary stimulus as it looks to take more time to understand the effect of its negative interest rates. The BOJ also put back to 2017 its timeframe for achieving its target of 2% inflation, the fourth delay in about a year. The BOJ's lack of action came despite the strengthening of the yen this year and inflation not picking up - data today showed that March CPI fell 0.1% on year vs +0.3% in February.
In addition to sending Japanese shares lower, the Bank of Japan's lack of new action seems to have sent world stocks tumbling as well. Following a hawkish/dovish wash of an FOMC statement yesterday after the Fed held interest rates at 0.25-0.5%, markets are now eyeing U.S. Q1 GDP data, which is due out this morning. Economic growth is estimated to have slipped to 0.7% from 0.9% previously.
Featured Coins from the Trading Desk
GFRC Liberty Seated half dollar inventory continues to expand as this is the most popular of the Seated denominations. Availability is an important reason. Following are two recommended offerings from the Grey Soldier collection. Grey Soldier has undertaken the Liberty Seated dime Top 100 Varieties set as his new collecting challenge and wishes to sell his remaining Seated halves. Below are two quality pieces worthy of consideration. First is an 1843 PCGS AU55 CAC example that makes its second appearance on the GFRC price list. This is a choice example and assigned the coveted Gerry Fortin "Just By It Now!" designation. Next to the 1843 is an important Seated half dollar variety rarity, the 1845-O Dramatically Double Date residing in PCGS AU55 Old Green Holder. Listed by Wiley/Bugert as WB-104 and subsequently by Bugert as WB-15 with R5 rarity estimate. This is one of the few high grade examples with Dick Osburn Collection pedigree. The original date punch is easily to the far right of the final punch on this specimen.
Thank you for visiting with me this morning. I will be back bright and early on Thursday morning with another Central States show report. Who knows what coins or varieties will appear at Table 910 today? Please check in for all the latest news. Have a great day!
April 27, 2016
Greetings from Schaumburg, Illinois on this Wednesday morning. My apology for a late Daily Blog as I worked late and arose on Central Time.
Two raw collections were yesterday's focus while on the UA flight and at the Renaissance Hotel. About 20 raw Capped Bust and Seated coins will be heading to the price list shortly. The bulk are from a new consignment entitled, The Southern Maine Collection, along with more offering from Seal Beach consignor. Regardless of how pervasive TPG certification has become, there is still a place in the hobby for original quality early type coins for Dansco collectors. The Southern Maine Collection was assembled during the 1990s and I'm proud to have been selected to handle this property. Since being so focused on higher end coinage of late, it is time to add more "collector" coins to the GFRC price list. Below are some Southern Maine highlights. Variety attributions can be found in the image file name.
Southern Maine Collection Highlights - April 27, 2016
Also heading to the price list by end of day is this lovely 1887 Liberty Seated quarter residing in old blue label PCGS PR67 holder. The obverse is covered with thick golden patina while the reverse is has a faint layer of transparent milky gray. Consigned from the Florida Collection and seeking a new home in an advanced collection. By the way, this is the first 1887 dated quarter in circulation or proof strike handled at GFRC.
Next week brings the Denver Coin Expo and I'm already deciding on a GFRC inventory and display case strategy. The Denver area is not a huge market for Capped Bust and Liberty Seated coinage so the focus will shift to United States gold, toner Morgans, Walkers and CAC approved coinage across all designs and denominations. Upon returning home very early Sunday morning from CSNS, I only have Monday to ship orders, change inventory strategy and then fly to Denver on Tuesday. This is starting to feel like my old semiconductor job! Retirement?
Global Financial News
Donald Trump's five state sweep is gaining international attention as the BBC placed this milestone as top headline this morning. Love him or hate him, Trump is moving forward and I will be shocked if he is not the Republican party presidential nominee. The financial world is expecting the Federal Reserve to hold interest rates at current levels. An upward decision would be a disaster for the United States economy as we are in the midst of a silent currency war with Europe, Japan and China. Any increase in U.S. interest rates would strengthen the US dollar and allow the balance of the world to export deflation to the United States. Finally, oil futures are slowly climbing upward to $45/bbl while gold is approaching the $1250 level once again. Gold needs to make a move to the $1275 level to extend current breakout and upward momentum.
Donald Trump has declared himself the "presumptive nominee" for the Republican party in November's presidential election after victories in the five north-eastern states of Pennsylvania, Maryland, Connecticut, Rhode Island and Delaware. Trump now has an estimated 950 of the 1,237 delegates he needs to win the nomination. Meanwhile, Hillary Clinton won four of the states as Bernie Sanders took Rhode Island. Clinton has 2,141 of the 2,383 delegates she requires.
Global equities were broadly flat-to-lower ahead of the second day of the FOMC's policy meeting, where the Fed is expected to leave interest rates unchanged at 0.25-0.5%. As ever, there'll be much interest in the bank's statement for what it indicates for future decisions. Other factors affecting prices this morning include mixed earnings reports in Japan, Europe and the U.S., with those from Apple (AAPL) particularly hurting the relevant stocks.
Featured Coins from the Trading Desk
The GFRC Draped and Capped Bust price list has undergone a substantial expansion in the last four months. As much as the Liberty Seated coinage series are enjoyed, I'm having lots of fun stocking and studying the earlier Bust series. This morning, let's feature two early half dollars that offer excellent eye appeal and are a well matched pair! First is an 1806 O-109a Draped half residing in PCGS F15 holder with CAC approval. Eye appeal and original gray patina intersect on this lovely piece. Next to the 1806 Draped half is an 1817 O-101a Capped Bust half also graded PCGS F15 and approved by CAC. Collectively, these pieces would be a strong nucleus for an early date type set.
Thank you for visiting the Daily Blog this morning. I'm heading down to the Central States bourse floor for booth setup and will be back bright and early Thursday morning with a report on wholesale purchases and early bird sales. Until then, Happy Hunting and please consider a purchase from the GFRC price lists.
April 26, 2016
Greetings on a Tuesday morning and welcome to the Daily Blog. Light snow is falling outside the GFRC office window as temperature is only 36F. This is April 26, right?
The Central States Numismatic Society convention arrvies as the numismatic industry turns its attention to Schaumburg, IL. GFRC show preparations are done. Today's journey brings a bus ride to Boston's Logan airport, a short UA flight to O'Hare followed by Taxi 7 transport to the Renaissance convention center. Yesterday brought a most pleasant surprise! United Airlines provided a complimentary first class upgrade for the flight. Real food and free wine while flying is a luxury for a low cost operations business and I will definitely enjoy the occasion. Years ago this was routine....but not anymore.
Last minute preparations are at hand, therefore today's Blog needs to be brief. Below is a quick reminder of Table 910 location on the Central States bourse floor. W. David Perkins and I will be in closer quarters as sharing a corner table rather than the spacious corner and regular table configuration seen at Baltimore and FUN. Cost management is paramount in the coin business as customers expect high quality offerings at competitive prices. As former semiconductor industry executives, David and I well understand this fact and strive to deliver maximum value to our loyal customers.
Table 910 on the Central States Bourse Floor
Visit Gerry Fortin Rare Coins and W. David Perkins, Numismatist first!
Global Financial News
The world appears to be devoid of major financial news events. Back in the United States, the Federal Reserve is meeting to discuss policy and interest rates. Let's face it, there will be no interest rate increases in the near term as the U.S. dollar must be weakened to help fuel an economy that is close to recession. With China slowing and Japan effectively in another recession, the United States must once again serve as the growth engine. A lower US Dollar is paramount.
The FOMC is today scheduled to start the first of a two-day meeting where it's expected to hold rates at 0.25-0.5%. As ever, there will be as much interest in the Fed's statement as in the decision itself, with all and sundry looking for clues as to what bank officials might decide in their next meetings. Optimism about the economy could signal a rate rise in the near future but pessimism could indicate there will be no such thing anytime soon. Janet Yellen wasn't particularly helpful when she said recently that the U.S. is "on a solid course" but that "we're suffering a drag from the global economy."
Featured Topic - Xi Jinping Takes Command of the People's Liberation Army
This week's Mauldin Economics weekly newsletter is a gem for those of us who lived in and understand Asia. This Week in Geopolitics, written by George Friedman shares insight not seen in other online news publication. China's President and Communist Party leader has taken command of the People's Liberation Army. This would be equivalent to Obama taking on the role of Joint Chief of Staff of United States military. Why such a move by Xi Jinping at this time? Might I suggest that you carefully read his article as all may not be well inside mainland China.
The article opens with an introduction and hints at a conclusion;
Chinese President Xi Jinping announced last week that he will take command of all of China's armed forces, including the People's Liberation Army (PLA). He is already chairman of the Central Military Commission that oversees the army. He is now assuming a more direct role as head of the new Joint Operations Command Center, ostensibly putting him in operational command of the PLA in time of war. In all likelihood, the new title means little in terms of actual command, but it has tremendous political significance. The roots of this change lie in China's economic crisis, but the official reasons given are not trivial, and we need to start with those to understand what is happening.
It is therefore odd that Xi would take on this role. One reason given is that the importance of military reform and the inevitable resistance of the PLA to restructuring make it necessary for Xi to don a camouflage uniform and take direct control of operations. But is the resistance of the military really so great that the president must step into uniform to get it under control? Every military hates reforms imposed by civilians, yet most submit to the civilians without the civilian leader's having to become the military commander. This is an extreme step to take to reform the military. There is something else going on.
The something else is a regime trying to ensure its own survival. China was founded by Mao Zedong as a moral project: to create a country ruled by communism. After Mao's death, his project was replaced by another: to modernize the Chinese economy and create prosperity. The Maoist regime was replaced by the current regime in which the leadership rotated in an orderly fashion and government after government oversaw the generation of increasing wealth. Mao justified the regime as a dream (or nightmare, depending on how you viewed Maoism). His successors justified their regime by promising prosperity, and they delivered.
China's problem can no longer be considered primarily economic. That train has left. The economic reality is locked in and will remain in place for a long time. China is now in the throes of a political challenge. The coastal region will be growing at a much slower rate than before, if at all. People who came from the interior for jobs will have to return to the interior. A vast and impoverished region, the interior is the population heartland of China—over 60 percent of China's population lives there. But the coast is the country's economic heartland, and that dichotomy defines China's political problem.
......................
Wealth is part of the equation, but in the end the People's Liberation Army is the key. It is the ultimate guarantor of the regime in two ways. First, it has the power to crush opposition, as it did in Tiananmen Square. Second, its ranks are filled with the children of peasants, who see enlistment as a path to upward mobility. Taken together, its makeup and power can guarantee the communist regime's survival.
Time to end the Daily Blog as I must run to the post office followed by a drive to the Portland bus station. Please check back tomorrow and subsequent days for the daily Central States show reports. Thank you for stopping by.
April 25, 2016
Another Monday arrives with more Maine sunshine and seasonal temperatures. Current temperature is a brisk 35 degrees with highs to be in the mid 50s. I sincerely appreciate the ongoing support for the Daily Blog as Sunday brought nearly 500 hits.
The annual Central States Numismatic Society coin show is the event of the week. Central States is a long show with Wednesday setup/early bird business followed by public access on Thursday through Saturday. The LSCC regional meeting is scheduled for Friday morning at 9:00am. My meeting presentation entitled, "Subtle Varieties/Die States for the 1839 Philadelphia Seated Dime Strikes" was completed yesterday and glad to have this task off the "to do" list. Hopefully the LSCC meeting and CSNS show will be well attended since the ANA World's Fair of Money show has migrated away from Chicago leaving CSNS as the primary numismatic event. I'm looking forward to meeting GFRC friends and customers in the Chicago area. Don't be bashful and please stop by at Table 910.
GFRC News
I worked into late Sunday evening processing Bay State new purchase images resulting in an eye catching gallery. Realization set in that the Bay State new purchases, as a whole, offer considerable eye appeal with the below collection of images reinforcing the point. The 1849-O PCGS AU50 CAC Seated dime is the highlight of the group with five individuals asking for FRoR. Yes, there are numerous individuals build advanced sets of my favorite Seated denomination! The 1837 F-101b Large Date dime resides in 2016 style NGC AU58 holder and is heading directly to CAC. Though an available Mercury date, the 1916 dime was just too attractive to pass up and adds old album colors to the Bay State lot. Hopefully, I will be able to load all these new purchases on the price list this afternoon.
Bay State Eye Candy - April 25, 2016
GFRC inventory for the CSNS show will be selected this afternoon. Already three individuals emailed with inventory requests and the cut-off for special requests is 6:00pm. I may experiment with the display case strategy, grouping all the CAC approved coins in one case from an educational perspective on the appearance of top quality Capped Bust and Seated coinage. GFRC has more than enough CAC coins in inventory to fill a display case.
Please consider GFRC for potential consignments or outright sales of your numismatic properties. GFRC is quickly becoming recognized as one of the leading dealers for all Capped Bust and Liberty Seated denominations. I would be pleased to discuss your holdings and potential sales strategy while at the Central States show.
GFRC Sound Room Title
Last week's comments concerning Blind Faith's I Can't Find My Way Home brought considerable feedback. By 11:00pm Sunday, the Bay State new purchase gallery was done and allowed some basement sound room time. I was in a Steve Winwood and Traffic mood via Pandora and decided for some critical listening of Traffic's 1974 release, When the Eagle Flies at higher volumes. As much as I enjoy, Low Spark of the High Heel Boys, Shootout at the Fantasy Factory and John Barleycorn, When the Eagle Flies brings a different perspective to the core Traffic line up of Steve Winwood, Chris Wood and Jim Capaldi. The Moog synthesizer is first featured on the album with Winwood's successful implementation on Dear Gerard and the haunting Graveyard People. This would be the last Traffic album until 1994.
Global Financial News
Seeking Alpha headlines offer global insights that are worth sharing this morning. Saudi Arabia is realizing that the kingdom must restructure its economy away from oil revenues while China deficit spending and debt accumulation rate is unprecedented in modern times.
Saudi Arabia is today due to unveil "Saudi Vision 2030," a plan to overhaul the kingdom's economy in order to reduce its massive reliance on oil revenues, which account for 80% of its income but are taking a battering amidst the plunge in oil prices. Prince Mohammed bin Salman, who at 31 has amassed much power in his young hands, intends to create the world's largest sovereign-wealth fund with over $2T in diversified assets and to sell under 5% in state oil monopoly Saudi Aramco in an IPO.
China's total debt grew to a record 237% of GDP in Q1, the FT calculates, or 163T yuan ($25T). The surge in borrowing comes as the Chinese government yet again turns on the spigots in order to boost stuttering growth. What worries economists is not the size of the debt, which is comparable to the U.S. and the eurozone, but the speed with which it has accumulated. The Chinese figure was 148% at the end of 2007.
Closing Today's Daily Blog
Let's end the Monday edition at this point. There is much to be done today and an early start is in order.
I will be back bright and early on Tuesday as flying to Chicago during afternoon hours. Thank you for visiting with me this morning and wishing everyone a productive and successful week.
April 24, 2016
Welcome to the Daily Blog on a picture perfect Maine morning. Skies are clear and temperatures will be in the 50s with a light wind. However, rural Maine living also brings two seasonal pests as black flies and wood ticks make their appearance. Black flies are especially troublesome on calm days. They swarm and are aggressive with bites. Working outdoors means long pants, long sleeved shirts and a head net. Protecting one's self from wood and deer ticks is also challenging. These ticks easily attached themselves to clothing and then slowly crawl around until locating flesh. Then there is the risk of dragging the ticks into one's home on clothing.
GFRC News
Today's numismatic priorities including photographing Bay State coin show purchases towards featuring a gallery in Monday's Blog and secondly, preparing a presentation on 1839 dime varieties for the Central States LSCC regional meeting.
Multiple FRoRs were received yesterday for the 1849-O F-101b PCGS AU50 CAC dime purchased at the Bay State show so this piece is obviously sold.
Progress is being made on consignment backlog. Two PCGS MS66 Seated dimes from the Florida consignment reached the price list on Saturday and are shown below. I really like the 1889 F-114 dime due to the thick natural patina that glows under bright light. The reverse is really amazing under bright light with deep blue colors. The 1890 F-104a dime was struck from dies original employed for proof strikes. Satiny luster dominates on this attractive piece as the dies are well worn with considerable metal stress lines transferred to the struck coin.
The latest consignment from Jim Poston arrived on April 16 and is featured below. The 1839 quarter, 1887 half and 1853 gold dollar are shipped and sold.
Jim Poston Consignment - April 24, 2016 Update
Central States Numismatic Society Convention - April 27 - April 30
GFRC will be traveling to Chicago on Tuesday and showcasing inventory at the CSNS show for four days. I'm sharing a large corner booth with W. David Perkins (Table 910) but table space limits each of us to 4 cases. Current GFRC inventory could easily consume 9-10 cases, therefore I must pick and choose the inventory to have on display. Please contact me within the next 48 hours if attending the show and hoping to view certain items. I'll ensure these are included in the transported inventory.
Featured Coins from the Trading Desk
Spending time outdoors cutting down the massive brush pile is a priority (even with the black flies and ticks), so today's Daily Blog will be brief. Let's move directly into several featured coins.
Collecting and selling Capped Bust quarters is quite challenging. The quarter denomination is well known for being a commerce workhorse with few choice examples surviving. Locating quality Capped Bust inventory prior to the 1831 - 1838 closed collar timeframe is difficult. I make a point of purchasing quality pieces when located. Below are two examples that deserve attention for their preservation state and grade rarity.
The first offering is a sweet 1819 Small 9 B-3 PCGS VF35 piece that is choice original with gun metal gray/blue patina. This accurately graded and attractively toned example that definitely above average for the current market. Strike is crisp and surfaces are blemish free. The B-3 variety featured a normal 9 digit in the date and boldly doubled 5 in 25 C. Featured with the 1819 is a choice original 1820 Large 0 quarter graded PCGS EF45. This is the B-3 variety. Choice examples of this date in EF or better grades are rare and you are invited to check CoinFacts to substantiate this claim. Either of these pieces would be an excellent starting point of an advanced large size Capped Bust quarter collection.
Thank you for stopping by this morning. It is so gratifying to know that over 350 collectors and friends visit the Daily Blog each day. Wishing everyone a restful Sunday as tomorrow brings another work week. I'll be back bright and early on Monday with more ramblings and Bay State new purchase images.
April 23, 2016
Greetings and welcome to the last full weekend in April! April showers are suppose to bring May flowers, however Maine precipitation has been lacking and the forecasted fire danger continues to increase. Two to three days of soaking rains would be a relief and also allows the burning of the massive brush pile in Fortin backyard.
Bay State Coin Show Report
The annual Bay State show is a well managed event by promoter, Ed Aleo. Held in a Best Western hotel convention room in Marlborough, Massachusetts, the show offered a wide range of dealers. Regular local New England dealers dominated the bourse floor with a few higher end dealers including GR Tiso and the Monument Group. Warren Mills from Rare Coins of New Hampshire was walking the floor and is always the fine gentleman. The LSCC's own John Frost was manning the club table in the alcove area.
I arrived early and enjoyed some pre-arranged lobby business followed by joining the line of attendees for the show open at 10:00am. A healthy "buzz" was apparent on the bourse until 1:30pm and then attendance waned. Lunch was with the Massachusetts consignor along with an individual stopping by to share an impressive contemporary counterfeit collection. By 2:30pm, I was back on the road to Maine. While working the bourse, several GFRC customers came up and said hello with the Daily Blog always being a topic of conversation. Two wholesalers walking the floor with their inventory in wheeled luggage pulled me aside and we did some business in the hotel lobby.
Locating choice Capped Bust and Liberty Seated coins for inventory was challenging as the supply is so limited. A few pieces that I would have loved to place into GFRC inventory had strong asking prices and were impossible to purchase with any hope of resale with a profit. On a positive note, I purchased two used display cases from Ed Aleo and now in a position to take regular tables at the Westford, Massachusetts and Nashua, New Hampshire weekend shows. There is a void for quality Bust and Seated offerings in the New England area and GFRC will be attempting to support and expand the collector base.
A limited number of pieces were added to GFRC inventory at Bay State. FRoR is in order.
Seated 10c: 1837 NGC AU58 F-101b choice original in fresh holder; 1849-O F-101b PCGS AU50 CAC and one of the finest seen, this piece will become new web-book plate coin; 1850 NGC MS63 unlisted with cracked obverse, choice original; 1891 F-119 choice with excellent eye appeal
Mercury 10c: 1916 PCGS AU58 old album iridescent toning and choice
Morgan $1: 1881-S NGC MS64+ proof like with gorgeous rainbow toning; 1896 PCGS MS64 dual sided rainbow colors over substantial luster.
Gold $1: 1851 PCGS MS63 with ample luster.
Central States and Denver Coin Shows
With the 2016 Bay State show in the rear view mirror, attention quickly shifts to the Central States Numismatic Society convention this coming week followed by the Denver, Colorado show the following week. GFRC will be sharing corner table 910 at the Schaumburg show with W. David Perkins while eBay partner, Jim Poston, drives from Kansas to staff the Denver table.
Please contact me in advanced to guarantee the transport of inventory items of interest as each show has me limited to four display cases. Consignments will be gladly accepted but please provide a head's up so adequate storage space can be assured on the return flights.
This is also Final Call for the current Pickering Creek Liberty Seated dimes in inventory. The Pickering Creek consignor indicated the desire to conduct an inventory rotation with current offerings heading to his bank vault and a fresh group of choice mint state Seated coinage to be consigned. Stay tuned here.
At Denver, dinner is already planned with the Colorado consignor who also happened to be the final attendee for the upcoming ANA Summer Seminar class on Liberty Seated coinage.
GFRC Consignment News
On Thursday, a single piece consignment arrived in the mail and was immediately photographed. I'm sure that someone in the broad GFRC customer base might need this strictly original 1860-S Seated Liberty quarter residing in old blue label PCGS F-12 holder. Heading to the price list today at $2950 and an important opportunity given the low PCGS population at the Fine/Very Fine grade level.
More consignments are in the planning stages. After the Central States and Denver shows, Seal Beach plans to ship a group of Seated half dollar duplicates. The Osprey consignor will be returning from a two month Europe trip and indicates GFRC will receive an important lot of European Crowns to building up the World Coin price list. GFRC is so blessed to have such strong support.
Blind Faith's I Can't Find My Way Home
Wow, did I received lots of feedback after mentioning Blind Faith's I Can't Find My Way Home. This song is THE anthem for our generation.
One GFRC customer writes,
Congratulations on the sale of the '59-O $20. What a great coin that is! To be cherished and enjoyed by the new owner. Blind Faith is one of my favorite groups. Actually, anything with either Clapton and/or Winwood is the best. I was unable to "find my way home" several times in the '70's. It took me a day and a half to find my car in the mud in Jersey City (the long gone Roosevelt Stadium) after a Dead concert. Ah, what memories?
The Poetic Candy consignor offered comments and a poem in honor of this song.
I lived one block off of Haight street during the Vietnam era, before I served in the Army. Your blog today reminded me of those days. It was difficult back then to find a way home:
HOMECOMING
I sat on a park bench close to the sea,
When an old man crying sat down next to me.
He told me he married a young girl, by the way,
Who would ask him for sex,
More than five times per day.
When asked why he was crying,
He said with a moan,
I forgot where I live,
And can't find my way home.
Featured Coins from the Trading Desk
I've yet to post the Southern Maine Collection consignment to the price list. Contained in this consignment are two quality Capped Bust half dollar contemporary counterfeits. After viewing a GFRC customer's collection at the Bay State show and seeing that look of extreme pride, why not feature two desirable examples this morning?
Hope that everyone has their Daily Blog "fix" for the morning. Time to move into the packing and shipping department with an early USPS cutoff time today. Thank you for visiting and will be back bright and early on Sunday morning. Have a great weekend.
April 22, 2016
Welcome to another Friday. Today's numismatic event is the Bay State show in Marlborough, MA. GFRC is leaving for this show soon. As a result, the the Daily Blog will be delayed and hopefully, there will be new purchase announcements upon my return. Please check back during the later afternoon hours.
Have a great day!
April 21, 2016
Greetings on a beautiful Maine morning. Temperatures are already warming quickly with a predicted high of 65F. The flowing plums and forsythias outside GFRC office window are beginning to awake from a long winter. Buds are appearing and in a few weeks, southern Maine landscapes will be vibrant and multi colored. As much as I enjoy spending time in Florida, Maine seasonal changes provide predictability and a special rhythm to life. Yes, the wood ticks and black flies are also a few weeks away but let's be happy this morning....
LSCC News
The LSCC class at this year's ANA Summer Seminar is nearly sold out! Only one seat remains in the class. Following is a brief announcement from John Frost, LSCC Education Director.
I chatted with the ANA today. There is only one seat left in the "Developing a Passion for Liberty Seated Coinage" class that we are teaching at the ANA Summer Seminar. Also, my mini-seminar on "Collecting the Oddball Denominations" is already full. Amber, Seminar Coordinator at the ANA said, "You guys are popular!"
GFRC News
The major news of the day is the sale of the Osprey Collection 1859-O $20 gold piece graded NGC AU55. Most of Wednesday afternoon was spent on the phone with calls to Belgium and Pacific islands. Our Osprey consignor is touring Europe while the new 1859-O $20 gold piece owner resides on a Pacific Ocean island. This is GFRC's largest sale to date and validates the consignment business model.
Poetic Candy gold was also popular as the 1904 and 1927 Double Eagles, residing in sequentially number PCGS Old Green Holders, were purchased as a set by a long term GFRC customer. These two attractive pieces were featured in Wednesday blog and immediately sold. Like many of us, the buyer is taking a position in gold coins for numismatic and physical gold ownership reasons.
Finally, there were many requests for the Larry Briggs Seated quarter reference book. This offering sold within ten minutes of the Blog being posted while orders continued throughout the day.
Orders and customers interactions dominated Wednesday afternoon and little progress was made loading the Motor City Collection pieces to the price lists. As a not so quiet celebration for the 1859-O $20 gold piece sale, 7:30pm brought a trip to the basement soundroom, some scotch and playing hookey from the late evening shift. Watching an Eric Clapton Crossroad concert DVD and viewing the Clapton/Winwood reunion with selection from the lone Blind Faith album was a joy. There is always a magical moment whenever I hear Steve Winwood's Can't Find My Way Home.... Is it the memories of late teenage years during the Vietnam and Haight-Ashbury era?
Come down off your throne and leave your body alone, somebody must change
You are the reason I've been waiting so long, somebody holds the key
Well, I'm near the end and I just ain't got the time
And I'm wasted and I can't find my way home
Featured Topic
Undoubtedly, you've seen the videos of Russian jets buzzing an U.S. Navy destroyer in the Baltic Sea. Clearly, this behavior is provocative and the ship's commander had a few tense moments or did he? Enter George Friedman and another This Week in Geopolitics essay to explain Russian motives. Thank goodness for essays of this quality that provide insight into global power maneuvers beyond the 20 second reporting of the evening news or YouTube videos. His article is entitled, From the Baltic Encounter to the Internet Wars, and I believe you will find to be a worthwhile read. Following are a few opening paragraphs as an enticement.
Last week, two Russian SU-24 fighter planes buzzed a US Navy destroyer over the Baltic Sea. One of the planes flew within 30 feet of the ship, according to US officials. Secretary of State John Kerry protested, saying that the Russians were endangering the destroyer. The media in the West concluded that the Russians were simulating an attack on the destroyer. The Russians made no official statement, though a spokesperson for the Russian Defense Ministry commented to Interfax that Russia had done nothing that violated international laws or that endangered the destroyer or its crew. He expressed surprise that the Americans felt the need to be so "touchy"—and he was clearly pleased at the American response. Unofficially, the Russians dramatically inflated their account of what they did—an embellishment in many ways far more interesting than buzzing the destroyer.
To begin to understand this event, it is important to remember that such behavior was common during the Cold War and occurs with some regularity now as well. It involves not only Russia and the United States but also China and some countries allied with the US, including Britain and Japan. In November, the Turks shot down a Russian plane intruding on Turkish air space.
It is not as uncommon to see aircraft intercepting each other in international waters. There is a limited military purpose for this. Near-threatening behavior elicits responses. Those responses tell the other side about how ships and planes might maneuver in a real attack, how quickly events are communicated to higher echelons, frequencies used by fire-control systems, and so on. The target must assume that the approach is hostile and begin responding, and that response can provide useful data. But the primary purpose of such a maneuver is simply to show that you are willing to do it, to signal unhappiness, and to impress the public by projecting a sense of power.
The media's claim that the Russians were simulating a real attack on the destroyer is not credible. An attacking aircraft does not swoop down on a ship these days. It launches anti-ship missiles from a position that it hopes is outside the range of the destroyer's anti-aircraft systems.
.......
The US was operating near Russian waters, and the Russians decided to show their displeasure (not that the US cared). The US tried to make the event appear as a near disaster (not that the Russians cared). The level of outrage expressed by the Americans was a bit greater than usual, given that the US Secretary of State decided to personally protest and indicated that the Russian planes risked being shot down (a possibility, yes, but an unlikely one). The encounter grew a bit heated but was still conducted within normal bounds on both sides. More intriguing was where Russian information operations (also known as psychological warfare, disinformation, propaganda, or lies) took the story.
Featured Coins from the Trading Desk
In Wednesday's Blog, we featured Poetic Candy gold. These and the 1859-O $20 piece sold along with several other gold coins. Coincidence or cause and effect once again?
Today's Featured Coins are from the Liberty Seated half dollar price list. Seated halves are quite popular and always in demand. Stocking CAC approved examples is challenging as they sell quickly. This morning, I wish to highlight two of my favorite halves in stock. Both lack CAC stickers and one is in a PCGS Details holder. Let's remember that numismatics is about the love of coins and not the love of TPG holders and various "paid for" opinions.
First is an 1859 New Orleans piece that resides in PCGS Details holder. This example offers MS65 eye appeal but has a toned over scuff in the reverse field. My images are quite accurate. Frosty cartwheel luster along with pretty original toning drives the eye appeal. One sees pastel gold, aquamarine, blue and a predominance of rose on the reverse. Should this attractive example be relegated to the undesirable bin due to the TPG's Details opinion? I don't believe so. Next is a sweet 1876 WB-4 Carson City half graded PCGS AU55 that is choice original with ample frosty luster. Head and hair curls are crisp and all star centrils are connected. Mint frost can be seen in the protected areas throughout the obverse and reverse.
Thank you for stopping in this morning. Once again, the Daily Blog has been published before 8:00am. Please remember that the Bay State coin show is tomorrow along with an early drive to Malborough, MA. If you don't see the Daily Blog at the normal time, then this is the reason. Have a great day.
April 20, 2016
Another Wednesday arrives with Maine experiencing outstanding seasonal weather. Actually, the lack of April rains has elevated forest fire risks throughout New Hampshire and Maine. The thought of conducting a Spring season burn on the massive Fortin brush pile must be delayed as fire permits are not available until some significant rains arrive. While Texas is flooding, New England is dry due to jet stream positioning.
There are many items on today's agenda so let's minimize the preamble and moved immediately into GFRC News.
GFRC News
Leading GFRC News is a new consignment from the Motor City Collection. We first announced this special lot of Draped and Capped Bust halves on April 12 with the following brief description of certified grades and purchase dates.
Draped Bust 50c: 1806 O-118a R3 PCGS XF40 Pointed 6, Stem (3-27-86); 1807 O-105a R3 PCGS VF20 (8-30-86)
Capped Bust 50c: 1810 O-109a R4 PCGS VF30 (8-28-91); 1812 O-105a R2 PCGS AU53 (11-27-87); 1817 O-105a R4 PCGS VF25 (10-3-85); 1822 O-111 R2 PCGS EF45 (8-26-97); 1826 O-102 R1 PCGS AU58 (2-3-88)
But this morning, we have a special treat from Motor City; PDF files of the Sheridan Downey mail bid catalog descriptions for the 1810 0-109a and 1822 O-111 halves. Just click on these links to download the 1991 and 1997 catalog excerpts.
The Motor City consignor is typical of many advanced collectors who starting collecting in the 1980s. They purchased raw coins from mail bid lists and auction catalogs prior to the emergence of the Third Party Grading services. Working with trusted dealers of that era was paramount. Gradeflation is also apparent as the 1810 and 1822 halves were graded VF20 and EF40 respectively by Downey. Today, they reside in PCGS VF20 and EF45 holders.
Prices are available and ready to be quoted for GFRC customer with interest. Hopefully, these pieces will reach the price lists by tomorrow morning.
Motor City Collection Consignment - April 20, 2016
Does anyone need a copy of Larry Briggs' Comprehensive Encyclopedia of United States Liberty Seated Quarters?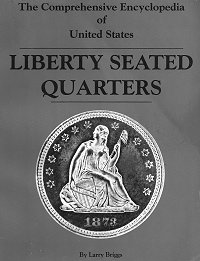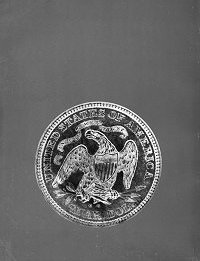 This book has been out of print for years and a near new copy was offered to me at the Nashua, NH show. Priced at $85 plus shipping costs. Please email me quickly if interested as doubtful it will last long.
Shifting to United States gold coin offerings, the Poetic Candy Collection Part II coins are fully loaded on the gold price list. Also added, is a nice lot of $1 gold pieces from eBay partner, Jim Poston. The 1853 PCGS AU55 OGH example with beautiful deep orange coloring is most special as four inquiries arrived quickly. I'm pleased to announce that GFRC's Shanghai agent, Harry Zhang, secured this lovely piece of Americana.
Spot Gold Trend Chart Update
After a substantial breakout, gold prices have been consolidating in a narrow trading range. The following Kitco.com technical chart illustrated this point. The consolidation period has approached the 60 day moving average line on the 8 year trend chart. For the breakout to continue, gold must test the $1270-$1300 range within the next several weeks.
8 Year Gold London Fix PM Daily with 60 and 200-day moving averages
Global Financial News
Spot oil is struggling to hold the $40/bbl level as supplies continue to exceed demand. The price recovery from the low to mid $30/bbl to current level is not a supply/demand issue, but rather short covering by global traders. Regardless, countries dependant on oil revenues are struggling with Saudi Arabia and other Gulf governments to enter the bond market.
Crude prices have fallen below $40 a barrel after Kuwaiti oil workers ended a three-day strike that had cut the OPEC member's production by nearly half. Concerns about oversupply were further reinforced by API industry data that showed a 3.1M barrel U.S. inventory build last week, about double that expected by analysts. Bearish sentiment is also taking hold as traders continue to assess the impacts from the output freeze deal failure between major producers on Sunday. Oil futures -2.8% to $39.94/bbl.
Looking to counter dwindling oil revenues and reserves, Saudi Arabia is raising $10B from a consortium of international banks as it embarks on its first global debt issuance in 25 years. The landmark five-year loan, a signal of Riyadh's newfound dependence on foreign capital, comes as the sustained oil slump encourages other Gulf governments, such as Abu Dhabi, Qatar and Oman, to tap world bond markets.
Featured Coins from the Trading Desk
In Tuesday's Blog, we featured Morgan dollars and GFRC sold four pieces during the day. Coincidence or cause and effect?
Today's featured coins are from the United States gold price list since increasing spot gold prices make MS63 Double Eagles an attractive collector and bullion play. Every collector should consider a small position in United States coins as a rainy day fund. If some financial analysts are correct, gold upside potential far out weighs the downside. One no longer reads articles on why gold is a financial relic. Rather, I'm reading that Russia and China continue to import as much physical gold as possible while COMEX physical gold inventories, for settling trading contracts, are at an all time low. One cannot ignore these trends.
Might I recommened the following two gorgeous Double Eagles from the Poetic Candy Collection? First is a 1904 Liberty $20 housed in PCGS MS63 Old Green Holder with CAC approval (On Hold). The eye appeal is huge and, as mentioned previously, I thought this piece might have a chance at CAC Gold. Next to the 1904 is a spendid 1927 St. Gauden also housed in PCGS MS63 Old Green Holder and appears to be under graded based on my inspection. Both pieces are common dates but offer strong collector appeal along with close to an ounce of physical gold.
Thank you for visiting this morning. I've managed to publish the Daily Blog before 8:00am and now off for a shower and starting the day's activities. Take care and I will be back bright and early on Thursday morning. Have a great day.
April 19, 2016
Welcome to another Tuesday and New York state presidential primary day. "Can Bernie close the minority voting gap with Hillary" will be the news media drama of the day.
April is a strong GFRC sales volumes month and I'm thankful for the all the new customers and friends. Time management is a challenge even with productivity improvements from Matt's COIN inventory and reporting system. Balancing quality service with physical exercise and home chores requires planning and adherence to schedule. Doug, the mail man, arrives around 11am...so daily shipping must be completed before that time. Photography takes place between 11:00am and 1:00pm for maximum sunlight and optimum image contrast. After dinner sessions are for image processing, assembling Client Galleries and planning the subsequent morning's Daily Blog. Each day starts at 6:00 with a Daily Blog published, hopefully by 8:00am, to enable timely packaging and shipping tasks. Life is a daily routine but would not trade for any other profession. Working each day with quality coins and great people as a second career start-up business is a true blessing.
Speaking of physical exercise, I took a 90 minute walk through the back acreage yesterday and feel proud of the accomplishment. Time was carved out of the day for hiking through a hillside forest. The walk brought much needed exercise, time for peaceful reflections and a sore back this morning. More hiking sessions are planned weather and coin shows permitting.
GFRC News
I'm still a collector at heart and acquiring this freshly graded 1877-S F-101 dime (NGC MS65) at the Nashua show was a huge thrill and wish to showcase in the Blog. This piece is already sold and I'm pleased to announce that the Strong Hands consignor has filled another major slot in his advanced San Francisco Liberty Seated dime collection. Let's congratulate Strong Hands as this 1877 San Francisco date has proven elusive at the MS65 grade level.
Another GFRC customer made a substantial decision on Monday to acquire the Pickering Creek 1889 PCGS MS66+ CAC Seated dime which is also ex Bob Simpson Collection. As said on multiple occasions, I've seen few Seated dimes that offer this amount of booming luster. Congratulations go out to this individual.
GFRC continues to expand United States gold offerings. The current focus is $1 gold pieces as true collectibles rather than a bullion play as seen with the larger denominations. Following is a nice lot of gold $1 pieces heading to the GFRC Gold price list today.
Global Financial News
This morning's Seeking Alpha headlines are bright sunshine. Global markets are in a risk off mode. Spot oil price stability remains the catalyst for equity market swings. Argentina is returning to the international bond market. Given this country's history of bond payment issues, who would purchase these regardless of the 6.4-8.0% interest rates? Spot gold is back to $1244 and consolidating.
World shares are heading higher after oil prices stabilized and the Dow Jones closed above 18,000 for the first time since last July. Stocks seems to be getting a further lift from the ongoing first-quarter corporate earnings season. Analysts had forecast a pretty poor batch of results and many companies are managing to beat those expectations. The FTSE All-World equity index is up 0.7% to 268.9, its highest level since early December.
Oil prices have regained some ground as a result of an oil worker strike in Kuwait that has reduced output to 1.1M barrels per day from 2.8M. However, the gains may be short-lived. Russia's Deputy Energy Minister Kirill Molodtsov told reporters the country is considering raising its production this year, and a level of 540M tonnes of crude is "quite realistic," following the collapse of the Doha deal. Brent +1.6% to $43.63/bbl; WTI +1.6% to $40.41/bbl.
Argentina has officially returned to the global bond markets following a 15-year hiatus, unveiling the biggest sovereign issuance by an emerging-market nation in two decades. The country is raising up to $15B, but demand for the bond issue (which will pay an interest rate of between 6.4% and 8%) was strong and attracted orders worth $65B. Most of the cash raised will go toward paying off a small number of holdout creditors, led by U.S. hedge funds Elliott Management and Aurelius Capital.
Featured Coins from the Trading Desk
Let's visit the Morgan dollar price list since adding several pieces yesterday. Purchasing toner Morgans is a subjective proposition as there is no price guide or rating system. Eye appeal is the dominate parameter and naturally toned pieces with vivid colors bring strong premiums. Following are two of my favorite offerings from a value perspective. How often does one see an 1878 Carson City dollar with such bold golden rims? This piece was purchased from a small Maine coin shop and recently graded NGC MS62. Next is a near gem rainbow 1886 dollar grade PCGS MS64. Viewing this piece under bright light is lots of fun!
The 8:00am Daily Blog publishing time target was achieved this morning! Thank you for visiting and hopefully you've enjoyed this edition. Time to move into the packaging and shipping department.......will see you bright and early on Wednesday. Have a great day.
April 18, 2016
Greetings on a Monday morning and welcome to another work week.
Taking a table at the Nashua, New Hampshire monthly coin show was fun! There was no need for a nine hour drive to Baltimore or airflights to Chicago or other major coin convention venues. The Nashua show is well managed by Ernie Botte. Ernie also manages the Westford and Auburn, MA shows only with Manchester, NH event. Dealers arrived promptly, setup was quick and by 8:00am the floor was buzzing with dealer to dealer wholesale. Public attendance at 9:00am was a continuum as the buzz in the room just grew louder. This local show provided a chance to meet existing customers and Daily Blog readers. GFRC had an overall good show and I will be back along with considering taking a table at the Westford, MA shows. New England remains a strong numismatic region with one day shows being cost efficient.
Three coins were purchased at Nashua with the 1877-S F-101 Seated dime being substantial for Liberty Seated Top 100 Variety collectors. The three pieces are;
Seated 10c: 1877-S F-101 NGC MS65 freshly graded with aquamarine/ blue patina over ample luster. 1877-S date is grade rarity in MS65
Reeded Edge 50c: 1839-O PCGS VG10 original and scarce
Gold $1: 1873 Open 3 AU58 raw
GFRC News
FRoR demand for Jim Poston's latest consignment in the April 16 Blog has been strong. The 1863 PCGS VG8 and 1864 NGC AG3 Seated dimes are already sold. For the balance of FRoR requests, images and asking prices will be emailed throughout Monday.
The annual Bay State coin show (Malborough, MA) arrives later this week. GFRC will be walking the floor on Friday only. Already, several purchase delivery appointments are on the books and I'm open to bringing inventories on a vest pocket basis.
Central States Numismatic Association coin show arrives next week. GFRC will be flying to Chicago on Tuesday and located at Table 910 with W. David Perkins, Numismatist during the April 27 - 30 event.
Central States Bourse Floor Map
Visit Gerry Fortin Rare Coins and W. David Perkins, Numismatist first!
Global Financial News
Spot oil price recovery hit a pot hole as Iran failed to attend the Doha conference to freeze production levels. Iran's lack of participation should be no surprise as Saudi Arabia and Iran are enemies. Then there is a case of what happens when sleeping with an enemy. Now Saudi Arabia vows to dump US Treasuries and hammer the US Dollar if Saudi Arabia is implicated in 9/11 attack. The IMF continues to act as global economic cheerleader and is using the term "growth-friendly" spending....problem is that all major economies need serious debt write-offs and no politician can confront this problem and stay in office. Finally, the Greek drama is upon us again. Debt and austerity issues just don't go away. Here are today's must read Seeking Alpha headlines.
World shares are following crude lower, after the world's largest oil exporters failed to reach an agreement in Doha to freeze output at January levels. The major sticking point during the meeting was the heightened tension between Saudi Arabia, the de facto OPEC leader, and Iran, which made a last-minute decision not to attend the gathering. Although no one expected Tehran to freeze production after its international sanctions were lifted, it wasn't clear if the Saudis would demand that Iran immediately join the pact. Crude futures -3.1% to $40.42/bbl.
Saudi Arabia has told the Obama administration that it will sell up to $750B in treasuries and other American assets if Congress passes a bill that would allow the Kingdom to be held responsible in U.S. courts for any role in 9/11. The threats have been the subject of intense discussions in recent weeks between lawmakers, the State Department and the Pentagon, and the Obama administration has lobbied Congress to block the measure's passage.
The IMF's steering committee on Saturday urged member countries to boost "growth-friendly" spending and said that it should explore new measures to help deal with the slowing world economy. Using all policy tools "is vital to stimulate actual and potential growth, enhance financial stability and avert deflation risks," according to the communique from the panel. The IMF cut its global growth forecasts last week for the fourth time in a year.
In a bid to bridge differences between Europe and the IMF over bailout requirements, Greece's creditors are considering extra austerity measures that would be triggered if Athens misses its fiscal targets. Under the proposal, Greece would have to sign up to so-called contingency measures of up to €3B, on top of the €5B package made up of tax increases and spending cuts the country and its lenders are currently negotiating.
Featured Coins from the Trading Desk
At the Nashua NH show, GFRC featured a display case with only CAC Green and Gold approved coins. Some of the old time dealers looked and commented about how ridiculous and expensive the TPG and CAC approvals have become. My response was always the same. One look in the case indicated what premium Bust and Liberty Seated coins should look like. There were no dipped out coins or strange colors in this case, rather just even shades of gray with considerable eye appeal. The wholesale dealers focus on the CAC Gold coins for playing the crack out and upgrade game. Luckily, the Gold CAC remained with GFRC and returned home to Maine. Patience is a virtue and the right collector will come along for these Gold CAC pieces.
Following are two CAC coins that were in the Nashua show case. First is Poetic Candy's 1885 PCGS PR65 OGH Gold CAC dime. The wholesale dealers were after this piece trying to decide the upgrade potential; PR66, PR66 CAMEO or PR67? The Pickering Creek 1889 dime graded PCGS MS66+ also received considerable attention as one of the most lustrous Liberty Seated dime I have ever seen.
Please remember that this is the last week to purchase Pickering Creek Seated dimes. If not sold by this weekend, they will be returned to the consignor at Central States show and stored in his bank vault.
Thank you for visiting with GFRC on this Monday morning. It is personally gratifying to know that a collector community is assembling around GFRC and the Daily Blog. My goal is to provide quick and easy to read educational commentaries on numismatics, the financial world along with the occasional entertaining item. Have a great day and week!
April 16, 2016
Welcome to the Daily Blog on a mid April weekend.
Maine weather will be perfect for yard work. So I'm spending the afternoon hours outdoors and taking a break from coins and sitting in the GFRC office. As much as I love coins, a change of scenery and activities is in order. Please don't be shy about placing orders; I'll be responding to phone calls and emails as necessary with smart phone.
Sunday brings the Nashua, NH show and a 5:00am start to the day with a two drive hour through New Hampshire and Massachusetts before heading back north towards Nashua. Setup starts at 7:00am with the show ending at 2:00pm. GFRC will have three cases of coins for viewing and hopefull a few sales. One case will be dedicated to raw bust and seated coinage. Another will be slabbed bust and seated coinage under $200 and finally, the third case will be the cream of GFRC inventory; the CAC approved coins. There will be no Daily Blog on Sunday.
If you plan to attend the Nashua show and have interest in a particular GFRC inventory item, then please contact me by 6:00pm. Inventory will be packed after dinner and heading to bed early this evening.
GFRC News
About half of the Poetic Candy Collection Part II consignment reached the price lists last evening along with more Baltimore purchases. There are two Poetic Candy highlights worth sharing this morning and astute collectors should seriously consider purchasing these coins as a set. The first highlight is three consecutively numbered PCGS Old Green "squishy" holders that house the 1903 and 1916 $1 gold commemoratives followed by a gorgeous 1904 $20 Liberty gold piece. The consecutively numbered PCGS holders are 9198089, 9198090 and 9198091 with the following coins. How cool is this as the 1903 has CAC GOLD approval and I believed the 1904 $20 Liberty also had a strong chance for going CAC GOLD?
Secondly, and in honor of his Part II consignment display, Poetic Candy wrote a poem for the occasion. I'm pleased to be sharing the following thoughts on a lovely Cache of Gold.
MY CACHE OF GOLD
If black is black and white is white,
And red and yellow's in between,
I think we have a rainbow,
Like no one else has ever seen.
It's not like the ones we've looked upon before,
That rest in yonder skies,
But is much closer to us,
We need just open up our eyes.
For this elusive cache of gold holds really not too much,
When all we have to do,
Is reach out to those that are around us,
To try and understand, to touch.
Therein lies the real treasure;
It's one that we can always hold,
In fact it too is colorful,
And most would also call it gold.
If all the world were gold or especially white,
It would be a ghostly sight,
And we might as well remain in darkness,
In the dead of night.
Another important GFRC News Event!
Jim Poston's express shipment arrived promptly on Friday and contained another round of eclectic offerings. GFRC is so fortunate to have satellite operations including eBay sales in the Mid West region. Here comes the latest consignment from Jim with FRoR in order.
Seated 10c: 1863 PCGS VG8 choice original; 1864 NGC AG3 original
Seated 25c: 1839 PCGS VF30 CAC and a gem for the grade
Draped Bust 50c: 1801 PCGS VG08 CAC...rare date and choice original
Capped Bust 50c: 1809 PCGS F12 original gray; 1820 PCGS F15 choice original
Seated 50c: 1842 Medium Date PCGS VF35 original gray; 1845-O WB-108 Double Date original VF35; 1868-S PCGS AU58 lustrous white; 1887 ANACS Old White Holder MS61 with absolutely gorgeous toning and mirrored fields.
Gold $1: 1853 PCGS AU55 OGH; 1856 NGC AU55 CAC Slanted 5; 1859 NGC MS62 and scarce; 1862 PCGS AU58 CAC
Featured Coins from the Trading Desk
Yesterday's 1849 NGC AU55 Seated half dollar lasted only minutes after pending posted as a Featured Coin. Let's hope for similar results this morning. GFRC continues to expand Draped and Capped Bust half dollar offerings as my goal is to be well recognized for not only Liberty Seated product lines but also for Draped and Capped Bust silver and finally, United States gold. Amassing quality inventory does take time and experience.
Following are two choice Draped Bust halves. The first is the 1801 O-101 from Jim Poston graded PCGS VG8 and approved by CAC. Mintage is a low 30,289 and always a challenging date when building a date set collection. Recently graded as housed in 2015 style PCGS holder. Next is a gem original 1806 O-117 R4 PCGS VF35 CAC half dollar. This piece is clearly superior when compared to those seen in the market place. Surfaces are pristine and offer lots of eye appeal.
Thanks for stopping in and I will see you bright and early on Monday morning. Actually, taking a one day break from writing the Daily Blog will be welcomed.

April 15, 2016
Greetings on a Friday morning!
Maine weather is forecasted to be perfectly seasonal with clear blue skies and ample sunshine. Conditions will be ideal for more coin photograph as the consignments continue to roll in.
Since working until midnight and up early at 6:00am, this morning's Blog will be short. There was no time to watch the Democratic debate last evening and frankly, I don't believe Bernie will upset Hillary for the nomination. Though Donald Trump is comfortable with going to war with the Republican party establishment, Bernie is more traditional and doubtful he would use similar tactics to place pressure on the super delegates under Hillary's control. If Bernie loses in New York and Pennsylvania, then the Democratic primary race is over.
GFRC News
As promised earlier in the week, following is the majority of the Poetic Candy Collection Part II consignment. Let's just say that the Poetic Candy gold is just as impressive as the smaller denomination Part I proof coinage. The consignment leads off with a sweet 1903 Jefferson $1 commemorative PCGS certified MS64 OGH and receiving GOLD bean during CAC review. I wonder how long this one will last? The 1916 McKinley also resides in PCGS MS64 OGH and has CAC green approval. The Jefferson and McKinley are in consecutively numbered holders and should be kept as a set in my opinion. Next is a 1926 Sesquicentennial in PCGS blue label holder graded MS64 with CAC approval. The two Indian $2.5 pieces also received CAC approval. The 1925-D NGC MS64 has a boldly raised rim and is so appealing. I thought the 1904 PCGS MS63 OGH $20 gold might GOLD CAC as the eye appeal is huge! But some scattered blemishes limited this piece to CAC green designation. The 1904 $20 is also consecutively numbered with the Jefferson and McKinley gold $1 as an FYI. The 1911-S Saint is graded PCGS MS65 for those who may have interest.
Asking prices will be finalize during the next 36 hours and I hope to have the Poetic Candy gold online by Sunday. The FRoR window is now open. Please remember this is an old time collection with quality that is just not readily available in today's market.
Poetic Candy Collection Part II - April 15, 2016
United States Gold - 65% CAC Approval
In other GFRC News, the lastest Motor City Collection consignment arrived while the consignor's 1838-O PCGS AU55 Liberty dime sold yesterday. The Motor City halves are obviously from an old time collection (as previously communicated) with originality and eye appeal being readily apparent. This lot is heading to CAC for review next week after being photographed today.
Jim Poston sent along an email indicating another substantial consignment was expressed shipped yesterday. We are expanding the GFRC $1 gold inventory via this consignment. Stay tuned and I will announce the contents in Saturday morning's Blog.
Finally, a local collector visited the GFRC office yesterday. We reviewed holdings that were assembled in the late 1980s and early 1990s. This portion of the collection was mostly Capped Bust and Liberty Seated halves. Several quality Capped Bust contemporary counterfeits were in the mix including an AU 1833 Davignon 1-A. Moving forward, this consignment will be called the Southern Maine Collection.
Financial News
Spot oil prices appear to have stabilized at the $40/bbl range and global producers are attempting to control output at current levels. Iran remains the problem child. Did you think that the Greece bailout was going smoothly since not mentioned in the financial press? Not so according to the IMF's Christine Lagarde...just another Greek drama that may be re-emerging. Finally, China's reported economic growth at the exact mid range of previously set target. Should anyone be surprised in an economy with central government control? No one rocks the boat and survives within the Chinese Communist Party.
All eyes are on Doha this weekend where a meeting between OPEC and non-OPEC oil producers is being held to discuss freezing output at current levels. Ahead of the big event, another Russian official poured cold water on hopes that a freeze would boost crude costs. "I want to say that we don't expect any changes in the price in spite of the negotiations which are being conducted currently with oil-extracting nations," Finance Minister Anton Siluanov told CNBC. Crude futures -1.7% to $40.79/bbl.
The IMF and Eurogroup are butting heads over the Greek bailout, with Christine Lagarde calling Athens' fiscal targets "highly unrealistic" and saying the €86B rescue may need to be "completely renegotiated." "Flexibility is not an option," Jeroen Dijsselbloem said in response, promising that "if necessary we will do more to relieve their debt burden." A slow death? Germany has repeatedly warned it may no longer be able to support Greece's third bailout if the IMF quits.
The world's second-largest economy grew 6.7% in Q1, the slowest pace of expansion since the financial crisis. But the figure suggested China's target range of 6.5%-7% growth for 2016 is possible as long as it continues using its vast stimulus toolbox. Other data also reinforced previous signs the country may be finding traction with better-than-expected growth in retail sales, industrial output, fixed asset investment, export figures, and capital outflows.
Featured Coins from the Trading Desk
Many new offerings reached the price list yesterday with a strong concentration in Capped Bust and Liberty Seated halves. Following are two of my favorite pieces from a collector perspective irrespective of grade or value. First is a raw 1823 O-111 CBH graded EF40 and sporting crusty original gray patina for the Highwoods consignment. Surfaces are completely blemish free and strike is complete. Also from the Highwoods consignment is a choice original 1849 Seated halve graded NGC AU55. I love the olive gray patina that nicely transitions to rose, blues and gold under a light source. This half also has an extra ball of the 9 digit protruding from the denticles to add a little spice.
Thank you for visiting this morning. I'm off immediately to the GFRC packing and shipping department as my admin assistant is back staffing her Benjamin Moore paint store. It will be another long day but I really can't imagine living life any differently...... Have a great day!
April 14, 2016
Welcome to the Daily Blog and thank you for stopping by.
The days are flying by as life becomes a balancing act between maintaining GFRC business volumes and cleaning up the Raymond property after another winter. Wednesday brought the road sand removal and the initial Miata ride of the year. What is really daunting is a massive brush pile in the back yard that must be burned along with wood piles that require splitting. Welcome to rural Maine life!
GFRC News
I'm pleased to announce that GFRC will be taking a table at the monthly Nashua, NH coin show this Sunday, April 17. Though a one day show, I was quite impressed with the amount of floor traffic and merchandise quality during a prior visit. Ernie Botte manages the show along with Westford, MA and Manchester, NH events. GFRC will have one case of original raw Capped Bust and Liberty Seated coins along with 2 cases of slabbed inventory. For New England attendees, this is an opportunity to view GFRC inventory first hand; just email me with requests and I will be happy to bring selected coins to the Nashua show.
A new Motor City Collection consignment arrives this morning followed by meeting with Maine collector this afternoon to view Seated quarter and Capped Bust halves collections that were assembled in the late 1980s and early 1990s. Inspecting new consignments if the fun part of this business as one never quite knows what important varieties may be lying dormant in old time collections.
Today's priority is loading the Highwood Collection coins on the price lists. Second, is processing the Poetic Candy Collection Part II images this evening while attending a planning conference call for the LSCC ANA Summer Seminar class in late June.
Featured Topic
If you have a spare 15 minutes during the day, please consider reading through this Mauldin Economics publication concerning ongoing debt growth in the United States. There is no drama in the Hoisington Quarterly Review and Outlook – 1Q2016 report, just factual reporting. Frankly, the next major debt bubble to burst will not be student loans. Instead the prime area of concern is unsustainable corporation debt as companies continue to increase leverage towards managing stock prices. Following is an excerpt concerning corporate debt;
Last year business debt, excluding off balance sheet liabilities, rose $793 billion, while total gross private domestic investment (which includes fixed and inventory investment) rose only $93 billion. Thus, by inference this debt increase went into share buybacks, dividend increases and other financial endeavors…. When business debt is allocated to financial operations, it does not generate an income stream to meet interest and repayment requirements. Such a usage of debt does not support economic growth, employment, higher paying jobs or productivity growth. Thus, the economy is likely to be weakened by the increase of business debt over the past five years.
Also contained in the Hoisington 1Q2016 Review is a graph that immediately caught my attention. They say that a picture is worth a 1000 words. This graph concisely indicates how badly the central bankers have failed in their efforts to stimulate economic growth. Regardless of record low interest rates, money velocity (M2) in all major global economies continues to drop. Will negative interest rates have a positive effect on this trend? Doubtful as QE and ZIRP have failed. The next time that you are subjected to a complex economic explanation by a central banker (Janet Yellen for example), just remember the simplicity of this graph.
Featured Coins from the Trading Desk
Let's visit the GFRC Capped Bust half dime price list today for several of my favorite offerings. The Capped Bust half dime series is short date wise (1829 through 1837) but becomes challenging when collected by die variety. The blue Logan-McCloskey book entitled Federal Half Dimes 1792 - 1837, covers all die varieties for Draped and Capped Bust half dimes. It is an essential reference for advanced collectors. All GFRC Capped Bust half dime listings are attributed to the LM reference system.
As with other denominations and designs, my emphasis is locating choice original examples and the Capped Bust half dimes are no exception. Following are two choice offerings that deserve consideration. We open with an 1829 LM-1 example graded PCGS AU55. This initial year half dime offers strictly original surfaces that are toned a steel gray with dark gold surrounding the stars and reverse legend. Next is a rare 1829 die variety offering from the Hanes Park Collection. The first year of issue resulted in a substantial number of die pairing varieties. The LM-6 die pairing and re-marriages are challenging to locate and consistently rated as R5 rarity. This example of the LM-6.3 pairing is strictly original with gun metal gray toning. The second S in STATES is filled and is an important LM-6.3 diagnostic.
April 13, 2016
Greetings on a sunny Maine morning. The upcoming stretch of Maine weather will be pleasantly seasonable with high temperatures approaching the mid 50s. The notorious black fly season is approaching so best to focus attention on yard clean-up. Winter road sand must be removed and a single ice storm took down several birch trees. The John Deere tractor needs an oil change and the Miata will be taken for a short drive.
LSCC News
Our club leadership team held its monthly conference call last evening. Already, we are focused on the Anaheim ANA annual meeting and in planning mode. I'm pleased to announce that Heritage's Bob Merrill will once again be the auctioneer for the LSCC annual auction. Bob Merrill is the consummate auctioneer with quick wit and a lifetime of stories; no one is as entertaining as Bob Merrill. Craig Eberhart volunteered to prepare the auction catalog and write lot descriptions. Securing auction lots is now the primary challenge. We discussed the preparation of a color catalog as was done during 2016. The cost for printing a full color catalog and mailing with the August Gobrecht Journal approaches $1500. Therefore, the club will need a minimum number of auction lots and associated proceeds to justify this cost. Auction lot donations can include coins, reference books, artworks and about anything related to Liberty Seated coinage.
Donated auction lots are an important aspect of the LSCC revenue stream. Gobrecht Journal printing costs consume all club member dues and advertising revenues, therefore the annual auction becomes the primary vehicle for generating monies and allowing the club to hold a 2017 club convention at the March Baltimore show. If there is potential interest to donate or consign Liberty Seated related material for the annual auction, then please contact me, Len Augsburger or Craig Eberhart for more information. The LSCC is the only non profit organization that actively promotes Liberty Seated coinage collecting and our club goals are noble. The leadership team is a group of dedicated volunteers with a united goal; ensuring next generation collectors are attracted to the Liberty Seated denominations through education and outreach. We need your support.
GFRC News
I'm pleased to announce the Highwoods Collection Part II consignment is ready to be posted to price lists today. Following is his Client Galley. The Highwoods consignor is an eclectic individual. He actively collects United States and World coinage. When not consumed by his professional career, our consignor enjoys being a life long musician and playing gigs at local clubs. This consignment is loaded with nice original gray halves. I especially like the 1849 NGC AU55 Seated half. How about the 1793 Wreath large cent graded PCGS VG Details? Regardless of the mild porosity, the color is quite attractive.
Highwoods Collection Consignment Part II - April 13, 2016
The Poetic Candy Part II consignment is next in the queue for image processing and if all goes well, I might have that Client Gallery ready for Thursday's Daily Blog.
I'm also pleased to announce a potential new consignment from a southern Maine long time collector. We are meeting on Thursday to review collection contents (all raw) and will formulate a marketing strategy which will include TPG and CAC submissions. This collection was slowly assembled during the mid to late 1980s and has been "put away" since that time.
The new Motor City consignment will arrive today followed by Jim Poston's latest shipment on Friday.
Financial Headlines
China is reporting favorable export growth for March which snapped a negative nine month trend. The Japanese economy remains in dire straits and one can sense the Bank of Japan desperate efforts to keep the world's third largest economy out of recession. Finally, Puerto Rico is bankrupt and is looking to Washington politicians for a solution (negotiated bailout). What is scary is that Puerto Rico is just the tip of the iceberg and several states are also in fiscal trouble due to debt loads and committed pension funding.
The trade picture in the world's second-largest economy staged a turnaround last month, although economists cautioned the data was heavily influenced by seasonal distortions from China's Lunar New Year holiday. After declines in both January and February, March exports surged 18.7% from a year earlier, while imports dipped only a slight 1.7%. In dollar terms, exports rose 11.5%, returning to growth for the first time in nine months, as imports fell by a less than expected 7.6%. Global equities are all higher on the news.
There's no denying that Japan's economic recovery is weak and prices don't seem to be rising, BOJ board member Yutaka Harada said today, outlining that's why the bank "has been enhancing its monetary easing by expanding QQE." Harada also confirmed the possibility of expanding negative interest rates at this month's policy meeting. The downbeat assessment comes after the IMF slashed its forecasts for Japanese growth for this year and next (along with other global economies), and predicted a contraction in 2017 if the country goes ahead with a planned sales-tax hike.
Policymakers in Washington raced on Tuesday to unveil a bill that would allow Puerto Rico to restructure its $70B burden, as Republicans and Democrats squabbled over the details. The federal legislation would create a seven-member oversight board appointed by President Obama from lists provided by majority and minority leaders in both chambers of Congress. It would also introduce so-called collective action clauses, which would separate creditors into different pools based on their holdings and allow them to vote on modifications to the debt.
Featured Coins from the Trading Desk
GFRC is not well known for offering quality early copper coins. This fact will be changing as more consignors are sending along quality copper offerings. Following are consignments from the Woodlands and Union Bridge Collections. First is an 1806 Draped Bust half cent that is graded PCGS EF45. This is a pointed 6, no stem variety piece with attractive coloring and 20 degree rotated reverse. How about a lovely 1850 large cent that is graded PCGS MS63 RB for your type coin collection? The color uniformity is attractive while a planchet stress crack on the obverse adds character.
Thank you for visiting the Daily Blog today and please consider a purchase. I will be in the office all day or in the driveway sweeping winter road sand. The cellphone is always with me and I would be pleased to chat about any GFRC offering that may be of interest. Have a great day!

April 12, 2016
Tuesday arrives much too quickly and already time for another edition of the Daily Blog. Thanks for stopping by.
There is little to share from a Maine perspective as Monday's focus was retrieving annual tax filing documents from the local CPA and loading coins on the price list. The day started at 6:00am and wrapped at 10:00pm with a visit to the basement sound room for an hour of pure relaxation. So let's quickly move into other topics that might be more stimulating.
GFRC News
The GFRC Maine office was active on Monday as Doug, the mail man, brought a host of check payments and USPS priority boxes. Doug is now a defacto member of the GFRC family as he stops by each day at 10:30am to retrieve USPS shipments and pass along checks. Even the mail man recognizes the GFRC business volume expansion and is an important contributing member of the external team. Each home pickup saves me considerable time that is applied to posting coins or packing shipment. Doug was well rewarded at Christmas for his pleasant and attentive support.
Monday brought at least six phone calls and more new consignment discussions. The Motor City consignor already placed a shipment in the mail and Jim Poston will be express shipping another round of new purchases on Thursday. Another consignment discussion involved a set of Draped Bust halves and Seated dollars. In between consignment discussions, a key GFRC advisor called to discussed coin ratings, the associated risks/rewards and challenges for this type of endeavor. I am blessed to have advanced collectors taking an active role in GFRC strategy development. Our community grows stronger each day as the business is guided towards the needs of individual collectors.
Motor City Consignment Preview (acquistion dates in parentheses, how cool is that?)
Draped Bust 50c: 1806 O-118a R3 PCGS XF40 Pointed 6, Stem (3-27-86); 1807 O-105a R3 PCGS VF20 (8-30-86)
Capped Bust 50c: 1810 O-109a R4 PCGS VF30 (8-28-91); 1812 O-105a R2 PCGS AU53 (11-27-87); 1817 O-105a R4 PCGS VF25 (10-3-85); 1822 O-111 R2 PCGS XF45 (8-26-97); 1826 O-102 R1 PCGS AU58 (2-3-88)
Most of these acquisitions date back to the 1980s with two from Sheridan Downey in the 1990s. All have been graded by PCGS. The Motor City consignor is an advanced collector who decided to start pruning his collection and exploring other collecting objectives. The Trading Desk option is congruent with his stated goal.
Featured Topic
Love him or hate him, Donald Trump is forcing dialogue on topics that have been under managed for years. One example is Donald's statement that NATO is obsolete and the United States' cost for defending Europe is excessive. It is a through back to the post WW II era and allows the European countries to enjoy protection from Russian expansion goals without the associated military spending. The United States continues its deficit spending while Europe utilzes "soft power" to negotiate issues as their military forces are anemic.
An excellent article from Mauldin Economics arrived via email on this topic and is well worth the time to read. The article is entitled Europe and NATO and is written by George Friedman. Mr, Friedman is a specialist in geopolitics and writes on a host of foreign affair issues that Americans should be cognizant of. Following are a few excerpts to wet your appetite......
My first visit will be to Slovakia, a country that has struggled to keep its relations with Russia intact. Each year there is a conference in Bratislava called Globsec, where people who are focused on Central Europe and Russia gather. National leaders frequently speak, but they rarely say anything new, since they can't. It is the people a tier or two down, some of whom I've known for years, who reveal the most by what they say or don't say about what really makes them angry or worried. These people are the ones who give you get a sense of what is coming— or at least what they think is coming.
This year, a major topic at Globsec will be NATO. The choice of topic has to do partly with Donald Trump's statements that Europe isn't paying its "fair share" and, further, that it would be fine if NATO broke up. Such remarks by US presidential candidates are regarded with great care and concern in Eastern Europe. On a broader scale, Russia and the Middle East both present national security issues for all of Europe. Europe has no integrated military capability except for NATO, and NATO is now, to my mind, a shambles. It is a military alliance, but Europe has allowed its military capability, limited to begin with in the wake of WWII, to weaken dramatically.
From the start, the Europeans wanted NATO to serve as the mechanism for approving and overseeing military operations. They wanted a decisive voice in how NATO members, including the United States, applied their military power. However, their forces were so small that in most cases their participation was little more than symbolic. NATO became less and less a factor in US decision-making, and the Europeans compensated by congratulating themselves for their sophistication compared to the American "cowboys."
The Europeans celebrated a concept called soft power, which involves the use of sanctions, the mobilization of public opinion, and other strategies that avoid military action. They wanted an option that cost less than becoming a global power costs. Frankly, from my point of view, their embracing soft power was simply a way to evade reality. As the Russians loomed larger and the Middle East spilled over into Europe, the Europeans discovered that soft power was… soft. And that they needed hard power, which the United States had (and to a far lesser extent Britain and France), but no one else did. Suddenly the world seemed out of control to the Europeans, since they lacked the hard power to shape events.
Financial News
OPEC must find an approach for mutually agreed upon production cuts to raise the price of oil. The Doha meeting is raising expectations resulting in spot oil trading north of $40/bbl. Janet Yellen visited the White House and there is a strong probability that Obama stated his case for no interest rate increases until after the presidential elections. Finally, Japan grows increasingly anxious over the Yen's recent appreciation. Japan is in the midst of a currency war with South Korea, China and the United States and yen appreciation will have impacts on exports for an economy that is gasping for air.
Just five days ahead of the much anticipated oil producers' meeting in Doha, Iraq's OPEC governor Falah Alamri has extended his support for an output freeze agreement by stating "this is the only way" to boost crude prices. Although at least 15 major oil producers (that account for 75% of the world's oil production) are scheduled to attend the summit this weekend, several sticking points remain, including Iran and Saudi Arabia's participation and the level at which production should be frozen. The optimism boosted Brent crude futures to a 2016 high of $43.53/bbl overnight, while WTI gained $0.39 to $40.75 a barrel.
So what happened at yesterday's meeting between President Obama and Fed Chair Janet Yellen? The two agreed that there has been significant progress made in Wall Street reform, and discussed the U.S. growth outlook for both the short and long term. They also talked about the state of employment and economic risks both at home and overseas. "The president has been pleased with the way she has fulfilled what is a critically important job," White House spokesman Josh Earnest said at a news briefing.
A rare day of dollar strength led to a relief rally on the Nikkei overnight after Japan's finance ministers said world leaders must deal with any intervention in the yen. The currency's retreat against the greenback, now hovering around 108, sent major export stocks higher, with automaker shares leading the rally. A weaker yen is a positive for Japanese exporters as it increases their overseas profits when converted into local currency. Nikkei +1.1%.
Featured Coins from the Trading Desk
Many top quality coins reached the price since the Baltimore show so let's feature several of my favorite offerings. The first is a mint state Liberty Seated Small Date half dime that is gem original (PCGS old blue label MS65) and indicative of the appearance of old time originality. Next is a choice original 1838-O dime from the Motor City collection. It would be most challenging to locate an F-102 example that would surpass this PCGS AU55 graded piece for overall quality. The F-102 die pairing features eroded dies resulting in textured or "orange peel" surfaces. Neither coins have seen a CAC review.
Thank you for visiting with me this morning. Today brings a substantial amount of packing and shipping followed by image processing of the Highwoods and Poetic Candy Part II Collection consignments. Phone calls and orders are welcomed. Have a great day.
April 11, 2016
Good morning and I'm pleased that you've decided to visit the Daily Blog.
Life is different in Maine as compared to Florida for multiple reasons. Gone is the convenience of Subway and excellent take-out pizza within brief walking distance. Accessing groceries and the post office outlet in Venice is only a few minute's drive. Even the local coin shop is less than 10 minutes away. The easier life comes with trade-offs however. Condo association living means sharing common space with others once stepping out the front door. Privacy is so limited and reminds me of the days living in Wuxi and Shanghai.
Rural Maine life is essentially 180 degrees out of phase with that of Florida (please forgive me as I'm an engineer). There is abundant privacy as stepping out the back door leads to acres of forest and walking trails. Accessing food, the post office and banking requires about a 20 miles round trip drive. Carefully planning daily activities is essential with rural life. One has to be more cognizant of the day's goals and scheduling multiple activities when heading "into town." But I cherish the harmony with nature and being somewhat self sustaining with neighbors as the primary support system. Life in Maine is indeed special and I'm glad to be home.
GFRC News
Being efficient is paramount when operating a personal business. I'm most pleased to report that the Maine GFRC office was up and running by Sunday noon. After driving 1500 miles in two days, office setup only took four hours and I was loading coins on the price lists and issuing COIN reports to consignors during afternoon hours. All orders and lay-a-ways are staged in 2 day USPS Flat Rate boxes and payments should start arriving today. GFRC is in full operation and I'm proud of the efficient management.
As usual, I worked into late evening formatting images and building this morning's gallery. Below is a nice selection of Capped Bust and Liberty Seated halves from the Whitman Baltimore show. The 1814 O-107 PCGS EF40 is choice original and from an old time collection while the 1827 NGC AU55 CAC is the challenging O-138 R4 variety. Then there are ample new Seated halves purchased as a lot from Mid Altantic dealer. Most are freshly graded in PCGS 2015 style holders; the lack of CAC green beans is due to no review rather than a quality issue. The gallery closes with a most attractive 1907-O Barber half graded PCGS AU53 and also from the same lot as the Seated halves. Your review of the images is welcomed as are any FRoR requests. If the day goes as planned, these pieces should be loaded on price lists by dinner time.
Whitman Baltimore Show - New Half Dollar Inventory
What is upcoming this week in terms of new coins?
More Seated dimes from the Florida and New Jersey consignments, Bust and Seated halves from the Highwoods Collection and of course, United States gold from Poetic Candy Collection Part II. These consignments will be completed just in time for the Bay State show in less than two weeks followed by Chicago Central States show and then Denver. My advice is to check the Daily Blog each morning as there will be a continuous flow of new offerings.
Financial News
Spot gold is moving up again and is currently priced at $1251. The U.S. equities market may be in for rough waters during Q1 earnings reporting. The carnage in the oil patch, strong U.S. dollar and weak global demand will be impacting corporate earnings. I'm glad to be sitting on cash in my retirement accounts. There is a global currency war underway with Japan struggling to further weaken its currency after the Federal Reserve decided to halt interest rate hikes. Finally, the IMF reports that 25% of the global economy is currently operating with negative interest rates and is touting the postive impacts in their latest report.
Earnings season for the first quarter is about to get underway, starting with Alcoa's (NYSE:AA) results after today's market close. If Wall Street forecasts are to be believed, traders are bracing for a 7.9% plunge in Q1 profits, marking the steepest decline since the Great Recession. It's part of a broader earnings erosion gripping U.S. companies due to the dramatic drop in oil prices, currency turmoil and slow growth across the globe.
The recent G20 agreement to avoid competitive currency devaluation does not mean Japan can't intervene in response to the one-sided moves of the yen, according to Chief Cabinet Secretary Yoshihide Suga. "What the G20 is talking about is arbitrary intervention, which is different from responding to a one-sided move." The dollar hit a fresh 17-month low versus the yen last week on expectations that the U.S. Federal Reserve would raise interest rates very slowly.
Negative interest rates have helped boost demand and support stable prices by supplementing conventional monetary stimulus, senior officials at the International Monetary Fund said in a paper. The report comes ahead of the IMF's annual spring meetings this week in Washington, D.C. Six of the world's central banks have so far introduced negative rates, most notably the ECB and BOJ, and around a quarter of the world economy by output is now experiencing official rates that are less than zero.
Featured Coins from the Trading Desk
Most of the Poetic Candy Collection Part I proof coinage offerings have sold. A handful remain and let's feature two examples this morning. Both are proof 3 cent nickel strikes in older PCGS holders that received CAC approval. 1889 is the final year of 3 cent nickel production and proofs strikes saw a mintage of 3,436 pieces. Below are two of those strikes with the first example residing in PCGS PR66 blue label holder followed by a PCGS PR64 example in old green holder. These offerings would be ideal for a proof type coin collection.
Thank you for visiting this morning! Please check back tomorrow morning (or later this evening) as another gallery of new coins will be featured. One never knows what might be lurking in my inventory boxes...... Have a great day.
April 10, 2016
Greetings from Raymond, Maine!
What a change from Florida as the 7:00am temperature is a brisk 25F with strong winds. Thank goodness starting the woodstove was the first priority upon yesterday's arrival. The house is fairly warm but the body is so spoiled from the Florida environment. Shorts and casual T-shirts have been replaced with LL Bean insulated jeans and a sweater. Plans are underway to extend the GFRC Florida office stay through early May during 2017.
Regardless of the cold, it is wonderful to be back in New England. The six states that comprise New England are very active in terms of numismatics. Coin shows abound every weekend and I may take a table at smaller shows just for the fun of it on a Sunday. Plus Maine is such an incredible place during the summer months. Getting through April and the transitional weather will take some adjustments. The 1993 Miata sat quietly in the garage all winter and will receive some much needed attention this week as day time temperatures return to seasonal levels.
Friday's driving through Florida, Georgia, South and North Carolina and finally, Virginia was uneventful and the weather was ideal for driving. We overnighted in Blacksburg and enjoyed a college town dinner followed by a Virginia Tech tour with Renee and her fiancee, Mike. Saturday was entirely different weather wise. During the Friday overnight, Blackburg experienced a temperature drop below freezing, rains and high winds. We awoke to snow and dangerous black ice with multiple accidents and police blocked highways. The Blacksburg bridges were sheets of ice and finding our way to I-81 was a challenge as the main Blacksburg access highway (I-460) was closed due to unsafe bridges.
Saturday's drive brought ice and snow through portions of Virginia and definitely Pennsylvania followed by rain in New Jersey. Sunshine returned in New York for the balance of the journey. Can you believe that Saturday's drive brought us through 20% of the states in our country. In a 12 hours period, the northern migration route brought us through Virginia, West Virginia, Maryland, Pennsylvania, New Jersey, New York, Connecticut, Massachusetts, New Hampshire and finally, Maine. Only in the Northeast could this be possible.
GFRC News
GFRC enjoyed strong sales while traveling. The near gem 1795 O-122 Flowing Hair dollar is on hold along with the 1846 PCGS EF40 Seated dime and the Seal Beach 1795 Flowing Hair dollar as major highlights. Seasoned collectors, who were unaware of the GFRC website, are locating us through the ever expanding advertising campaign. Comments are consistent when first speaking with new customers; they love the website and can't believe that a dealer would provide the detailed information seen to help with purchase decisions. GFRC is all about service and the collector experience. My goal is to become the leading online market place for quality Draped/Capped Bust and Liberty Seated coinage.
Please pay attention to the Pickering Creek Seated dime offerings. The remaining Pickering Creek dimes that are unsold will be returned to the consignor at Central States. If you've been considering the purchase of one of these amazing Liberty Seated dimes, then please don't hesitate as the availability window is closing in several weeks.
Normal GFRC Office Operations on Monday
Today's priorty is unpacking the office, repositioning the inventory and reference books followed by responding to customer emails and purchase requests. By evening time, I hope to be posting more Baltimore show new purchases and consignor coins. The GFRC new inventory backlog is deep! Highlights include....
- Jim Poston consignment that arrived the day before the Baltimore show
- Highwoods Collection consignment received at Baltimore
- A gorgeous lot of Liberty Seated halves purchased at the Baltimore show
- Poetic Candy Collection Part II - Marvelous offering of United States gold coins with 9/14 receiving CAC approval
- New Jersey Collection lot of circulated Liberty Seated dimes.
GFRC Rating System - To Be or Not to Be?
GFRC is blessed to have some Liberty Seated coinage specialists as business strategy advisors. Matt and I met with one individual for breakfast while in Baltimore to discuss strategic direction and product line emphasis. Another individual provided a well thought through analysis of the proposed GFRC ranking system. Since other dealers have attempted this approach, there is history by which to assess the potential risks. I'm contemplating the sharing of these potential risks with the GFRC collector community via Daily Blog in advance of a final decision to move forward. Ranking coins is a subjective process and does come with risks. Each collector has differing experience levels and financial limitations with respect to their collections. Certain collectors are experienced and capable graders while others may be trusting of the TPG labels and bought their coins on a value basis. Some individuals may not realize the amount of time and contributions provided to the hobby and may seek free advice beyond the Liberty Seated variety attribution guidance provided today. There is much to consider when considering customer and collecting community expectations.
Featured Coins from the Trading Desk - Pickering Creek
Let's close today's Daily Blog with two wonderful offerings from the Pickering Creek Collection. Yes, I have discussed these coins on multiple occasions but please remember that availability is always the primary issue on top quality coins. We start with the finest known 1840-O F-106a Medium O dime with excellent provenance; the Simpson Collection. This is an important opportunity for the advanced Liberty Seated dime collectors to acquire an affordable mint state example of the 1840 New Orleans date (with CAC approval) and also receive a bonus with the challenging Medium O die variety in late die state for an advanced Top 100 Varieties Collection. Acquiring this piece would be a wise decision. Next to the 1840-O is a superb gem F-107 1885 dime graded PCGS MS67 and approved by CAC. Describing this superb 1885 Philadelphia struck dime is an exercise in naming the colors in the rainbow. The transparent toning is simply spectacular when paired with frosty cartwheel luster under bright light.
Thank you for returning to the Daily Blog this morning. I'm losing forward to an exciting nine months of Maine life and GFRC business expansion before the next southern migraton in December. Have a great Sunday!
April 8, 2016
Thank you for visiting this morning and welcome back.
GFRC is currently on the long road trip back to Maine and an early start to the day was in order. I'm hoping to avoid some of the grueling Charlotte, North Carolina rush hour traffic. Our Virginia overnight destination will be much colder than Florida and adjustments will be necessary as the trip continues.
If a coin strikes your fancy during the GFRC migration, please don't be bashful to send an email or text message to reserve that coin. I will response later in the day on Friday to confirm your order.
The GFRC Maine office will be fully operational come Monday and regular Daily Blogs should start up on Sunday morning. It will be great to be back in the Maine home and hopefully there will be no need to start the wood stove. Starting up the 1993 Miata will be a priority along with taking in some Emerson, Lake and Palmer plus David Bowie in the basement sound room.
Wishing all GFRC customers, consignors and friends a pleasant weekend. I will see you on Sunday morning with some ramblings concerning the trip.
April 7, 2016
Welcome to the Daily Blog and thank you for visiting again.
The northern migration begins tomorrow. The ongoing efforts to process Baltimore show purchases and consignments was valiant but a substantial number of quality offerings including Highwoods Collection Part II remain unlisted. These will reach the price list starting on Monday. Actually, as mentioned to several GFRC customers during email conversations, I'm looking forward to the two days of driving as a much needed break from the hours spent behind a laptop. But first, the GFRC business must be logically packed to ensure a quick start-up upon returning to Maine home.
Please don't hesitate to order coins during the next few days. Emails and text messages will be monitored during driving breaks and responded to once arriving at our interim destination on Friday evening.
GFRC News
I'm pleased to report that the 1795 Flowing Hair PCGS F12 CAC dollar went on hold Wednesday evening and will reside in an important advanced collection. Handling early dollars including Flowing Hair, Draped Bust and Seated is becoming fun and yet another learning opportunity.
Below are more Baltimore new purchases and consignment images. These are immediately available and let's hope they find new homes where they will be appreciated. The 1846 half dime is fresh to market and show graded at Baltimore with PCGS VG10 designation. This date is always on want lists, especially in affordable lower circulated grades.
More Baltimore New Inventory Previews
The United States 24 Hour Media is the Enemy
I have this compelling need to speak out this morning on the United States media. Frankly, the media is out of control on a free speech basis and becoming dangerous for our country. Gone are any self restraints on reporting content. Drama is king and if the news lacks drama, then the media outlets will attempt to shape the news towards creating drama. Their behavior is no different than the pharmaceutical Industry developing designer drugs following by a marketing campaign to create demand. If more money and goodwill was spent on helping people with proper eating habits and weight control, then the country would not be facing a diabetes epidemic but public education lacks drama. We've moved into an era where there are too many solutions looking for problems! If there are no problems, then minute issues or local events are enlarged by the media through clever manipulation of the citizenry's mindset. The result is polarization of special interest group on smaller issues that receive disproportional reporting.
I'm disgusted with the United States media. NBC is a liberal outlet and shapes new content towards their liberal agenda. FOX is the conservative outlet and also stages reporting content for its agenda. Both are obviously biased. The current United States presidential election cycle is over analyzed and reported. Some media personalities appear to be larger than the candidates. How any candidate can survive this vetting process and then successfully lead out country is beyond me. Every spoken word in a political career is subject to manipulation (the 3 second video sound bites) and interrogation for negative leverage. The media requires political drama, activist groups of all kinds and terror attacks to increase anxiety and polarization among us. Gun sales at record levels is a response to the media fueled anxieties.
Ok, I'm done for the day on this topic and probably working much to hard of late and a bit of a grouchy old man today.
Time to wrap up the Blog, enjoy a final health walk in Florida and start the GFRC office packaging process.
Financial News
One news headline caught my attention this morning. Debt creation is an ongoing issue that is being largely ignored in order to sustain the appearance of prosperity in a competitive society. Debts eventually must be paid or written off as a loss. Student loan debt will be an emerging issue as there is a new belief that every student in the United States is entitled to a college education irrespective of the cost/benefit ratio.
More than 40% of the roughly 22M Americans who borrowed from the government's main student-loan program aren't making payments or are behind on more than $200B owed, according to a quarterly snapshot of the DOE's $1.2T student-loan portfolio. The Obama administration maintains that the loan program, as a whole, will generate a profit over the long term, but the risk is rising that millions of students may never repay and revenue won't meet projections.
Thank you for visiting this morning and please check back tomorrow for more commentary.
April 6, 2016
Welcome back to the Blog on this Wednesday morning in the United States and during evening hours in Asia.
Daily Blog readership expansion is underway. Hit rate has been at ~ 600 for the past two days including more global patrons. I love Google Analytics....it allows access to a broad range of GFRC webswite information and is a key feedback instrument. The decision to advertise in the E-Sylum may be the reason for the broader audience. The E-Sylum, a Numismatic Biblomania Society publication with editor Wayne Homren, enjoys both domestic and global patrons.
GFRC News
Let's open this segment with a pictorial of a truly amazing Liberty Seated dime. Handling and placing this 1851 New Orleans PCGS AU55 dime (no CAC attempt) was an incredible pleasure as the first crusty gem original example I've seen. Congratulations to the new owner for such an insightful purchase.
The Union Bridge consignment makes its GFRC debut. Union Bridge has been a customer for several years and decided it was time to utilize the Trading Desk to share duplicates with others. Following is his initial offering that spans large cents through Seated dollars. My favorite pieces are the 1814 JR4 PCGS EF40 Capped Bust dime, the 1807 O-106 PCGS VF25 OGH Draped Bust half, the 1832 O-112 Capped Bust half and the 1847 PCGS VF25 CAC Seated dollar. If the day goes as planned, the entire Union Bridge consignment will reach the price lists by end of day. FRoR is in order.
Union Bridge Collection - April 6, 2016
Feedback on GFRC Rating System
Emails arrived quickly on the GFRC rating system topic and let's share several. Understanding the viewpoints of other collectors is an important aspect of numismatic self education.
From the collector who purchased the 1851-O PCGS AU55 dime.....
Really like the concept of the GFRC rating system with all of the categories. It's so difficult to quantify the actual price of any coin like the Liberty Seated series, but one has to start somewhere. Unfortunately certain individuals will never stop "cracking out" any coin which they believe should be upgraded only to line their pockets. The most important thing for us collectors is TRUST of the seller; there are many trustworthy sellers of coins and other collectibles. Too bad there's still some sociopathic undesirables who only care about their agenda, and nothing else. As they say, "caveat emptor", so I also have a responsibility to learn about coin grading and the millions of nuances regarding the numismatic industry and market. Experience, trust and time are the main things and there's no other way.
Another GFRC customer/consignor writes.....
Until recently, I only half-believed the "old holder myth" about coins residing in them being stronger examples of the given grade. I mean I like the look and feel of the older holders (especially the thick NGC slabs), but in my mind was this lingering notion that if the coin in an old holder truly deserved an upgrade given newer and looser grading standards, why hasn't somebody done so already?
Looking at lots from recent auctions, I find a large percentage of coins in the newest PCGS and NGC holders subpar. Especially gold coins, where most of them look like they've obviously been cleaned and as a result possess a lifeless bleached complexion. It really pays to educate oneself about what looks right, what's "once-in-a-lifetime," and what to put back in the dealer's display and move on.
It's sad for me to say, but TPGs can lull unknowing collectors into a false sense of security, because certified coins are nowhere near foolproof nor are they really striving to be. TPGs, are after, all businesses with bottom-lines to fulfill and there's really an experience level required to navigate these waters safely.
An individual advised that a dealer implementing a rating system could be viewed as a conflict of interest concerning the coins being sold. Yes, optics can be an important issue. But let's face it....I'm 60 years old and LSCC President. Collector education and advocacy is a personal legacy goal. I still drive used cars and growing wealthier by manipulation is just not what I'm about...... Thank you to this individual for the feedback and allowing me to clarify.
Maine Migration Update
Please remember to hold check payments until tomorrow, April 7, and mail to the Maine address. GFRC Maine office will open on April 10th and resume normal operations. But don't let a cross country migration stop you from ordering coins as I will be checking emails throughout the trip.
Today is the last full day of GFRC operations in Florida. Important priorities include photographing Poetic Candy Collection Part II and loading the Union Bridge pieces on the price lists. Poetic Candy's gold consignment performed well at CAC with 9/15 receiving approval and one Gold CAC sticker. This is a fresh gold lot that should be carefully reviewed. Plus there are still 50+ coins from Baltmore show to be loaded to price lists....
Recommended Coin of the Day
Here is a piece of eye candy for those who enjoy Mercury dimes. Don't you love the toning on this 1937-D PCGS MS66 CAC example? Priced at $95!
April 5, 2016
Greetings and welcome to the Daily Blog on another Tuesday morning.
The Maine migration looms in a few days, and as a result, I worked late until Tuesday 1:00 am towards catching up on Baltimore show purchases and consignments. When returning to Florida from Baltimore, the cumulative new inventory queue exceeded a double row slabbed box. After two intense days of photography and image processing, there is space in the box and new offerings are appearing on the price lists. Today will be no different; more image processing and price list updates. Images previews will be posted in the Daily Blog on a random basis until the Union Bridge and Highwoods consignor galleries are fully prepared. I hope this makes sense as the coffee needs to set in and activate brain synapse.
Thoughts on GFRC Rating System
Yesterday's health walk was delayed until 9:00pm and I took the opportunity to think through the GFRC coin rating system. If GFRC customers carefully review price list descriptions, the evaluation system for TPG holdered coins is essentially in place but is not explicit. Why not take the opportunity in this morning's Blog to list and define the five quality rating levels? The assignment of a coin into a quality/pricing level is based on parameters employed for selecting the best possible coins when building my own Liberty Seated dime collection during the 1990 - 2010 timeframe. There was nothing magical about these subjective parameters. The challenge was patience, persistence and acquisition discipline over two decades of searching;
Original Surfaces + Full Strikes + Eye Appeal = Value = Pricing
A GFRC quality rating system has five levels. These levels are listed from most desirable (highest resale value) to least desirable (lowest resale value). Please remember that these levels are for TPG holdered coins and for silver Bust and Seated denominations. Here goes...
The Gems
These are coins that offer no question original surfaces, are fully struck, are blemish free and have toning colors or luster that tickles the eyes. Bright light as well as in hand viewing performance is superior. The Classic Silver collection Liberty Seated quarters in the recent Gobrecht Journal (#125) centerfold are all gems. These are coins that astute collectors enjoy sharing with friends. Gems have high pricing premium against the guides while being the most liquid with presented to knowledgeable dealer (like GFRC).
Choice Original
Coin that have strictly original surfaces and few if any marks at their grade level. CAC Green stickered coins are typically above average and fail into this category...in most cases. Eye appeal is high as there is strong contrast between device and fields on silver coins. Almost Uncirculated and Mint State coins will have bold mint frost. Choice coins will trade with a premium to the guides and are also straightforward to sell to fellow collectors or knowledgeable dealers.
Original
These are coins that have surfaces that are most likely original with no obvious signs of a past cleaning. There will be some blemishes. Eye appeal may be limited due to uniform toning or coloring. Coins designated as original should slab if submitted in raw state to the TPGs. Original coins should sell near or at the price guides and dealers will expect a typical purchase discount unless the coin is a key or semi key date and easily resold.
Market Acceptable
Coins with obvious mishandling but not severe enough to be immediately placed in Details or Genuine holders. Many of these pieces are "net graded" for some type of issue whether coloring is off or surfaces have too many blemishes. There could be faint hairlines from a subtle cleaning or dull surfaces from being over dipped. Many Market Acceptable coins are borderline in terms of TPG certification and best to leave in their holders as the plastic dominates the value and not the coin. Selling these types of coins will be difficult and expect a substantial discount.
The Dogs
How in the world did this coin ever get into a TPG holder at a straight grade? These are what I believe to be obvious TPG grader mistakes as I can never get these types of coins to straight grade if I submit. Many of these types of coins are floating around in the numismatic industry and should be heavily discounted. By the way, no offense meant to cherished family pets......
Financial News
Spot gold is up overnight to $1233 while equities are coming under pressure. The global economy remains weak based on IMF's Christine Lagarde commentary. There is a global currency war under way and the Federal Reserve has the challenge to weaken the U.S. dollar against the Yen and Euro else global deflation will continue to be imported into the United States. The major United States banks are waging a war on physical species which is disguised as efforts to control money laundering.
March's stock market spring back is threatening to turn into a pullback. While April is typically one of the best months of the year, equities are remaining under pressure as oil slips to a one-month low, sentiment sours ahead of the Fed's minutes tomorrow, and traders expect a poor beginning to Q2 earnings season next week. The attitude against riskier assets has also sunk the dollar to a fresh 17-month low against the yen. U.S. futures: Dow -0.8%. S&P -0.9%. Nasdaq -0.7%.
In a speech at Frankfurt's Goethe University, IMF Managing Director Christine Lagarde turned up the volume for stronger action by the world's economies to boost growth, warning that downside risks were increasing without decisive action. "Let me be clear: we are on alert, not alarm. There has been a loss of growth momentum." She also prescribed specific moves, including for the U.S. to raise its minimum wage, for Europe to improve job training and for emerging economies to cut fuel subsidies and boost social spending.
Banks are paying more attention to large cash transfers that could be a sign of money laundering or other shady activity. JPMorgan Chase (NYSE:JPM) has now capped ATM withdrawals at $1,000 per card daily for noncustomers across its 18K locations nationwide. However, the move doesn't affect the bank's own customers, whose maximum daily withdrawals are set depending on the client's account type.
Featured Coins from the Trading Desk - New Baltimore Consignments
I've never seen two 1856-S Liberty Seated dimes graded PCGS AU58 offered at the same time by the same dealer. Well, today is ground breaking at GFRC as two AU58 examples were consigned by different parties at the Baltimore show. Both reside in old blue label PCGS holders and their slabbing probably dates back to the early 1990s. Enjoy!
Thank you for stopping by at the Daily Blog this morning. There were will many more Baltimore purchases and consignments reaching the price list today so please continue to check back. I would also enjoy selling a few coins too if you are so inclined!
April 4, 2016
Baltimore New Inventory Previews
Fresh from the GFRC Photography department and heading to the price lists.
Welcome to the first full week in April and thank for stopping by at the Daily Blog. A sincere welcome to potential new readers as a result of my first E-Sylum banner ad in last evening's email publication.
Another busy week lies ahead as GFRC prepares for and conducts the return migration to Maine. Residing in Florida brings about an easier lifestyle with quick access to life's everyday needs. Nearby Chinese take out is so authentic and the ocean is just two miles from our home. Dropping off daily coin shipments only takes a few minutes and the liquor store is adjacent to the post office outlet.
As a reminder to GFRC customers, April 7 is the first day for mailing check payments to Maine address. Please hold payments until April 7 to avoid the USPS mail forwarding loop. The Maine address is once again on the website banner and at the bottom of the For Sale page. Trading Desk and Paypal funded shipments will continue through Wednesday and then time to pack up the business. Am I looking forward to the two day drive? Probably not and hope that Mother Nature settles down in terms of unpredictable Northeast spring weather.
Baltimore New Inventory Highlights
Following are just a few highlights from the broad range of Baltimore show consignments and new purchases. Consignments will be published in separate Client Galleries over the next 72 hours. GFRC had a great show in terms of procuring new coins! The two 1837 Small Date half dimes are graded PCGS AU58 CAC and PCGS MS65 with both offering excellent eye appeal. The 1844 PCGS MS63 CAC dime is a true rarity at this grade level while the 1852-O is a color gem. The 1872-CC dime is graded PCGS VF25 and the 1939-D Mercury dime is an amazing gem at the PCGS MS68FB CAC level. The 1841 PCGS AU58 CAC quarter, from the Classic Silver Collection, is already sold. My favorite Baltimore show purchase was the 1795 2 Leaves Flowing Hair half graded PCGS F15 CAC....a true gem for the assigned grade.
LSCC News
Bill Bugert published the April E-Gobrecht yesterday after returning home from the Baltimore show. The headline is a club photo taken at the LSCC regional meeting. For those who are not on the E-Gobrecht mailing list, the April issue can be download here. Preparations are already underway for the club's annual meeting at the Anaheim ANA including a club auction to support our treasury. Once again, Bob Merrill of Heritage Auction fame will call the LSCC auction. Our challenge is locating quality auction lots on a donation or consignment basis. Might you consider supporting the LSCC given the efforts by the leadership team to promote the love for numismatics and the individual Liberty Seated coinage series?
GFRC News
In yesterday's blog, I mentioned the development of a rating system for coins already certified by the major TPGs. Seriously, one can find dogs to gems within TPG holders at the same grade level. This is an important issue for the casual collectors who are unable to view coins on a daily basis due to a professional career outside of the hobby. I'm blessed to be working with coins every day!
Honestly, some individuals struggle with recognizing strictly original coins as I have learned first hand when consignments are offered. In particular, I've been mentoring one consignor and was so pleased when he presented a much improved quality offering at the Baltimore show.
Some people will be naturally skeptical about another rating system as other dealers have attempted this approach before. If we have CAC, then why is there a need for another person rating coins? My response is education for the casual collector. Coins are a substantial financial investment. Buying a below average EF40 whatever and paying choice monies is a recipe for overpaying and losing a significant portion of the purchase price upon resale. The unofficial numismatic term is "being buried in a coin" and one will not see this phrase mentioned in any self help numismatic publication. Inexperienced collectors can easily become buried in a coin if they purchase the TPG holder and not the coin. Do you read the March 31 Blog where I mentioned reviewing 7 double row boxes of wholesaler coins before the Baltimore show and purchasing less than 1%? If an experience dealer looks at over 450 coins and purchases 4, then locating true value is challenging for those with much less time on their hands for this hobby.
Here are two excerpts from GFRC customers concerning a GFRC attempt to establish a rating system to identify the strictly original and choice early type coins.
Sounds like a wonderful idea Gerry. The buyer could know just what and why the price is high, low or middling for the grade and variety. This might lead to less consternation with prices, particularly if you were to find a way to mount stickers ala Richard Snow but with grades say from 1-5 or 1-10, as it suits you. I fear it is a lot of work either way.
I saw your blog and like the idea of the rating system on coins in holders. Coins could legitimately be in holders with straight grades and still vary considerably in quality. In buying a coin, I would give a lot of weight to your quality rating. If a coin we in a straight-grade holder, plus it had a high quality rating from you, I would be confident that the coin would be solid from an investment perspective.
Financial News
The financial world has been quiet of late. Spot gold remains in a $1215 - $1230 trading range.
Oil prices are stuck below $40/bbl regardless of Russia and Saudi Arabia efforts to trim supply as Iran is not coorperating with output restrictions. Since Iran and Saudi Arabia are enemies, why would Iran agree to production cuts? Just as the Saudi's have destroyed much of the United States oil drillers, now it is Iran's turn to place pressure on Saudi Arabia to manage foreign reserves and use deficit spending to keep the citizenry from revolution. Here is an interesting Seeking Alpha headline.
Crude prices headed further south overnight after Iranian oil minister Bijan Zanganeh said the country's oil exports jumped in March to surpass 2M barrels a day, according to the official Shana news service. Prices also remained under pressure following Saudi Arabia's announcement on Friday that backed away from a commitment and stated it was only on board to freeze production if major producers, including Iran, did the same. Is an April 17 output freeze meeting still in sight?
Featured Coins from the Trading Desk
Sometimes great coins simply sit on the price list or bourse floor cases and go unappreciated. Dealer friends will come by and point out these great coins and wonder why no one has purchased them. Here are two examples that deserve a serious look. First is a choice original 1839-O Reeded Edge half graded PCGS EF40 with CAC approval. This 1839 New Orleans piece was struck from later die state dies consistent with the GR-1 variety attributions. Surfaces are covered with even gray patina, are completely blemish free and should satisfy the most selective collector. Next to the 1839-O half is a choice original 1873-CC Seated half dollar piece. This Carson City example offers uniform light to medium gray patina that is fully natural and attractive. Strike is completed and surfaces are blemish free. CAC population report indicates that only (3) examples are approved at the VF30 grade level.
Thank you for stopping by on this Monday morning. More great Baltimore show acquisitions will be posted throughout the day so please continue to check the price lists. I'll be back on Tuesday morning with more numismatic ramblings.
April 3, 2016
Greetings from Venice once again!
The March Whitman Baltimore show is in the history books. The numismatics industry continues to operate with its numerous national and regional shows while online sales continue to take a larger piece of the market. My gut feel is that bread and butter coin dealers are at transition point in terms of market presence and sales strategies.
Baltimore Show Report - Day 3 - A typical ending.
Saturday produced typical results at the Baltimore show. Heritage had already packed up and left on Friday evening. Floor traffic was limited but I had the opportunity to meet the Virginia consignor for the first time. There were TPG submissions to wrap up. Saturday's highlight was a long conversation with one of the industry's senior numismatist/dealer who shared her roots and thoughts on the current market. There was advice for the GFRC business based on years of experience and analyzing a numismatic market in transition.
More great coins walked up to the table as consignments. How about another 1856-S PCGS AU58 dime and 1860-O PCGS VG10 dime, both off the market for years and in old PCGS holder? Or an 1837 Sm Date PCGS MS65 half dime, also in PCGS old blue holder and worthy of CAC approval? GFRC returned to Venice with many more coins and days of work to bring the new inventory online.
In the mid West, Jim Poston reports adding 1846 half dime in PCGS VG10 and 1843-O dime in PCGS VF30 along with purchasing two Philadelphia Civil War dates in low grade but so challenging to locate; 1863 PCGS VG8 and 1864 NGC AG3.
Numismatic Bibliomania Society - E-Sylum Debut and Coin Doctoring Essay
Wayne Homren sent an E-Sylum preview of my Gobrecth Journal article on the need for Provenance database for key date coins due to the ongoing cracked out and coin doctoring issue that is plaguing the industry. He will "stir the pot" with post article questions to stimulate discussions. GFRC will also debut advertising in the same E-Sylum issue.
Maine Migration - Please Hold Check Payments Until April 7
As a reminder, GFRC is returning to Maine end of this week. With so much new inventory from the Baltimore show, there will be a host of orders. But let's hold up mailing check payments until April 7 and please use the Maine address. I will change the website header to the Maine address today.
Matt has a new project; installing E-Check payment capability to streamline payments from repeat customers. Let's move this business forward and streamline the payment system.
Buying the Coin and not the Holder
Matt continued to study the GFRC business model at the Baltimore show. As a professional consultant and Millennial, he is acutely aware of a rapidly changing market place driven by abundant handheld device information. He shared his thoughts and recommendations on Saturday before returning to Boston. There is considerable subjectivity involved with any numismatic purchase regardless of what the TPGs want you to believe. A holdered coins at the EF40 grade level can span the spectrum of being a dog to a gem. I'm committed to sorting out this situation for collectors. GFRC price list descriptions were a first step. A quantitative rating approach is required to match quality with asking price as no collectors wants to pay a premium price for an inferior coin and take a substantial loss during the resale process. A new system will be the developed in the coming weeks.....stay tuned.
Next 48 Hours
GFRC has a massive amount of new coins from Baltimore show and also the Poetic Candy Part II consignment returns from CAC on Monday. Please check back as new offerings will be loaded as quickly as possible before the Maine transition.
Thank you for visiting with me this morning. There is much to do and lots to digest after the Whitman Baltimore show.
April 2, 2016
Greetings and welcome to the Daily Blog edition on this Saturday morning. This Blog edition has been written on Friday evening.
Before we proceed into the Baltimore show report, a quick reminder about the forthcoming GFRC transition from Venice, Florida back to Raymond Maine. I wish to announce a short period for withholding the mailing of checks or consignments to ensure that mail does not become delayed in the USPS forwarding loop.
Today April 2 - Last Day for Mailing Check Payments to Venice Address
April 7 - First Day for Mailing Payments to Maine Address
No payments should be mail to either address between April 4 through April 6. Thank you for the understanding and support. The GFRC website header banner will be changed to featured the Maine mailing address on Sunday.
Baltimore Show Report - Day 2 - The show comes to life!
The Whitman Baltimore show sprung to life on Friday with strong collector attendance that matched expectations from previous Whitman events. Overall GFRC enjoyed a strong sales day on the bourse floor and also online.
The day started with the LSCC regional at 9:00am. Roy Ash, one of the early LSCC members during the Kam Ahwash timeframe, and early Liberty Seated quarter researcher, joined the meeting and was introduced by Bill Bugert. John Coyle provided an insightful Trade Dollar presentation and also placed his reference collection on display at the LSCC club table. Gerry Fortin gave a club update and discussed plans for the forthcoming SeatedFest II club convention in conjunction with the March 2017 Baltimore show. John Frost provided an ANA Summer Seminar update. We currently have 9 individuals signed up for the class and close to the 12 person minimum threshold.
Matt arrived via train from Boston and opened the GFRC booth during the LSCC meeting. Once the bourse floor opened to the public at 10:00am, floor traffic was significantly improved over Thursday with collectors out in force and in a buying mood. The 1851-O PCGS AU55 dime and 1841 PCGS AU58 CAC quarter sold immediately along with the 1864 PCGS EF45 CAC and 1891-O PCGS VF30 quarters. Quality coins with original surfaces and eye appeal were in strong demand. Matt and I did not stop for lunch and worked until 3:00pm.without a break. I'm also most pleased to announce that GFRC acquired another new consignor. The Union Bridge Collection is a new consignment with emphasis on Capped Bust and Seated coinage. This individual made the decision to start selling duplicates and raising cash for upgrades to the core collection. Following are the new offerings from the Union Bridge consignment;
Large Cent: 1850 PCGS MS63 RB
Capped Bust 10c: 1809 VF20 two toned brown; 1811/09 PCGS VG08 CAC, 1814 Lg Date PCGS EF40 choice original golden brown
Seated 25c: 1840-O ND PCGS VF30 original gray
Draped Bust 50c: 1807 PCGS VF25 OGH light golden gray
Capped Bust 50c: 1832 O-1122 PCGS AU55 uniform silver gray
Seated $1: 1840 PCGS VF35 choice original gray with blue undertone; 1847 PCGS VF25 CAC choice original gray; 1860-O PCGS MS62 frosty luster
The afternoon hours brought more buying opportunities as wholesalers arrived with their luggage carts and slabbed boxes. It is GFRC policy to sit down with every wholesale dealer and look through their inventories for potential acquisitions. This strategy bore fruit as I purchased a gorgeous 1795 Flowing Hair half dollar residing in PCGS F15 CAC holder with perfectly original gray surfaces and no blemishes. Just an hour later, an 1861 NGC MS64 half dollar with crusty original surfaces was located in another dealer's boxes. The day ended with a single lot consignment; a strictly original 1840 Seated Dollar graded PCGS EF45 with old time gray patina that was previously purchased from W. David Perkins.
The day ended with Andy Lustig arriving at the booth sharing a bottle of quality bourbon whiskey with W. David Perkins, myself and Jim Matthews to wrap up the day. It was an appropriate close to a long successful day and a fitting substitute for my evening double scotch back in Venice.
Saturday will be another busy day with PCGS submissions, more anticipated sales before closing the booth at 2:30pm. Matt has a long train ride back to Boston while I will be catching an early evening flight to Tampa.
Financial News
Focus on the Baltimore show has consumed nearly all my time resulting in limited monitoring of global financial news. So let's feature a few headlines from Seeking Alpha Friday morning report to stay on top of economics situations overseas. China's manufacturing sector showing some signs of improved performance while Japan's manufacturing remains in contraction mode. Europe continues to struggle with its deflation issue.
Activity in China's vast factory sector unexpectedly expanded in March, adding to hopes that downward pressure on the world's second-largest economy is easing. The official Purchasing Managers' Index climbed to 50.2, up from 49 in February, while the Caixin manufacturing PMI rose to 49.7, marking the first increase from the previous month in a year. That should be of some comfort to Fed Chair Janet Yellen, who this week cited the global risks emanating from China as one reason to be cautious on raising U.S. interest rates.
A gloomy Tankan survey from the BOJ overnight sapped risk appetite and sent Japanese shares into a tailspin. The corporate survey saw big manufacturers' business sentiment at its lowest in nearly three years, and it's expected to worsen in the coming quarter. Markit's Flash Manufacturing PMI, which came in at 49.1, didn't do any better to help lift sentiment. The data further pressures Prime Minister Shinzo Abe and the central bank to do more to shore up the stuttering economy. Nikkei -3.6%.
Prices for factory goods in the euro area dropped the most since 2009 in March, in a sign that weak inflationary pressures may be cutting into companies' ability to charge more even as manufacturing expands. Markit's PMI for the eurozone increased to 51.6 from 51.2 the previous month, despite consumer prices falling 0.1% from a year earlier. While the reading is higher than the initial estimate of 51.4, it still caps the weakest quarter in a year and underscores the challenge facing the ECB to stoke inflation.
Thanks for stopping by the Blog this morning and wishing everyone a pleasant weekend.
April 1 , 2016
Baltimore Show Report - Day 1
A mixed bag is the best way to describe opening day at the Whitman Baltimore show. Dealer setup started at 8:00am, Early Birds arrived at 10:00am and the bourse opened to the public at noon. The shorter public attendance hours (12:00 noon to 5:30pm) appear to have impacted first day floor traffic as the floor never reached the health "buzz" that one equates with an active show. Dealers is general experienced weak floor traffic as there were few retail customers on the bourse.
GFRC had a slow retail day while the buying and consignment side of the business was red hot. Two new consignments arrived beyond the coins provided by the Florida Collection on Wednesday. A strong GFRC customer made a decision to start selling accumulated duplicates and provided his first Liberty Seated dime consignment. The Highwoods consignor also provided a substantial lot of strictly original Capped Bust and Liberty Seated halves. The Pickering Creek consignor visited the GFRC booth and we collectively decided to rotate consigned inventory at the Central States show. Any unsold Pickering Creek dimes by mid April will be returned to this individual's bank vault and a fresh set of high quality coins will be provided. If you've been thinking of acquiring a Pickering Creek dime for your collection, then please don't hesitate to contact me for potential terms.
I bought a broad range of new coins throughout the day as great offerings kept walking up to the table. The first coin offered was a rare 1885-S Seated dime graded EF45 in an old style NGC holder. This piece was immediately purchased as always in demand. Then more deals continued to arrive with an important highlight being an 1841 PCGS AU58 CAC quarter from the Classic Silver Collection. As a reminder for LSCC members, the Classic Silver quarters were featured in Gobrecht Journal #125's new centerfold section and are some of the finest Seated quarters in existence in terms of eye appeal and originality. The 1841 AU58 CAC quarter is an amazing gem at the grade level and has been recently upgraded (asking price is $2300). GFRC is so pleased to have been offered first shot on the 1841 along with an 1851-O PCGS VG10 CAC quarter that is also choice.
Following is a summary of Baltimore Show Day 1 purchases and consignments not including the Highwoods consignment. First Right of Refusal (FRoR) is in order as there are many new items to review and contemplate.
Seated 5c: 1837 Sm Date PCGS MS63 CAC beautiful toning
Seated 10c: 1872-CC PCGS VF25 former Birmingham Collection; 1885-S NGC EF45 light gray and so rare; 1886 PCGS MS65 choice original; 1886-S F-101 PCGS VF30 CAC choice original; 1887-S PCGS MS64+ CAC choice original
Mercury 10c: 1937-D PCGS MS66 CAC beautiful gold patina
Seated 25c: 1841 PCGS AU58 CAC perfect gem; 1851-O PCGS VG10 CAC choice original; 1867 PCGS EF40 choice original gray
Bust 50c: 1806 PCGS VF35 CAC choice original and eye appeal
Seated 50c: 1844 PCGS EF45 original gray; 1846 Med Date PCGS AU53 choice gray; 1847 PCGS AU58 frosty light gray; 1847-O PCGS AU50 choice silver gray; 1849 PCGS AU55 choice gun metal gray; 1860-O PCGS AU53 choice original
Barber 50c: 1907-O PCGS AU53 choice with eye appeal
Walking Liberty 50c: 1941 PCGS MS66 OGH CAC just dripping with luster
A discussion concerning the 1851-O PCGS AU55 Seated dime from the Florida collection is in order. Four individuals asked for FRoR on this coin probably thinking the asking price would be set at near the current PCGS pricing guide of $1100. Frankly, I would buy as many as possible at this pricing level as much too low and out of sync for the date's rarity. Since collecting the Liberty Seated series for over 25 years, I have been on the hunt for a choice AU or Mint State example of this date. My PCGS Set Registry example is AU53 CAC and the web-book plate coin is NGC MS63 but not what I consider strictly original. This date is very rare in problem free original AU and Mint State nearly consistent with that of the 1843-O. Most collectors do not appreciate this point but I certainly do and so does the Florida Collection consignor. We collective have agreed to price the 1851-O PCGS AU55 at $5000. Some collectors will immediately say this is unrealistic when the PCGS guide is $1100. However, if you miss this opportunity, then the wait to locate a similar example could be 5, 10, 15 years or more. This example is choice original with "Gerry Look" patina and is completely struck.
I'm a sincere believer in setting asking prices at fair levels for consignor and buyer so that coins sell efficiently and all parties are pleased with the transactions. In the case of the 1851-O, I believe the asking price is consistent with the rarity while the PCGS pricing guide is out of line with reality. Many times, the pricing guides are set by mintage and not the surviving populations.
LSCC Dinner
The traditional Thursday evening Baltimore LSCC dinner was a huge success with 17 people in attendance. An overflow booth had to be book to handle the growing attendance. The Poetic Candy Liberty Seated proof quarters, purchased by one of the attendees, were shared at the dinner table by the proud new owner. Everyone enjoyed themselves at this club event.
It is now 11:15pm and I'm quite exhausted after a long day. I've received your emails concerning placing certain coins on hold and will try to respond before bed but no guarantees. My son Matt, arrives at ~ 6:15am from Boston so sleep is important at this point in time.
Thank your for visiting with me on April Fools Day! For those attending the Baltimore show on Friday, please stop by Table 818 to say hello as I look forward to meeting you!