Gerry's Daily Blog Archives - May 2016
May 31, 2016
Greeting once again and welcome to a short work week to kick off the beginning of June. Southern Maine is experiencing a wide variation in temperatures with low 80s arriving today only to drop to high 50s by mid week. Frankly, I'll take days in the 60s as perfect for health walks and continued efforts to clean up the backyard landscape. Speaking of the backyard, Sunday's morning mist was ideal for burning another portion of the massive brush pile. Below is a image from the back porch taken by Diane. That is me along with neighbor Rick watching the fire starting to consume a carefully assembled brush pile that falls in on itself, leaving a small bed of coals and ash.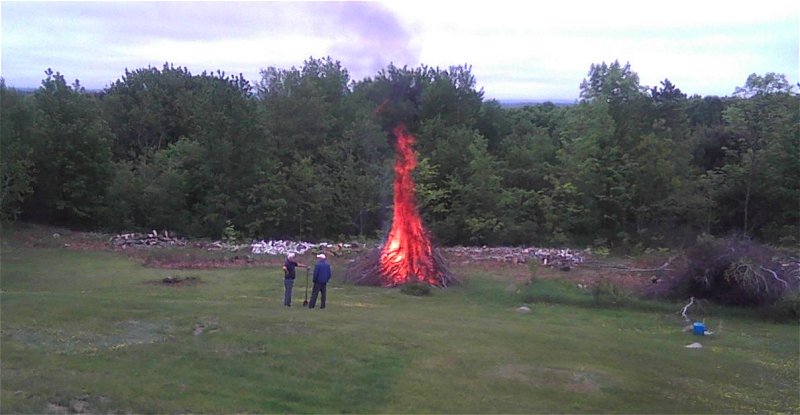 LSCC News
Bill Bugert published the June E-Gobrecht like clockwork last evening. It is a massive 11.5 MB PDF file and can be downloaded here. This is an exceptional issue with a host of articles and monthly columns. Bill opens the issue by announcing the availability of the new Whitman "The Guide Book of Liberty Seated Silver Coins" written by Q. David Bowers along with contributions by LSCC officers and club members. This book is a must have for anyone collecting or considering any of the Liberty Seated coinage denominations. Working with Q. David Bowers on the Seated Dime section was quite stimulating to say the least. The new Whitman Liberty Seated "Redbook" will hopefully attract more 20th Century collectors to Liberty Seated coinage and the LSCC.
The June E-Gobrecht also features a new monthly column by Benny Haimovitz entitled, Cracked, Shattered and Terminal which will highlight important late die states throughout all Liberty Seated denominations. I can't thank Benny enough for taking on this monthly challenge as terminal die states are always popular with LSCC members. The June E-Gobrecht also documents a well attended Central States regional meeting and Seated Dollar club display by John Frost and Carl Feldman at the Garden State Numismatic Association convention. Images of the Seated dollar love tokens (exonumia) are professionally illustrated by Bill Bugert.
My sincere thanks go out to Editor Bill Bugert and the contributors for a spectacular E-Gobrecht issue. Well done by all involved!
GFRC News
A decision to take a table at Summer FUN will be made in the next 36 hours. This means a long drive to Florida during the July 4th timeframe as I will also be attending the Summer Baltimore show on the return trip north.
Matt completed the COIN system price list transfers for GFRC 3 Cent pieces, Buffalo Nickels and Mercury Dimes. Debugging the database for these denominations is one of today's priority and hopefully the revised price lists will be online by tomorrow morning.
Open Registry updates and incremental die variety additions to the Seated dime web-book are starting to pile up. My bandwidth to support these requests is rather limited these days and your patience is appreciated.
Today is the final day of May and I would sure love to sell a few more coins towards meeting month end sales goal. If you've been considering an item, then please give me a call or send an email as I will be in the office for most of the day.
Global Financial News
Spot gold has taken a sizable hit during the past week and now stands at $1213 while oil continues to trade in the $48-$49/bbl range. Below is gold's 5 year technical chart. Note that spot gold has dropped below the 60 day moving average but remains well above the 200 day moving average. The recent breakout is intact as long as gold remains above the $1200 level during the next 30 days.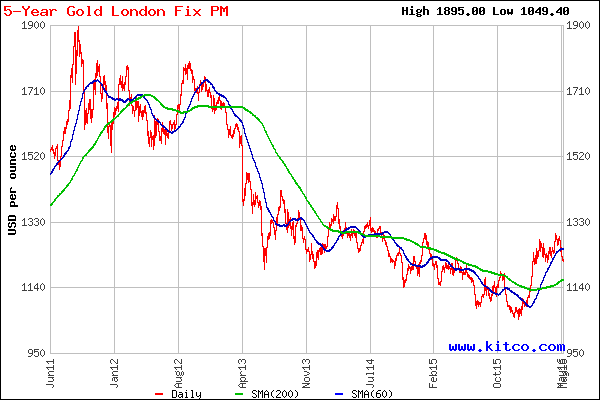 There are numerous Seeking Alpha headlines this morning but much of the information is mundane and not worth sharing. Following are a few items to stay on top of. Iraq is planning to increase crude oil output and will place pressure on oil prices. The Greece debt drama is never ending. The Greece situation demonstrates that entities with excessive debt do have leverage over their creditors. Portugal also has an ongoing debut issue and we close with the Federal Reserve drama on an interest rate increase. Thank goodness for the modern media and continuing speculations else we would be so bored.....
Iraq will supply 5M barrels of extra crude to its partners in June, according to industry sources, joining other Middle East producers by lifting market share ahead of an OPEC meeting this week. Saudi Arabia, Kuwait, Iran and the United Arab Emirates also plan to raise supplies in the third quarter. Despite the news, OPEC will continue to "discuss issues including an output freeze when the group gathers June 2," said Fayyad Al-Nima, Iraq's Deputy Oil Minister.
In a letter written to its European and IMF creditors, Greece said it cannot implement some of the extra changes sought in exchange for fresh bailout loans, including banking regulation, sales of bad loans, pension reforms and privatization. The disagreement could further delay the disbursement of bailout funds which Athens badly needs to pay off IMF loans in June, bonds of the ECB maturing in July and increasing state arrears.
Portugal's finance minister is urging policymakers and investors to be patient as the country tackles its burgeoning debt issue and sluggish economic growth. "We are working very hard on the public finances dimension to curb the deficit," Mario Centeno said on the outskirts of the OECD meeting in Paris. Portuguese GDP is expected to be flat this year, according to European Commission forecasts. Debt is near 130% of GDP, one of the highest in the eurozone.
Global markets appear to be "well-prepared" for a summer interest rate hike, according to St. Louis Fed President James Bullard, although he didn't specify a date for the policy move. "As far as a rate hike in June or July, I would prefer to reserve judgment," he told a news conference yesterday in Seoul. Bullard added that a rebound in U.S. GDP seems to be materializing in the second quarter, and described last week's Q1 growth figure of 0.8% as "encouraging" but "still weak."
Featured Coins from the Trading Desk
Let's share a few nice coins this morning to close out the month of May. GFRC offers several quality Liberty Head proof nickels that do need to find new homes. Below is an 1894 PCGS PF65 OGH Gold CAC example followed by a 1903 PCGS PF65. The 1894 example is from the Poetic Candy Collection while the 1903 is from the Carmel consignor.
Thank you for visiting this morning. I'm off to the packing and shipping department followed by writing consignment checks and submitting the CONA show application. Wishing everyone a great day. Remember that I am in the office and would love to sell a coin or two to close out the month of May.
May 28 - 30, 2016
Memorial Day Weekend - New GFRC Price List Additions
Added in random order consistent with price list postings.
May 30, 2016
Memorial Day has arrived and I have mixed emotions this morning about the state of affairs in our country. It is probably best to leave this topic alone as much of the discontent is sown by media reporting and biases. United States war veterans are special individuals who have risked their lives for our country and have seen too much human carnage during overseas rotations. Our veterans deserve the highest possible respect and support by those of us who did not serve in the military.
Southern Maine will experience rains throughout the morning hours which means an ideal day to burn another portion of the backyard brush pile. The burn pile is quite large and requires wet ground conditions for a safe burn. Later this morning, I will be off to the fire house for a permit and to local store for a few gallons of A-1 kerosine.
GFRC Coin Show News
It gives me pleasure to announce that GFRC will be taking a table at the Ohio State Coin Show in Dublin during Labor Day weekend. LSCC Central Regional Director, Stephen Petty, conducts a regional meeting at this show and suggested that I add the venue to the GFRC schedule. The Central Ohio Numismatic Association (CONA) hosts the Dublin show annually with supporting members being known as the Green Hats. GFRC will have four cases of quality offerings including a case dedicated exclusively to CAC approved coins and another featuring United States gold and beautifully toned Morgan.
I spent Sunday afternoon working on travel arrangements for the upcoming ANA show in Anaheim, California. To be honest. I am not excited about attending this event due to show location and travel costs. A decision was made months ago to not take a table at the ANA show given the high California sales tax and secondly, the Anaheim location. My fears may have been influenced by memories of the prior ANA World's Fair of Money event in Los Angeles. Many dealers and visitors remember the LA show as the "bowling alley" show....one could have rolled bowling balls down the aisles and never hit a person. The LA show was poorly attended and the memories remain vivid. Now the ANA brings us to Anaheim which is miles away from LAX, SNA or ONT airports and this means car rentals, parking fees and expensive hotels due to proximity to Disneyland. Those of us on the East Coast must fly over night flights (red eyes) to return home towards maintaining airfares at a reasonable level. I realize that GFRC customers on the West Coast are looking forward to the LSCC annual meeting and my attendance. Honestly, as a business person managing a P&L, I'm on the fence concerning the Anaheim ANA show.
I'm also exploring an idea of taking a table at Summer FUN show. More on this topic later.....
Pending Consignments
The GFRC consignment queue is growing once again. Already, four consignments are committed and all are substantial. Following is a brief description of forthcoming GFRC summer offerings.
- Burchs Creek Collection: This consignor has committed 40 Bust and Seated halves, all in the EF/AU grade range but more importantly, all are housed in ANACS old white holders. This consignment will be a time capsule dating back to the mid 1980s and I quite excited about this cool opportunity.
- Osprey Collection: The Osprey consignor and his lovely Belgium wife are recently back from another European trip with more United States gold and this time, a substantial and high grade group of French crowns from the Napoléon Bonaparte emperor period. The United States gold and Napoleon coins are already into the grading services and will be available by end of June. Retrieving this consignment in person and spending time with these new friends planning a sales strategy for the Napoleon lot is behind the idea for driving to Florida and taking a table at Summer FUN.
- Upstate New York Collection: This consignor is a life long collector and has decided to start divesting some of his massive toned coin holdings. GFRC has occasionally handled his coins but now the individual wishes to increase the consignment rate. His planned June consignment will include a variety of silver type coins.
- Gerry Fortin Top 100 Varieties Collection: GFRC customers are well aware of the contents of this collection since posted in the Open Registry at www.seateddimevarieties.com. The official sale will be announced in the July Gobrecht Journal followed by a separate Top 100 Liberty Seated dimes price list being added to the GFRC For Sale page by end of July. Photography, pricing and writing descriptions will take careful preparations after owning many of these coins for nearly two decades. FRoR response has been strong.
Featured Coins from the Trading Desk
GFRC is well known for handling quality Liberty Seated coinage. I'm also working diligently towards expanding Draped and Capped Bust coinage offerings. As with Liberty Seated halves, the Bust half dollar denomination is popular among collectors as there is a reasonable supply in the market place. GFRC's entrance into this market space will once again focus on choice and strictly original examples. Following are some particular special early halves for your consideration.
We open with an 1803 Large 3 O-103 half residing in NGC AU55 Fatty holder. The 1803 date is much scarcer than 1806 dated pieces. The AU55 grade level is an excellent value point as mint state examples are rare and strongly into five figures. Eye appeal is high for this lovely 1803 example. Speaking of eye appeal, how about this beautiful 1806 Draped Bust half residing in NGC AU53 Fatty holder and approved by CAC? Yes, the O-109 die pairing is often seen but the overall quality and eye appeal of this example is differentiating against others on the market.
In terms of early Capped Bust halves, I like this 1811/10 O-101 example which is graded PCGS EF40 and approved by CAC. This is another beautiful offering from the Seal Beach Collection. Finally, we conclude with an 1822 O-111 PCGS EF45 half from the Motor City Collection. This choice original example HAS NOT been to CAC for review and, if not sold by end of week, will be part of a forthcoming CAC submission.
It may be Memorial Day, but GFRC office is open throughout the day. I will be loading more new offerings on the price list this morning followed by burning the brush pile this afternoon. Emails and inquiries will be responded to this evening.
Thank you so much for visiting the Daily Blog as part of your daily routine. It is such an honor to have over 300 individuals dropping by each day to view these ramblings. Wishing everyone a great day.
May 29, 2016
Good Sunday morning and glad to have you back at the Daily Blog.
Southern Maine temperatures reached into the low 90s yesterday and perfect for a late afternoon Miata drive to a coastal restaurant. A crab cake and seafood gumbo dinner were thoroughly enjoy followed by a refreshing drive through country roads.
Today's Blog will be brief given the Memorial Day weekend.
GFRC News
Blog visitors should note the Memorial Day weekend image gallery that is growing at the top of this page. As increment coins are added onto price lists, their images are placed into the above gallery in no specific order. GFRC customers can quickly stop by and view the latest offerings without having to search through updated price lists. Isolating new purchases and consignments into their own price list will be another feature enabled by the COIN database and price list generation system.....careful inspection of the above gallery may be warranted as there are some gem and choice original pieces in the mix. The 1838 reeded edge half is about as nice as one will see at the EF45 grade level. The 1862 PCGS MS64 3 cent silver is a gem and undergraded (On Hold). The 1876-CC seated dime is already on hold.
GFRC Quality Ratings
Feedback from GFRC customers is always appreciated. One individual noted the new Quality Rating column on COIN system generated price lists and suggested a Quality Ratings definition link be added. He hoped for quick assess to this information rather than having to search back through the Daily Blog files. As a result, Matt developed this GFRC Quality Ratings page and I'm quite pleased with the layout.
Maybe a quick recap is in order. When evaluating any slabbed coin to be sold by GFRC, each coin is placed in one of five quality categories. These are Gem, Choice Original, Original, Market Acceptable and Cleaned. The category names are broad and the evaluation process is subjective but conducted only by me; this fact should provide consistency as I've study thousands of Seated coins and have refined grading skills. Nearly all TPG certified coins purchased or handled by GFRC fall into the Original through Gem ratings. When buying coins for GFRC inventory, many Market Acceptable coins are seen in wholesaler boxes but are immediately shunned even if the price is discounted. Handling these coins is not consistent with the GFRC brand. Rather, adding Choice Original and Gem early type coins to inventory is the priority and probably the reason for so many coins labled as "Choice" on the price lists.
What about consignor coins? The Quality Ratings of consignor coins can have wider distributions and include some Market Acceptable and Cleaned examples. As a full service coin dealer, my role is to help consignors dispose of low quality coins along with selling the choice pieces. The Quality Ratings are an honest evaluation and feedback towards setting retail prices. Lower quality coins must be discounted to sell.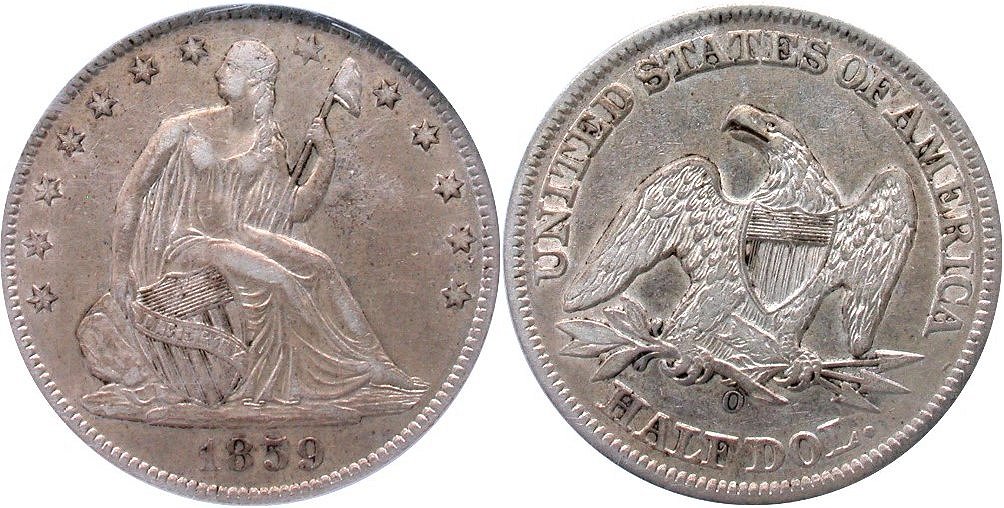 A case in point is the above 1859-O Seated half submitted as part of a consignment. The half resides in PCGS EF40 OGH with an obvious past cleaning. The cleaning was not harsh or mechanical, but the result is a coin with bright underlying surfaces and unnatural appearance that one associates with a cleaned coin that has slowly retoned. The consignor took the feedback well and turned the situation around. He encourage me to use his 1859-O half as a Quality teaching aid in the Daily Blog. Matt and I then placed these 1859-O images in the Quality Rating link to illustrate that Cleaned coins will be found in TPG holders. My sincere thanks to the consignor for helping out the cause......
Let's end the Blog at this point as an early morning health walk is calling me. Today's goals will be adding more new purchases to the price lists and finishing the ANA summer seminar course presentation on Seated dimes. We may also convert another price list to the COIN system. I should be responding to email throughout the day as not traveling.
May 28, 2016
Greetings and Happy Memorial Day Weekend! Thank you for visiting the Daily Blog as summer is officially underway.
The summer season is a challenging timeframe for coin dealers as most collectors shift attention to outdoor pursuits and take well deserved vacations. GFRC is not immune and has seen a drop off in order activity. As the summer business cycle unfolds, some consignors become concerned about the lack of coin transactions and request pricing reductions to stimulate demand. In most cases, patience is advised since business demand is seasonally weak. Certain collectors may well understand the seasonal situation and place offers on targeted pieces. I much prefer this approach whereby collectors and consignors can negotiate a fair price for all parties involved. Ultimately, I am here to support consignors and their wishes while offering my perspective on market seasonality. In a vibrant market where demand is elastic and price sensitive, small pricing reductions can stimulate attention and new demand. The summer numismatic market is not considered "vibrant" but rather "sleepy".
GFRC News
The Morgan and Peace Dollar price list has been converted to the COIN generation system. Matt completed the product line migration on Friday and I worked until 11:00pm debugging the database, adding TPG holder barcodes and quality ratings. Following is the brand name Morgan and Peach Dollar price list as generated by the COIN system; just click on the image icon. A sincere thank you to Matt for quickly working through popular price lists and performing the conversions.
During Memorial Day weekend, the GFRC office will be open all day Saturday and Monday while I will be monitoring email on Sunday. I've decided to withhold USPS shipments today due to the long holiday weekend and the probability that USPS may be using part time employees to cover time off for experience staff. Shipments will commence on Tuesday.
Good progress is being made on the ANA Summer Seminar course work. Already the Liberty Seated Dime discussion is nearly 40 Powerpoint slides and covers a broad range of topics including major designs, grading, key and common dates, proof strikes along with an in depth section on varieties and collecting approaches. I probably have another 10-15 slides to add during the weekend.
I will be in the GFRC office all day (I'm already here at 6:30am) and will focus on loading a decent number of new purchases and consigned items to the price lists.
If any coin on the GFRC price lists is calling out to you, "Buy me, Buy me", then please call or email concerning potential purchase and pricing terms. GFRC consignors are expecting continued sales during the summer season and it is my responsibility to bring these about.
Featured Coins from the Trading Desk
In today's Featured Coin section, I am pleased to welcome back two old friends. Certain GFRC customers/consignors are advanced collectors and quite active with their hobby. They will purchase quality peices but still remain on the hunt for upgrades. Once upgrades are located, these consignors are comfortable with GFRC once again handling the duplicates originality purchased from me.
This morning, I am so pleased to feature two superb Liberty Seated Dimes from the Woodlands Collection; 1838-O F-102 PCGS AU55 and 1847 F-102 PCGS AU58. The 1838-O F-102 dime had been off the market for decades and was originally listed in early 2016 from the Motor City Collection while the 1847 F-102 arrived from the Florida Collection in late 2015. Both examples are choice for the grade and would be important acquisitions. The 1838-O offers frosty surfaces due to significant die erosion and metal stress lines throughout the die steel. Golden luster is consistent with the AU58 assigned grade while the fields and devices are entirely blemish free. It is not well known that the 1847 date becomes rare in AU58 or better. PCGS population report indicates (4) pieces in AU58, (5) at the MS62 level and (4) graded MS63. If only a few of these are resubmissions, then the surviving population in lower mint state grades is very scarce indeed. How can you go wrong at an $1300 asking price for this type of quality and rarity? Yes, lay-a-ways are available.
Let's end the Daily Blog at this point as I would like to secure an early start to the business day and start adding new offerings to the price lists. Thank you for visiting and wishing everyone a restful and fun holiday weekend.
May 27, 2016
Welcome to Memorial Day weekend 2016 and thank you for visiting the Daily Blog.
Why do I consider Friday as part of the Memorial Day weekend? In the Sebago Lake area including Raymond, summer residents and vacationers will arrive today in droves. By afternoon, Rt 302, the main artery into the region from Portland, will be jammed with bumper to bumper traffic heading north. Local residents well know that visiting Raymond and North Windham town centers is an unwise decision this coming afternoon and early evening.
Following is a Sebago Lake map including the surrounding watershed area and other lakes and ponds. One look at this map quickly confirms why this Maine tourist destination is called The Sebago Lakes Region. Lake Sebago's average depth is slightly over 100 ft with the deepest points of ~350 ft occuring in the Big Bay. The Big Bay can be frightening to navigate during heavy afternoon winds as I learned on several occasions. Even with a 20 ft Chaparell cuddy cabin boat, the swells become quite deep and closely spaced. Early mornings and evening hours are the optimum time for boating as the lake becomes congested with boat traffic during afternoons and weekends between Jordan Bay and the narrow pass at Frye Island. Few people visit the southern most Lower Bay as this is a restricted area serving as Portland's water supply.
GFRC News
On Thursday afternoon, I met with a local dealer at Diane's Benjamin Moore paint store. The children's table also doubles as the GFRC meeting place. While paint customers are discussing outdoor stains and application techniques, early type coins were being inspected along with pricing discussions and cursing the poorly performing CoinFacts app on mobile phones. Next time, I will bring the GFRC laptop and use AT&T mobile hotspot to secure pricing information. Overall, the meeting was lots of fun as three PCGS blue boxes full of wholesale dealer purchases and returned PCGS submissions were inspected and the subject of conversaton. GFRC did well at this session and purchased ten lovely collector coins. Most are completely fresh to market with no CAC attempt.
Following are the new purchases with FRoR in effect. All have been entered in the COIN system and are priced. Photography will take place on Saturday.
3c Silver: 1859 PCGS EF45 choice original gray; 1862 PCGS MS64 gem original with light rainbow toning
Seated 5c: 1863 PCGS F12 original gray and nice; 1869 original PCGS EF45 and a difficult date
Seated 10c: 1876-CC F-114 PCGS AU50 very early die state, choice with luster and conservative grading
Reeded 50c: 1838 PCGS EF45 choice crusty gray and certain CAC approval
Seated 50c: 1842-O WB-8 PCGS EF40 light original gray; 1875 NGC EF40 CAC Eric Newman Collection
Morgan $1: 1882 PCGS MS64 choice dual sided toner; 1883 NGC MS65 Fatty holder, stunning dual sided rainbow toning
Other GFRC News.....
Matt spent the past few days converting the Gold Price List to the COIN generation system while I debugged his work last evening. We are ready to go and will be changing the Gold Price List link on the For Sale page to the COIN generated version. For Blog readers wishing a quick look at the COIN generated gold price list, simply click on the following icon. Two down and thirty more price lists to complete......
Global Financial News
Spot gold remains at $1223/oz while spot oil prices are flirting with the $50 mark. Global stock markets are quiet ahead of the Memorial Day weekend. Did you realize that Japan's national sales tax is 8% with Prime Minister Shinzo Abe planning for 10%. Lastly, it must be an election year as the Dept of Commerce is expected to revise United States growth projections upward. One must carefully dissect GDP numbers as manufacturing continues to shrink while the delivery of health care and associated costs continue to raise.
Crude oil prices are back below $50 in early trading on a round of profit taking by investors and with the U.S. dollar perking up. Traders are also positioning themselves ahead of the next OPEC meeting scheduled for just around the corner on June 2. Energy market watchers are unsure if key OPEC members will agree on a production cap or increase output. WTI crude is down 0.9% to $49.05/bbl, while Brent crude trading in London is 0.89% lower at $49.15/bbl.
Japanese Prime Minister Shinzo Abe may delay a sales tax increase for another three years due to concerns on the global economy. A decision to postpone the tax is anticipated before an upper-house election in Japan later this summer. Abe already postponed the planned tax hike to 10% by 18 months, after the initial increase to 8% in April of 2014 edged Japan into economic hardship. Some economists think the country will be in better shape in 2019 just ahead of the 2020 Summer Olympics in Tokyo.
The second estimate on Q1 GDP is due out from the Commerce Department this morning. The revised figure is expected to jump to 0.9% from 0.5%. Yesterday, the Atlanta Fed caught the attention of economists by lifting its Q2 GDP forecast to 2.9% from 2.5%. The consensus mark of analysts is for 2.3% growth.
Featured Coins from the Trading Desk
Let's visit the Morgan dollar price list for today's featured coins. Collecting dual sided toned Morgan dollars can be a lot of fun. The challenge is locating example with huge eye appeal at the MS63 through MS65 grade levels and in the $150 to $350 range. Yes, collecting toner Morgan is quite subjective but much more fun than building a date and mintmark set of blast white frosty examples. Frosty white Morgans can be easily seen at any coin show or online. Rather, locating toned Morgans that match your visual requirements for natural beauty will be much more challenging and rewarding.
Here are four recommended pieces for consideration. The images speak for themselves while the descriptions and pricing can be located at the Morgan Dollar price list.
Wishing all GFRC customer and consignors a restful Memorial Day weekend. I'm staying away form Rt 302 and will be focused on the ANA Summer Seminar course preparations after completing today's packing and shipping.
May 26, 2016
Greetings on an absolutely gorgeous Maine morning. Nature has transitioned from barren branches into a beautiful green landscape in the past two weeks and just in time for Memorial Day weekend. Skies are cloudless and blue with temperatures forecasted to reach the low 80s. Then again, this is Maine and tomorrow will bring a 20 degree temperature drop and rains. One must enjoy the great weather when possible.
Liberty Seated Collectors Club News
The LSCC annual meeting at the ANA's World's Fair of Money is just two and half months away. Club leadership team is working on a host of projects including the ANA Summer Seminar course work, the July Gobrecht Journal and the annual fund raising auction in August. The upcoming Gobrecht Journal will be another great issue and the second to feature a Collector Centerfold.
Donations for the club annual auction were off to a good start about 45 days ago but have since quieted down. Two dealers (GFRC being one) committed $200 gift certificates along with an offering of Liberty Seated coins and numismatic literature from other individuals. Providing a numismatic donation for our noble cause would be appreciated. The club is managed by volunteer business professionals who are providing a noteworthy portion of the auction lots. Monies donated to the LSCC are well spent towards promoting our hobby and providing club member education. You would be hard pressed to find a better managed non profit considering our tiny budget.
GFRC News
Yesterday's GFRC emphasis shifted away from the daily loading of new purchases and consignments. Instead, photographing a portion of the Top 100 Seated Dime Varieties for the upcoming Gobrecht Journal sale announcement and building Summer Seminar course work took prioirty. Deadlines are looming and stuff must get done. I worked until 11:00 pm and completed image processing for the following Top 100 highlights. FRoR for the Top 100 Varieties sale will be recorded and honored. This will be a fixed price list sale rather than mail bid or other form of auction. GFRC will add a Top 100 price list to the website in parallel with the release of the July Gobrecht Journal followed by contacting those with FRoR for purchase decisions. Asking prices will be consistent with the Top 100 Pricing Guide located on this website. For Green and Gold CAC approved dimes, I will use the same pricing methodology as employed for any GFRC consignor.
In summary, GFRC will be marketing and selling the Gerry Fortin Top 100 Collection as just another consignment.
Gerry Fortin Top 100 Liberty Seated Dime Varieties Collection - May 26, 2016
Featured Topic
I always enjoy receiving the latest writing from John Mauldin and staff. Tuesday brought an brief article from Tony Sagami as part of his Connecting the Dots series for Mauldin Economics. The article is entitled The Curse of Debt and the Blessing of Being a Lender and discusses the renewed growth of household debt in the United States with college tuition growing to the point of being another negative impact for household finances. Student load debt has increased by nearly 4x in just ten years and is the latest drag on United States economic growth. The punch line is that investing in the lenders is wise due to the growing accumulation of college and auto loan debt. The article is a quick read with the following two charts catching my attention. I grew up in an era when being indebted was considered bad and to be avoided other than a home mortgage. Transactions were cash and check based with credit cards being evil as easily abused. I went to a Maine state university as my parents could not afford the tuition and would not borrow monies. So I self funded a four year Bachelor's degree that resulted in a substantial electronic industry career. My teenage years are remembered as working and saving for that lofty university education goal.
Average Household Debt Debt Growth Rates (Excluding Mortgages)
Featured Coins from the Trading Desk
There was positive feedback on the quality of yesterday's Featured coins; four choice original Liberty Seated half dollars. Hopefully, a GFRC customer is considering a purchase of one of these lovely pieces.
We shift to the United States gold price list for today's Featured Coins. Adding United States gold to GFRC offerings was a wise decision in hindsight. A sincere thank you goes out to the Osprey Collection consignor for moving me in this direction and enabling the product line with his substantial offerings. Since that time, GFRC gold sales have increased and well augment the traditional Liberty Seated denominations. So here are four great gold pieces from the price list to consider. Yes, spot gold has taken a small drop this week, but one must look long term when purchasing United States gold. It is a combination numismatic and physical asset.
We start with two CAC approved $3 Princess pieces. Much of the $3 Princess mintage was used for Victorian jewelry with low choice example survival rates. Below are two lovely examples with CAC green beans. The first is a gem 1862 Civil War piece graded PCGS MS64. Mintage is a scant 5,750. Struck from heavily polished dies with vertical die striations remaining on both obverse and reverse. Strike is full with frosty hair curls and all reverse wreath devices being crisp. Next is an eye appealing 1874 $3 Princess graded NGC AU58 with bright cartwheel luster. Surfaces are slightly mirrored which helps with light reflections and eye appeal.
Moving to the gold $20 double eagle offerings, we find quality pieces from the Monument and Osprey consignors. First is a fully struck 1875-S $20 graded NGC MS62. This example offers bright cartwheel luster and is the last "affordable grade" as PCGS population at the MS63 grade level is only 16 leading to pricing well into the five figures. Next to the 1875-S is a lovely 1899-S $20 graded NGC MS63 that is so choice with bold cartwheel luster.
8:00 am arrives and the Daily Blog is published on time. Thank you for visiting and I do hope your day is filled with happiness and good fortune. I'm meeting with a local coin dealer later today and hopefully will locate some quality new coins for the GFRC price list. We will see you tomorrow.
May 25, 2016
Is it Wednesday already? I believe so and time for another edition of the Daily Blog.
As a long time collector, I must admit going through an emotional event on Tuesday afternoon.
The reason was a visit to local bank and spending time in the bank vault and viewing room. Yes, I went through the bank boxes and inspected a Liberty Seated dime collection that has been amassed since 1989. While going through the individual double row slab boxes, the key dates from the Top 100 Varieties set were removed for photography and publicity in the July Gobrecht Journal issue. Making a decision to sell the Top 100 collection was a logical step in one's life. But executing the sale piece by piece is emotionally challenging given the years of effort to define the set and owning these special dimes. There are so many memories associated with individual coins. The 1875 F-107 MPD residing in PCGS MS64 CAC Regency holder with the original green pouch in pristine condition purchased at a Superior Auction, the 1862 F-103 PCGS MS63 reverse die gouge dime previously owned by Monfort Johnson and the basis for his article in Gobrecht Journal issue #16. Of course, there is the 1839 Pie Shattered Obverse residing in PCGS EF45 CAC holder purchased from John Sacher in 2012 after he left a voice message indicating I might be interested in this dime. And two of my all time favorites, the 1854-O F-102 Shattered Obverse dime (PCGS AU50 CAC) purchased raw from Brian Greer during 1992 (his guidebook plate coin) and the 1839-O Cobweb Shattered Reverse residing in PCGS MS63 Gold CAC holder from the 2005 CSNS Heritage auction of Dr. Tim Cook collection. Each piece brings memories.
Yes, it will be difficult to part with a collection that has been a substantial part of my life. But one must remember, we are simply the curators of our collections and preserving the integrity of each coin and providing knowledge and understanding to next generation collectors is a noble goal after years of personal enjoyment. Coins will last forever but unfortunately, humans do not. This is why I hope to place the Top 100 dimes with other collectors rather than taking these to a traditional auction sale.
GFRC News
More GFRC coins will be reaching the price list today as the consignment and new purchase backlog shrinks. On Thursday, I have a buying appointment with a local dealer that may result in some purchases. Otherwise my attention will be focused on the ANA Summer Seminar course work preparations.
By the way, here is GFRC customer feedback after a long term lay-a-way to purchase the 1840-O With Drapery PCGS AU58 Seated quarter that had been a fixture on the price list. This was an outstanding piece that found an appreciative home.
Hi Gerry, I just received the item and am blown away. The piece figuratively jumps out of its holder with luster and high grade resonance. I am so impressed and feel that I have reached an important milestone in collecting. I am going to continue my collecting journey and will happily contact you with interests on items.
Global Financial News
Spot gold was hammered overnight at now sits at $1223/oz with no explanation in the Seeking Alpha headlines. Oil prices continue to increase while the global currency wars run unabated as each country positions its currency for increased exports. Have you noticed that oil prices are recovering after the United States oil field carnage? China issued a slight currency devaluation overnight while Greece and Puerto Rico debt restructuring is ongoing.
Crude futures are pushing closer to $50 a barrel, with U.S. oil hitting its highest in over seven months after API data suggested a larger-than-expected drawdown in U.S. inventories last week. Crude is also getting support by an overnight surge in U.S. equities, strong home sales and a series of oil outages around the world. Wildfires in Canada and a spate of violence in Nigeria have helped cut global crude supply by nearly 4M bpd this month.
The People's Bank of China lowered the yuan's reference rate by 0.3% to 6.5693 per dollar overnight, marking the currency's weakest level against the greenback since March 2011. The move could increase tensions between China and its trading partners, as recent strength in the dollar and yen make exports from those countries less competitive globally.
In an agreement announced early Wednesday, Greece won additional pledges of debt relief, but nothing substantial until 2018 at the earliest, and only then if it continues to carry out the painful reforms it agreed to over the weekend. Eurozone finance ministers and the IMF also gave a green light for the next round of aid for Athens, including €10.3B in fresh loans, starting with a €7.5B installment in the second half of June. Greek bond yields slid to six-month lows following the announcement.
House Republicans are attempting to hold together a rare bipartisan deal to help Puerto Rico manage its crippling finances as a committee today begins considering the legislation. The bill to create a financial control board and restructure some of the U.S. territory's $70B debt has support from both GOP and Democratic House leaders, as well as the Obama administration, but some bondholders, unions and island officials still oppose it.
Featured Coins from the Trading Desk
Yesterday's Featured Coin section resulted in one of the four illustrated half dimes being sold. Today, let's visit the Liberty Seated halves for a few recommended pieces. Seated halves are, by far, the most popular of the Liberty Seated denominations. Availability and size are most likely the reasons. Seated dimes have similar availability but are smaller sized while Seated quarters are nicely sized as a collectible but locating choice examples is so challenging and nearly impossible to stock as they sell so quickly. Back to Seated halves..... Following are some new additions from several different consignments that may fit well into your collection. First is an 1839 With Drapery WB-104 half graded PCGS AU53 CAC from the Colonel Green/Eric P Newman Collection with classic original old paper envelope toning followed by an 1847 NGC AU58 specimen with crusty original paper envelope toning. The latter piece is not designated as from the Newman Collection but offers similar surface conditions.
Next is a lovely 1849 WB-10 MPD 8 in Denticles Seated half from the Highwoods Collection that is choice original with olive gray patina and lots of eye appeal. This lovely 1849 Philadelphia strike has become one of my immediate favorite within GFRC inventory. We close the Featured Coins section with a lovely 1852 half currently residing in PCGS AU58 holder but previously graded PCGS MS62. The luster is amazing with just a few marks that could result in the AU58 grade on a conservative basis. This is another excellent offering from the Seal Beach Collection.
Your daily visits to the Daily Blog are sincerely appreciated. This morning's edition is a tad late but hopefully worth the wait. I will be back bright and early on Thursday morning. Wishing everyone a great day.
May 24, 2016
Greetings on a Tuesday morning and welcome to another Daily Blog edition.
Wikipedia defined "boredom" as an emotional or psychological state experienced when an individual is left without anything in particular to do, is not interested in his or her surroundings, or feels that a day or period is dull or tedious. Boredom is a mental state that has escaped me for years as each day has a priority list of must do items. Monday was particularly busy with an 8:30pm bedtime for recovery and recharging. Once again it is 6:00am and here I am at the laptop.
Seated Coinage - Open Registry News
One of Monday's must do items was updating Dale Miller's Top 25 Seated Quarter Varieties in the Open Registry. Upon matching the new set additions with remaining slots, I quickly realized that Dale had completed his Top 25 set. This is a noteworthy accomplishment as many of the Top 25 quarter varieties are very scarce and require diligent searching across multiple years in order to acquire. Dale Miller is the only collector to have completed both the Top 100 Liberty Seated Dime Varieties and now the Top 25 Liberty Seated Quarter varieties. A sincere congratulations goes out the Dale Miller for these numismatic accomplishments.
GFRC News
The Early Copper price list generated via the COIN system was quite popular yesterday with nearly 250 downloads. Feedback arrived and was all positive. A few excerpts include;
Looks like you and Matt have produced a software masterpiece. I like all the linkages and headings..........superb creation.Totally brilliant and classy way to present consigned offerings. And I trust the 'built in' time management efficiency features will make your life more livable and productive.
Thought I'd drop you a line to let you know that the new/improved price list in this morning's blog looks great. Very impressive, easy to figure out and should be to just about anybody who views it. I never knew how much has to go into the computer end of that (or anything else for that matter)
Transitioning the entire GFRC inventory to the COIN system should be completed within the next 30-45 days. My only concern is Excel's ability to handle the massive database size when individual item descriptions are ported over. Only time and experimentation will tell. But I do suspect that purchasing the most advanced laptop in terms of available RAM and processing speed will be a prudent step. I will be asking Matt for a recommendation.
Today brings a bank vault visit to pull major Top 100 Seated dime variety pieces for photography and constructing the forthcoming GFRC ad in the July Gobrecht Journal. The end of May submission deadline is looming. Luckily, the LSCC President's Message was written yesterday and the balance of the week will be dedicated to the ANA Summer Seminar curriculum.
Incremental consignments are being held back for the next 10 days or so. Already, a major consignment from Upstate New York consignor is committed while Jim Poston continues to work on his next submission. GFRC will be soliciting incremental consignments effective the second week in June. Please contact me to discuss your holdings and development of a sales strategy.
Global Financial News
Spot gold prices are weakening and sit at $1243 this morning as the Federal Reserve generals continue to push for an interest rate hike in June. Gold prices are already factoring in a stronger US dollar. Moving to Europe, the IMF is essentially asking EU creditor nations to fund Greece without expectations for repayment. The new term for this action is "upfront unconditional debt relief". Finally...were you aware that the international bank transfer system (SWIFT) has been under attack by hackers? SWIFT is the favorite tool of the United States for trade sanctions against Russia and Iran. Now SWIFT is being attacked.....
Expectations are rising for a rate hike next month after Philly Fed President Patrick Harker reinforced the central bank's message that it's getting ready to act now that the U.S. economy has recovered from a weak winter. "I can easily see the possibility of two or three rate hikes over the remainder of the year," he told an audience in Philadelphia. "If the data comes in... I think a June rate increase is appropriate." Markets are also awaiting this week's main event - a speech from Janet Yellen on Friday.
The IMF is calling on European creditor nations to commit to "upfront unconditional" debt relief for Greece as part of an international rescue program for the debt-laden nation. The statement comes ahead of today's Eurogroup meeting in Brussels that will discuss the issue, with the aim of agreeing on the next disbursement to Athens from an €86B bailout package hammered out last year.
The head of SWIFT will present a plan today to fight back against a wave of recent cyber thefts at members of the world's top payments network. The speech follows three high profile hacks since the beginning of last year: an $81M heist at the Bangladesh central bank, a $12M theft from Banco del Austro in Ecuador, and an attack on a Vietnamese lender that was unsuccessful. "I think it will prove to be a watershed event for the banking industry," CEO Gottfried Leibbrandt is expected to say, according to a draft of his speech seen by the FT.
Featured Coins from the Trading Desk
The Liberty Seated half dime denomination is probably the least popular with collectors outside of double dimes. The half dime's small size has been an ongoing explanation followed by the lack of modern die variety guide. The Valentine guide is much too ambiguous for definitive attributions and hopefully, MrHalfDime (Stephen Crain) will finally publish a comprehensive guide for this series. Collecting half dimes brings the same challenges as large denominations but can be accomplished with a smaller budget since the demand side of the equations is lower.
GFRC continues to stock quality Seated half dimes. In today's Blog, I would like to showcase four examples and hope they will find new homes with a loving collector. We start with two superior 1837 examples that are ideal for a type set or the first entry in a date and mintmark set. The first 1837 half dime (PCGS MS65) is a perfect gem consigned from an old time collection. Strike is hammered with every minute device detail being crisply impressed. Surfaces are frosty and covered with transparent golden patina that is more concentrated at the obverse and reverse rims. The second 1837 example (PCGS MS63 CAC) offers spectacular eye appeal and is choice original. The obverse is covered by a transparent aquamarine and golden patina while the reverse is mostly silver gray. I love how the obverse aquamarine center is framed by a large golden ring due to the clean fields not cluttered by stars.
On Sunday, the following two gray original pieces were added to the price list and are excellent values. First is a sweet 1847 half dime graded NGC EF40. What is there to not like about this strictly original 1847 Philadelphia half dime that is conservatively graded? Next to the 1847 is a choice 1861/O overdate example residing in PCGS EF45 holder. Yes, there is ongoing questions about this variety being a true overdate, but the popularity is unquestionable. Eye appeal and originality are outstanding here.