Gerry's Daily Blog Archives - October 2015
October 31, 2015
Happy Halloween to young and old as we close out the month of October.
The drive to Rochester, NY brought me through pretty country including the Berkshire and Adirondack Mountains. Crimson red and orange were the prevalent foliage colors as I spent hours on I-90 driving through Massachusetts and upstate New York. Overall, it was a relaxed day; the calm before the forthcoming two week storm. Upon arriving to the Henrietta hotel, I was joined by John Frost and Dennis Fortier for dinner. We found our way to the the popular Lehigh Diner that did not disappoint on food quality. During dinner, Dennis mentioned a craving for a Dairy Queen dessert and we agreed to explore Henrietta attempting to locate a DQ restaurant. To keep the story short, we drove around for 15 minutes and located a DQ for some take out ice cream; take out was in order as the place was full of screaming young teens with their omnipresent cell phones.
Upon returning to the hotel, I worked until midnight loading the balance of the Central California Collection to the Client Gallery. I'm pleased to report that all but three half dimes are posted and waiting for the consignor to revert on proposed pricing. Another long day ends in the coin business and time to catch some sleep before tomorrow's busy day at the RNA show.
I will leave the Blog here and attempt to add more before having breakfast and driving to the Rochester Museum and Science Center. Dealer and exhibitor setup starts at 8:00am. The GFRC camera is traveling with me so there should be some show and display images later today if table space to setup my computer. I sure there will be free time to update the Blog during the afternoon hours.
Thank you for visiting and please consider a coin purchase to help close out the month of October.
Rochester NY show update: Here is an impromptu image of Gerry at the display table with Tom Coulombe, a long time GFRC customer, studying the 1839 Pie Shattered obverse dime. With Dell laptop and Samsung S4 Mobile Hotspot application, it is straightforward to update the Blog directly from the bourse floor. Later in the day, Tom and his wife Margaret, hosted me at a nearby restaurant where we enjoyed a lovely dinner. The coin business is much more than coins; friendships are created and last a lifetime.
October 30, 2015
Good morning and welcome back to the Blog on the day before Halloween.
The Patriots crushed the Miami Dolphins last evening and are 7-0. All is good in New England today.
In a few hours, the drive to Rochester NY commences as part of the four coin show in four weekend tour. This weekend's event will be much slower paced as I am representing the Liberty Seated Collectors Club at the Rochester Numismatic Associations's 43rd annual Coin and Sale show being held at the Rochester Museum and Science Center. John Frost and Dennis Fortier, LSCC Directors, will also be attending and manning the club table. On display will be my award winning PCGS Set Registry Liberty Seated dime set along with a strong selection of Top 100 Seated Dime Varieties. The last time these sets were on display was at the October 2013 Seated Dime Fest with Eugene Gardner at the Manchester, NH coin expo. Gene set is now fully sold to a new generation of collectors as of Tuesday.
While on the LSCC topic, Bill Bugert, LSCC Publications Editor, reported the following, "I am pleased to report that, after 3 full days of stamping, stuffing, and sealing envelops , I postal mailed approximately 690 copies of Gobrecht Journal Issue #124 in this afternoon's mail. Included with this issue are two two-sided handouts: a club dues notice/Ahwash ballot and a PRL for the summer auction/ tally of votes for last year's Ahwash award. Please noted that with the mailing of Gobrecht Journal Issue #124, it is time for 2016 dues renewal and voting for best GJ article. Your support with prompt LSCC dues payment would be greatly appreciated.
Daily Blog Feedback
Several GFRC friends decided to express their thoughts on the CNBC Republican debate and on the Walmart comments made in the Blog this week. Following is their feedback;
On the Republican debate and my commentary, the Silicon Valley consignor shared his perspective.
No surprise on the Republican debates last night. Around the world the media has sensed that people want conflicts and "attitude" (indicated by the popularity of reality shows), so to stay competitive, they have to ask "tough" questions and show no mercy pursuing fodder for their sensational headlines. To simply be informative gets you labeled as boring, since most folks don't access the various forms of media to be "informed" anymore, they want to be entertained.
Respect isn't something people practice in everyday life anymore, that word has lost its meaning and degraded into a cheap cliche for today's wannabe tough-guy/girl generation who cowers in the face of adversity and protests that they've been "disrespected" whenever things don't go their way.

I still remember the late-1980s/early-1990s when I lived in Taiwan and for local elections the candidates will pass out leaflets and stage their own promotional rallies to announce their platform. To reach a wider audience and cover more ground (like in the US), a candidate would be hard pressed to cultivate so much territory on their own. The media is the perfect double-edged sword in that it broadcasts for the candidates, but it follows their own agenda which may or may not favor the candidate's own message. The most conscientious public servant is no longer the guaranteed winner, but rather it's the savvy "politician" that knows how to play the media game to present themselves in the best light. Sad to say because these two types are often not the same person.
On Walmart continually squeezing its supplier base, another GFRC friend wrote....
Regarding your post on Walmart today, you may be interested in the book, "The Walmart Effect". It is a pretty interesting read that I used for a report I did in college a few years ago. Some of the more interesting points is Walmart, in comparison to other retailers will actually approach companies and tell them how much they will pay them for their product. This has led to countless companies, such as Snapper lawnmowers, being forced to close up their manufacturing in the US and reopen overseas. They are left with an ultimatum to either make a lot of money with Walmart or some other company will step up to the plate. It is even worse when Walmart will behave whimsically and drop business with a company years after the global reorginazation of the companies. It's a dog eat dog scenario where we all value cheaper prices and the majority of us unintentionally make Walmart more powerful to fulfill this.
GFRC News
Once again, I worked late into Thursday evening to populate the Central California Collection in the Client Gallery section of the GFRC website. 21 of the 45 outstanding coins are currently shown including all the double dimes and Seated quarters. After arriving at the hotel later this afternoon, I plan to sit at the laptop and finish loading Seated dime and half dime images. A draft retail pricing proposal has also been submitted to the consignor and presently awaiting feedback. If retail pricing is settled by Saturday, then I will open the First Right of Refusal on Sunday and deal with the requests on Monday including communication of asking prices. Coins that are requested and placed on hold via FRoR will not be on display at the Whitman Baltimore show. I have ample quality inventory to fill 8-9 cases with only 6 cases available at this show so holding back a portion of the Central California Collection will be helpful.
The Indiana Collection consignment arrived yesterday and is already photographed. This lot is exclusively Liberty Seated dimes from another long term and well advanced collector of the series.
I still need to process images and load quality Walking Liberty halves from the Colorado Collection and Washington State consignments.
Financial News
Seeking Alpha offers an important headline that we should take note of. China's financial system reforms and transformation continue at a rapid pace. Please note the following....
More yuan power? Today, the currency surged the most since China scrapped a dollar peg in 2005 after the PBOC said it will consider a trial program in the Shanghai free trade zone allowing domestic individual investors to directly buy overseas assets. According to China Foreign Exchange Trade System prices, the yuan rose 0.62% to close at 6.3175 a dollar in Shanghai. The move marks another step in China's effort to remove restrictions on capital flows as it seeks inclusion in the IMF's reserve-currency basket.
Featured Coin of the Day
Some GFRC customers, who regularly visit the For Sale page, may have noticed this uncertified 1878-CC Morgan dollar that is pure eye candy. I purchased this coin during a Portland coin shop visit and pleased to offer to GFRC customers. The obverse is a bit baggy and limits the grade to MS62. But the combination of original bullseye patina and mildly proof like fields provides considerable eye appeal.
Thank you for visiting this morning. I'm off to the shower and then packing for the Rochester NY show. I look forward to meeting LSCC members and GFRC customers this weekend.
October 29, 2015
Welcome back to the Blog on this rainy Thursday morning. The Patricia remnants are moving through northern New England and clearing weather should arrive by later this afternoon. Temperatures increased almost 20 degrees overnight. Friday morning brings a 7.5 hour drive to Rochester NY. Today's focus is achieving my goal of having the Central California Collection images ready for illustration in the Client Gallery coupled with preparing for this weekend's Liberty Seated Dime and Top 100 Varieties set display at the Rochester show.
Last evening's Republican debate was disgusting and a waste of precious time given the CNBC moderators and their aloof attitude towards the candidates. Respect in this country appears to be moving to an all time low and I'm wondering where are the role models in terms of politeness and integrity? Entertainment appears to be trumping insightful consideration of our country's future leadership and core issues.
Yesterday was a most busy day including a drive to Portland to visit local coin shop and a lunch at my favorite eatery, Imperial China. The coin shop visit brought a nice lot of new purchases that will be listed shortly. Lunch was a pleasure as I had a chance to chat with Gloria, the Taiwanese owner for 28 years. Yes, Imperial China is an institution in the area as many other businesses have come and gone. My fortune cookie came with an insightful message..... Facts are cheap. Information is plentiful. Wisdom is precious. This fortune seems to well characterize the omnipresent real or contrived facts on the Internet along with immediate access to information via Google, Bing or other search engines. Lacking is true wisdom based on in depth knowledge of world history and postive/negative human behaviors as we race forward in the Information Age.
GFRC News
Following is a preview of the Central California Collection. As previously stated, this collection is well above average in quality. If all goes well today, I will have the entire collection posted in the Client Gallery by end of day or worst case by end of Friday evening after the drive to Rochester. My target is to have pricing settled this weekend and open FRoR this coming Monday.
The Central California Collection - Select Preview
The Portland coin shop visit was delightful as I always enjoy doing business with Norm Pullen. Norm was one of the initial PCGS graders back in 1986-1987 timeframe and is a wealth of numismatic knowledge. During the conversations and buying, Norm stressed that spot gold has hit bottom and believes an upward trend is in cards given the economic state of affairs.
Following are new purchases;
Bust 5c: 1834 LM-4 EF40 choice original gray
Bust 10c: 1827 JR-4 F-12 original medium gray; 1835 JR-2 R4 VF35 choice original gray
Morgan $1: 1878-CC MS62 incredible original bullseye toning; 1879-CC VF20 original medium gray; 1883-S EF45 original medium gray, 1888-S VF30 original medium gray; 1892-S EF40 original medium gray, 1894-S original light gray
Type Gold: 1904 G$20 PCGS MS62 PCGS 2015 holder; 1924 G$20 NGC MS63 old holder
The Indiana Liberty Seated dime consignment should also be arriving today and will be discussed in Friday morning's Blog.
Featured Coins of the Day
Early commemoratives have been languishing for years and prices are so beaten down that I'm starting to purchase beautifully toned pieces for inventory. The same thought process for purchasing quality Capped Bust and Liberty Seated coinage can apply to any United States design and denomination. Adding early commemoratives to GRFC inventory wil be an opportunistic process; when exceptional coins appear, they will be cherrypicked and added to the price list. Following are two beautifully toned commemoratives that are well above average in quality and eye appeal. The first is a 1936 Rhode Island graded NGC MS65 and approved by CAC. This gem offers light rose and gold coloring during in hand viewing and a remarkable transition to pastel light blues under bright light.
Next is a 1946 Booker T. Washington in exception preservation state. This piece resides in PCGS rattler holder and is graded MS65 and approved by CAC. The images speak for themselves.
Thank you for visiting this morning. I will publish a brief blog on Friday morning before driving to Rochester.
October 28, 2015
arrives and just 48 hours before driving to Rochester NY. The weather forecast indicates cloudy conditions for the drive and warming temperatures during Halloween weekend. Today is a preparation day for both Rochester and Baltimore along with shipping and attempting to process as many Central California Collection images as possible.
Tonight is the Republican debate. Ben Carson's recent surged in the polls is a major test for Donald Trump and his ability to handle adversity in a calm and insightful manner. The other candidates will be grandstanding to attract attention including Carly's rigid and take no prisoners demeanor and Jeb's efforts to reestablish career politicians (who constantly recite their resumes) as the best option for United States citizens. The United States economy will be the focal point for tonight's debate and I'm sure the talking points will be at a high level. Improving GDP means increasing employment rates throughout the country and approaches for accomplishing need to be well grounded with research and a deep understanding of core issues. Adding more employment via the service industry is not a solution and counting on the health care industry is also a recipe for long term disaster with government spending on health care doubling every 20 years due to aging demographics and the politics of healthcare. Here is an easy to understand pie chart of current U.S. spending from Agora Financial. Note how Social Security and healthcare presently consume 60% of Federal budget with debt payments at 6.3% (in an ultra low interest rate enviroment).
From the Linkedin website and news, an article arrived this morning on how Walmart is aggressively squeezing suppliers for more cost reductions, extended payment terms and now stocking fees. This is normal operating procedure at Walmart but the tone is more aggressive considering their rising labor costs and investments to compete with Amazon. If Americans wish to have a higher rate of employment, then Walmart is not your friend. Squeezing costs out of smaller suppliers means more automation/job elimination and implementing other strategies to lower operating costs (not paying workers benefits, no pay raises). Here is an excerpt from the article by Adrian Gonzales;
Back in June, Walmart sent 10,000 contract renegotiation letters to suppliers, asking them to pay stocking fees and to extend payment terms. "What we are doing is what is happening across the industry," and so [these action are] bringing Wal-Mart in line with competitors, Wal-Mart spokeswoman Deisha Barnett said, as quoted in the Wall Street Journal.
But as I said back in June, we've seen this movie play out many times before: bad things happen in the long term (quality issues, supplier bankruptcies, etc.) when you increase the cost of doing business for your suppliers but still demand price decreases from them. Instead of being a true trailblazer, Walmart is following in the same worn footsteps of its competitors in the retail industry.
No doubt, the retail industry is undergoing significant transformation, driven by e-commerce, omni-channel fulfilment, and more demanding consumer expectations (see recent post, Built for Yesterday's Consumer: The Demise of Malls and Traditional Distribution Networks). Retailers like Walmart have to respond to these changes in order to grow profitably in the years ahead — but in my opinion, their response needs to be bold and different, not old and tired, and unfortunately, based on these reports, it seems like Walmart has chosen the old and tired approach to supplier relationship management.

Something to consider if you are watching tonight's debate. Our economic issues are challenging and require insightful solutions that may not play well within 8 second sound bites.....
GFRC News
Yesterday's discounted 1831 Capped Bust quarter ($150) sold within an hour of being posted. Thank you Jim Poston for offering this piece to GFRC customers at a wholesale level.
Tuesday was another long day in the GFRC office while making progress on posting new consignments. A portion of the Colorado Collection consignment and all of the Wisconsin Collection consignment were posted in the Client Gallery and on the price lists. Here are the mini galleries. Several offerings are already on hold.
The Colorado Collection Consignment Part I
I'm ending the Daily Blog here without the Financial News and Featured Coins of the Day topics. A check of Seeking Alpha headlines revealed little that was worthwhile to share and the above two consignments should be sufficient as featured items for today.
Tomorrow's Blog will focus on the Republican debate and sharing of thoughts. Have a great Wednesday!
October 27, 2015
Thank you for visiting on this lovely Tuesday morning. As I look out the GFRC office window, autumn foliage is beyond peak. Birches have lost their leaves and the oaks are nearly done their color transition. Blue skies prevail and I will take a long walk today as a break from substantial image processing.
A quick scan of BBC and other online news media found little to discuss. The U.S. sent a destroyer close to China's island and air strip construction in the South China sea and brought expected condemnation by Beijing. Tomorrow evening brings another Republican debate and the focus will be on Donald Trump and Ben Carson. Jeb Bush will certainly have the gloves off as he needs to score some serious punches to remain viable.
Yesterday's report in the Financial News section concerning bacon and sausage being labeled as a carcinogen immediately reach national news status. James Davis, a GFRC customer and Phd in biomedical research provided the following commentary during email correspondence later in the day;
I read the blog. Recall that for many years the tobacco industry fought the link between smoking cigarettes and lung cancer, did all sorts of underhanded things supressing their own internal findings. We now know that the problem with tobacco consumption is not just lung cancer but a host of cardiovascular problems as well as mouth and esophageal cancer.

I like and eat red meat, but limit my intake. The other aspect is the non sustainability of the meat producing industry in terms of resource utilization.
Also keep in mind that the IARC report on processed and red meat is a meta-analysis of many studies over many institutions. This sort of research is hard because it would be difficult (ha, probably impossible if not unethical...) to do a random double blind study to determine a true causal relationship as opposed to a correlative finding.
GFRC News
I am pleased and excited to announce that my son Matt will be joining GFRC at the Whitman Baltimore show. Matt works as a sustainability project manager at Environmental Resource Management in Boston and is spending a few days away from the office. Matt's support is paramount as GFRC inventory and consignment levels dictate a two person operation for security and hosting Table 818.
There is substantial news today as the consignments are just pouring in before Baltimore and Shanghai show. Before I discuss the 50+ coins that arrived yesterday, here is the Denver Coin Expo gallery of new purchases. I worked hard to locate the best coins possible for GFRC customers while setting fair prices consistent with the quality. There are other "value" dealers in the coin business that will sell similar coins but the quality is at a different level and so is the pricing. I've always been a believer that buying the best means other sophisticated collectors will also be interested in your coins when it is time to sell.
Denver Coin Expo Newps - October 26, 2015
The Central California Collection consignment arrived yesterday along with another Seated half dollar installment from the Wisconsin Collection. Seated dimes from the Indiana Collection are also in transit today. In just a few days, GFRC inventory has/will be growing by 90 quality coins and I could easily fill 8-9 cases at Baltimore show versus the 6 that will be available.
The Central California Collection is from a most selective collector and is the finest set of coins to be consigned to GFRC so far. There were multiple "Wows!" during photography under bright sunlight. Extraordinary is probably the best adjective for describing years of careful and astute purchases based on all the quality characteristics expected for AU through low Mint State graded Seated coinage. Serious collectors should pay special attention to the Central California set of Seated half dimes, dimes and quarters. My plan is to have all images available in the Client Gallery before leaving for Rochester on Friday. On Friday morning, I will open FRoR for the Central California Collection and have pricing settled by end of weekend. Those coins that are not order by Monday November 2 will be heading to Whitman Baltimore show. This is the current plan and please check the Blog daily for potential changes.
If all goes to plan, I hope to have Wisconsin and Colorado Collection consignments displayed in the Client Gallery before heading to bed today.
1861 New Orleans Seated Halves - Special Offer
October has been a slow month at GFRC and inventory is piling up. The "collector to collector trading desk" concept requires some basic volume to faciliate transfer of coins among collectors and your offers on coins that have been in inventory for greater than two months (coins without a New! label) would be welcomed. Secondly, I have extra copies of Gobrecht Journal issues #94 and #97 that capture Randy Wiley's ground break research on the 1861 New Orleans varieties struck under Union, State of Louisiana and CSA administrations. I'm offering both Journals as an incentive for a minimum $300 purchase of 1861-O halves from the price list.
Featured Coin of the Day
Here is another special offering for today only. Jim Poston (GFRC-Coins on eBay) sold me the following 1831 Capped Bust quarter at the Denver show conditional that I offer at discounted price in the Daily Blog. An examination of the images will immediately convince that this is a strictly original and attractive piece for a type coin set. Offered at $150 for today only. (Sold!)
October 26, 2015
Good morning and thank you for visiting the Blog. This is week two in the "Four Coin Shows in Four Weeks" tour and already I'm trying to determine a strategy for handling incremental consignments and requests that are arriving for Baltimore and Shanghai shows. Today will also be busy on the home front as the dishwasher will be replaced by a Sears replacement and the chimney sweep will be making his annual appearance.
Today's weather forecast is ideal for photography with a queue of 50+ coins that need to be imaged and processed. Temperature is forecasted to be in the high 40F but the bright warm sun will be perfect for working through the photography backlog.
After traveling back from Denver on Saturday, I spent nearly 13 hours on Sunday updating the GFRC website, evaluating consignments and starting to package orders. By 9:00pm, it was time to call it a day and retired to the sound room with a double scotch (or was it a triple) and listened to Coldplay's Parachute and then Dave Matthews in NYC concert video.
There will not be an in depth topic this morning as I simply have too much to accomplish in the next 15 hours.
Financial News
This morning's Seeking Alpha main headline confirms that the Chinese Yuan will be included in the IMF's Special Drawing Rights currency basket. This is a huge step for China's global recognition as an economic power house.
IMF representatives are set to give the all-clear for China's yuan to be included in its Special Drawing Rights basket, laying the groundwork for a favorable decision by policymakers, Bloomberg reports. As part of the process scheduled for every five years, staff members will present their recommendation to the fund's executive board for a vote in November. China took another step toward liberalizing its financial system on Friday, after the PBOC removed the cap on deposit rates (and cut interest rates for the sixth time since last November).
Also buried in the Seeking Alpha headlines are these two items. Could you have imagined that Big Oil could be sued for climate change by activists and meat producers will have their products labeled as cancer causing? Read on my friends....
Exxon Mobil responded last week to mounting calls for a federal investigation into accusations that the company knew for decades about the risks of burning fossil fuels and the effects on climate change, but withheld the information and sought to sow doubt among the public. The allegations are "inaccurate and deliberately misleading," the firm declared. "Activists deliberately cherry-picked statements attributed to various company employees." The scandal has implications beyond Exxon Mobil (NYSE:XOM), as other oil companies that conducted their own research could also face public scrutiny.
The global meat industry is up in arms about the prospect of its products being declared carcinogenic by the cancer research arm of the World Health Organization. The agency is due to issue a report on Monday that is expected to rule that processed meat such as bacon and sausages is a carcinogen, while red meat is probably carcinogenic. "Red and processed meat are among 940 substances reviewed by IARC found to pose some level of theoretical 'hazard'," said Barry Carpenter, President of the North American Meat Institute. "Only one substance, a chemical in yoga pants, has been declared by IARC not to cause cancer."

GFRC News
Another consignment was committed late yesterday evening. After the sound room relaxation session, I checked emails one final time and saw a correspondence from my good friend, the owner of the The Indiana Collection. He sent notice of a pending Liberty Seated dime consignment. The transfer details will be worked out today to enable the dimes to be in hand in time for Baltimore show. Like other advanced collectors, the Indiana Collection owner is selling some duplicates to raise monies towards completing important collecting goals. Included in the consignment are the following pieces;
Seated 10c: 1875-S IW NGC MS62; 1875-S BW NGC MS63; 1878 PCGS AU55; 1884-S PCGS MS63 F-102;1887-S PCGS MS63+; 1888-S NGC AU58 CAC; 1889 NGC MS62 F-122; 1891 PCGS AU58 F-107 MPD in rim
Shifting the discussion to the Whitman Baltimore show in only ten days, my numismatic buddy and table partner W. David Perkins announced the purchase of the Miller Early Dollar collection in the October 25 JR Newsletter. The Miller Collection will be available for viewing at our shared booth space (Table 818). This collection will generate substantial collector traffic to our booth. Copied directly from the JR Newsletter is the following;
W. David Perkins and Andy Lustig Purchase the Miller Collection of Early Dollars 1794-1803
W. David Perkins and Andy Lustig are excited to announce that they have purchased the extensive Miller early U.S. silver dollar collection and will begin offering it for sale. The coins will be available for viewing and sale at the upcoming Whitman Baltimore Show Wednesday through Saturday, November 4-7, 2015 at Table 818 (The table is listed under W. David Perkins, Numismatist).
Background and the Collection
Imagine collecting the early United States Silver Dollars 1794-1803 for over 30 years, and being the first and only person to complete a set of the business strike early dollars by die marriage with every Bolender (B) and Bowers Borckardt (BB) number. Warren Miller accomplished this feat approximately a decade ago, completing the set by die marriage in 2005. From 2005 to the present, selected coins were upgraded and die states were added. Miller branched out and added errors, including numerous double and triple struck early dollars. Today the collection consists of over 160 early dollars total.
The collection was started in 1983 with the purchase of three different dates of Draped Bust, Heraldic Eagle Dollars from a local coin shop. On the next visit to the shop, Miller was given a copy of the Bolender book on early dollars 1794-1803 and as they say, the "rest is history!" Miller went on to acquire all of the 118 known die marriages over the next 22 years. Perkins was able to purchase the Unique 1795 B-19, BB-19 Flowing Hair Silver Dollar from the grandson of Frank M. Stirling, and sold it to Miller, enabling Miller to complete the die variety set in 2005. In the last year, two new die marriages have been discovered bringing the number of total known business strike die marriages to 120.
All of the coins are graded by PCGS, and the set overall averages "Almost Uncirculated" in grade, with specimens ranging from Good (a Double Struck Flowing Hair Dollar) to MS63. The majority of the coins are graded in the XF-AU range of, with many unique die marriages, Finest Known and Condition Census Specimens, Plate Coins, and Late Die States. Many of these coins resided at one time in the great collections of the past – Atwater, Eliasberg, Stickney, Amon Carter, Bolender, Ostheimer, Frank Stirling, K. P. Austin, W. G. Baldenhofer, Spies, Reiver, James Matthews, and others. PCGS photos are available for all but a few of the coins in the collection.
Featured Coins of the Day
I will delay this section until tomorrow as need to take a quick shower and start packaging the last of today's customer shipments. Thank you for visiting once again and I will see you bright and early on Tuesday morning at the Blog.
October 25, 2015
Greetings from Maine! The flights from Denver through Chicago O'Hare on to Portland, Maine were pleasantly uneventful and allowed time to finish reading Ben Carson's One Nation book. I recommend this short read to all GFRC friends whether conservatives or liberals as this book is full of common sense concerning self education and personal responsibilities. Ben is the featured guest this morning on Meet the Press and it will be interesting to watch Chuck Todd's questioning approaches for generating incremental media headlines on the issue of political correctness. Going back to One Nation, the book in organized into major sections namely, Saving our Nation, Solutions and Who are We?. In Saving our Nation, Carson defines the critical issues facing our country while in Solutions, a series of governing philosophy changes are offered. In Who are We, Carson discusses a need for personal and national visions, who are the true role models and finally, morality and courage.
Ben offers some stimulating points to consider;
- We have surrendered our healthcare to big business and governmental oversight rather than focusing on the core patient:doctor relationship.
- Medical malpractice tout reform is disparately needed in America to minimize defensive medical costs....all the unnecessary testing that is done to protect doctors from negligence lawsuits. The United States appears to be one of the few countries in the world with a legal system structure that allow lawyers to troll for medical malpractice lawsuits with no out of pocket money for plaintiffs.
- Carson is firm on personal responsibility and self education. Our founding fathers believed that a democracy could only function if the electorate was educated enough to render informed voting. From One Nation, Carson lists the following items that an informed citizen should know towards being able to decipher the ongoing banter of politicians;
- Ability to read at eight grade level
- Basic math including the calculation of percentages
- Basic world and American history along with basic world and American geography
- Basic household economics including balancing checkbook and knowing what is excessive borrowing
- Basic knowledge of how credit works and debt accumulates
- Names of state and national representatives
- Basic nutrition and disease management
- Politicians continue to raise the complexity level of legislation with many unable to clearly articulate the basic principals in potential laws under consideration. Carson states, "If politicians are unable to explain a law or statute in a way that a seventh grader can understand it, then they don't understand it either and should be provided an opportunity to study after being voted out of office."
I could write extensively on this topic but will leave it here.....
GFRC News
Now that Denver is in the history books, preparations are underway for Whitman Baltimore and Shanghai Yunzhou shows. Next weekend's Rochester NY show will be a return to my collector roots with the primary challenge being 15 hours of driving to and from Rochester.
I have a substantial amount of new coins to load to the price list including the Colorado Collection consignment, another shipment from the Washington State consignor along with Nashau NH and Denver show purchases. Today's focus will be on adding coins to the price list and will catch up the images on Monday conditional on sunny weather. Initial attention with be given to Morgans and Type Gold.
Many checks arrived while in Denver. Those orders will be processed today and shipped on Monday.
Finally, the overall coin market has slowed including GFRC sales during the past 30-45 days. I work hard to locate premium original coins and prices may be considered a tad high as compared to the rest of the market. There were several lost sales at Denver due to GFRC quality (CAC coins) being priced above market average and casual collectors not being mentally prepared to purchase above average quality coins at prices that were consistent with the quality.
Incremental cash flow going into the Baltimore show is an important issue. If you've been considering a purchase, then please contact me to discuss how we can reach terms to bring about that purchase. Consignors wish to see their coins sell towards funding incremental upgrade purchases. My role is to faciliate win-win deals between consignors and collectors that enables ongoing transactions at the GFRC "collector trading desk".
Featured Coins of the Day
I will update this portion of the Blog later this morning after watching Ben Carson's interview on the Meet the Press.
(Back from Meet the Press interview)...Chuck Todd repeatedly attempted to pin down Ben Carson on statements that would incite the political correctness media and Carson responded with common sense principals that he would use for governance. I do suggest that you purchase Carson's One Nation book and listen to his common sense message that is grounded in the Bible's teachings. Can you believe that Chuck Todd actually asked Ben Carson if US citizens should be allowed to own surface to air missiles during there 2nd Amendment discussion? Chuck Todd did get Carson to say that he does not support Roe vs. Wade and that was good enough for an immediately NBC News headline.....
Discounting a few featured coins has produced some sales so let's move to the Liberty Seated half dollar list this morning and offer some quality offerings. First is this lovely 1871-S WB-8 half that is so choice with nice frosty luster. The CAC approval definitely warranted. This piece is fully struck with all star centrils and hair curls well defined. The fields are essentially blemish free while the high points on main devices have just a small amount of wear. Offered at $700
Next is an 1874 With Arrows Seated half that is no stranger to the featured coin section of the blog. As a collector who appreciates spectacular natural toning, I find this half to be desirable due to the old leather contact patina that is unique in appearance and provides ample eye appeal. Who knows where this piece was stored for years? Offered at $440.
Thank you for visiting today and please check the individual GFRC price list later this afternoon as New Purchases are loaded. Hopefully, there will be offerings that tickle your fancy!
October 24, 2015
Denver Coin Expo Report: Day 3
Attendance was lighter on Friday as Denver weather improved. Jim and I were busy through most of the day and closed shop at 5:00pm. We did more wholesale buying and some retail sales but not at the same pace as Thursday. The highlight of the day was a new consignment. The Colorado Collection consignment includes a run of MS65/MS66 Walking Liberty halves, type gold, eye appealing Morgans and several beautifully toned Mercuries. More on the Colorado Collection consignment is coming later in this blog.
We started the day with a request from Harry Zhang in Shanghai for some modern Cameo proof coins; specifically later date Washington 25c and Franklin 50c. Target grade was PF66 - PF67 Cameo. One would assume that locating holdered late date Washington and Franklin pieces would be straightforward at a large show. This is not the case! These "common coins" are scarce and difficult to locate in NGC or PCGS holders. Jim Poston could only find two pieces on the floor in older scratched up NGC holders that were not acceptable. However, we could have easily bought raw examples.
Tom Mulvaney stopped by to say hello and viewed the 1874 F-106 Polished Arrows dime and discussed his participation on the discovery of the 1872 F-105 Double Die Reverse dime. Immediately after Tom left, W. David Perkins arrived and we chatted about strategy for upcoming Baltimore show. W. David Perkins and Gerry Fortin Rare Coins are sharing corner + regular tables at the Baltimore show and will have twelve cases of quality early types coins.
My day ended with a very special event. After years of conversing and collaborating as LSCC members, I finally met Paul Bradley face to face. Paul and wife Cynthia spent the day driving to Denver and stop by my hotel for a quick visit. It was indeed a special moment to shake hands with Paul. Most readers are unaware that Paul proof read my web-book prior to the release in 2004. We also worked together on an LSCC varieties survey that dates back to the mid 2000 timeframe. During that entire time, Paul and I communicated by email and established a long term friendship. It really was so cool to meet Paul and his wife Cynthia this evening.
GFRC News
I am so grateful for the all the consignment support by GFRC customers and consignors. At the Denver show, I received a nineteen piece consignment of superior 20th Century coins for targeted sale at the Shanghai Yunzhou show. This consignment coupled with the Central California consigment, that is due to arrive early next week, will keep me very busy prior to the Rochester NY show.
Following are the contents of the Colorado Collection consignment;
Mercury 10c: 1916 NGC MS66 FB CAC Eric Newman Collection; 1942/1 PCGS AU55 CAC
Walking Liberty 50c: 1917 PCGS MS65 CAC; 1835 PCGS MS65 CAC; 1935-D PCGS MS65; 1936 PCGS MS65; 1936-S PCGS MS65 CAC; 1937 PCGS MS65; 1937-D PCGS MS65 CAC; 1938 PCGS MS65 OGH; 1940 PCGS MS66; 1941-S PCGS MS66; 1941-D PCGS MS65 CAC OGH; 1944 PCGS MS65 OGH
Morgan $1: 1879-S NGC MS64 CAC so choice; 1881-S ANACS MS64 PL
Gold Type: 1926 $2.5 PCGS MS63+ Sesquicentennial; 1926 $10 PCGS MS62 Indian; 1904 $20 PCGS MS62 OGH
Looking ahead to the Baltimore show, more consignments are coming! To date, two consignments have been committed. The first is from a very advanced collector with the focus being Liberty Seated dimes and other offerings. The second consignment consists of World Coins and those details are being worked out.
It is nearly 11:00pm and I'm off to the Denver airport early on Saturday morning so time to wrap up and pack the laptop and coins.
Thank you for visiting this morning and keeping up with GFRC news!
October 23, 2015
Denver Coin Expo Report: Day 2
The Denver rains persisted on Thursday but that did not damper public attendance at the Coin Expo. About 25 people lined up for the show open at 10:00am followed by a steady pace of visitors until about 3:00pm. GFRC sales were to expectations after the first day. I spent most of the day behind the cases chatting with existing and potential GFRC customers. At 1:00pm, it was time for the presentation on the 1874 F-106 Polished Arrows dime entitled A Philadelphia Mint Experiment Gone Wrong. Three attendees and myself gathered around a laptop for an informal session along with Q&A afterwards. My Dell laptop only has HDMI video out while the Denver Coin Expo projector requires a standard VGA connector so the presentation was informal. The same presentation will be given Friday at 1:00pm if there is demand among the attendees.
A proud GFRC customer bought the 1889 PCGS MS66 CAC dime from my PCGS Registry Set yesterday along with some other cool coins. Seated and bust quarters were the dominate product line but I also sold nice bust half dimes and dimes also. Seated halves sales have slowed in the past 60 days and that trend continued at the Denver show.
I am pleased with the combined Day 1 buying and Day 2 sales results and will definitely be back for the May 2016 show.
New coins are limited to a lovely 1883 NGC PF65 Cameo dime and an 1871 ANACS (Old White Holder) MS61 half dollar that walked up to the table on Thursday.
Financial News
There are many Seeking Alpha headlines this morning with the European Central Bank signaling more stimulus to come. Any talk of easing by central bankers is positive for stocks in this new paradigm of "bad economic news is good for stocks". The Euro is once again weakening and placing upward pressure on the US Dollar.
Stocks across the globe are extending a rally from the previous session, after ECB President Mario Draghi signaled his willingness to add more stimulus to the eurozone's flagging economies. "We are ready to act if needed...and we are open to the full menu of monetary policy," Draghi said at his news conference. The euro fell 1.8% following the comments yesterday, the currency's biggest drop since the central bank announced quantitative easing in January, and is now trading at $1.1104.
Puerto Rico could be illiquid by November. U.S. Senators expressed skepticism about how much they could help debt-ridden Puerto Rico at a hearing on Thursday, where the territory's top officials warned the island could be completely illiquid by November. A so-called "Super Chapter 9" plan was also discussed. If enacted, it would allow Puerto Rico to use bankruptcy to restructure all its debt, not just the small portion held by public agencies that would be eligible if Chapter 9 were extended.
On a positive note for the United States; The U.S. is emerging as a serious alternative to Hong Kong as the possible headquarters for HSBC, sources told FT. Hong Kong had long been considered the most likely destination for HSBC if it decided to move, but growing concerns about the political risk of the bank ending up under Chinese control have prompted a rethink. HSBC plans to update investors early next month on its discussions and aims to decide on its future headquarters by the end of the year.
Featured Coins of the Day
Yesterday's pricing reduction on selected coins brought a positive response. One of the three coins is on hold. So let's continue this program this morning and see if more lovely GFRC coins can find a new home. Today's focus is on larger denomination coins.
1878-S Trade $ AU 58 - Crusty Original Toning and PQ. Original Light Gold Patina, Ample Luster. A strictly original late date Trade dollar with light rub that was previously housed in NGC AU58 holder but cracked out for inclusion in book shelf album (NGC label is included). Surfaces offer a steel gray color that is then overlaid with light gold patina. In hand and under bright light, the luster is really apparent. Fields and device are completely blemish free as are the rims. Offered at $550. (On Hold)
1894-O PCGS AU50 CAC Morgan Dollar - Crusty Original Toning and PQ. This Morgan dollar is atypical as few are seen with crusty original toning. This piece fits in well with my desire to stock strictly original silver coins that will provide long term value retention. I would challenge Blog readers to try to find a similar piece on the internet or at a major show....it will be a challenging task. Offered at $325.
1923 PCGS MS 63 Peace Dollar - Choice Original, Rainbow Obverse, Scarce. When was the last time that you saw a fully toned rainbow Peace dollar? While Morgans are constantly available with all sorts of toning patterns and colors, Peace dollars are quite scarce and will take considerable searching. Offered here is a lovely one sided toned 1923 dollar with ample luster under the rose, blue and gold patina. Offered at $160
Saturday morning brings an early flight back to Chicago and then Maine; it is doubtful that I will have time to write a full blog. I will probably posted a Denver show Day 3 update this evening followed by a regular blog on Sunday morning. Have a great weekend.
October 22, 2015
Denver Coin Expo Report: Day 1
Chuck Hayes runs a tidy ship when it comes to the Denver Coin Expo. Dealer check in and table setup was quick and straightforward. This year's auction lots showed a significant quality improvement too.
The bourse floor filled quickly after the 12:00 noon opening. Within 45 minutes of our arrival, GFRC cases were loaded and I was off buying. As usual, being selective and using intuitive judgment for buying the best coins was standard operating procedure. Cases were scanned for coins that stood out in terms of originality, eye appeal, strike and of course, fair pricing. I'm starting to develop a visual criteria for buying type gold and located several pieces that were good values given surface quality.
I'm pleased to offer the following New Purchases. You will notice the buying is becoming more diverse and not exclusively limited to 19th century silver coins.
3c Silver: 1856 PCGS VF30 choice original gray
Seated 5c: 1858 NGC MS63 CAC bullseye toning and luster, lots of eye appeal
Bust 10c: 1833 PCGS EF45 perfectly original with remaining luster and high end of grade
Washington 25c: 1942-S PCGS MS63 OGH, so undergraded
Bust 50c: 1834 PCGS AU55 CAC, choice original medium gray
Walking Liberty 50c: 1942-D PCGS MS65 OGH fully struck
Early Commemorative 50c: 1936 Rhode Island NGC MS65 CAC rose and blues; 1946 BT Washington PCGS MS65 with bold luster and old time toning
Morgan $1: 1879-S NGC MS64 dual sided rainbow toning; 1889-S PCGS AU58 pretty rose with blue arc; 1893-CC PCGS VF30 crusty choice original; 1895-O PCGS EF40 choice original
Gold: $2.5 Liberty 1905 NGC MS61; $2.5 1926 PCGS AU55 original orange and pretty; $20 1926 NGC MS62 with mark free surfaces
GFRC News
The 1842 F-106a dime featured in yesterday's blog grading NGC MS65 CAC sold within hours of the blog posting. This second finest known example is heading into a well developed collection of Liberty Seated dime varieties.
Thursday brings retail buyers to Denver and hopefully there will be adequate traffic to satisfy the dealers that support this show.
Financial News
Seeking Alpha headlines are routine this morning. Of potential importance to Daily Blog readers is the European Union's monetary policy course. The expectation is for more stimulus per the following.
All eyes will be on ECB President Mario Draghi today amid a policy meeting in Malta that will provide clues about further monetary stimulus. Grounds for extending QE would include deflation risks, slowing growth in China and stock market volatility. On the flip slide, oil prices remain low, which is a boost for energy-importing eurozone countries, and confidence indicators remain solid. Economists widely expect Draghi to keep the door open for more stimulus at the press conference, but see him stopping short of announcing any new policy measures.
Featured Coins of the Day
I have a few minutes this morning to highlight some nice offerings and will also discount prices to stimulate incremental sales. Cash flow going into the Baltimore show is paramout and rotating inventory is a healthy process for active dealers. So let's offer pricing reductions this morning on the following pieces. Reductions are consistent with the small pricing markups for GFRC coins.
1848 PCGS EF40 Seated Half Dime - Medium Date, Choice Original, Conservative Grading. is obvious on this pretty 1848 medium date half dime. I like the strictly original gun metal gray/blue toning and residual luster. Cloudy areas on Liberty's midsection and upper body are on the holder's plastic surface and not the coin. Offered at $85
1835 PCGS VF35 Capped Bust Quarter - Choice Original, Steel Gray Toning. An attractive circulated bust quarter with above average strike complimented by steel gray surfaces. PCGS was very conservative on this piece Offered at $385 and below my cost.
1856-S NGC EF40 Seated Half Dollar - WB-3, Original, Even Gray Toning, Scarce, Birmingham Collection. Struck during second year of San Francisco half dollar production with limited mintage of 211,000 piece with nearly all entering circulation or being exported to China. Housed in new NGC holder and last sold at Heritage auction during Februrary 2014 where it realized $1645. Offered at $1550.
Thank you for visiting this morning. I will have a Day 2 update from the Denver Coin Expo posted later this evening.
October 21, 2015
Greeting from mile high Denver!
Yesterday's air travel was pleasantly uneventful other than having an NFL sized linebacker in the middle seat next to me from Chicago to Denver. The person in the window seat was able to lean against airliner sidewall but since having an aisle seat, I will constantly being hit by aisle traffic. The joys of traveling....
While in the Portland Maine aiport, I bought Ben Carson's One Nation book which turned out to be an enjoyable way to pass the time. Carson's book, well establishes his conservative credentials along with offering common sense approaches for problem solving. Ben Carson discusses at length the Politically Correct (PC) movement in the United States as a strategy by the Left to move forward their liberal agenda. Certain news media are an instrument of the PC movement. Ben points out Rules for Radicals, by Saul Alinsky as the field guidebook for the Far Left as they use Politically Correct Police (PCP) individuals and certain new media to discredit those who attempt to confront key issues facing our country. Ben Carson has been a target of the PCP on several occasions. The goal of the Far Left is intimidation of those who dare to speak out against their liberal agendas with the result being a general fear among citizens to voice out true beliefs and opinions. After reading Carson's book, it is clear that Donald Trump and Ben Carson are well aligned on beliefs and key principals. It is quite clear why the majority of the Republicans favoring one or the other candidate as both are challenging the Far Left and their use of PCP to intimidate traditional politicians. I could write more on this topic but will leave it here for now.
GFRC News
I was approached yesterday to handle a truly amazing Liberty Seated dime variety on consignment basis. After a quick email exchange, terms were reached. It gives me great pleasure to offer only the second reported 1842 F-106a dime. This piece is graded NGC MS65 and also has CAC approval. What is so special about the 1842 F-106a variety? On the F-106a variety, the obverse and reverse fields exhibit proof characteristics as a result of polished dies. Most interesting is the lack of continuation of the F-106 early die state horizontal die lines through Liberty's elbow into the right field. On the polished F-106a die state, those lines are removed resulting in a polished depression in the die's surface in that area. The depression is visible starting at the right shoulder, through the pole and into the right field. These die characteristics have never been seen on F-106 business strikes.
Previously, the only example known was the Larry Briggs discovery piece until this NGC MS65 example surfaced. The Larry Briggs example was strongly proof like and even had a lint mark suggesting the planchet was also heavily polished. The offered example is a pure gem with proof like fields and all required diagnostics but graded as a business strike by NGC. Offered at $3500 and a special opportunity for those seeking rare Liberty Seated dime varieties and special die states.
Today is Day 1 of the Denver Coin Expo; dealer setup and wholesale business. Jim Poston and I will be active and in an inventory rotation frame of mind. Some GFRC offerings will be gone by the end of the day and hopefully replaced with new exciting coins for your consideration starting tomorrow. Upon returning to the hotel today, I will publish Newps and have FRoR in effect.
Financial News
I found only a few Seeking Alpha headlines of interest this morning. The global investment world has shifted back to "Bad economic news is Good for stocks" mode now that the United States Federal Reserve has lost all credibility on an interest rate increase. Global markets are anticipating more stimulus (QE) by central banks coupled with financial engineering that will continue to inflate stock market bubbles.
When reading this headline, remember the substantial devaluation of the Yen. Japan's exports grew at the slowest pace in more than a year in September, raising fears that weak overseas demand may have pushed the economy into recession. The value of Japanese shipments rose just 0.6% Y/Y, missing forecasts for a 3.4% gain, and marking the third straight month of waning growth. The trade data is also one of the most crucial economic indicators before the BOJ meets on Oct. 30 to decide whether the nation will need more monetary stimulus. Nikkei +1.9% to 18,554.
And yes, it is United Stated debt ceiling crisis time once again. Now that our debt is at $18T, can a $20T debt ceiling be in the cards? These are incredible numbers and our Washington politicians lack the backbone and ability to hold constructive discussions towards stopping what has been become routine debt ceiling increases.
With a critical deadline just two weeks away, House Republican leaders are discussing options for raising the U.S. debt limit as party members remain locked over internal differences. Last week, Treasury Secretary Jacob Lew moved the cutoff for raising the debt limit to Nov. 3, earlier than the Nov. 5 date he had set earlier. After that point, Lew said, the Treasury would have less than $30B to fund the government, "far short" of expenses on certain days.
Thank you for visiting today and my apology for publishing the Daily Blog behind normal schedule. Please check back tomorrow for Denver Coin Expo news.
October 20, 2015
Good morning and thank you for visiting the Blog once again. Today's blog will be limited since heading to the Portland, Maine airport in a few hours.
GFRC News
The Central California Collection has shipped on scheduled and will arrive early next week.
As a reminded to Denver area customers, GFRC will not be attending the Denver Coin Expo on Saturday; rather I'm returning to Maine that day. Traveling from the Western US to East Coast takes a full day. As much as I would have enjoyed being at the Denver show on Saturday, it is necessary to return home promptly for processing email and phone orders, then evaluating and preparing the Central California Collection for Baltimore Show followed by a drive to Rochester, NY on Friday. Attempting to display at four coin shows during four consecutive weeks brings its challenges and your understanding would be appreciated. Time management will be paramount to maintaining ongoing quality service to online customers.
Speaking of email and phone orders.... GFRC is still open for business throughout this week and email coin orders would be greatly appreciated. All paid orders as of yesterday are shipping this morning. Incremental orders and payments arriving this week will be processed and shipped next Monday.
Finally, daily show reports will be published in the Blog including new purchase announcements and FRoR opportunities. Jim Poston and I will also be working on want lists at the Denver show.
Guest Commentary
Greg Johnson has written a "gem article" that every serious coin collector should read at least twice. Greg captures personal wisdom from years of collecting in a short and concise essay. Greg and I spoke on the phone yesterday concerning his guest commentary articles as more are being planned. Shortly, I will be adding a GFRC website link that will capture Greg's Daily Blog guest commentaries similar to the Client Gallery link for archiving noteworthy consignments. Greg's insight is that of a senior numismatist and advanced collector and should well serve those who are embarking on coin collecting as a serious time and financial pursuit.
Numismatic Lessons Learned by Greg Johnson
Some of the seated coins that I purchased in the early 2000's were selected because they were both rare and inexpensive. As I became more educated, my eye became sharper, and my tastes became more discriminating I set about selling these coins to fund further purchases. A number of lessons, some of them painful, were learned during this process.
Lesson 1: The numismatic version of the old saying, "Good, fast, cheap – pick two", is "Rare, nice, cheap – pick two." My rare and cheap coins were NOT nice and there wasn't always a willing buyer waiting around to take them off my hands.
Lesson 2: It is more important to find the right dealer(s) than it is to find the right coin(s). Dealers are as mixed a lot as the coins in which they deal. I am not, and will not be, disparaging dealers, as that is simply painting with too broad a brush. It is important to have a relationship with one or a few trusted dealers, but keep in mind that it is a two-way street. If you expect a dealer to understand and respect what you need it helps both parties greatly if you also attempt to understand and respect what the dealer needs.
Lesson 3: You do not know what your coin is worth until someone likes the coin and the price enough to take out their wallet and pay you for it. You can look at price guides and auction results all day long, but you don't know the real value until you sell. You can ask your friends, most of whom will be too polite to say anything but how much they like your encapsulated turd, but you don't know the real value until you sell.
Lesson 4: Value those collector friends who are NOT diplomatic and will tell you what they really think. You can even stay friends and continue to learn from each other if you thank them for their candid opinion rather than "shooting the messenger".
Lesson 5: Selling coins is a vital part of learning and growing as a collector. There is much that you really cannot learn in any other way. No matter how purely recreational or aesthetic your motivations may be, for most of us money committed to coins represents an important piece of the family's resources. I have known some collectors who accumulate coins without ever selling anything they've purchased. It is their time, their money, and their choice to pursue collecting in that manner, but I would suggest that that is not the best path for most collectors.

Featured Coins of the Day
As Greg well articulates in his guest commentary, a coin that is encapsulated and certified by one of the leading Third Party Grading services does not necessarily mean it is desirable. Coins in TPG holders can be "gems" or can be "market acceptable". The range is broad and this is where working with a trusted dealer is important. Specialty dealers, GFRC for example, examine thousands of coins and have developed the visual and intuitive skills to flag the gems. When I post coins to the Featured Coins of the Day, they are considered to be well above average and worth your hard earned monies.
Today we visit the CAC price list for recommended offerings that you might seriously consider. The first is probably the nicest 1843-O dime at the VF20 grade level. I only wish that all Liberty Seated coinage would offer perfect gray contrast between the darker fields and lighter main devices. Then also consider rarity of the 1843 New Orleans date and rapid price escalation above VF grade. Yes, the asking price is strong but guess what? I would buy back this piece from any customer in a heart beat as I want coins like this on my price list!
Next is another essentially perfect coin. How can one expect a more original and choice problem free 1838 Capped Bust quarter than this piece. Same situation as the 1843-O dime.....I would open my wallet and buy back this coin in a heart beat. The new owner would be proud to showcase this quarter to friends or in a show and tell display at a smaller coin show.
I will be writing tomorrow's Daily Blog from Denver....see you then!
October 19, 2015
Another work week arrives and GFRC is traveling to the Denver Coin Expo on Tuesday. Wednesday is dealer setup along with wholesale dealer day followed by public show hours on Thursday through Saturday. GFRC will be located at table 210 near the Expo Hall entrance. I will also hold two LSCC educational session at 1:00pm on Thursday and Friday. Topic is the Excessively Rare 1874 Polished Arrows Seated Dime. Please plan to stop by and say hello if in the Denver area and numismatically inclined.....
I am very pleased to announce that GFRC has been selected to market and sell the Central California Collection of Liberty Seated Coinage. The Central California Collection is comprised of top quality Liberty Seated half dimes, dimes, double dimes and quarters with essentially all pieces PCGS certified in AU50 through MS64 grade levels. Since GFRC inception in middle 2013, this consignor has worked closely with me on small lot consignments and purchases. This advanced collector is known for a keen eye and only selecting the best available Seated coinage in the marketplace against strict purchase requirements. The Central California Collection will be first displayed at the Whitman Baltimore show.
Following are the Central California Collection contents. You are invited to carefully check the individual denomination lists for potential acquistions. I'm expecting the collection to arrive immediately upon my return from Denver and will open the FRoR (First Right of Refusal) window after that time. It is not feasible to manage FRoR emails and requests while preparing for Denver show and air travel and hope GFRC customers will understand this necessary policy change.
*** The Central California Collection ***
Seated 5c: 1837 PCGS AU50, 1838 PCGS AU50, 1842 NGC AU58 CAC, 1850 PCGS MS64 CAC, 1854WA PCGS AU50, 1855-O PCGS AU55, 1857 PCGS AU58, 1859 PCGS MS64 CAC, 1860-O PCGS MS64, 1861 PCGS MS63+, 1872 PCGS AU55, 1872-S IW PCGS MS64 CAC
Seated 10c: 1837 PCGS AU53 F-101a, 1838 PCGS AU50 CAC F-113, 1839 PCGS AU55 CAC F-106c, 1845 NGC AU50 F-105a, 1850 PCGS AU50 F-112, 1853WA PCGS AU53 Hubbed Date/Arrows, 1854-O PCGS AU55 CAC F-105, 1858 PCGS AU50 CAC F-105, 1862 PCGS MS62 F-106, 1872 PCGS MS63 CAC F-112, 1875-S IW PCGS MS63 F-105, 1876-CC PCGS MS62 F-111 MPD, 1878 T2 PCGS MS64 F-101 OGH, 1883 PCGS MS64 CAC Unlisted, 1885 PCGS MS63+ F-107, 1886 PCGS MS62 F-115, 1886-S PCGS MS63 CAC F-101, 1889-S PCGS MS63 F-111, 1891-O PCGS MS63+ CAC F-116, 1891-S PCGS AU50 F-111
Seated 20c: 1875 PCGS AU55 CAC BF-1, 1875-CC PCGS AU55 CAC BF-2, 1875-S PCGS AU58 CAC BF-16
Seated 25c: 1839 PCGS AU53 1-A, 1849 PCGS AU55 1-A, 1853A&R PCGS AU50 CAC GOLD, 1854-O PCGS AU53, 1858 PCGS AU50, 1868 AU50 1-A OGH, 1873WA PCGS AU55 CAC, 1876 PCGS MS61 6-F, 1876 AU53 CAC, 1877-CC NGC MS63 CAC
More Central California Collection information will be available starting October 26. This is an important opportunity for the Liberty Seated collecting community to acquire superior coins; all at fixed prices.
Nashua, NH New Purchases
Financial News
We close out Monday's blog with several financial headlines. The first is no surprise; China's economic growth rate continues to drop. I would not pay attention to the actual number, rather the trend. Secondly, Iran will start to pump oil into the global crude market and is already concerned about current pricing levels. An interesting commentary by Jim Richards last week stressed that Russia may be placing pressure on the Middle East oil states to cut production and let crude prices increase.
China's economy grew 6.9% in the third quarter from a year ago, beating forecasts for 6.8% growth, but decelerating to its slowest pace since the global financial crisis. The results add to doubts the country can meet its year-end GDP target of about 7%, and raises pressure on Beijing to roll out more stimulus measures following a summer stock market plunge and devaluation of the yuan. More weakness in China: Other data released today showed that factory output rose 5.7% in September, missing forecasts of a 6% rise.
Iranian Oil Minister Bijan Namdar Zanganeh is urging OPEC member states to cut crude output to boost prices to a range of $70-$80 a barrel. "No one is happy" with prices at current levels, Zanganeh told reporters in Tehran. Iran will be able to boost oil exports by 500K barrels a day within one week following the removal of sanctions, and could raise exports by 1M bpd within six months after the curbs are lifted. Crude futures -1.1% to $47.18/bbl.
Thank you for visiting with me this morning. Tuesday's blog will be published before heading to the airport so please check in tomorrow.
October 18, 2015
3:00pm - Nashua, NH Coin Show Report
Saturday's decision to attend the Nashua, New Hampshire show was well founded. This is a small northern New England show held in a Holiday Inn ballroom with significant attendance. I arrived at 7:45am and immediately went to work searching out original crusty silver and now, type gold coins too. When being so selective, one buys few coins as only strictly original pieces without problems, properly grade and priced are acquired. Though being so selective, my reputation continues to grow with wholesale dealers approaching me with quality offerings. This was the case today when acquiring a lovely 1799 Bust $ graded NGC VG8 CAC. One look at the coin + asking price resulted in immediate decision to purchase.
I was impressed with the breath of dealers at the Nashua show coupled with the amount of retail floor traffic. As a result, GFRC will be taking a Nashau show table effective April 2016. The show vibes were very positive.
Ok, here are the Nashua show new purchases...these have been photographed and I will try to have some online before bedtime.
Bust 5c: 1829 LM-5 EF45 crusty original; 1834 LM-2 EF45 choice original gray
Seated 5c: 1850 VF35 choice original gray; 1856-O VF25 choice original gray
Barber 10c: 1893 AU53 crusty original gray.....this coin is the poster child for "crusty original"
Bust 50c: 1817 O-113a R4 VF20 choice gray; 1828 O-117 crusty original VF30; 1834 O-109 PCGS EF45 choice original ebony/gray
Bust $1: 1799 NGC VG8 CAC so choice and attractive for VG assigned grade
Morgan $1: 1892-S PCGS VF25 choice original, pretty toning; 1893 NGC AU53 choice with ample luster
Liberty $5: 1880-S NGC AU58 original orange patina and choice
Thanks for visiting. The next regular Blog will be on Monday (tomorrow) morning.
October 17, 2015
Greetings on this beautiful but brisk autumn morning. Thank you for visiting the Blog.
This is the last quiet weekend before the "Four Shows in Four Weekends" adventure starts early this coming week. Already preparations are underway; writing the Denver show educational presentation, locating a new battery and sim card for Chinese cellphone and developing inventory plans for each of the major shows. Along with these preparations were the photography of new Seated quarter consignment and leaf raking too. Each day is fast paced with a list of must get done items.
As a reminder.....if you wish to view certain coins at the Denver, Rochester NY and Shanghai shows, please email me or call to ensure these coins will be brought to shows. Please don't assume that the entire GFRC inventory will be available at all shows. Here are the case, display and inventory plans for each show.
Denver Coin Expo - Four cases that hold about 320 slabbed items...there will be no raw coins at Denver.
Rochester NY - Display of completed Liberty Seated Dime date/mintmark set with major varieties and partial Top 100 Varieties set. I would be pleased to bring coins to sell on a vest pocket basis but must be requested before hand. Please note that I will be buying at Rochester show.
Whitman Baltimore - Six cases with five being slabbed along with traditional case of raw coins.
Shanghai Yunzhou - Two oversized and traditional glass/wood cases; GFRC inventory will be tuned towards 20th Century series, Morgans, Gold bullion, Gold type and finally, a nice mix of quality Capped bust and Liberty Seated type. The 1861 Scott Restrike PCGS AU55 CAC will be a display highlight.
There is still time to consign for your coins to be offered at the Baltimore and Shanghai shows. For Shanghai show, I need key date quality Morgan dollars, for example dates between 1892 - 1895, all mints in VF or better.
GFRC News
The Client Galley is updated and sees inclusion of the fifteen pieces from the Gerry Fortin Collection and also those from the Silicon Valley Collection. I cannot stress enough the importance of the 1865 PCGS MS65 dime in the marketplace as this would traditionally be an auction item. My collection contains PCGS MS67 CAC and PCGS MS66 CAC examples so the available population in MS65 or better is very limited for this Civil War Date.
The Wisconsin Collection consignment is in transit. Following is the consignment contents arriving this week. Please note the two 1862 halves as this dates always proves to be challenging. FRoR is in order.
Seated 50c: 1861-O PCGS EF-40, W-09 CSA; 1862 PCGS EF-40; 1862 PCGS EF-45; 1863 PCGS XF-40; 1864 PCGS XF-40 WB-102 recut date R-5+
Morgan $1: 1896 Morgan Dollar, NGC MS-63, honey/peach obverse tone, rainbow reverse tone
Discussions are underway for a substantial consignment handoff at the Whitman Baltimore show. Contents will include better date and grade Liberty Seated dimes and overall type coins.
Pricing for the Seated quarter consignment is settled and will be loading those pieces onto price list after of a morning of packing and shipping orders.
Guest Commentary
There are times when I will writing in a GFRC coin description, "Just buy this coin!" due to an intuitive assessment that the coin is absolutely superior for the grade. Greg Johnson does an exception job of explaining this phenomenon and why collectors should pay special attention with a dealer with decades of experience says, "Just buy this coin!"
Intuitive Assessment of Rare Coins by Greg Johnson
After looking at many thousands of seated quarters I have joked that I now have only two grades: 1) Yes, and 2) No; and that which of those grades applies to a given coin reveals itself immediately. It is a concession to my age and eyesight that the "immediate" look now requires a glass and good light. Of course there is more to actually acquiring a coin than just an immediate impression, as I can't and won't pay any price asked even for a "yes" coin. That said, being most intimately familiar with the coins I collect allows a certain confidence in my gut or first impression of a coin. As time goes on this immediate, subconscious, gut reaction is more and more often correct; and the coins that I love at first sight remain prized possessions years later.
One explanation for how this may work was described by author Malcolm Gladwell in his 2005 book entitled "Blink: The Power of Thinking Without Thinking." Though controversial and, to be fair, rather clearly overstating some points without much evidence, the book does make some interesting and potentially useful points regarding the subconscious mind. Specifically, Gladwell cites examples of mental processes that work rapidly and automatically using a very small amount of actual information. One of his examples is the so-called "Getty kouros", an ancient Greek statue brought to the J Paul Getty Museum in California. Though authenticated by some experts, others took one look at it and thought it a forgery. The interesting part of the story is that the experts who declared it fake made the judgment instantly and could not explain the basis for the judgment.
Gladwell's book argues that a kind of automatic, intuitive (or subconscious) judgment can be developed by experience, training, and knowledge. Someone with sufficient quantities of these three things can reach an accurate conclusion regarding authenticity of a statue, originality of a coin, or whether a suspect is about to shoot at them, almost instantaneously without necessarily being consciously aware of what, precisely is influencing their decision. Some of the ideas in "Blink" were subsequently corroborated and expanded by neuroscientist David Eagleman in his 2011 book "Incognito: The Secret Lives of the Brain."
There are at least two lessons a serious coin collector can take from this idea. First, a full time dealer who has spent many years buying, selling, and studying tens or hundreds of thousands of coins really does see things that you do not. Even if they cannot precisely articulate what those things are. Second, a day spent viewing coins is never wasted. Even if you don't find anything to purchase, or you get outbid on every auction lot, your subconscious has received valuable training that will help you make better (and quicker?) decisions in the future.
But, here in the internet age, there is still one serious drawback: you cannot gain the necessary experience from photographs of coins. You will need to go where the coins are.
There are no featured coins this morning as need to quickly move into the packing and shipping department. I will see you bright and early on Sunday morning! Thanks for stopping by.
October 16, 2015
Welcome to another blog and thank you for visiting. The middle of October is already upon us and NBC News adds drama to the first cold temperatures of the season with a headline, "Millions to shiver during first frost and freeze of fall". The article goes on to discuss how 75 million people will be impacted by the cold temperatures. Scandinavians and Russians must be laughing... I'll leave this topic alone....
Thursday brought perfect autumn weather to Southern Maine. Why not bring the GFRC camera on the daily walk and record the foliage colors instead of describing? This I did. Following is a gallery of the 2.5 mile walk on a fairly quiet country road. The walk occurred at 11:00am but note the long shadows across the road as the sun continues to drop in the sky. GFRC is located on a 950' hill; the first three images are taken while walking downhill followed by a visit to a peaceful christian camp that becomes desolated after Labor Day. There were no clouds in the sky and the bright angled sunlight well lit the foliage colors.....not much different than viewing an old album toned coin under bright light!
The balance of the images were taken during the up hill portion of the walk. Country life may be dull with the need to drive 7+ miles to reach a gas station or Raymond center businesses. But the peace and solitude is unmatched.
Southern Maine Foliage During Thursday's Walk
GFRC News
The latest Silicon Valley Collection consignment arrived yesterday with a round of quick photography for this morning's blog. The 1865 dime is a F-101a business strike residing in PCGS MS65 holder. There are only three certified at this level. The 1865 half dollar is graded NGC VF30 and the 1899 Morgan is a gem toner at the MS65 grade level. Once again, the Silicon Valley consignor offers some wonderful coins for GFRC friends to consider.
The large Seated quarter lot in grades AG through VG also arrived yesterday and will be process today.
And lastly, I received an email from the Wisconsin Collection consignor concerning another Liberty Seated half dollar consignment with most dates being Civil War Philadelphia years. These piece will arrive while I'm in Denver. An itemized consignment listing for FRoR will be presented in Saturday's blog.
I also made considerable progress yesterday towards procuring gold inventory for the the Shanghai Yunzhou coin show. Acquiring and selling bullion gold was new GFRC ground but I made substantial progress in relationship building with two major gold suppliers thanks to the help of a GFRC consignor and friend.
Financial News
Global financial markets are heading higher as "bad economic data" means "higher stock prices". No one is taking the Federal Reserve serious about an interest rate hike in 2015 or early 2016. Jim Rickards (Daily Reckoning) continues to forecast more QE or QE equivalent policies from the Fed during 2016 to weaken the dollar and increase global competitiveness of U.S. exports. Here are a few Seeking Alpha headlines.
World shares are heading higher, extending a rally that's added $4.1T to global equities this month, following a slew of weak economic reports that have dashed expectations for a Fed rate hike in 2015. European stocks are up, and U.S. futures are edging to the green, adding to the gains in Asia which saw equities close at two-month highs.
U.S. banks are feasting on Treasuries in yet another sign investors expect policy makers to delay raising interest rates. Commercial lenders boosted their holdings to a record $2.15T at the end of last month, translating to a stake almost double the amount owned by China, the biggest U.S. foreign creditor. According to futures data, the probability the Fed will increase rates in December has now dropped to 30% from 70% odds at the beginning of August. GFRC Note...not mentioned here is that China is selling US Treasuries and U.S. banks are under pressure from the Federal Reserve to purchase.
Features Coins of the Day
How about closing today's blog with some pretty toned coins that match the opening autumn foliage gallery? In that case, let's head to the Morgan price list. First is an attractive 1884 New Orleans dual sided rainbow graded PCGS MS65 followed by an 1896 VAM 20 rainbow Morgan that is graded NGC MS64. These lovely coins along with many other toner Morgans can be found by just clicking here.
October 15, 2015
Good morning on this most pleasant Maine morning. I'm amazed at the ongoing favorable autumn weather as yesterday's high temperature was near 70F. But the cold Canadian air is finally approaching for the coming weekend with overnight temperatures forecasted in the high 20F. Our first frost of the season is delayed by about three weeks this year. Oak trees are showing some color with peak foliage to occur within the next week.
Overnight, spot gold prices continued to increase and we stand at $1186 this morning. My target of $1200 is approaching and a breakout above $1250 would be signal for an upward price phase. Yesterday's Walmart earnings forecast reduction for 2016 and 2017 was a serious event as Walmart is a proxy for the United States economy. Walmart client base is low and middle class citizens which is the majority of the U.S. population. Even with lower energy costs, Walmart has reached a point of limited cost cutting returns and a customer base with no buying power growth. Are we looking at a recession and more QE in 2016? The Federal Reserve will be apprehensive about major policy shifts in an election year and I expect the interest rate increase rhetoric to weaken shortly.
The political debates expose how fragmented our country has become with a multitude of special interest groups. I'm not referring to powerful financial special interest groups but political special interest groups that feed the polarization in government. Liberals are moving to the left and conservatives are moving more to the right. Being a centrist focused on compromise does not play well with our drama based media. Unless a tough and decisive President is elected in 2016, my confidence for addressing income inequality and finding a life line for the low and middle class is limited.
My blogs have focused on coins, as they should, and global economics. It is difficult not to make mention of the present politic process and the strength of the candidates. Visionary and results orientated leadership seems to be allusive as the media maintains focus on "each tree rather than discussing the overall condition of the forest". I'm a believer that our country needs another Teddy Roosevelt as our country is quickly transitioning into the Information Age and all of its economic ramifications. Teddy Roosevelt was instrumental in guiding our country into the Industrial Age.
Following is a guest commentary from a GFRC customer who wishes to remain anonymous but offers insight into the current political season and candidates.
I am a moderate D in a liberal state while many, if not most, of my coin collector friends appear to be conservative R gold bugs.
I think one reason the budget didn't come up in yesterday's D debate is because CNN's Cooper didn't ask that question and he was pretty good at not letting them stray.
As I was told by an Englishman on my recent visit, the differences between Rs and D who actually get elected aren't as extreme as the differences between the current political parties in England. Nomination of Trump and most of the people on the R stage would be a disaster for the party (ala Goldwater) and the nomination of Sanders on the D side would be a disaster for the party (ala McGovern). And with the emotions and support being generated at the edges on both sides it wouldn't surprise me if a splinter party(s) results which would diminish the prospects and a positive outcome (ala Bush/Gore/Nader) for that party.
As a side note, Corvallis was the largest HP facility in the world and many of my clients accumulated substantial wealth through the company in its glory days and loved their friends Bill and Dave (as they call Mr. Hewlett and Mr. Packard). The HP calculator division was here as well as the HP printer division---the HP printer was invented and developed here. I have yet to meet an HP employee who has a decent word to say about Carley who they say destroyed HP and its culture through her manner, her "leadership", and her decision making.
GFRC News
All Liberty Seated dimes from my collection (14 pieces) are loaded on the price lists. Based on last night's orders, about half are on hold.
A fresh group of PCGS MS65 and MS66 Walking Liberty halves has been consigned primarily for the Shanghai Yunzhou show. These will arrive by the weekend. The previously mentioned consignments (Silicon Valley Collection and Seated Quarter lot) should be arriving today or tomorrow.
Today's personal focus is preparing for the Denver Coin Expo which takes place next week. An educational presentation discussing the 1874 Polished Arrows Seated dime variety needs to be completed today.
Financial News
Once again, Seeking Alpha provides an excellent range of financial headlines. The following caught my attention....zero interest rates are here which means that financial institutions will need to take measures (more fees on bank accounts and credit debt ie. negative interest rates) to compensate. Holding physical cash, gold and silver along with collectibles with a history of value retention may be wise at this time.
Meanwhile, the pile of Treasury bills sold at an interest rate of zero since the financial crisis topped $1T this summer and multiplied this week through an auction of three-month bills on Tuesday and one-month bills on Wednesday. On its surface, it makes no sense for investors to lend their cash for free. But with rates stuck near zero and supply limited by the U.S. debt ceiling, investors who need a place to park their cash have few other options.
Featured Coins of the Day
Selling coins is quite different than selling power analog semiconductors. In my prior life as Marketing and Sales VP for a China company, I could manage the company P&L (Profit and Loss) which a certain amount of predictability. Some product lines could be counted on for consistent sales and were straightforward to forecast. New products were more difficult as quality requirements and execution by customers could be unpredictable.
At GFRC, sales of individual product lines is much more unpredictable. For several weeks, I will received a host of orders for say, Bust halves, then all goes quiet. Bust coinage sales have been quiet recently, so let's shift the focus to some lovely Bust half dimes this morning. How about this pair of 1835 Large (LM-6) and Small Date (LM-10) half dimes? Both are choice original and I've already done the heavy lifting of searching out quality examples for customers. The LM-6 is graded PCGS AU55 while the LM-10 resides in fresh 2015 PCGS EF45 holder.
October 14, 2015
Another Wednesday arrives and time to write this morning's blog. The outstanding Maine autumn weather continues and autumn foliage has finally arrived. The view outside the office window this morning is stunning. Given the great weather, I have increased the intensity of my daily walks along with distances and the resulting weight loss is measurable.
Yes, I did sit through the entire Democratic debate and performed a U.S. citizen's duty by listening to the candidates. First impressions? Chafee and Web did not belong on the stage and were distant accessories. O'Malley is a polished speaker with traditional rhetoric. Hillary and Bernie were the main attraction as expected. Bernie is a socialist and had standard "revolution" responses to important questions. Hillary was well prepared, provided in depth responses and is the obvious candidate of choice if I were a Democrat. CNN questioning was subdued as compared to the first FOX Republican debate. What I did not see or hear were discussions about ongoing deficit spending and the growing level of entitlements in the country's budget. The standard response to this issue is to raise taxes on the wealthy or institute a windfall profit tax on banks to pay for free public college education for all. Dealing with excessive college cost inflation was not mentioned.
Like it or not, Donald Trump is a significant candidate in the Republican party and continues to secure more media attention that other candidates without resorting to campaign advertising. We will leave this topic here for the moment.
Guest Commentary Feedback
Greg Johnson's commentary, in yesterday's blog, brought feedback worth sharing as dipping coins was the thing to do in past years. Here are some of the comments.
Silicon Valley Consignor writes; Greg's comments struck a chord with me and while it's understandable that dealers, as businessmen, stock (or dare I say "create") coins that fit their clients' needs, once you strip a coin of its 100+ years of environmental crust it's not coming back.
I did witness first-hand a dealer dipping classic commems and raw Morgans to an unnatural bright white because most of his customers like them shiny, even if some of them have wear and would never resemble an uncirculated coin fresh off the press. He is definitely not alone and I really think this type of "market preference" is the byproduct of a shortfall in collector education, especially when in the PCGS grading class I attended back in June you have the instructors up there praising a dipped circ coin as "nice original gray" and a crusty original piece with contrast as "dark and undesirable." For folks who are easily swayed by trend guess what they'll do with their crusty circs if they want to get higher marks in their PCGS submissions?
Another Blog reader who just purchased my 1839 NGC MS61 CAC F-104 dime writes; I saw your blog today. One of the things I like about the 1839 F104 is that it's not blast white. I don't think many 175 year old coins would naturally maintain a blast white appearance. Even my 10 year old Sacajawea dollars and Statehood Quarters don't have the same luster as when I originally acquired them. Coins that are encapsulated in air tight slabs from the start could retain their original luster from the very start, but not many coins from the 1800's received anything close to that level of preservation.
Finally, a West Coast customer wrote; Can you place the 1862 F-102a dime on "hold" for me? I like the nice original state that it's in. Greg's piece in your blog substantiates my collecting history, only with Morgan Dollars in the early '70's. My dealer was known locally as "Dipper Dan".. I used to hang out at his coin store in NJ at that time so I could smoke cigarettes, drink a beer or two and shoot the breeze about coins, the economy, girls, Vietnam, etc. Dipper Dan's coin store SMELLED like the dip stuff and cigarettes! If he could've dipped his car instead of washing it, he would have. Actually he was a wonderful man and passed away in his store in the mid '70's of cancer. In those days that 1862 dime would've been dipped and sold as "MS65" or so.
Financial News
Here are a few headlines from Seeking Alpha....
Hitting fresh three-month highs, gold is extending gains to a fourth straight session, bolstered by a weaker dollar, concerns about earnings season and a delay to a Fed rate hike. Weak China data today, along with yesterday's comments from Fed Governor Daniel Tarullo, have investors further doubting a rate increase in 2015. The yellow metal is up 0.4% to $1,169.70 an ounce, after climbing earlier to $1,175.10 - its highest level since July 6.
World shares extended losses today after consumer inflation in China eased more than expected, adding to the list of concerns surrounding the world's second-largest economy. The country's consumer price index climbed 1.6% in September from a year earlier, against forecasts of a 1.8% rise and following August's 2% gain. Meanwhile, China's producer price index fell 5.9%, clocking its 43rd straight month of decline and recording its biggest drop since the depths of the global financial crisis.
GFRC News
Monday's order rate was strong and I sincerely appreciate customer support. Most of the day's time was spent on packing/shipping orders and sending out consignment checks. I am also working on the purchase of a gold deal to expand this price list.
Many of the Seated dimes from my personal collection are already on hold. I am pleased that the coins are heading into other advanced collections rather than dealer inventories. The last six pieces will reach the price list today and I should be caught in time for the arrival of two consignments by Friday.
Featured Coins of the Day
Returning to Greg Johnson's article, this 1877-S Trade Dollar graded EF40 is a perfectly original piece with even gray patina. How can you go wrong selecting this coin for a type set with originality theme?
From my collection comes the 1889 F-101 web-book plate coin. This 1889 proof dime resides in early PCGS holder with CAC approval. Accurately graded as PF65 Cameo, this lovely dime offers mirrored watery fields and is a joy to view. CAC has only approved two 1889 PF65 Cameo dimes while the total PCGS population is eight. An attractive coin in terms of eye appeal and grade rarity for an advanced collection. The hazing regions on the images are on the old PCGS holder.
Thank you for visiting and the ongoing support for my humble GFRC business and the Daily Blog.

October 13, 2015
Maine enjoyed an incredible autumn day yesterday with temperatures near 70F and bright sunshine. The extended autumn season is a blessing to the state's tourist industry as more visitors are taking advantage of the warm weather and little precipitation. My guess is that peak foliage colors are still 10 days away for southern Maine.
LSCC editor, Bill Bugert, circulated a PDF draft of the November Gobrecht Journal for final quality checking. This issue is "5 Star Gem" in terms of article and layout quality. I hope that LSCC members will enjoy this issue and also take care of two action items that will be included in the mailing; voting for the 2015 Kam Ahwash award for best article and secondly, paying 2016 membership dues on schedule. Each year, about 20% of club members delay paying dues until after a second dues renewal notice is sent. The new leadership team is encouraging LSCC members to be proactive and issue their payments promptly after receiving the November Gobrecht Journal. A small leadership team works diligently to administer and promote our excellent organization and we sincerely hope to secure member support on timely dues renewals.
Guest Commentary
Today's Guest Commentary is from Greg Johnson. Greg is well known for his E-Gobrecht "Quarter of the Month" column and is a passionate Liberty Seated quarter collector and die varieties researcher. Greg is also the GFRC table assistant at the Whitman Baltimore shows and brings his style of knowledge sharing and mentorship to the GFRC business. In today's commentary, Greg discusses the changing collecting preferences towards crusty original coins.
A Collector's Transition to Crusty Original Coins by Greg Johnson
A few months after purchasing my first seated coin in 1992 I started assembling a beginner's Liberty Seated Quarter collection. The low to mid-grade circulated coins I was accumulating were all cleaned and hairlined to some degree because the dealer I had connected with was a "white coin" guy. About a year into the project I was negotiating with him by phone for a choice VF 1855-O quarter that he described as "butt ugly" (remember there was no internet or photos to consult), by which he meant it was rather dark and deeply toned. It was a tough date, but he'd been unable to wholesale it or sell it to another collector due to its unattractiveness and I ended up purchasing the coin for $180. Today the coin is PCGS VF35/CAC. I, and many others, would call it a very attractive, original, and slightly under-graded XF.
The white coin bias of this dealer was by no means unique, nor did it end with the 1990's. As recently as 2007 I was told by a well-known and very busy Seated specialist dealer that white coins were far, far easier to sell and in greater demand than toned pieces. That seems to be far less the case today, only eight years later; at least among Seated specialist collectors. Probably due in part to the internet, in part to CAC, and in part to other factors I haven't considered or thought of, white coins seem to enjoy rather less support than in the past.
Personally, as I have pursued Seated coin collecting and added more and better coins to the collection, I have developed both an eye and a taste for what we now refer to as "crusty original" coins. The coins I like best tend to be the coins that CAC likes best and so I have also come to value the CAC sticker, though not blindly. Despite the current matching of my tastes with those of many of my peers, the evolution in preferences that I have witnessed raises the question, "Are toned coins just a fad and will the market swing back toward white coins being more desirable?"
There is, of course, no answer to that question. Predicting the future has always been a tricky endeavor at best and perhaps no more so than with something as ephemeral as "taste". I can say with confidence that I hope "naturally" aged silver remains available and popular enough to defeat the urge to dip everything white. After collecting originally toned coins for a number of years I find white coins to be so….bland. I don't necessarily find anything wrong with white coins - especially well-struck, mark free white coins with good luster – they just don't appeal to me as much as their originally (even darkly) toned cousins. Of course it is also possible that there is not really a current preference for original toning and I am imagining it just because the people I associate with like toned coins. Hmmm...food for thought.
GFRC News
I pleased to report that two new consignments are in the mail and will arrive shortly. FRoR is in order.
The first is from the Silicon Valley Collection; more gem quality coins are being consigned as this advanced collector raises monies for high grade gold type coins. His three coin consignment is noteworthy.
Seated 10c: 1865 PCGS MS65 choice original
Seated 50c: 1865 NGC VF30 choice original gray
Morgan $1: 1899 PCGS MS65 gem dual sided rainbow toner
The second is from a Seated quarter collector building a middle circulated grade date and mintmark set. He previously collected at the AG to VG grade level and is releasing his duplicates. Following is a consignment listing.
Seated 25c: 1848 PCGS VG10; 1849 PCGS G4; 1850O PCGS VG10; 1852 PCGS VF30; 1852-O PCGS AG3; 1854-O crumbled die obv VG10; 1856-S PCGS AG3; 1860-S PCGS AG3; 1869 PCGS G4; 1873 Open 3 PCGS VG08; 1878-CC Canceled Die Obverse PCGS VF25; 1883 PCGS VG08
Financial News
From Seeking Alpha daily headlines, the following discusses the volatility in oil spot prices with the upcoming release of Iranian oil to the market. If spot oil is unable to achieve a $60 level going into 2016, then the United States oil industry will be facing serious financial consequences.
After erasing last week's big gains through yesterday's 5.3% drop, oil prices now have even less to look forward to: the Iran nuclear deal. Tehran's parliament passed a bill this morning supporting the nuclear accord reached with six world powers, removing a major obstacle to putting the agreement into practice. Should sanctions be lifted, Iran would double its oil exports to 2.3M barrels a day, multiplying tensions in the world's sensitive oil markets. Crude futures -0.5% to $46.86/bbl.
China's economy continues its slow degradation...
China's trade slump has extended into September, adding more evidence that the world's second largest economy is stalling. Dollar-denominated imports plunged 20.4% year on year last month, while exports slipped 3.7%, translating into a trade surplus of $60.34B. In Yuan terms, imports fell 17.7%, while exports dropped 1.1%. China's official GDP data is due on October 19.
Featured Coins of the Day
More Liberty Seated dimes from my collection reached the price list yesterday along with a pretty 1837 GR-2 NGC EF45 reeded edge half (On Hold) and a 1904 AU 58 PL $20 Liberty gold piece. Here are the 50c and $20 pieces.
I sincerely appreciate that over 250 individuals visit the Blog each day. Thank you for your support.
October 12, 2015
Good morning on Columbus Day 2015. For our friends in China, Columbus Day is only a Federal holiday and falls on the second Monday of October. Since this is a Federal holiday, then banks and the US Postal service are closed. Otherwise, retail stores are opened.
There are a number of items to share this morning after a quiet weekend preparing images and listings for the fifteen piece lot of Liberty Seated dimes from my collection. GFRC sales were strong throughout the weekend. I launched the Gold Type Coin price list and immediately sold the 1854 $3 Princess that was listed. GFRC movement into gold coins is not a random event but a carefully calculated decision....I will explain next in the blog's Financial News section.
Also, the New England Patriots routed the Dallas Cowboys much to the pleasure of New England fans.
Financial News
I believe that gold prices have reached bottom; this may be a daring statement on my part but there are too many signals that are starting to align towards higher gold prices. Multiple global signals lead me to believe that gold has a higher probability of moving upward rather than dropping further. If spot gold can break through the $1200 ceiling and turn this price level into a floor, then expect much more gains. My reasons are as follows;
1. Oil prices have reached bottom since the U.S. fracking industry has been aggressively pumping oil to cover operating and high yield bond cost. The industry is quickly exhausting its short life cycle wells and has sharply cut back the drilling of new wells. There is a reasonble correlation between the price of oil and gold. Once the US oil industry is damaged, then OPEC and Russia will be pleased to see higher oil prices once again.
2. The US dollar is too strong for the United States economy to grow and stop importing deflation from around the world. The dollar must fall and this is bullish for gold.
3. Obama's disengagement in the Middle East has opened the door for Russia (military) and China (financial) to continue expanding influence in the region. The US Dollar's reign as a the world reserve currency will increasing come under pressure due to incremental global trade being conducted in Eastern currencies. Though the United States may have the largest and most sophisticated military on the planet, there are alternate methods by which to weaken global United States influence. The usage of the international SWIFT system by the United States as a financial sanction tool against Iran and Russia will have long term repercussions.
4. It is well known that China and Russia are aggressively acquiring physical gold to back their currencies. The United States, under President Nixon, terminated the US Dollar/gold relationship in 1973 and launched an era of fiat currencies.
From Seeking Alpha this morning.....
Gold climbed to a seven-week high today bolstered by a weaker dollar and continuing expectations the Fed won't hike interest rates in 2015. "Markets are continuing to price in doubt about a Fed rate hike in December despite Vice Chairman Fischer's weekend comments," said Ric Spooner, chief analyst at CMC Markets. The yellow metal gained as much as 0.9% to $1,166.80 an ounce, the highest since August 24, following a 1.6% advance in the previous session.
The Federal Reserve's attempts to talk up interest rates is growing old and hurting its credibility. U.S. Federal Reserve policymakers are still likely to raise interest rates this year but that is "an expectation, not a commitment", Fed Vice Chairman Stanley Fischer said at an IMF meeting in Peru. "Considerable uncertainties" still surround the U.S. economic outlook, including the drag on exports from slowing global growth, low investment caused by the decline in oil prices and the recent "disappointing" drop in U.S. jobs.
GFRC News
This is the last week to submit consignments in time for display at the Denver and Baltimore shows. Also, I am looking for more 20th Century coinage including better date holdered Morgans and gold type for the Shanghai show.
A thirteen piece Liberty Seated quarter consignment was committed to GFRC on Sunday. I will itemize the dates and grades during Tuesday's blog.
A portion of Sunday was spent processing images and loading Seated dime (those announced in yesterday's blog) onto the price list. Already four pieces are on FRoR and the 1869 NGC PF63 GOLD CAC dime is sold. Here is a mini gallery of a portion of the offerings. My pricing will be fair and consistent with the quality of each piece.
Thank you for visiting the Blog on Columbus Day. I will see you bright and early on Tuesday morning.
October 11, 2015
Welcome to a Sunday Blog edition and thank you for visiting.
Today's commentary will focus primarily on coins as United States and world news offers little to discuss. The Middle East continues to be a problematic region and Turkey terrorist bombings are a sign of more potential instability in the future. One can sense the weakening influence of the United States in that region as a visible Iranian and Russian alliance grows.
GFRC News
Coin sales are going through a seasonal downturn as most everyone is focused on professional sports including major league baseball playoffs along with college and NFL games. The slowdown provides time to catch up on a backlog of lower priced items for the price list and also to work through a backlog of web-book updates. The upcoming "Four Shows in Four Weekends" event also requires considerable preparations since I am not only displaying/selling coins but also acting as an LSCC ambassador.
Special inventory preparation are underway for the Shanghai Yunzhou show as the planned inventory will be skewed towards 20th Century offerings and also include United States gold coins. Yes, GFRC is expanding into gold coins and the first product line will be $3 Princess gold on a type coin basis. Following are two nice offerings added to inventory late last week. By end of day, I should have a separate United States Gold coin price list on the GFRC For Sale page.
In yesterday's Blog, I mentioned the release of a small Liberty Seated dime lot from my reference collection. The following coins were photographed on Saturday and hopefully will be featured in gallery format in Monday's blog. Many are current web-book plate coins and readers can easily visit the pages to view individual selections. FRoF (First Right of Refusal) is in effect.
Gerry Fortin Collection Liberty Seated dimes.
1839 NGC MS61 CAC - F-104 Cracked Obverse; choice original, current web-book plate coin...new NGC holder
1839-O PCGS EF40 - F-106a Cobweb Shattered reverse; choice original gray...2014 PCGS holder
1840-O PCGS EF40 - F-110; current web-book plate coin...2014 PCGS holder
1841 PCGS AU58 - F-107; bold frosty luster with gray rim toning...2014 PCGS holder
1841 NGC AU58 - F-108; current web-book plate coin, Jim Gray Collection, Stacks Lot #2081...old NGC holder
1853 WA NGC MS63 - F-114; current web-book plate coin, lovely toning...old NGC holder
1856 PCGS AU53 - F-104; lustrous...2013 PCGS holder
1869 NGC PF63 GOLD CAC - F-106; current web-book plate coin, 1990 Allan Lovejoy Sale...early NGC fatty holder
1873-S PCGS EF45 - F-102 Repunched 18; early die state and choice...2013 PCGS holder
1877 NGC MS66 - F-109 Type I Reverse; current web-book plate coin, frosty luster...old NGC holder
1877 NGC MS64 - F-111 Type II Reverse; current web-book plate coin, proof like fields, frosty devices...old NGC holder
1889 PCGS PR65 Cameo CAC - F-101; current web-book plate...ealry blue label PCGS holder
1889 PCGS MS66 CAC - F-115 minor MPD...early blue label PCGS holder and previously included in PCGS Registry set
1891-O PCGS MS65 - F-113 Repunced 89, current web-book plate coin...Old Green Holder
1891-S PCGS MS62 - F-115 Double Die Reverse #1; current web-book plate coin and also Greer plate coin...Old Green Holder
Let's end the Blog here for the timing being......
October 10, 2015
Greeting to new GFRC friends in Shanghia area who are also reading the Blog along with current United States customers, consignors and good friends.
The colorful foliage season arrives in central Maine. The maple along the Fortin driveway is a full orange while the oaks are showing some color. Bright red burning bushes are on schedule as the second week of October is typically peak foliage. Though temperatures will only be in the low to mid 50s, a sunny day will be at hand and that means more coin photography.
On Friday, I spent several hours in the bank vault organizing coins for the Rochester NY display and please to report this task being completed. In just ten days, the 1874 Polished Arrows F-106 dime will be traveling to the Denver Coin Expo. The LSCC educational seminar will attempt to explain the origins of the heavily polished arrows. United States law required that all small denomination silver coins be stuck with arrows at the date during 1874 to designate a slight change in silver weight. This variety receives little attention as extremely rare....I am aware of only four examples. Below are images of the most challenging variety in the Top 100 set. Seminars are scheduled for October 22 and 23 at 1:00pm in the restaurant presentation area adjacent to the Denver Coin Expo bourse floor.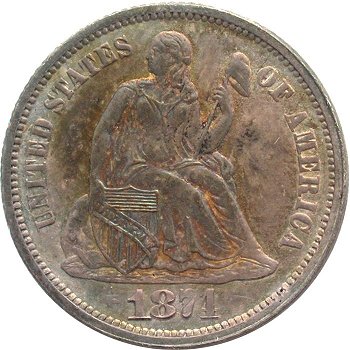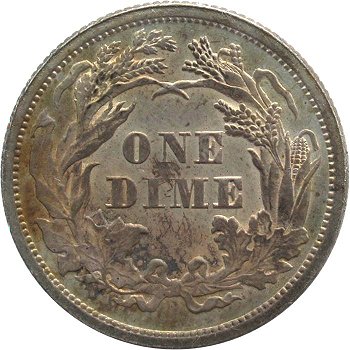 Guest Commentary
In yesterday's blog, the concept of guest commentaries was introduced. I'm very pleased to report that Harry Zhang immediately responded and provided an article describing the coin collecting hobby in Shanghai, China.
Chinese Coin Collecting in Transition by Harry Zhang
In China, the domestic coins like modern commemoratives, the Republic of China, Qing Dynasty or even older have been dominating the coin market since early 1980's.
During late 1980's and early 1990's, international coins started arriving into the China markets, but almost of them were well circulated and difficult to locate any quality type coins. People about my age, who are in my Shanghai coin circle now, went to the outdoor stands by the streets to pick and choose the international coins. Though it might take us 1 hour or even more to ride there by bus, it was all fun. And sometimes, due to the lack of pricing information, we would pay much more than the real value of these coins. Now some of these early collectors have turned into the advanced collectors with target of slabbed high valued international and American type coins. But unfortunately, other collectors are still at a low level of date and low grade collecting.
As to collecting itself, people here may have different ideologies. Most of them don't really enjoy the coins or the collecting, but take them as a way to make money, the quick money. This is the main reason why people here would buy Chinese coins, for speculation. But international and American coins are seen as a way of investment, and it takes years or even longer to realize the value added.
As I have previously mentioned to Gerry Fortin, more and more young people now are choosing international and American coins as their aim. First, they understand these type coins can prevent their assets from devaluation and second, the Chinese products like Panda, are at high pricer level which is not affordable to them. The dollars may go through devaluation too, but there should be little effect on the high quality type coins.
As to the question about coin clubs in Shanghai, yes, we have some which originated from the Yunzhou Antique Mall. But so far, only for the domestic coins. It will take more time for people to accept the American coins widely. Challenges always come with opportunities.
GFRC News
During yesterday's bank vault visit, the realization set in that I should be following my own advice about a slow disbursement of a large coin collection. There are simply too many coins to manage, let alone enjoy as personal time is consumed with the GFRC business and promoting the Liberty Seated Collectors Club. As I was going through multiple double row slabbed boxes, about fifteen Seated dimes were randomly pulled and placed into a blue PCGS box for transfer to GFRC sales. I will announce and describe these pieces in Sunday's blog. One of the highlights is an 1869 NGC PF63 GOLD CAC dime from the Stack's October 1990 Allan Lovejoy sale (web-book plate coin). Another is a choice original 1839 NGC MS61 Green CAC F-104 (also web-book plate coin).
Please check back tomorrow to learn about the entire group of Seated dimes being released from my collection.
Featured Coins
I was able to photograph and load the 1841-O NGC VF20 F-102 Transitional Closed Bud reverse dime that was consigned this week. GFRC customer might wish to give this offering some careful attention as few examples have been seen with such crusty original patina. Frankly, most Small O Closed Bud dimes are located in AG-VG grades and nearly all have problems. Prices have been dropping due to the increased availability of these problem examples. Advanced collectors still struggle to locate problem free examples in VF or better and their search could take multiple years.
This NGC VF20 specimen is crusty original and under graded. This coins is a full VF25 or better. Please see the price list description where more commentary is provided. I would be proud to be the owner of this rare transitional dime and believe GFRC customers will agree on this point. (On Hold)
Thank you for visiting the Blog on Columbus Day weekend.
October 9, 2015
Welcome back to the Blog and thank you for visiting once again. The morning coffee tastes great and the hard boiled eggs have been peeled and ready to eat with a strong helping of chipolte mustard. When living in China, tea soaked hard boiled eggs was a favorite breakfast food. If one is really brave, then trying the 1000 year old eggs in Malaysia and Singapore was in order. These hard boiled eggs looked like clay and the flavor was unique.
Today brings much needed rain across Maine with temperatures in the high 50s. I'm meeting with a dealer friend this afternoon towards some inventory rotation. While I am attending the Shanghai Yunzhou show, he will setup at the Manchester, NH fall show.
GFRC News
Whitman Baltimore show is less than a month away as I received table location notice yesterday. GFRC and W. David Perkins will be located at table 818 directly across from the Heritage booth. David and I are sharing combination corner and regular table as we did at the August ANA in Chicago and will have 12 cases of quality early type coinage and other offerings. We spoke yesterday afternoon and both commented that 6 cases each was insufficient to display our growing inventory positions.
Here is the Whitman Floor Plan link as I am unable to save the PDF file and post as a graphic. Table 818 is the same location in Hall A that I've had for several years. We are easy to find...just turn right after entering and then take another right towards the Whitman book sales area. I'm pleased to be back in Hall A as this is by far the better of the Baltimore Convention locations with large table seating for lunch and quick access to the meeting rooms on upper levels.
A cool coin consignment arrived yesterday via express mail....an original 1841-O Closed Bud Small O reverse dime residing in NGC VF20 with the Fortin Top 100 label. This piece will be posted today. I've seen my share of Small O Closed buds but always in Good through Fine grades and nearly all with problems. It is freshing to offer a strictly original VF20 example where the eroded reverse die details can be viewed and appreciated.
Yesterday focus was on loading lower priced Liberty Seated dimes to the price list. Between GFRC purchases and customer consignments, lower priced coins will accumulate as I naturally favor loading coins with values above $100. On Thursday, I made the point to organize as load as many $30 to $100 coins as possible and a few more will be added today. Some are holdered while others are raw.
Featured Topic
Writing the Blog each morning takes a considerable amount of mental energy and creativity. There are days when I am excited to explore a topic and then there are opposite days when energy level is low and writing is a chore.
A close friend and occasional Blog contributor made a worthwhile suggestion....how about asking Blog readers to contribute commentaries for the Featured Topic section? The topics can be wide ranging from economics, financials, politics and of course numismatics. For example, having a report from my Shanghai agent, Harry Zhang, on coin collecting status in that huge city might be insightful. Are there coin clubs in Shanghai as we have in the United States?
So please give this some thought as incremental contributors would help expand content and increase our collective awareness on important issues.
Financial News
Have readers been paying attention to spot gold prices? Yesterday's close was $1154 and within striking distance of the $1200 level. I believe that if gold can penetrate the $1200 level and use that mark as a solid floor, then the up turn will have arrived.
A quick check of Seeking Alpha headlines revealed that oil spot price is moving upward as investors are betting that a supply issue will be forthcoming in 2016. Actually, I believe that 2016 will bring a host of high yield bond defaults in the United States oil patch as smaller firms run out of operating cash to fund interest payments let alone investing in more wells.
Oil prices are advancing into the $50s, pushing past a key level to record a gain of nearly 9% this week. Support appears to be coming from a variety of factors, including recent OPEC comments on tackling the global overhang, expectations of shrinking U.S. production and concerns about Russia's military operations in Syria. Crude futures +2.5% to $50.64/bbl, the commodity's highest level since July 22.
Featured Coins of the Day
Let's take a different approach for this Blog section today. How about featuring coins that are priced under $100? There are many good values on the GFRC price lists in this price range and these can go unnoticed.
How about a choice original 1877 San Francisco dime already certified by PCGS for $35? Someone should buy this coin as a pocket piece when attending coin shows. The color and surfaces illustrate the appearance of a strictly original silver coin. A $35 pocket piece could save you from an expensive mistake.
Next to consider is an 1890 F-118 dime that is boldly struck with lots of eye appeal. This piece has been sitting in the "get to it" box and reached the price list yesterday. Graded EF45 and available for $45.
Thank you for visiting and wishing all Blog readers an enjoyable upcoming Columbus Day weekend.
October 8, 2015
6:15am arrives and time to write another Blog. There might be a correlation between morning mental creativity and sunlight. Days are quickly growing shorter with the Blog written by halogen rather than natural sunlight. Maine is on track for another beautiful autumn day and then the rains arrive on Friday. One of today's highlights is a 2.5 mile walk while the weather allows this activity.
The news outlets have little that is fresh to read or share as the world operates in amazing harmony other than Syria. After Chuck Todd and NBC news team manipulated the "would you quit the Presidential race" response by Donald Trump in his last Meet the Press interview, Trump is shifting strategy away from network interviews (and their 8 second sound bite risks) to a traditional campaign with a non political advertising agency. El Chapo (escaped Mexican drug lord) has offered a $100M dead or alive bounty for Trump according to YahooNews.
Please remind me to never enter politics in today's world of information overload and manipulation. Many individuals are achieving a living by generating reporting content whether accurate or filled with untruths. It is difficult to decide what to believe or ignore; ongoing mental evaluations take away precious time from "normal" life.....thank goodness there is the daily numismatic escape. As one GFRC customer recently wrote me while dealing with a personal crisis, "Coins are my place of sanity and as long as I am doing something I feel better."
GFRC News
The four piece consignment mentioned in yesterday's blog arrived quickly. These coins are another installment from the Burchs Creek Collection. Here is a mini gallery of the four pieces with originality being the highlight along with several important San Francisco Seated dime dates. The 1867-S is already on hold via FRoR and the 1856-S was in my collection during the early 1990s after purchased from the Bob Levi Collection (Maine Gold and Silver). All pieces are posted on price lists.
Featured Topic
I've given up trying to make sense of the IMF's Standard Drawing Rights financial instruments and how they are employed as a medium of global reserves exchange among member countries. Jim Rickard's summarized my experience and frustrations in a recent Daily Reckoning commentary. Thank goodness he came along to bail me out. But the frustrating part is that global financial engineering is occuring on a scale that most of the world's population does not understand. As Jim Richard's commented....
The International Monetary Fund (IMF) is one of the most powerful institutions in the world. It acts as the de facto central bank of the world. The IMF makes loans to countries in distress, raises funds from its member nations and issues its own world money called the special drawing right (SDR).
Yet for such a powerful institution, the IMF is incredibly opaque and unaccountable. My favorite way to describe the IMF is "transparently nontransparent." What I mean by that is the IMF is transparent in terms of making resources available for interested parties to learn about what it is doing.
The IMF website is loaded with links to position papers, financial statements and facts and figures about its missions and personnel. The IMF publishes a value for the SDR every business day. Even the IMF's plan to replace the dollar with SDRs as the global reserve currency is available.
The problem is that all of this material is written in highly technical jargon that requires specialized training to interpret. That's where the "nontransparent" part comes in.
Reading the IMF website is like picking up an advanced textbook on quantum physics. You may be able to read the words in a row, but unless you have specialized training, it might not make much sense.
Financial News
Seeking Alpha headlines are quiet this morning. The Shanghai and Hong Kong markets jumped up 8-10% over night. HSBC believes there will be no interest rate increases through 2016 by the Federal Reserve with yields falling to mid 1% range. If that is indeed the case, then holding physical cash and other physical assets (without debt ) may be the wisest path. Just something to think about......
What's the next stop for Treasury yields? HSBC just lowered its forecasts, stating the Fed won't be as aggressive in raising rates and bonds will be supported by accommodative policy from the ECB (more money printing by European Central Bank).. The benchmark U.S. 10-year yield has already tumbled 26 basis points since September 16, the day before the Fed left its record low benchmark rate unchanged and stated recent global developments "may restrain economic activity...and are likely to put further downward pressure on inflation." HSBC now sees 10-year Treasury yields ending the year at 2.1% and falling to 1.5% by the end of 2016.
Featured Coins of the Day
Sales of Capped Bust halves have been strong in the past 30 days so why not feature some of my favorite pieces in inventory? First is an amazing 1812 O-103 that resides in PCGS AU53 holder. This piece recently arrived on consignment and offers superior eye appeal under bright light. To make this point, the CBH is illustrated with two sets of images. The left being in hand appearance and the right being bright light coloring and luster.
Next is a 1819/8 O-105 that also has gem bright light eye appeal and resides in PCGS VF30 CAC holder. Unfortunately, I only can offer the in hand appearance via GFRC photography and hope that you might visualize the ring toning and beauty under bright light.
Thank you for making the Daily Blog a regular reading stop each day. It is challenging to write something of value during early mornings but the ongoing readership is strong motivation.
October 7, 2015
Good morning once again and welcome to the Wednesday blog edition. This is one of those mornings where the mind is in slow motion and hopefully a cup of coffee will provide writing inspiration. Maine is due for another beautiful day with bright sun and temperatures approaching 70F. Foliage colors are becoming evident during country side driving.
The LSCC leadership team conducted its monthly meeting yesterday and all is well. We are on track to publish the November Gobrecht Journal issue with a host of quality articles. Other numismatic publications are frequently covering LSCC content in the E-Gobrecht and Gobrecht Journal; another positive development. A host of LSCC regional meetings or educational sessions are coming including Denver, Rochester NY, Baltimore and then FUN in early January. The leadership team is also working with the American Numismatic Association towards offering a Seated coinage course at the 2016 Summer Seminar. We've agreed that John Frost and Gerry Fortin will be the instructors if the proposed syllabus attracts enough participants. Looking into the future, I hope the day arrives when the LSCC starts signing up international members.....
GFRC News
Feedback quickly arrived yesterday concerning potential GFRC online expansion strategy moving forward. I had mentioned studying Collectors Corner and Collector.com. The feedback was strongly tilted towards maintaining the current GFRC online tabular format for listing coins and focusing on increased inventory expansion and marketing the full range of GFRC product offerings. Customer enjoy the simplicity of the price list tables and can scan a large number of coins quickly without having to constantly be clicking links to index to new selections. I agree with the feedback. The GFRC price lists were designed from a collector's perspective and ease of use was a priority. Thank you to those who took the time to respond with feedback.
An existing GFRC consignor sent email that a small consignment is in transit. The four coins include 1848 half dime, 1856-S dime, 1862 dime, 1867-S dime. More on this topic once the coins arrive.
On Friday, I scheduled a buying meeting with local friend. He always has nice type coins to offer and might be bringing a $3 Princess in response to Blog request.
I'm expecting to hear from the Whitman people concerning Baltimore show table location and number. W. David Perkins and Gerry Fortin Rare Coins will be sharing corner and regular table space at the Baltimore show with 10-12 cases of quality inventory with the finest overall selection of Bust and Seated coinage on the bourse floor.
Financial News
During the past 48 hours, Seeking Alpha published some financial headlines that are worth sharing this morning.
Blog readers may be unaware that the U.S. Treasury sold three month bonds at 0% yield. This headline is worth considering.
Officially joining the 0% bond club, the U.S. Treasury sold a new government security on Monday containing a three-month maturity and a yield of zero for the first time on record. In essence, buyers gave a free short-term loan to the government in exchange for a highly liquid debt instrument for their portfolio. The result adds to the diminishing expectations - stoked by Friday's disappointing jobs report - that the Fed will keep interest rates at basement levels throughout 2015.
Then there is more news about the rise of the Chinese Yuan within global commerce. The percentage usage remains small but the growth trend is significant.
Despite the financial turmoil in China and unexpected devaluation, the yuan has now become the world's fourth-most-used payments currency, edging out Japan's yen for the spot. According to international payments provider Swift, the renminbi accounted for 2.79% of global payments in value terms in August, up from 2.34% in July, although it still trailed the U.S. dollar (44.8%), euro (27.2%) and British pound (8.5%). As recently as August 2012, the yuan only ranked number 12 with a 0.84% share, but Chinese authorities have since aggressively promoted international use of the currency.
And finally, we may have reached the bottom on spot oil prices as capital investment for drilling has been cut to the bone. 2016 will be the year of oil industry bond defaults as smaller United States oil fracking companies run out of cash to cover expenses.
Oil prices are on the rise again following a near 5% jump on Tuesday. The surge is being triggered by data from the American Petroleum Institute showing a 1.2M barrel decrease in crude stocks last week, expectations of increasing demand from the Energy Information Administration, and comments by OPEC chief Abdalla Salem el-Badri anticipating big cuts to oil investment. The commodity has now rallied more than 27% from its August low, and is up 2% at $49.50/bbl.
Featured Coins of the Day
We start the Featured Coin tour at the Liberty Seated Dime (AU-Mint State) price list this morning. Recently added is this lovely 1859-O F-105 dime graded PCGS MS62 and approved by CAC. Yes, this is the second time that I have stocked this piece and will continue to take back in trade as so attractive at the assigned grade level. The images speak for themselves but please remember how underrated this New Orleans date is in mint state.
Next is a selection from the Walking Liberty half dollar price list. This 1929-S Walker graded PCGS MS63 is a better date and offers eye appeal and a strong strike too! An attractive yet affordable Depression Era strike from San Francisco mint. I like this example as the surfaces are obviously original with ample luster and a faint gold skin that was captured on the images.
As always, thank you so much for visiting today and also a special thank you to the growing number of Shanghai Blog readers.
October 6, 2015
Tuesday morning arrives and the news headlines are quiet.
I spent several hours in the bank vault yesterday attempting to organize the Liberty Seated Dime and Top 100 sets that will be on display at the Rochester Numismatic Association show during October 31 and November 1. Organizing these two sets is not as straight forward as you might think since there are numerous double row slabbed boxes and PCGS blue boxes that were randomly loaded after several trips to CAC and the Gold CAC display at the ANA show. Progress was made and one more bank vault session immediately before the Rochester show should be sufficient.
GFRC News
West Coast Collection consignment pricing is settled and images are ready. These coins will be on the price list by end of day.
On Monday, I spent time researching next steps for the GFRC business including establishing a presence on Collectors Corner and Collectors.com. Since the GFRC website has a unique format with quick scanning tables, Collectors.com is unable to capture my listings. Collectors.com database requires that each coin have a separate listing and be offered with online shopping cart function. At times, I find that browsing eBay and other dealer websites with individual coin listings takes more time that those on the GFRC website. The alternative to maintaining the simplicity of the GFRC table format is having to double list a subset of coins into Collectors Corner which then enables the Collectors.com pickup. Your thoughts and feedback would be appreciate as I seriously consider next steps for the GFRC business.
Featured Topic - Coin Enhancement or Doctoring
As GFRC consignment volumes continue to expand, I am starting to see a disturbing number of "enhanced", "repaired" or "doctored" coins. The selection of the adjective is typically political depending on who I speak with concerning this subject. The issue within our hobby is very real however and needs attention. There are individuals who actively repair or enhance coins for profit with the TPGs being the filter that must be overcomed. Based on examples seen in the past two months, I can say with certainty that the TPG filter is porous and coins with different types of "enhancement" techniques are sitting in TPG holders.
As a dealer/collector and LSCC President, it is my responsibility to identify coins that are believed to have been enhanced for improving marketability. Consignors are receiving feedback when their submitted coins fall in the "enhancement" category. My business ethics are to properly describe coins when listed and set prices accordingly. To date, the consignors have been wonderful to work with and accept my conclusions and recommendations. But the fundamental problem is that enhanced or repaired coins in TPG holders never leave the hobby. They simply trade among knowledgeable collectors at reduced prices (best case) and at full retail when purchased by the inexperienced collectors.
I am unable to present a solution to this issue other than promising GFRC customers that I will honestly describe coins as seen. If I believe a coin has been polished/retoned or fixed, then the descriptions will state that opinion. During consignor submissions, I will carefully screen each piece and if it is believed that a coin has been enhanced, this feedback will be provided to the consignor. The consignor can decide to list the coin at GFRC with proper description/pricing or take the coin back.
Detecting coins that have been enhanced takes years of experience similar to fine tuning grading skills. Following is a short list of obvious cases (to me) of coin enhancement or subtle "improvement" cleaning.
1. Retoning via heat treatment - look for dark brown crusty spots on the highest wear points and rims.
2. Chemical retoning - look for a perfectly uniform brown/gray color across the coin. Try dipping a white silver coin in a very mild Clorox solution and you will get the idea.
3. Tooling and retoning - on larger denomination coins, look for faint tooling lines (under the uniform toning ) in the fields to fix marks or smooth out porosity.
4. Whizzing - look for raised metal edges on the main devices. Whizzing is a mechanical process that moves metal and provides an unnatural luster. Nearly all whizzed coins have some faint amount of metal that is moved onto the edges of the main devices. Many whizzed coins are then retoned as the silver surface is native and optimum for chemical toning.
5. Masking and toning - on larger coins with perfect bullseye toning, look within the untoned center and compare with the toned rings for surface differences.
6. Unnatural colorful toning - colorful natural toning is vivid and transparent. It should "float" on a coin's surfaces. When seeing thick colorful patina (blues for example) that are not transparent, then pay special attention.
7. Glossy surfaces on coins grading F through EF - a coin grading VF20, or even EF40, should not have glossy or reflective surfaces regardless of the toning appearing natural. As silver naturally wears it becomes dull. Any cleaning will change the surface properties, and many times lead to a glossy appearance.
GFRC Advice
- When viewing any coin in raw or TPG holder, approach the coin assuming it has been enhanced and then convince yourself that the coin has natural patina. This change in mindset will result in the purchase of less coins but the overall quality and resale value will be increased.
- Work with a trusted dealer who has strong business ethics and the experience to identify many of the enhanced coins and techniques used.
Featured Coins of the Day
Given the coin doctoring topic in this morning's Blog, let's showcase a few coins that I believe are perfectly original.
We start with an 1875-S 20 cent piece (double dime) that resides in NGC AU58 holder and is approved by CAC. Please note the dirty light gray patina that is uniform. This is the typical appearance of natural silver and the offered coin is an above average example of the 1875 San Francisco date.
Next is an 1849 Seated half that resides in PCGS EF45 holder. This is a strictly original half dollar based on my experience. Surfaces are mildly proof like with the obverse transitioning to light blue center with gold surrounding the stars. The reverse also shifts appearance...from the darker in hand gun metal gray patina to sky blues and gold under bright light.
Thank you for visiting this morning and I hope this Blog will be found useful by collectors at varying experience levels.
October 5, 2015
Welcome to the first full week in October. Maine will enjoy another week of bright sun and slightly above average temperatures. As mentioned several times in the Blog, the summer, and now autumn of 2015, have been simply outstanding in terms of weather. My oak trees are still green and the maples have begun the foliage transition to pretty crimson red and gold.
Yesterday, I took a long coastal ride in the Miata as the temperatures were ideal and then returned home and processed more consigned coins while taking in orders. It was a relaxed day.
GFRC News
The West Coast Collection consignment of crusty original Seated dimes and quarters should be posted by tomorrow. Most of the images are processed and closing on retail prices is today's last hurdle. I've also may good progress on loading the 28 piece consignment received last week.
Shanghai area orders continue to grow as that show date approaches. If anyone is interested in parting with quality $3 Princess gold in AU grades, then please contact me. I'm looking for type so that means the 1854, 1855, 1857 and 1878 dates. I'm also looking to purchase a Walking Liberty short set in original AU grade for a customer.
There are two weeks left before GFRC undertakes the "Four Shows in Four Weeks" adventure. If you've considered assembling a consignment, then the window is closing. I'm able to photograph, post and sell consignments at a much quicker pace as efficiencies are identified and capitalized upon in the GFRC operations process.
Featured Topic of the Day
Once again John Mauldin issued his weekly Thoughts from the Frontline newsletter on Sunday evening and the issue is full of insightful material concerning the United States and global economy. He is concerned that early signals for a pending recession are being seen. Contained within the newsletter is a section on the growth of global debt that is incredibly insightful. If everyone recognizes that "debt is future consumption carried into the present" along with debt growth faster than GDP being a serious concern, then we should be carefully assessing our investment portfolios in the coming months. John's online newsletter can be found here.
For this morning's Blog, let's focus on John's discussion and statistics concerning global debt growth. As an engineer, I love seeing detailed analysis of important trends. The following chart itemizes how quickly global debt is growing and which sectors are responsible. The chart has been cut down for display....data source credits can be found in the online Mauldin article. I've also added the black outlined box for 2007-2014 compounded growth rates to highlight the key points. Households are holding debt growth to GDP levels while governments and corporations are expanding debt at unsustainable rates.
John offers his perspective on the debt trend as follows;
The chart above is from a February 2015 McKinsey Global Institute study called "Debt and (not much) deleveraging." McKinsey is not an organization given to hyperbole, nor was it necessary in this case. Reality is bad enough.
Does economic growth justify higher worldwide debt levels? Not unless you think the world's economy grew at a 5.3% annualized rate from 2007–2014. Debt levels grew at that rate. GDP did not grow at that rate anywhere except (possibly) China, where debt growth was in the double digits. Debt as a percentage of GDP is even higher now than it was in 2007: 286% vs. 269%. Using 2007 as a baseline is misleading, too. We now know that debt levels that year were excessive by any measure. If we had too much debt then, we have way too much now.
What has enabled such a debt-fueled boom? Low interest rates. US corporations have spent about $1 trillion over the last 12 months on share repurchases and dividends in order to sustain their stock prices. Much of this money was borrowed. Rather than working for an old-fashioned profit increase, businesses resorted to financial engineering.
Who Are These Reckless Borrowers?
I said above that total debt grew at a 5.3% annual rate from 2007–14. Some types of borrowers added debt faster than others did, according to the McKinsey data.
•Household debt grew 2.8% annually.
•Financial sector debt grew 2.9% annually.
•Corporate debt grew 5.9% annually.
•Government debt grew 9.3% annually.
Banks and households missed their chance to deleverage – which means they will have trouble again in due course – but they at least kept their debt growth in roughly the same neighborhood as nominal GDP growth.
Incidentally, notice that the pattern reverses if we go back further to the 2000–2007 period. Then, household and financial-sector debt grew much faster than corporate or government debt did. That suggests the next crisis won't look like 2008. However it breaks down, we are now in an even bigger debt bubble than we were in 2008. We are going to pay for it and eventually deleverage, but the process will look different this time. Which is why everyone is so focused on when the Federal Reserve will finally raise rates.
Featured Coins of the Day
This morning, we visit the World Coin price list for several featured coins. As the Shanghai coin show approaches, I am receiving some world coin orders. Shanghai collectors are truly international in nature and have a special affinity for South and Central America coinage coupled with United States and Great Britain currencies. This morning, let's focus on Great Britian and two of my favorite pieces currently in stock.
The first is an English William and Mary 1 Pence dating back to 1694 and graded NGC MS62. This is the single highest graded at NGC and well preserved with strictly original light to medium gray surfaces. The obverse features diminutive portraits of William and Mary with a substantial amount of heavy die polish lines contained within those portraits. Under bright light, the fields are reflective with adequate luster for the assigned grade. Fields are pristine and essential blemish free except for one faint tone over line on the reverse that takes considerable examination to locate. Housed in old style NGC holder will standard ring insert.
Next is an 1698 4 Pence, William III, from the Eric P. Newman Collection, ESC-1881. This piece resides in NGC AU58 holder with Eric P. Newman tan label and remains in an impression state of preservation for a turn of the century British groat. Surfaces are strictly original with gun metal gray/blue throughout obverse and reverse. There is a lighter toned area to the left of the 4 but not as pronounced as on the images. Bright light viewing reveals consideration rose hues on obverse and a lovely gold/rose rim on the reverse. How can you go wrong for only $260?
Thank you for visiting! I will be back on Tuesday morning with more news and coins. Have a great Monday in the United States and Tuesday workday in Shanghai.
October 4, 2015
I awoke early on Sunday morning and sitting in GFRC office with cup of coffee watching daybreak unfold through north facing window. When visitors walk up our driveway, they would be rewarded with a stunning view of Mt. Washington. Morning temperature is currently a seasonal 42F.
I obviously jinxed the Boston Red Sox with a potential thought that they might end the 2015 baseball season with .500 record. After the Daily Blog comment, the Red Sox have lost three in a row to the New York Yankees and Cleveland Indians.
The Open Registry received considerable attention yesterday. For Chinese friends, the Open Registry is similar to that provided by PCGS and NGC on their websites. The major difference is that the GFRC version is completely open to all people and includes raw coins. On the PCGS registry, for example, only PCGS holdered coins can be listed by using serial number. There are still many collectors of raw coins in Dansco and Whitman bookshelf albums. The PCGS and NGC registries were designed to sell more grading services; one needed to have coins placed in TPG holders to participate. The GFRC Open Registry is a manual system where inputs need to be supplied to me via Excel spreadsheet. It is a labor of love for the numismatic hobby and GFRC customers.
An important Liberty Seated dime set was added to the Open Registry yesterday and deserves publicity. Jason Feldman, LSCC Southern Regional Director and great GFRC friend, finally shared his Seated dime set and while doing so, announced that he was the buyer of the Eliasberg 1845-O PCGS MS69 dime from the Eugene Gardner collection. Jason's Basic Date and Mintmark set has an average and weighted grade of MS63 (63.1) which is an incredible feat. The other two major Liberty Seated dime sets in existent belong to Tom Bender with amazing average and weighted grade of 64.4 and the Gerry Fortin set at 62.3 score. As a reminder, my set will be on display during October 31 and November 1 in Rochester, New York as part of the Rochester Numismatic Association annual coin show.
GFRC News
Consignments continue to arrive on a routine basis and I've become efficient with quick photography and image processing for Daily Blog announcements. Most consignments are duplicates and amount to ten coins or less. Yesterday's consignment is from the "Quarter Disorder Collection" owner within the Liberty Seated quarter section of the Open Registry. This individual is also an advanced collector and passionate believer of buying strictly original gray toned coins when possible. Following is a mini gallery of his consigned pieces. The 1843-O Seated quarter is Large O and graded PCGS VG8 with CAC. Next is a rare offering of a high grade 1851 quarter. This piece resides in PCGS AU50 OGH. The 1840 Seated half is the WB-102, FS-301 variety and resides in PCGS AU58 holder...an incredible example. The two Walking Liberty halves are 1946-D PCGS MS66 CAC and 1946-S PCGS MS64 CAC; please note the full strikes. GFRC customers might wish to carefully consider any of these pieces. The 1851 quarter is currently under First Right of Refusal (FRoR).
On Saturday, I was offered and purchased a nice gray original 1875-CC In Wreath F-107b dime with partial upper body on Liberty and bold reverse cud at 9:00. Following are the links to F-107b and F-107c die states in the web-book for reference. The offered piece grades full EF45 or better and will be arriving by middle of week.
Thank you for stopping by this Sunday morning. I'm in a bit of a low energy state and wish to relax rather than writing another long Blog. I will see you bright an early on Monday morning to start another work week.
Please don't hesitate to email or call today concerning potential coin orders. I have a host of consigned coins that need to find new homes and always available to consider deals or offers. Thanks!
October 3, 2015
Welcome to the weekend Blog edition and thank you for visiting. The Simplified Chinese Blog version is starting to gain traction with 15-20 hits per day. As with any new initiative, time is necessary for a new idea to be explored, tested and optimized. I am very committed to developing a GFRC market in the Shanghai area; there are so many great people and collectors that visit the Yunzhou market.
A strange Maine autumn is occurring as the foliage colors are just starting to appear. In a "normal" year, peak foliage colors would occur by October 10 and serious leaf raking would be done by Halloween. Today is October 3; the maples and oaks are just starting to add color while the birches are quickly changing to dull yellow and then dropping their leaves. On a separate note, Maine is so fortunate to be avoiding the rains and flooding current happening in the mid Atlantic states. Joaquin will track far out to Atlantic Ocean and Maine will not feel any effects. Instead, today will bring bright sunshine which is perfect for coin photography.
GFRC News
New consignments are arriving and please accept my sincere gratitude for trusting me with your coins. The collector to collector "trading desk" concept is working well as consigned coins are purchased by other GFRC consignors. If you visit a large coin show bourse floor and check for nice original Liberty Seated and Bust coins, often there is disappointment. Most of the better coins are in collections and off the market. Providing collectors with an easy avenue to convert or "trade" their duplicates into upgrades is the basic concept. As the circle of GFRC consignors continues to expand and individuals with four and five figure coins to trade appear, then the "trading desk" will become quite exciting. As the "trading desk" facilitator, I am strict about coin descriptions and will inform consignors when they have submitted problem coins in TPG holders. I provide frank feedback towards a continuous learning experience and secondly, maintaining a high quality standard for coins within GFRC inventory. If I receive TPG problem coins within consignments, I will not "dress these up" and try to sell to other unsuspecting collectors. Rather, the issues are explained to the consignor with the coins properly described and discounted.
Over 20 coins reached the price list yesterday and many more will be added today. Following is a brief gallery for some of the coins added yesterday with all being priced between $50 to $1000. Several are already on hold.
Featured Topic
BBC News produced a laughable news item this morning. It appears the British are most unhappy with the forthcoming visit of the NFL's New York Jets. The major headline is New York Jets NFL team ship 350 toilet rolls to London followed by; The New York Jets shipped their own toilet paper to London for their clash with the Miami Dolphins, as they were warned British paper was "very thin". Enough said!
Let's end the Blog here as there are packaging and shipping tasks that await me along with updating the Open Registry with recent inputs. Then I can start to load another round of new coins to the price list.
Thank you for visiting and I will see you bright and early on Sunday morning.
October 2, 2015
Welcome to the Daily Blog on the first Friday of October. Today's blog will be brief as there is a substantial queue of quality coins needing my attention this morning...
This week has gone by so quickly with nearly two days spent meeting October 1 LSCC publishing deadlines. When not focused on LSCC matters, GFRC received four substantial GFRC consignments which have been completely photographed and documented with issuing consignors. Today's top priority will be image processing and loading new offerings on the price list. My goal is to have fresh offerings across nearly all price lists going into the weekend. Yes, it is difficult for the coin hobby to complete with college and NFL football this time of year but I will make a valiant effort in the next 48 hours to capture attention and maybe even a few sales......
GFRC News
Three PCGS blue boxes are staged on my desk with over 50 quality coins to be loaded on the price list. Enough said here.
Financial News
Buried in the Seeking Alpha headlines this morning is this important item that substantiates why the Federal Reserve decided to not raise interest rates. Higher US dollar interest rates would accelerate the outflow of US dollars out of emerging markets and back to the US. Remember that the US dollar is the global reserve currency and needs to flow in adequate supply in the emerging markets.
Emerging markets are on track to suffer their first annual net outflow since 1988, the Institute of International Finance predicts. Foreign inflows are set to halve to $548B this year and outflows are expected to come in at $540B. With local outflows accelerating, net flows will turn negative. The interlinked factors driving the flight from emerging markets include internal political turmoil, weak currencies, concerns about China and the commodities rout.
Featured Topic
Jim Rickards published another stimulating article in the Daily Reckoning newsletter and suggested that the Federal Reserve is unable to raise interest rates and will soon be faced with providing more monetary stimulus. The Federal Reserve, along with other global central banks, is unable to generate pricing inflation. Why is this happening after years of living with inflation? Instead of pricing inflation, the world is fighting pricing deflation....other than United States college tuitions and healthcare.
The following graph from Wikipedia when investigating "Velocity of M2 money supply" provides a reasonable explanation. The top green line shows Money Velocity which is calculated as GDP divided by a general estimate of the money in circulation within the United States (left axis). The lower blue line is the Employment to Population Ratio (right axis). The timeframe is 1959 through 2009 and well covers my lifetime on this planet. The scales are logarithmic to facilitate easier comparisons.
My conclusions? Look carefully at the top green line. It dropped sharply during and after the 2000 and 2008 recession. We well know that both recessions were caused by unsustainable debt and speculation within the overall economy. People will slow consumer spending when attempting to pay down debt. Now look at the bottom blue line. The employment to population ratio dropped sharply during and after the 2008 recession. The demographics issue (Baby Boomers retiring and spending less) plus globalization (manufacturing being down in countries outside the United States) plus no real growth in wages since the 2008 recession correlates with the drop in the Money Velocity within the United States economy.
Therefore, it is impossible to generate inflation when people are limiting their spending. The Federal Reserve QE1, QE2 and QE3 strategy of pumping incremental monies into the country's money supply has not worked since the M2 money velocity continues to drop. The average United States citizen is spending less than years past for a variety of reasons. Raising interest rates would accelerate pricing deflation as people become more concerned about paying down debt or just borrowing less to fund consumer spending. Remember that debt is future consumption brought forth to the present and most people will have income limitation to take on more debt. This graph is a gem and worth considering.....

"M2VelocityEMratioUS052009" by Bkwillwm - Own work. Licensed under GFDL via Commons.
Featured Coins of the Day
Today's featured coin theme will be crusty original patina. Some collectors are passionate about locating silver coins with thick gun metal gray patina that validates the surfaces to be strictly original. So here are a few crusty pieces.
First is an 1839-O V-2 Small O Liberty Seated half dime residing in NGC AU53 holder from the New Jersey Collection. Images are worth a thousand words....
Next is an 1854-O Seated dime that has received little attention since being consigned. This piece resides in old PCGS holder and is accurately graded at the MS64 level. Photographing coins with thick crusty patina can be challenging due to the uniform color and the lack of contrasting features. Believe me...this is one incredibly original Seated dime.
We close the Featured Coin section with a crusty original 1824 O-104 Capped Bust half dollar graded NGC EF40. Once again, the images well indicate the thick uniform gray/brown toning.
Thank you for visiting and reading through today's ramblings.....
October 1, 2015
October has arrived with Maine autumn colors well behind schedule. Portland recorded its warmest September on record with foliage colors being several weeks delayed.
The Boston Red Sox have won six in a row with four games left in the 2015 season and are in third place in the American League East division. It is conceivable that they could end the season with a 0.500 record if taking three of the last four games. If only it were May again....
There is much to discuss this morning. Most important is the publication of the October E-Gobrechet with a broad array of well written articles. As I mentioned to Bill Bugert (LSCC Publications Editor) yesterday, several of the October articles would also fit well in the all color Gobrecht Journal. The Liberty Seated Collectors Club is blessed with the support of so many numismatists and my gratitude goes out to these individuals. The October E-Gobrecht issue also launches our paid advertising effort with Dick Osburn and myself placing ads or banners. With time, I'm hopeful that more dealers will consider advertising in the monthly E-Gobrecht. As usual, the October E-Gobrecht is available on my website and the newly redesigned LSCC website. I hope that you might find the time to visit the fully redesigned LSCC website and take a test run through the streamlined homepage and easy to access links.
Most of Wednesday was spent writing a Gobrecht Journal article against the October 1 submission deadline. The subject matter is of course related to Liberty Seated dimes and provides an in depth analysis of the basic 1876 Carson City double die obverse varieties along with die remarriages and a pictorial emission sequence. Writing for the Gobrecht Journal is always enjoyable and you should consider a submission too! Bill Bugert currently seeks quality articles for the 2016 Spring edition.
GFRC News
Another consignment arrived yesterday from the West Coast Collection. This advanced collector has a consistent record of providing strictly original Seated coins and I was not disappointed when reviewing his latest submission of ten new Seated dimes and quarters. 60% of the coins have CAC approval and I'm sure GFRC customers will be pleased with the overall quality once posted to the price lists. Following is a brief listing of the latest West Coast consignment's contents.
Seated 10c: 1855WA PCGS VF30 CAC; 1856 LG Date PCGS VF25 CAC; 1857 PCGS EF40; 1876-CC PCGS F12 CAC F-111 MPD; 1891 PCGS EF40 F-108 Two Tailed 9
Seated 25c: 1844-O PCGS VF35; 1853 A&R PCGS EF40; 1875-S PCGS F15 CAC; 1878-CC PCGS VG8 CAC; 1881 PCGS VG10 CAC
More consignments are expected to arrive today along with packaging and shipping of orders. It would be great to start October with some robust sales so please don't hesitate to call or email about potential acquisitions.
Financial News
The lead Seeking Alpha headline is once again Chinese manufacturing contraction. BBC News also featured a similar report on its website. Please remember that a Purchasing Managers Index (PMI) value below 50 is contraction while above 50 is expansion.
Chinese factory activity continued to contract in September, albeit at a slightly slower pace, two surveys show. The government NBS Manufacturing PMI edged up to 49.8 from 49.7 in August, while the Caixin manufacturing PMI rose to an expected 47.2 from 47. The contraction of Chinese manufacturing and the slowdown in the wider economy has caused much vexation but isn't this what is needed to help compensate for the massive oversupply that we're told about?
Back in the USA, the Chicago PMI also falls into contraction territory in September. A separate online report can be found here and indicates that the Midwest US region is showing weakness. The strong US dollar is hurting exports.
Featured Topic
Let's take a break on the Special Drawing Rights topic as I have a considerable amount of GFRC and Seated dime web-book backlog items to process today.
Featured Coins of the Day
The Morgan dollar price list will be securing attention today as a large consignment of original gray better dates examples need to be posted. These new Morgans may also be popular at the Shanghai Yunzhou show since most available in Shanghai markets have been cleaned to a dull light gray or are counterfeits. GFRC is not well known for stocking quality Morgan dollars but the expansion into China market may bring more focus onto this product line.
Here are a few nice pieces for consideration. First is a dual sided toner 1880-S dollar graded PCGS MS65 and approved by CAC. Toning is multicolor rainbow with gold, rose and blues on the obverse and aquamarine and gold on the reverse. Many 1880 San Francisco examples come lightly PL as is the case with this example. Under bright light, the PL surfaces accentuate the colorful toning. As one would expect from an MS65 graded piece, the fields and main devices are blemish free. Please note the reverse pale spot at 12:30 is a lighting reflection from the PCGS holder.
Next is a lovely 1878 7 Tail Feather Morgan with lots of eye appeal and natural toning. It is graded PCGS MS64+ and is approved by CAC. The obverse is covered with uniform rose patina with a sky blue arc at the rim. Faint gold covers portions of the reverse which exhibits stunning luster. A few full toned obverse field blemishes by Liberty's chin are the only issue holding back this piece from a higher grade. This is an atttractive example for the advanced collector and available at a reasonable price.
The last featured Morgan is a strictly original 1894-O example that grades full EF45 and offers even gun metal gray patina. There are no blemishes and the only item to note is some verdigris surrounding the 94 digits. Plenty of residual luster is seen under bright light. This is a nice original piece that might just find its way into a Chinese collection......
Thank you for visiting this morning!
To GFRC Chinese friends including Harry, Li Mei and Bosco who are on holiday this week....please don't hesitate to email me with questions or comments about the Daily Blog. I am always responsive and can be reached at "wuximems@hotmail.com."