Gerry's Daily Blog Archives - July 2015
July 31, 2015
The final day of July is upon us and already the Daily Blog is one year old.
Nearly every morning, I start the day at 6:00am with a two hour session writing personal observations, prepared topics and lots of GFRC news. This behavior may seen amazing to some but is consistent with an article just read on BBC News. The article is entitled, "The way we work is changing - and fast" and summarizes how work has profounding changed in the past several years with technology being the primary driver of a restructured "workplace." The author contrasts five "old vs. new" work approaches within the article; the article is offered in the Blog to stimulate more thinking on the subject though I don't agree with all the points.. I suspect this article was written by a Millennial and not a Baby Boomer. For fun, following is a brief summary.
1. Old rule: you commute into an office every day.
--- New rule: work can happen wherever you are, anywhere in the world
2. Old rule: work is 9-to-5.
--- New rule: you're available (when you want to work) 24-7
3. Old rule: work-life balance is about two distinct, separate spheres.
--- New rule: for better or worse, the line between life and work is almost entirely disappearing. ......... If you are passionate about what you do, you will never work a day in your life.
4. Old rule: You have a full-time job with benefits.
--- New rule: You go from project to project (several employers at a time)
5. Old rule: You work for money, to support yourself and your family.
---New rule: Your work because you're "passionate about a movement or cause"
To balance the above summary for us traditional Baby Boomers, following is the top Google link when searching on Millennials;
"More Millennials Living With Family Despite Improved Job Market" by the Pew Research Center and is also worth to read.
My thought on the above articles? Nothing in life is free.....Some Millennials are fortunate to have Baby Boomer parents who worked under the "Old Rules". Could Obamacare be enabling Rule 4?
Financial News
Debt remains an emerging global issue. Several noteworthy financial headlines from Seeking Alpha are in order....
Greek theatre continues....More troubles are popping up for Greek PM Alexis Tsipras after the IMF dropped a bombshell stating Athens' high debt levels and current record of implementing reforms disqualify it from a third bailout. The news raises questions over whether the institution will join the EU's latest financial rescue, and if it will be even possible without the fund's backing. IMF staff will still participate in the bailout negotiations under way, but will not decide whether to agree to a new program for months - potentially into next year.
Then there is Puerto Rico.... investors are bracing for Puerto Rico to miss $58M in bond payments in the coming days, as the U.S. commonwealth attempts to restructure $72B of debt. Saturday's deadline could mark the first skipped payment to bondholders since Governor Alejandro Garcia Padilla deemed the island's debts unsustainable and urged negotiations with creditors. Because Saturday is a weekend, payment can be made Monday.
How about US jobs creation?...General Electric is taking steps to shift some U.S. manufacturing work overseas now that the U.S. Export-Import Bank will be shuttered at least until September, Vice Chairman John Rice told Reuters. GE is looking to work with export credit agencies in other countries to finance potentially $10B worth of projects, with much of the production going to GE plants in those foreign locations.
GFRC News
The Strong Hands 1884-S PCGS MS64 dime lasted one hour on the price list and is on hold. What an incredible coin!
A Constant Contact mailing campaign was issued at 7:00pm yesterday to remind GFRC customer about the upcoming ANA show and my growing consignment business strategy.
I may take it slow today and work on the LSCC Annual Meeting agenda slide deck and also catch up on Open Registry submissions.
Last point....I don't frequent the PCGS message board as there are just too many profound experts concentrated is such a small space. Their expertise on all matters is staggering....case in point is a comment made by one of the experts yesterday with respect to a post about the 20 CAC Gold display on this website. The expert wrote, I'll never understand the logic behind having a collection like that and refusing to spend a couple hundred bucks to get quality imaging done... ugh, so hard to gauge the coins from those images. Thought you might enjoy that comment as it brought a chuckle this morning......
Featured Coins of the Day
Today's featured coins are duplicates from the Strong Hands Collection. This individual is aggressively building a high grade mint state set of San Francisco struck Seated dimes and consigns duplicates with GFRC. Two dimes arrived on Wednesday and were listed yesterday afternoon. The 1884-S PCGS MS64 piece offered bold cartwheel luster and lovely copper/gold patina and last one hour on the price list. The second is an 1869-S NGC MS63 dime with satiny frosty luster; surfaces are entirely blemish free. I'm looking forward to the next round of duplicates from the Strong Hands Collection.....
Thank you for visiting with me this morning....we shall see you bright and early in August!
July 30, 2015
Like most of the United States, southern Maine is experiencing high temperatures and humidity. As a result, Wednesday was spent working and sleeping with an electric fan. Air conditioning in Maine is a low priority as we focus more on wood or oil heating systems this far north. Already the weather forecast indicates cooler temperatures to arrive the middle of next week in parallel with the first week of August.
Have you received the August Coin World issue in shrink wrapping? If so, then please check the supplemental magazine entitled, "Collecting Coins in the Digital Age." An article written by William Gibbs discusses online die variety information and reviews CONECA, VAM and Liberty Seated Dime online information with the latter being my web-book. After years of effort and believing that die variety information should be published online for all to access and enjoy, the web-book has been recognized in the same article along with well established collecting organizations. It has taken eleven or so years, but persistence is a virtue for those who are agents of change.
This morning's web stats review indicates strong download activity for the CAC Gold Gallery...actually, it was the most popular link on the website yesterday with more activity than the For Sale lists. For those who may have not visited yesterday's Blog, below is the link icon to access images of the CAC Gold Seated dimes that will be on display at the Chicago ANA, tables 617/619.

W. David Perkins and I are sharing tables 617/619 and will be offering a spectacular combination of Bust and Liberty Seated inventory for customers and visitors.
A GFRC customer/consignor posted the CAC Gold gallery link on the PCGS message board yesterday....there was a response from individual stating that he would rather see the coins in their holders with gold CAC stickers than just having images. Have you noticed that I've not listed the certifying TPG and the assigned grades of the individual coins? This was done for a reason. Too many people are focused primarily on the grading/certification game rather than appreciating the coins for their beauty and preservation state. When walking through an art museum, do visitors walk around with online value guides by which to assess each painting? Of course not! Visitors will quietly enjoy the artworks for their beauty. Then why is there a fixation on TPG certified grades when it comes to our hobby? I decided to simply provide a gallery of the Gold CAC Seated dimes and let the viewer ponder what the certified grade might be. If someone really wishes to know, then they can take a stroll into the web-book and locate most of the dimes on their variety pages where I list the TPG and grade.
GFRC News
The Strong Hands 1869-S NGC MS63 F-101 and 1884-S PCGS MS64 F-104 consigned dimes arrived yesterday and should be online by end of day. Both are attractive and choice and should be considered by those building advanced Seated dime sets.
I received a consignment inquiry yesterday that includes a Bust half dime (1830 LM13) and quarter (1818 B-7) along with the majority being Liberty Seated dimes. More will be forthcoming as the consignment is finalized.
The two significant Seated half dollar consignments, San Jose Collection Carson City lot and the 27 piece raw lot should be arriving shortly. Please stay tuned on these consignments.
Featured Topic
Here in Maine, it seems that Emergency care clinics are appearing everywhere and becoming more common than McDonalds restaurants. Hospitals and specialty clinics are also aggressively advertising on local news channels along with small for profit "universities." What is going on? Government subsidies may be the answer as health care and education are still experiencing out of control inflation rates. Wednesday's Agora Financial newsletter brought about a startling analysis concerning the out of control growth of United States health care costs. Unfortunately, this newsletter does not have an online version so I will copy and paste a portion of the commentary for Blog readers.
Sometime in the next 20 years, you'll no longer be able to get treatment for chronic disease in the manner in which Americans have become accustomed. We're talking conditions like heart disease, stroke, cancer, diabetes, obesity and arthritis. The money just won't be there. Not if costs continue to rise at their current clip. And Obamacare is only a small part of the story. This is a situation that's been building for decades.
Before we go any further, ponder this: Under normal conditions of capitalist advancement, you get progressively better results for progressively lower cost. But the modern American health care system does not operate under normal conditions of capitalist advancement. It is a government-protected cartel operated for the benefit of insiders.
Which is why health care is on pace to eat up $1 out of every $5 spent in the United States by 2024.
So say the actuaries at the Centers for Medicare and Medicaid Services in a report released yesterday. To be precise, health care spending will account for 19.6% of GDP by 2024. In 2013, it was 17.4%. The percentage had leveled off in the aftermath of the "Great Recession." Now it's poised to jump again. And long before today, it was completely out of whack with the rest of the developed world.
And then there's the cost to the taxpayer: The actuaries' report says by 2024, nearly half of all health care spending will be covered by federal, state or local government. That's up from 43% last year.
In 2011, the Congressional Budget Office projected federal health care spending would double by 2022. "But for better perspective," our executive publisher Addison Wiggin wrote in 2011, "examine how much health care spending comprises the entire federal budget. "From 6.2% of total federal spending in 1970, it became 12.4% by 1990," wrote Addison. "And health care's portion of the federal budget has very nearly doubled again."
With this number too there was a "Great Recession" hangover… but if the Medicare and Medicaid actuaries are right, the trajectory is sure to take off again. By some estimates, health care is already approaching 27% of all federal spending. So the percentage doubles every 20 years or so. "Assuming you're 55 now," said Addison, "health care spending will eat up half the federal budget by the time you're 75. Now, looking at a pie chart of the current federal budget, what categories do you think will have to give way to make room for all that health care spending? "If you haven't already figured it out," said Addison, "that's a trick question. Something in the system is going to break long before health care spending eats up half the federal budget."

Featured Coins of the Day
At the Chicago ANA, GFRC will be featuring early bust dollars from the Gentleman's Collection. I have not spoken much on this topic of late, but do wish to remind those that enjoy and collect early Americana pieces that these lovely dollars will be available. Both the 1795 BB-24 NGC VF25 Flowing Hair and 1797 10x6 Stars NGC EF45 pieces are approved by CAC and are choice original.
Thank you for visiting with me this morning!
July 29, 2015
It is already Wednesday as another busy week moves along. Thank you for stopping by this morning.
Yesterday was a most busy and successful numismatic day. GFRC enjoyed its best order day of the month along with a host of phone calls and substantial progress with the 2015 ANA CAC Gold Liberty Seated dime online display. W. David Perkins called to inform that the www.seateddimevarieties.com website is mentioned in August Coin World supplement, "Collecting coins in the Digital Age," page 11, top right of page. The day ended with an LSSC officers' conference call to solidify the Annual meeting agenda and club auction details.
In between the Tuesday phone calls and meeting, I was able to photograph the CAC Gold Seated dimes and spent the evening processing images. Special attention was paid to these images as I used every photo processing secret learned in the past few years. The results speak for themselves and half of the pieces are online this morning. They can be found at this icon on the GFRC For Sale page or just clicking on the Gold icon here......

A decision was made to post the online images without the PCGS holdered grades. I want Blog readers and GFRC friends to enjoy the coins for their state of preservation without second guessing of technical grades. When building my Liberty Seated dime set back in the 1992 - 2005 timeframe, eye appeal was always an important purchase consideration along with strike and originality. You will note that the 20 CAC coins have full strikes. Which of the first ten is my favorite, you might ask? The 1839-O Small O PCGS MS65 per below.
The balance of the CAC Gold coins will be posted by end of day. Please feel free to post this link on your favorite message board as the Chicago ANA display will be significant for the numismatic industry. No, these coins are not yet for sale. I'm only 59 and still wish to hold on to the core pieces in the Liberty Seated dime date/mintmark set for at least another five years. The entire Seated dime set including these CAC Gold dimes will be on display October 31 and November 1 at the Rochester Numismatic Association show in Rochester, NY. I'm looking forward to attending a two day show and going back to my roots as a collector rather than manning a table and running around a bourse floor trying to cover show expenses and then some.
GFRC News
I spoke with the owner of the large Seated half dollar consignment listed in yesterday's blog and he emailed the contents for announcement. All are raw. This consignment is now in transit. Here comes the contents and FRoR is in order....
1839 ND VF 30; 1840-O WB-104 Large O XF; 1842 WB-101 Sm Date AU; 1845 WB-101 AU; 1845 WB-101 AU; 1846 WB-106 Tall Date AU; 1846-O WB-106 Tall Date VF; 1847-O WB-101 Rev Cud G; 1849 AU58; 1853 A&R XF45; 1855-O WB-102 O/Horiz O XF45; 1856 WB-101 AU; 1856-O WB-102 Double Date AU58; 1858-O WB-105 MPD-004 AU; 1859 Tine 1 Type 2 Rev AU53; 1861 WB-102 RPD "1" AU58; 1862 AU53; 1864 XF45; 1864 Album Toned XF45; 1864-S VF35; 1866-S No Motto F; 1867-S WB-101 V. Sm mintmark AU58; 1868-S AU55; 1872-CC G6; 1874 AU; 1877 AU; 1877-S AU58
If you are considering the partial sale of numismatic holdings, then please pick up the phone and call me at 207-329-9957. Your coins will be well treated with superior photographs, individual descriptions and lots of TLC during the marketing and sales process........
Featured Coins of the Day
Chicago ANA is quickly approaching and building strong cash reserves for new purchases is key. Dealers "make their show" by not only selling but also buying for later sales and servicing customer want lists. Cash is king; therefore I am motivated to sell current items in inventory. So if there is a piece or two of interest, please consider an inquiry email or phone call. Consignors will also be motivated to sell during the summer months.
It has been awhile since I featured World coins in the Blog. GFRC carries a strong inventory and I continue to maintain energy for building up the World coin product line. So let's take a look at two recommendations. The first is an 1824M 1 Real from the Central America Republic. This CAR piece has wonderful sky blue and rose rims on both obverse and reverse. Surfaces do show some wear with the AU grade assignment being accurate. Please remember that CAR designs are popular amoung collectors and the mintages are limited.
The second featured coin is from Chile. This Chile 2 Reales Volcano piece is a one year design type with strictly original surfaces that are covered with gun metal gray patina. The planchet is delaminating on the obverse at 1:00 which adds more character. This is a one year only (1834) design type with obverse volcano. Definitely a piece worth considering in this state of preservation.
July 28, 2015
Good Tuesday morning to Daily Blog visitors!
Maine skies are clear for the time being and I hope the weather holds for the next few hours. Why? Yesterday, I retrieved twenty Gold CAC Seated dimes from the bank vault and will be photographing today. Many of these are already listed in the web-book, but my refined photography process should bring about improved images. Once the new images are completed, a special Gold CAC Gallery will be added to the website in advance of the floor display (tables 617/619) at the Chicago ANA show. If one walks a major show bourse floor, several Gold CAC coins may be found on a good day. Therefore the GFRC display of twenty pieces at Chicago ANA might just capture attention and help customers/consignors recognize my ability to assess Seated coinage in terms of originality, luster and strike. All twenty pieces were made at CAC and not purchased.......
GFRC News
The consignments are coming...... Four consignments are currently in the USPS transfer loop and should start arriving today. Following is a quick summary for those interested in FRoR.
Strong Hands consignor wishes to sell two gorgeous Seated dime duplicates from his incredible mint state San Francisco set. An 1869-S graded NGC MS63 and 1884-S PCGS MS64 F-104 should arrive today. I have seen both pieces and these are choice additions to GFRC inventory.
A new Denver area consignor is shipping an initial lot to GFRC this week. This individual is developing a passion for finer GFRC offerings and decided to prune older items in his collection for incremental buying opportunities. Included in this eight piece consignment are nice mid grade quarters which have not been sent to CAC; 1874 PCGS EF45, 1876-CC PCGS F15, 1878-CC PCGS F12, 1882 PCGS F12. The balance are raw Seated halves and 1818 and 1819 Capped Bust quarters.
The San Jose Collection consignment of Carson City Seated halves previously mentioned in the July 26 blog should arrive in 1 to 2 days. Already four of the eight pieces are under FRoR.
A thirty piece Seated half dollar consignment (no consignment name yet) with all being raw and reported to be in EF and AU grades. I have not received a specific date list and hope to be pleasantly surprised when this consignment arrives.
Also....I spoke with Jim Poston last evening and he is preparing another significant offering that will be delivered at the ANA show. Jim continues to aggressively search out quality Seated dimes, quarter and halves. I'm looking forward to introducing Jim to GFRC customers at the ANA show and at the LSCC annual meeting. The GFRC and GFRC-Coins partnership is blossoming with a larger vision of what might be possible in years to come.
Financial News
There is little news of interest this morning.
It seems that the global central bankers have the world financial situation under control with prosperity for the masses. Oil spot price is under $50 and forecasted to potential drop to $40 while gold is struggling to hold onto the $1100 mark. Hedge funds are reported to be extremely bearish on gold with short contracts at a record level. Soon, the major financial publication will be issuing reports on the fact that gold is dead as an investment and a relic.
Attention is shifting once again to the Federal Reserve and when interest rates will be raised.
Featured Coins
July is typically the low point of the year for numismatic sales. GFRC has enjoyed a reasonable July but I would love to end the month with a few strong sales (cash payments and not lay-a-ways or trades) going into the August ANA show. I also spent part of last evening capturing pricing reductions from a consignor.
First up is an superb gem 1865 dime grade PCGS PF66 from the Silicon Valley Collection. This individual's 1865 PCGS PF64 F-102c dime received all the attention upon arrival but GFRC customers might wish to consider this incredible piece also. Mintage is a meager 500 pieces and PCGS pop report showing (8) at this grade level. This example has to be one of the finer in the PF66 population.
Next is a Seated dime grade rarity that is under appreciated by the numismatic community. 1853 New Orleans dimes can be located in Good through Very Fine but become challenging in problem free EF, very scarce in AU and rare in Mint State. The following example is consigned from an advanced collection (type set) and saw a pricing reduction last evening. This F-101 PCGS AU55 example looks much better in hand than on the images. The F-101 die pair is notorious for having weak obverse strikes with flat head and upper stars. This example is about as well struck as one could expect for the variety and is super choice too. I will be re-imaging this piece, along with the twenty Gold CAC dimes today, to hopefully convince someone to place this special dime in their collection. (New images online!)
July 27, 2015
The last week of July is already upon us and August is just around the corner. This week brings about GFRC preparations for the Chicago ANA show as this is the premier coin show event of the year followed by Winter FUN. Remember that Winter FUN will be in Tampa during early 2016 and not in Orlando.
I spend most of Sunday in a slow pace mode since Maine weather was a combination of fog and rain. Today does not look to be any better but given the nearly perfect summer to date, a few rainy days are welcomed to maintain ground water levels. In rural Raymond, the town is mostly on well water and septic systems so rain is important for replenishing the ground water acquifier. Did you know that we live within 7 miles of the Poland Springs water extraction plant? For those in the Northeast, the Poland Springs brand is omnipresent in stores and we are fortunate to be located on the same water acquifier. Needless to say, our well water is tasty and always refreshing.
GFRC News
There is little to report this morning in terms of new consignments or purchases. I'm waiting for two committed Seated half dollar consignments to arrive and then processed before the ANA show.
At the ANA show, two substantial consignments will be received. The first is the balance of the New Jersey Collection half dime set followed by a large groups of high end Walkers, Mercury dimes and semi key date Seated dimes. If you wish to consign duplicates or a major collection to GFRC, then the ANA show will be the ideal venue for the hand-off. I have a full month between the ANA show and the Gettysburg's National Battlefield show to process and market consignments. After Gettysburg, GFRC will be traveling to Denver, Baltimore and Shanghai to display and sell consigned inventory. The Shanghai trip will focus on high end 20th Century type with Buffalo 5c, Mercury 10c and Walking 50c being the prime focus along with Buffalo $50 gold pieces. GFRC customers will start to see inventory breadth expansion after the ANA show.
Briefly returning back to the 1865 Seated dimes and the very rare F-102c variety/error with medal turn die alignment, a gallery of the four known examples is now available and illustrated on the 1865 F-102c web-book page. This is the beauty of online publishing and collector community sourcing of information. None of this would have been possible prior to publishing the web-book back in 2004. Here is the 1865 F-102c gallery of the four known specimens. Top row left to right are the NGC PF65 Cameo and PCGS PF64 examples; bottom row illustrates the PCGS PF63 and ANACS PF62 examples. The PF62 images were taken at an angle and the only option available.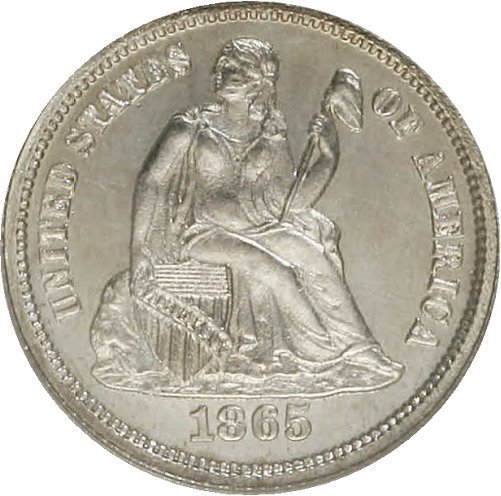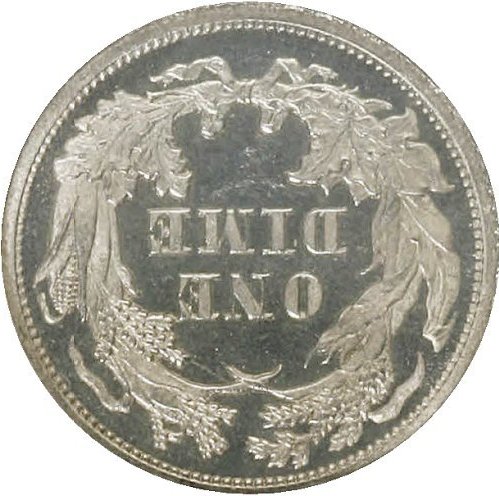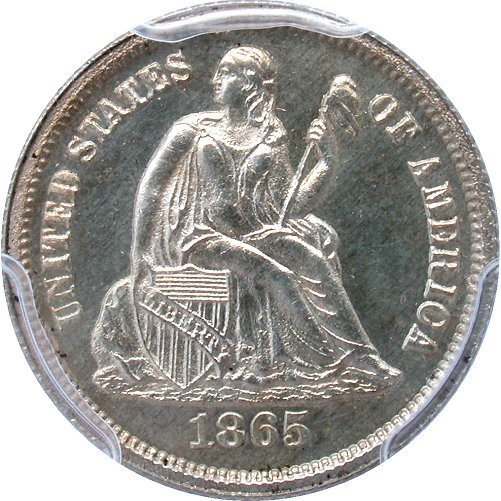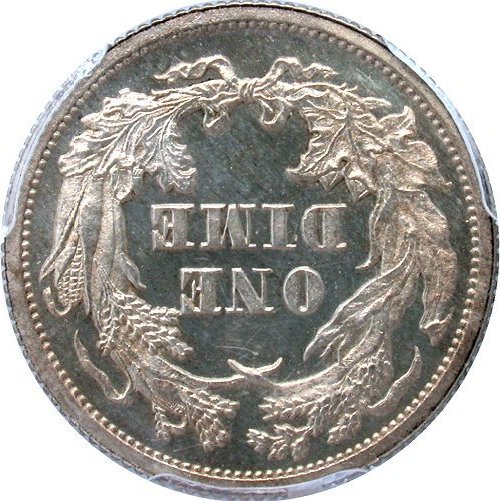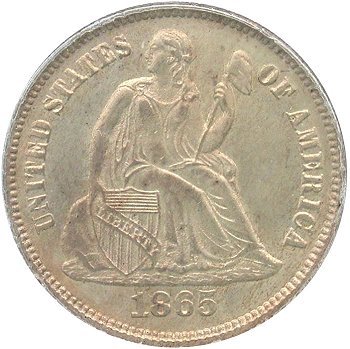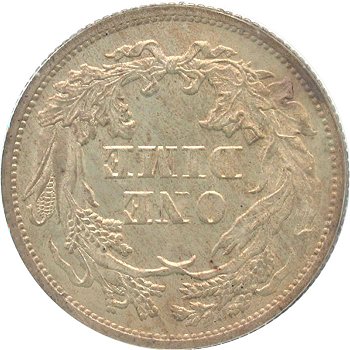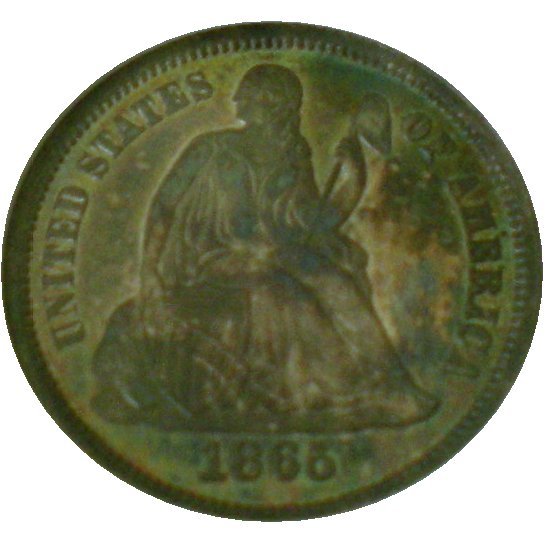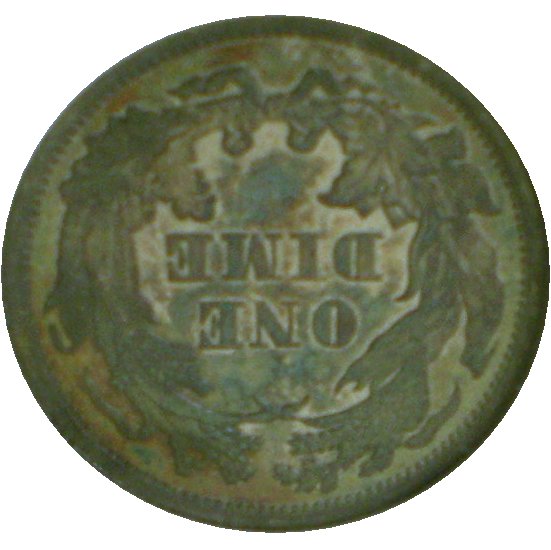 Financial News
The Shanghai Composite has a nasty ride overnight and fell more than 8% on China economic growth concerns (at least this is the story line from BBC News reporting this morning). The entire BBC article is found here.
Seeking Alpha headlines report the Shanghai Composite situation are follows; Chinese stocks fell sharply today, leading the Shanghai Composite to record its largest one-day drop since June 2007, while bringing down European shares and U.S. futures. Weak manufacturing data revealed that profit at the country's industrial firms dropped 0.3% in June from a year earlier, the National Bureau of Statistics said. Chinese investors seem to have also gotten back on the bear train after classifying the government's unprecedented intervention as unsustainable. Shanghai -8.5%.
Greece has not been the top financial headline, but all is not well and deserves ongoing attention; The Athens Stock Exchange will remain closed today, but might reopen on Tuesday after a one-month shutdown. Officials say more time is needed to finalize the details which would allow the market to reopen based on the ECB's opinion. Meanwhile, Greek PM Alexis Tsipras seems to be under pressure due to chaos in the Syriza party. New reports suggest that some members had planned to raid central bank reserves and hack taxpayer accounts during crisis talks to prepare a return to the drachma.
Those companies supporting the oil industry are in for difficult times for the next several years; As oil prices slump for a second time this year, the world's biggest energy groups have shelved $200B of spending on new projects in an urgent round of cost-cutting aimed at protecting investors' dividends, FT reports. Among companies postponing big production plans while they wait for costs to come down are BP (NYSE:BP), Royal Dutch Shell (RDS.A, RDS.B), Chevron (NYSE:CVX), Statoil (NYSE:STO) and Woodside Petroleum (OTCPK:WOPEY). Crude prices have now fallen 20% since hitting five-month highs in early May.
Featured Coins of the Day
We will focus on the quarter denomination today. I've previously listed this 1834 Capped Bust quarter graded PCGS EF45 CAC and will illustrate again as such a beautiful piece and atypical of the surviving population. Throw out the price guides on this one as where could you locate a more eye appealing example as a circulated type coin?
Next is a choice original 1859 Seated quarter residing in early PCGS rattler holder and graded MS63. This piece is the Type I/Type I obverse/reverse design combination and has a fairly low population in Mint State though readily available in circulated grades. Fresh to the price list as of yesterday.
July 26, 2015
Sunday morning arrives and thank you for visiting the Blog. This edition is a tad late (as compared to most days) since attending a lovely Maine outdoor wedding yesterday. Amanda and Andrew's wedding took place on Raymond's Panther Pond with a local band, outstanding food (some prepared in our kitchen) and perfect Maine micro brewery beers. Amanda and my daughter Renee, have been life long close friends since being neighbors when born during 1987. They attended the same primary, middle and high schools together. There is sometime special about rural Maine people and this wedding would have been an excellent marketing event for LL Bean. I commented several times that if a documentary had been made of the wedding and its folksy people, a good portion of Americans would wish to move to our rural town with its five lakes (including Sebago, the second largest Maine lake). An outstanding time was had by all and I slept in a bit this morning.
Before the wedding, I was able to load the balance of Baltimore show Newps and consignments on the price list and felt pleased with the accomplishment. Gone from my desk are the multiple PCGS blue staging boxes with all coins finding their proper home in the larger black slabbed boxes.
GFRC News
While at the wedding, I received an email detailing the initial lot from the San Jose Collection and did a double take. This is a significant GFRC consignment featuring a run of Carson City Seated half dollars from 1870 through 1878. Seated coinage enthusiasts well understand the low mintages and challenge involved with securing problem free Carson City half dollars and now GFRC will be offering all dates. These pieces are already packaged and shipping on Monday. The following list provides a brief description of the San Jose Collection lot. FRoR is in order effective immediately.
1870-CC WB-1 VG8 Original, 1871-CC PCGS15, 1872-CC WB-5 Raw VF30+ light original gray tone, 1873-CC No Arrows WB-1 NGC EF40 (EF45 with AU flash EX: RICHMOND COLLECTION), 1874-CC WB-3 ANACS VG 8+ richly toned original, 1875-CC WB-1 R-6 CH AU, 1876-CC WB-2 ANACS AU50 fully lustrous gold surfaces, 1878-CC WB-1 ANACS VG10 Old White Holder.
Yesterday was also an excellent Seated dime order day including the sale of the 1869-S NGC MS65 example from the Birmingham Collection.
Featured Coin of the Day
Probably one of the most underrated dates in all of Liberty Seated coinage is the 1840 With Drapery quarter. Reported mintage is low at 188,127 pieces and locating problem free original examples is always challenging. Price guides values mostly correspond to the stated mintage with examples selling well above the guides when appearing on the market.
I received the following PCGS VF30 example on consignment and was performing my typical due diligence towards establishing a fair asking price with the consignor. Checking PCGS population reports indicates this example is the ONLY VF30 certified by PCGS. Think about that for a moment. After grading millions of coins since 1986, PCGS has graded only one VF30? It is a bit shocking and indicative of how rare this date actually is. In VF20, the population is four and in EF40, five pieces are holdered. PCGS Price Guide indicates $85 in VF20 and $170 in EF40.......I hope that you've captured my point with this information.
Here is the PCGS VF30 example that reached the price list yesterday. A perfectly original example with medium to dark gray patina that is housed in an old holder. How in the world can you go wrong paying $450 for an original 1840 With Drapery seated quarter with a population of one in VF30? I've seen collectors pay much more and securing much less in value. (On Hold)
July 25, 2015
Good morning and welcome to the last weekend in July. In one week's time, August arrives and preparations will be underway for traveling to Chicago and the nearly week long ANA convention show.
I took a much needed break from numismatics and GFRC on Friday and feel recharged this morning. The operations component of managing a coin business is significant and requires hours of sitting at a computer. Thank goodness for fast and efficient microprocessors to accomplish multiple tasks essentially without paper and pen. However GFRC does not employ a fully automated Point of Sale systems and bar coding therefore inventory tracking, invoicing and shipping are manual functions along with all the image processing tasks that were described on Thursday. As GFRC sales volumes grow, the amount of operation time increases accordingly and it was the long hours (well beyond a traditional 8 work day) that took their toll since returning from the Baltimore show.
GFRC News
I am proud to announce that GFRC has been selected to handle the sale of the New Jersey Collection. This outstanding numismatist has been collecting for decades and is also an early Liberty Seated Collectors Club member and well remembers Kamal Ahwash. As the Baby Boomer's reach post retirement years, the need to carefully plan the sale of cherished coins arrives. The following New Jersey Collection gallery is just a preview of this individual's entire Liberty Seated half dime set that will be offered through GFRC. These five slabbed half dimes were purchase in the 2003-2004 timeframe at major auctions with the 1849-O NGC AU55 being an important high grade rarity, while the 1850-O V-2 Large O is a gem original piece graded NGC AU58. Then there is the 1864-S NGC AU58 purchased from the Heritage Jules Reiver Collection Sale. The balance of the New Jersey Collection half dimes will be made available after the 2015 Chicago ANA show.
I am also pleased to announce that GFRC has been selected to sell duplicates from the San Jose Collection of Seated half dollars. More information will be featured in the Daily Blog next week with anticipated arrival of the first 10 piece lot shortly.
But there is more....I spoke with a potential new client on Thursday concerning a large Seated half dollar consignment of 30 or so raw pieces in EF and AU grades. More information will be provided in the Blog as the details are finalized.
The loading of Baltimore show Newps onto price list is completed along with Jim Poston's most recent consignment and a few selections from my Seated dime reference collection. Most individuals take vacations during July and early August so these Newps are staying on the price list longer than during the fall or winter months. But with the ANA show arriving in less than ten days, I expect that some of these new offerings will be scooped up quickly. Already seven Seated half dollars acquired at Baltimore are on hold.
Finally, I've added a Shanghai coin show to the GFRC show schedule. The Yunzhou Antique Mall in downtown Shanghai is a well known venue for Chinese antiques including jade, traditional porcelain, wooden furniture and coins/currency. The mall is located in a seven story building with the 5th and 6th floors dedicated to coins dealers and the 7th floor used for larger displays or shows. This is not your tradtional bourse floor setup but rather a small local three day 50 booth event in mid November with NGC and PCGS in attendance. There are considerable preparations necessary as I have not done an international show before but do wish to continue expanding GFRC presence in the Chinese market and support Harry Zhang's efforts to grow business in Shanghai.
Featured Coins of the Day
Top quality offerings sometimes sell quickly and other times stay dominant on the price lists. The demand side of the business equation is key and I hope the following two lovely pieces can locate homes in advanced collections. The first is an very well struck and original 1848-O Seated half that has been attributed WB-24 by Bill Bugert. There is a story behind this coin. At first, I believe this piece was a new pairing and shipped to Bill Bugert for attribution help and potential inclusion in his reference collection. Much was learned about the subtle diagnostic employed in BIll's Registers when learning this piece was already listed as WB-24. Please also considered the bold device details for the assigned AU50 grade by PCGS.
Next is a marvelous 1875 San Francisco 20 cent piece (double dime) that has been attributed as BF-2 variety. Yes, 1875-S double dimes are quite common with a high mintage of 1,155,000. What makes this offering so special is the old album gun metal gray and blue toning and pristine surfaces. I really don't think a collector could locate a more original or attractive example for the $295 offer price.
July 24, 2015
Thank you for stopping by this Friday morning as another work week comes to a close.
I've decided to take a much needed mental break and not write a blog this morning.
Please check back tomorrow as a new Seated half dime gallery will be available and my batteries should be sufficiently recharged to return to the normal ramblings on numismatics and global news.
July 23, 2015
Southern Maine will enjoy another beautiful summer day with bright sunlight and comfortable temperatures. Taking another long walk will be a priority as I've been much too inactive this week; mostly sitting behind the laptop processing images and loading GFRC price lists. Ensuring a healthy lifestyle is important as we age.
I received a request from GFRC customer concerning my photography techniques as compared to those used by PCGS and Heritage. Then on Tuesday, Bosco Zhang from Zhaoonline.com (Shanghai) also asked for coin photography advice. Therefore, today's Blog edition is mostly dedicated to the "art" of coin photography. I use the term "art" as there are different techniques for producing quality coins images and these are evolving as digital photography and cameras increase in sophistication. The GFRC process has been around for over ten years and continues to be refined as volume increases and Third Party Grading service holders become more complex to photograph.
But first, let's start off with GFRC News items.......
Nearly all the Baltimore show acquisition are loaded on price list and there are some great new offerings to be considered. Following is a brief gallery of those pieces with strong eye appeal. (The 1856 Seated Half is on Hold)
I've started discussions with my Shanghai agent, Harry Zhang, about the possibitility of taking a booth at the Yunzhou Antique Mall annual coin show on November 13 - 15. This date is a week after the Winter Baltimore show and will bring traveling challenges but the desire to head back to Shanghai for a visit with old friends is growing. Lots of inventory planning and order fulfillment would be necessary to justify this trip as Seated and Bust coinage are not huge sellers in Shanghai.
Given today's perfect photography conditions, I will be imaging the CAC Gold Seated dimes towards having a special Gallery for online display by early next week.
Some of the consigned coins from Jim Poston are heading to eBay today and remain listed on the GFRC price list as a reference; this is opportunity to purchase quality coins at an open auction. Raising working capital prior to the Chicago ANA show is paramount.
Featured Topic of the Day: Coin Photography
Omni present smart phones and tablets contain optics and software to capture adequate photographs but when it comes to high resolution imaging for numismatic retail business, more sophistication equipment, software and techniques are necessary. I'm sure that others believe they are experts on coin photography so today's topic is an explanaton of the techniques employed at GFRC. The goal of this discussion is not to judge who has the best images or which photography process is superior. The GFRC process has been optimized over a period of 13 years and I'm still learning new tricks every week.
To bring about high quality digital coin images, each step in the photography and imaging process must be optimized. If there is a weak link in the chain, then the overall chain strength is diminished. The same applies for digital imaging. I see the following parameters as being absolutely critical towards generating quality photographs;
- Lighting
- Camera settings and operation
- Digital Image processing techniques
Then one has to consider the item to be photographed. Raw coins are much easier to photograph than TPG holdered coins. The latest generation of PCGS and NGC edge view holders are very challenging due to new holder designs with multi angled plastic edges that will reflect light at unexpected angles.....
So let's start with Lighting. Lighting selection is a critical parameter as each lighting source option generates its own color bias during photography along with emphasizing or hiding defects on a coin's surface. I believe that natural sunlight is the best lighting source for generating images that most closely capture a coin's natural colors. Have you tried viewing coins under halogen, incandescent, flourescent and natural lighting? Each lighting source produces different results. Therefore it is critical to decide early on which lighting source best fits your publishing needs. At GFRC, I believe in selling coins with beautiful original toning so natural lighting is my selection.
Next is the Camera. Camera technology continues to evolve with super Mega Pixel options. I don't pay much attention to the latest developments as I use an old camera dating back to a 2002 release; the Nikon CoolPix 995 with bayonent mount. This is a large solid camera that is easily mounted on a stereo microscope with adapter that slides over one of the lens pieces. A "photodome" is also available that mounts on the camera and provides a simple but elegant solution for "setting up" the photography bench where ever bright sunlight is available. The "photodome" solves many problems including the proper focal length between coin and camera, eliminating lighting source shadowing and providing portability. Much more expensive photography benchs are common with multiple lightning sources and a stand mounted camera. These bench's are not portable (they remind me of the old time audiophile component racks) and have their limitations though producing incredible images. PCGS TruView is an example of a sophisticated bench mounted system with special lighting sources.
Camera Operation: To capture the best possible images in terms of natural contrast and colors, my rule of thumb is F-Stop > 7.0 and Shutter Speed at 1/500 sec. Today's blog will not go into F-stop or shutter speed explanations....you can Google those topics at your convenience. The best possible image contrast is captured at the highest F-Stop possible in conjunction with the fastest shutter speed. Too much light exposure eliminates (washes out) the delicate details of a high quality coin.
Image Processing: Everyone has their favorite image processing software so use the one you are most comfortable with. But always work with TIFF formated files when processing images. The JPEG format is ideal for publishing due to its compressed format and small file size but is lousy format for image processing as you suffer considerble loss of delicate image details due to compression at each image processing step. You must use TIFF regardless of large file sizes during image processing. So take that fresh camera image and immediately save as a TIFF and when done, save as a JPEG.
My image processing has the following steps; 1) save as a TIFF, 2) rotational aligment, 3) RGB color compensation for lighting and camera bias, 4) contrast and brightness tuning to exacting match the coin in hand, 5) cropping in the white background, 6) resizing to standard website presentation size and 7) saving from TIFF to JPEG format. Within these seven steps, there are lots of subtle tricks that I have acquired over the years....use lots of experimenting and decide what produces the best results for your needs.
Thank you for visiting today's blog and will be seeing you bright and early tomorrow morning.
July 22, 2015
The recent stretch of high humidity is gone; southern Maine will enjoy several summer days with highs in the upper 70s along with a comfortable breeze. I've not taken daily long walks this week due to the amount of coins needing to be processed and the high humidity. Cooler temps and comfortable dew points will bring some self indulgence starting today.
Thank you for visiting the Blog on this lovely Wednesday. World news is quiet this morning after a quick BBC and NGC News scan revealed nothing of personal interest. Spot gold is trying to hold the $1100 level while silver is priced at $14.70. Now that the Greece debt crisis is no longer a headline topic, one could assume the world is in perfect order and local politics is back in vogue for press coverage as omni present news agencies need sometime to cover.
Another old Shanghai friend recently contacted me and reported a new career with Zhaoonline.com. Zhaoonline is one of the largest private online auction houses in China focused on antique collectibles including numismatic items. Bosco (his English name) previously worked in the Shanghai financial industry and decided to change careers towards his passion....coin collecting. I applaud his bold move as searching for employment in Shanghai is difficult since Chinese university graduates migrate immediately to Shanghai or Beijing as a first step in a professional career.
Have you ever wondered how many students graduates from Chinese universities each year? Probably not but the statistic should help American's appreciate the economic challenges facing the Beijing central government if unrest is to be avoided. This BBC article from July 2014 indicates that 7.26 million students graduated that year. How does this statistic compare with the United States you might ask? The National Center for Education Statistics has a website and indicates that 1.8 million American students received a bachelor's degree during the 2014-2015 school year. Assuming the BBC statistic is for Chinese student attaining bachelor's degree status, then the ratio is 4 Chinese students for each American student. This information along may explain why the world has become so competitive for meaningful employment. This trend will not abate anytime soon either.
Back to the email from Bosco. He was seeking advice on coin photography as he recognized that GFRC images are superior to those of Zhaoonline.com and wondering about the technique for producing higher quality advertising. More on this later as a converse with Bosco over the coming week.
GFRC News
Jim Poston and I chatted for several hours yesterday doing a deal to migrate some of the GFRC lower grade coins to eBay for disposition. During the discussion, we also touched upon the GFRC growth strategy for the next few years and reached consensus that GFRC will continue to expand its quality offerings of better grade Seated coinage and continue to migrate off quality coins via eBay. Within two years, the vision is that Jim will be working full time as the primary GFRC buyer while Gerry handles all the consignment services and operations. More dialogue is necessary but GFRC customers will continue to see this strategy evolving during the balance of 2015. Jim will be attending the Chicago ANA and working the bourse floor as the GFRC buyer since I will be handling table duties throughout the entire show.
Jim's most recent consignment (July 13 Blog gallery) has enjoyed greater than 50% sales in less than 10 days and this is during the traditionally weak month of July. Another Jim Poston express shipment is due next week and I will advise on the contents shortly.
If Blog readers did not catch my earlier announcement, GFRC will be displaying 20 Gold CAC approved Liberty Seated dimes at the Chicago ANA show. No one in the numismatic industry is in a position to bring about this type of display....remember that I made all of the Gold CAC approvals rather than buying in the auction market. I should have a special Gold CAC gallery online by early next week.
Finally, I am starting to take my own advice. Many LSCC friends have approached me and commented on the coin collection life cycle graph posted in the March 31 Daily Blog (featured below again) and agree that selling one's prized collection accumulated over a life time takes careful planning. Yes, there is always the option to consign the entire collection to a leading auction house, surrending control and realizing that many coins will end up in dealer inventories rather than being placed with next generation collectors.
Coin Collection Construction Time = Coin Collection Disposal Time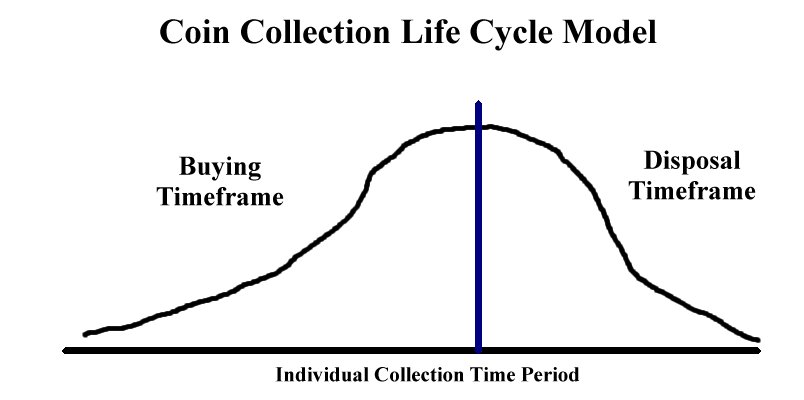 Therefore, I am starting to release some of my 1600 of so Liberty Seated dimes that comprise the core variety reference set and the PCGS/NGC date and mintmark set. Buried in those 1600 pieces are duplicates that I find difficult to part with for various reasons..some are Greer and Ahwash plate coins while others are just too darn nice to sell as nearly impossible to replace in today's market.
Last evening, I loaded three NGC graded Seated dimes onto the price lists. Two of the three are from my collection and are typical of what may be in store for GFRC customers in the coming months and years. The 1872-CC NGC F12 dime is strictly original and a rare occasion when able to locate a difficult Carson City date in the quality that GFRC is becoming known for. The 1878-CC F-104 resides in an NGC VF25 holder and is the Greer plate coin for Greer 101 shattered reverse variety. If you own Brian's Guidebook, then just turn to page 151 and look in the lower right corner at the shattered reverse plate. This is the coin as purchased from Brian in April 1993 after he released the Guidebook. Finally, the third dime is a crusty original 1880 F-103 business strike only piece residing in NGC AU53 holder. This coin also comes from Brian and was purchased during April 1993 also. How often do you see crusty original 1880 dimes? It might take years to locate another with this type of originality.
July 21, 2015
Tuesday morning arrived so quickly after working until 11:00pm last evening. Luckily, progress is being made on the Baltimore Newps as Monday's imaging process went smoothly and a fair number of nice coins reached the price list.
A good friend sent along an email yesterday suggesting that I use the Blog to explain the handling of consignor coins when placed with GFRC. Knowledgeable collectors that are well informed could make improved selling and buying decision when having a thorough understanding of how their coins might be dispositioned and sold at the retail level rather than wholesale through various channels. I thought this to be an excellent idea and am dedicating today's discussion to this topic.
So you might be thinking of consigning coins to secure cash? What is the process and will my coins be well handled and appreciated?
GFRC Consignment Process
Think of consignment as lending a physical asset to an agent to be sold on your behalf. Having full knowledge of the terms and execution details is paramount for feeling comfortable with the process.
The process starts with the physical transfer of coins from the owner to GFRC. The transfer is accomplished by transport company (USPS, Fedex, Brinks) or can occur face to face at major coin show. Evidence of receipt is provided to the owner and coins are immediately fully insured under GFRC business insurance; I use Hugh Woods which is one of the better known carriers among dealers and also covers my good friend W. David Perkins. Evidence of receipt is either a paper receipt or an electronic Consignment spreadsheet.
The initial task is reaching consensus with owners on a pricing strategy. Each consignor has different objectives with some seeking highest possible net return with time being subordinated to that goal. Others may wish to price coins more aggressively to turn into cash quickly for other needs. To faciliate a consensus decision, I ask each individual to suggest their view of retail pricing and also a minimum net return after GFRC commission. These numbers are provided with the physical coin transfer. Upon receipt, my first task is to evaluate each coin and determine its quality, eye appeal, strike characteristics and arrive upon my own retail pricing suggestion. Retail asking prices are then finalized with the owner via phone or email and documented on the Consignment Spreadsheet.
Below is a screen capture of an active GFRC consignment account and spreadsheet.
I use color coding to highlight separate coin transfers and can easily view how coins are aging within GFRC inventory. The sheet also contains previously agreed to pricing figures, individual coin sales status and a net available credit. I place substantial effort into tracking the status of each coin towards a concise reporting vehicle back to consignors.
Once consigned coins are in my hands, I will immediately sticker each with a unique consignor code. In that manner, I can track all coins in inventory for insurance purposes. After adding a code sticker, all coins are photographed and images created. This topic could be the subject of a separate blog as the GFRC photo process has been refined over a ten year period. When consignor coins are imaged, the goal is to capture in hand natural coin and strike characteristics. To accomplish, all coins are photographed under natural sunlight.
Ok, let's jump ahead to having a full suite of images for a consignor's coins. How are a consigned coins marketed and sold? It depends on the size of the consignment. If the consignment is substantial in quality and quantity, then a consignor is provided his own Gallery (Client Galley on GFRC website) and the collection is assigned a name for marketing purposes. Small consignments, typical less than 5-7 coins are posted directly to the respective price lists but may be featured in one of the Daily Blog as a mini gallery to announce their arrival and availability. Major consignments are announced in the Daily Blog several times to allow customers the opportunity to make s First Right of Refusal (FRoR) requests. Consignments are initially listed at the individual coin level in the Blog followed by a full image Gallery when available. FRoRs requests immediately start to arrive during this process and you would be surprised at the number of coins that get sold before reaching the price list.....
The next step in the process is loading consignor coins onto the price lists. Descriptions are carefully written to explains in hand and bright light viewing characteristics along with other important attributes that customers wish to know about. GFRC customers have been trained to be selective so unlisted marks or problems are the #1 reason for returns and no one wants returns. So I try to be as accurate as possible when writing descriptions.
Consigned coins are featured at major national shows such as FUN, Baltimore and ANA and other smaller shows with a history of strong early type buyers. All consigned coin are fully insured while being transported to/from a show and also while on the bourse floor and even while in storage in a bank vault. Each coin sells at its own pace; some sell quickly while others may take time depending on quality, eye appeal and asking price. For the lower priced or problematic coins at don't find a buyer in a reasonable amount of time, then consignors are offered an option to use GFRC-Coins on eBay as an alternative with sales results fully tracked on their consignment sheets.
If for whatever reason the consignors is not happy with GFRC service or results, they can ask for the return of coins with shipment fully insured with the consignor only paying the shipping charges.
GFRC News
A Liberty Seated quarter consignment arrived on Monday from a consignor who is trying out GFRC service for the first time. This consignment contains some nice collector coins and several better dates as follows....
1839 PCGS UNC Details with bold coloring, 1840 WD PCGS VF30 perfectly original gray; 1840 WD PCGS F15 light gray; 1851-O PCGS VF25 original with old album tone; 1859 PCGS MS63 Rattler holder, original light gray patina. These coins are already photographed and pricing consensus is the next step with owner.
Several coins made it to the price list yesterday with some really nice new offerings. How about an 1876 double dime graded PCGS EF45 and this incredible 1834 Capped Bust quarter residing in PCGS EF45 holder and approved by CAC. Eye appeal is magnificent....this piece would fit nicely into a date set or type set.
July 20, 2015
Monday morning arrives and I'm staring at the laptop with an empty mind as to today's Blog content. But regardless, thank you for visiting and sharing these ramblings. We do wrap up with some really nice GFRC Newps so reading through today's Blog might be worth the effort.....
Sunday was not one of my better days for imaging a large group of coins. Maine weather was unsettled due to high humidity with showers, fast moving cloud cover and occassional bright sun. With some tenacity, about 15 pieces were photographed. Then the image processing occured only to lose power several times due to close by lightning strikes. So a small subset of new offerings made it to the price list but the process was a challenge.
Today's weather should be an improvement and hopefully, the balance of new coins can be photographed.
Each morning before writing the Blog, I take a quick stroll through BBC News along with an even quicker pass through NBC News to help formulate that day's blog comments. On this morning's BBC site, there is a report entitled, "The criminal 'trend' about stealing Confederate flags that isn't really happening". Some black individuals have taken it upon themselves to steal Confederate flags from homes that have them on display and then post the event on YouTube. This story was not seen on the NBC News site but I did locate a gem report on NBC entitled "Your Phone Knows If You're Depressed". Here is an excerpt....
Your phone may be able to tell if you're depressed even better than a self-assessment of your own depression can, according to a small new study published in the Journal of Medical Internet Research.
"We found that the more time people spend on their phones, the more likely they are to be more depressed," says David Mohr, one of the authors of the study and director of the Center for Behavioral Intervention Technologies at Northwestern University Feinberg School of Medicine. The researchers also found that spending lots of time at home was linked to depression—and that phone data like this could predict with 87% accuracy whether someone had symptoms of depression.
Firstly, I did not realize that there was a Journal of Medical Internet Research and secondly, the Millennial generation must be deeply depressed. Add in that I work from home so I must also be a person suffering from depression.....amazing stuff on a Monday morning.
Sorry for the ramblings....this is what happens when I lack a prepared topic for a Daily Blog. But then checking this morning's Seeking Alpha financial headlines might be cause for mild depression as gold prices are dropping quickly based on China "weak" report on gold reserves holdings. We discussed that topic in yesterday's blog. Read on....
Financial News
Gold prices continued falling today, hitting a more than five-year low early in the session, amid growing expectations for a U.S. interest rate increase that has boosted the dollar. Over the weekend, China also disclosed an update on its gold reserves for the first time since 2009 that was far lower than analysts expected. After plunging 4.2% to $1,086.18 an ounce, bullion for immediate delivery is now trading down 1.7% at $1112.20.
BRICS global influence is growing while the US is enjoying political drama. Entangled in Greek politics, few European policymakers had time or interest to pay attention to the recent summit talks between the leaders of Brazil, Russia, India, China and South Africa, collectively known as the BRICS. The hotly discussed New Development Bank was reported to have just held its first board meeting and will soon be lending internationally. The BRICS Bank will start off with capital of $50B which will be hiked to $100B in two years. Meanwhile, the combined economic output of the BRICS last year almost matched America's GDP. Back in 2007, the U.S. economy was double that of the five nations.
GFRC News
The rate of new consignor requests is increasing as last week alone brought two more inquires and both were from well known advanced collectors.
Some quality Newps did manage to reach the price list and following is a small gallery illustrating these. Please note the 1872-CC dime that is tacked on to the end of the gallery. This Carson City dime resides in an NGC F12 holder and is perfectly original.
July 19, 2015
Welcome to another Blog edition on this lovely Sunday Maine morning. Summer marches right along as August is less than two weeks away and the Chicago ANA well be held in three weeks. I hope your summer vacation plans are in full force or have been a pleasant experience. At GFRC, you might say that I am on a perpetual vacation, building a hobby business that is a joy to execute and key part of my psyche or soul.
I was mentally exhausted by Saturday evening after a long Friday followed by yesterday's focus on administrative work and contacting customers with FRoR status. By 9:00pm, I was in bed and awoke this morning at 4:30am. There are always multiple items in my backlog of "things to do" and the quiet house and early morning hours allowed for a peaceful interval to update the Bust Half Dollar price list with cross links into Dave Cinquina's Early Half Dollar Information Site. I've decided to sponsor Dave's efforts and have non exclusive rights to link each GFRC Bust half offering to the respective variety page on Dave's website. This approach is consistent with linkage of Liberty Seated dime varieties between the GFRC price list and my own web-book. In the future, I hope to provide more linkage as the Eric Newman numismatic portal project matures.
GFRC News
As indicated in the July 17 blog, the Baltimore show resulted in numerous quality acquisitions. Sitting on my office desk are nearly 50 new quality coins with three consignments due to arrive this week. I recognize that collectors have multiple dealers from which to secure prized coins for their hobby pursuits. My goal is to offer the broadest range of strictly original Liberty Seated coinage in all denominations coupled with the collector to collector trading system via well faciliated consignments.
Today's primary activity is to photograph the 50 or so new pieces and start the image processing later in the day.
All individuals who sent FRoR emails have been contacted and given an assessment of their position on requested coins. Once I have images at hand, you will be again contacted with the images and asking prices. Those coins without FRoR will be heading to the price list starting on Tuesday at the latest.
GFRC Blog Feedback
One of my close friends sent along a short but insightful response to my pre Baltimore show Bank of America cash withdrawal commentary. He wrote....I saw your commentary on banking and cash. It seems clear that money is turning into a virtual thing that exists only as electrons. It's no longer even as tangible as a bank note!!!! Same goes for debt. That seems potentially dangerous and the beginning of a trip off into uncharted territory. My email response was phrased as....Yes, money will be nothing but electrons as you point out. It is kind of scary as one is entrusting a life's fortune to an electronic system controlled by government and banks. All the technology advances have lulled us to sleep like the frog in the pan of warm water. Those of us who see risk are considered to be extreme or ancient thinkers these days.
It is interesting that I choose the word "lull" in the response back to my friend. Checking Google for definitions brought the following which is so consistent with the point being made. Just food for thought....
- cause (someone) to feel deceptively secure or confident.... "the rarity of earthquakes there has lulled people into a false sense of security"
- allay (a person's doubts, fears, or suspicions), typically by deception.
Featured Topic
While at the Baltimore show, China ended a six year silence on its accumulation of gold reserves. China's central bank announced that gold reserves increased to 1,658 tonnes (53.31m fine troy ounces) as of the end of June 2015. In April 2009, reserves were 1,054 tonnes. More details can be found at this Financial Times online article. Spot gold price is now sitting at $1133 per ounce while silver also quietly dropped to $14.90 leading to a gold/silver ratio of 76.
As with most information announced by the Beijing Central Government, one has to view the number was caution and the near certainty that the number is manipulated for political goals. China has three accounts where they keep gold -- the People's Bank of China, PBOC; the State Administration of Foreign Exchange, SAFE; and the China Investment Corp., CIC. On July 17th, China announced the reserves held at the PBOC to the International Monetary Fund (IMF). As we have discussed in earlier blogs, China is attempting to have the Yuan become part of the IMF's global currency reserves. China can still hide a portion of its gold holdings in the SAFE and CIC until there is a time to announce and leverage those holdings.
The following graph from GoldSilver.com tells the true story about the amount of gold residing in China. Note that the estimated total China gold holdings at the end of 2013 was 7,000 tonnes (right axis label) while the "official" China announced reserve was ~1,000 tonnes. As of Friday, the "official" number increased to 1,658 tonnes.....really?
Gold holdings and spot prices are one of the most manipulated numbers on the planet......but gold is not money and is a relic, correct?
My personal conclusion? Precious metals are equivalent to the canary in the coal mine. Central bankers and governments wish to maintain gold and silver spot prices at "quiet" levels while driving global prosperity through debt creation. In parallel, tangible money is slowly being removed from our society leaving individuals dependent on electronic money. Electronic money aka "fiat monies" are only viable if guaranteed by a stable and benevolent government. If all goes well, then prosperity is maintained but if the system develops cracks...then I wish to have financial insurance in the form of physical precious metals to protect myself and family.

Featured Coins of the Day
Featured coins will be returning on Monday after Baltimore show Newps are photographed and available. There will be many new exciting offerings so please check back tomorrow.
As always...thank you for visiting with me this morning.
July 18, 2015
Greetings from Maine and pleased to be home after a grueling 12 hours drive. I left Baltimore at 12:00 noon and was optimistic on being able to avoid some of the New Jersey, New York and Connecticut highway congestion. This might have been possible for the March or November Whitman shows but definitely not for the summer event. Attempting to get through the eastern highway corridor on a July Friday afternoon turned out to be challenging with I-84 through Connecticut being the worst followed by a one hour delay on I-290 Worcester at 10:00pm due to highway repairs. Luckily, I had a Grateful Dead three disc concert on the disc changer with Going Down the Road and Feeling Bad being comfort for my tired mind.
So I'm physically present at the keyboard this morning but not running on all cylinders. Today's Blog will be brief as a result. Sorry but no in depth topic or financial stuff...... a double scotch and sleep were the priorities upon arriving home.
Baltimore Show Day 2 Report.
The day started with an LSCC strategy breakfast with Len Augsburger that immediately moved into the LSCC regional meeting. Our session was well attended for the summer Baltimore show with approximately 25 people. Len explained the Heritage system for auction lot cataloging and description writing followed by my presentation on the 1865 F-102c proof medal turn pieces brought to the meeting. There was a lively discussion as to whether the F-102c was a die state or error, as one attendee insisted this special anomaly be called.
The bourse opened at 10:00am to the general public and attendance was reasonable. I spoke with several dealers and they reported having a decent show on Thursday due to the smaller show footprint (the program directory indicated about 220 tables with many being currency and ancient coin folks)......some collectors were out in force spending and had fewer options for sourcing their coins. Based on my own judgment and feedback from others, GFRC will be taking a table at the 2016 Summer Whitman show. The forthcoming challenge is to locate staff that will allow me to walk the floor for buying while still being able to support retail customers. There is one year to consider alternatives as GFRC continues to evolve.
GFRC News
Customer response and the amount of FRoRs were well beyond my wildest imagination and I thank each of you for taking the time to reserve coins listed in the July 17 blog. Some coins received multiple requests and there are also Want List considerations to go through. It will take me the better part of today to sort through the emails and Want Lists before responding to each FRoR. So please have patience with me as I work through this unexpect amount of reservations and organize the offering of the Baltimore purchases.
Rain and clouds are forecasted for today while Sunday will bring back the sun. Therefore Newps photography will be completed tomorrow and I should be in a position by Monday afternoon to start sending images on a one on one basis and then illustrating the full scope of Baltimore Newps in the Tuesday Blog.
Several more consignments will also be arriving early next week; these are new consignors who are excited about trying out GFRC services.
And with that my dear friends, customers and consignors, I must take a shower and grab a second cup of coffee to start the day.
Thank you for visiting the Blog each day and sharing my numismatic journey.
July 17, 2015
Baltimore Show Report Day 1....... Being an dealer without a bourse floor table does have its advantages as I learned today. When working behind a table, one is primarily focused on displaying inventory, hosting customers and wholesale buying that walks up to the table. Displaying inventory on an active bourse floor is paramount for generating exposure for the business and consignor coins. Conversely, being free to walk the floor searching out top quality coins brings me back to collector roots. The experience acquired as a collector of top quality Seated dimes easily translates into other Seated and Bust denominations with the buying scope being much broader as a dealer.
I'm pleased to report that Thursday was the best single buying day since starting the GFRC business. The first deal of the day was done sitting outside the bourse waiting for early bird entry at 10:00am followed by a substantial 13 piece Seated half dollar deal with a Baltimore dealer plus other coins. This individual had fresh Seated half dollar and early commemorative sets and I just happened to be standing at his table while he was loading the cases. Given my recent efforts to enhance GFRC Seated half dollar inventory, pure luck was at hand both from timing and quality perspective. Immediately after this purchase, I was approached by an LSCC member who is known for his eye appealing coins. We took a walk to the meeting room area and another deal was done. The day closed out with coffee meeting with another long time LSCC friend who decided to use GFRC to handle the disbursement of his Seated half dime and dime sets. I walked away from that meeting with five quality Seated half dimes to prime the pump.
Otherwise, how was the Baltimore show? The bourse was quiet at the 10:00am early bird opening time and picked up steam during earlier afternoon with a healthy "buzz" until about 4:00pm. By 5:00pm, many dealers were closing up. Remember that the bourse only opened at 12:00 for general public.
Following are the 13 +2 Seated half dollar Newps....none of the 13 pieces have been sent to CAC as an FYI.
1840 Rev 1839 WB-104 PCGS AU55 CAC and so choice; 1840-O WB-102 PCGS AU53 light gray; 1842-O Rev 1842 PCGS 45 choice gray; 1844-O PCGS AU50 frosty white; 1845-O PCGS EF45 light gray/gold; 1848-O PCGS AU50 choice light gray; 1852-O PCGS VF20 and so rare; 1856 PCGS EF45 eye candy; 1859-S PCGS EF45 light gray; 1863 PCGS EF40 light gray; 1864-S PCGS EF45 choice light gray; 1865-S PCGS EF45 with triple reverse cuds and choice original; 1866 Motto WB-103 PCGS EF40 CAC; 1870 PCGS AU55 creamy white luster; 1877-CC PCGS EF45 choice original gray.
Other important Newps include the following....
10c: 1835 JR-4 PCGS VF35 CAC even gray, 1836 JR-2 PCGS AU55 David J Davis Collection; 1850 NGC EF40 choice gray; 1872-CC NGC F12 and strictly original; 1875-CC IW F-112a PCGS AU55 and choice....please note that I have rarely stocked any 1871 through 1874 Carson City dimes since unable to locate strictly original examples. Most holdered examples do not meet my originality standard until seeing this 1872-CC today.
20c: 1876 PCGS EF45 choice original
25c: 1834 B-1 PCGS EF45 CAC and a pure gem with gun metal gray/blue; 1838 PCGS EF45 CAC choice original
50c: 1819/8 Lg 9 PCGS VF30 CAC eye candy; 1829 PCGS EF45 choice gray
Then the initial Seated half dime consignment....we are still considering a name selection for collection/consignor.
1848 V-7 ANACS AU50 OWH and choice; 1849-O NGC AU55 frosty white and rare; 1850-O NGC AU58 choice frosty gray; 1857 NGC AU58; 1864-S NGC AU58 Jules Reiver Collection
Friday brings the LSCC regional meeting at 9:00am Room 301 and I will have 2/4 known 1865 Proof F-102c dimes at the meeting along with a normal F-102 graded PCGS PF64 CAC. I will be returning back to Maine during early afternoon. Talk about a short Baltimore stay but most fruitful.
July 16, 2015
Greetings from Baltimore! The 9 hour drive was pleasantly uneventful with no congestion other than the I-495 corridor. After checking in at the Days Inn, the Stack's auction lot preview was the next order of business. Whitman moved the summer show to the familiar Hall A location since there is a large Firehouse convention in the other convention building. Hall A was deserted when arriving at 4:00pm while the Stack's auction lot preview had walk up open seating.
I was pleased by the quality of coins in the the Stack's auction. The Douglas Kaselitz collection, in particular, offered impressive early silver type with massive eye appeal. The balance of the Stack's lots were a typical mixture with the TPG grading being mostly accurate. Eye appeal was hit or miss and this is why lot previewing is always recommended before bidding. Buying coins at auction via internet may be straightforward but the trade off is relying on auction house supplied images and descriptions. Using a trusted dealer for lot previewing is always recommended.
GFRC News
Unfortunately, the balance of the Jim Poston Seated halves have not reached the price list yet. Tuesday ended up being consumed with TPG submission preparations and a long visit to the bank vault plus packaging and shipping orders.
I will have the 1865 F-102c PCGS PF64 and PCGS PF63 examples with me at Friday morning LSCC meeting. Please plan to attend.
The Chicago ANA show is approaching quickly with W. David Perkins and I sharing tables 617/619 in the Ultra Premium section. To commemorate this event, I have decided to display twenty CAC Gold Liberty Seated dimes from my personal collection in one of the cases. Typically dealers are proud to have one or two CAC Gold coins in inventory therefore a display of twenty pieces will be noteworthy and lots of fun too.... Some of the highlights include 1839-O PCGS MS65 Gold, 1841-O Large O - Transitional Closed Bud - PCGS AU55 Gold, 1845-O Pittman PCGS AU55 Gold, 1863-S PCGS MS64 Gold, 1867-S PCGS MS64 Gold and 1888 PCGS MS66 Gold. At the moment, my personal collection contains twenty-two CAC Gold pieces and I believe this validates my ability to recognize quality coins in terms of strike, originality and eye appeal.
Several new consignments are in transit and will be retrieved this coming Monday and then announced next week.
Financial News
Western media is covering the Iran nuclear deal as a significant breakthrough. There are those that believe the deal will be the start of another Middle East arms race since Iran will have funding to grow its military capabilities and to further influence instability in the long standing Sunni-Shia conflict. Investing in United States defense industry companies may be prudent as weapons sales to Middle East countries will be on the increase.
From Seeking Alpha, there are a few headlines worth reading this morning. The first concerns China and its volalite stock market.
Although China's economic expansion beat analysts' forecasts in the second quarter, the country's debt levels have increased at an even faster pace. Outstanding loans for companies and households stood at a record 207% of GDP at the end of June, up from 125% in 2008, data compiled by Bloomberg showed. "If you look at the Chinese financial system, shadow banking, amount of leverage...how desperately they worked to keep the stock market up. It looks worse to me than 2007 in the U.S," Pershing Square's Bill Ackman said, dubbing China a far bigger global threat than Greece. Hedge fund managers Paul Singer and Jeffrey Gundlach have also weighed in on the crash, calling it "way bigger than subprime" and "far too volatile to invest in."
Moves are underway to allow Puerto Rico entities to declare bankruptcy.....U.S. senators have introduced a bill to allow Puerto Rico's public entities to file for bankruptcy under federal laws as the commonwealth starts negotiations with creditors to restructure its $72B in debt. "What we are proposing is that those public corporations and municipalities in Puerto Rico be given the same access to Chapter 9 as any similar entities in the U.S.," Senator Richard Blumenthal declared.
Featured Coins of the Day
The summer months typically see a slow down in hobby activities with July being the sales low point. GFRC is no different with quality coins starting to age in inventory. I spoke with the Birmingham Collection consignor last evening and he is willing to entertain offers and wishes to continue liquidating the collection for other priorities. Following are some of the remaining Birmingham Collection pieces for your review. If you've been considering the potential purchase of a quality Liberty Seated dime from Birmingham, then please don't hesitate to contact me concerning terms or an offer price or both.....this is an excellent time to secure quality coins at a discounted price.
Birmingham Collection - Liberty Seated Dimes