Gerry's Daily Blog Archives - November 2015
November 30, 2015
Welcome to Cyber Monday as we close out November 2015. The current Raymond temperature is 17F but there is no snow in the forecast for the coming week. Each day between now and the end of month (our Florida migration) without snow is great news. There is much to discuss in this morning's Blog, therefore limiting the preamble.
GFRC News
GFRC and GFRC-Coins will be working closely together starting Tuesday to increase our marketing and overall presence in the numismatic industry. Once collectors learn about our passion for providing quality coins at fair prices coupled with educational mission, they become loyal customers and consignors. My 2016 goal is to grow the GFRC percentage of sales resulting from the "collector to collector online trading desk" whereby individual collectors become consignors and use GFRC as their primary numismatic dealer for selling duplicates and then using those monies for upgrading collections by buying quality GFRC coins.
During the Thanksgiving weekend, Google Analytics was installed on the www.seateddimevarieties.com website. This software is providing excellent insight into customer demographics, locations and website usage patterns. Initial Analystics results confirmed that China is already GFRC's second largest customer base as measured by website activities. One of the next steps is expanding GFRC awareness by also listing inventory on eBay. Jim Poston and I have developed a strategy for which items, in the core GFRC inventory, to be offered on eBay. This process starts in ernest on Tuesday as the GFRC-Coins storefront is populated with a broad range of GFRC coins including many consigned pieces. There are other numismatic storefronts on eBay but GFRC plans to stand out due to quality offerings. Stay tuned as this marketing initiative is implemented and ramped.
Some of the Hamden Collection consignments pieces were loaded on the price list late Sunday and are available for consideration. Today's primary task is packing and shipping accumulated orders from Thanksgiving week.
The owner of the 1859 Transitional Liberty Seated dime certified as PCGS VF Details has agreed to consign and ship the coin to GFRC in the coming week. This is an opportunity for a GFRC customer to acquire a rare pattern coin typically selling in the five figures at a more reasonable price given the circulated condition and light cleaning.
Financial News
Seeking Alpha provides important international headlines that deserve attention this morning. After months of discussing the Chinese Yuan reaching world reserve currency status, the IMF is ready to grant this honor in recognition of China rapid ascension as a global economic power.
The International Monetary Fund is expected to grant China's yuan reserve currency status at an executive board meeting today, in a decision that will elevate the renminbi and China's influence in the global economy. The group's benchmark currency basket, also known as special drawing rights, so far only contains the dollar, euro, pound and yen. While the decision is likely to be announced later today, the yuan will not officially become a reserve currency until September 2016.
The Euro continues its slow erosion. The euro is closing out November with a major monthly decline as economists unanimously forecast the ECB will unveil additional stimulus this week. The currency has weakened 3.8% this month, its biggest loss since a 4.2% decline in March, when the central bank embarked on a €1.1T asset-purchase program. In contrast, the U.S. Federal Reserve is widely expected to hike interest rates at its mid-December policy meeting, sending up the dollar index to 100.23, its highest level since mid-March. Euro -0.2% to 1.0568.
This is positive news for American citizens. The Federal Reserve Board is also considering a proposal to curb its emergency lending powers, a change demanded by Congress following the central bank's controversial decision to support "too big to fail" banks in 2008. An open central bank meeting today will propose Dodd-Frank provisions that require any future emergency lending be only "broad-based," and not tailored to specific firms.
Featured Coin of the Day
This 1838 reeded edge half dollar is both attractive and choice and should please the selective collector. Purchased out of a type set that was well above average in quality. This example offers original surfaces covered with light pastel toning. Obverse has a rose center that slowly transitions to blue at the rim while the reverse is best described as gun metal blue but with a pastel texture. Surfaces are blemish free.
November 29, 2015
Sunday morning arrives and I can't believe it is time to write another Blog. Thank you for checking in once again.
Maine temperatures are back to seasonal levels. The wood stove burned a full load throughout the night as this morning's temperature is a brisk 22F. Yesterday's highlight was taking Natsumi for her first Christmas tree selection and cutting at local farm. She is an intense little girl and studied the entire process from cutting, through hauling and finally, placement in my Tacoma pickup. I can't remember the last time that the annual Christmas tree selection was done without snow on the ground.....
GFRC News
The Rochester NY and Washington State consignments are posted to their respective price lists. It was fun working with Mexican 8 Reales/1 Peso silver coins and leafing through the thick Krause World Coin books as reference for the individual listings. Speaking of handling World Coins, a GFRC consignor is reducing his numismatic library and offered the important Calberto Ocho Reales two volume edition from 1970 in good condition, number 1110 of 1500. I purchased this offering immediately.
The Hamden Collection consignment was just posted to the Client Gallery. I have known this individual since the mid 1990s as we became friends through eBay. During the mid 1990s, I was actively building my Liberty Seated dime set and would quickly sell duplicates on eBay. The Hamden collector is not a fan of slabbed coins, rather enjoying collecting in the traditional way....placing raw coins in Dansco albums. He is a very selective collector and would carefully acquire the finest possible AU and low mint state type coins with strong eye appeal. Using this approach, he assembled his latest project, an impressive type set with many coins purchased from GFRC in the past two year. The set was broken up recently and partially purchased by GFRC with the balance consigned at the Fall Baltimore show. Following are a portion of the the consigned pieces. With luck most of these pieces will be loaded to price list by Monday. FRoR is in order today and do carefully inspect these lovely coins.
The Hamden Collection Consignment - Part I
United States Type Coins
Featured Coins of the Day
I would like to revisit the Pickering Creek Consignment this morning and highlight two of the many outstanding Liberty Seated dimes in this offering. To say that the Pickering Creek owner is an advanced collector is an understatement.....maybe like saying that the Pope is Catholic. Hope I made my point here.... The Pickering Creek coins are superior pieces that GFRC customers might consider as long term acquisitions and centerpieces of an advanced type set or Liberty Seated dime date set. I have been tasked to sell this wonderful dimes and if successful, I'm sure there will be more pieces to be consigned in the future.
Let's start with the 1840-O PCGS MS62 CAC - F-106a Medium O, Late Die State - ex. Bob Simpson Collection
Last auction appearance; Heritage September 26, 2010 and realized $10,925. After reviewing Heritage Auction archives, I am convinced that this is the finest F-106a Medium O extant. A true mint state example with lovely peripheral toning. What else is there to say? Currently offered by GFRC at $11,000 which in light of the 2010 auction result is a fair price for this variety gem.
Moving towards the end of the Seated dime series, we find the 1889-S PCGS MS64 - F-103 Small S, Proof Like, R5 Rarity
I really like this 1889-S example and made this point clear in the GFRC listing. Surfaces are covered with a transparent rose/gray patina along with a pretty deep blue ring at the obverse and reverse rims that is typical of old time toning. The luster is consistent with the MS64 grade and radiates through the transparent toning and provides a satiny glow under bright light. There are no blemishes whatsoever. This is probably the finest F-103 example extant too! Offered at $2500.
Thank you for visiting with me on this lovely Sunday morning. I will see you bright and early on Monday morning. Have a great day!
November 28, 2015
Welcome to the Daily Blog on Small Business Saturday.
Friday saw temperatures climbing into the high 50s in southern Maine and made for an excellent outdoor country day. Morning was spent updating the Client Gallery with Washington State Liberty Head $10 gold pieces and an attractive run of Canadian half dimes. I just could not sit indoors on such a warm late November day and wrapped up leaf blowing for the year. The Fortins finished the day with a huge bonfire to celebrate Renee and Mike's engagement. At sunset, I lit a 10'x10'x8' brush pile that accumulates each year. This year, the brush was especially dry and immediately turned into a huge fireball that was a tad frightening for a few minutes. After darkness set in, we enjoyed a crackling fire, broke out the champagne and toasted the engagement of our only daughter.
GFRC News
GFRC order shipment notice....I am holding all customer shipments until Monday for the best possible safe passage via USPS. During holidays, USPS will use part time workers who may not be as well versed as full time employees on procedures. Getting your purchased coins to you without transfer issues is paramount to me. Therefore, I have decided to ship all Thanksgiving week accumulated orders this coming Monday.
Black Friday sales were strong with Seated half dollars continuing to lead GFRC product line sales. Seated halves had gone through a several month quiet period but are now selling well again. Friday started with a customer phone call seeking better dates Seated halves in VF grade followed by multiple orders rolling in during early afternoon. Later evening saw an email from a Baltimore area collector offering a nice eight piece type coin lot for trade against GFRC inventory. If you have numismatic properties including duplicate Seated halves, then this may be the perfect time to consider consigning your coins to GFRC just in time for FUN show display and sales event.
Speaking of the FUN show, GFRC and W. David Perkins will once again be teaming up to offer the largest selection of quality Draped Bust, Capped Bust and Liberty Seated coinage at this early January show. Our booth configuration will be consistent with ANA and Baltimore shows and also provides an excellent meeting place for JRCS and LSCC club members. David's specialty is the dollar denomination while Gerry Fortin handles half dimes through half dollars. Our partnership is synergistic given the complimentary product lines, common IBM management background and finally, our roles as JRCS and LSCC officers. We are passionate on originality as each individual spent years as advanced collectors.
GFRC would be honored to prepare your consigned coins for display and sale at the FUN show. FUN is on par with the ANA's World's Fair of Money event and attracts a huge amount of collectors. Please contact me to discuss your holdings and disbursement goals. I promise to work closely with every consignor towards marketing their collections in the Client Gallery and the Daily Blog before the FUN show to maximize overall marketing and numismatic industry awareness of the sale. Consignors are encouraged to write Guest Commentaries for the Blog or their personal set descriptions in the Client Gallery as I am most flexible with marketing approaches.
Featured Topic
On this quiet Satuday morning, let's vist a John Mauldin newsletter that offers insight into shifting United States employment demographics. The newsletter was published on November 14 and is entitled, The Gig Economy is the New Normal. The primary article topic focuses on shifting employment patterns among Generation X'ers and Millennials where the traditional 9am to 5pm job is no longer consistent with those with specialized skills who prefer to live different lifestyles. More younger people are working part time or as self employed contractors.
The article opens with commentary concerning climbing employment levels for Baby Boomers. The October 2015 Bureau of Labor Statistics age breakdown for new jobs indicates that worked aged 55 and older accounted for virtually all of October employment gains. Opposite to this observation is that workers aged between 25-54 declined by 35,000 with male workers in that age group accounting for a net loss of 119,000 jobs. This graph is telling as to the transformation inside the United States economy with aging demographics and younger generation's attitudes towards work flexibility.
John Mauldin summaries the finding with the following comments;
This pattern isn't new, either. I've written about this ongoing anomaly in previous letters. Since December 2007, workers aged 55 and older have gained over 7.5 million jobs, while those under 55 have lost a cumulative 4.6 million jobs. Older workers are simply taking employment market share from younger workers.
What would cause this trend? Partly it's demographic. The population is aging as the Baby Boomer bulge grows older and Millennials postpone parenthood. Nevertheless, it does look as though Baby Boomers are not exiting the labor force as fast as we thought.
Some Boomers may delay retirement simply because they enjoy working and are healthier than previous generations were in their late 60s. I'm in that category myself. More ominously, it seems that millions of Boomers are reaching retirement age without much in the way of retirement assets. They don't retire because they can't afford to do so.
Featured Coin of the Day
Today's featured coin is an offering from the Rochester NY consignment. Already, I've received inquiries on this lovely Capped Bust 1817/3 overdate half dollar after posting in the Client Gallery. The variety is listed in Overton as O-101 with bold remnants of the earlier 3 digit punch under the final 7 digit. It is probably the coolest overdate I have even seen! This piece resides in 2013 generation PCGS holder and is strictly original with uniform gun metal gray surfaces and lighter coloring on the higher wear points. Heading to the price list today with an $1150 offer price.
Thank you for visiting the Blog on Small Business Saturday....I will be in the office most of the day and please don't hesitate to call or email on potential purchases.
November 27, 2015
Good Morning and welcome to Black Friday 2015......
This is one of those mornings where composing the Blog seems to be difficult. My original plan was to discuss Consumerism (the preoccupation of society with the acquisition of consumer goods) after a visit to Walmart this week in search of basic table tennis paddles. Entering the massive store was pleasant enough as the greeter directed me to the far left corner to locate the sporting goods department. But once walking through the aisles, I felt a sense of apprehension viewing the shelves piles high with inexpensive and in many cases, obviously low quality goods. Why do people buy this stuff, I asked myself? Since physically being at the Walmart store, then I could not judge harshly those who frequent this establishment. Honestly, I visit Walmart several times per year to buy high quality Dickies worker's cotton socks worn in liu of slippers once the temperatures start dropping and yes, the table tennis paddles.....
No, let's pass on the consumerism topic and also the Black Friday topic today. GFRC will not be offering 5%, 10% or even 40% off sales of numismatic inventory today but I will be available by phone or email as per any other regular day.... 2015 has treated GFRC well as I worked endless hours to grow this start up business on a platform of building numismatic community through education, a higher consciousness for coins as an alternate store of wealth and finally the pure joy of collecting. Would I "degrade" that effort by succumbing to consumerism on Black Friday rather than spending balanced time with my adult children and only grand daughter? By now, you know me well enough to anticipate the response......
The Fortins had a fantastic Thanksgiving Day and I sincerely appreciated the many well wishes from customers and numismatic friends. Our granddaughter, Natsumi, will be staying for a week as Chikae returns to Boston tomorrow and Matt flies to San Francisco on Monday. Natsumi will travel back to Boston during early December.
GFRC News
I am very pleased to announce that GFRC and GFRC-Coins will be launching a new eBay marketing and sales initiative starting December 1. Rather than using eBay to sell problem coins or stale inventory, GFRC will shift strategy and will offer its quality inventory via a GRFC-Coins storefront. All listings will be on a Buy It Now, Best Offer basis and will be managed directly by Jim Poston. More details wil be forthcoming during the next week. This initiative is consistent with 2016 strategy to further expand GFRC inventories and sales levels while maintaining reputation for stocking and offering quality original coins at fair prices. The eBay presence will also increase market visibility for the host of consignment coins entrusted to GFRC. Our eBay strategy will be designed to increase consignment turnover rates.
Today's focus will be adding the Rochester Collection pieces to the price list along with finalizing the Hamden and Washington State consignments for Client Gallery display this weekend.
Financial News
Seeking Alpha headlines are available this morning and here are a few topics worth sharing.
The shaky condition of U.S. retail will be put to the test this weekend, when stores across the country roll out their Black Friday specials. About 135.8M Americans are expected to shop in stores or online over the four-day weekend, according to the National Retail Federation, but the amount they've spent has declined over the past two years, dropping 11% to $50.9B in 2014. The forecast for frugal shopping also got a boost on Wednesday, when Commerce Department figures showed household spending rose less than expected in October.
Chinese equities dove sharply in the afternoon trading session today after authorities disclosed investigations into several major brokerages over suspected trading violations. The probes into Citic, Guosen, Founder and Haitong Securities followed additional souring market sentiment on Friday that revealed lackluster Chinese industrial data in October. The Shanghai Composite Index fell 5.5% to 3,436, wiping out most of its gains this month and recording its biggest one day drop since Aug. 25.
Japan's economy just won't respond to stimulus due to aging demographics. Japan's Prime Minister Shinzo Abe has ordered Cabinet ministers to prepare an extra spending package (likely over ¥3T), including cash handouts for the poorest pensioners, to boost the country's stalling recovery. The measures reflect a new focus for Abenomics, which has been criticized for benefiting mostly big businesses instead of the average citizen. Japanese data for October was also released today. The jobless rate fell to a 20-year low of 3.1%, but household spending sank 2.4% and average incomes dropped 0.9%.
Gold is hovering close to its lowest level in nearly six years, weakened by strength in the dollar, expectations of a U.S. rate hike next month and news of lower gold imports into China. If the decline holds, the yellow metal will record its sixth consecutive week of losses, the longest such streak since August. Bullion for immediate delivery -0.5% at $1,064.70.
Featured Coins of the Day
This 1847 half dollar is simply exceptional for the assigned AU50 grade. The steely gray surfaces and reflective luster immediately jump out at you. Formerly from a 2014 generation PCGS AU50 holder since being broken out for insertion in Dansco set. Bright light viewing is fun with a transparent gun metal gray patina on obverse and reverse with plenty of residual luster to please the eyes. Reverse is shattered with die cracks to rim at (UN)ITED STAT(ES O)F AME(RICA) and HA(L)F. PCGS AU50 label is included.
I sold a 1941-S PCGS MS66 Walker on Thanksgiving Day for four figures so let's feature this gem original 1917 piece graded PCGS MS65 and approved by CAC from the Colorado Collection consignment. This is a lovely second year Walker with satiny luster and essentially full strike. The head is complete with ear fully defined along with rounded thumb and lower fingers on the right hand. There is an ever so thin layer of gold patina that my camera managed to locate during photography. Finally, this piece is fully blemishes free. GFRC is committed to adding more choice Walking Liberty halves to inventory in the coming months as the design is so beautiful when fully struck.
November 26, 2015
Happy Thanksgiving to you and your family! Please let me also express my sincere thanks to those who visit the Blog on a regular basis and also provide private feedback on certain commentaries. I take all feedback seriously and in the context of continuous learning.
Writing a blog each day requires a constant exploration of topics including numismatics, GFRC activities, global financial news and occasionally delving in the United States political process. The latter topic can be "challenging" as I hope to control personal biases or "dangerous" if I start to offend the sensibilities of blog readers. As a life long change agent in the business world and now, the numismatic field, I love to explore topics including those that might be outside of mainstream thinking. Beyond pure discussion, is actually taking steps to implement change in the work environmnet or as LSCC President. For example, my blogs may be providing the impression that I am a strong supporter of the outsiders in the Republican party (Trump and Carson). I will admit to being conservative but have yet to decide who is the best leadership option for our country. However, I believe we need serious "stirring of the pot" and "out of the box" discussion in confronting our country's chronic issues. Few individuals in the current political realm have shown the propensity for taking personal risk and confronting special business interests, the Politically Correct movement and biased media reporting outlets. Our country is unique in the world due to its immigrant foundation, broad multi racial/cultural environment and extensive legal system. China and Japan, for example, are culturally homogenous and do not face the same internal issues as the United States. Our issues are complex including tax inversion, ongoing middle class job losses and capitalism that is succumbing to financial engineering in corporate America and big banks. Then there is a need for common sense approach to global warming and our expensive health care system. Also creeping into view is 100s if not 1000s of small activist groups enabled by fast paced social media that will cause more stress on our institutions.
On a very positive note, the United States is by far the most innovative country known to mankind due to our heritage for respecting individual freedom, embracing multiple cultures and a well developed business legal system.
Is there one human being within the United States that can provide leadership on a host of complex issues and affect change? This my fellow blog readers is the challenge faced by voters during 2016. Leadership characteristics are difficult to quantify but let's review some of the former Presidents who I believe were outstanding leaders during critical phases of United States history.
Lincoln - a self taught man with empathy for all human beings and an incredible resolve to see his vision to completion...
Jackson - a believer in the common man as the foundation of America and incredible resolve to fight special interest corruption in the political system
Teddy Roosevelt - brash with a huge ego and a visionary for transforming America from an agricultural society to industrial age
Franklin Roosevelt - hidden internal strength and perseverance while being a master politician in balancing and configuring the needs of major specialist interest (domestic and foreign) towards key American goals.
Who will be the new outstanding leader for solving America's 21th century issues? Something to think about in the next few months.
GFRC News
I'm starting to catch up on the Rochester NY and Baltimore show consignment backlog. The past week's new offerings have been heavily concentrated in the Liberty Seated dime product line. The major Seated dime consignments are loaded as of Wednesday. Next are smaller consignments across many different product lines including World Coins. Following is a consignment taken in at the Rochester Numismatic Association show. There are nice type coins in the group including a choice 1817/3 O-101 bust half graded PCGS VF35 and an original lot of Mexican 8 Reales and 1 Peso pieces for your consideration. These piece will be hopefully be online by end of Black Friday as I have no plans to visit the malls that day.
The Rochester NY Consignment - November 25, 2015
Featured Coin of the Day
On Thanksgiving morning, let's visit the Capped Bust half dollar price list for a GFRC recommended coin. This 1838 pretty and choice original reeded edge half dollar resides in a PCGS AU58 Security holder. I doubt that it has been through CAC review as the surfaces and eye appeal should qualify for a green bean. Interestingly, this half dollar was purchased at some point during 2015 and went directly into the double row inventory boxes with making a trip through the photography and price list posting loop. After selling and retrieving the 1837 PCGS AU58 CAC half this week, I noticed this 1838 example in the box and immediately photographed and loaded yesterday. Let's call this one a "new" old purchase. Please notice the natural obverse toning with pastel olive and rose that transitions to gold at the rims. The reverse is mostly steely gray with some faint coloring near the legend. Overall eye appeal is well above average but at the same time tasteful and delicate.
Once again, I want to wish you and your family a very happy Thanksgiving.
I'm mulling over some type of Black Friday and Cyber Monday discount approach but family will be first priority today.

November 25, 2015
Welcome to another blog and thank you for visiting once again.
United States citizens throughout the country are traveling today to their home towns for family reunions and tomorrow's traditional Thanksgiving dinner. Thanksgiving is being held at the Fortin residence this year and I am so grateful to not be traveling after the busy past 30 days.
BBC News offers an excellent article this morning on the global warming topic and provides quantitative measurements for understanding the rate at which temperatures are rising. The article is entitled, "2015 likely to be warmest on record says UN weather body" and provides a comparison of average temperatures between 2010-2015 with the average during 1961-1990 and 1880-1899 timeframes. The following graph illustrates the annual change (+) against the 1961-1990 time period. Measurements in the BBC article use the Celcius scale and for those of us in the U.S. using Fahrenheit scale, a 0.7 degree change on the Celsius scale is equivalent to a 1.25 degree change on the Fahrenheit scale. I believe that any reasonable person would say there is an upward trend in global temperatures after seeing this report. I've also added a trend line to forecast where temperature increases will be in 2030, which is only 15 years from now. Please realize that 0.9 to 1.0 degree Celsius excursions in average global temperatures equates to 1.8 degree increase on the Fahrenheit scale. Let's hope that global temperature increases continue to be linear in nature and not an exponential function. The report also provides an excellent illustrate of localized temperatures increases throughout the planet. The United States West coast and Alaska are seeing temperature increases above the global average while the Gulfstream current appears to be cooling. The latter will mean colder temperatures and more snow for Western Europe.
Politicians who ignore global warming are fools. But I believe that preparing for global warming ramifications is paramount as the trend will be not be reversed in my lifetime. This is a global issue with emerging countries finally enjoying economic expansions that will result in more CO2 emissions. Burning fossil fuels is critical to most economies whether as suppliers (Middle East, Russia, South America) or users (China, India and United States).
When viewing the global warming issue, one must think globally in term of CO2 emissions. China and India are still ramping their CO2 emissions while the U.S. has made excellent progress with holding emissions to a fairly constant level. The ramifications for populations centers in low lying urban area (sea levels) are profound as sea levels and storm intensities increase. Something to think about this morning.......
Guest Commentary
Blog readers have asked that I limit the amount of political commentary and remained focused on numismatics and global financial topics. This I can appreciate as we are already overwhelmed by the United States primary campaign while New Hampshire primary is still months away (February). In yesterday's blog, I mentioned watching Donald Trump's campaign rally in Columbus OH. This resulted in Dale Miller offering his thoughts in the following guest commentary. Dale has been involved in the Ohio state governing process for years.
I'm writing to respond to your frequent promoting of Donald Trump and Ben Carson in your blog.
My issue is not that I disagree with their policies. I disagree with a lot of my own governor John Kasich's policies, but I respect him for his experience, compassion, and professional demeanor, and believe he would make a good President.
The problem with Trump and Carson is that they put over the notion that you don't really need political and governmental administrative experience, all you need is some good old fashioned common sense. It's bunk! It wouldn't be any different to say that a novice coin collector could consistently choose which seated dimes are choice original.
As for consistent statements, all of the policy statements in modern Presidential campaigns are, of necessity, gross oversimplifications of very complex issues. It's one thing to make some simple statements that sound good, and quite another to have the experience, knowledge, and judgment to deal effectively with these issues in all their complexity in the real world.
Finally, the Trump statements about seeing thousands of New Jersey Muslims celebrating the fall of the twin towers are incendiary and clearly false. Such diplomatic recklessness and disregard for the truth would be dangerous in the next President.
We have people in both political parties with the professionalism, maturity, and judgment to be President. The best ones have made mistakes because they've spent time in the arena, but they are wiser for it. We should choose one of them.
GFRC News
Progress is being made on loading consignments and new purchases onto the price lists. I judge progress by the number of blue PCGS boxes queued on the office desk. Late last evening, I started loading the Florida Collection consignment of Liberty Seated dimes and will continue to do so today in between taking a healthy walk and retrieving Matt and family from the train station in South Portland.
Jim Poston and I have been chatting since the Denver Coin Expo concerning a new and substantial GFRC + GFRC-Coins marketing partnership. We've fleshed out the operations and financial details and will be announcing the new initiative after Thanksgiving. Stay tuned on this one as GFRC must expand its marketing and sales strategies given the number of consignment coins that continue to stream in on a weekly basis.
Featured Coin of the Day
I seem to have a soft spot in my collecting heart for 3 cent silver pieces, especially when they are fully struck and completely problem free. This 1860 example that was cracked out of a PCGS MS61 holder, by the prior owner, is a little gem at that grade level. The strike is nice and crisp, the surfaces are strictly original and the rims have no marks. This 3 cent silver piece should please the most selective collector.
I am planning to write a short Blog in Thanksgiving morning so please check back. For those who are traveling today, I wish everyone safe passage and a fantastic Thanksgiving Day tomorrow.
November 24, 2015
Good morning and welcome to the Blog on this Tuesday morning. I'm sure the majority of readers are looking forward to the upcoming Thanksgiving holiday and restful time with family and dear friends. My daughter, Renee, and he future husband Mike are driving from Virginia to Maine today and I do wish them safe passage. East Coast weather will be favorable for the next few days and I am grateful for this. Matt and his wife, Chikae and grand-daughter Natsumi, will be traveling by train to Maine later in the day Wednesday. So the Fortin house will be alive and full of people for the balance of the week.
All major news networks are reporting that Turkey has shot down a Russian Su-24 over Turkey airspace. Is it my imagination, or is the Middle East turning into an all out world war? A NATO country shooting down a Russian aircraft is just another escalation in the ongoing violence of the past few months. Next steps by Putin will be important since he initiated the transfer of Russian forces into Syria.
Donald Trump continues to grow his presence on the international stage with clearly announced talking points. Whether your like or dislike Donald, his messages are clear and consistent. The BBC provides a concise presentation of Mr. Trump's key talking points in this article entitled, Donald Trump: 21 things the Republican believes in a factual and unbiased manner. I feel confident in that statement as I took a break from GFRC workload and watched Donald's speech at last evening's Columbus, Ohio rally event via FOX News. He was on message and consistent with the BBC reporting. It is with some amount of sadness that I announce a shift from NBC News to BBC/FOX News as my primary sources of information. I have been a loyal viewer of NBC News for most of my adult life (when not living in Asia) and frankly have given up on this media outlet and their reporting approaches.
GFRC News
Monday was a long day in the GFRC office but I am making progress with Baltimore new purchases and the substantial consignments of the past month. The day started at 6:30am and finished at 10:00pm with a short break for dinner and the Trump speech. One does need a passion for numismatics and being an entrepreneur to consistently work these types of hours. GFRC customers appear to be pleased with the quality of offered coins and the mentorship provided when questions are asked. If GFRC customers and consignors are pleased, then the business model and execution is sound.
I received another exciting consignment in the mail yesterday. Gerry Fortin, the collector, could not help but marvel at a group of eight beautifully old album toned Canadian 5c pieces from the Queen Victoria and King George reign along with two lovely G$10 pieces; 1840 NGC AU53 and 1842 PCGS EF40 Sm Date. These are from the kindness of the Washington State consignor and have been photographed. This consignment will be featured in the Client Gallery shortly.
I also photographed an original group of Mexican 8 Reales and 1 Pesos from a recent Rochester NY consignment. These piece will be an excellent addition to the World Coin price list.
Below is a small group of attractive type coins purchased at the Baltimore show. These are heading to the price list today. Most were previously holdered and cracked out for storage in Dansco album. The owner decided to move on and sell his type coin collection to focus on United States gold coins. Overall quality of this lot is high as each piece was carefully selected; I could not pass up the offering due to the originality.
Baltimore Show Purchases
At the Rochester, NY coin show, I was approached by Brian Treitley. Brian had discovered an 1875-CC IW Seated dime with a huge retained cud on the lower right reverse. He believe the variety to be F-110a due to the position of the cud. Upon my inspection, the terminal die state was attributed as F-113c and the first example seen with fully formed cud. Below is the Treitley F-113c example matched against the previously known F-113b shattered die state. The web-book will be updated shortly with the F-113c listing.
1875-CC In Wreath - F-113c Terminal Die State Discovery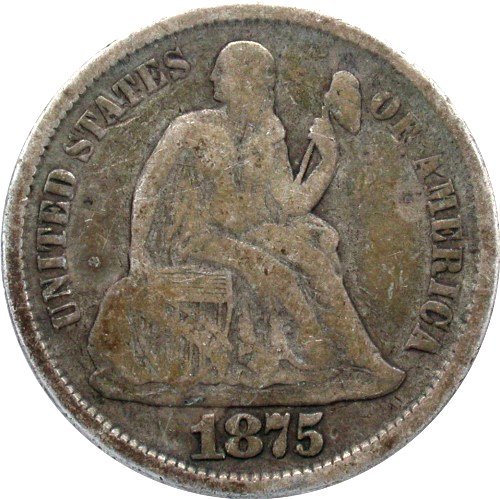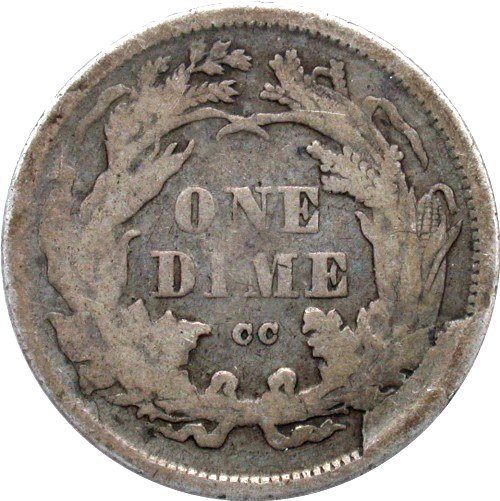 1875-CC In Wreath - F-113b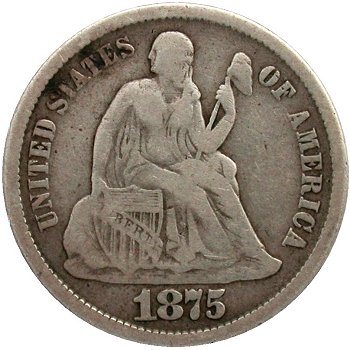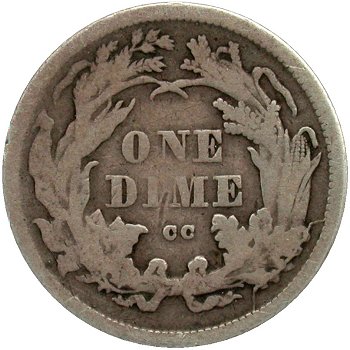 Featured Coin of the Day
There are times when Gerry Fortin, the collector, falls in love with certain coins that walk up to the GFRC table at major coins shows. Please understand that I review hundreds of better quality original coins each month and have an intuitive sense for those that are simply spectacular. For example, the Pickering Creek Liberty Seated dimes are at a different and much higher level than most dimes seen on a regular basis. But asking prices also reflect the high quality.
At the Baltimore show, this 1837 Reeded Edge half dollar appeared at my table and after working the seller over on price, the purchase was made due to the incredible eye appeal. I may make only a few dollars on this piece, but thought it important to have on the price list as a reflection of the type of coins that GFRC wishes to stock and offer to advanced collectors. This piece was also featured at the Shanghai show and received considerable attention. (On Hold)
Thank you for stopping by this morning. The Wednesday Blog edition will be published bright and early tomorrow morning regardless of the pending holiday.
I do need to apologize to those GFRC customers who suggested I structure some type of Black Friday sales event. Other dealers may feel the need to follow a market trend but at GFRC, I believe the inventory speaks for itself and I would rather deal one on one with customers who are seriously interested in making a purchase and discussing what might be possible as a discount.
November 23, 2015
Thanksgiving week arrives and we received our first winter dusting of snow last night. The migration to Florida is only five weeks away and the first snow reminds me to start planning that transition as time will go by so quickly.
GFRC News
Sunday was an incredible sales day and the best of the year on a non coin show basis. I sold a broad range of quality coins as collectors decided to purchase better dates in all Seated series.
Harry Zhang (Shanghai agent) reports that the 1964-D Kennedy 50c roll that I sold him while in Shanghai was the best he has ever seen. This should be no surprise as the roll was put away around 1988 and never opened since. I do have more original Franklin and Kennedy rolls and these will most likely be heading to Shanghai shortly.
The Liberty Seated dime price list in AU-MS will receive another significant addition in the next two days. I received a quality consignment from the Florida Collection at the Baltimore show and spent most of Sunday processing images and building the Client Gallery illustration. Following are the Seated dimes and a few Mercuries from the Florida Collection including a mint state 1840 With Drapery dime! The Florida consignor is also a well known collector and is amassing an incredible Liberty Seated dime set. The 1853-O dime is already on hold but others are available. FRoR is in order. Florida Collection Part II will include a large group of quality Walking Liberty Halves.
The Florida Collection Consignment Part I - November 22, 2015
Liberty Seated Dimes
As a result of the Pickering Creek, Indiana and Florida Collections, GFRC is very well positioned with Liberty Seated dime inventory. To balance inventory levels in other key Seated coinage denominations, I am seeking Seated quarter and Seated half dollar consignments over the next few months. If you have duplicates or wish to sell a small collection, then please do not hesitate to contact me to discuss options. Every consignment is treated with respect and handled in same manner with Client Gallery posting and is featured in the Daily Blog.
Finally, I am also interested in ramping up the World Coin price list further in the coming months as the Shanghai market may be a strong outlet for average level world coins from Central and Southern America.
Financial News
Seeking Alpha provided many headlines this morning. The Euro continues to weaken while the Federal Reserve mouthpieces are talking a U.S. interest rate increase in December. Commodity prices are falling through the floor with oil leading the way. Remember that oil prices below $50/bbl will lead to significant bond defaults in the U.S. oil patch come 2016 and increase our dependency on cheap foreign oil once again.
The euro slumped to a seven-month trough at $1.0601, following Mario Draghi's strongest hint yet that the ECB will unveil fresh stimulus at its policy meeting next week. "The ECB is prepared to deploy its full range of stimulus measures to fight low inflation," Draghi said on Friday. The contrast with the U.S. Federal Reserve could not be more stark as it seems destined to lift rates in December for the first time in almost a decade.
San Francisco Fed President John Williams echoed that view on Saturday, stating there was a "strong case" for raising interest rates next month provided that U.S. economic data does not disappoint. "Assuming that we continue to get good data on the economy, continue to get signs that we are moving closer to achieving our goals and gaining confidence getting back to 2% inflation...if that continues to happen there's a strong case to be made in December to raise rates." Williams is a closely watched policy maker who often signals the Fed's consensus position on monetary policy.
Crude is beginning the week deep in the red, as part of a wider decline in commodity prices and renewed concerns of oversupply with OPEC expected to ramp up output at its next meeting on Dec. 4. "Oil prices may drop to as low as the mid-$20s a barrel unless OPEC takes action to stabilize the market," Venezuelan Oil Minister Eulogio Del Pino declared. The slump is also heavily biting into industrial and precious metals: Copper is now below $4,500 a metric ton for the first time since 2009, nickel lost more than 5% to its lowest level since 2003, zinc is down 4.2%, and gold is 0.8% lower at $1068.20 an ounce. Crude futures -3.4% to $40.49/bbl.
Featured Coin of the Day
At the major coin shows, there are always opportunities to add Liberty Seated proof half dollars to inventory. Selecting examples with hairline free mirrored surfaces and with attractive toning is always the challenge. CAC approval is also important to validate my own selection criteria. Today's featured coin is a lovely 1862 proof half for the assigned PCGS PR63 grade along with CAC approval. From my price list description;
A stunning proof half dollar example with mintage of 550 piece. This piece features watery mirrored fields and is close to a cameo designation. Surfaces are essentially untoned with some gun metal gray hues on the obverse and a pretty blue arc on the lower reverse. All devices are crisp and sharp. The PR63 designation results from a few faint hairlines in the fields but the overall eye appeal is that of a higher grade. .
November 22, 2015
Good morning once again and welcome to yet another Blog.
Jetlag from the Shanghai Yunzhou trip was mild leaving just the fond memories of being back in my second home town. Reserving a booth at the 2016 Yunzhou show will be a top priority and hopefully the scheduling will allow for a few more days to relax and enjoy Shanghai city life and the amazing Asian foods. Unfortunately, the Yunzhou show is scheduled between the Fall Baltimore show and Thanksgiving so I am hopefully awaiting a favorable date.
Saturday was a strong GFRC order day. Six pieces were sold including the 1850 NGC MS62 dime in the Indiana Collection, the 1799 NGC VG8 CAC Bust dollar, 1888-S, 1893, 1894-O Morgans and the 1883 PCGS MS64 CAC dime in the Central California Collection. My sincere thanks to everyone who is visiting the Blog and price list on a regular basis. There are still many more Baltimore Newps and consignment pieces to be loaded. I hope that consignors will continue to have patience as the huge backlog is processed while not compromising photography and description quality. I am proud of the GFRC website and its combination sales and educational mission.
While writing the description for the Pickering Creek 1850-O Large O Seated dime graded PCGS MS66 CAC, it dawned on me that GFRC currently has possession of two of the three finest 1850-O dimes in existence. This calls for a short mini gallery to document the finest known 1850-O Small O, and the two finest known Large O dimes as ownership has gravitated from the Eugene Gardner Collection to the Pickering Creek Collection. The 1850-O Medium O F-107 is by far the rarest of the mintmark sizes in mint state grades. After 25 years of searching, I am still unaware of the existence of a true mint state 1850-O Medium O dime and would appreciate any information on this topic. Following are the three finest 1850 New Orleans dimes....
1850 New Orleans - F-103 Small O - NGC MS67 Star - Gerry Fortin Collection
1850 New Orleans - F-105 Large O - PCGS MS67 CAC - Pickering Creek Collection
1850 New Orleans - F-105 Large O - PCGS MS66 CAC - Pickering Creek Collection
A few thoughts on owning finest known coins are in order. Owning the finest quality coins in existence is truly a personal achievement and thrill. These pieces typically come to maket when a major collection is sold at auction and once finding a new home, may be off the market for a decade or more. Purchasing finest known coins takes financial resources but the joy of ownership is well worth the investment. Speaking of investment, many individuals treat rare coins as an alternate investment vehicle to stocks or bonds. But I would argue that owning (actually being a museum curator) the finest rare coins brings much more to the plate than just another investment. The pride of ownership will greatly out weigh the "investment" aspect. My point is that the Pickering Creek 1850-O PCGS MS66 CAC dime offering at GFRC is a special occasion and serious students of the Liberty Seated dime series should consider acquiring this dime. I bought the NGC MS67 Star Small O example back in 2004 and have enjoyed this incredible piece for eleven years...most recently, at the Rochester Numismatic Association coin show during the display of my complete Liberty Seated dime set.
Moving along to another subject....
My old Shanghai friend, Bosco Zhang, works at Zhao Online and is currently looking for high quality Chinese coin consignments. We are well aware that many of the initial Chinese modern gold sets with very low mintages were exported directly to the United States. These sets have seen huge appreciation levels. Bosco is the primary contact for marketing these sets via Zhao Online in mainland China. Zhao Online works on a smaller commission basis as compared to Stacks' fees associated with their Hong Kong auctions. Bosco wrote the following. I would be pleased to place any interested GFRC customers in contact with Bosco.
Hi Gerry,
I am seriously seeking consignment business outside of China. The attached link is for one set of Chinese modern gold coins sold recently in Zhao Online website for over 1 million RMB (over $167,000). http://www.zhaoonline.com/trade/jinianxilie-jin/3495026.shtml
The seller is a US dealer. As you know, many early issued Chinese modern silver/gold coins were all sold to overseas, now they are traded in much higher price in China than overseas. I am seeking some business opportunities in this area. If you could mention this in your blog or to your dealer friends, it might be helpful for Zhao Onlin to gain more international business.
Many thanks, Bosco
Featured Coin of the Day
At the Baltimore show, this crusty original 1851 key date half dollar walked up to the GFRC table. This piece has been off the market for years in a Dansco collection and now resides in a fresh PCGS holder graded AU53. There has been no CAC attempt so far. (On Hold)
Following is the description written during yesterday's price list update - This key date Liberty Seated half dollar walked up to the GFRC table at the Fall Baltimore show and I immediately purchased. There are multiple reasons for the quick decision. First is strictly original crusty toning that covered both obverse and reverse. From the images, the medium gray toning with golden hues is evident and well documents the in hand appearance. Placing this piece under bright light exposures a new set of attractive characteristics. The obverse transitions to gun metal blue and gray with rose hues over reflective fields. The reverse also has a dual personality under bright light; the center turns to light rose that is nicely framed by a light sky blue ring surrounding the legend. Surfaces are completely blemish free while the obverse strike shows some weakness at stars 7 and 8. Originality is so evident on the half dollar with meager mintage of 200,750 pieces.
Thank you for visiting on this quiet Sunday morning. I will be back bright and early on Monday with another Daily Blog edition.
November 21, 2015
Welcome to the pre Thanksgiving weekend Blog edition. Already, preparations for family reunions are underway as the coming week brings about a significant migration of United States citizens to their home towns. Shopping for large amounts of holiday foods will be this weekend's priority as Thanksgiving is being celebrated at our home this year. Renee is driving up from Virginia while Matt and his family are only a short train ride away in Boston. I am so glad to be home and not traveling to any other major coin shows through the end of the year. The consignment and Baltimore show new purchase backlog remains huge and each day I try to make progress and update the price list with new selections. Regardless of the backlog size, price list descriptions and photography quality will be maintained and not rushed.
GFRC News
If GFRC customers are reviewing my price lists, then it becomes immediately evident that the Liberty Seated dime offerings have expanded in a significant manner. The expansion is primarily at the mint state level as significant consignments like Pickering Creek and Indiana Collections are processed and loaded. But this is more to come for the Seated dime mint state price list as the Florida Collection consignment remains in queue and should start loading in the Sunday-Monday timeframe. The highlights of the Florida consignment include 1840 With Drapery NGC MS62, 1847 PCGS AU58 F-102 and 1878-CC NGC MS63 F-104 dimes.
I received a phone call yesterday concerning another potential consignment of better grade US type and told the consignor to ship the coins in early December. It will take another 10 days, given the holidays, to finally catch up and provide improve cycle time between consignment arrival and posting.
If you are primarily a collector of raw circulated coins, then please be assured that there are coins in queue for you also. I still purchase raw coins when the quality and eye appeal meets GFRC standards. As a reminder, I was given a partial set of Liberty seated dimes in Library of Coins album at Baltimore and these pieces are also patiently waiting in the queue.
Yesterday's focus was the Indiana Collection of Liberty Seated dimes. This individual is a well known advanced collector and variety specialist in the series and has been consigning coins since the GFRC start up in mid 2013. As with all advanced collectors, we accumulate duplicates over time and these need to migrate to newer collectors to be appreciated. The overall quality of the Seated dimes in the Indiana Collection is quite high. It may seems redundant that I use the term "Choice Original" so often in descriptions, but this is indeed the case when describing offerings from senior collectors. Following is a gallery of the Indiana Collection Seated dimes. All pieces are on the price list with prices. Descriptions will be added during the weekend.
The Indiana Collection Consignment - November 20, 2015
Liberty Seated Dimes
Sourcing new coins is a key part of any coin business but selling is also paramount. GFRC has enjoyed a second full year of business and I am close to the annual sales target set back in January. This success has resulted for much hard work and dedication; from long 12-14 hour days and no vacations this year. The focus was on establishing GFRC as a leading supplier and "collector to collector trading desk" for quality type coins.
I hope to close 2015 with strong sales and writing more consignment checks to those who trusted GFRC with their coins. Please consider a purchase and don't be bashful to contact me with offers or lay-a-way terms. Many of the coins sold during 2015 were done via several month lay-a-ways as quality coins are expensive and do take a bite out of disposable incomes to own. I'm still a collector at heart and well remember how other dealers and fellow collectors provided favorable terms so that I could acquire expensive pieces.
Finally, Bosco Zhang from Zhao Online (in Shanghai) contacted me and asked for help locating potential high quality Chinese coin consignments in the United States. I will discuss this further in tomorrow morning's blog.
I'm going to pass on any commentaries concerning the political campaigns and world terrorist events in today's blog. The world has changed profoundly in the past 10 years due to an electronics communications revolution and aggressive media outlets all wanting to be first to report the good, the bad and ugly to score points for their own ratings and relevance. As global citizens, we are being bombarded with news and supposed facts and eventually many of us with start to tune out from sheer overload. The media loves to create anxieties in the masses and this we must carefully guard against.
Featured Coins of the Day
At the Baltimore show, I was offered many toner Morgans for purchase and selected the most attractive pieces for inventory. Photographing multi-colored toned Morgan can be challenging and at times, the descriptions are equally important as the images for understand the overall eye appeal, especially under bright light viewing. Following are two pieces that are worthy of consideration.
1882-S NGC MS64 - A one sided toner that offers a combination of proof like surfaces and rich rose/gold obverse coloring. This is a coin that one could swirl under bright light for a considerable amount of time enjoying the bold cartwheel reflections. The cheek is free of blemishes as is the overall coin.
1886 PCGS MS63 - Reverse Rainbow Toning....I was able to accurately capture the pretty reverse rainbow shades on this lovely piece.
Wishing loyal Daily Blog readers a relaxing weekend and enjoyable Thanksgiving holiday preparations. Please do consider an addition to your numismatic pursuits as I would enjoy discussing any coin on the price lists.
November 20, 2015
Friday arrives and difficult to believe that next week brings the Thanksgiving holiday followed by the Christmas shopping season. Thank you for returning to the Blog as Hostway webstats indicate that Daily Blog downloads are approaching pre Shanghai trip levels. Speaking of the China trip, I'm pleased to report that jetlag has been minimal and my body is essentially back on Eastern time zone. This is good as GFRC has so many coins in queue for inclusion on the price lists.
It is probably not too early to remind everyone that GFRC will migrate from Maine to Florida immediately after Christmas. As was done last year, the order window will be closed one week prior to Christmas to ensure that customer checks are not caught in the USPS mail forwarding loop. I will still be able to ship until the migration via credit card and Paypal payments.
We open today's Blog with customer feedback concerning Greg Johnson's numismatic experience article featured in yesterday's Blog. Greg points are so well founded concerning the need to make mistakes in life for growing experience whether in numismatics, business settings or even personal relationships. There is a reason that the elders were once considered to the the wisest in small communities. Long life meant years of opportunities for taking actions, evaluating the results and learning from the experiences. Unfortunately, in today's fast paced information age, the elders are being left behind due to their inability to keep up with evolving communications and socialization technologies. But that is a completely different topic.
Customer Feedback
Apparently you're the "busiest man in numismatics" (tied w/ Dave Bowers), like James Brown was the "busiest man in music" some years ago. Sounds like Shanghai was really worth your time and travel. I received the 1873 WA dime last week and, as usual, it looks much better in person.
I liked Greg Johnson's blog addition this morning; lord knows I've been on both sides of that fence. Sometimes I'd buy a coin that I thought I liked only to discover that it was either cleaned, messed with, or just bogus. Now all of my "good" coin purchases somehow "grow" on me the longer that I "digest" the coin. Now usually I know the crapy coins as soon as I see them (knowledge gained from good and bad experiences) and the crapy ones go in a different storage box, usually to be used as gifts for kids or adults who show interest in coin collecting. I tell 'em the age old adage, "buy the book before the coin"; knowledge is power as well as learning the history and logistics of minting. Oh well, glad you're back - I missed your blog last week and look forward to it every day. I think I'm climbing to the other side of the fence now...
GFRC News
Upon returning from China, I received an email from an individual asking if I would be interested in marketing and selling the following Seated dime. Please see the images. The significance of the inquiry should be immediately obvious to any student of the Liberty Seated dime series regardless of the PCGS labeling.
Are you surprised to see an 1859 Transitional Pattern dime in circulated condition? Well I certainly was as all previously known examples are certified as uncirculated proofs. I remember selling my NGC PF67 Cameo Star for $32,000 at Heritage Auction back in 2011. This is indeed the first circulated example reported and known to me. PCGS failed to pick up this fact and simply labeled the piece as a genuine 1859 business strike. Yes, the Transition Pattern is for sale and would be a cool addition for those individuals who are unable to afford the five figure prices for a regular certified proof. Please contact me if interested in acquiring the coin.
Moving on to other GFRC News....
After posting the residual Central California Collection coins, I immediately realized that the group has not been loaded on the price lists. The initial sales (30% of the collection) were accomplished via FRoR and at the Baltimore show. Yesterday was spending adding the Seated half dime and dimes to the price list. Today will be the double dimes and Seated quarters.
If customers examine the GFRC Seated dime price lists, then it will be become immediately evident that GFRC now stocks the largest inventory of Liberty Seated dime in the country. But there is much more to add in the next few days as I have Indiana and Florida consignments that need final image processing and loading.....
More consignments are coming...
Yesterday, I received two emails from individuals wishing to consign coins to GFRC. The first lot will be top quality Liberty Seated halves while the second will be earlier $10 gold pieces.
Financial News
It has been awhile since posting headlines from Seeking Alpha. While traveling in China, the IMF has agreed to add the Chinese Yuan to its international baskets that forms Special Drawing Rights (SDR). Oil has dropped to below $40 a barrel and the world seems to be focused on extremists. The Federal Reserve is behaving as if an interest rate increase in December is a done deal.....read on.
China's yuan inclusion as a world reserve currency is a done deal. China's yuan may enter the IMF's benchmark currency basket at a lower weighting than previously estimated as the institution considers making weights less related to export volumes and more dependent on financial flows. Such a change would give the renminbi a lower share in the basket than under the current formula, Reuters reports. IMF policymakers are expected to vote on the currency's inclusion to the Special Drawing Rights basket on Nov. 30.
How can the Fed raise US interest rates when Europe is discussing deeper negative interest rates? The ECB is prepared to deploy its full range of stimulus measures to fight low inflation, ECB President Mario Draghi said on Friday, further indicating that the central bank will apply additional easy money policies at its next meeting in December. Draghi specifically referred to the ECB's already negative deposit rate, a signal that it may be cut even further, and underscored the power of its bond purchase program, which is likely to be expanded. Euro -0.4% to $1.0688.

When will the carnage stop? Islamist gunmen stormed a luxury hotel packed with foreigners in Mali's capital this morning, taking 170 hostages in a former French colony that has been battling al Qaeda-linked rebels for several years. The raid on the Radisson Blu hotel in Bamako comes just a week after Islamic State militants killed 129 people in Paris. French newspaper Le Monde states at least three hostages have so far been killed.
Featured Coins of the Day
You may have noted within certain GFRC coin descriptions that I use the phase, "just buy this coin" to designate the piece as excellent value for the asking price. After handling thousands of coins, it is quickly apparent which coins are just excellent values due to bold strike, originality and eye appeal. Just as John Albanese and the CAC green bean designate those coins that are above average, I have my own sense of what coins are just downright good deals. So let's check a few of these good deals this morning....
1886-S PCGS MS63 CAC F-101
This piece from the Central California Collection is essentially perfect for the assigned grade and is an important value acquisition at the $1150 asking price.

1891-O PCGS MS63 CAC F-116
Another piece from the Central California Collection with bold luster, strong strike and great eye appeal along with all the die cracks for the F-116 variety. This example is much better than my MS63 web-book plate coin. Priced at $475.
November 19, 2015
Welcome to another Blog edition and thank you for visiting today. It seems like I've been suffering jet lag for a full week as the China trip was long enough to partially convert to Asia time only to restart the conversion yesterday. By the weekend, my sleep pattern should be close to normal again.
Guest Commentary
Once again, Greg Johnson provides another article and shares numismatic wisdom that should be useful to all collectors. Coin collecting is not an exact science, rather a life long learning experience. There will be great purchases balancing the unavoidable mistakes. Read on....
Good judgment comes from experience; Experience comes from bad judgment - Greg Johnson
During the course of my collecting, I have purchased coins I shouldn't have, not purchased coins that I should have, paid too much for some coins, sold some coins too cheap, been too focused, not been focused enough, bought cleaned coins, bought a coin with a filed rim, bought crappy coins based on photos, bid in auction without representation and hated the coin I got, bid in auction with poor representation and hated the coin I got, done business with dealers who treated me poorly, treated a respected dealer poorly, and eaten way too much at coin shows. This is but a partial list. Mistakes? Lapses in judgment? Learning experiences? All of the above?
Ultimately I think many important aspects of life in general, and collecting in particular, are summarized by the saying, "Good judgment comes from experience; experience comes from bad judgment." What does this say about collecting coins? There are, I think, two fundamentally different approaches to collecting which I call the "Driver's License" approach and the "Soccer Player" approach.
The Driver's License
A person learns to drive using methods carefully calculated to avoid mistakes, because driving mistakes can be very costly and very dangerous. One result of this is that most people aren't really very good drivers. Their skills are developed only enough to get them safely from point A to point B. Once this minimum level needed to obtain a license is achieved, few continue to expand their abilities or push themselves to learn more and improve. They simply keep going from point A to point B. Training a minimally competent driver takes a few months.
The Soccer Player
A person learns to play soccer by making hundreds of thousands of mistakes and correcting those mistakes in order to continuously improve skills, techniques, and decision-making. Soccer is a better analogy for this process of refining individual decision-making than almost any other sport because there are no time outs and very few set plays that start from a known position on the field and progress in a predictable way. A soccer coach begins training players as young as 6 and 7 how to recognized situations and make their own decisions. Players progress by improving their skills, by improving their ability to use those skills in new and different situations, and by increasing the speed and effectiveness of their decisions. The best youth coaches remove the fear of mistakes from their players and constantly encourage them to try things they've not done before. Training a minimally competent college-level soccer player takes 10 years.
I do not propose to tell any individual collector whether mistake-free driver training or mistake-filled soccer training is best. I do want to point out that a collector can be like the Sunday afternoon driver who can only get from point A to point B safely when the sun is up, or like Pele, whose skill, versatility, and speed-of-play puts his team in the World Cup, or anywhere in between these two extremes. Keeping in mind that soccer players risk losing ball possession or a game, not their lives, the key distinction between the two numismatic outlooks I have discussed is in how an individual approaches risk and how they view their numismatic mistakes. I would also suggest that many collectors could, and probably should, look at their mistakes in a more positive light. Decisions that don't work out as planned are truly valuable, integral parts of a collecting journey. Try owning your mistakes, embracing them, learning from them, and realize that when placed in perspective and used properly they can be one of the best parts of the numismatic experience.

GFRC News
All the Pickering Creek Liberty Seated dimes are loaded on the price list with asking prices. These incredible dimes will be retrieved from the bank vault today and adding individual description is high on the priority list. Please remember that many of these dimes are gems at there grade level and an important opportunity for those build an advanced type set or complete date and mintmark set.
I spoke with the Central California Collection consignor yesterday. His health is degrading and requires major surgery in the upcoming two weeks. To date, GFRC has sold nearly $8,000 from this individual's consignment with another $16,000 to go. Once again, this is a noble cause to help the consignor and fellow LSCC member. Following is a mini gallery of the remaining coins in the Central California Collection; please consider if any of these pieces might be a welcomed addition to your collection.
Please note that I am loading the Central California Collection pieces on price list today. All sales to date were from FRoR and Baltimore show. These coins should be fully online by late afternoon. Thank you in advance for potential orders.
The Central California Collection Consignment Status - November 19, 2015
Liberty Seated Half Dimes
Liberty Seated Dimes
Liberty Seated Double Dimes
Liberty Seated Quarters
November 18, 2015 - Early Morning
Greeting from Maine! The 4 Coin Shows in 4 Weekends GFRC event is officially completed!
I arrived home at roughly 11:30pm and immediately poured a triple scotch as a reward for completing a busy month of travel, meeting great people and marketing GFRC coins and business model. The Shanghai to Chicago flight was uneventful along with US customs clearance and the connecting flight to Portland, Maine. A break from traveling is definitely warranted.
The trip to Shanghai was a special event and hopefully, GFRC will once again take a booth at the 2016 Yunzhou show. Being in Shanghai brought back so many old memories and the ability to reconnect with wonderful friends. Walking Nanjing Lu, Yan'an Lu and Huashan Lu at night with pretty seasonal lighting and feeling the hustle of city life was a real pleasure. On Monday evening, an old friend took me to a local Hunan restaurant and the food was simply outstanding. The hilarious part was the appointment with a money changer taking place at the restaurant during dinner. A man toting a plastic bag (full of exchange monies) on small wheels enters the restaurant and sat next to us. He had ropes tied to his wrists and to two cellphones and a calculator so as to not lose any of his business equipment! Without a counting machine, we exchanged Yunzhou show RMB for USD and manually counted bills until both parties were satisfied with the transaction. His exchange rate was better than the local banks and the entire dinner and money changing event was so memorable and typical of the past week. I'm a believer in living life to its fullest and the past week was indeed special.
Demand for the Pickering Collection Seated dimes has been strong. Already the 1838 Partial Drap, 1854 WA, 1855 WA and 1856 SD are on hold. I'm now loading the Liberty Seated Dime price list in AU-MS to the website which includes all of the priced Pickering Creek coins. Please check and order quickly as these pieces will not last long. Yes, some may be considered as expensive but remember the source and the overall quality. If you don't act now, then locating equivalent specimens could take years of searching.
November 17, 2015
Greetings from the Shanghai Pudong Airport!
I finally located an internet connection that is allowing FTP transfer. The connection is inside the Air China VIP lounge as I wait for Chicago flight in several hours.
Thank you to everyone who sent emails to check on my safety during the China trip. I'm glad to be heading back home and having completed the "Four Coins in Four Weekends" GFRC event. This project was fun while challenging. The unforeseen lack of internet FTP access at the Equatorial Hotel and Yunzhou Antique Mall was the only major issue encountered. The Paris attack was definitely disconcerting while in China and a reminder of the need for vigilance whenever traveling outside of one's home town.
I will be on the Shanghai-Chicago flight shortly and will have ample time to continue processing images and loading price lists. GFRC Daily Blog readers can expect daily updates and a return to the posting of many new purchases and consignment updates. For example, following is a mini gallery of Walking Liberty halves from the Colorado Collection that drew substantial attention at the Shanghai show. Walking Liberty halves were the best sellers during the three day event with the below 1936, 1937, 1940 and 1941-D pieces from the Colorado Collection consignment finding a new home in China.
Colorado Collection Consignment - Walking Liberty Halves
I have 1-2 weeks of work for posting all new purchases and consignments from the Baltimore show and hope to finish 2015 with a strong sales period. The next major GFRC project is migrating the business from Maine to Venice, Florida immediately after Christmas and then preparing for the FUN show.
Thank you for visiting the Daily Blog and please spread the word that I am back home with the GFRC business returning to normal operation. Thursday's Blog will feature a new guest commentary for Greg Johnson that is worth the visit!
November 15, 2015
Shanghai Yunzhou Coin Show - Day 3 Report
Sunday was a successful day at the Yunzhou coin show though sales were not huge. The Shanghai trip was designed primarily to raise awareness for the GFRC brand name and supporting Harry Zhang's efforts to increase order rates. This goal was met on Sunday and then more.
Harry previously advised that Sunday's are typically slow at the annual Shanghai Yunzhou show and that most booths will be closed by 2:00pm. So I went into the last day will low expectations that were exceeded. We sold toned Morgan dollars on Sunday, but more importantly, had a group of advanced world coin collectors hanging out at our booth until 3:00pm. I'm proud to report that GFRC was one of the most popular booths that day. As most booths closed, GFRC was packed with advanced collectors studying GFRC offerings. The situation can be equated to LSCC members hanging out at GFRC tables at the Baltimore or ANA shows. A group of six collectors spent time examining many of the GFRC offerings and just chatting loudly among themselves about the attributes of toned Morgan dollars and the difference in US gold toning. Their presence attracted other shopper attention also. At one point, I gave an informal class about original silver characteristics pulling a group of ten pieces from the cases that were strictly original gray as a teaching aid.
Harry reported that more individuals have expressed desire to purchase/order coins via GFRC and I should expect order rates to increase. I'm also pleased to report that the "stolen" GFRC coin images/listings (mentioned in November 13 Blog) have been eliminated from Taobao after the offending dealer was contacted by Shanghai GFRC customers and told to remove these.
Below are several images from the Yunzhou trade show. The individual on the left is Bosco Zhang while on the right is Harry Zhang. Zhang is a common surname is Shanghai area. Bosco works for Zhao Online, one of the more popular online coin auction sites in China targeting advanced collectors. Harry is my Shanghai agent and a passionate collector who did a marvelous job handling customers during the three day event.
November 14, 2015
Shanghai Yunzhou Coin Show - Day 2 Report
Saturday brought out large crowds to the show. We had considerable attention due to the quality of GFRC coins but most potential customers complained about prices being too high. One needs to understand that the overall quality of world coins (including US) is low in the Yunzhou Antique Mall with equivalent pricing. Many individuals liked the higher grade pieces but could not justify pricing. Sales were ok but not great with more World coins than 20th century pieces selling. We also sold a high quality 1877 Trade Dollar in PCGS EF40 to a knowledgeable individual. The local Chinese collectors were not bashful about visiting with their counterfeit world coins and trying to sell. One individual in particular walked up with a loose bag of crown sized coins, then checked the designs GFRC had for sale and then pulls out a couple of low quality counterfeits...they were bad at arm's length let alone using a loupe to check. A nice Japanese couple stopped by for coin verifications with mix results. The two Seated dollars were obvious counterfeits while the balance were authentic.
We closed the booth at 5:00pm and I was in bed by 6:30pm needing to sleep and recover from the air travel, late prior evening and the long day at the show. I was wide awake at 2:00am and decided to keep the daily blogs and price list files current for uploading on Tuesday upon the return to Chicago.
As a side note, a GFRC customer sent along a note concerning a fresh shrink wrapped copy of the JRCS Capped Bust dime book, Early United States Dimes 1796 - 1837, by David Davis, Russell Logan, Allen Lovejoy, John McCloskey, and William Subjack. This book is available at $289 shipped. If you are interested, then please contact me. GFRC will be taking the payment and the customer will ship the book directly to the buyer. Please see below. Customer will use the proceeds to purchase coins from me.
November 13, 2015
Shanghai Yunzhou Coin Show - Day 1 Report
One of the challenges with working in China is dealing with 12 hour time zone jetlag while still conducting a hectic business schedule. There is a constant feeling of being tired due to lack of sleep but one must remain focused on inventory and meeting new customers. After setting up the GFRC booth on Thursday afternoon, Harry and I were able to open the booth promptly at 9:00am and watched the typical rush of early birds looking for the freshest material. I had prearranged several orders and those individuals were prompt with a quick start to sales. We sold Walking Liberty halves in nice MS65 and MS66 along with Gold CAC Mercury dimes and some World pieces by noon time. The balance of the day was slower but overall a good start for selling United States coins in an overseas market.
I was made aware of one issue on Friday concerning a Shanghai coin dealer who is "stealing" the coin images from my website along copying my listings and making these pieces for sale in mainland China on Taobao with higher prices. It appears that he does sell some United States 20th century coins and needs to inflate his credibility by stealing GFRC quality images and coin listings and posting as his. Welcome to China and the lack of respect for intellectual property rights and just down right bad behaviors. I've asked the coin show friend who pointed this out to provide a link so I can monitor the Shanghai dealer's future steps.
The show closed at 5:00pm and luckily, the earlier rains had stopped and finding a taxi back to the Equatorial Hotel was straightforward. After taking a quick nap to refresh, it was time to reunited with some old semiconductor friends from Fairchild and NXP Semiconductor. The below image well captures the evening with Rich, Peter and Renee along with the local Big Bamboo bar food and dark beers. Peter Sijbers (back left) made a special trip to be in Shanghai during my visit and it was so great to see him once again. Rich (front left) is an expat from Maine and lives full time in Shanghai while Renee was visiting from the Netherlands. After Big Bamboo, we visited several other bars including the infamous Judy's on TongRen Lu.
November 12, 2015
Greetings from United UA835 flight presently over the Bering Strait!
Wednesday brought great flying fortune as Shanghai bound flights were perfectly on time. Best of all, United is once again flying its venerable Boing 747 aircrafts from Chicago to Shanghai like in the old days. One must assume that lower fuel prices and a large two deck business class means that the 747 aircrafts are once again economical enough with a partially filled economy class. This was the case on today's flight; I have three seats to myself in Economy Plus and able to work on image processing and updating the Client Gallery in comfort. I've always liked the Boeing 747 over the 777 as the aircraft provides a home like appreciation....I wonder why?
Following is the Pickering Creek Collection consignment of Liberty Seated dimes. The amazing group of 17 dimes transferred to GFRC at the Baltimore show. The consignor is a retired executive who has an incredible passion for securing the finest specimens available towards building a very important date and mintmark set. Included in this lot are Eliasberg and Simpson pedigreed pieces. Also nearly 70% are CAC green bean approved with the balance slated for a CAC review upon my return to Maine office. Mint States grades range from MS62 through MS67.
I'm most excited about landing in Shanghai in seven hours and meeting Harry Zhang at Yunzhou. Registration and booth setup need to be completed upon arrival as a distant customer is flying into Shanghai to visit our booth first thing on Friday morning.
Greetings from Shanghai and the Equatorial Hotel!
It sure has been a long day across multiple continents. Unfortunately, the Chinese government has restricted internet access to American websites including Google and Facebook. Along with these major website, I am unable to access Hostway ISP via FTP transfer which is a major disappointment. Losing Facebook access plus the GFRC website, leaves me in a isolated position and unable to communicate with the outside world. I will continue to update the daily commentaries on schedule so that GFRC friends and customers will have lots of Blog reading to catch up on November 18.
November 10, 2015
Good morning and welcome to another Daily Blog edition.
There is a certain apprehension this morning as within 24 hours, I will be heading to China via the Chicago O'Hare to Shanghai Pudong flight that is a long 14 hours. Though I started taking this flight about 15 years ago and racked up over 2.5 millions miles on United Airlines alone, there is still the quiet apprehension. Shanghai temperatures will be similar to New York City this time of year but the air will feel colder due to high humidity. Today's focus will be careful preparations and anticipation of seeing distant close friends over the coming days and enjoying their company once again.
For Blog readers who are curious about the Yunzhou Antique Mall, also known as the Yunzhou Curio City, clicking here will bring you to a YouTube link and video highlighting the facility. Yunzhou is one of the oldest antique malls in Shanghai with a broad range of chinese paintings on paper, furniture, jade, porcelain, coins, currency and stamps. The 8th floor is employed for hosting trade shows on various types of antiques and collectibles. This link provides an excellent description of the individual floors within the building and the primary collectibles on the respective floors. My weekend hangout, when working in China, were the 5th and 6th floors. Once spending time in Yunzhou, one learns that the Chinese coin and currency merchants are also into restoring paper currency and improving the "appearance" of coins. One would see the merchants "soaking" chinese currency in plastic tubs on the floor with a backroom chemical lab for most precise restorations. When NGC grading arrived in Shanghai, many local collectors were shocked to find their entire submissions coming back as Details, Cleaned. Early Chinese silver coins that can straight grade into Mint State holders will bring strong money simply due to fact that nearly all surviving examples have been cleaned.
Global Financial News
While on the China topic, let's move directly into financial news as there was an important announcement yesterday concerning further acceptance of the Chinese Yuan as a world reserve currency. Seeking Alpha offers a few important headlines.
The Chinese Yuan will direct trade with the Swiss Franc. China is taking another step to boost the yuan's global usage, saying it will start direct trading with the Swiss franc. The link, which goes into effect today, makes the franc the seventh major currency that can bypass a conversion into the U.S. dollar and be directly exchanged for yuan. According to the China Forex Trade System, the rate will be allowed to fluctuate a maximum 5% on either side of a daily fixing. The announcement comes ahead of an IMF meeting this month that will review its Special Drawing Rights Basket.
China's economy continues to slow...Six interest-rate cuts and multiple releases of bank reserves have all been aimed at recharging China's growth, but data today outlined persistent deflationary pressure in the world's second largest economy. Consumer prices in October were up just 1.3% from a year earlier, compared with 1.6% in September, while producer prices fell 5.9%, extending their decline to the 44th straight month. The numbers follow disappointing trade figures over the weekend.
Deeper negative interest rates in Europe? A consensus is forming at the ECB to take the interest rate it charges banks to park money deeper into negative territory in December, four governing council members have said. Some argue that a deposit rate cut should even be larger than the 0.1% reduction currently expected in financial markets. Also under consideration is amending the ECB's monthly €60B asset purchase program, a far more contentious issue that they have yet to agree on.
GFRC News
As mentioned at the Blog opening, today's focus will be preparing for tomorrow's journey. There are orders to ship during early morning and then moving balance of inventory to bank vault. I did manage to load some coins on the price list yesterday including the following pieces shown in mini gallery format. We open with two Seated dollars from the Burchs Creek Collection; these have been off the market for years and in raw condition since the consignor is not active with TPG grading. The 1845 is a sweet crusty original example that could be an addition to a Dansco set while the 1844 is the Double Die Obverse and Misplaced Date variety.
Also added to the price lists was a group of pretty Morgan dollars purchased at the Baltimore show. These will all be traveling to the Shanghai show tomorrow unless U.S. customers place on hold today. Please remember that GFRC images provide an in hand view while toner Morgans (with proof like surfaces) will excel once placed under bright light.
On Monday, I also chatted with the new Pickering Creek Collection consignor. His incredible Liberty Seated dimes are attributed and documented via normal consignment excel file. While in China, I will process all the images and hopefully have online in the Client Gallery. Once returning to U.S., a pricing conversation is scheduled and the entire lot will be posted on price list.
Guest Commentary
The new Hamden Collection consignor sent along some thoughts concerning certain dealers reporting a slowing coin market in the past year. There are several solid points made here; quality coins continue to be strong but the inferior pieces continue to become less desirable as collectors understand the beauty and financial rewards for purchasing coins that have superior eye appeal and are strictly original.
One comment on your observations about dealers with average to low average stock, there is another reason why they are hurting right now. Ford, Newman, Gardner, Pogue, Missouri Cabinet, and these just begin to name the major auctions of fabulous material in the past 3-4 years. While these auctions create a lot of publicity, the other effect they have is to suck cash out of the hobby. This leaves little money left for the small and average dealers and the same type of collector. It seems like every month there is another $25-$50 million dollar auction which is great for the big firms but one wonders the effect it has on the entire hobby as a whole. Those dealers who material is "run of the mill" are probably suffering as a side effect of the auctions for spectacular material. The buying public is becoming educated about quality coins and will seek the same kind of coins they see in those amazing auctions. There is only so much money to be spent and when 50% of it goes to the major auctions there is less left for the regular dealers.
Upcoming Blogs
There will be no Blog tomorrow morning for obvious reasons. Once in Shanghai, the time zone difference is 12 hours as compared to EST. I will try to post Blog updates in the evenings which should correspond with morning EST in the U.S. Jetlag and hotel internet bandwidth will be variables so please have patience over the coming week. This will indeed be an adventure....
November 9, 2015
Welcome to another work week and thank you for visiting with me this morning.
This is the last of the "Four Coin Shows in Four Weeks" program to market GFRC and its quality coins. By mid week, GFRC is flying to Shanghai and will be featuring quality 20th century coin offerings and select early type coins during a three day show (November 13 - 15). There is much to do in the next 48 hours so the upcoming blogs may be on the shorter side until reaching China. The GFRC camera will be traveling to Shanghai and I'm planning on posting live reports of the show through this coming Sunday. Many thanks to Harry Zhang for his arrangement support and meeting me at the Yunzhou Antique Mall on Thursday for dealer setup. Once exiting the the Pudong airport, I'm taking a taxi directly to Yunzhou in the Puxi section of Shanghai.
Maine foliage is completely done and the mighty oak trees have dropped their leaves. The yard is covered with dull crimson red leaves but those will have to wait until next week. Sunday was a productive day as eleven shipments were prepared and many consignment checks written. All are mailing in a few hours. Today's primary focus is on consigned 20th century coins that are traveling to Shanghai. Some are still queued for pricing evaluation and consignor approval and these tasks need to be accomplished rapidly.
GFRC News
I purchased a gem dime at the Baltimore show that I was most proud of and shared with many friends who walked up to the table. Following are images of an 1878-CC F-101 dime that resides in an early NGC MS64 fatty holder and obviously has not been through CAC. There is a standing bet with a close GFRC friend and consignor on whether this piece will CAC Green or Gold. Another very astute GFRC supporter examined this piece and thought CAC Green but believe the dime was full MS65. It is always fun to hear the differing grading opinions. One collector told me firmly that this piece should go into my collection while selling current PCGS AU58 CAC example. I'm thinking about next steps for this dime but definitely a pass through CAC is forthcoming after Shanghai show along with some of the Pickering Creek Collection pieces.
Maybe a short tutorial on 1878-CC Mint State dimes is in order to help appreciate this piece and the NGC MS63 that was also taken in on consignment at the Baltimore show. All MS65-MS66 1878-CC dimes are from the F-101 die pairing which employes a fresh Type I reverse. The F-101 dies are nicely polished and high end mint state examples will be found with bold luster as the above piece demonstrates. Dimes struck from the Type II reverse dies (F-102, F-103 and F-104) top out at the MS64 grade level due to heavily lapped reverse dies (they were left over from 1877 production) resulting in weak device details. In circulated grades, Type II examples will have at least one full grade difference between obverse and reverse and sometimes, two full grades. A Fine 12 obverse may have worn through rims on the reverse when struck with lapped Type II reverse dies.
Baltimore New Purchases
Before discussing some Baltimore show new purchases, let's share a link to the Whitman Baltimore show website that features images taken at the LSCC Regional Meeting on Friday, November 6. Though there are only 20 or so individuals in the group picture, more individual strolled into the meeting after it started and the attendance was closer to 30 members.
http://expo.whitman.com/news/the-liberty-seated-collectors-club-at-the-baltimore-winter-expo/
Here is a mini gallery of several Baltimore new purchases. Most of these are on FRoR or already sold. I'm illustrating here to share the quality level that GFRC strives to purchase and place with customers who are building advanced collections.
Financials News
There are a host of global financial headlines this morning on Seeking Alpha. The general themes are that the Federal Reserve will raise interest rates in December, the oil price war will continue with the Saudis in control and more stimulus for China and Europe. Here are a few headlines worth reading.
Now that the U.S. is closing in on full employment and inflation is likely to rise to target levels, the "next step" should be to start gradually increasing rates, San Francisco Fed President John Williams said on Saturday. "My forecast is that we'll reach our maximum employment mandate in the near future and I'm increasingly confident that inflation will gradually move back to our 2% goal." Asked afterward by a reporter whether that translates into a December rate hike, Williams declined to say, adding that he expects "a lot of data" between now and then.
Saudi Arabia is determined to stick to its policy of pumping enough oil to protect its global market share, indicating that the country is in no mood to change tack ahead of OPEC's Dec. 4 meeting in Vienna. "The only thing to do now is to let the market do its job," said Khalid al-Falih, chairman of Saudi Aramco. "There have been no conversations here that say we should cut production now that we've seen the pain." The kingdom rocked oil markets last November when OPEC decided against production cuts, making it clear it was abandoning the policy of cutting supplies to stabilize prices.
Lifted by a weaker yen and stimulus hopes, shares in Japan and Shanghai started the week with a roar, while worries about China's slowdown drove most other Asian markets lower. The yen weakened considerably against the dollar - trading at ¥123.35 - after Friday's strong U.S. jobs report, while data over the weekend showed China's October exports and imports falling 6.9% and 18.8%, respectively. The figures left China with a record high trade surplus of $61.64B, the highest such figure on record since at least 1995, bolstering views that the government will have to do more to stimulate domestic demand. Nikkei +2%; Shanghai +1.6%.
Featured Coins of the Day
The following two 1893-CC Morgan dollar are targeted for Shanghai customers to ponder. The first is an example of lighter original toning with choice surfaces while the second offers that thick crusty gray appearance. I suspect that the first will be preferred over the crusty original piece as the Shanghai collectors have yet to appreciate heavily toned coins. Most Morgan dollars brought to China in the past have been harshly cleaned and are dull white as the normal appearance.
November 8, 2015
Greeting from Maine!
Another Baltimore show is in the history books. Matt and I enjoyed another pleasant drive on Saturday which allowed for delightful conversation and in depth sharing. We arrived into Boston's North End at 10:00pm and I finally reached Maine home by midnight. Other than a traffic jam across the Tappan Zee bridge, it was smooth sailing.
There are memorable moments in one's lifetime. As much as I enjoy building the GFRC business and all the great customer and consignor relationships, having four full days with Matt was priceless and will never be forgotten. The power of father and son bonding, of sharing details of my semiconductor career and worldly travels, listening to Matt's career aspirations and philosophies on himself being a new father were pure joy and so important to me. Matt enjoyed being with the LSCC circle of friends and immediately fit into the group. Everyone was also so welcoming to Matt.
Baltimore Show Report - Day 3
Saturday was predictably slow as there were many "tire kicker's" but few sales. One shopper was typical of the Saturday crowd. He asked to see an 1821 PCGS AU50 Capped Bust dime that is choice original in early blue holder and accurately graded. He focused more on the PCGS label than the coin (without a loupe), then pulled out five other dealer business cards and reported that my pricing was much too high as he could buy a raw AU58 for several hundred dollars less. I believe astute Blog readers understand my point.
I enjoyed time spent with the Burchs Creek consignor on Saturday as this was our initial face to face meeting. Two more consignments arrived and were logged into the GFRC business system by Matt; one from Burchs Creek Collection and another from the new Hamden Collection consignment. Matt reported that GFRC took in 92 coins on consignment not counting a partial Liberty Seated dime set in Library of Coins albums from the New Jersey Collection. Winter Baltimore 2015 was an incredibly memorable show and now the follow-on work starts. Sunday's top priority is to photograph the 92 consigned coins and all New Purchases as the skies are clear with bright sun.
There are a host of emails from GFRC customers requesting FRoR on consignment pieces and on new purchases. It will take several days to catalog and photograph all the new GFRC inventory and I ask for your understanding if emails are not quickly responded to per normal service level.
Thank you so much for checking in on a daily basis. I will see you bright and early on Monday morning.
November 7, 2015
Baltimore Show Report - Day 2
Welcome back to the Blog and thank you for visiting. It appears that my Baltimore show report was posted in the PCGS Forum on Friday as dealer reports are rather mixed. Some dealers are reporting a weak show while other are indicating moderate sales. After Thursday's GFRC record single day sales, Friday results were to expectations but not great. There was steady traffic at the GFRC table with adequate sales. The GFRC business model is primarily based on online sales and that portion of the business continued to be strong. The 1851 PCGS AU53 Seated half purchased on Thursday is already on hold and shipping to customer on Monday. Several of the Seated dime consignment pieces are also on hold via FRoR program.
Dealers with average or low end coins at retail prices are struggling at larger shows as collectors become more astute with their purchases. CAC coins are now preferred while non CAC pieces are carefully inspected since the lack of CAC approval mean more due diligence for potential problems. Being holdered by a leading TPG no longer means that coins are of high quality. I have seen too many coins in TPG holders that have been dipped, cleaned or "improved" by the crack out dealers who are always trying to "make" coins at the highest grade possible. Careful inspection and working with an experienced dealers is necessary for those who are not advanced collectors.
Since the Baltimore show was generally weak, wholesale dealers were working the bourse floor hard to make any type of sales. As usual, I welcomed all opportunities to view boxes of coins and continued to be very selective concerning "cherry picking" choice original Bust and Seated pieces into GFRC inventory. I'm to the point that when strictly original gray coins with eye appeal are seen, then these are bought for inventory. Strictly original coins are scarce in the market and worth to accumulate at current pricing levels.
The LSCC regional meeting was well attended with an estimated 25-30 people; there were meeting late comers not included in the attendees' group picture. Len Augsburger announced the new Gobrecht Journal cover art prepared by Jim Macor. The March 2016 issue will migrate to this exciting new cover format and a preview will be forthcoming in the next E-Gobrecht.
Following are the GFRC Newps after two days at the Baltimore show.
3c Silvers: 1860 PCGS MS61 (cracked out for Dansco set)
Seated 5c: 1849 NGC MS62 choice original gray; 1853 PCGS AU53 (cracked out for Dansco set)
Seated 10c: 1858-O AU55 choice light gray, 1866-S PCGS EF40 original gray; 1873 WA PCGS EF40 CAC choice original, 1878-CC NGC MS64 F-101 gem original and under graded.
Bust 25c: 1833 PCGS AU50 choice early die state example with no die pitting as constantly seen.
Seated 25c: 1851-O PCGS F15 CAC choice original gray; 1854-O VF20 original Crumbled Die Obverse and one of the better seen; 1868-S PCGS F12 original; 1880 PCGS AU50 CAC and one of the finest seen at this level, 1888-S PCGS EF45 CAC choice original
Washington 25c: 1932-D PCGS AU58 CAC choice original gray patina with underlying luster.
Bust 50c: 1833 PCGS EF45 original gray, 1833 NGC VF35 original gray, 1837 PCGS AU58 CAC gem original, 1838 AU50 choice original
Seated 50c: 1847 PCGS AU50 (cracked out for Dansco set), 1851 PCGS AU53 (Sold), 1851-O AU50
Trade $1: 1878-S PCGS AU58 choice original rose/gray
Morgan $1: Six different toners graded PCGS/NGC MS63 and MS64 grades.
Saturday Update
GFRC will be open until 2:00pm today at the Baltimore show and then we are packing up and driving north for 9 hours.
Overnight, there was excellent response to Baltimore Newps and already six coins are on FRoR and awaiting prices and images. Thank you so much for checking the Blog on a regular basis.
November 6, 2015
Baltimore Show Report - Day 1
Wow! Wow! and Wow! The opening Baltimore show session was the most exciting day experienced by GFRC to date. This show report is from behind Table 818 vantage point as I stayed behind the table the entire day except for two bathroom breaks. GFRC set a single day sales record and took in several incredible consignments. The show opened to the public at 12:00 noon and immediately there was a constant flow of GFRC customers who took my request to visit GFRC first seriously. W. David Perkins had a similar experience with the Warren Miller early bust dollars and was planted behind his cases without a break. GFRC's largest sale of the day was an 1873-CC PCGS VF30 Seated dime along with an 1872-S PCGS AU58 CAC Seated dime to an advanced collector. The 1873-CC dime was original from my personal collection and PCGS Registry set.
I am also proud to report that 1/3 of the Central California Collection pieces are already sold. A sincere thank you to everyone who purchased coins from this wonderful collection.
Day 1 Highlights
During dealer setup and wholesale trade, I immediately bought an incredible deal that walked up to the GFRC table. The centerpiece of the deal was an 1878-CC Type I reverse dime residing in old fatty NGC holder and undergraded at MS64. This coin is a pure gem with flashy luster and old time ring toning. This piece was fresh to market and will easily CAC green with a possibility of CAC gold. Also in the lot was a freshly graded 1851 Seated half in PCGS AU53 that is gem original gray.
Immediately after the walk up deal, the first of two huge consignments arrived. Highlights of the first consignment included a 16 piece lot of beautiful Walking Liberty halves (all MS65-MS66) that have been off the market for at least 15 years and the following Seated dimes.
Seated 10c: 1840 With Drapery NGC MS62; 1847 PCGS AU58; 1852-O PCGS AU53; 1853-O PCGS AU53 CAC; 1856 LD PCGS AU58; 1856-O PCGS AU50 Medium O; 1869-S PCGS MS62, 1871-S PCGS AU50; 1871-S NGC AU58; 1872 PCGS MS64; 1872-S PCGS AU58 CAC (Immediately Sold); 1872-S NGC AU53; 1873-CC PCGS VF30 (Immediately Sold); 1878-CC NGC MS63 F-104 Top 100; 1883 PCGS MS65
Within several hours of the above consignment arriving, a second Liberty Seated dime consignment walked up to the GFRC table and blew me away! This is a new consignor and the individual has chosen the name "Pickering Creek Collection" for future marketing of his coins. We start the conservation with the individual pulling out one of the finest Liberty Seated dimes in existent out of his pocket; an 1860 PCGS MS68 that I could have savored for several hours. It was one of the most beautiful Seated dimes seen in my lifetime. After settling down emotionally, we reviewed his consignment. Following are the pieces transferred to GFRC.
Seated 10c: 1838 Partial Drap PCGS MS64 CAC; 1840-O PCGS MS62 CAC Simpson; 1850-O PCGS MS66 CAC Large O; 1854 PCGS MS65 CAC; 1854-O PCGS MS65 Eliasberg, 1855 PCGS MS65, 1856 PCGS MS65+ CAC, 1859 PCGS MS67 CAC old rattler holder; 1860-S PCGS MS63 CAC pure gem for grade; 1868 NGC MS65; 1870 PCGS MS64 CAC, 1887 PCGS MS67 CAC, 1887-S PCGS MS65; 1888 PCGS MS66; 1889 PCGS MS66+ CAC and finally, 1889-S PCGS MS64.
If the above was not enough for my humble business, more consignments and over the table purchases occurred until we closed shop at 6:00pm. I bought some really solid raw type coins from one collector and dual sided toned Morgans from a dealer. Overall, it was an amazing day with a host of LSCC members and GFRC customers visiting at Table 818.
The LSCC dinner was at the M&S Grill and we had a great turnout of 15 club members and enjoyed each others company for several hours. While sitting next to Bill Bugert and Darrell Low, we brainstormed a feature for the Gobrecht Journal; club members will be able to view the outcome in the March 2016 issue.
I must leave the Blog here as it is time for breakfast and the LSCC Regional meeting at 9:00am. A sincerely thank you to my son Matt for handling customers and keeping me fully organized throughout an incredible first day at the Whitman Baltimore show. Matt was so instrumental in allowing me to focus 100% attention on GFRC customers and consignors.
Please check back tomorrow for Day 2 highlights!
November 5, 2015
Greetings from Baltimore!
The Northeast weather was uncharacteristically warm during yesterday early November drive requiring the car air conditioner when traveling through New Jersey, Delaware and Maryland. The nine hour drive went quickly as Matt and I had an opportunity to discuss a variety of topics including global warming, his career status in the Environmental Sustainability field along with his forthcoming sustainability website. The discussion shifted to approaches for attracting more Millennials to the Liberty Seated Collectors Club and finally, his initial research and proposal for updating the GFRC website with e-commerce module. We arrived on schedule and placed coins into Whitman security room followed by attending Stack's auction lot preview. We wrapped up the day with an enjoyable dinner with one of GFRC's top consignors.
Since we will be up early to retrieve coins and enter the bourse at 8:00am for dealer setup, I am writing the blog on Wednesday evening.
GFRC News
Response to the Central California Collection has been strong with 6 of 45 coins already on hold and the potential for another six pieces to sell on Thursday at the Baltimore show. I have update the Central Californina excel price list and shaded those coins that are sold or will be on Baltimore show FRoR inspection. Once again, please consider a purchase from the Central California Collection to help a GRFC customer and consignor. It is a noble cause.
Two substantial consignments will be transferred to GFRC at the Baltimore show. The first is approximately 40-50 pieces of quality Liberty Seated dimes and other important properties while the second totals 15 raw early type coins. I am also working on a potential third consignment that will include higher grade Liberty Seated dimes.
The Indiana Collection consignment of Liberty Seated dimes will be available in the Baltimore show cases and the balance that do not sell with be online early next week. The entire consigment will also be added to the Client Gallery.
Finally, look for a forthcoming annoucement concerning closer business cooperation between GFRC and my eBay partner, Jim Poston (GFRC-Coins). Jim and I have a preliminary agreement for aggressively increasing GFRC product presence on eBay with the implementation to start in early December.
Liberty Seated Collectors Club News
By now, most club members wil have received the November 2015 Gobrecht Journal issue in their mail boxes. Already a new club member sent an email discussing his 1876-CC DDO cherry picks in a local dealer's junk box. My article on the 1876 Carson City Double Die Obverse varieties brought about the motivation to share his lucky finds. Bill Bugert, LSCC Publications Editor, continues to refine his Gobrecht Journal preparations skills coupled with high quality club member articles.
The LSCC Regional meeting will be held on Friday at 9:00am in Room 306 at the convention center. I will be sharing a discussion on the 1874 Polished Arrows Seated dime variety and will have the finest known example on hand at the meeting.
Baltimore Show Reports
It has been a long day with nine hour drive. Today's blog will end here as time for bed and to recharge the personal batteries. A daily Baltimore show report will be posted starting on late Thursday evening/Friday morning so please check back then.
GFRC Customer Commentary
Since I've commented on several occasions about media biases with respect to governmental political agendas, James Davis sent along an article entitled, "FCC Investigates Broadcasts With Reported Ties to China" from RadioWorld.com. Following are the opening paragraphs form the article. You are invited to read the entire piece at your leisure.
A California company whose U.S. radio broadcasts reportedly are backed by a broadcast arm of the Chinese government is now being investigated by the Federal Communications Commission and the Justice Department for potential violations of foreign ownership laws.
In a series of investigative articles this week, Reuters reported that a radio network broadcasting programming in more than a dozen American cities — including Washington, Philadelphia, Boston, Houston and San Francisco — is more than 50 percent owned by a Chinese state-run organization. Indeed Reuters said its investigation found at least 33 radio stations in 14 countries that are part of a global radio network controlled by the state-run China Radio International. CRI has a 60 percent ownership stake in the company G&E Studios Inc.
Thank you to all the loyal Blog readers for your dedication and positive feedback.
November 3, 2015
Welcome to the Tuesday morning Blog edition. I'm in a mild stressed out mode as two days between Rochester NY and Baltimore show leaves little time for managing normal order fulfillment and organizing the inventory to be carried to the Whitman Baltimore show. Today's blog will not feature long topics but rather quick updates as there are multiple tasks to be accomplished in just a few hours. My son, Matt and grand daughter, Natsumi arrive at the Portland train station and require transport also....
But I do wish to comment on this morning's NBC News headline where Obama is quoted as saying that, "If GOP Candidates Can't Handle CNBC, How Will They Deal With Russia and China?". Ok, we get it NBC News. This is payback for the Republican candidates canceling the next debate scheduled with NBC. The liberal bias of this media outlet is so apparent. Control of the media is an essential step in tyranny....I would suggest a reading of The Rise and Fall of the Third Reich by William Shirer as a worst case example of how a well organized group of thugs were able to control the minds of German citizens. Controlling the media via well orchestrated propaganda was an essential ingredient in their covert territorial expansion plans.
GFRC News
I received approval on suggested retail pricing for the Central California Collection consignment late yesterday evening. Since I am packing GFRC inventory today for the Baltimore show, then quick decisions need to be made on which coins will be held back in the bank and those that will be on display/for sale. A new approach was necessary given the lack of time; I've created a Central California Collection price list via Excel spreadsheet and you can download here. The price list link will also be added to the Client Gallery.
Please realize that the consignor has serious health issues and I am now dealing directly with his brother. The situation is sad as I have deep respect for the consignor and the friendship that grew since starting GFRC. This is a superior collection of Liberty Seated coinage and the consignor's brother asked that I do all possible to secure full value for the coins to help with medical expenses. Please open your hearts and consider a purchase of a coin from the Central California Collection. The cause is noble. Once I receive confirmations back from FRoR individuals and their selections, I will update the Central California excel sheet and mark those coins that are on hold.
Central California Collection Price List - Excel Sheet Download
The Whitman Baltimore show starts on Thursday morning. W. David Perkins and Gerry Fortin Rare Coins will be sharing Table 818 space. Reaching Table 818 is a short walk and we hope that you will visit us first. Please remember that W. David Perkins will have the Warren Miller Early Bust dollars collection on display; a not to be missed opportunity. GFRC and W. David Perkins will have the finest early type coins offerings at the Whitman show.
Whitman Baltimore Coin Expo - Gerry Fortin Rare Coins/W. David Perkins - Table 818
Recent New Purchases
I did manage to post some new purchase yesterday and following is a mini gallery highlighting coins added to the price list. All will be available at Baltimore show but some may be behind in the table and not is the cases (raw Morgan dollars).
There will be no Blog on Wednesday morning for obvious reasons but please do expect the next GFRC Blog edition on Thursday morning. I will be writing daily Baltimore show reports and announcing New Purchases. Several major consignments have been committed and will be transferred at the show so there should be considerable news forthcoming.
Thank you for visiting and once again, please consider a purchase from the Central California Collection.
For those of you attending the Whitman Baltimore show, then please stop by Table 818 to say hello and meet my son Matt.
November 2, 2015
Good morning and welcome to another work week. There is much to discuss in today's blog after a busy weekend in Rochester, New York. The drive back to Maine was uneventful and arrived home at 10:00pm with a chance to catch up on emails before heading to bed.
The Kansas City Royals won the World Series and my buddy Jim Poston (GFRC-Coins) must be in heaven this morning.
I received great news from my former business colleague and close Dutch friend Peter Sijbers. Peter and I worked closely together during my days in China. We attempted on multiple occasions to bring about business deals between CSMC Technologies (my company) and NXP Semiconductors (his company). Peter is a great guy and retired from NXP at about the same time that I retired from CSMC. He has managed to arrange his travel schedule to be in Shanghai during the Shanghai Yunzhou coin show and we are planning a reunion one evening at Shanghai's well known Big Bamboo expat bar for drinks and catching up after two years apart.
Let's start the Blog with a wrap up on the Rochester show.
Rochester NY Show Day 2:
Show attendance was slower on Sunday as compared to Saturday but the LSCC team remained active behind our display tables. One younger numismatist (aged 23) saw the Liberty Seated dime display as a learning opportunity to inspect and understand the characteristic of high grade Seated coinage. I thoroughly enjoyed the one on one session with this individual as we systematically reviewed each piece and discussed its positive and negative characteristis with respect to the TPG assigned grade and CAC approval results. I wish that others in attendance at the Rochester show would have also seen the display as a similar educational event.
John Frost and I wrapped up the Rochester show with a planning session for the LSCC's new project; providing a week long Liberty Seated coinage course at the 2016 ANA Summer Seminar. Our proposal must be submitted by mid November and I'm pleased to report that we quickly reached consensus on the course goals and teaching methods. In summary, we are in good hands with John Frost submitting the LSCC proposal.
We closed out Rochester display with a positive discussion with Maria Paris and Edward Cain, Rochester Numismatic Association members. These individuals were extremely positive about th LSCC's outreach effort and sincerely thanked us for the time and personal monies spent to display at the Rochester show. We were invited back at next year's event and there was discussion about how to advertise the LSCC presence throughout the Rochester area and in particular at local educational institutions.
LSCC News
Bill Bugert, LSCC Publications Editor, released the November E-Gobrecht issue promptly on November 1 morning. It is another great issue with up to the minute reporting and images by John Frost from the Rochester show. The Whitman Baltimore starts on Thursday with traditional LSCC dinner on Thursday evening and club meeting on Friday at 9:00am. I will be giving a presentation on the 1874 Polished Arrows Seated dime variety at the club meeting while John Frost and Dennis Fortier will be hosting the LSCC club table.
Tthe November E-Gobrecht is already loaded on GFRC website and John Frost will do same for the LSCC website. The direct link is http://www.seateddimevarieties.com/130-E-GobrechtVolume11,Issue11.pdf
GFRC News
FRoR requests poured in on Sunday for the Central California Collection and I am organizing the requests. Please don't be alarmed if not hearing from me immediately due to the time spent on the Rochester event and now preparing for the Whitman Baltimore show. I am organizing all FRoR requests in order received and will be contacting customers once prices are finalized and I have approval to start offering coins. Late yesterday evening, I received an email from the consignor that prices will be approved by end of day Monday. This means I will be contacting GFRC customers later today or on Tuesday morning. Once customers indicate a desire to purchase specific coins, these will be pulled from inventory and not offered for sale at the Baltimore show.
I received another great consignment at the Rochester show and will provide details on these coins in Tuesday's blog.
Matt and I are driving to Baltimore early on Wednesday morning so there is much to accomplish in just 48 hours. Please don't be concerned if my email response is delayed as there is a so much to be done in such a short time.
Financial News
A review of Seeking Alpha headlines continues to indicate that global deflationary pressures are at hand. The following two headlines report that China and Europe manufacturing "lacking vigor". Then there is Puerto Rico that is fiscally broke with news that their financial accounting process is in similar shape. It really is amazing how governments can spend monies without accountability and credible management.
Asian stocks slid to their lowest level in nearly three weeks on Monday, after China's factory gauges signaled that manufacturing still hasn't bottomed out despite a raft of stimulus measures. Caixin's purchasing managers' index edged up to 48.3 in October, marking the eighth-straight month of contraction, while the country's official PMI came in at 49.8, missing market expectations of a 50.0 level. China has cut interest rates six times since last November to boost its economy, which is forecast this year to grow at its slowest annual pace in a quarter of a century, but more actions may be needed to stimulate growth.
The ECB's massive stimulus program has done little to spur manufacturing growth in the eurozone, as factories again resorted to cutting prices to boost trade. Markit's final manufacturing PMI was 52.3 last month, only slightly up from September, but it has been above the 50 mark that separates growth from contraction for over two years. "With factory production lacking vigor, employment growth sagging to an eight-month low and output prices falling at the fastest rate since February, it's easy to see why the ECB is considering additional stimulus," said Chris Williamson, chief economist at Markit.
Then there is Puerto Rico that is unable to file 2014 financial statements......Puerto Rico has failed to submit audited fiscal 2014 financial statements by a self-imposed Oct. 31 deadline, stating it "cannot provide an estimate at this time of when it will be able to complete and file" them. The commonwealth's annual report is now 181 days late, the longest that Puerto Rico has been overdue on its yearly audited statements since at least 2000.
Featured Coins of the Day
I'm going to punt on this Blog section and need to take a quick shower and head to the bank vault to exchange Rochester display coins with GFRC inventory boxes and start Whitman show preparations.
Thank you for visiting this morning and please check back tomorrow when I will be much more organized and have some great coin images to offer and a few discounted coins to sell to dedicated Blog readers.
November 1, 2015
Welcome to November and thank you for visiting once again. Saturday was a busy while fun day at the Rochester Museum and Science Center. Though the Rochester Numismatic Association show is on a smaller scale, professional management was so apparent with the LSCC staff feeling right at home.
Rochester NY Show Day 1:
The LSCC was well represented by John Frost, Dennis Fortier and myself with five combined cases of Liberty Seated coinage on display. Each of us gave a presentation in the Science Center auditorium throughout the day. The educational presentation will be well attended with an average 12-14 people per session. Our Liberty Seated coinage displays drew visitor attention until 3:00pm when show attendance slowed.
Following are images taken by various individuals who wished to help populate the Blog with a visual record of the Rochester show event. John Frost is the individual with the red Barber Coin Collectors Society shirt while I'm wearing the dark LSCC polo shirt.
I expect Sunday to be slower day for show attendance and will be driving back to Maine during late afternoon. There is much to do on Monday and Tuesday towards preparing for the Whitman Baltimore show. My son Matt, arrives via train to Portland on Tuesday evening and we are driving to Baltimore early Wednesday morning.
GFRC News
All Central California Collection coins are now displayed in the Client Gallery. This is a truly special offering for GFRC customers. Effective immediately, First Right of Refusal is now officially open for the Central California Collection. Please email me with your coins of interest and I will log the requests on a first come, first serve basis. The GFRC retail pricing proposal to the consignor should be approved shortly and definitely before leaving for the Baltimore. Selections that are placed on FRoR will not be offered at the Baltimore show so please consider your selections carefully in fairness to the consignor.
While at the Rochester show yesterday, I received a phone call from a key GFRC consignor. He reported that a substantial Seated and 20th Century type coin consignment (double row slabbed box) will be transferred to GFRC at the show. Contained in the lot will be important Liberty Seated dime offerings at customers should pay special attention to.
If you have been considering the potential sale of duplicates and are attending the Baltimore show, then this is a perfect venue for consigning coins. Please contact me in the next 72 hours so I can make appropriate preparation in terms of storage boxes. I do wish to expand the World Coin price list further along with Barber coinage and Capped bust type.
Rochester NY New Purchases
I could not help myself as there were nice coins offered to me at the show. The highlight is an 1819 PCGS VF35 B-3 Small 9 Capped bust quarter that is so choice with gun metal gray and blue patina. I also purchased an 1875 PCGS MS63 dime that is crusty original and will be aggressive priced once returning home. Finally, I bought a strictly original 1912-D Barber half graded PCGS AU58. This piece has the appropriate light gray/gold patina that one would expect from an original coin.
This is the extent of the Blog for today and need to pack and head to the Rochester bourse floor.