Gerry's Daily Blog Archives - February 2016
February 29, 2016
Happy Leap Year Monday!
It is difficult to believe that March arrives tomorrow with the Whitman Baltimore show less than a month away. Most of the numismatic industry will be focused on the Dallas ANA show this week. Will the strong Tampa FUN show vibes continue through the entire first quarter? Attendance at the Lakeland and Sarasota Florida shows has been vibrant based on personal observations. GFRC will be staying in Venice during the Dallas ANA to continue processing and marketing the growing number of consigned coins that are arriving each week.
GFRC News
I spent the better part of Sunday loading Sarasota new purchases on the price list and handling end of month sales. Not much has been said about the Morgans that were purchased at Sarasota but the following gallery sure does them justice. Sometimes one can get lucky at smaller shows and dig out some better coins. I believe this is the case here.
Today's priority is several CAC submissions along with organizing an NGC submission then back to working on Seal Beach Part II consignment. Seal Beach Part II is massive and will be marketed throughout the week within the Daily Blog and then loaded on price lists.
New Consignments Wanted
The Motor City, Seal Beach, Woodlands and now, Poetic Candy Collection consignors have similar objectives when working with GFRC; pruning and downsizing one's collection and realizing strong financial returns. While being a prized accomplishment, advanced coin collections are also solid financial assets. Coin collections are not as liquid as stocks/bonds and must be carefully managed during the sales process to secure the best possible financial return. Sending a large collection en masse to an auction house is the easiest liquidation approach but may not bring the strongest prices. Depending on individual coin quality and perceived market value, the auction house will decide how to market and when to sell. Some collections are relegated to the back of an auction catalog with no images and internet sessions only. Others may be sold at auction before an major show officially opens. Then there is the lag time between consignment and the auction venue plus shifting market conditions. Finally, auction house fees need to be considered. My point during this discussion? Consigning your precious coins to GFRC is a much more exact and predictable experience. Your coins are;
- Individually evaluated with CAC recommendations and submissions
- Consensus retail pricing dialogue between GFRC and the consignors
- Ongoing display in the Client Galley
- Marketing in the Daily Blog
- Complete transparency with the new COIN reporting system.
- Consignors retain coin ownership and can request their return at any time during the sale process.
Please remember that a substantial coin collection sitting in a bank box is an inactive financial asset. Testing the retail market in a controlled and predictable environment is the primary service that GFRC can provide. I'm a long time numismatist and advanced collector helping fellow collectors with the disposal portion of the coin collection life cycle. This July 2015 Daily Blog coin collection life cycle plot illustrates the time required to assemble and dispose an advanced collection at full retail prices. Just something to think about with Whitman Baltimore, Central States and Denver coin shows arriving shortly. Now is the time to act if you've been thinking about thinning down the collection and redirecting funds towards other opportunities.
Coin Collection Construction Time = Coin Collection Disposal Time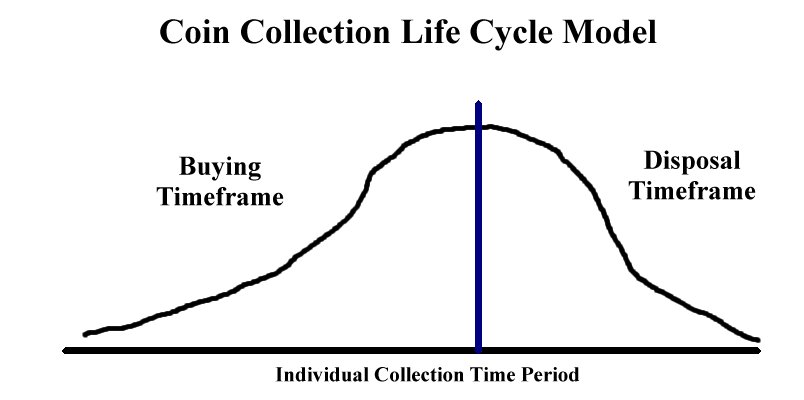 Financial News
Gold prices continue to receive favorable attention as global equities markets remain volatile. China's Shanghai exchange continues to struggle while Japan's Abenomics is waiting for a windshield. Europe continues to sink into deflation. The bright point in global equities is the United States according to Warren Buffet.
Gold prices this month were bolstered by volatile moves across global stocks that sent investors flocking to safe haven assets including precious metals. According to Reuters data, gold is on track for its biggest monthly gain in four years since January 2012, and rallied by about 15% since the beginning of 2016. Bullion for immediate delivery +1.2% to $1235.30.
China led today's equity losses as the PBOC guided the yuan to its weakest level in three weeks, triggering a 2.9% drop in the Shanghai Composite to levels not seen since late 2014. Following the plunge, China's central bank cut its reserve requirement ratio by 50 bps to 17%, in an attempt to calm investor jitters over the world's second largest economy. The move marks the fifth time since last February the PBOC has slashed its ratio, the last cut being on October 23.
Speaking in parliament today, Japanese Prime Minister Shinzo Abe said there were no plans to freeze or postpone a sales tax hike to 10% next year and he has no intention of calling a snap election. That's despite one of the leader's close advisers warning earlier this month that going ahead with the hike would risk failure for 'Abenomics' - Abe's multi-pronged economic revival program.
Billionaire investor Warren Buffett thinks the gloom is overdone, however, saying politicians are "dead wrong" on the U.S. economy. "For 240 years it's been a terrible mistake to bet against America, and now is no time to start," the Oracle disclosed in his closely watched annual letter to investors. Buffett also defended his ties to 3G capital and Clayton Homes, and revisited Berkshire's (BRK.A, BRK.B) biggest takeover ever - Precision Castparts. Missing topics: No mention of a successor, the slump in commodity prices or recent market volatility.
Featured Coins from the Trading Desk
This morning, the Trading Desk features two pieces from the Grey Soldier collection. Both are 1861 New Orlean strikes with the first being a magnificent W-1 graded NGC MS62 followed by a W-13 graded PCGS AU50. These are lovely bookends that showcase the initial New Orleans strikes under Union administration and the April 1861 strikes while under the administration of the Confederate States of America. Collecting all fourteen New Orleans die varieties is growing in popularity and collectors can display their sets in the Open Registry.
Wishing Blog readers a great day and forthcoming week!
February 28, 2016
Greetings on this Sunday morning and hope that all is well with loyal Blog readers. The South Carolina Democratic primary was a non event with Hillary's decisive victory. Bernie Sanders should be worried about Super Tuesday. On the Republican side, Trump will not release his tax returns before Super Tuesday as this would be a gift to media and pundits.
Morning coffee has yet to work and writing is a bit tedious. So let's jump into GFRC news followed by the featured topic. I can recite coin talk in my sleep but offering social small talk is a completely different animal when lacking caffeine.
GFRC News
The Woodlands Part III consigned coins are loaded to the price list as of yesterday evening. Several pieces have had inquiries and I'm hoping for purchase decisions today.
The Poetic Candy consignment arrived on Saturday and upon opening the three USPS shipment, all I could say was OMG and WOW! Poetic Candy is a new GFRC friend by way of an existing customer. This individual has decided to sell his numismatic holdings purchased in the 1970s and 1980s and then TPG graded in the late 1980s. His coins have sat in a bank box since then. The overall quality of the lot is amazing for the assigned grades. The early PCGS Rattler and OGH along with NGC Fatty holders are in pristine condition. The proof Seated quarters and half dollars are perfectly matched in grade, coloring and eye appeal. Following are the contents which are heading to CAC on Monday.
Nickel 3c: 1889 PCGS PR66; 1889 PCGS PR64 OGH
Seated 5c: 1858 PCGS MS63; 1864 PCGS PR64 OGH
Shield/Liberty 5c: 1879/8 PCGS PR65 OGH; 1894 PCGS PR64 OGH
Buffalo 5c: 1936 PCGS PF65 Rattler
Seated 10c: 1885 PCGS PF65 OGH; 1889 PCGS PR63
Mercury 10c: 1937 PCGS PR66
Seated 25c: 1881 NGC PR63 Fatty; 1882 NGC PR64 Fatty; 1883 NGC PR63 Fatty; 1884 NGC PR64 Fatty; 1885 NGC PF64 Fatty...all perfectly color matched
Seated 50c: 1881 PCGS PR64 Rattler; 1882 NGC PR64 Fatty; 1883 NGC PR64 Fatty...all perfectly color matched
Trade $1: 1875-S PCGS MS64 OGH with pretty frosty luster
Commem $2.5: 1926-S PCGS MS62 Rattler
Shifting gears, let's now discuss several consigned coins that also arrived this week and are illustrated in this short gallery. Collectors well understand that the 1870-CC and 1871-CC quarters are key dates and rarities in the Liberty Seated quarter series. These two pieces have obvious problems and resided in PCGS Genuine holders. The 1870-CC is designated as Graffiti - VF Details while the 1871-CC is designated as Repaired - VG Details. Accompanying these the two quarters is a beautiful 1851 Seated half that I grade AU55. This piece is also designated as the WB-5 R4 die pairing in Bill Bugert's forthcoming Federal Register on Philadelphia mint struck Liberty Seated halves. The 1851 is heading to TPG for grading this week. The 1870-CC and 1871-CC quarters are heading to the price list shortly.
Featured Topic
Now that morning coffee is working and the brain is functioning, let's visit the spot gold breakout that has become a hot story in the financial press. After watching the gold charts for several years, it does appear that spot gold has broken out of a multi year bear market when examining the charts. How the major banks will handle the breakout is another story as we know gold is a manipulated market. Let's look at this kitco.com 8 year technical chart. The green line is the 200 moving average (MA) while the blue is 60 day moving average. Gold's recent spike into the mid $1200s has shot well above the 200 MA; this is known as a trend break out. Once the blue 60 MA crosses the 200 MA, then an upward trend has formed. If gold spot prices can trade above both the 60 and 200 MA lines, then gold has entered into a bull market.
A recent 10th Man article (part of my John Mauldin subscription) by Jared Dillian well summarizes the breakout and the growing list of global economic concerns that has the major funds moving back into gold. The article is entitled, It's Goldhammer Time. I read all of Dillian's pieces as he is a former head of ETF Trading at one of the biggest Wall Street firms and understands the behind the scene market activities. He opens the article with this comment.
This is the most magnificent chart in all of the capital markets right now. There is no arguing that. The deflationists/gold haters can argue about the investment merits of gold until the cows come home, but there is no arguing with that chart. Which explains some of the gold haters' silence.
He then justifies why gold has broken out. The central bankers are unable to meet society's new expectations for no recessions and constant financial stability regardless of excesses that build in the capital and debt markets. Oil's current pricing is an example of a variable that is stressing the financial markets.
We've Lost Our Minds
First you had zero interest rates. Then you had quantitative easing. Now you have negative interest rates.
The central banks are finding it difficult to implement negative rates because people hoard cash. The Japanese are buying safes to store it all.
Of course, the government can eliminate high-denomination bills (as Larry Summers wants to do with the $100 bill) or even make it illegal to hold cash, so that NIRP can be implemented successfully.
Like I said, the authorities are finding it difficult to implement negative rates (the Swiss are hoarding CHF1,000 notes to avoid -0.75% interest rates), so people are quite openly speculating about the possibility of OMT—outright monetary transactions.
That's when central banks print money—and put it in your bank account. Everyone's bank account.
Yes, this is now being discussed in Europe. Please read the balance of Jared's article. Something to think about on this Sunday morning.
Let's end the Daily Blog here and I will see you bright and early on Monday morning. Today's priority is working on the Seal Beach Collection Part II consignment. As each major consignment arrives, I must transition the consignor to the new COIN business system along with processing his coins. This takes considerable time and I'm working as quickly as possible to move each consignor over to the new GFRC system.
February 27, 2016
Welcome to the Daily Blog and a leap year weekend. Thank you for visiting.
Wikipedia offers an excellent explanation for the need to introduce an extra day into the Gregorian calendar. From Wikipedia, A leap year (also known as an intercalary year) is a year containing one additional day added to keep the calendar year synchronized with the astronomical or seasonal year. Because seasons and astronomical events do not repeat in a whole number of days, calendars that have the same number of days in each year drift over time with respect to the event that the year is supposed to track. By inserting an additional day into the year, the drift can be corrected. A year that is not a leap year is called a common year.
LSCC News
I'm pleased to report that the March Gobrecht Journal is on track to be mailed within a week's time. Bill Bugert indicates that 700 Journal copies are printed and will be retrieved on Monday. Preparation of club membership cards here in Venice is also done and priority mailing to Bill today. Bill and his wife, Judy, will spend three days during the coming week to package and mail nearly 625 issues when including advertisers and those club members who renewed dues as the absolute last minute. Bill reports that the March issue looks amazingly great as our club publication continues to take advantage of state of the art publishing and printing technology.
GFRC News
Positive feedback arrived on Friday for the latest Osprey Collection client gallery display. Several GFRC friends commented on the magnitude of the Osprey gold offerings and the consignment's consistent originality. The feedback was welcomed and sure would like to sell a few pieces this weekend towards closing out February sales on a high note.
Friday was another long day considering the Sarasota show attendance in the morning, packing and shipping in the afternoon and then working until after midnight preparing the Woodlands Collection Part III for illustration in this morning's Blog. In between activities, W. David Perkins and I chatted concerning his just released website. The domain name should be of no surprise to anyone.....www.davidperkinsrarecoins.com. Please have a visit to view well prepared images of the Gorman and Miller Collections. David and I will be once again teaming up at the March Whitman Baltimore show and will be at the usual location across from Heritage Auctions on the bourse floor.
Back to the Woodlands Collection consignment. Below are the eleven pieces with some incredible offerings to be noted. Leading the group is an 1861-O CSA Obverse half dollar residing in PCGS AU50 holder. This example is a no question gem at the grade level with CAC approval. As few pieces exist in this affordable preservation state, the Woodlands offering is noteworthy and substantial. Please check the images closely. Next in significance is the 1859 half dime graded PCGS MS67 and also approved by CAC. The transitional 1859 date comes with a shallow relief design and the superb gem grades allows every design element to be viewed and appreciated. The Feuchtwanger 1c grades AU58 and is choice while the 1837 Small Date F-102 graded PCGS MS60 offers the only 1837 die pairing with the reverse rotated right. The 1875 NGC MS65 CAC F-106 dime is already sold and going into a new advanced Liberty Seated dime collection. Finally the 1888 dime is a superb gem grading PCGS MS66 with CAC approval.
The Woodlands Collection Consignment Part III - February 27, 2015
United States Type Coins
More consignments are coming to GRFC! The Poetic Candy Collection consignment should arrive today or Monday. I'm also pleased to announce that an advanced Draped and Capped bust collector has decided to work with GFRC towards thinning the herd a tad. His 23 piece consignment ships on Monday and includes Capped bust half dimes, dimes, quarters and halves and a few Seated halves for good luck. We have yet to assign a collection name to this consignor. Finally Jim Poston reports having amassed a substantial group of quality Seated coins from his part of the country and will be shipping by mid week.
Finally for GFRC News, I would like to touch upon this 1859-O WB-11 Seated half graded PCGS Genuine MS Details - Tooled. The PCGS designation sounds ominous, right? Actually wrong as this piece has superb eye appeal whether in hand or viewing under bright light. This lovely half dollar is a gem with a minor scuff in the upper left reverse field that is fully toned over. The TPGs have brain washed collectors to view any coin designated as "Genuine" or "Details Grade" as being significantly inferior while there are boxes and boxes of certified coins in dealer inventories that actually belong in Details Grade - Cleaned holders due to net grading. Sometimes the TPG will net grade and other times they will designate with a Details Grade. Honestly from a collector's perspective, I would enjoy having this half dollar in my collection as the eye appeal trumps the reverse blemish. A net grade of MS62/MS63 would be more than appropriate here.
Let's wrap up the Daily Blog here as a health walk is in order followed by a run to the post office to mail out those signed LSCC club member cards. In Sunday's Blog, I'd like to discuss a spot gold article concerning the recent upward pricing breakout. This author well captures my feelings on gold's recent price movement and potential factors behind the break out.
Wishing everyone a great Leap Year weekend and will be seeing you bright and early on Sunday morning for yet another edition of the Daily Blog.
February 26, 2016
Evening Update
Evening has arrived after another busy GFRC day. The Sarasota show was a full house by 11:00am with all the aisles packed with collectors seeking out their favorite designs. Bullion gold was in strong demand.
As an early bird, I was on the bourse floor by 8:00am and used the time wisely to visit every dealer and search out the best values available. Liberty Seated coinage was in short supply and Capped bust coins (other than halves) was even more difficult to locate. My persistence paid off as purchased a nice group of better than average coins by 11:00am. Following are the new purchases;
Seated 5c: 1845 ANACS EF40 choice original in Old White Holder; 1850-O EF40+ choice original gray
Bust 10c: 1835 JR-3 EF45 and one of the nicest example seen at that grade level...no dealer hype here!
Seated 25c: 1846 VF20 original gray
Seated 50c: 1840 Rev39 VG8 original gray with massive die scratch Star 4 to Star 7; 1851-O VG8 original gray
Morgan $1: 1881-S PCGS MS64 with MS66 luster and light color; 1882-S PCGS MS64 CAC mirrored surfaces with rainbow obverse; 1887 PCGS MS63 beautiful gold with blue rim obverse; 1904-O PCGS MS64 bold luster and gold rims.
Gold $1: 1851-O ANACS AU53 so choice original in Old White Holder
Early Friday Morning Edition
Is it already Friday? Where did this week go? No, I passed on the Republican debate as working through the Woodlands consignment along with wrapping up the Osprey Collection consignment. The media will have endless coverage and will be able to catch up after the fact. I'm sure that Rubio and Cruz were on the offensive and looking for any kinks in Trump's armor.
Today is the Sarasota coin show and will be attending as an early bird. Therefore Friday's Blog will be partially written on Thursday evening followed by commentary after the Sarasota show. So please check back on Friday afternoon for an update.
GFRC News
After a marathon 48 hours, I'm pleased to showcase the latest Osprey Collection consignment with its own gallery. This consignment is heavy in Liberty double eagles that are in collector grades as retrieved from Europe. Originality is prominent within this offering with my favorite crusy original double eagle being the 1884-S. The 1865-S half eagle graded NGC EF Details for light cleaning is a rare Civil War date with less than 100 known. There are many other great pieces in this Osprey Galley so please have a look by clicking on the individual images.
The Osprey Collection Consignment Part III - February 25, 2016
Type Coins
Liberty Gold $2.5, $5, $10 and $20
February 25, 2016
Good morning once again and welcome to the Daily Blog. The morning start with a Publix's salad and coffee for breakfast as I consider what to discuss in today's Blog. Overnight world and US news is uneventful so let's jump directly into GFRC News.
GFRC News
About 70% of Osprey Collection Part II is online after a long day of image processing and loading price list. Many of the Osprey double eagles offer both a strong numismatic and bullion play given spot gold's recent move into the mid $1200/oz range. A complete Client Gallery update should be posted tomorrow.
Woodlands Part II consignment arrived yesterday along with special offerings from a new consignor. The Woodlands consigned pieces are gorgeous and will be photographed today. As for the new consignor, there were only three pieces in the lot but definitely noteworthy; 1870-CC 25c PCGS Genuine VF Details Graffiti, 1871-CC 25c VG Details Repaired and an 1851 Seated half dollar to die for. The latter has beautiful original rose/gold and blue toning with plenty of luster. This piece is heading to NGC for immediate grading.
At the moment, GFRC has Seal Beach, Woodlands, Osprey and three pieces from the above consignor in queue to be processed and loaded on price list.
I'm also pleased to announce that new consignor approached GFRC during the weekend and his offerings of PCGS OGH coins (mostly proof strikes) will be in transit today. This new collection will be known as Poetic Candy.
Shifting gears....let's take a look at the new GFRC COIN report as designed and constructed by a father and son team. The databases that support this report are significant. Our goal was the development of an all inclusive reporting instrument that was concise and tuned for the Trading Desk business model. The amount of work being placed into business infrastructure should signal that GFRC is serious about being a reliable long term partner for advanced collectors. Below is the COIN report which some consignors have already received.
GFRC COIN Report Example
The COIN (Consignor Oriented Inventory system for Numismatics) report ulitized four separate tables to capture the full range of GFRC consignor activities. Activities include consignment sales, purchase with consignment sale credit (Trading Desk), GFRC check payments and regular coin purchase via check, Paypal or credit card. Following is an explanation for each table.
- Table 1: Account Summary, Coin Inventory - Documents the consignor's information, commission rates and most importantly, the financial summary. Please look at the upper right header and GFRC Account Summary area. In this area, Total Coins Sold are listing followed by Total GFRC payments and Trading Desk activity. To the right is a summary of available Credit Balance and Credit Pending. Credit Pending counts those coins that are in the hold, ship and acceptance process. Credit Balance counts all sold coins and is money available for Trading Desk purchases or check request. The rest of Table 1 presents an itemized listing of consignor coins in GFRC inventory.
- Table 2: Coin Sales - this table itemizes all consignor coin sales with net proceeds after commission, sale price, date sold or hold/shipped status flagged in red. I've acquired a scanner so all slabbed coins effective mid February will be scanned and bar codes added to COIN database.
- Table 3: GFRC Payment & Charges, Purchase Payments Made - This is a financial table with itemizes GFRC payments and charges on the left and consignor purchase payments on the right. GFRC charges could be CAC or TPG submissions for the consignor. This table allows consignors to see overall GFRC business activity.
- Table 4: Coins Bought - This table itemizes coins bought at GFRC for reference.
Financial News
All is not well in the global markets and gold continues to hold on to recent gains. Seeking Alpha headlines are confirming that central bankers are worried about the global economy as China slows, Japan being a basket case, Brazil in a deep recession and the United States also a question mark for 2016. At some point, the substantial global debt (stimulus efforts) overhang must be dealt with. Finally, don't you love the Fed speak in the second to last Seeking Alpha headlines? Bullard could have just said that "no more interest rate increases are warranted during 2016."
It didn't take long after China's Lunar New Year holiday for the Shanghai Composite to return to its old ways. The index today dropped 6.4%, extending its fall this year to 22%, as surging money-market rates signaled tighter liquidity and the offshore yuan weakened for a fifth day, while the country's vice finance minister warned of pressure on exports. The plunge comes as world leaders gather for a G20 meeting in Shanghai, where current market turmoil and a global economic slowdown are expected to be key topics of discussion.
Meanwhile, the IMF is calling for urgent and bold action to combat the slowing world economy ahead of the gathering of G20 finance ministers and central bank chiefs. "The G20 must plan now for coordinated demand support using available fiscal space to boost public investment," IMF staff said in the report. The calls for an organized stimulus program followed warnings that China's slowdown, financial market turbulence and the collapse in commodity prices were major headwinds that could derail a global recovery.

"I regard it as unwise to continue a normalization strategy in an environment of declining market-based inflation expectations," St. Louis Fed President James Bullard said Wednesday evening. The so-called break-even expected inflation rate in five years' time has dropped as global markets sold off this year, and investors are now predicting a price measure of less than 1.5%, he added. Bullard, long a hawkish member of the Fed who has pushed for higher rates, reversed course in a separate speech last week when he raised a red flag about inflation.
Moody's Investors Service has become the third major rating agency to downgrade Brazil's debt to junk, slashing its rating by two notches to Ba2 as the former emerging market star sinks deeper into its worst recession in decades. "Every day it's something, and you don't know what the next thing will be," said Samar Maziad, Moody's lead analyst for Brazil. "There's very little visibility on what the future will be."
Featured Coins from the Trading Desk
I would love to sell a few coins today to make room for new consignment material. So please don't be bashful about emailing or calling on any offerings that might be of interest. Frankly speaking, I would recommend that collectors build a United States gold type set at current spot gold prices. The downside risk is minimal and having a small gold numismatic position could be a wise move for the long term. Having said that, let focus on several Osprey coins that I like and recommend. On the left is a wonderful 1904 PCGS MS62 quarter eagle that is a gem for the assigned grade. Why this piece is graded MS62 is beyond me. On the right is my favorite double eagle in the Osprey Part II consignment. This 1884-S PCGS AU50 double eagle is crusty original and deserved the "Just Buy It Now" designation in its listing.
Thank for visiting the Daily Blog. If not being busy enough with all these wonderful new consignments, I have 600 LSCC club member cards to write today and into late evening. Tomorrow morning is the Sarasota coin show too!

February 24, 2016
Wednesday arrives and time to write another edition of the Daily Blog. A sincere thank you to GFRC customers and friends who drop by each day to read these ramblings.
Donald Trump easily won Nevada and is well positioned for Super Tuesday. Regardless of your feelings for Trump, one must admired the rate at which he is learning how to navigate the United States political process, the media and confronting all the pundits. Trump reminds me of four star General George S. Patton.
From Wikipedia; "Old Blood and Guts" colorful image, hard-driving personality and success as a commander were at times overshadowed by his controversial public statements. His philosophy of leading from the front and his ability to inspire troops with vulgarity-ridden speeches, such as a famous address to the Third Army, attracted favorable attention. His strong emphasis on rapid and aggressive offensive action proved effective. While Allied leaders held sharply differing opinions on Patton, he was regarded highly by his opponents in the German High Command. A popular, award-winning biographical film released in 1970 helped transform Patton into an American folk hero.
GFRC News
Tuesday morning brought a visit by the Osprey consignor to our Venice home. We spent several hours discussing numismatics and the sourcing of incremental United States gold and World crown inventories for GFRC business. At the end of the discussion, Osprey indicated that he wished to consign a few more gold coins sourced from Europe. Ok, I thought and retrieved the receipt pad to document the transfer. After filling out one receipt page and needing a second, I realized this was not an ordinary consignment.
Following are three pieces from the incremental consignment as I was able to photograph the entire lot after his visit. Originality is the rule on many of these wonderful gold pieces. The 1865-S half eagle, a Civil War rarity, resides in NGC EF Details holder for light cleaning. The 1874-S double eagle is graded PCGS AU55 while the 1884-S double eagle resides in PCGS AU50 holder. Both are strictly original with crusty gold appearance.
Osprey Collection Consignment Part II - February 24, 2016
GFRC is proud to have been selected to market and sell these incremental Osprey coins all sourced from Europe except for the 1939 Walker.
Draped Bust 1c: 1803 Sm Date S-247 NGC F15 BN with full VF appearance
Bust 5c: 1835 LM-3 NGC MS61 frosty original surfaces
Barber 10c: 1906-D NGC MS64 a toned beauty
Walker 50c: 1939 PCGS MS66 CAC
Gold $2.5: 1904 PCGS MS62; 1905 NGC MS62
Gold $5: 1865-S NGC EF Details
Gold $10: 1881-S PCGS MS61; 1886-S NGC MS62; 1893 NGC MS64; 1893 NGC MS61; 1894 NGC MS62
Gold $20: 1855-S PCGS AU50: 1855-S EF40; 1861 PCGS EF45; 1870-S PCGS AU53; 1872-S PCGS AU55; 1873 Open 3 NGC AU58; 1874 PCGS AU58; 1874-S PCGS AU55; 1876-S PCGS PCGS AU55; 1878 NGC AU53; 1878-S PCGS EF45; 1879-S NGC MS61; 1884-S PCGS AU50; 1885-S PCGS AU58; 1892-S NGC MS62; 1897 NGC MS61; 1897-S PCGS MS62; 1897-S PCGS MS62; 1904 NGC MS63; 1907 NGC MS63
Financial News
Spot gold sits nicely at $1236 this morning and appears to have found a solid floor at $1200. Seeking Alpha headlines offer news that one will not read in the mainstream media but warrants attention. We start with a Fed Vice Chairman disclosing that the Fed is indeed looking at negative interest rates. The next headline reminds me that, if there is smoke, then there is fire. JP Morgan has added $500M to its loan loss reserves for forthcoming trouble in the oil batch with larger amounts planned. This may just be the beginning of trouble for the banks due to a large number of bond defaults in the oil patch. And finally, individual states are pooling resources to address the out of state sales tax issue.
It is "still early" to assess the implications of recent volatility in financial markets for the U.S. economy, Fed Vice Chairman Stanley Fischer said Tuesday evening. With regards to the FOMC's upcoming policy meeting in March, Fischer said he couldn't predict what officials are going to do "because, as I've emphasized in the past, we simply do not know." He further disclosed that the Fed was looking at negative rates but there are no current plans to use them.
JPMorgan is adding another $500M to energy-related loan-loss reserves, following a $67M provision in the fourth quarter. In addition, the bank said it could need to add another $1.5B to reserves should oil hang around $25 per barrel over the next 18 months. For perspective, prior to Q4, JPMorgan (NYSE:JPM) hadn't had to add to reserves for six years - in fact reserve releases were a big boost to profits across the industry.
Officials in 13 U.S. states are getting tired of waiting for Congress to let them collect sales taxes from out-of-state Internet retailers, so they are moving to impose the duties themselves. The states want their moves to be questioned, and therefore lead to litigation, so they can ask the Supreme Court to overturn a 1992 ruling that forbids taxation of Internet sales by retailers that lack a physical location in a state.
Featured Coins from the Trading Desk
Today's Trading Desk featured coins are from the Osprey Collection. Sales of this consignor's gold has been strong with many great pieces still available. On the left is a choice original 1856-S double eagle graded PCGS AU50 and approved by CAC. On the right is an 1875-CC graded PCGS AU58 that offers antique surfaces and bold eye appeal. This is a perfectly original specimen with partial cameo appearance due to contrast between antique gold fields and darker main devices.
In Thursday's Daily Blog, a review of the COIN consignor reports will be offered. Matt has prepared a condensed image of the multi page report that allows an explanation of the new GFRC consignor tracking and reporting method. I will see you bright and early on Thursday morning.
February 23, 2016
Greetings and welcome to yet another edition of the Daily Blog. Today brings the Republican primary caucus so all eyes will be on Nevada. For Blog readers in China, there must be a sense of bewilderment concerning the American political process. This process appears to be endless with United States citizen exhaustion settling in. But drama is the lifeblood of American media and a protracted election season generates countless advertising revenues. Political consultants thrive and see American politics as a substantial opportunity to grow personal influence and the size of the wallets. All this to elect one man or woman as President. Clearly, the internet and social media drama diminishes the importance and respect for the office.
Closer to home, the LSCC leadership team campaign to contact non renewing members is bringing about a final wave of dues payments and a 2016 club member tally above 600. But I must comment that the renewal process is too lengthy and arduous for a small group of volunteers. A new approach is necessary and the leadership team has ten months to consider alternatives.
GFRC News
The COIN business conversion is taking a substantial amount of time but the end results will be worth the effort. After working until Monday midnight reconciling GFRC consignor accounts on COIN, this image expresses how I'm starting to feel. So far, seven accounts are finished with Seal Beach and Woodlands being next on the priority list during next 36 hours. COIN reports are being sent out via email for consignor feedback and buy-in. So far, so good. I will ask Matt to generate a compressed COIN report for detailed explanation in the Blog. Anything to save time else I will end up looking like this emaciated individual.
The Woodlands consignor lifted the vail off his latest consignment after reading yesterday's Blog, realizing he had not shared the contents. Following are the forthcoming Woodlands offerings which will prove to be exciting once again;
Feuchtwanger 1c: 1837 PCGS AU58
Shield/Liberty 5c: 1867 Rays PCGS VF30; 1896 PCGS VF35
Seated 5c: 1841-O PCGS VF35; 1848 PCGS EF40 Medium Date; 1859 PCGS MS67 CAC (Wow!)
Seated 10c: 1837 Sm Date PCGS MS60 CAC; 1837 PCGS VF25 Sm Date CAC; 1875 NGC MS65 CAC; 1888 PCGS MS66 CAC
Seated 50c: 1861-O PCGS AU50 CSA Obverse CAC.....Please pay attention here!
All the Lakeland show purchases are online and available for immediate shipment! I'm excited about locating this 1890-S F-102 example graded NGC MS64 as it offers an outstanding view of the Double Die Obverse pairing with a heavily lapped and cracked reverse die. This specimen probably represents the terminal die state for Reverse A and will be used as new F-102a web-book plate coin. The die doubling on Obverse 2 is sharp with bold doubling across the entire base and even on the scroll. This piece is for sale and can be view in the Seated Dime AU-MS price list.
Financial News
How about this headline from Seeking Alpha? Isn't this a bit bizarre? United States officials suggest using fiscal policies to stimulate global economic growth but G20 countries must not devalue their currencies. I suspect we are moving deeper into Negative Interest Rate Policy as the world's central bankers have few tools left to influence spending and consumption and are now experimenting.
The United States will call on G20 countries later this week to use fiscal policy in order to boost global demand, a senior Treasury official told Reuters ahead of the weekend G20 meeting in Shanghai. "That would lead to strengthened confidence and I would expect reduced volatility," he added. While there, American officials will also urge all members to refrain from manipulating exchange rates for competitive purposes, in line with existing G20 commitments.
Investopedia provides the following commentary for those who are not well versed on NIRP.
A negative interest rate means the central bank and perhaps private banks will charge negative interest: instead of receiving money on deposits, depositors must pay regularly to keep their money with the bank. This is intended to incentivize banks to lend money more freely and businesses and individuals to invest, lend, and spend money rather than pay a fee to keep it safe.
Theoretically, targeting interest rates below zero will reduce the costs to borrow for companies and households, driving demand for loans and incentivizing investment and consumer spending. Retail banks may choose to internalize the costs associated with negative interest rates by paying them, which will negatively impact profits, rather than passing the costs to small depositors for fear that otherwise they will move their deposits into cash.
Though fears that bank customers and banks would move all their money holdings into cash (or M1) did not materialize, there is some evidence to suggest that negative interest rates in Europe cut down interbank loans.
Featured Coins from the Trading Desk
Today's Trading Desk featured coins are from the Early Copper price list. On the left is a lovely 1806 Pointed 6 PCGS EF45 half cent from the Woodlands consignment. Surfaces are entirely blemish free and glow with rich gray/brown toning. On the right is an 1856 Slant 5 Large cent from the Carmel consigment. Carmel is a new consignor at GFRC. This lovely example resides in PCGS AU58 Old Green Holder and offers some red/brown surfaces. This piece is also blemish free.
As always, thank you for stopping by at the Blog!
February 22, 2016
Welcome to the Daily Blog as we start the last full week in February. New England has seen a fairly mid winter with reports that minimal snow remains in central Maine as compared to last winter's massive snowfall. Florida weather has been cool this year with another cold spell arriving later this week.
The Liberty Seated Collectors Club's March 2016 Gobrecht Journal will be mailed in less than ten days. One of this week's project is handwriting 600+ membership cards and send off to Bill Bugert via priority mail for kitting with the individual journals. Friday brings the Sarasota coin show and an overdue NGC submission.
GFRC News
I am pleased to announce that the new GFRC inventory and sales management system, including consignor reporting module, created by Matt Yamatin has been named. Moving forward this numismatic business system will be known as COIN aka Consignor Oriented Inventory system for Numismatics. The transition is moving along quickly as COIN offers ease of use, higher accuracy and overall efficiency improvements for growing and managing the GFRC business. If all goes to plan, I should stop double loading the old system by the end of this week. Congratulations Matt for building a product that exactly matches the user's requirements. Matt is an independent consultant in the Sustainability field but also possesses other skills as demonstrated by the COIN product. His website is DecodingSustainability.com for more information.
Incremental COIN based consignor reports will be issued this week so that GFRC consignors can feel comfortable with the enhanced reporting.
I am also pleased to announce that the Woodlands Collection consignor is shipping another substantial consignment today. We've had several discussions in the past ten days on potential content. Last evening, I received noticed that a transfer is taking place today. The consignment contents will be a surprise to all of us and I'm looking forward to opening the Woodland flat rate shipping boxes.
Speaking of consignments, I was able to photograph a portion of Seal Beach Collection Part II on Sunday. Following is a lovely subset of 20th Century type coins that are so original and uniform in appearance. This lot resides in PCGS OGH (old green holders) with the holders also being in pristine condition. Following are the individual grades; 1912 Liberty 5c - PCGS MS64; 1912 Barber 25c - PCGS MS63; 1917 and 1930 Standing Liberty 25c - PCGS MS63FH; 1912-S Barber 50c - PCGS MS62; 1941 Walking Liberty 50c - PCGS MS67. These new offerings should be heading to price list on Tuesday so FRoR is in order.
Seal Beach Collection Consignment Part II - February 22, 2016
Financial News
Seeking Alpha headlines are quiet this morning but several reports caught my eye. First is the escalating efforts by Russia, Saudi Arabia and Venezuela to bring Iran into the supply system targeting a $50 spot oil price. Also, regardless of low energy costs, European Union business activity continues to slowly shrink with more chatter for stimulus programs. Back in the United States, Fannie Mae is essentially broke due to government imposed operating regulations whereby it cannot retain profits for sustaining working capital levels. This headline has me scratching my head......
Consultations on a preliminary deal between leading oil producers to freeze output should be concluded by March 1, Russia's energy minister Alexander Novak declared on Sunday, after a group led by Russia and Saudi Arabia reached a common position last week in Doha. Novak also announced that talks between Venezuela and Iran were still ongoing, and "discussed with colleagues" that an oil price of $50 per barrel would suit consumers and exporters in the long term, but did not elaborate.
Business activity in the euro area hit a 13-month low in February, according to the latest figures from Markit. The eurozone composite PMI index, which measures activity in the manufacturing and services sector, fell to 52.7 in February from a revised figure of 53.5 in January, heavily missing analysts' estimates. The disappointing data "greatly increase the odds of more aggressive stimulus from the ECB in March," said Chris Williamson, chief economist at Markit.
Fannie Mae is at risk of needing a government bailout that could shake up confidence in the housing finance market, FT reports. Because the government does not let Fannie Mae (OTCQB:FNMA) retain profits, its capital buffer (which has dwindled from $30B before the financial crisis to $1.2B today) is on track to disappear by January 2018. At that point it would be unable to weather quarterly losses and would need to draw on Treasury funds to avoid being placed into receivership.
Featured Coins from the Trading Desk
Today's Trading Desk featured coins are from the Colorado Collection. Might I recommend these pleasing CAC approved 1917 and 1935 halves which are both graded PCGS MS65? This consignor has decided to move to other collecting goals and wishes to convert his Walking Liberty halves to cash or GFRC Trading Desk credits. Offers are requested and welcomed.
Thank you for visiting with me this morning. As usual, I will be back bright and early on Tuesday with more Seal Beach coins.
February 21, 2016
Greetings on this Sunday morning. Trump and Clinton have won their respective primary events and life goes on.
This morning's Daily Blog is being written with a sore back. While it was fun to take a 10lb sledge hammer to six concrete curbs (car bumpers as known in Florida), the hauling of the demolished concrete to dumpsters and installation of rubber curbs took their toll on my back. Below is an image of the morning project at completion. That is my brother in law, Mike St. Pierre, ratcheting the last of the lag bolts.
Sunday evening brought a condo association pot luck dinner and movie music trivia event. I was completely out of sync with the attendees as there has never been time in my life to watch movies other than trans Pacific flights. Unfortunately, I did not research the American Film Institute's Top 100 rankings of romance movies. Darn, I wished that questions about Pink Floyd's The Wall would have been asked.....
GFRC News
Sunday will be entirely focused on GFRC business as the new purchase and consignment backlog is enormous. After publishing this morning's blog, priority shifts to loading consignments into the new inventory system throughout the morning followed by photography at high noon if sunshine is available.
An initial GFRC consignor's report from Matt's inventory system was generated yesterday and submitted to Grey Soldier for review and feedback. Following is an excerpt from Grey Soldier's email response.
What a superior product ! Congratulations to both Matt and you for creating such a simple and helpful document.
After looking it over, there is absolutely nothing I would need to ask you about my consignment information. There is a lot of information I know you had, but was not available to the consignor on the old consignment record. It is nice to be able to see that I purchased my first coin from you just over a year ago. A lot of water has gone under (and over) the bridge since that NGC MS62 1857 seated half dollar.
It is especially helpful that you have it divided into sections: current inventory still at GFRC, coins sold, payments & purchases and coins purchased by GFRC. It makes everything very simple for even a non-tech person like me. It also prints out very nicely on my end as well.
I will let you know if I happen to find anything to suggest, but this improvement is HUGE !
Grey Soldier's feedback mentions the new consignor report structure. Following is the format and available information on the four page report.
Page 1 - GFRC Consignor Account Summary (below) with table documenting consignor coins in inventory including aging
Total Coins Sold $, GFRC check payment $, Trading Desk purchase $, Current Credit Balance $, Pending Credit Sales $
Page 2- Itemized Consigned Coin Sales including Date Sold, $ Net, $ Sold and TPG holder serial number.
Page 3 - Itemized listing of GFRC check payments and Consignor purchases (Check and Trading Desk payments)
Page 4 - Itemized listing of coin purchased by Consignor.
Please understand that it will take several weeks to port all GFRC consignors from the old to new system. Each consignor will be receiving their new formatted report in this timeframe for review and feedback.
Featured Coins from the Trading Desk
Today's featured coins are Liberty Seated dimes from the Florida Collection consignor. This individual is ramping up set building efforts and is using GFRC exclusively to sell duplicates. Following are two quality offerings.
On the left is a choice original 1869-S F-102 dime with satiny luster and resides in old blue label PCGS MS62 holder. The F-102 die pairing with Small Thin S is much more difficult to locate than F-101 with thick blob S mintmark. F-102 dies produce textured fields that radiate satiny luster. This offering is a choice example at the MS62 grade level and not a slider AU58 by an stretch of the imagination.
On the right is a choice original 1872 F-114 dime offering lovely bullseye toning. This piece is recently graded as MS64 by PCGS. Centers are light gray, gold and aquamarine surrounded by different coloring rings of rose followed by deep blue at the immediate rim. Bright light viewing brings about a different appearance as the dime turn an even rose/gray with turquoise rims. Not easily captured from the images is the perfect strike with every device element fully impressed. This piece is appropriately graded at the MS64 level.
Thank you for visiting the Daily Blog on this Sunday morning. I will once again be back bright and early on Monday with an update on new offerings.
February 20, 2016
Welcome to the South Carolina Republican primary and Nevada Democratic causus weekend for those who are so inclined. The news media will be a buzzing this evening with voting results followed by political analysis drama on Sunday.
Back in Venice, another busy day is at hand. After the Blog is published, work starts on an Auburn Lakes Condo Association project; replacing concrete car bumpers with rubber alternatives. This involves the demo of six old bumpers with a sledge hammer, drilling holes in the concrete parking slabs and then attaching with lag bolts. The six rubber bumpers are a pilot installation to test durability for Florida weather conditions and wear and tear by those who use the public parking spaces near our condo building.
LSCC News
The LIberty Seated Collectors Club leadership team spending the last 48 hours contacting all non renewing members by email or phone call. I can't thank Len Augsburger, John Frost, Carl Feldman, Bill Bugert, Craig Eberhart, Dennis Fortier and Dale Miller enough for this final attempt to settle down LSCC member ranks before the March Gobrecht Journal is published in just two weeks.
I'm also pleased to announce a special LSCC education session at the forthcoming Whitman Baltimore show. John Coyle will be featuring a portion of his Trade Dollar collection at the LSCC club table and will also present at the club meeting on Friday, April 1 at 9:00am.
GFRC News
Friday was a long day as I worked passed midnight unpacking new consignments and transitioning several consignors to Matt's inventory and sales accounting system. Transitioning means duplicating consignor coin sales and Trading Desk purchases on the new system and validating that all line items and net financials match. I'm pleased to report that Grey Soldier and PBG Collections are done and Matt's new software works like a charm. Once I learn how to convert an Excel spreadsheet print area to PDF file, the new reporting format will be shared individually with consignors and also posted at the Daily Blog as an educational module. Effective today, all purchases and consignments are being loaded directly into new system including the recording of TPG serial numbers with a scanner. Naming the self created system probably should be done with some clever acronym too! Does anyone have an idea?
As for coin news, a wave of new GFRC offerings will be arriving to the price list early next week. Over 80 coins must be photographed and loaded in database this weekend followed by price setting and image processing. I will try to load some of the Lakeland new purchases on Sunday to keep the price list fresh with new offerings.
The Osprey consignor called last evening. We are meeting on Tuesday for the transfer of incremental United States gold to enhance the existing consignment. So please stay tuned for a gold coin price list update and early announcements in the Daily Blog.
Finally.......a sincere thank you is in order to GFRC customers and consignors. February sales results are quite strong in a market that is characterized as "soft" by many other dealers. The Trading Desk concept is being understood and more collectors are joining the GFRC community for accessing top quality coins as they are released by advanced collectors.
Featured Coins from the Trading Desk
Today's featured coins are from the unloved and nearly forgotten double dime denomination. Struck during 1875 and 1876, Seated 20c pieces are straightforward to collect and typically part of a type set. GFRC double dime inventory is growing as I acquire nicer examples that reach the market. Following are two superior 1875 San Francisco examples for your consideration. On the left is a choice original BF-1 example that was struck from early die state dies. This piece resides in NGC AU58 holder with CAC approval. The images are accurate. On the right is a BF-14 example that is currently unholdered. This piece, from the Hamden Collection, was previously graded PCGS AU55 and is fully struck with light patina and ample luster. Have you noticed that the BF-14 example has a "dished" appearance and smaller star as compared to the BF-1 offering?
Thank you for visiting the Daily Blog this morning as your ongoing support is sincerely appreciated.
February 19, 2016
Lakeland Show Report - 2:30pm
I'm back from the Lakeland show as skipped lunch and drove home immediately after concluding business. The show was well attended by general public with a healthy buzz in the room. This may sound like the same old story....locating nice original Seated and Bust coins took work and few were to be found. I did notice at least five 1875 20c pieces on the bourse floor but not a single 1876 20c piece.
My first stop was an old time central Florida dealer who specializes in strictly original coins and always has a decent selection. Ed had just bought a partial Seated deal so fresh inventory was in the case. I purchased ten raw Seated halves and several Seated dimes. Then it was off to the rest of the floor, looking at each case and asking to view slab and raw boxes behind the tables. The pickings were slim but I did manage to score some interesting mint state Seated dime varieties. Following are the Lakeland show new purchases.
Seated 10c: 1842 VG10 gem original; 1856 F-108 DDO VF30 gem original; 1887 PCGS MS64 OGH unlisted repunched date and choice original; 1890-S NGC MS64 F-102 R5 DDO with very late die state reverse that is severely lapped and cracked; 1891-O PCGS MS64 CAC F-124 early strike with bold frosty luster.
Bust Reed Edge 50c: 1837 VF30 choice gray
Seated 50c: 1847-O F15 even gray; 1854 EF40 crusty original gray; 1856 VF35 original gray; 1860-O F15 even gray; 1871-S EF40 original gun metal gray; 1873 NA F12 original gray; 1875 VF30 original gray; 1878 VF20 original gray
Daily Blog Morning Edition
Another Friday arrives too quickly but regardless, thank you for visiting the Daily Blog!
Thursday was a busy GFRC day as the quiet sales period ended with a bang. A GFRC customer responded to the 1894 PCGS VG10 Morgan that was a featured coin of the day. Then another customer scooped up the 1867 NGC EF45 seated quarter followed by the 1861-O W-14 PCGS EF40 and 1862 PCGS EF40 seated halves finding new homes. I was in bed before 9:00pm as hardly slept the prior night due to early airport transport for Matt and family. More orders for PBG and Wisconsin seated halves appeared while sleeping.
On top of normal GFRC business, the LSCC has organized an email and phone call campaign to approach the last of the 2016 non renewing members. Each person in the leadership team has selected a group of 2015 club members as part of an outreach effort. The March Gobrecht Journal is at the printers and we expect this innovative issue, with full graphic cover and club member centerfold images to be mail in early March. Firming up the 2016 club member distribution list is of importance. If you've been considering joining the LSCC, then today might just be the perfect time.
GFRC News
Three consignments arrived yesterday and are sitting in their transport boxes until I return from the Lakeland show. Seal Beach Part II, the Seated Quarter consignment and a surprise high grade mint state Liberty Seated half dollar offering compose the new inventory. For more details, please check the February 17 blog for Seal Beach Part II highlights and the February 18 blog for Seated Quarter consignment details.
Initial response to the PBG and Wisconsin Collection consignments has been strong.
Let's end this section here as I'm leaving for the Lakeland show shortly. An afternoon update to the Daily Blog will be posted if I return with new purchases worth highlighting.
Financial News
Global financial headlines are rather mundane this morning and there is little to pass along. Instead, let's focus on spot gold. Gold has recovered to $1225 overnight. There is growing consensus among the analysts that gold has finally broken out from a multi year down slide. The initial breakout has been huge but no parabolic rally can be sustained for long. Whenever a breakout chart starts to look like a hockey stick, some trading ups and downs can be expected. Following is a graph from Agora Financial that illustrates the breakout.
Featured Coins from the Trading Desk
Capped Bust half dollar sales have been quiet the past several months as Liberty Seated halves are receiving all the attention. It would be nice to have some product line balance therefore let's features some quality early halves this morning. On the left is a challenging 1817/3 half graded PCGS VF35. This offering is a choice original example of the scarce overdate. Strike is crisp on this early die state example. On the right is a choice original 1827 O-117 that is raw. I'm really selective when purchasing Capped bust halves for inventory as so many pieces have been messed with over the years to enhance appearance. Please consider a purchase from the Capped Bust half dollar price list. Offers are welcomed.
Again, I will be back later today after the Lakeland show if new purchases warranted an update. Thank you for visiting with me this morning.
February 18, 2016
Greetings and welcome to another Daily Blog.
Thursday starts at 3:30am as Matt and family have an early flight to Boston and an opportunity to write a portion of the Blog before driving to Sarasota airport. Hosting Matt's family including his wife, Chikae and grand-daughter, Natsumi has been a pleasure and brought considerable excitement to our Venice home. After their early transport, life will return to a steady state of regular morning health walks. Matt and I have been so consumed with software development while keeping up with normal GFRC business.
GFRC News
The Wisconsin Collection consignment received a quick turn yesterday as conditions were ideal for photography and rapid image processing. Following are the new Wisconsion offerings and I suggest that GFRC customers pay special attention as there are important highlights.
The only Liberty Seated dime in the lot is a rare variety; 1875 F-106 MPD in base. This piece is freshly graded and resides in PCGS AU53 holder. This variety was first documented by Greer in his 1992 Guidebook and few examples have surfaces since that time. The lower loop of the 5 date punch is found on the base above the 75 digits. The F-106 web-book page illustrates the MPD. This is the fourth example seen with the Greer plate coin (Fortin Collection), Eric Newman specimen NGC MS66 CAC, Indiana Collection PCGS MS66 CAC being the other three known to me. This variety is only found in EF or better grades as the MPD is quickly worn off the base.
The balance of the Wisconson consignment is Liberty Seated halves with the 1861-O W-5 being another special offering. Would you believe that this is the first W-5 Louisiana example that I have seen? I've handled several W-1 Union pieces and plenty of CSA strikes including a gorgeous Scott Restrike but no Lousiana W-5 examples until today. Bugert rates the W-5 as an R4 which may be conservative. The below example resides in PCGS EF40 holder and is a solid example for an 1861 New Orleans variety set.
Wisconsin Collection Consignment Part V - February 18, 2016
I'm also pleased to announce that two Liberty Seated quarter consignments will arrive today or Friday. One of the consignments features 1870-CC and 1871-CC quarters. Students of the Seated quarter series will immediately recognize these as key dates along with their rarity. Both are in PCGS Genuine holders. The second consignment includes the following pieces;
Bust 25c: 1819 Small 9 B4 VG10 CAC; 1820 Small 0 B4 F12 CAC; 1825 B2 VG10 CAC
Seated 25c: 1842-O F15; 1844-O VG10; 1845 F15; 1845 VG10; 1854-O Huge O AG3; 1858-O VF20; 1858-S AG3; 1872-S AG3 CAC; 1875-CC G4; 1875-S F12; 1876-CC VF25 wide mintmark; 1885 F12; 1888 F12; 1888-S VF25
The Seated halves from the PBG Collection are posted on price list and already, three pieces are on hold.
Financial News
Realization that the global economy is weak and impacting the United States may be setting in at the Federal Reserve. Spot oil prices are creeping higher as major producers are attempting to deal with the global oil glut out of necessity. Following are important Seeking Alpha headlines.
It would be "unwise" for the U.S. Federal Reserve to continue raising interest rates given declining inflation expectations and recent equity market volatility, St. Louis Fed President James Bullard said Wednesday evening in a speech on monetary policy. A big U-turn? Bullard, who is a voting member of the Fed's rate-setting committee this year, argued for much of 2015 for an earlier hike, but said he now feels key assumptions supporting higher rates have been undermined.
Japan's annual exports in January fell the most since the global financial crisis as demand weakened in China and other major markets. Ministry of Finance data showed exports dropped 12.9% Y/Y, with the fourth straight month of declines led by a slump in shipments of steel and oil products. Imports declined 18%, leaving a ¥645.9B ($5.7B) trade deficit. The latest data adds to growing concerns that Japanese authorities are left with few options to revive a stumbling economy.
Oil is holding onto the strong gains it recorded yesterday after Iranian Oil Minister Bijan Zanganeh said he would support a production "ceiling" to stabilize oil prices, but did not commit to participating in the deal. It was an unexpected move from the country, which had already voiced resistance before the talks in Tehran began, with Iran's OPEC envoy calling plans to freeze output "illogical." If an agreement is reached, it could become the first joint OPEC and non-OPEC deal in 15 years, as oil producers seek to boost persistently low prices. Crude futures +2.6% to $31.46/bbl.
Featured Coins from the Trading Desk
GFRC sales have been relatively quiet this week and a strong Thursday would be great. Following are two choice circulated Morgan dollars from that Seal Beach Collection. I will be in a dealing mood today on Morgan dollars and would appreciate your consideration. The 1893 Philadelphia strike is graded PCGS VF30 while the rarer 1894 example resides in PCGS VG10 holder (ON HOLD) . Both offer the typical old time collection quality that we've grown to expect from the Seal Beach Collection.
Thank you for visiting this morning. Tomorrow's Blog may be brief as departing early to the Lakeland coin show for opening time.
February 17, 2016
Welcome to Wednesday and another edition of the Daily Blog. The Toyota Avalon returned home after a week in the body shop including new front rotors and brake pads on all four wheels. Our rental car, a Ford Fusion, cannot compare with the driveability of the 2003 Avalon. The Toyota's large V6 engine dwarfs the Fusion's Ecoboost technology with constant transmission shifting. The rear view camera was necessary in the Fusion as rear glass surface was minimal. Bottom line is that I'm happy to have the old Avalon back in the driveway and looking forward to the Lakeland drive on Friday.
GFRC News
Tuesday was another long GFRC day as Matt and I continue to refine the Trading Desk reporting module. I'm presently double loading all new inventory and sales transaction into old and new databases to test out the accounting. We converted major consignment accounts including Osprey, Seal Beach, Woodlands and Pickering Creek for testing. This is Matt's last day at Venice home and there is a sense of urgency to finalize the Trading Desk module.
A new wave of consignments is coming! Yes, another significant wave of important consignments are in transit.
The Wisconsin consignor sent another nice lot that arrived yesterday. Following are the Wisconsin contents.
Seated 10c: 1875 PCGS AU53 F-106 MPD in Base.....very choice and only the third example I've seen!
Seated 50c: 1844-O WB-11 R4 PCGS VF35 even gray; 1854-O WB-10 R4 PCGS VF35 even medium gray; 1861 PCGS VF35 choice gray; 1861-O W-5 R4 PCGS EF40 crusty original
Three more consignments should arrive tomorrow and Friday.
The largest is Seal Beach Part II which includes a wonderful array of Draped Bust, Capped Bust, Morgan dollars and mint state 20th Century type coins. Seal Beach is an advanced collector that took the bold step to convert his non critical numismatic properties into cash or purchase credits via the GFRC Trading Desk. Seal Beach Part I included Seated halves, Seated dollars, Morgan dollars and Type Gold with nearly 40% of the consignment selling in less than two months. Seal Beach Part II contents were shared yesterday and following is a partial listing of new offerings in the coming week.
20th Century Type Coins (All PCGS OGH) - 1912 5c PCGS MS64; 1912 25C PCGS MS63; 1917 T1 25C PCGS MS63 FH; 1930 25C PCGS MS63 FH; 1912-S 50C PCGS MS62; 1941 50C PCGS MS67; 1923 S$1 PCGS MS64; 1923 S$1 PCGS MS65
Draped Bust Type Coins (ALL PCGS graded) - 1805 25c PCGS G04; 1807 50C PCGS AG03; 1801 50C PCGS G06; 1803 LG 3 50C PCGS VG08; 1805 50C PCGS F12 (O-111); 1806 50C Pointed 6, Stem PCGS G06; 1806 50C Pointed 6, Stem PCGS VG08 (O-118a); 1806 50C Knob 6, Sm Stars PCGS VG10 (O-105)
Capped Bust 50c: 1807 LARGE STARS PCGS VG08; 1809 III EDGE PCGS VF20; 1832 25C PCGS VF30; 1834 25C PCGS VF30; 1836 LE PCGS XF40; 1838 PCGS VF35; 1839 RE LL PCGS XF40; 1839-O PCGS VF30
Seated 50c: 1839 No Drapery PCGS AU50
Barber 50c: 1901-S PCGS F15
Trade $1: 1873-S PCGS AU50; 1876-S PCGS XF40
With all the consignments that are arriving shortly, inventory slabbed box space will at a premium so selling existing inventory would be welcomed. Please consider the current GFRC offerings and email or call to discuss potential purchases. Offers are always welcomed.
Financial News
Iran and China dominate the international news this morning. Iran is not cooperating with Russia and Sauda Arabia (OPEC) towards curtailing the global oil glut while China placed surface to air missiles on its South China Sea outpost. The Chinese action does not surprise me in the least.....taking calculated small expansion steps that are designed to test the Western powers while an ambivalent United States president is in office. Finally, the Federal Reserve continues to believe that the United States economy can handle more interest rate increases during 2016.
Iran appears to be taking a tough line in talks among oil producers on restraining production, despite countries including Saudi Arabia and Russia pledging on Tuesday to maintain their output at January levels. "Asking Iran to freeze its oil production level is illogical...when Iran was under sanctions, some countries raised their output and they caused the drop in oil price," Iran's OPEC envoy, Mehdi Asali, told the Shargh daily newspaper. "How can they expect Iran to cooperate now and pay the price?" The news comes as OPEC President Al-Sada, and Venezuelan and Iraqi officials meet in Tehran for talks aimed at forming the first global oil production deal in 15 years.
China has deployed an advanced surface-to-air missile system to one of the disputed islands it controls in the South China Sea, through which more than $5T in global trade passes every year. News of the missile deployment came as President Obama and leaders of the Association of Southeast Asian Nations concluded a summit in California, where they agreed that any territorial disputes there should be resolved peacefully and through legal means.
The FOMC is poised to issue the minutes from its meeting in January, where the Federal Reserve declared it still intended to raise interest rates gradually, but was "closely monitoring" market developments. While the transcript is likely to underscore reasons for confidence, that's not likely to change minds on Wall Street, where there is a growing conviction the Fed is once again overestimating the strength of the economy. What else is on tap for today? The producer price index, housing starts, industrial production data, and Fed President James Bullard will give a speech in St. Louis on the U.S. economy/monetary policy.
Featured Coins from the Trading Desk
We've manage to get through today's Daily Blog without a single coin image....not good! Following are two featured coins that seek a new home. Both would enjoy being owned and housed in an advanced collection.
Our first recommended coin is an amazing 1833 O-106 Capped Bust half from the Motor City Collection. This lovely piece offers substantial eye appeal with concentric toning and is graded NGC AU53. How about an early Double Eagle gold piece to enhance your cabinet? This 1856-S G$20 graded PCGS AU50 with CAC approval is so choice as recently recovered from Europe and freshly graded.
Thank you for visiting the Daily Blog this morning. More exciting consignment news will be at hand on Thursday. See you then!
February 16, 2016
Thank you for visiting the Daily Blog on the day after President's Day. There was so much activity at the Fortin's in the past few days that Monday being President's Day just escaped me.
This morning's Daily Blog will be busy so let's skip the preamble and jump right into important content and financial news.
GFRC News
The Lakeland, Florida coin show known as "Collectorama" takes place this Friday through Sunday. I will be attending early Friday morning as a buyer.
Work on GFRC's self developed inventory, sales and consignor database is proceeding at a quick pace. We are double loading all new inventory and sales into the old and new databases. Several consignor accounts were transferred with Matt developing a PDF reporting format that consolidates inventory and sales into separate tables. Consignors should be pleased with the upgrade as readability will be improved. But to ensure satisfaction, several consignors will be asked to preview the changes and provide feedback. I'm quite pleased with the new system and already comfortable using it.
The new GFRC database has nearly 30 fields for each coin. This database will be moved to the Cloud followed by development of an API (Application Programming Interface) that will faciliate the extraction and loading of individual coins into the GFRC price list tables. For non technical readers, just trust me..... During the last 1980s, I was the architect and development team leader for Fairchild Semiconductor's engineering database and analysis system for enhancing semiconductor factory yields and productivity.
In terms of GFRC consignment news, following is the PBG consignment of Liberty Seated half dollars. This sixteen piece lot is comprised of mostly VF30 - EF45 Civil War dates coupled with PCGS certification. The 1862 date is always in demand while the 1864 and 1865 Philadelphia dates are nicely represented. The 1877-CC is a toned beauty.
PBG Collection Consignment - February 16, 2016
The 1861-O W1 Union strike Seated half dollar grading PCGS VG10 lasted only 24 hours on the price list and is already sold. This was a wise purchase.
In more exciting news, GFRC has been approached to handle the sale of a 1500 piece Liberty Seated dime hoard. This individual has a life long accumulation and has decided it is time to sell. Nearly all the dimes are raw with some being love tokens. Jim Poston and I are currently studying an itemized listing of collection contents and will be developing a proposal.
Financial News
We lead off global financial news with an important announcement from the oil industry. Russia and OPEC are working together towards mitigating the oil glut on world markets. Iran remains a wild card as it ramps production after years of sanctions. Gold prices are down after last week's wild ride but the underlying conditions have not changed. Finally, Japan implements negative interest rates at major banks. Let's check pertinent Seeking Alpha headlines.
Top oil officials from Russia, Saudi Arabia and several key OPEC members have agreed to freeze crude output at January levels at a meeting in the Qatari capital of Doha, targeting a supply glut that's sent prices to 13-year-lows. According to the International Energy Agency, Saudi Arabia produced 10.2M bpd last month, below its most recent peak of 10.5M bpd set in June 2015. Russia produced nearly 10.9M bpd in January, a post-Soviet record. Oil soared almost 6% ahead of the meeting - on expectations of a more weighty announcement - but pared gains following the news. Crude futures +1.4% to $29.86/bbl.
Iran was the notable absentee from the Doha meeting, and no surprise why: the Islamic Republic is planning to ramp up shipments as it looks to regain market share lost after years of international sanctions. Over the weekend, Tehran sent its first cargo of oil to Europe since the end of sanctions last month, and announced plans to boost production and exports by 1M bpd in 2016. Three initial shipments to the continent are carrying 2M barrels for Total (NYSE:TOT) and another 2M barrels for companies in Spain and Russia.
Gold prices have come down again this morning, recording the third day of declines for the precious metal, as money flows back into equities following last week's massive selloff. But that's still after bullion prices hit a one-year high of $1,260.60 last Thursday. We'll have to see whether this week will see further losses for the safe haven commodity. Gold -2.1% to $1213.60 an ounce.
The Bank of Japan's negative interest rates came into effect today in a radical plan already deemed a failure by financial markets, highlighting Tokyo's lack of options to spur growth. "It's getting clearer that Abenomics is a paper tiger," said Seiya Nakajima, chief economist at Office Niwa. The central bank, which announced the shock decision on Jan. 29, will now charge lenders 0.1% to park additional reserves, prompting banks to lend and businesses to spend and invest.
Featured Coins from the Trading Desk
Today's featured coins are choice original Capped Bust examples. On the left is a newly acquired 1829 LM-1 PCGS AU55 example with steel gray surfaces that are overlaid with gold patina. On the right is 1821 JR-7 dime graded PCGS VF30. This piece offers gem surfaces with nicely balanced contrast between darker gray fields and the lighter main devices. There are no blemishes whatsoever.
As always, I appreciate the ongoing Daily Blog readership and GFRC purchases. Thank you for stopping by this morning.
February 15, 2016
Greetings and welcome to the Daily Blog on this Monday morning.
We open the Blog with an update concerning the 1858-S Liberty Seated quarter initially discussed here on January 31, 2016. If you remember, this quarter had its market origin at the Heritage Houston December 2015 auction as an ANACS AU53 Details Cleaned example and sold for $1146. Please click on below image to see the full sized Heritage auction images. This piece was accurately graded by ANACS based on the visible hairlines.
This 1858-S found its way into a new 2015 PCGS EF45 holder and was being marketed through wholesale dealer channel. I was approached to purchase this coin on January 30 and issued a GFRC customer alert. It appears that the owner was unsuccessful with moving the coin along through that channel and decided to use the next best alternative; consigning to Heritage. Below is a screen capture of Heritage listing for upcoming March Dallas ANA auction. In the Heritage listing, the 1858-S is described as follows. Careful inspection and awareness are warranted.
1858-S Quarter, Choice XF, Excellent Color and Detail, Scarce This Fine - 1858-S 25C XF45 PCGS. Briggs 2-B. The 1858-S is a better date, boasting a little mintage of 121,000 coins. Only two Mint State submissions -- an MS62 at each service -- are reported, and these may represent only a single coin. This Choice XF alternative is boldly detailed with original toning. Both sides display copper-brown and amber toning over light champagne-gray surfaces. There are no distracting imperfections.
The 1858-S 25c saga also reinforces the fact that auction house and dealer coin photography can be variable based on equipment, lighting conditions and image processing techniques. For example, a GFRC consignor forwarded images of an 1869 G$1 piece certified by PCGS as AU58 with J.S. Morgan Collection on the label. This piece is presently for sale on eBay after receiving CAC approval. Following is a capture of the eBay listing images followed by July 2014 Heritage Auction images. The cheek marks and those in the right obverse field are barely visible on the eBay listing while quite evident on the Heritage images. Again, buyer scrutiny is warranted as different photography techniques can highlight or hide surfaces blemishes.
Featured Coins from the Trading Desk
On Sunday evening, two important Liberty Seated half dollar variety were added to the price list and are featured this morning. The Seated half dollar series offers a broad array of major varieties with some being quite challenging to locate. This is the case with the following 1861-O W-1 Union Strike and 1876 WB-106 Lg/Sm Date offerings. Both are graded PCGS VG10 and are superior examples at this grade level. Collectors attempting to locate and add important Seated half dollar varieties to their collection should carefully consider these pieces as fairly priced.
Thank you for visiting the Daily Blog. Within Tuesday's edition, the recent sixteen piece Seated half dollar consignment (The PBG Collection) will be illustrated in a Client Gallery. I will see you bright and early on Tuesday.
February 14, 2016
Valentine's Day arrives while the northern United States is in a deep winter freeze. Being able to winter in Florida is a blessing after a lifetime of hard work. Thank you for visiting the Daily Blog on this Sunday morning.
Featured Topic - GFRC and the Trading Desk concept.
Many Blog readers are probably growing tired of reading about the GFRC inventory and sales system project. A project of this magnitude consumes a substantial amount of time when building a system from scratch; like baking a cake and starting with flour and eggs rather than buying a premixed package at the grocery store. This project will span months and not a few weeks and eventually will involve GFRC consignors for feedback support. If one steps back and views the larger picture, the collector to collector Trading Desk is a partnership among collectors that comprise the major numismatic clubs. The advanced collectors in these organizations seek the same coins through friendly competition and enjoy the thrill of the hunt. This hunt brings about camaraderie, life long friends and important financial assets. These assets can be enjoyed rather than being line items on a stock broker report. The new GFRC software management system will be custom designed to enable and support the Trading Desk as I believe this concept will have very strong legs in the coming years. Why?
- The highest quality Liberty Seated and Bust coins reside in collector hands and not in dealer inventories.
- Well educated collectors understand and respect the concept of being a collection curator since working diligently towards assembling their collections. They respect their coins as historical artifacts and not quick turn profit opportunities. The blatant coin doctors and crack out artists are dealers and not collectors.
- Collectors fundamentally want their prized coins to go directly into other collections rather than trade on bourse floors or be subjected to "improvement actions" towards a higher certified grade. Over graded/priced and marginal quality coins tend to languish while top quality coins immediately find new homes.
- Collectors love to hunt for and purchase coins but many find the selling side of the equation to be distasteful. Others hate the thought of surrendering their coins to a large auction corporation and losing control of their prized possessions.
- Collectors are the underpinning of the numismatic hobby. Without the collectors, the industry crumbles in short time.
I owe so much to the numismatic hobby as it has been an essential part of my being and a stabilizing factor during most of my adult life. I could always return to coins to find peace, respect and a personal sense of accomplishment regardless of the ups and downs of a business career. Therefore the construction of GFRC and now the Trading Desk is becoming much more than another personal business to cover living expenses. It is the implementation of a personal vision. The Trading Desk is a unique business model that enables a collector numismatic exchange platform that includes collector education and the screening of product quality.
Since spending nearly 25 years as a collector, I have a sense of how and why collectors collect. They grow tired of being on dealer mailing lists and hearing the same marketing chatter; the market is hot or dealers arriving early to a major show and performing some great pre show purchases. As a former collector and still receiving major dealer bulk mailings, I get to read their marketing chatter and find it amusing after the transition to a full time dealer. The great coins are not in dealer inventories but rather in advanced collector hands and this is why the collector to collector Trading Desk operating model is so relevant to our numismatic circle. This is why the Daily Blog popularity has grown with 350-400 views each day. Collectors are coming to the Daily Blog to learn what new collections or coins may be available in the near term since the source of coins is other collectors and not recycled dealer inventory purchased at major shows or auction.
As of today, GFRC is abandoning the traditional bulk mailing campaign approach and Constant Contact account. I believe precious marketing dollars are better spent advertising the Daily Blog and Trading Desk as these concepts are well aligned with collector needs.
Featured Coins from the Trading Desk
We start today featured coin section with an offeing from the Silicon Valley Collection. This 1865 dime graded PCGS MS65 is a no question gem business strike from the Civil War era. This piece is fully struck with no signs of any device weakness; Liberty's head and hair details are well defined and crisp. The reverse wreath devices are also deeply impressed. Surfaces are a combination of frost on the main devices coupled with mildly PL fields. The luster is creamy in texture when viewing in hand but turns to reflective mirrors under bright light. Freshly graded and residing in 2015 generation PCGS holder with serial number 32570014.
Next is an offering from the Grey Soldier Collection. This 1874 Liberty Seated quarter, graded PCGS MS62 and approved by CAC, is an important GFRC offering given its Briggs plate coin pedigree. This lovely quarter appeared on the market during January 2006 as part of the Frog Run Farm Collection. I remember this auction dearly as attending the Baltimore session in person and buying a fair number of Seated dimes. Part II of the Frog Run sale contained some Briggs plate coins with this 1874 example included. The American Numismatic Rarities description read as follows, "Satiny matte-like pearlescent gray with some warm golden highlights. Subdued cartwheel lustre adds immensely to the overall eye appeal. Choice for the grade, one devoid of serious marks and laden with inherent eye appeal that bespeaks a much finer grade. Indeed, the present specimen saw duty as the Briggs plate coin in his Encyclopedia." The ANR descriptions well states the quality.