Gerry's Daily Blog Archives - June 2015
June 30, 2015
The last day of June arrives and difficult to believe that one third of the summer of 2015 has flown by. I am pleased to report that the GFRC business enjoyed a successful month due to the ongoing support of friends, customers and consignors. Our hobby is alive and well but ongoing adaptation and out reach will be important in the coming years to preserve the relevance of our cherished coins as significant historical artifacts.
GFRC News
Get ready for a substantial increase in the amount and quality of Liberty Seated half dollars by the July 4th holiday. As mentioned in an earlier blog, one of my business goals is to be become a leading dealer in all Liberty Seated denominations. During the past few months, I've place emphasis on Seated halves with improved inventory offerings....GFRC friends have taken notice and are jumping in to support the growing momentum.
Arriving this weekend are GreySoldier and GFRC-Coins consignments with a combined total of ~ 20 better date/grade halves. Both consignments will be illustrated in the Daily Blog and then migrated to the Client Gallery. Yesterday, I listed the GreySoldier contents and should have a listing of Jim Poston's consignment shortly.
Four Seated dimes and quarters purchased at Westford are already sold and I sincerely appreciate the quick response by GFRC customers to new show listings.
I've not spoken much of the Maine Collection Barber sets of late. Those sets were purchased and after carefully consideration, I sold the quarter and half dollar sets intact in their Wayte Raymond album pages. The Barber dime set is being broken up with a portion heading to the TPGs for grading at Baltimore show and the balance being listed on Barber price list.
I still have about ten raw 1861-O half dollars from the 36 piece hoard that are photographed and will be added to the Seated halves and Dealer price lists during the week.
Lastly, one of the Open Registry participants approached me this weekend about "giving back to the hobby" and has volunteered to administer this important function. A phone call is planned for later today to explore options for remotely updating Open Registry sets and improving posting response times.
Featured Topic
A daily newsletter from The Daily Reckoning by Addison Wiggins arrived last week and caught my attention. The article is entitled To Die and Let Live and can be accessed in its entirety here. This article finally connected some "important dots" for me. You may wonder why I use the term "connecting dots?" In the electronics engineering profession, we used statistical graphing and analysis on a routine basis. One of the popular saying was that, "three datapoints (dots) are necessary to draw a line and establish a trend". Yes, I'm regressing here....back to the article.
This Daily Reckoning article well captures what I see occurring in society and the financial world....as a society, we have come to expect government to eliminate all economic adversity for the masses so that every person can reach a point of self forfillment. The Millennials are the poster child for this expectation about life's goals and outcomes.
However, surrending control to governments and global financial institutions comes with unknown risks since the fundamental basis of capitalism is being violated. Following are a few paragraphs from the Wiggins article that are found to be consistent with my thinking and fears......
American civilization has achieved a stunning number of medical breakthroughs during the last century — adding about 28 years to the average lifespan in the process. Unfortunately, American civilization has also devised a stunning number of mechanisms to extend the lifespans of ailing financial institutions and brain-dead corporate entities.
As our civilization has aged, it has become obsessed with erecting economic guardrails, stringing safety nets, straightening curves and legislating Bubble Wrap around almost every conceivable mishap. As a result, the financial system is so thoroughly insulated with regulations and "protections" that it is suffocating. As a nation, we have become intolerant of any economic adversity…even when that adversity serves an essential economic purpose. We want our summers without any winters. We want our victors without any vanquished. We want our successes without any failures.
That's not good news for free enterprise. Defaults and bankruptcies are staples of economies that flourish over the long term. "Capitalism is not just about success — that's the easy part," observes James Grant, editor of Grant's Interest Rate Observer. "It's also about failure — recognizing it, dealing with it, liquidating it, properly pricing it."
Schöpferische Zerstörung means "creative destruction" in German. In America, we have forgotten what it means. Thanks to the Federal Reserve and other destructive creations of government, the process of creative destruction rarely takes root in American soil anymore.
That's because creative destruction is not just about destruction; it is primarily about creating the investment opportunities that result. When ventures fail, a new generation of capitalists can enter the fray to make the next generation of fortunes. But the financial leaders of the US and the eurozone have zero appetite for creative destruction. Instead, creative denial is the order of the day. They pump trillions of dollars of fresh credit into insolvent banks like embalming fluid into a corpse.
That's how the world works…or at least how it should work. The recent history of sovereign defaults and currency devaluations illustrates this phenomenon very clearly. Within a few years of a default or devaluation, most countries embark on a robust new growth phase. The process is not easy or painless, but it is extremely effective in clearing away the rot so that new ventures can flourish.


I encourage you to read the balance of the article online as fertile ground for "connecting the dots".......
Financial News
There is considerable financial news to consider this morning...some of it about creative destruction, some about government control. From Seeking Alpha headlines.
China is now taking an all-hands-on-deck approach to soothe the country's plunging stock market, after an unexpected weekend interest rate cut failed to right the ship. Late on Monday the finance and social security ministries published draft rules that would permit the state pension fund to invest up to 30% of its net asset value in securities, potentially allowing 600B yuan ($97B) to enter the market. The Shanghai Composite Index closed up 5.6%.
Greece is just hours away from defaulting on a loan from the IMF, setting the stage for a tense showdown with international creditors ahead of a national referendum that will likely decide its eurozone membership. Reports earlier suggested European Commission President Jean-Claude Juncker made Athens a last minute offer, but Greek Prime Minister Alexis Tsipras doesn't appear to be picking up the phone. Markets across Asia bounced back today, while European indexes remain mixed. On Monday, about $1.5T was erased from the value of global equities, while the Dow dropped 350 points, to slip below its 200-day MA.
Puerto Rico will seek to delay payments on the island's $72B debt load for "a number of years" as part of a plan to bolster the commonwealth's finances and revive its economy, Governor Alejandro Garcia Padilla said in a 21-minute televised speech Monday night. Padilla then appealed to Washington to make unprecedented, "concrete" changes in bankruptcy rules to help rescue the island's finances. Although U.S. cities and municipalities are eligible to file for bankruptcy, states and Puerto Rico are barred from seeking protection.
Thank you for visiting the Daily Blog and I will see you bright and early tomorrow morning. Featured Coins of the Day will be returning tomorrow as I'm out of stimulating Featured Topics in the near term.
June 29, 2015
Monday arrives to start another work week with the July 4th holiday this Saturday. Peak vacation season is upon us and the local roads will be busy with out of state tourists enjoying a fine Maine summer. The wet Sunday weather is gone and I'm looking out office window and seeing lovely blue skies with temperatures to be in the mid 70s.
Financial News
Greece debt default appears to be possible and today's financial market news indicate the global reactions. A few headlines from Seeking Alpha well illustrate the situation.
Stocks are plunging across the globe as Greece looks set to default on tomorrow's debt repayment and the reality of a Grexit hits the markets. With emergency aid to the country frozen, Athens has imposed capital controls to halt bank runs and confirmed that the country's banks would remain shut for six working days. ATM withdrawals are being capped at €60/day. Over the weekend, Greek Prime Minister Alexis Tsipras shocked European policy makers by announcing a July 5 referendum on whether to accept the latest offer from Greece's creditors.
Greece is not the only one in hot water. Puerto Rico's long-simmering debt crisis (its $72B debt equals nearly 70% of its economic output) is about to come to a boil. The commonwealth's governor, Alejandro García Padilla, is expected to lay out in a speech next steps that could include calls for significant concessions from the island's creditors. Many also anticipate Puerto Rico's electricity provider, which has borrowed $9B, to miss a payment to creditors this week, in what would be one of the largest municipal defaults ever.
Ultra-low interest rates are holding back global growth and fueling financial instability, the Bank for International Settlements warned in its annual report, urging central banks to move more swiftly towards normalizing monetary policy. Rather than simply reflecting widespread economic weaknesses, ultra-low rates have contributed to the slow recovery in the global economy by entrenching the excessive reliance on debt and causing large-scale misallocation of capital.
Featured Topic
The Greece debt crisis is today's featured topic and the world community should be paying attention as a case study opportunity as to the outcome of borrowing well beyond one's means leading to potential default. BBC News well reports the situation and their link is here. Greek banks will be closed all week due to a lack of liquidity (available emergency cash from the European Central Bank). The ECB cut off emergency funds when Alexis Tsipras punted the ball back to Greek people with another referendum on July 5 to accept German reform demands.
Reading only headlines or major news outlet reporting is inadequate for comprehending the situation in Greece. A John Mauldin analysis arrived last week via email and is available here. John's report provides a historical perspective on how/why Greek people find themselves with a country debt burden that is unaffordable with only default as a viable option, or Germany continuing to provide ongoing subsidies to the Greeks. His newsletter can be found here. This article is a long read and will try to summarize the key points for Blog readers.
The 1992 Maastrict Treaty created the European Union and Euro currency. The EU has no mechanism to enforce fiscal standards on its member nations. Germany, due to size and EU position grew wealthy partly by exporting to the European periphery: Greece, Italy, Spain, Portugal, and Ireland. The peripheral countries essentially exported all their cash to Germany in exchange for German goods. When the Greeks ran out of cash due to purchase of export goods along with uncompetitive nature of bureaucratic labor systems and large unfunded government expenditures, they wanted more cash to continue to spend on government services. Germany and the rest of Europe offered financing and loaned money to Greeks so the Greeks could buy German goods and perpetuate their government spending habits. In the early part of the last decade, tt was a deal that was made in heaven as Greece got to borrow money at German rates and Germany got to sell products in a currency driven by the valuation of the peripheral countries. This left Greece and other peripheral countries deep in debt.
Greece now owes 180% of GDP to a collection of mostly state lenders. Even at low rates, it is impossible for Greece to pay those loans back without somehow engineering 3-5% growth. Many of the best and most productive Greeks, especially the young, are leaving to find jobs elsewhere so the country is growing older because the younger are emigrating.
Reform to Greek government bureaucracies is nearly impossible regardless of which political party is in charge. The Economist summarized the Greek situation as "a need to fix structural impediments to growth – rampant clientelism, hopeless public administration, comically bad regulations, a lethargic and unreliable justice system, nationalised assets and oligopolies, and inflexible markets for goods and services and labour." Government bureaucracies tend to favor businesses already in place and create unnecessary rules for competition. The bureaucracy is hopelessly bloated, some 50% too large and heavily geared toward patronage and employing family and friends, many of whom do little or no work and collect a check regardless. The rules are such that many of the most important industries have only two actual providers of goods or services, neither of which is incentivized to compete on price. It is extremely difficult to create a new business to compete with these oligopolies.
The IMF, headed by Christine Lagarde, insists on attacking the bloated bureaucracy. Alexis Tsipras offered some "reform," but none are able to deal with the core Greek employment and bureacracy issues. Lagarde believes lending more money to Greece without real reforms that offer the Greeks a chance to work their way out of the situation is pointless.
The average age at which Greek workers receive a pension is 57.8 years old and about the same as Italy (58) and is planned to go up with the retirement age to be increased to 67 in the coming decades. The Greeks are offering to slowly raise the retirement age to 67 and to make early retirement less attractive. Greek population is older, on average, than the rest of Europe, and getting older. While their pension benefits are generous, their disability payments are among the lowest in Europe, and their spending on family benefits is also lower than average. Europe is also asking that the Greek significantly raise the VAT, especially on electricity. Greek citizens would see a minimum 10% increase in their power bills. Many don't pay their power bills today.
Greece depends on emergency liquidity assistance (ELA) from the European Central Bank estimated to exceed €100 billion. Every day the balance is rising. It is rising because the Greek banking system will collapse without ELA. When citizens no longer trust their institutions or government, they take their money out of the bank, and go somewhere else for safety. That is the point of financial collapse as trust in government and institions is gone.
This graph shows the withdrawal of monies from Greek banks in past few months. If the Greeks do not agree to what the Europeans are demanding, that ELA will be shut off and all assets of any Greek banks will be subject to seizure by the European Central Bank. That includes citizen deposits. Greek depositors could lose 90-100% of their deposits overnight as there is no deposit insurance as found in the United States.
GFRC News
An important Liberty Seated half dollar consignment from the GreySoldier Collection is now in transit and should arrive by end of week. Included in the consignment the following pieces.... 1843 WB-104 PCGS MS63; 1843-O WB-15 R6 PCGS VF30; 1853-O WB-3 NGC VF25; 1861-O W-1 Union NGC MS62; 1875 PCGS MS62 CAC; 1876 WB-113 (center dot) NGC MS64;, 1877-S PCGS MS62 CAC; 1891 PCGS MS61 CAC
The balance of day will be used for loading more newps (after photography) onto price list and packaging shipments. Please check back this afternoon for new listings.
There are no featured coins of the day as I need to quickly shower and drive my 1993 Miata to local service garage for new brakes and radiator replacement. I will see all of you tomorrow at the Daily Blog....thank you for stopping by.
June 28, 2015
Back from the Westford show; travel between Maine and Massachusetts was slow due to heavy rains and fairly strong winds but we managed as always. The show was impacted by the weather and public attendance was moderate. I arrived as a super early bird attempting to dig out whatever early silver type that might appear during dealer setup. There were no home runs today, rather I did manage to acquire some nice original Seated coins and also found items for ongoing Shanghai orders.
The highlight of the day was purchased while walking to the exit door as I was just about to leave. A dealer had random coins in the case with a lone 1875-CC In Wreath dime sitting in 2x2. By just peering into the case, I knew there was something abnormal about this dime and asked for a closer look. Once in hand, my initial suspicion was confirmed.....this 1875-CC dime was broadstruck with only a faint amount of the reeding visible on the edge of the rim on the reverse side of the coin. To my knowledge, the reverse is the hammer die so the collar barely closed during the coinage process. This 1875 Carson City dime is the F-104 die pairing and grades original VF25. The elongated area at 11:00 on the obverse is obvious once in hand.
Otherwise, I bought the following pieces for general inventory.....
10c: 1841-O F-114 original VF30; 1859 F-107 EF45 gun metal gray/blue, well struck; 1877-S F-110 AU50 original light gray and a nicely toned 1893 Barber grading AU58.....let's not forget the 1875-CC IW F-104 partial broadstrike grading VF25.
25c: 1847 Briggs 1-B original EF40 and nice, 1855-S VG8 choice original
50c: 1856-O WB-9 Double Date, NGC EF40 VP-001 with original gray surfaces.
Consignment News
Friday brought an email from GFRC customer/consignor with potential consignment consisting of six Mint State Seated halves along with two R6 varieties.....PCGS VF30 1843-O WB-15, LDS and NGC VF25 1853-O WB-3, VLDS examples. More details once the shipment arrives with all eight pieces being posted to the Client Gallery as coins from the Greysoldier's Collection.
Best to close today's delayed blog at this time and will be back bright and early on Monday morning....
June 27, 2015
Greetings once again on this lovely Maine weekend morning. This is the fourth day of perfect Maine summer weather with mid 70s temperatures and low dew points. Thank you for visiting with me this morning.
I usually prepare Blog topics several days in advance to ensure readers have a meaningful visit. However, the queue is empty at the moment. There are news areas that are off limits for Blog commentary including the two Supreme Court rulings of the week, the Charleston shooting/Confederate Battle Flag event and of course, Donald Trump the billionaire showman.
Since not having an at hand topic, I visited three news websites during morning coffee to gain a sense of how conservative, liberal and politically independent reporting are handled. The three sites visited were foxnews.com, nbcnews.com and bbc.com.
Lead and secondary reports are as follows to raise awareness about the varying news outlets for daily United States and global news information.
FOX - "Zeroing in on NY prison escapees" followed by "GOP lawmakers urge Obama to fire OPM chief"
NBC - "Stonewall to SCOTUS; Long March to Gay Equality" followed by "Remaining NY prison escapee is greater threat"
BBC - "Tunisia launches security clampdown" following by "Gay Marriage legalised in US"
United States news websites have liberal or conservative bias while the BBC tends to be more factual and independent with its reporting of world events. Unfortunately, capitalism is a strong force in America and news companies will craft their content for enhanced ratings and profits. These days, the analytics on demographics is enormous. Just food for thought as it is easy to develop opinions based on the political slant of your daily information. Locating an information source that is unbiased might be a refreshing and excellent grounding exercise....especially in the upcoming election year. Personally, I am spending much more time reading the BBC these days as the NBC liberal bias and reporting drama is difficult to read but the conservative FOX reporting is also too polarizing for my liking.
GFRC News
The 1844-O Double Date PCGS VF25 half listed on Thursday is already on hold and other orders continue to arrive at a steady pace. Regardless of the slower hobby interests during summer months, I'm committed to a constant stream of new offerings for loyal customers and hope to attract new friends.
Tomorrow morning, I will be on the road before 6:00am heading to the Westford, MA show. There will be no early morning Daily Blog tomorrow but rather an afternoon update on potential Newps.
Featured Coins of the Day
There are some great original coins on the price list that seem to lack attention or respect. If I were still an active collector, these would head immediately into my collection for years of enjoyment. The following two pieces may have been featured in an earlier Blog and are recognized once again.
First is a 1901 B Great Britain Trade dollar residing in NGC MS64 holder. This large silver coin is pure eye candy with natural multi color patina. My photography does not fully capture the coin's beauty due to the strong edge view holder lighting reflections. I would recommend this piece to collectors wishing to own a distinctive piece for show and tell or just for admiration.
Next is this 1874 With Arrows Seated quarter which is graded MS62 by NGC and approved by CAC. This is the Larry Briggs plate coin and so choice original. The images well capture surface quality and overall eye appeal.
June 26, 2015
End of the work week arrives and July 4 holiday preparations are underway for many. I'm enjoying a simple life and looking forward to lobster rolls and beers for dinner this evening.....Thanks for taking the time to visit the Blog today.
GFRC News
I will be attending the monthly Westford, MA show on Sunday and buying for a 20th Century order from Shanghai agent. Hopefully, some decent early type will come to market at the show also.
Jim Poston and I chatted yesterday and he is preparing a substantial Seated half dollar consignment that should arrive later next week. Stay tuned as the challenging low mintage Philly dates (1879 onward) will be well represented. Jim also confirms attending the Chicago ANA in a buyer role for GFRC and GFRC-Coins and will attend the LSCC Annual meeting.
Featured Topic
BBC News is receiving the bulk of my attention these days for global news reporting and in depth discussion on topics of interest. One article caught my attention yesterday. It well explains the shifting attitude towards employment of the Millennials (my two adult children included) but also provides a credible explanation for the systematic job losses in the American middle class. The article is entitled. "The end of middle management?" by Sydney Finkelstein and can be found here.
Key points include....
- The days of workers moving up the "ladder" to corporate positions are gone as middle management will become extinct.....no ladder to climb.
- Technology and information systems is replacing traditional middle management jobs.
- Start up companies use a flat organizational structure without need for middle management roles.
- Millennials in the workforce.....this perspective rang so true concerning my personal experiences so I'm listing the entire paragraph here.
Nowhere does this technology and business culture come together more naturally than in the way the millennial generation embraces the new world of business. The idea of being supervised by a middle manager whose job is to supervise, rather than to actually do things, is anathema to young people who come out of university believing they know more than they do.
Where does this confidence come from? Their parents, of course, who ensured they were rewarded, win or lose.
The upshot is that millennials look for — even demand — jobs that are meaningful, where they can have an impact. Pigeon-holing this generation into small jobs and strict reporting requirements to middle managers won't retain them.
American elections and politics will be on full display come the Fall and middle class erosion and job creation will be hot topics. Just remember that there is a massive shift in business towards automation plus cultural changes. Let's see if the politicians recognize these issues......
Financial News
From Seeking Alpha headlines.....
Shanghai Stock Market...a rush to the exit door; China's $8.8T stock market has plunged from first to worst on global performance rankings as leveraged speculators unwind their positions and a growing number of analysts warn that valuations have climbed too far. The Shanghai Composite Index tumbled 7.4% today, following a sell-off on Thursday that left Chinese shares down 3.5%. Morgan Stanley has now advised clients to refrain from purchasing mainland shares, saying Shanghai's June 12 high likely marked the top of the bull market. Shenzhen -8.2%; ChiNext -8.9%.
Greek Drama once again...Is this the final, final deadline? Eurozone finance ministers will meet again on Saturday in a last-ditch effort to find an agreement with Greece, ahead of the country's crucial €1.6B debt payment due to the IMF by Tuesday. German Chancellor Angela Merkel said the upcoming meeting would be "of decisive importance," but declined to speculate about what would happen if such a deal was not reached.
I've read a fair number of articles concerning the Greece debt situation and there are several key points worth noting.......
- Since German reunification, Germany is clearly the dominate force in the European Union. Great Britain is watching this closely.....
- Greece is a socialistic state and will require ongoing EU subsidies (roll over of debt with no intention of ever paying back).
- Germany cannot allow Greece to default on bonds since a financial crisis will emerge in Spain and Italy.
So the Greek drama will continue for years to come and these headlines may be perpetual....
Featured Coins of the Day
Two important Liberty Seated halves arrived yesterday in time for photography and posting on the price list. Both are featured today. First is an R5 1842-O Small Date, Reverse 1839 graded PCGS VF25 and approved by CAC. This is an attractive example with old album bullseye toning throughout obverse and reverse. A check of CoinFacts resulted in three examples in VF20-25 to reach market since 2010 and none were close to being as attractive as this piece. Then checking CAC pop report and only (8) examples IN ALL GRADES have been approved with half being in the Good to VG range. My conclusion is this specimen is one of the finest to reach the market in years and an important opportunity for those building an advanced set.
Next is a lovely light gray 1844-O PCGS VF25 Double Date example with dramatic repunching of the date digits immediately below the base. Surfaces are original with light to medium gray patina that offers good contrast between the fields and slightly darker outlines on the main device and stars. This half is housed in PCGS holder with blue label indicating the Double Date variety. (Oh Hold)
June 25, 2015
Another perfect summer day is on hand for Maine with blue skies and comfortable temperatures. After the mailman makes his daily appearance, a fast paced walk will be the highlight of the day.
Financial News
From Seeking Alpha, it appears that bluffing time is over for Greece. Following fruitless all-night talks, Greece and its creditors resumed debt discussions in Brussels this morning, aimed at preventing the country from defaulting on its loans and exiting the eurozone. Reports earlier suggested that Athens had until 5 a.m. ET to come up with a workable economic reform plan or face a "take it or leave it" creditor proposal. Today's EU summit is seen as the last chance to hammer out a deal before Greece must pay €1.6B to the IMF on Monday.
Featured Topic.....Kaliningrad, Russia
Yesterday's Agora Financial newsletter was a gem. While Americans are reading about Taylor Swift dealings with Apple and the up state New York prison break (will Joyce Mitchell's husband still support her drama), Defense Secretary Ashton Carter announced that heavy weaponry will be "pre-positioned" in the Baltic states, Poland, Romania and Bulgaria. A "spearhead" force of up to 40,000 troops will also be dispatched -- 10 times the number currently stationed in those countries. BBC News provided sufficient covered on this development and Agora Financial's Jim Rickard's was already connecting the dots to see where this development may lead. As you know, every action has a reaction whether positive or negative. Here is a map illustrating the Baltic States and their promixity to Mother Russia. Note the red speck between Poland and Lithuania which is Kaliningrad, Russia. BBC News provides an excellent overview of Kaliningrad here and worth to read.
Kaliningrad is home to the Russian Baltic fleet and is Russia's only ice free port. Something to think about this morning..... I will continue writing on this topic in tomorrow's blog as recent NATO and US military steps in eastern Europe are probably unsettling to the Russia people when carefully communicated by Russian media.
Do you have any idea how many Russian people died during WW II? Several millions? Google is wonderful for quickly accessing responses to these types of questions. I would suggest that you allow some time to review this Wikipedia link on WWII casualties for all countries as the facts may help shape an alternate view on current NATO and US actions in Eastern Europe.
- The United States suffered 420,000 casualties which was 0.3% of our 1939 population.
- Russian losses are staggering at ~ 24,000,000 human beings or ~ 14% of their 1939 population. Think about that for a moment......
- In comparison to United States Civil War losses, the estimate is 620,000 or about 2% of the 1861 population. See CivilWar.org for more details.
I believe that empathy is a critical human skill when living in any size village, city or country. Understanding how and why our neighbors think or behave is critical for mutual appreciations and compromise. But today, the American news media is all about selfies, emotions and drama. It is important to have a balance view when forming opinions on issues and reading outside of the American mainstream media is recommended.
GFRC News
There is not much to report today. The packages that I expect to arrive yesterday will most like arrive today and hopefully a few pieces will be online by tomorrow morning.
I'm continuing to load West Coast Collection seated dimes, a few more Gentleman's Collection pieces and other low priced items that have accumulated.
Featured Coin of the Day
This morning's feature coin is a wonderful 1868 NGC PF64 CAC dime that is also the F-105 variety. F-105 is the misplaced date variety made famous by Kamal Ahwash in his 1982 Encyclopedia. This variety launched the search for misplaced dates throughout all Liberty Seated denominations. I've included this variety in my Top 100 Varieties Set as entry #52. Two extra 1 digits are easily seen in the base. On the offered piece, the obverse is covered with deep sky blue patina while the reverse features a base rose coloring with additional sky blue near the rims. Please remember that the obverse proof die is rusted and also remains unpolished lathe lines which are well represented on this specimen. If you are building a Top 100 Varieties set, then this piece would be a fine addition.
June 24, 2015
Great sunny weather arrives after two days of rain. A quick paced long walk is in order after spending most of Tuesday sitting behind the laptop.
Let's open today's blog with an graph that well illiustrates the rapid shift to digital media by adult Americans. Time spent on the internet either with a mobile device or PC/laptop amounts is growing at roughly 10% per year since 2010 with mobile devices being the growth engine. The teenager age group is probably higher given that 12-15 year olds are the fastest adopters of new technology. Also remember that Asians are much quicker adopters of new technology than Americans....
The rapid shift to handheld digital media is a remarkable event. Traditional news papers continue to be under press with their long term future looking dim. For example, the numismatic hobby's flagship publication, Coin World, continues to shrink in size with decreasing content and advertising. Our hobby must adjust to the digitial media transition sooner rather than later to remain relevant to the next collecting generations.
I've seen this transition coming for years since working in the semiconductor industry and being one of the early numismatic adopters by placing the The Definitive Resource for Liberty Seated Dime Variety Collectors as an online web-book or eBook. But more is necessary to move years of printed numismatic media into the digitial realm to simplify access. Now that I've taken on the role as LSCC President, there is a sense of urgency to move forward with increased usage of digitial media to attract new members to the hobby but also to convert the entire Gobrecht Journal library into digital media that can be freely accessed.
Companies or individuals who fail to see and adapt to rapid changes in technology and social usage patterns are doomed to the history books. Companies like IBM and Kodak were technology leaders....IBM eventually moved into the enterprise software market while Kodak is no longer with us today. Something to think about....
Financial News
From Seeking Alpha daily headlines.....
This is no surprise... U.S. and Chinese officials on Tuesday discussed Beijing's bid to have the yuan included in the IMF's Special Drawing Rights basket, as the latter advances its bid to make the yuan a reserve currency. Last month, the IMF hinted that a promotion may happen in 2015, after saying it doesn't consider the currency undervalued. According to data from SWIFT, the yuan became the second most used currency in trade finance, the fifth most popular payment currency and the sixth most used foreign exchange currency in the world in December 2014.
The impact of a weak currency in currency wars...Japan's Nikkei soared to an 18-year high today, ramping up the gains to around 20% since the start of the year thanks to signs of a pick up in economic growth, earnings optimism and hopes Greece will avoid a debt default. During the session, the index rose as much as 0.6% to 20,942, its highest since December 1996. It is, however, still roughly half the peak hit in the bubble era a quarter of a century ago. The Nikkei closed at a record 38,915.87 on December 29, 1989, before the bursting of the asset bubble that led to Japan's "lost decade".
GFRC News
I'm nearly caught up with the Open Registry backlog and pleased with the quick response to the new 1861-O Half Dollar die varieties set. This set is easily collected with the two Union varieties (Wiley-1 and Wiley-2) being the key entries. There must be a historical reason why W-1 and W-2 examples are so scarce as the stated mintage does not support current availability. Is it possible that many of the Union pieces did not enter circulation and were used for bullion shipment to Europe to finance the CSA needs for weapons? There must be some explanation....
Arriving today are some important Seated dime and Seated half dollar variety pieces.
Dimes: 1839-O F-109 raw AU grade and 1842-O F-107a ANACS VF30 old white holder.
Halves: 1842-O Small Date WB-101 PCGS VF-25 CAC and 1844-O Double Date PCGS VF-25
The GFRC shipping department was busy last evening and is current with recent orders. That means that I am finally free to load more coins onto the price lists today.
I'm also in a position to handle several more large consignments before the Chicago ANA show. Please consider working with GFRC if you've ever thought about dispositiong or reducing the size of a collection. I provide personal service including evaluation, photography and online marketing plus the display of your coins at major shows.
Featured Coins of the Day
Let's focus on the dollar denomination for today's featured coins. First is an exciting offering from the Gentleman's Collection. This 1796 Small Eagle dollar has been off the market for years and resides in old NGC EF45 holder with classic obverse bullseye toning that varies in color based on lighting angle. In hand, the obverse appears as typical gun metal gray with some blue hues while the reverse is even gray with mottled rose. The coloring quickly changes under bright light as the obverse center becomes a light rose that transitions to a ring of blues inside the stars, and finally green/gold surrounding the stars and LIBERTY if view under indoor lighting. When using unfiltered sunlight, the surfaces outside of the inner rose ring are colored a reflective sky blue.
Next is an important 1846-O Seated dollar residing in NGC AU58 holder. This piece is from the Virginia Collection and is clearly an above average example after reviewing Heritage Archives. This is an even white example with reflective proof like fields. Mint frost throughout Liberty's gown and reverse eagle wings is evident with little disturbance other than a blemish on the lower leg/knee.
June 23, 2015
Welcome to another Blog edition on this Tuesday morning....thank you for checking in.
Yesterday's melodrama was the home inkjet printer dying in the middle of a round of USPS Click N' Ship labels. By end of day, customer packages were shipped with regular postal service slips and a new laserjet printer was operational. Evening brought Open Registry updates....another day gone by and in the memory book.
GFRC News
The Client Gallery module, which was announced yesterday, brought positive feedback and stimulated other potential business applications down the road. Over the next week, the Client Gallery will be updated with the Birmingham Seated Dime Collection....an important GFRC consignment that is major auction house caliber and quality.
Improving Seated half dollar offerings remains a priority and I'm pleased to announce that 1842-O Sm Date, Rev 1839 PCGS VF25 CAC and 1844-O Double Date PCGS VF25 selections will be added shortly.
By the end of this week, I should be fairly caught up with posting Newps and consignments including the West Coast Collection of value Seated dimes. This means shifting the emphasis to securing one or more major consignments in the upcoming weeks prior to Chicago ANA. If you have thought about converting duplicates to cash or releasing a major holding, then please consider GFRC as a potential partner for achieving your goals. I am a well known serious collector and researcher for 25 years along with having proven marketing and sales skill...this means results for consignors at the retail pricing level. The GFRC website is continually optimized towards enhancing the collecting experience for customers while mainstream dealers tend to be focused on the transactional segment of our hobby.
Financial News
Seeking Alpha headlines brings some positive news concerning EU economies.....Economic activity in the eurozone grew at the fastest pace in four years in June, providing the latest sign that a recovery in the region is gaining traction. Markit's Composite Flash Purchasing Managers' Index rose to 54.1 from 53.6 in May, boosted by momentum in Germany and France, the bloc's two largest economies. The data adds to the evidence that the ECB's massive stimulus program is taking effect and paints a brighter outlook for eurozone activity.
While mainland China's manufacturing sector growth rate continues to slow....China's factory activity contracted for the fourth straight month in June, suggesting that more stimulus measures may be on the way. The HSBC/Markit Flash China Manufacturing PMI edged up to 49.6, from 49.2 in May, but remained below the 50 mark which separates contraction from expansion. Manufacturers also continued to cut their staff numbers, with the June reduction the sharpest in more than six years.
Back at home in the United States, 30% of Americans have no savings and half of Americans have less than 3 months of emergency savings on hand. These Bankrate.com survey statistics explain why it is so difficult for the US economy to show much growth when consumer spending is paramount.
Attributing 1861 New Orleans Half Dollars for the Open Registry
A third 1861-O half dollar die variety set was received this morning for the Open Registry. Attributing these die varieties can be challenging as I learned when working through the recent 36 piece hoard. To simplify this task, I've added a few attribution notes to the Open Registry submission form as shown below. These notes are far from being all inclusive but do help by pointing out the primary attribution points.
Wiley 1 - Union (Heavily Lapped Left Wing) WB-101
Wiley 2 - Union (Date/Mintmark Positions) WB-101
Wiley 3 - Louisiana (Date/Mintmark Position) WB-101
Wiley 4 - Louisiana (Weak Feather Extension under Stem/Mintmark Position) WB-101
Wiley 5 - Louisiana (Eroded Obverse/High Mintmark Position) WB-101
Wiley 6 - Louisiana (Date Position) WB-101
Wiley 7 - Louisiana (Date Position) WB-101
Wiley 8 - Louisiana (Eroded Obverse Die/Die Blob in Shield) WB-101
Wiley 9 - CSA (Date Position + Obv/Rev Die Cracks) WB-101
Wiley 10 - CSA (Eroded Obverse/Halo Around Right Wing) WB-101
Wiley 11 - CSA (Obverse Die Crack into Nose) WB-102
Wiley 12 - CSA (4 Known, Special CSA Reverse Die)
Wiley 13 - CSA (Bisecting Date Die Crack) WB-103
Wiley 14 - CSA (Bisecting Date Die Crack/Speared Olive Bud) WB-103/WB-104
Wiley 15 - CSA (Speared Olive Bud) WB-104

Featured Coins of the Day
We tap into the Gentleman's Collection for the first featured coin of the day. How about this choice original 1798 Bust Dollar with Large Eagle reverse residing in PCGS VF35 holder and fresh to market. Surfaces are fully natural with even gun metal gray patina coupled with darker shades surrounding obverse stars and date and lower reverse legend. Accurately grade with ample device details remaining from a strong strike.
Tthe Virginia Seated Quarter Collection presents a host of lustrous pieces. One of my favorites, of those remaining, is this 1875 MPD FS-301 example graded AU55 by PCGS. Yes, the 1875 date is common but this offering is much better than average with misplaced digits in the denticles and the lovely light gold patina.
June 22, 2015
Did anyone notice yesterday was the longest day of the year, the Summer Solstice? Maine sits between 44 to 47 degrees latitude with the Summer Solstice having 15 hours and 15 minutes of day light. Contrast this with the shortest day of year at 8 hours and 44 minutes of day light. Just some trivia to start today's Blog.
GFRC News
The substantial news of the day is the Client Gallery module added to the GFRC website yesterday. The GerryFortinRareCoins.com homepage has a new icon under GERRY'S Daily Blog which provides access to active and past consignor collections in a well organized gallery format. All major consignments will be posted in the Client Gallery at no charge. Individual pieces should be valued at $200 or more and the overall consignment scope should be that of a named collection on the GFRC price lists.

There are many reasons to consign important holdings to GFRC and now, there is another benefit. I have already made plans to ensure that the Liberty Seated Dime web-book is hosted online for years to come and included in that longevity will be the Client Galleries. Each image in a client gallery is an icon. When selected, a high resolution version appears. Looking down the road, individual coin description could be added by the client creating a digital picture book for long term memories. The options are limited by our creativity, time and of course funding. A basic Client Gallery will be provided as part of normal sale commission rates.
Please email or call to discuss how we can work together to not only secure top money for your holdings, but also to provide a long term display of a cherish collection. Consignors would be welcomed to write introductions for their gallery......
Less significant is the inclusion of a Daily Blog quick link to the website header banner. I'm accessing Daily Blog contents on a frequent basis these days and realized that a single step link was necessary.
Financial News
The Greece debt repayment situation will reach some conclusion this week as a run on Greek banks in underway. Adopting capital controls for Greek bank assets could frighten citizens of other debt ridden European countries (Spain and Italy) to also start withdrawing monies for banks therefore jeopardizing the entire banking system. The best reporting on the Greek debt crisis is via BBC News as there is much at stake for the Eurozone countries. Russia has also entered the game with pledges of some financial support for the Greek people....Germany would be loathe to have Greece tilt towards Russian influence.
Seeking Alpha reports the Greece situation in this manner....After failing to agree on a cash-for-reforms deal with Athens last week, eurozone leaders are holding an emergency summit today to "urgently discuss the situation of Greece at the highest political level." The summit comes just eight days before Athens needs to make a crucial €1.6B payment to the IMF. Over the weekend, Greek PM Alexis Tsipras submitted a new reforms package to foreign creditors, signaling eleventh-hour concessions to avoid a possible default. Stock markets throughout the world are rising on this news....
Would mega health insurance companies be good or bad for American citizens? Read on...The nation's biggest health insurers, which are pursuing a series of potential megamergers due to changes in the healthcare landscape, have many market overlaps that pose challenges to competition around the country. On Saturday, Anthem (NYSE:ANTM) made a third offer to purchase Cigna (NYSE:CI) for $54B (although the bid was rejected), while Aetna (NYSE:AET) made a takeover offer for Humana (NYSE:HUM). Those deals, if completed, would shrink the current top five insurers to a powerful big three, each with revenue on paper of more than $100B. UnitedHealth (NYSE:UNH), the largest industry player by revenue, has also recently jumped on the bandwagon by making a takeover approach for Aetna..
Featured Coins of the Day
Our first coin of the day is from the Wisconsin Collection. This lovely 1858-O half dime resides in an old standard ring insert PCGS holder with assigned AU55 grade. This piece offers strong luster, gold rims and a huge (for a half dime of course) partial cud that consumes AMERIC(A) and lower right stem and ribbon ends. The metal in this area has shelf appearance with the die being obviously broken apart when this piece was struck.
Next is an 1879-S toner Morgan dollar acquired at the Manchester show that resides in an NGC MS63 holder and is approved by CAC. Obverse has lots of eye appeal with a combination of proof like surfaces covered with pastel rose, gold, violet and blues toning while the reverse presents a gold framed rim. Reverse is proof like with a fair amount of die polished lines. Housed in early NGC "fatty" holder with long rectangular hologram containing Numismatic Guarantee Corporation of America.
June 21, 2015
Happy Father's Day to all the Dads checking in this morning! Yesterday was an early Father's Day gift as son Matt and granddaughter Natsumi visited for the day. Natsumi is only 15 months old but a real joy to have at home. We spent the afternoon at the Maine Wildlife Park in Gray which happens to be just a few miles from our home. This park is well managed with onsite fish hatchery and a host of Maine animals and birds including a cougar, bobcats, moose, bears, deer, bald eagles, owls and 6000 brook trout in the fish pond. The balance of the day was allocated to a lovely dinner and Natsumi play time before their return drive to Boston.
I sincerely appreciate all the well wishes concerning my father from Daily Blog friends. He is back home with daily nursing care along with my sister's unwarying support. It is sad to see a strong and vibrant individual slowly succumbing to the aging process and a reminder of my own mortality.
GFRC News
After writing Saturday's Blog, I took the balance of the day off so there is little to report today.
At 5:00am and with an early cup of coffee, I wrote an article concerning the Daily Blog that will be published in the Liberty Seated Collectors Club's July E-Gobrecht issue. Editor Bill Bugert thought it would be beneficial for the club members to understand how the Daily Blog is prepared each morning and why I decided to take on this endeavour.
Concerning new GFRC acquisitions, I am discussing a trade for an 1842-O Small Date PCGS VF25 CAC seated quarter and that piece should be arriving this week. Please contact me if there is potential interest since this piece would be ideal as a Top 25 Varieties set entry.
Before visiting with my father today, inputs for the 1861-O half dollar die varieties set in Open Registry will be posted.
Featured Coins of the Day
There are many great coins residing in GFRC inventory and it is a pleasure to feature several each day. I continue to stress the importance of originality for multiple reasons...1) scarcity given the amount of coins that have been cleaned over decades, 2) beauty as well preserved coins are attractive with even gray or gun metal gray blue surfaces along with knowledge of their unmolested past and 3) value since the market continues to gravitate towards problem free and original coins. The TPG and now, CAC have raised awareness concerning original coins and the associated desirability and value.
Leading the featured coins today is a lovely 1861-O Wiley-3 Seated half dollar graded PCGS VF35 without CAC attempt from the Wisconsin Collection. There is no need for a description as the images speak for themselves. If you are planning to build an 1861 New Orleans die varieties set, then don't hesitate on this excellent example.
Next is a 1827 PCGS VF30 Capped Bust half from the Gentleman's Collection. This strictly original half is just back from CAC review and no surprise that it was approved with green bean. Images well reflect the original medium gray surfaces and lightly colored wear points.
June 20, 2015
The weekend arrives with a beautiful day forecasted for Saturday followed by the remnants of Bill coming through on Sunday with an anticipation of significant rains. As a result, my son Matt, wife Chikae and granddaughter Natsumi will be traveling to Raymond this morning instead of Sunday as previously planned for Father's Day. Therefore quick arrangements are underway and the Blog will be a tad short since there are orders to pack and ship prior to family arrival along with a visit to the grocery store.
GFRC News
Friday was one of the best sales days on record outside of a major coin show. Seated dimes and halves sold well to multiple customers.
The new consignment "Gallery" approach in the Daily Blog is receiving much positive feedback and as a result, I'm planning a new GFRC website module to feature consignment Galleries as a stand alone link along with archiving capabilities. In this manner, consignors will be able to access images of their collection pieces well beyond the sale timeframe. Once again, GFRC is developing unique online services for consignors as part of my ongoing website expansion. Being a serious collector for 25 years and website developer prior to dealer tranformation allows me to mold the Gerry Fortin Rare Coins website into a special hobby experience for collectors.
Multiple GFRC customers are collecting 1861 New Orleans halves at the die variety level due to the Randy Wiley's research published in Gobrecht Journal issues #94 and #97 and also available in Bill Bugert's masterpiece reference, A Register of Liberty Seated Half Dollar Varieties Volume IV. Several customers asked that an 1861-O half dollar die varieties set be added to the Open Registry and this was quickly completed yesterday evening. The new 1861-O half dollar set is available here and already two individuals provided their submissions. These submissions will be posted on Sunday.
1861-O Half Dollar Die Varieties in Open Registry
For those not familiar with the Open Registry, this is an opportunity for individuals to display their sets regardless of whether coins are certified or raw...thus the name "Open" Registry. At the moment, this module is manual and a combination of Excel worksheets for data entry/calculations and html for publishing. If I can locate a reasonably priced website contractor, then the Open Registry would be automated similar to that provided by the TPGs.
The 1861 New Orleans half dollar die varieties set is displayed as follows...short and simple but lots of fun for those collectors striving to build the 14 piece set and acquiring the associated Civil War history. Wiley-12 is listed as part of the set but not included in the scoring since only four pieces are extant.
Liberty Seated Half Dollars - 1861 New Orleans Die Varieties
The Customer #1 1861-O Half Dollar Die Varieties Collection
New June 19, 2015
Completion: xx% Weighted Grade: xx.x Set Rating: x.x %

: x%
| | | | | |
| --- | --- | --- | --- | --- |
| Coin Number | Date | Grade | Description | |
| 1 | Wiley 1 - Union | - | - | R6 (6.0) |
| 2 | Wiley 2 - Union | - | - | R5 (5.0) |
| 3 | Wiley 3 - LA | - | - | R2 (2.0) |
| 4 | Wiley 4 - LA | - | - | R2 (2.0) |
| 5 | Wiley 5 - LA | - | - | R4 (4.0) |
| 6 | Wiley 6 - LA | - | - | R3 (3.0) |
| 7 | Wiley 7 - LA | - | - | R2 (2.0) |
| 8 | Wiley 8 - LA | - | - | R2 (2.0) |
| 9 | Wiley 9 - CSA | - | - | R2 (2.0) |
| 10 | Wiley 10 - CSA | - | - | R4 (4.0) |
| 11 | Wiley 11 - CSA | - | - | R3 (3.0) |
| 12 | Wiley 12 - CSA | - | Non Competitive - 4 Pieces Known | N/A |
| 13 | Wiley 13 - CSA | - | - | R2 (2.0) |
| 14 | Wiley 14 - CSA | - | - | R4 (4.0) |
| 15 | Wiley 15 - CSA | - | - | R2 (2.0) |
Featured Coins of the Day
A considerable amount of new offerings reached the price list this week and many are already sold. Others are waiting for a collector to scoop them up.
First up is an 1868-S Seated dime residing in NGC EF45 holder and approved by CAC. I've been indicating that this date is underrated in EF or better for the past year and continue to hold this belief. The asking price is above the guides but consistent with rarity. If you are a serious Seated dime collector and in the set building mode, then please consider adding this offering to your set. You will not be disappointed long term. A detailed description is available here.
We close today's Blog with another recent addition via consignment. This 1877-CC Briggs 2-B Seated quarter offers bold luster, a repunched date that can be seen without loupe (if you are under 50 years old....) and CAC approval. This piece is graded by PCGS as MS63 with the holder labeling indicating FS-301 RPD designation.
Thank you for stopping by and wishing everyone a great weekend!
June 19, 2015
Is it already Friday? It seems that in a blink of an eye, a week flies by at GFRC. Indeed, it has been a busy and exciting week with much new inventory and also some incremental website ideas. Thank you for visiting this morning. Let's jump right into the news...
GFRC News
The Gerry Fortin Liberty Seated Dime Collection is heading to upstate New York for display. I spoke with Bill Coe from the Rochester Numismatic Association and reached agreement for displaying my Seated Dime collection at the Rochester Museum and Science Center on October 31 and November 1. The exhibit will be marketed as part of the RNA annual coin show event. The previous public presentation of this set took place during October 2013 at the NH Coin Expo. I'm planning three cases with the complete date and mintmark set (as seen on PCGS Set Registry and GFRC Open Registry) along with selections from the Top 100 Varieties set. This business strike set with varieties has an average grade of 62.4 and is 80% CAC approved with many Gold CAC beans.
The better date Seated dime lot purchased earlier this week is available on price lists. Already the 1852-O PCGS AU58 dime is on hold and I'm watching to see who may step up and purchase the 1843-O PCGS VF20 CAC dime.
Yesterday evening, I decide to place the newly discovered 1884-S F-106 die variety example (NGC MS63) on the price list and this piece is already on hold.
Financial News
From the Seeking Alpha daily news feed...
Shanghai Composite shouts Mayday!...China's benchmark share indexes plunged on Friday, taking losses since their early-June peak to more than 10% and putting the market into correction territory. The Shanghai Composite finished the session down 6.4%, its biggest weekly decline since October 2008, after more than doubling over the past 12 months. Shenzhen -6%. ChiNext -5.4%. BTW, Gold held nicely at $1200/oz.....
A Run on Greek Banks...Yes! There will be a solution to the Greek debt crisis that will allow the country to return to growth while staying in the eurozone, Prime Minister Alexis Tsipras said on Friday. The statement was strikingly upbeat given the tone at yesterday's Eurogroup meeting. Greek Finance Minister Yanis Varoufakis proclaimed that the eurozone was dangerously close to accepting an "accident," and an emergency summit was scheduled for Monday. Some also expect Greek banks not to open next week, after savers withdrew €2B over the past three days.
GFRC Consignor Gallery
The Wisconsin Consignment of Seated half dollars (and a few half dimes) has been fully processed and is heading to the price list today. Please take a close look at the lovely 1858-O and 1868-S half dimes. The 1858-O is V3 with huge partial reverse cud while the 1868-S is a beautifully toned LDS example. The Seated halves offer (2) 1861-O W-3 and (2) 1861-O W-13 examples for collectors building an 1861 New Orleans die varieties set along with 1862, 1863 and 1864 San Francisco pieces.
Moving forward, more important consignments will be exhibited in gallery format for the enjoyment of GFRC customers and also for consignors to enjoy a sense of accomplishment when seeing their numismatic fruits of labor being displayed. What other dealer provides this level of service to consignors?
Wisconsin Consignment - Seated Half Dimes and Half Dollars
Click on images for high resolution pictures...enjoy!
June 18, 2015
Welcome back to the Blog on a Thursday morning. Another week races along as each day is fully consumed. This morning's blog will be a tad brief as my plate is rather full today.
Financial News
From the Seeking Alpha daily news feed and timely after yesterday's Blog comments.... A crackdown on margin financing? An equity bubble going "pop"? Pick your reason. Chinese stocks got crushed again today, suffering heavy losses across several indexes. The Shanghai Composite closed down 3.7%, while the smaller Shenzhen market fell 3.6%. The ChiNext index, which tracks small startup stocks, saw its biggest drop since 2013, plunging 6.3% - the third-worst trading day in its history after nearly tripling in the past year.
Also note that overnight, gold increased nearly 2% and is back to $1200 per ounce. I believe that a major setback for the Shanghai Composite will be bullish for gold as this is one of the few credible alternative for Chinese investors. It should be realized that the Shanghai Futures Exchange will be as important as London and COMEX for gold pricing/trading.
GFRC News
Significant progress was made in GFRC's photography and packaging/shipping departments on Wednesday...;) After working a lifetime in large corporations with individualized departments and their special operating skills, I break down major GFRC operations tasks in the same discrete manner and work towards optimization for improved efficiencies.....essentially doing more with less and growing the GFRC business with a single owner/operator.
A large number of coins were photographed and processed yesterday including the balance of the Gentleman's Collection Draped Bust dollars, the Wisconsin Collection of Seated halves and the Liberty Seated dime lot purchased earlier in the week. Evening was spent loading the Gentleman's Collection pieces onto the price list and I am most pleased to offer the following gallery of his collection. As a reminder, these pieces have been off the market for over a decade and in some cases nearly two decades. So fresh to market is an accurate statement concerning these important pieces. Asking prices are strong but consistent with the quality. If you visit CoinFacts and review 2015/2014 auction listings on a comparison basis, then please check the quality of the listed coins against these offered here. We will know that current auctions are used by dealers to dispose of their less desirable coins. This is not the case with the Gentleman's Collection.
Gentleman's Collection - Flowing Hair and Draped Bust Dollars
Gentleman's Collection - A Few Nice Bust Halves
A few pieces from the Seated dime lot reached the price list and are featured below. The 1843-O PCGS VF20 CAC is essentially a gem at the assigned grade level and offers excellent eye appeal. The 1853 No Arrows dime graded PCGS EF45 is even rich gray and always in demand as few come to market. Finally, the 1868-S piece residing in NGC EF45 holder and approved by CAC is a special opportunity that many collectors would not appreciate. This date is so challenging in EF-AU grades especially when completely problem free and strictly original. The NGC graded piece is accurately graded and perfectly original.
Selections from Seated Dime Lot Purchase
In tomorrow's blog, I plan to feature the Wisconsin Collection of Seated halves and half dimes as there are some marvelous pieces to be seen. Moving forward, my plan is to include the documentation of important consigments via gallery presentation as an incremental benefit for selecting GFRC to handle your important collector coins. I am not aware of other dealers providing this type of careful attention to details and publicity for the collector community.
June 17, 2015
After several days of clouds and showers, Maine weather is once again in a sweet spot...clear blue skies and temperatures in the mid 70s. As I look out the home office window, there is a delicate breeze stirring the oak and maple leaves. Welcome to the Blog on this beautiful day.
Many Blog readers sent well wishes concerning my father's health issue and those emails are sincerely appreciated. My parents are both 84 years old, were married after father's return from Korean War and have managed to stay in their home of 56 years; the last few years due to my sister's ongoing loving support. But health issues are creeping in at an accelerating rate and medical solutions to one issue may exacerbate others.
Changing subject to current American culture....I've reached a point where watching the nightly evening news is a struggle especially with excerpts from the NBC interview with Rachel Dolezal. How can a leading news company provide an individual with questionable integrity such coverage? The excerpts were painful to watch let alone sitting through an entire interview. We've seen Bruce become Caitlyn with much fanfare and now this. Where has personal humility and integrity gone in the Information and Selfie age? Drama, no matter what the content, sells TV ratings and American business is driven by profits as long as actions taken are "legal" while morality seems to be waning. What would Walter Cronkite think? To this day, Walter remains "the most trusted man in America" and was my role model along with many in the the Baby Boomer generation. Who are the Generation X and Millennial role models for integrity and trust today? Something to ponder this morning....first thought was Pope Francis in response to my own question.
Moving to the greed fuels debt topic, here is an interesting graph illustrating present New York Stock Exchange margin debt. Due to artificially low interest rates, buying stocks with debt is now a common practice in major economies. I've discussed the amount of margin debt fueling the Shanghai Composite index move into bubble territory but a close look at home also shows a disturbing trend. Click on the graph to view high resolution version. My take away is the growth of margin debt is at the same point (~25% of market value) prior to the Tech crash and the Great Recession. As long as system checks and balances work as designed then all is fine. But weren't we reassured that our personal information given to businesses and government agencies would be protected and safe? More to think about....
GFRC News
Yesterday was productive as many orders were shipped along with adding Jim Poston's consignment and Manchester Newps to the price list. The better date Liberty Seated dime deal was completed during the evening and a few of those coins were added to price list as a sampler. Please don't ignore the 1868-S NGC EF45 CAC dime as this date is currently a sleeper and so underrated while the 1843-O PCGS VF20 CAC piece is a gem for the assigned grade.
All holdered Seated halves from the 36 piece 1861-O hoard are online and the sales rate has been quite good. I sincerely appreciate customer purchases which allow GFRC to continue funding incremental deals and generating more exciting price list offerings.
I've mentioned an important Seated half dollar consignment in the June 13 Blog and have decided, with the consignor, to call this offering the Wisconsin Collection. These pieces will be photographed today and hopefully online by end of week. There are more 1861-O Wiley varieties in the consignment along with better date Civil War pieces. Some piece are already under FRoR.
The Gentleman's Collection early type coins that saw CAC review have returned and these also need to be photographed and added to price lists.
And lastly, the West Coast Collection of Seated dimes (Part III) is priced and photographed; next steps are to format images and start loading. There are some value Top 100 Varieties pieces in this offering.
Featured Coins of the Day
Today's leading feature coin is a choice original 1830 O-102, R3, Bust half dollar residing in PCGS holder, accurately graded EF40 and with CAC approval. The images speak for themselves....can you imagine building a uniform set of Capped Bust halves in EF grade with these types of surfaces?
At Manchester, I bought a nice group of raw circulated Seated halves as these are popular with Dansco set collections. The value/price ratio is important to collectors and I believe these offerings are well aligned with expectations. Featured here is the 1871-S WB-4 Small Wide S half graded VF25 and a strictly original piece with problem free surfaces.
Thank you for visiting with me this morning.....
June 16, 2015
Good morning and welcome to another Blog edition. Yesterday took a surprise turn of events after I finished writing my daily commentary and communicating GFRC plans for the day. A phone call from my sister informed that my father was in the hospital after suffering a mild heart attack. The afternoon was spent at the hospital and so far so good. My father is 84 years old, and from the stubborn working class era of our country. He still mows his lawn with a push mower and heavy clipping bag even though an attempt was made to hire a neighborhood teenager to handle this chore. We laughed as he related that fact that his body waited until finishing the job before falling over and being rushed to hospital.
I would like to open this morning's Blog with a recent Liberty Seated dime variety acquisition (second known 1876-CC F-106a example) and its significant in piecing together the 1876-CC Double Die Obverse emission sequence. Let's start with some background....The most popular 1876 Carson City seated dime variety has to be the Double Die Obverse with bold die doubling on OF AMERICA. This obverse die was paired with three separate reverse dies with the emission sequence being straightforward to determine based on obverse die degradation. A traditional emission sequence (as published by Greer) pictorial looks like this. We well recognize that the F-107 pairing is common and easily located while F-105 pairing is rare in all grades. But look closely at Reverse E. This reverse die was not perfectly planar during the working die hubbing process resulting in uneven device details across the die face. The right wreath devices (corn ear and oak leaves) are much weaker than the left wreath devices so tracking this die during other die pairings is easy.
1876 Carson City Double Die Obverse - Greer Emission Sequence
F-105 (Double Die Obverse State #1 with Reverse A) F-106 (Double Die Obverse State #2 with Reverse E)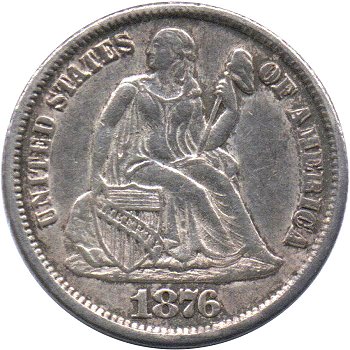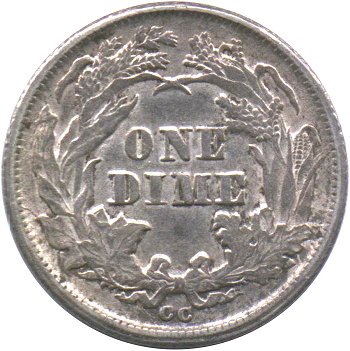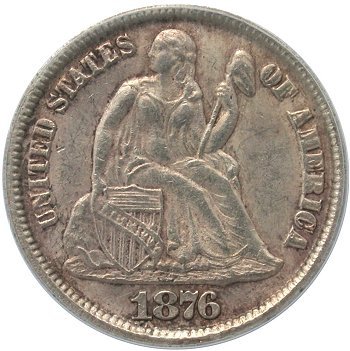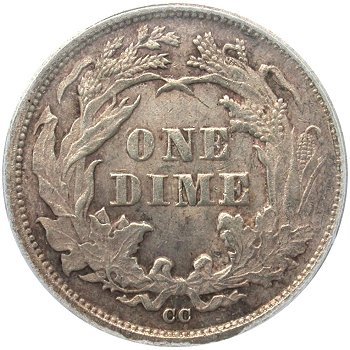 F-107 (Double Die Obverse State #3 with Reverse F)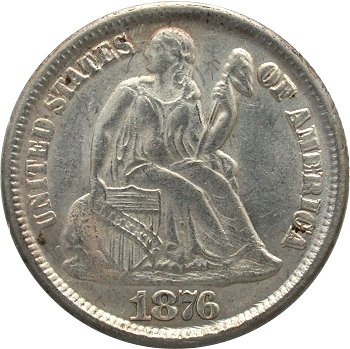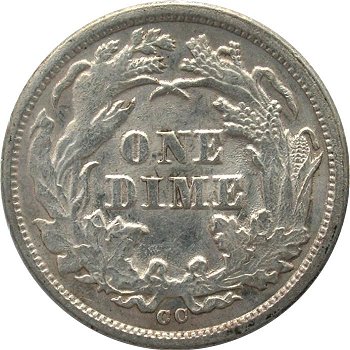 Now that we have established this fundamental background, let's take a look at the Reverse E die pairings and the associated rarities based on my research. As shown above, Reverse E is first paired with the Doubled Die Obverse with a reasonable number of strikes being produced. I rate the F-106 die pairing as R4+ in VF or better.
1876 Carson City Seated Dimes - Reverse E Emission Sequence
F-106 (Double Die Obverse State #2 with Reverse E) F-112 (Obverse 10 with Reverse E, 45 Deg Rotation)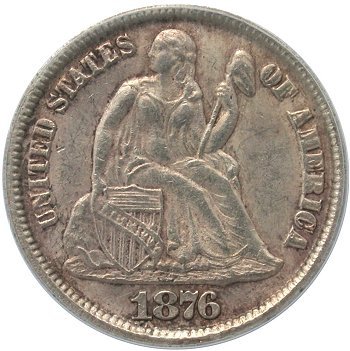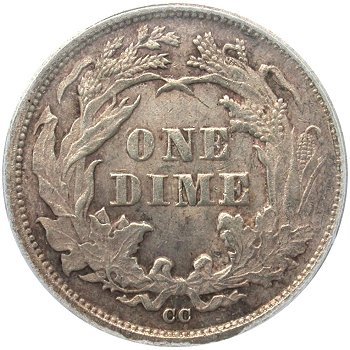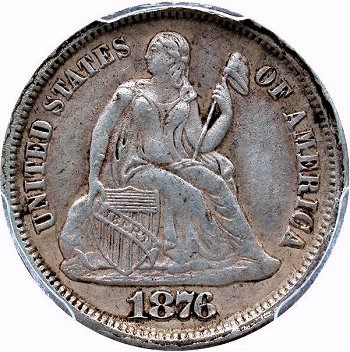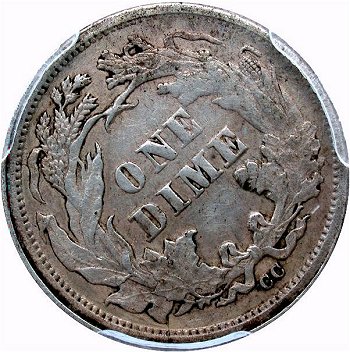 F-112a (Obverse 10 with Reverse E, 65 Deg Rotation, Die Crack) F-106a (Double Die Obverse State #3 with Reverse E, Die Crack)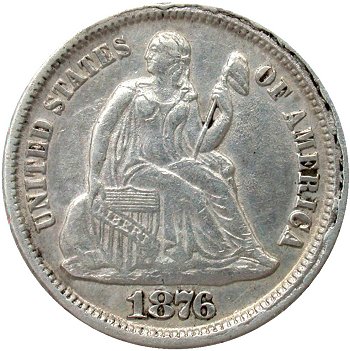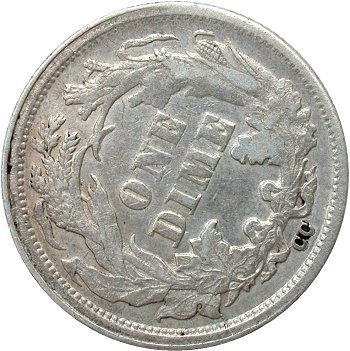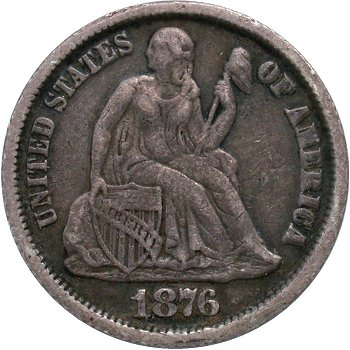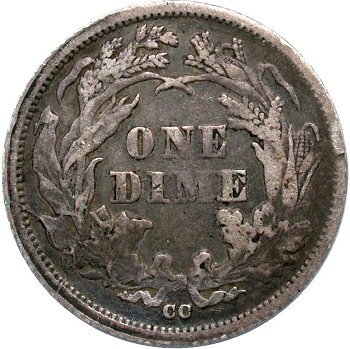 As a numismatic community, we have learned that Carson City mint frequently broke down a Seated dime production setup after small production runs based on the above Reverse E emission sequence. The F-112 and F-112a varieties are rated R7 in VF or better while I am rating the F-106a as R6+ for the time being. Finally, isn't it amazing that Reverse E appears in two production setups with Obverse 10 with different reverse rotations and then is seen as a remarriage with the Double Die Obverse for a few additional strikes? A broader analysis of this topic is planned for the Fall 2015 Gobrecht Journal.
GFRC News
Maine weather forecast is for ongoing clouds and rain today. Therefore I will be focused on loading the price list with more Newps and consignment pieces throughout the day.
Pricing for the incremental West Coast Collection seated dimes were settled with consignor so these can be posted since the imaging is done.
Featured Coins of the Day
I would like to remind GFRC customers that many quality Birmingham Collection Seated dimes remain on the price list and need to find new homes. So in today's featured coin module, I would like to recommended two for your consideration. First up is a nice lustrous 1857 F-107 dime graded PCGS MS64 with no CAC attempt. This piece offers bold cartwheel luster resulting from frosty surfaces and the assigned MS64 grade is conservative. The below images well capture the luster and eye appeal.
The next offering is an outstanding 1858 San Francisco dime graded PCGS AU50 and approved by CAC. This is a piece for an advanced collector as presenting superior surfaces coupled with being the more challenging F-103 die pairing. My images are unable to properly represent what is seen in hand or under bright line. Bold luster dominates the appearance with no interruptions or distractions. There is some wear on the lower leg and breasts so the AU50 grade is accurate. Strike is complete throughout obverse and reverse with no points of weakness.
June 15, 2015
Welcome to the second half of June...and thank-you for visiting the Blog each morning.
Writing worthwhile content each morning grows challenging but the fact that readership continues to climb provides the motivation. I'm so pleased to report that the number of downloads exceeded 250 on Saturday and Sunday. The Blog is a blank canvas which is only limited by my creativity and honestly, I'm having fun painting the daily image of life as a retired professional turned coin dealer and collector friend/advisor. Numismatics is my passion with the internet facilitating a personal outreach to the world. We do live in a remarkable period in human history.
Financial News from Seeking Alpha....
Both the Greece debt repayment saga and Shanghai Composite stock market bubbles continue.....
First Greek Theater....Traders were greeted with a sea of red on Monday after debt discussions between Greece and its European creditors collapsed, pushing Athens closer to a debt default that threatens its future in the eurozone. With both sides refusing to soften their long-held bargaining positions, talks on Sunday broke down after just 45 minutes. Many officials now see a Eurogroup meeting on June 18 as the last chance for Greece to secure a deal on an agreed list of the economic reforms. Athens' ATG stock index -5.5%.
Then the size of the Shanghai stock market bubble.... According to data compiled by Bloomberg, stocks with primary listings in China are now valued at $10.05T, an increase of $6.7T in the past 12 months. Many consider the heavy expansion as worrisome. No other stock market has grown as much in dollar terms over a 12-month period, valuations are now their greatest in five years and margin debt has climbed to record highs, all while the economy is mired in its weakest expansion since 1990. Putting it into perspective: The size of Japan's stock market is $5T. The U.S. market is valued at almost $25T.
GFRC News
The primary goal for the next five days is to catch up on consignment listings along with a purchased Liberty Seated dime deal mentioned in the June 11 blog.
The GFRC consignment queue includes the balance of Jim Poston's coins, Seated dimes from the West Coast Collection, a broad offering of Seated halves from an unnamed consignment and more early dollars from the Gentleman's Collection. Add in Manchester show Newps and other items that have accumulated in the "Get To It" box and the week will bring a broad range of new selections.
Though it is the sleepy summer season for our coin collecting hobby, GFRC online sales remain strong and I continue to write many consignment payment checks. By July 1, I will be in a position to take on several more substantial consignments. Please remember that the year's premier show, the ANA World's Fair of Money, arrives in early August with W. David Perkins, Numismatist and GFRC sharing combined corner and regular table space in the Ultra Premium area. This is an opportunity for collectors to have their cherished numismatic items well marketed online and featured at a top sales venue but in a low risk and low commission sales manner. After Chicago ANA, GFRC will be ramping its show schedule through the end of 2015.
Quality Bust and Liberty Seated collections are important financial assets and when the time does come to disposition, I hope that the recognized numismatic expertise provided by Gerry Fortin and W. David Perkins (two former IBM technologists and Markerting/Sales executives) might be seen as the deciding reason for trusting us with the sale of your collection or duplicates.
Featured Coins of the Day
No mentioned above is fact that there are remaining 1861-O Seated half dollar hoard pieces to also be loaded to the price list. This lovely W-13/WB-103 CSA example is in the queue, is freshly graded and was assigned an EF45 designation by PCGS. This is a no question original example with light to medium gray patina in hand coupled with rose hues under bright light.
From the Newps queue comes this wonderful 1847 Seated half dollar with the "Gerry Look". Surfaces are perfectly original with combination of light gray, brown and gold on the obverse and gun metal gray/blue on the reverse. This lovely half resides in an older PCGS holder with assigned AU58 grade.
The above offerings will be added to the Seated half dollar price list by noon time.....Again, thank you for visiting the Blog.
June 14, 2015
Sunday morning arrives and time for a cup of coffee and a more laid back approach to the Daily Blog. I trust your weekend has been pleasant so far and thank you for stopping by.
We start the Blog with an 1884 San Francisco Seated dime variety discovery by Heritage during the catalogging of recent Long Beach auction lots. Lot 3483 appears as Fortin-2 Obverse/Unlisted Reverse and immediately caught my attention. Could a fourth reverse die exist after all these years of examining 1884-S dimes? This is a popular and slightly underrated date, so I typically pay attention to mint state pieces that appear at auction. Upon reading the Lot 3483 description citing a new reverse mintmark placement and proof like surfaces, I downloaded and cropped the Heritage high resolution reverse image to compare the mintmark position with the three known reverse dies....indeed this was a new reverse and the NGC MS63 piece needed to be purchased for inclusion in the web-book. Following is a display of the four known reverse dies and mintmark placements. The Reverse D mintmark is quite bold and different from the prior three.
F-106 Reverse D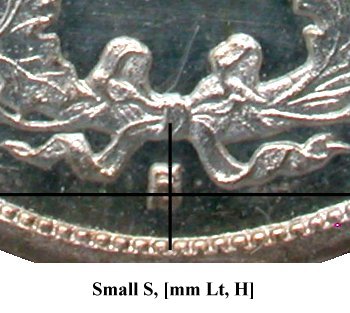 Reverse A Reverse B Reverse C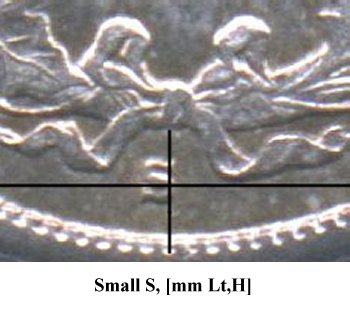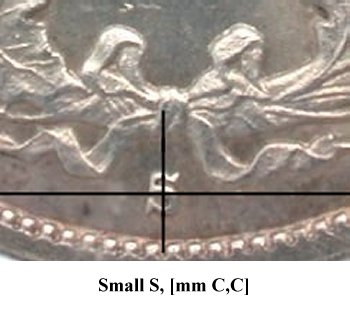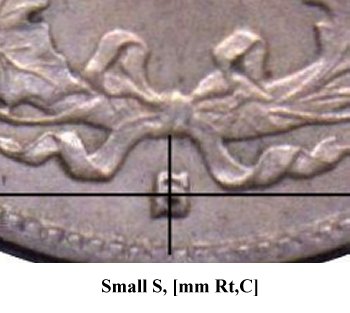 The obvious pairing of a frosty obverse die with a strongly proof like reverse die is immediately seen when checking the below images. Note the uniform frosty fields and main devices on the obverse while the reverse has a cameo appearance with watery fields that appear darker than the wreath elements. If one only saw the reverse side of this piece, it could be easy to draw a conclusion that this piece was a proof strike. The 1884-S F-106 die variety is now listed in the web-book and thank you to Heritage for the thorough use of my online guide. I suspect there is more to the F-106 story that will unfold in the upcoming years as this reverse saw very limited use with proof characteristics.
1884 San Francisco F-106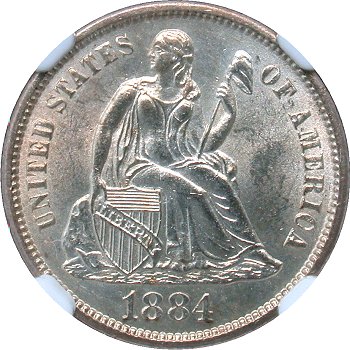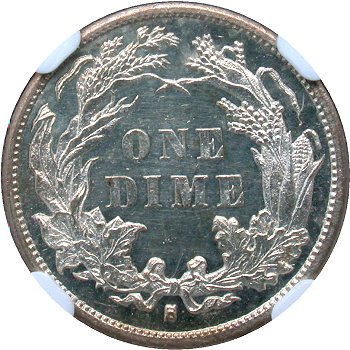 GFRC News
I worked until Saturday midnight processing images from recent purchases and the Jim Poston consignment. These are done and there will be a substantial amount of new offerings to be loaded later today. One piece of potential interest is this broadstruck/off center 1890 dime in a perfectly natural state of preservation and graded AU55 by NGC. The surfaces are perfectly original with crusty gray patina. An inspection of the date position revealed the die pairing to be F-115 due to the far left date position. The broadstruck striking event occurred early during die life as the obverse die is pristine with no die cracks.
Featured Coins of the Day
How about starting the featured coin section of the Blog with a strictly original 1876-CC WB-32 half dollar that offers a misplaced digit in the denticles below the 7 date punch along with small CC reverse? Bill Bugert rates this as an R4 variety. This half dollar resides in NGC EF45 holder and needs to find a new home among GFRC customers.
We close today's Blog with a toner Morgan that well represents the ongoing Morgan inventory additions at GFRC. I am very selective about Morgan newps. This 1879-S offering is housed in early NGC fatty holder and is graded MS63 with CAC approval. Cheek is nearly mark free for the MS63 assigned grade while obverse is covered with pastel rainbow coloring.
June 13, 2015
Back home and looking forward to a perfect Maine weekend including lobster rolls for dinner this evening. My sincere thanks to all of you for being loyal Blog readers.
Manchester Show Report
The Manchester show was weak including no attendance at the combined LSCC/BCCS meeting. John Frost diligently manned the LSCC club table and was ready for a spirited 1861 New Orleans half dollar presentation at the Friday afternoon regional meeting. However, collectors were not in the house to the disappointment of John and myself. GFRC had the best offerings of choice Bust and Seated coinage on the bourse and I essentially spent the day being a museum curator.... Other dealers reported the same show results.
On a wholesale level, GFRC did well as I was able to work with other dealers to buy and sell towards rotating inventory and expanding the Liberty Seated half dollar product line with truly original collector coins. I also took in an important electrotype copy of the 1861 Scott Confederate restrike that has marvelous even gray/brown surfaces. Following are the Manchester newps that will reach the price lists early next week.
Seated 10c: 1838-O PCGS VG8 choice gray
Bust 50: 1805 O-111 F12 perfect cameo gray and strictly original, 1830 PCGS EF40 CAC choice original
Seated 50c: 1843 PCGS VF20 choice gray, 1846 NGC VF25 choice gray, 1850-O VF30 original gray, 1859-O PCGS EF40 original gray, 1863 PCGS VF20 choice original gray, 1868-S EF40 light gray. 1870-S VF30 light gray and finally, 1871-S VF25 choice original gray.
GFRC News
While at Manchester, three shipments arrived and will be retrieved this morning. One of the shipments is an important Liberty Seated half dollar consignment that was first listed in the June 4th Blog and is relisted today as a reminder of the excellent new GFRC inventory that is to come next week. With the following consignment, I am committed to becoming one of the leadering suppliers of quality "collector grade" Seated half dollars in the industry.
Seated 50c: 1861-O W-3, PCGS XF45; 1861-O W-3, PCGS VF35; 1861-O W-13, PCGS VF30; 1861-O W-13, PCGS VF20; 1862-S WB-5, PCGS XF40; 1862-S WB-4, PCGS XF40; 1863-S WB-4, PCGS XF40; 1863-S WB-1, PCGS XF45; 1864-S WB-1, PCGS XF40; 1866 WB-104, PCGS XF45; 1875-CC WB-3, PCGS VF35
Featured Coins of the Day
Leading the featured coins is the 1875-S NGC AU58 double dime piece that was originally attributed as BF-2 by the collector whom I purchased from and then by me. John Frost had interest in this piece at the Manchester show and after careful study attributed it as BF-1 rather than BF-2. There is no die chip above the pole consistent with BF-2 but John did confirm the die lines in the shield with his stereo microscope at the LSCC club table. So I've relabeled this lovely piece as an early die state BF-1 per John's guidance.
Next up is one of the Jim Poston consignment pieces that I was able to photograph before leaving for Manchester but has not reached the price list yet. This 1863 Seated half dollar is fully choice and original and would be difficult to improve upon at the assigned PCGS AU50 grade level. I was proud to have this offering at the Manchester show. It will be posted to the price list today.
June 12, 2015
Thanks for checking in this morning as the primary topic is the NH Coin Expo.
The drive from Raymond to Manchester, NH was quite scenic through rolling hills and i arrived to the show venue early. Dealer setup at the Radisson Hotel in downtown Manchester was efficient as Ernie Botte is a pro at managing the small details at a good size regional show. Cases, lights and even extension cords were on the table upon bourse floor entry. This was fortunate as I immediately had wholesale dealers around the cases and enjoyed strong sales while trying to setup. The 1842-O NGC MS62 Seated dime sold quickly along with a host of other pieces. I finally was able to load the 1861 New Orleans half dollar hoard exhibit (these are for sale) and then other wholesale dealers came buy to offer coins. I bought six original Seated halves to add to that growing price list. By 5:30pm, I was able to walk the floor and there are a few potential coins targeted for inclusion into GFRC inventory.
Overall, I am pleased with initial sales and new purchases. Friday typically brings the serious collectors to the show along with an LSCC regional meeting this afternoon.
Today's blog will be short as breakfast is forthcoming then hitting the bourse floor for early bird opening at 8:00am.
Tomorrow morning's Blog will feature a detailed listing of Newps and Friday results. Have a great Friday.
June 11, 2015
Good morning and thank you for stopping by today. Today's Blog comments will be limited as will be preparing for the Manchester show this morning. I worked into the evening organizing four cases of top quality coins including the 1861 New Orleans hoard display along with multiple copies of Gobrecht Journal #94 and #97. The four cases will include two cases with slabbed inventory across all Seated and Bust denominations, one case of raw coins and finally, the display case that will also houses Seated, Trade and toner Morgan dollars.
Response to the 18 piece Seated quarter consignment has been strong during first day and more inquiries arrived last evening. I worked with the consignor to fairly price the individual pieces for quick turnaround into new collections. The Daily Blog display approach will be used in the future for displaying other consignments as positive response was received.
A Bank of America Branch Visit
Prior to any show, I always visit my local BOA branch to withdraw monies for a small denomination "change pursue" and yesterday was no different. The transaction was simple...depositing three customer money orders endorsed with GFRC LLC credentials (as supplied by BOA) and asking for $500 in $20, $10 and $5 bills. The teller looks at me and asks for my driver's license and proceeds to enter the number into BOA system. I was taken back and asked why was personal identification being recorded for a $800 deposit and $500 withdrawal? The answer was simple...new BOA policy to track individuals rendering counter transaction...but for my protection. Might I be overly sensitve on this matter but it seems that one is unable to function in society without being tracked?
GFRC News
Manchester NH show is the primary news this morning. If attending, then please come on down to the LSCC club table and GFRC table which will be across from each other. I'm looking forward to a relaxing few days hanging out with fellow collectors and enjoying chatting about Liberty Seated coinage.
Not mentioned before....I've been discussing the potential purchase of a better date Seated dime deal (all PCGS/NGC graded) and reached terms yesterday. The lot is shipping and should arrive on Monday. Included in the deal are difficult 1843-O PCGS VF20 CAC, 1852-O PCGS AU58, 1853 PCGS EF45 NA, 1865-S PCGS VF30, 1868-S NGC EF45 CAC and 1870-S PCGS VF35 as a few highlights.
I've photographed Jim Poston's consignment along with paint store deal and will try to get a few online between traveling to NH. My laptop will be traveling to Manchester and will try to have a short dealer setup show report for tomorrow morning's blog.
Featured Coins of the Day
Today's coins for your consideration are small denomination Seated with lovely toning and considerable eye appeal. First is an 1858-O NGC AU58 half dime for collectors who truly enjoy old album bullseye toning. This piece is pure eye candy with reflective obverse surface that accentuates a ring of deep sky blue surrounding a rose center. The reverse is toned rose color inside the wreath and transitions to blues at the legend. Bright light viewing is recommended and a pleasure.
Next is the Colonel Green/Eric Newman 1878 Seated dime with a multi-color iridescent obverse and ring toned reverse. This piece is housed in Eric P.Newman labeled NGC holder, graded MS63 and approved by CAC. This piece was struck with Type II reverse and is the F-110 variety with die lines in the lower gown area. Note the poorly hubbed reverse working die on this piece consistent with the web-book plate coin. I have yet to load this one to the price list but hope to have online before leaving for Manchester.
June 10, 2015
Wednesday arrives with a stretch of seasonal Maine weather forecasted for the balance of the week. Blue skies and bright sun are always welcomed outside the home office window along with the ability to photograph coins on an ad hoc basis.
Today's focus shifts to the New Hampshire Coin Expo with Thursday afternoon dealer setup and Friday's LSCC regional meeting. I'm looking forward to being out of the office for a few days and meeting collectors face to face. Please note that GFRC will not be at the Manchester show on Saturday.
GFRC News
Jim Poston's consignment arrived on schedule and features more great Seated halves. His 1863 PCGS AU50 half is the poster child for a light gray original coin while the 1838 Capped Bust quarter (NGC VF30) featured lovely old album bullseye toning. Jim's coins along with those purchased on Monday will be photographed today and posted to price list after the Manchester show.
Purchase of the Maine Collection Barber sets is scheduled for next week and will wrap up the disposition of this important estate. I've recommended that ownership of the Lincoln set be passed down through their family as an important legacy.
The 1861 New Orleans hoard is gaining significant attention and good sales. I will be spending part of the day preparing this halves for display at the Manchester show.
Financial News
Again from the Seeking Alpha headlines....Greece is holding its creditors hostage. Greek PM Alexis Tsipras is scheduled to meet German Chancellor Angela Merkel and French President Francois Hollande in Brussels today to try and make some progress on debt talks. The move follows yesterday's warning from the Greek leader, who cautioned of the costs to EU taxpayers if his country left the eurozone. In an interview with Italy's Corriere della Sera, Tsipras said a so-called "Grexit" would likely be followed by Spain and Italy, precipitating the collapse of the currency bloc.
An Important Seated Quarter Collection
I posted the 18 pieces to the price list yesterday after settling asking prices with the consignor. The consignor is selling his well assembled collection to fund a business start-up and GFRC is honored to be handling the sale. What is most impressive concerning this collection is the grade and surface uniformity with strong luster and light toning. How could I display these 18 pieces outside of the price list to share this collector's accomplishment? Then an idea popped into my head which is a continuation of the Bust dollar display in yesterday's Blog. So here goes.....the accomplishment of a serious Liberty Seated quarter collector. Clicking on individual images/icons will bring up the high resolution version. Prices can be found within the price lists and already seven pieces with dark borders are on hold....
Thank you for visiting with me today and I look forward to writing tomorrow's Daily Blog........
June 9, 2015
Is it already Tuesday? It does appear so....the days just fly by when so consumed with numismatic activities and GFRC business. Thanks for visiting this morning.
Today's Blog will focus mostly on GFRC news as there is little in the financial world to discuss and the daily news feeds seem to be a void of quality information. But there are a few decent headlines to share, the latter will hit home with airline frequent flyers.....
Seeking Alpha Headlines
Worst than the 2000 Tech Bubble? As China's boom surpasses the headiest days of the U.S. Internet bubble, signs of excess are cropping up everywhere. Mainland speculators have borrowed a record $348B to bet on further gains, price-to-earnings ratios have climbed to the highest levels in five years, while Chinese exchanges have created $6.5T in just 12 months of trading. The economy, meanwhile, is mired in its weakest expansion since 1990. Chinese shares face their next big test later today, when index provider MSCI decides whether mainland securities are eligible for indexes used by $9.5T of funds worldwide.
Will we soon be charged to use airline lavatories? Boeing recently announced it was looking to increase the seating capacity of its 777-300ER commercial aircraft by reducing the size of the lavatories, saying it could add up to 14 extra seats in the aircraft and give airlines room to improve their unit passenger margins. 777 General Manager Elizabeth Lund is confident about the changes and has said that the aircraft was receiving positive responses. Boeing's (NYSE:BA) announcement comes just days before the Paris Air Show, which will be held from June 15 to June 21.
GFRC News
- I bought a nice deal yesterday afternoon at Diane's paint store. Yes, there are serious collectors in Maine and I am fortunate to be working with an individual who has one heck of a sharp eye for top coins. The Windham Paint and Framing store patrons were staring at these two coin nerds, surrounded by their PCGS and NGC slab boxes, speaking coinese and wondering what in the world was going on among the color charts and painting accessories. A quality coin transaction was in progress and I'm pleased to announce the following Newps coming to the price list shortly....there is something for everyone, I hope!
Seated 5c: 1858-O NGC AU58 old album bullseye toning and pure eye candy...no CAC attempt
Seated 10c: 1837 PCGS VF20 CAC Large Date, choice original; 1878 NGC MS63 CAC, the Eric Newman piece and a colored gem
Bust 50c: 1834 PCGS VF35 Sm Date, Sm Letters choice original gray..no CAC attempt
Seated 50c: 1861 NGC VF30 CAC original gray
Walking Liberty 50c: 1941-D NGC MS65 Gold CAC plus 2nd generation holder; 1946-D NGC MS66 creamy dripping luster (2 pieces)
Toned Morgans: 1879-S NGC MS63 CAC obverse rainbow, fatty holder; 1882 NGC MS64 bold luster with blue rims; 1884-O PCGS MS65 double sided rainbow; 1885-O PCGS MS65 CAC doubled sided rainbow; 1889 NGC MS64 CAC obverse rainbow
- Did anyone notice Heritage lot #3483 in the Long Beach auction? Well, I had to buy this lot and it arrived yesterday. Yes, an 1884-S dime grade NGC MS63 with an unknown reverse die......I'm blown away after studying the series for 25 years and then this dime comes out of no where. The S mintmark is boldly punched into the working die and might just be what Kam Ahwash saw when he designated a "Medium S" reverse for the 1884 San Francisco date in his Encyclopedia (Ahwash-1). This exciting variety will be posted to the web-book after Manchester show and I hope to publish in either the E-Gobrecht or Gobrecht Journal.
- CAC results are in for the Flowing Hair and Draped Bust dollars in the Gentleman's Collection. The 1795 NGC VF25 Flowing Hair and 1797 NGC EF45 10X6 Stars, Small Eagle reverse received CAC Green beans and are now priced. These choice original pieces are shown here and clicking on the images brings up high resolution pictures. Yes, the asking prices are strong but please remember that these pieces have been off the market for several decades. These are not dealer retreads cycling through the auction houses, rather very choice pieces that belong in an advanced collection.
- I'm almost done evaluating the Seated quarter consignment that was featured in yesterday's blog and hope to have consignor retail pricing approval today.
- Jim Poston's consignment arrives today with a nice selection of Seated halves.
Featured Coin of the Day
I'm only posting one featured coin of the day as lots to do and need to wrap up this Blog. For your consideration is a conservatively graded 1838 New Orleans dime that resides in NGC VF30 and is approved by CAC. This piece has nice original surfaces and lots of residual details for the assigned grade. Keeping nice 1838-O dimes in stock is challenging and this one will probably not last too long.....
Again thank you for visiting the Blog and also please consider a GFRC purchase. Newps and consignments continue to roll in and room is needed in the double row slab boxes.....Have a great day!
June 8, 2015
Monday is here and another work week arrives. I took some time off from the business on Sunday for an enjoyable oceanside brunch at Royal River Grillhouse in Yarmouth. Sitting on a large deck overlooking marina and ocean added to the food quality. You can't go wrong at this eatery.
Today's Blog will probably appear as a group of random notes as I don't feel well prepared for detailed discussion on any specific topic. So here goes.
Brave New Financial World....when bad is good!
From this morning's Seeking Alpha headlines - China's exports fell for a third month in May, while imports slumped the most in three months, underscoring a sluggish domestic environment in need of more stimulus. Annual exports in May fell 2.5% while imports plunged 17.6%, data from the General Administration of Customs showed on Monday. Many analysts have already penciled in sub-7% growth for the second quarter, raising the risk that the government will not meet its full-year growth target of around 7%. Shanghai closed up 2.2%. (Gerry comments....mainland Chinese have only three legal places to invest monies; housing, stock market and gold..illegal, is overseas money transfers. When the Shanghai market bubble finally burst, then gold may see incremental demand).
Don't let someone borrow huge sums of money from you....
More from Seeking Alpha - As talks between Greece and its creditors drag on, relations between Athens and its European partners seem to be getting worse, not better. Tensions over a cash-for-reform deal came to a head Sunday when European Commission President Jean-Claude Juncker accused Greek PM Alexis Tsipras of distorting what the creditors had proposed to make some headway in securing a deal for the country. It was also reported that Juncker refused a request from Tsipras to meet on Saturday after the Greek leader rebuffed the proposals as "absurd" and "irrational, blackmailing demands."
GFRC News
1861 New Orleans Hoard Status - offerings from the hoard were loaded this weekend and already starting to sell. Don't wait too long to review and consider adding a hoard piece to you collection. Purchases of any combination of 1861-O halves over $500 include free copies of #94 and #97 Gobrecht Journal issues until sold out. At the moment, I have three sets remaining. More 1861-O halves to be added to price list today.
New Deals - over the weekend, I was offered a significant Seated Dime deal...these are better dates in better grades; all are PGCS or NGC graded. This afternoon, I meet with an individual to review another "for purchase" deal which will be early type and toned Morgans. I'll report back on meeting results in tomorrow's blog.
Seated Quarter Consignment - I'm trying an alternate approach for announcing new consignments.....pictorial previews. The Seated quarter consignment that arrived on Saturday via Express was photographed yesterday along with image processing of select pieces. Here is a brief gallery of representative offerings in this consignment. Some background....a diligent collector working on AU grade Seated quarter set has decided to cash in his holdings and GFRC is the agent to handle the sale - 18 PCGS graded pieces in AU55 to MS63 grade range. This set is uniform in appearance with light toning and luster being primary considerations. Individual dates and varieties were listed in the June 4 Blog. These will be loading to price list starting Wednesday as most have not been priced and validated with consignor.
First up is a lovely 1843 Briggs 2-C Lightning Bolt reverse graded PCGS AU55 and in Secure holder. One of my favorites offerings from the group.
Second is an 1877 Briggs 4-D S/Horizontal S graded PCGS AU58 with booming luster and residing in old PCGS blue label/standard ring insert holder. The variety is listed on the label. This piece is ideal purchase for those building Top 25 Varieties set in the Open Registry.
And lastly, a challenging 1879 Briggs 1-A residing in old PCGS AU58 holder with CAC approval. This piece offers a nice luster, uniform gold patina and is presently under FRoR consideration.
Thank you for visiting the Blog today and will see you tomorrow morning bright and early!
June 7, 2015
What a beautiful Maine Sunday morning as the sky is blue and the temperatures are in the high 50s with a light breeze.
I spent Saturday morning loading a fair number of 1861 New Orleans half dollar hoard pieces onto the price list and decided the afternoon would be spent working in the yard. That dying pine tree had been bothering me all Spring so the chain saw came out of hiding and we went to work. Several hours later, the old tree was gone with a huge pile of branches neatly stacked for the next summer evening bonfire. Since I don't cut down trees for a living, the back was a tad sore and an early bedtime was in order.....
GFRC Updates
The 18 piece Seated quarter consignment arrived by Express mail yesterday and is a sweet collection of lustrous PCGS AU55-58 graded pieces. The consignor was diligent when building this set as all the quarters have consistent grades and lustrous appearance. These will be photographed today and reaching the price list early next week. I will follow up with customers who requested FRoR once the images are processed.
More 1861-O hoard halves will be added to price list but the pace will slow down as there is a substantial backlog of Seated dimes in the queue from the West Coast collection needing attention.
Summer is here and that means a traditional slowdown in numismatic sales. GFRC inventory is robust and more consignments are now arriving on a weekly basis....so please don't hesitate to call or email with an offer on items that have been on the price list for more than 60 days. If an item does not have a red labeled date for when added to price list, then it has been in inventory for 60 day or more.
Financial Topic of Interest
The growing role of the Chinese Yuan as a world reserve currency has been a topic in previous Blogs. Just yesterday, The Daily Reckoning published an article by Charles Butler (Managing Director of Everbank Global Markets). The article is entitled, "The Next Global Reserve Currency" and well summarizes the facts leading to the inevitable conclusion that the China Yuan will achieve world reserve currency status within a year's time. There is little discussion of this topic in mainstream United States news outlets but reality is at hand. Following are a few paragraphs from the article that are worth reading...
In late 2008 and early 2009, the Chinese government began signing bilateral currency swap agreements with a number of trading partners, including South Korea, Hong Kong, Belarus and Indonesia. These currency swap agreements essentially provided a medium of exchange directly between the two respective countries, removing the U.S. dollar from the terms of trade.
Shortly thereafter, I authored a letter for a Sovereign Society publication espousing alarm over China's decision to sign a similar bilateral currency swap agreement with Argentina, China's first such venture outside its immediate trading area. The significance of this particular currency swap agreement, as I wrote at the time, was that the Chinese government had officially launched its initial salvo against the reign of the U.S. dollar as the world's reserve currency.
Since that time, the People's Bank of China (PBOC) has entered into 30 bilateral swap agreements with trading relationships across the globe, including some pretty heavy economic hitters joining the ranks under bilateral currency swap agreements with China.
Interrupting Charles' article for a moment....following is an illustration of the active currency swap agreements that China (and Russia) have accomplished in a short seven year period. Click on the image to access a larger readable version....
Back to Charles' article and some keys points....
Chinese economic liberalization initiatives are certainly not limited to the currency markets. In November 2014, the Chinese government launched a pilot program linking equity markets in Shanghai and Hong Kong, allowing investors the ability to trade directly across the Chinese border in renminbi-denominated stocks, and representing "one of the most significant liberalizations of China's capital markets in years." Similarly, China has expanded access to its domestic bond market with the May 2015 approval of an additional 30 large foreign institutions permitted to invest directly in the country's $5.9 trillion domestic bond market.
Moreover, the PBOC has formally requested renminbi inclusion in the International Monetary Fund's (IMF) Special Drawing Rights (SDR) reserve basket of currencies, an international reserve asset held by the IMF to supplement member countries' official reserves.

The situation reminds me of the old financing adage: You should buy assets that appreciate and lease assets that depreciate. The PBOC appears ready to begin leasing U.S. dollars! Quite simply, the PBOC may be weary of holding U.S. dollar reserves in order to conduct global trade, given the manner in which U.S. bureaucrats and monetary officials have been managing internal finances.
The Chinese government certainly seems to feel confident that the time has come for the renminbi to take a leadership role on the reserve currency stage, and with good reason. The Chinese economy is now the largest economy in the world, passing the United States at the end of 2014 based on IMF estimates.
.
China is also the world's largest exporting economy, trading $2.3 trillion in merchandise exports relative to U.S. exports of $1.6 trillion. Gross national savings in China now represent 49.5% of Chinese gross domestic product (GDP), compared with U.S. savings at just 17.3% of GDP.
China surpassed the United States in terms of manufacturing in 2010, and is now the world's largest manufacturing nation with nearly $3 trillion in annual production output, compared with roughly $2.4 trillion in U.S. output. In fact, one-in-four automobiles sold worldwide are now manufactured in China.
The Chinese economy is also the world leader in gross value of agricultural output for rice, wheat, potatoes, corn, peanuts, tea, millet, barley, apples, cotton, oilseed, pork and fish. Based on Organisation for Economic Co-operation and Development estimates, the Chinese government provided farmers $165 billion in agricultural subsidies (2012 estimate), relative to Japan's $65 billion and the United States' $30 billion in agricultural subsidies.
In analyzing the progression toward a free floating and tradable renminbi, I would expect the sequence of events to unfold as follows: China continues to open its capital markets to foreign investment. Investors provide additional liquidity to the Chinese economy through bond purchasing.
The IMF accepts the renminbi as one of its reserve currencies in the SDR – which, coincidentally, is rebalanced at the end of 2015 – under the condition that the PBOC eliminates the renminbi peg to its current basket of currencies.
Then the renminbi becomes a floating currency, and the Chinese government subsequently allocates a percentage of its massive gold reserves (and other hard assets) as backing to the outstanding currency float. Under this type of scenario, the renminbi may have a real opportunity to become one of the most attractive major currencies in the world relative to its fiat currency contemporaries.
Gerry Fortin comment.....if the Chinese Yuan currency does achieve world currency status as predicted, then I would seriously consider adding more Chinese silver and gold Panda coins to my holdings at current market prices. Current prices are depressed according to Shanghai agent due to weak China economy and Beijing corruption crackdown. It appears that modern China silver and gold coins were an important instrument for "favorable gift giving" since the coins are easily convertbile to cash.
Featured Coins of the Day
The first featured coin of the day is a beautiful 1866 half dollar residing in PCGS MS63 holder. This piece has well balanced light silver centers that are frame by gold stars in the obverse and legend on the reverse. Strike is perfect with complete head details and center star centrils along with all reverse feathers and claws details. GFRC images are a tad darker than the piece in hand.
Next is another Barber piece that arrived this week. This 1892 dime offers surfaces that are perfectly original with with a combination of radiant cobalt blue patina and strong luster. Eye appeal is high on this lovely piece that is fresh to market and housed in edge view NGC holder. Strike is full and fields/devices are completely blemish free.
June 6, 2015
The weekend arrives and so does another Daily Blog edition. Thanks for stopping by and I hope a nice hot cup of coffee is by your side.
Today's Blog features lots of GFRC news...so let's get started.....
1861 New Orleans Half Dollar Hoard
After several months of off and on attributions, pricing analysis and a PCGS submission, I'm pleased to announce that the 1861-O hoard was purchased yesterday. The purchase includes eight copies of Gobrecht Journal #94 and four copies of Gobrecht Journal #98. In issue #94, Randy Wiley published "Die Marriages of 1861-O Half Dollars" and followed up with "Coining Authority and Rarity for Die Marriages of 1861-O Half Dollars" in issue #97. Randy's work was ground breaking and established a clear die marriage sequence across the Union, State of Louisiana and Confederate authorities.
As a result of this purchase, I've added a fourth case at the New Hampshire Coin Expo this coming week and will have the hoard on display (and for purchase) along with the Gobrecht Journal issues. My thought is to offer the Gobrecht Journals for free based on a fixed $ purchase amount from the hoard. At the Manchester show, John Frost will conduct an educational seminar as part of the LSCC regional meeting and feature Bill Bugert's presentation on 1861-O halves. I'm excited about these developments and their timely alignment for Manchester show and LSCC regional meeting attendees.
1861-O hoard pieces will be added to price list throughout the weekend with a portion being PCGS certified and others being raw and priced accordingly. I'm thinking of a $500 purchase threshold for receiving free #94 and #97 GJ issues.
Consignment News
I received an email last night which outlined the contents of another consignment due to arrive on Monday. This consignment is from GFRC-Coins' Jim Poston. As mentioned previously, Jim is planning to attend the Chicago ANA in August and will be buying for GFRC at the show. Following are Jim's quality selections that will reach the price list after the NH Coin Expo;
Seated 10c: 1856 SD NGC XF45, attractive original patina; 1890 NGC AU55, Broadstruck Mint Error, nice original patina with luster.
Bust 25c: 1838 B-1 NGC VF30, eye appealing rainbow toning, nice original coin and blemish free.
Seated 50c: 1853 NGC XF45 nice original gray and close to AU; 1863 PCGS AU50 nice light golden toning, original; 1876-CC WB-32 NGC XF45 choice original
Adding these offerings on top of the Seated quarter and Seated half dollar consignments announced this week means a substantial group of quality coins will be reaching the price list in the next ten days.
GFRC Customer Feedback
Selling raw coins can be challenging as today's collectors typically ask, "will this coin grade at TPG?" At GFRC, I strive to accurately describe coins and state in the descriptions if I believe they have original surfaces. One customer enjoys collecting Seated and Bust coins with thick original patina that I typically flag as being "Crusty Original". Well this customer sent an email yesterday to report on his PCGS grading results for coins purchased during the past 1.5 years. He agreed that the following quote could be used in today's Blog....
Incidentally, I submitted that 1826 that I bought from you in the NGC holder, to PCGS and it crossed at the same XF-40. Looks amazing. I also submitted three raw seated dimes that I purchased from you. Two came back higher and one came back lower (I think they were too conservative with it though). That puts the lifetime totals of: 3 higher than what you graded; 7 at grade; 1 below (which if submitted again I'm pretty sure would come back at grade).
Featured Coins of the Day
We start today's recommended coins with a lovely 1882 Seated dime that arrived this week on consignment. This piece resides in early NGC fatty holder, is conservatively graded MS65 and approved by CAC. The variety is F-101a, a business strike from proof dies. In hand, one immediately notices the rich rose/gold patina that transitions to blues at the rims. Eye appeal is high on this lovely example and the collector who purchases will be certainly pleased.
Next on today's featured coins is an 1898 Barber quarter that reached the price list yesterday. I purchased a group of toned Barber dimes and quarters from a GFRC customer who loves old time album toning and this piece was in that lot. This Barber is housed in ANACS gold holder and graded AU55. Many collectors frown on coins in the newer ANACS holders but this collector has the correct attitude towards collecting....buy the coin and not the holder! Obverse features a silver gray Liberty/right field that is well framed by a sky blue rings that surrounds the stars and date. Under bright light, a tiny rim of gold is seen between the silver center and blue rim toning. The reverse is covered with a rich rainbow array of colors with pastel hues in the center and richer blues and rose at the rims.
June 5, 2015
Good morning everyone and thank you for stopping by the Blog. It is Friday morning and another work week comes to an end.
This is one of those mornings where I sit at the laptop without a substantial topic for today's Blog so please understand this edition may be a series of short ramblings. I'd like to start off with more readings and graphs concerning the plight of Generation X and Millennials in our society. This topic is close to home as I've seen first hand the challenging job environments facing my son Matt and daughter Renee. Matt works as a project manager for Environmental Resource Management (a consulting firm) while Renee recently completed her second year at Virginia Tech School of Veterinary Medicine. Renee in particular has had a difficult time locating meaningful employment since completing her undergrad degree during 2009...at the bottom of the great recession. Yes, their situations are still considered favorable as compared with many young adults in the United States.
Generation X and Millennials are experiencing a very challenging job market unless well trained in certain job skills. Debt accumulation by young adults is worrisome for a long term robust United States economy as the earning power still lies with the Baby Boomers. However Baby Boomers are aging and spending less monies on major purchases like new homes and rather, are downsizing. Many Baby Boomers lack adequate retirement savings and will be working into their 70s. If the Baby Boomers are spending less moving into retirement and the Generation X and Millenials are struggling with meaningful jobs, then how does the United States economy continue to motor along......the answer is debt accumulation in all sectors; government and private. Here are a few graphs that illustrate important trends. First up is the trend of young adults living at home on a percentage basis. Left axis are those ages 25-34 while right axis is ages 18-24.
Young adults are struggling with debt accumulation as wage growth is non existent and much of the university trained candidates are either over trained or have a mismatch of skills against job requirements. This graph provides considerable insight in the magnitude of debt creation...total student loans outstanding are doubling every 4.5 years at current growth rate and with globalization and stagnant job market, this debt becomes another drag on the United States economy. Also note that Auto loans are once again trending upward...but the distressing point not shown is that the average term of a new car loan is now 76 months! The auto industry has recovered with longer term debt fueling that recovery at unprecedented low interest rates.
Financial News
From the Seeking Alpha desk....Greece holds to its bluff and GE may be leaving Connecticut over higher government taxes.
Global shares are mostly in the red after Greece delayed a key debt payment to the IMF that fell due on Friday. The move marks the first time the country has postponed a repayment on its €240B bailout from the troika. Athens still intends to repay the debt, stating it will bundle the four payments due this month into a single €1.65B lump sum to be paid on June 30. (more bluffing) A cash-for-reforms deal between Greece and its creditors still looks murky, with the two sides sparring over topics ranging from state pensions to value-added tax.
General Electric has assembled an "exploratory team" to look at moving its headquarters out of Connecticut after lawmakers passed a budget raising taxes by $1.2B. "I believe we should pay our fair share...but, we can compare Connecticut with other states where small and large businesses have a better environment to thrive," GE (NYSE:GE) CEO Jeff Immelt said in an email. Aetna (NYSE:AET), which now faces a similar predicament, is also weighing whether to relocate its headquarters out of the state.
GFRC News
I've added a nice selection of eye appealing Newps to the price list yesterday evening and hope the weather will cooperate for imaging today. Included in the group are four Barbers, an 1866 PCGS MS63 Seated half and an incredible 1821 PCGS EF40 CAC Capped Bust half.
A purchase offer for the 1861-O Seated half dollar hoard has been made and discussions should occur today. If/when the offer price is settled, more 1861-O halves will be reaching the price list in short order as the images are done.
The most recent Seated quarter consignment mentioned in yesterday's blog should arrive today for photography and pricing.
Featured Coins of the Day
Today's featured coin theme will focus on Liberty Seated half dollars as I spent a good part of yesterday researching availability and retail pricing potential for the 1861 New Orleans hoard. One realization is that the Union strikes (Wiley-1 and Wiley-2) are truly rare while the CSA strikes other than Wiley-11 are available and current premiums may not be justified. The Wiley-13, Wiley-14 and Wiley-15 CSA strikes can be found on dealer websites and on eBay without much effort. Following is a lovely PCGS EF40 Wiley-1 Union strike that GFRC customers might consider. Offers are welcomed as pricing this variety is challenging.
Next is a lovely half dollar that has not sold and I am wondering way.....a common date? Could it be that potential buyers want this piece in a TPG holder before accepting the assigned grade? All I can say is this 1858-O half is a stunning piece with natural patina and luster.
June 4, 2015
Thursday arrives as another week sails by. Thank you for visiting as today's Blog has lots of good stuff to share and all the topics are about coins this morning.
The Consignments are Coming.....
We start the blog with another substantial consignment announcement. The owner just received his Seated half dollars back from PCGS and is immediately shipping to GFRC. Following are the contents of this exciting new consignment for Liberty Seated half dollar fans along with a few Seated half dimes added for flavor. FRoR is in order.....
Half Dimes: 1858-O V-3 (massive rev. cud) PCGS AU-55; 1868-S ANACS AU-58
Half Dollars: 1861-O W-3, PCGS XF45; 1861-O W-3, PCGS VF35; 1861-O W-13, PCGS VF30; 1861-O W-13, PCGS VF20; 1862-S WB-5, PCGS XF40; 1862-S WB-4, PCGS XF40; 1863-S WB-4, PCGS XF40; 1863-S WB-1, PCGS XF45; 1864-S WB-1, PCGS XF40; 1866 WB-104, PCGS XF45; 1875-CC WB-3, PCGS VF35
I'm also most pleased to announce the contents of a substantial Liberty Seated quarter consignment that was initially mentioned in yesterday's Blog. These offerings are ideal for collectors assembling an advanced Liberty Seated quarter set including important varieties. This consignment offers fresh coins with consistent PCGS AU grades. Here goes and FRoR is once again in effect....
Quarter Dollars: 1841-O DDO FS-101 PCGS MS61; 1843 PCGS AU55 Briggs 2-C Lightning Bolt; 1848 PCGS AU55 Triple Punched 1; 1853 A&R PCGS AU55; 1857 PCGS AU58; 1858 PCGS AU55; 1860-O PCGS AU55; 1861 PCGS AU58; 1862-S PCGS AU55; 1875 PCGS AU55; 1875 MPD FS-301 PCGS AU55; 1876 RPD FS-304 PCGS AU55; 1876 MPD FS-305 PCGS AU53; 1877-S/S S/Horizontal S FS-501 PCGS AU58; 1877-S PCGS AU58; 1877-CC RPD FS-301 PCGS MS63 CAC; 1879 PCGS AU55 CAC; 1891-S PCGS AU58
I also have an appointment prior to next week's New Hampshire Coin Expo to meet with an individual who is thinning down his collection and wishes to sell a portion of his holdings. This individual collects only Bust, Liberty Seated and Morgans coins with attractive original toning and has a selective eye towards quality.
Buy with Caution, TPGs make Mistakes
More collectors are approaching me for advice or validation of certain Seated coinage purchases. Two cases recently arrived in my Inbox that are worth sharing as a sobering reminder that collectors need to do their homework before buying any coin regardless if certified by the leading Third Party Grading services. First up is an 1866 Seated dime graded Fine 15 and a very tough Civil War Philadelphia date in circulated grades. The GFRC customer was attempting to attribute and realized this piece might be a circulated proof and asked for my opinion. Yes indeed, this 1866 dime was struck from the F-101 die pair and only proofs are known from these dies.
Next is an unfortunate case of cracking out a coin in one TPG holder brand for regrading by another TPG. We've all played the cross over or crack out game and sometimes with unpleasant consequences if the coin was not properly graded to begin with. Here is a case from a GFRC consignor. This 1858-O Seated quarter was original graded AU55 by one of the leading TPGs and cracked out and submitted to the "other guy" and came back with a Details Cleaned outcome. I asked the owner for permission to feature this piece in the Blog as an excellent example of a one sided cleaned coin. Please take a close look at the images...the reverse is strictly original with light gold patina. But the obverse is much lighter in color and covered with faint hairlines from an old cleaning. Remember to look carefully at all three sides of a coin in TPG holder...obverse, reverse and rim before purchasing.
Featured Coins of the Day
More collectors and dealers are starting to contact me with buying opportunities and learn that I'm quite selective but willing to pay fair monies for choice Bust, Barber and Seated coins. Original problem free surfaces and eye appeal are paramount as I immediately pass on coins with subtle problems even at discounted prices. It is my goal to have Gerry Fortin Rare Coins recognized for handling premium coins and simplifying collector purchase decisions.
First up is a new arrival. This 1875-S BF-2 R4 Double Dime has choice original surfaces and is properly graded NGC AU58 and approved by CAC.
Second is a raw 1875-CC Below Wreath F-108 dime that arrived yesterday. The reverse offers a wonderful display of diagnostic die cracks throughout the wreath and mintmark immediately prior to a large rim cud forming below the mintmark (F-108a). This piece is fully original with thick patina and is graded AU50. Have you noticed that I'm still a collector at heart? I get excited about nice original coins regardless of their value as this is what the numismatic hobby is all about.......
June 3, 2015
Welcome back to the Blog on a Wednesday morning. Maine weather cleared on schedule with sunny skies and a forecasted high of 72F. After a morning package run to the post office, I will probably pull out the chain saw and remove a dying pine tree by the house. This pine tree was saved during the 1985 house construction and served as part of the landscaping since them. But the cruel winter of 2015 appears to have killed the tree.
There are multiple topics for this morning's Blog so let's jump right in....
GFRC News
A substantial Liberty Seated quarter consignment has been committed. The consignment totals 18 pieces that are PCGS certified in grades ranging from AU55 to MS63 with many Top 25 Varieties. I'm expecting this consignment to arrive after the NH Coin Expo.
The GFRC For Sale page was updated yesterday and includes a "Recommended Offerings" price list. I felt it was time to separately highlight the top quality and rarity coins in inventory via unique price list. Given growing inventory levels, these offerings could easily be lost within the existing price list structure. GFRC strives to be the coin dealer of choice for all collector levels and a method to differentiate and provide quick access to advanced collectors was warranted.
Financial News
This week, I discovered another financial newsletter published by well known Evergreen Capital (if you are actively investing in the market then you will have heard of Evergreen). Evergreen publishes a weekly newsletter and I believe their May 8 document fairly well summarizes the global debt phenonemon and resulting symptoms and effects. The full newsletter can be accessed here but is a fairly long read.
For Blog readers, I will try to summarize the article into a few graphs and key points that well explain the current global debt situation and outcomes. There are no solutions here but rather a discussion of outcomes when governments choose to use debt to maintain economic stability rather than allowing capital markets to operate freely. Here goes....first up is global debt growth trend. Since 2009, all developed countries except Japan have slowed debt creation to match GDP growth but the upward trend is clear on a 25 year basis. The article points out indicators of countries hitting the debt wall. They include
-Productivity deteriorates but it is not inflationary.
-Monetary policy becomes ineffective at catalyzing real economic growth.
-Despite super easy money, inflation weakens and there are even whiffs of deflation.
-Bond yields fall dramatically but they fail to stimulate.

Total Public and Private Debt as % of GDP - Annual Basis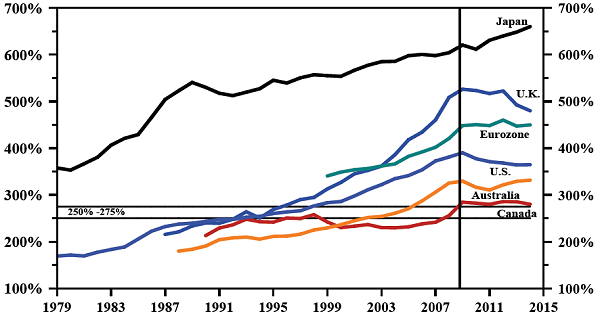 Over indebted countries will typically demonstrate the following characteristics......
- They trigger rolling currency devaluations;
- "Currency wars" produce only temporary benefits even for the early movers/debasers;
- These debasements intensify global disinflationary, or even deflationary, conditions.
- Falling money velocity negates the central bank largesse because there is too much debt of the wrong kind (i.e., used to fund unproductive activities).
United States Money Velocity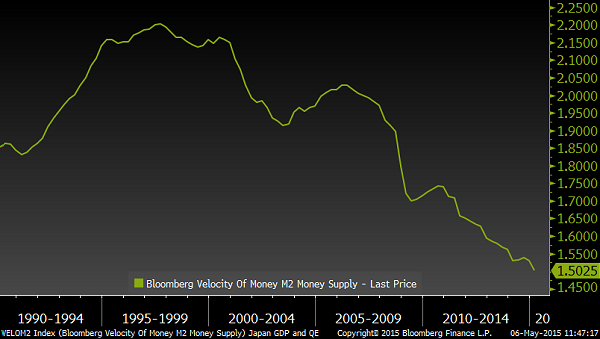 The reality is there is no easy solution when the dependency on debt and cheap money have become so ingrained and global central bank policy makers have become addicted to this approach. Citizens feel the decreasing disposable incomes (buying power) but have few alternatives due to wage stagnation and the difficulties with locating better paying jobs in general.
In tomorrow's Blog, I will review the challenges facing Generation X and Milleniums as they are suffering through a difficult job market.
United States Productivity of Labor and Disposable Income per Person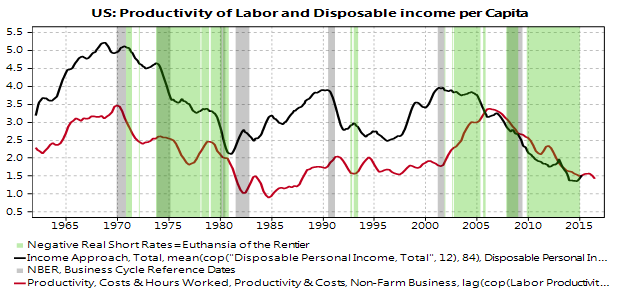 Featured Coins of the Day
Today's featured coins are from the Bust half dollar price list. I've selected two pieces that are priced under $200 while being strictly original with decent eye appeal. First up is an 1811 O-106 with medium olive/gray patina. This is an nice example of the popular 1811 date with strictly original surfaces and no blemishes. Struck with eroded dies. Grading 1811 halves can be challenging due to uneven reverse details; the right eagle wing and neck feathers are well struck but the left wing lacks details. Based on the strong hair curls above Liberty's ear and fully present eagle neck feathers, this piece is a full VF20.
Next up is an 1827 O-112 bust half with original gray patina and lots of eye appeal for those who enjoy natural toning. I was tempted to label as gem circulated but there is a tiny mark above the 8 digit in the date that does not detract. The medium gray coloring is also consistent under bright light with a hint of gold on the reverse.
June 2, 2015
Good morning and welcome to another Blog edition. This is the third and last day of forecasted rain with temperatures this morning at a cool 42F. On a positive note, the short Maine drought is over, fire conditions are back to normal and the Fortin landscaping is a vibrant green. Today's plan is to remain indoors and continue to catch up on GFRC price list updates followed by building a final purchase price proposal for the 1861 New Orleans half dollar hoard....these are photographed and will quickly load to the price list once the deal is settled.
There is little to discuss concerning financial news as Shanghai Composite is up nearly 2% during the overnight and Greece continues to bluff with its creditors.
I'm very pleased to report that the LSCC's June E-Gobrecht issue achieved over 2000 downloads in less than 24 hours while online. The magnitude of the response is huge and hopefully more readers will consider becoming Liberty Seated Collectors Club members. Our leadership team is an amazing group of numismatists, researchers, authors and individuals of strong character that I am so proud to be associated with. We share a common vision for expanding Liberty Seated coinage knowledge and constructing an organization that communicates with and attracts next generation collectors. Mentorship is a key factor for generational knowledge transfer.
Another consignment arrived from the West Coast Collection this weekend and is the best to date for choice Top 100 Varieties....this individual continues to down size his accumulation of holdered Liberty Seated dimes in circulated grades. Following are the new arrivals and FRoF is in place for those building Top 100 sets;
1837 Lg Date PCGS VG8 F-101b; 1840-O PCGS F12 Sm O; 1841-O PCGS Genuine F-102 Closed Bud; 1854-O PCGS VG10 CAC F-107 choice; 1856 SD PCGS AU50 F-116a MPD 8; 1859 PCGS VF30 F-103 MPD 9; 1874WA PCGS VF20 CAC choice; 1874WA PCGS F12; 1876-CC PCGS VF20 F-111 MPD 18; 1876-CC PCGS AU53 choice gray; 1876-CC PCGS F12 Type II Rev; 1888-S PCGS VF30 choice.
A decision was made yesterday to exit the half cent and large price list while expanding Barber coinage price list. I enjoy handling silver coinage with a photography process that is well tuned for capturing silver patina colors. Copper, on the other hand, requires another long learning curve and with my limited resources, it is best to focus on core strengths. The Half Cent/Large Cent price list is gone and residual pieces including balance of the Maine Collection Two Cent pieces are being shipped to Jim Poston for disposition on eBay.
Speaking of Jim Poston...we are in discussions about Jim attending the Chicago ANA show in August and working for GFRC as a floor buyer. As GFRC continues to grow, buying top quality coins with "The Gerry Look" is as important as selling top quality coins. Jim has made substantial progress with knowledge of original silver surfaces, eye appeal and individual Seated series rarity in just two years. As much as I enjoy walking a large bourse floor and searching out choice coins, the ANA show necessitates that I be "behind the GFRC table" to meet customers and also be available to foster relationships with the bourse floor wholesalers.
A reminder to Blog readers that GFRC will not have a table at the Summer Baltimore show but I will be attending on a vest pocket basis. The W. David Perkins Numismatist and Gerry Fortin duo made a command decision to not attend Baltimore this July as we expected the attendance to be quite weak since the show is sandwiched between Summer FUN and the Chicago ANA. This past weekend, I booked a hotel room and found that the Day's Inn was still available.....this is a clear signal that dealer and advanced collector attendance will be low as the Day's Inn is the first hotel to sell out.
Featured Coins of the Day
Let's focus on quality toner Morgans today. This is a highly subjective area in the numismatic hobby as there are no price guides with respect to toning patterns and eye appeal. This market is really like the Wild West and astute collections can still cherrypick Morgan dollars with huge eye appeal for reasonable monies. I am a very selective buyer in this market space and attempt to offer strong eye appeal candidates at fair prices. Following are two examples with the first being an 1878 7F graded PCGS MS64+ CAC. Obverse is covered with uniform rose patina with a sky blue arc at the rim. Faint gold covers portions of the reverse which exhibits stunning luster....from the Dallas Collection.
Next up is an 1896 VAM 20 Morgan graded NGC MS64 Star and fresh to market at the recent Central States show. This piece is essentially a Gem and an attractive piece of eye candy with vivid reverse rainbow toning. The surfaces provide bold cartwheel luster that allow the reverse colors to simply explode under bright light. The obverse also features a colorful rainbow arc that adds more character.
June 1, 2015
Welcome to the first day of June and hopefully some readers may already be on summer vacation. I sincerely appreciate the time taken to visit the Blog. Sunday's readership approached 230 downloaded which is amazing and provides the motivation to research and explore incremental topics.
The June E-Gobrecht issue arrived in my Inbox right on schedule and is another well prepared publication by LSCC Editor Bill Bugert. One of today's priorities is loading the June issue on the LSCC website (www.LSCCweb.org) and within my own archives (www.seateddimevarieties.com/LSCC). Liberty Seated quarter cuds articles are well represented along with Dale Miller in the LSCC Club Member Spotlight and another excellent piece of historical research on United States branch mint politics during 1842-1843 by Jim Laughlin. If you wish to be added to the E-Gobrecht monthly mailing list, then please contact Bill Bugert via email at wb8cpy@earthlink.net.
Sunday rains arrived as forecasted and today looks to be the same. Several days of consecutive rains are a blessing given the local need for water and the steady nature of the precipitation. I spent all of Sunday wrapping up the Maine Collection evaluations including some random items from this individual's estate. One piece of exonumia was fascinating as his wife presented a plastic bag of at least 30 examples and wondered what these wooden pieces might be. Let's start with a description...about the width of a US half dollar and roughly 0.25" thick with raised obverse and reverse rims. Material is soft wood with a weight of ~4.0 grams. The obverse features "ORIENTAL PERFUMER - A TALISMAN" legend surrounding horseshoe and wreath. The reverse is patriotic with center eagle and shield, a legend "EMBLEM OF THE FREE coupled with US 1882. Coloring is a consistent rusty brown as seen on all pieces. Following are images taken from the lone eBay listing I could find....otherwise there is little on the web about this token. Any help would be appreciated as I have a bag of 30 pieces to disposition.
Financial News
The key financial news topics remain the same; the Shanghai Composite (the casino) only jumps 4.7% in Asian Monday trading and the ongoing Euro gyrations due to Greece's loan repayment bluffing with the IMF. From Seeking Alpha headlines....
The euro tumbled today after Greece missed a self-imposed Sunday deadline for reaching an agreement with its lenders to unlock aid, keeping alive fears of a debt default and exit from the euro zone. The chances for a deal aren't looking any better after Alexis Tsipras' comments on Sunday. Yesterday, the prime minister accused bailout monitors of making "absurd" demands and seeking to impose "harsh punishment" on Athens. Greece is due to repay a €300M loan to the IMF on Friday and three additional payments, totaling about €1.25B, later in June. The euro is -0.7% to $1.0911.
GFRC News
I spent all of Sunday wrapping up the Maine Collection evaluation and then writing receipts and packaging eight orders plus writing a host of consignment checks. All will ship out this morning.
CAC review results for the Gentleman's Collection Flowing Hair and Draped Bust 50c and $1 pieces are expected by mid week.
By end of this week, I would be fully caught up on consignments and posting Newps. This would be a great time to consider utilizing GFRC to help evaluate poential consignments. Please don't be shy about contacting me to discuss your holdings and a disposition strategy into cash or other numismatic properties.
Also this week, I will return to updating submission in the Open registry and probably conduct a coin shop buying trip through Maine and Massachusetts looking for interesting Newps.
The week of June 8 brings the NH Coin Expo to Manchester, New Hampshire. GFRC will have a table on June 11 and 12 with a focus on raw Bust and Seated offerings. Let me know if there are certain online inventory items of interest and I will ensure they travel to the show.
Featured Coins of the Day
How about some lower grade CAC approved offerings to start the week? Some collectors make the effort to locate choice original pieces in lower circulated grades and then move these pieces through TPG certification and CAC review. First up is a nice 1823/2 JR-3 Bust dime residing in PCGS VG10 holder. This one is strictly original with medium gray/ebony patina. The reverse has lighter shades on the high wear points which provides a nice contrasting appearance. There are a couple of well hidden lines that did not bother PCGS or CAC. One is located on the reverse shield while the other is faint and seen on the obverse through hair curls and ear.
Next is an 1827 JR-8 Bust dime also residing in PCGS VG10 holder and approved by CAC. This piece is a better R4 variety coupled with nice original surfaces. At GFRC, I try to handle a broad range of early type coins in various grades...but the common theme is quality and originality.