Gerry's Daily Blog Archives - September 2015
September 30, 2015
Good morning on this last day of September. The Northeast will be receiving 3 to 5 inches of rain today. The rains are much needed after a pleasantly dry summer. Joaquin is also moving up the East coast and could double those rain amounts by Monday.
Obviously, weather conditions will not allow coin photography. Consignments that arrive during the next 5 days will be processed and added to the price list without images. I will be catching up on photography once the weather improves.
October 1 brings the next E-Gobrecht issue and Bill Bugert is working hard to publish on time. This issue will be the first to offer paid advertising and GFRC is proud to be one of the sponsoring coin dealers to feature a banner in this monthly publication.
Finally, October 1 is also the submission deadline for the November Gobrecht Journal issue and a long article on 1876-CC Double Die Obverse varieties was committed. I spent yesterday evening developing a cool Emission Order chart using actual coin images rather than just circles and numbers. Today's challenge is to write the majority of the article and have to Bill Bugert by end of day tomorrow.
GFRC News
The 1812 PCGS AU53 and 1862 PR63 CAC half dollars are posted to the price list while the 28 piece consignment, including mostly Seated quarters and Morgan dollars, will be loaded starting tomorrow.
Three consignments are in transit and will be arriving through the weekend. Each will be announced in the Blog but unfortunately, I will not be able to showcase these with quick mini galleries due to weather.
GFRC preparations are underway for the hectic "Four Coin Shows in Four Weekends" that is upcoming between October 20 through November 17. I'm excited about being back in Denver, Baltimore and of course Shanghai and also looking forward to the Rochester, NY show.
If you are considering a consignment with GFRC, then please take action quickly as the preparation window will close quickly once we are in October.
Featured Topic - Special Drawing Rights
The discussion concerning Special Drawing Rights (SDR) and the publishing of Jim Rickard's article from the Daily Reckoning (in yesterday's Blog) has already garnered attention among readers. SDRs are not well understood by the majority of the world's population. SDRs are an example of central banker financial engineering to deal with global trade complexities and even the description on the IMF website is difficult to understand.
Yesterday, I received the following comment from a loyal Blog reader who is well versed in economic issues. This individual is correct that SDRs are not a currency issued by the IMF as Jim Rickards used the word "printed" several times in his article which would imply a "printed currency".
I read your excerpt from Jim Rickards and am concerned that you are stepping into a minefield with this discussion of SDR's. What he has written appears to be factually inaccurate based on my research. Either I have misunderstood SDRs or he has (or he is misrepresenting them). They are absolutely NOT a currency. That is a gross oversimplification.
Returning to the IMF website, ther following statement is provided by the IMF concerning SDRs. Please note the careful language stating the SDR is not a currency or "a claim on the IMF." Rather the SDR is a potential claim on currencies of IMF members.
The SDR is neither a currency, nor a claim on the IMF. Rather, it is a potential claim on the freely usable currencies of IMF members. Holders of SDRs can obtain these currencies in exchange for their SDRs in two ways: first, through the arrangement of voluntary exchanges between members; and second, by the IMF designating members with strong external positions to purchase SDRs from members with weak external positions. In addition to its role as a supplementary reserve asset, the SDR serves as the unit of account of the IMF and some other international organizations.
So who are the IMF members with SDR allocated quotas? This IMF website page lists the 188 country members who have been allocated SDR quotas.
How does a member country secure or purchase its IMF quota? This IMF page explains the basis and following are the key points.
When a country joins the IMF, it is assigned an initial quota in the same range as the quotas of existing members of broadly comparable economic size and characteristics. The IMF uses a quota formula to help assess a member's relative position.
The current quota formula is a weighted average of GDP (weight of 50 percent), openness (30 percent), economic variability (15 percent), and international reserves (5 percent). For this purpose, GDP is measured through a blend of GDP—based on market exchange rates (weight of 60 percent)—and on PPP exchange rates (40 percent).
Quotas are denominated in Special Drawing Rights (SDRs), the IMF's unit of account. The largest member of the IMF is the United States, with a current quota of SDR 42.1 billion (about $59 billion), and the smallest member is Tuvalu, with a current quota of SDR 1.8 million (about $2.5 million).
A member's quota subscription determines the maximum amount of financial resources the member is obliged to provide to the IMF. A member must pay its subscription in full upon joining the Fund: up to 25 percent must be paid in SDRs or widely accepted currencies (such as the U.S. dollar, the euro, the yen, or the pound sterling), while the rest is paid in the member's own currency.
If I am reading the above correctly, then the United States, the European Union countries, Japan and United Kingdom are paying their full allocation with global reserve currencies while the other members only need to pay 25% of their membership in global reserve currencies.
Let's stop here for the day.....this topic is worthy of a 3 credit college course due to complexities.
Featured Coins of the Day
How about visiting the Liberty Seated and Trade dollar price list this morning for two featured coins? First is a strictly original 1845 Seated dollar that is graded PCGS EF45 and approved by CAC. This consigned Seated dollar is a choice original piece with classic gun metal gray/blue patina that is popular with collectors. Fields, devices and rims are essentially blemish free. Bright light viewing is a pleasure with ample remaining luster to accentuate the toning into sky blue intermixed with rose in the fields. Mintage is a meager 24,500 with a PCGS population of 27 in AU53.
Our second featured coin is a raw 1878-S Trade dollar that I purchased at the Summer ANA show and is graded AU58. This surfaces have light rub and offer a steel gray color that is then overlaid with light gold patina. In hand and under bright light, the luster is bold. Fields and device are completely blemish free as are the rims. This Trade dollar was previously housed in NGC AU58 holder and cracked out for inclusion in book shelf album. The NGC label comes with the coin and validates the near mint state condition.
September 29, 2015
Welcome to another edition of the Daily Blog. Maine's weather is shifting to clouds and rain for the balance of the week so coin photography will be on hold for several days. Luckily several consignments arrived on Monday and I will able to process those coins quickly towards the goal of daily price list updates and always offering something new for GFRC customers.
A quick review of BBC and NBC news produced little that caught my attention for in depth reading and discussion here.
GFRC Buying Philosophy
Initial Westford sales were good as five of the eighteen coins are on hold.
I'm quickly learning that being a successful "coin dealer" means locating quality coins that collectors are searching for themselves. When walking through a bourse floor, the mindset is that of a serious collector looking for strictly original coins with considerable eye appeal first with pricing secondary; essentially a "quality buyer." Many times, I will pass on quality coins due to asking prices being high and unworkable for myself and clients; but the focus is on quality first followed by pricing. Contrast this with some dealers who are "value buyers" and seek out coins at Greysheet (CDN) levels. They operate on value or wholesale deals with quality being secondary. At Westford, I was approached by a well known wholesale dealer. He had several double row slab boxes of coins to offer. One box was described as quality centric pieces while the other two boxes were explained to be value purchases. After searching through the three boxes, GFRC purchased three coins...all from the quality centric box.
The concept of buying the best coin quality possible does not go out of style. Rather executing this policy is difficult as human nature guides us towards securing a good deal. In the numismatic hobby, few top quality coins sell as "value deals" since demand is high for quality coins....yes, there can be good deals on quality coins at times but usually the seller made a mistake with price setting, is in a distress situation or had unfortunate market timing at a major auction.
I am proud of the speed at which GFRC has grown and the quality coins being offered at fair prices. This is a great job as I can still be a collector though owning coins for brief periods of time and helping others build substantial portfolios. As the GFRC client base expands, more previously sold coins are coming back home to GFRC as consignments or outright purchases when the client is actively upgrading. Stocking and selling quality coins results in a long term cycle of quality coins returning to the GFRC price list.
GFRC News
Two consignments arrived yesterday. The first totaled 28 pieces with 60% being purchased from GFRC. This collector is focused on Seated quarters and is now approaching the difficult dates. It is time to raise cash to continue pursuing quality semi key dates in high circulated grades with CAC approval. His coins are completely photographed and will be reaching the price list in the next 2-3 days.
A second consignment arrived with two top quality pieces. These are illustrated below.
The 1812 half is the O-103 variety and resides in recent PCGS AU53 holder. This half offers huge eye appeal under bright light with thin transparent patina that includes soft rose centers, the classic blue tone ring at the stars and reverse legend and the gold outer ring on the rim. Take my word as an old fussy collector....this is a coin that you would be proud to share with friends and would probably elicit a few "Wows" in the process.
The second piece is an 1862 proof half dollar residing in older PCGS holder, graded PR63 and also approved by CAC. This piece features lovely watery mirrors and is close to a cameo designation. Surfaces are essentially untoned except for a blue arc on the lower reverse.
The consignor and I will be finalizing asking prices and these will be posted to price list by last afternoon. Please contact me if there is potential interest.
Financial News
The significant global financial news of the day is from India. Seeking Alpha provides this headline as countries continue to drop interest rates to combat deflation. A slowing economy in India is problematic.
The Reserve Bank of India has reduced its policy interest rate by a greater-than-expected 50 basis points to a four-and-a-half-year low of 6.75%, citing low inflation as a main reason. The reduction follows three cuts of 25 bps this year and record-low consumer inflation of 3.66% in August amid falling commodity prices. The RBI's move also comes after Q2 GDP came in at a slower-than-expected annualized rate of 7%.
Featured Topic
The Special Drawing Rights discussion will begin in ernest tomorrow. In today's blog, I would like to feature several paragraphs from a Jim Rickards' article contained within the September 21 Daily Reckoning that quickly explains why our current international trading system with the US dollar as world reserve currency is flawed and must eventually come to an end....the result will be a shift to SDRs as created by the IMF in 1969.
Any attempt by politicians to move Japanese, Chinese and Mexico manufacturing jobs back to the US (to service US goods demand) will accelerate the demise of the US dollar as world reserve currency. The current US oil fracking revolution and less dependence on foreign oil will also have the same effect.
The following is worth reading and contemplating for a few moments.
If the dollar was the lead reserve currency, then the entire world needed dollars to finance world trade. In order to supply these dollars, the U.S. had to run trade deficits.
The U.S. sold a lot of goods abroad, but Americans quickly developed an appetite for Japanese electronics, German cars, French vacations and other foreign goods and services. Today, China has replaced Japan as the main source of exports to the U.S.; still, Americans have not lost their appetite for imports financed by printing dollars.
So the U.S. ran trade deficits, the world got dollars and global trade flourished. But if you run deficits long enough, you go broke. Any system based on dollars would eventually cause the dollar to collapse because there would either be too many dollars or not enough gold at fixed prices to keep the game going. This paradox between dollar deficits and dollar confidence was unsustainable.
This system did break down in the 1970s. The solution then was to abolish the dollar-gold peg in 1971, and demonetize gold in 1974. But there was a third leg of the stool invented in 1969 -- the IMF's Special Drawing Right, SDR.
The SDR was a new kind of world money printed (Gerry Fortin note; SDR are not currency and not printed) by the IMF. The idea was that it could be used as a reserve currency side by side with the dollar. This meant that if the U.S. cured its trade deficit, and supplied fewer dollars to the world, any shortfall in reserves could be made up by printing SDRs.
In fact, SDRs were printed and handed out repeatedly during the dollar crisis from 1969–1980. But then a new King Dollar age was started by Paul Volcker and Ronald Reagan, with some help from Henry Kissinger, the king of Saudi Arabia and private bankers. Under the new King Dollar system, U.S. interest rates would be high enough to make the dollar an attractive reserve asset even without gold backing. Remember those 20% interest rates of the early 1980s? Henry Kissinger also persuaded Saudi Arabia to keep pricing oil in dollars. This "petrodollar deal" meant that countries that wanted oil needed dollars to pay for it whether they liked the dollar or not.
Recall the paradox is that the reserve currency issuer has to run trade deficits, but if you run deficits long enough, you go broke. But SDRs are issued by the IMF. The IMF is not a country and does not have a trade deficit. In theory, the IMF can print SDRs forever and never go broke. The SDRs just go round and round among the IMF members in a closed circuit.
Individuals won't have SDRs. Only countries will have them in their reserves. These countries have no desire to break the new SDR system, because they're all in it together. The U.S. is no longer the boss. Instead, you have the "Five Families" consisting of China, Japan, the U.S., Europe and Russia operating through the IMF.
The only losers are the citizens of the IMF member countries -- people like you and I -- who will suffer local currency inflation. I'm preparing with gold and hard assets, but most people will be caught unaware, like the Greeks who lined up at empty ATMs last month.
Featured Coins of the Day
Today we visit the Barber coin price list for a few recommendations. GFRC is slowing ramping its Barber offerings and using the same quality approach as done for Liberty Seated and Bust coins. First up is an 1892 quarter that I grade MS63+. This is a choice piece with perfectly original surfaces and even gun metal gray coloring in hand. Under bright light, the obverse and reverse fields are highly reflective and spotlight the faint surface patina. The obverse provides mostly gold with sky blue on the left rim and at the date. The reverse has gold rims surrounding the legend with faint blue center.
Next is a choice 1903 Barber half dollar that is grade PCGS AU58 and approved by CAC. This piece is perfectly original with ample luster under the transparent patina. Coloring is fairly consistent between in hand and bright light viewing
Thank you for visiting this morning and once again, I will see you bright and early on Wednesday!
September 28, 2015
Good Monday morning and welcome to another Blog edition. There is much information to share this morning and we will immediately jump into the Westford show and new purchases.
The Westford Show
Westford, Massachusetts is about a two hour drive from my home in Maine. I arose at 5:00am and the outdoor temperatures was a cool 42F. By 5:30am, the drive started in my 1993 Miata with top down and enjoying the brisk autumn air. On principal, I will drive the Miata until there is snow on the ground or the temperatures drops below 40F....the Miata ragtop is for emergencies only! The ride was refreshing with ski hat and thick leather jacket. Thank goodness the Miata has a robust heating system. I arrived at the show at 7:30am, paid my early bird fee and started working as New England dealers were setting up. It was the usual cast of characters include Tom Caldwell (Northeast Numismatics), Dave Wnuck, John Agre (CROL), Jeff Kierstead (MintProducts.com) and the local dealers.
The show was well attended and busy at the 9:00am opening time. By 11:00am, I was out the door and driving back to Maine in a completely different climate. Temperatures were in the low 70s along with a bright sun. I arrived home after a stop at the New Hampshire Liquor store for Dewars white label scotch and immediately photographed the following new purchases. I did very well at the show as there were many fresh coins to ponder. My purchase criteria was unwavering....eye appeal, original and problem free surfaces along with full strikes. I left the Westford show with a nice mix of inventory and these will be posted to price list today.
Check out the 1875-S In Wreath F-106a...this is one of the web-book plate coins for that listing and was previously sold and returned to the market. Also when viewing each coin (below), embedded in the file name is the variety.
GFRC News
I received emails and phone calls on Sunday that more consignments shipped this weekend. The West Coast Collection was very pleased with sales of his last consignment (mostly Seated Quarters with CAC approval) that he is sending another group today. Then an advanced collector of Liberty Seated quarters and halves shipped the following pieces on Saturday. The quantity is small but the significance is high.
Seated 25c: 1843-O Large O PCGS VG8 CAC; 1851 PCGS AU50 Old Green Holder
Seated 50c: 1840 Rev1839 PCGS AU58
Walking Liberty 50c: 1946-D PCGS MS66 CAC; 1946-S PCGS MS64 CAC
In summary, there are at least five consignments arriving this week and each will be announced with mini galleries.
Financial News
A global economic slowdown is underway and was confirmed by the IMF today. China is leading the way downward and we must remember that China has been a massive user of all types of commodities and construction materials. Following is Christine Lagarde's statement applauding United States' Janet Yellen for not raising interest rates. This statement also signals what I've been discussing at the Blog for sometime....the inability of the Federal Reserve to raise rates in the near term due to global economic weakness. Indeed as one Blog reader pointed out, Janet Yellen is now the global central banker and the United States may be in for a longer period of very low interest rates regardless of all the tough talk by Federal Reverse board members.
From Seeking Alpha.....
The IMF warns world GDP at 3.3% this year isn't realistic anymore. "A forecast of 3.8% for next year is not either," said Christine Lagarde. At issue, says Lagarde, is slowing growth in emerging economics (i.e. China). "Perhaps Janet Yellen has heard us," she said, commenting on the Fed's decision not to hike rates two weeks ago. "There is no reason to rush" to tighten policy, she added, noting both the Japanese central bank and the ECB in recent years both hiked and then were forced to quickly retreat. Reversing is much more harmful than a delayed hike, said Lagarde.
Chinese industrial profits fell 8.8% in August year-over-year, according to the National Bureau of Statistics - the largest decline since the government began making the data public four years ago, according to Bloomberg. Coal mining profits plunged 64.9% during the first eight months of the year versus the same period one year ago. "Companies are facing enormous operational pressures," said a bank analyst.
Featured Topic
I will continue the discussion of "Special Drawing Rights" (SDR) starting tomorrow as much needs to get done today against forthcoming LSCC's Gobrecht Journal publishing deadline. I received positive feedback on the effort to explain SDRs. Here is one email response..
I really liked your forethought on the blog this morning. I think it is an excellent idea to educate your readers on SDRs. I would be willing to bet that 99% of the population has no idea what that is and even less understanding of the dramatic effect it will have on our economy. By the time most people learn about SDRs, it will be too late.
Featured Coins of the Day
Today we visit the Seated half dollar price list for a few purchase suggestions. The first piece to consider is an 1840-O WB-8 with re-engraved obverse denticles. This variety is also listed as WB-104 Large O. This is a strictly original half dollar with uniform medium gray toning. The obverse, with its re-engraved denticles and sharp rims, is nearly unique among Seated halves and is easily recognized. Fields and devices are essentially blemish free.
Next is a lovely 1855-O half graded PCGS AU55 and approved by CAC. This is the WB-16 variety as listed by Bill Bugert. Choice original are the operative words with respect to the strictly original surfaced and pretty toning. There is plenty of remaining luster under bright light too.
Thank you for starting the week with the Daily Blog and we will see you bright and early on Tuesday morning.
September 26, 2015
A seasonal Maine autumn weekend arrives to close out September. Yesterday, the transport and stacking of 2016 firewood was completed and I'm able to walk several miles per day as the temperatures cool. I've come to realize that GFRC well fits the definition of the term "electronic cottage" that was popular years ago. The Financial Times defined "electronic cottage" as a house, usually in the country, equipped with computers etc so that people can work there without travelling to an ordinary company office in a town.
As a reminder, there will be no Blog on Sunday morning as I will be traveling to the Westford, MA coin show starting at 6:00am.
A review of NBC and BBC online news revealed little to discuss this morning. Xi Jin Ping was treated to a massive state dinner by Obama and the Pope continues his journey to Philadelphia. Republican primary politics has gone quiet as the aura of Donald Trump is starting to dissipate. This photo published on NBC News is priceless and reflects the cultural differences between United States and China leadership. Note how Xi Jin Ping and Peng Li Yuan have stoic faces while Barrack and Michele Obama are all smiles. Xi Jin Ping is the master card player for managing China's politic corruption and economic slowdown while courting United States technology companies.
GFRC News
I am so pleased to announce that three more consignments are in transit and will arrive on Monday or Tuesday. The regular flow of consignments allows for an orderly announcement followed by quick posting to the price lists. Operating in this manner is much preferred for myself and customers as compared to the 10 day period surrounding the August ANA show. In that timeframe, twelve consignments arrived and it was impossible to process them in a timely manner.
Following is summary of new offerings as communicated to me in the past 48 hours.
Silver 3c: 1861 PCGS AU50
Seated 5c: 1853 Arrows PCGS MS64+ / CAC, super rainbow target tone, 1861 PCGS AU55 pretty toning, 1862 EF45 raw
Seated 10c: 1848 EF45+ with choice original patina (sold by GFRC to consignor)
Bust 25c: 1833 PCGS AU53 CAC challenging date and so choice
Seated 25c: 1847 VF35, 1854 PCGS EF45, 1855-S F15, 1857 PCGS AU58 old album toning, 1857-O VF35 choice gray, 1862 EF45 gun metal gray/blue, 1877 PCGS AU50
Seated 50c: 1840 Rev39 PCGS AU50 CAC choice original gray, 1841 NGC AU 58 choice original, 1859-O AU50 CAC nice and original, 1861 PCGS MS62 CAC choice original, 1862 PCGS PR63 CAC and so choice.
Morgan $: 1878 7/8 TF EF45 original, 1883 PCGS 63 CAC choice with bullseye toned obverse, 1883-S (2) EF45/EF40, 1884-S (2) EF45/EF40, 1889-S AU55 PL, 1892-S VF35
Mexico: 10 Centavo 1864-M NGC AU58, 1910-M PCGS MS67, 20 Centavo 1952-Mo PCGS MS66RD, 1964-Mo PCGS MS66RD, 8 Reales 1798 Mo FM NGC Fine Details (Chopmarked)
I also completed the Liberty Seated dime pricing recommendations for the Red Book and those prices were submitted to Whitman yesterday.
Featured Topic
How many Blog readers are familiar with the term, "Special Drawing Rights" or SDR? Given the ongoing erosion of the United States dollar as the world reserve currency, it would behoove Americans to pay attention to the International Monetary Fund (IMF) and its creation of the SDR as an alternative global reserve currency. Visiting the IMF website leads to this official definition of an SDR.
The SDR is an international reserve asset, created by the IMF in 1969 to supplement its member countries' official reserves. Its value is based on a basket of four key international currencies, and SDRs can be exchanged for freely usable currencies. As of September 10, 2015, 204.1 billion SDRs were created and allocated to members (equivalent to about $280 billion).
The value of the SDR was initially defined as equivalent to 0.888671 grams of fine gold—which, at the time, was also equivalent to one U.S. dollar. After the collapse of the Bretton Woods system in 1973, the SDR was redefined as a basket of currencies. Today the SDR basket consists of the euro, Japanese yen, pound sterling, and U.S. dollar. The value of the SDR in terms of the U.S. dollar is determined daily and posted on the IMF's website. It is calculated as the sum of specific amounts of the four basket currencies valued in U.S. dollars, on the basis of exchange rates quoted at noon each day in the London market.
During the coming week, the focus will be on the SDR. I will research and attempt to explain the potential SDR role in balancing global currency reserves and also address the fears expressed by Jim Rickard's on how a migration to SDRs in liu of US dollars as world reserve currency could result in inflation for goods within the United States. International currency exchanges are a complex topic but I hope you will join me as we explore and understand potential long term risks for retirement assets.
Featured Coins of the Day
This morning's featured coins are Capped Bust quarters that were received on consignment at the ANA show. To date, one of the three pieces has sold and these two choice example are still available. Locating problem free Capped Bust quarters with strictly original surfaces does take searching and I'm surprised that the demand for these two pieces has been low. Highlighting them in the Daily Blog and to China customers may allow them to find a new home.
First is an 1836 PCGS EF45 CAC specimen. This is the B-3(c) variety with significant obverse die cracks. This piece offers original gray coloring with darker rims that well framed the central devices. Obverse is in a middle state with die crack from ear down through hair curls and into the rim below Star 13. Another die crack starts at Star 1 and proceeds right across the chest.
Next is a choice original 1838 PCGS EF45 CAC offering. This piece has perfectly natural light gray patina that is fully undisturbed coupled with blemish free surfaces. The 1838 date is always in demand due to transition year between Capped Bust and Seated designs.
Thank you for visiting this morning and once again, the next Daily Blog edition will be published on Monday. Have a great weekend!
September 25, 2015
Another Friday arrives along with the Westford, MA coin show this Sunday. I will be an early bird at the show and hope to located quality inventory for GFRC customers.
Today's Blog will be brief as something really cool occurred yesterday evening while cooking dinner. I heard a very low flying plane approaching and look out my kitchen window. There is was....the last remaining B-24J Liberator WWII bomber in existence flew over my house; it was a brief but magnificent sight. The B-24J and sister B-17 Flying Fortress are part of the annual Wings of Freedom Tour that is on display at the Lewiston-Auburn airport which is only 10 miles away from home. I'm up early writing the Blog and will be heading to the display for opening time. Seeing a B-17, B-24J and P51 Mustang fighter in the flesh will be a memorable occasion since being an active modeler as a young boy. I remember assembling many Revell scale model kits of the great WWII airplanes, battleships and tanks to pass the time as there were no computers or internet in the 1960s.
GFRC News
I have asked for more consignments and GFRC customers are responding. Another large consignment of quality Seated coinage will be in transit today and should arrive on Monday. In tomorrow morning's blog, I will itemize the forthcoming coins for potential FRoR.
A small but important Seated half dime consignment arrived yesterday and is show below. The 1840-O No Drapery is a most special offering; the Eliasberg V-8 housed in NGC AU55 holder. The 1843 half dime is fully shattered reverse V-4 and undergraded in its current PCGS MS63 OGH. Finally, the 1848-O is also choice with ample luster for a coin graded AU55 and residing in ANACS holder. These will be added to price list today and FRoR is in effect.
As mentioned earlier, the Westford show is this Sunday and I will be working hard to locate more quality inventory. This is the last buying show before Denver Coin Expo.
The 1878-S PCGS VF35 Seated quarter that was added to the price list yesterday evening is on hold. Also the 1878-CC F-104 PCGS AU50 sold last evening. Quality coins, when fairly priced, do not last long at GFRC.
Financial News
After all the economic stimulus (Japan QE) efforts by Prime Minister Shinzo Abe, the Japanese economy is back into mild deflation. Janet Yellen also tries to talk tough on a future United States interest increase. Seeking Alpha reports the following items this morning.
Japan has dropped back into deflation for the first time since April 2013 in a symbolic setback to Prime Minister Shinzo Abe's economic stimulus. Core inflation, excluding fresh food, was down by 0.1% compared with a year ago in August, as slumping global energy prices outweighed headline prices. BOJ Governor Haruhiko Kuroda continues to insist Japan can reach a 2% inflation target by the middle of next year, but most analysts think that goal is now out of reach.
Markets across the globe are on the rise after Fed Chair Janet Yellen eased concerns that last week's decision to keep rates near zero had put off a rate rise for the foreseeable future. In yesterday's speech at the University of Massachusetts, Yellen laid out her most detailed argument yet for raising rates in the coming months, stating that inflation pressures will build gradually over the next few years. World shares have largely been in the red since the Fed stood pat last Thursday, with investors interpreting the central bank's caution as another worrying sign about the state of the global economy.
Featured Coins of the Day
Early small denomination proof coinage is an often ignored collecting genre but deserves attention due to the absolute beauty of these historic pieces. I would like to share several examples in GFRC inventory this morning so you can catch my point.
We start with an 1873 silver 3 cent piece that has a tiny mintage of 600 pieces. 3 cent silver pieces were minted as business strikes through 1872 followed by a small group of proof strikes (probably for East Coast collectors) during 1873. This surviving example offers strong eye appeal and resides in PCGS PF65 holder along with CAC approval. This gem is from the Birmingham Collection and we well know the quality coins that have originated from this consignor.
Next on the featured list is a superb gem 1865 proof dime from the Silicon Valley Collection. Mintage is a meager 500 pieces for this multi color example that has not been through a CAC approval attempt. The obverse offers a small rose center covering Liberty's mid section and into the right field. The rose transitions to rich violet/blue throughout the legend, date and Liberty head. The reverse toning features rose covering the denomination and upper wreath devices. The lower reverse captures the same vivid violet/blues as on the obverse. Bright light viewing is a joy with the blemish free mirrored fields activating the in hand patina....just lots of beautiful blues and rose hues.
September 24, 2015
Greetings and a special welcome to GFRC friends in mainland China. Today's blog will cover a variety of topics so the introduction will be short. Harry Zhang (GFRC Shanghai agent) reports that the Simplified Chinese blog version is well understood by his circle of friends and customers.
Before writing each Blog edition, I will check NBC and BBC news for potential topics and also compare reporting styles on similar topics. This morning's NBC News top headline revealed that this media outlet is biased towards a liberal agenda. The opening article entitled "Progressive Pope's Speech May Make GOP Squirm" reinforces the point made by yesterday's reader commentary concerning 8 second sound bites and shaping news. This title is leveraging the Pope's visit for stimulating controversy and continuing the conservative vs. liberal polarization now that Donald Trump is refusing to discuss religion and providing ongoing headline fodder.
Enough said....
GFRC News
New consignments and purchases are starting to arrive and are quickly being processed. Jim Poston sent a small consignment while still negotiating the purchase of a significant Seated half dollar deal. Following is a mini gallery of Jim's coins. These should be on the price list by end of day. Please pay attention to the 1849 PCGS EF45 Seated half dollar as very choice while the 1861-O PCGS EF40 half is the Louisiana struck W-6 variety. FRoR is in effect for potential interest.
Positive feedback was received yesterday about offering a Liberty Seated retail price guide as part of the GFRC website. Customer comments focused on the current lack of accurate pricing for Seated coins in the Redbook, Coin Dealers Newsletter and even Coin World and PCGS online guide. In particular one GFRC customer wrote the following which exemplified the difficulties that early type coins have with share of mind at Whitman and other commercial ventures that supply pricing guides.
By the way, as I was looking through my 2016 (69th edition) Redbook, I noticed that there is a small paragraph about the 1861-O under the Liberty Seated half dollar section. It gives the quantities minted under government control of the mint facility: US ~ 330,000, State of LA ~ 1,240,000, and CSA 962,633. What strikes me as odd is the following sentence which reads: "AS ALL OF THESE 1861-O COINS WERE STRUCK FROM U.S. DIES, IT IS IMPOSSIBLE TO DISTINGUISH ONE FROM ANOTHER, EXCEPT AS NOTED IN FOOTNOTE (a)" Footnote (a) talks about the CSA Die Crack.
I find it hard to believe that this statement is still there for 2016. When I looked at the bibliography under half dollars, the only Liberty Seated reference listed is the 1993 Wiley~Bugert "Complete Guide to Liberty Seated Half Dollars". Really ? It seems to me that Randy Wiley and Bill Bugert have done substantial work in the last 22 years to make it quite possible to determine one 1861-O half dollar from another, besides the W-11 CSA die crack. I am not saying that all of that information should be included in the Red Book, but that previous statement is simply not true. It would seem to me that the Red Book could use some updates in addition to just pricing. Perhaps LSCC could help.
Financial News
Seeking Alpha lead headline concerns the major trouble for Volkswagen but buried in the headlines is commentary on the situation in Brazil. Brazil is not a small third world country, but rather an important factor in the global emerging market that was expected to drive global consumer growth.
Brazil's central bank intervened to try to calm the country's volatile forex market yesterday, using currency-swap contracts and auctions of dollar-repurchase agreements to prop up the real. Over the past year, the currency has lost about 70% of its value against the dollar due to a struggling economy and corruption scandal at Petrobras (NYSE:PBR) that may see the state intervene with a bailout. Brazil's sovereign credit rating was also dinged earlier this month after Standard & Poor's downgraded it to junk status.
Featured Topic
A fervent Blog reader forwarded an article from the Stansberry Digest: Master Series entitled, The Case for Outlawing Cash. Bill Bonner is the author of the article and has written multiple books and articles on economic and financial subjects. He is the founder and president of Agora Publishing which issues the Daily Reckoning newsletter. I often use material from the Daily Reckoning in the Daily Blog now that Jim Rickards is the primary staff analyst and writer.
Bill Bonner writes a stimulating article concerning a potential point in time where central bankers will find physical cash to be obstacle to their financial engineering plans (negative interest rates) and see a need to eliminate. You can access the original article here. Here is an except from the September 2, 2015 article.
Last week, the influential Financial Times newspaper ran an article calling for the abolition of cash. It was titled "The case for retiring another 'barbarous relic.'" And it claimed that cash causes "a lot of distortion in the economic system."
Can you believe it? Cash causes economic distortions! From the FT: The existence of cash – a bearer instrument with a zero interest rate – limits central banks' ability to stimulate a depressed economy. The worry is that people will change their deposits for cash if a central bank moves rates into negative territory.
It also repeated the familiar claims that cash also is what finances terrorism, tax evasion, and the black market. Making cash illegal, it says, would "make life easier for a government set on squeezing the informal economy out of existence."
The article then became personal when mentioning that banks are limiting cash withdrawal amounts. As you know, I've had difficulties with cash withdrawals under $10,000 at my local Bank of America branch.
Already, several Diary readers have reported that they have had trouble getting cash from their own accounts. (You can read the most recent account in last Friday's Mailbag.)
Banks stall. They impose withdrawal limits. They want you to come in person, etc., etc. Right now, being unable to get cash promptly is merely a nuisance. But just wait… It won't be long before new initiatives are announced to "stimulate demand."
Perhaps negative interest rates will do it. Maybe a more general tax. But sooner or later, the next credit crisis will hit hard…Then your inability to get cash will be more than a nuisance. It will be a deathblow. You will be locked into a bank account with a bankrupt institution.
Featured Coin of the Day
When researching the Liberty Seated dime series for several decades, as I have done, one acquires a keen sense about the scarcity of certain varieties. When a choice example reaches the market, it is exciting to be able to handle such a coin. This is the case for today's featured coin of the day....an incredible 1878-CC F-104 Shattered Reverse dime graded PCGS AU50 and fresh to market. This piece was added to the GFRC price list on Wednesday with the following description......All Type II 1878-CC dimes were struck from left over 1877 reverse dies that were lapped prior to seeing the coin presses in 1878. The reverse on the F-104 variety was excessively lapped and is also shattered. Details of the deep reverse die cracks are visible on my F-104 web-page plate coin (an MS64 example). In circulated grades, the difference between F-104 obverse and reverse is two full grades due to excess die lapping. Now the coin itself....surfaces are covered with uniform light to medium gray patina that transitions to a pretty rose under bright light. Obverse strike is strong with nearly all hair details being present. Fresh to market and housed in 2015 PCGS holder. This is a must have coin for those who are building a Top 100 Varieties set at an advanced level.
Thank you for visiting with me! I will be back on Friday morning with more consignments and new purchases along with starting a discussion on Special Drawing Rights (SDR) that are little understood but will become a key global financial instrument in the years ahead.

September 23, 2015
Wednesday brings a beautiful autumn day to Maine. I plan to enjoy the cooler seasonal temperatures with a long walk at the top of the day's agenda. There is much to discuss in today's blog, so the preamble wlll be short. Thank you for visiting once again.
My recent commentary on United States media shaping and manipulating news seems to be shared with other GFRC friends. This morning's NBC and BBC News website comparisons once again illustrated the differences in content and reporting style. I will try to touch upon at least one high quality BBC article later in the blog. But first, let's feature some Blog feedback.
Daily Blog Feedback
A GFRC consignor and close friend sent along these comments concerning the Federal Reserve's no interest rate increase decision and the US media approach for reporting "news".
On the Federal Reserve.....I saw the blog and was reminded of something I read yesterday. I already don't recall where, but the main point was that Janet Yellen is now the defacto central banker for the world. The great global money printing experiment has, I guess predictably, intertwined all the major economies and I think she is now compelled to act in the interests of the world not just the US. Makes one wonder to what extent US pension funds are being sacrificed on behalf of European or Japanese QE programs.
On US media.....The media does indeed create controversy, sensationalism, and ideological echo chambers. Perhaps the most impressive, and most dangerous, aspect of this is how much of it is done with 8 second sound bites. Every bit of nuance, complexity, and restraint is sacrificed in order to grab attention and entertain without exceeding the attention span of a gnat.
Another consignor and friend responds to Silicon Valley consignor's comments.
Having just finished reading your Daily Blog, I feel compelled to say that Silicon Valley consignor's viewpoint of the media is dead on and its about damn time someone said it. This is why Trump is doing as well as he is. Trump offers hope that there may be an electable person who is willing to say what needs to be said, and do what needs to be done rather than the Democrats and Republicans re-playing 1990's WWF wrestling rivalry for the next four years.
And goes on to add some comments on why Donald Trump is doing so well in the early polls....I believe the man is the best choice, he isn't as polished and coached as the other candidates. He didn't just finish a $400 haircut at the expense of the taxpayers. He is raw and honest. His words mimic the feelings of the taxpayer who is tired of watching this country being sold to one or another special interest group, given away to attract a specific voter demographic. People are sick of having to work two and three jobs so their lazy neighbors don't have to work at all and live better on public assistance. People are sick of it and its time for some serious change. Those who regard Trump as a buffoon should ask themselves, how many more GQ presidents will it take to bankrupt this country ? This guy is spending his own money to run...
GFRC News
The raw pieces from the New Jersey Collection of Liberty Seated half dimes are now posted. Already four coins are on hold.
I was unable to photograph the Seated quarter consignment listed on the September 20 blog yesterday due to cloudy conditions. These will be photographed today along with settling asking prices with the consignor.
Another small lots of "for purchase" coins arrived yesterday including a wonderful 1857-O PCGS VF35 CAC Seated quarter with gem original surfaces. This is not an expensive coin, just in a super nice preservation state.
I'm expecting some Liberty Seated dime shipments to arrive today with quality specimens for advanced collectors. More on these in tomorrow's Blog.
And finally, I am nearly done researching and building Seated dime pricing recommendations for the Whitman Red Book. I'm considering adding a new GFRC website module with PDF files containing my personal pricing guides for Seated dimes and quarters and also the work of Bill Bugert on Seated half dollars. PCGS Pricing Guide is not well maintained for Liberty Seated coinage and Red Book pricing was antiqued. Everyone knows that Coin Dealer Newsletter (CDN) prices for Seated coins are a joke. But there is risk with this decision as some may question how a dealer can be unbaised in terms of price setting for the products he sells. Feedback would be appreciated as the commercial ventures have not well maintained Liberty Seated coinage pricing guides.
Financial News
Seeking Alpha provides one headline that I wish to share given the concern that Janet Yellen is now the global central banker.
Activity in China's factory sector fell to the lowest level in over six years. The preliminary Caixin China manufacturing purchasing managers' index dropped to 47.0 in September, compared to the 47.5 reading expected by economists. The index came in at 47.3 in August. The decline was led by a weak read for new orders and new export orders. Several investment firms lowered their estimates on China growth after factoring in the new manufacturing data.
Featured Topic
The BBC offers an excellent article this morning entitled, What is Putin's end game in Syria?. This is one of the supporting images for the article.....as always, just something to think about.
Featured Coins of the Day
Today's focus is on eye appealing Capped Bust half dollars. When thinking of Capped Bust halves, Gerry Fortin Rare Coins is probably not the first dealer to come to mind. But I am working hard to change that perception and continually adding quality halves to inventory. Following are two pieces that would fit nicely into an advanced collection.
The first is from the Maine Collection and sat in raw state in Wayte Raymond holder for several decades. I placed this lovely 1818/7 Small 8 (late die state with filled 8 digit) into its current NGC AU53 holder. I believe the images speak loudly about the original luster and light toning.
Next is a very attractive 1832 Small Letters halve graded NGC MS62 and approved by CAC. This is a piece of eye candy with the images exactly representing the coin in hand. Under bright light, the centers turn to rose and the balance of the obverse and reverse transitions to beautiful sky blues.
September 22, 2015
Good morning and thank you for visiting once again. Daily Blog readership has settled in at 250 to 300 individuals per day and I often receive positive feedback from GFRC customers/readers when making purchases. A sincere welcome to those in mainland China who are starting to read the Blog.
Daily Blog readers may have noticed the new Simplified Chinese version in PDF format that is fully operational as of yesterday. My Dreamweaver software, for HTML code creation, does not support Chinese characters so an alternate solution was required. I am translating the daily English comments into Simplified Chinese characters using Google Translate, then copying into Microsoft Word and saving as a PDF file. This process may sound complex but executing is straightforward and worth the effort to reach collectors of United States coinage in the Shanghai region along with JiangSu and ZheJiang provinces. My former employer, CSMC Technologies, is located in Wuxi, JiangSu province.
Blog Reader Feedback
The Silicon Valley consignor (Taiwanese heritage) provided feedback on my assessment that the US media is attempting to shape the news for increased ratings rather than just reporting the news. The issue, if you've been on a remote island in the past 48 hours, is the Chuck Todd questioning of Donald Trump, Ben Carson and John Kasich concerning Moslem faith and US presidency. He wrote the following......
I can't agree more on your point about the media being a source of the problem here in the US. It almost feels like good old sensationalistic yellow journalism is back in the saddle and dividing people more than ever. It used to be where different folks can co-exist and be friends while holding different political beliefs, but nowadays it's starting to feel more and more like "if you're not with us you're against us." The real tragedy is that the politicians herding people into different opposing camps probably don't believe half the stuff coming out of their mouths, they just advocate for whatever's fashionable with their constituents and gets them more votes and power. This was very much the case in Taiwan where legislators from opposing parties fought with fists in the chamber for the camera, and apparently for their own constituents; but more than one report have surfaced saying that behind the scenes they are all close buddies and would actually choreograph the drama as if they are acting in a TV show.
GFRC News
Much of the New Jersey Seated half dime collection reached the price list yesterday but there is still more to load today. These offerings are all raw and were attributed by Steve Crain. Steve is the expert on Liberty Seated half dimes and I appreciated his helpful support.
The Seated quarter consignment listed on the September 20 blog has arrived and will be opened and photographed today.
More individuals are joining GFRC consignment program. For example, I received email yesterday that shipment of incredible 1812 PCGS graded Capped Bust half with bullseye toning and 1862 PCGS PR63 CAC Seated half are in transit from new consignor. After a brief inquiry and discussion, this consignor has selected GFRC to sell a few four figure coins that no longer match his collecting goals.
Featured Topic
John Mauldin issued an insightful commentary on September 19 concerning the Federal Reserve's decision to hold interest rates at current levels. His entire article is available here and includes thoughts on the developing East-West difficulties in the Europe Union over the Syrian refugee crisis. The latter topic could be a separate discussion but not today.
John's key points concerning the Federal Reseve's decision to hold interest at current levels are worth considering;
1. He was not surprised with the decision as information was leaked to the Wall Street Journal in advance. The IMF and World Bank pressured Janet Yellen to not raise rates as this decision would have had negative impacts to global markets. Monies would have flowed out of emerging markets into US bonds and the US dollar would have strengthen further. This is a serious issue since the US Dollar is the world reserve currency.
2. John was surprised by the aggressively dovish stance taken by Yellen in her press conference and press release. The key question is will the Federal Reserve raise rates anytime soon given the new global deflation pressures?
3. The Federal Reserve decision implies that they lack sufficient tools to manage the United States economy and dollar value and used the global impact excuse. Essentially the Federal Reserve is "throwing retirees under the bus" with no returns for their life long savings. Pension funds, which count on 6-8% annual returns to fund liabilities were also slammed by the Fed decision. And finally, cheap credit is creating unhealthy imbalances in the business sector. Poorly run companies can access essential no interest credit, drive retail prices downward and impact those well run companies in the marketplace.
Featured Coins of the Day
The first featured coin is from the New Jersey Collection. This raw 1868 half dime is straight from the consignor's Library of Congress album and offers considerable eye appeal and natural luster. It is graded AU58 and needs a new home in an advanced collection.
The next featured coin is a 20th Century piece that is worthy of attention. I really like this gem original 1941 Philadelphia Walking Liberty half dollar as it offers the best of all worlds....Strike is complete with full head and all vertical gown lines being present. Then attractive luster since this piece was struck from die with considerable erosion results in metal flow lines on the coin. And finally, eye appeal with the pretty ebony/gold rim toning. Housed in early ANACS old white holder and graded MS66.
Thank you for visiting and I will see you bright and early on Wednesday morning.....
September 21, 2015
Welcome to the final full week in September with October just around the corner. The days are becoming increasingly shorter and the autumn season has arrived. Coin photography is becoming limited to a narrow time window as the sun drops in the sky.
Sunday's Meet the Press anchor, Chuck Todd, was fishing for drama during his Trump, Carson and Kasich interviews and Carson took the bait. Trump and Kasich were able to avoid the "Moslem faith/US President question" but Carson has much to learn. Frankly, I'm starting to believe that the United States for profit media is one of the core issues facing our country. The media has moved from reporting events towards attempting to shape events for increased ratings. Brian Williams became overtly caught up in this operating philosophy and fell from grace.
After Meet the Press, the focused moved to preparing Liberty Seated dime prices for Whitman Redbook. This is a long process and this denomination is about 50% complete. Whitman has asked that I act as a consultant on their pricing guide and we shall see if the inputs are accepted. Frankly, the Redbook has significant disconnects with current market just as the Coin Dealer Newsletter is also deficient for Liberty Seated coinage.
At day's end, I developed a trial copy of the Daily Blog using Simplified Chinese characters and send to Harry in Shanghai for review. He immediately wrote back and was amazed at how well Google Translate handled the September 17 blog (topic was discussion of parameters that suggested gold is an attractive long term investment). Harry plans to circulate this translated blog on a Shanghai numismatic message board. For those interested, the translated September 17 Blog is available here as PDF file and this morning's Blog is available here also. More blogs will be converted in the upcoming weeks in anticipation of the Shanghai show on November 13 - 15.
GFRC News
FRoR response to the new Seated quarter consignment mentioned yesterday was strong with five pieces already spoken for. As a baseline, four of the seven West Coast Collection quarters sold without reaching the price list. The Client Gallery and Daily Blog are effective tools for marketing and quickly selling consigned coins and enabling the collector trading desk. Please consider how you might take advantage of these GFRC capabilities if not already an active participant.
I spoke with Jim Poston last evening and he is attempting to close on a large Seated half dollar deal. This has held up the promised consignment but a shipment of other offerings will be in the mail today.
Financial News
There are a couple of gem news items this morning in the corporate world. We now learn that Volkswagon has been cheating on emission standards for years and Anheuser-Busch may move its tax base to the U.K. There is nothing more American than Bud beer, right?
Anheuser-Busch InBev is considering an audacious plan to switch its tax base to the U.K. if it can pull off the proposed £180B takeover of SABMiller (OTCPK:SBMRY). Altria (NYSE:MO), which controls 27% of SABMiller and three board seats, currently collects tax free dividends thanks to a U.S./U.K. treaty, but would see that deal die if the new company were based in Belgium. AB InBev (NYSE:BUD) has been domiciled in the country since its merger in 2008.
Volkswagen is in hot motor oil after it admitted to cheating on U.S. air pollution tests for years, risking billions in potential fines and heavily shaking investor confidence. Shares in Frankfurt plunged as much as 22% on the news, the steepest intraday decline in almost seven years, wiping out $18B in market value and extending the stock's slump for the year to 32%. "I personally am deeply sorry that we have broken the trust of our customers and the public," Volkswagen (OTCQX:VLKAY) CEO Martin Winterkorn said in a statement.
Featured Topic
I will share John Mauldin's discussion concerning the Federal Reserve's decision to hold interest rates steady in tomorrow's blog. This topic is complex to summarize so I will start to prepare this evening after my double scotch.
Featured Coins of the Day
Double dimes are a short lived United States denomination but assembling a complete set is straight forward and will not require a small mortgage. I'm always looking for choice original examples and the current GFRC price list features two well matched offerings that could be the centerpiece of an EF/AU set. First is an 1875-S BF-1 graded NGC AU58 with CAC approval. 1875 San Francisco strikes are the most available double dimes but locating choice original examples with well struck LIBERTY on the scroll takes patience. The offered example is definitely choice with attractive light gray patina.
1876 Philadelpha struck double dimes are very scarce with a mintage of only 18,400 pieces and underrated in today's market. I will buy most seen if the surfaces are strictly original as is the case for this lovely example. A gun metal gray patina covers the surfaces with some darker shades on the reverse. This piece is graded PCGS EF45 and offers a hammered strike with all stars central being distinct along with a reverse legend that has bold lettering and crisp edges. PCGS was conservative with the grading and I suspect a CAC approval should not be difficult to obtain.
September 20, 2015
Fall temperatures have arrived in Maine along with northeastly winds. All windows in the house are closed and I'm wearing a long sleeved shirt to start the day. It is probably time to call the chimney sweep too. Evening temperatures are forecasted to be the 40s this coming week but still no initial autumn frost in sight.
Today's blog will be brief as compared to those written during the week days. A break from the daily routine is needed this morning and justifiably as it is the weekend...
John Mauldin issued another superb newsletter this morning discussing the Federal Reserve's no rate increase decision, but more importantly, the strong dovish tone presented by Yellen within the official FOMC statement. John believes the Fed may be setting the stage for no rate increases for sometime and even the potential for QE4 now that its policy includes managing global economy and not just the United States. It appears that the IMF and World Bank were influencial. If this is indeed the case, then we have entered into a new United States economic era facing the reality of globalization. Those in the US that expected reasonable interest rates for retirement savings that enabled some cash flow are in trouble. Retirement financial planning models may be obsolete and worthless. Something to think about this Sunday morning. I will discuss the John Mauldin newsletter starting Monday morning.
GFRC News
The consignment just keep on coming and I am very pleased! An existing GFRC customer/consignor, who is actively using the "trading desk", send an email announcing the following lot shipped yesterday. This is a low grade better date Seated quarter lot with all being holdered at PCGS except for two NGC pieces.
Seated 25c: 1840-O ND Br 1A NGC VG10; 1843-O large O PCGS G6; 1851-O PCGS AG3 CAC; 1867 PCGS AG3; 1868-S NGC AG3; 1875-S PCGS VG8; 1878-S PCGS VF35; 1881 PCGS AG3; 1885 PCGS AG3; 1888 PCGS AG3; 1889 PCGS G6
While on a walk yesterday, I revieved a phone call from another GFRC customer/consignor informing that several quality Seated quarters and halves are shipping this week including an 1851 PCGS AU50 Seated quarter. GFRC is starting to build a small hoard of this underrated date.
Also a shipment of better date/variety Seated half dimes are in transit. The upcoming week will bring considerable new inventory and then the Westford show arrives next Sunday where I always seem to do well in securing silver type with the "Gerry Look."
The new 1855 With Arrows F-109 variety sold immediately after being posted yesterday and is heading into an advanced collection.
Featured Coins of the Day
Buying back GFRC coins from customer is a normal business process along with taking in consignments. If a dealer sells nice original quality coins, then buying these back is another method for maintaining quality inventory. Many collectors move through a numismatic progression from intermediate to advanced collector or simply change their collecting goals. Having a trustworthy dealer for sourcing coins and then selling back allows the numismatic journey to be straightforward. Please remember that we are only curators for our collections; these cherished coins will owned by other collectors in the next century so having a disposition process is an important as an evaluation and purchasing process.
Today's featured coins were just bought back from an advanced Liberty Seated dime variety collector. First is an 1843-O PCGS VF20 CAC dime with superior eye appeal for the gray. Seated dime specialist well know how challenging this New Orleans date is when so attractive.
The other purchased dime is a key date 1870-S residing in PCGS VF35 holder. Locating problem free examples requires the use of the internet as one rarely sees this date at small and medium sized regional shows. Mintage is a tiny 50,000 pieces with a low survival rate. Few auction listings are seen in CoinFacts and validates how difficult this date can be.
Thank you for visiting this Sunday morning and I will be back bright and early on Monday!
September 19, 2015
Welcome to the Blog on this lovely Saturday morning. Maine weather continues to be abnormally nice but the trend will shift to seasonal temperatures starting on Sunday. At the Fortin home, soft foods like scrambled eggs and cheese were in order along with Advil every few hours. The stories about wisdom teeth extraction are true. The lower wisdoms are difficult to extract and a long process.
GFRC News
Repeat consignments is a growing GFRC trend as more collectors are taking advantage of the "collector to collector trading desk" business model. Several Seated quarters from the West Collection are heading to another consignor's set, and in turn, he will be sending more duplicates to continue building up his consignment credits. GFRC customers are trading into and out of nice coins without using out of pocket cash while securing fair value for their duplicates. Below are the West Coast Collection Seated quarters with the 1883 and 1890 already on hold. All pieces are PCGS holders with most being CAC approved. The West Coast consignor is a true advanced collector and highly successful professional. It is a pleasure working with him as we disposition a portion of the non key holdings.
The West Coast Consignment - September 18, 2015
Circulated Liberty Seated Quarters
During the past 48 hours, four additional consignments have been committed and should be arriving next week. Contents cover all Seated denominations except dollars along with Capped Bust halves. As a reminder, GFRC will be attending four coin shows in four weekends starting with the Denver show on October 21 through 24, then Rochester NY followed by Whitman Baltimore and finally Shanghai in mid November. Four solid weeks remain for taking in and preparing consignments for these shows. The Shanghai show will be primarly focused on 20th Century coins but also choice early type silver and some type gold. Already orders are coming in including requests for $3 Princess gold since few pieces ever made their way to China.
Friday was a web-book maintenance day. I added two varieties including Dr. Tim Cook's 1876-S Type I Reverse F-122 with bold date repunching below the 18 digits and a very pretty 1855 With Arrows dime as F-109. The latter piece had sufficient diagnostics to qualify as new die pairing regardless of the hubbed arrows and date obverse. I am surprised that the 1876-S F-122 was just discovered as the repunching is so obvious under a 10x loupe; someone should have noticed years ago but not the case. Below are the 1876-S F-122 and 1855 F-109 images. The 1855 is for sale and will be heading to the price list today. (The 1855 sold within a few minutes of being posted here).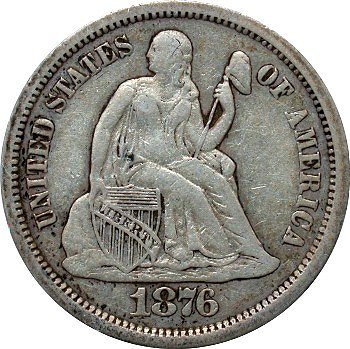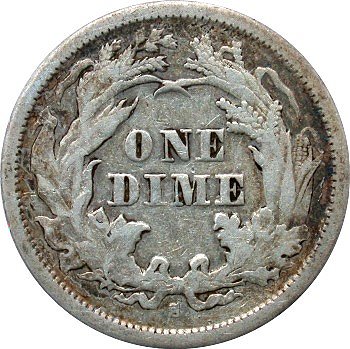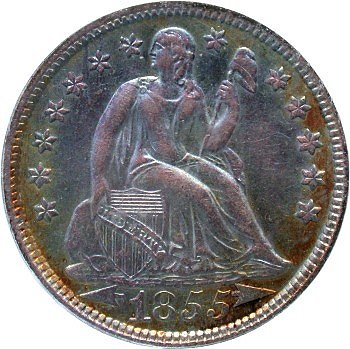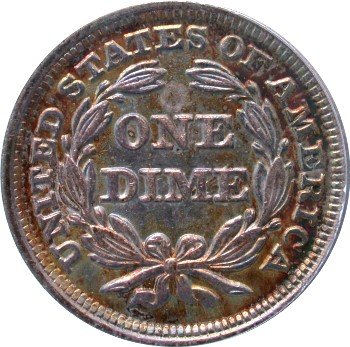 Financial News
John Mauldin issued an excellent newsletter analyzing the economic situation in China and why China played such an important role in the Federal Reserve's decision not to raise interest rates by at tiny 0.25%. The BBC also has a feature article on the same topic. I will be discussing the Mauldin newsletter in next week's blogs as readers should be aware of the global financial situation towards being proactive with financial decisions made at home.
Featured Coins of the Day
One of yesterday's featured coins sold immediately. Following are several quality pieces that you might consider adding to an advanced collection.
First up is a choice 1875-CC Below Wreath F-108 dime graded PCGS MS63 and approved by CAC. The images well capture the choice surfaces and the lovely light gray/rose patina. Below Wreath dimes are difficult to locate this nice in mint state.
Next we visit the World Coin price list....there are some incredibly nice offerings on this price list that don't receive enough attention within the Blog. One of the best pieces on the list in terms of gem original surfaces is this 1929 Canadian King George V quarter. Most Canadian quarters of this era come frosty white while this example has strictly original skin and would be a wonderful museum piece with its beautiful gun metal gray/blue toning. What my images cannot capture is the vivid satiny luster under the toning.
Thank you for visiting this morning!
September 18, 2015
Friday morning arrives with Maine temperatures continuing to be well above normal. The lack of a first season frost has delayed Fall colors with peak "leaf peeping" season delayed until mid October. Evening temperatures remain in the high 50s and low 60s which is uncharacteristically high for mid September.
I'm a tad lighter this morning having lost two wisdom teeth yesterday. Wisdom extractions are never fun. I was was up at 2:30am with an aching jaw. Advil did the trick but could not fall back asleep...so started the GFRC business day early this morning.
Yesterday's Federal Reserve meeting and interest rate decision was a non event. No rate increase due to "global factors" was the story line.....as predicted. If the Fed is unable to increase rates by 0.25%, then this speaks loudly about risks for importing more global deflation due to strong US dollar.
GFRC News
A nice Liberty Seated dime and quarter consignment arrived yesterday from the West Coast collection. Consignment discussions had been limited and the coins arrived quickly. The Seated quarter portion of the lot is full of nice original gray pieces with most being CAC approved. Here comes the list;
Seated 25c: 1858-S PCGS G6 CAC; 1861 PCGS EF40 CAC; 1864 PCGS VF30; 1877-CC PCGS VF35; 1877-S PCGS AU50 CAC; 1883 PCGS F12 CAC; 1890 G6 CAC.
I'm also pleased to announce the purchase of three important Liberty Seated dimes. First is a strictly original 1843-O PCGS VF20 CAC example, then an 1855 With Arrows PCGS AU53 that has incredible colorful toning and is also a new variety for inclusion into the web-book as F-109. Finally, I've bought an example of the key 1870-S date graded PCGS VF35. More on these by the weekend.
Dr. Tim Cook sent along two new Seated dime varieties for the web-book. The first is an 1876 Type II reverse with new die pairing and the second is a cool 1876-S Type I reverse with bold repunched date that is currently undocumented.
And finally....I completed the Whitman Red Book price guide review for Liberty Seated quarters. The guide was in need of serious maintenance and hopefully, the recommended changes will close the gap between current understated prices and existing market.
Financial News
Stock market futures are down this morning due to the lack of a interest rate increase......this reporting logic could drive a normal person towards insanity. Here are some Seeking Alpha headlines.
Sentiment in the stock markets was weak on Friday, after Fed Chair Janet Yellen decided to take a "little bit more time to evaluate the likely impacts" of recent market volatility before acting on interest rates. Although low rates have helped fuel years of rising share prices, markets are drawing little comfort from the decision as many investors feel a rate hike would have signaled the central bank's confidence about economic growth. U.S. futures are all lower by about 1%.
Government bond yields across the globe are in party mode after the U.S. Federal Reserve kept interest rates unchanged in a nod to concerns about a weak global economy. The German 10-year yield - the eurozone benchmark - is down 8 bps to 0.69%, mirroring a similar move in U.S. Treasuries overnight. Equivalents in France, Spain, Italy and the U.K. fell even further, dropping 9-11 basis points, following Asian yields lower.
Featured Coins of the Day
Being a coin dealer means handling a constant flow of coins arriving into inventory and then shipping out to customers. There are always some favorite pieces within consignments or larger purchases. Case in point was the 1858-S PCGS EF45 CAC dime in the Strong Hands consignment. This piece was well above average in terms of originality and justified my statement to "just buy this coin" without thinking too hard. The 1858-S lasted only a few hours on the price list before being scooped up by an advanced collector.
Following are several other favorite pieces worthy of advanced collections. First is an 1840-O No Drapery Seated quarter residing in an NGC EF40 holder with the "Gerry Look." I may have featured this piece before with no takers. This incredibly original quarter has lots of in hand eye appeal plus pretty gun metal blue patina under bright light. I was so pleased to acquire at the ANA and once again pleased to showcase here. (On Hold)
Here is another ANA show purchase that went immediately to the price list without much fanfare. This PCGS MS62 1838 half dime is the V-10 variety with massive reverse spalling on the lower right wreath. This is the second example of the V-10 spalling variety handled at GFRC during the past two years. The V-10 variety features ongoing degradation of the reverse die steel until the area between right wreath and AMERICA is completely disintegrated leaving behind a bubbled surface texture that well transfers to struck coins. This 1838 example is fully struck with complete head details and all star centrils crisp. Surfaces are fully original, blemish free and covered with a thin gray patina.
Thank you for visiting....the next Blog will be published bright and early on Saturday morning.
September 17, 2015
Good morning and welcome back to the Blog.
Yes, the Republican debate was must see viewing yesterday. A BBC report on the highs/lows for each candidate is worth to read and is a confirmation of my personal impressions. I'm struggling with the contrast between career politicians and outsiders. The career politicians are well versed in stats and facts (real or imaginary) while the outsiders have a knowledge gap in this area but have demonstrated careers and results.
If asked who I currently support, my response would be that of uncertainty with some obvious non starters (Huckabee, Cruz, Carson). When examining the candidates, I view them as a potential business supervisor since they will be Commander in Chief, Chief Orator etc... Who would I be comfortable working for and following their leadership? Intelligence, wisdom, assertiveness, results orientated and the ability to deal with incredible time pressures and stress are important qualifications. Respect for a change agent is also high on my list of qualifications. Using these criteria, the field quickly narrows to Paul, Rubio, Fiorina and Trump as a wild card. Being fired from a job after taking substantial risks is not a negative in my book...I've been there and a humbling but important learning experience. Everyone should be fired or go bankrupt at least once in their professional career otherwise too conservative of a path is at hand. Strong leaders take risks....
GFRC News
Wednesday turned out to be a strong sales day. Two of the five Strong Hands dimes are on hold. An inquiry arrived for the 1856-S NGC EF45 example and we will see how long this piece remains available. The Strong Hands 1873-S F-101 graded PCGS AU58 is also a desirable offering and would fit nicely into an EF/AU set.
The GFRC consignment program continues to expand as more individuals are recognizing the professional handling of their coins. Two new consignments are under discussion; one being Seated half dimes and the other being Capped Bust halves.
Featured Topic
I mentioned in Wednesday's blog that Jim Rickards had published an article concerning spot gold prices and that the precious metal may have reached bottom. His article is entitled, Gold -- The Once and Future Currency and is an excellent read. For Blog readers, I will attempt to simplify key points made.
Jim recommends that individuals hold 10% of investible assets in physical gold as a financial insurance policy. Today's low prices are an excellent entry point.
Jim identifies three factors that explain the fluctations in gold prices. These are real interest rates, the US dollar strength and central bank intervention into gold market. For predicting the future price of gold, one should study these factors and judge where each is headed in today's deflationary and political environment.
1. Real Interest Rates.
- Real interest rates are defined as the nominal interest rate minus inflation. For example, if the nominal interest rate is 5%, but inflation is 3%, then the real rate is only 2% (5% minus 3%). That sounds simple enough, but there are complications.
- 10-year Treasury note interest rates are a good estimates for mortgage rates and corporate bond rates, which represent the cost of financing long-term investments in housing and fixed assets by individuals and corporations. It makes more sense to think about gold as a long-term core holding than as a short-term trading instrument.
- When the rate of inflation is greater than the nominal rate of interest, then the real interest rate is negative. This could happen when a 10-year Treasury note rate is 1% and inflation is 2%.
- Jim indicates that Real Interest Rates are one of the best predictors of the nominal dollar price of gold. When real interest rates are low (or negative), that gives gold a boost. When real interest rates are high, that puts downward pressure on gold. The reason for the correlation is easy to understand. Gold has no yield. Gold's valuation has to compete with other asset classes such as stocks and bonds that do have yields. When yields on competing asset classes are higher, the gold price tends to suffer, and vice versa.
- Currently, the real interest rate is negative 1% (1% minus 2%). That is the ideal environment for gold. A zero yield on gold is actually greater than the negative real yield on Treasury notes.
2. US Dollar Strength
- The second factor is dollar strength. Gold is considered to be a form of money or currency....so a strong US dollar signals a weak dollar price of gold, and a weak US dollar signals a strong dollar price of gold.
- The all-time low for US dollar was 80.5 in July 2011, the time of which corresponds exactly with the all-time high dollar price for gold. Conversely, the US dollar index today reads 95.6. That's the highest reading in over six years. Just as the dollar is at a six-year high, gold is near a six-year low.
3. Central Bank Intervention
- The third factor is central bank intervention. This is a simple matter of supply and demand. Mining output has been constant over recent decades: about 2,000 tons per year.
- Central banks have moved from being net sellers to net buyers for the first time in decades. With few official sellers and many official and nonofficial buyers, gold demand now exceeds gold supply from mines, putting pressure on scrap gold and other weak hands to fill the gap.
Summary
- Central banks cannot tolerate high real interest rates, because they burden consumption and investment. So real interest rates need to fall further.
- The Federal Reserve cannot tolerate a strong dollar because it imports deflation (in the form of lower import prices) from around the world. So the US dollar eventually needs to fall in value.
- Physical markets are skewed toward excess demand because China, Russia, Iran and other countries continue to demand gold to diversify reserves away from US dollars. Gold mining output is flat and official gold sales by the West have ceased.
- All three factors — real rates, the strong dollar and official sales — are pointing toward a reversal of recent trends and momentum toward conditions that favor higher gold prices.

Featured Coins of the Day
This has been a long Blog with no coin images. So let's showcased a few nice coins!
First is a lovely 1852 Seated half dollar residing in PCGS AU53 holder. This piece was added to the price list on Wednesday and is completely fresh to market with no CoinFacts auction records. It resides in 2015 generation PCGS holder and was stored for years in a Dansco album. The 1852 date features a low mintage and few have been offered at auction in AU grade during the past seven years. Therefore an important opportunity for those building an advanced set of Liberty Seated halves. (On Hold)

Next is the 1873-S F-101 (Small thin S) graded PCGS AU58 and from the Strong Hands consignment. This piece is perfectly original with typical surfaces and appearance of an 1873 San Francisco Thin S mintmark dime. You are invited to check my F-101 plate coin as a comparison. The dies are in a late die state, well eroded and cracked. This results in soft satiny luster rather than the reflective luster seen from early die state frosty examples. Fields and devices are fully original with natural patina. There are no blemishes to discuss whatsoever. Strike is completely full regardless of the later die state dies.
September 16, 2015
Welcome back to the Blog on this comfortable Fall morning and thank you for visiting.
I'm going to be losing two old friends this week......yesterday's quick visit to the dentist confirmed my suspicions; two wisdom teeth need to be extracted on a priority basis.
This morning's check of NBC and BBC News revealed stark contrasts and a few similar top stories. Keeping abreast of how other countries/people view the United States provides important balance and helps me avoid personal biases. There were two common topics....Trump (defying the political sages that he would crash and burn) and the 14 year boy arrested for bringing a hand built clock to school. BBC adds an excellent article on mammals that live extraordinary lifespans (How humans could live to 200), on Assad close ties to Russia and Iran and the new routes taken by Syrian refugees through Croatia etc. Did you know that taller people have a slightly higher risk of cancer than shorter people since taller people have more cells that can eventually malfunction with aging? I would encourage you to check BBC News on a regular basis for useful reporting and insightful analysis without American drama.
GFRC News
Two consignments arrived yesterday along with more orders from Shanghai agent, Harry Zhang. Harry's customer base is expanding and the order sophistication is increasing with this morning's highlight being a $3 Princess in PCGS AU58 along with some Kennedy and Franklin BU rolls. It is rewarding to see Shanghai collectors embracing United States coinage.
I am so pleased to announce the consignment of a choice 1861-O WB-102 (W-11) Seated half residing in PCGS AU53 holder. WB-102 (W-11) features the CSA Obverse that was paired with CSA reverse die to strike four original Confederate States half dollars. I carefully studied this piece yesterday evening while being posted on price list. PCGS grading was conservative as I see little if any wear coupled with a slightly weak obverse strike. This piece could be in an AU55 holder without any complaints. The obverse die crack from rim by Star 7 to Liberty's face is bold and visible in the below images.
Secondly, I am also pleased that Strong Hands collector submitted another consignment of Liberty Seated dimes and all being San Francisco struck dates. Strong Hands is actively upgrading his San Francisco dime dates and committed to purchase one of 1861-S mint state examples in the Gerry Fortin collection. To fund this purchase, he wishes to sell some duplicates. Below are the five pieces that arrived yesterday. Please pay careful attention to the 1858-S housed in PCGS EF45 holder and approved by CAC. I really like this piece and believe it would be a prize acquisition for those building an EF/AU date and mintmark set. The 1861-S graded NGC AU53 is also worth considering due to rarity and originality while few 1856-S dimes come to market in problem free EF condition. This mini gallery is already posted at the Client Gallery link. FRoR is now in effect........
The Strong Hands Consignment - September 15, 2015
Liberty Seated Dimes - Semi Key San Francisco Dates
Financial News
Seeking Alpha brings a host of headlines this morning. Of course, the Federal Reserve drama continues to be the top story but there is nothing new to discuss here. Instead, let's look at a few other topics.
Let's not forget than Japan is the world's third largest economy. Japan got its debt ratings reduced by Standard & Poor's today over doubts the government will revive economic growth and end deflation in the next two to three years. It's not a good news for Abenomics, the pet project of Prime Minister Shinzo Abe. The country currently has some ¥54T ($450B) of debt outstanding, which now holds a AA- rating instead of an A+ report card.
Shanghai Composite Index volatility continues and thank goodness NBC News is not reporting on a daily basis with "meltdown" and "lift off" headlines......Snapping a major two-day slump, China's Shanghai Composite Index jumped 4.9% to 3,152.26 at the close, with all of the gains coming one hour before markets shut in a pattern that's generally interpreted as government intervention. Volumes, however, remained subdued; the 10-day average volume in Shanghai has been sliding steadily since August and trading volumes are now down 28% below their 30-day average.
The EU has essentially taken control of the Greek economy based on its reform mandates for incremental bailout monies. Eurozone officials are racing against the clock to restructure Greece's banking system before new rules kick in that could wipe out corporate deposits and result in disastrous effects for the country's economy. The rush has been complicated by Sunday's snap parliamentary elections, which could produce no clear winner and prolong negotiations over a governing coalition. Syriza's Alexis Tsipras and New Democracy's Evangelos Meimarakis are going neck-and-neck in the polls and both state they will broadly honor Greece's recent bailout commitments and negotiations.
Featured Topic
Has spot gold price bottomed out? Jim Rickards (Daily Reckoning) presents a well prepared analysis that suggests we are at or near the bottom on gold prices. This topic will be presented in Thursday's Blog.
Featured Coins of the Day
GFRC continues to add incremental inventory towards being in a strong competitive position once collectors return to the hobby in the October and November timeframe. First up is the Strong Hands 1858-S PCGS EF45 CAC dime. If you have extra funds available or can handle a 60 day lay-a-way, then just buy this piece. I guarantee satisfaction with the purchase but don't take my word. Instead, a careful study of these images may be convincing when realizing the near crusty originality and hammered strike. The haze on the lower reverse is from the old PCGS holder. (On Hold)
Also added to the price list is this choice original 1908-D Barber quarter that resides in NGC MS62 holder. Surfaces are blemish free with ample luster and pretty original toning.
September 15, 2015
Maine is once again experiencing unseasonably warm weather throughout the week with highs in the low 80s. It seems that 2015 brought one of the best summers on record with a nice balance of bright sunny days with occassional rains to avoid drought conditions. I spent the better part of yesterday afternoon moving firewood into its drying location under the sunroom and welcomed the physical exercise.
Hostway ISP was down for the better part of yesterday afternoon. Several customers and friends sent along emails to inform that GFRC website was unavailable and the situation corrected itself around 6:00pm. After the evening news, I worked on Red Book pricing recommendations for Liberty Seated dime and quarters. Current Red Book Seated quarter guide prices are well understated and I would love to be buying quality coins at these levels.
When friends asked about recent GFRC business during the traditionally slow September timeframe, a Pink Floyd song from The Wall comes to mind.....Is there anybody out there? September is one of those transition months where NFL football kicks in, schools are in session with sporting activities plus late season vacations. I've been through annual business cycles in the semiconductor business for years and the retail coin business is no different. The months of July, September and December see a notable slow down in orders.
Featured Topic: Do we understand Deflation Part 3?
In the prior two blogs, I've discussed deflation which is a situation with ongoing falling prices for good, services and wages. The focus has been on Price Deflation and much has been written on this topic. A Google search for "price deflation" will bring about 100s of links. What the world's central bankers are so afraid of is Monetary Deflation. This is different than Price Deflation with the bankers probably spend a few sleepless nights worrying about the potential for the next Monetary Deflation event.
Monetary Deflation is a contraction of a country's available money supply for normal commerce. Monetary deflation occurs during a financial crisis. The Great Depression and the Great Recession are examples where an excess debt related collapse resulted in institutions and private individuals unable to secure enough cash to pay their ongoing financial liabilities. During a financial crisis, everyone hoards cash and stops spending. Pricing deflation can accelerate during a Monetary deflation event as business are hard pressed to secure enough liquidity to pay bills and fund operations. During the Great Recession, the Federal Reserve dropped interest rates and flooded the bank sector with liquidity to maintain adequate commercial money supply as businesses and individuals defaulted on their debts.
Excess debt increases the risk for another Monetary Deflation event. Generation X and Millennials already carry substantial debts with limited earning power. New car loans with 0% financing and/or 72 months terms suggest that younger buyers have limited resources with debt essentially turning into a perpetual lease. Local and state governments struggle to balance budgets and continue to increase taxation through incremental fees. "Death by a 1000 tiny cuts" is difficult to track during early stages but once the bleeding becomes obvious, then it may be too late for the patient.
Financial Headlines
This morning's headlines from Seeking Alpha are symptomatic of the ongoing price deflation issue. We now live in a world where no inflation is bad while US and global debt levels continues to increase....think about this point for a moment.
First from the U.K. Inflation in the U.K. was flat during August to meet the expectation of analysts. Food and transport prices were a significant drag on inflation during the month. The reading on prices has been flat or negative for five months out of seven as inflation in the region stays well below the Bank of England's 2% target rate.
Then Brazil which is one of the key emerging markets. Brazil announced a new round of spending cuts and tax hikes in an effort to narrow a budget deficit after the nation's credit rating was reduced last week. The new measures total 65B reais ($16.9B), including tough cuts in public health and housing spending. Brazil is racing to get ahead of more credit agency cuts to speculative territory after S&P acted last week.
GFRC News and Featured Coins of the Day
I'm going to pass on this section of the blog as need to hit the shower and head to an early morning dentist appointment. Thank you for visiting and hopefully "someone out there" will find a coin in GFRC inventory to be attractive...... We will see you bright and early tomorrow morning.
September 14, 2015
Monday and mid September arrives in Maine. Fall colors are progressing nicely with some birch leaves already yellowed and on the ground. The Red Sox pulled out another late season win and will battle the Baltimore Orioles for the AL East Division basement title to close out the season. NFL viewing is in full force and coin collectors are consumed with activities outside their hobby.
Today's primary goals are to catch up on shipments, send more consignor payment checks and then work on Red Book pricing guide update for Seated dimes and quarters. GFRC orders are experiencing their typical September drop off as are the number of hits on the GFRC website.
I performed my usual NBC and BBC News check this morning and BBC won hands down for quality and in depth reporting on feature articles. They have a new feature entitled, Will a robot take your job? that is well constructed and prepared. The article presents a list of 365 different jobs and forecasts, with probability assessments over a 20 year horizon, if the the job will succumb to automation. Knowledge and deductive reasoning positions are much more difficult to automate than those that require routine or repetitive actions. This article is timely for the Featured Topic....Deflation.
Featured Topic: Do we understand Deflation Part 2?
Deflation is a new reality that must be well understood if we are navigate its treacherous waters. What are the causes of Deflation?
1. Productivity improvements within a natural market economy will lead to decreasing prices for goods and services.
2. Demographics (our aging global populations) lead to lower consumption during later years.
3. Globalization where traditional U.S. jobs can be moved into regions with lower labor rates. As a result, the value of U.S. labor decreases to a defacto global standard. Those that are pushing for a $15 minimum wage are well intentioned but their actions will increase the pace of job elimination due to automation and globalization.
4. Ongoing trend of automation and elimination of jobs that are not knowledge or deductive reasoning based.
5. Accumulated debt and the constraint placed on further consumption. Debt is nothing more than bringing future consumption into the present. When debt reaches an unsustainable level, then consumption stops.
6. Over capacity on a global basis for production of consumer goods. The "global pie" is not getting bigger, rather countries are using currency wars to take more of the pie for themselves.
7. Finally, disruptive technologies that render entire business professions obsolute within a short period of time.
Global central bankers are attempting to maintain economic stability while deflationary forces are at work and their cumulative impacts are accelerating. Japan is the poster child for an economy suffering from ongoing deflationary forces. The use of low interest rates is a short term tool to slow the deflationary spiral but see #5 above. At some point in time, debt reaches an unsustainable level in the private sector since wages and debt repayment assets are also subject to deflation.
Tomorrow, I will attempt to explore Monetary Deflation.
Financial News
This week brings closure to the Federal Reserve interest rate drama. I'm still maintaining a position that interest rates will be held at current levels while the Fed continues to offer tough talk on future rate increases. Increasing interest rates in a strong deflationary environment will be challenging. Following are a few Seeking Alpha headlines;
Global stocks are mixed today as reports from China set a negative early tone off of disappointing economic reads. The Shanghai Composite Index fell 2.7% and the Nikkei lost 1.6%. Hong Kong's Hang Seng was down 0.3%, while the broad market in Australia ended with a mild gain. There's growing concern China will miss its economic growth target of 7% for the full year based off of new data. The focus will shift to the U.S. in the middle of the week when the Federal Reserve meets. A recent survey of economists indicated a majority of economists think the Fed will hold rates steady, although the decision is still considered a "toss-up" by many.
Oil prices retreated this morning in Asia after several banks issued a weak outlook for demand. Morgan Stanley warned oil fundamentals appear to be slipping again outside the U.S., while Macquarie pointed to pressure on global automobile sales as a potential drag. Jefferies lowered its 2015 forecast on Brent oil by 9% to $54 per barrel and by 10% for the 2016 forecast of $61/bbl. WTI and Brent crude futures have declined in 9 of the last 11 weeks.
GFRC News and Featured Coins of the Day
September is traditionally a weak numismatic sales period and I am in a dealing mood. Orders will be highly appreciated and I'm ready to deal on coins that have been on the price list for more than three months. These are coins without the "New!" prefix in the title line.
The NGC/PCGS price list was separated into two price lists yesterday as GRFC ramps inventory. File size and download speed are issues for customers with limited internet bandwidth. The new NGC/PCGS price lists are separated by denomination; the first includes one cent through double dime denominations and the second features quarters through dollars.
More Gettysburg Newps and consignment pieces were loaded on price list yesterday and I'm waiting for several consignments to arrive this week.
The first featured coin of the day is from the New Jersey Collection and is the rare 1867 Seated half dime date with a tiny mintage of 8,000 pieces. Few auction records are listed on CoinFacts. This is an important opportunity to acquire a rarity for reasonable monies. The New Jersey Collection example offers proof like fields, a heavily clashed obverse and rotated reverse die alignment as shown in the images. Surfaces are untoned with some faint obverse field chatter that one grows to expect from mirrored fields. The piece is fully struck with all device details being crisp along with a partial wire rim. Housed in older NGC holder and graded AU58.
Next is a Gettysburg show Newps that reached the price list yesterday. One could not expect to locate a more original example of the 1873 No Arrows Seated half dollar date graded PCGS EF45 and approved by CAC. This example is worthy to be included in an EF date and mintmark set. The gray patina is transparent and allows ample residual luster to turn the gray toning into pretty gold/brown under bright light. Strike is full with all star centrils present along with hair curls and reverse eagle feathers.
Thank you for visiting this morning and I will see you tomorrow at the Blog!
September 13, 2015
Good Sunday morning to loyal Blog readers!
A quiet house is at hand since rising early and enjoying a hot cup of coffee. The news websites offer little of interest this morning and sadly, no mention that Big Papi (David Ortiz) hit his 500th career home run in Tampa last evening. Now that is important news for those of us in New England.... Instead, Carly Fiorina states that she is a leader and Donald Trump is an entertainer....the news media just love this stuff and so do many Americans at this point of the political season.
Featured Topic: Do we understand Deflation?
Another John Mauldin newletter arrived this morning and is one of the better written pieces on the concept of deflation and how our changing world in terms of demographics and innovation are the driving forces behind deflation. Deflation is a difficult concept for many of us to fathom since we have been conditioned to expect year on year inflation or ongoing increases in prices for goods and services purchased. The Mauldin article is entitled Needed at the Fed: An Inverse Volcker and is a important read. Since I'm also a Deflation student at this point of time, I'm planning to share my personal exploration journey within the coming week's Blog issues as an ongoing Featured Topic. For today, let's start with several definitions for the term, "deflation" and leave it there. Tomorrow, we will attempt to explore the difference between price deflation and monetary deflation as John Mauldin well states.
- Deflation, the opposite of inflation, is a gradual drop in the cost of goods and services, usually caused by a surplus of goods and a shortage of cash. Although deflation seems to increase your buying power in its early stages, it is generally considered a negative economic trend. That's because it is typically accompanied by rising unemployment, falling production, and limited investment. (Dictionary of Financial Terms)
- Deflation.....Declining prices, if they persist, generally create a vicious negative spiral of falling profits, closing factories, shrinking employment and incomes, and increasing defaults on loans by companies and individuals. To counter deflation, the Federal Reserve (the Fed) can use monetary policy to increase the money supply and deliberately induce higher prices and inflation. Rising prices provide an essential lubricant for a sustained recovery because businesses increase profits and take some of the depressive pressures off wages and debtors of every kind. (Investopedia)
Everyone loves lower prices for goods and services right? But as John Mauldin points out...
Deflation doesn't sound so bad if you think of it as an environment of generally falling prices. Everyone loves a bargain. The problem is that your salary is simply the price at which you sell your labor. That price can fall, too. If the price of your labor falls faster than the prices of everything you buy, you can find yourself in deep trouble very quickly. Think that can't happen? Ask the Greeks. Or any of your neighbors who lost their jobs in the Great Recession and subsequently took jobs at lower wages. Deflation at work.
Deflation also isn't fun if you're in debt. If prices are generally falling, you have to repay your debts with dollars that buy more than when you first borrowed the money. Just as inflation is the debtor's best friend, deflation is the debtor's worst nightmare.

GFRC News
An important consignment arrived yesterday and reached the price list by end of day. The consignment contained several Barber half dollars, all graded PCGS AU58 and approved by CAC along with a pretty 1837 reeded edge Capped Bust half that is also CAC approved. Here are the pieces in mini gallery format along with an incredible 1905-S PCGS AU58 CAC Barber half purchased at the Gettysburg show. The 1905-S lasted just hours after being mentioned on the Daily Blog and is presently on hold.
As mentioned in early Blogs, I'm well caught up in terms of Newps and processing large consignments. The Strong Hands Seated dime consignment should arrive by mid week and Jim Poston will be sending another group of Seated halves also this week. Otherwise, this is the perfect time to consider placing duplicates or a substantial collection with GFRC prior to the active October through early January coin show season. Your coins will be carefully evaluated and marketed on the Daily Blog, the Client Gallery, on GFRC price lists and on display at major coin shows.
Featured Coins of the Day
Several raw Capped Bust halves were purchased at the Gettysburg show and already posted. Both are strictly original circulated R2 pieces. The first is an 1827 dated example. The 1827 date is always challenging for Overton variety attribution due to the large number of die pairings to consider. Nearly all obverse dies are seen with a square base 2 date punch so this is not overly helpful. Howerver, this piece is easily identified as O-115 due to the reverse shield having solid gules for shield line #6.
Also added to the Capped Bust half price list is a nicely contrasted 1830 Small O O-107 example. Don't you wish that most larger silver coins offered this amount of original eye appeal at the VF30 grade level?
September 12, 2015
Greeting from Maine on this Saturday morning! A command decision was made early yesterday to drive back to Maine during Friday late afternoon and evening hours to enable catching up on GFRC business on Saturday. The drive was uneventful on I-81 through northeastern PA and then through New York State but I did hit the rush hour traffic at Waterbury and Hartford with its typical congestion.
The Gettysburg National Battlefield show left a lot to be desired as this show promoter needs more experience at managing a large numismatic show. Attendance on Friday was dismay and the idea to charge a $50 early bird fee on Thursday afternoon resulted in no public attendance that day and few early birds too. Also the show hours were not clearly listed on the website and one had to guess as to the show opening time. Bourse floor overhead lighting was also poor during my brief stay. It is doubtful that GFRC will ever setup at the Gettysburg show unless there are substantial improvements.
I spent less than three hours on the bourse going from table to table in search of quality inventory. The offerings were typical of small shows with many marginal or problem coins to be found in cases. A total of nine coins were purchased along with the Davignon book on bust half counterfeits and a few Barber National coin albums. I was most selective during the three hour hunt and pleased to announce the following new purchases....originality and eye appeal are paramount which meant that few coins were purchased even with a budget for much more.
Seated 25c: 1848 PCGS VF35 Briggs 2-B choice original gray, 1854 PCGS AU55 CAC choice gray
Barber 25c: 1898 PCGS EF40 choice light gray, 1908-D NGC MS62 lustrous light gray
Bust 50c: 1827 EF40+ original gun metal gray/blue tone, 1830 VF30 original gray
Seated 50c: 1852 PCGS AU53...a choice piece with creamy gold surfaces and luster, 1873 NA Closed 3 PCGS EF45 CAC choice original gray
Barber 50c: 1905-S PCGS AU58 CAC...an incredible original piece with CAC pop of 1 and eye appeal of MS63/MS64 example
Today's Blog will be brief as I need to shower, unpack and then drive into Windham to retrieve consignor shipments at the PO and inventory from the bank vault to enable shipments on Monday. If current foggy blue skies don't cloud over, then I should be able to photograph the Gettysburg newps and have online by end of day Sunday.
Thank you for visiting this morning. A sincere thank you also goes out to Bill and Judy Bugert for their kind hospitality while in Gettysburg.
September 11, 2015
Welcome to the Day 2 report from Bill Bugert's home in Gettysburg.
Bill, Len and I had a great day together regardless of the heavy rains that dominated the early afternoon hours. Due to the weather conditions, we decided to spend most of the day sorting through multiple packing boxes of John McCloskey's personal papers related to the LSCC and publishing Gobrecht Journals. We sorted through a host of documents including years of personal correspondences, LSCC membership documents, individual Gobrecht Journal page proofs and most importantly, concept drawings for the original LSCC logo dating back to 1975 along with two early Gobrecht Journal prototypes. There was letters written by me and Bill Bugert to John during the late 1980 and early 1990s in the papers. I fully realized John's heroic efforts in preparing each Gobrecth Journal issue when most of his inputs were hand written articles and advertising price lists....these needed to be hand typed by John and then properly formatted. Below is a quick image of Len and Bill after wrapping the day's effort and completing the sorting. Six file boxes are loaded in my Toyota Avalon and will be transported to LSCC Club Historian, Steve Crain this evening. I'm probably driving back to Maine on Friday evening so as to enjoy a productive day on Saturday.
Bill Bugert is an incredible host and guided us to downtown Gettysburg and the Dobbin House Tavern for early dinner followed by a visit to the Gettysburg Battlefield and Eisenhower farm from a three story viewing tower. This tower was specially constructed for individuals to secure a panoramic view of the entire battlefield and also close enough to the Eisenhower residence that the tower would be closed when President Eisenhower was visiting his farm.
GFRC News
I did not attend the Gettysburg's Battlefield Show and early bird session today but will be at the show on Friday morning.
Negotiations of the next Strong Hands Collection consignment were quickly completed today and already five important San Francisco struck Seated dimes are on their way to Maine. Following are the individual pieces with RFoR being in order for customers with potential interest. Please remember the quality seen on other Strong Hands consignments when considering these semi key dates. Price setting will be fair to quickly turn these into cash as the Strong Hands collector continues to actively upgrade his collection.
Seated 10c: 1856-S NGC EF45, 1858-S PCGS EF45 CAC, 1861-S NGC AU53, 1873-S PCGS AU58 and 1889-S NGC MS63
The Colorado consignment of Walking Liberty halves was posted to the price list today and below is a mini gallery of the six pieces. GFRC Walking Liberty half dollar inventory offerings have grown quickly via consignments and direct purchases. I hope that collectors will find some pieces of interest among this widening selection.....please don't worry about Gerry losing his way with respect to Seated and Bust coinage while ramping 20th Century inventory.
Financial News
Reviewing Seeking Alpha and other financial news sources produced little to discuss this morning. Oil prices are forecast to stay low while US oil production is forecasted to decrease during 2016. Expensive wells in Texas' Eagle Ford region will be closed along with supplies from Russia and the North Sea. Saudi Arabia is forecasted to be the global supply winner as it continues to pump oil at non competitive prices as compared to other producers. This morning's BBC article is short and to the point.
Featured Coins of the Day
GFRC orders has been anemic this week and would love to sell some inventory on behalf of consignors. I will be driving back to Maine this evening and in the office on Saturday. Please don't hesitate to call or email on coins that may be of interest as inventory will be retrieved from the bank and I will be in a dealing mood.
Today's initial featured coin is a challenging Seated dime date. The price guides treat the 1877-S as a common date but in EF or better, this assumption is inaccurate. I will buy every problem free example seen for the price list and still, few are available. This example is the first F-111 die pairing example handled at GFRC. The F-111 die pairing with late die state reverse (weak devices) is a full R5 variety and is an important offering for the variety specialist. This piece is strictly original with mottled gun metal gray and blues on the obverse with some olive and rose on the reverse. This dime is housed in new NGC holder and to add to the attractiveness, is label as an 1877 Philadelphia mint struck piece. Definitely a conversation piece when considering rarity and NGC labeling error. (On Hold)
Next up is an impressive 1838 Bust quarter housed in PCGS EF45 holder and approved by CAC. This last Bust quarter date is always in demand when this choice and I'm surprised it has not sold yet. This piece has perfectly natural light gray patina that is fully undisturbed coupled with blemish free surfaces. Collectors will need to search long and hard to find a better example at the EF45 assigned grade.
Tomorrow's Blog will most likely be late as I will be driving into early Saturday morning hours. Thank you for visiting and your feedback is always appreciated.
September 10, 2015
Greetings from Gettysburg! Yesterday's trip through six states was pleasantly uneventful and culminated with a drive on Millerstown road which tranverses the Gettysburg battlefield before arriving at Bill Bugert's home. It was incredible to be on such sacred ground during the closing minutes of the journey. Len Augsburger flew into the Harrisburg airport and met Bill and me at the Lincoln Diner. This old style diner just happens to be directly across the street from the Gettysburg's train station (where Lincoln arrived for the Gettysburg Address). Though Bill, Len and I are constanty collaborating on LSCC matters, having an opportunity to share dinner and then a bottle of wine at Bill's home was special. We typically only see each other at coin shows where multiple numismatic priorities limit the amount of face time that can be had. Also a special thank you to Judy, Bill's wife, for the guest house preparations and being so gracious with the amenities.
Today brings an initial morning review of the John McCloskey files followed by an early bird afternoon session at the National Battlefield show. I'm uncertain about what will be located for inventory as the buying at last year's show was not stellar. Newps will be shared during Friday morning's blog.
GFRC News
I'm pleased to announce that three consignments will be arriving later in the week consistent with my return to Maine. Each consignment consists of high quality silver coinage offerings. One important highlight in an 1861-O W-11 CSA Seated half dollar graded PCGS AU53 . More consignment details will be published early next week.
There is also more consignment discussion with the owner of the Strong Hands Collection towards securing better grade key dates to GFRC inventory.
Financial News
This appears to be another week of stock volatity prior to the Federal Reserve meeting next week. I've mentioned the drama surrounding this FOMC decision to raise or not raise interest rates on several occasions in the Blog. This decision is more strategically important from a global central bank basis and shifting the trend from easing (the various forms of QE in Europe, Japan, China etc) to tightening. The United States has a leadership role with the US dollar as the global reserve currency. The large global debt overhang and ongoing risks of deflation are important structural issues that the FOMC must consider when potentially reversing the monetary trend from easing to tightening.
Jim Rickards at the Daily Reckoning remains adamant that the Fed will not raise rates on September 17. He describes three options facing the FOMC and the associated risks/rewards as follows;
Possible Outcome #1: The Fed raises rates.
This would be a policy blunder given the weak global and U.S. growth environment, but it could happen. The result would be a strong dollar, capital flight from around the world to U.S. markets, collapsing emerging markets currencies and stocks, bankruptcies of dollar-denominated foreign corporate borrowers and possible contagion and global panic.
I don't expect the Fed to raise rates, but it cannot be ruled out. The fact that they might raise is a good reason to reduce long stock positions and increase cash just in case.
Possible Outcome #2: The Fed does not raise rates, but continues to "talk tough" about a rate increase.
This is more of the same. Markets would see the same volatility they have seen since early August, without the benefit of actually having the decision behind us.
Possible Outcome #3: The Fed does not raise rates, and hints at some easing action.
This is the best policy option, but the one least likely to be used. Even at the zero bound the Fed is not out of bullets. They could start QE4, issue forward guidance, go to negative interest rates, re-enter the currency wars or issue helicopter money to finance larger deficits. These options could increase inflation and nominal growth, even though they would do little or nothing to help real growth.

Featured Coins of the Day
We lead off the featured coins sections with a lovely 1810 O-101a Capped Bust half dollar. This piece was purchased in its natural state , is unholdered and provides the right balance of old album rim toning with residual frosty luster in the protected areas. This is a no question original example that has been so well preserved. Uneven strikes are always an issue on these early halves.
Next is a rare date selection from the New Jersey Collection. This 1865 Civil War artifact struck at the Philadelphia mint has a meager mintage of 13,000 pieces while the AU55/AU58 PCGS population reports are anemic at 5 holdered coins combined...an opportunity to add a challenging Civil War specimen to an advanced collection. Surfaces are proof like surfaces and covered with a thin layer of rose patina that transitions to blues at the extreme rims. The toning pattern is darker on the obvere than on reverse. There are no distracting blemishes on the proof like fields. Housed in older NGC holder and assigned AU58 grade.
Thank you for visiting this morning and please check back on Friday for potential National Battlefield coin show newps and other happenings from the LSCC archives review summit in Gettysburg.
September 9, 2015
There is no traditional Blog this morning as leaving early for Gettysburg.
The new LSCC website is available this morning. A huge thank you to John Frost for this complete redesign.
On Tuesday, GFRC received an incredible consignment.....the most beautiful 1844-O Double Date half dollar on the planet. This piece is graded PCGS AU55 and is approved by CAC. There are few examples fully attributed and holdered above the AU55 grade level. This specimen offers the most amazing bright light viewing and takes on a completely different personality than its in hand appearance. Below are the in hand images that provide a window into how this half dollar performs under bright light with bold bullseye toning. Offered at $10,000.
September 8, 2015
Thank you for visiting the Blog this morning. Maine summer has officially closed and merchants will be rolling out the Halloween decorations shortly. Roadways will be less crowded as out of staters with roof mounted kayaks, boats and trailers disappear within the next 10 days. Actually Fall is my favorite time of the year as the overnight temperatures dip into the 40s and mosquitoes disappear. Apple orchards will be the place to be on weekends...many of us are cleaning chimneys and preparing for another wood burning season.
A scan of NBC and BBC News revealed little that captured my attention other than a BBC article on Donald Trump's presidential candidacy. The piece entitled Donald Trump: The enduring appeal by Nick Bryant is worth a quick read and sheds light on the Trump phenonemon that has him leading the Republican Party in polls and also running head to head with Hillary. Bryant well summarizes the situation in his closing sentence. In fusing infectious optimism with fear, Donald Trump is playing fantasy politics, and Republican voters are lapping up his truthful hyperbole.
GFRC is now open for business. I will be driving to Gettysburg on Wednesday and attending the National Battlefield show on Thursday afternoon only. Friday will be dedicated to LSCC matters followed by a return drive to Maine on Saturday. Email and phone are the best methods for placing orders and holding coins.
Financial News
Global stock markets are moving higher once again as the volatility continues. Several Seeking Alpha headlines worth reading include;
Global equities were roaring higher at the time of writing following an uptick in eurozone GDP growth and contrasting German and Chinese trade data (see below). While the data was good in Europe, it was poor in China, although the figures have no doubt sparked hopes of more loose economic policy in the country - hence the rise in stocks. However, oil was adding to yesterday's sharp losses amid concerns about the economy - notwithstanding today's equity markets - and flailing attempts to curb oversupply.
Japanese Prime Minister Shinzo Abe has won a rare second three-year term as the President of his Liberal Democratic Party after a potential rival was unable to muster enough sponsors to launch a challenge in a vote. While Abe wants to "spread the feeling of recovery to every nook and cranny of the regions," the 1.2% fall in GDP in Q2 suggests that his radical reform program is stuttering. Still, Abe's victory represents a rare period of stability in Japan's often turbulent political scene.
Featured Coins of the Day
I am returning to core GFRC Liberty Seated product lines this morning and wish to discuss a few great coins for your consideration.
Let's start with an exciting 1874 With Arrows half dollar with leather toning. This piece offers a unique appearance and eye appeal! Since being raw and having such "funky toning", some customers may be concerned with the possibility of artificial toning (AT). Therefore I placed my personal collector hat on and played skeptic while carefully examining this half. The result? I believe this half is strictly original. The toning appears to be from contact within a leather pouch and results in distinctive patterns that could only be created by nature. In hand viewing is recommended to fully appreciate this wonderful Seated half dollar. Who knows where this piece was stored for years? At GFRC, there is always a no question 10 day return so if you might be interested in viewing this piece in hand, then please contact me. I like this piece and believe others will too.
I'm surprised that the next coin of the day has not sold. The 1875 San Francisco date has a stated mintage of 680,000 but Briggs argues that, "For the mintage, a very elusive coin in all grades, suggesting the mintage is incorrect." Strikes are weak and generally unattractive though surfaces will offer satiny luster...... Well, this GFRC offering is consistent with the Briggs commentary and is attractive while being so underrated. Fields are flashy and proof like especially on the reverse. Surfaces are covered in a light rose/gold patina that lights up easily due to the PL fields.
I will be skipping the blog on Wednesday as leaving early for Gettysburg. Please check back on Thursday for a quick trip update and then on Friday for National Battlefield show acquisitions.
September 7, 2015
Labor Day arrives and the Maine tourist season officially comes to an end. Birch trees are starting to show their seasonal yellow/gold shades while dried leaves are starting to appear on the lawn. The end of regular season baseball is less than 10 days away and the Red Sox appear to be surging. Could they overtake the Baltimore Orioles and not finish in last place in the American League's eastern division? Probably the best news from the New England baseball season is that Jackie Bradley Jr. has finally demonstrated capabilities to be a superior everyday major league player.
This week's E-Sylum issue arrived and captures Len Augsburger's digitized Gobrecht Journal announcement made in the September E-Gobrecht. Awareness is building concerning the availability of Gobrecht Journal issues #1 through #120 in scanned format on the Newman Numismatic Portal website. I visited the capabilities yesterday and am so pleased that next generation collectors will be able to access Liberty Seated Collector Club journals online. Our club needs to strategize potential approaches for raising awareness beyond the membership and throughout the numismatic hobby.
John Frost reported this morning that the redesigned LSCC website is finished and will be released this coming Wednesday. John has spent a massive amount of time converting the E-Gobrecht Archives and Contemporary Counterfeit links to new format. This is an important step forward concerning the Liberty Seated Collectors Club outreach efforts towards younger collectors and my vision of ensuring Seated coinage appreciation for many generation to come.
Featured Topic....Asian Nomophobia.
Information Technology, if employed properly, can enable positive change about ourselves, society and the global environment. But there is a dark side to mobile electronics. BBC News reports on the phenomenon of "nomophobia" in today's online edition. The Rise of Smartphone Addiction is the title of a well written article that describes the growing usage of smartphone by young children. The article describes "nomophobia" as "no mobile phone phobia", the onset of severe anxiety on losing access to your smartphone. . But in Asia, the birthplace of the selfie stick and the emoji, psychologists say smartphone addiction is fast on the rise and the addicts are getting younger. Can you imagine that South Korean students spend an average of 5.4 hours per day on a smartphone with 25% of them being addicted to the devices? China, one of the first countries to label internet addictions as clinical disorders, has set up military-style clinics to stamp out new media addictions. This article is brief and well worth the time to read.....
GFRC News
Sunday turned out to be a productive day along with a reasonable amount of orders arriving considering we are in the middle of a major holiday weekend. The Walking Liberty half dollar and Mercury dime Gold CAC price lists are fully populated towards my upcoming trip to Shanghai in mid November. I've spent considerable time ramping these product lines and already orders are arriving.
The New Jersey Collection of Liberty Seated Half dimes is photographed and retail prices are set. I'm waiting for the consignor to approve the prices and will start loading this old time collection to the price list.
Good News! I am fully caught up with the large number of consignments that arrived before and during the ANA show once the New Jersey Collection is online. The busy Fall and Winter show season kicks off with Denver on October 21-24 and rages through the FUN show on January 7-10, 2016. If you have been considering dispositioning a portion of your numismatic holdings or wish to sell a partial or complete set of Liberty Seated or Bust coinage, then I will have time between Gettysburg's Battlefied show (this week) and Denver (end of October) to assess, photograph and market your coins. Please consider trusting your life long collection with GFRC! After the end of October, the combination of a hectic coin show schedule, end of year holidays and the migration of GFRC office to Florida will consume most available time.
Featured Coins of the Day
Ramping selected 20th Century product lines (considered modern coins by early type specialists) has been a lot of fun. Working with high grade mint state pieces on a routine basis is not possible for Liberty Seated or Capped Bust due to cost considerations and the limited customer base. Mint State Mercury dimes, Standing Liberty quarters and Walking Liberty halves are beautiful designs with mint state examples highlighting the intricate striking details and frosty surface conditions.
First up is a lovely 1939-D Mercury dime residing in early generation PCGS Rattler holder. The assigned grade is MS64 Full Bands coupled with Gold CAC approval. A Gold CAC sticker indicates an undergraded situation with the coin grading at least one full grade higher than that listed on the holder. I found Gold CAC Mercury dimes to be fascinating as most are found in PCGS Rattler or NGC Fatty holders. Owning one of these undergraded beauties also means owning a piece of numismatic history dating back to the late 1980s and the startup of PCGS (1986) and NGC (1987) grading services. Also the entire population of Gold CAC Mercury dime business strikes is only 300 or so. Therefore, a collector can acquire beauty, rarity and numismatic history for under $200 per coin.
Now let's focus on Walking Liberty halves.....the A. A. Weinman designs are one of the most beautiful pieces of artwork in United States coinage. Acquiring full strikes with complete head, a fully defined left hand with rounded thumb and finally, distinct vertical gown lines can be challenging. When I add Walkers to GFRC inventory, fully struck examples are given priority along with original surfaces and bold frosty luster.
This 1942-D Walker graded MS65 by NGC provides a visual example of GFRC stocking criteria. The strike is complete and the deep rose/old rim toning certifies the originality.
Tthank you for stopping by on this Labor Day weekend. I will see you bright and early on Tuesday morning.
There will be no Blog on Wednesday due to the early morning driving start to Gettysburg but I will be reporting live from Bill Bugert's guest house and the Gettysburg National Battlefield show on Thursday through Saturday.
September 6, 2015
Welcome to the Blog on a peaceful Sunday morning! It is 5:30am and enjoying a hot cup of coffee while reviewing last evening's emails and searching global news for potential discussion topics. The week's activities caught up with me yesterday. After an early dinner that included clam chowder, a scallop/bacon sandwich and Stowaway IPA, I went to bed at 7:00pm to recharge nearly empty batteries and feel much better this morning.
There was little new in the rapid BBC and NBC news checks just now. But an insightful John Mauldin economic report did appear in my Inbox and this will be the main discussion topic this morning. But first some GFRC News.....
GFRC News
The 1851-O Seated dime discovery with missing Star 7 filled die error is posted to the web-book and listed as F-101a. I believe the images turned out well. Ken Rubin is credited with the discovery.
Whitman emailed this week requesting that I act as a consultant for Red Book price guide. I've agreed to handle Liberty Seated dimes and quarters. Seated quarters are in need of price guide maintenance as many of the Philadelphia dates are too low as compared to current market. An example is the 1851 date that trades at least 2x current guide.
Tim Cook sent a quick email to report having a good Ohio State show and locating a neat 1876s dime with repunched 18...the 1 digit is way below and the lowest he has ever seen. I'll have Tim send this one along for inclusion in the web-book.
I received several FRoR on the Canadian silver lot posted yesterday. I'm sure the consignor will be pleased.
Otherwise, I took a much needed break from GFRC workload, mowed the lawn and transported firewood before dinner at The Galley Seafood Pub in Naples.....they have some of the best lobster rolls on the planet and are such a well kept secret.
Featured Topic.....will the Federal Reserve hike or not hike interest rates at September 16, 17 meeting?
For those who are regular Blog readers, I've been learning on the side of caution for a near term increase in interest rates. John Mauldin issued an insightful newletter yesterday entitled, Muddling through Shanghai, where he touches upon the forthcoming FOMC meeting and his expected outcome. John provides thoughful arguments in both sides of the hike/not hike question but does believe the United States economy is strong enough for the Federal Reserve to start a program of slow interest rate increases. The balance of the report (that justifies the title) concerns the Shanghai Composite index that is not entirely reflective of the Chinese economy since most listed companies are state owned enterprises (SOE) and not reflective of true capitalism.
Concerning the FOMC meeting, John writes...
We just set a record for all measures of corporate profits in absolute terms. We finally set a new record for real disposable personal income in July, again in absolute terms. As Jim Smith says,
What all this means is that when the FOMC meets on September 16 and 17, they will be looking at a US economy in which more people are employed than ever before, earning more money than ever before, producing more goods and services than ever before, and with personal consumption expenditures and corporate profits at the highest levels ever seen. If that is not a prescription for finally raising the Fed Funds rate, then I can't imagine what it would take to get them to move.
Despite the significant slowdown in the oil patch, the level of investment in the second quarter was almost 4% higher than last year. Businesses are optimistic. Even given the turmoil in Canada, China, the Eurozone, and the rest of the BRICS, and even though global trade is beginning to fall off a little bit, the US economy seems to be doing quite well in spite of it all.
What else do you need in order to begin to normalize rates? Inflation is under control and according to most Fed economists seems to be ticking higher. Unemployment is moving lower. The economy is doing quite well. If not now, when? How much better do you want things to get before rates are taken back to something close to normal?
I must confess that I personally lean toward the latter argument, but I have a few additional reasons for thinking the Federal Reserve should act in September. As I have presented in previous letters, there are real reasons to think that low interest rates are not only creating malinvestment but also encouraging companies to use financial engineering and to buy their competition rather than purchasing the tools of production and actually competing head on. These behaviors distort an economy over the long term. They frustrate Schumpeter's forces of creative destruction.

The balance of John's newsletter attempts to explain current China economic challenges and the inexperienced actions of Beijing central government in handling the Shanghai stock market. I recommed that you find time to read the balance of his well written and insightful essay. China is a complex economy in transition with multiple parameters are work.
Featured Coins of the Day
Today's featured coins will be Liberty Seated dimes that well represent choice original surfaces. GFRC customers are surely aware of ongoing guidance to stick with original coins for one's collection. Originality is a guarantee for easy resale and value retention when that time comes. Simply call me and I will be immediately be interested in handling these types of pieces.
First up is an 1853 With Arrows dime struck from dies with hubbed date punch and arrows. The gray patina is thick and so original while the surfaces are blemish free. $95 does not seem unreasonable for a lovely type coin with so much originality.
Second is an 1856 Small Date F-111 dime residing in NGC EF45 holder. This is another choice original piece priced at $95 and my online description pretty much says it all....One would be hard pressed to locate a more original and well struck 1856 Small Date dime than this offering. Surfaces a fully natural with attractive medium gray patina. Strike is nice and sharp with deep hair curls and star centrils along with completely defined veins in the reverse wreath leaves.
As always, thank you for visiting with me this morning and hope the balance of your Labor Day weekend is lots of fun!
September 5, 2015
Welcome to Labor Day weekend. Maine is forecasted to have three days of splendid weather with bright sunshine, high temperatures and climbing humidity. I'm planning to not sit in front of the laptop for hours on end processing coin images and rather take some time off to enjoy the outdoors, late season lobster rolls and basic relaxation. I hear the open outdoor firewood pile calling me and today's activity is stacking firewood under the sunroom for protected drying during early 2016.
LSCC News
The LSCC website has undergone a complete redesign by John Frost and I had the privilege of a test run yesterday. The new website offers a much improved homepage with drop down menus and intuitive feel for information access. Club members will find navigating our portal to be simplified and fun. I can't thank John Frost enough for the massive amount of hours involved. The LSCC website was originally launched by Len Augsburger using simple GoDaddy templates and functioned as the club's online signpost. Then I took over as webmaster working with many of the GoDaddy template limitations but added substantial content over the years. Now the LSCC enjoys a complete redesign by an individual well trained in corporate communications.
The LSCC leadership team has its monthly meeting on Tuesday and will approve the redesigned website's release. I'm expecting the transition to take place on Wednesday while I'm driving to Gettyburg.
GFRC News
Order rates continue to be strong regardless of customers taking late summer vacations or involved in new school year activities. Just this week, I negotated a large order from the discount list with a new dealer seeking stocking inventory for local club shows. He sought a nice selection of inexpensive early type coins and GFRC seemed to be the best source.
Jim Poston's small consignment arrived yesterday. The 1862 PCGS AU58 CAC Seated half is a wonderful piece and has two FRoR and will probably not reach the price list. But the 1857-O WB-1 NGC AU55 CAC Eric Newman Seated half has been processed and in online. Jim's shipment also contained a lovely 1904 $20 Lib with proof like surfaces; this one was purchased as part of a personal finance insurance program. I continue to add an ounce of physical gold monthly as financial insurance. Jim is working on a substantial Seated half dollar lot purchase back in Kansas and those pieces should be available in the next 10 days.
A wonderful Canadian coin consignment arrived this week for the World Coin price list. This lot has just been graded at PCGS. The images are available on the PCGS website and rather than spend hours photographing and processing images on coins valued under $100, the consignor and I agree to go with the PCGS images for listing purposes. Also included in the lot is a choice original 1858 Inverted Date half dime graded PCGS AU53 that has been photographed and will reach the price list today. Following is a mini gallery of the Canadian coin consignment. As usual, clicking on the small coin image allows access to a 1000x500 resolution image. I hope to have these coins online by tomorrow......Highlights include the 1972 SP68 Voyageur $1 with incredible toning and the 1965 PL66 Lg Beads Pointed 5 $1.
Featured Coins of the Day
Today's featured coins will be Liberty Seated quarters and a nicely matched pair in terms of toning and assigned mint state grades. As I expand my numismatic and dealer horizons, it is so apparent that choice Liberty Seated quarters are very scarce other than the "common 10 dates" that one sees constantly on dealer price lists. Populations reports show small numbers for better dates or better grades while price guides are so inconsistent with availability. Not many individuals collect Liberty Seated quarters due to this challenge and frustrations during set building.
Shown below are two choice pieces that belong in an advanced collection. Call me and we might be able to do a deal on both coins! The first is an 1874 With Arrows quarter graded PCGS MS62 and approved by CAC.This lovely quarter appeared on the market during January 2006 as part of the Frog Run Farm Collection and is also the Larry Briggs plate coin. The American Numismatic Rarities auction catalog description says in all...."Satiny matte-like pearlescent gray with some warm golden highlights. Subdued cartwheel lustre adds immensely to the overall eye appeal. Choice for the grade, one devoid of serious marks and laden with inherent eye appeal that bespeaks a much finer grade.
Next is a lovely 1876 Carson City Briggs 6-E example with small CCC mintmark residing in NGC MS63 holder. This piece original came from an old Maine dealer after years of storage in a bank box. It was sold to a California collector for this type set and after a collecting course correction, I bought this quarter back as so choice and original.
September 4, 2015
Friday arrives as we move into the Labor Day weekend. I was up early this morning (4:00am) as just could not sleep and decided to get back to some productive activities. Today's Blog will be mixture of topics and hopefully there is something for everyone.
GFRC News
Thursday was a quiet day as I took a break from packing/shipping and focused on loading new coins offerings onto price list. The orders kicked in after dinner and by 9:00pm, six coins were sold with inquires on several others. My pricing strategy is that of a fair balance for customers/GFRC and achieving volume sales. I like to compare GFRC with Macy's. Macy's is a retailer of quality brands at fixed prices. One walks into Macy's and buys at the amount listed on the price tag. During special promotions, Macy's will discount certain products. Pre and post Christmas sales are common but selections quickly becomes limited. I use the same approach at GFRC. Coins are posted at a fair retail price and pricing reductions are not offered during the first 60 days a coin is online. Each coin is posted with a listing date so this makes it easy for buyers. There are always a few individuals who will email me with offers below my asking prices on new listings....emailed offers are rejected as I place considerable time at setting a fair retail price. Once a coin ages on the price list, then we can talk....these are coins without a red description prefix indicating the listing date.
Following is a Standing Liberty quarter mini gallery....these pieces signal the expansion of GFRC into another 20th century denomination and I might add, this start up lot is rather nice.
For the 1861 Scott Restrike half dollar graded PCGS AU55 CAC, I replaced the initial auction house images with my own. The difference is dramatic between the "juiced up" images (right) and those taken in natural sunlight (left). The consignor immediately commented on how GFRC images were 100% accurate in terms of color. See below.
Blog Reader Feedback
Yesterday's blog prompted one individual to email the following positive comments.....
I recently read a book, Islamic Imperialism, by Efrain Karsh. As one reviewer say, "He argues that the story about the Middle East has been about the rise and fall of universal empires and imperial dreams." He also says that religion and politics have been closely tied in the region and the politics is of an authoritarian nature.

However, this is the 21st Century and people have so much more access to different cultures and different ideas. We need to encourage and support everyone in the Middle East who is starting to think about religion separately from politics and who is starting to consider ideas about democracy, individual rights, and cultural diversity.

I think history is on our side, and if we would put more emphasis on using the power of ideas rather than the power of force, things would move in our direction.
Financial News
The Federal Reserve interest rate increase drama continues in the financial press. Over night, the European Central Bank reduced inflation and growth forecast for the next few years and is discussing extending bond buying program (European version of QE) as deflation remains a key issue. The Euro is dropping in value. So how can the Federal Reserve raise United States interest rates which will only strengthen the dollar and have a negative impact on emerging markets and US exports? Here are the headlines.
World shares are heading south as worries about an imminent rate increase by the Federal Reserve overshadow the potential for stimulus by the European Central Bank. Other reports on Thursday, including low jobless claims levels and a narrowing of the trade deficit, continue to indicate a strengthening U.S. economy that can support a rate liftoff as early as September. Robust U.S. jobs data today may give the Fed a final push, but global market volatility has prompted some analysts to predict a December rate increase.
US lead sanctions against Russia over Ukraine are having consequences.....China has sent the largest delegation ever to a major new conference being held in Russia's far east with trade deals worth tens of billions of dollars on the table. Due to U.S. and EU sanctions over Ukraine, Russia and China's economic ties have strengthened over the past year, increasing yuan-ruble trade and investment. Some 1500 foreign delegates from 24 countries are also attending the first Eastern Economic forum, which runs through September 5.
Featured Coins of the Day
There are great coins in GFRC inventory and one of those is this incredibly original 1836 B-3 quarter residing in PCGS EF45 holder with CAC approval. This early piece has super originality and eye appeal with the darker rims framing the lighter gray centers.
Or how about this 1871-S Liberty Seated half dollar that is graded PCGS AU55 and also approved by CAC? This is the WB-8, Small Wide S variety that is rated as R4 rarity by Bill Bugert. Don't you love the strong luster and light gold rims? This piece is fully choice and deserves placement in an advanced collection.
Thank you for visiting and wishing all Blog readers a safe and healthy Labor Day weekend. I will be back bright and early on Saturday morning.
September 3, 2015
Greetings from Maine where the 6:00am temperature is already 70F and today's high is forecasted at 85F. The Weather Channel lists a Labor Day temperature at 90F. For those who continue to doubt there is a global warming crisis, these September temperatures are definitely atypical. If it were not for the calendar driven "back to school" season, Maine might be able to extend its tourist season a full month beyond the traditional Labor Day end of summer business shutdowns.
This morning's review of BBC News and NBC News offers different perspectives on the world. At NBC News, the focus is on the emerging war on police after months of sensational reporting on police killing unarmed black citizens. BBC News has a huge European problem to cover; the Syrian refugee crisis. Thinking beyond the headlines, one might consider the geopolitical ramifications on Western Europe as waves of Moslems flee the Middle East and seek shelter in predominately Christian countries. Why are the Syrians heading to Europe and not the oil rich Middle East Gulf states? BBC News provides an important perspective on the crisis and the state of affairs in the Middle East with this report entitled, Migrant crisis: Why Syrians do not flee to Gulf states. The fundamental reason as reported, beyond the physical distance between Syrian and the Gulf states, is that Gulf states have established obstacles for Syrians, who are required to obtain rarely granted visas to enter almost all Arab countries. Essentially, brother Moslems are not helping with the humanitarian crisis in Syria but the "infidels" in Europe are expected to open their hearts and countries to the refugees.
I'm going to be a bit controversial this morning to stimulate a thought process in this edition of the Daily Blog. The information age can lead to a short term focus and emotional response to nearly any event on the planet. Social media and smart phones leads to graphic images that can incite the masses for calls to solve each crisis immediately without considering long term geopolitical consequences.
The current Syrian refugee crisis brings about thoughts of two other historical events where large ethnic populations have migrated or attempted to migrate to other countries. One event is well known while the other is not.
The first event is the Nazi holocaust and Roosevelt's refusal to allow European Jews to emigrate to the United States. Roosevelt had nationalistic reasons for denying United States access including the fear of spies and the spread of communism. United States Japanese citizens had already been moved into camps after Pearl Harbor due to fear of spies and sabotage in the Western states. European Jews were associated with the spread of communism in Russia and Europe and as a result, denied access to United States and then brutally persecuted by Hitler.
Today the Beijing government employes the migration of Chinese Han populations to slowly conquer other nearby countries or regions. This is actively occuring in Tibet and western XinJiang province which is primarily Moslem and a constant source of terrorism. Through a migration of a large ethnic group into a problematic region, the political issues are resolved over several generations without war or international condemnation.
My point is that daily world events and news reporting should be examined in a larger context. Reading historical biographies and documentaries is important for forming opinions and forseeing the longer term consequences of short term actions. For example, George Bush's decision to invade and destabilize Iraq will have negative consequences for the Western world for generations. The current migration of Moslem populations into Christian countries that offer freedom and individual civil rights could have long term geopolitical ramifications for the European Union. Just food for thought on this Thursday morning.....
GFRC News
Jim Poston is express shipping a new consignment on Friday which will include a nice selection of Seated halves. The highlight are several challenging 1862 pieces including one graded PCGS AU58.
An 1874 Carson City dime was added to the price list yesterday and the full description will be available shortly.
A wonderful Canadian silver coinage consignment arrived yesterday and is an important upgrade to the World Coin price list. More information is forthcoming in the next two days.
Today's focus is on the New Jersey Collection of Liberty Seated half dimes and also posting a large group of AU58/MS62 Standing Liberty quarters targeted for the Shanghai customer base.
Featured Coins of the Day
Nicely toned Morgan dollars are actively collected and always available at large coins show....but at a premium. One rarely sees beautifully toned Peace dollars however as these were mostly stored in large bags. Just last week, I acquired this lovely 1923 Peace dollar residing in PCGS MS63 holder with rose, blue and gold obverse patina. I will continue to search out more examples for GFRC customers.
Next on today's Featured Coin Section is a lovely 1865 Seated quarter proof from the Silicon Valley Collection and graded PCGS PF65 Cameo. This piece offers old album bullseye toning with light rose/gold centers that transition to an aquamarine ring andf finally yellow gold at the extreme rims. Under bright light, the coloring is simpler with rose centers and sky blue rings surrounding the stars and legend. What a magnificent piece with PCGS Cameo designation.
Thank you for visiting and I will see you bright and early on Friday morning.....
September 2, 2015
The global warming phenonemom must be real as Maine weather is forecasted to remain unseasonable warm through the first half of September with daily highs into the 80s. We would call a period of atypical warm weather in September, "an Indian Summer," but the requirements of an overnight frost or two was necessary. This year, the lows are staying in the high 50s. In my lifetime, I have seen Maine summers increase in length by at least a full month and probably more. The "burning bushes" are still changing color on schedule while maples and birches are starting to show spotty color.
As mentioned in yesterday's blog, the LSCC's September E-Gobrecht issue was loaded at the www.LSCCweb.org and www.seateddimevarieties.com websites. One of the first steps taken each morning is checking my ISP's webstats analytics to view the previous day's online activity. Webstats provides resolution to the individual links so assessing response to newly posted coins on price lists or Daily Blog access is straightforward. This morning brought one heck of a surprise as the September E-Gobrecht had over 4000 hits in the past 24 hours. Yes, 4360 according to Hostway webstats....it is really amazing to see the popularity growth and I'm sure Editor Bill Bugert and his dedicated writers will be pleased to hear this level of response.
Bill Bugert sent along a photograph yesterday of Jim Gray being inducted into the LSCC Hall of Fame. For those who may not be familiar with the internal LSCC structure, Bill Bugert is the Hall of Fame Committee chair and does a great job with the annual Call for Nominations and the subsequent voting by the HOF committee. The LSCC Hall of Fame inductees are significant contributors to Liberty Seated coinage research and the overall numismatic hobby. They include (in order of induction) Kamal Ahwash, John McCloskey, Al Blythe, Randy Wiley, Brian Greer, Jim O'Donnell, Gerry Fortin, Eugene Gardner and now Jim Gray. Details about each individual and their LSCC contributions can be found on the LSCC website Hall of Fame page. I'm still working on Jim Gray's details at this time so please forgive the lack of his personal biography on the page.
Below are Jim and Bill at the LSCC annual meeting. Being inducted into the LSCC Hall of Fame is a incredible honor and a personal emotional event. Individuals in the HOF have spent the better part of their lives dedicated to numismatic study, publishing, and enabling a hobby for the next generation of collectors. I remember Al Blythe's daughters accepting for their recently deceased father and Randy Wiley shaking as he tried to steady his written notes during his acceptance speech. I had to take a deep breath and a moment of silent to calm my emotions before offering my acceptance speech at the 2013 ANA. Jim Gray was no different at this year's induction as we could see the emotions captured in his eyes at the close of his acceptance speech. Being inducted into the LSCC HOF is one of those unforgettable moments of a lifetime.
GFRC News
Three lovely Seated half dollars from the Wisconsin Collection were posted onto price list yesterday and two are already on hold. Below is a mini gallery of the three offerings.
The Gentleman's Collection consignor stopped by my home yesterday for a visit and we chatted for over an hour....about coins of course! This individual owns a massive collection of Maine paper currency, good for tokens along with his early bust coinage holdings.
The balance of the day was dedicated to preparing shipments, responding to email orders and loading more nice collector coins on the various price list. Just another typical day at Gerry Fortin Rare Coins.
Financial News
Seeking Alpha headlines are rather dull this morning. Beijing is still trying to stabilize its Shanghai stock market and spot oil prices are bouncing around in the $40-$50 range after a huge percentage increase from the high $30s.
Featured Coins of the Day
Believe it or not, I still sell a substantial amount of raw coins and today's Featured Coins are found in their natural raw state. Since 1986, PCGS and NGC have convinced us that coins must be certified and encapsulated. They have done a reasonable job of weeding out the gross problem coins that would be sold raw to those with no numismatic experience. But the hobby was build on a foundation of average collectors who fill album pages with raw coins. So at GFRC, I still believe in selling raw "original" coins as this market segment is critical for the long term viability of our hobby. So let's look at several choice original raw coins.....
First is a lovely 1892-O Barber quarter that was posted just yesterday. This piece is well above average at the assigned EF45 grade with original old album toning. Bright light viewing is where this piece really excels with lovely blues, gold and rose coloring. (On Hold)
Second is a lovely 1873 No Arrows Closed 3 Seated half dollar graded Fine 15 and absolutely perfect at this grade level. Fields and devices are covered with strictly original medium gray patina. Let's face it, I'm not growing wealthy selling these types of raw coins but believe it to be so important for our hobby to offer affordable premium coins to collectors who are building traditional album based sets.
September 1, 2015
September arrives with a late Labor Day weekend this year (September 7) and the Gettysburg National Battlefield show is already upon us immediately afterwards on September 10 through 12. I will be walking the Battlefield show on Thursday in a buying capacity and then working with Bill Bugert and Len Augsburger to sort through boxes of LSCC records retrieved from former president, John McCloskey. Our goal is to establish a physical club archive back in Maine with the support of Steven Crain.
Bill Bugert published the September E-Gobrecht issue last evening and already the publication is posted on the LSCC website (www.lsccweb.org/LSCC_E-Gobrecht_Archives.php) and my website (www.seateddimevarieties.com/LSCC.htm). What a great issue with excellent images and reporting from the ANA annual meeting plus the usual monthly columns including club member interview with my show partner, W. David Perkins. Jim Lauglin, winner of this year's E-Gobrecht Editor Award, provides more insightful research on the China trade and silver payment methods along with indication that some 1872 Carson City coinage was struck with borrowed San Francisco mint obverse dies.
Financial News
Global stock market volatility is back in force this week and I'm starting to read within certain newsletters that a few big name investors are heading back into gold in the recent quarter. Let's first check Seeking Alpha for pertinent headlines. If China and South Korea exports are weak, then what does this say about demand in consuming nations?
It's another stormy day for stocks across the world after twin surveys showed China's manufacturing sector in the grip of its worst slump in several years. China's official Purchasing Managers' Index fell to 49.7 in August from the previous month's reading of 50.0 - the weakest showing in three years, while the Caixin China manufacturing PMI showed a final reading of 47.3 in August, the lowest since March 2009. The figures detail an even sharper slowdown in the world's second-largest economy, reinforcing fears that have triggered heavy global market selloffs.
South Korean exports tanked by the most in six years in August, bolstering expectations its central bank will cut rates next week to tackle a rapidly darkening outlook. Exports fell 14.7% last month from a year before, dragged down by a heavy slowdown in China and a sharp decline in exports to Europe and Japan. The data is important as it provides the first full trade picture in the region after China's currency devaluation on August 11.
Now a few words about gold...
Agora Financial reports that Stanley Druckenmiller, an American hedge fund manager and former Chairman and President of Duquesne Capital, is moving into gold (GLD) . As reported yesterday, "In case you are wondering if this big GLD position of Druckenmiller's is one that he has been sitting on and losing money on for the past three years, you will be interested to know that he didn't own a single share of GLD prior to this past quarter."
Druckenmiller's rationale? Speaking to a group of money managers in North Palm Beach, Florida, last January, he tipped his hand: "Our monetary policy is so much more reckless and so much more aggressively pushing the people in this room and everybody else out the risk curve that we're doubling down on the same policy that really put us in the 2008 financial crisis and enabled those bad actors to do what they do…

GFRC News
As mentioned in Monday's blog, a coin deal arrived for purchase yesterday along with a top quality Seated half dollar consignment from the Wisconsin Collection. The latter has been previously itemized in the August 27 blog and already there is FRoR activity. I will be photographing the three AU halves (1861-O W-15 PCGS AU50, 1863-S PCGS AU58 and 1865 PCGS AU58) today and offering to the FRoR individuals. Retail pricing has already been agreed upon with the consignor. Now let's discuss the coin deal......
I always enjoy receiving coins for purchase from this GFRC customer as his coins are carefully selected for eye appeal and typical feature bullseye or other forms of old album toning. I received the package at 1:00pm from the postman and by early evening the deal was already done. A check is being mailed today so here comes the listing of new coins for your consideration. FRoR is once again in effect....I will be photographing these coins along with the Wisconsin consignment today.
3c silver: 1860 PCGS AU53; 1861 NGC AU55 medal turn reverse alignment; 1862 VF30....all three pieces offer pretty old album type toning and are strictly original.
Seated 5c: 1861 NGC AU55, 1870 NGC AU58, 1871 PCGS AU50, 1872 NGC MS61...all with old album toning
Seated 10c: 1875 AU50 with pretty old album toning.
Barber 25c: 1892-O EF45 with residual luster and old album toning
Standing Liberty 25c: 1828-S AU50 raw with old album toning
Capped Bust 50c: 1810 O-101a LDS VF30 with attractive blue and gold rims.
Jim Poston reported in yesterday and informed that another consignment will be mailed shortly. Jim is focused on locating the best possible Liberty Seated half dollars (quality at reasonable prices) to continue improving this GFRC product line.
And finally, Harry Zhang reported in from Shanghai that November show marketing preparing are already underway. He is preparing an online brochure to advertise the United States coin that will be featured at the Yunzhou show including the 1861 Scott Restrike PCGS AU55 CAC example.
Featured Coins of the Day
Let's try something different today....how about these two lovely Capped Bust half dollars as a preview since they are heading to the price list this morning? I still have ample coins in the processing queue and hopefully will make some serious progress today. First up is a scarcer 1814 O-104a bust half grading VF25 purchased at the Westford show. This is a perfect collector grade with surfaces that are strictly original and attractive.
Next is an extremely attractive 1826 O-105 R3 PCGS AU55 bust half also purchased at the Westford event. My images capture the in hand coloring and appearance but lack the ability to demonstrate the interaction of luster and toning when placed under bright light. Trust me, this is a beautiful piece with rose centers and light blue surrounding the stars and reverse legend.