Gerry's Daily Blog Archives - June 2016
June 30, 2016
Greetings on a Thursday morning and the last day of June. Today's Blog will be fairly brief as a morning flight and ANA shuttle bus ride to the Colorado Spring airport is the morning event followed by a long connection in the Chicago airport. The second week session of the 2016 ANA Summer Seminar is in the history books after a lovely banquet last evening.
The LSCC course was a resounding success based on student feedback and John Frost has already committed the same team for another edition of Developing a Passion for Liberty Seated Coinage at the 2017 Summer Seminar. We signed up seven new members from the class attendees. That number was limited by the fact that several of the attendees were already LSCC club members. Below is John Frost presenting the Trade Dollar module during Wednesday afternoon class. I can't thank John enough for the long hours of preparation work and handling the Half Dime, Half Dollar, Seated Dollar and Trade Dollar presentations throughout the course along with logistics.
As indicated in Wednesday's Blog, the results from the course ranking session are shown below. Unfortunately, I did not save the Powerpoint file on the ANA laptop and the end of that class and had to recreated the results for paper submissions. Len Augsburger's evaluation before the class session was strictly on originality as I failed to explain the combined Originality + Strike + Eye Appeal criteria. Some clear ranking trends can be seen from the results. Please remember that the team were asked to rank order each coin based on overall perceived value which mean Originality + Strike + Eye Appeal. Images for the nine Seated halves are once again shown below after the ranking results slide. All halves are currently on the GFRC price list if you wish to read the descriptions and view higher resolution images.
GFRC News
Another consignment proposal arrived by email today and is a nice type coin lot. More on the consignment contents in a subsequent Blog.
Global Financial News
Spot gold is holding to recent gains and sits at $1320 this morning. Seeking Alpha headlines are fairly mundane with global equity markets ignoring Brexit and moving upward again. Spot oil prices are knocking on the $50/bbl doorstep once again.
U.S. stock futures are pointing to a higher open as equities look to close out the second quarter by extending Tuesday's big rally into the best three-day gain since February. The Dow and S&P 500 are now back in the black for 2016 and for Q2, but the Nasdaq is still in the red for both periods. Overall, major U.S. averages have now recovered about 60% of their post-Brexit losses.
Oil is headed for its biggest quarterly advance since 2009, rising 29% in the last three months as falling American supply adds to speculation that the global surplus is easing. Data from the EIA yesterday showed U.S. crude stockpiles dropping to the lowest since March and output falling for a third week. Supply disruptions in Nigeria and Canada, as well as fears over strike outages in Norway, have also given the commodity a big lift.
Featured Coins of the Day
We turn to the Draped Bust half dollar price list for today's featured coins. The Monument consignor requested a pricing reduction for the 1803 Large 3 O-103 NGC AU55 example to $6750. Low mintage and strictly original surfaces dominate this offering along with substantial luster and bright light eye appeal. Strike is crisp with rounded stars and well defined hair curls. Reverse devices are also crisp with bold feathers, arrows and olive branch. Please email or call if there is potential interest towards a potential deal.
Next to the 1803 is a gem 1806 O-109 NGC AU53 CAC specimen for your consideration. This is an awesome piece with bold luster and limited wear. Surfaces are choice with faint golden hues at the center that transitions to rose/gold then deep blue surrounding the stars and legend. Bright light viewing exposures different visual characteristic depending on the viewing angle. Sky blue rims dominate, but at times, I can produce aquamarine in the same locations with a different tilt. This lovely half is very well struck with crisp hair curls, eagle feathers and arrows.
Thank you for visiting this morning and each day at the Daily Blog. Hopefully my flights will be on time allowing a regular edition of the Blog on Friday morning. Have a great day!
June 29, 2016
Welcome once again to the Daily Blog and thank you for stopping. June is quickly coming to an end as is the ANA Summer Seminar. My apology for being a bit dysfunctional on keeping the Daily Blog dates in alignment with the calendar. Poetic Candy sent along a kind reminder concerning the calendar and it was appreciated. I've been mentally wrap up with managing the GFRC business, constructing the Summer Seminar Originality module and writing the Daily Blog this week and some small details are escaping me. Not locking myself out of my room (did not happen), the dormitory building (happened once) and the room safe (happened once) have been addition imperatives for my limited mental capacity....
ANA Summer Seminar Day 3 Report
The LSCC hit a "grand slam" on Day 3 of "Developing a Passion for Liberty". The days of preparation (John Frost estimates 150 hours of work just for Summer Seminar) came together perfectly on Day 3 and our students were elated as the class session ended. Len Augsburger opened the Tuesday morning session with a historical review of die variety research and categorized the efforts of prominent research efforts into four generations dating back to the 19th Century. John Frost them took the helm and steered the class through a wonderful Liberty Seated half dollar presentation that had been prepared by none other than the foremost expect on Seated halves, Bill Bugert. This module was heavy in die variety content and the class really enjoyed the session. After a quick lunch, it was time for Gerry to debug the Evaluating Liberty Seated Coinage for Originality and Value hands on module. Coordinating the viewing of coins among the 13 students without individual student suffering idle time had been a perplexing challenging. It was my lucky day as the morning session went longer than expected and the viewing of Liberty halves moved into the afternoon providing a solution to the student idle time concerns.
The Evaluating Liberty Seated Coinage for Originality and Value module was an experiment. The ANA Summer Seminar is well known for its grading classes but the LSCC was attempting a topic that focused on surface originality and overall value with no attention paid to grade. Continuing from yesterday's Blog, this slide provides the problem statement.
Surface originality was then defined in this slide.
Students were then introduced to the concept of Value = Originality + Full Strikes + Eye Appeal.
Then the GFRC Quality Rating System was introducted.
A hands on viewing exercise then followed for having students evaluate a group of nine original Liberty Seated halves within GFRC inventory. The students were paired two to a team and then rank ordered the nine coins in terms of overall quality. Each team was given 7 minutes to accomplished the ranking.
Here are the GFRC Liberty Seated halves employed in the ranking session.
I will post the results on tomorrow's Blog as running out of time and need to head to breakfast and Day 4 classes.
GFRC News
Keeping a low profile on GFRC customer feedback has been normal operating mode. However, a text message received yesterday was so consistent with the ANA Summer Seminar module on Originality and Quality that I must share this morning. The buyer of the 1892 PCGS MS66+ CAC Barber quarter sent the following comment after finalizing purchase terms. This individual recently purchased the Pickering Creek 1889 PCGS MS66+ CAC dime and other wonderful GFRC offerings.
It's so great to have assembled so many awesome pieces and to get to be the steward of such originality. Thank you Gerry, it's been awesome.
Global Financial News and Featured Coins of the Day
This has been a long blog and time to run to breakfast followed by the last class day of Summer Seminar. Let's skip these topics today. I will write a short blog this evening for Thursday morning reading, then have an early shuttle bus to Colorado Springs airport and return trip to Maine.
I will be back bright and early on Friday morning with more numismatic and financial rambling.
Please consider a purchase towards GFRC achieving its June ending goals. See you on Friday morning.
June 28, 2016
Greetings once again from Colorado Springs on Day 3 of the ANA Summer Seminar. This is a fast paced and fun week as the numismatic agenda is quite full. Colorado College facilities are top notch with a private dormitory room and super fast internet bandwidth. The daily meals at the Rastell Dining Hall are top notch and I'm probably over eating a bit.
Monday brought a strong GFRC sales day and thank you to all customers for your support. Several of the Colorado Springs show new purchases are already sold with discusses in progress for the 1892 PCGS MS66+ CAC Barber quarter. The GFRC price lists will be updated later today with sales activities.
ANA Summer Seminar Day 2 Report
Day 2 of "Developing a Passion for Liberty Seated Coinage" course was presentated by John Frost and Len Augsburger while I sat back in the room as a student. The morning session opened with John Frost's favorite topic, the Double Dimes. In the past several years, John co-authored with Lane Brunner, a marvelous die variety reference guide for the double dimes or 20c piece series. This was another passionate session by John and class members were thoroughly pleased. The morning session closed with a well prepared discussion on contemporary counterfeits in the Liberty Seated coinage series. John brought humor to this topic with fakes often seen on eBay along with Chinese modern counterfeits continuing to flood the United States market. A substantial amount of coins circulating among students for study as we wrapped up the morning session.
After a quick lunch, the afternoon session commenced with Len Augsburger at the helm. The opening topic was Christian Gobrecht, engraver of the Gobrecht Dollar design that debuted during 1836 and migrated to balance of United States coinage between 1838 - 1840. Len has been conducting Christian Gobrecht research for several decades and is the leading expert on this topic. Liberty Seated quarters dominated the balance of the day as Len's collecting passion are the Seated quarters. He brought some marvelous pieces from personal collection for circulation through the classroom. I must admit that attendees are gaining access to an incredible amount of top quality key date Seated coins that would take decades to view without class attendance.
I returned to dormitory room, before dinner, to finish Tuesday's Evaluating Liberty Seated Coinage for Originality and Value presentation and, oh crap, the in room safe would not open. It appears that I have mistyped the access coin during the locking process earlier that day. Instead of working on the presentation, a walk to campus security and then Loomis Hall to locate a resident director for unlocking my safe was necessary. Luckily, the Colorado College support was quick and the safe was opened with 45 minutes allowing the final touches to be applied before a late dinner. Immediate above are two slides that are part of today's presentation.
The top opening image for the Daily Blog captures a key part of the ANA Summer Seminar experience, the evening socializing and consumption of wine. For the past two evenings, the meeting point has been St. Mary's residence where Len Augsburger is staying. Cool evening weather, great current and new friends and lots of numismatic stories dominate the evening hours.
GFRC News
I so pleased to report that GFRC received an 1849-O PCGS VF35 Seated quarter on consignment at the St. Mary's evening session from a new friend. Remarkably, I had just mentioned to the class that afternoon that this New Orleans date is quite rare with GFRC not handling a single example to date. Then at this evening's wine socializing, an original gun metal gray/blue example appears and is consigned. Please contact me if there is interest in this piece.
Global Financial News
The emotional response concerning the Brexit vote is staying to wane. Spot gold has dropped to $1311 this morning. Equity markets are reversing course and positioned to recover losses of the past two sessions. Frankly, the world will not end as a result of Brexit vote with political readjustments ahead. Central bankers will remain on the front line for providing global financial market stability. Finally, it appears that the Puerto Rico debt crisis will be managed by a federal oversight board. Let's look at a few Seeking Alpha headlines.
A recovery is taking shape across the globe after a record $3T in market cap was wiped off the board in just two trading days and sterling fell to its lowest level in over 30 years. Hopes of a more coordinated central bank response to support the financial markets and firmer oil prices are helping stocks claw back some of their losses following the Brexit battering. The mostly sideways year for the Dow and S&P is still negative, down 1.6% and 2.1%, respectively.
Speaking at the ECB's annual forum in Portugal, ECB President Mario Draghi avoided mentioning the U.K.'s vote to leave the EU, but called for greater alignment of global policies to mitigate the spillover risks from ultra-loose monetary measures. "What I mean by alignment is a shared diagnosis of the root causes of the challenges that affect us all." On Monday, Draghi said "sadness" was the best word to describe his sentiment toward the Brexit.
The U.S. Senate is set to launch a debate for establishing a federal oversight board that would be in charge of restructuring Puerto Rico's debt where one out of every three dollars it earns in revenue is used to pay creditors. The measure is identical to the plan passed by the House earlier this month, as Congress tries to send it to President Obama to sign into law by July 1.
Featured Coins of the Day
Once again, let's pass on this section as breakfeast is looming followed by Day 3 classes
Thank you for visiting the Daily Blog this morning!
June 27, 2016
Good morning and welcome to the Daily Blog on Day 2 of the ANA Summer Seminar. Colorado weather has been absolutely perfect the past two days for those of us from New England.... Evenings cool down quickly to the low 60s while daytime highs are in the low to mid 80s with partial cloudy weather and an occasional raindrop.
ANA Summer Seminar Day 1 Report
The first day of the LSCC's summer seminar class is already in the history books. John Frost, Len Augsburger and I are very pleased with the first day's activities and class participation. The course title is "Developing a Passion for Liberty Seated Coinage" with the instructors living up to that "passion" part of the title. Our class size is 13 students. The above image is a quick snapshot of a portion of the classroom as students prepared for the afternoon session. Let walk through the day's presentations and surprise "student" attendance....
Len Augburger opened the class with a historical perpective for the Liberty Seated coinage era including discussions on the US gold/silver standards, political and economic events causing fluctuation in gold and silver prices, coinage availability along with legislation that impacted the silver weight of Seated coinage. John Frost spent the balance of the morning session providing a "deep dive" in the Half Dime denomination and was quite entertaining throughout the discussion. The morning session closed with key dates half dimes and varieties being passed around for student viewing. Len and I took a quick lunch and immediately retrieved three boxes of the new Whitman Liberty Seated Silver Coinage book from the ANA Museum mail room to the classroom. Upon the students return from lunch, one box of the Whitman books immediately sold. The afternoon session was exclusive focused on Seated Dimes with Gerry as the instructor. Many topics were covered including design changes, grading, striking characteristics and varieties. About 2/3 of the way through the session, a special "student" visited the classroom. None other that Mr. Redbook, Ken Bresset, sat through the balance of the session including the viewing of the key Top 100 Varieties and other lovely original seated dimes. Ken had never seen the 1839 Pie Shattered Obverse and did the typical Wow! upon viewing the coin for the first time.
Overall, Day 1 went very well and all three instructors were pleased that days of preparation had resulted in a perfectly choreographed session. After dinner, the instructors met at St. Mary's Inn a few blocks off campus for an evening of jovial numismatic discussion along with consumption of some decent wine. I was exhausted by 10:00pm and enjoyed a good nights sleep.
Day 2 session will featured the Seated Double Dime and Quarter denominations presented by John Frost and Len Augsburger while Gerry spends the day as a student in the back of the room. Tuesday brings the class on Judging Originality and Becoming an Advanced Collector.
GFRC News
The Colorado Springs show new purchases were published late Sunday evening as promised. Images will be added this coming Friday after returning from the ANA Summer Seminar. The 1836 PCGS VF35 Capped Bust half is already on hold along with a serious FRoR on the 1892 monster toned PCGS MS66+ CAC Barber quarter.
Global Financial News
The UK Brexit vote continues to dominate global financial markets. Spot gold improved to $1333 overnight and is at the threshold of another key break out point. The "elite" class that control global financial and currency market policies are obvious displeased with the UK Brexit vote outcome. Let's walk through some of the global commentary and other topics this morning.
British currency, the sterling, is dropping in value against other currencies while Gilt bonds are at record low interest levels due to a Moody's downgrade. US Treasury yields are also dropping in sympathy.
In other news, Israel and Turkey have restored full diplomatic relationships and attempting to forge energy trading ties. Panama has officially opened more capacity for the Panama Canal that can also accommodate the new generation of super sized cargo ships. Finally, Russia and China continue to forge closer ties by signing energy deals whereby each country takes equity positions in the other's major energy companies.
After remaining mostly undecided since the market open, European shares are starting to feel the effects from Friday's historic drubbing. According to Standard & Poor's, $2.08T of stock market value were wiped out across the globe in the previous session, marking the largest ever daily sell-off in dollar terms. Today's aftershocks are also weighing on U.S. equity futures and sent sterling down another 3.1%, as investors seek safety in gold and low-risk government debt.
U.K. 10-year Gilt yields have dropped below 1% for the first time to hit a new record low. The fall came after Moody's downgraded its U.K. sovereign rating to negative from stable, citing diminished policy predictability and economic effectiveness. Meanwhile, 10-year U.S. Treasury yields have extended their fall to 1.47%, tumbling 10 basis points this session.

Brexit comments from around the world... Boris Johnson: "I cannot stress too much that Britain is part of Europe, and always will be." Nicola Sturgeon: "We will explore all possible options to protect Scotland's place in the EU." Francois Hollande: "What was once unthinkable has become irreversible." Angela Merkel: Exit talks "shouldn't drag on forever." Barack Obama: "One thing that will not change is the special relationship that exists between our two nations." Christine Lagarde: Brexit fallout hinges on what "policy makers do in coming days." George Soros: The decision makes "the disintegration of the EU practically irreversible." Deutsche Bank: London's role as a financial center will "weaken, but won't die." Goldman Sachs: The U.K. is now likely to enter a "mild recession" by early 2017.
Israel and Turkey have agreed to restore full diplomatic ties after relations ruptured six years ago following the "Gaza flotilla raid." The two countries will rebuild military/intelligence connections and send ambassadors back to each others' capitals. A deal could also pave the way for multibillion-dollar energy contracts as Israel seeks to export fuel and Turkey looks to reduce its reliance on Russian gas.
Panama officially opened an addition to its legendary sea canal on Sunday, capping a nine-year, $5.4B expansion project that will double shipping capacity and affect global trade routes. A third lane has been added to the waterway that can accommodate a new generation of super cargo ships large enough to carry up to 14K containers, compared with around 5K currently.
Strengthening their economic ties, Russia and China sealed a raft of energy deals during President Vladimir Putin's visit to Beijing on Saturday. ChemChina agreed to take a 40% stake in Rosneft's (OTC:RNFTF) planned petrochemical complex VNHK in Russia's Far East and signed a new one-year supply contract. The Russian firm also committed to negotiating the sale of 20% of its Verkhnechonsk unit to Beijing Enterprises (OTCPK:BJINY) and signed a framework agreement with Sinopec (NYSE:SNP).
Featured Coins of the Day
Let's pass on this section as breakfeast is looming followed by Day 2 classes
Please remember that GFRC is still open for business and I would sure love to sell some coins to close out the month of June. Even though I am in Colorado, emails are being monitored and month ending orders would be appreciated towards June revenue goal. If you've been considering a special coin in the GFRC price list, then this may be a great time to make an offer as I will be in a dealing mood.
June 26, 2016
Greetings from Colorado Springs and the second week of the ANA Summer Seminar. The LSCC sponsored class is ready to go and starts Sunday morning at 9:00 am with sessions through Wednesday. The Sunday topics will focus on Liberty Seated half dimes and dimes. John Frost is presenting the morning half dime module while the afternoon session will be facilitated by Gerry Fortin and provides a comprehensive review of the Liberty Seated dime denomination.
Monday brings a morning session on Seated quarters with guest lecturer, Len Augsburger, followed by an afternoon session on Judging Originality and Becoming an Advanced Collector. I'm quite excited about facilitating the afternoon session with lots of hands on time studying about 30 coins from GFRC inventory towards learning how to distinguish Original vs. Market Acceptable grading by the TPGs. Len Augsburger commented on Sunday evening that the Judging Originality module alone is worth the cost of attending the entire four day course.
Saturday was a long day but gratifying. I departed for the Portland airport at 4:00 am ET, arrived into Colorado Spring at 10:30 am MT, then met coin show partner W. David Perkins at the ANA Museum at 12:30 pm. We immediately drove to the Colorado Spring coin show where I did some better than average buying. There were low expectations walking into the show as already opened for a full day on Friday. Regional coin shows can be hit or missed in terms of locating coins consistent with GFRC quality standards. Some shows yield very little when others are fruitful. The Colorado Spring show was well worth attending with eight choice pieces (five CAC approved.) being purchased. Are you ready for the new purchase breakdown? FRoR is in order. I expect to have images ready by July 2 and will be posting on the 30 Day Price List Sunday evening without images.
Colorado Spring Coin Show - New Purchase
Capped Bust 5c: 1831 PCGS AU55 Reverse Cud, Choice Original Gray
Barber 25c: 1892 PCGS MS66+ CAC, a superb rainbow gem with eye appeal is that mind blowing. W. David Perkins convinced me that this piece would be an incredible marquee coin for the upcoming Summer FUN show. Once GFRC customers see this coin in hand, then you will be amazed with the overall beauty.
Capped Bust 50c: 1836 PCGS VF35 Secure Holder choice original with blue/rose bullseye patina; 1837 PCGS AU55 Reeded Edge fully struck with frosty luster and pretty reverse blue toning arc. Definitely choice.
Indian $2.5: 1915 PCGS MS63 CAC choice original orange luster, a great type coin
Princess $3: 1874 NGC AU58 CAC so choice with bold luster for an AU58 and no blemishes.
Indian $10: 1932 PCGS MS3+ CAC choice satiny luster
Liberty $20: 1895-S PCGS MS63 CAC gorgeous cartwheel luster and original orange patina.
GFRC continues to expand its United States gold product line with more CAC approved coins. I am becoming much more comfortable with cherrypicking gold with old time orange surfaces and minimal marks. It is no different than selecting quality original silver Bust and Seated coinage. The gold product line will see another inventory increase at Summer FUN when Osprey consigns his 16 incremental purchases during March/April European trip. His coins are currently at NGC for grading.
Consignment News
A GFRC customer has requested help with the sale of an important 1794 Flowing Hair half dime. His example is graded PCGS VF25 and arrives at the GFRC office later this week. Mintage is only 7,756 with few pieces trading at auction according to CoinFacts records. The last VF graded examples sold as follows; VF20 (Feb 2016), VF25 (April 2008), VF30 (Oct 2010), VF35 (Feb 2013). I'm most excited about this opportunity!
ANA Summer Seminar Slides
Two individuals wrote suggesting that some of the ANA Summer Seminar slides be posted throughout the week in the Daily Blog. I like this idea and will start posting slides from the Judging Originality and Becoming an Advanced Collector module on Monday. So please check back each day.
Featured Coins of the Day
Please remember that GFRC is open for business throughout ANA Seminar Week. I will be responding to email inquiries during the evening hours but do need to sell coins on behalf of consignors regardless of the week's activities.
Given that today's Summer Seminar classes will be on Liberty Seated half dimes and dimes, how about a few choice examples from the GFRC price list? We open with a lovely 1841 half dime graded NGC AU58 from the Florida Collection followed by a sweet 1850 example graded PCGS MS64 with CAC approval. Moving to Seated dimes, the 1837 F-101b resides in an NGC AU58 holder and is here in Colorado as one of the Originality module teaching aids. You can't go wrong with this choice example as a type coin. We close the Featured Coins with a gem lustrous 1885 PCGS MS65 dime from the Central California Collection. It is so sad that Ed Sims passed earlier this year and I'm selling the balance of his coins for the family.
Thank you for visiting and time to switch gears before today's class time. Hopefully, the Colorado Spring purchases can be loaded in the COIN system and published by evening time. Images will arrived later this week. Thanks for stopping by!
June 24, 2016
Greetings on a lovely southern Maine morning! The skies are a perfect light blue and cloudless.
For some reason, Bob Dylan's The Times Are A-Changin' is stuck in my head this morning. Why you may wonder and please read on....
Come gather 'round people
Wherever you roam
And admit that the waters
Around you have grown
And accept it that soon
You'll be drenched to the bone.
If your time to you
Is worth savin'
Then you better start swimmin'
Or you'll sink like a stone
For the times they are a-changin'.
Come senators, congressmen
Please heed the call
Don't stand in the doorway
Don't block up the hall
For he that gets hurt
Will be he who has stalled
There's a battle outside
And it is ragin'.
It'll soon shake your windows
And rattle your walls
For the times they are a-changin'.
The Times They Are A-Changin' - Bob Dylan
The past 24 hours have been exciting indeed. Matt and granddaughter, Natsumi, arrived Thursday afternoon for a weekend visit. Matt and I worked into the late evening hours on COIN system development strategy and finalized the revised GFRC For Sale page layout and the forthcoming "Consign with GFRC" link. The GFRC business may be numismatic in nature but the operations and marketing strategies being developed will be world class for a small owner operated enterprise.
By 11:00pm, the Brexit voting results were streaming in. Spot gold was starting its asymptotic run to $1350 before settling back to $1325. With a substantial voter turnout, United Kingdom citizens decided to leave the European Union. The vote was close as expected. Many were surprised by the average UK citizen's frustrations for central EU policy control and mandates. The split between Scotland (strongly Stay), London (Stay) and the balance of Great Britain (Leave) is evident this morning. There is "revolution in the air" on the European continent with David Cameron resigning as prime minister.
The Democratic "sit in" event in the House chambers along with NBC media coverage should also be noted this morning. This "sit in" event and the extraordinary NBC/MSNBC coverage signals what was already common knowledge. NBC is the media outlet for the Democratic party while FOX is heavily tilted to the Republican party. This morning, FOX's Megan Kelly ran a segment on the blatant NBC/MSNBC reporting bias for Democratic party agenda. When was the last time we saw one major media network reporting on media bias of its competitor? I'm unable to remember such a development in the past.
So the British people have spoken and the global markets will enter a period of anxiety. Will there be more EU exit initiatives now that the UK has opened the Pandora's Box? London's banking industry will be challenged to say the least. Let's see how the United States equity markets react today along with spot gold prices.
ANA Summer Seminar Curriculum
I worked throughout Thursday to wrap up the ANA Summer Seminar presentations including a module on Originality and Grading. Today's agenda includes retrieving the many Liberty Seated dimes that are traveling to Colorado Springs early on Saturday morning. For those attending the LSCC sponsor course, you will be treated to a host of great show and tell material. I'm bringing the 1839 Pie, the 1854-O Shattered Obverse (Greer Plate Coin), the second finest 1873 Double Die Obverse and the 1874 Polished Arrows for review during the Seated dime varieties discussion.
Global Financial News
The UK favorable Brexit vote is dominating financial news this morning. David Cameron's resignation is weighing on global equity and currency markets. Back in the United States, Puerto Rico is broke and will default on bond payments. I've added a summary of the Asia and Europe market response to the Brexit vote along with US futures. It will be an exciting day indeed and glad my retirement funds are in cash and gold on a day like today.
"It's scary," "I've never seen anything like it," "All hell is breaking loose," are common quotes being heard at trading desks across the globe, but what's happening in the political sphere? European leaders are holding crisis meetings, NATO has reaffirmed its relationship with Britain and Belgian Prime Minister Charles Michel called for a "conclave" to reaffirm EU commitments among the bloc's other 27 countries. But the biggest news is that...
David Cameron has resigned as U.K. Prime Minister in an emotional speech outside 10 Downing Street. "I do not think it would be right for me to be the captain that steers our country to its next destination," he said in a statement, promising to "steady the ship" over the coming months before stepping down in October. According to Ladbrokes, former London mayor and leading Brexit campaigner Boris Johnson is the favorite to succeed Cameron.
With sterling falling to its lowest level since September 1985, the Swiss National Bank has intervened in the currency market to stabilize the franc, while others question their own EU membership. Other central banks, such as Norges Bank, are also assessing their liquidity situation and have undertaken contingency planning.
Just a week before about $2B in bond payments come due, Puerto Rico's governor has reiterated that the commonwealth will default on its general obligations even if he halted services on the island. Alejandro Garcia Padilla is currently in Washington lobbying for Congressional approval of a bill that would set up a framework for the commonwealth to restructure its $70B in debt.
Asian and Europe Equity Markets and United States Futures.
In Asia, Japan -7.9% to 14952. Hong Kong -2.9% to 20259. China -1.3% to 2854. India -2.2% to 26398.
In Europe, at midday, London -4.5%. Paris -8.2%. Frankfurt -6.7%.
Futures at 6:20, Dow -3.4%. S&P -4.2%. Nasdaq -4.2%. Crude -4.8% to $47.69. Gold +5.2% to $1328.90.
Featured Coins of the Day
Let's pass on this Daily Blog module as I must hit the shower and move immediately into the packing and shipping department followed by taking Matt to the Portland bus station and then assembling the coins heading to ANA Summer Seminar.
There will be no Daily Blog on Saturday morning given an early morning flight. The Blog will return on Sunday as I will be reporting on ANA Summer Seminar events throughout the week. Have a great Friday and weekend!
And yes, GFRC remains open for business. Please consider a purchase!
June 23, 2016
Welcome once again to the Daily Blog.
ANA Summer Seminar preparations move to the top of the priority list today while Matt and Natusumi arrive via train during the early afternoon hours. I've still not written one of the ANA course modules which discusses originality, coin surfaces and cleaning along with examples of repaired coins. This module must be completed today as I've been so focused on the COIN system conversion. It will be great to have Matt and Natsumi at home later today while assembling coins and collecting numismatic thoughts.
Liberty Seated Dime Web-book Updates
Believe it not, I found time this week to update the 1853-O F-102 web-book page with images from an example provided by Scott Grieb at the April Central States show. This die pairing has been elusive for me resulting in the muling of Obverse 1 and Reverse 4 from the F-101 and F-104 pages to create the F-102 image pair. The F-102 variety was first listed by Kam Ahwash in his Encyclopedia as Ahwash 1. Kam provided little in terms of 1853 New Orleans die variety research but follow-on efforts have deciphered the die usage and pairings for this challenging date in EF or better grades. Below are images of the Scott Grieb's F-102 example.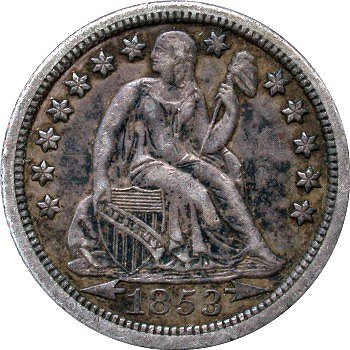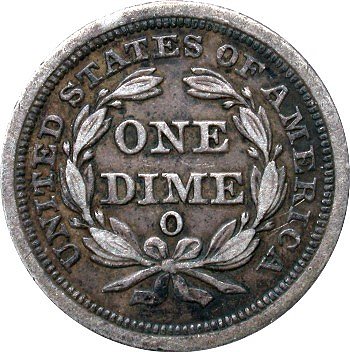 Obverse 1 Reverse B
Obverse Diagnostic Point(s) Reverse Diagnostic Point(s)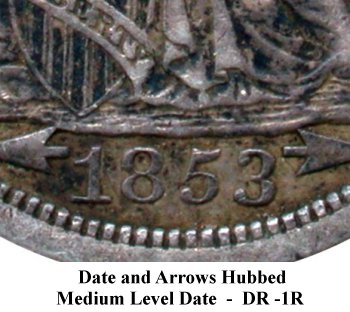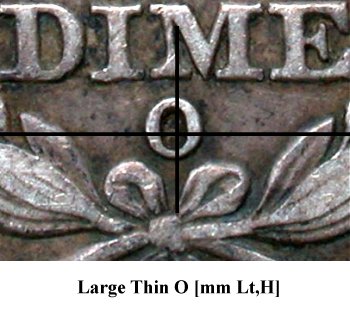 Along with the 1853-O F-102 update, the 1852 F-110c terminal die state was also added to the web-book as its own new page. Kale Wetherell from Montana is credited with the discovery as initially published in the Daily Blog early this month. I received multiple requests to purchase the discovery coin and wish to have had several in inventory to satisfy the demand.
GFRC News
The COIN system migration took another step yesterday evening with the Liberty Seated Quarter 1856 - 1891 price list converted to COIN system. At this point, the remaining major price lists to be converted are the two circulated Liberty Seated dime price lists and Liberty Seated halves. This is a long process that needs to stretch into July as I'm out of time given ANA Summer Seminar along with the Summer FUN and Whitman Baltimore show roadtrip. Once back from Whitman Baltimore, the final conversion push will be made.
Global Financial News
Global equity markets and futures are all positive this morning suggesting confidence in the British people to "STAY" in the European Union. Voting results will be known in less than 24 hours. A STAY vote will reinforce globalism as the dominate political strategy for Europe and probably the United States. Spot gold is currently quoted at $1264 and another indication of a favorable STAY outcome.
Two Seeking Alpha headlines caught my attention this morning. The first is Saudi Arabia indicating that the oil glut is close to being over.....the timing is coincident with the United States oil drilling industry having been decimated at sub $60 per barrel prices. Frankly, if I was President, one of my first actions would be to terminate certain Middle East oil suppliers, raise United States extracted energy prices and drive homeland oil industry jobs and energy independence ahead of where OPEC hopes to return to oil production dominance. I'm sadden to see the United States remaining so dependent on Middle East oil when there is ample supply in North America.
The second headline involves the Japanese economy. Japan carries the world's largest debt to GDP ratio and is currently unable to grow its way out of the debt spiral. A slowdown in export related industries is flashing warning signs for Japan's economic future as the aging population must continue to fund deficit government spending.
Saudi Arabia's new oil minister has signaled an end to the worst of the oil glut and indicated the OPEC kingpin is preparing to reassert a degree of control over the market after two years of letting prices fall. "We are out of it. The oversupply has disappeared," Khalid Al-Falih told the Houston Chronicle. "We just have to carry the overhang of inventory for a while until the system works it out." Falih replaced long-time Saudi oil policymaker Ali al-Naimi in May.
"Data pointed to a further deterioration in manufacturing conditions in Japan. Both production and new orders declined at marked rates, led by a sharp drop in international demand," Markit said in its latest preliminary survey. The Japan Flash Manufacturing PMI came in at a seasonally adjusted 47.8 in June, little changed from a final reading of 47.7 the previous month.
Featured Coins of the Day
Numismatics is approaching the traditional slow month of July. Coin shows are smaller in size as many dealers manage costs and take a break from the show circuit. GFRC will remain active during the month of July with Table 725 at the FUN show and focused buying at the Whitman Baltimore show. GFRC's raw Liberty Seated coinage sales continue to be strong as many collectors are still working on Whitman or Dansco album sets. This is a market segment that many dealers are ignoring with TPG holdered coins becoming dominate. At summer shows including Whitman Baltimore, my goal is to replenish raw coin inventories with pieces at the Original and Choice GFRC quality ratings. Below are several examples of quality raw coins being offered by GFRC.
Thank you for stopping in at the Daily Blog is morning. I'm immediately shifting to construction of my final deliverable for the ANA Summer Seminar; a module on varying surface conditions found in TPG holders, aka the GFRC Quality Rating system and evaluation approaches. The Blog will be available on Friday morning but not on Saturday due to a very early outgoing morning flight.
June 22, 2016
Greetings on a lovely Wednesday morning. Warm days in the low 80s and cool evenings in the mid 60s along with low humidity are dominating southern Maine weather. I can't remember a summer when the basement sound room dehumidifier barely ran as I've not emptied the drip pan once. The only downside to this great weather is the lack of precipitation and pending water supply problems for those with shallow wells and of course, the forest fire risks.
When lacking a prepared topic for the Daily Blog, standard procedure is to visit the online news outlets. This was done this morning. FOX and NBC are a wasteland for stimulating articles and completely focused on politics. The BBC once again provided a host of thought provoking articles. One that caught my attention was entitled, China's secret to economic power? Its roads and rails. The articles opens with the statement that China spends more on infrastructure each year than North America and Western Europe combined. Here are the opening paragraphs from the article.
Between 1992 and 2013, China spent 8.6% of its GDP on building roads, railways, airports, seaports, and other development projects that are key to keep people and goods on the move, and keeping the economy strong. That same spending figure was just 2.5% for Western Europe, and 2.5% for the US and Canada put together.
Europe's and North America's infrastructure is getting old, fast. It needs more money to be replaced, made better, and made safer. More investing also means greater environmental sustainability, more jobs, and innovation that fuels new technologies.
Last year, for example, the US Department of Transportation study revealed that more than 61,000 bridges in the country are "structurally deficient"; in 2014, US Vice President Joe Biden described New York's LaGuardia Airport as "third world." In 2013, the UK government announced a £100 billion infrastructure plan, saying that the UK had "for centuries been pioneers in infrastructure," but in recent decades, "let this proud record slip."
Granted, China was in a massive economic growth phase during that timeframe while the United States is dealing with ongoing growth of entitlement spending. China is an emerging economic power while the Western societies are well developed with existing infrastructure. But the problem for the United States and Europe is the lack of infrastructure maintenance and reinvestment. Does anyone know the last major airport constructed in the United States? Or the age of our airports? I found the following online from a June 2012 New York Times article.
The last major airport built in the United States was Denver which opened in 1995 at a cost of $4.8 billion. The footprint of the three big airports in the New York City area is one-fourth the size of Denver International Airport's alone, which is spread over nearly 53 square miles of unpopulated prairie. The Denver airport's sprawl, and its three pairs of parallel runways, mean it can handle the same number of daily flights as New York's three airports combined.
Something to think about this morning with application to one's own business. Whether physical or information technology infrastructure, to remain competitive in a fast paced economy, companies or governments must have the foresight to invest in advanced capabilities. For example, even at a small owner operated numismatic business like GFRC, there is a need to invest in infrastructure to fuel growth. Otherwise, business or municipalities are in a harvest mode as they extract the remaining values during a decaying business phase.
GFRC News
The COIN system migration continues! I'm pleased to announce that the Liberty Seated Quarter 1838 - 1855 price list is converted to COIN system. With luck, I will be able to complete the 1856 - 1891 price list debug today and make a similar announcement in tomorrow morning's Blog.
ANA Summer Seminar is taking place this week and next week. The LSCC sponsored course entitled Developing a Passion for Liberty Seated Coinage Collection start this Sunday. I'm flying to Colorado Springs early on Saturday morning and returning to Maine on Thursday. It will be a busy week while serving as an instructor and still operating the GFRC business during evening hours. There will be no GFRC shipments between June 25 and June 30. Accumulated shipments will take place on July 1 and 2.
On July 4th, I am driving to Florida and will have Table 725 at Summer FUN in Orlando later in the week. GFRC will be operating out of the Venice Florida office until July 12 followed by a northward drive to Baltimore and attending that show for two days. It will be a busy first half of July.
Global Financial News
Spot gold dropped yesterday and is currently quoted at $1268. Thursday is the UK's Brexit vote and the markets appears to be anticipating a "stay in the EU" outcome based on what I can see this morning. United States interest rates will stay unchanged in the near term per yesterday's testimony by Janet Yellen. Finally, Puerto Rico is expected to default on a $2B debt payment on July 1. The United States now has its own "Greece" problem to deal with.
Enough with the surveys and polls, traders appear to be in "wait and see" mode as equities hold steady ahead of a closely watched Brexit vote. "Anyone that wants to call this referendum with confidence is extremely foolish," said John Curtice, professor of politics at Strathclyde University. "The contest is very close to 50-50." Politicians on both sides of the debate will be making their last arguments today ahead of polling stations opening tomorrow at 7:00 a.m. London time.
Just in case there was still anybody holding out for a July rate hike, Janet Yellen quashed that idea yesterday in her Humphrey-Hawkins testimony. Mostly repeating the memes from the recent FOMC policy meeting and her press conference, Yellen cited "considerable uncertainty" about the economic outlook, and the potential for a Brexit vote to shake up the markets. She testifies again today, this time before the House Financial Services Committee.
Puerto Rico is being sued in New York by a group of hedge funds claiming it's illegally using an emergency fiscal-crisis law to dodge payments that are supposed to be guaranteed by the island's constitution. While Governor Alejandro Garcia Padilla has not yet implemented a temporary debt moratorium, many speculate he will soon because the territory is expected to default on a payment of nearly $2B on July 1.
Featured Coins of the Day
My goodness....we are at the end of the Daily Blog and not a single coin image has been posted. Time for several featured coins to hopefully wet your numismatic appetite and a GFRC purchase!
Since the Liberty Seated Quarter 1838 - 1855 price list transition to COIN system is complete, why not visit that list for some recommended offerings? We start with an 1840-O With Drapery quarter accurately graded by PCGS at VF25 level and approved by CAC. The 1840 With Drapery dates, either Philly or New Orleans, just does not garner the respect they deserves in terms of scarcity. Next is an 1842 PCGS AU55 example at a challenging grade level. The final two recommended quarters are choice original gray 1844 and 1848 examples. The 1844 is housed in PCGS EF45 holder and is from the Upstate New York collection while the 1848 is graded PCGS VF35.
Thank you for visiting the Daily Blog. It is time to move to the packing and shipping department followed by the installation of two new tires on the Toyota Avalon in anticipation of the July 4th drive to Florida. There is never an idle moment at GFRC but I enjoy living life to its fullest. We will see you bright and early on Thursday morning!
June 21, 2016
Welcome to the Blog on a Tuesday morning.
It is 6:10am and sitting in GFRC office with hot coffee and peering into the front yard seeking morning inspiration. What is that movement? A little fawn emerges from behind the winged euonymus, then her mother. There is a doe and her fawn meandering along the landscaping with several wild turkeys. Deer are occassionaly seen in the backyard near the tree lines but never so close to the road and in the driveway. What a special occasion and pleasant way to start the first full day of summer!
Yes, today is the first full day and of summer and last evening's strawberry full moon was so bright.
Changing topics to the Windows10 conversion. So far all is well except one problem with Hotmail. The application does not automatically close the email window after hitting the send button. Hotmail indicates the message is saved as a draft but in reality does complete the send process and places the message in the Send folder. It is not the end of the world but a bit annoying.
Poetic Candy sent along a poem in light of my Windows10 conversion and our ongoing need to assimilate new technologies else being left behind in a connected world. Could any of us go off grid for several days and remember that life did exist on the planet before all these electronics gadgets?
GADGETS
I love my hi tech gadgets,
Computers, cameras, TVs, CDs,
Fax machines, fancy telephones and more,
I even feel a special tingling,
Each time I'm even near,
To an electronics store.
I can sit and play for hours,
With these gadgets I've acquired,
They are sitting all around me,
Within them I am mired.
There is just one little problem,
Of which I've come upon,
The fact that I've forgotten,
Just how to turn them on.
(poeticalways)
Congratulations go out to the city of Cleveland after the amazing NBA Championship finals. Dale Miller, LSCC Secretary/Treasurer shared his joy with the Cavaliers' comeback victory.
Hi Gerry,
Cleveland finally won a sports championship with the Cavaliers' improbable comeback. It was the first since 1964, when I was a teenager, and couldn't even watch it on TV because of local blackout.
I know your blog noted championship wins by the Patriots and the Red Sox over the years, so it was something to finally win one here.
Now Cleveland hosts the Republican National Convention. I can hear the melody from Graham Nash's Chicago circling through my head and hope the convention is peaceful. For certain, we can expect the online media to once agan amplify any small incident into a national tragedy. The enemy is among us and we fuel it each day with our addiction to what is deemed as "news" reporting. The news media is an industry no different than the industrial/military complex. Enhancing fear is paramount to both for growth and funding.
GFRC Consignment News
The Kansas Collection consignment arrived yesterday with images posted within several hours after USPS delivery. By evening time, the consignor had his COIN report and final pricing adjustments were made. These quality pieces will be loaded onto the 30 Day Price List this morning and let the sales begin..... Nearly all of these Seated quarters were purchased from GFRC and are all strictly original with most being choice. Below is the Kansas Client Gallery to wet your appetite.
How did I priced these pieces? We went with the consignor's original GFRC purchase price along with the consignor and potential buyer splitting my commission. I believe this is very fair to all parties and allows collectors to recover their financial investment in quality coins. Trading coins at GFRC is not mysterious......
Kansas Collection Consignment - June 21, 2016
Global Financial News
Spot gold is stubbornly holding on to recent gains and sits at $1282 this morning. The world is watching Great Britian and the Brexit vote. I'm also seeing considerable chatter about China and Saudia Arabia selling United Treasury notes and now, even United States equities. The alarmists in the news media are once again claiming the end of the reign of the US Dollar as world reserve currency and some sinister plan by the selling parties. But we should be smarter and think for ourselves. China and the Saudis are struggling with internal financial issues and selling assets to maintain stability. The United States financial assets are being scooped up since providing positive interest rates as compared to the negative interest rates prevalent in Europe and Japan. Be careful of what you read online as many firms have their own agendas.
British Sterling is heading higher after recording its largest daily gain in eight years on the back of fresh opinion polls that showed Britain would vote to stay in the EU. But other surveys put the Leave camp in the lead as George Soros, the billionaire who earned fame by betting against the pound in 1992, warned a Brexit would trigger a bigger and more disruptive sterling devaluation than the fall on Black Wednesday. The pound +0.5% to $1.4760.
Featured Coins of the Day
I've not had breakfast yet and three hard boiled eggs are waiting to be peeled and eaten.... Let's select a few quality coins from random price lists to highlight the ongoing efforts by GFRC to provide the best quality coins possible. We start with well matched 1854 WA Seated dime and quarter. Both are graded by PCGS and approved by CAC. The 1854 dime is graded AU58 while the quarter is graded AU53. Please note that the consignor of the 1854 dime will donate 10% of the proceeds to the LSCC Treasury.
Following the 1854 WA peices are two well matched Seated halves. The 1862-S and 1865 are desireable Civil War year strikes. The 1862-S is graded PCGS AU55 while the 1865 is graded PCGS AU58.
Please pardon my cynical nature this morning concerning the online news media. But on the other hand, as global citizens, self education and using one's own judgment is paramount given the amount of online content and individual agendas. Thank you for visiting the Daily Blog this morning....I can't wait any longer to peel those hard boiled eggs. Have a great day.
June 20, 2016
Greetings on a Monday morning and welcome to the Daily Blog.
I'm most relieved to report that Dell laptop Windows10 installation went smoothly during the early morning hours. Since using several ancient applications like Paint Shop Pro and Dreamweaver, there was the fear of losing those capabilities. Dreamweaver provided a brief scare upon launch this morning as not accepting the registration serial number but conveniently allowed passage (thank goodness) to the application. Already, there are subtle Windows improvements that will be beneficial including the underlining of active application icons on the bottom toolbar and faster response time when moving between applications.
Maine is starting to approach drought condition with no rain in the forecast for the upcoming seven days. Foliage is green but lawns are starting to show signs of the dry conditions. Let's pray that weather patterns shift in July and bring some much needed moisture.
The Fortins had planned the summer of 2016 to bring substantial maintenance to home and property. You've seen the backyard tree clearing project on the Blog. Our cedar sided home needs to be painted and a new stone retaining wall is planned for the driveway. However, the supply of skilled quality contractors is inadequate in the southern Maine area. Maine's economy is quite strong with home improvement project demands overwhelming the limited number of skilled contractors. More on this situation in a future Blog. I'm currently attempting to convince the landscape contractor to commit to the retaining wall "before the snow flies". As for the home painting, this must be scheduled and pushed out into the summer of 2017.
GFRC News
I'm so pleased and relieved to announce that the Liberty Seated Dime AU-MS price list is converted to the COIN auto generation system. Matt also converted both Liberty Seated Quarter price lists along with the Capped Bust Quarter price list during the weekend. What a great Father's Day present! The Seated dime and Bust Quarter price lists will go live after the Daily Blog is posted while the Seated Quarter price lists still need to be debugged. Our goal is to convert the GFRC For Sale page link to COIN generation by Friday. So lots of conversion work this week before traveling to the ANA Summer Seminar on Saturday and starting class sessions on Sunday.
What is COIN automatic generation you may ask? The COIN system is a massive database that contains all information concerning the GFRC business including prior sales and coins being actively sold. This database resides on the Cloud and feeds all price lists including 30 Day New Purchases, CAC Only, individual product lines and soon, Top 100 Seated Dime varieties and maybe Top 25 Seated Quarter varieties. One edit to the database immediately propagates throughout multiple price lists without manual HTML editting. The same database also enables the Consignor reports and provides business management information. It is an incredible platform for an owner operated online business with design and development by Matt Yamatin.
GFRC Consignment News
A small but high quality Liberty Seated quarter consignment arrives today. This advanced collector has decided to trim his holding via the Trading Desk and raise cash for more upgrades. Following are the new offerings with most being previously purchased from GFRC. Moving forward, this consignor will be known as the Kansas Collection. This offering features top quality better dates. FRoR is in order as I expect these to sell quickly.
Seated 25c: 1839 PCGS AU53 Briggs 1-A, ex Central California Collection; 1841 PCGS AU50; 1854-O PCGS AU53, ex Central California Collection; 1870 PCGS XF45; 1872 PCGS XF40; 1876 PCGS AU55 Briggs 6-F, ex Virginia Collection; 1891-S PCGS AU58 Briggs 2-B, ex Virginia Collection
Global Financial News
Spot gold is holding the $1285 mark while world stock markets are rallying with anticipation that the Brexit movement will be defeated. The export fueled Japan economy is in trouble as exports continue to decrease. The IMF is providing advice but the Japanese can be quite stubborn about reforms. Have you ever wondered about the cost to tranverse the Suez Canal with an oil tanker? Just read on....
World equities have their rally caps back on after weekend polls suggested Britain was more likely to vote to remain in the EU in Thursday's referendum. Sterling is getting a massive boost on the news, with the pound up 2% against the dollar at $1.4646. Campaigning activities have also resumed in the U.K. as both camps tone down their rhetoric following the killing of Labour Party lawmaker Jo Cox.
Japanese exports fell for an eighth consecutive month in May as shipments to China, the U.S. and Europe slumped, and the Kumamoto earthquake led to supply chain disruptions. According to the Ministry of Finance, overseas shipments declined 11.3% from a year earlier. The data foreshadows gloomy trade prospects for the current quarter and could undermine Prime Minister Shinzo Abe's efforts to revive the economy.
Meanwhile, the IMF is urging Japan to overhaul its stimulus policies by moving income policies and labor market reform to the forefront. The lender also called for a more flexible monetary policy framework with the BOJ abandoning a specific calendar date for achieving its 2% inflation target.
Egypt's Suez Canal Authority has set new toll rates for oil tankers as part of a six-month experiment. Very large crude carriers (VLCCs) coming in from the Arabian peninsula will pay $155K if they carry more than 250K in deadweight tonnage and $230K on a return ballast trip. The canal is one of Egypt's main sources of foreign currency.
Featured Coins of the Day
There was no activity on the Burch Creek Capped Bust and Liberty Seated halves during the weekend. Customers who have made initial purchases are consistently commenting that the Burch Creek coins are much nicer in hand than illustrated with GFRC images. I've given GFRC customers fair warning and will be showcasing the Burch Creek pieces at the Summer FUN show.
Let's visit the Barber coinage price list this morning for my favorite offerings. GFRC is not well know as a supplier of quality Barber coins but hopefully that perception will be changing during the next 12 months. Locating quality CAC approved Barber coins is challenging and takes patience. I'm always ready to step up and add quality pieces to inventory when they meet my standards for eye appeal and originality. Following are four recommended pieces. Top row dimes are 1906-D NGC MS64 and 1912 PCGS MS64 CAC. The bottom row 1908 PCGS MS63 CAC quarter and 1908-O PCGS MS63 CAC half can be found on the 30 Day Price List for the time being.
Thank you for stopping by at the Daily Blog this morning. I promised to be back bright and early on Tuesday morning with more ramblings and an update on the Windows10 installation. Wishing everyone a great week as we approach the end of June.
June 19, 2016
Happy Father's Day!
Today's Daily Blog edition is quite late and will be short. The Fortins attended our nephew's wedding in southern Connecticut on Saturday evening. It was a busy Saturday followed by a Sunday morning drive back to Maine. The wedding ceremony was a traditional Catholic mass with exchange of vows followed by a lovely reception in New Milford.
For security reasons, announcing my whereabouts outside of the GFRC office is not done in the Blog. I will share what I've been up to after the fact. Some of you may have already noticed this behavior.
I'm back in the GFRC office on Father's Day working in the COIN system conversion. The ANA Summer Seminar is looming in less than a week and having the complete (or nearly complete) COIN conversion behind me would be great. The For Sale page is being replaced with an automatically COIN generated version that indicates the number of coins on each price list and the date of last update. This page is ready to be published but Matt and I are attempting to have the majority of individual price list pages converted also. Hopefully we can pull the trigger by Friday.
While in Connecticut, I received notice of a Liberty Seated Quarter consignment arrving on Monday or Tuesday. The consignor is an advanced collector of the series and has decided to sell duplicates and continue the set upgrading process. Nearly all of the newly consigned pieces were purchased from GFRC and named consignments. Quality level will be high.
That is it for today's Blog. Wishing everyone a restful Father's Day. I will be back on Monday morning with a normal edition of the Daily Blog.
June 18, 2016
Father's Day weekend has arrived once again as time moves along so quickly. I was curious as to the history behind Father's Day and checked with Wikipedia. The following historical account of our holiday is as follows. I did not realize that Father's Day was a much more recent formal holiday event (1972) as compared to Mother's Day.
In 1910, a Father's Day celebration was held in Spokane, Washington, at the YMCA by Sonora Smart Dodd. Its first celebration was in the Spokane YMCA on June 19, 1910. Sonora's father, the civil war veteran William Jackson Smart, was a single parent who raised his six children there. After hearing a sermon about Jarvis' Mother's Day in 1909 at Central Methodist Episcopal Church, she told her pastor that fathers should have a similar holiday honoring them. Although she initially suggested June 5, her father's birthday, the pastors did not have enough time to prepare their sermons, and the celebration was deferred to the third Sunday of June. Several local clergymen accepted the idea, and on June 19, 1910, the first Father's Day, "sermons honoring fathers were presented throughout the city."
Americans resisted the holiday for its first few decades, viewing it as nothing more than an attempt by merchants to replicate the commercial success of Mother's Day, and newspapers frequently featured cynical and sarcastic attacks and jokes. A bill to accord national recognition of the holiday was introduced in Congress in 1913. In 1916, President Woodrow Wilson went to Spokane to speak in a Father's Day celebration and wanted to make it official, but Congress resisted, fearing that it would become commercialized. US President Calvin Coolidge recommended in 1924 that the day be observed by the nation, but stopped short of issuing a national proclamation. Two earlier attempts to formally recognize the holiday had been defeated by Congress. In 1957, Maine Senator Margaret Chase Smith wrote a proposal accusing Congress of ignoring fathers for 40 years while honoring mothers, thus "singling out just one of our two parents". In 1966, President Lyndon B. Johnson issued the first presidential proclamation honoring fathers, designating the third Sunday in June as Father's Day. Six years later, the day was made a permanent national holiday when President Richard Nixon signed it into law in 1972.
LSCC Annual Auction Lots
A portion of Friday was spent photographing and processing LSCC auction lot images. Len Augsburger is writing individual lot descriptions and preparing the LSCC auction catalog. As a reminder, the auction will be held on Thursday August 11 after the 9:00am annual meeting is concluded. Bob Merrill of Heritage fame will be the auctioneer.
Following is a gallery of the LSCC auction lots donated to date. Gerry Fortin Rare Coins and Rich Uhrich Rare Coins have each donated $200 gift certificates. Bill Bugert donated several of his Liberty Seated Half Dollar variety books also.
LSCC Annual Treasury Benefit Auction - August 11, 2016
I'm also pleased to report that another substantial donation was committed during the Friday overnight. A former LSCC officer is committing an 1840-O "mint set". All coins have medium gray patina.
1840-O half dime no drapery, VG, V-4
1840-O dime, Fine, F-101
1840-O quarter with drapery, VG, Briggs 1-B. This coin is one of two small O varieties and even though not as rare as the large O WD, it is
much scarcer than the other small O variety (2-C)
1840-O half dollar, VG+, WB-3, one of the tougher 1840-O halves rated as an R-5 by Bill Bugert.
GFRC News
Work continued into late Friday evening on the COIN system conversion and the Seated Dime AU-MS price list. By Monday morning, this list will be completely converted and available. Attention will immediate move to the Seated Half Dollar price list with plans to separate those offering into two price list similar to Seated Quarters. I'm heading to ANA Summer Seminar on June 25; therefore the conversion must be done by next Friday and more late evenings will be necessary.
Multiple orders were received for the 1852 F110c (F-110c is new web-book designation) that was used for Wednesday's question of the day. This piece is sold.
New Consignment
I'm pleased to announce that yet another Seated dime and quarter consignment has arrived. This lot is from a collector who specializes in crusty original silver coinage. All pieces are photographed. Following is a listing of the new offerings for early next week.
Seated 10c: 1844 VG8 slight mark thick gray patina, 1847 F-101 VF30 even gray Top 100; 1852 F-101 EF45 even gray, 1860 F-111 EF45 bold obverse cud but reverse solder; 1869 EF40 crusty ebony gray; 1871 EF45 crusty original gray, 1868-S PCGS EF45 crusty original gray and choice
Seated 25c: 1862-S PCGS G4 light gray; 1867 PCGS VG8 dark gray; 1867-S PO2 original gray with heavy wear
Featured Coins of the Day
The initial Burch Creek order rate was high but sales have slowed. Many wonderful Capped Bust and Liberty Seated halves remain on the price list. The individuals who purchased the 1842 ANACS AU58 and 1872-S ANACS EF45 called or wrote to indicate how pleased they were with purchases. One individual said bluntly that GFRC images did not adequately do his new 1872-S justice!
Following are four recommended pieces that any customer will be pleased to own upon arrival. The 1873 NA half is an absolutely no brainer.....this piece entirely shifts to blues under bright light and is short of amazing. Great coins are not priced at value levels. Lay-a-ways are possible for these exceptional halves.
Recommended Burch Creek Offerings
Thank you for visiting the Daily Blog on this Saturday morning. There is much to do today but I'm always available for a phone or email order. Have a great Father's Day weekend.
June 17, 2016
Good morning and welcome to the Daily Blog on an absolutely weather perfect Friday morning in Maine. The forthcoming weekend is forecasted to be sunny with temperatures in the low 80s. Summer has finally arrived.....
In yesterday's Blog and without a strong cup of coffee, it was mentioned that Summer had officially arrived since having a mental impression that June 15 was the official starting date. Immediately, an email appeared reminding me that.....
Does summer start earlier in Maine than the summer solstice which is June 20 AND is a rare Full Moon as well. The pagans will be out celebrating enmasse!
Then Poetic Candy sends along a poem concerning that strong cup of coffee that enables these daily ramblings.
COFFEE BREAK
I don't drink coffee in the morning, I think it's like a pill.
I do not think I need it, never have and never will.
If I did, I know that it would be a big mistake,
For my days are long and hard,
And I just don't want to stay awake.
There are days where I sit at the laptop at 6:00am and truly wonder about a topic that will be coherent. This is one of those mornings! The United States presidential election cycle is a minefield. Media amplification is beyond belief on any political issue. Imagine for a moment if the internet never happened? There would be no GFRC. Life would be much simpler. Fishing at the local lake would be an exciting event. Social gatherings would be at a nearby club or hall where everyone could look in each others eyes when chatting; does anyone remember body language? Dating would return to meeting people at social gatherings or through friends helping to arrange contacts. We would have never heard about xenophobia, a misogynist and all the other phobias that can be rationalized consistent with politically correct behavior and thoughts. Reminds me of Chairman Mao's little red book.
Yes, it is a thoughtless morning at the GFRC office......Maybe this is a good thing as everyone needs an occasional break.
GFRC News
June orders have been steady while the flow of new offerings continues at a brisk pace. The COIN system has brought about a marked improvement in new purchases and consignments posting speed. Processing and posting 15 coins per day along with packing/shipping and customer service is now a reality. If only there were time to complete all the price list conversions.....
Below is a gallery featuring the Westford Dealer Day new purchases. The 1890 F-106 Misplaced Digits in Base offering is already sold. I do recommended that Blog readers pay special attention to the 1908 and 1908-O PCGS MS63 CAC Barber offerings as so choice. Then there is the colorful 1905 PCGS MS62 quarter eye to tickle the eyes.....Gold bullion with 0.999 purity gold is so boring as compared to circulation strikes with a 10% copper alloy.
Westford, MA Dealer Day New Purchases - June 15, 2016
Global Financial News
Seeking Alpha headlines offer little in terms of useful news therefore let's pass on this Blog module. Spot gold is back to $1290 after its short breech of the $1300 level.
Featured Coins of the Day
The 1879 PCGS AU55 CAC gold $10 eagle featured in Thursday's blog sold to an important GFRC consignor. I'm sure the new owner will be pleased with the crusty original surfaces.
Let's shift to the Capped Bust half dollar price list as there is a substantial inventory to ponder. How about a showcase of just raw coins for a change. Demand for raw coins remains steady but paramount is originality and accurate grading. From the CBH price list, here are four recommended pieces for consideration.
Thank you for stopping by this morning and reading through this semi coherent Blog edition. I'm off to the packing and shipping department followed by more work on the ANA Summer Seminar course material. Have a great Friday! Please don't be afraid to return on Saturday morning......maybe I'll have something special to discuss.
June 16, 2016
Summer has officially arrived! Greetings once again and welcome to the Daily Blog.
One positive aspect of Maine life is long summer days. This morning's sunrise occurred at 4:58am and sunset will be at 8:24pm. An early start to the day is typical at GFRC as the coffee is brewed and the laptop humming by 6:00am.
Wednesday's short blog was due to an early drive to Westford, Massachusetts. The event was an invitational Dealers Only day show in Westford. Ernie Botte, the promotor, asked that I not list the event on the GFRC homepage or make mention for security reasons and due to the exclusive list of dealers being invited. The dealers only event was carefully managed with well recognized New England dealers in attendance; Gerry Fortin Rare Coins, Northeast Numismatic, Rare Coins of New Hampshire, David Kahn Rare Coins and David Wnuck. About another 15 "local" dealers were in attendance resulting in a packed hotel events room. This was a fast paced wholesale event allowing dealers to rebalance inventories followed by a wonderful buffet lunch. Yes, I over ate as the food was just too good. I skipped dinner due to the huge lunch.
GFRC New Purchases
I arrived into Westford by 9:30am and immediately sold an 1855-S PCGS AU50 double eagle to a GFRC customer via previously arranged meeting. The gold double eagle sale concluded just in time to enter the Dealers Day event with one goal; locating top quality coins at fair wholesale prices to further "polish" the GFRC brand name. Results was positive after searching through inventories and cherry picking coins that were strictly original with natural luster and eye appeal. FRoR is in order and hopefully this lot will be online on the 30 Day New Purchase price list by tomorrow morning. Let's see if I can turn this group in 24 hours with the new COIN system.
Seated 10c: 1877-CC Type II F-119 MS62 original gray/rose (will be new web-book plate coin); 1890 F-106 PCGS MS62 Top 100, Four misplaced digits in gown and so difficult to locate
Seated 25c: 1854 WA PCGS AU53 CAC choice light gray
Barber 25c: 1908 PCGS MS63 CAC choice light gray
Seated 50c: 1859-O AU50 original deep gun metal gray
Barber 50c: 1908-O PCGS MS63 CAC gem original olive gray
Gold $2.5: 1905 PCGS MS62 antique deep orange/copper patina and so pretty
Gold $5: 1882-S PCGS MS63 under graded with blooming luster; 1902-S MS62 original luster; 1915 MS62 bold luster and eye appeal
Gold $10: 1912 MS62 bold luster
Wednesday Question: Mint Product or Post Mint Damage?
In yesterday's Blog, this most interesting 1852 F-110b dime was illustrated with the question of whether the huge right obverse cud was the result of a terminal die or some type of post mint damage. The correct response was terminal die. The supporting diagnostics are straight forward. Look at the reverse area opposite the obverse cud. There are weak device details since the cracked obverse die did not allow for sufficient striking force in that area. There is also no reeding in the cud region for the same reason; insufficient striking force to push metal flow into the collar.
This piece is heading to the web-book as 1852 F-110c terminal die state. We now know that the huge die crack through the date never turns into a major cud, rather the die shatters at the right obverse instead.
Consignment News
I'm pleased to announce that more consignments are forthcoming. A Seated dime and quarter consignment arrived on Tuesday and I've yet to open the package until assimilating the Upstate New York consignment and the Dealers Only show new purchases.
Emails arrived yesterday with proposals for two quality Seated quarters consignments. I'm excited about these possibilities given that Liberty Seated quarters are so difficult to locate in the market place.
Global Financial News
Spot gold is sitting at $1305/oz this morning after briefly touching $1312 over night. Can gold hold the $1300 level? I don't see why not as Western countries, investors and citizens appear to be moving into physical gold given negative interest rates and the Brexit vote in a week. If the British do move to exit the European Union, then the Union is doomed as it will slowly unravel. The future of the Euro currency will add more unrest and uncertainty to global financial markets. Gold as a safe haven is gaining traction.
Following are Seeking Alpha headlines supporting spot gold current movement. Japanese equities are dropping as the Yen continues to strenghten (impacting a critical export focused economy) and the Swiss are leading the world deeper into negative interest rates.
Gold has topped $1,300 an ounce after the U.S. Federal Reserve scaled back its outlook for interest-rate increases and Janet Yellen signaled rates may stay lower for longer. According to a Bloomberg survey, bullion will rally further if Britons choose to exit the EU, reaching $1,350 within a week of the vote, but could slide to $1,250 should a majority decide to stay in the bloc.
The Bank of Japan has kept monetary policy steady and lowered its inflation forecast, stating the consumer price index's year-on-year change is likely to be slightly negative or flat for the time being. The yen surged through ¥104 to the dollar following the news, sparking speculation on whether Japanese policymakers would intervene to halt the strengthening currency, while the Nikkei tumbled 3.1% to 15,434.
Reiterating its warning that the franc is significantly overvalued, the Swiss National Bank left its negative interest rates unchanged at record lows, conserving ammunition ahead of a British vote on EU membership. The SNB held its deposit rate at -0.75% as widely anticipated, and kept its target range for the three-month Libor steady at a range from -1.25% to -0.25%.
Featured Coins of the Day
CAC United States gold offerings are today's highlights. As I become more immersed in the United States gold product line, it is becoming apparent that CAC approval is just as relevant for gold as it is for silver coins. CAC'ed gold pieces are definitely above average in terms of marks (so important since gold is a soft metal), luster and original color. This morning, I'm featuring four top quality pieces for your consideration. The 1926 NGC MS65 CAC Sesquicentennial is a gem for the grade with vibrant luster and no blemishes. The 1862 $3 Princess is a near top pop rarity with a meager mintage of 5,750. The Woodlands consignor really wishes to sell this piece for funding his latest Liberty Seated collecting goals. We start the second row with a crusty choice original 1879 PCGS AU55 CAC $10 Liberty piece; the images speak for themselves. Finally, a choice 1925 Saint graded NGC MS63 CAC from the Poetic Candy Collection wraps up the featured items.
It is great to be back to normal Daily Blog format and thank you for visiting with me each morning. I shall be back tomorrow with another edition and hopefully the Westford new purchases will already be listed. Have a great day.
June 15, 2016
Greetings once again and I'm pleased you could stop by today. Today's ramblings will be limited due to some personal early morning activities. But the edition is full of images and that is why we collect coins, right? Actually, this blog is being written on Tuesday evening.
GFRC News
The Upstate New York Collection consignment was processed on schedule and I'm so pleased to be offering the following Client Gallery. Some background is in order. The Upstate New York consignor has been collecting for most of his life and acquired a fondness for colorfully toned silver pieces. Being a smart collector, he decided it was time to "trim the herd" and sell some pieces to raise cash for other collecting objectives. Upstate New York consignor likes to remind me that these are not his best stuff. I can only imagine the Client Gallery that come be formed from his top coins.
All of the below coins are already loaded on the 30 Day New Purchase/Consignment price list. You can also find the half and large cents on the Early Copper price list also. Enjoy and Happy Hunting.
Upstate New York Collection Consignment - June 15, 2016
Mint Product or Post Mint Damage?
Let's have some additional fun this morning. A new GFRC friend sent along the following 1852 F-110b dime. There is a huge retained cud on the right obverse or is it solder? What do you think and how can we validate that the cud was indeed produced at the Philadelphia mint and not post mint damage? The bubbled surfaces suggest exposure to a fire and adds some complexity to the determination.
More on this interesting dime in tomorrow's Blog.
Thanks for stopping by and my apology for the short Blog. I will be back on Thursday morning with typical format and content. Have a great day!
June 14, 2016
Welcome to the Daily Blog on a Tuesday morning.
Maine weather will finally start to feel like summer in a few days with the weekend forecasted to be in the low 80s. Actually, I enjoy the cool windy weather for health walks. A fast pace can be maintained without troubling insects. Each day, a small but incremental distance is added to the walk to raise stamina.
On an entirely different topic....have you seen the new Paradise Mint exclusive David Hall special labeled PCGS holders? Yes, PCGS has gone as far as to print a special label with David Hall's image and his signature. I received notice yesterday via email from the Paradise Mint concerning modern MS70 coins. David Hall will personally verify that the MS70 graded coins are indeed MS70. Gimmicks know no bounds in the numismatic industry..........
GFRC News
The Summer FUN show is just a few weeks away. Cindy Wibker sent along a dealer package and GFRC will be located at Table 725. I'm really excited about the Florida drive and being behind a bourse floor table once again. Summer FUN is only half the size of the Winter FUN but will be an important buying event. Then there is the social component; spending time with Grey Soldier and having Osprey as table assistant. Below is the Summer FUN bourse floor layout and the GFRC table location. If you plan to attend, then please visit GFRC first as a substantial portion of the online inventory will be on display along with freshly holdered United States gold pieces from Osprey consignment.
Summer FUN
Gerry Fortin Rare Coins - Table 725
Consignment News
Image processing for the Upstate New York consignment is nearly complete and I hope to start posting these offerings by end of day.
Global Financial News
Spot gold is holding on to recent gains at $1283/oz this morning. Seeking Alpha can be quite educational! Does anyone know what a "Gilt" is? I was unaware until this morning's Seeking Alpha headlines forced a Wikipedia check. Gilts are bonds that are issued by the British government and generally considered low risk. Gilts are the U.K. equivalent to U.S. Treasury securities. So German bonds and now even Gilts bond yields are moving into record low territory.
We close Global Financial News with a piece that brings back memories from my semiconductor career. I spent most of my post IBM career at Fairchild and National Semiconductor in Standard Products divisions and knew these product like the back of my hand. Standard Products are logic and analog chips used for electrical signal management between chips on circuit boards and also for power management. While at Central Semiconductor Manufacturing Corporation (CSMC) and my last job in China, I worked closely with NXP to move their Standard Product manufacturing into our factories. Ultimately, the deal feel through due to a politically motivated below operating cost offer from CSMC competitor in Shanghai. NXP selected the competitor but ultimately smelled a rat and never executed the Holland to China manufacturing transfer. The NXP Purchasing VP in Singapore responsible for the selection was fired over the whole affair. Anyways.....now NXP sells their entire Standard Products division to a Chinese concern named Jianguang Asset Management. I suspect the deal involves some of my old CSMC colleagues.
The rally for sovereign debt has passed an important milestone, with the yield on Germany's benchmark 10-year bonds hitting zero for the first time and briefly entering negative territory. The strong demand is standing out in cautious trade ahead of a series of policy meetings at major central banks and rising uncertainty over whether the U.K. will stay in the EU.
Gilts are joining the record-breaking party as investors look for fixed income yields in any place they can find it. The 10-year paper hit yet another weak level today, sinking under 1.18% for the first time. Meanwhile, sterling slumped 1% to a three-year low against the safe haven yen, as The Sun, the U.K.'s biggest-selling newspaper, urged readers to quit the bloc.
In a banner year for deal activity by Chinese buyers, NXP Semiconductors (NASDAQ:NXPI) has struck another asset-sale pact with Jianguang Asset Management. The chip company has agreed to sell its Standard Products unit to state-owned Jianguang and Wise Road Capital for $2.75B. Just over six months ago, NXP sold its RF Power unit to Jianguang for $1.8B, a deal that helped clear the way for its purchase of Freescale Semiconductor. NXPI +1.3% premarket.
Featured Coins of the Day
I'm passing once again on this module as need to quickly move into the packing and shipping department. There is a huge pile of orders plus consignment checks to be sent out today.
Thank you so much for making the Daily Blog a part of your daily routine. I take this Blog rather seriously as it has become a grounding activity in my life. Having a great day and do please consider a GFRC coins purchase. Maybe I need to approach PCGS for Gerry Fortin special label holders....just kidding!!!!
June 13, 2016
GFRC Customer Lot Purchase - Quality Coins on the 30 Day New Purchase List
Morning Commentary
Greetings on a Monday morning and welcome to yet another edition of the Daily Blog. Maine is in for another day of unsettled and cool weather with brisk winds.
The Orlando shooting, terror attack or whatever you wish to call the tragedy will dominate the news for the coming week. Modern life brings about stress due to information media amplification, financial challenges and personal crises/biases. Certain individuals are unable to cope with stress and commit suicide privately while others take the dramatic route with more media amplification. Let's leave this sad topic here.
GFRC News
I hope your weekend was restful. At GFRC, Matt and I worked throughout the weekend on the COIN system conversion and are making progress. Thank you Matt for all the great support! This morning brings two more price lists converted to the COIN system; Capped Bust half dimes and Draped/Capped Bust half dollars. We made substantial progress on Seated Dimes AU-MS and Proof price lists also. Following are the converted price lists.
Early Copper, 3 Cent Silvers, Capped Bust 5 Cents, Draped/Capped Bust 50 Cents, Morgan Dollars, United States Gold
The 30 Day New Purchase/Consignment Price List is proving to be very popular with roughly 500-600 hits per day. This price list should be your primary focus during the COIN system conversion as consignments and new purchases continue to arrive.
The Upstate New York consignment is photographed and prices are settled. My target is to have these coins online by Tuesday.
Last evening, I also bought a high quality lot from a long time GFRC customer. He decided to start trimming the herd and offered his pieces to GFRC for which I am grateful. As mentioned frequently in the Daily Blog, choice coins reside in collector hands. When collectors decide to release all or a small portion, then others should pay immediate attention. New purchases are;
Capped 5c: 1836 LM-4.2 PCGS EF45 OGH CAC with antique gray/gold patina, choice
Draped 25c: 1806 B-7 (R5) PCGS G6 with choice gray/rose surfaces and claims to a higher grade
Liberty G$2.5: 1902 PCGS MS63 CAC gem original
Indian G$2.5: 1929 PCGS AU58 choice with old time orange patina (Sold)
Indian G$5: 1913-S PCGS EF45 CAC choice with lovely orange patina
Global Financial News
Spot gold moved up quickly overnight to $1287/oz and looks set to once again challenge the $1300 barrier. A break out into the $1330 level leaves little overhead resistance.
Here are two charts from a weekend John Mauldin article entitled, Hot Summer Economic Weirdness, that well illustrates the severity of global debt and central banker's ongoing stimulus experimentations to avoid recessions. The European Central Bank is creating money out of thin air and now buying public corporation bonds including names such as Anheuser-Busch, InBev, Siemens. I only wish to borrow monies at 1% interest to build up GFRC inventories. Where will this stimulus go? Probably for more stock buy backs and enhancing shareholder value.....the financial system no longer plays by traditional rules and is leading us into the unknown.
The world has quickly embraced negative interest rates and now the talk is of hoarding paper cash and physical gold/silver. The United States remains as the only major economy not pushed into negative territory.
Has anyone considered the damage to pension funds? Millions of retirees are counting on pension funds to provide for a reasonable old age lifestyle. Negative interest rates have pretty much wiped out the bond portion of the pension portfolios leaving stocks to cover the shortfall.
Brexit vote is 10 days away and if I were the British, leaving the EU seems to be a prudent step given the ECB financial strategies. From Seeking Alpha headline this morning;
With ten days to go until a Brexit vote, the "Leave" campaign has taken a lead over "Remain" in the latest YouGov poll, reversing the one point lead held by the pro-EU camp in the last survey taken on June 6. Another poll from research firm ORB showed that 55% of British citizens felt they should leave the EU, versus 45% who favored staying. Sterling has taken another leg down this morning, falling 0.7% to $1.4150.
Featured Coins of the Day
Let's pass on this Blog module for the day as a quick shower is in order followed by packing an express shipment coupled with quick visit to dentist to check on my gum graft. Life is never dull at GFRC.
Thank you for stopping by and please check the 30 Day New Purchase/Consignment price list for the latest offerings. Cheers!
June 12, 2016
Welcome to the Daily Blog on yet another Sunday morning. Fog is dominate this morning and the entire day will be without sunshine. The cool weather in the Northeast will hold through the forthcoming week. Daily high temperatures are forecasted to only be in the low 70s. Yet another perfect day to work on the COIN system conversion......
GFRC News
My morning started with an email from Shanghai agent, Harry Zhang. Harry and his friends have been quietly purchasing coins with strong eye appeal and the most recent shipment arrived yesterday. To quote Harry, "Package has arrived and really fantastic, every single piece." This quote symbolizes why so much personal energy is being placed into building the GFRC business.
Saturday's Burch Creek consignment sale launch has gone quite well. Already, 8/43 offerings are on hold. Believe me that there are still many great coins to be purchased as the Burch Collection quality is so uniform. If you missed yesterday's launch, then there is still time today to acquire some outstanding Capped Bust and Liberty Seated halves. Please remember that the Burch Creek Collection can only be viewed on the 30 Day New Purchase/Consignment price list.
Matt made great progress yesterday on COIN system conversion and completed the Draped and Capped Bust price list. After some morning debug, this price list should be going live by afternoon. I've made little progress on the Seated Dime AU-MS price list conversion since yesterday was a heavy packing/shipping day and responding to Burch Creek inquiries and orders.
Consignment News
Unfortunately, the clouds rolled in by 10:00am on Saturday and I was unable to photograph the latest Upstate New York consignment. This task moves to Monday or Tuesday.
I've mentioned several time in the Daily Blog that GFRC will be receiving a substantial United States gold and World Coin consignment at the Summer FUN show. Come early July, the COIN system conversion should be mostly completed and GFRC will be in a position to substantially upgrade its World Coin offerings. Following is a subset of the Osprey consignment as a large lot of Napoleon 5 Franc pieces are at NGC for grading along with the United States gold. This is a preview of what is to come during the second half of July. Please remember that all of these coins were sourced from Europe and will be fresh to the United States market. FRoR is in order.
Osprey Consignment Preview (without large 5 Franc lot)
USA 1c: 1853 NGC AU 55 BN, choice original
USA $20: 1896 PCGS MS63, choice original
France Windward Islands 20 Sol: 1731-H PCGS MS 64, gem and finest graded, struck for use in French Carribean Colonies and known to have circulated in the USA.
France 1 Franc: 1812-FLAG PCGS MS62, gem original, struck in Utrecht, Netherlands under the rule of Napoleon. The flags were the mint mark used in Utrecht. Mintage is only 12,209
France 1 Lira: 1813-M PCGS MS64, gem and struck in Italy under the rule of Napoleon. The only coin graded at PCGS.
France 1 Franc: 1868-BB PCGS MS 65, gem with gorgeous toning and eye appeal. Issued during the rule of Napoleon III and struck in Strassbourg with petit BB mintmark. Condition Census with PCGS population (3) MS65, (2) MS66, (1) MS67
England 1/4P: 1688-94 NGC MS 62 BN, choice William and Mary Pattern P-636
Central America Republic 1/2 Escudos Gold: 1846 NGC EF 45, Choice with 17 graded by NGC, KM13.1
Mexico 8R: 1875 GO NGC MS 65, choice strong strike, Guanajuato Mint, KM377.8
Holland Daalder: 1670 PCGS MS 61, choice with 4 graded total at PCGS at MS61, 2 higher
Bolivia 8R: 1819PTS PJ NGC MS62, choice with nice high relief, 20 total graded at NGC, 3-MS62, 1-MS63 1-MS64

Portugal 6400 Rais: 1823 PECA PCGS MS63, choice with only two graded MS63 and small mintage of 27,000

Featured Coins of the Day
This morning, I've reviewed the 30 Day New Purchase and Consignment price list and selected four coins that you might just want to place in your collection. My criteria was originality and eye appeal. Some great coins will sit on the price list for several months and go unappreciated. Maybe this visibility will help these great pieces located a new home. For more information, grades and pricing, simply visit the new GFRC 30 Day New Purchase/Consignment price list.
Thank you for stopping by at the Daily Blog and wishing everyone a quiet and restful Sunday! I will be back bright and early on Monday morning with more GFRC ramblings.
June 11, 2016
Greetings on a lovely but cool Maine Saturday morning. Bright skies abound and will be perfect for photographing the Upstate New York consignment at high noon.
The Burch Creek Collection
It is with great pleasure that I announce that the Burch Creek Draped/Capped Bust and Liberty Seated halves are completely posted, here in the Daily Blog, and on the 30 Day New Purchase/Consignment price list. What an awesome collection with originality and eye appeal that is stunning. The current 2016 numismatic marketplace lacks this type of quality since above average coins are immediately placed into other advanced collections leaving marginal coins to float about from dealer to dealer until finally placed.
The Burch Creek Collection resides in ANACS old white holders and is conservatively or accurately graded. There is no gradeflation here. The ANACS holders are an important part of each coin's legacy and I hope the old holders will be preserved.
Friday morning brought an insightful conference call with the Burch Creek consignor. We chatted for over 30 minutes as he shared the history of his wonderful Capped Bust and Liberty Seated halves. Nearly all were purchased raw from leading dealers when buying raw coins was the primary collecting mode. Burch Creek was selective and trusted the advice of dealers working with him. ANACS grading was selected since ANACS provided free grading opinions at major coin shows. Burch Creek indicates that his primary reason for ANACS encapsulation was to protect the coins from harm and not the grading opinions. A quick review of the ANACS serial numbers indicates that the Burch Creek coins were submitted and graded as three separate lots. The Draped/Capped bust halves are serial numbers 1381xxx and 2636xxx while the Seated halves are 2635xxx.
Pricing for the Burch Creek halves was based on the coins and not the ANACS holdered grades. I studied each coin carefully for originality, eye appeal, strike and blemishes. A mental grade was assigned along with an opinion on whether each piece would receive CAC approval if crossed into PCGS/NGC holder. Then asking prices were set and are typically above CoinFacts average prices realized for the assigned ANACS grade. Just take a stroll through CoinFacts records and look closely at the images and prices realized. This is the key point here.... Much of the current market activity is for average or below average coins with CoinFacts pricing reflective of this quality level. When a superior old time collection is released to market, it should command prices well above current market levels. This is the advantage of working with GFRC as time is taken to carefully evaluate each offerings against a Quality Rating system and commenting on the accuracy of the TPG grading. Yes, these are just my opinions and GFRC customers must render their own decisions on the pricing/quality relationship.
I hope you enjoy viewing the Burch Creek Collection as much as I have!
Burch Creek Collection Consignment Part II - June 11, 2016
Old Time Originality and Eye Appeal - 43 Offerings
Congratulations to Burch Creek for this accomplishment!
As important as the Burch Creek Collection announcement is this morning, I have another noteworthy opportunity to share with GFRC customers. This week, an 1873 No Arrows Open 3 F-102a Liberty Seated dime was purchased. This grade rarity resides in freshly graded PCGS MS63 holder with CAC approval. Most collectors don't appreciate the rarity of 1873 No Arrows Open 3 specimens in mint state but I certainly do. Estimates mintage is 60,000. The example in my PCGS Set Registry award winning set is only an MS62 purchased from Goldberg auction during 2004. Along comes this MS63 CAC example which I immediately purchased. Here are the PCGS and CAC population statistics;
PCGS - MS62 (7), MS63 (6), MS64 (3), MS65 (1), MS66 (0)
CAC - MS62 (1), MS63 (1), MS64 (2), MS65 (0)....CAC total number in any grade is 6!
This 1873 Open 3 is in the condition census and would be an important addition for an advanced Liberty Seated dime collection including my own. I'm loading this piece onto the GFRC price list at $3000 and if it does not sell within 90 days, it may just end up in my collection and I will sell the MS62 example instead.
1873 Open 3 Seated Dime - PCGS MS63 CAC - Condition Census Specimen
I hope you enjoy viewing the Burch Creek Collection this morning and consider a purchase. Opportunities like Burch Creek don't grow on trees; decisive decisions are required for securing top quality coins for one's collection. If there is potential interest, then please call or email as I will be in the GFRC office all morning and portions of the afternoon.
Since not resourcing the packing and shipping department on Friday, let's end the Daily Blog early so I can get a head start on preparing shipments and transport to the post office before 12:00pm cut-off.
Thank you for stopping by this morning and wishing everyone a pleasant and restful weekend. I will be working on the COIN system conversion as much as possible during the next 48 hours along with mowing the lawn and several health walks.
June 10, 2016
Even Jackson Browne wondered what happened to summer in Portland, Maine.....
Greetings on a Friday morning and thank you for visiting the Blog. Yes, the Fortin's took a much needed break from routine life and attended a Jackson Browne outdoor concert last evening. The venue was the Maine State Pier and probably one of the most scenic locations in the country for an outdoor concert other than Red Rocks in Colorado. But the evening was cold with a brisk wind. Concert goers were bundled up and Jackson Browne had to stop between songs to warm his hands. Remember this is a 68 year old musician and not a 20 something rocker. The performance was spectacular as one would expect with The Pretender being my show favorite.
Below is a stage shot image taken from Google to provide a sense of the Maine State Pier but not doing last evening's performance any justice. Ferries to the surrounding islands where plying waters throughout the show, flights were overhead arriving into Portland Jetport and the Nova Scotia ferry left port as another impressive backdrop. Portland is indeed one of the best cities in the country in terms of quality of life.
GFRC News
I'm proud to announce the purchase of a mint state grade rarity in the Liberty Seated dime series. Images and details will be featured in Saturday morning blog. The key decision is whether to place in my date/mintmark set or offer for sale.
More progress on the COIN system conversion is being made but a long journey when still operating GFRC business at full throttle. Matt reports that we about 25% converted in terms of individual coin listings. I'm working towards completing the Seated Dime AU-MS price list while Matt is focused on the Draped and Capped Bust Half Dollar list. If there where only 36 hour days........
I've made a command decision that all new GFRC coins will only be featured in the 30 Day New Purchase Price List until their respective product price lists are converted to COIN system generation. There is just not enough man-power to double load coins into COIN database and manually into HTML tables. For example, the Burch Creek consignment will first appear on the 30 Day Price List starting tomorrow and then be featured in the Seated half and Draped/Capped Bust half dollar price lists once converted to COIN system. So please check the 30 Day New Purchase Price List as this is where the action will be for the next two weeks. Older inventory will remain in regular price list tables.
Consignment News
The Upstate New York consignment arrived on schedule....19 wonderful offerings across all denominations. The Upstate New York consignor is passionate about eye appeal and spent years amassing a huge collection of beautifully toned silver along with quality early copper. This is an individual who buys the coin and not the holder. Therefore offerings will be found in all the major TPG holder generations. Following is a list of new Upstate New York consigned items. FRoR is in order.
1/2c: 1804 PCGS EF40 Crosslet 4, Stems so choice; 1828 PCGS MS62BN 13 Stars choice original; 1834 PCGS AU53 choice brown
1c: 1848 NGC AU58BN N-21 choice
Seated 25c: 1844 PCGS EF45 choice gray; 1857-O PCGS EF40 original old album ring toning; 1858 ANACS EF40 blue ring toning; 1858-O PCGS VF35 choice original gray/rose
Bust 50c: 1818/7 PCGS VF35 Lg 8 original old album ring toning, 1823 PCGS VF30 old album bullseye toning with obverse strike doubling; 1825 PCGS EF45 original gray/gold
Seated 50c: 1840 ANACS EF40 OWH old album ring toning; 1846 Tall Date NGC EF45 light old album toning
Morgan $1: 1879-S PCGS MS66 frosty luster and not PL; 1884-O NGC MS63 dual sides rose patina; 1886 PCGS MS63 obverse rainbow arc; 1887-S ANACS MS64 obverse rainbow gem; 1896 PCGS MS63 dual sided rainbow
Peace $1: 1926 NGC MS63 golden surfaces
Global Financial News
Yes, spot gold is back to $1272/oz this morning as the elite investors of our generation are sounding the alarm bells on equities and bonds. Believe me that I'm not trying to hype GFRC gold inventory but rather communicating what seasoned investors are seeing in the global markets. Physical gold positions as financial insurance could be warranted. Finally, someone speaks some common sense; German Finance Minister states that global economies don't need more stimulus but rather debt reduction! I could not agree more.
We might be at the very end of this economic cycle, and the remarks by legendary investors Carl Icahn and George Soros signal it, said BlackRock's (NYSE:BLK) Jeff Rosenberg. "You're seeing [this sign] in the fixed income markets, you're seeing it in the credit markets, you see it in profits, in the equity markets." Adding to the predictions, Bill Gross warned yesterday that the world's negative yield bond pile is a "supernova that will explode one day," as 10-year government bonds in the U.K., Germany and Japan hit record lows.
A lot of talk out of Germany. Finance Minister Wolfgang Schaeuble said the global economy doesn't need further stimulus from fiscal policy, but countries should focus on reducing debt levels instead. He added that if Brits vote for Brexit, that could lead to referendums in other European Union countries. Chancellor Angela Merkel separately announced that in the long term, the EU should aim for a common economic zone with Moscow that would extend from Russia's Pacific port of Vladivostok to Lisbon.
Closing Comments
Resources from the GFRC packing and shipping department will be allocated to wrapping up the Burch Creek collection and focusing on more COIN system conversion today. Saturday will bring about a substantial amount of GFRC order shipments
Have a great Friday!
June 9, 2016
Welcome to the Daily Blog on a Fall like morning. Yes, that is correct, Fall like. The air is cool and crisp reminding me of early September. Snow fall was predicted for Maine and New Hampshire mountain regions including Mt. Washington. I'm not complaining as enjoying the cooler temperatures but coastal tourists will not be pleased having to wear evening jackets.
GFRC News
Wednesday evening brought more midnight oil processing the Burch Creek Collection images. I believe you will agree that the Burch Creek images turned out quite well. Creating beautiful images is straightforward when consigned coins have so much eye appeal to begin with. Photographing coins in old white ANACS holders is also a joy. No need to battle with odd lighting reflection introduced by PCGS and NGC edge view inserts as the white background provides ample contrast. Below are the first 18 Burch Creek pieces with another 25 to go.
Please note that the image file names have been changed to the TPG holder serial number. This simple change, as part of the COIN system migration, proved to be yet another efficiency improvement. Some GFRC customers may be disappointed that the coin's date and variety attribution will no longer be included in the image file name. I need your understanding on this point as the efficiency trade-offs are too important to pass up.
One look at the Burch Creek images will immediately convince that we are dealing with a conservatively graded old time collection. Eye appeal is huge and originality is omnipresent. I'm sure the wholesale/crack out dealers would love to get their hands on these coins. I truly hope they do not! I maintain that the ANACS old white holders are an important part of each coin's heritage and validate a 1990s grading standard prior to current gradeflation. Yes, some pieces will be eventually crossed into PCGS holders but for the time being, let's enjoy this ANACS old white holder collection.
Today's primary task is pricing the entire collections for review and approval by the consignor on Friday. For FRoR inquiries, please copy the image link via your brower and paste into the email.
Burch Creek Collection Consignment Part II - June 9, 2016
In other GFRC News, about 40% of the Liberty Seated Dime AU-MS price list is converted to COIN system and I hope to make more progress today. Double loading new purchases in the old manual html system and COIN is not something I wish to do. All new listings can be immediately viewed in the 30 Day New Purchase price list until the product specific price lists are fully converted.
I'm looking forward to the arrival of the latest Upstate New York consignment today. Since there was no contents pre alert provided, then opening the package will be a complete surprise.
Global Financial News
Spot gold continues to quietly creep upward and is being quoted at $1261 this morning. The opening Seeking Alpha headline is quite bullish for gold as is the second. George Soros, one of the elite investors of our generation, is moving out of equities and into gold. Trillions of dollars in global bonds are now in negative interest rate territory. Some European lenders are exploring the creation of special vaults to store massive quantities of paper monies.
After a long hiatus, George Soros has returned to trading, lured by opportunities to profit from what he sees as coming economic troubles. Soros Fund Management, which manages $30B for the billionaire and his family, sold stocks and bought gold and shares of gold miners, anticipating weakness in various markets. In an interview with the WSJ, Soros noted particular concerns over China, Greek challenges and a potential Brexit that could lead to the EU's collapse.
A Fed rate hike looking even less likely? The dollar has hit a five-week low against the yen, hurt by falling Treasury yields amid waning expectations the FOMC will lift interest rates anytime soon. The outlook also sent German 10-year Bund yields to a new record low of 0.034%, not far from the negative territory at which trillions of dollars worth of global bonds already trade, and is pushing world equities into the red.
Lenders are rebelling against their central banks' negative interest rate policies, with reports suggesting Commerzbank (OTCPK:CRZBY) going so far as to weigh storing billions of euros in vaults rather than keeping them with the ECB. Some savings banks in Bavaria are also exploring storing physical notes and Munich Re said this year it would experiment with holding at least €10M of reserves in cash to see whether or not it was practical.
Featured Coins of the Day
On Monday, I received one of those carefully worded and ambiguous emails requesting a quote for gold double eagles. Most are spam and immediately discarded. But this one bordered on being credible so I responded. This "potential customer" selected four Liberty and St. Gauden double eagles as a numismatic and bullion play. But he would only pay by electronic funds transfer and required my business account information. Paper check payment is my requirement given the unknown status of this individual and I'm awaiting his response. But for information, following are the four double eagles selected. These are an ideal gold bullion play as I expect any gold double eagles purchased in the $1350-$1500 range to be viewed as a bargain in a few years. If the "potential customer" does not respond today, then these double eagles are fair game....especially the raw 1924 MS62 St. Gauden at $100 over spot.
Thank you for stopping by this morning! Please consider a purchase as I will be in the GFRC office throughout the day.
June 8, 2016
Greetings on a cool Maine morning. The air is crisp and dry with the extended forecast indicating high temperatures only in the mid 60s.
Today's blog will be brief as the COIN system conversion and lots of midnight oil leaves me without any prepared topics.
GFRC News
I'm pleased to announce that Silicon Valley consignor's 1865 PCGS MS65 Seated dime was placed into an advanced collection yesterday afternoon. While facilitating the sale, the PCGS and CAC population reports were checked and I would like to share a few findings.
- 1865 MS65 PCGS population is (3) with no CAC approved examples at PCGS or NGC.
- PCGS population at MS66 level is (4) and CAC indicates (4) PCGS and NGC examples approved. - Two of the four are owned by Silicon Valley consignor and me......
- For collectors seeking a CAC approved Mint State 1865 specimen, your options are limited to MS66 and MS67 grade levels.
The point is that some Liberty Seated dates present incredible values in gem condition due to very low populations. Just check the Civil War San Francisco mint issues in AU and Mint State grades. If four or five collectors with strong financial means decided to build advanced sets of Liberty Seated dimes, there would not be enough quality pieces to satisfy the new collectors. Liberty Seated quarters are even more challenging in this regard.
Consignment News
The next 60 days will be an exciting period as new consignments continue to stream in.
New Jersey Collection - This consignor's Liberty Seated dimes are posting to the price list as of today. All are raw (except for an 1859-S ANACS OWH EF40 piece) and sourced from a Library of Coins album. These dimes have been off the market for decades. Please check the first group on the 30 Day New Purchase/Consignment price list.
Burch Creek Consignment - These were itemized in yesterday's Daily Blog and should be arriving to the price list early next week.
Upstate New York Consignor - This consignor is well known for collecting attractively toned silver pieces. The time has arrived for his collection to be dispersed on a regular basis via GFRC. An approximate 20 piece shipment is due to arrive in the next 48 hours. Contents will be announced in the Blog. I'm excited about this offering.
Osprey Consignor - I spoke with Osprey last evening as we prepare for the Summer FUN show. Osprey will be the GFRC table assistant and looking forward to hanging together. At Summer FUN, the following consignment will be transferred; 16 United States gold pieces and 40 or so gem or choice original European silver pieces in AU and Mint State grades. All are recently sourced from Europe travels. The GFRC World Coin price list will see a redesign to support this initiative.
Florida Consignor - This individual is the top GFRC volume and $ consignor as we've sold over 250 of his coins since starting the GFRC business in 2013. He is preparing yet another eclectic consignment that will be transferred at Summer FUN or ANA shows.
Gerry Fortin Top 100 Collection - Yes, I must find time to prepare my own consignment given all the other activities that are currently ongoing. The FRoR (First Right of Refusa)l response has been overwhelming.
Please don't hesitate to contact me to discuss how GFRC can support your collection divestments requirements.
Global Financial News
Spot gold moved up to $1255 overnight and hopefully a technical breakout above $1300 will occur in the next 60 days. The ECB launches its corporate sector bond buying program. Think about this development for a moment as equivalent to the Federal Reserve starting to purchase bonds issued by Apple or Exxon. China's economy continues its slow transition from export to internal consumption; exports numbers are shrinking. The World Bank is highlighting ongoing difficulties with emerging market economies that will impact global growth. And finally, the United States wealth management industry is struggling as regulatory mandates increase the cost of business for financial advisors.
The European Central Bank has formally started its corporate sector purchase program, with the official buying list to be released on July 18. The criteria for the plan are as follows: Bonds have to be active, euro denominated, have an investment grade rating and be issued within the eurozone. Along with other measures such as ultra-cheap long term loans and government bond-buying, the program aims to kickstart the region's economy and revive inflation.
May's soggy Chinese trade data offered another sign that the world's second-largest economy is still a long way off from full health. Exports in dollar-denominated terms tanked 4.1% on-year, while imports edged down 0.4%, leaving Beijing with a trade surplus of $50B. Shortly after the data was released, the PBOC slashed its forecast for exports by predicting a second straight annual fall in shipments, but said the economy will still grow 6.8% in 2016.
The global economy is increasingly vulnerable to a sharp slowdown as troubles in emerging markets mount and advanced economies struggle to grow, the World Bank warned in its latest Global Economic Prospects report. The lender's latest projection pegs global growth at 2.4%, down from the 2.9% forecast in January and slower than last year's weak pace. The bank also cut its forecast for growth in 2017 to 2.8% from 3.1%.
Private wealth in North America grew a measly 2% to $60T in 2015, down from a growth rate of 6% in 2014, according to The Boston Consulting Group. Reasons for the slowdown were attributed to wealth being added based on the performance of existing assets and the increasing amount of regulatory red tape, such as the Labor Department's fiduciary rule. "We expect to see a lot of advisers" call it quits over the "regulatory pressure," said BCG's Brent Beardsley.
Featured Coins from the Trading Desk
Let's visit the Liberty Seated quarter price lists this morning. Liberty Seated quarters are by far the most challenging in terms of stocking quality coins. Availability and quick sales of any choice pieces present a significant challenge with maintaining adequate inventory. Following are several recommended Seated quarters that would fit nicely into an advanced collection.
Time for a shower following by a full day's effort to convert the Liberty Seated dime AU-MS price list to the new COIN system generated format. Thank you for visiting and please do call or email with potential purchase inquiries. Have a great Wednesday.
June 7, 2016
Greetings on a lovely Maine Tuesday morning and welcome to yet another Daily Blog edition. There is much to share; thank you for returning frequently to view exciting coin acquisition news and progress on GFRC business development. The Daily Blog is a public diary of a passionate individual building a numismatic business by merging quality numismatics with technology.
Yesterday was yet another busy day. After publishing the Blog, I drove to Portland for a 9:00am gum grafting procedure. As the human body ages, maintenance takes on a important role if one is to stay healthy and active. A grafting procedure was in order to close a emerging hole in my lower front gum that was exposing a tooth root. As a result, I'm taking an Advil/Tylenol pain killer combo for the next few days and will not let this procedure slow me down.
During late afternoon, an email arrived from a numismatic competitor announcing a 30 day new purchase price list that was essentially a copy of the forthcoming GFRC price list featured in the June 5 Blog. A famous quote came to mind upon reading this email; imitation is the sincerest form of flattery. The GFRC 30 Day New Purchase price list is alive and well; just click on the above 1859 50c icon.
GFRC News
The Burch Creek consignment arrived on schedule yesterday and was lots of fun to photograph and add into the COIN database. All but three pieces reside in old white ANACS holders with many sequential serial numbers. This is a mini time capsule from the early to mid 1990s and provides visual evidence of grading standards for that period. There were 43 pieces in the lot. After the initial review, I designated four as gems and another fifteen or so as choice with the rest being nearly all original. Following is an itemized listing of the new Burch Creek consignment. I should have pricing settled with the consignor by weekend and hopefully will be loading these to price list next week as the image processing will be time consuming. FRoR is in order.
Draped 50c: 1806 O-116 R3 ANACS F12; 1807 O-108 R3 ANACS VF20
Capped 50c: 1818/7 O-101 ANACS VF20; 1827 O-125 R3 ANACS AU53; 1828 O-118 R3 ANACS AU53; 1831 O-113 R4 ANACS AU50; 1831 O-101 R2 ANACS AU53; 1831 O-115 R4 ANACS AU50; 1832 O-108 R3 ANACS EF40; 1832 O-102 ANACS AU53; 1832 O-102 ANACS AU50; 1832 O-112 ANACS AU50 R2, 1832 O-110 ANACS AU58; 1836 O-101 ANACS AU50, 1836 O-102 R3 ANACS AU50, 1836 O-110 ANACS AU50, 1836 O-110 ANACS AU55, 1836 O-116 50/00 R2 ANACS EF45; 1836 O-116 50/00 R2 ANACS EF45
Seated 50c: 1842 Med Date ANACS AU58; 1843 ANACS AU50; 1843-O WB-18 ANACS AU55 gem; 1845-O WB-8 ANACS AU50; 1855-O WB-19 ANACS AU55; 1858 ANACS AU58; 1858 ANACS AU53; 1858-O WB-33 ANACS AU58; 1859-O WB-5 ANACS AU53; 1860 ANACS AU55; 1861 ANACS EF45; 1861 ANACS EF40; 1862 ANACS AU58 gem; 1862 PCGS AU50; 1862 ANACS EF45; 1866 ANACS EF45; 1868-S WB-6 ANACS EF45; 1872-S WB-2 ANACS EF45; 1873 NA Closed 3 RPD WB-104 ANACS EF45; 1876 ANACS EF45; 1876-CC WB-13 ANACS MS62; 1883 ANACS AU50 cleaned; 1883 ICG AU58
Seated $1: 1860-O ANACS AU53
COIN System Conversion Update
The COIN system conversion is moving along rapidly. The transition came be best described as owning and living in two homes for a period of six months. You are living in the older home while conducting renovations to the new home rendering it your dream house. This is the current GFRC situation. The old price lists must still be supported while all the active GFRC listings are converted into COIN Database. The COIN generated price lists are the culmination of a operating goal set back in January. Matt has successfully designed and built the system but getting through the conversion is an incremental project beyond sourcing and selling new purchases and consignments.
Effective immediately, the GFRC 30 Day New Purchase price list is operational. I will be loading all new consignments and purchases in this location much to the pleasure of customers who have been requesting this feature. A temporary 30 Day New Purchase price list icon has been added to the current For Sale page header. Immediately, customers can view the 30 Day New Purchase price list by selecting the following icon. This icon has also been added to the top of the Daily Blog page for easy access until the COIN system conversion is completed. My apology for recent changes....we are trying to quickly move into our new dream house and hope you continue to visit with GFRC frequently.
New Purchase and Consignment Price List - Past 30 Days
Global Financial News
Spot gold is quieting sitting at $1244/oz while there is more Federal Reserve drama this morning. Janet Yellen has blinked and a summer interest rate hike is most likely off the table. The global financial community is pleased and stocks are moving up. Puerto Rico's new governor is learning that there is a price to pay when $70B in debt and defaulting on bond payments. Just as in Greece, creditors start to take control of your affairs. Moving to Europe, Mario Draghi continues his efforts to drive interest rates into the sub 1%/negative range as part of any ongoing currency war. Frankly, if a Great Britain citizen, I would be voting for Brexit (British Exit of the European Union).
Stocks across the globe are lit up green as a dovish tone from Janet Yellen cooled near-term U.S. rate hike bets and WTI came closer to $50 a barrel. At yesterday's speech in Philadelphia, the Fed chief called the recent U.S. jobs numbers "concerning" and omitted her last message that rates could rise again "in the coming months," but warned against attaching too much significance to the payrolls data in isolation. Bye-bye summer rate hike?
Puerto Rico's next governor and Congressional representative plan to travel to Washington this week to speak out against a bill that would create a federal control board for the island - but the opposition may be too late. The House Rules Committee will meet tomorrow to consider the amendment process for legislation that would give the U.S. territory tools to restructure about $70B in debt, with a House debate on the relief bill likely to happen on Thursday.
Even before Mario Draghi starts his corporate-bond buying program tomorrow, he's pushed down borrowing costs in Europe toward unprecedented levels, with the average yield on euro investment-grade company notes tumbling to 1%. "The prospect of average yields below 1% is very scary," said Juan Esteban Valencia, a credit strategist at Societe Generale. "Investors are being pushed outside their comfort zone to sectors like high-yield debt, where they may not have expertise."
Featured Coins from the Trading Desk
Time to visit the Liberty Seated dollar price list for a few recommended pieces. Visiting Stephen Petty back in February in Pompano Beach, FL and viewing his magnificent Seated Dollar collection provided a quick tutorial on quality surfaces and eye appeal. Below are several Seated dollars that provide strong eye appeal and color consistency. Can you imagine owning three of these pieces (please note there are two 1847 dated pieces) as a starting point for a Liberty Seated dollar collection. I would love to do a package deal!
So ends another edition of the Daily Blog. Time to move into the packing and shipping department before Doug, the mailman, arrives for his 11:30am daily pickup. There is much to do and always so little time. I will see you bright and early on Wednesday morning. Have a great day!
June 6, 2016
Monday quickly arrives after a short weekend. Welcome to yet another edition of the Daily Blog.
Southern Maine finally received an adequate soaking throughout Sunday while the coming week will once again be dry. By Wednesday, day time highs will settled into a cool pattern with upper 60s being the norm and evenings dropping down into the low 50s. I'm not a fan of hot weather, but these temperatures will not be pleasing to those on vacation at Maine's coastal communities.
Let's open the Blog with a bit of humor this morning from Poetic Candy consignor. Our staff poet picked up the fact that I'm also an avid model rocket enthusiast and shared an amusing piece on the subject. I can't think of a better way to start another work week by merging personal rocketry with one's digestive system.....
MOON SHOT
I have found this well-known unused formula,
Which can carry us far beyond the moon,
It's simple,
And consists of onions mixed with beans,
And topped off with a prune.
Now you might just think that this concoction,
Will never get us to the moon,
But with my brilliant doctor's help,
She assures me that I'll get there and far beyond,
Quite soon.
She's confident I'll need no airplane,
Or an expensive fancy rocket,
I'll need but just a few directions,
Without even money in my pocket,
And the speed at which I'll travel,
Will be so fast that none could clock it.
The cost she said is but one hundred dollars,
And I will be the world's latest new sensation,
Especially if I study very hard within her special class,
And learn all her patented techniques,
For periodic anal relaxation.
GFRC News
Quality Seated coins reached the price list last evening with the exception of the 1844-O PCGS EF45 CAC quarter which sold immediately once the below gallery was posted. Locating quality Seated quarters is an ever challenging task and once found, they just fly out the door. I'm so proud with the selective GFRC offerings being posted in the Daily Blog as quality is paramount when building an advanced collection that requires substantial financial resources. A brief commentary for the individual pieces is in order.....
The 1840-O F-101a Large O Seated dime is a significant offering as few examples of this variety come to market in choice condition. The 1854 dime could be well known as the opening lot in last's year LSCC Club Benefit auction. 10% of the proceeds will be donated to the LSCC on this piece. The 1849 quarter is fully struck as most Briggs 1-A Compass point examples do; the toning is not as colorful as my images but the luster is nice and bold. Someone should immediately purchase the 1859 Seated half as a near gem under bright light while the 1862-S is strictly original with light gray patina.
GFRC New Purchases and Consignment - June 6, 2016
Today brings the arrival of the Burch Creek Capped Bust and Seated half dollar lot, all in ANACS old white holders. I will probably be like a kid at Christmas when opening this package.
Global Financial News
Today's top financial story is Janet Yellen in the hot seat after last week's dismal May jobs report. Gold spiked over $30/oz in anticipation of a weaker dollar and no Federal Reserve rate hike in June. The Federal Reserve presidents are speaking out and trying to give Yellen some cover this morning. Sane minds prevailed in Switzerland! The proposal to provide every citizen with automatic monthly 2500 Swiss Franc allowance was soundly defeated. A Swiss Franc is essentially equivalent to a US Dollar. Can you imagine being given $2500 per month for just being a citizen of a country? Then there are United States college graduates that are overwhelming the major banks with employment applications. Read on to view selected Seeking Alpha headlines.
The stakes are high as Janet Yellen prepares to take the stage in Philadelphia this afternoon following a shock non-farm payrolls report on Friday that sent the dollar tumbling. Investors will be looking to see whether Yellen, who recently said she expects interest rates to rise "in the coming months", sticks to her current tune. The event will also offer the last insight into Fed thinking before a media blackout takes effect ahead of the June 14-15 monetary policy meeting.
The weak jobs number has not changed the overall economic picture, Cleveland Fed President Loretta Mester declared, calling "a gradual upward pace of the funds rate appropriate." "When the rate hikes will occur and the slope of that gradual path is data dependent," she added. The U.S. economy added just 38K jobs in May, well below the consensus estimate of 164K and the smallest gain since September 2010.
Swiss voters have rejected by a wide margin a proposal to introduce a guaranteed basic income for everyone living in the country. The initiative received just 23.1% of the vote in Sunday's referendum, compared with 76.9% against. Supporters felt introducing a monthly income of 2,500 Swiss francs per citizen would promote human dignity and public service, while opponents said it would cost too much and weaken the economy.
Goldman Sachs received more than a quarter of a million applications from students and graduates for jobs this summer, a rising number that is way more than GS could ever employ. The trend is mirrored at several other large banks such as JPMorgan (NYSE:JPM), Morgan Stanley (NYSE:MS), BofA (NYSE:BAC) and Citigroup (NYSE:C). According to figures provided to the Financial Times, the number of these applications has risen more than 40% globally since 2012.
Featured Coins from the Trading Desk
Let's visit the Liberty Seated dime price list this morning for some potential additions to your collection. First up is an 1873 With Arrows F-103 Double Die Obverse dime residing in new PCGS VG8 holder. This example is strictly original and completely choice while being under graded. A quick check of CAC population reports for the 1873 WA Double Die obverse revealed that only one example has been approved. I was shocked! Yes, this popular variety is quite scarce but only a VF example has been been approved by CAC per their population report. Given this finding, I'm sending in this example as a worthy candidate for review. Next to the 1873 Double Die Obverse is a gem original 1888 PCGS MS66 CAC dime that any advanced collector would be proud to own. This piece offers a full strike and huge eye appeal at a fair price.
Your daily patronage at the Daily Blog is sincerely appreciated as are GFRC purchases. The ongoing challenge of any coin dealer is offering a combination of quality inventory and a fun shopping experience. Once the COIN system conversion is completed, GFRC will debut more "fun" online options. Thanks for visiting this morning.
June 5, 2016
Welcome to another edition of the Daily Blog.
Today's ramblings will be brief after working until 1:30am on COIN system conversion project. Small business owners will understand the long hours required to properly manage a private business let alone performing a major software system conversion. Unfortunately, today's Blog lacks new purchase or consignment images even though the RFoR requests were streaming in last evening. I will get to those today as Maine weather is foggy and wet.
GFRC News
The COIN system generated Gobrecht, Liberty Seated and Trade Dollar price list is online and viewable by clicking on the below image icon or simply visiting the For Sale list.
Daily Blog readers are also in for a treat this morning. Just click on this link to view a prototype of the forthcoming New Purchases within 30 Days price list. The price list has been automatically generated from the COIN database and is sorted by date; most current to least current within past 30 days. It is however, not debugged, so please view it as a forthcoming shopping option and not gospel in terms of listings without images of descriptions. No sales will be made from this prototype price list for items without images/descriptions and prices are subject to change. This price list will be available once the entire For Sale page link converts to automated COIN system generation. Our target is within two weeks and definitely before the ANA Summer Seminar event.
2017 Red Book Pricing Feedback
Feedback poured in yesterday on the 2017 Red Book topic and the limited usage of GFRC recommended pricing for Liberty Seated dimes and quarters. A proposal for GFRC to establish its own Liberty Seated price guide received support but also considerable caution as to the maintenance risks. Following is commentary that arrived throughout the day.
THROW THE BOOK OUT!!! I totally agree with your take on the "book" values. Dipper Dan (Bob) always used to tell me when I was a kid to "throw the book out!". I wondered what he meant by that because I figured that the "Red Book", "Coin Values", "Coin World", etc. must know more than just us. When I became an appraiser about 15 years ago, I got (and still get) the usual question, "What's my house worth?". I tell them something like, "The local market determines the value of your house along with the condition, size, etc. of your house". Why wouldn't it be the same situation in the numismatic market? Some real estate companies, notably "Zillow" and their cohorts use different algorithms for their "values"...since my product is only as good as the data provided to me, why are they different? Because they CAN be since most people don't understand these proprietary formulas anyway. I guess it's the same with coins. When I see a coin I like I check the "comparables", just like for a house and buy it or not based on the data I see. Throw the book out!!!
****************
I saw your morning blog. I'd like to place my order for 10 1868-S 10c in PCGS AU50 for $225 each. Maybe also some 63-S as well. Seriously, it would definitely use your price guide if you put it out on your website. None of the currently existing guides are totally reliable.
****************
I just had to add my agreement about your Red Book price comments. There are many Seated Dimes I wish I could purchase at Red Book
prices! I do not know what you proposed for an EF 1868-S Seated Dime but nowadays I would be happy to pay $400+ for a nice EF let alone $225 for an AU! Gerry's Note; I proposed $400 for EF40 and $800 for AU50.
Red Book is OK for beginners, as it was for me, but it has become an institution. I purchase the annual Red Book not because I need it but because I feel I am somehow supporting the hobby. It's kind of like donating to your favorite charity. You do it to feel you did your part.
****************
I think it would be a wonderful contribution to the numismatic community to have such a thing from you. I bought both MegaRed 2017 and the small, wirebound 2017 editions of the Red Book and while I saw your name, I did NOT see significant value increases as I had expected.
From my perspective, something like what you have for the Top 100 Variety dimes would be about maximum. Spending too much time on it seems counterproductive. On the other hand, if you wanted to get carried away --- NBL --- a price for each date, grade and original/choice/gem selection would be GREAT! Maybe just a single coin of each denomination with some grades and some GFRC ratings. I think that making your own "GFRC Red Book" wouldn't give positive results, but a discourse on what creates value and where and why you see it could.
One of the BIG problems that I see is that many folks ask prices significantly out of line with CoinFacts! If the coins are really worth those prices, then perhaps YOU could point out which are which and why.
****************
Enjoyed your comments on the new book ~ received mine yesterday and spent the afternoon / evening reading through it. Some of my thoughts:
- quite a bit of interesting historical information
- nice to see all of the LSCC membership input ( the 'real' seated coinage experts)
- quality images
- should be helpful in additional interest for the Liberty Seated series
...but I agree with you that the pricing information is not quite so impressive. Yes, you should have a GFRC estimated pricing guide for all seated coinage even if was simply in a VF XF MS format.
****************
Whitman is a purveyor of books.
"They", whoever they collectively are, have neither the collective wisdom through accumulative experience nor the focus on the realm of these 'seated' series to really speak knowledgeably to the marketplace.
"They" are probably neither students or instructors nor even buyers of these items, so why should we expect them to want to get this correct?
Lots of great feedback and thank you to everyone who took the time to share thoughts. GFRC publishing its own Liberty Seated Coinage price list would be an excellent service to the hobby but the risks and efforts are considerable. I'm leaving this topic here and returning to COIN system conversion challenges.
Featured Coins from the Trading Desk
This morning's Featured Coins are from the Mercury dime price list. Some individuals may wonder why GFRC delved into this product line? The response is straightforward. Where else can you find Gold CAC offerings in PCGS Rattler and NGC Fatty holders for under $200? You must agree that the Adolph Weinman design is quite artistic, nicely complimenting the Standing Liberty and Walking Liberty designs and brought striking challenges. Many of the Mercury dime dies were overworked resulting in heavy metal stress lines and gorgeous satiny luster. Storage methods have also resulted in mint state example with attractive toning. Individual descriptions and pricing can be located at the new COIN generated Mercury dime price list.
Thank you for visiting this morning and looking forward to your potential purchase selections today. I will be in the office most of the day working on COIN conversion and adding new purchase listings. Have a great Sunday!
June 4, 2016
Greetings and welcome to the Daily Blog!
Much needed rains have arrived to southern Maine with a 2" total in the forecast. The rains are welcomed and will not bother GFRC as the shipping queue is substantial this morning.
This morning's Blog will cover a number of topics so please read on.
GFRC News
Rich Hundertmark visited the GFRC office on Friday morning and we had a wonderful time given our mutual corporate backgrounds and conservative outlooks. Of course, there was much coin talk too! With all the eye candy available, Rich and I had our loupes out for inspecting coins. The loupes were identical and both on black laniers. I believe you know where this is going..... Immediately after Rich departed, I made a Post Office run with an express shipment. Upon returning back to the office, I reach for my loupe and it was no where to be found. Yes, Rich has mistaken my loupe for his and packed both. Bummer as I don't have a backup (an important learning) and now using the microscope for surfaces inspections and attributions. Rich reached New Jersey safely and is shipping back the loupe today.
GFRC order rate increased nicely after the Memorial Day weekend and this morning's primary task is getting shipments out the door. Friday brought the arrival of a small consignment coupled with some new purchases from my favorite wholesale dealer. All are top quality pieces typical of GFRC inventory. Following is the breakdown of new inventory.
Seated 10c: 1840-O F-101a PCGS EF45 CAC choice original with Large O and reverse die cracks; 1854 Arrows PCGS AU58 CAC choice and the opening lot in last year's LSCC annual auction at the Chicago ANA.
Seated 25c: 1844-O PCGS EF45 CAC Briggs 2-B RPD and so choice; 1854 PCGC AU50 CAC choice original
Seated 50c: 1859 PCGS AU58 CAC choice with light gray/gold patina; 1862-S WB-5 PCGS AU55 original frosty gray
In other GFRC News, the new Burch Creek consigment shipped on Friday and I'm really excited about package arrival on Monday. GFRC Capped Bust and Seated half dollar will see a substantial expansion once these 40 ANACS old white holder pieces are photographed and added.
Finally, GFRC will be adding a new price list in the next few weeks for partial sets in Dansco/Whitman albums. One consignor wishes to sell at least eight partial sets across multiple denominations and designs. Rather than wholesale out on eBay, GFRC will be offering these at fair prices. Stay tuned for this development.
2017 Red Book - Liberty Seated Pricing Spot Check; A Disappointment
Last evening, I decided to conduct a spot check on GFRC recommended Liberty Seated dime and quarter pricing to the Whitman staff and Jeff Garrett, the Valuations Editor. The results were disappointing as little of the submission is reflected in the 70th edition. There are some glaring issues for those that understand individual date scarcity in the dime series. Here are just a few examples of where the Red Book is out of line with the market. I would be a buyer all day for original examples at these prices. I can't believe that the 1864-S date is priced higher than 1863-S as we all know the 1864-S date is the most common of the Civil War San Francisco years. The 1868-S pricing is obscenely low given the tiny PCGS populations in AU or better.
1863-S EF40 @ $350
1864-S EF40 @ $375,
1868 EF40 @ $65; AU50 @$150
1868-S AU50 @$225; MS60 $400
I also spot checked Seated quarters and the same situation exists. I'm convinced that Whitman and other price guides are using a pricing algorithm based on mintage and not survival rates. This is evident by studying Seated quarters and the 1840 and 1840-O With Drapery dates. 1840-O WD prices are higher than 1840 WD due to the lower mintage (43,000 vs. 188,127) but PCGS population for the 1840 WD is only (11) in all EF grades and (23) in all AU grades while 1840-O WD is (22) in all EF grades and (33) in all AU grades. The New Orleans 1840 strikes are more available than Philadelphia strikes but New Orleans carries a premium due to lower mintage. In all fairness to Whitman, the PCGS Price Guide has the same issue. Reviewing CoinFacts records is the only way to discern the true market.
It is doubtful that I will spend several days compiling Liberty Seated pricing recommendations next year. I'm toying with the idea of adding my pricing recommendation worksheets to the GFRC website as an alternate reference. What do you think?
Featured Coins from the Trading Desk
This morning's Featured Coin section shifts back to United States gold and $20 double eagle denomination. Before illustrating some great GFRC offerings, I'd like to recap a conversation with my financial advisor from the past week that was enlightening about how physical gold ownership is viewed. Here are the highlights.....
1. He expects the stock market to drop significantly (10-15%) in June/July timeframe as PEs are too high for current economic situation. A June interest rate increase would be the trigger for drop in equity values. (Yesterday's May jobs report may have crushed an interest rate increase however).
2. We discussed gold ownership. He agreed that physical gold ownership was a good idea for someone like me who is involved with the coin market but not a good idea for the average United States citizen since so difficult to sell physical gold. He believes that physical gold is fairly illiquid as a store of wealth. This is an interesting perspective from an individual who is actively managing client wealth via their stock/bond portfolios in the electronic world. Maybe physical gold ownership is concentrated with conservatives and those that support the 2nd Amendment?
Sorry for the short divergence off topic. Here are recommend United States double eagles for your numismatic and physical gold portfolio. Gold jumped $30/oz yesterday on a bad jobs report. Imagine the upside potential during a US dollar crisis? These lovely pieces are all San Francisco mint issues. We start with an 1856-S PCGS AU50 CAC example that I'm surprised to still see on the price list. Next to the 1856-S is an 1875-S NGC MS62 example from the Monument. The 1875 San Francisco date is a grade rarity in MS63 or better with significant price jumps. We open the second row with an 1884-S NGC MS62 example followed by a lovely 1889-S PCGS MS62. Both are from the Monument Collection.
This concludes this morning's Daily Blog. I'm off to the shower and then a morning of packing and shipping orders. Thank you for stopping in on a Saturday morning. Wishing all GFRC customers and consignors a great early summer weekend. Happy Hunting on the GFRC price lists.....
June 3, 2016
Welcome to the end of yet another work week and thanks for making the Blog a part of your daily routine.
Unsettled and rainy weather is forecasted for southern Maine for the weekend and I'm looking forward to the precipitation. There is no brush to burn, rather spring and early summer rainfall is below normal and a good soaking rain is in order for local farmers and maintaining drilled wells.
GFRC News
Since driving to Portland yesterday morning for a dentist appointment, I took the opportunity to visit my favorite local coin shop and did rather well with new purchases. Below is a gallery of the acquired pieces. All are raw this time around and frankly, GFRC should be stocking more raw coins to enable collectors building sets in traditional Whitman or Dansco albums. I've chatted with several customers who are cracking out coins purchased from GFRC for insertion into these album.
Morgans and United States gold dominate the new purchases and as usual, I was selective for original surfaces and eye appeal. The 1856 Seated half dollar, grading AU53, is a sweet piece and perfect type coin. The $1 gold is interesting from a late die state perspective while the 1890-S Liberty and 1924 St. Gauden are priced slightly above bullion but with nice eye appeal. As for toned Morgans, there is a appreciation for strictly original toned examples or better dates at reasonble prices. The gold and most of the Morgans are already on the COIN system generated price lists.
GFRC New Purchases - June 3, 2016
In other GFRC news.....a presentation copy of the 2017 Red Book (70th Edition) arrived yesterday and signed by Ken Bressett. It was a nice gesture for late 2015 contributions towards correcting the Red Book Liberty Seated dime and quarter prices. I've not had a chance to check how much of the updated pricing numbers were incorporated into this edition but will be reviewing this weekend. Having been recognized in the "Contributors To This Edition" section is a new personal milestone.
Rich Hundertmark visits the GFRC office shortly after a fly fishing trip to Conway, New Hampshire. Rich sent along with following image of a 10" brook trout to share with Blog readers. I was an avid fisherman as a teenager but have not found the time once the "coin bug" bite me in late 1988.
Consignment News
The Burchs Creek consignor just emailed and indicated his 40 piece Capped Bust and Liberty Seated half dollar shipment (all EF/AU in ANACS old white holders) is ready for transfer and will be arriving early next week. I'm quite excited about the opportunity to view a small grading time capsule from the early to mid 1990s. Timing is also good from the COIN system perspective as Matt should have the Draped and Capped bust half dollar price list fully converted by the weekend.
Starting this afternoon, the Liberty Seated dime portion of the New Jersey Collection will be securing my undivided attention. Already several customers sent inquiries on grades and pricing for coins featured in yesterday's Client Gallery.
Finally, please note that a change has been made to the Consignment page and terms. I've had several cases of individuals attempting to "shop" their coins on a short term basis via the GFRC consignment program. A request for the Missouri Collection coins to be returned after 30 days on the price list was a tad unreasonable. Therefore, I've instituted a minimum consignment period of 120 days else a 3% listing fee for coins not sold and retrieved in less than 120 days. I believe this update is fair to all parties given the marketing services provided by GFRC and the ever expanding customer base. Consignors are free to download any of the GFRC generated images of their coins; a 3% fee for photography services is therefore warranted.
Global Financial News
We start this morning's Seeking Alpha headlines with an eye catching item from Europe. The Swiss are voting to provide all citizens with a monthly payment of 2,500 francs whether employed or not. I've been reading about the concept of "helicopter money" of late as the next attempt for stimulating global economies. Yes, free money for citizen's to spend towards inceasing economic growth and attaining inflation targets. Amazing developments that I never would have anticipated in my lifetime.....
The Swiss will go to the polls this weekend to vote in a potentially historic referendum to provide everyone in the country with a no-strings-attached monthly payment of 2,500 francs regardless of whether they're employed or not. Switzerland is not alone. The city of Utrecht in the Netherlands is conducting a pilot program, and trials of the idea are planned in Finland and the Canadian province of Ontario.
Featured Coins from the Trading Desk
Capped Bust half dimes can be a fun area of numismatics to explore. The series is short (1829 - 1837) with mintages at ~ 1,000,000 or slightly larger per year. A date set is only 9 coins. But the fun really starts with variety collecting as a Major Varieties set expands to 16 coins and an Ultimate set (based on the Logan-McCloskey reference) increases to a staggering 123 coins. I've linked to John Okerson's Major Varieties and Ultimate sets in the Open Registry for an illustration of the challenges.
Following are several quality Capped Bust half dimes on the GFRC price list that are worthy of an advanced collection. Please email or call if you might be interested in a several piece deal as seed for a new collecting objective. The 1829 piece is LM-1 variety and graded PCGS AU55, the 1830 is attributed as LM-7 and resides in PCGS AU55 CAC holder. The following 1831 and 1834 examples are raw; you are invited to visit the Capped Bust half dime price list for more details.
Thank you for stopping by this morning. Time for a quick shower followed by the arrival of Rich Hundertmark. I will be back bright and early on Saturday morning with more ramblings. Have a great Friday.
June 2, 2016
Greetings once again and welcome to the Daily Blog. Today Blog will be brief as several morning appointments are looming including a dentist visit coupled with a busy afternoon of packaging and shipping. Tomorrow will be fun as Rich Hundertmark visits the GFRC office during a New Jersey return trip. Rich is one of the ongoing E-Gobrecht columnist and well known for his fly fishing proverbs.
Southern Maine weather is absolutely perfect Miata driving day. So the Miata driving fun will balance out the dentist unpleasantries.
GFRC News
The Liberty Seated dime portion of the New Jersey Collection just arrived as a new consignment. All pieces were removed from a Library of Congress album and are raw except for the 1859-S. I worked into early morning hours processing images and building a quick Client Gallery to showcase some important highlights. Seated dime eye candy is featured below and heading to the price list later today. The 1845 F-101, 1848 F-101 and 1851 F-103 are choice toned pieces that would be the prize of a Whitman or Dansco album collection. The 1842-O is a typical weakly struck F-101a example while the 1849-O also illustrates how badly struck the F-101 Large O variety can be and may help readers understand why I become so excited when offering a nearly fully struck example of this variety. Finally, the 1859-S resides in an ANACS old white holder and is graded EF40. FRoR is immediately warranted given the old time collection quality. There are many more Seated dimes to be processed.
New Jersey Collection Consignment - June 2, 2016
The Open Registry saw a noteworthy update yesterday. At Central States show, Tony Alberts passed along a piece of paper with his Top 100 Varieties, Ultimate, Top 25 Misplaced Date and Top 25 Shattered dies set additions. I did not realize the importance of this update until entering the new purchases and stepping back to view Tony's process across all sets. Collecting Liberty Seated dime varieties on a budget and attempting to cherrypick many takes a substantial amount of effort and persistence. Congratulations Tony for this ongoing accomplishment.
Finally, the 3 cent silver and nickel price list has been been converted to the COIN system. I will be updating the For Sale page link after Matt refreshes the Cloud database with debug edits made last evening. This progress is moving along nicely and we should be fully converted before the ANA Summer Seminar trip and subsequent Summer FUN and Baltimore show events.
Global Financial News
The world is peaceful this morning with little news. OPEC and ECB meetings are taking place with the usual drama of little consequence.
Thought for the Day
Is "Amplification" a good or bad thing?
As an electronics engineer and music enthusiast, amplification has always meant the increase of a small electrical signal into a larger one that can be transmitted by wired or wireless transport. Do we remember the old MacIntosh pre-amps? However, the world is seeing a different form of amplification today within the news media. Wikipedia offers this alternate definition that we might just ponder for a few moments. Our country is experiencing a massive amplification issue due to 24 hours news media plus social media and the thousands of special interest groups. How can the typical Unites States citizen navigate the ongoing noise and determine what is truth versus manipulated "news"?
In rhetoric, amplification refers to the act and means of extending thoughts or statements:
- to increase rhetorical effect,
- to add importance,
- to make the most of a thought or circumstance,
- to add an exaggeration,
- or to change the arrangement of words or clauses in a sequence to increase force.
Let's end the Blog as this point. My day will be most busy and time to take out the weekly trash pick up and head to the shower. Thank you for stopping by. I will be back bright and early on Friday before Rich Hundertmark's visit.
June 1, 2016
June arrives with a picture perfect southern Maine day. The birds are happily chirping and skies are a cloudless light blue along with cool morning temps. Probably one of the best GFRC fringe benefits is working at Maine home during the non winter months.
GFRC News
Monday brought an incredible sales day to close out the month of May. May sales came within a few thousand dollars of a goal set back in January. Daily Blog readers, who have spent time in the marketing and sales arena, understand the challenge of preparing an annual revenue forecast for the coming fiscal year. One must mix past revenue performance with anticipated new product launches and also have a sense for economic stability and the anticipated actions of competitors. Thank goodness the numismatic hobby is not as dramatic and competitive as the semiconductor industry. In the semiconductor business, annual new technology launches and 10% year on year price reductions were fundamental to remaining relevant. The stress was enormous. Growing GFRC is straightforward; building partnerships, locating top quality coins, selling at market competitive prices and finally, executing excellent customer and consignor service.
Yesterday, I added Summer FUN to the GFRC show schedule after contacting Cindy Wibker and securing a regular table. Why Summer FUN? Winter FUN was a huge sales show for GFRC and friends advised that Summer FUN is a great buying show. Also, the Osprey consignor will be transferring another large United States gold consignment and.......a substantial European silver consignment that will bring the World Coin price list into a market competitive position. Much work will be necessary to develop appropriate descriptions for these forthcoming European Crowns. Osprey will also be the GFRC table assistant at FUN. Growing the GFRC business is now a team effort and driving to Florida in early July recognizes the incredible support from the Osprey consignor. I'm also looking forward to seeing Grey Soldier in Orlando and will drive back north to catch the Whitman Baltimore show for a few days. Come the second half of July, GFRC will have a massive amount of new coins to offer including the launch of a dedicated Top 100 Seated Dime Varieties price list with my collection as the anchor.
The COIN system conversion continues with Matt driving this project. The Mercury dime price list is completed and available. Just click on the below image icon to view GFRC Mercury dime offerings in revised price list format. Next up will be the Draped and Capped Bust half dollar price list. This conversion presents a special challenge as linkage to the www.BustHalfAddict.com website pages is difficult since the author does not employ a standardized page naming approach. Each Overton variety link back to BustHalfAddict must be manually edited.
Global Financial News
Spot gold moved up slightly over night at $1218 while oil remains in its trading range. For once, there is positive economic news in the Seeking Alpha headlines with Australia's GDP growing at 3.1% rate in Q1. On the other hand, there is Japan with its enormous debt burden. Prime Minister Shinzo Abe is in a no win situation. Finally, there is news that investors are piling into exchange traded funds at a record rate. ETF popularity continues to grow but remember that a substantial liquidation of funds from an ETF means sales pressure on a broader basket of stocks.....instead of localized risks with a single company's stock or bonds, ETF amplify the risk factor across a market segment.
Australia's GDP figure blew past expectations in Q1, with annual growth rising 3.1%, marking the country's fastest expansion in more than three years. The result could keep the RBA on hold at its policy meeting next week, as the economy stays on track to meet the central bank's 2.5-3.5% growth forecast by June. Australia's April trade numbers and retail sales are scheduled to be released tomorrow.
Prime Minister Shinzo Abe is postponing an increase to Japan's sales tax (from 8% to 10%) by two-and-a-half years until 2019, and will announce a new stimulus package this fall, complicating the government's efforts to tame the world's largest debt burden. The decision marks an about-face for Abe, who already pushed off the hike once, and repeatedly said that only an economic shock on the scale of the Lehman Brothers collapse or a major earthquake would prompt another delay.
Investors are putting record amounts of money into exchange-traded funds as bonds become increasingly difficult to buy and sell. Global fixed-income ETFs, which track bond indexes and trade like stocks, attracted $60B of inflows this year through May 25, according to data compiled by BlackRock (NYSE:BLK). That's the most for the period since the funds were created 14 years ago and on pace to top last year's record total of $93.5B.
Featured Coins from the Trading Desk
The numismatic hobby continues to migrate towards holdered coins with many dealers no longer stocking raw coins. This is a shame as new collectors typically start by building a Whitman or Dansco album set. If raw coins were properly graded and described, then collector down side risks, upon resale, would be no different that TPG holdered coins. Most collectors, however, see TPG certification as insurance against unwise purchases. At GFRC, I believe that raw coins must be stocked to enable new collectors entering the Liberty Seated and Bust coinage denominations. In today's Featured Coin section, let's highlight some quality raw coins for a change. I hope this gallery illustrates my point.....
Thank you once again for stopping by. Time to move on to the Summer FUN bourse application followed by some long overdue updates to the Open Registry. I hope to see you bright and early on Thursday morning here at the Daily Blog.