Gerry's Daily Blog Archives - December 2015
December 31, 2015
Greetings from Venice, Florida and Happy New Year's Eve!
Yes, we finally arrived into Venice home at 8:30pm yesterday evening after a 14 hour journey. I drove the entire trip and was a tad brain dead after unloading the Avalon and rewarded myself with a double scotch (maybe more?) and laying on the coach and listening to Steve Hackett's Live at the Royal Albert Hall CD1. So GFRC is officially operating from Florida starting today. First order of business is unpacking and photography. Tonight's New Year's Eve event will be low key after the three day migration.
Driving across a portion of the United States is always eye opening rather than staying planted in rural Maine. Let's share a few migration high's and lows...
Positives
- Gas prices outside of Maine and Florida are incredibly cheap. $1.65 for 87 grade was the typical price paid. Inexpensive gas prices must be a boom to the United States economy.
- Dinner with Renee and Mike (fiancee) at the Mellow Mushroom in Blacksburg, Virginia was memorable due to the company, the food and the 50+ micro brewery beers on tap.
- Speed limits in many states have increased to 70 mph which means traffic can move along at 75 mph without ticketing fears.
- There were few State Police seen in Virginia.
- No fog on I-77 when driving through the mountains below Fancy Gap, Virginia. The morning view was spectacular.
Negatives
- The I-95 section in South Carolina between I-26 and Georgia state line was by far the most difficult portion of the trip. It is this way every year and dreaded. The two lane road is jammed with trucks and cars and the last 33 miles before the Georgia border was bumper to bumper accordion driving.
- Will construction ever end on I-75 north of Tampa? That section of roadway felt like a Disney World ride with serpentine traffic shifts, varying road surface conditions and all in two lanes with aggressive drivers.
- The worst drivers on the entire trip were found between Ocala and Tampa, Florida. Aggressive and insane best characterize the reckless behavior of many on that stretch of I-75.
- Comcast high speed internet reconnection at Venice home went smoothly....thank goodness for small miracles! But I take that back now....My laptop redirects the Daily Blog page to the Comcast Xfinity startup screen. Does anyone know how to correct this in Windows 8.1 as only an issue on my laptop?
GFRC News
Regardless of the migration, GFRC sales were strong to close the year and more consignments are coming! I tried to respond to email orders at gas stops and during hotel evening houses for closing on sales. GFRC visibility and reputation in the numismatic market continues to increase and that means more consignment inquiries.
New Consignment Highlights...... These opportunities appeared during the three day drive.
- West Coast consignor wishes to sell his Bust dime collection and start pruning high grade duplicates in his Seated dime collection. The Bust dimes will arrive first and are in the F through EF grade range.
- A small lot of gorgeous Seated dimes and an 1856-S PCGS EF40 Seated quarter that is a gem for the grade (no CAC attempt) are under discussion
- A 1854-O F-102 shattered obverse in original VF30 is shipping on consignment.
- A 30 piece love token deal for purchase needs to be finalized.
Happy New Year's Eve
Let's end the blog here this morning as unpacking the GFRC business will take the entire morning along with securing food. I hope that all Daily Blog readers have a safe and fun New Year celebration this evening.
December 29, 2015
Greetings from New Jersey. Yes, the Fortins "escaped" the Goliath storm arrving into the Northeast on early Tuesday morning. We reach our New Jersey hotel destination at 9:00pm and settled in for the evening while the storm passed through here as a rain event. Today is onward to Virginia for dinner with our daughter in Blacksburg, home of Virginia Tech.
There were a few GFRC sales on Monday and I am grateful for each purchase and also for more First Rights of Refusals on coins that have yet to be posted. A New York dealer approached me with a 30 piece love token deal and we are working towards a purchase.
Please keep the inquiries and/or orders coming as GFRC is very close to its year end sales goal.
Financial News
Seeking Alpha headlines are focused on 2015 year end and expectations for 2016. Crude oil is holding steady at $37/bbl and gold spot at $1070 while investors are expecting the "Santa Claus" stock market rally which typically takes place on the closing days of a year and continuous for a few days into the new year. Following are several headlines worth reading. The global financial situation is not robust. Also note the clever new instrument for managing mortgage securities risk in the event of another housing market crisis.
What about the global economic view for 2016? Investor anxiety is definitely growing around the world, but the question is will it also hit the United States. Japan's faith in the radical reforms of Abenomics is failing, while China's growth is slowing. Latin America is also a mess - from Brazil's massive corruption scandal to Argentina's efforts to turn around its government. The mood doesn't get better in Europe, as the continent faces an economic and refugee crisis, and Britain threatens to leave the EU. On the political and security front, the implosion of the Middle East continues.
The federal government is trying to get taxpayers off the hook for billions of dollars of potential losses if another mortgage crisis arrives - and in the process, it's quietly giving birth to a new asset class. Fannie Mae (OTCQB:FNMA) and Freddie Mac (OTCQB:FMCC) next year plan to ramp up sales of new types of securities (called Connecticut Avenue Securities and Structured Agency Credit Risk) that in effect transfer potential losses in a housing downturn to private investors. The sales are especially notable because issuances of private-label MBSs, which also give private investors mortgage exposure, are still moribund.
Featured Coin of the Day
Once againg, regardless of the GFRC migration, I am open for business and will be checking emails for orders this evening. Please don't hesitate to make a selection and I will revert with confirmation as soon as possible.
Circulated Morgan dollars don't offer make the Featured Coin section of the Blog but let's showcase this strictly original 1883 San Francisco example today. Building a complete set of original gray Morgans is much more exciting to me that acquiring Brilliant Uncirculated coins. It will take time and patience to locate top quality circulated pieces in EF and AU grades. The forthcoming Seal Beach groups of key and semi-key date Morgans will be eye opening once posted.
December 28, 2015
Traditional Maine winter weather has arrived. The wind is howling this morning and temperature is a cool 20 F. The 10 day weather forecast calls for daytime highs to be below freezing and lows in the single digits. The Fortin migration appears to be well timed as a substantial snow storm arrives during the overnight. I am looking forward to the Florida arrival and starting daily two mile walks.
A scan of the three online news media reviewed dramatic reporting differences. FOX is focused on the severe southern United States weather and mounting deaths due to tornadoes while NBC discusses politics in the context of American's satisfaction with 2015 as a year and contrasting opinions of Democrats and Republicans. Finally, the internationally minded BBC focuses on the Korean and Japanese agreement concerning Korean "Comfort Women" forced to work in Japanese brothels. Of the three news online news outlets, the BBC typically garners my attention for the longest amount of time due to a broader range of topics that included global politics, history, science and futuristic trends.
GFRC News
It sure has been a busy past few weeks with the arrival and processing of Woodlands and Seal Beach consignments along with other purchases. Yesterday, Matt and I spent time exploring potential "off the shelf" business database solutions and selected one product for detailed investigation. GFRC will be migrating to an automated inventory management solution that will eliminate the dependency on Excel based spreadsheets for tracking all aspects of the business included individual consignor reporting. Our goal is to select a database product by end of January and then shift into a small demonstation phase during the balance of Q1 2016 with GFRC conversion completed by the September 2016 timeframe. Course preparations for the late June ANA summer seminar will have an impact on the implementation schedule.
In the meantime, the upcoming FUN show will garner most of my attention. GFRC is hoping for an excellent retail show and a strong start to 2016. After FUN is completed, I will be issuing a new round of consignor checks based on sales during the holiday season and at the FUN show. GFRC will also be wholesaling at the FUN show in an attempt to move aging inventories and making room for new purchases and consignments. The next two weeks will be busy!
Financial News
Seeking Alpha offers a significant amount of global financial headlines. Several captured my attention and are worth sharing. The first concerns the new Asian Infrastructure Investment Bank (China centric) that will be a rival to the World Bank (US centric) and the International Monetary Fund (Europe centric). Clearly, there are United States concerns with China's growing influence across Asia.
The China-led Asian Infrastructure Investment Bank was formally established on Friday and is expected to be operational early next year. Despite opposition from Washington, major U.S. allies such as Australia, Britain, Germany, France and Italy have all joined the institution. The bank, which will initially focus on financing projects in power, transportation, and urban infrastructure, will hold its opening ceremony in mid-January and formally elect a president.
Regardless of Japanese currency devaluation efforts, economic growth remains elusive.
Japan's factory output and retail sales both fell 1% in November, suggesting that a clear recovery in the world's third-largest economy will be delayed until 2016. On Friday, the country was hit with a raft of disappointing figures, including inflation data, household spending, jobless claims and falling incomes. The numbers could also put more pressure on the Bank of Japan to expand its stimulus program, which was last fine-tuned on Dec. 18 to ensure it can maintain and accelerate its money-printing.
Finally, it is difficult to feel bad for Saudi Arabia's financial situation.
Due to the lowest crude prices in more than a decade, Saudi Arabia may announce cuts in capital spending and other economic measures for next year as it unveils its first annual budget under King Salman. Key officials, including Finance Minister Ibrahim Al-Assaf and Economy and Planning Minister Adel Fakeih, are scheduled to discuss the budget and outline the kingdom's economic policy at a conference in Riyadh later today. An official from Saudi Aramco will also attend.
Featured Coins of the Day
The next Daily Blog edition will be on December 31 or January 1 depending on how quickly I can restore Comcast internet service at Florida residence. I don't know which is worst, dealing with Comcast or visiting the dentist.....
Regardless of the GFRC migration, I am open for business and will be checking for email orders each evening. Please don't hesitate to make a selection and I will revert with confirmation as soon as possible.
I leave you today with several featured Seated halves from the Woodlands Collection. First is an 1861 PCGS AU50 graded example with proof like surfaces and conservative grading. This piece definitely impressed me during evaluation and loading on price list. (On Hold)
Then there is a choice original 1861 New Orleans W-3 struck under Louisiana State administration. This piece resides in PCGS VF30 holder and is approved by CAC. It would be difficult to locate a finer example for the grade and original surfaces.
And finally, not from the Woodlands Collection but also a very important Civil War Seated half dollar. I've handled few 1861-O Union struck examples and believe the W-1 and W-2 die varieties to be under rated in current market. This original PCGS EF40 example is worthy of an advanced collection and will be most difficult to replace once sold.
Thank you for visiting with me this morning and throughout 2015. I will be back shortly!
December 27, 2015
Sunday morning is peaceful at the Fortin house. Thank you for visiting once again. Daily Blog readership is an amazingly constant 270-290 visitors each day.
The early morning quiet will quickly change as Sunday is the final day in Maine before starting southward journey. Matt, Chikae and Natsumi are returning to Boston while the GFRC business is carefully packed. Inventory, reference books, camera equipment, bourse floor items, business files etc all need to be accounted for, kitted and assembled. The anxiety was evident last night as sleep was a series of dream episodes at a Long Beach show and having forgotten my check book and unable to find parking. Strange indeed but reflective of the quiet anxiety associated with a business relocation and not leaving any important items behind.
GFRC News
The better part of Saturday was spent building the Seal Beach consignment spreadsheet including draft retail pricing. It was lots of fun to view the semi-key and key date Morgans is perfectly original AG through Fine grades. The group is so well matched with medium gray patina and no surface or rim issues. Assembling this type of Morgan set is not easily done. The 1842-O Small Date half graded PCGS AU50 is also a standout with soft pastel toning that transitions to rose and blues under bright light. The consignor reviewed my suggested retail prices during late afternoon and has already approved. Photography is the final step before listing this eclectic collection; this will occur after arriving in Florida and setting up shop.
More Seated halves from the Woodlands Collection were loaded onto the price list and the final consignment shipment has arrived. I have not mentioned the contents of the final shipment so here goes. The 1824 Capped Bust half is a gem with huge eye appeal and the 1840 Rev1839 is also a gem at the EF45 grade level. As usual, FROR is in order for this lovely pieces.
1/2 Cent: 1806 Small 6 No Stem, PCGS EF45 and perfect chocolate brown
Bust 50c: 1824 O-110 Repunched 4, PCGS AU50 CAC OGH with OVERDATE on label.
Seated 50c: 1840 Rev1839 PCGS EF45 CAC; 1843 PCGS AU55 CAC; 1858-O PCGS AU55 CAC; 1861-S PCGS VF35 CAC
Consider Consigning with GFRC in 2016
Appreciating quality coins is the trademark of Gerry Fortin Rare Coins as the owner/operator is dedicated to enhancing the numismatic industry through collector education and the utmost integrity during all business activities. My Liberty Seated collector roots, former corporate executive background and Information Technology expertise guided me to establish a new business model for aiding collectors when buying and selling quality coins; the collector to collector trading desk. Quality coins are expensive and a significant financial investment; therefore working with a knowledgeable and trusted individual is paramount. I want every collector to feel good about their purchases including the purchase price as being fair and reasonable.
GFRC consignors understand that their coins will sell at or very close to the initial offering price if the quality is there. I don't believe in trying to "hit home runs" for consignors as this means a collector has been buried in a coin. This is bad for our hobby. For the numismatic industry to grow and be prosperous, more new collectors must enter the hobby to replace the aging Baby Boomers. Fair and knowledgeable dealing is paramount for attracting and retaining new collectors.
Let's end the Daily Blog here for today as I have much on my plate. There will be a brief Daily Blog on December 28 followed by a gap until the morning of December 31 and the first Florida report. Please don't be bashful to order coins via email as I will be checking emails at rest stops and in the evenings during the migration.
December 26, 2015
Welcome back to the Daily Blog and thank you for visiting during this holiday period.
Preparations for the GFRC migration to Florida start today and will be accelerated given the terrible weather that is moving across the United States. Maine Christmas Day weather was record breaking while strange with temperatures approaching 60F. It felt like a beautiful Easter Sunday rather than Christmas. The 5 day forecast now calls for a major snow storm to hit the Northeast on early Tuesday so adjustments to the Fortin travel schedule are being made quickly. The last GFRC shipments from Maine are going to the Post Office this morning followed by two days of serious organizing and packing.
GFRC News
The last USPS box with the Woodlands Collection and the Seal Beach Collection consignments arrived on Thursday along with a recent CAC submission. I'm relieved that all packages mailed to Maine GFRC address arrived on a timely basis.
Matt and I spent late evening time discussing the GFRC Information Technology (IT) development strategy and I believe customers and consignors will be most pleased with future online upgrades. Utilizing an SQL (Structured Query Language) database, which enhances the online publishing experience and GFRC business efficiencies, is the core strategy element while not disturbing the look and feel of current price list tables. Executing this concept will be challenging but the results could be grounding breaking. Next steps include database design and selecting a low cost platform for implementation. Generating HTML tables from the database will require special programming resources.
Back to coins......
Seal Beach Consignment
The Seal Beach Collection consignment is loaded with great collector coins. Imagine hand selected and strictly original collector coins in popular series coupled with affordable grades; this is the Seal Beach consignment. An advanced collector has decided to sell his multiple collections and duplicates while remaining focused on his core passion, Liberty Seated halves. In the December 21 Daily Blog, I published the Seal Beach Gold Type Coins. Following is the balance of the Seal Beach consignment. I am so excited and looking forward to working with these individual denominations and choice pieces for the assigned grades. First Right of Refusal (FRoR), as always, is available for these marvelous coins.
Shield 5c: 1866 Rays VG8, 1867 Rays G4, 1867 No Rays VF30, 1868 VF35, 1869 VF35, 1870 F12, 1871 F12, 1872 VF30, 1873 F12, 1873 Closed 3 VF30, 1874 EF45, 1875 VF20, 1876 VG10, 1882 EF40, 1883 EF40
Seated 50c: 1840 Rev1839 PCGS EF45; 1842-O Med Date Rev1842 PCGS VF35; 1842-O Sm Date PCGS AU50; 1846 Tall Date PCGS MS63; 1853 A&R PCGS AU55; 1853 A&R VF35; 1853-O PCGS VF35; 1856-S PCGS VG10; 1858 PCGS AU58 CAC; 1872-CC NGC VG8; 1875 PCGS VG10
Seated $1: 1843 PCGS VG10; 1843 PCGS VG10; 1846 PCGS EF45; 1870-CC PCGS F12; 1872 PCGS F12; 1872 PCGS VG10; 1873 PCGS VG10
Morgan $1: 1881-CC PCGS G6; 1885-CC PCGS AG3; 1889-CC PCGS G4; 1892-S PCGS VF35; 1893 PCGS VF30; 1893-CC PCGA VG8; 1893-S PCGS VG8; 1894 PCGS VG10; 1895-O PCGS G6; 1895-S PCGS F12; 1903-O PCGS VF20
Woodlands Consignment
Progress continues to be made with the Woodlands consignment. Following is a mini gallery of more Woodlands Seated halves that are ready to reach the price list today. Sorry but the 1862-S WB-2 R5 is already sold....what an outstanding cracked reverse example.
Let's end the Daily Blog here as there is much work to do today; catalogging the Seal Beach consignment and posting more Woodlands Collection pieces along with shipping several orders plus organizing for the Florida migration. Thank you for visiting this morning.
December 24, 2015
Christmas Eve has arrived in Asia, the midnight church celebrations are just a few hours away. Thought the Beijing government closely controls the Catholic Church, Chinese Christians are still allow to attend mass and Shanghai Christmas Eve celebrations are known for being beautiful and uplifting. I sincerely wish my special numismatic friends in Shanghai, Harry Zhang and Bosco Zhang and dear friend, Zhang Li Mei, a joyful Christmas holiday. Regardless of personal religion or beliefs, Christmas is a traditional holiday the world over and has significance for world peace and harmony.
Merry Christmas and Happy Holidays to all GFRC customers, consignors and dear friends.
GFRC News
Wednesday's focus was loading a portion of the Woodlands Collection to the price list and then immediately shifting to more image processing. I awoke early this morning and completed the images for 1861 dated halves. Studying the different striking characteristics between Philadelphia, New Orleans and San Francisco mints is an interesting exercise. Below are the five 1861 dated halves in the Woodlands Collection. These will be heading to the price list today along with more offerings. The Woodlands' Client Gallery display will continue to be expanded as offerings are finalized and posted.
The Woodlands Collection Consignment Part II - December 23, 2015 Update
1861 Dated Liberty Seated Halves
Seal Beach Consignment Status
Three of the four Medium Flat Rate boxes containing the Seal Beach consignment arrived on Wednesday. One box contained key and semi key date Morgan dollars, all PCGS holdered, in nice circulated collector grades including an 1893-S. This is the first time that GFRC will be handling this famous date. As a young collector, I could only dream of owning this key to the Morgan dollar series.
Financial News
Seeking Alpha headlines are fairly benign this morning as the world cruises into the holiday season. The US stock market is essentially flat this year and some are worried about a pending recession during 2016-2017 timeframe.
Despite wild volatility this year, the S&P 500 is barely positive, and it's still a coin toss whether the markets will finish 2015 in the green. Fueled by a bounce in oil prices, the S&P ended Wednesday with a 1.2% gain at 2,064, just six points above its Dec. 31, 2014 close. The Dow rose 1% to 17,602, but it is farther away from a break-even point, down 1.2% YTD. After today's session, there will only be five more trading days left this year...will stocks end it in positive territory?
Featured Coins of the Day
One of the best parts of a numismatic consignment business are the ongoing surprises when consignor shipments arrive. There are fantastic coins buried away in bank safety deposit boxes and when they do come to market, I am so pleased to have the opportunity to enjoy them as a collector. Yes, I will talk to myself and just say Wow! Following is one of those Wow coins from the Woodlands Collection that serious Capped Bust half collectors should considered. This 1819/8 Large 9 O-102 is graded PCGS AU53 and approved by CAC. This in hand eye appeal is much better than captured with these images.
Thank you for visiting the Daily Blog today and throughout 2015. There will be no Blog on Christmas Day as a break is in order. GFRC will be closed starting 3:00pm today through end of December 25 day. I will be back with a blog on December 26 and then immediately shift into preparations for the Florida migration.
December 23, 2015
Merry Christmas once again and thank you for the ongoing Daily Blog visits. Christmas Eve is tomorrow and the holidays always bring a much needed break to our fast paced lives. My family arrives from Boston via train at 12:00 noon and then GFRC will be closed for the balance of Thursday and Christmas Day. If you are still in a numismatic shopping mood and wish to place an order via email, please do so and I will response on December 26.
GFRC News
Please remember that all GFRC payments are to be sent to Florida address starting no earlier than December 28. I'm sorry to make this complicated for customers but attempting to be proactive. I apologize for the difficulties that the Maine to Florida migration presents each year, especially during the already busy holiday season. GFRC customers can continue to place orders and all reserved coins will be transfered to Florida and shipped from that location once payments arrive. Sending payment to Maine address means potential delays in the USPS mail forwarding loop and sending early payment to Florida address may result in the mail being forwarded to Maine and then back to Florida.
Tuesday was indeed a busy day with steady sales, the arrival of an eleven piece type coin lot (as mentioned in the December 19 Blog) and continued emphasis on the Woodlands Collection consignment and its main event, the Liberty Seated halves. Twelve more Seated halves were processed last evening leading to the following update in the Woodlands Collection Client Gallery. There are still 21 more halves in the queue and hopefully more progress will be made today. But first the new halves in this morning's Blog update must be priced and added to the price list to enable sales. Life is not boring!
The Woodlands Collection Consignment Part II - December 23, 2015 Update
Liberty Seated Halves
New Inventory Purchase
Speaking of the eleven pieces type coin lot with pretty toning (December 19 Blog), the entire group was purchased and will be rolled out once in Florida. Following is the list of coins and some comments; if you are inclined, I am accepting FRoR as most of these are already priced.
3c Silver: 1851 rainbow bullseye toning, ANACS Old White Holder AU58. This piece is very pretty and will not last long
Seated 5c: 1858 PCGS AU55, rose centers turning to blue rims, very pretty; 1862 AU55, strictly original blue/rose patina
Seated 25c: 1843 ANACS Old White Holder MS61 and under graded, much luster and eye appeal with rose and blue patina; 1860 NGC AU55 CAC, aquamarine and rose coloring over nice luster; 1878-CC PCGS VF30, gem gun metal gray/blue toning
Barber 25c: 1898 MS61 with silver gray centers turning to gold and blues at the rims
Bust 50c: 1826 PCGS VF30, choice gun metal gray
Seated 50c: 1854 EF40, light gray and original; 1871 VF35, pretty old album toning but strictly original
Trade $1: 1876 NGC EF45, choice original with deep rose and blue rims, wow!
I'm ending the Blog here today. Seeking Alpha headlines lack worthwhile news and not worth sharing. Also I have an incredibly busy day in front of me and do need to wrap Christmas gifts.
Please check back tomorrow morning for another Daily Blog update as more progress is made with the Woodlands Seated halves and I am expecting the arrival of four Medium Flat Rate USPS boxes containing Part I of the Seal Beach Collection today.
Thank you for stopping by during this hectic holiday season! I will see you bright and early on Christmas Eve morning.
December 22, 2015
Merry Christmas and welcome to the Daily Blog.
Yes, the holidays are just a few days away but I'm still working long hours posting the Woodlands Collection consignment and shipping orders. There are no complaints as I set an aggressive GFRC revenue goal back in January 2015 and currently within a few percentage points of achieving that goal with 8 days left in 2015. Why am I not slowing down and cruising into the holidays? After working as a Marketing and Sales executive and responsible for a company's Profit and Loss (P&L) performance, then a certain business mindset takes hold and it is all hands on deck towards meeting those year end goals. I'm managing the GFRC business in the same way but will be taking a much needed break starting Christmas Eve day as Matt, Chikae and Natsumi return to Maine home for Christmas celebrations.
I received an email from an LSCC club member yesterday and wish to share with Daily Blog readers. The background is important; this individual purchased a key date Liberty Seated quarter from another dealer only to learn weeks after the purchase that the coin had been professionally doctored (restored) and graded by one of the leading TPGs. The individual was distraught as any collector spending the better part of a year's disposable income on a key date coin would be. Being a fellow collector and understanding his pain, I volunteered to help this person and pleased to report that the issue was settled last week with the collector being made whole. Following is the email I received late yesterday evening...I'm also relieved that the issue was settled in a professional manner but will be advocating that LSCC members start demanding a provenance record before purchasing five figure key date Seated coins even if in TPG holders. CarFax has done wonders for the used car market and I believe it is time for key date coins to also be sold with provenance records to protect collectors. More will be discuss on this topic in an upcoming E-Gobrecht or Gobrecht Journal. The coin doctors are just too good these days....
Gerry,
I can't thank you enough for your invaluable assistance in helping to recover my investment in a doctored seated quarter. From the start of my ordeal to the finish you were supportive and helpful, and gave great advice on how to proceed.
You're the perfect leader for the LSCC. You have all the best qualities of a passionate collector and ethical dealer. Your integrity is absolute! Thanks again!
All the best, (LSCC Member)
GFRC News
Please note that the GFRC mailing address has been changed to 502 Auburn Lakes Circle, Venice Florida 34292. Please do not mail any checks to this address until December 29. We are now in a transit period and no checks should be mailed to Raymond, Maine address. I will hold all purchases and will be shipping from Florida. Thank you so much for your cooperation and understanding.
The Woodland Collection Capped Bust halves are posted online. Already some inquiries are arriving in this morning's Inbox. Following are the Woodland halves and please give special attention to the 1819/8 Large 9 O-102 graded PCGS AU53 CAC. This one is a gem!
But the main event is the Woodland Seated halves and I will be processing images and hopefully adding to price list by end of day.
The Woodlands Collection Consignment Part II - December 20, 2015
Capped Bust Halves
Financial News
Global financial news is quiet this morning. Oil spot prices have stopped falling for the time being. Spot gold is holding ground nicely at $1077. I found the following Seeking Alpha headline to be quite interesting. Its appears that German driven austerity for its southern European neighbors is having a political impact.
Italian prime minister Matteo Renzi is warning that German-driven eurozone austerity policies are fanning the flames of populism, leading to political paralysis across the continent and electoral setbacks for incumbent governments. In an interview with FT the day after voters in Spain slashed Mariano Rajoy's majority in parliament - leaving him struggling to form a new government - Renzi said there was one main lesson to be learnt. "Those who have been in the front line of being the faithful allies of the politics of rigor without growth have lost their jobs...it happened in Warsaw, it happened in Athens, it happened in Lisbon. Let's see what happens in Madrid."
Are Drone Selfies the next hot social item? Read on!
Forget about delivery...drones may soon have a bigger role in social media. Twitter (NYSE:TWTR) was granted a patent last week for an unmanned aerial vehicle, which is capable of snapping photos and videos, before sharing those items on user accounts. The company declined to comment on possible production or roll-out plans for the device, but a spokesman did say the following, "Two words: Drone selfies."
Featured Coins of the Day
Regardless of the consignment workload, I still managed to purchase several outstanding pieces for inventory. These two pieces are both graded PCGS EF40 and approved by CAC. Top is 1878-CC quarter with strong eye appeal while bottom is a strictly original 1839 New Orleans reeded edge half that is a late die state example. Those reverse die cracks are really cool! Both are heading to the price list this morning so please check back this afternoon if interested.
Thank you for visiting this morning. Please remember that any GFRC purchases through December 28 only need to be paid starting December 29. Have a great day!
December 21, 2015
Christmas Week has arrived and attention shifts to last minute gift wrapping and holiday travels. As everyone knows by now, the Eastern portion of the United States will experience record setting warm weather this week. My quiet wish for a Florida migration without dealing with December snows has come true. It will be warm enough on Christmas Eve to take the Miata out for a drive....just on principal and for memories!
GFRC News
I spent most of Sunday working on the Woodlands Collection consignment. All pieces are photographed to my satisfaction but many of the even gray Capped Bust and Seated halves took multiple attempts to minimize lighting reflection from PCGS edge view inserts. The incredible 1853-O Briggs 2C PCGS AU53 CAC offering last just a few hours and is on hold. The last Woodlands coin to be processed and added to the Client Gallery was this incredible 1862 $3 Princess that resides in PCGS MS64 holder and is also approved by CAC. Luster is amazing with heavy die polishing lines throughout obverse and reverse. Reverse is also significantly rotated. Mintage is a miniscule 5,750 piece with just a few examples at the MS64 and MS65 grade levels. The appearance is that of an MS65 gem however, there are two tiny obverse contact marks that limit the grade to MS64. These did not bother the good folks at CAC. CAC has certified only this example in MS64. This 1862 $3 Princess is heading to price list after completing the Daily Blog and customer shipments. Offer price is $23,500.
Please check other offerings heading to the price list today as I will be loading images in the Client Gallery first, confirming retail offer prices with the consignor and then updating price lists. Hopefully, I will be able to process 20 or so pieces before heading to the sound room this evening.
The Seal Beach Consignment
I've made mention of another substantial consignment in recent blogs but have not disclosed contents. I'm pleased to announce that the Seal Beach consignment is shipping today and requires four Medium Flat Rate boxes for the transfer. The consignor is a advanced collector with one of the all time finest Liberty Seated half dollar collections listed in PCGS Set Registry. The Seal Beach consignment includes (10) type gold pieces, (11) Liberty Seated halves including 1842-O Small Date, Small Letters graded PCGS AU50, (7) PCGS Seated dollars, (13) raw semi key date Morgan dollars and finally, a near complete set of Shield Nickels missing only the 1879, 1880 and 1881 dates. Following is a breakdown of the United States type gold.
G$1: 1852 XF40 Raw; 1856 XF45 Raw
G$2.5: 1852-O AU50 PCGS; 1908 former XF45 ANACS
G$5: 1851 $5 former VF35 NGC; 1875-CC CAC VG8 PCGS; 1911-S XF45 PCGS
G$10: 1847 F15 PCGS; 1910-D XF40 PCGS
G$20: 1890-CC $20 VF30 PCGS

Financial News
Oil prices continue to dominate global headlines. Saudi Arabia is running a substantial budget deficit while Russia and former Soviet Union countries are also impacted by sub $40/bbl spot prices. The Greeks don't want the IMF involved in their financial bailout too. Let's check interesting Seeking Alpha headlines this morning.
Brent crude is shattering records, losing a fifth of its value in the last month and a third since early October. The benchmark has now hit levels not seen since 2004, skidding 2% to as low as $36.06 per barrel, as oversupply concerns and a strong dollar continue to weigh on the market. With a ban on U.S. oil exports lifted and new supplies looming from Iran, West Texas Intermediate crude is also feeling the pressure, down 0.9% at $34.42/bbl, its lowest since February 2009.
Taking a page out Kazakhstan's playbook, the central bank of Azerbaijan has abandoned its currency peg and floated the manat. Both countries are highly dependent on oil and gas - which are collapsing under pressure from a global supply glut - intensifying pressure on their public finances. Immediately following the move, Azerbaijan's currency plunged 48% and was at 1.55 to the dollar.
Greek prime minister Alexis Tsipras is pushing for the International Monetary Fund to stay out of the country's €86B third bailout, leaving the eurozone to take full responsibility for overseeing economic reforms. The assertion risks alienating the IMF, which is a strong advocate of debt relief for Athens, and is likely to anger the German government, which has always insisted the fund stay on board. The IMF will likely decide whether to stay involved in the bailout early next year.
Featured Coin of the Day
Let's use this Blog section to highlight another incredible Woodlands Collection offering that will be reaching the price list today. This 1878-CC Seated quarter resides in PCGS MS65 holder along with CAC approval. Surfaces are gem original with dripping frost luster.
Thank you for visiting with me this morning. It is breakfast time with hard boiled eggs waiting to be peeled followed by typical Monday morning time in the packaging and shipping department along with writing a few consignment checks. Please check back this afternoon for more Woodlands Collection gallery and price list updates.
December 20, 2015
Good Sunday Morning to blog readers. Seasonal temperatures have arrived and the wood stove is crackling with fresh pieces of oak hitting fiery red coals remaining from the overnight burn. The coffee mug is full with a tasty dark roast blend; it is time to write another blog.
I did not watch the Democratic debate rather reading commentary this morning. It appears that Hillary remains in charge after her performance.
Liberty Seated Collectors Club News
The American Numismatic Association has published course schedules for the 2016 Summer Seminar Series in Colorado Springs. Within the course guide is the LSCC sponsored course entitled, "Developing a Passion for Liberty Seated Coinage" with John Frost and myself as the primary instructors along with Len Augsburger who will provide a historical perspective on the Liberty Seated coinage era. The word "passion" in the course title well captures the energy and attitudes of the instructors for their hobby. The ANA requires a minimum of 12 students to conduct the class and class size will be limited to 24 students. Already, I am aware of three individuals who plan to attend; two are GFRC customers and consignors.
Following is a slide from the Tampa FUN show regional meeting prepared by John Frost, LSCC Education Director, announcing the Summer Seminar course. I would encourage individuals who can afford the time to consider attending an ANA Summer Seminar. Beyond the actual course work, there is much value and fun with the lunch, dinner and evening relationship building as many of the numismatic industry's personalities, researchers and dealers are also in attendance.
GFRC News
Saturday's focus was on the Woodlands Collection consignment as more pieces arrived by registered mail and time was spent on photography and image processing. I was blown away by the 1878-CC quarter in PCGS MS65 CAC and the 1862 $3 Princess in PCGS MS64 CAC.....these are amazing coins! Following is a mini gallery of the Woodlands Collection. The 1839 No Drapery and 1881 halves are already sold. The 1853-O Seated quarter residing in PCGS AU53 holder and approved by CAC is an incredible example and the second finest CAC approved piece. I have seen the finest; PCGS AU55 CAC owed by LSCC club member and it is a knock out gem. The Capped Bust halves (1825 O-113 and 1832 O-106 are both graded PCGS AU58 with CAC approval). This is just the beginning of the Woodlands Collection rollout....the originality of these peices is easily noted from the images.
Today's priority will be incremental photography, Client Gallery construction and price setting with a target of Monday for loading the price list with these wonderful offerings.
The Woodlands Collection Consignment Part II - December 20, 2015
Liberty Seated Quarters
Capped Bust Halves
Liberty Seated Halves
Believe it or not....I received two additional inquiries for handling more customer consignments yesterday. These will be staged for receipt once GFRC migrates to Florida.
Finally, the order window for Christmas delivery is closed unless using USPS Express service. I would welcome incremental orders to finish the GFRC business year on a high note but check payments and shipments will be handled from Venice, Florida. Following is a reminder on the GFRC transition schedule.
December 21 - Cut off date for mailing check payments to GFRC Maine address. Orders can still be placed after December 21 and I will hold coins and transfer to Florida for shipment from winter Florida home.
December 22 - December 27 - No checks or consignments should be mailed to GFRC Maine address.
December 28 - GFRC payments and consignments must be shipped to Florida address; GFRC, 502 Auburn Lakes Circle, Venice, Florida 34292
Let's end the Daily Blog here this morning as most readers have Christmas shopping and gift wrapping on today's agenda. Thank you, as always for visiting. Please check the Client Gallery this evening and the price list on Monday for the rollout of the Woodlands Collection.
December 19, 2015
The weekend arrives with Christmas holiday just a few days away. Unfortunately, my Christmas shopping is not done and a last minute effort will be necessary. For the moment however, it is time to write another blog edition while enjoying a hot cup of coffee. Southern Maine's Christmas week weather is forecasted to be unseasonably warm with a high of 58F on Christmas eve. Tomorrow will be sunny allowing for photography of the Woodlands Collection consignment; the last photography event before Florida migration.
GFRC News
There is considerable GFRC news to share this morning.
GFRC Adds IT Director
Many LSCC members and close numismatic friends met my son Matt at the Fall Baltimore show when working as GFRC table assistant. Matt thoroughly enjoyed the event and hanging within the LSCC circle of business professionals. I am so pleased to announce that Matt will be joining GFRC as IT Director starting after the FUN show. GFRC has grown to the point where an e-commerce and bar coded inventory system is warranted. Matt will be tasked with evaluation and selection of commercial software along with the integration into the existing www.seateddimevarieties.com website. This step is substantial and costly. It signifies our commitment towards being a leading numismatic dealer for the long term as our customers have embraced the collector to collector trading desk business model.
Silver Type Coin Toner Lot Ships to GFRC
A GFRC customer wrote yesterday and offered a nice lot of coins for purchase. This individual's specialty is early silver type coins that have eye appealing toning. He is most selective with acquisitions and when he decides to sell some duplicates, I take immediate notice. The following group of coins was mailed yesterday. Please note that toning characteristics are paramount for this collector while rarity is not.
3 Cent silver: 1851 toned ANACS AU58
Seated 5c: 1858 toned PCGS AU55; 1862 toned AU55
Seated 25c: 1843 toned ANACS MS61; 1860 toned NGC AU55 CAC; 1878-CC PCGS VF30
Barber 25c: 1898 toned MS61
Bust 50c: 1826 toned PCGS VF30
Seated 50c: 1854 toned EF40, 1871 toned VF35
Woodlands Collection Update
I starting working through the Woodlands Collection consignment on Friday and was blown away by several coins; the 1839 No Drapery PCGS EF45 CAC Seated half and the 1853-O PCGS AU53 CAC Seated quarter come immediately to mind. The Woodlands collector has a very strong eye for originality and bold strikes as the 1839 No Drapery looks to be AU50 with absolutely original gray surfaces. The 1853-O quarter is fully struck with ample remaining luster and is the second finest example approved at CAC. Only an AU55 is higher. I should be able to wrap up evaluating the initial 51 Woodlands pieces today and expecting the arrival of more Woodlands coins via registered mail either today or Monday.
GFRC Customer Feedback
I've not posted customer feedback in the blog but decided to share two emails received yesterday. The customers will remain anonymous.
Gerry,
I have been admitted as an advanced collector/submitter to CAC, thanks in no small part to your willingness to be a reference, and the connection made between me and the LSCC.
Encouraging all collectors of every level of expertise and level of purchase power is a hallmark of you being a collector at heart, a sharer of knowledge, and a believer in passing on not just good coins but good information (as seen in the daily blog and your work on Seated coins).
Gerry,
Wanted to acknowledge the receipt of the 1841 F-108; 1878 F-110 dimes; and the 1850 2.50 gold. As always, they are all beautiful keepers. Thanks so much for taking time with my request to include the provenance of the 1841 on your business card. The coin probably won't ever leave my collection till my passing (or dang close to it); the card will always be a reminder to me of the hours of enjoyment reading your web book, articles and daily blog....and of course the many coins acquired from you over these past few years...
Featured Coins of the Day
I don't often feature proof coinage in the Daily Blog and this has been an oversight on my part. GFRC inventory expansion continues and customers will see an increasing number of Seated proofs on the price list during 2016. First of all, I will be selling the proof Seated dimes in my own collection to continue raising working capital. Secondly, Seated proof coinage is incredibly beautiful and I hope to expand awareness and the market for these coins. So today, we feature two lovely proof Seated dimes from the Birmingham and Gerry Fortin Collections. These would be nice Christmas gifts for a person that is difficult to shop for....;)
1882 NGC PF66 Ultra Cameo - Blast White Gem Proof, Deep Mirrors, Birmingham Collection. An incredible dime with the appearance of being struck yesterday. Fields are fully mirrored with natural "watery" texture and completely blemish free.
1889 PCGS PF66 Ultra Cameo - Mirrored Cameo Fields, Essentially Untoned. Gerry Fortin Collection. A wonderful cameo example with watery mirrors and bold reflections under bright light. Surfaces are untoned except for a very faint layer of localize gold that the camera and image processing have enhanced. Full struck with no blemishes as one would expect for a PF65 assigned grade.
Thank you for stopping by today. I can feel a growing numismatic community surrounding the Daily Blog and the GFRC business model. This "feeling" gives me the energy to write the Blog on a daily basis and to work long hours servicing the needs of happy customers, consignors and numismatic colleagues. Thank you so much for your support.
December 18, 2015
Friday arrives so quickly this week as I sit at the laptop trying to assemble a meaningful Blog. Today's commentary will be brief as I have an early appointment for front brakes/rotor replacement on the Toyota Tacoma. Would you believe that a 2005 vehicle with only 36,000 miles is having a second brake job? Yes, due to limited use and rusting of the front brake components. This is the same vehicle that received a complete frame replacement two years ago under Toyota warranty. In the Northeast, road salt is a significant issue for vehicles in general, and for those which are primarily used in 4WD mode during winter road conditions.
GFRC News
The majority of the Woodlands Collection consignment arrived yesterday via 2 day USPS Priority boxes....51 pieces with another 10 being transferred by registered mail due to high value. It was incredible to unpack each of the four Medium Flat Rate boxes and quickly view each of the pieces. This is a consignment that will be well received by GFRC customers as the consignor has an outstanding eye for originality and overall eye appeal. Was I impressed with USPS for hitting 2 day transit time during the Christmas rush? You bet! Today's priority will be updating the Woodlands consignor's spreadsheet with the 51 pieces including evaluation, attributions and retail pricing determinations. For current GFRC consignors, they well understand the process and the Excel output that will be emailed to the consignor. My goal is to start FRoR contacts by early next week.....photography will be the last key issue as the Winter Solstice is just a few days away.
Believe it or not....I found time yesterday to add two updates to the Liberty Seated dime web-book. The first is the 1875-CC In Wreath F-113c terminal die state with large reverse retained cud. The second is a new 1877-CC die pairing between the obverse die with misplaced 7 digit in the denticles and a newly identified lapped reverse die. The latter update is the result of Dr. Tim Cook's ongoing keen eye and variety submissions. While working through this 1877-CC update, it dawned on me that the lapped Carson City Type II reverse dies of 1877 and 1878 would be an excellent area for research and Gobrecht Journal publication. There must have been a systematic reverse die lapping process at the Carson City during 1877 as so many surviving examples are seen with poor reverse device details. Could you envision a graphic showing the progressive die states for each of the Type II lapped dies and their obverse die marriages? This would be cool! I am not aware of 1877 Type I reverse dies being lapped, only Type II dies. The unanswered questions lead to an exciting research opportunity. Here is the new 1877-CC Type II Reverse - F-122 die pairing. This piece resides in NGC AU58 holder. If you look carefully at the area below the date digits, the top of the misplaced 7 digit is visible.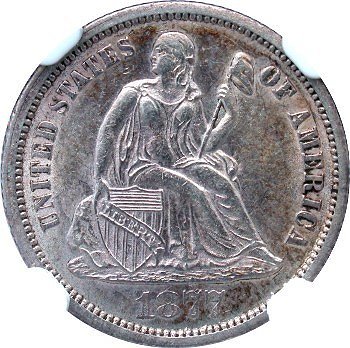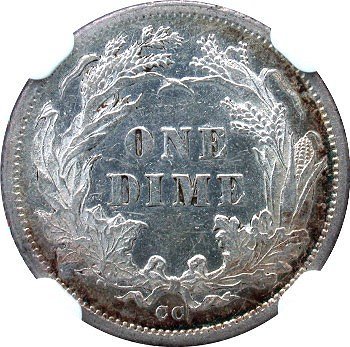 I also worked into late evening on a partial set of Liberty Seated dimes from the New Jersey Collection. These pieces are stored in a Library of Coins album; most challenging during the evaluation was freeing up the mylar slides so as to access the dimes.
Financial News
Now that the Fed has raised the benchmark interest rate by 0.25%, that drama is done and the financial press moves to other topics. Commodity market turmoils, with oil and constructions metals leading the way, is a worry for more global deflation. Following are several Seeking Alpha headlines. Luckily spot gold continues to hold in a $1050 - $1060 range while commodity prices are caught up in a significant downturn.
Oil is on track to post its third weekly loss, with U.S. crude down 2.2% and Brent off by 2%. U.S. inventory builds, a global glut and a Fed rate hike are still the usual story, but two new factors could crank up more pressure. The IEA predicted today that oil markets will remain oversupplied at least until the end of 2016 - due to sluggish demand and OPEC's failure to curb production - and the U.S. looks likely to lift its four-decade-old crude export ban (see below) in another few hours. Crude futures -1.3% to $34.48/bbl.
Concluding a two-day policy meeting, the Bank of Japan surprised markets this morning by announcing plans to expand the range of its asset buying program. What's changing? The central bank is increasing purchases of ETFs and lengthening the maturity of bonds it buys to encourage investment in the economy. The move follows the Fed's recent decision to raise interest rates for the first time in almost a decade, underscoring a divergence between the U.S. and other wealthy economies which still face a heavy risk of deflation.
Do we remember the BBC "air that makes you fat" research article? I'm so happy to be living in rural Maine again! Beijing has issued a second pollution red alert, little more than a week after the first ever such warning. A wave of smog is due to settle over the city of 22M from Saturday to Tuesday, triggering vehicle restrictions and forcing schools to close. Levels of PM2.5, the smallest and deadliest airborne particles, are set to top 500, more than 20x the level considered safe by the World Health Organization.
Featured Coins of the Day
This Blog topic will be quick this morning as I need to head to the shower. GFRC December sales have slowed considerably due to holiday focus and preparations. But please remember that a strictly original Bust or Seated coin could be an exciting gift for that young numismatist at home. Capped Bust halves from the early 1800s, in particular with their large size, would bring American history to life and might just motivate a young collector to start reading about pre Civil War American history.
Might I recommend this ebony gray 1817 O-113a R4 example? This piece could serve dual purposes; hopefully establishing a spark for American history and also as a teaching aid for what a 200 year old silver coin should look like.
At $110, this 1819 O-111 half from the Maine Collection might also be a great gift. This piece sat in a Wayte Raymond holder in Auburn, Maine bank vault since 1965 and came to market during late 2014.
December 17, 2015
Good morning and welcome to the Blog; thank you for stopping by. A quick reminder that Christmas Eve is one week away and for those of us who are procrastinators, then we might start thinking about shopping for gifts and getting that gift wrapping done.
Yesterday brought bright sunny skies and the need to take a break from numismatics. So what is a poor boy to do? To satisfy that need, I visited my favorite Portland coin shop followed by a delightful lunch at Imperial China adjacent to the Maine Mall. The shredded beef, Szechuan style was extra spicy and thoroughly enjoyed. After recharging my batteries, I returned home and photographed new purchases and spent the balance of day loading coins on the price list. By 9:30pm, it was time for a double scotch and evening session in the daylight basement sound room. The evening finished with a double feature; David Crosby's If I Could Only Remember My Name followed by Genesis' A Lamb Lies Down on Broadway. The Maine soundroom will be sorely missed while in Florida but "every form of refuge has its price" according to the Eagles in Lyin' Eyes. They were not discussing time in sound rooms.....
LSCC Dues Renewal Reminder
Have you renewed your 2016 LSCC membership yet? Craig Eberhart reported yesterday that the club is at a 60% renewal level with payments slowing to a trickle going into the holidays. On a positive note, many club members (who have renewed) choose multi-year memberships. The Gobrecht Journal will be updated during 2016 with cover art from club member and graphic designer, Jim Macor. The three 2016 issues will feature this ground breaking front and back cover. We plan to change the cover art each year. (You can click in the jpeg image to secure a higher resolution image).
If you have yet to send in your 2016 LSCC dues of $25, please consider taking action quickly. Dues can be mailed to Craig Eberhart at LSCC, PO Box 712, Los Alamos, NM 87544 or paid via Paypal at LSCCdues@gmail.com. If club members procrastinate, then the LSCC leadership team will be spending hours emailing and/or calling individuals to secure their continued commitment for the Liberty Seated Collectors Club and our mission. Please remember that Bill Bugert, Len Augsburger, Craig Eberhart, Dennis Fortier , Carl Feldman and John Frost along with myself are volunteers and already contribute a substantial amount of time to the hobby and the LSCC. Please simplify our lives during the upcoming days by promptly renewing your LSCC membership. For those of you who already have paid 2016 dues, I am so appreciative of your quick attention to this matter!
GFRC News
For those who frequent the GFRC price list, you will note that the incredible 1844-O Double Date Seated half grading PCGS AU55 CAC recently sold. The buyer is an advanced collector of high grade Seated coinage and was most pleased with the purchase. As a result, the individual has decided to use GFRC to handle a substantial accumulation of duplicate Seated halves and other collections including Morgan dollars and type gold as a starting point. The initial transfer of property will be taking place next week. I have yet to assign a name to this consignor so please stay tuned.
I am starting to work today on the last of the Fall Baltimore show consignments; a partial Liberty Seated dime set in Library of Coins albums from the New Jersey Collection consignor. Many of these raw pieces were photographed yesterday in advanced of settling the retail prices with consignor in the next few days. More will be forthcoming on this notable consignment from the New Jersey Collection.
The GFRC pre FUN consignment backlog has grown substantially in the past two weeks. Woodlands Collection properties start arriving tomorrow, Grey Soldier Seated halves will be transferred at FUN and now, another major consignment will start arriving next week. Finally, I am also in discussion with an individual concerning the consignment of a complete Capped Bust half dollar set that was assembled in the early 1990s and is raw.
Financial News
The Federal Reserve announced a 0.25% increase in borrowing yesterday and the world is still standing today. Actually, global markets are positive and spot gold is holding on to the $1060 level. From Seeking Alpha this morning;
Equities across the world are rallying after a historic rate hike from the Fed signaled a mark of confidence in the world's largest economy. Markets were also soothed by Janet Yellen's assurance that future tightening would be "gradual" and dependent on higher inflation. What else happened following the quarter-point increase? A slew of banks announced they would increase their prime rates, while commodity prices fell due to a stronger U.S. dollar. None of this should surprise anyone.
Germany remains the bright spot in the European Union economy. German business confidence fell slightly in December, but still remains at high levels, reflecting the ongoing resilience of Europe's largest economy in the face of numerous challenges. Ifo's business climate index slipped to 108.7 from 109.0 in November. "Sentiment in the German economy weakened slightly this month...but optimism about future business developments remained unchanged," said Ifo president Hans-Werner Sinn.
Featured Coins of the Day
December is the slowest month of the year for GFRC sales as collectors are focused on holiday shopping and preparations. In this section of the Daily Blog, I've tried to offer some quality gift ideas for younger collectors and also personal gift ideas for the most advanced collectors. This morning, I will simply highlight the quality pieces that were purchased yesterday and immediately loaded onto the price list. The last piece (1887 Morgan) is already on hold.
Thank you for stopping this morning or evening; whenever you decide to read the Daily Blog. I look forward to seeing you bright and early on Friday morning.

December 16, 2015
Wednesday morning arrives and time to write another Blog edition. Yes, I did sit through a portion of the Republican debate before walking away with mild apathy, heading to bed and reading Compendium VIII Reales. The latter was more thought provoking than the Republican theater. When living in Asia for extended periods of time, CNN and BBC were the primary news sources. I struggled with the fact that this Republican debate was being broadcast live through CNN affiliates to overseas countries and their affluent citizens who have cable access. Democracy can appear to be controlled chaos, but then again the debate was no different than a contentious session in the British House of Commons....enough said on this topic.
GFRC News
Let's start with the Tampa FUN show as approaching quickly. Gerry Fortin Rare Coins and W. David Perkins, Numismatist will be located at Tables 1034-1036. Following is the Tampa bourse floor layout and our location. Finding us is easy, just walk through the bourse entrance and directly up the 1000 row aisle. We will be offering an incredible selection of quality Draped Bust, Capped Bust and Liberty Seated coinage along with my recent expansion into Gold type, toner Morgans and World coins. David will have the Gorman Capped Bust dimes and remaining pieces from the Miller Collection of Early U.S. Dollars on display while Gerry will have the finest selection of Liberty Seated dimes and Liberty Seated halves available at FUN!
Tampa FUN Bourse Floor Layout
Consignments are a key part of the GFRC business model, so please stop by to discuss the possibility for transferring duplicates or a complete collection at the Tampa FUN show. Face to face transfer of property is the safest route and I will diligently evaluate, photograph and describe your coins consistent with the leading auction houses. My results for all level of consignors has been excellent due to the collector to collector trading desk model. Individuals enjoy adding quality coins to their collections knowing the pricing is fair and coins are accurately described. No one wants to be buried in an off quality coin at a high price including myself.
In yesterday's blog, I briefly mentioned that the Grey Soldier Collection will be consigning more wonderful Seated halves at Tampa. Following is a list of those pieces and please do pay attention here. Grey Soldier collects only strictly original silver coinage with strong eye appeal and CAC approval being preferred. FRoR will be different for these pieces since the transfer takes place at FUN and the coins will immediately be placed into display cases. If you are attending FUN, then a FRoR will be granted; please email me to discuss. This is not your typical consignment!
Grey Soldier Tampa FUN Consignment
Seated 5c: 1842 NGC MS64 Shattered Reverse V-1a, a gem example
Seated 50c: 1857-O PCGS AU55 CAC; 1859 PCGS AU53 CAC; 1862 PCGS AU58 CAC; 1865 PCGS AU58 WB-101; 1868 PCGS AU55 CAC; 1869 NGC MS61 CAC; 1871 PCGS AU55; 1873 PCGS AU53 CAC
Yet another substantial consignment is being discussed with a new GFRC customer. Under discussion are more Liberty Seated halves, a substantial group of Morgans and a broad selection of Type Gold.
Finally, I have added the February Long Beach show to my early 2016 show schedule. Dealers continue to report weak retail sales at Long Beach so the GFRC strategy is to use this show for meeting local customers and wholesale buying.
Financial News
Today brings the long awaiting Federal Reserve announcement on the termination of Zero Interest Rate program (ZIRP). Oil remains solidly below $40/bbl while spot gold is holding the $1060/oz level. Let's check a few Seeking Alpha headlines worth reading this morning.
The end of ZIRP as we know it; The Federal Reserve is expected to hike interest rates when its two-day policy meeting concludes later today, marking the end of a decade of near zero interest rates. But how much and how fast could the Fed raise rates in the coming months? The answer to that question is likely to come from the triple-dose of news the central bank will issue this afternoon - a policy statement, economic forecasts and a news conference by Chair Janet Yellen. Stocks are green across the globe ahead of the big decision.
U.S. lawmakers have agreed to lift the four-decade-old ban on crude oil exports as part of a spending and tax package that will be voted on as early as Thursday. The spending measure also includes temporary wind and solar power tax credits that will expire in several years. Lifting the crude export ban has been a key goal for Republicans, who have said American oil producers should get expanded access to the international market at a time of low prices and new competition from Iranian oil. Crude futures -0.4% to $37.20/bbl. I believe this action is more political than useful as the world is awash in Middle East oil, let alone Russia and South American suppliers.
Featured Coins of the Day
During yesterday's blog, the featured coins were recommended as Christmas gift giving for that special young numismatist. Today's featured coins are for advanced collectors who wish to give themselves a holiday treat. This morning's featured coins offer incredible eye appeal and would be the centerpiece of an advanced collection.
How about this superb gem 1859 Liberty Seated dime (F-105) graded PCGS MS67 and approved by CAC residing in old rattler holder? This piece is from the Pickering Creek collection and is one of the finest 1859 dimes extant.
Or a marvelous 1865 F-102 Liberty Seated proof dime graded PCGS PF66? This is a superb gem with vivid violet and rose toning from the Silicon Valley Collection.
And finally, most likely the finest 1861 New Orleans W-9 (first die pairing struck under CSA administration) Seated half dollar extant. This incredible example is graded PCGS MS65 and approved by CAC. This half offers incredible luster and eye appeal.
Thank you for stopping by at the GFRC website and please do consider a purchase while in the neighborhood. I look forward to seeing you bright and early on Thursday morning.
December 15, 2015
Welcome to the Blog on December 15 morning. It sure feels like the Winter solstice as nearly 7:00am and still the skies are pitch black due to heavy cloud cover and rain. The Winter solstice is still one week away and occurs on December 22. On a positive note, all this precipitation could be snow and there would be much less time to focus on the coin business today.
A quick scan of FOX, BBC and NBC news websites reveals that the world seems to be quiet for the time being and the news media are searching for eye catching headlines. BBC continues to win my vote for unbiased reporting and providing insightful research into useful topics. This morning, BBC provides a quick read on the risks of serving on multiple company boards (Beware the Reputation Ripple Effect) and the ongoing time and due diligence required to avoid having a personal reputation tarnished by surprise legal or compliance issues at those companies. Just sitting on the Auburn Lake Condo Association board and being webmaster means carving a portion of time to ensure the well being of residents and association facilities along with dealing with petty issues.
GFRC News
I'm pleased to announce that Gerry Fortin Rare Coins and W. David Perkins, Numismatist are once again partnering at Tampa FUN show and will be located at Tables 1034 and 1036. In tomorrow's Blog, a bourse floor map will be posted with our location. I hope that GFRC customers and friends will visit us first!
The Woodlands Collection Part I gallery is now online. These six pieces are simply a tease for the massive Part II consignment that is shipping to Maine today. The following gallery is also available in the Consignor Gallery section of GFRC website. Part II offerings will be posted in the same online location. Target for having Part II images available should be immediately after the GFRC migration to Florida.
In addition to Woodlands Collection, the Grey Soldier consignor just informed me yesterday of a high quality Liberty Seated half dollar consignment that will be transferred at the Tampa FUN show. The Grey Soldier consignment will be listed in Wednesday's Blog for review and potential FRoR.
Guest Commentary
The following GFRC customer article arrived via email this weekend along with a phone call to discuss the content and suitability to be printed in the Daily Blog. This article is incredibly well written and hopefully will be read several times by loyal GFRC customers and friends. Indeed, we are living in one of the greatest societies known to mankind with personal freedom and safety. But the news media must raise fears in order to guarantee their relevance (and ratings) in our busy lives. Thank you so much to the Anonymous friend for sharing his thoughts.
Personal Risk Assessment in light of News Media Tactics by Anonymous
Human beings in general do a terrible job of objectively assessing risk. We drive an automobile every day without a second thought while we worry obsessively about being shot by a terrorist. The odds of death or injury while driving to your local grocery store are hundreds of times higher than the odds of any other kind of violent injury or death (unless you are visiting Syria soon). The news media uses fear to get the public's attention and thus further skews our assessments of risk. This group of people, including Jim Rickards and "The Daily Reckoning", are fear mongers who use this natural human tendency to get attention and get paid. Mr. Rickards is more detailed and may seem more objective than many, but I sense his intent is to suck in readers who think like he does and fear what he does and keep them coming back. That said, clearly there is another war coming. Throughout human history there has always been another war coming. The history of the human race has been non-stop conflict interspersed with brief periods of peace. The danger to us as a nation is in forgetting this fact and getting too complacent, fat and happy. The next war is coming as surely as the next bear market in stocks, or in coins. You don't have to like it, but don't act surprised.

The murder and mayhem and injustice and terrorism that we worry about today is not new. It hasn't even necessarily escalated much over the past thousand years if the entire world and entire human population is considered as a whole. The difference is that now everyone can see it 24/7 on cable and internet "news" sources. We can worry about it all the time, read about it all the time, and use it on a continuous basis to scare other people into agreeing with us or at least paying attention to us. The fact is that today in the United States of America, despite how we may feel about it, the average American and their children are less likely to die a violent death than any group of human beings who have EVER inhabited the planet. The only exceptions being the current populations of Britain, Australia and other first-world nations with strict gun laws. I have no interest in starting a gun control debate, but merely point out objective evidence suggesting that we as a nation choose gun ownership over personal safety. As a democracy that is our prerogative and I do not propose to judge the choice either right or wrong. The point is that what we fear and how we feel about things is often divorced entirely from any objective assessment of what we should fear and how we should feel. We are some of the safest people in history and it seems like the news media is intent on scaring us so much that we cannot enjoy that great blessing.
Financial News
Global commodity markets are weak as oil and gold prices move lower. High yield junk bonds are in trouble as the Federal Reserve reverses course and starts its well announced monetary tightening strategy. Seeking Alpha headlines cover these points this morning.
Analysts are all weighing in on the rocky high-yield bond sector, with some saying it "marks the start of a new trend" or could lead to a "contagion effect" of defaults, while others maintain its "overdone" and "illiquidity" could clear up soon. How did it all start? The junk bond bear has been growling since mid-2014, but the real panic started last week when investment firm Third Avenue Management froze investor withdrawals from its nearly $1B high-yield bond fund (MUTF:TFCVX) and subsequently fired its CEO. Uncertainty also persists ahead of the FOMC's policy decision on Wednesday.
World shares are heading into the green (Asia closed lower overnight) despite shaky commodity markets, a junk-bond selloff and a likely Fed rate hike tomorrow. Gold hit six-year lows yesterday and oil fell below $35/bbl, but both are now bouncing higher. The high-yield bond market also plunged drastically due to its ties to crude prices. A Fed rate hike on Wednesday would be the first increase in nearly a decade, and is viewed as a first step toward normalizing monetary policy and a broader U.S. economic recovery.
Featured Coin of the Day
If you enjoy reading the Daily Blog each day, then please consider a coin purchase during the Christmas season as a gift for someone special or even yourself. I would love to sell a few more coins before year end towards pleasing consignors or raising a bit more cash flow going into the Tampa FUN show.
For consideration this morning are several neat coins that will not break the bank. First up is an 1849 $1 gold piece grading VF30 and completely problem free. 1849 is the first year of issue for $1 gold after the huge gold deposit discoveries in California. This would be a special gift for a young numismatist in the family.
How about a nicely toned 1939 Walking Liberty half dollar residing in PCGS MS65+ holder with full strike?
And finally, this 1881 Morgan graded MS63 offers lovely gold highlights at an attractive price.
It is a pleasure to write the Daily Blog as approximately 300 customers and friends stop by each day. Performing a Google search for the key words "daily blog" will result in the Gerry Fortin Rare Coins - Daily Blog ranked at about 130th position against all other daily blogs found online regardless of topic. Frankly, this is an amazing achievement for a small niche market and our growing circle of numismatic friends. Thank you so much!
December 14, 2015
Monday arrives at the Daily Blog and thank you for visiting today. The Christmas holiday is just ten days away along with the GFRC Florida migration shortly there after. Maine temperatures remain above normal and there is no snow in the forecast through the end of December. So a barren Christmas landscape is a possibility this year.
The Fortins spent the better part of Sunday in Watertown MA, a suburb of Boston, attending a holiday party at Natsumi's daycare. The daycare is primarily for Japanese American children and is very well managed. The visit wrapped up with a wonderful dinner at local eatery and then return drive to Maine. I was up until midnight addressing GFRC customer orders, FRoR emails for the Woodlands Collection and never ending image processing. The fact that another Daily Blog was due in seven hours also crossed my mind and a quick check of BBC News revealed a fitting topic that resonated with personal experiences in Asia.
While living in China, my weight increased from 225 lbs to nearly 240 lbs. The increase was attributed to lack of exercise, constant customer dining in my role as Marketing and Sales head and substantial amounts of alcohol consumption, also part of the evening entertainment job responsibilities. It never cross my mind that air pollution could be a factor in the weight gain until yesterday. So you know, since returning to United States and building GFRC business, my weight returned close to the original 225 lbs level prior to the China experience. Diet improved and exercise increased. But a BBC article entitled, The Air That Makes You Fat, offers another potential explanation for the weight gain and loss; where you live and the air you breath may also contribute to weight gain. The article opens with the following premise and then goes on to discuss lab animal research that indicates that air borne pollution (car emissions and smoking) can indeed trigger reactions in the body that impact normal metabolism.
The idea that "thin air" can make you fat sounds ludicrous, yet some extremely puzzling studies appear to be showing that it's possible. Two people can eat the same foods, and do the same exercise, but over the course of a few years, one may put on more weight and develop a faulty metabolism – thanks to the atmosphere around their home.
Traffic fumes and cigarette smoke are the chief concerns, with their tiny, irritating particles that trigger widespread inflammation and disrupt the body's ability to burn energy. While the short-term effects are minimal, over a lifetime it could be enough to contribute to serious disease – besides the respiratory illnesses more commonly associated with smog.
For Blog readers with extra time on their hands, might I suggest you read the entire article as it was definitely enlightening.
GFRC News
The lovely 1845 PCGS AU53 CAC Seated dollar found a new home yesterday along with other GFRC offerings. FRoR response for the Woodlands Collection was strong with at least 17 pieces out of the 61 being requested. All FRoR have been recorded; customers will be contacted once images are available and asking prices are settled.
As a reminder, following is the upcoming Florida transition schedule with December 21 being just one week away.
December 21 - Cut off date for mailing check payments to GFRC Maine address. Orders can still be placed after December 21 and I will hold coins and transfer to Florida for shipment from winter Florida home.
December 22 - December 27 - No checks or consignments should be mailed to GFRC Maine address.
December 28 - GFRC payments and consignments must be shipped to Florida address; GFRC, 502 Auburn Lakes Circle, Venice Florida 34292
Financial News
The pending Federal Reserve interest rate increase is heavily anticipated and already causing reactions throughout the globe. China is moving quickly to loosen the Yuan-US Dollar peg to ensure that the Yuan does not rise with a strengthening US Dollar. Furthermore, after nearly a decade of historically low interest rates, global bond markets are on edge as an interest rate increase will have serious consequences for traders that are highly leveraged. Let's visit Seeking Alpha headlines this morning.
China's yuan tumbled further on Monday after the country's central bank continued guiding the currency lower, setting the yuan/dollar official midpoint at its weakest since July 2011. Beijing's introduction of a renminbi exchange rate index - a move that will loosen the yuan's link to the greenback - further weighed on the currency. Meanwhile, data over the weekend showed Chinese industrial production growing at a faster-than-expected pace in November, suggesting that Beijing could reach its growth target of about 7% this year after many rounds of heavy stimulus. Shanghai Composite +2.5%.
After junk-bond prices posted their largest drop since 2011 on Friday, investors say they are bracing for another difficult week, likely featuring hectic trading and large splits between buy and sell orders. Hedge-fund and mutual-fund managers feel that gaps as wide as 10% between the price bondholders are willing to accept and buyers are willing to pay are likely to be commonplace until at least the conclusion of the Fed's two-day meeting on Wednesday.
Featured Coin of the Day
Images have been posted for the recently consigned 1859 Transitional dime residing in PCGS VF Details holder. This very rare pattern is always seen as a proof strike when appearing at auction. The With Stars obverse type of 1859 is paired with a cereal wreath reverse of 1860 and listed as Judd 233 and Adams-Woodin 309. The term "Transitional" has been given since our country's name, UNITED STATES OF AMERICA, was moved from the obverse to the reverse between 1859 to 1860. Since this coin or pattern was struck with a With Stars obverse of 1859 and a Legend reverse of 1860, no mention of UNITED STATES OF AMERICA appears on the coin.
This piece has obviously been cleaned resulting in hairlines and dull gray surfaces. But having said that, the estimated population is less than 20 pieces with a typical selling range between $15,000 to $35,000. This example is offered at $5,500 for the collector who wishes to own a conversation piece with a mysterious background and without an identified issuing country from the devices.
Thank you for visiting today and please check back tomorrow as a thought provoking guest commentary will be posted. You should definitely plan to visit the Blog on Tuesday.
December 13, 2015
Welcome back to the Blog on this Sunday morning. I am very pleased to post a major consignment announcement coupled with a well written guest commentary concerning the San Bernardino massacre and resulting personal security concerns of every day people living in that California area.
Thank-you to those who sent emails commenting about my "hitting the wall" on Saturday morning. These things do happen when overworked; the body is signaling that it is time to take a break. Heading to bed at 8:30pm was atypical but I feel most refreshed this morning and ready to jump back into the numismatic routine.
Guest Commentary
Today's commentary is from a GFRC customer who happens to be building an advanced Liberty Seated dime set. His perspective is incredibly authentic and insightful as he visits and works with individuals in San Bernardino.
Personal Observations From San Bernardino, California
There seems to be a higher level of fear in the air here since the San Bernardino shootings which came on the heels of the Paris shootings. Before that, I didn't sense that fear. It's like just before the terrible 9/11 attacks - no one was concerned with terrorism, being randomly shot, etc. until it happened. A good friend of mine is a local college professor. She said that the day after the San Bernardino attacks about half of her class was absent. A couple of days later most of the students returned to class. Most stated that they were afraid to come to class - they related a rumor that one of the shooters was still "at large". Security at the college is presently more extensive than at the nearby Mexican border (take that, Donald).
Whenever I go to someone's house during the course of my work someone almost always brings up the San Bernardino shootings, since it's fairly local. It's a topic of discussion with almost everyone here - you can hear the fear and trepidation in what they say. I guess since no country's government could track the shooters people think that these tragedies can happen anywhere, anytime. The people whom I meet are rich, poor, ethnically diverse and usually paranoid.
Obviously I can't hide under a rock; I'm in the public in many different neighborhoods every day. Not only are the politicians and wags busy with the terrorism subject, the general public is also concerned. The local gun store has apparently been very busy (just what we need - more guns!) in the past 2 weeks or so. I can only listen to people and tell them to keep an extra eye out and be more aware of their surroundings. I go to some "posh" gated communities in the Palm Springs area and (even though the guards know me) I'm subjected to more scrutiny and am sometimes followed by their armed security! Makes me feel special and very secure when there.
GFRC News
Within the December 3 Daily Blog, I announced a consignment from the Woodlands Collection. This consignor lives in Texas and previously utilized GFRC to sell several four figure Liberty Seated dime varieties. The December 3 consignment arrived promptly and was photographed yesterday. The Woodland pieces will be featured in a new Client Gallery later today.
During the consignment evaluation and retail pricing discussions, this individual suggested that GFRC consider taking on another installment from his collection. Without thinking too hard, given the overall quality of the December 3 coins, I immediately agree to handle his larger offering and would work to prepare for a FUN show debut. Then came the listing of what the Woodlands consignor had in mind.....OMG! 61 quality early type coins that were primarily Bust and Seated with important gold type also! All pieces are PCGS holdered (except one NGC Morgan) with nearly 60% having received CAC approval.
GFRC marketing plan and timelines have been settled with the Woodlands consignor. This spectacular consignment will be shipped to Maine this week. I'm targeting the entire Woodlands Collection consignment to be online at GerryFortinRareCoins.com prior to the FUN show with the physical debut at FUN in Tampa, Florida.
Following are several Liberty Seated halves from the December 3 Woodlands Collection consigment to reach the price list in the next 36 hours. The 1868 resides in PCGS AU55 holder (On Hold) while the 1871 is graded PCGS AU58. Please remember that these images were taken in less than optimum December Maine sunlight conditions. The new Woodlands Collection consignment will be photographed in Florida.


The Woodlands Collection Consignment - Part II
FRoR is in effect; please reserve your selections quickly!
Bust 1/2 cent: 1806 PCGS EF45 (Sm 6 no stems); 1828 PCGS EF40 CAC (13 Stars)
Capped Bust 25c: 1838 PCGS VF25 CAC
Seated 25c: 1845 PCGS AU50 CAC; 1853-O PCGS AU53 CAC; 1856-O PCGS EF40 CAC; 1878-CC PCGS MS65 CAC

Capped Bust 50c: 1809 PCGS VF20 O-107a III Edge; 1817 PCGS VF20 O-112; 1819/8 PCGS AU53 CAC; 1823 PCGS VF35; 1824 PCGS AU50 CAC; 1825 PCGS VF25 CAC; 1825 PCGS AU58 CAC; 1826 PCGS EF45; 1832 PCGS AU58 CAC Sm Letters; 1833 PCGS VF25 CAC
Seated 50c: 1839 ND PCGS EF45 CAC; 1840 PCGS EF45 CAC; 1841-O PCGS AU53 CAC; 1843 PCGS AU55 CAC; 1846 PCGS VF35 Medium Date; 1848-O PCGS MS61 CAC; 1854WA PCGS VF35 CAC; 1855-O PCGS VF25; 1858-O PCGS AU55 CAC; 1858-O PCGS EF45 CAC; 1859 PCGS EF45 CAC; 1860-S PCGS EF45 WB-1; 1861 PCGS AU50; 1861 PCGS EF40; 1861-O PCGS EF45 CAC (WB-104 CSA); 1861-O PCGS VF30 CAC (LA Issue W-03); 1861-S PCGS EF40; 1861-S PCGS VF35 CAC WB-4; 1862-S PCGS EF40 CAC WB-2 R5; 1865-S PCGS EF40 CAC (WB8); 1866 PCGS VF35 CAC; 1866-S PCGS VF30 CAC; 1867-S PCGS EF40; 1868 PCGS EF40 CAC; 1868-S PCGS VF35; 1870 PCGS EF40; 1871-S PCGS EF45 CAC WB-3; 1872 PCGS EF40 CAC; 1873WA PCGS EF40 CAC; 1873-CC PCGS VF30 CAC; 1874 PCGS VF35; 1875 PCGS EF40; 1876 PCGS MS66 CAC; 1876-S PCGS EF40 CAC WB-2; 1877 PCGS EF45; 1877-S PCGS EF45; 1881 PCGS VF35 CAC WB-102
Barber 50c: 1901-O PCGS VF30
Seated $1: 1847 PCGS AU55 CAC; 1871 PCGS F12
Morgan $1: 1878-CC NGC AU50
$2.50 Gold: 1856 PCGS MS62; 1868-S PCGS VF30 CAC
$3 Gold: 1862 PCGS MS64 CAC
Featured Coin of the Day
Today's featured coin is one of the three Capped Bust dime listings that were finalized yesterday with images. The 1837 JR-5 PCGS AU58 sold immediately once a GFRC customer noticed the late die state obverse die crack through the 7 digit. Also in the Capped Bust dime group is this choice original 1833 JR-5 PCGS AU53 dime with lovely gun metal gray toning. This piece has separate in hand and bright light personalities that are worth noting! Under bright light, the coloring shifts to pretty rose overlaid with grays and blues. The strike is all there too!
Sundays are for resting and relaxation and hope your day is a pleasant one with seasonal activities. Looking forward to seeing you bright and early on Monday morning.

December 12, 2015
Afternoon Update
It appears I was the grumpy old man this morning and have since recovered. Sunshine is important for mental health and Maine sure is getting an incredibly warm day for December 12. It feels like late September. Anyways, I'm busy posting coins to the price list and this mini gallery of Capped Bust dimes (just posted) highlights the ongoing quality of GFRC coins.
The Grumpy Old Man.....
Good morning on what is forecasted to be a sunny and warm day here in Maine. The sunny weather is most welcomed as two PCGS blue box full of coins sit on my desk and are patiently waiting to be photographed. As you can imagine, the December sun is low in the sky and the "optimum" photography window is quite short.
Is it possible that the Daily Blog is already 1.5 years old with continuous daily commentary? This realization set in on Friday. Time does move along quickly when an individual becomes focused on a major project or goal. Building the GFRC business and constantly writing each morning requires discipline along with creativity for new topic exploration and a sensitivity for personal biases. My creativity this morning is virtually non existent as writing just two short paragraphs has already taken 20 minutes. But persistence is a personal attribute that is admired in others and myself....so I persevere with the morning routine and attempt to write content that will appeal to GFRC customers and friends.
The past two days have been mostly spent writing 150+ Christmas cards for wonderful GFRC customers and consignors along with incredible members of the LSCC leadership team. These will be in the mail this morning and a seasonal weight has lifted from my shoulders. And with that statement, the Daily Blog will be ended here. My mind lacks ideas and even the first cup of coffee is not helping. It is best that the next few hours be used for packaging shipments and writing consignments checks prior to the 9:00am USPS opening time. Getting coins photographed is today's top priority; I need to be well prepared for the 11:00 - 12:00 sunlight window followed by an afternoon of image processing.
Thank you for visiting this morning and I should be back to "normal" in terms of GFRC news and interesting Blog content on Sunday. Everyone hits a wall at some point after working non stop for days. It appears I've hit that mental wall this morning.
December 11, 2015
Greetings on this cold foggy Maine morning. I've grown spoiled by the frequent sunny days during autumn 2015 and now dealing with a week of cloudy and overcast conditions. On a positive note, there is no snow in the forecast for the next ten days and weekend temperatures will be climbing back in the the mid 50Fs. Access to sunlight is paramount for loading new coins on price list therefore the ongoing sensitivity to December weather. This concern will immediately disappear once arriving in Florida in less than three weeks.
Gerry's Preview....beware that today's Daily Blog is a tad on the somber side; it must be the cloudy Maine weather!
Blog readers may have noticed the lack of attention to the United States political drama that takes new twists and turns each day after the San Bernardino killings. The world is slowing moving towards a major but unconventional war and current dialogue is forcing the issue into prime time discussion. We can't ignore fact that largest NATO countries (United States, France and Great Britian) and Russia are involved in a conflict with unholy factions in Syria, Iraq, Yemen and soon to be Libya. Turkey shares involvement on the northern Syrian front and Saudi Arabia on the northern Yemen front. Iran is involved in Iraq also. Let's not forget Afganistan and Pakistan also suffer a low level conflict that occasionally erupts with bombings and drone strikes. Unlike World War I and World War II with huge mechanized armies and mass bombing, this war is a clash of global cultures with religions entangled in the cross fire. Information technology is fueling an ever increasing change in Western culture while the Middle East seeks to remain traditional. There are those in the United States who believe that our prior imperialistic behaviors are the root cause while others grow tired of living in fear towards the next terrorist event. The United States media is clearly the winner as it is difficult to remove oneself from the daily rhetoric and hype. I leave this topic here and will not comment further.
Feature Commentary
The December 7 Daily Reckoning newsletter provided insight into the increasing militarization of the Middle East, an unresolved conflict in the Ukraine and also China's efforts to establish a military base in Africa. This level of detailed reporting is not provided on BBC, NBC or even FOX so I paid close attention. The article's author is Jim Rickards and is entitled, The War Drums are Growing Louder. I've hyperlinked the title so readers with interest can access the entire online article.
Following is a short list of global events from the Jim Rickards article that support a hypothesis that the world is moving towards a larger military conflict. I will leave it to Blog readers to check further via the online article and will not comment further.
A basic war hypothesis can be formulated against a backdrop of U.S. weakness, Iranian hegemonic ambition, Chinese and Russian expansionism, Islamic extremism and North Korean recklessness. What recent information has come our way that strengthens our war hypothesis?
It's a long list.
Nov. 16 - President Hollande of France declared "France is at war" in response to the Islamic State attacks on civilian targets in Paris on Nov. 13
Nov. 21 - Ukrainian saboteurs blew up power lines to Russian-occupied Crimea, causing a power blackout in Crimea
Nov. 24 - the Islamic State detonated a bomb in Tunis that killed 12 members of the Tunisian presidential bodyguard
Nov. 24 - Turkish F-16 fighters shot down a Russian Su-24 fighter bomber
Nov. 26 - Russia retaliated for the Turkish attack by deploying its S-400 anti-aircraft systems in Syria (S-400 is the most advanced system in the world). Russia also imposed a variety of export and travel sanctions intended to damage the Turkish economy
Nov. 26 - China announced the reorganization of its military command structure and took steps to build its first overseas military base. The base will be in Djibouti, close to a major U.S. base used for special operations in the Middle East and North Africa
Nov. 28 - the Donetsk People's Republic (part of eastern Ukraine) cut off coal exports to Ukraine in retaliation for the Ukrainian-sponsored power outages in Crimea. Russia is considering further financial and trade sanctions.
Financial News
The weakening of the Chinese Yuan continues consistent with the Japanese Yen towards increasing export related manufacturing. Oil prices remain under $40/bbl which is also deflationary and will lead to U.S. oil patch bond defaults in 2016. The Federal Reserve, on the otherhand, will raise interest rates shortly to maintain its credibility. One can only cry wolf for so long before taking a token action to demonstrate resolve.
From Seeking Alpha headlines....
China's yuan traded at its lowest level in over four years as Beijing continues to let the currency devalue. The yuan fell to as low as 6.4515 to the dollar. Some economists think that the People's Bank of China will allow the yuan to float lower until the Federal Reserve meets next week.
The deepened resolve of OPEC to hold oil output at high levels will help keep the global oil glut in play until late into 2016, according to the International Energy Agency. Though Saudi Arabia and Iraq are already pumping oil at a near record pace, low-cost output from the region could increase even more after sanctions against Iran are lifted. Brent crude futures are down 1.59% to $39.10 in early trading, while WTI crude is 1.36% lower at $36.26. The energy sector will remain in focus all day with the IEA scheduled to release a key report on oil later today.
Featured Coins of the Day
After all these somber thoughts, could you possibly be in the mood to buy a coin from GFRC today? I really hope so as business has slowed due to Christmas season activities that are typically non numismatic in nature.
I asked myself, what are the best coins in GFRC inventory in the $100 - $200 price range. This would be a perfect gift for a numismatist in the family or even yourself! Here are some recommendations.
1894-S VF30 Morgan Dollar - Choice Original, Even Gray, Key Date. Only the second 1894-S that I've handled as always selective for blemish free original surfaces. Surfaces are covered with a light to medium gray patina. The grading is conservative and the pricing is fair at $120
1843 VF35 Seated Quarter - Briggs 1-A. Original, Thick Gray Patina, Scarce. Locating 1843 quarters with thick original gray patina will be much more challenging than expected. Mintage is only 645,000 and well below its New Orleans counterpart at nearly 1,000,000 struck. However, the price guides give the advantage to 1843-O examples while Philadelphia pieces remain underrated. Offer here is a lovely example that is about as original as could be expected. Dies are in an early die state with no cracks. The obverse has a few well toned over blemishes but none distracting. Offered at $145.
Mexico 1910 - 1 Peso - Almost Uncirculated, Caballito, Lovely Original Toning. An attractive example of the 1910 - 1914 Caballito design type and fairly scarce. Surfaces are toned an even rose/gray with golden hues under bright light. Rims are sharp. Edge inscription is INDEPENDENCIA LIBERTAD. Housed in old yellow paper 2x2 during years of storage. Offered at $80.
Enough said for today and thank you for stopping by! If any Blog reader wishes to provide a Guest Commentary, I would be most grateful.
December 10, 2015
Good morning and welcome to another Blog edition. It is difficult to believe that Christmas is just two weeks away given the warm Northeast weather. Christmas shopping is an annual tradition and I do hope your gift selections are moving along well; if not, then I'm sure you are in good company.
I seek your understanding as today's blog will be brief. The GFRC list of things to accomplish within the next 48 hours is quite extensive and wish to focus energies on completing several important tasks. So an early morning start would be helpful.
GFRC News
The Woodlands consignment of quality Liberty Seated halves arrived yesterday. Upon opening the USPS Priority shipment box, I immediately noted that this collector has an excellent eye and prefers his AU halves to be lustrous with light toning. This is the first substantial offering from the Woodlands consignor and I believe GFRC customers will be pleased when the pieces reach the price list. Contents were first itemized within the December 3 blog and are repeated once again.
Bust 10c: 1821 10c Sm Date AU50 PCGS
Seated 25c: 1853O 25c VF30 PCGS; 1874S 25c VF25 PCGS
Seated 50c: 1844 50c AU58; 1853 50c W/A EF40 PCGS; 1856O 50c VF35 PCGS; 1864S 50c VF25 PCGS (WB-2, R-4); PCGS 1868 50c AU55 PCGS; 1871 50c AU58 PCGS
Jim Poston continues to load GFRC inventory onto eBay. In the next 48 hours, we will load the extensive offering of Liberty Seated dmes followed by half dimes. This effort requires that TPG serial numbers be inserted into each GFRC listing prior to adding to the GFRC-Coins store on eBay.
Maine weather has been downright poor for coin photography so I ask for your patience with existing listings that lack images. Hopefully, the sun will return by Saturday.
Financial News
Does it feel like the middle class has been shrinking since the Great Recession of 2008? This Seeking Alpha headline confirms that the United States middle class is indeed becoming smaller. The annual median income for a middle class family of three is assumed to be $63K per this headline.
Middle class Americans now comprise less than half, or 49.9%, of the nation's population, down from 61% in 1971, according to a new Pew Research Center report. Pew defined middle class as households earning between two-thirds and twice the overall median income, after adjusting for household size. A family of three, for example, would be considered middle income if its total annual income ranged from about $42K-$126K.
As more families comprise the low income group living on less than $3,500 per month, then government subsidies and community social programs become increasingly important.
Featured Coins of the Day
Today's featured GFRC coins are from the Maine Collection which I purchased during 2014. As a reminder, the Maine Collection was the Wayte Raymond album holdings of a land developer in Auburn, Maine. He aggressively collected in the 1960s and stored his coins in Wayte Raymond pages held in bank security boxes. I'm sorry to say that this individual passed away in 2015 while aiding his wife deal with his substantial coin collection. Most of the Maine Collection have been sold but there are still some quality pieces that need to find new homes. First up this morning is this strictly original 1860-O half dime that remains raw and graded MS63. If this piece does not sell soon, then it is heading into the TPG for grading. The price list description is as follows;
Choice Original, Maine Collection. Fresh to market after being housed in Wayte Raymond album for decades. Surfaces are covered with strictly original thick gray patina. Strike is hammered with all obverse and reverse device details well defined. There are no blemishes under the patina while some luster does peek through under bright light. An exceptional Seated half dime that is conservatively grade.
Next from the Maine Collection is this attractive 1831 O-104 capped bust half dollar just back from PCGS grading. I originally graded this piece as AU53 and the assigned PCGS grade was also AU53. The GFRC description reads;
Maine Collection, Gem Original. An attractive specimen with perfect surfaces and light crusty gray patina throughout obverse and reverse. This piece features a hammered strike while dies are in a later die state. There is considerable die erosion surrounding stars. Reverse die is in early die state and sharper. Overall, a lovely original bust half for the fussy collector. Just back from PCGS on December 4 and graded AU53 which was GFRC raw grade. Now housed in 2015 PCGS holder; serial number 33104343.
Good luck with your Christmas shopping and thank you for returning to the Daily Blog each day for my ramblings and quality GFRC numismatic offerings.
December 9, 2015
Welcome to another Daily Blog edition and thank you for visiting this morning. Southern Maine weather forecast is for cloudy conditions for the next few days with temperatures returning to above average levels. A lack of snow in the 10 day forecast is perfectly acceptable but the cloudy conditions mean difficulties with consignment and new purchase photography. Flexibility will be required during the coming week.
The LSCC leadership team conducted their monthly conference call last evening. The team continues its development of new service and outreach programs. John Frost reported that the 2016 ANA Summer Seminar course announcement should be published within the next 10 days including the LSCC's week long course on Collecting Liberty Seated coinage; John Frost and Gerry Fortin will be the instructors. Class size will be limited to 24 attendees, so please consider an early registration if interested or you can contact me directly and I will guide you to the ANA registration location. Also on last evening's agenda was an LSCC "convention" to be held in conjunction with one of the Whitman Baltimore shows. Len Augsburger is leading this effort and will be testing interest/participation levels among club members in the January E-Gobrecht. We view a "convention" as an opportunity for participating club members to bring coins from their collection and place on secure display along with others club members. From my own personal experience, it is truly special to be able to display a coin collection at a large numismatic event and sharing insights about the set building process and individual coins. Imagine if twenty or more Liberty Seated collectors were to display their collections at one venue along with presentations, a hosted dinner and club auction? This is our vision for an LSCC "convention".
GFRC News
The 1859 Transitional (Judd 233) dime has been posted to one of the Seated Dime price lists. Though cleaned, this is a substantial offering for collectors who have dreamed of owning this very rare transtional pattern piece. I owned an example for about 10 years before selling at auction in 2012 where it realized $32,000. Any graded proof example will be, at minimum, a $15,000 purchase. Following is the price list description.....let's hope for some sunlight today so I can snap a few images to complete the listing.
1859 PCGS VF Details Transitional Pattern, Judd 233, Adams-Woodin 309. Proof Only, Only Circulated Example Known. Cleaned. A very special GFRC offering of the very rare 1859 Transitional Pattern. It appears that an 1859 Transitional piece escaped into circulation and has recently surfaced and was graded by PCGS without any notation on the label. Only proofs strikes are known. This example resides in Details holder due to obvious cleaning leaving the obverse and reverse with hairlines and dull gray.
The With Stars obverse type of 1859 is paired with a cereal wreath reverse of 1860. Listed as Judd 233 and Adams-Woodin 309. The term "Transitional" has been given since our country's name, UNITED STATES OF AMERICA, was moved from the obverse to the reverse between 1859 to 1860. Since this coin or pattern was struck with the With Stars obverse of 1859 and a Legend reverse of 1860, no mention of UNITED STATES OF AMERICA appears on the coin. Ahwash estimated that there are 12 surviving examples. Coin dealer Jim O'Donnell indicated that he once owned a hoard of 9 examples and estimates the surviving population to be at least 15. The PCGS population report indicates that 12 transitional patterns have been graded while NGC reports a total of 9 examples graded. Offered at $6,000.
The fifteen piece mint state Walker lot from the Florida Collection is completely posted as of yesterday afternoon. Already one piece is on hold.
I'm also excited about offering an 1875-CC In Wreath F-107b dime grading EF. This piece also arrived and was immediately purchased. The F-107b die state features a large filled die area that impacts the striking of Liberty's head and left shoulder. As reference, below is the F-107b plate coin from the Seated dime web-book. The reverse also featured a bold die crack in the left wreath between 8:00 to 10:00. The purchased EF example is under FRoR and a decision will be made by potential GFRC customer once images are available.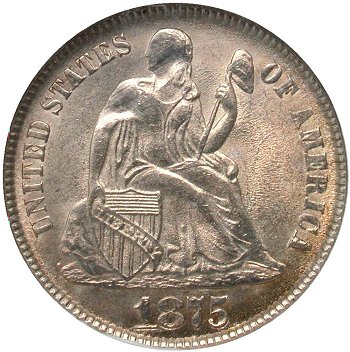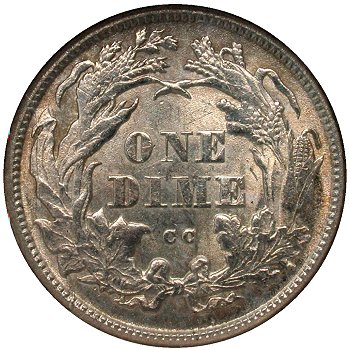 Blog Reader Feedback
Our Silicon Valley consignor sent along a brief comment concerning yesterday's article by Greg Johnson. He writes;
Regarding Greg Johnson's guest contribution, I for sure have had my share of mistake purchases, and "mistake" doesn't just include obvious problem coins, it could be overgraded slabs, coins that have fallen out of market favor, or just an unfortunate shift in personal collecting interest right at the bottom of the price cycle. There isn't a greater (or tougher to swallow) lesson in collecting than having to sell one's holdings, but in learning to not let a past mistake continue to affect me in the present, and to move on with the loss to possibly fund the next winner, I've gone through Greg's attitude cycle first-hand and it's a very valuable lesson indeed.
Financial News
There are a few noteworthy Seeking Alpha headlines this morning to share. Spot oil under $40 and further devaluation of the Chinese Yuan caught my attention.
Oil prices are recovering slightly, although WTI crude is still below $40 for a fourth consecutive day. "We are in a situation where the market's had a big fall and speculators have taken a bit off the table," said Chris Weston, chief market strategist at IG Ltd. "Perhaps this move has gone a little bit too far." The rally comes despite Tuesday's API figures which showed crude stocks declining 1.9M barrels last week. The EIA's inventory data will be released today at 10:30 a.m. ET. Crude futures +1.5% to $38.08/bbl.
Due to heavy capital outflows, an economic slowdown and likely upcoming Fed rate hike, China slashed its yuan reference rate today, setting its mid-point at 6.414 per dollar, its lowest level since August 2011. Despite the soft data coming out of the word's second largest economy, inflation appears to be picking up. While China's Producer Price Index dropped 5.9% on-year in November, its Consumer Price Index rose 1.5% from the same period a year ago.
I also found this headline to be interesting. Chinese is the world's largest car market and government subsidies will continue that ranking. China also plans to introduce a new round of auto purchase subsidies for rural residents that will cover vehicles with engines smaller than 1.6 liters, Bloomberg reports. The country last introduced the subsidies (although not for passenger cars) in the depths of the global financial crisis to help prop up economic growth. That spending propelled the nation past the U.S. to become the largest market in the world for new vehicle sales. Chinese automaker shares surged on the news:
Featured Coins of the Day
Capped Bust quarters are an interesting GFRC product line. The later dates in the series (1830's except 1833) can be easily found in grades ranging from Good through Very Fine. The 1833 date is under rated and much more difficult to locate, for a reason unknown to me, and is often seen struck from dies with excessive die rust. All dates are challenging to locate in strictly original EF or better.
From the Capped Bust price list are two special offerings. The first is a very early die state 1833 B-1 variety residing in PCGS AU50 old blue label holder. This example is definitely choice original, scarce and exhibits no die rust pits whatsoever. Actually, this is the first higher grade 1833 quarter seen struck from pristine dies. The toning is even gray with darker rims; the surfaces are no question original. The lighter obverse area at stars 5-7 is the result of holder lighting reflections during photography.
Second is a lovel 1835 Capped Bust quarter from the Hamden Collection type set. This piece was cracked out of an NGC AU53 holder with the label included with the coin for professional grade validation. Surfaces are covered with a uniform light gold and gray patina when viewed in hand. Under bright light, the toning transitions to pretty gold with plenty of luster remaining. Well struck with just a few tiny micro ticks on the obverse that are completely toned over and nearly invisible.
I hope that Wednesday is a productive day for Blog readers and GFRC customers. We will see you bright and early on Thursday morning with more ramblings.

December 8, 2015
Tuesday arrives in southern Maine. Can you believe that Portland's high temperature was 57F yesterday under bright sunny skies? I just happened to be in Portland for transferring furniture to a trucker for transport to Florida and also visited my favorite coin shop again. There are already new purchases posted online including 1849 and 1853 $1 gold pieces, a very nice group of AU Morgans and other random pieces.
Maine made the national news yesterday due to the launch of the first Zumwalt-class destroyer, USS Zumwalt in Bath. Bath Shipyard is less than 1 hour's drive from Raymond home. This is the largest destroyer ship ever built for the U.S. Navy while being an advanced technology demonstration platform. Below is the USS Zumwalt gliding along on the Kennebec River and can be seen visiting Portland's waterfront today.
Liberty Seated Collectors Club News
The monthly LSCC leadership team meeting is this evening. There are many important topics including FUN regional meeting preparations, planning the Spring 2016 Gobrecht Journal issue with its innovative new cover and club member dues renewals. On the latter point, the LSCC is slightly above a 50% membership renewal level after 30 days of issuing the dues notice. We hoped for a higher percentage at this point in time that would enable a smaller second round of late dues notices and the associated cost. If you are an LSCC member and have yet to send it your 2016 dues, then please consider taking action quickly to help us minimize volunteer efforts and mailing costs when issuing a second and final dues notice during early January.
Guest Article - Greg Johnson
One again, Greg Johnson discusses his personal learning journey in dealing with numismatic purchase mistakes. We, including myself, should carefully consider Greg's advice for dealing efficiently with mistakes, taking losses quickly which enable a higher collecting sophistication.
Acceptance of Numismatic Purchasing Mistakes - Greg Johnson
Then said the king to the servants, Bind him hand and foot, and take him away, and cast him into outer darkness; there shall be weeping and gnashing of teeth. Matthew 22:13.
I occasionally hear this Bible verse or another of several similar verses. Every time that I do, despite the unflattering things it implies regarding my spiritual life, I think of a coin collector selling a coin at a loss.
No one would argue that selling a coin for less than was paid is a pleasant experience or a desirable outcome. However, it is an inevitable part of collecting (and dealing) and should be kept in perspective. A collector can approach this circumstance with one, or some combination, of three attitudes, which I will refer to as denial, indifference, and acceptance.
Indifference: A "pure" collector has little concern for the resale value of his purchases. Since the coins he owns are only for personal enjoyment he can remain indifferent regarding their value in comparison to the price paid. Though I know of no one who fits this description precisely, I have known several who come reasonably close. Most collectors, though generally quite interested in valuation, have at least a few pieces in their collections that are so rare, unique, or specifically meaningful to them that they have no concern at all for the present market value.
Denial: Everyone makes mistakes, but not everyone faces those mistakes. Some people are highly skilled at lying to themselves about their errors in judgment. If you have purchased a coin at a price that "buries" you in it, one approach is to simply insist that it is worth more than it is and hold out for that price until someone pays it; or until your heirs sell at a loss. Attendance at local coin shows will inevitably bring you into contact with one or two extreme cases of denial in the form of "dealers" who have been schlepping their museum of bad decisions (aka "inventory") to and from shows for years with little or no turnover.
Acceptance: Every collector will make a mistake from time to time; and the consequence of a collecting mistake is frequently a financial loss. Given that the money lost could have been used for many other useful purposes, including adding a more desirable and/or fairly priced coin to the collection, the loss can be painful. A more productive approach than denial or indifference is to accept the mistake, take the financial loss, allow a short period of time for "weeping and gnashing of teeth", learn what there is to learn, and then get on with life/collecting. There is more value in this than many realize. First, it prevents the accumulation of material in a collection that doesn't fit, isn't nice, or is associated with bad experiences. Second, it frees up money to be used for new and better collecting decisions in the future. Third, it reinforces and ingrains the lesson that the mistake has provided.
This third point is annoying but true. Psychologists have known for a long time that their fee is actually part of the treatment. It has been shown that if patients are not made to pay a sum that is significant to them for a counselor's advice, they are much, much less likely to follow that advice than if they paid rather dearly for it.
Years ago I purchased an attractive and very scarce raw coin for around $450. A couple years after purchase, I submitted it to PCGS and learned that the rim had been filed. When I offered it for sale it took almost two years to find a buyer at $180. The mathematics says I lost $270, but would anyone care to guess how many coins with filed rims I've purchased since?
GFRC News
This topic will return tomorrow in ernest. A better grade Capped Bust dime lot arrived yesterday and was purchased. The 1859 Transitional dime graded PCGS VF Details also arrived with asking price under discussion with the consignor.
Featured Coins of the Day
We return to the Pickering Creek collection this morning for the first featured coin of the day. This near gem 1860-S Seated dime is an amazing piece and deserves careful consideration but those building a really advanced set. At the PCGS MS63 grade level along with CAC approval, this piece is conditionally rare. Please remember that I own another PCGS MS63 CAC example and also the Kam Ahwash plate coin which is graded NGC MS64. PCGS population is (4) in MS63, (1) in MS64 and (2) in MS65. The Pickering Creek collector surely owns an MS64 or MS65 as he would not be selling this MS63. This leaves few choice high grade 1860-S available for years to come. The asking price is in the high four figures but special payment terms can be arranged.
The next GFRC inventory piece to be featured today is a gem original 1865 proof Seated quarter that offers incredible old album toning. Stunning is a fair adjective to describe this attractive offering that resides in PCGS Proof 65 Cameo holder. Several GFRC customers have noted this piece due to its beautiful visual characteristics. Initially listed at $4950 and currently priced at $4600 with the PCGS Guide at $5500. The present $4600 asking price is consistent with CoinFact auction results for examples that are mostly untoned and do not compare with this toned gem. I would advise someone to pull the trigger on this lovely piece. Lay-a-way terms are available.
May Tuesday be a pleasant day for Blog readers and I will see you bright and early on Wednesday morning. Thank-you for visiting!

December 7, 2015
Good morning everyone and welcome to the Blog. Today is December 7, Pearl Harbor Remembrance Day and "a date that will live in infamy" to quote the great Franklin D. Roosevelt. 2,403 Americans were killed in the Japanese surprise attack on Pearl Harbor 74 years ago. Americans have known their share of surprise attacks on a unique way of life. We should always remember and defend our Union and Constitution.
GFRC News
Sales were brisk this weekend at GFRC and GFRC-Coins; a special thanks go out to loyal GFRC customers who visit the website on a regular basis and to new friends who are discovering GFRC for the first time.
I'm pleased to announce an expansion of the Client Gallery to include individual image galleries for each major GFRC consignor. As the Client Gallery link continues to expand, download speed is now an issue due to the hundreds of images. I thought it best for individual consignors or interested collectors to be able to download the specific galleries of interest rather than the entire Client Gallery page. Starting in 2016, the current Client Gallery content will also be moved to a 2015 specific page and new consignments (effective 2016) will be featured at the main Client Gallery since current news. At GFRC, I remain a collector at heart and believe that displaying consignor collections is an important tribute to the numismatic accomplishments of each person in this program. Just click here for the new Individual Consignor Index link. The link can also be found on the main Client Gallery page directly below the title lines.
A 15 piece lot of mint state Walking Liberty halves from the Florida Collection is posted in the Client Gallery.
Guest Commentary
We stay on the United States media reporting topic this morning as an anonymous blog reader provided the following comments over the weekend.
Back in the late 1980's and early 1990's I was involved with some research projects for both the Department of Energy and The National Institutes of Health that were reported in the mainstream media. When the reporters and editors were done with the information we gave them and the stories appeared in print, I could barely recognize my own projects. The inaccuracies and sensationalism continued and escalated to the point that more than 10 years ago I stopped paying any attention to any United States news sources.
The damage our "news media" has done to our country and to our political process is incalculable. They have taken what needs to be a carefully thought through and rational debate about how people in this country can effectively live together, and with the rest of the world, and turned it into a version of the Hunger Games. As a society we need to earnestly consider how big our government should be, what it should do for our citizens, and how we will pay for it. This requires an open and honest discourse, a willingness to compromise, and an abiding RESPECT for opposing viewpoints. We have to do better than what our Congress full of lawyers and our media full of shock jocks are capable of delivering. It requires facts not propaganda; it requires realistic risk assessment not fear mongering; it requires dealing rationally with uncertainty not scaring people away from every form of change.
Very well said and thank you for sharing what is becoming obvious to many Americans.
Financials News
Seeking Alpha reporting of global financial news does not fall into the category of manipulated news. The headlines tend to be non political and factual. Let's visit several worth noting this morning.
China continues to reduce its huge US dollar based foreign exchange reserve. The country's foreign-exchange reserves declined last month to the lowest level since February 2013 as the PBOC sold dollars to prop up the yuan ahead of IMF's reserve currency approval. The hoard dropped by $87.2B to $3.4T at the end of November, extending this year's decline to $405B and reigniting concerns about the central bank's ability to stop capital from leaving the country. Meanwhile, Beijing has issued an air pollution red alert for the first time. The warning comes as the world climate conference in Paris heads into its second week.
Crude oil spot futures are back below $40. Crude prices fell again in the first trading session after OPEC members failed to agree on output targets - worsened by deep regional differences between Saudi Arabia and Iran - to reduce an oil glut that has cut prices by more than 60% since June 2014. Abandoning an official output ceiling effectively codifies what OPEC has already done for the past year: ignore its previous target of 30M barrels a day. The cartel produced 31.38M bpd in October. Indonesia also rejoined OPEC on Friday (after being inactive since 2008), boosting the group's membership to 13 members. Crude futures -1.4% to $39.43/bbl.
Featured Coins of the Day
Let's go to the Liberty Seated double dime or 20c piece price list for today's first featured coin. This strictly original 1875 example was purchased raw and just graded by PCGS as F15. An ideal example for a mid circulated grade type set given the old time natural gray patina and just honest wear.
How about this near gem 1847 F-102 PCGS AU58 dime from the Florida Collection? I have much respect for this date in AU or better grades as underrated. The 1847 specimen in my PCGS Set Registry set is PCGS MS63 CAC as a reference.
Individuals seeking a quality 1847 example should carefully examine the images since they adequately reflect the in hand and bright light appearances. Strike is well above average with nicely rounded stars and connected centrils. The reverse wreath veins are also well defined. I don't see any blemishes other than one faint hairline from Star 8 to face that is very minor and flagged for completeness. Luster is strong and reflective when the dime is angled under bright light.
Thank you for visiting. I will be back bright and early on Tuesday morning for more GFRC News and a numismatic guest commentary from Greg Johnson.
December 6, 2015
Good morning and welcome to the Daily Blog; Sunday edition. As mentioned yesterday, Maine weather is simply outstanding and I will be spending time outdoors this afternoon as a much needed break from loading coins on the GFRC website. Most of the weather across the continental United States is also favorable this weekend.
Daily Blog Feedback
The Hamden Collection consignor and I frequently exchange emails on U.S political or news events. His thoughts are insightful and will balance or amplify my own Blog ramblings. Yesterday, he reacted to my growing frustration with media reporting biases and shared his perspective on the state of the United States media.
Along the lines of your blog today, I was in a conference a few years ago where the keynote speaker compared U.S. news reports to Canadian reports. They described Canadian news as not focused on the worst and often highlighting human interest stories. In stark contrast was the typical U.S. news with highlights on every possible bad event with a human interest story once a week. They described a U.S. city where the graduating High School seniors were given fairly sensitive psychological tests and almost the entire senior class was diagnosed as suffering from a low grade trauma simply from watching the evening news. That low grade trauma makes one more susceptible for PTSD and other emotional reactions to continued stress not present in other countries. Look at what happened recently in Baltimore with the news crews fanning the riots, with FOX news showing a burning building which turned out to be some other city in some other riot – let's just keep the flames burning and keep everyone scared so they will watch more news….
The concept of low grade psychological trauma from ongoing negative news events is well founded and does explain yesterday's comment about my personal psyche being impacted by the San Bernardino massacre. Since writing the Daily Blog, the online media is an important source of information and commentary that is reviewed frequently for potential Blog content. But it comes with psychological hazards as most of the reporting is negative. This is why I find BBC News to be so refreshing as there is a better balance of negative news with stimulating feature articles on travel, future trends and global reporting.
GFRC News
Saturday brought important GFRC sales; the 1844-O Double Date PCGS AU55 CAC half dollar and the Indiana Collection 1838 Partial Drapery PCGS AU58 dime as important highlights along with more Morgans. Jim Poston reported that GFRC eBay sales have also commenced with the first sale being a consigned low mintage Philadelphia Seated quarter.
The Central California large denomination love token collection is photographed and needs to be processed shortly. There are several enameled pieces with working pinbacks in the lot and an antique medal pendant that is perfectly original. For the latter, there is probably a technical term for the jewelry piece and will need help to identify once images are ready. Also the Central California consignor will have major surgery tomorrow and let's remember him in our prays.
The Florida Collection Walking Liberty halves will be added to the Client Gallery today with retail prices to be settled shortly.
USPS Shipping Times
It is difficult to remember that we are in the midst of the Christmas season mailing rush when looking outside my office window. Maine weather remains typical of late autumn. But there has been a noted slow down in USPS 2 Day Priority shipments along with mailed customer checks to GFRC address here in southern Maine. USPS 2 Day shipments are now taking a full 3 days to arrive on average so I ask for your patience when ordering coins. Also please remember that checks mailed to GFRC are also taking longer to arrive.
GFRC Florida Migration
Yes, GFRC is once again heading to Venice, Florida for the winter months. The migration will occur in a little over three weeks so best to be proactive and start announcing the Florida mailing address and the mailing shutdown period. The USPS mail forwarding loop can take several weeks and best for all involved that we manage GFRC check payments to avoid mail forwarding. Paypal and credit card based shipments can continue per normal but there is the 3% adder.
December 21 - Cut off date for mailing check payments to GFRC Maine address. Orders can still be placed after December 21 and I will hold coins and transfer to Florida for shipment from winter Florida home.
December 22 - December 27 - No checks or consignments should be mailed to GFRC Maine address.
December 28 - GFRC payments and consignments must be shipped to Florida address; GFRC, 502 Auburn Lakes Circle, Venice Florida 34292
The www.GerryFortinRareCoins.com website banner and For Sale pages will be updated on December 22 with the Florida mailing address.
Featured Coins of the Day
We visit the Barber coin price list today for two featured coins; both are quarters. GFRC Barber coinage offerings are slowly increasing. As usual, strictly original pieces with eye appeal are targeted so the price list takes time to populated. I would enjoy having a major consignment to augment my own purchases.
First up is a lovely 1898 quarter that resides in NGC AU58 holder. This quarter is employed as the icon for the GFRC Barber price list due to the eye appeal. The price list descriptions reads;
1898 NGC AU58 - Choice Original, Light Gold Patina. A choice Philadelphia struck example with pristine surfaces and light golden patina. Accurately graded with just a tad of rub on the check and primary tail feathers. Astute collectors should immediately see the strong eye appeal once having this Barber quarter in hand.
Then there is this 1915-D raw VF25 example that is only $40 and a classic example of a choice original Barber quarter with strictly original surfaces.
Thank you for visiting the Blog this morning. It is nearly 9:00 EST and time for a second cup of coffee in preparation for Chuck Todd and Sunday morning Meet The Press interviews and experts. I'm sure that gun control will receive attention given the NBC liberal bias.
I look forward to seeing you bright and early on Monday morning. Have a great Sunday!
December 5, 2015
The first December weekend will be incredibly pleasant here in Southern Maine. Bright sunny skies are forecasted with a high temperature of 53F expected for Sunday. I may just reconnect the battery on the Miata and go for a topless ride on principal! I can't remember ever driving the Miata in December let alone a top down ride. So Maine is blessed with excellent weather for the coming week or more and it does not feel like Christmas season based on natural landscape.
I don't know about you, but my pysche has been impacted by the San Bernadino shooting and the subsequent findings and publicity. Now it is in vogue to interview the killer's family members and lawyers for even more debates, denials and laying blame. Fundamentally, Americans are becoming enslaved to the powerful media companies and it is difficult to walk away from PC or smartphone based news. The media has proven that it can take any killing event and amplify to raise fear and emotions. The overseas terrorist are well aware that it only takes several terror events in the United States homeland coupled with media (online, television) to amplify the fear impacts throughout a population of 300+ million people. Gun sales will skyrocket as more Americans decide to arm themselves. Amazing isn't it.
When living in mainland China, the opposite was seen. Beijing government controls the media and would limit coverage of any terror or mass killing event to ensure the population remained calm. Justice to those who conducted mass killings and survived was quick and off the radar screen. Mass killing events would typically leak through Chinese social media and be amplified by Western media outlets. Please remember that China is mostly a homogenous Han society with tight control of the Uyghur population in northwestern Xinjiang province.
Daily Blog Feedback
Yesterday's comparison between FOX and NBC News reporting of the San Bernadino massacre brought salient feedback.
One customer immediately sent along the following thoughts;
Great comments in today's blog about the differing media in this country. It seems like all the different media designs their garbage for some certain population group. Now everyone has something to watch and agree with or give the "finger" to if they want to. I do real estate work in San Bernardino on occasion and generally hate going there. San Bernardino reminds me of NYC in the '60's and '70's in that it's been in a long economic decline concerning joblessness, crime, hopelessness, etc. San Bernardino (and surrounding areas) had their heyday right after WWII. I feel bad for the people who got shot the other day and for their families. Sometimes I think I should get a bulletproof vest when shopping at Walmart (not!). If you can't beat 'em, don't join 'em.
GFRC News
Jim Poston reports this morning that over 120 coins from GFRC inventory are presently available on eBay. We are already discussing a second wave that will include Capped Bust and Seated half dime and dimes.
Essentially all of the Portland, Maine coin shop purchase images are online. Sales of new Morgan's have been brisk.
I've also posted the three Seated halves from the Highwoods Collection and will wrap up posting the Hamden Collection today.
The Central California Collection love tokens have arrived and are in today's photography queue. There is a lovely 20c piece in the lot.
I'm nearly done processing images for the Florida Collection consignment of 15 mint state Walking Libery halves and incremental Morgans. These will be posted during the weekend.
Friday afternoon brought the arrival of my PCGS submission at the Baltimore show. Results were a mixed bag and grading has once again become very conservative. PCGS unfortunately, is not proficient with their Variety Attribution service as I submitted the 1874 F-106 Polished Arrows web-book plate coin. Their label reads....With Arrows, F-106 RPD. At least, the dime is protected in a holder for the time being.
And finally, I received an especially well struck and lustrous 1838 Partial Drapery dime graded PCGS AU58 from the Indiana Collection on consignment. This piece has bold eye appeal and looks better than many mint state examples at the MS63 and MS64 grade level. Every detail of the reverse die clashing is clearly defined and strike is absolutely hammered. If you've been in the market for a 1838 Partial Drapery example that will not require upgrading for years, then please consider this offering from the Indiana Collection. (On Hold)
Featured Coin of the Day
Within the PCGS shipment was the 1874-CC dime on GFRC price list. I always believe in being conservative with grading and assigned a VF30 grade given that it had been retoned at some point in time. PCGS assigned an AU Details, Environmental designation which is interesting. I thought the piece had EF device details but PCGS went a step further and assigned AU device details. In terms of the Environmental Damage designation, there is not a trace of porosity on this dime.....it has been retoned. Offer price is $19,500 and the current PCGS AU Details designation well justifies the asking price. PCGS AU50 price guide is $32,500 in EF40 and $65,000 in AU50. The last PCGS EF40 to sell at Heritage Auction (FUN 2013) is a cleaned piece that brought $21,150 for reference.
1874-CC Key Date Seated Dime - PCGS AU Details Code 97
Locating a strictly original 1874-CC is EF or better may take the better part of a lifetime as few are known. My PCGS EF45 CAC example will come on the market within the next 10 years or so...when I finally decide to sell the entire PCGS date and mintmark set. In the meantime, this PCGS AU Details example with retoned surfaces would fit nicely into an advanced collection.
Thank you for visiting this morning and will be back bright and early on Sunday morning with another Daily Blog edition.
December 4, 2015
Hello everyone and thank you for visiting the Daily Blog on the first Friday in December. Southern Maine is due for a most pleasant weekend with temperatures in the high 40Fs and sunny skies. There are many new GFRC coins in the photography queue, so sunny skies are welcomed and will facilitate some overdue photography today. Enjoying a several mile walk is also high on today's agenda. Frankly, I feel blessed to be living in a rural setting rather than in an urban center given the amount of mass shootings and the increasing polarization of our country.
Actually, this week's San Benardino mass shooting feels different in terms of media reaction. American gore is now real time drama with the media and politicians not wasting any time to leverage the event for personal or organizational agendas. During the San Benardino event, I purposely read both NBC News and FOX News to examine media biases and was not disappointed. The contrast between these two major online media companies was stark. NBC News downplayed the fact that the shooters were Muslim and focused immediately on Obama gun control commentaries and that Syed Rizwan Farook was an up standing person based on brother in law testimonial. On the otherhand, FOX directly reported the mass shooting as a high probability Muslim Terrorist event. The contrast is still evident this morning;
NBC News headline - San Bernardino Shooter was "Bad Person" not Radical; Brother In Law interview by Lester Holt.
FOX News headline - MARRIED TO TERROR? Authorities investigate whether wife radicalized husband before California massacre.
My point? First note the usage of key words in the headlines which I have highlighted in black. The different is indeed stark. One should be reading multiple news sources to secure a balance view of current events regardless if a conservative or liberal. Otherwise, extreme polarization can result.
Then there are the British and their BBC News. Please check out this article/survey entitled, "How dark is your personality?" By answering three online screens of questions, you personality is evaluated for the "dark triad" of personalities; Machiavellianism, narcissism and psychopathy. Once you have results, you can post these on Facebook too!
Ok, time to move on to happier topics this morning as depression could easily set in.....
GFRC News
Thursday sales were strong with the 1844-O Double Date PCGS AU55 CAC half dollar presently under purchase discussions. The Hamden 1837 reeded edge half dollar was requested by three people as such a great piece for the asking price.
I'm also pleased to announce the consignment of a rare variety; an 1843 Briggs 1-A shattered reverse Seated quarter that is choice original PCGS EF40. Greg Johnson comments about the rarity in this April 2013 E-Gobrecht Quarter of the Month article that is posted on my website. Following are the images; this exciting example is heading to the price list today. (On Hold)
The Central California love token consignment has arrived and those will be photographed today along with other queued coins.
Financial News
Using traditional logic when commenting on financial markets and major investor reactions is risky. Yesterday, I thought the Euro would continue to slide due to the "Great Monetary Divergence". Well I was wrong as reaction was opposite to my logical thought process. This is why I sell coins and no longer "invest" in the markets. Investment grade coins and gold are much safer these days.
European stocks are lower for a second day after Asian shares tumbled as disappointment with the European Central Bank's stimulus decision reverberated across global markets. On Thursday, the central bank announced a stimulus plan that was weaker than most had expected, causing a bumpy ride on trading floors and pushing up the euro more than 3%, its biggest one day gain in five years. Next up on the investor radar is today's U.S. jobs report. The data could cement a highly anticipated interest rate hike this month, signaling the end to an era of easy lending. U.S. futures are all up 0.4%
What effect has the drama had on debt securities? The value of the U.S. fixed-income market slid by $162.5B on Thursday while the eurozone's shrank by €98.3B ($107.4B) as the ECB's smaller-than-expected stimulus boost and hawkish comments from Janet Yellen pushed up yields around the world. The benchmark U.S. 10-year note yield jumped 13 bps to 2.32%, the most since Feb. 6, while Germany's 10-year bund yield surged 20 bps to 0.67%. "A lot of people lost money," said Charles Comiskey, head of Treasury trading at Bank of Nova Scotia. "In the old days, this would have been a one-week trade. In the new world, and in the less liquid market we live in today, it takes one day for the repricing."
Featured Coin of the Day
I'm leaving you with only one featured coin this morning as I need to move into the packaging and shipping department quickly followed by the photography department.....enough ramblings for one morning.
The 1946 Booker T. Washington PCGS MS65 CAC commemorative that was featured yesterday immediately went on hold. So today's featured coin is from the same price list and offers gem eye appeal.
1936-D Columbia PCGS MS66 CAC- Gem Eye Appeal. The reverse is covered with a host of rainbow colors that are accentuated by the bold background luster. The same toning is also seen on the obverse rim with some residual faint coloring on the balance of the obverse. This piece is mounted in PCGS holder with reverse side forward and graded MS66. The holder is old style with blue label and standard ring insert. CAC approval is obviously warranted.
December 3, 2015
Welcome to yet another edition of the Daily Blog. Thank you to everyone who is a loyal reader and also GFRC customer.
Rain and clouds will continue to dominate Maine weather today so GFRC photography will be delayed until Friday. In the meantime, I have a long "to do" list including updating the Auburn Lakes Condo website that supports the association managing our Venice, Florida winter home. Indeed, there is no rest for those with technology skill sets and volunteering commitments.
Today's blog will once again focus on GFRC news and also global financial news as the "great monetary divergence" is about to unfold in front of our eyes.
GFRC News
With Baltimore timeframe consignments being processed, I have been requesting new consignments for FUN. One GFRC customer responded this week and is consigning the following Bust and Seated coins. FRoR is in effect.
Bust 10c: 1821 10c Sm Date AU50 PCGS
Seated 25c: 1853O 25c VF30 PCGS; 1874S 25c VF25 PCGS
Seated 50c: 1844 50c AU58; 1853 50c W/A EF40 PCGS; 1856O 50c VF35 PCGS; 1864S 50c VF25 PCGS (WB-2, R-4); PCGS 1868 50c AU55 PCGS; 1871 50c AU58 PCGS
Also intransit to GFRC are two important Liberty Seated dime varieties/patterns. The first is the 1859 Judd 233 Transitional Pattern residing in PCGS VF Details holder and an 1875-CC IW F-107b with boldly filled obverse die. The latter piece grades EF.
Not resting with GFRC inventory expansion, my focus shifts to Capped Bust dimes between now and FUN show. Already, there is a shipment of better grade Bust dimes heading to Maine. I will be actively seeking outright purchases and consignments of strictly original Capped Bust dimes including better JR varieties.
In the past 36 hours, two consignments were added to the Client Gallery. The first is from the Highwoods Collection. This individual has been instrumental in faciliating the launch of GFRC's World Coin price list. We've spoken and plan to continue expanding World coin offerings along with the slow release of his United States pieces. Following is the most recent Highwoods consignment as an officially named collection.
The Highwoods Consignment - December 2, 2015
Liberty Seated Halves
World Coins
Also added to the Client Gallery is Hamden Collection Part II which completes the illustration of this wonderful United States type coin collection. With luck, I will be posting the Hamden Part II coins to the price list today.
The Hamden Collection Consignment Part II - December 2, 2015
Financial News
I opened today's Blog with a comment concerning the "Great Monetary Divergence" between European (ECB) monetary policies and those of the Federal Reserve. Let's check Seeking Alpha headlines on this topic followed by a look at historical United States Dollar index and gold/silver ratio.
Europe will continue to see easing monetary policies. The ECB's governing council is meeting in Frankfurt to set monetary policy, and president Mario Draghi has plenty of excuses to institute more stimulus measures. With inflation at just 0.1%, unemployment still over 10% and bank lending disappointing, economists expect the central bank to extend or add to its quantitative easing program and lower interest rates deeper into negative territory. The decision comes at 12:45 p.m. GMT, followed by Mario Draghi's press conference 45 minutes later. Euro -0.5% to $1.0558.
The Federal Reserve is forecasting a tightening of monetary policies. Although the eurozone has its eyes set on fresh stimulus, the U.S. is reinforcing the case for a rate hike later this month. Fed Chair Janet Yellen said yesterday she was "looking forward" to a U.S. interest rate increase and she's set to speak again today before the Joint Economic Council in Washington. "Rates in Europe and the United States will move in opposite directions for the first time in a long time which is being dubbed as 'the great monetary divergence,'" announced Jim Bianco, president of Bianco Research. Besides Yellen's testimony, there are also speeches today from Fed officials Loretta Mester and Stanley Fischer. U.S. Dollar Index +0.3% to 100.38.
What is the result of the divergent approaches? The Euro should continue to fall while the USD should continue to rise in global currency exchange markets. The USD Index is currently at 100. The following plot of USD index value since the 1970s illustrates the recent surge in USD strength as Europe, Japan and China follow an easing or stimulus monetary strategy. A strong USD may be great for United States tourist but will continue to impact exports and drive more United States companies to locate operations outside the United States. This will be problematic for manufacturing jobs creation within the United States. Our country will continue its dependence on retail/food service and health care industries for the majority of new jobs. The historically low interest rates have lead to financial engineering of stock prices by many United States corporations. Borrowing monies at very low interest rates to fuel share buybacks and favorable PE (Price to Earning ratio) has resulted in a US stock market that is over priced on a historical PE basis. The Federal Reserve is in a very tight box.
A strong US Dollar is bad for spot gold prices as gold struggles to hold its current $1050 market bottom. But the Gold/Silver ratio continues to climb and is now at 75 which is most atypical and indicative of financial stress. Please see the following chart and something to think about on this Thursday morning. Silver appears to be quite inexpensive at $14 per oz when compared to Gold. I believe we will see $28 silver before $2100 gold since the gold market is so manipulated by the "to big to fail banks".
Featured Coins of the Day
Liberty Seated half dimes are always difficult to sell due to lower collector interest than the more popular Seated halves and Seated dimes denominations. Following are quality 1849 and 1850 half dimes in need of a new caring home.
1849 NGC MS62 - Choice Original, Gun Metal Blue/Gray, Hammered Strike. When first inspecting this half dime under a loupe, one immediately appreciated the hammered strike where every obverse and device detail is so crisp and deeply defined. Surfaces are covered with transparent gun metal blue/gray patina that allows ample luster to radiate through under bright light. All devices and the fields are blemish free. PCGS population is MS62 is only (9) with few coming to market is recent years. Please note the halo by Star 2 is on the NGC holder.
1850 AU58 - Choice Original, Well Struck, Eye Appeal, Hamden Collection. GFRC originally sold this beautiful half dime into the Hamden Collection and now it is back for another lucky customer. Surfaces are reflective under bright light; this piece provides two different personalities depending on how viewed. First, let's confirm that this is a perfectly original specimen that would grade at TPG in a heartbeat and probably CAC too. In hand viewing provides aquamarine and gray coloring with faint gold on the reverse. When placing under bright light, the toning simply melts and leaves some faint blue in the obverse center surrounding by a golden ring. The reverse has similar coloring but segmented with the upper half being blues and the lower half turning to gold under bright light.
December 2, 2015
Good morning and welcome to the Daily Blog. There are several topics to cover today and I hope you enjoy the visit. A special welcome is also extended to our friends in Shanghai who are becoming regular readers. As previously mentioned, I thoroughly enjoyed the recent Shanghai visit and hanging with Chinese customers and old friends at the Yunzhou Antique Mall show. You can count on GFRC to be at the 2016 show along with longer Shanghai visit.
Harry Zhang provided the following commentary concerning the Yunzhou show attendance and reiterated the growing sophistication of Chinese collectors.
Glad you enjoyed the visit in Shanghai and I am looking forward to next year.
Actually a little pity as two of my closed friends did not attend because of their work, both of whom are advanced collectors.
People who came to the show were surprised to see so many nice coins and the ones who could not come also found it amazing when they heard the news from friends..
The point is, so far most of the collectors are not mentally and financially ready to purchase some high valued coins, though they have come to realize the potential. As like what I mentioned before, it takes time.
Another point I have learned is the reason people prefer domestic coins and stamps is that they are easy to convert to cash. As long as they bring these pieces to Lugong or other markets, dealers there will buy with some discount. Compared with quick money these pieces have brought, the discount is really nothing. I'd say, domestic coins are for speculation only. So we can tell, people who collect international coins are the true collectors.
One thing I believe, there will be some big Auctioneers come into the market in the near future whose business line is mainly international coins (slabbed and high valued ones). With the help of these institutions, local people will find it easier to cash their inventory and the enthusiasm will be added as well. Let's hope more and more people will recognize the true value of the American coins.
GFRC News
The GFRC-Coins eBay storefront continues to be populated with nearly 65 pieces from GFRC inventory online. Already, I am being contacted by several consignors who are pleased with this marketing strategy and wish to ensure their coins are also listed on eBay for incremental exposure.
Recently, I have added a considerable amount of higher priced coins to the price list. Please be assured that I have not forgotten the average collector and will continue to source and post quality collector coins in the $50+ range. Yesterday, I visited my favorite Portland, Maine coin shop and cherrypicked the best collector coins in their inventory. My timing was excellent as they just purchased a large Morgan dollar lot and a quality type coin collection of silver and gold coins. Needless to say, I worked diligently (before another dealer's scheduled appointment to view the new purchases) and bought a large amount of lovely coins. Many of these are already posted on price list without images and the FRoR are starting to come in. I was pleased to source some lovely early gold pieces too!
Finally, I am pleased to announce the purchase of the two volume G. Calbeto VIII Reales tomes published in 1970. These are amazing books and will support GFRC growing World Coin expansion into Spanish and colonial South America silver coinage. The books arrived yesterday and I must carve out some time to start the study process.
Financial News
Greg Johnson forward a link to an Economist article that is well worth the time to read. The topic is further exploration of European negative interest rates with the title Bankers vs mattresses; Central banks are still testing the limits to how low interest rates can go.
Following are a few paragraphs.....
Not so long ago, the lowest possible interest rate was thought to be zero. There is a ready alternative to keeping money in banks: holding it as cash. Mattresses do not charge for storing notes. Depositors might tolerate small fees, to avoid the cost and hassle of making other arrangements—but most had assumed their tolerance would be limited. "We are now at the lower bound," Mario Draghi, the ECB's boss, said after the last cut. He now seems to be reconsidering—but how low can the ECB go?
The ECB is not alone in testing the lower bound to interest rates. Denmark's central bank has set its main policy rate below zero for much of the past three years to repel capital inflows that had threatened its exchange-rate peg with the euro. In January the Swiss National Bank abandoned its attempts to stop the franc from appreciating against the euro by printing and selling francs in vast quantities; instead it resorted to negative interest rates to deter investors from buying francs. Sweden's central bank, the Riksbank, took its main policy rate negative in February, to weaken the krona, make imports more expensive and thus push inflation closer to its target of 2%.
For all these countries, it is the exchange rate against the euro that matters most. To suppress their currencies, their central banks must offer interest rates that are further below zero than the ECB's. The deposit rate in Denmark and in Switzerland is -0.75%. In Sweden it is -1.1%.
The article closes with the exploration of the unthinkable; the elimination of physical currency in order for central bankers to gain complete control via electronic banking.
As interest rates creep further into the red, economists' prescriptions have become bolder. In a speech in September Andy Haldane, the chief economist of the Bank of England, outlined a range of options to allow rates to go lower still. The most radical would be to get rid of the mattress option by abolishing cash altogether. Ken Rogoff of Harvard University calculates that there is $4,000 of currency in circulation for every person in America. Much of it is used to hide transactions from tax authorities or the police. Abolishing it would curb such activities, as well as helping central bankers.
Yet depositors might still find ways to safeguard their savings. Switching to foreign currency or precious metals would be an obvious option. As Kenneth Garbade and Jamie McAndrews of the Federal Reserve Bank of New York point out, taxpayers could make advance payments to the taxman and subsequently claim them back. Depositors could withdraw funds in the form of bankers' drafts (certified cheques) to use as a store of value. Such drafts might even become a form of parallel currency, since they are transferable. Any form of pre-paid card, such as urban-transport passes, gift vouchers or mobile-phone SIMs could double up as zero-yielding assets. If interest rates became deeply negative, it would turn business conventions upside down. Companies would seek to make payments quickly and receive them slowly. Their inventories would grow fatter.
Let's move on to Seeking Alpha for today's worthwhile headlines....
China economy continues to slow with bad news being good news for the Shanghai Composite....it seems like we've seen this movie before! The Shanghai Composite Index climbed 2.3% at the close on hopes the PBOC would introduce more stimulus measures by adding to the six interest rate cuts it unveiled this past year. A recent raft of indicators has signaled a deepening economic slowdown, including falling exports, declining producer prices, and slowing industrial and manufacturing activity. The benchmark's biggest rally in a month was also attributed to speculation that China would make mortgage interest payments tax-deductible in order to stimulate the domestic property market.
The ECB will continue to ease placing more pressure on Euro value. Eurozone inflation held steady at a lower-than-expected 0.1% in November, giving further encouragement to ECB president Mario Draghi to pump up the central bank's contested bond buying program tomorrow. In March, the ECB launched a more than €1T stimulus plan running through September 2016 in order to snap a long period of low or negative inflation in the region, but given recent economic figures, that program will likely get a boost. Euro -0.4% to $1.0596.
I'm still not convinced we will see a Federal Reserve interest rate increase in the next two weeks but.... Meanwhile, upcoming speeches from Fed Chair Janet Yellen will be critical in setting market expectations for a possible hike to the U.S. benchmark interest rate, which has held near zero since December 2008. Yellen is scheduled to speak today at the Economics Club of Washington at 12:25 p.m. ET, and then testifies tomorrow morning before the Congressional Joint Economic Committee. Also looming large is Friday's jobs figures, the last big piece of data ahead of the Fed's December 16 meeting, so today's ADP payroll report will likewise be important to the markets.
Featured Coins of the Day
I received phone call from GFRC consignor yesterday requesting a price reduction on this lovely 1845 Seated dollar. Following is an abbreviated description. Might this piece be for you?
1845 PCGS AU53 CAC - Choice Original, Gun Metal Gray/Blue Patina. Fully original with classic gun metal gray/blue patina. The rims are dark ebony/gray and well frame the the gray centers. Fields and devices are essentially blemish free. Bright light viewing is a pleasure with ample remaining luster that shifts the toning into sky blue intermixed with rose in the fields. Rims are also problem free. Mintage is a meager 24,500. Reduced price is $2400.
From GFRC regular inventory comes this wonderful 1946 PCGS MS65 CAC Booker T Washington commemorative in early rattler holder. One look and you will fall in love with the booming luster and steely light gray patina. This BTW is so under graded against today's standards and will make the new owner proud to share with coin collecting colleagues.
December 1, 2015
December arrives as we quickly close out 2015 and approach the Christmas holiday season. Yes, at the Daily Blog, we will be saying Merry Christmas often and referencing our Christian holiday in complete freedom. Those from other faiths should also enjoy their religious freedoms and celebrate accordingly during this festive period.
Maine weather continues to be beautiful with lows in the 20Fs and forecasted highs in the low 40Fs. Natsumi is still hanging with her grandparents and is a joy. She returns to Boston tomorrow.
GFRC News
The posting of GFRC inventory on eBay has begun. I spent Monday evening adding TPG serial numbers to larger denomination GFRC listings while Jim Poston started loading the GFRC-Coins storefront. By end of week, we should have about 200 offerings online. The primary mission of our effort is to expand GFRC visibility in the numismatic marketplace and accelerate the sale of consignor coins. Many consignors are trusting GFRC to liquidate their coins at fair market value and I take this responsibility most seriously.
I spoke with the Central California Collection consignor on Monday morning. He is pleased with the initial consignment sales and thanks those who made purchases. We discussed a second consignment of his love token collection and those are being shipped to GFRC by family member today. The love tokens are attractive larger denomination pieces. The Central California collector will be undergoing major surgery on December 7 and we should keep him in our prays.
Believe it or not....I still have more consignments in the queue to be posted to price list. Those include Hamden Part II, a large group of mint state Florida Collection Walking Liberty halves and quality Seated halves and World coins from a new East Coast consignor. Today's emphasis will be on loading the balance of Hamden Part I to price list and preparing Hamden Part II and East Coast consignments for the Client Gallery and display in Wednesday's blog.
Financial News
The major news continues to be the recognition of the Chinese Yuan as a world reserve currency. Following are before and after illustrations of the IMF's Special Drawing Rights (SDR) reserve currency basket composition. The Euro and British Pound portion was reduced in liu of the Chinese Yuan while the US Dollar percentage remained essentially unchanged.
SDR Without Chinese Yuan SDR With Chinese Yuan
What will be short term impacts of the IMF's decision?
There will be a global currency rebalancing in the $1 trillion sovereign wealth funds of Norway and Abu Dhabi – to reshuffle their portfolio positions. They will rebuild portfolios denominated in currencies that match the SDR's new composition. This action will result in the selling of Euros and British currency and the purchase of Chinese Yuan, potentially placing more pressure on the Euro. The United States dollar should remain neutral in this rebalancing exercise.
Seeking Alpha's lead headline covers the Chinese Yuan's inclusion into the IMF's reserve currency basket.
The IMF added the yuan to its Special Drawing Rights basket yesterday, but what does that mean for the currency? 1) Effective Oct. 1, 2016, the renminbi will officially be recognized as a reserve currency, meaning central banks will have an alternative for foreign exchange reserves. 2) The basket's currency weighting will get mixed up, with the euro seeing the biggest percentage drop from the new formula. 3) The yuan also meets criteria of being "freely usable," or widely used for international payments and in foreign exchange markets, boosting China's influence in the global economy.
Featured Coins of the Day
While adding PCGS and NGC serial numbers to offerings on the GFRC price lists, I had a chance to review many pieces residing in the inventory boxes including Seated quarters. I was once again amazed at the many quality pieces in the Seated quarter denomination and following are two recommended examples.
1840-O With Drapery PCGS VF20 CAC - This With Drapery date/mintmark combination receives little respect for its rarity. I've had choice VF20 and AU58 examples on the price list for sometime; this date is simply under appreciated by the collecting community. Mintage is only 43,000 and few example are found choice. This VF20 with CAC approval is priced at $350 and would be an excellent rare date starting point for a mid grade circulated Seated quarter set.
1871-S PCGS VF30 CAC - The 1871 San Francisco date has a low mintage of 30,900 pieces and a very low survival rate. PCGS population report in all VF and EF grades is a meager 16 pieces with most being ugly. CAC has only certified 2 pieces in all VF and EF grades (VF30 and EF45). The following offering is that VF30 example with choice crusty original surfaces. Offered at $3700 and one of the finest circulated examples extant.
Thank for visiting this morning. In Wednesday's Blog, Harry Zhang (GFRC Shanghai agent) will offer some thoughts after the Shanghai Yunzhou coin show.
Please remember that the FUN show is coming up quickly. GFRC is seeking incremental consignments; in particular, Bust dimes, Seated quarters, half dollars and dollars along with World coins.