Gerry's Daily Blog Archives - August 2015
August 31, 2015
Good Monday morning and thank you for stopping by and sharing another day's thoughts and adventures.
Sunday turned out to be a long and adventuresome day after publishing the morning blog. We had made plans to visit son Matt, daughter- in-law Chikae and grand-daughter, Natsumi in Boston on Sunday. We had not seen Matt's family since late June and anticipation was high. At first the idea was to travel to Boston via Concord Trailway bus or the Downeaster train but schedules did not match well so driving became the option. After quick morning preparations, the journey commenced at 9:30am and Diane's Toyota Rav4 was selected as the transport. All is well but one must remember this is the last weekend in August and the annual out of state migration south was underway with heavy I-95 traffic. Then the Rav4 starts to issue a high frequency metal sound that was worrying me. A bad wheel bearing would be dangerous while aging water pump would be seen in the temperature gauge. We exited Maine, crossed through New Hampshire and stopped at the Massachusetts Visitors Center for a bathroom break. Upon returning to the car, the battery was dead and definitely would disturb our Boston plans as Matt had booked tickets for the famous Boston Duckboat ride at 2:20pm. Luckily, one of the attendants in the Visitors Center had battery cables and provided a jump. I made the decision to return home as driving into Boston parking garages without jumper cables and a dead battery was not a good idea.....
We arrived back to Raymond at 12:30pm and immediately moved to the Florida Toyota Avalon and restarted the journey. Matt and family were taking in the Duckboad tour without us and the new plan was to meet at the Boston Aquarium after the ride's conclusion. Now the I-95 traffic was really heavy with warnings that the York, Maine through New Hampshire border section would be congested. With some skillful driving, we arrived into Boston at 3:30pm and spent a lovely four hours including a wonderful late lunch/early dinner at a Korean fusion restaurant. Natsumi has grown so much since June (almost 1.5 years old) and was the prime attraction. The return to Maine was uneventful and by 9:30pm, I was on the laptop dealing with the day's GFRC orders and LSCC club items. A double scotch at 10:30 was truly deserved along with some Peter Gabriel in the basement soundroom......
So Monday arrives with lots of GFRC shipping in the queue and dealing with either a dead battery or bad alternator in Diane's Rav4.
Today's blog will be short as there is no bandwidth to explore news topics. NBC News is the Trump/Sanders show and BBC News is lamenting IS destruction of more ancient temples in Syria.
GFRC News
I received multiple orders on the 1837 AU50 reeded edge half dollar. Some arrived via email and others via phone/voice message. The best way to reserve a popular offering is either email (I'm in front of the laptop most of the day) or via text message. Voice messages are the least effective method for catching my attention.
A nine piece Canadian silver coinage consignment is shipping to GFRC today and will help reinvigorate the World Coin price list. I also received several offers to purchase coins on Sunday and those are under discussion.
September arrives on Tuesday and is traditionally a slow month for coin sales as many people are consumed with back to school activities and closing down their summer vacation homes. I will be working hard during September to increase consignment and purchased inventories going into the busy October and November months. October brings the Denver and Rochester, NY shows while November means the last Whitman Baltimore show of the year (with W. David Perkins) and then the Shanghai, China show the following weekend. If you are thinking of consigning coins to GFRC, then please contact me soon so we can be fully prepared to sell your coins during the busy October/November timeframe.
Featured Coins of the Day
Since GFRC was closed yesterday, the featured coins of the day are purchases made last week at the Westford dealer invitational show. First up is a sweet Barber quarter for a type set. This 1892 piece is very choice and conservatively graded as MS63. Under bright light, the fields are lightly mirrored and provide a host of colors that please the eyes. Yes, this one is raw and came out of an old album type set. Up until the early 1990s, most coins were purchased raw by collectors....
Also purchased at Westford is this lovely 1878 San Francisco Trade dollar that came from the same type set as the 1892 Barber quarter. Surfaces are pristine with plenty of steely luster under light gold patina. This dollar was removed from an NGC AU58 holder for inclusion in traditional type set album. The NGC AU58 label comes with the coin.
Thank you for visiting and I will see you bright and early on the first morning in September......
August 30, 2015
Welcome to the Blog on a Sunday morning. The house is quiet as I sit with a cup of coffee at 6:30am trying to decide on a relevant topic. The recent week has seen a calming of global stock markets and the online news channels have gone from "meltdown" headlines to apathy. One could speculate that market turmoil was planned with hedge funds shorting stocks and profiting from the multiday event since the media is predictable. One can expect the media to immediately offer high drama headlines to spook smaller investor emotions. I'm so glad to be sitting on cash in my brokage accounts but not the under water gold and silver mining stocks.....this is life.
This morning's internet news search revealed little of interest so I'm shifting the commentary to a numismatic learning event from one of my customers this week. Hopefully, sharing his situation will help other GFRC customers in the future.
I've enjoyed working with customer X for appropriately 1.5 years. During that time, he has offered several holdered Seated coins for sale or trade against GFRC purchases. Most have been coins with retail values at $500 or less. This last week, he sent along a semi key date Seated half dollar for trade against new purchase. I was excited about the potential transaction since expanding Seated half dollar inventory is an ongoing imperative. The coin arrives in Priority envelope and resides in a recent NGC AU53 holder with edge view insert. An in hand inspection reveals uniform copper gray toning throughout the obverse and reverse....but the toning is too uniform and perfect to be the result of nature. My trusty 10x loupe is retrieved and start with an inspection of the obverse. Faint tooling lines are present across the right field and also the left field between Liberty's arm and Stars 1 - 3. Then the inspection moves to the reverse...more tooling lines below the eagle and between the eagle's head and STATES OF. Unfortunately, this semi key date half was carefully tooled to smooth out the fields and then chemically retoned. NGC graders did not recognize the handy work of the coin doctor. This is not an indictment of NGC as I've seen similar in PCGS holders also. Breaking the bad news to a collector is not a pleasurable experience for an honest coin dealer. I explained my findings via email and then we chatted on the phone. The GFRC customer was upset after spending several $1000 on a holdered coin that was far from original. Hopefully, he does not become discouraged and then leaves the hobby.
What is today's message and learning for GFRC customers? Just because a rare coin is holdered does not make it original and problem free. The numismatic market is difficult to navigate for the average collector who lacks access to large coin shows and a basis for studying hundreds of coins and becoming proficient at separating the original coins from those that have been enhanced. The major TPGs do a reasonable job at separating the wheat from the chaff but are not perfect. They operate with a certain error rate depending on the experience level of their graders. If we couple the varying experience levels of TPG grades against the unethical dealers who doctor coins for a living (profit), then it is easy to understand how modified coins find their way into TPG holders. The only solution to avoiding buying problem coins, even in TPG holders, is self education and/or working with a trusted numismatic dealer who has the experience and time to carefully inspect and flag doctored coins in TPG holders. These dealers have strong ethics and refuse to sell these types of coins once identified.
I would also like to add that coin doctors are a repugnant lot. Some of these individuals are proud of their handy work and their ability to fool the TPG graders and make a nice profit....they brag about their capabilities to other dealers as if a badge of honor. These are the individuals that have the potential to ruin the hobby as more collectors discover their hard earned monies were spent on altered coins.
GFRC News
I'm expecting another wave of consignment shipments this week along with one lot of coins being sent for offer/purchase.
Starting Monday, the New Jersey collection of Liberty Seated half dimes will be the priority as this consignor has been so patience while I work through the substantial amount of coins from the ANA show.
Yesterday, I posted a pair of PCGS MS63 1875 Carson City dimes (In Wreath and Below Wreath) to the price list. Both pieces are strictly original and attractive. The Below Wreath is the F-108 die pairing while the In Wreath is the F-112b die state and the first example seen other than the specimen in my private collection. This lovely pair is shown below and could use a new home.
Finally, I've added more Gold CAC Mercury dimes to that price list, more quality Walking Liberty halves and working to populate the Commemorative price list with eye appealing early commemoratives and $5 modern gold selections for the upcoming Shanghai visit and Yunzhou show in mid November.
Featured Coins of the Day
This morning's featured coins are not expensive. I enjoy stocking attractive and original Capped Bust halves to that price list and hope to be eventually recognize as a dealer in this series. First is a circulated cameo 1810 O-101 half with lovely contrasting toning. It really is amazing to think that an early 1810 half of this quality can be acquired for a little over $200.
Next is another Capped bust half but housed in PCGS VF30 holder and approval by CAC. This 1819/8 O-105 is a gem in terms of bullseye toning and overall eye appeal. One really needs to have the coin under bright light to appreciate the beautiful surfaces.
We close the Featured Coins section with a third offering this morning. I rarely handle early United States commemoratives but could not pass on the opportunity to purchase and stock this incredible 1936-D Columbia. This piece resides in a PCGS MS66 holder and is approved by CAC. The reverse is mounted on the front side of the PCGS due to amazing multi color toning.
Thank you for visiting today and I will see you again bright and early on Monday morning. Have a great weekend!
August 29, 2015
The last weekend in August arrives with Labor Day within sight. Time is precious as it moves along so quickly when concentrating on a personal mission. Yesterday, I worked from 6:00am until 10:45pm with a break for dinner and the evening news hour. Morning hours were in the shipping department where eleven USPS Priority box were assembled, taped and shipped. The balance of the day involved photography, image processing and loading a variety of Newps to the price list. There is more to be added today. Below is a mini gallery featuring some of yesterday interesting new coins. Please note the 1936-D Columbia toned gem and the 1946 Iowa commemoratives. Both are graded PCGS MS66 (the Iowa is MS66+) and approved by CAC. The 1909-D Barber dime and 1868-S Seated quarter are already on hold.
Topic of Interests
As part of the Blog preparation process, I quickly review BBC and NBC News daily for potential items to share. This morning, BBC News offered a report on the US military's Joint Light Tactical Vehicle (JLTAV), the successor to the long-serving High Mobility Multipurpose Wheeled Vehicle, better known as the Hummer. Oshkosh Corporation in Wisconsin won a $6.75b contract to build 17,000 JLTAVs. The well illustrated article is available here. The new military vehicle is best described as part tank and part off road racing vehicle. Here is an excellent image of the new vehicle.
Quora also caught my attention this morning with an outstanding contrasting image gallery of China. Since spending much time in China in multiple locations, I have seen the country's beauty, its excessive trash issue, police corruption in Jilin City bars first hand and also enjoyed the kindness and hospitality of complete strangers. The China image gallery is in response to a simple Quora question; "What picture represents the Chinese people?" The gallery can be viewed here. One of the most beautiful places on earth that I was fortunate to visit is the Li River in Guilin.
Important GFRC Consignment
In a prior blog, I've mentioned the arrival of an 1874 Carson City dime as a single piece consignment. Following are the initial images of this exciting specimen. Off the market for many decades, this piece is strictly blemish free with smooth surfaces and ample device details. The consignor purchased this example directly from a Great Lakes region collector who had amassed 6-8 complete Liberty Seated dime sets. I remember an LSCC member visiting this collector in the early 1990s and documenting the event in a Gobrecht Journal article. I've not had time to research the Collective Volumes to locate this article but will do so and add the LSCC author's comments when writing the price list description for this substantial offering.
Thank you for visiting this Saturday morning and please check back during the day as many more nice coins are will be added to the price lists.
August 28, 2015
I can't believe it is already Friday; where in the world did this week go? Maine weather forecast calls for s stretch of bright sunny days with low humidity....perfect for coin photography and moving firewood. The days are becoming noticeably shorter with this morning's sunrise at exactly 6:00am and sunset at 7:25pm. In just 2.5 months, Maine has lost nearly 3 hours of daily sunlight and in just 8 weeks, the first season snows are possible.
Today's primary objectives are packaging and shipping a host of orders, photographing all of the Westford Newps and other recent arrivals (the Columbia and Iowa commems for Shanghai customer) and loading consigned coins that date back to before the ANA show. I will be in the office all day and available for phone orders.....yes, I missed two orders yesterday as difficult to hold a phone conversation in an open air Miata at 75 mph.
Yesterday's Westford Dealer Invitational event was a success for those who attended. New England and mid Atlantic dealers arrived at 10:00am, quickly setup shop with one display case and a light each. One could feel the no nonsense intensity as attendees quickly settled in and conducted wholesale trade. Since all the dealers are well known to each other, the atmosphere was fast paced and friendly with no worries about thief. Ernie Botte is once again congratulated for running a top notched event at reasonable cost. Lunch was served by the hotel staff and was also excellent. I left at 1:45, stopped at the New Hampshire Liquor Store on I-95 and was home by 4:15.
Given the amount of recent GFRC business growth, I was an aggressive but disciplined buyer with originality and accurate grading being paramount. It is my responsibility to locate quality coins for the ever expanding network of GFRC customers, whether advanced collectors or those just starting to seriously collect the early type series. Following is a list of Newps and hopefully, something for everyone. You will note the lack of a single purchased Seated quarter in this group. As always, FRoR is in order.
Westford Newps
Seated 5c: 1858-O EF40 original gray, large die crack through head
Seated 10c: 1840-O F-109 Small O VF25 original gray; 1875-CC IW F-112b PCGS MS63 choice original antique gray; 1875-CC BW F-108 PCGS MS63 CAC choice original light gray; 1890-S F-109 AU58 MPD Top 100 lustrous....advanced collectors should pay attention here as the F-109 is very scarce.
Barber 10c: 1909-O PCGS AU50 old album tone
Mercury 10c: 1936 NGC MS64 Fatty Gold CAC; 1944-D NGC MS65FB Gold CAC
Barber 25c: 1892 MS63 mirror fields, choice original
Bust 50c: 1810 O-101 VF30 cameo dark gray and choice; 1814 O-104a VF25 choice original gray; 1826 O-105 R3 PCGS AU55 gem eye appeal; 1828 O-117 VF35 choice original gray; 1837 AU50 incredible bullseye old album tone (fresh from Massachusetts estate)
Seated 50c: 1844-O WB-20 VF30 original even gray; 1853 A&R VF30 original light gray; 1859 EF45 original gray, 1873 NA C3 F15 original gray
Walking Liberty 50c: 1941-S ANACS MS64 OWH satiny tone; 1942-S ANACS MS64 OWH bold luster; 1942-S PCGS MS65 CAC light tone, 1947-D PCGS MS66 antique gray tone
Trade 1$: 1878-S AU58 choice, lustrous faint gold patina.... I rarely add Trade Dollars to inventory but made an exception for this lovely example.
Peace 1$: 1923 PCGS MS63 rainbow toning, so scarce on Peace $
Other GFRC News
As mentioned earlier, the GFRC customer and consignor network continues to expand. In just the past 24 hours, two more consignments are under discussion and one customer is sending an 11 piece lot of early type coins for review and potential purchase. The first consignment is strictly Walking Liberty halves and includes the following dates/grades.
Walking Liberty 50c: 1929-S PCGS MS63, 1934-P PCGS MS65, 1939-P PCGS MS65+, 1939-D PCGS MS65, 1945-P PCGS MS67
The 1880-S PCGS MS66 Morgan featured in yesterday's blog is already on hold. The new owner will be pleased when this one arrives.
Featured Coins of the Day
I still have many great coins from the ANA show that could use a little attention. The first one that comes to mind is this nearly gem original 1840 New Orleans Briggs 2-B Seated quarter residing in NGC EF40 holder. In hand, the coloring is crusty gray with blue hues but the fun starts when placing under bright light. Deep blue fields are expose and I would fully expect this quarter to be a sure thing at CAC if you decided to go that route.
The next featured offering is an early date Capped Bust half dollar that was consigned at the ANA show. This choice original 1808 bust half is the Overton 106 variety and is housed in old blue label PCGS VF35 holder. Surfaces are toned antique gray with intermixed gold hues. This piece was struck from well eroded dies. For an 1808 strike, there is ample reverse left wing details and the scroll lettering is complete. The easy diagnostic for Overton 106 is a "center dot" immediate above where the left wing meets the eagle's body.
August 27, 2015
Welcome to another Thursday morning and thank you for visiting. I'm up early at 5:30am to write today's edition as heading to the Dealer Show in Westford, Massachusetts shortly. I'm looking forward to the two hour drive in the Miata, attempting to purchase nice coins for customers and finally, the traditional stop at the New Hampshire Liquior Store on the way back and securing 1.5 liters (maybe 3.0 liters?) of my favorite scotch.
Please check back this evening as I will announce the Westford show Newps early.
Today's blog will be to the point though I would love to offer some thoughts on this year's political process. More writers are recognizing the trends towards embracing outsiders as the electorate is tired of real or perceived political corruption in Washington DC. People are disappointed that the change promised during the 2008 campaign has not materialized and seek a true reformer. We will leave this thought here and save for another day.
GFRC News
Some neat and important coins arrived yesterday and are in the photography queue. Following is a quick review of items heading to the price list by the weekend.
Seated 10c: 1874-CC raw VF35, no porosity whatsoever with even deeper rose/gray patina. The consignor has owned this piece for nearly 20 years and purchased from individual in the Great Lakes area who had assembled 6-8 complete Liberty Seated sets prior to 1990. This piece is fresh to market and worth considering for those assembling a higher grade Seated dime set. As a specialist on Liberty Seated dimes, I like this piece as the surfaces are fully unabraded though the toning may not be strictly original.
Seated 25c: 1868-S PCGS EF40 CAC, choice original even gray. There are only 2 pieces approved by CAC at the EF40 level and 1 at the AU58 grade level. The second EF40 and the AU58 are in strong hands so this is an opportunity for Seated quarter collectors to acquire the only available example approved by CAC in the EF-AU grade range. This piece was purchased at ANA but completely forgotten in inventory until yesterday.....yes, I am working much too hard to have forgotten this important quarter!
Early Commem 50c: 1936-D Columbia PCGS MS66 CAC with rich rainbow toned reverse; 1946 Iowa PCGS MS66+ CAC with light gold rims
New Wisconsin Collection Consignment
The Wisconsin Collection consignor is pleased with GFRC sales results and is sending more great Seated halves for the price list. I've not seen images but do expect these to be in hand on Friday and posted during the weekend. FRoR is in order.
Seated 50c: 1861-O W-15 CSA, PCGS AU-50; 1863-S PCGS AU-58; 1865 Half, PCGS AU-58
New Jersey Collection Consignment Status
I do wish to express a sincere thank you to Steve Crain for attributing the raw Seated half dimes in the New Jersey Collection. Much of this consignment resided in an early Library of Congress album and Steve offered to review each piece and attribute to Valentine along with adding some personal notes.
The New Jersey Collection is next in the consignment queue and a Client Gallery presentation is anticipated for early next week.
Featured Coin of the Day
I posted an 1880-S Morgan yesterday that resides in PCGS MS66 holder.....no big deal, right? Think again as the patina is an amazing kaleidoscope of rainbow colors under bright light coupled with mirrored surfaces. I'm speaking here as a collector rather than a dealer attempting to make a sale. If I were still collecting, then this Morgan would be heading directly to personal collection as so nice and unique.
In hand appearance is not as dramatic as bright light viewing and my photography needs to be redone this weekend due to excessive lighting reflection from the PCGS holder. (On Hold)
August 26, 2015
Good morning everyone and thank you for visiting once again. Today's commentary should be worthwhile as GFRC announces a new product line and I review an excellent BBC News article on the structural issues concerning the global economy.
I actually took a break from coins yesterday and attended a Portland Sea Dogs double A baseball game. The Sea Dogs were shutout but fortunately we were invited to a skybox while the game was played in fog and drizzle. The combination of friends and several Stowaway IPAs made for a relaxing evening. Like yesterday, today's preamble is short and let's move directly into the topics of the day.
BBC News - A Leader in Quality Reporting
Each morning before writing the Blog, I secure a cup of coffee, quickly review overnight emails and browse news items on NBC News and BBC News. By now, Blog readers well understand my disdain for NBC News drama and weak reporting. BBC News, on the otherhand, typically offers insightful and in depth articles worth sharing in the Blog. During today review, I located an article entitled China's woes and a still flawed global economy by Robert Peston. Robert takes a realistic look at China's overnight interest rate cut and connects the dots to forthcoming impact to other Asian export orientated economies and the primary consuming nations....the United States and the European Union. He makes several logical point as follows;
- If Shanghai Composite share price gains could not hold after China's central bank interest rate cut, then mistrust about the true state of China's economy is a global issue and attention should be paid. The cut in Chinese interest rates is likely to speed up the withdrawal of capital from China, putting further downward pressure on the RMB.
- Making Chinese exports cheaper will accelerate the fall of currencies in competitor economies - especially Malaysia, Thailand and Indonesia. Competitive currency devaluation among emerging economies ends up undermining their GDP growth prospects; half of global GDP and most of the world's growth is tied to emerging market countries.
- Lower prices or deflation is exported to the rich West and in the long term, encourages consuming countries to live beyond their means and use debt to fuel consumption due to lower export (higher currency value) resulting in an unsustainable imbalance.
- In a slowdown, central banks can give economies a temporary boost with cheaper money (lowering interest rates) but mask the fundamental flaws with decaying manufacturing capabilities. Monetary easing by central banks can make matters worst in the long term since they allow governments to delay unpopular economic reforms.
- Interest rate increases in the US and UK will likely to be deferred again and Larry Summers (former Treasury Secretary) is hinting that QE4 may be necessary........ The thought of another QE, years into "the recovery," indicates structural issues with the global economy.
Seeking Alpha Headlines - Cheap Oil Impacts
The oil industry is in financial trouble and Americans should be worried while enjoying lower fuel prices in the short term. United States oil production based on fracking ramped quickly due to substantial borrowing and the assumption of oil being at least $60 per barrel. The Saudis are waging a competitive war and pumping oil to depress global prices to the point that the United States drillers collapse under their debt burdens. Fracking wells have much shorter productive life cycles than the existing Saudi wells. American drillers need to be constantly drilling wells to maintain supply and this requires adequate cash flow and investment.
Some early oil patch issues as reported by Seeking Alpha....
The recent market selloff and plunging oil prices are increasing fears that some of this year's largest oil takeover deals are at risk of falling apart, including Shell's (RDS.A, RDS.B) $70B offer for BG Group (OTCQX:BRGYY) and Halliburton's (NYSE:HAL) $35B bid for Baker Hughes (NYSE:BHI). Over the past week, the gap between the agreed price of several takeovers and the market price of the target companies' shares has widened, which usually is interpreted as a signal of declining confidence that the transaction will be completed as planned.
Transocean is looking to cancel the third and fourth installments of its dollar-denominated dividend this year and is also seeking a par value reduction of its shares to address expected capital losses. "In light of the deterioration of the offshore drilling market and concerns regarding the timing of the market's recovery," Transocean (NYSE:RIG) may recognize an aggregate loss associated with related non-cash impairments in excess of 2B Swiss francs. RIG -6.3% premarket.
GFRC News
Gold CAC Mercury dimes in early vintage PCGS rattler and NGC fatty holders is a new GFRC product line. The population of these Gold CAC dimes is tiny at 300 pieces across the entire series and when limited to the vintage holders, then maybe less than half are extant. GFRC has acquired eleven PCGS and NGC Gold CAC offerings; the Mercury dimes are so original and choice with each piece having its unique toning characteristics. What a difference from the dipped blast white examples that are so prevalent in current market.
Following is the eleven piece gallery. Asking prices are still being determined as this is a fresh product line.
Featured Coin of the Day
If beautiful old album bullseye toning is a collecting passion, then please let me introduce this lovely 1876-CC F-128 dime freshly graded PCGS MS64 at the ANA show. The eye appeal is obvious with bold obverse bullseye toning coupled with radially toned reverse. Obverse offers considerable luster under a central rose ring that is well framed by a thick blue ring at the rim. The reverse also has bullseye toning characteristic with a gray/rose center and aquamarine outer rim.
August 25, 2015
Greetings from Maine on another Tuesday morning. Today's blog will feature a host of topics as the past 24-48 hours have been far from dull in the numismatic and financial world. Blog readers are also sending comments or requesting that their coins be featured. Therefore, I will keep the preamble short and jump right into topics......
Dumbest Headline of the Day
Yes, NBC News just can't help themselves with ridiculous headlines to attract readers. Yesterday was the Chicago Club's Joe Madden "Pay Attention" headline and this morning we find, "Terrorist or Train Robber: Clock Ticks on Attack Charges" as the lead story. A train robber with AK47 and multiple ammunition clips? The BBC definitely has the edge over NBC News for reporting online news with typical British sensibility and avoiding the drama that has invaded our online new reporting.
Financial News
Seeking Alpha published their daily financial headlines early this morning. The Shanghai Composite continued its fall overnight and now stands at 2948. Global markets look to regain their footing after a harsh start to the week. Leading Asian markets fell again with the Shanghai Composite Index closing with a 7.6% loss and the Nikkei down 4.0%, while other key Asian markets closed with milder losses and Hong Kong ended up in positive territory. European markets are broadly higher with the Stoxx Europe 600 up a solid 3.1%, led by the first rise in the FTSE 100 in 11 sessions. Oil is also trying to stage a comeback with WTI crude retaking the $39 level. Economists expect global supply will start drying up next quarter if oil stays below the $40 level.
Beijing is spinning the news to calm its population with power consumption statistics. Problem is more air conditioners and global warming may not correlate to GDP.... The government in China pointed to data showing economic activity is still buzzing right along. An early look by the state planning agency at power production in the nation showed a 4% Y/Y increase for the first twenty days of the month. Economists consider electric power output in China a key data point. During July, power production was down 2%. The true state of the economy in China is the subject of some debate. Earlier today, Japanese Finance Minister Taro Aso said there is "suspicion" on whether official GDP numbers are accurate.
Daily Blog Reader Feedback
A Blog reader responded to yesterday comment where I stated that the electronic news media is one massive amplification system. This individual writes, "I read a a comment few months ago that the online media turns our "news" into an ECHO CHAMBER. One can spend all day digesting "news" from sites selected so that you never read/see a dissenting opinion. A recipe for polarization…
GFRC News
Monday brought more orders as customers are scooping up ANA show newps and consignments as soon as they are posted. I do wish to share the 1870, 1871 and 1872 Seated quarters purchased by an astute customer yesterday. These will not reach the price list but are indicative of the original coins being located by Jim Poston and myself for customers who submit want lists. All three quarters are well matched with even gray original patina and grade as follows; 1870 PCGS EF45, 1871 PCGS EF45 CAC and 1872 PCGS EF40.
I completed the evaluation of several more consignment lots received before and during the ANA show. The lot received at ANA contains twelve Gold CAC Mercury dimes housed in PCGS rattler and NGC fatty holders. These are photographed and hopefully will start reaching the price list today once proposed pricing is approved by the consignor.
Walking Liberty halves are hot as many of the ANACS Old White Holder pieces purchased at ANA are already on hold. I'm seeking more Walkers for consignment and/or outright purchase if strictly original and attractively toned. Dipped white examples with brilliant luster do not interesting me....original toning is the imperative.
1861 Scott CSA Restrike Arrives
Yes, the promised 1861 Scott Restrike half dollar arrived yesterday and what a beautiful example! This example, out of the 500 reported struck, offers strictly original surfaces and lovely gun metal gray patina. The CSA reverse has blue rims under bright light too! This is the first time that I study an 1861 Scott Restrike and examine the characteristics of the CSA die. This die still has unpolished radial lathe lines surrounding the CONFEDERATE STATES OF AMERICA legend plus considerable die rust pits. This piece resides in a PCGS AU55 holder and is approved by CAC.
But...the coolest aspect of this piece is the host coin. A quick inspection revealed the bisecting die crack through the date along with later die state devices. The host coin is the W-14 variety that was struck at the New Orleans mint during April 1861 during administrative control by the Confederacy. This is truly an important piece of American Civil history and will be listed on price list by end of day.
Featured Coin of the Day
I received a call yesterday evening from the consignor of the 1875-CC F-107 Seated dime graded NGC MS67. This is a no question condition census example with few CoinFacts records at this grade level. The consignor is serious about selling and agreed to drop the price to $9500. If there is potential acquisition interest, then please don't hesitate to contact me today.
Thank you for visiting today's Blog edition and we will see you bright and early on Wednesday morning!
August 24, 2015
Monday morning arrives and already the Asian financial markets are in panic mode with the contagion spreading to Europe. Globalization is indeed a reality as financial, disease and labor outsourcing events are now fully inter connected through electronic systems and air travel. For example, on Saturday we received an internet bill from Comcast for our Florida condo...Comcast doubled our premiums without notice! Diane calls to disconnect the service and learn why we were not notified of the Xfinity service upgrade at double the cost. I have never heard her so frustrated when reaching an India call center and the individual being barely understandable and providing no useful information. This is our new reality.
Back in Maine, I worked a full day loading newps and consignment pieces to the price list and finally called it a day at 9:30pm. The daylight basement sound room has become the end of day sanctuary for an hour of music and a double scotch. Last night 's entertainment was Peter Gabriel's Growing Up tour video shot in Milan, Italy. I am a huge Peter Gabriel fan having witnessed all of his United States tours except the Secret World tour which was most unfortunate. For those who are younger, Peter Gabriel was the original lead singer of Genesis and left the band during 1975 after the Lamb Lies Down on Broadway release. His departure allowed Phil Collins to take the reins as lead singer and eventually resulted in Phil Collins' more pop rock orientated compositions. Peter has been an advocate of world music throughout his career with In Your Eyes a showcase for Africa rooted music. I distinctly remember Peter featuring Australian Aborigines dancers on early tours and closing shows with the haunting melody Biko as a protest and global awareness song against South African apartheid.
Financial News
Let's check the Seeking Alpha for news concerning today's stock market panic..but first a comment about the media and how we currently receive biased news and information.
I'm becoming a believer that the electronic news media is one massive amplification system and can easily sway human emotions. The media can create a political celebrity like Donald Trump or can destroy individuals with the new "questioning" reporting format that looks to exploit any mis-statement. Taking quotes out of context has become the new normal to create drama. For example, one of this morning's NBC News headlines is Cubs Manager After Foul Ball Hits Fan: 'Pay Attention' with an image of Joe Madden appearing to yell at the fan and being unsympathetic. In reality, Joe's quote at post game press meeting was, "It's awful, pay attention," Joe Maddon, the Cubs' manager, said. "Those are wonderful seats, probably paying a lot of money for them. I see people turning their back to the action. You can't do it."
Now to Seeking Alpha on the stock market panic...
World stock markets fell sharply again as panic selling in China has picked right back up to start the week. China's stock markets have now wiped out the gains built up during the year. The Shanghai Composite Index closed down 8.5% after the lack of an official policy move from Beijing increased the level of anxiety. Many index futures contracts in China fell by their 10% limit in an indication more selling could unwind. Europe took its cues from Asia and is lower across the board. Dow Jones and S&P 500 futures point lower by close to 2%.
The falling price of oil is more worrisome to me than current stock market drop. The fracking industry borrowed heavily to fund expansion wotj debt payments becoming a significant default issue during 2016. Oil prices plunged to 6.5-year lows as concerns over demand from China rippled across energy markets. Brent crude is below the $45 per barrel level, while WTI crude is back into the $30s. Many industry watchers think prices will fall even further as OPEC producers continue to pour out more oil than needed. Crude futures -3.6% to $38.98/bb.
Looking at currency markets, the euro strengthened to $1.15 and the Japanese yen is also higher with traders discounting a move by the Federal Reserve to raise interest rates next month. The euro is now at its highest level since last February.
GFRC News
GFRC sales remained very strong during the weekend as more new customers are locating the website and the Daily Blog. Most phone orders or conversations begin with, "I read your blog" which is gratifying and provides the energy to keep writing each morning.
Just last night, I sold three choice original Seated quarters privately to a customer. The 1870 PCGS EF45, 1871 PCGS EF45 CAC and 1871 PCGS EF40 pieces were so well matched with original gray patina and would have taken the collector considerable time to locate on his own.
During the weekend, I also experimented with a Chinese language version of the Blog. Unfortunately, Dreamweaver does not appear to have the capability to publish Chinese characters so an alternative solutions is necessary.
Today's primary tasks include completing consignment spreadsheets with retail pricing for several large lots that still remain in the queue. The first is from a new consignor in Colorado and the second is a 29 piece Gold CAC Mercury dime along with high grade Walkers and $5 gold modern commemoratives for the Shanghai market.
Featured Coins of the Day
Let's share a few pieces that were loaded onto the price list yesterday. First up is an 1875 F-120 Seated dime residing in NGC MS63 holder. You might ask, why is Gerry excited about a common date 1875 dime as these are easily located on eBay or dealer price lists? The answer is F-120 was struck from polished dies and the fields are mirrored. The web-book plate coin resides in ANACS Old White Holder and looks like a proof. So when examining this 1875 consignment, I was excited to see a second example with the same thick patina and mirrored fields. This piece is lots of fun to view under bright light due to the multiple color changes depending on the viewing angle.
Next is a choice original 1876-S Seated half graded PCGS MS62 that walked up to the table at ANA. Yes, this is another common date coin but beautifully toned with considerable eye appeal under bright light. I hope you are catching my point here......coin collecting is not exclusively about owning the major rarities but rather owning a broad range of beautiful historical artifacts. You may have noted that I don't stock key date rarieties on the price list as few meet my standard for choice surfaces and overall eye appeal. Sometime to consider when determining a collecting strategy.
Thank you for visiting this morning. I have three hard boiled eggs that are ready for breakfast. See you tomorrow.
August 23, 2015
Weather forecasting is still an imprecise science. The Friday evening forecast called for cloudy conditions with showers throughout the weekend and into early next week. A front was due to stall on top of Maine for several days bringing a lack of sunshine. Luckily, the weather service models were incorrect and the front moved past Maine into the Atlantic. Saturday cleared up nicely with ample afternoon sunshine; current Sunday morning conditions being bright blue skies and a few wispy clouds. The air is dry and temps are in the 60s. Life is good and I will probably take a much needed numismatic break and work outdoors today.
Fall is definitely approaching as the Maine air starts to cool and leaves are already changing colors. The best indication of the forthcoming change in season are "burning bushes". The formal name is Euonymus alatus, and also known as winged euonymus and native to central and northern China, Japan, and Korea. The Fortin burning bushes have already turned a golden rose signaling that summer is over and I should be spending more time on firewood and less on coins during the next 30 days.
Important Liberty Seated Dime Discovery
The ANA show started with an important Seated dime die state discovery walking up to the GFRC table. Dick Graham offered a cleaned EF45 1876-CC dime early in the show and asked me to confirm what he was seeing. His discovery was facilitated by the online web-book where incremental Liberty Seated dime variety research has moved into a "crowd sourcing" or "community research" mode. Individuals are able to check their in hand coins against online documentation and determine if they might have located an important new variety or die state. In Dick Graham's case, his 1876-CC dime was indeed an important discovery and is pictured below.
Up until the 2015 ANA show, the 1876-CC F-112 variety was only known with either 45 or 65 degrees reverse rotation right. Finding an F-112 example is important as I've rating this die pairing variety as R7 in VF or better condition. Below are images of the F-112 (45 deg) and F-112a (65 deg) die states for comparison.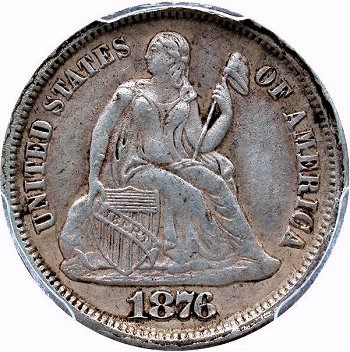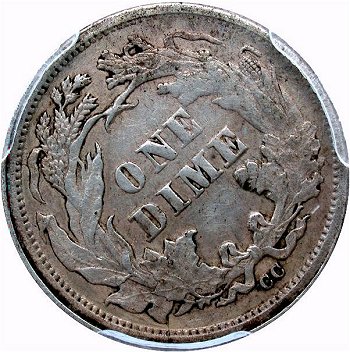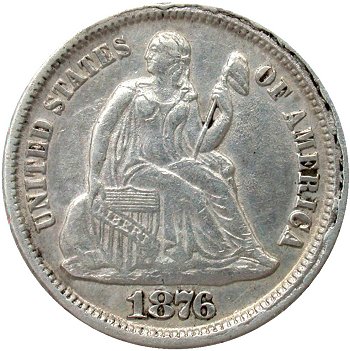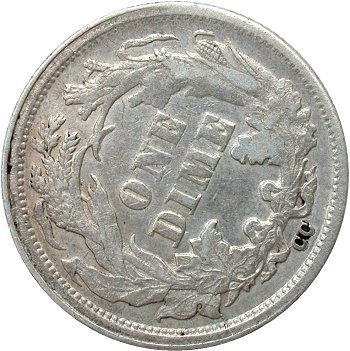 The Dick Graham example has only 8 degrees right reverse rotation with faint reverse die cracks that suggest it was struck before F-112 and F-112a. How cool is that after so many years of researching this series! A web-book update is in order for this discovery.
GFRC News
Thursday brings Ernie Botte's private dealer day in Westford, MA. This is an enjoyable event where Northeast dealers meet for 4-5 hours and conduct wholesale business among themselves; this is an invitation only event. Ernie provides the faciliaties and an incredible lunch. I will be in a buying mode seeking both Seated and 20th Century quality silver coins.
More consignments opportunities are appearing as recent sales performance validates the GFRC business model. On Monday, an 1874-CC Seated dime grading VF35-EF40 (based on images supplied to me) is shipping to Maine. This piece has faint porosity, per the consignor, with even rose gray patina. More on this topic once the dime arrives mid week.
The Washington State consignor is so pleased with the quick sale of his Barber quarter proofs that he is sending more coins for evaluation too...
The 1861 Scott Restrike grading PCGS AU55 CAC should also be arriving by mid week and I hear that another consignor wishes to sell a choice original 1862 AU55 Seated half among other properties.
Today's blog will be short as a weekend edition and there are still multiple PCGS blue boxes of coins needing to reach the price list. The Maine Collection Barber dime in PCGS holders are fully loaded on price list. GFRC sales remain strong as many of the newps are quickly being scooped up by active collectors. I'm open all day for business, but if calling, you might find me outside moving firewood...... Have a great Sunday!
August 22, 2015
Welcome to a weekend blog edition. There is not much difference with the weekday edition as we have the same writer attempting to be creative at 7:00am instead of 6:0am. The morning coffee is acting as reasonable mental fuel so here goes....
GFRC business continues to grow as collectors throughout the United States are discovering the website and the better quality offerings. Just yesterday, a new customer from the Northwest made a significant purchase and promised to be back more often. Others are making initial purchases to test GFRC quality and typically returning for more great coins. Post ANA show sales have been strong with August having the potential to be a record setting month. My primary challenge is operations and continuing to load newps and consignment on price list as quickly as they are sold. The numismatic retail business should not be a mystery to anyone. The fundamental premise is quality coins being offered at fair prices with great customer service.
Washington State LSCC Donation Update
The Washington State consignor donation to the LSCC brought about positive feedback after Thursday'a Blog posting. The LSCC officers were pleased with this kind gesture and an annoucement will be published in the September E-Gobrecht issue due out shortly. That is not all.... Another kind GFRC customer quickly made an offer on three of the donated pieces (Canadian coins) that was ABOVE the retail price. These individuals are sincerely thanked for their generosity and their support of the Liberty Seated Collectors Club.
Maine Collection - Barber Dime Set
I've spoken about the Maine Collection for months in the Blog with all of the coins dispersed except for a complete Barber dime set. As a refresher, the Maine Collection was the numismatic holdings of a real estate developer in Auburn, Maine. He collected mostly in the late 1950s through 1960s and stored his coins in Wayte Raymond album pages. I've sold some of his sets intact (half cents, large cents, Barber quarters and halves) and broken up others (bust halves and multiple type sets). Now the end of road arrives and the last set to be broken up and sold is his Barber dimes. I sent ten of the better dates to PCGS for grading at the summer Baltimore show and these are back and ready to be loaded on the price lists. Following is a brief preview of the pieces heading to the Barber price list today. FRoR is in order. The 1895 is graded PCGS VF35 and is choice with old album blue/rose patina. the 1895-O is strictly original PCGS G6 while the 1899 graded PCGS MS63 and offers strong eye appeal. Finally, the 1901-S resides in PCGS EF40 holder and has lighter centers framed with darker gray rims. Also holdered and posting to the price list today are 1892-S PCGS F12, 1896-O PCGS F15, 1898 PCGS PF62 CAM, 1899-O PCGS VF20, 1912 PCGS MS64 and 1912-D PCGS AU58. The balance of the collection remains in Wayte Raymond album pages and will be slowly added to the price list in raw state.
The Maine Collection - Barber Dimes Preview
GFRC 20th Century Product Line Expansion
I must admit that I'm a restless numismatic individual and always interested in exploring new areas. Continuous learning is very important to me and numismatics offers too many areas to explore! The forthcoming Shanghai show in November provides a good reason to begin expanding 20th Century product lines in a well planned manner and yes, with the same high standards for quality and eye appealing original coins. Chinese customers enjoy mint state Buffalo nickels, Mercury dimes, Standing Liberty quarters, Walking Liberty halves and toned Morgans; CAC approval is new to them but catching on quickly. This is traditional 20th Century United States coinage and the collecting community in the United States in huge. Therefore, I've not loss my Seated coinage roots or my mind.... GFRC customer and blog readers will see a well planned increase in "modern" coin offering during the next few months. These product lines will be sustained and grown during 2016 as hopefully the GFRC international thrust into China brings some rewards. Featured below are more of the ANACS Old White Holder pieces purchased at the ANA Show and heading to the price list today.
Due to either high humidity during the early part of the week or rain the last few days, I've not taken a long walk to stay fit. Current Maine weather looks to be perfect for a walk so today's Blog will end here.
Thank you for visiting and keep checking the GFRC price list as a huge amount of coins remain to the loaded this weekend.
August 21, 2015
Friday arrives at the GFRC office. Maine weather will be unpleasant the next two days with ongoing showers, fog and clouds into Sunday. Luckily, I've photographed a substantial amount of the remaining ANA purchase/consignments and these will be loaded to price list during the next 48 hours.
Daily price list visitors will notice the absence of newps being loaded yesterday as I spent nearly the entire day in the accounting department tallying consignor accounts. Many consignors are using their consignment credits to make purchases consistent with my vision of an active peer to peer trading desk business model. Consignors are using unwanted duplicates to fund new acquisitions in a facilitated GFRC trading environment. What actually happens in a "facilitated trading environment?" I borrowed the term "facilitated" from former semiconductor days where I would be asked to coordinate meetings of other organizations while having no direct stake in the content or outcome. My role was to ensure that meetings were conducted in a systematic manner with goals clearly defined, attendees staying on topic and action items captured.
The online definition of "facilitating" is straightforward....
- to make easier or less difficult; help forward an action, a process, etc. and/or to assist the progress of a person
A facilitated trading environment is where you drop off unwanted coins into a pseudo auction house environment. These coins are handled exactly (or better) than an auction house, are placed in an online catalog at fixed prices and sold. For example, most auction house descriptions are written from images and by contracted numismatists. At GFRC, your coins are described while being viewed in hand and under bright light. Photography is done with natural lighting to secure the exact colors without excessive contrast (the technical term is "juiced up"). Once the consigned coins are sold and accepted by buyers, the proceeds are traded into new coins on the price list. This peer to peer trading desk will only work if...
1. The overall quality of the coins within the trading desk is high.
2. The facilitator is a senior numismatist with auction house quality images/descriptions and is 100% trustworthy.
In summary, my vision is being well executed based on yesterday's accounting results; nearly $10,000 in GFRC August consignment sales were plowed back into new purchases.....I'm sure this number will grow as more individuals utilize this concept.
Gerry Fortin Collection Upgrade
Believe it or not, I actually bought a Seated dime at the ANA show for my collection. This 1889 F-110 (Repunched 889) specimen grading PCGS MS67 CAC walked up to the GFRC table and is one of the most beautifully toned dimes ever seen. Here is this special piece. I will be releasing several 1889 mint state duplicates into the price list to help pay for my addiction.
Washington State Consignor Donation to LSCC Treasury
In yesterday's blog, the Washington State ANA consignment was illustrated. This kind individual previously consigned a reasonable sized group of World Coins and decided to give all the sale proceeds to the LSCC as a donation after attending his first LSCC meeting last week. A heart felt thank you is expressed as every extra dollar of funding helps the LSCC with its outreach and education agenda. Following is a gallery of the donated world coins. Current asking prices can be located on the World Coin price list and I will be accepting offers. Again, all sales will be donated directly to the LSCC treasury.
The Washington State LSCC Donation
Financial News
World stock markets are experiencing a downward trend of late and gold is moving back towards $1200/oz. Is there concern for ongoing currency devaluations in most of the world except the United States? Here is an interesting chart that illustrates how gold acts as financial insurance when one's country begins to devalue its currency. On the otherhand, if a currency becomes stronger (like the United States), then gold, as priced in that currency, will decrease. Just remember the longer trend over 10-20 years with gold being one of the few options for protecting personal wealth.
Seeking Alpha Headlines
World stocks are heading for their worst week of the year after data showed Chinese factory activity shrinking at the fastest pace since 2009. Marking the fifth straight month of contraction, the flash Caixin/Markit China Manufacturing PMI fell to 47.1 in August, compared to a final reading of 47.8 in July. More than $500B was erased from the S&P 500 yesterday, while the Dow plummeted below 17,000 for the first time since October.
Oil spot price has to be nearing a bottom soon else the United States oil industry will be badly damaged and bond defaults are just around the corner. Little has been mentioned on this topic but your personal research may be warranted. It still hasn't hit the $30s, but WTI crude is heading for its eighth straight weekly decline, the longest weekly losing streak in about thirty years. In late 1985, oil prices slumped to $10 from around $30 over five months, after OPEC raised output to counter an increase in production outside the group. Weaker global stock markets and data from China's factory slowdown are particularly weighing on the commodity today, adding to worries about lower demand. Crude futures -0.7% to $41.04/bbl.
Featured Coins of the Day
I'm passing on featured coins this morning as already 8:00am and a three hard boiled egg breakfast (with chipolte mustard) is calling me. Please check the price lists today as there will be a host of new coins for your review.
As always, thank you for visiting with me this morning and I will see you bright and early on Saturday!
August 20, 2015
Welcome back to the Blog and thank you so much for stopping by this morning.
This is Day 5 after the ANA show with the GFRC office starting to return to a normal operating state. Inventory is properly filed and the number of blue PCGS boxes is shrinking as each consignment or newps is processed. Sales response has been excellent and is only limited by my ability to load offerings in a quicker manner without any reduction in image quality or customer service support. Yesterday was long as I started processing the New Jersey Collection images at 5:30am and loaded the last coin on price list at 10:00pm. So if you ever plan to be a successful coin dealer, then consider the long working hours.....on a positive note, a GFRC customer sent along the following comment from his brother who attended his first ANA show and LSCC meeting last week. This comment well summarizes my feeling concerning the GFRC business and why I work these long hours. David said he really liked your blog comment about what a blessing it is to be surrounded by beautiful coins. He said it is the mark of a true coin-lover. He was reading your blog while waiting in the park in New York City to get free tickets for tonight's open air Shakespeare performance.
Today's first Blog topic is a cool Seated dime minting error that I was completely unaware of until Ken Rubin emailed an 1851-O Seated dime image. After seeing his image, I asked that the piece be sent for photography and inclusion in the web-book. Following is Ken's 1851 New Orleans struck dime graded PCGS AU50 with completely missing Star 7 due to a filled die. With a 10x loupe, I can see a very faint outline of the Star 7 points in the field between Star 6 and Liberty's head. This filled die error will be given its own Fortin number (F-101a) and unique page in the web-book.
GFRC Consignment News
Yesterday, the New Jersey Collection Part II was featured in the Blog and added to the Client Gallery. Today it is the Washington State consignment. This is the fourth significant transfer of coins from this consignor; we finally met at the ANA show at my table, at the LSCC meeting and in the Hilton lobby as I was waiting for a shuttle ride back to O'Hare. This individual collects a variety of designs and denominations but with a keen eye for quality. The 1869 Shield 5c is stunning and resides in an NGC MS64 holder while the 1896 and 1912 Barber quarters are both grade PCGS PF65 with CAC approval. The 1896 is also designated as Cameo. The two Walkers are better dates in PCGS MS65 and available on that price list.
The Washington State Consignment
Financial News
While the United States media is focused on drama headlines about what Donald Trump said or what others are saying about Donald Trump, the world is moving into a period of unsettling currency issues as more countries have no choice but to devaluate their currencies. Here are some must read headlines from Seeking Alpha including a suggestion that the IMF will not add the Chinese Yuan to the basket of world currencies this year.
Kazakhstan's tenge plunged a record 23% at the start of trading today, following a surprise announcement the government would allow the currency to float freely. The move continues a currency war being fought in the emerging markets. Vietnam devalued its currency on Wednesday for the third time this year after a similar move in China, while Russia is allowing the ruble to track the drop in crude, which has tumbled 58% over the past year.
Oil prices are continuing to collapse, and the bottom remains elusive because not one of the world's largest producers is showing any signs of blinking. WTI crude slumped over 4% on Wednesday on data showing an unexpected U.S. supply build of 2.6M barrels, sending prices to levels not seen since early 2009. Oil futures now look set to fall into the $30s per barrel, a low range many analysts did not see coming. Crude futures -1.5% to $40.21/bbl.
Chinese shares also sunk back into the red today as traders weighed the level of state support for equities amid concern a slowing economy and weaker yuan will spur capital outflows. The pressures in the mainland are spilling across the region, with Hang Seng officially entering a bear market during the session. The index has now dropped more than 20% from a high reached in April. In yuan news: The IMF signaled the renminbi won't be added to its basket of reserve currencies for at least another year, despite many analysts seeing confidence in China's new pricing regime. Shanghai -3.4%; Hang Seng -1.8%.
Featured Coins of the Day
Wednesday's featured dime, the beautifully toned 1885 F-107 PCGS MS65 dime did not last long and is on hold. Today, another special Seated dime is offered for selective collectors. I've always respected the 1859-O date in Mint State as few have been seen; uneven strikes have been an issue on those available so my collection in mostly EF-AU pieces for this reason. If I were still actively collecting, then this PCGS MS 63 F-103 Small O example would be the answer to my prayers. The strike is simply incredible coupled with lovely blue and rose patina. Take a close look at the head details and the reverse wreath leaves....every micro detail is fully struck!
I'm becoming enthused about stocking Walking Liberty halves, especially those that exhibit natural rim toning and have not been dipped to increase their brilliance. On Saturday at the ANA show, an individual walked up to the table with a box of ANACS old white holders including a fair number of Walking Liberty halves. GFRC bought nearly all the halves as they were nice and original and the timing was perfect to start ramping up this product line. Please pay attention to the Walking Liberty half price list in months prior to Shanghai November show as I will be actively searching out better dates but with the same strict requirements for originality and eye appeal.
August 19, 2015
Good morning and welcome to another exciting numismatic day! The late summer heat wave just will not quit and at 6:45am, I'm already sitting in front of a tall floor size fan for comfort while writing today's blog.
Working through the ANA show newps and consignments is challenging but also much fun. Each day, I am blessed to be surrounded by beautiful coins as each consignment is systematically photographed, added to consignment Excel sheets, featured in the Daily Blog and Client Gallery and then posted to the price lists. Post ANA sales have been strong and are limited by my ability to process images/website work followed by order packaging and shipping. The GFRC office is a mini production line with blue PCGS boxes staged in various production queues. On Tuesday, the day started at 6:00am and I finally quit at 9:30pm to once again visit the basement sound room, have that well deserved double scotch and listen to early Coldplay before heading to bed.
GFRC Consignment News
It gives me great pleasure to announce that GFRC will be handling an 1861 CSA Scott Restrike half dollar graded PCGS AU55 CAC. A generous consignor approached me immediately after ANA show on this matter and we are working out the details. Below are images of this originally toned example. Stated mintage is only 500 pieces and the host half dollar will be discussed in greater detail in a forthcoming blog. All Scott Restrikes are found with flat obverse details since only the reverse was struck on these pieces and flattening the obverse devices during the process.
While at the ANA show, I took transfer of the balance of the New Jersey Liberty Seated half dime collection. Clearly this is an old time set that has been off the market for decades. Key Civil War dates were one of the set's emphasis points and I proud to illustrates these (plus a lovely 1839-O and an incredibly toned 1835 Capped Bust half dime) in the following mini gallery. These pieces reside in NGC holders and are graded as follows; 1839-O AU53, 1865 AU58, 1865-S AU58, 1867 AU58, 1867-S AU58 and 1835 AU58. Look for these pieces to reach the price list by the weekend as offer pricing has yet to be settled.
The New Jersey Collection - Part II
First Right of Refusal Sales
Several more ANA acquisitions were sold yesterday consistent with the FRoR program. Individuals who are quick to email on targeted coins are immediately serviced with priority photography and pricing. Individuals who use the FRoR option are never under pressure to buy the requested pieces. GFRC FRoR purchase rate is typically 75% so don't be cautious about using this program. Tuesday's FRoR sales included an 1878 NGC AU55 Seated dime with lovely gun metal gray/blue toning, a choice original 1848 RPD/Compass Date quarter graded PCGS EF45 CAC and a lovely 1870 Seated half graded PCGS AU55. None of these coins will reach the price list.
Financial News
I'm still standing by my forecast that the Federal Reserve will not raise interest rates at its September meeting. Considerable speculation and drama will be with us for the next month. Granted the US unemployment rate (as measured by the government) is at 5.3% but the quality of job creation is mostly in the service sector at low hourly wages. Wage growth is anemic and is lagging true inflation numbers. Below is a quick graph illustrating year on year wage growth from the Department of Labor's quarterly Employment Cost Index (ECI). Wage growth is Janet Yellen's favorite wage indicator for good reason: it most accurately reflects the true cost of labor to businesses.

This morning's Seeking Alpha headline leans on the side of a forthcoming interest rate hike.....
The Fed is likely to raise its benchmark interest rate as soon as its next meeting in September, but some officials are still harboring misgivings. An account of the central bank's most recent get-together, which will be published at 2 p.m. ET today, is likely to describe the extent of those concerns. Keep in mind that the minutes are released with a three-week lag, so they don't capture precisely how the landscape has changed since July. China's currency devaluation and a continued slide in oil prices seem to weigh against raising rates, while solid hiring last month supports the case for moving.
But consider the following.....
A slump in emerging market confidence has led to $1T in capital outflows from developing economies over the past 13 months, roughly double the amount that fled during the financial crisis. The sustained exodus of capital highlights concerns that emerging markets, suffering slowing growth and weakening currencies, are relinquishing their longstanding role as locomotives to become a drag on demand.

Featured Coins of the Day
A fair number of coins reached the price list yesterday and none better than this incredible 1885 F-107 PCGS MS65 Seated dime. This dime was a walk up purchase at the ANA show and would have headed directly into my collection before transitioning into dealer role. This piece has it all...eye appeal, strike and originality and belongs in an advanced collection. (On Hold)
Next is a choice original 1845 Seated dollar that resides in PCGS AU53 CAC holder. Surfaces are covered with classic gun metal gray patina that turns gray/blue under bright light. Don't you wish that all surviving Seated dollars could have this appearance?
Thank you for visiting and reading through this long blog. We will see you bright and early on Thursday morning with more GFRC coin news!
August 18, 2015
Welcome to another Blog edition on this hot Tuesday morning. Maine is experience a late summer heat wave with little if any rain in the forecast. As I look out my office window, already the burning bushes are slowly starting to add some red hues and the maples are offering a few yellow and red leaves. Time goes back so quickly...in just six weeks, Maine foilage colors will be at peak levels.
As I scanned recent blogs, it became apparent that blogs without coins images are rather boring. Maybe I'm just a visual person and need color for stimulation. Being dyslexic brings negatives that are well balanced with acute visualizations skills. Yes, I have struggled with dyslexia issues of reversing numbers, constant grammar and typing mistakes and the most frustrating of all, reversing letters when handwriting. Have you ever wondered what it is like to write and start with the second letter in a word rather than the first? Over the years, I've implemented strategies to deal with this limitation. But people with dyslexia are blessed with strong visualization skills and the ability to take abstract concepts and turn into concise images. In the corporate world, I was well know for building some of the best Powerpoint presentations and the ability to simplify complex issues into several slides with bubble diagrams. Thank goodness for spell checking functions within advanced business software.
Back to coins! Today's blog will be heavy on coin images as I am so excited about the broad range of new inventory and also, the strong FRoR response that arrived yesterday. But first, let's take a stroll through some financial headlines as I am starting to worry about early signs of an impeding global currency crisis including the US dollar becoming too strong for our own slow growth economy. There will be ample chatter in the financial press about the September Federal Reserve Meeting and the interest rate decision. I just don't see how the Fed can raise interest rates when the US dollar is already so strong and other countries are racing to devalue their currencies. An excessively strong US dollar will degrade exports and provide an incentive to move more US jobs into weak currency countries. Please give this some thought and listen if presidential candidates will address this issue.
Financial News from Seeking Alpha
Shanghai Composite was hammered last night....Shrugging off signals of a housing market recovery, Chinese shares dove deep into the red today, after the PBOC took fresh steps to offset capital outflows prompted by its weakened currency. China's central bank placed 120B yuan ($18.8B) worth of seven-day reverse repos into the money market during the session - the largest single day injection in almost 19 months. The latest rout raises concerns of whether recent government rescue efforts have succeeded in restoring market confidence. Shanghai -6.1%; Shenzhen -6.6%.
Thailand's baht is also under pressure...Already whacked by a devalued China yuan, Thailand's baht has now fallen to its weakest level since 2009 after a powerful bomb blast killed at least 20 people in Bangkok's central shopping district. The currency slid 0.6% to 35.581 per dollar, while the county's SET All-Share index dropped 2.5%. Thailand's Prime Minister Prayuth Chan-ocha described the bombing, which took place near a notable Hindu shrine, as the "worst ever attack" on the country.
Oil prices continue to fall and while consumers are pleased, the oil industry driven US economic recovery has derailed... Both crude oil benchmarks are now almost a third below their last peak in May as traders brace for lower refinery consumption after the summer, while weak global demand and high production fuel concerns about oversupply. Data shows speculators have taken huge bets on further falls and hedge funds have cut their net long holdings of Brent for a fourth straight week. Brent crude is trading down 0.4% at $48.53 a barrel, while WTI is 0.5% lower at $41.6/bbl.
First Right of Refusal Sales
Seated halves are hot and have become the leading GFRC sales product lines. Below are ANA show Newps that are sold and will not be reaching the price lists. Images are still generated as a courtesy to customers to help with evaluation and purchase decision.
The Alaska Consignment
At the ANA show, I received a small consignment of nice original Capped Bust quarters that will be called the Alaska Consignment. The dates and grades are; 1835 B-6 PCGS EF45 OGH, 1836 B-3 PCGS EF45 CAC and 1838 B-1 PCGS EF45 CAC. The 1838 date always seems to be under demand due to transition year status with Liberty Seated coinage. These pieces will be priced and found on the Capped Bust quarter price list today.
ANA Show Newps
I'm slowly working through the vaste amount of coins acquired at the ANA show; it is only Tuesday after all..... Below is a sampling of coins that will reach the price list today. Some were purchased by me while others are consigned. Again this is just a random sampling. The first piece is another 1838 V-10 half dime with massive reverse spalling and graded PCGS MS62; this is the second example handled at GFRC. Next is pure eye candy 1913-D T1 Buffalo graded PCGS MS64 followed by a high grade 1876-CC F-107b Double Die Obverse Seated dime. All three of these coins walked up to the GFRC table and were offered for purchase.
The next row is a preview of the Washington Consignment and I will have a complete pictorial listing in tomorrow's Blog. We start with an exceptional 1912 Barber quarter proof graded PCGS PF65 and approved by CAC. Then there are choice 1934-D and 1936-S Walking Liberty halves; both are graded MS65.
Please check back throughout the week as I update the Client Gallery and feature more consignments in the Daily Blog.
August 17, 2015
Good morning from Maine! Sunday travels were uneventful and I finally arrived home at 9:00am, brewed a cup of coffee and watched Meet the Press to catch up on the political news front after a long numismatic week. It was great to be home and to take a short reprieve from the hectic coin dealer and LSCC leadership roles. Since last Monday, I literally had no time to pick up a free hotel newspaper or to break away from the numismatic grind and read BBC News or explore the latest Seeking Alpha financial headlines.
I spent the balance of Sunday hours either on the laptop capturing GFRC ANA transactions in the financial database or photographing the multitude of new coins acquired or those that arrived via mail from recent PCGS submissions. Diane jumped in to help too. She deposited non dealer checks (dealer checks are deposited on Monday/Tuesday as a cash flow courtesy) using mobile banking, followed by several hours reorganizing coins by date and denomination and then systematically labeling each box to speed up access during online order packing and shipping. Next was booking the November Whitman Baltimore show hotel and checking United Airlines for flights to Shanghai in mid November. By 8:30pm, I was exhausted, grabbed a double scotch and proceeded to the lower level sound room to enjoy Robert Plant's Dreamland recording. I only remember a few songs as quickly fell asleep......
Monday is here and I am surrounded by many blue PCGS boxes containing a substantial number of new coins. Today's primary goals are packaging/shipping of online orders, more photography and contacting GFRC consignors concerning their ANA sales results. The latter is a courtesy as I truly appreciate the trust that is extended by the many consignors working with me. In just two year's time, over 40 individuals have joined the GFRC consignor ranks. My prior semiconductor operations background does come in handy for handling inventory tracking complexities.
I promised to list out new coins and consignments in this morning's blog. Following is a long list of coins that will shed some light on the expanding GFRC inventory profile. Several coins are already sold and will not reach the price lists. FRoR is in order if you see items of interest. I will do my best to record your selections and begin to offer once images and pricing are finalized. Please understand that this list will also be used by GFRC Shanghai agent, Harry Zhang, to kick start China sales activities.... All coins were carefully selected/purchased by me, Jim Poston or are on consignment. The Barber dimes are just back from PCGS and from Wayte Raymond storage in the Maine Collection. The high grade Seated half dimes are from the New Jersey Collection and I still have the balance of this set in 1961 National Coin Album to work through. Please note.....ANACS OWH = Old White Holder, PCGS OGH = Old Green Holder
9:40 am - To the best of my knowledge, this is the final listing of ANA Show NEWPS, Consignments and returned PCGS Submissions. Have fun looking through the list and please use FRoR on coins that may interest you. Many thanks....
Bust 5c: 1831 PCGS MS63 choice light gold; 1835 NGC AU58 so choice, early fatty holder
Seated 5c: 1838 PCGS MS62 V-10 spalling reverse and so choice; 1839 PCGS EF40 even gray; 1839-O NGC AU53 gray, early fatty holder; 1864 PCGS PF62 choice gray; 1865 NGC AU58 choice; 1865-S NGC AU58 old album tone; 1867 NGC AU58 lustrous; 1867-S NGC AU58 lustrous
Shield 5c: 1869 NGC MS64 choice PL surfaces
Buffalo 5c: 1913-D T1 PCGS MS64 beautiful old album toning; 1931-S PCGS MS64 bold luster; 1936-S PCGS MS65 choice
Bust 10c: 1833 PCGS EF40 CAC choice gray
Seated 10c: 1854 PCGS AU58 CAC lustrous; 1859-O PCGS MS63 choice toning; 1866-S PCGS F12 light gray; 1866-S PCGS F12 choice gray; 1872 F-115 DDR EF40 gray; 1876-CC F-107b AU58 choice VLDS, 1876-CC PCGS MS64 old album bullseye toning; 1877-S NCG AU58 choice gray; 1878 F-102 NGC AU55 old album toning; 1885 F-107 PCGS MS65 gem toning/luster; 1885-S PCGS AG3 problem free gray, 1888 F-107 MPD NGC MS64 CAC
Barber 10c: 1892-S PCGS F12 even gray; 1895 PCGS VF35 choice gray; 1895-O PCGS G6 choice gray; 1896-O PCGS F15 choice gray; 1898 PCGS PF62 CAMEO light tone; 1899 PCGS MS63 satiny luster; 1899-O PCGS VF20 even gray; 1901-S PCGS EF40 gray, 1912 MS64 choice light gray; 1912-D PCGS AU58 choice light gray
Mercury 10c: 1936 PCGS MS64 Gold CAC rattler holder; 1937 NGC MS66FB Gold CAC green label; 1937 NGC MS65 Gold CAC green label; 1939 NGC MS65 Gold CAC green label; 1940 PCGS MS65FB Gold CAC rattler holder; 1940-D PCGS MS65 Gold CAC rattler holder; 1942 NGC MS65 Gold CAC green label; 1943 PCGS MS64 Gold CAC rattler holder; 1943-D NGC MS65FB Gold CAC green label; 1943-D NGC MS65FB Gold CAC; 1944 NGC MS67 light gray luster; 1945-S PCGS MS65 Gold CAC rattler holder
Bust 25c: 1835 PCGS EF45 OGH even gray; 1836 PCGS EF CAC choice gray, LDS; 1838 PCGS EF45 CAC choice gray
Seated 25c: 1840-O ND NGC EF40 Br 2-B gem original gray; 1840-O Drap PCGS VF20 CAC choice original gray; 1841 PCGS AU50 choice light gray, easy CAC; 1848 PCGS EF45 CAC Br 1-A Compass Point choice gray; 1851 PCGS EF40 even light gray; 1861 PCGS AU50 choice gray; 1868-S PCGS EF40 CAC choice light gray; 1871 PCGS EF45 CAC choice gray; 1871 PCGS EF40 light gray; 1872 PCGS EF40 choice gray
Barber 25c: 1896 PCGS PF65 CAMEO CAC beautiful coloring, 1912 PCGS PF65 CAC rose/blue patina
Standing Liberty 25c: 1917-D PCGS AU55FH choice luster; 1917 T2 PCGS AU53 choice luster; 1917-S T2 PCGS AU58 choice luster; 1928-D PCGS MS62FH satiny luster; 1929 PCGS AU58FH satiny luster; 1930 PCGS AU58 choice
Washington 25c: 1937 PCGS MS64 choice
Bust 50c: 1812 NGC AU55 NGC CAC, choice gray; 1818 PCGS EF40 choice gray, easy CAC
Seated 50c: 1841 NGC AU55 choice old album tone; 1842-O NGC EF45 Med Date; 1844 NGC AU55 CAC Eric Newman toning; 1848 NGC EF45 choice gray; 1849-O PCGS VF30 CAC even gray; 1852 PCGS VF35 even gray; 1854 PCGS EF40 CAC, choice gray; 1861-O PCGS EF45 choice gray; 1869-S PCGS EF40 even gray; 1870 PCGS AU55 choice light gray; 1871-S PCGS AU55 CAC choice luster; 1876-S PCGS MS62 choice gray; 1877-CC PCGS AU55 choice luster; 1882 PCGS PF64 CAM strong mirrors
Walking Liberty 50c: 1934-D PCGS MS65 gem luster; 1935 ANACS OWH MS65 old album tone; 1936-S PCGS MS65 well struck and choice; 1940-S ANACS OWH MS65 satiny gray luster; 1941 ANACS OWH MS66 satiny luster; 1942-D NGC MS65 lustrous gem; 1943 ANACS OWH MS66 toned gem; 1943-D PCGS MS66 CAC satiny luster; 1943-D ANACS OWH MS65 lustrous; 1944 PCGS MS66 CAC toned; 1944-D PCGS MS66 satiny luster; 1944-S ANACS OWH MS65 old album tone; 1945 PCGS MS65 lustrous gems (2); 1945-D PCGS MS66 satiny luster; 1945-S PCGS MS65 lustrous; 1946 PCGS MS65 lustrous gem; 1946 ANACS OWH MS65 undergraded; 1947 NGC MS66 CAC lustrous; 1947-D NGC MS66 lustrous; 1947-D PCGS MS65 lustrous gem; 1847-D PCGS MS65 lustrous
Seated $: 1845 PCGS AU53 CAC choice gray
Morgan $: 1880-S PCGS MS66 gem dual side toner; 1880-S PCGS MS65 CAC dual side rainbow toner; 1903 ANACS OWH MS65 light gold
Peace $: 1923 PCGS MS63 CAC reverse toner, scare!
Thank you for visiting the Blog this morning....images and Client Galley pictorial will starting appearing tomorrow as I work through the multitude of coins from ANA show!
August 16, 2015
Greetings from the Boston Logan airport at 3:00am!
Yes, the return trip from Chicago to Maine via Boston turned out to be unpleasantly eventful. My 5:30pm flight suffered multiple hourly delays until we finally departed Chicago OHare at 11:00pm time. The last Concord Trailway bus of the day to Portland is 11:25pm ET followed by the first pickup of the day at 6:00am. So here I am in the Logan baggage claim area with three hours to kill. So why not write an early blog since I will be intransit back home between 6:00 and 9:00am?
Many of you may be wondering why there was no Blog on Saturday morning.... I wrote the Blog on schedule but lacked free wireless access at the hotel. The Rosemont Hilton is not wireless access friendly and charges $10 per day. Being a typical cost conscience coin dealer, I hoped to find someone on the bourse floor that might have smartphone hotspot capability but once arriving, booth setup and wholesale business started quickly. My apology to loyal Blog readers for missing the upload. Below is the Saturday ANA show summary along with comments about a truly enjoyable dinner with close friend Bill Bugert.
On a positive note, I just realized that my Samsung Galaxy has hotspot capability and debugged this wireless function at the airport. So today's early morning blog uploading is happening via my smartphone. It is indeed possible for an old dog to learn new tricks.....
ANA Show Summary
Gerry Fortin Rare Coins had a strong ANA show that exceeded expectations. The best show days were Tuesday through Thursday while Friday exhibited a notable slow down in collector attendance. Saturday was a buying day as wholesalers were walking the floor attempting to make their show with last minute sales. GFRC buying goals shifted from Seated and Bust to top quality Walking Liberty halves. Within the multiple ANA show consignments are at least ten quality mint state halves so I decided to augment this product line with another twelve pieces from wholesale purchases. So please pay attention to the Walking Liberty half dollar price list during the upcoming week for some great new offerings.
At the ANA show, Liberty Seated coinage was by far the top seller while Draped and Capped Bust sales were limited. I did manage to sell three higher priced pieces from the World Coin price list also. Having Jim Poston on board as a buyer allowed me to focus on retail sales and meeting online customers face to face. Mint State Seated dimes were hot but there were equal sales across the dime through half dollar denomination and even some half dimes sold too.
GFRC consignment business continues to accelerate. After receiving seven consignment in the last ten days prior to ANA, I took in another five consignment at the show. One consignment was only a choice original 1845 PCGS AU53 Seated dollar while another was a 29 piece lot including seven PCGS/NGC MS66 Walkers, thirteen Gold CAC Mercury dimes grading MS64 and MS65 along with nine modern $5 gold commemoratives. Another consignment brought an incredible 1869 Shield 5c graded NGC MS64 with PL surfaces, several Barber quarter proofs (PF65 CAM) and really choice Walkers. I also took possession of the balance of the New Jersey half dime consignment with many raw pieces in a 1961 National Coin album. Of course, Jim Poston brought many new Seated halves to augment ANA inventory.
W. David Perkins and I discussed table strategy for next year's ANA show in Anaheim, Californina. Expectations are quite low based on the terrible Los Angeles ANA held years ago. We will most likely share a corner table at the ANA Anaheim show but still have six months to think this through. Fortin and Perkins will be maintaining a corner and regular table configuration and have already reserved at November Baltimore and Winter FUN.
Sunday will be a rest day since not sleeping for 24+ hours and I will seriously report on Newps and consignments in the Monday morning Blog. Might as well use the next several hours to removed all ANA sales from the price lists along with updating GFRC consignor accounts with their ANA sales results.
Again thank you for checking in!
August 15, 2015
ANA Show Report Day 4
A pleasant good morning on the last GFRC day at the 2015 ANA World's Fair of Money show. Thank you for visiting once again.
Friday show attendance turned out well with more new faces visiting the GFRC booth resulting in another strong sales day. GFRC business as been nearly all retail with an occasion dealer purchasing some of the better coins for their inventory. The majority of the transaction have been Liberty Seated coinage followed by World coins. Bust sales have lagged though the beautiful toned 1834 quarter graded PCGS EF45 CAC did find a new home along with several Draped Bust halves. I was pleasant surprised with the strenght of raw coins sales but then again, I work hard to stock problem free original coins that are TPG candidates. By 3:00pm, floor traffic clearly slowed and allowed time to organize paperwork and the multiple consignment that arrived during the day. Just in one day, GFRC received an 1845 PCGS AU53 CAC Seated dollar, a three piece Capped Bust quarter lots (all PCGS EF grade range) and an attractive group of Barber proofs quarters and high grade earlier date Walking Liberty halves. I did spend a short amount of time at several wholesaler booths but the coins was mostly drecks and inconsistent with my standards. Blog readers should realize that there is a significant amount of inferior coins at major shows that move around between dealers, each hoping to find buyers for these "value" pieces. None of this material landed at the GFRC tables as I was very selective on the buying side at this show.
The day closed with a private dinner with best friend Bill Bugert. We dined at the Hyatt while a Beatles music convention was underway. Everywhere were young and old Beatles fans with Let It Be album art T-shirts and other attire consistent with the evening's theme. The hotel's background music became a catalog of early Beatles classics. Bill and I located a quiet corner in the restaurant, ordered a lovely bottle of wine (Spellbound Petite Syrah 2013 vintage) from Napa Valley and enjoyed each other's company over dinner. Topics includes the LSCC progress during its transitional year and ideas for achieving the club's outreach mission to the next generation collectors while still maintaining focus on ground breaking numismatic research. Please be assure that dinner was not all business talk as we used the opportunity to catch up on our personal lives.
After dinner, I returned to the hotel room and started the long process of sales inputs into GFRC master database along with the consignor spreadsheets. By 11:30pm, it was time to head to bed for much needed rest. GFRC consignors should be pleased with the substantial sales volumes and the turnover of coins into cash or consignment credits. Each will be contacted this upcoming week with a progress report.
Saturday is the last GFRC day at the ANA show. I'm closing down the booth starting at 1:30pm and preparing for another long transition day back to Maine. The journey includes a UA flight back to Boston, then bus ride to Portland followed by the drive home to Raymond. If all goes well, I should be home by midnight with Sunday being a day of decompression and relaxation.
I'm sorry but listing Newps or consignment pieces in this morning Blog is not possible since I need to pack, have a quick breakfast and reach the bourse floor once again for the 8:00am dealer open. I will write a short Blog on Sunday and also hope to start catching up on global and financial news in the Monday edition. There is keen interest on China's decoupling of the Yuan with the US Dollar though I don't believe this event is as dramatic as made out to be in the media.
Once again, thank you for checking. It was humbling to have multiple individuals walking up to the GRFC table during the show, introducing themselves and announce that they were loyal Blog readers. The positive feedback is appreciate and provides energy to continue writing on a daily basis.
August 14, 2015
ANA Show Report Day 3
There are several highlights from Thursday activities at the ANA show. We start with the LSCC Annual meeting which turned out to be a great success after several months of careful planning. The conference room was packed with sixty club members and guests as the meeting started. Q. David Bowers opened the meeting with a discussion of the upcoming Whitman Liberty Seated book along with a fond congratulations to John McCloskey for his previous 39 years of LSCC leadership. Our meeting moved along with a large group photo, followed by introductions and then the annual awards. Bill Bugert announced the 2015 awards. Jim Laughlin received the E-Gobrecht award for his monthly historical publications research and insightful articles. Greg Johnson received the Kamal Ahwash award for best Gobrecht Journal article. Greg's article on Top 25 Liberty Seated quarter club survey results was a masterpiece. Lastly, the LSCC Hall of Fame inductee was announced after Bill Bugert provided a review of criteria and those who were previously inducted. With a standing ovation, Jim Gray humbly received his Hall of Fame induction award and provided a touching speech about the early days of his hobby. Club business was next on the agenda with four motions being made and approved. After a Treasurer's and Regional Director's report, Craig Eberhart introduced Bob Merrill of Heritage Auctions. Bob is very well known to all of us and proceeded to call one of the funniest auctions in recent memory. It was an absolute delight to have Bob working through our 14 important lots and when the dust settled, the club had raised $7000 to bring the treasury into a strong financial position.
After the meeting, I returned to the bourse floor for one hour, did some over the table business as the floor was humming once again. Then at 11:30am, it was time to present at the Newman Numismatic Portal (NNP) session sponsored by the NBS. It is with great pleasure to announce that the Liberty Seated Collectors Club has taken a leadership position by allowing the NNP project to digitize all Gobrecht Journal back issues. During my presentation, I attempted to drive home the point that enabling the next generation collectors and numismatists means taking research information to the web in a Wikipedia styled portal. The NPP will be indexing the Seated Liberty Web-book and the LSCC Gobrecht Journal. I also encouraged other numismatic authors to migrate their hardbound book research to the web.
Back on the bourse floor, the show started to slow down at 2:00pm. At 3:00pm, Len Augsbuger arranged a one on one meeting with Andy Newman (son of Eric Newman) at my table. I will not go into the subject matter but only say that the discussions with productive. Jim Poston and I closed down at 6:00pm and headed back to the hotel for 30 minutes of rest before it was time to walk to Five Roses for the LSCC club dinner. We had a great time with fireworks closing out our evening as we exited the restaurant at 9:30pm. Back at the hotel room, Jim and I worked until 11:00pm pricing his newps.
Newps? Jim Poston was once again active on the floor and more newps arrived to Tables 617/619. I must apologize for not having a list for this morning's blog but the amount of activities just did not allow time to record each coin. I will be making a list of all newps today and will be posting in Saturday morning's Blog. More consignments arrived on Thurday and those will also be captured on Saturday morning.
I do need to be brief this morning as an LSCC Officers breakfast is being held at 7:00am for important business discussion followed by the bourse floor opening at 8:00am. Jim Poston is also heading back to Kansas this morning and I need time to say a proper goodbye. This was Jim's first major show event and he was well accepted into our numismatic circle.
Overall, the 2015 ANA has been a great success for the LSCC and GFRC and we still have two more days to go!
Thanks for visiting once again and I will see you bright and early on Saturday morning.
August 13, 2015
ANA Show Report Day 2
Collectors were out in force at the ANA show as the event is living up to expectations. GFRC had another strong day with non stop business from the 9:30am opening for ANA members until about 5:00pm. Manning six cases on an individual basis does bring its challenges but thankfully Jim Poston was in and out of the booth to handle buying opportunities. Three of the five coins mentioned in yesterday's Blog sold on Wednesday to show attendees or online customers. Many consigned coins sold including the 1851-O PCGS AU53 from the Birmingham Colllection. Seated coinage of all denominations sold well along with early Bust quarters and World coins with lovely toning. Many individuals stopped by to view the 20 Gold CAC Seated dimes and I enjoyed telling stories about the purchase of individual coins. Several offers were received but it will be difficult to part with these lovely dimes. The only piece that I would consider selling is the 1841-O PCGS AU55 Transitional Closed Bud Large O and do have a sell price in mind.
It is difficult to list all of the ANA Newps as Jim Poston was very active with purchased coins being immediately priced and heading directly into the cases. Several wonderful Seated dimes walked up to the table on Wednesday including an 1885 PCGS MS65 with incredible luster and toning along with an 1889 PCGS MS67 CAC. The 1885 appearance is that of an MS66+ all day while the 1889 has to be one of the prettiest Seated dimes I have ever seen.....I stretched on this piece and still contemplating whether to sell or place in my own collection and sell other duplicates.
Also on Wednesday, consignment activity was strong. Firstly, I was approached by a potential new consignor. This individual is well know in numismatic circles and owns a substantial Seated dime collection and inquiried about a partnership for handling his duplicates that tally well into six figures. I received the Seated half dime consignment previously mentioned in an earlier blog. A current consignor provided a double row box filled with Gold CAC Mercury dimes, high grade Walkers and modern gold commemoratives. Finally, another individual promised to consign a beautiful lot of Bust quarters if not sold by the end of show. If one considers all of the new Jim Poston purchases, there will be a substantial amount of new coins heading to the GFRC website starting next week.
Evening dinner was truly a special event. GFRC customer and good friend Tony Albert hosted myself, Jim Poston and Greg Johnson to dinner at Superdawg in Chicago. Superdawg is a well know traditional car hop eatery with some of the best hot dogs on the planet and we had an incredible time just ordering, receiving our boxed hot dogs buried with fries and huge pickles. As one would expect from a traditional car hop, vintage American muscle cars were out in force. We sat eating under the stars and then spending considerable time discussing many of the topics broached in the Blog. Here were four conservative individuals wondering out loud about the state of American politics, the reality TV media and moaning the loss of certain traditional family values due to omnipresent smart phone technology. It was a wonderful evening and I can not thank Tony enough for hosting us in his home town.
Today brings the LSCC Annual meeting at 9:00am followed by the club benefit auction at 10:00am. Then at 11:30am, I will be giving a short presentation to the directors of the Newman Numismatic Portal (NNP) project and discussing the development of the Liberty Seated dime web-book. The NNP has already scanned nearly all LSCC Gobrecht Journal issues and will have complete access to my Liberty Seated dime web-book. I am a strong believer that enabling the next generation collectors requires effort to digitize numismatic research and make available via methods consistent with Wikipedia free information access.
It is already 7:00am here in Chicago and time to wrap up the Blog, have breakfast and hit the bourse floor at 8:00am to open the booth prior to the 9:00am LSCC Annual meeting on a daily basis.
Thank you for visiting the Blog today. I am receiving so much positive feedback about previously unknown individuals who read and enjoy the Blog.
August 12, 2015
Greetings from Chicago and the ANA show!
Tuesday was an incredibly long day but rewarding. I started the day at 3:30am, drove to Portland, caught a bus ride to Boston Logan, then UA flight to Chicago and reach the bourse floor by 10:00am. Sales started while loading six cases including the 20 CAC Gold Seated dimes and the Bust Dollars from the Gentleman's Collection. All I can say is the ANA show was a strong success for GFRC and David Perkins. There were customers throughout the day at both ends of the booth along with LSCC and JRCS collectors using our venue as a meeting point and hang out. The day was exhausting but fun.
Jim Poston arrived at 7:00pm from Kansas. We joined the leading GFRC consignor for a late dinner at local Irish Pub and returned to the hotel room by 9:30. But the day was not done.....Jim brought a substantial consignment so we worked on pricing his inventory until 11:00pm and finally called it a day. Jim coins are heading to the ANA show cases this morning.
How was the buying? I literally did not leave the ANA table until late afternoon for a bathroom break.... So any buying done was from walk up friends and wholesalers. Several important Seated quarters and halves were purchased.
- Seated Quarters include 1840-O No Drapery NGC EF40, 1861-S PCGS F12 CAC and 1868-S PCGS EF40 CAC. The 1840-O ND is incredible choice original with lovely gun metal gray/blue fields under bright light. The 1868-S is light gray with only two having CAC approval at that grade level.
- Seated Halves include 1875-CC PCGS EF40 OGH and 1877-CC PCGS AU55. The 1875-CC is choice original gray while the 1877-CC is a lustrous example.
All of these pieces will be in the case this morning so if there is interest, please email me asap for prices.
I wish there was time to explore the Chinese devaluation of their Yuan yesterday and this was a bombshell for the financial markets while a cunning step by the Beijing Central government to support their export industry. Unfortunately, I need to grab some breakfast with Jim and head to the bourse floor for dealer opening at 8:00am.
Please check back tomorrow for Newps as Wednesday ANA show report. Jim will be aggressive working the floor today and who knows what might be found?
Thank you for checking in this morning.
August 10, 2015
Monday arrives and another beautiful Maine day is at hand. Today's focus wil be the last of ANA show preparations as I will be to bed early for a 3:30am start on Tuesday. A quick review of the morning news sites presents little to comment about. Turkey is being drawn into the Middle East terror after decision to support the United States agenda against ISIS. Then there is the ongoing headlines concerning gun violence and the Republican campaign.
Today's goal is to complete ANA show preparations by mid afternoon and then enjoying a few relaxing hours this evening. The past week saw a constant flow of consignments and I've worked long hours to get most of the coins online. A short break is warranted before a busy show week and LSCC events.
Featured Coins of the Day
Saturday brought the arrival of this original 1846 dime that is conservatively graded PCGS F15. As mentioned in the description, there is a substantial amount of details remaining as this lovely example is closer to VF20. Surfaces are blemish free with rich medium gray patina. This piece will be on display at the ANA show.
11:00am Blog Addition.....
The Baltimore show PCGS submission arrived today (in the nick of time) and those coins will also be heading to ANA show. One of the coins submitted was this consignment 1845-O that graded PCGS VF35. This is exactly as expected and the assigned GFRC grade when first selling the piece to current owner. This dime was previously in my collection for years. This is a lovely 1845 New Orleans dime that is accurately graded. Images were taken prior to PCGS submission.
That is about all for today..... I'm looking forward to meeting with many GFRC customers and friends during the balance of the week. For those traveling to Chicago to attend the show, then safe travels!
There will be no Blog on Tuesday morning and hopefully the first ANA show report will be online on Wednesday. Please check back then.
August 9, 2015
A peaceful Sunday morning arrives after a non stop numismatic Saturday. The quiet in the house allows for laid back contemplation on what might be written in today's Blog as no topics were pre-planned. Since the Blog is a reflection of my life and thoughts, then this morning's edition might be written against the question, "How does a dealer prepare for a major show?" This is a simple and yet, a broad ranging question....
Preparing for the ANA show take careful planning and attention to details. The planning starts months in advanced with table application, then table selection. ANA uses a "star point" system and holds a table selection event across a week's time. New dealers are relegated to the end of the week for table selection and watch as the better locations are taken by those with more star points. This year, W. David Perkins and I made a decision to move to the Ultra Premium section and eliminate the table selection anxieties.
.....As a side note, David and I have already reserved the same multi table configuration as ANA for November Baltimore and upcoming FUN shows.
GFRC inventory has grown during the past year as more collectors discover the collector to collector trading desk model and take advantage. Five cases at the ANA show may appear to be ample space for housing GRC inventory, but yesterday's display simulations revealed otherwise. Love token, contemporary counterfiets and other product lines will unfortunately being staying behind in the bank vault this time around. Some dealers will stack coins in cases but this is a practice that I try to avoid as each numismatic item deserves to be viewed on its own merits.
Customer service at the ANA show requires careful planning. Some customers request order pick ups at the show to save shipping charges. Consignors may be performing consignment rotation, requesting coins to be returned while adding new selections. Collectors also wish to provide Seated dimes for variety study and those need to be labeled and packaged for return. One forgotten or misplaced coin can lead to a disappointed customer so meticulous preparations and checking are necessary.
Some customers will request submission of their coins to the grading services. During the GFRC start-up phase, I would actively support these requests but have slowly ramped down this service due to the planning/preparation time and also the amount of lost time standing at the PCGS or NGC tables. If you've not submitted coins at a major show, then there is no understanding of the time lost standing in queue at TPG tables while the few service people deal with inexperienced individuals (no idea how to complete a submission form) or the ever present individual who submits a 100 pieces from the latest US Mint commem program. Time spent away from a dealer's table means lost opportunities to recover show expenses.
Auction lot preview and physical auction attendance are two other services that GFRC customers will seek. I enjoy attending Heritage or Stacks lot previews as the ongoing viewing of coins helps to refine grading skills. The sessions also provide insight into how the TPG are grading (conservative vs. loose) for their latest generation holders. Attending auction lot previews must be carefully planned into an already hectic show schedule with the initial prescreen being perform online.
Then the show date arrives with inventory, display case items, extension cords, business cards, change purse/check book, receipt pads, computer and other items having to fit in a limited amount of luggage. Oh...don't forget your prior show dealer badge else one will lose time standing in a line to have new photo ID generated. Some shows are well organized providing this service, while others are not.
Once I reach the bourse floor and the coins are in the case, then there is a sense of relief at least for a few micro seconds..... If the venue is a smaller show, then the larger wholesale dealers will be standing over your case as the coins are being loaded and already attempting to pick out the better selections and asking, "how much for this one?" while the bulk of coins remain unpacked.
Avoiding thief is foremost on a dealer's mind. The loss of one or two coins can negate all the dealer's hard work and efforts to recover show expenses. Nearly all customers who attend a large show would not consider stealing from a dealer. But there is always a few individuals who will steal if the dealer is careless. So while serving GFRC customers and attempting to buy from wholesalers who shop coins at my table, one must always be vigilant of the surroundings and customers asking to view coins outside of the locked cases. If some dealers only allow 1-2 coins to be viewed at a time outside the case, then this is the reason why. Thief is an ugly situation for any dealer and also emotionally frustrating as the safeguards were inadequate or best practice procedures were violated during show business.
GFRC News
This past week was the busiest on record for consignment receipts. Many individuals were attempting to have their coins on display at the ANA show...so the consignments arrived. The last arrived yesterday and has already been photographed. Following are the consignment peices, all housed in 2014 or 2015 generation PCGS holders.
Seated 10c: 1846 PCGS F15 choice original; 1866-S PCGS F12 choice original, missing S; 1866-S PCGS F12 original gray with S; 1867-S PCGS F12 original, conservative grading; 1870 F-104 PCGS VF35 original gray
Seated 25c: 1858-S PCGS G4 original gray; 1875-S PCGS F12 even gray.
Several major consignments will be transferred to GFRC at the ANA show as individuals did not wish to place large collections in the mail. More details will be forthcoming starting August 16 in the Daily Blog.
Featured Coins of the Day
Our featured coins today are from consignments that arrived this week. I've worked diligently to photograph all coins and, at a minimum, have them loaded on price list without long descriptions.
I really like this 1872 F-105 Double Die Reverse seated dime that is freshly graded (2015 PCGS holder). Nearly all 1872 F-105s seen come with a weak or flat head while this example is well struck with nearly full head. Surfaces are essentially choice and the grading is conservative at VF35. Most numismatists would grade this piece as an EF40 as the left breast is full and the shoulder clasp in complete. This piece would be an ideal selection for an advanced Top 100 Varieties set.
Next is another Liberty Seated dime. How about this choice original 1884 San Francisco piece that is the F-103 die pairing. In the web-book, I rate the F-103 as an R5 in VF or better. This rarity rating is accurate as this is the first F-103 to arrive at GFRC on consignment or via my own purchases. Surfaces are toned an even gun metal gray and the strike is bold. Accurately graded at PCGS EF40.
Thanks for stopping by this morning. There will be a Monday Daily Blog edition but none on Tuesday. I have an early bus ride from Portland to Boston's Logan Airport to catch flight to Chicago.
August 8, 2015
The ANA's World's Fair of Money show week has arrived. This year, we are once again meeting in Chicago for a grand week of numismatics and numismatist friends. Gerry Fortin Rare Coins and W. David Perkins, Numismatist will be located at Tables 617/619 in the Ultra Premium section to the left of the entrance. David and I hope you will come visit us first as we offer the broadest range of high quality Draped Bust, Capped Bust and Liberty Seated coinage on the bourse floor!
Gerry Fortin Rare Coins will be buying and taking in consignments. Don't be bashful to stop at the booth to offer what might be for sale or discuss your numismatic holdings and a potential consignment partnership with GFRC.
Just remember this map and the GFRC 617/619 booth location. Come see GFRC's 20 Gold CAC Liberty Seated Dimes too!
GFRC News
Bruchs Creek Collection halves are posted to the price list and hopefully descriptions will be done by end of weekend.
Two more consignments arrived on Friday! It is mad rush time before the ANA show..... Following are the combined consignments contents. Images are already done and these coins will be traveling to Chicago.
Bust 5c: 1830 LM-13 PCGS VF35 choice gray
Seated 10c: 1838 F-102a NGC MS63 original gray; 1838 F-108a Partial Drapery PCGS EF40; 1840 ND F-104a PCGS AU50 lustrous; 1872 F-105 DDR PCGS VF35 original gray; 1884-S F-103 PCGS EF40 original gray
Bust 25c: 1818 NGC G6
Seated 25c: 1847-O PCGS VF20 original gray
Seated 50c: 1859 PCGS AU53 frosty luster
Featured Coins of the Day
I simple love the patina and luster on this 1929 Canada 25c piece as a museum quality piece. Conservatively graded MS64 and needs to be seen in hand to appreciate the magnificent eye appeal and original surfaces. Nearly all seen are frosty white so this piece is out of the ordinary and exciting!
How about this rare 1861 New Orleans W-1 Seated half struck early in the year under Union administration? From the Grey Soldier Collection and graded NGC MS62. Die diagnostics are clear with the heavily lapped eagles wing feathers, the die clash mark in shield and on the obverse, a bold tine is seen above the flag of the 1 digit.
Thank you for visiting the Blog today. If you have been thinking of purchasing a GFRC coin from the price lists, then please don't hesitate further as I will start packing up ANA show inventory boxes tomorrow with the balance going to the bank vault on Monday.
August 7, 2015
Welcome everyone to another Blog edition. I cannot say this enough.....thank you for visiting, listening to my ideas and helping grow GFRC with your consignment and purchase support. Numismatics offers an important social component where people with similar passions can meet and share their hobby pursuit. At GFRC, I firmly believe that education, personal knowledge and sharing are equally important to the coins themselves.
Maine is on an incredible stretch of weather and I will be enjoying a walk and moving some firewood today along with posting the Burchs Creek Seated half dollar consignment to the price list. This lot was loaded onto the Client Gallery yesterday.
Yes, I did watch the 9:00pm Republican debate from the perspective of a proactive conservative. What is a proactive conservative? This is an individual who has strong beliefs in the founding principals of our country, state rights, individual privacy and the like. But since being well aware of technological changes and the impact on society, I believe that the Federal government must steer the country towards a complex and globally competitive future while still preserving our founding principals.....it is a huge undertaking for an individual and requires wisdom and strong leadership skills.
Listening to the FOX debate hosts and candidates was an interesting exercise. There were two "take aways" or important observations from the two hour event. First is that the news industry is part of our country's issues. The news media and industry thrives on and seeks controversy and drama to create content for reporting and ongoing political segments. Many of the candidate questions were pointed and designed to create reporting fodder as prior statements made by a candidate are in the public record and can be used against them. It appeared to me that media personalities see themselves as larger than the candidates at times. Second, the only candidate who addressed the points that I've shared in the Blog, concerning technological impact on society, was Marco Rubio. As a younger candidate, he appeared to understand the profound changes brought by the impact of ongoing technology advancements and attempted to verbalize in responses concerning jobs and education. Could he govern our country with its complex political system and intertwined relationship with major financial entities? I will let Blog readers consider.
The other candidate attributes that I sought were wisdom, the ability to handle hardship and finally, determination. Our greatest Presidents including Andrew Jackson, Lincoln and Roosevelt were visionaries with incredible fortitude towards moving our country forward.
GFRC News
The Burchs Creek consignment is fully loaded in the Client Gallery and asking prices are settled. Today's challenge is loading these wonderful halves onto the price list before being offered at the ANA show.
Two additional consignments arrived yesterday including a choice original 1845 PCGS EF45 and 1865 NGC EF45 Seated dollars. The 1865 is already on hold while the 1845 will be illustrated later in the Blog.
I asked Jim Poston to provide a consignment forecast for GFRC customers since he will be transferring coins upon arrival to the ANA show on Tuesday. Ensuring space in the display cases will be a challenge and planning is necessary. Following are the new items in Jim's ANA consignment.
Seated 5c: 1839 ND PCGS XF40
Seated 10c: 1840 WD NGC XF40, 1875 NGC MS63, 1877-S 10C NGC AU58, 1878 10C NGC AU55
Seated 25c: 1841 PCGS AU50, 1871 PCGS XF40, 1872 PCGS XF40
Capped Bust 50c: 1808 50C PCGS VF35, 1812 50C NGC AU55 CAC, 1817 50 NGC VF30
Seated 50c: 1842-O 50C NGC XF45, 1844 50C NGC AU55 CAC, 1847-O 50C PCGS VF35, 1848 50C NGC XF45, 1849-O 50C PCGS VF30 CAC., 1852 50C PCGS VF35, 1865-S 50C NGC VF30, 1870 50C PCGS AU55
Jim has been active over the past 30 days and continues to work towards building GFRC Seated half dollar inventory.
Financial News
The world is watching China on two fronts...first is the effort to stabilize the Shanghai Composite and second, its quest to have the Yuan become a world reserve currency. It appears that actions taken towards controlling its premier stock market may have impacted the second goal. From Seeking Alpha this morning....
How much has Beijing pumped into its market? Peking University economist Christopher Balding has added up the bailout and stimulus measures announced since the Chinese equity panic in late June. They total $1.3T, or more than 10% of GDP. To put that in perspective, America's Troubled Asset Relief Program was originally authorized to spend $700B. And that was a response to a systemic financial crisis in an economy some 70% bigger than China's. Shanghai +2.3%; Shenzhen +2.7%; Chinext +3.9%.
Featured Coins of the Day
The volume of new GFRC coins arriving daily is increasing. Today's featured coins arrived on Thursday, were photographed and are available for sale. Both are wonderful pieces and worthy of being illustrated here.
First up is an 1845 Seated dollar residing in PCGS holder and accurately graded as EF45. Surfaces are fully choice and naturally reflective under bright light. Toning is an even gray with a thin blue rim arc on the obverse. This example is above average for the assigned grade and will be added to the price list later today.
The second featured coin is an 1865 Seated dollar holdered by NGC and also grading EF45. The 1865 date is most challenging to locate choice as is found with this example. This piece is from the Silicon Valley consignor and is already on hold via the FRoR program. But I thought GFRC customers might wish to see this lovely dollar before it is shipped out today. The spot on the lower left reverse is NGC holder lighting reflection and obviously not on the coin.
August 6, 2015
The first Thursday in August arrives and Maine weather is shifting into seasonal cooling that is welcomed by all. Evenings are now in the comfortable mid 50s and highs in the low to mid 70s. This means an opportunity for yardwork and fire wood stacking and I will need to carve out time away from coins to enjoy the outdoors.
Checking in on major news websites this morning revealed several comment opportunities including this article located on BBC News. Will machines take over every job? Automation and robotics development continue at a torrid pace as those who benefit by creating these innovation typically justify the cost savings via elimination of human labor and improved quality products or services. We've already experienced the demise of numerous jobs in the manufacturing and service sectors and more is on the way. The article issues a bold statement that "According to one unpublished study, the coming wave of technological breakthroughs endangers up to 47% of total employment in the US." and justifies the statement by discussing changes from the 1700s onward to today. Yes, rapid technological advancements will continue to impact the Middle Class as traditional well paying jobs are eliminated. New approaches to education for intercepting rapid change are necessary. But the education system will take years to modify and many could find themselves ill prepared with required skills for limited jobs that will be available in the next 10-20 years. Shortly, we may find ourselves as a nation of private entrepreneurs.
Another article located on NBC News website entitled, Debt-Locked: Student Loans Force Millennials to Delay Life Milestones suggests that 56% of the Millennials (age 18 through 29) are delaying major life milestones due to education debt burdens. Marriage, owning a car or a home are difficult when carrying large amounts of student loan debt and a weak credit score. This issue hits home with my own daughter Renee who enjoyed a fully paid private high school and four year university education. Today she is accumulating student load debt while completing a veterinarian medicine degree at Virginia Tech and has a significant other who previously accumulated student debt for a bachelor's degree.
If one steps back and looks at the entire situation, we have the following forces at work....
Education cost continues to increase well ahead of inflation rates due to government loan programs. Students are paying the asking prices of leading universities as a college education is critical to successful life, right? These increased costs are driven by spending on a host of infrastucture items that may not improve education by rather improve "student life" on campus. Student book costs are an example of a monopoly that is out of control and funded by student loans/debt.
Technological innovative is driven by capitalism with the best and brightest minds reaping the financial harvest and alternating lifestyles and employment landscape for the balance of society.
Governments at the Federal and State level attempt to balance living conditions between those that are well employed creating value and those individuals who are financially displaced by rapid technological change and can no longer create value consistent with an expected lifestyle. The outcome for politicians (and individuals) is to assume more debt to sustain the situation and preserve social harmony.
Ok, enough ramblings on this topic for the morning. But always something to think about if you plan to view the Republican debate this evening. As a country, are we discussing the most appropriate issues or the symptoms? Should those individuals who bring about dramatic technological changes also have responsibilities to address the human fallout that results? Drones are an example of new techology that will create a host of issues for society and governments.
GFRC News
The San Jose consignment of Carson City Liberty Seated halves is posted to the price list as of this morning.
The Burchs Creek consignment of Liberty Seated halves should be ready for posting in the Client Gallery by end of day. Settling asking prices is paramount as ANA show is just days away and this lot will be on sale in Chicago.
A consignment from Denver area customer arrived yesterday and is in the queue for imaging today.
Several other smaller consignments are expected today or tomorrow including an 1865 NGC EF45 Seated dollar that has FRoR.
Progress was had yesterday on Shanghai Yunzhou trip preparations as Harry and I have a solution for Chinese visa invitation letter. Thank goodness my passport is valid through the end of 2017 leaving only a multi entry business visa as the near term task.
Featured Coins of the Day
Nice early type coins continue to gravitate to GFRC and I am most appreciative for the support from friends and colleagues. Following is an especially nice 1876-CC F-128 Seated dime with pretty bullseye toning that reached the price list late yesterday.
The next featured coin is from the Burchs Creek consignment and will be appearing on the price list by end of day. How about this high grade 1846 Tall Date Seated half with minimum wear and excellent eye appeal? One has to realize that many premium coins still reside in old time collections and are seen unholdered. This is the case with the Burchs Creek Collection as the consignor did not engage in TPG submissions but rather enjoyed his coins in a plastic free state.
August 5, 2015
Welcome to Wednesday's Blog. I am literally surrounded by stacks of consigned coins this morning around the double laptop operation on my desk. Really, it is a blessing to retire from a fast paced and stressful semiconductor career to having the pleasure of working with beautiful coins each day.
On Tuesday, I made a quick trip to South Portland to pick up black velvet fabric for the incremental ANA show cases. While in South Portland, I stopped in at a well known area coin shop and did manage to buy new inventory (some already sold over night) followed by lunch at Imperial China. Imperial China is owned by a Taiwanese family and managed by Gloria. This venue is famous for being the Fairchild and National Semiconductor (now Texas Instruments) lunch eatery since the early 1990s. After ordering and expecting a quiet lunch, my former test engineering staff walks in and it was a special homecoming. Lots more gray hair and lots of great conversation and memories......
I spent the balance of the day photographing and loading the Portland coin shop Newps along with processing the Burchs Creek consignment. This is a large 27 piece lot of raw Liberty Seated halves with most pieces being EF or better. Given the size of the lot, I was unable to complete all the image processing and attributions last evening. Following is a "mini gallery" with highlights from the Burchs Creek Collection. The gallery opens with a choice original 1840-O WB-8 R5 with re-engraved obverse denticles grading EF45 followed by other strong offerings. Please take a closer look at the 1874 With Arrows half at the end of the gallery. This example has wild leather toning that is so cool and original!
GFRC News
A consignment arrived yesterday from Colorado and sits in the queue as I work through the San Jose Carson City halves and the Burchs Creek Seated half lot. I'm expecting two more consignments to arrive today. Isn't the week before ANA show fun? This situation reminds me of the old semiconductor days when senior management would drive us mad attempting to meet end of quarter financial numbers. Every stop was pulled to convert inventory into sales to meet stock analyst expectations.....
GFRC seeks more Seated dime and quarter consignments! Please contact me to discuss potential cooperation for dispositioning your holdings. I've made great process in ramping Liberty Seated half dollar inventory in recent months but wish to balance the business with more dimes and quarters. At ANA, I will be taking on a complete Seated half dime set.
Featured Coins of the Day
First up is the 1873 With Arrows WB-109 Double Die Obverse, "Quad Stripe" Seated half that was initially published in a mini gallery yesterday. This double die obverse variety is very challenging to locate and I'm so pleased to have an example on the price list. Bold luster and doubling diagnostics highlight this NGC AU55 graded example. Priced at $1650.
Next is another Draped Bust half dollar from the Gentleman's Collection. This 1806 piece is the O-115a variety and grades EF40 with light gray patina throughout obverse and reverse. This piece is heading to the price list today.
Thank you so much for visiting the Blog on a daily basis. I'm working diligently to provide collectors with fair and honest numismatic service and advice. Do please consider GFRC for future consignments rather than taking your life long collection into one of the major auction houses. You will not regret the decision to work with Gerry Fortin.
I will see you bright and early on Thursday morning......Have a great day.
August 4, 2015
Good morning everyone and welcome to another Daily Blog edition. There is a considerable amount of news and commentary to cover this morning so let's jump right in.
GFRC News
Three consignments arrived yesterday totaling over 40 coins. Luckily, the postman arrived early in the day and the sun was beaming in clear blue skies. The consignments were mostly Seated half dollars and I quickly unpacked each box, placed my official GFRC Chief Photographer hat on and imaged all the pieces in the hot sun. Within an hour, the images were validated and the computer processing was underway. The two smaller consignments are completed and offered here in gallery format.
First is the San Jose Collection of Carson City Seatd halves. All dates are present except for 1877. These pieces have been off the market for a substantial amount of time. Old TPG holders are the rule with several in ANACS old white holders and early NGC and PCGS plastic. The 1872-CC is a lovely piece and raw while the 1871-CC is graded PCGS F15. The 1873 No Arrows is housed in NGC Richmond Collection EF40 holder while the 1874-CC is found in ANACS VG8 blue label holder. The 1875-CC is an exciting raw piece with proof like surfaces, the WB-1 variety and R6 rarity. The 1876-CC and 1878-CC are both ANACS old white holder pieces and graded AU50 and VG10 respectively.
Next steps are to build the consignment spreadsheet, align on asking prices with the consignor and start posting to price list. Please be aware that four of the eight pieces are under FRoR.
Carson City Struck Liberty Seated Half Dollars
A new consignor from Florida expressed shipped three important offerings and these also arrived yesterday. This lot is ready to be posted to price list. Please see the images below. The 1838 half dime is the V-2 variety with heavily corroded and lapped obverse that is well known as the "Small Stars" obverse. This strictly original piece is housed in an NGC MS62 holder without the Small Stars attribution. The Seated half dollar is an important variety consignment; the WB-109 Double Die Obverse or Quad Stripes variety. NGC has graded this example AU55 which is justified due to bold luster. The lot wraps up with a strictly original 1871 Seated dollar housed in PCGS EF45 holder.
The last of the three consignments to arrive yesterday is also from a new consignor and totals 27 raw Seated halves with most being EF and AU grades. All are photographed with imaging processing and consignment sheet building/recommended pricing to be accomplished today. Hopefully, these pieces will be featured in a separate gallery tomorrow.
One more individual contacted me yesterday with a consignment request before ANA show. So another consignment is heading to Maine via Priority mail.
Featured Topic of the Day
I came across this news item on NBC News yesterday. An individual is sitting in his fenced in backyard in Hillview, Kentucky with two daughters playing in the yard. A camera armed droned is flying over head and stopped above his yard to "monitor the area". The individual proceeds to locate his 12 gauge shotgun and shoots down the drone. The drone was flying low enough to be taken down by a 12 gauge shotgun. He is then confronted by four men and reported to the police. The police charged the individual with Reckless Endangerment for shooting down the drone. This individual plans to secure a lawyer to fight this charge and his right to privacy in his backyard.
This event has serious legal significance concerning the right to privacy for U.S. citizens. If drones are allowed to fly with cameras across neighborhoods and back yards, then imagine the potential for theives to easily case potential targets with home owners being powerless to stop the activities. I'm sure government and police agencies will be concerned with the legal attempt by this individual to challenge the charges as it is in their best interest for the charges to stand and let legal precedence de-claw privacy rights.
Financial News
There is considerable news from Seeking Alpha that is worth sharing. Greece, Shanghai and Puerto Rico are all in the news this morning. Here goes.....
Puerto Rico has confirmed that it failed to make a debt payment over the weekend, placing the U.S. commonwealth into default for the first time in its history. What's next? Congress may help the territory through the passage of a bankruptcy bill, although that effort has faced opposition. The island has also floated the idea that the Treasury Department could guarantee its debt when it seeks to borrow in the market again - helping to lower the cost significantly.
Greek stocks opened deep in the red again this morning, dragged down by another near 30% plunge in banking stocks, as investors react to continuing questions about a new bailout from the EU and the country's worsening economy. The ASE Stock Index plunged 16.2% on Monday, the worst fall on record, after the Athens Stock Exchange reopened following a five-week shutdown.
China has unveiled more rules that make it harder for speculators to profit from hourly changes in stock prices. Under the new guidelines, short sellers must wait at least one day to cover their positions and repay loans used to buy shares. Chinese markets are up on the news, but will the maneuver have a lasting impact? Shanghai +3.7%; Shenzhen +4.5%; Chinext +6.1%. Shanghai market is now closely controlled by Beijing central government consistent with balance of Chinese economy. The Central government is free to establish stock market rules at will to secure results consistent with economic policiy goals.
Featured Coins of the Day
I'm passing on this section as already 8:00am and lots of image processing and consignment evaluation work in store this morning. Thank you for visiting and please come back tomorrow for more GFRC news.
August 3, 2015
The week before ANA show arrives and preparations are underway. LSCC officers worked closely together this weekend and I'm pleased to announce the Annual meeting presentation slides are finished with ample time to spare. Looking through the slides, I noted that LSCC membership total is nearly 660 and just 40 short of the 2015 ending goal of 700 members.
The LSCC meeting (Thursday August 13th, 9:00am) will feature several important guests with Bob Merrill of Heritage Auctions calling the club treasury benefit auction. John McCloskey (our former President) and wife, Norma, will be in attendance and there is a rumor that none other than Q. David Bowers will visit during the opening minutes to discuss his new Liberty Seated coinage book to be published by Whitman. Several club officers and members have worked with David to expand and optimize content. Once a book release date is finalized by Whitman, it will be announced here and on the LSCC website. This will be a must add reference book to everyone's numismatic libraries.
GFRC News
I am expecting five consignments to arrive this week as everyone tries to meet the ANA show deadline. There will be considerable photography and price list updating workload in the next few days. My goal is to have as much of the new inventory online before leaving for the Chicago very early next Tuesday morning.
If you are planning to attend the Chicago ANA show and desire to purchase items from GFRC inventory, then please email me asap so those coins can be separated from inventory and reserved for you. With only five display cases and the 20 Gold CAC Seated dimes display taking 1/2 a case, not all GFRC inventory will be traveling to Chicago. Now is the time to reserve coins to ensure they will be available for review and purchase at the show.
GFRC's Shanghai agent, Harry Zhang, visited the Yunzhou Antique Mall this weekend to scope out available booths for the mid November coin show. The display approach is non traditional given the Mall is home to a broad range of collectibles. Harry sent along this image of the 7th floor display area and thought Blog readers might be interested in seeing the layout. More work is necessary to attend this show including securing a Chinese entry business visa. As with most things in life, the 1st attempt brings new challenges and then a repeat process can be put into place.
Financial News
Seeking Alpha headlines bring several noteworthy items to share this morning.....
The Athens Stock Exchange has reopened and it's not pretty. The ASE Stock Index plummeted 23% after being closed for five weeks, with banking shares down by as much as 30% - the maximum allowed. While local traders are able to buy stocks, bonds, derivatives and warrants under certain conditions, international investors don't face any restrictions, as long as they were active in the markets before they were shuttered.
China's factory activity shrank more than initially estimated last month, tightening the most in two years and extending the sell-off of Chinese equities. The China Manufacturing PMI dropped to 47.8, from 49.4 in June, marking the fifth straight month of contraction...Readings below 50 are contraction. . The final reading was lower than the flash PMI of 48.2 and the official manufacturing PMI, which fell to 50.0 in July from 50.2 in June. Shanghai -1.1%; Shenzhen -1.7%; Chinext -5.5%.
Meanwhile, China's market regulator has suspended a trading account of U.S.-based hedge fund Citadel, in the watchdog's first known move against a big foreign investor. The securities commission, which has declared war on "malicious" short selling, has been at the forefront of a government campaign to halt a meltdown of its stock markets (which have tumbled about 30% since mid-June). Thirty-four accounts have so far been suspended for trading irregularities.
Featured Coins of the Day
Crusty original Seated coinage is always popular among GRFC customers. Individuals will purchase these clearly original pieces and send in for TPG grading or mount in Dansco sets. While these two Seated pieces are not rarities by any stretch of the imagination, their preservation state allows them to be collectible and easily retaining value. (1857-O quarter is on Hold)
August 2, 2015
Good morning everyone on this lovely Maine Sunday morning. The sky is perfectly blue and clear; I will be heading out for a quiet walk once the Blog is completed.
I visited BBC News once again and the same article entitled, "The way we work is changing - and fast" is still online on their main page. Since posting this article on July 31, I've pondered the article's statements and their origins.... Millenials and Baby Boomers have completely difference views of life and global society. What comes to mind is that European and United States society has undergone profound changes during the last 30-40 years. Living conditions have significantly improved in modern society due to intelligent appliances, information technology in all forms and the lack of major wars. We are indeed living during "A golden age" where life is stable and predictable. The same cannot be said for the Middle East or even portions of Asia that remain under developed.
My point is that children born and raised during this timeframe have a completely difference sense concerning basic survival. Today, survival is not an issue, rather self realization is the primary focal point of so many. During my childhood, I worked in a large family garden where we sourced a substantial amount of our daily food for summer and winter months. Chores and property maintenance were handled by the children. Coin collecting became an important hobby that consumed portions of my free time....biking to the local bank and securing rolls of coins for evening searches. Life was simple. High school term papers were researched at the city library with hand written notes. Just visiting the library meant a hour's walk or a bus ride. Information was sourced from radio, TV and the morning and evening newspapers. Baseball had heros and role models that inspired several generations.
The invention of the solid state transistor by William Shockley, John Bardeen and Walter Brattain at Bell Labs in 1948 changed society forever. Their invention, once manufactered at a nanometer scale, has enabled the host of electronic appliances we take for granted today. Children are born and placed in front of laptops or tablets at about the same time as they start to walk. Learning rates are accelerated. Mass production of all imaginable goods, services and foods with high reliability are the norm today. Each abberation results in instant reporting on the Internet and if serious, is met with lawsuits. We currently live in a society of constant improvement....stability is assured. Governments have increasing amount of information also and employ for setting and tuning broad policies that generally improved living conditions and social harmony.
When a society is stable and the core requirements for sustaining life take less and less time each day, then individuals can shift to finding happiness through self realization as demonstrated by "The way we working is changing - and fast" article. Can the nearly perfect system ever break leading to chaos? Think about this for a moment..... What could happen to derail the continued growth of optimized financial, governmental and all forms of business systems?
Disease? Today, new outbreaks of viruses are aggressively managed on world wide basis due to global tracking and information. Rather, society suffers from the diseases of food opulence....obesity is the product of modern life.
War? War as we know it has changed. Cyberspace is the frontier for conducting war as disabling a country's power grid and manufacturing infrastructure can be done via computers and not massive bombing campaigns as we witnessed in Europe during WW II.
Financial Depression? The global central bankers have proven to be adept at managing regional debt crisis through fiat money creation. Debt is commonplace and plays an important role as a tool for balancing quality of life between those who produce value and those who are sustained by society.
Breakdown of Family Unit? Yes, this is a slow moving cancer along with less focus on God and religion in developed societies. When life is stable and self realization is the goal, then there is no need for belief in the after life. Those in under developed countries and repressive governance gravitate to religion and the hope for a compassionate God and balance in the after life. However....religion is critical for instilling morals and the suppression of greed. The breakdown of the family unit is very worrisome....
OK, I've rambled this morning but felt a need to document these thoughts that have been on my mind for several months. This topic will be revisited at some point in the Blog. Society has undergone permanent changes. Many Baby Boomers, who have lived through the this period of change, have reoccuring fears about the ability of society to sustain the gains and ensure stability on a continuing basis. Those who have no memories of the more "primitive days" are certain that society will just be progressive forever and self realization is paramount for one's life...... Selfie sticks are an example of the need for self realization along with having a substantial number of "likes" on one's Facebook page.
I will see you bright and early on Monday morning with GFRC News and Featured Coin of the Day. A quiet morning walk is calling me.
August 1, 2015
August arrives with the potential for cooling Maine temperatures and already next week's weather is forecasted to be clear, dry with highs in the low 70s. If time allows, two cords of wood need to migrate from the delivery pile to dry storage for the 2016 burning season.
If you are a coin collector or numismatist, then August is the month that the hobby travels to the American Numismatic Association's Worlds Fair of Money show. Chicago's Rosemont Center will be the meeting place and this year, there will be no lines for first issue commemoratives from the US Mint. The ANA show is the showcase event with a huge bourse floor, a host of educational seminars and club meetings. The Liberty Seated Collectors Club annual meeting will be held on August 13, 9:00am followed by an LSCC Treasury benefits auction to be called by Heritage's Bob Merrill.
LSCC Editor, Bill Bugert, published the August E-Gobrecht right on schedule last evening and is another worthwhile read. Thank you Bill for being such an incredible digital and traditional media editor. Hopefully, by end of day, the August issue will be loaded onto the LSCC website (www.LSCCweb.org) and on my website. Have you ever considered writing a short article for the E-Gobrecht? If not, then why not give it a try? At a minimum, how about volunteering to be interviewed for the LSCC Club Member Spotlight column by Tony Barreca?
Returning back to the ANA show being held August 11 through August 16.....W. David Perkins and I are working closely together to turn Tables 617/619 into a showcase display of Bust and Seated coinage for hobby friends, customers and visitors. It seems that David and I are chatting daily on layout strategy, case display approaches and most important, the beautiful coins themselves! The Fortin/Perkins team will have 10 display cases and could have easily employed another two or three given the consignment growth in both businesses.
Where Else But Tables 617 and 619 at the 2015 ANA Can You See (all this!)?
- Twenty CAC Gold Liberty Seated Dimes including 1839-O PCGS65, 1841-O Transitional Closed Bud PCGS55, 1845-O PCGS55, 1863-S PCGS64 and 1867-S PCGS64
- Close to 100 Capped Bust Half Dimes for viewing and sale, including a large number of better die marriages, and including a number of R-6 and R-7 marriages available in a Sealed Bid Auction Sale
- A dozen choice and rare Capped Bust Dimes (out of 130 Consigned for W. David Perkins Sale in 2016!) and sign up to receive the sale catalogs
- Attractive 1792 Half Disme in PCGS AU50 (OGH)
- Not one but two 1829 Curl Base 2 Dimes, an important Red Book type coin, in PCGS VG08 CAC and NGC VG Details
- A complete set of Proof Seated Half Dollars 1858-1891 in PCGS grades MS62 to MS65 is being offered (as a set)
- 10 Gobrecht Dollars and close to 70 Seated Dollars including many better dates from the 1850s and 1860s
- 1795 through 1799 Flowing Hair and Draped Bust Dollars from Gentleman's Collection
- Over 130 quality Liberty Seated halves including challenging Carson City dates
- Lovely 1805 Bust Quarter in PCGS MS63+, 1802 Bust Half Dollar in PCGS EF45
- Plus quality GFRC Liberty Seated Dimes and Quarters coupled with W. David Perkins' Early U.S. Silver Dollars 1795 - 1803
GFRC News
Yesterday's Daily Blog experienced over 400 hits in a single day! A sincere thank you to everyone who visits daily and to those who may be sharing the Daily Blog on numismatic message boards.
Two more consignment inquires arrived via email and all hands are on deck to ensure the coins reach GFRC office before ANA. What was committed yesterday? Here are the highlights...
- 1838 V-1 (Sm Stars) 5c NGC MS62; 1873 Half Dollar, "Quad Stripes" NGC AU55 WB-109; 1865 $1 NGC EF45 and 1871 $1 PCGS EF45
Even though GFRC inventory migrates to high grade items, time is still allocated to help friends disposition lower grade items. Please check the Bust Dime pricelist as a Whitman blue folder partial set was broken up, photographed and added yesterday. These are nice VG-F original pieces are fair prices.
I'm expecting several consignments including the run of 1870-CC through 1878-CC half dollars to arrive today.
If you've been procastinating and wish to consign coins for sale at the ANA show and at fabulous Tables 617/619, then time is running out. Call or email me this weekend to ensure your coins are shipped by Priority Mail on Monday, latest Tuesday. I will pay the priority shipping and your coins will be fully ensured by GFRC business insurance.
Featured Coins of the Day
We open with a gem 1861 New Orleans W-9, CSA Issued Half Dollar graded PCGS MS65 with CAC approval. This piece is from the Dallas Collection. Surfaces are fully natural with faint patina floating over bold luster. The obverse and reverse has the same toning patterns; light rose/gold throughout with a touch of sky blue at the rims. This piece is well struck by aged dies especially the reverse with its obvious diagnostic die cracks through STA(TES OF AMERICA). Every tiny spider die crack is visible including those surrounding DOL. and arrow heads.
Our next featured item is an 1819/8 O-105 Capped Bust Half Dollar graded PCGS VF30, approved by CAC and offering incredible eye appeal. In hand viewing brings about the appearance as shown on the images. Lighter gray centers are framed with a darker gray and aquamarine toning ring. But view this piece under bright light and the WOW factor takes place. Centers turn to rose and the aquamarine ring becomes a series of distinct gold and sky blue rings with rose hues intermixed. The reverse viewing experience is even more dramatic than the obverse with bright gold/rose outer ring surrounding the legend.