Gerry's Daily Blog Archives - July 2016
July 31, 2016
Greetings on the last day of July and welcome to the Daily Blog for new visitors.
I'm so pleased to report that Matt, Chikae and Natsumi experienced an uneventful trip to Beijing and are already in their service apartment. They called via video on Saturday morning to share their arrival and new living quarters. We wish them good fortune with this latest adventure. Matt will continue development of GFRC's IT platform while in Beijing.
Central Maine weather is forecasted to be cloudy with a high in the mid 70s today. Finally, cooler temperatures have arrived for dealing with the remaining brush pile in the backyard. I looking forward to a break from numismatics and working with a chain saw for a day or two. The Fortin landscaping and backyard needs considerable attention after being ignored for most of the summer. Lower temperatures will enable several days of physical activities in the grand Maine outdoors and a welcomed break from the office.
GFRC Update
A sincere thank you goes out to GFRC customers. In yesterday's Blog, I mentioned being a few $1000 short of July's revenue goal. Customers responded and purchased into the low five figures on Saturday making July one of the top sales month for 2016. Summer time is traditionally a slow hobby period but GFRC's year on year sales growth continues due to a sound business model, the support of great consignors, dedicated customers and persistence towards achieving business goals.
I was up at 5:00am this morning and prepared the following new purchase gallery to kick off August sales. Following are more Summer FUN and Baltimore new purchases and a few consignments thrown in. Look for these pieces to be loaded to price list by end of day. Many are intransit from CAC review. Please don't hesitate to contact me via email concerning any of these new offerings.
New GFRC Offerings - July 31, 2016
GFRC First Week of August Activities
August arrives on Monday and already there are several major projects planned. Attention will shift to posting more consignments that are sitting in queue. These include Osprey's world coin lot that arrvied on Friday and a new Highwoods consignment. The new GFRC World Coin ad campaign with Coin World will be wrapped up by mid week. The Liberty Seated dime G-EF price lists remain on the old system and their conversion to COIN generation is in progress. Hopefully, I will have the 1837-1859 price list converted by end of day Monday and the 1860-1891 by mid week. Then other large projects kick in....
- Preparing the Gerry Fortin Top 100 Varieties for price list offering. A substantial number of FRoR have been received and I will be sorting through those requests along with retrieving the pieces from bank and starting the listing process.
- Jim Poston is shipping an exciting new consignment by mid week that will includ quality Liberty Seated halves.
GFRC will not be traveling to and attending the Anaheim ANA this year. The LSCC Annual Meeting will be in the capable hands of LSCC Vice President, Len Augsburger with strong support from John Frost and Bill Bugert.
Closing Comments
This wraps up the Daily Blog for yet another day. Breakfast is calling me along with another video phone call from Beijing. I also hear the call of a chain saw..... I will be back bright and early on Monday with the usual week day Blog format. Wishing everyone a restful Sunday.
July 30, 2016
Welcome and thank you for stopping by the Daily Blog. Today will be another picture perfect Maine day. Skies are blue and cloudless while the air has a morning crispness. Bright sun will be important given the incremental GFRC photography on tap for today. I'll discuss why in a moment.
The Fortins had a fantastic Friday evening and I'm full of creative energy this morning. Local Raymond friends, from 20 years ago, recently purchased a log cabin style home only 2 miles from us. After spending nearly 20 years living in New Jersey and Rhode Island, they decided to relocate to Raymond, Maine and reconnect with the local boating and dinner party crew. Our numbers have shrunk over the years, but the fun and humor was still there as were the gin tonics, top shelf wine (2001 Penfold Bin 389 Shiraz) and great barbecued food. We are already discussing how to assemble an exciting Halloween party later this year and a few more interim social events.
GFRC News
CAC results arrived right on schedule for Summer FUN and Baltimore new purchases/consignment. I'm so impressed with John Albanese and CAC staff predictability. They turned the submission in exacting 5 business days. Results were satisfying as went 55% on the submission including 4 out of 7 for Osprey gold double eagles with 2 for 2 for Type 2 San Francisco $20 pieces. Expect price list updates with CAC emblems for United States gold that was approved.
I have a bit of a confession to make. As new offerings were load on price lists this past week, I had a sense that there should be more new inventory to post. Yesterday, while going through the gold inventory box, I realized that the GFRC gold new purchases and a last minute transfer of another Osprey gold consignment was sitting in that box without being photographed or listed. The initial Osprey gold consignment had been processed and loaded while in Florida office. The evening before driving back north to Baltimore, Osprey stopped by with a bottle of single malt scotch (a kind gift) and more gold pieces. So today brings photography and loading more United States gold across all denominations. Please check back later today!
Finally, GFRC is within a few $1000 of its July revenue goal with the weekend remaining. July has been a strong sales month, but corporate training has brain washed me to set aggressive goals and work hard towards achievement. I'll be available and in a dealing mood this weekend to reach that goal.
Osprey World Coin Consignment
Doug, the mailman, brought another Osprey world coin consignment to the GFRC office yesterday. This lot is heavy in 18th century French coinage and my favorite, a captured 1796 Mexico 8 Reales punched with Great Britain counterstamp and used in Great Britain commerce as a silver dollar piece. The surfaces are perfectly original without blemishes. This one is freshly graded at NGC VF30. Following are the individual pieces in latest Osprey world coin consignment and just back from NGC grading.
France: 1723Q 1 Sol NGC VG8 BN crusty original; 1718W 1/4 Escudos NGC AU55; 1792A DAV-1335 Ecudos NGC AU50; 1793A DAV-1336 NGC EF40; 1812B 5 Francs NGC AU58; AN 14A 5 Francs NGC AU58; 1827B 5 Francs NGC AU58
Great Britian: 1797-1799 $1 with oval counterstamp on 1796 Mexico 8 Reales NGC VF30 and so choice
Peru: 1805 Lima 8 Reales NGC AU58
Featured Topic - Japan's Runaway Debt
I've mentioned that Japan is the bug looking for a windshield on several occasions. After publishing Friday's Blog, it dawned on me to research the Bank of Japan's balance sheet to gain a sense of stimulus being applied by Abenomics. An insightful article written by George Hatjoullis during 2013, and entitled Deflation and the Japan Conundrum Revisited? discusses the Abenomics economic stimulus program.
A short burst of monetary financing is worth a shot in the present global economic condition. It can be achieved simply through debt cancellation by the Central Bank. It writes off government debt bought during the various Quantitative Easing programmes. If it is carefully calculated and limited it would indeed be a shot of adrenaline. The risk lies in normalisation of such an action as a policy tool. This should never be allowed. The problem however is that even this may not work. Once again Japan, but increasingly the US and UK, provides an illustration.
Following are two shocking graphs that illustrate the Bank of Japan balance sheet (purchased assets) which include Treasury and now private sector bonds and even Exchange Traded Funds equities. First is a comparison of Bank of Japan with other central banks on a % of IMF (International Monetary Fund) GDP calculated basis. Note that Bank of Japan has grown its balance sheet from 30% of GDP to nearly 100% of GDP in four years. The United States Federal Reserve appears tame when compared to Japan with only a slight increase (18% to 22% of GDP) in the same timeframe.
The absolute growth in Bank of Japan assets is shown here. Where will this end for Japan? I'm sure that is a serious topic of conversation at the IMF and other economic forums. Japan must increase GDP via enlarging its export sector. As a result, Japan is so sensitive to any increase in Yen currency value. But Japan competes with China and Korea for the global export market. China and Korea are also aggressive and will not give up export market share to Japan. Already, we are seeing China conducting a slow but systematic devaluation of the Yuan to maintain a competitive position for global exports. The world is witnessing currency wars as countries attempt to grow themselves out of massive debt positions. So far, the debt side of the equation is winning as these graphs demonstrate for Japan. Indeed, Japan is a bug looking for a windshield.
Featured Coins of the Day
Spot gold moved up yesterday as United States Q2 GDP results were dismal. This indicates that Janet Yellen is bluffing on any interest rate increases for the balance of 2016. If US interest rates are steady, then the US Dollar will give up recent gains and allow physical gold to continue its upward momentum. Eventually, the US dollar has to weaken else the United States will also face a recession. Spot gold is quoted at $1350 this morning and we are just one small financial event away from $1400.
Purchasing United States gold $20 double eagles can be a wise step at this time and GFRC offers quality Liberty and Saints without large numismatic premiums. Following are four recommended pieces that offer a combination bullion gold and numismatic play. These San Francisco struck double eagles can be found on the GFRC gold price list.
Wishing everyone a great last weekend in July! I will be back on Sunday morning with more GFRC news...... Be safe!
July 29, 2016
Greetings once again and welcome to the Daily Blog.
July has been a busy month including the East coast road trip and the COIN system conversion. Then there are the emotions surrounding Matt, Chikae and Natsumi moving to Beijing.
Mental energy and creativity are low this morning. National politics are bothering me but difficult to express in the Daily Blog for reasons that I'm sure readers understand. Who does one believe when the media is so biased? It is now a struggle to sit through NBC Nightly New as the bias is too obvious. Then there are all the Big Pharma commercials during the 2nd half of the broadcast. One can easily feel that personal intelligence is being insulted during those 30 minutes.
GFRC News
The Osprey World Coin consignment is loaded on the price lists. Attention shifted back yesterday to a decent backlog of United States coins. Below is a quick gallery of coins reaching the price lists. That innocent looking 1856 Seated quarter is the Misplaced 1 in Skirt for a Top 25 Variety set. The 1845 dime is my F-106 web-book plate coin.
CAC results are expected today for a submission made upon returning from Baltimore show. Images are done. These will be loaded quickly once the CAC results are known. The highlight of the submission is this incredible 1828 Capped Bust Half graded NGC AU58 Fatty holder. GFRC images only begin to capture the beauty of this stunning half. Sorry, but this one has already been promised to a top GFRC customer.
1828 Capped Bust Half - NGC AU58 Fatty Holder
New GFRC Offerings - July 29, 2016
Global Financial News
Spot gold is at $1334 this morning while silver is being quoted exactly at $20. The Gold:Silver ratio is 67 which implies that silver provides higher appreciation potential than gold in the near term. Spot oil continues to slide at slightly under $41/bbl.
Visiting Seeking Alpha headlines helps keep us abreast of global developments. Please note the first headline where the Bank of Japan is purchasing ETFs (exchange traded stock funds). The Bank of Japan is also the entire Japanese bond market. We should be paying close attention to Japan and Europe as they experiment with economic stimulus methods. Italy continues to dominate Europe's financial news. Unemployment is increasing and the country is struggling with a banking crisis. Finally, back in the United States, Amazon continues to grow and is systematically impacting traditional store front retailers.
The Bank of Japan held interest rates steady and offered up only a mild dose of stimulus. The central bank announced it would purchase ¥6 trillion ($57B) worth of exchange-traded stock funds annually, an increase from the prior amount ¥3.3T. The size of a key lending program was also doubled to $24B. The Nikkei Stock Index closed 0.6% higher after a volatile session. The yen and yields on Japanese government bonds shot higher. "That the BOJ did not increase bond purchases is significant and will disappoint those looking for coordination of monetary and fiscal easing," noted RBC Capital Markets analyst Adam Cole.
The unemployment rate in Italy increased to 11.6% in May, in a sharper move than anticipated by economists. The economy in Italy is under pressure due to the impact of Brexit and an ongoing banking crisis. Youth unemployment in Italy is at 36.5%. The Bank of Italy expects economic growth of less than 1% this year in the nation.
Retailers continue to lose e-commerce market share to Amazon (NASDAQ:AMZN) which posted better-than-expected results for Q2. The dazzling quarter included 31% Y/Y net sales growth, AWS revenue of $2.89B, and record net income of $857M. Looking ahead, the company expects Q3 sales guidance of $31B-$33.5B and operating income of $50M to $650M. Amazon is up 1.4% premarket.
Featured Coins of the Day
Capped Bust halves continue to sell well during summer months. Eye appeal and originality are the decision parameters for GFRC customers. Below are several earlier date halves worth considering.
Thank you for being a loyal Daily Blog reader. Regardless of the annual numismatic hobby business cycle, the Daily Blog enjoys a steady readership and provides the personal energy to maintain this GFRC feature. I'll be back Satuday morning with more ramblings.
July 28, 2016
Wow, it is trash day already! Yes, Thursday is road side pick up for trash and recyling and a reminder that another week has flown by. Central Maine temperatures will finally cool down in the low 80s by Saturday and then into the high 70s next week. Returning to daily health walks is a priority as hours sitting in front of laptop in GFRC office must be balance with physical activities.
Wednesday's focus was price list debut for the Osprey World Coins. The day was spent with thick Krause world coin reference books and Google searches as a European history discovery process unfolded. Being a bit of a restless soul and international in nature, the world coin price list satisfies that desire for ongoing learning. While loading the Osprey coins, I reconnected with eBay and coin show partners Jim Poston and W. David Perkins via phone. Overall, it was a pleasant but busy day with a trip to the sound room for Neil Young's Ragged Glory prior to bed time. I've not paid attention to the DNC which pretty much portrays my political loyalty and philosophy.
Photographing (or imaging) certain coins in TPG holders can be challenging when using the Nikon Coolpix995 with photodome. Three Osprey coins presented a difficult challenge and I finally got them right on Wednesday. Following are the last three pieces to complete the Osprey World Coin client gallery. One must appreciate the fact that some 17th and 18th Century European coins were circulated in America, the New World. For example, the Dutch Lion Dollars were an important trade coin minted in Holland starting in 1575. These circulated in New Amsterdam during the Dutch period in America. Also known as dog dollars, they circulated from New York southward to the Carolinas during the period 1690 to 1730. French coinage also circulated in the New World in territory extending from Newfoundland to the Rocky Mountains and from the Hudson Bay to Gulf of Mexico. France, unlike the British, tried to supply colonists with small change including coppers. The below 1720 French 1/2 Sol is an example of a copper that might have circulated in New France prior to being ceded to England and Spain in 1763.
Osprey Collection - World Coin Consignment - July 28, 2016
Daily Blog Feedback
Commentary arrived in the Inbox concerning recent articles discussing low interest rates and shrinking IBM revenues. One reader raised a good point concerning Pro Forma and GAAP earnings reporting methods.
Great blog today! Also love the article "The Age of No Returns"!
However, remember that the Pro Forma 'acounting magic' can cut both ways in that it doesn't always make core earnings better from an investment standpoint. Also, it's really not accounting magic (we get a bad rap) but approved SEC requirements/guidance that also mandates a reconciliation of Pro Forma to GAAP; which is still a required reporting format by the SEC for public companies.
Global Financial News
Spot gold increased overnight and is quoted at $1347. The Feds decision to hold interest rates at current levels placed pressure on the U.S. Dollar and conversely, gave gold a lift. Spot oil sits at $41.82 this morning and appears ready to break down further. Following are two Seeking Alpha headlines worth reading. I did not realize that Atlantic City was in financial distress until this morning.
Since crude prices hit a year-high above $52 a barrel in June they have slipped almost 20%, leaving them on the cusp of a new bear market. EIA data on Wednesday unexpectedly showed a 1.7M barrel rise in U.S. crude inventories vs. what had been steady declines in previous weeks. "The improvement in oil fundamentals remains fragile and continues to feature large offsetting forces," Goldman Sachs said in a research note overnight, but predicted oil prices to remain in the $45-$50 range until mid-2017.
Atlantic City is likely to default on $3.4M of debt payments on Aug. 1 without an agreement with New Jersey on a $74M bridge loan or other state action, according to Moody's Investors Service. Although NJ lawmakers approved a loan as part of a rescue package in May for the distressed gaming hub, the terms are still being worked out between the city and state.
Featured Coins of the Day
Let's try a new approach to the Featured Coin module. How about a review of important GFRC Carson City offerings? Carson City coinage is always popular with the early 1870 through 1874 dates being very challenging to locate choice in any denomination. Carson City mintage increased dramatically during 1875 but regardless, pieces dated 1875 through 1878 remain in demand.
How about these 1872 and 1874 Carson City dimes as a starting point? The 1872-CC is graded PCGS VF25 while the 1874-CC resides in PCGS AU Details holder. The 1874-CC is especially difficult at EF/AU grade level with this example having faint traces of micro porosity. Next up is a very rare 1870-CC quarter with obvious reverse scratches. However, even with the reverse issues, this piece could fill that hole in many incomplete Liberty Seated quarter sets. Graded PCGS VF Details, Grafitti and with an attractive obverse. I will be lowering the price of the 1870-CC quarter and would entertain offers. The Featured Coins module closes with a gorgeous 1876-CC WB-4 housed in PCGS AU55 holder.
July 27, 2016
Greetings from Maine on a simply beautiful morning. Blue skies dominate with a light crispness to the air. One can hear the morning road traffic as folks start yet another day and head to work. Luckily, the GFRC office is easily accessable without socks or shoes.....
It gives me great pleasure to feature the Osprey World Coin consignment in this morning's Blog. Following is his Client Galley for your enjoyment. Many of the silver pieces offer spectacular eye appeal, especially while viewing under bright light. These offerings were hand selection throughout Europe in the April/May timeframe along with recently posted United States gold offerings. After posting individual Osprey coins to the World Coin price list, GFRC will follow up with Coin World advertising. Already, I've received proposed ads from Coin World's art department and will settle down the final marketing campaign by end of week.
If you've been thinking of expanding into European gold, then the French 20 Francs and English 1 Sovereign are well priced for the quality while the 1823 Portugal Peca (6400 Reis) is just a super piece. My favorite is the Central American Republic 1/2 Escudos given the tiny mintage and short issue period during the Mexican-American War timeframe.
Osprey Collection - World Coin Consignment - July 27, 2016
Osprey also consigned a Liberty Seated half dime that, with a little research, has been identified as scarce Medium O V-10 variety. While not a perfect piece, this is an important offering for those interested in half dime varieties.
1840-O ND V-10 Medium O NGC AU53
Other GFRC News
The Osprey World Coin client gallery also features another GFRC website improvement that may be transparent to most viewers. If readers click on individual images, then it is evident that image size has increased to 1200x600 resolution. Moving forward, GFRC will be loading high and low resolution images for each price list offering. The low resolution image becomes the icon and clicking the icon downloads the high resolution version. This upgrade will improve page download speed and save bandwidth and data usage when viewing GFRC price lists with a mobile device. At GFRC, we continually work to improve ease of use for our website.
Recommended Reading
Yesterday, an article from one of the Mauldin Economics contributors arrived and caught my attention as a perfect piece for the Daily Blog. The author is Tony Sagami and the article is entitled, Putting Lipstick on a Pig, IBM Style. The "lipstick on a pig" phrase was often used in the semiconductor industry in reference to spinning an old worn out product or idea and attempting to make fresh. Anyways, Tony Sagami studied IBM's latest quarterly earnings announcement and called out the "financial spinning of results". IBM is shrinking but using alternative approaches to maintain stock price. Some of the approaches include changing from GAAP to Pro Forma accounting and taking on considerable debt to maintain cash in the bank along with sustaining its dividend. Just as in the government world where inflation and unemployment equations are modified towards presenting favorable performance, the same is going in corporate America and the equity markets. Sagami's point to the article is that IBM is in trouble and should be shorted as the stock does not deserve its current valuation given a 25% reduction in revenues since 2011. Many companies are "performing" due to increased debt levels. Should we be surprised by this development within our low interest rate environment?
Following are a few paragraphs from the article along with a telling graph.
IBM reported its quarterly results last week, and the see-no-evil analysts on Wall Street jumped for joy at what I think were terrible results. Revenues Magic. What was so terrible? How about this—IBM has reported falling revenues for 17 consecutive quarters.
IBM pulled in sales of $20.2 billion last quarter, but that is 2.7% less than a year ago and 25% lower than in 2011.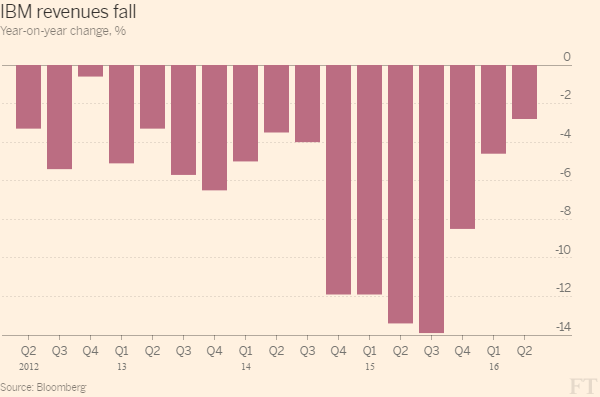 Profit Magic. First of all, IBM reports its earnings on a pro forma basis instead of a GAAP basis. The main reason: it can use accounting magic to prop up its pro forma profits. On the profit side, IBM reported better-than-expected "pro forma" profits of $2.95, which was above the average forecast of $2.88. On a GAAP basis, those profits shrink to $2.61 a share.
Cash Magic. IBM is proud to point out that it increased its cash hoard from $7.6 billion in Q2 of 2015 to $10.6 billion today. However, that cash doesn't come from operating profits but from borrowing money. A year ago, IBM had $33 billion of debt, but took on an additional $11.5 billion and now owes a staggering $44.5 billion.
Globalism and the coordinated efforts of central bankers to drive interest rates to essentially zero is maintaining prosperity in the near term. But debt is piling up throughout all forms of government, the private sector and households. IBM is just another example of the increased risk present with equities as financial performance is engineered rather than generated through revenue/profit growth via return on capital investments. This is why, I'm sitting on cash given the current levels of United States equities. Valuation are presently fueled by debt.
Global Financial News
Spot gold is solid as a rock at $1320 this morning while oil is being quoted at $42.67/bbl. What happen to the equities market and oil price correlation being touted in the financial press just a few months ago? Seeking Alpha headlines are fairly quiet this morning. There is the usual reporting from the full time Federal Reserve watchers on potential interest rate increase. But then there is Japan, the bug looking for a windshield. Japanese equity markets are climbing on rumors for another round of money printing or new creative financial instrument.
The Federal Reserve is expected to stand pat at its meeting today, bowing this time to global volatility from the U.K.'s Brexit vote after staying on hold since it raised rates in December. Central to the debate at the Fed's policy meeting will be how to reconcile upbeat U.S. economic data, highlighted by strong job gains in June, with a slowdown in global growth and other headwinds threatening the inflation trajectory.
A ¥28T stimulus package? 50-year bonds? "Helicopter-money light"? Reports from Fuji TV, WSJ and the Nikkei pushed up Japanese shares overnight, with the yen weakening to as high as 106.53. Although stocks pared gains and the currency retreated after some of the rumors got shot down, investors are still anticipating a major announcement at the BOJ's policy meeting this Friday.
Featured Coins of the Day
GFRC offers so many great coins and finishing the Daily Blog with this module is always a pleasure. Today, let's look at small nickel/copper based denominations. These are denominations are key when assembling a quality type set. First up is a gem 1889 PCGS PF66 3 cent nickel with CAC approval. How about a choice 1869 Shield Nickel graded NGC MS64 for your type set or..... A 1903 PCGS PF65 Liberty nickel? We close with a gem 1936 PF65 Type 2 Buffalo Nickel in OGH and with GOLD CAC sticker. Yes, GFRC does offer some quality coins.
Today's Daily Blog has been lengthy and time to move into the customer service and packaging/shipping departments before Doug, the mailman, arrives for daily pickup. Have a great day.
July 26, 2016
Welcome to the Blog on a lovely Tuesday southern Maine morning. Your daily visits to the GFRC website and support for a humble numismatic business are much appreciated.
Boston was yesterday's destination and an opportunity to spend time with Natsumi at the beautiful Aquarium followed by an authentic Italian dinner in historical North End. Matt and family are in the process of emptying their North End apartment and flying to Beijing this Friday. Walking the North End streets and family time together were priceless. We wish Chikae all the best with her new position at the Beijing International School while Matt and Natsumi absorb Chinese culture as done by father/grandpa years ago.
We returned to Maine home late in the evening without time left in the day to post the balance of the Osprey World Coin consignment, as a Client Gallery, in this morning's Daily Blog. Osprey's wonderful offerings will appear later today as a preview.
Shifting to United States politics, the Democratic National Party has serious issues to deal with. Corruption at the highest levels and an obviously rigged system for Bernie Sanders have been exposed. What was suspected has been proven to be factual. The biased media continues to go along for the ride. American citizens must view the establishment (politicians, a liberal media and central bankers) with higher degrees of skepticism to render an informed decision during the Fall election cycle.
GFRC News
Orders continued to arrive while in Boston. Though I had subdued sales expectations for July, efforts to attend Summer FUN and Baltimore along with considerable new inventory, have paid off. More new customers are appearing and enjoying their numismatic hobby even during summer months. GFRC July sales will be over twice that of 2015. There is something to be said for a dealer who believes that knowledge and education are a key part of the sales process.
Today's focus is shipping orders, mailing more consignment checks and wrapping up the Osprey World Coin client gallery. A conference call with Jim Poston, on Ebay sales and another forthcoming consignment, is also planned.
GFRC Consignments Wanted...Please Offer
As mentioned in yesterday's Blog, I have an open window in August to absorb more consignments. By August 8, the Gerry Fortin Top 100 Seated Dime Varieties Collection will be posted online. Many pieces have FRoR and brisks sales are expected. Afterwards, and since not attending the Anaheim ANA, there will plenty of bandwidth to absorb a major consignment (50 pieces or more) or a group of smaller consignments. Remember that the busy Fall show season kicks off in September and a perfect time to sell your duplicates or divest a collection in a controlled manner. This year, GFRC is attending CONA (corner table at Ohio show), then Denver (two tables with W.David Perkins and Jim Postin), Whitman Baltimore (combined corner/regular tables with W.David Perkins) and Shanghai Yunzhou show (booth with Harry Zhang). GFRC office is moving to Florida by middle of December and will be well prepared for the Winter FUN show in Ft. Lauderdale in early 2017.
Global Financial News
Spot gold continues to hold its recent breakout increase and sits at $1320 this morning while oil is priced at $43/bbl. We are just one crisis away from another upward spike in gold prices. Please read on and consider why physical gold remains a secure financial opportunity.
This morning's Seeking Alpha headlines are interesting and worth paying attention to. The Bank of England is jumping on "the stimulus" contagion and will increase money supply. Where does this end as central bankers are acting with a herd mentality? Do we remember the Chinese Yuan being recognized as an international currency last October? Well, the time is coming for formal inclusion in the IMF's Special Drawing Rights (SDR) currency basket. Look for an annoucement on the new global currency allocation on September 30. Finally, the Italian banks are in serious trouble as sitting on $400 Billion in bad loans. How do banks allow these types of situations to occur? Now Italian pension funds are being asked to rescue the banks. Is this a case of good money chasing bad money since there are no other alternatives?
The Bank of England's Martin Weale has changed his mind and now supports immediate stimulus for the U.K. economy at next week's policy meeting. The pivot follows a series of negative business reports, culminating in last week's poor PMI data. Only a week ago, the widely-followed policymaker called on the central bank to wait for "firmer evidence" before implementing more monetary easing.
Just two months before the yuan is to be included in the IMF's Special Drawing Rights basket for the first time, the fund's board has adopted a new methodology for calculating the amounts of its global reserve currencies. New weightings of the dollar, euro, yen and pound will be set on Sept. 30 and fixed for five years, pushing the yuan a step closer to being freely usable internationally.
Specialist Italian pension funds are considering a government request to pour money into a bank rescue fund, days before European stress tests are expected to show the country's third-largest lender, Banca Monte dei Paschi (OTCPK:BMDPY), is in urgent need of capital. Italy is looking for ways to support struggling lenders without breaking EU state aid rules, but a deeper financial crisis could further undermine confidence in the eurozone's fourth-largest banking sector.
Featured Coins of the Day
This morning, let's dig into existing inventory to highlight some great Type Coins. We start with a lovely antique gray 1835 LM-10 PCGS EF45 Capped Bust half dime that is pleasing to the eyes; a perfect type coin. Another choice type coin is this 1854 Seated dime graded PCGS AU55 and approved by CAC. How about an early 1825/4/2 Capped Bust quarter graded PCGS VG10 with CAC approval. Surfaces are fully choice. Finally, we close with one of my favorite pieces across all GFRC price lists; 1839 With Drapery PCGS AU53 CAC with Col. Green/Eric P. Newman pedigree.
This wraps up another Tuesday Blog edition. Time for shower and then immediately heading into the GFRC packing and shipping department. Today's shipping includes an international package to Shanghai for Harry and his customers.
I will see you bright and early on Wednesday morning.
July 25, 2016
Greetings on this last week in July. Summer is moving along so quickly with August right around the corner.
GFRC enjoyed a strong weekend as the orders poured in and USPS shipping boxes are piling up. Google Analytics indicates that the revised For Sale page brought nearly 1200 pageviews across the two weekend days. A sincere thank you to everyone who visited the new page, along with the feedback and, of course, the orders. My ongoing challenge is replacing quality inventory to maintain the GFRC momentum.
Featured Article
Today's Blog will focus on a John Mauldin article that I've been meaning to share during the last week but too much happening with Summer FUN and Baltimore new purchase announcements and roll out of the COIN system and revised price lists. The Mauldin article is entitled, The Age of No Returns, and is a well prepared review of the global interest rate environment. The fundamental premise of the article is that the world has moved into a new era of no returns for saving money. Mauldin opens with the following commentary.
The enemy is coming. Having absorbed Japan to the west and Europe to the east, negative interest rates now threaten North America from both directions. The vast oceans that protect us from invasions won't help this time.
Someday I want to get someone to count the number of times I've mentioned central bank chiefs by name in this newsletter since I first began writing in 2000, and we should graph the mentions by month. I suspect we'll find that the number spiked higher in 2007 and has remained at a high plateau ever since – if it has not climbed even higher.
That's our problem in a nutshell. We shouldn't have to talk about central banks and their leaders every time we discuss the economy. Monetary policy is but one factor in the grand economic equation and should certainly not be the most important one. Yet the Fed and its fellow central banks have been hogging center stage for nearly a decade now.
Mauldlin shares a GMO graph projecting 7 year annual returns for various equity classes. GMO is an investment analysis firm that has been around since 1977. The individual asset classes should be carefully examined. The horizontal dotted line is historical 6.5% long term rate of return for U.S. investment assets. The GMO forecast indicates that all asset classes are no where near that historical level for the forseeable future.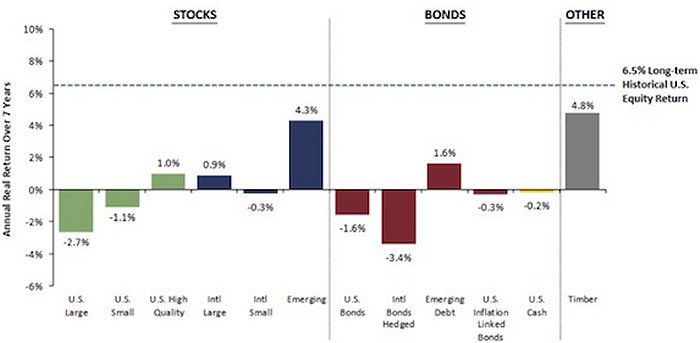 With negative interest rates (NIRP) surrounding the United States, how will the Federal Reserve manage the next recession? We should be paying attention to the possibility of the next economic recession. The current United States recovery and expansion from the 2009 Great Recession is getting old. The longest expansions on record would place 2018 as the target for the next recession. If one does occur, then the Federal Reserve will have no choice but to move to negative interest rates.
Mauldin has been carefully watching Janet Yellen as she appears to be preparing Congress for this eventuality. Here are a few more excerpts from the article.
Yellen Changes the NIRP Tune
I have been saying on the record for some time that I think it is really possible that the Fed will push rates below zero when the next recession arrives. I explained at length a few months ago in "The Fed Prepares to Dive."
In that regard, something important happened recently that few people noticed. I'll review a little history in order to explain. In Congressional testimony last February, a member of Congress asked Janet Yellen if the Fed had legal authority to use negative interest rates. Her answer was this:
In the spirit of prudent planning we always try to look at what options we would have available to us, either if we needed to tighten policy more rapidly than we expect or the opposite. So we would take a look at [negative rates]. The legal issues I'm not prepared to tell you have been thoroughly examined at this point. I am not aware of anything that would prevent [the Fed from taking interest rates into negative territory]. But I am saying we have not fully investigated the legal issues.
So as of then, Yellen had no firm answer either way.
A few weeks later she sent a letter to Rep. Brad Sherman (D-CA), who had asked what the Fed intended to do in the next recession and if it had authority to implement negative rates. She did not directly answer the legality question, but Bloomberg reported at the time (May 12) that Rep. Sherman took the response to mean that the Fed thought it had the authority. Yellen noted in the letter that negative rates elsewhere seemed to be having an effect. (I agree that they are having an effect; it's just that I don't think the effect is a good one.)
Fast-forward a few more weeks to Yellen's June 21 congressional appearance. She took us further down the rabbit hole, stating flatly that the Fed does have legal authority to use negative rates, but denying any intent to do so. "We don't think we are going to have to provide accommodation, and if we do, [negative rates] is not something on our list," Yellen said.
That denial came two days before the Brexit vote, which we now know from FOMC minutes had been discussed at a meeting the week earlier. But I'm more concerned about the legal authority question. If we are to believe Yellen's sworn testimony to Congress, we know three things:

.As of February, Yellen had not "fully investigated" the legal issues of negative rates.
.As of May, Yellen was unwilling to state the Fed had legal authority to go negative.
.As of June, Yellen had no doubt the Fed could legally go negative.
Is the United States following the rest of the world into NIRP a big deal? That is the question to be answered and probably yes is an appropriate response. Pension funds are the first place one can expect major issues. Many state and city pension funds are legally required to raise revenue (taxes) to fund government retirees. With pension funds not growing at the 6% historical rate of return, then local property tax increases could become massive leading to another housing crisis as properly values are crushed by heavy tax levies.
Then there are all the United States retirees who have saved their entire life and find that former assumptions concerning nest egg extractions are out the window. The result is individuals in their 60s and early 70s working much later in life and crowding out young people for limited jobs.
There is much to consider based on this Mauldin article. NIRP are unnatural and unpredecented for "normal" capitalism to be effective.
Featured Coins of the Day
I've been busy loading more Summer FUN and Baltimore new purchase during the weekend. Following are a few highlights that might fit well into your collection. Yes, I know these were already shown in yesterday's Blog but thought some larger images might capture attention to these lovely pieces.
Thank you for stopping by the Daily Blog and reading these ramblings. I'll be back bright and early on Tuesday morning.
July 24, 2016
Welcome to the Daily Blog on a picture perfect summer day. Skies are cloudless and temperatures have moderated. A health walk is definitely in order after skipping the past two days.
Matt, Chikae and Natsumi are home for their last visit before relocating to Beijing next week. Matt's consulting firm, Decoding Sustainability is moving its business address to Maine while Matt continues consulting operation while in China. Natsumi is growing up so quickly and now a little chatter box and running around the house with our dog, Buddy. She will be missed by the United States based grand parents and will have an opportunity to enjoy time with her Beijing based grand parents shortly. We are setting up mobile communications to stay in contact while the family is in China.
GFRC News
I'm excited to report that Matt will be staying on as GFRC's Information Technology Director as there is so much more potential for the GFRC business. A Saturday IT development strategy session resulted in the definition of enhancement/capabilities projects. New projects include;
- Optimizing the website for mobile communications...yes, GFRC will eventually have its own mobile app. Optimizing price list download speed and bandwidth requirements is the next priority. Our goal is to become one of the fastest and easiest to navigate numismatic portals in the industry.
- Creating custom inquiries into the COIN database including ability to retrieve sales archive information. Examples include capability to sort the 30 Day New Product list by denomination, grade or TPG as examples. We will also explore building a custom query application so that customers can retrieve and sort GFRC inventory by TPG service, grade, variety or other parameters accessible in the database.
- Adding direct consignor account information access (COIN reports) with ID and password control. This capability has already been requested by several consignors and will be a popular option.
- Adding an E-Commerce module to existing website.
GFRC New Purchase Gallery
The Daily Blog becomes visually boring with just text. So let's spice up the Blog with a gallery of United States coins added to price list in the past 24 hours or so. I've also starting to populate Osprey's World Coin consignment on the price lists too!
Consignments Wanted!
With the completion of the COIN system project, my bandwidth has seen considerable improvement. Several individuals proposed consignments in the past two months and I asked for patience at that time, given the large backlog. That backlog is quickly being absorbed and will be fully loaded in the next few weeks.
GFRC will be accepting consignments starting August 8 towards positioning for the busy Fall and Winter numismatic season kicking off with the CONA (Dublin, OH) show on Labor Day weekend. By August 8, the GFRC Top 100 Varieties will be posted leading to open time for adding more quality offerings to the website. If you've been considering a collection divestment or just pruning some duplicates, then please email or call to discuss the possibilities.
Thank you for visiting this beautiful Sunday morning! I will be back bright and early on Monday.
July 23, 2016
Greetings from Vacationland! Maine tourist season is in full force as "out of staters" enjoy our scenic coast line and of course Maine lobsters. Maine is a special place especially if one can spend the dark winter months in Florida.
The heat wave, that is blanketing the country, arrived yesterday and will stick around through today. Composition of the Daily Blog is being done with a floor fan blowing cool air throughout the GFRC office. The Fortin home does not have air conditioning. When constructed in 1985, the design was completely focused on energy efficiency during the Fall and Winter seasons. Maine construction previously assumed a 3' deep annual frost when building foundations. With global warming, this requirement may have been modified.
GFRC News
Yesterday was a day of relief and pride after completing the COIN system conversion. Loading new coins to the price list is so simple and efficient. Customer feedback arrived throughout the day and here are a few excerpts.
Congratulations on the new layout and functionality for your website. It looks great, works well, I think everyone will love it, and it will be the envy of others. Keep up the great work!
Amazing Job! I had to look before midnight. Gerry and Matt have delivered........as promised. I hope it 'delivers' what you are expecting...... but that might mean pulling a night shift in the shipping department and working 24 hours per day...... Sometimes that appears to be your goal, in part, or at least to see all the quality bust and seated coins in existence.....on this price list.
A big loud congratulations on yours and Matts' hard work on the coin listing sheets online.
Now that the COIN project is completely, what is next?
How about a second attempt at breaking into the World Coin market? Below are the initial highlights from the Osprey World Coin consignment as retrieved during Summer FUN road trip. As you can see, Osprey is a connoisseur of fine coins (and scotch) and enjoys locating quality coinage artifacts from the Napoleon era while traveling throughout Europe with his charming Belgium wife. We've become close friends after working together at the Summer FUN GFRC table and sharing dinners and scotch in the evenings. Some collectors acquire a keen sense of eye appeal and beauty, whether in porcelain, paintings or numismatics. Osprey is one of those individuals and the following highlights provides a window into his ability to select only the finest coins for the new GFRC World Coin product line.
Look for a GFRC COIN World ad in the forthcoming monthly magazine in the World Coin Marketplace. GFRC is already working with COIN World staff and ad proofs will be approved this coming week. We are attempting to start the advertising process in the September issue.
Osprey Collection - World Coin Consignment Highlights - July 23, 2016
Keeping an international flavor to this morning's Blog.....
Harry Zhang, GFRC Shanghai agent, heads to the Yunzhou Antique Mall this weekend to book the same GFRC booth as last year. Improvements will be made including signage and careful consideration on coins to be transported for the show.
With August arriving soon, planning for the GFRC Fall coin show schedule is in full force. I'm excited about heading back to Shanghai and will be hosting a dinner for former Yunzhou dealer friends towards exploring new business opportunities. Also while in Shanghai, one of my dearest CSMC colleagues will travel from Wuxi to Shanghai for a dinner reunion. She left CSMC shortly after I did and her new company has just been acquired by Qualcomm. No one implements semiconductor quality systems as well as Gloria.
Featured Coins of the Day
Summer FUN and Baltimore new purchases have been or will be posted to price list this weekend along with consignment pieces that have been in the queue. Following are some highlights worth considering.
I'm so pleased that you could stop by this morning. Have a great late July weekend as summer is moving along much too quickly!
July 22, 2016
Friday arrives at the Daily Blog and thank you so much for visiting. Maine will experience high humidity and afternoon thunderstorms. Luckily, all the Summer FUN and Baltimore new purchases and consignments are photographed and ready for image processing and loading.
GFRC News - Redesigned Website is Online!
There is an incredible sense of relief and accomplishment this morning as the Blog is being composed. The GFRC COIN system and website redesign is online and open for business! A vision and set of ideas in January has been transformed into reality by a hard working father and son team. I could not be more proud of our accomplishment and of course, my son Matt. He analyzed his father's manual work flow processes and transformed those into a business operating system by creating a single software platform that merges online publishing with inventory and financial management. Wow!
Matt has had no formal programming training but is an individual that freely dissects and explores. Just as his father dissected the Liberty Seated dime series for variety analysis, Matt researched Excel capabilities to the nth degree unleashing the full capabilities of this omnipresent software. Matt also learned HTML programming quickly and identified improved website creation software (WordPress) for the project while his father sustained the business with obsolete Dreamweaver application.
The father and son team worked continuously on this project for over six months and I believe GFRC customers will be pleased with the outcome. The redesigned GFRC website was created by an advanced collector for the entire collecting community. Adding Quality Ratings and auction description to even $100 coins facilities both collector education and confidence with purchase decisions. GFRC is not your typical coin dealer, but rather a numismatic educational portal.
Matt and I enjoy exploring and breaking new ground in our respective industries; Environmental Sustainability and Semiconductor Manufacturing. We thrive on it as part of our DNA. Our collaboration in the numismatics field has resulted in a ground breaking website and optimized collector service. I can't tell you how proud I am of this outcome and the pleasure of working closely with Matt during COIN system development and implementation.
Global Financial News
A review of Seeking Alpha headlines had me taking a double take concerning a statement by French President Francois Hollande to the Bristish people. Did Hollande really mean "immigration" or tourism without visa requirements? The two concepts are quite different.
French President Francois Hollande has given U.K. Prime Minister Theresa May a choice: Accept unlimited immigration from the EU or lose access to its single market. "There can be no free movement of goods, free movement of capital, free movement of services if there is no free movement of people," he said at a press conference. May also confirmed that the triggering of Article 50 won't come this year as her government works out its negotiating position.
Other headlines to note this morning include Japan continuing to suffer export erosion due to a strong Yen. Then there is Amazon and Wells Fargo teaming to offer student loans online. Yes, going into debt will be as easy as clicking a button on a website. Finally, representative from the world's largerst economies meet in Chengdu, China this week for a G-20 meeting. The IMF is sounding the alarm bells over stagnant global growth (Europe is a mess with negative interest rates and Italian banking system on brink of collapse) while the US does not see a sense of urgency.
Japanese manufacturers suffered a fifth month of contraction in July, albeit at a slower rate, according to a preliminary gauge tracking sector activity. The IHS Markit/Nikkei Flash Manufacturing PMI edged up to 49.0 on a seasonally adjusted basis vs. a final reading of 48.1 in June. New export orders fell to a preliminary reading of 44.0, the index's lowest level since December 2012, indicating recent yen gains are hurting exporters.
Stepping into the student loan marketplace, Amazon (NASDAQ:AMZN) has formed a partnership with Wells Fargo (NYSE:WFC), in which the bank will offer interest rate discounts to select "Prime Students." The offer, which will shave a half percentage point off WFC's student interest rates, will be accessible to Amazon shoppers who want loans to attend college and those who want to refinance existing loans.
Finance ministers and central bank governors from G20 countries are gathering in Chengdu, China, for a two-day meeting that begins tomorrow. Brexit and monetary policy at a global level are likely to be the main topics of discussion. Officials will also likely discuss the renminbi, which is showing some new signs of weakness, and China's currency policies.
Ahead of the G20 meeting, the IMF painted a dark outlook for the global economy, issuing an "urgent" call for the world's largest economies to roll out more growth-boosting policies and act more aggressively. "I don't think this is a moment that calls for the kind of coordinated action that occurred during the 'great recession' in 2008 and 2009," said U.S. Treasury Secretary Jacob Lew, before jetting to the meeting late Thursday.
RNC Convention Reporting
The Republican National Convention is over and the biased media is looking for issues to leverage and create drama. When did the media become formally appointed with the combined roles of prosecutor, judge and jury?
Luckily at GFRC, our correspondent is a unifier and works toward resolving issues in a bipartisan manner during his Ohio governance career. He reports once again from Cleveland with the following;.
I attended the ARTSSPEAK@RNC forum Wednesday at the Rock & Roll Hall of Fame. ARTSSPEAK has put forward a forum on arts funding and the significance of the arts for our culture, economic development, and for health and therapy at each of the last 4 Republican and Democratic National Conventions.
The forum featured local and national experts on the impact of the arts in broad areas of our lives. Just a couple of examples:
- Music therapy has been shown to be effective in pain management. It could reduce the need for prescribing narcotics, which is related to the epidemic of deaths from accidental opiate overdose, which is expected to cause over 500 deaths this year just in Cuyahoga County.
- Arts and culture, not financial incentives, seemed to be the deciding factor in a major corporate location decision made by Boeing, favoring Chicago over Dallas-Fort Worth.
Excellent as the program was, the biggest impact for me was incidental, and resulted from the forum being moderated by former Arkansas Governor and Presidential candidate, Mike Huckabee. Huckabee did a spectacular job as moderator and it was clear that he had a long-standing and personal commitment to the arts and a broad understanding of the wide-ranging positive impacts of the arts in our lives.
I had thought of Huckabee as just another Christian fundamentalist very conservative politician. I saw a different, very attractive side to him that I never knew about.
It just reinforced for me the importance of always being open to new information. We need a lot of such openness this year.
Closing Comments
Now that the COIN system is an online reality, I can return to shipping orders and loading the Summer FUN and Baltimore show new purchases and also be more responsive to customers. Getting back to working with coins is where the fun is! So look for a stream of new offerings on the 30 Day New Purchase price list in the next 48 hours.
Matt and family are making their final visit to Maine this weekend before relocating to Beijing, China next week. We wish Matt, Chikae and Natsumi much success with their forthcoming adventure. A family reunion is planned during the Christmas/New Year timeframe in Florida.
July 21, 2016
Welcome again from Maine. Thursday brings the last of perfect Vacationland weather. Low humidity and cool Canadian breezes will once again dominate while humidity and strong thunderstorms arrive tomorrow and into the weekend. Our friend, Poetic Candy sent along the following concerning thunderstorms. He writes of dreading Midwest thunderstorms as a child.
DOWNPOUR
Scintillating random flashes streak across the sky,
Darkened clouds with random shapes,
Flickering before our eye.
Thunderous sounds that rock one's world,
Ones that God herself unfurled.
Water falls from broken clouds,
Rain torrents, that all the earth enshrouds,
From the darkened heavens,
Dimming out the constant noise,
Of seemingly unearthly crowds.
Oh, how small are mankind's cries,
When we have seen the power of nature,
As she unleashes it before our eyes.
For those of you who asked, yes, I've been streaming the RNC during evening hours, listening and reflecting. Would like to share the following thoughts....
- Regardless of your opinion of Donald Trump, his children speak loudly, not on a stage, but in character concerning their father's beliefs, work ethics and morality.
- When invited to someone's party, one should be gracious to the host. Ted Cruz's blatant personal aspirations and lack of decency were on display last evening. Frankly, I've viewed this individual as a self serving (jerk) politician for a long time. On the other hand, Kasich did not attend the RNC as unable to provide a positive statement towards the host. That is ok and I respect Kasich accordingly.
- Trump provided an open platform for his former rivals to speak without endorsement requirement. This is an effective approach for sorting out the gold diggers from the loyalists. Every corporate executive faces the challenge of building a strong team. Trump's team formation process is on full display.
- The selection of Mike Pence as VP candidate soundly demonstrated Trump's ability to judge talent. Mike is a good solid American. His speech was slow, soft spoken at times, and clearly effective. Trump, as an orator, could learn from Mike Pence.
- Finally, I would love to see Newt as Secretary of State if the Republicans dominate in November. American needs a professor of history as our primary interface to the world.
Another report from our Daily Blog correspondent arrived yesterday concerning RNC events. He provides practical commentary that I fully agree with.
Hi Gerry,
In addition to all the controversy and drama of politics, conventions also attract professional and cerebral forums on the most important issues facing our country.
Yesterday, I attended the Community Integrated Health Forum, sponsored by the YMCA/YWCA. Featuring a panel of 4 nationally recognized leaders in preventive approaches to health care, the panel discussed what the Y is doing to become a national leader in health care prevention.
Over the course of our lifetimes, millions more Americans will die and/or have their quality of life reduced because of diabetes, cardiovascular disease, or osteoarthritis than from international terrorism or even gun violence. Yet health care is getting little discussion in the national campaign, and what little there is focuses on support or opposition to Obamacare, rather than on how to prevent and manage chronic disease.
The Y has developed a program of treatment for pre-diabetics that prevents the condition from advancing to full diabetes in half the cases, and it is saves money. The program has recently been approved for payment by Medicare and Medicaid, a very significant shift in our approach to health care. Their program focuses on weight loss through permanent changes in eating habits and exercise, with home environment, stress, and social contact also factored in. The Y is also developing a healthy living program for the general population, not just pre-diabetics, with a goal of having 100 million people participating in healthy living by 2020.
What's particularly significant about all this during convention week is that it transcends traditional notions of Democrat/Republican and liberal/conservative and can be supported by everyone. It saves lives, improves quality of life, and saves a boat load of money. As we prepare to choose our next President, it would be good also to think about positive things like this that we need to do, regardless of who wins.
GFRC News
The COIN system conversion project is just about done! On Friday morning, Matt launches his redesigned For Sale page and GFRC is back to normal in terms of servicing customers and consignors. I've purposely set priority on the COIN system conversion throughout the week at the expense of coin sales and order fulfillment. Please accept my apology for the slow responses to emails and lack of rapid coin images and price quotes.
Please check back tomorrow for the revised GFRC website and a return to "normal" operations.
Global Financial News
Once again spot gold and oil prices are in a tight trading range. Following are several Seeking Alpha headlines of interest. Japan is driving down the Yen with promises for incremental money printing. More speculation on the Trump front. The United States has the ability for energy independence and hopefully the next president will be bold and terminate the usage of Middle East oil. Puerto Rico continues to make news concerning its bankrupt state and potential precedence for those to follow.
The yen has fallen to six-week lows against the dollar on reports of additional stimulus measures in Japan. According to Kyodo News, Prime Minister Abe's government is looking to inject a further ¥20T into the economy, almost double its previous plan, but BOJ Governor Haruhiko Kuroda has ruled out the idea of using "helicopter money." The package could be ready by the central bank's policy meeting at the end of the month.
Fracker-in-chief? Republican presidential candidate Donald Trump is considering nominating Continental Resources (NYSE:CLR) CEO Harold Hamm as energy secretary if elected to the White House on Nov. 8. Trump also spoke on the future of NATO. In his strongest remarks to date, he said the U.S. would only defend alliance members attacked by Russia after reviewing whether those nations "have fulfilled their obligations to us."
A group of hedge funds are suing Puerto Rico, saying the island violated its hard-won new debt-restructuring law before the ink from President Obama's pen was even dry. The law, which the president signed on June 30, puts the U.S. territory under the watch of a federal oversight board, but has a built-in lag of at least two months before it becomes operational.
Final Thought
The best part of owning and operating a coin business is working with coins! Tomorrow brings back fun as I start to process images, building Client Galleries and initiate even more sales on a world class online software platform. One GFRC customer/consignor said it well in an email conversation yesterday.
I have to tell you, that observing what's been going on, has been "exciting" to watch. Kind of like living vicariously thru GFRC. That probably doesn't make a lot of sense.... I guess thanks for making being a coin collector fun again. Like most of your loyal followers, I look forward to the daily blog, the new listings, and all the changes.
Have a great day and please check back tomorrow!
July 20, 2016
Greetings from Maine and another perfect day in northern New England. Low humidity and clear blue skies will dominate. Today is an ideal day for GFRC photography and a quick Miata ride into town and USPS visit.
We open today's Blog will a special memory of Gene Gardner from the Manchester, New Hampshire Coin Expo held in late 2013. There is a story behind this image.
Originally, I had planned to display my Liberty Seated date/mintmark and Top 100 Varieties sets at the Manchester show for fun. I had retired from CSMC Technologies in China and GFRC was in start up mode and was looking forward to three quiet days behind the cases. The LSCC announced the Fortin display through normal channels and I received a surprised phone call from Gene Gardner several weeks before the show. Gene also wished to display his Liberty Seated date/mintmark and proof sets at the show as a team effort. This was an incredible opportunity for the hobby to view many of the finest Seated dimes extant at one venue. A quick phone call to Ernie Botte, show promotor, brought agreement and a commitment for increased overnight security given the value of combined displays. At that time Gene was fighting his cancer and uncertain of his future. He simply wished to exhibit a portion of his collection.
NH Coin Expo setup day arrives. I'm early to the show for dealer setup while waiting for Gene to travel from PA to NJ (to pick up Bill Nagel) and then to Manchester. Gene had leased private jets for the trip given his frail condition. While setting up my sets, I receive a phone call from Greg Rowan, Heritage President. It appears that Gene had told Greg of his decision to display at Manchester and Greg immediate jumped into action and ordered a large safe to be delivered to the Manchester bourse floor. There were multiple calls from Greg that afternoon as the safe was first delivered to the wrong venue and finally arrived. Greg insisted that I was the only person to have access to the safe's combination. Gene arrived with his lovely wife, Anne and Bill Nagel. Here is Gene carrying his multi million dollar collection in an LL Bean style tote bag as removed from his bank vault. It was a fun two days but one could see Gene's fatigue on the first show day from the journey. Gene and I shared private time over breakfast and during quiet moments on the bourse floor; I will never forget this occasion with one of numismatic's true giants. May Gene rest in peace after an extraordinary lifetime.
A Special Memory With Eugene Gardner
NH Coin Expo Seated Dime Fest: October 2013
LSCC Treasury Benefit Auction
Len Augsburger, LSCC Vice President, is managing this year's ANA auction event. Donations have been broad based and sincerely appreciated. Bill Bugert, LSCC Publishing Guru, prepared another superior auction catalog with Len writing descriptions and Gerry handling the photography. Below is the catalog cover. Just click on the cover to download the entire PDF file to view individual lots. Len Augsburger is accepting email bids for those not attending the ANA convention. Already we have 9 email bids totaling nearly $2000; a very good start indeed.
GFRC News - COIN For Sale Page Online Thursday!!!!!
Yes, it is true. The long COIN system development and conversion project is coming to an end. Matt will install the reformatted For Sale page onto the website on Thursday evening. My vision for a collector friendly online system has been transformed into reality by lots of hard work and creativity. Once released, you will agree that Matt Yamatin deserves a bonus for his relentless development hours and supporting GFRC during the conversion.
Global Financial News
Spot gold is being quoted at $1325 this morning and remarkable given the first Seeking Alpha headline. The US Dollar is climbing once again and now the Federal Reserve can restart interest rate increase speculation. It appears that the United States economy is in healthy condition. Then we move to Iran which is returning to international debt markets to fuel its economic recovery. Finally, the Bank of England does not see an serious economic impact from the Brexit outcome. More good news for the global community.
The greenback is at a four-month high against a basket of currencies, bolstered by strong U.S. data and growing expectations the Fed may raise rates before the end of the year. The dollar index is up 0.2% at 97.271, its highest level since March 10. Fed funds futures rates now suggest a 40% chance of a rate hike in December, compared with less than 20% a few weeks ago.
Iran is exploring a return to international debt markets for the first time since 2002, as the Islamic Republic seeks to finance an economic recovery that can offer it another route out of isolation. Economy Minister Ali Tayebnia said in an interview that he expects his country to secure a credit rating in the "near future" and Iranian officials are "negotiating with all the rating agencies."
The Bank of England sees "no clear evidence" that a sharp economic slowdown is yet under way after last month's vote to leave the European Union, though there are signs investment and hiring are being put on hold. Sterling surged to a session high of $1.3157 on the news and better-than-expected jobs data. The U.K. jobless rate fell to 4.9% in the three months to May, marking the lowest level since 2005.
Featured Coins of the Day
It is the middle of summer and numismatic orders are slowing down. Many customers are waiting for the Summer FUN and Baltimore new purchases to be loaded before springing into action. As a reminder, there are large quantities of super coins in GFRC inventory. Following are just a few.
Thank you, as always, for visiting the Daily Blog. I will be in the office all day and hope you might phone in an order for existing inventory. New purchases and consignments will be photographed today and should start appearing on Friday and Saturday. Have a great July summer day!
July 19, 2016
Welcome to the Daily Blog on a perfect Tuesday morning in Maine....at least weather wise. The humidity is gone with an early morning temperature of 70F. Last evening brought a severe thunderstorm with a lightning strike too close to home. Thunder rattled the building while streaming the Republication National Convention and cable based internet was lost.
There is much to write and discuss this morning. We start the Daily Blog with an RNC on site report from our correspondent.
Hi Gerry,
I had the opportunity to watch the Opening night of the Republican Convention from the Host Committee Suite inside the hall. The delegates are certainly united against Hillary but the evenly split fight over the rules shows they are not yet united for Trump.
Trump promised a different kind of convention that's more entertaining. So far we haven't see that, but they did the usual thing well, launching a focused attack on Obama and Hillary around safety and national security. Pat Smith's testimony about her son's death in Benghazi was devastating.
I thought Guliani was spectacular. He was strong, crisp, and forceful, and lighted up the crowd. But my brother, who saw it on TV said he looked angry and snarling. Sometimes what works in the hall doesn't work for the millions on TV. Trump is the master of the hall. This is his biggest challenge on Thursday.
The problem for Hillary isn't that four Americans died on her watch. The operation is vast and it's bound to happen. The problem is that she seemed more concerned about managing the politics, both personal and international, than responding to the situation.
Unfortunately, this reflects a larger problem for Hillary. There is an essence to Hillary that is strong, compassionate, and pragmatic. However, she has become cautious and defensive after 25 years of incoming political attack. You just can't lead the free world from that mindset. She needs to rise above her personal history and rediscover her true self and do it very quickly.
The challenge for Trump is that the world is more complex than his worldview. It was said last night that we need to win wars to create peace. The problem with that is that the loser doesn't just accept losing, but rather is consumed by preparing to fight again. The only ways to peace are solutions where almost everybody wins. Unfortunately, I've never seen anyone as consumed by winning and losing as Trump. The right mindset is totally alien to his nature, making it an even bigger challenge than Hillary's.
It is said that politics brings out the worst in people, but I know that high leadership and responsibility can also empower people the bring forward the very best they have from deep inside. I pray for that now. America and the world really needs it

LSCC News
Today is indeed a sad occasion to be announcing the passing of LSCC Hall of Fame member, Eugene Gardner. I received notice from Heritage's Mark Borckardt yesterday of Gene's passing on Saturday. Gene fought a valiant and remarkable battle with myeloma for five years and continued to pursue his hobby throughout that timeframe. Following is an excerpt from his obituary as listed at Lancaster Online.
Eugene Herr Gardner, 80, founder of the Investment Advisor Gardner Russo & Gardner LLC, died July 16, 2016 at his home from complications of multiple myeloma diagnosed in 2010. He was a descendant of Hans Herr, with his roots in Lancaster County dating back to 1709.
Born in Lancaster, he was the son of Paul and Anna Miriam Herr Gardner. Gene and his wife, Anne Downey Gardner, were married for 53 years.
Gene was a dedicated numismatist, inducted into the Liberty Seated Coin Collector Hall of Fame in 2014, and a tournament bridge player. His other interests included golf, opera, languages, wine, and travel -- especially to Italy, Santa Fe, Palm Beach, and Snowmass, and anywhere else his children and grandchildren are gathered and a gaming table is at hand.
There are personal memories of Gene Gardner. Gene was a quiet humble man but a fierce competitor when it came to numismatics. One just had to attend an auction with Gene present to learn his approach for set building. Starting in 2005, Gene began his Liberty Seated set building journey that culminated in his divestment by Heritage auction during 2014 and 2015. I fondly remember the October 2013 Seated Dime Fest display of Gene's and Gerry's Seated Dime collections at the New Hampshire Coin Expo. Then, there was Gene's LSCC Hall of Fame induction at the August 2014 annual meeting and time together at the Philadelphia ANA Battle Born sale plus many other private moments between us.
Numismatics has lost another giant and he will be definitely missed.
GFRC News
Much progress was made yesterday on the COIN system conversion. The Seated half dime and half dollar price lists are fully converted along with Barber coin offerings. At this pace, we are on track to release the new For Sale page link by end of day Thursday. The Seated Dime G-EF price lists will remain in the old format and will be tackled next week. There is just so much new inventory and consignments that must get online and today will be an ideal day for photography. Therefore the two Seated dime price lists will not be part of the Thursday transition. Thank you for your understanding for the delay on the Seated dime circulation strike price lists.
Along with the COIN system conversion, GFRC shipped a record 15 USPS boxes on Monday and there are still more orders to go out this morning.
Feedback arrived concerning the new GFRC For Sale page in Monday's Inbox. Following are several comments.
The work you and Matt have done on your website is oustanding. It really is first class. Your website is better (easier to use and a better layout) than the larger national dealers / auctioneers. Congratulations and kudos to both of you on a great site.
The new GFRC format looks like it will be a 'Quantum Leap' improvement and I can hardly wait for it to go live !
A GFRC consignor also commented on my decision to not attend the 2016 Anaheim ANA. He writes;
I am disappointed that you aren't going to the ANA in CA but totally see the economics of the trip don't make it worth while. My thought when I read your reasons is, why did the ANA book a city that doesn't have collectors that support the dealer bourse? There are plenty of other cities that I would think would be excellent candidates (Chicago, Detroit - resurgent downtown and an enlarged venue, Cleveland [not this year, the circus is in town] to name a few), all without the burdensome CA sales tax to deal with. Dealers, like you, won't go if it isn't financially viable.
Global Financial News
The John Mauldin article planned for today's blog will be delayed until tomorrow since ample content today on other topics.
Spot gold and oil prices are unchanged against Monday's quotes. United States equities are at record levels. Seeking Alpha headlines are quiet and none are worth publishing today.
Featured Coins of the Day
As I work through the GFRC price lists and corresponding inventories, many great Liberty Seated coins along with other designs are seen in double row slabbed boxes that deserve to be featured in the Daily Blog. This morning, we visit the Seated half dimes and Barber price lists for four selections.
We start with two special Seated half dimes. The first is an 1859 one year design type graded PCGS MS67 with CAC approval from the Woodlands collection. The 1859 design is well known for its "hollow stars". Note the shallow design relief on this superb gem and so typical of Paquet's engraving style. Then there is a gorgeous raw 1868 half dime graded AU58 from the New Jersey collection. The 1868 date is underrated with a mintage of only 88,600. This piece is so choice!
The second row illustrates two gorgeous mint state Barber pieces. The first is a 1908 quarter dollar graded PCGS MS63 with CAC approval, the second a 1908-O half dollar, also graded PCGS MS63 CAC and assigned a "gem" GFRC quality rating. These two offerings are ideal type coins.
Thank you for stopping in this morning as everyone's time is precious these days. There is so much online content vying for people's attention and I'm so pleased that readers allocate a small portion of their day to read the GFRC Daily Blog.
July 18, 2016
Monday arrives and launches the start of another summer week in Vacation Land. Maine weather has been humid since returning but nothing compared to Florida. All is relative. Today brings serious thunderstorms as a cold front moves through. The balance of the week is forecasted to be perfect vacation weather; highs in the low 80s with low humidity.
Today starts the Republican National Convention. Media coverage of the event will saturate online news and social media. Let's pray for a peaceful convention but this maybe too much to ask for with the number of stressed out crazies running around in society. Just arrived at 8:20am; here is the Daily Blog's own "correspondent's report" from Cleveland.
Hi Gerry,
I attended the Cleveland Host City Welcome Party for the Republican National Convention last night. It was a fabulous party, with the Rock & Roll Hall of Fame, Science Center, plenty of food and drink, an outdoor concert on the lakeshore, and fireworks. Cleveland was at its best.
I saw what looked like a few hundred protesters, mostly about Trump and racial issues, but they were very mellow. No sign of any trouble.
We then got a significant thunderstorm overnight. Hopefully, that will help keep emotions damp and cool, which is what we want.
GFRC News
Much was accomplished on Sunday as I worked the entire day on shipping orders, consolidating inventory and completing the Liberty Seated half dollar price list conversion to COIN generation. When the dust settled, it was 11:00 pm. The long day was rewarded with an hour in the sound room and Aimee Mann's I'm with Stupid released in 1995.
Below is a preview of the revised GFRC For Sale page that should be online by Friday. Though the overall look and feel may be similar to the former layout, there are considerable changes. First is the use of common format buttons for major links. We've eliminated the TPG specific price lists and replaced with the 30 Day New Purchase list and the Liberty Seated dime Top 100 Varieties list given the upcoming Gerry Fortin consignment in August. United States gold price list access moves to the top of the page due to popularity. Also important is the separation of the Liberty Seated halves into two price lists consistent with Seated quarters; done for downloading efficiency as more inventory is added. Below each price list icon are two pieces of information; the number of coins contained in the price list for that icon and date of last update. Generation of this information is automated and derived from the COIN database consistently with the GFRC Consignment statistics as featured in yesterday's Blog.
Please have a look at the new format. It will debut on Friday or earlier. Summer FUN and Baltimore new purchases and consignments will not be posted until the conversion is wrapped up. So it is all hands on deck to get the job done and then move to posting some wonderful new inventory and client galleries. I'm well aware that customers wish to see new purchases and gain first access.
New COIN System Generated For Sale Page
Global Financial News
Spot gold has retreated a tad and is quoted at $1327 while oil trades at ~$46/bbl. Another gem article from John Mauldin arrived on Sunday concerning the length of economic recovery since the 2008-2009 Great Recession and provides a forecast for the next recession. The article also discusses the strong possibility that the next United States recession will bring negative interest rates to our shores. I'll feature the Mauldin article in Tuesday's blog as need time to digest and develop a summary approach.
In terms of Seeking Alpha headlines, Turkey's coup attempt is a non financial event for the global economy and will not be discussed. Instead, China's central bank officials are making the case for more deficit spending which will drive down the Yuan currency on world markets. Let's face it, global central bankers continue to unleash debt at unprecedented rates. Look at the ECB headline; 16% of European corporate bonds are now at negative interest rates with the European Central Bank injecting monies directly into the private sector. Finally, Italy is the next Greece headache for the EU. Italian banks are in terrible shape and now the government wants a 50 billion Euro bailout and JP Morgan is involved.
After tomorrow's John Mauldin article review, I believe most Daily Blog readers will be convinced that now is the time to be buying physical gold and gold mining stocks. When the next recession arrives, the Federal Reserve lacks traditional tools and will launch helicopter monies along with negative interest rates. Global bankers are desperate for generating inflation as a way to monetize global debt. Once gold moves upward, so will rare early date Bust and Seated coinage.
China has room to increase its fiscal deficit ratio to between 4-5% to more effectively boost the economy, official media quoted a central bank official as saying. The nation's current fiscal deficit target is 3% of GDP, up from an actual 2.4% in 2015. Meanwhile, the yuan fell overnight to its weakest level since 2010, pulled down by cooling property prices, a rebounding dollar and a weaker central bank fixing.
The ECB will release the list of names and allocations of the first set of bonds bought under its corporate purchase program later today after buying €8.5B worth of company paper since June 8. About 16% of European Investment grade corporate bonds currently hold negative yields, according to John Taylor, a fixed income portfolio manager at AB.
The Italian government is working on plans to set up a €50B bad bank bailout, sources told the Sunday Telegraph. The scheme, which is being put together by JPMorgan (NYSE:JPM), could help clean up the nation's stricken lenders, but also puts the country on a collision course with the EU, which does not want taxpayers bailing out banks before private investors take a hit.
Featured Coins of the Day
Many coins featured on the 30 day price list have sold quickly. Following are some remaining pieces that I really like for overall quality and in the case of the 1850 PCGS EF40 Seated half, important rarity. We open with a crusty original 1853 three cent silver that is so well preserved. Just look at the rims and note the lack of any marks. I'm surprised that no one has scooped up the 1841 PCGS AU50 Seated quarter as I really like this piece. The 1826 Capped Bust half is raw but so nice and original; it probably needs to head to a TPG to sell. Finally, how many collectors need a nice original 1850 half dollar for their collections?
Thank you for visiting the Daily Blog this morning. I hope you do check back tomorrow. Have a great day and week.
July 17, 2016
Greetings from Maine once again!
Being a coin dealer nomad and driving across the country attending coin shows may seen like a cool lifestyle. New relationships and friends are made while on the road but there is a downside. Hours are spent in a car with constant concern for security and coin business margins dictate inexpensive hotels. Luckily, my years in mainland China prepared me for the hotel component of being a coin road warrior. United States $80 hotel rooms are still much better than most local Chinese hotels. In China, one could not trust the local tap water even for brushing teeth. A two day stay in Shanghai hospital with food/water poisoning during 2005 taught me this lesson early on.
I'm glad to be home and working in Maine GFRC office for six weeks and will have tables a Westford MA and probably Nashua NH shows during that timeframe. Many people have asked why GFRC is skipping the Anaheim ANA this year. The decision to not attend the ANA World's Fair of Money show was primarily driven by location, specifically California and then Anaheim. Anaheim is not a coin town but rather a tourist location with the associated costs to visit. Then there is California sales tax that is on the onerous side. Finally, the COIN system conversion has been dragging on due to ANA Summer Seminar and the 10 day roadtrip to FL and MD. After adding up the positives (market visibility) and the negatives (costs, non coin town location, travel time, COIN system conversion attention), the deciding factor was my gut feelings based on the last ANA show in Los Angeles. This show was poorly attended and we joked about it being the "bowling alley show". One could roll bowling balls down the aisles and never hit anyone. Frankly, Chicago is one of the best locations in the country for holding the annual ANA World's Fair of Money. Being located next to O'Hare brings easy access from the continental U.S. plus Chicago is a great coin town.
So GFRC is passing on the Anaheim ANA and now you know why. Instead, GFRC is increasing its regional show presence throughout the United States in the coming 12 months. I've committed to Summer FUN, Summer Baltimore and will add the February 2017 Dalton, GA to the growing show schedule. The Labor Day CONA show in Dublin, Ohio is also another addition. I hope that GFRC customers in California will understand my decision process as communicated today.
GFRC Consignment News
In the July 13 Daily Blog, I announced that GFRC had returned $1,000,000 of consignment proceeds back to consignors. Today, I'm pleased to showcase GFRC's new consignment website link. The link can be viewed here. This page was primarily developed by Matt as he captured the salient points concerning the GFRC approach for handling and servicing consignments from the collector community. Below is a screen capture of the top most portion of the Consignment page. GFRC is once again breaking new ground in the numismatic business with its level of transparency. The top most table lists current consignment business statistics and will be updated daily as part of the COIN automatic price list generation system. I'm a strong believer in the fact that results speak for themselves and not shy about sharing GFRC consignment statistics. These statistics should provide adequate insight when collectors are considering a collecting divestment decision. Actually, I'm quite proud of the fact that GFRC has rapidly grown from a "retirement business idea" to a leading option for buying and selling quality numismatic items. The marriage of advanced collector skills with semiconductor Information Technology expertise and semiconductor operational cost management resulted in business growth well beyond initial expectations. Having Matt on board, since January 2016 to handle IT development, has been a blessing. His COIN reporting system provides full transparency on every GFRC transaction and consignor inventory.
Matt will be updating the "Consignments Wanted" line seen at the top of each price list with a button that will provide access to the above webpage. At GFRC, we take the mystery out of consigning coins and work as partners with collectors. Isn't this the way it should be?
Shipment and Consignment Check Status
I managed to get four shipments out on Saturday and have another 14 USPS boxes to prepare today for Monday morning shipment. Consignment checks will be written on Monday and mailed on Tuesday. In between these activities, I must convert the Liberty Seated half dollar price list to the COIN generation system followed by Seated half dimes and finally the G-EF Seated dime price lists. Then Matt will release a completely new For Sale page that will be awesome. All of this work must be completed before Matt relocates to Beijing at the end of the month.
Thank you for visiting the Daily Blog on a Sunday morning.
July 16, 2016
Greetings from Maine!
Yes, the GFRCmobile arrived home at 1:30am Saturday and closes out three weeks of being on the road when considering the ANA Summer Seminar. Maine weather is hot, like most of the country, and skies are cloudless this morning.
The 9+ hour drive was uneventful. Instead of attempting the rush hour I-95 corridor through MD, DE, NJ and NY on a Friday evening, the I-83 and I-81 route through PA was selected up to I-84. By the time I arrived in Waterbury and Hartford, there was no traffic and smooth sailing. The only congestion seen was in Harrisburg, PA at rush hour.
GFRC will not be attending the ANA World's Fair of Money in Anaheim, California this year. There are many reasons behind this decision as most of my colleagues are surprised that I am passing on the show. Bottomline, I need a full six weeks of office time to complete the COIN system conversion (before Matt and family leaves for two year stay in Beijing), then re-launching the World Coin price list with Osprey consignment and also posting the Gerry Fortin Top 100 Varieties consignment. More consignments are already committed and start arriving next week. Some older photography also needs to be redone towards re-marketing consignment inventories. Please note that I've not said anything about a vacation or finishing clearing out the massive brush pile in the backyard. For GFRC customers attending Anaheim ANA, I simply ask for your understanding on this matter. GFRC will definitely be at Denver and Philadelphia ANA shows in 2017 and 2018.
Baltimore Show Report - Day 2
Friday's Black Lives Matter protest in the Inner Harbor area really put a damper on the Baltimore show. Once the announcement was made on Thursday afternoon that the Friday bourse hours were limited to 4:00 pm, dealers started adjusting plans to get out of town early. Heritage closed their entire operation on Thursday afternoon. By the time I left the bourse at 3:00 pm Friday, probably 40% of the tables were empty.
GFRC had a few sales on on Friday and I bought a fresh six piece pre-arranged deal to close out the show. GFRC has nearly two double row slab boxes of new purchases and consignments as a result of the Summer FUN and Baltimore show travels. There will be many great consignment and new purchase galleries in the coming weeks.
LSCC Regional Meeting
The Baltimore regional meeting was well attended given the smaller summer show. Below is the group photo that includes attendees present at the meeting opening time. Including those who arrived after the group photo, attendance was nearly 20 club members. Please note that four individuals are wearing LSCC polo shirts. Meeting discussions centered on an ANA Summer Seminar recap by John Frost and Seated half dollar presentation excerpt taken from the Summer Seminar course work. Yes, Gerry gave the presentation on half dollars as a change of pace to past Seated dime related topics. All the instructors, John, Len and Gerry, also learned much from each other at the ANA Summer Seminar. We are already excited about next year's course.
It is GFRC Shipping Time!
Many GFRC customer have been patiently waiting for their purchases to ship during the past 10 days. My sincere thanks go out for your understanding on this matter as being a one person operation does bring limitations. Instead of rambling longer at the Daily Blog, I'm immediately moving into the packing and shipping department and will get some packages in the mail this morning. The balance will ship on Monday.
Thank you for stopping and have a great weekend.
July 15, 2016
Welcome to a Friday edition of the Daily Blog.
The news out of Nice, France is horrific and the carnage must be stopped. Terror groups are winning the media war with more brazen attacks on innocent civilians world wide. Unlike World War II, when nations declared formal war against each other, the 21st century brings a new form of warfare with the enemy lurking within the shadows of urban populations. There are no solider uniforms or Geneva Convention rules. As global citizen's, we are becoming use to the post terror attack public mourning and demonstrations of unity but the carnage simply continues.
Back in Baltimore, the Whitman coin show is closing early on Friday due to a planned Black Lives Matter protest in the Inner Harbor. The show closes at 4:00pm and dealers must vacate by 4:30pm. After working with Lori Kraft to secure a show table for two days, I'm frustrated with this situation and leaving early for a northward escape to a peaceful rural Maine environment. I will be staying put at the Maine GFRC office until the CONA show in Dublin, Ohio on Labor Day weekend.
Baltimore Show Report - Day 1
GFRC had a strong sales day on Thursday and exceeded my expectations given the table location without signage and dealer directory posting. My sincere thanks go out to Lori Kraft for securing a table regardless of the location. Table 263 is next to ICG and ANACS and across from Heritage. On a positive note, I met Randy Campbell, FUN President, and he asked if I would give a presentation on Liberty Seated coinage at Winter FUN show. Of course I agreed and the wheels are now in motion.
Back to GFRC Day 1 results....the table was busy nearly the entire day and sales were in the five figures including the 1794 PCGS VF25 Flowing Hair half dime. Collectors were visiting and buying up quality material. I finally had lunch at 4:00pm thanks to Jim Matthews running to the lobby restaurant for me.
On the buying side, GFRC continued to do well. During the dealer setup timeframe from 8:00 - 10:00am, I quickly walked the floor and happened on a dealer with a large and fresh assortment of Seated and Capped Bust coinage. His coins were mostly choice original and fairly priced to dealers. I was the first dealer to visit his table and purchase 11 coins. None of his coins had been submitted to CAC, which I will be doing next week. After returning to the GFRC table, collectors were walking up and offering coins for sale. Following is a listing of Day 1 purchases with obvious emphasis on quality. It really is interesting to see the cyclic nature of certain Seated denominations coming to market. The Baltimore show has been a treasure trove for Seated quarters while better date Seated halves were most difficult to locate.
Seated 5c: 1839 PCGS AU53 lustrous with choice surfaces; 1843 PCGS AU55 choice original with boldly shattered reverse; 1871-S PCGS AU53 original golden gray
Seated 10c: 1856 Sm Date PCGS AU53 and near gem eye appeal
Capped Bust: 1836 PCGS AU50 choice gray/gold patina
Seated 25c: 1838 PCGS VF30 original gray; 1847 PCGS EF45 choice original gray; 1848 PCGS EF40 CAC RPD/Compass Point Reverse and badly undergraded; 1854 PCGS MS63 CAC choice with substantial eye appeal; 1873-S PCGS EF45 choice light gray with remaining luster; 1888-S PCGS AU58 pretty light rose gray obverse and choice
Seated 50c: 1867 PCGS AU55 choice original with reflective fields and fully struck; 1868 PCGS F15 perfectly original gray
Gold $20: 1893-S PCGS MS62 original crusty patina
LSCC Regional Meeting at Friday 9:00am
The Baltimore show regional meeting takes place at 9:00am today. Gerry and John Frost will be hosting the session.
Global Financial News
The world is shocked by the Bastile Day massacre of innocents but financial markets appear to be taking the event in stride. Seeking Alpha headlines are limited this morning. Spot gold sits at $1335/oz with gold mining stocks starting to exceed the precious metal's increases (on percentage basis). Like other commodities extracted from the ground, capacity is shutdown while prices plumment and a shortage appears during periods of renewed demand. China economic growth number is out and has to be viewed in light of a centrally controlled economy. British Sterling is recovering from the Brexit vote and corresponding market reactions.
China's economy grew 6.7% in the second quarter from a year earlier, steady from the previous period and slightly better than forecasts as a string of government stimulus measures shored up demand. While fears of a hard landing have eased, mixed activity data for June - released along with GDP - pointed to the risk of slowing economic momentum later in the year. Industrial output rose 6.2%, fixed-asset investment growth fell again to 2.8% and retail sales grew 10.6%.
The pound is headed for its best week against the dollar since 2009 after Theresa May returned a sense of political stability to the U.K. and the Bank of England unexpectedly kept interest rates unchanged. Sterling is up 0.7% to $1.3434, having earlier touched $1.3481, the highest since June 30. The currency has gained 3.5% vs. the greenback this week.
Closing Comments
The GFRCmobile heads north today with a Maine home destination. I'm looking forward to an hour in the soundroom upon arrival, regardless of the time of day. Coupled with the ANA Summer Seminar, I've been traveling for nearly three weeks and time to enjoy mowing the lawn and taking in some much needed health walks.
I will be back with another Blog edition on Saturday but probably later in the morning. This edition will include another Baltimore show report. Thank you for stopping by each day. Wishing everyone a great mid July weekend.

July 14, 2016
Greetings from Baltimore!
Yes, the GFRCmobile has made another stop on its 10 day journey. Wednesday's travels took me from Fayetteville, NC to Baltimore. Don't I dislike the I-95 stretch between Fredericksburg to Baltimore as traffic was considerable at 11:00am. I can only imagine what the freeway looks like during morning and evening rush hours. On a positive note, I arrived into Baltimore and was checked in by 12:30pm.
The first priority of the day was moving GFRC inventory into show security and determining the status of my promised Baltimore show table. Luck was once again present. When checking in at the Whitman counter, Lori Kraft just happened to be walking by. She was busy with show preparations and promised that I would have a table Thursday morning during dealer setup. Lori has been so good to W. David Perkins and I so I'm just going with the flow and hoping for a decent location to setup shop.
Whitman Baltimore Pre Show Report
One of the benefits of today's early arrival is more time to focus on pre show activities, namely meeting with wholesalers and visiting dealer to dealer trading rooms. First priority was sitting down with my favorite wholesaler at convention 3rd floor. This individual has been helping fuel GFRC inventory growth with his keen eye for quality and originality. We both did well during the meeting as I purchased six quality pieces. Since this show lacked the presence of a major auction house, a 3rd floor meeting room was rented by two leading dealers for pre show business. With plenty of time, I carefully reviewed box upon box of coins seeking to find the best quality and value for GFRC customers. Buying coins as a dealer is quite different than buying as a collector. One sees many great coins but pricing may be too high or I simply don't have an possible customer and therefore must pass. Given the GFRC emphasis on Bust, Seated and United States gold, selections were carefully made with CAC approval to augment existing inventory. Today's major score was Liberty Seated quarters.
Bottomline? Whitman Baltimore pre show buying was a success. Following are the new purchases with FRoR being in order.
Capped Bust 10c: 1832 JR-1 PCGS AU58 CAC choice crusty original...this is a Just Buy It recommended dime.
Seated 25c: 1848 PCGS AU53 RPD/Compass Point Reverse, choice original gray and a scarce Top 25 Varieties set piece. Hurry on this one; 1853-O Briggs 1-B PCGS EF45 CAC choice crusty gray and scarce at this grade level; 1869-S PCGS VF30 choice medium gray and scarce date; 1870 PCGS VF35 original gray, low mintage; 1877-S/S PCGS VF35 choice gun metal gray blue, another Top 25 Varieties piece; 1889 PCGS VF25 CAC scarce date, choice original gray.
Draped Bust 50c: 1806 PCGS VF30 CAC Pointed 6, No Stem choice original with eye appeal
Capped Bust 50c: 1833 PCGS VF30 accurately graded with lovely blue rims
Morgan $1: 1883-O PCGS MS63 toner with rose obverse center and blue rims, reverse is light gold.
Gold $1: 1860 NGC MS63 CAC Fatty Holder and so choice for the grade, low mintage date.
Gold $2.5: 1925-D PCGS MS63+ CAC choice piece with lots of luster
Gold $5: 1838 NGC EF45 CAC with old time original patina and few blemishes given the grade
Global Financial News
Since Thursday Daily Blog is being written on Wednesday evening, I'm skipping this topic.
Featured Coins of the Day
With all the buying done at Summer FUN and now Baltimore shows, GFRC must sell some inventory. Below is a lovely 1887 Great Britain Queen Victoria Jubilee 4 Shilling with awesome toning. This offering is a tiny preview of the forthcoming quality from the Osprey World Coin consignment.
Next up is a perfectly original 1841 Seated dollar graded PCGS VF35 with CAC approval. Where can you find this type of originality in a second year Seated dollar strike for $595? I'm looked at many Seated dollars in wholesale boxes and difficult to find anything close to this piece in terms of overal quality.
It is nearly 10:30pm and probably time to call it an early evening. I've been working late to midnight most days during the road trip and a good night's sleep is probably warranted. Thank you for stopping by at the Daily Blog and hopefully I will announce the GFRC table number from the bourse floor tomorrow morning.
July 13, 2016
Greetings from North Carolina. The GFRCmobile completed another leg of its 10 day road trip and will arrive into Baltimore today. First priority is meeting with several wholesalers at the convention center for new inventory additions. I've not heard back from Whitman on the planned GFRC table location as of this morning. Lori Kraft does a wonderful job of coordinating each Whitman show and I'm confidence a table will be assigned upon my arrival at dealer check in. The table number will be announced on the GFRC website and Thursday morning's Blog.
After driving all day Tuesday and working until 12:00am, today's edition will be brief.
GFRC Consignment News
I'm pleased to report to consignors and customers that GFRC has returned over $1,000,000 in sales proceeds to consignors since starting regular operations in 2H 2013. The $1,000,000 milestone was achieved at the Summer FUN show!
Matt is developing a detailed and insightful GFRC Consignment link for the website. I viewed his first draft last evening. We will fine tune while I'm in Baltimore and targeting to be online by Monday. This new link will be ground breaking in the numismatic business.
Global Financial News
Spot gold is being quoted at $1340 this morning after a drop on Tuesday. Actually, I see the small pullback as healthy for the precious metal's sustained rally.
Here are a few Seeking Alpha headlines worth reading. Germany is the latest global economic power to be issuing bonds at negative interest rates. Interesting how entities (Greece and now, Puerto Rico) fight austerity measures when financial broken. Moving to Asia, China continues its transition for an export to internal consumption economy. The export numbers are always touted as a negative by financial press but in reality, the transition will be long term positive as China's export related economic boom was unsustainable.
Germany has sold 10-year Bunds with a zero percent coupon, issuing benchmark debt with a negative yield for the first time in history. The €4.038B sale came with a yield of -0.05%, meaning that investors who hold the paper until maturity in August 2026 will receive back less money than they paid.
Puerto Rico could be shut out of debt markets for two more years as it battles with fiscal challenges, warned Governor Alejandro Garcia Padilla, dubbing the recent emergency fiscal measures enacted by Washington as unsustainable. "Puerto Rico will not endure any more austerity," he declared. Padilla hasn't been able to turn around the island's economy during his three years in office and won't be running for re-election in November
In another sign the mainland's factory floors are continuing to slow, China's exports fell more than expected in June, while imports also saw a steeper fall than forecast. U.S. dollar terms: exports fell 4.8% Y/Y, while imports declined 8.4%. Yuan terms: exports rose 1.3% from a year ago, while imports declined 2.3%. The trade situation will be "severe" this year, the customs administration said in a statement.

Thank you for stopping by and I will be back on Thursday morning with new purchase announcements.
July 12, 2016
Greetings and welcome to yet another edition of the Daily Blog.
The short Venice stay comes to an end. Coins are packed with the Blog being the last task of the morning before the GFRCmobile starts a northern journey. Actually, I'm looking forward to the drive as a break from non stop loading of coins to the price list during the last 48 hours. The new COIN system sure makes the task much easier with photography and image processing taking the majority of the updating time.
GFRC News - Table at Whitman Baltimore Show
Yes, GFRC will have a table at the Baltimore show! An email request to Whitman's Lori Kraft on Sunday produced reassurance that a table will be made available for GFRC. Table number will be announced in Wednesday or Thursday's Blog. Why the last minute change? Security for coin inventory was the primary reason. I had original planned to walk the Baltimore show floor for buying (without inventory) but the addition of Summer FUN show to the GFRC schedule changed the dynamics. GFRC will be setup with same inventory as Summer FUN + new purchases on Thursday and Friday only. Please consider stopping by if attending Summer Baltimore show.
I'm pleased to announce yet another Osprey United States gold consignment as shown in the below Client Gallery. Below is an 18 piece lot of freshly graded coins directly from Europe; mainly France, Belgium, Netherlands and Germany. None of these have been to CAC for review but Osprey and I have already identified the candidates to be shipped off after the Baltimore show. Hint...pieces receiving a "Choice" Quality Rating on the 30 Day New Purchase and Gold price lists are some of the candidates.
Osprey Collection - United States Gold Consignment - July 11, 2016
GFRC Consignment News
The consignment portion of the GFRC business continues to grow with a steady flow of quality coins arriving weekly. Following is a brief review of what to expect during the next six weeks.
- Osprey World Coin consignment as discussed in previous blogs. Grey Soldier reviewed the consignment at Summer FUN and wholeheartedly agreed with the museum quality assessment. GFRC will work with COIN WORLD for advertising in their World Coin classified section of the monthly Coin Values magazine.
- The Gerry Fortin Top 100 Varieties sale has already been announced in the Gobrecht Journal. Listings should be completed by early August. There is a substantial queue of FRoR for these pieces.
- New West Coast consignor and old Seated dime research colleague has decided it is time to sell his holdings of Seated half dime, dimes, quarters and halves. We spot on Monday evening and an inventory will be forthcoming in a few weeks. First up will be the Seated quarters and halves.
- Two other smaller type coin consignments are under discussion at the moment.
- Will you be next? Look for an important GFRC consignment announcement and revised consignment website link next week.
Global Financial News
Once again, Seeking Alpha headlines are quiet as global equity markets are in full on rally mode. Spot gold is holding on to recent gains and appears to be operating as a separate monetary investment these days. Let's review a few headlines. Japan's Nikkei continues to rally as Ben Bernanke (Mr. Quantitative Easing) is in Tokoyo to discuss approaches for generating inflation in the Japanese economy. Global elites are desparate to generate inflation towards monetizing the massive amount of debt added world wide. Then there is Italy as part of the EU with many of its banks are in trouble due to outstanding loans that will never be paid. Like Greece, Italy seeks IMF bailouts.
Japan's Nikkei extended gains overnight, rising 2.5% to almost recapture its pre-Brexit level, after Prime Minister Shinzo Abe ordered a new round of fiscal stimulus as a "bold investment into seeds of future growth." Reports also suggest that Ben Bernanke is in Tokyo to meet with Abe, who said he wanted to "accelerate the speed of escape" and "use all three arrows of Abenomics (stimulus, easing and structural reforms) to conquer deflation."
More tension between Brussels and Rome? Italy must respect EU rules that require creditors to take losses before benefiting from any taxpayer funded bailouts, Eurogroup President Jeroen Dijsselbloem declared, but Prime Minister Matteo Renzi told Corriere della Serra that "a deal is within reach." The IMF separately warned that Italy will not see not reach pre-crisis growth levels until the mid-2020s due to a number of "significant" structural challenges.
Featured Coin of the Day
A reminder that the 1794 PCGS VF25 LM-4 Flowing Hair half dime remains available for inclusion into an advanced type set. This important piece is today's featured coin.
Thank you for stopping by the Daily Blog this morning. Wednesday blog will probably be short as I have an LSCC Leadership Team conference call this evening followed by an early Wednesday driving start to Baltimore. Please don't be bashful to order coins as I will respond to orders during the evening hours. Have a great Tuesday!
July 11, 2016
Monday arrives in Venice Florida and the long northward journey starts within 24 hours.
Will Florida be missed in the summer time? Not really, it is much too warm for this individual with northern New England blood. The traditional winter month health walks are not possible during July as temperatures and humidity are much too high. The bright Florida sun even brought coin photography challenges not seen before. In automatic mode, my reliable Nikon Coolpix995 reached an F-Stop of F8.4 at 1/500 shutter speed due to the blazing sun. I've never seen the camera close down its aperture setting to that level before. Photographing Morgan dollars and gold double eagles in new TPG edge view holders was a significant challenge due to extraneous light reflection from multi angled plastic.
GFRC News
Post Summer FUN show sales have been strong driven by the brand new Grey Soldier Collection consigment. Below is Grey Soldier's latest Client Gallery for your appreciation. Many of his wonderful offerings are already on hold after being posted on the 30 Day New Purchase price list. Four of seven pieces including the 1839-O V-2b half dime, the 1838 F-106 and 1875 F-15 dimes and the 1876 double dime are on Hold this morning. Quality coins sell quickly when fairly priced.
Grey Soldier Collection Consignment - July 10, 2016
Monday's focus shifts to the Osprey United States gold consignment (much image processing) along with adding the balance of images to Summer FUN new purchases on the 30 Day price list. Oh, I also must prepare a presentation for the LSCC regional meeting at the Whitman Baltimore show this coming Friday morning. John Frost and myself will be hosting this meeting.
Dallas Shooting Feedback
The Dallas police killings have touched a raw nerve for many of us. Law and order are fundamental to a harmonious society. Wild West sheriffs were always depicted as the focal point of small towns and holding the residents to basic behavior standards. Today's modern police face huge challenges as poverty increases in urban neighborhoods, along with the heroin and opiod drug epidemic. Cellphone with video cameras are ominpresent and aimed at police during much of their daily work and interactions with the citizens. Then there is the risk of being shot and killed during a normal traffic stop. Police are human beings tasked with jobs that require compassion and toughness at the same time along with split second decision making during confrontations. If policing work conditions become too onerous, then our country may see attrition and the lack of individuals willing to step forward for these positions. This is when law and order seriously starts to break down as too many in society have upbringings that lack grounding in faith and morality.
Poet Candy sent the following short poem for Daily Blog readers to consider......
GAME TIME
War is a game that children play,
Taught by parents, sad to say.
Who are the children? Not those at play,
But the parents I would say.
Global Financial News
Spot gold and silver are holding on to last week's gains. Gold is quoted at $1360 while silver is at $20.25. Global equity markets are in rally mode once again as the Brexit vote appears to be ancient history. Oil prices are sputtering back to below $45/bbl. Weeks back, the "analysts" were correlating equity market performance with strong oil prices. Now they are silent.
Seeking Alpha headlines are quiet this morning. Japan's Prime Minister, Shino Abe, is once again is position to unleash more economic stimulus and as a result, the Nikkei is sharply up. In years past, high stock market valuations were a function of productivity improvements (cost reductions) and creative product development. But not so today with corporate financial engineering at ultra low interest rates. Then there is the U.K, that has chosen a path outside the centrally controlled European Union. Angela Merkel continues to dictate European policies to others in the EU block.
Prime Minister Shinzo Abe's Liberal Democratic Party and its Komeito allies won a stronger majority in Japan's Upper House election on Sunday, in a development that will make it far easier to push through his economic agenda. "It is likely that a large-scale economic stimulus program, in the magnitude of at least ¥10T (2% of GDP), will be implemented," Societe Generale said in a research note. Abe later confirmed a new round of stimulus, sending the Nikkei up 4%.
The U.K. will have to accept the good with the bad in its future relationship with the European Union, warned Germany's Angela Merkel, reiterating that there would be no "cherry picking" which aspects of EU life it wanted to keep. "The decision (Brexit) has been taken... and the next step is - and Britain will do this only when they have a new prime minister - to invoke Article 50," she told public broadcaster ZDF.
Featured Coins of the Day
For this Daily Blog module, let's keep it simply and showcase some of the Summer FUN show new purchases in gallery format. There are lots of great coins to consider for your collection.
Summer FUN New Purchase Highlights - July 11, 2016
Thank you for stopping by at the Daily Blog. There will be a regular Blog posted on Tuesday morning so please check back as the Osprey United States gold consignment will be on display along with other Summer FUN new purchases. At GFRC, there are coins for collecting levels with quality being the common thread. Have a great Monday......
July 10, 2016
Summer FUN - Wrap Up Report
Greeting from Venice Florida once again and thank you for stopping today.
The Summer FUN show is in the history books. The last minute decision to drive to Florida and attend FUN was well founded given the overall good time hanging with Osprey and the GFRC show sales. The GFRC business involves much more than coin sales; new friends are being made throughout the country that would not have occurred otherwise. Coins are the conduit by which like minded individuals cross paths and share their deep appreciation for United States history and the resulting artifacts that are so well cherished.
Saturday expectations were low as a I told Osprey that any sales would be "icing on the cake". Floor traffic was much lower on Saturday than the prior two days but GFRC remained a collector destination for quality coins. We sold much more than expected and, once again, did some buying as I was able to walk the floor and carefully check cases for coins congruent with the GFRC brand. One purchase highlight was an 1850 PCGS EF40 half dollar that is choice original gray and conservatively graded. Advanced collectors of the half dollar series recognize the difficulty in locating this date and my enthusiasm concerning this purchase. A wholesale dealer stopped by the table with many boxes of United States and World coins. Osprey and I carefully reviewed his material and a gorgeous 1887 Great Britain 4 Shilling, Arabic 1 in Date, NGC MS63 example and a raw 1841 AU50 Seated half were located plus other neat coins for inventory.
In summary, GFRC had a very strong show at Summer FUN and I will be back again next year including scheduling an LSCC regional meeting on Thursday. An afternoon LSCC meeting may make more sense as collectors need time to walk the bourse floor before committing an hour to an educational session. Since the FUN organization provides bus transportation to local coin clubs, then it is best to schedule an LSCC meeting consistent with the bus transport schedules.
GFRC News
Saturday was a long day as I worked until midnight and loaded the Grey Soldier consignment coupled with a fraction of the Summer FUN new purchases. Hopefully Florida weather will cooperate and provide enough sunshine for photography and adding images to the new listings. The Grey Soldier consignment is selling well with the 1876 NGC MS63 CAC double dime and the 1875 F-105 PCGS MS64 CAC dime on hold. Once images are posted, more Grey Soldier pieces will be gone as the overall quality is so high.
Sunday's focus is adding as many coins to the 30 Day Price List as possible and imaging. Given the oppressive July temperatures in central Florida, an air conditioned GFRC office is the best place to be hanging out. Please understand that I'm still learning how to use Matt's new COIN system for GFRC website updating. On occasion, some listings will appear incomplete and will be corrected within hours of being published. My internet resource, while on the road, is AT&T mobile hotspot and must be careful with data usage. Reloading the COIN database to correct a few listings requires a massive file upload and quickly consumes data allocations.
Blog Reader Feedback
Commentary on the Dallas shooting was brief within Saturday's blog but did envoke a well worded response from Daily Blog reader. This individual commented as follows;
I want to strongly second your comments about the media amplifying the divides between liberals and conservatives. We really need to focus on the things that unite us as Americans--the Constitution, the rule of law, equality of opportunity, strength through diversity. The disagreements we have are not over what we desire to be as a country; they are over how best to get there. As a local public official in Cuyahoga County government, we have worked very hard to keep partisanship to an absolute minimum and have been successful at it. Members of both parties play key roles in our government. Our experience is that if people come together being willing to listen to each other's concerns and desiring to solve problems, there are very few problems that can't be solved in a way that everybody wins.
Let's close the Blog at this point. Have a great Sunday and please check the 30 Day New Purchase price list later today to view more Summer FUN new purchases and early display of the Osprey United States gold consignment.
Featured Coins of the Day
For this Blog segement, let's simply showcase some of the Summer FUN new purchases in gallery format.
July 9, 2016
Summer FUN - Day 3 Report
Welcome once again to the Daily Blog. Today's edition is being written on Friday evening after a bar food dinner with Osprey and post dinner 12 year old Glenlivet scotch. We celebrated a great Summer FUN show and the fact that numismatics is alive and well across all age groups in central Florida.
Summer FUN runs through Saturday. GFRC Thursday and Friday sales are running well ahead of expectations. Thursday's good fortune continued on Friday. Once again, 10:00am brought the public show opening with the bourse floor quickly gaining that a healthy "buzz" that last until mid afternoon. Collectors where out in force looking to buy with GFRC being the destination for quality United States Gold, Seated and Capped Bust coinage. Recent precious metal breakouts including silver breaking through the $20 level has collectors taking note.
The day started with the arrival of Grey Soldier and his promised consignment during early dealer hours. I had not seen Grey Soldier since the January FUN show in Tampa. Grey Soldier was given a private viewing of the Osprey world coin consignment and agreed that the quality was superior and well beyond that seen on a typical bourse floor. The Central America Republic 8 Reales graded NGC AU50 was one of the standout pieces for incredible eye appeal and conservative grading.
Once the bourse floor opened to the public, a three piece Seated half dime and dime lot sold immediately, following by several Seated halves. Then LSCC New Member Chairman, Carl Feldman, dropped by Table 725 to meet Grey Soldier and Osprey. The later morning hours brought more sales and wholesale sellers but little was purchased given GFRC quality requirements. I did see my first Bar Cent in the wild within a wholesaler box along with many other great offerings. However, purchase discipline continued with focus on above average type coins consistent with current customer demand and want lists. I did manage to purchase a monster toned and mirrored surface 1876 Seated Liberty half that had exception eye appeal from a collector. I paid low four figures for this PCGS MS62 graded piece and sold it within several hours. The afternoon brought a four piece gold lot sale in the $12,000 range to close out the day.
Given Summer FUN success, GFRC will be back next year. Osprey and I have also decided to book a corner table at the Feburary 2017 Sarasota show towards expanding GFRC visibility in the central Florida region.
GFRC will probably close up shop early on Saturday followed by a two hour drive back to Venice. There are only two days to photograph a double row slabbed box (~65 coins), process images and load the price lists before starting the drive northward on Tuesday. Top priorities will be the Osprey United States gold consignment, Grey Soldier consignment and Summer FUN new purchases. The Osprey World coins will be process upon returning to Maine as the GFRC price list must be first converted to the COIN system format. GFRC customers with FRoR on Grey Soldier coins will be notified once the coins reach the price list.
Baltimore Show
Appointments are already in place for the Baltimore show as GFRC will be walking the floor this time around. The emphasis will be on the buying side with Seated coinage in all denominations being the priority followed by Draped and Capped bust pieces. I will be chairing the LSCC regional meeting on Friday morning at 9:00am also. Discussion will focus on the last week's ANA Summer Seminar class and a education presentation from one of the class room sessions.
LSCC Gobrecht Journal and other ramblings
It warmed my heart when Summer FUN attendees were walking up to the table and asking if an LSCC regional meeting had been scheduled. Club member expectations now recognize the social and education opportunities that LSCC regional meeting provide. I will schedule a regional meeting at the 2017 summer FUN show.
The July Gobrecth Journal has been mailed with feedback arriving in my email Inbox. Congratulation to editor Bill Bugert on assembling yet another outstanding issue and a sincere thanks to all of the contributors. Len Augsburger summarized the issue well with this comment.
Received the GJ #126 today. It may be the best issue yet! Steve Crain's article could easily have been in The Numismatist. The inclusion of lower priced coins on the centerfold is also good.
Dallas Police Shooting Tragedy
I only have one comment here. Beware the power of social media and biased "news" networks to exploit the growing divide between the liberal and conservative factions in our country. Due process has been replaced by social media courts. Media amplification of isolated news events (without due process) is fueling emotions, hatred and social division. When the citizenry stops respecting laws and acceptable behavior norms and the police stop attempting to enforce laws, then our great country will slowly move to anarchy.
The Information Age is a godsend in terms of communications efficiency, medical advances etc. But beware the dark side of social media as an instrument of those who may not have benevolent aspirations.
Next Daily Blog
Sunday will bring a regular Daily Blog from the GFRC Venice Florida office. Waldo will be settled in for two days...... Have a great weekend.
July 8, 2016
Summer FUN - Day 2 Report
Good morning once again from the Summer FUN bourse floor. Orlando temperatures are much too warm. I decided to walk to the convention center at 8:00am to avoid the blazing sun. Composition of this Daily Blog edition is occuring at Table 725 during a quiet dealer only period.
Impressions of GFRC's first Summer FUN show? Well, I came to the show with low expectations based on other dealer comments. The consensus was slow retail and good buyer show. I'm pleased to report that Thursday results exceeded expectations and quite pleased so far. Day 1 sales results essentially met the revenue goal set for the entire show. Floor traffic was robust at the 10:00am opening time and the healthy bourse floor "buzz" was immediate evident. The GFRC table was busy throughout the day either with customers, old friends or wholesalers.
This Friday Blog edition needs to be cut short. It is 11:00am and the public is once again at the GFRC table requiring my undivided attention.
A more complete blog will be available on Saturday morning. Thank you for stopping by.
July 7, 2016
Summer FUN - Day 1 Report
Greetings from Orlando, Florida.
I'm starting to feel like the Where's Waldo character in a series of children's books created by the English illustrator Martin Handford. Each day brings a Daily Blog edition from a new location along with more driving.
Osprey and I traveled to Orlando yesterday and arrived at the west side of the Orange County Convention center just in time to register and for the dealer bourse opening at 2:00pm. Setup was quick and we were one of first dealers to have lights on and wholesale buyers stopping buy. The Burchs Creek collection pieces in old white ANACS holders immediately attracted attention along with Seated and Bust halves. After the wholesale dealer rush to check out GFRC coins, then one of my favorite sellers stopped by and offered first shot on his new show inventory. I bought mostly quality toner Morgans along with a few types coins and a Mexican 1868GO YF 8 Reales graded NGC MS65. I'm becoming serious about the World Coin price list expansion and this Mexico 8 Reales fit in well with the Osprey consignment (more on this later in the Blog).
The balance of the afternoon was spent either insourcing the Osprey's gold and world coin consignment into the COIN database or taking turns walking the bourse floor and searching out nice collector coins. Some caution must be expressed. I saw toned 1838 and 1839 dimes graded PCGS MS63 dimes in a leading dealer's case. The 1839 toning looked unnatural with the reverse having multiple lines above and below the denomination. How this coin ever achieved an MS63 designation is beyond me. So be very careful with your purchases and only work with trusted dealers who understand originality.
When the dust settled at the end of the day, 14 new purchases were at hand. Following are the Day 1 aquisitions;
Seated 25c: 1843 crusty original EF45 and early lightning bolt die state
Capped Bust 50c: 1810 F15 choice original light gray; 1826 EF40 with huge eye appeal, 1835 PCGS AU50 light golden/gray with ample luster remaining
Seated 50c: 1844-O original light charcoal gray
Seated $1: 1841 PCGS VF35 CAC gem original light gray.
Toner Morgans: 1881-CC NGC MS63 CAC with golden surfaces; 1884 PCGS MS64 CAC aquamarine center with yellow gold rims; 1884-O raw MS65+ with gem luster and rich gold rims; 1885 PCGS MS65 CAC multi color dual sided aquamarine and gold patina; 1886 PCGS MS65 CAC so choice with dual sided patina; 1888 NGC MS63 CAC classic light rose centers with sky blue rims; 1900 PCGS MS65 CAC a gem with intermixed rose/blue, images are necessary to appreciate this piece
World Coins: Mexico 1868GO YF 8 Reales NGC MS65 choice with bold cartwheel luster
The major story of the day is the Osprey World Coin consignment. The offerings in this lot are of consistent high quality with several being potential museum pieces. When these coins arrive to the price list, GFRC customers will see Choice and Gem quality ratings applied to individual listings. Osprey and his Belgium wife traveled throughout France, Germany, Belgium and the Netherlands, during the April and May timeframe, leveraging their numismatic network and gaining access to special galleries and remote coin shops. GFRC is so pleased to have been selected as the marketing/sales partner for their carefully selected acquisitions. There is something for everyone in this nearly 40 piece lot. Stay tuned on this topic and hopefully you will be impressed as much as I was today once the World Coin price list is updated.
Global Financial News
Spot gold is being quoted at $1366 this morning while silver sits at $19.90 after trading in the low $20 range on Wednesday. The current gold/silver ratio is 66 which remains historical high indicating silver has more appreciation potential than gold if the financial world continues to see risks.
Otherwise, the global financial markets have recovered from initial Brexit reaction. Seeking Alpha headlines are quiet with the only item worth sharing is commentary on world oil consumption. Sustained low oil prices will increase global demand, to the benefit or Middle East producers, with global warming being a potential casualty. China continues down the path of currency devaluation with a net 10% reduction in the past several years.
The world risks becoming ever more reliant on Middle Eastern oil as lower prices derail government efforts to curb demand, IEA's Fatih Birol told FT. According to the leading energy body, ME producers now make up 34% of global output, pumping 31M barrels a day. That is the highest proportion since the Arab fuel embargo of the 1970s when it hit 36%. In 1985, when North Sea production accelerated, their share fell to as little as 19%.
China news roundup: The country's foreign exchange reserves rose $20B last month to $3.21T, rebounding from a 5-year low in May. Deal-hungry Chinese buyers also led to a record M&A spree in the first half of 2016, taking less than six months for the volume of announced outbound deals to surpass last year's total of $120B. Meanwhile, the yuan has depreciated 1.5% since the Brexit vote to its lowest level since November 2010 (6.68 per dollar).
Featured Coins of the Day
In light of Summer FUN and the substantial toner Morgan purchase, let's feature several offerings on current price list. If these are ordered while GFRC is at the Summer FUN show, then please take 5% off the listed prices.
Thank you for stopping by the Daily Blog! It is time for breakfast and the 8:30am bourse floor opening time for dealers. If attending Summer FUN, please stop by Table 725 and say hello!
July 6, 2016
Greetings from Venice, Florida.
The 1600 mile roadtrip is in the GFRC history books. Tuesday's Virginia to Florida leg was uneventful, arriving at Venice home by 6:00pm followed by a Publix's salad for dinner, a double scotch and a good night's sleep. Here I am, bright and early, on Wednesday morning with yet another edition of the Daily Blog.
Wednesday brings Summer FUN dealer setup day and the thrill of buying back on a major show bourse floor. In a few hours, Osprey joins the GFRC team as we drive to Orlando and start yet another busy day. Oprey's Unites States gold and World coins will be transferred at the show and in the cases. Please remember that GFRC will be at table 725!
GFRC News
There was strong FRoR response to the Osprey World Coin consignment in yesterday's blog. Requests are captured and I will be following up via email with cellphone images and pricing after the Summer FUN table is operational.
This morning, I pleased to announce Grey Soldier consignment details. Grey Soldier is another of GFRC's leading consignors and well known for his top quality offerings. With Grey Soldier, one never knows what to expect with each new consignment. This time, smaller denomination Liberty Seated coinage is offered. The physical transfer takes place on Friday followed by photography and posting on this coming Sunday and Monday on the 30 day price list. Here are the details with FRoR in order followed by several images to wet your appetite!
Seated 5c: 1839-O V-2b PCGS MS64 choice original with substantial eye appeal; one of the finest graded!
Seated 10c: 1838 F-106 PCGS AU58; 1840 No Drapery F-104a NGC MS62 CAC pie shattered obverse; 1875 F-105 PCGS MS64 CAC repunched 18; 1875-S BW F-112 NGC MS65
Seated 20c: 1875-S BF-5 PCGS MS64; 1876 BF-2 NGC MS63 CAC with small mintage of 14,640 and so underrated.
Global Financial News
Spot gold is in full breakout mode and sits at $1376 this morning. The Brexit vote appears to have been the catalyst that gold required to finally punch through the $1330 resistance level. Now we are off to the races and $1400 could be achieved quickly. Currency markets remain dynamic with the reality with world interest rates sinking deeper into negative territory. British sterling continues to drop while sustained upward pressure on the Japanese Yen is raising consternation with Japanese officials. Then there is the EU's Mario Draghi who suggests incremental central bank modeling and control of Europe's financial sector. The world has moved into an era where every financial sector problem has a central bank solution; only if the masses will surrender control to the elite bankers.
Renewed Brexit worries caused sterling to carve out a fresh 31-year trough overnight, sliding as far as $1.2796 to record a more than 14% loss in value since last month's referendum. Analysts are concerned the continued political uncertainty will hurt capital inflows and spur companies to delay investments, potentially tipping the economy into a recession.

With the pound in decline and investors flocking to safe-haven assets from equities, the yen rose today to around 100.75 per dollar. "If we break through 100, we should start to hear some rumblings from officials," said Bart Wakabayashi of State Street Global Markets. In addition to the surging currency, Japan's 20-year government bond yield fell below zero for the first time ever and the 30-year was just 0.015%.
ECB President Mario Draghi is set to deliver a speech on the "disaggregation of data" later today. Some highlights: "We need more information on the linkages between individual sectors of the economy and large financial institutions... There are some important areas of the financial sector where we lack complete statistical coverage, especially relating to what we call the 'shadow banking system'... Data collection should be a joint exercise carried out by the authorities and the banking industry."
Featured Coins of the Day
Please remember that GFRC is open seven days a week and email orders are quickly responded to. Even though, I will be on the Summer FUN bourse floor through Saturday, please do no hesitate to send along an order. Your coin will be removed from the GFRC cases and set aside for mailing on July 16.
When packing for coin shows, a decision must be made on which coins to bring. Will GFRC go with theme cases or regular display of all denominations in sequential order? While sorting through the inventory, the amount of great offerings becomes so apparent and I wish there would more efficient methods for communicationg the vaste number of quality coins available to collectors. So this morning, here are some of the pieces that will be on display at Summer FUN and come with my recommendation.
Thank you for visiting with me this morning! Thursday's Daily Blog will begin several days of Summer FUN show daily reports. Please check back for honest commentary about the show and daily reports on GFRC new purchases. Have a great day!
July 5, 2016
Greetings from Blacksburg, Virginia on a late July 4th evening.
The first leg of the Florida road trip went smoothly and culminated with a tasty vegan dinner with my daughter, Renee and her fiancee, Mike. Given the July 4th holiday, road traffic was subdued on most interstate highways. After crossing the Tappan Zee bridge, I-87 from the bridge to Garden State Parkway exit was almost barren. I've never seen that stretch of NY/NJ roadway so quiet as today. State Police, however, were out in full force. There was a nasty NJ speed trap on I-287 followed by PA troopers with radar guns at every conceivable location between Allentown and I-83. Virginia was better but there was a heavy concerntration of troopers between Lexington and Blacksburg. Luckily, I made it through the speed traps without issue.
Tomorrow brings another 12+ hour driving day and arrival to Venice home. After spending the night, can you believe that I'm driving back to Orlando for Summer FUN dealer setup?
GFRC News
There is much to share in today Blog concerning new GFRC consignments and ongoing improvements to the COIN system and GFRC website.
1. GFRC Website - Please take a look at the United States Gold price list as it does a great job of illustrating new improvements by Matt. There are three upgrades. Black tabs have been added to the top of the page to provide quick access to individual design/denominations. A Kitco.com widget is also added so GFRC customers can quickly check on spot gold prices. Finally, a "Buy" link has been added to each listing as a far right column. Simply click on the "Buy" link and your email browser will be launched with the selected coin and TPG serial number. All you have to do is add your name to the body of the email and preferred payment method and then hit send. I will respond quickly to this preformatted inquiries. The "Buy" function is available on all GFRC price lists currently being auto generated by the COIN system. The black tabs will be incorporated into the new World Coins price list due for completion by end of July.
2. Osprey World Coin Consignment - In the July 3 edition of the Daily Blog, I listed the forthcoming United States gold being consignment by Osprey. Today, he sent a partial list of World Coins that are shared below. Osprey reminded me that another 18 pieces are still at NGC for grading and hopefully will be completed in time for Summer FUN.
Bolivia: 1819PTS PJ NGC MS62 8 Reales
Central American Republic: 1837NG BA NGC AU50 8 Reales; 1846CR JB NGC XF45 1/2 Escudos
France: 1718-BB NGC AU58 12 Sol - Quartered Arms; 1718-BB NGC AU50 12 Sol - Quartered Arms; 1720-S NGC VF25 BN 1/2 Sol; 1740-D NGC MS61 1 Sol - Sol De Billion; 1794 NGC XF45 100 Sol - MAASTRICH SIEGE DAV-18561; 1812-Flag PCGS MS62 1 Franc - UTRECHT NAPOLEON; 1813-Flag NGC AU53 5 Franc - UTRECHT NAPOLEON; 1814 NGC MS62 10C - ANTWERP SIEGE MONEY NAPOLEON; 1821-ANGC AU58 5 Franc; 1868-BB PCGS MS65 1 Franc
Great Britain: 1860 NGC AU55 1 Sovereign Gold; 1688-94 NGC MS62 1/4 Pence - P-636 VAR 22 MM COPPER WILLIAM AND MARY
Italy: 1813-M PCGS MS641 Lira - Napoleon Era
Mexico: 1875GO FR NGC MS65 8 Reales
Netherlands: 1670 PCGS MS61 - Daalder; 1763 NGC AU55 1 Ducat
Windward Islands: 1731-H PCGS MS64 12 Sol - HIGHEST GRADED AT PCGS

3. Another Grey Solder Quality Consignment - Upon arriving to Blacksburg, there was an email from Grey Soldier indicating a new consignment would be transferred at Summer FUN. Details will be listed in the next 48 hours. This offering will be ideal for type coin collectors with one of the highlights being an 1839-O V-2b PCGS MS64 half dime that has beautiful toning and 1876 20c (Double Dime) graded NGC MS63 CAC. The latter is so underrated in today's market and should sell quickly.
Closing Comments
I'm tired after a 12.5 hour drive, responding to GFRC orders and inquiries and then writing the July 5 Blog during evening hours. It is time for bed!
Thank you for checking in. Day 2 of the Florida road trip will once again start early to avoid traffic. I will be back on Wednesday morning with a short edition of the Daily Blog.
July 3, 2016
Greetings from Maine once again on a lovely Sunday morning. I hope that Daily Blog readers are enjoying themselves on this July 4th weekend. Matt, Chikae and Natsumi are hanging in Raymond for the weekend and we sure enjoy their company.
GFRC News
GFRC office will be in packing mode today in preparation for the long road trip to Florida and the Summer FUN show starting on Wednesday. I've decided to go with the standard case display format at Summer FUN and will have a huge selection of quality Draped and Capped Bust coinage, Liberty Seated coinage and of course, one case of United States gold and the debut of Osprey European coins. The excitement is building and hopefully, this show will have a decent Florida collector base turn out.
Osprey United States Gold Consignment
On Saturday afternoon, my FUN show table assistant and key consignor, Osprey, sent along a list of new United States gold to be transferred at the show. Osprey recently returned from a European buying trip and completed PCGS certification of the United States gold component. I'm always excited to feature Osprey gold since being sourced in raw condition directly from France, Belgium, Netherlands and Germany. His gold is completely fresh to the United States market without possibility of being enhanced prior to certification. The PCGS serial numbers for the below lots are entirely consecutive.
Following are the pieces in the latest Osprey consignment. If all goes to plan, the unsold pieces will be photographed and posted to the GFRC price lists on Sunday and Monday immediately after the FUN show. Please note the gold 1823 Portugal 6400 Reis in this lot at the bottom of the list.
Type 1 $1: 1856 Slant 5 PCGS AU53
Princess $3: 1854 PCGS AU53
LIberty $10: 1854 PCGS EF45; 1894 PCGS MS64; 1899 PCGS MS62
LIberty $20: 1868-S PCGS AU55; 1869-S PCGS AU53; 1880 PCGS AU58; 1883-S PCGS AU55; 1889 PCGS MS61; 1894-S PCGS MS63 ; 1896 PCGS MS63; 1897-S PCGS MS63; 1902 PCGS MS62 difficult date in mint state; 1907 PCGS MS63;
St. Gauden $20: 1908 No Motto PCGS MS63; 1914-S PCGS MS63; 1927 PCGS MS64; 1928 PCGS MS64
Portugal Gold: 1823 6400 Reis PCGS MS63
Now is the time to be buying gold bullion or better, a combination of bullion and numismatic pieces given the recent spot gold breakout. As a reminder, below is the 8 year Kitco spot gold technical chart. In just one month, spot gold has moved from $1220 to $1340 and has clearly broken out from a multi year consolidation period. Quoted gold prices are well above the 200 day Moving Average. The current breakout looks similar to that of 2009 during the financial crisis. In 2016, the crisis is negative interest rates and a debt overhang that global citizens are unable to comprehend. The only factors holding gold from breaking through the $1400 level is subdued buying by China and India and a strong United States dollar. Western countries are once again attempting to purchase physical gold recognizing that negative interest rates will not have a happy ending.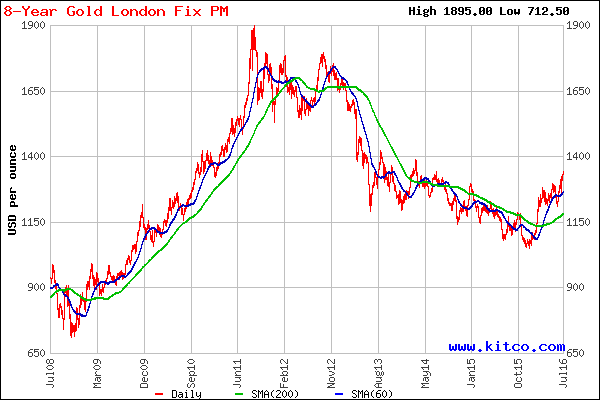 COIN System Development
There is more GFRC news with respect to the COIN system. Matt and I sat huddled last evening and completed a redesign of the World Coin price list. We are adding Country tabs to the top of the price list that will eliminate scrolling down through the table to locate your country of choice. The same will be added to the United States gold price list today. GFRC COIN system development will be an ongoing project during the balance of 2016 with a full price list conversion by the end of July. This has been a long project and your patience will be rewarded after watching a a chaotic transition process.
Orlando FUN Show
There will not be a Daily Blog edition on July 4th due to a 12+ hour drive that starts Monday morning. The next 72 hours will be busy so let's discuss a few items about the Orlando Summer FUN show.
1. The Burchs Creek ANACS old white holder consignment pieces will be on display and an opportunity for collectors to view high quality original type coins.
2. The Kansas Liberty Seated quarters will be on display at reduced prices. This consignor is in a cash raising mode and we've dropped the initial offering prices. You might just want to check the Seated quarter price lists here and here before these sell at FUN.
3. The Osprey United States gold and European crowns will be on display and ready for purchase.
4. The 1794 LM-4 PCGS VF25 Flowing Hair half dime will be on display and is an important offering.
5. I will be monitoring emails during evening hours for orders. Online orders will be pulled from inventory and will be shipped after July 15th.
6. GFRC will be located at Table 725 which is a straight line walk from the entrance door. Please come visit me and Osprey first upon arriving and just say hello. We look forward to meeting Florida area collectors. Plus you will not be disappointed with the quality and originality located in our cases. As with any coin dealer, coins needs to sell at FUN to enable inventory rotation and buying at the Baltimore show the following week. I will be in a dealing mood!
Orlando Summer FUN - July 6 - 9, 2016
Gerry Fortin Rare Coins - Table 725
And finally...... Look for several major consignment news announcement after I return from the Summer FUN/Baltimore road trip. GFRC is quickly becoming the leading option for collectors wishing to sell early type and United States gold collection valued in the $20,000 to $150,000 value range. Where else can collectors secure so much personal attention along with Client Galley marketing? Oh, I also failed to mention that the Gerry Fortin Top 100 Variety Collection will reach the price lists towards the end of July.
Featured Coins of the Day
Let's highlight two offerings each from the Kansas Liberty Seated quarters and the Burchs Creek Capped Bust and Liberty halves. These four pieces are strongly recommended and I know you will be pleased upon their arrival. Please note the pricing reductions on the Kansas Seated quarters.
Thank you for taking time to visit the Daily Blog during a long holiday weekend. I'm sure that numismatics is not the primary focus this weekend, but at GFRC, every day is a coin day! I will be back on Tuesday morning with a short update on the Florida roadtrip and potential announcement of the Osprey World Coin offerings.
July 2, 2016
Welcome to the Daily Blog on a lovely southern Maine morning. The air is crisp and skies are cloudy blue after some severe overnight thunderstorms. We lost power at 11:30pm as I was relaxing in the sound room listening to Peter Gabriel's Passion. It had been a long day in the GFRC office but I'm essentially caught up and shifting to July 4th road trip preparations on Sunday.
Yes, it is the 4th of July weekend and nearly everyone is on holiday. Matt, Chikae and Natsumi arrived mid afternoon for a extended weekend visit.
GFRC News
The past week saw some excellent purchases and new consignments. This is a quality and not quantity situation. Below is a gallery for sharing overall eye appeal and rarity of certain offerings.
One immediately notes the monster toned 1892 Barber quarter graded PCGS MS66+ CAC. This piece lasted hours on the price list and will be the prized collection piece when arriving at its new home. The 1849-O quarters is a choice original example and resides in old blue label PCGS holder. Most individuals understand the rarity of this key date in the Liberty Seated quarter series. Higher resolution images are posted below the gallery for you enjoyment. Please note the horizontal obverse line is on the holder. How about a 1794 Flowing Hair half dime to spice up the mix? This example arrived on Friday and needs to locate a new home this summer. Finally, please pay attention to the 1895-S PCGS MS63 CAC double eagle. This piece offers superior eye appeal and also almost a full ounce of gold. The 1849-O quarter and 1794 LM-4 half dime will appear on the price lists later today though most GFRC customers will be staring at lakes, oceans or the bottom of a cocktail glass......
Colorado Spring New Purchases and Consignments - July 2, 2016
1794 LM-4 Half Dime - PCGS VF25
1849-O Quarter - PCGS VF35
This concludes today's Blog. Have a great 4th July extended weekend. Be safe and drink responsibility. Your coins would appreciate a safe and sound curator......
July 1, 2016
Greetings from Maine on a lovely blue sky morning. The return trip from Colorado Spring went smoothly with United Airlines raising my status to Premium 1K. This courtesy status upgrade was nostalgic after years spent racking up 120,000 - 150,000 miles annually. I'm sure there is a revenue reason for the courtesy upgrade but let's just flow with it and enjoy the new status.
July 4th weekend has arrived with coastal Maine and internal lakes being saturated with tourists and seasonal residents. Matt, Chikae and grand-daughter, Natsumi, arrive on Saturday for a holiday visit prior to their two year relocation to Beijing at the end of the month.
At GFRC, there is just three days to recover from the ANA Summer Seminar and then depart for the long drive to Florida on July 4th.
LSCC News
During my years in the semiconductor industry, I've worked with many amazing people and teams. But when it comes to the Liberty Seated Collectors Club, the leadership team is the gold standard. Work gets done ahead of schedule and at the highest quality level. The ANA Summer Seminar and the July edition of the E-Gobrecht are incremental examples of the dedication, task alignment and crisp adherence to schedule by the team.
ANA Summer Seminar - John Frost must be recognized once again for the overall success of the LSCC course. John set the course curriculm and guided development with monthly phone calls to ensure that Len and I were building content on time given our busy schedules at Newman Portal Project and GFRC. In Colorado Springs, John was there to set up the room and to coordinate the daily events along with handling four of the Liberty Seated denominations. Then there was Len Augsburger who took the course in order to be the third instructor. Len funded his presence at the seminar and was an integral reason for the overall success. Students thoroughly enjoyed his historical perspectives that accurately framed the time periods during which the individual denominations were struck. A course feedback email was received yesterday, from one of the students, which pretty well summarizes the event.
Gerry,
Just wanted to send you this note to reinforce what I said somewhat inarticulately after class yesterday: The course itself--instructor knowledge, class content, pacing, additional historical context, and opportunity to examine the coins discussed, often at high grade levels--easily exceeded expectations and the price of tuition. If folks say buy the coin and not the holder, and buy the book before you buy the coin, this class is ideal, as these instructors are literally writing the books on the relevant series, and also gathering input directly from the researchers doing the same. Expertise is not only top notch but timely, as the lessons learned can be applied to one's collection from the very first day of the course. For those familiar with the "Gerry look" and GFRC ratings, this class is a 4 day in-depth dive. Thoughtful and critical analysis is applied across all Seated series. Many numismatists speak of the "tuition" that must be paid to learn the hobby, and this is easily the best money invested in my own collection. In addition, the course is accessible to advanced Seated collectors as well as those interested in developing Seated knowledge. With passions duly stoked, I congratulate Len, John, and Gerry on a wonderful class.
Speaking about leadership team execution, the ANA Summer Seminar wrapped up on Wednesday afternoon with the banquet that evening. Immediately after the banquet, images and articles were emailed to Bill Bugert for the July E-Gobrecht, which would be published the next day.
July E-Gobrecht - Upon landing at the Portland, Maine airport at 9:30 pm, there is was, the July 2016 edition of the E-Gobrecht with a complete wrap up of the ANA Summer Seminar event along with the usual monthly articles by our outstanding contributors. Craig Eberhart taking over the Auction News has instilled vigor into auction results reporting. Dennis Fortier continues to report on LSCC regional meetings and club outreach. Greg Johnson provides an in depth review of the underrated 1840 Liberty Seated quarter date. Then there is our new columnist, Benny Haimovitz, with another shattered Liberty Seated example; the 1839-O V-5 Half Dime. Rich Hundertmark jumps in with a hilarious article concerning his accidental removal of my 10x loupe when visiting the GFRC office during early June. I still get a good laugh after reading this column multiple times. Tony Barreca provides another Club Member Spotlight column; Kip Wills and of course, Jim Laughlin brings another well researched article on coin shipments from the Carson City mint. My kudos go out to editor Bill Bugert for yet another outstanding issue!
GFRC News
There is much to catch up upon along with packing and shipping orders being today's priority. Add in the photography of the Colorado Springs purchases and having them posted by end of day along with servicing overnight orders and inquiries.
Global Financial News
Spot gold and silver made solid gains during the past 24 hours with gold being quoted at $1335 and silver at $19.20. The precious metal are in full rally mode. We all knew it was coming....Puerto Rico is about to default on $1.9B in debt payments. The UK bond market is sliding into negative interest rates as a result of the Brexit vote. Then there is the Japan, the bug looking for a windshield; the public pension fund logged substantial losses during recent fiscal year due to Prime Minister Abe's push into riskier investments. And finally, the Rio Olympics may be headed for a rough start as Brazil does not appear to be ready to host these prestigious games.
Puerto Rico is set for its largest default to date as $1.9B in debt payments come due today, including more than $1B in general obligation bonds, the island's highest tiered credit that carries a constitutional lien on revenues. Governor Alejandro Garcia Padilla declared the moratorium on GO debt payments just minutes after President Obama signed a law giving the territory access to a restructuring process that will put its finances under a federal oversight board.
The U.K.'s 10-year government yield sank another 6 basis points overnight to a fresh low of 0.81% after Mark Carney suggested the BoE could cut rates this summer if the economy suffers from "post-traumatic stress disorder." Gilt yields on short-term paper also fell into negative territory for the first time. U.S. Treasury prices joined the party ahead of the New York open, with the 10-year yield dropping 11 bps to a decade low of 1.378% this morning.
Japan's public pension fund, the world's largest, logged more than $50B in investment losses last fiscal year as the yen surged and Tokyo stocks fell amid global market turmoil. The $1.4T Government Pension Investment Fund recently took a more aggressive stance into stocks, in line with PM Shinzo Abe's push to deploy more financial assets in riskier investments and boost economic activity.
A string of embarrassing incidents five weeks before the Olympics kick off in Rio has put organizers on edge as Brazil suffers its worst recession in decades. This week, a human foot washed ashore just yards from where beach volleyball players will compete, several muggings of athletes took place, and the country's top antidoping official was replaced after Rio's testing facility was suspended by international authorities. "I hate to use this phrase again, but it's like another perfect storm," announced organizing committee spokesman Mario Andrada.
Featured Coins of the Day
With gold in a rally mode, let's feature some good GFRC deals that provide excellent exposure to bullion appreciation along with numismatic relevance.
Thank you for visiting the GFRC Daily Blog this morning! It is time for breakfast and two hard boiled eggs, then unpacking from ANA Summer Seminar followed by packing GFRC orders. I will be back bright and early on Saturday morning. Have a great 4th of July weekend.