Gerry's Daily Blog Archives - January 2017
January 31, 2017
Greetings from Venice Florida on the last day in January.
Why do I sit at a laptop each morning at 6:00am to write another edition of the Daily Blog? Time continues to march forward as the GFRC office stay in Florida is already 1/3 done. Before long, I will be discussing the Whitman Baltimore show and the GFRC office move back to Maine. Amazing isn't it that time moves along so quickly when fully engaged with creating a business or whatever endeavor we are passionate about. But we should always remember that the journey and the relationships that come about are more important than achieving certain goals.... there is always a continuous stream of new goals to replace the old goals. Maybe the reason for writing the Blog each morning is all about cultivating a numismatic community with coin sales being a measure of an educated and harmonious group? Something to think about on the last day in January.
GFRC Open Registry Community Update
Speaking of community building, I'm blessed to have numismatic friends who are working to quickly expand the Open Registry. They recognize the possibilities of an inclusive set posting forum that comprehends the different collecting styles and goals of numismatists in our community.
Osprey has just defined several Civil War sets that span the 1861 through 1865 time period. One set captures only silver, nickel and copper strikes while a second set captures all the gold issues. A third set combines the two into a comprehensive listing of all United States coins issued during the Civil War. What a novel idea to capture the direct association between a dramatic period in American history and the coins circulating at the time. We are currently reviewing these sets for completeness followed by a transfer to Matt for posting after his return from Chinese Lunar New Year holiday.
John Okerson is also quite active this week for the Open Registry. He has already defined three sets for Barber dimes and will be doing same for the quarters and halves. For Barber coinage the sets include; date set only, date and mintmark sets and finally date and mintmark with major varieties (from the Dave Lawrence book).
Finally, I'm pleased to announce that our first Open Registry participant from mainland China is actively posting his United States early commemorative set. Please have a look at the Classic Commem New Life Collection as it is constructed over the next 72 hours.
GFRC Consignment News
The remaining offerings in Saco River Part 2 and selections in the West Texas consignment are photographed and ready for image processing. Hopefully, by end of day, the Saco River Part 2 coins will be posted here in the Blog as a preview. Response to the Saco River Part 1 offerings has been strong and the Maine consignor is quite pleased.
After the West Texas consignment is fully loaded to price lists, I will be ready to support more consignments. So do please consider working with GFRC if divesting coins is on your near term horizon.
GFRC Gold Offering Price Reductions
Spot gold pricing is once again over $1200 as equity markets pull back from recent highs. Gold is current quoted at $1205/oz. Global media continues to amplify political policy shifts into shock waves that are followed by more social and network media amplification of those who oppose changes. This amount of information amplification is unprecedented in human history. Will gold respond to current anxieties? No one can predict near term gold price movements. GFRC has a substantial gold inventory position and is reducing prices to stimulate sales. Price reductions are now posted on the Gold Price List and you are invited to take a look and consider a potential purchase.
Global Financial News
President Trump, Brexit and Iran's latest missile launch are dominating Seeking Alpha headlines and minimizing coverage of true economic news. One headline did catch my attention; European economy is growing slight faster than that of the United States during 2016. The European economy is far from robust and indicates that the U.S. is also weak on a comparative basis.
Economic growth for the eurozone rose 1.7% last year, growing at a faster rate than the U.S. managed when averaged across the whole of 2016. That's the first time that happened since 2008. The region's jobless rate also fell to 9.6%, the lowest figure since May 2009, while inflation of 1.8% is now near the ECB's target of "close to, but below 2%." Stock appetite is back on in Europe, as less stimulus could mean investment in riskier assets.
One key economic trend that Americans should be watching is the evolving change in consumer buying habits. U.S. consumers are shifting purchases to online retailers, like Amazon, and shunning traditional box store outlets. The battle between Amazon and Walmart is just beginning to heat up as Walmart is losing market share.
Wal-Mart will offer shoppers free two-day shipping on a minimum order of $35 starting today, its latest attempt to compete with Amazon Prime (AMZN). Free shipping will replace "Shipping Pass," Wal-Mart's (NYSE:WMT) existing two-day shipping program that charged shoppers an annual membership fee of $49. Amazon Prime charges customers $99 a year for two-day shipping that comes with additional features like a streaming video service.
Featured Coins of the Day
Given pricing reductions on the Gold Price List, let's feature several offerings that have seen a substantial reduction.
So ends another edition of the Daily Blog as we close out January 2017. Thank you for stopping by and checking in on these ramblings. Yes, I will be back tomorrow with even more ramblings.....Have a great day.
January 30, 2017
Welcome to the Daily Blog on another Monday morning. Thank you for making the Blog a regular part of your day.
Florida's cold spell is behind us with normal temperatures returning today and increasing to above average through end of week. Skies will be sunny and perfect for more photography and incremental Client Galleries. A college friend from New Jersey arrives on Wednesday and will be visiting the Fortins for a week. Donna is an interior designer and quite artistic. She always adds Italian charm and a bit of excitement when hanging out in our Venice home.
GFRC January Sales Review
As January comes to an end, I'm quite pleased to report that GFRC achieved its sales forecast due to strong sales across all Liberty Seated denominations. There is no question that Gerry Fortin Rare Coins is becoming a leading market maker for quality Liberty Seated coinage. The month started with impressive Seated half dime sales at the FUN show following by Seated dimes and halves selling well during the balance of the month. These two Seated denominations are by far the most popular and also the easiest for locating quality inventory. A small but high quality Seated dollar consignment arrived mid month and immediately, two of the three dollars sold.
Capped Bust halves also enjoyed reasonable success while United States gold sales continue to be moderate since the precious metal dropped from $1300 level. The balance of GFRC inventory saw typical sales rates. GFRC introduced a United States early commemorative product line in earnest during Janaury and sales to the China market are off to a reasonable start.
Consignments continue to be critical for GFRC success. January consignment sales were historically consistent at 70% of total sales revenue. Many consignors are using GFRC to sell their unwanted duplicates and shifting proceeds into upgrades. Trading Desk sales during January were nearly 20% and validated the premise that certain collectors do wish to rechannel their monies while others are taking the proceeds for other purposes.
GFRC Consignment News
I worked fairly late into Sunday evening towards building the initial Saco River Client Gallery as shown next. This eclectic offering has something for everyone including some eye candy Morgan toners to consider. Saco River Part II will be photographed today and the outcome should also be equally impressive. There are still another 20 or more offerings to fill out the Part II Client Gallery, If all goes well, I hope to have Part I selections onto the price list by end of day. Already, the emails are arriving for FRoR on several pieces simply due to the Sunday evening preview posting.
Saco River Collection Consignment Part 1 - January 30, 2017
West Texas Consignment
On Sunday, I also opened and reviewed the latest West Texas consignment and most pleased with the broad mix of coins and overall quality. This consignment contains a substantial amount of nice original Barber quarters and halves towards populating those price lists and is definitely welcomed. West Texas coins will also be photographed today.
Global Financial News
President Trump's immigration executive order has created a strong backlash with the media now being labeled "the opposition party" due to their non stop coverage of the matter. The financial world appears to be taking the issue in stride with spot gold remaining at $1192/oz and stock markets down slightly. Seeking Alpha provides a host of financial headlines to start the week and several are worth mentioning outside of the Trump executive order.
The Greece debt issue and bailout continue to fester while the world looks elsewhere. Please note that the wording "significantly restructured" means financial losses for bond holders.
The IMF believes Greece's debt is "explosive" and "highly unsustainable," reaching 275% of GDP by 2060 unless the country's loans are significantly restructured. The assessment, prepared ahead of an IMF board meeting on Feb. 6, is significantly more pessimistic than that of Greece's eurozone creditors and underscores the difficulty of the fund moving ahead with a bailout.
China continues to pour liquidity into the population to enable China Lunar New Year spending and growing internal consumption.
It's the Year of the Rooster! Chinese markets will remain closed for most of the week as Lunar New Year celebrations kick off for much of Asia. The PBOC (Peoples Bank of China) pumped 1.13T yuan (roughly $165B) into domestic money markets last week via its routine operations as consumers prepared for shopping sprees and to hand out red packets filled with fresh notes to friends and relatives. Markets will reopen on Friday.
Volkswagen has taken the title of the world's top automotive maker away from Toyota. This is quite surprising given all the negative press concerning the diesel emissions scandal. The Japanese currency (Yen) strengthen during 2016 and may be the explanation for slowing Toyota sales.
Toyota has relinquished its four-year title as the world's top-selling automaker to Volkswagen, the first time the German company has held the title. Global sales across its Toyota, Lexus, Daihatsu and Hino Motors brands rose 0.2% to 10.18M last year from 2015. That was less than the 10.3M sold by VW, which posted record high global sales despite its diesel emissions scandal.
Featured Coins of the Day
February arrives on Wednesday along with another challenging monthly sales forecast. It sure would be great to start the month with some robust sales including United States gold. Let's go back to the gold price list this morning and examine some quality $20 double eagles offerings that need to find new homes. If something catches your fancy, then please don't hesitate to email or call to discuss pricing and terms. I would love to see someone start populating the United States $20 Type I set in the Open Registry. Please note that Osprey has dropped prices on the gorgeous 1851 PCGS MS62 and original 1854 Large Date PCGS AU53 double eagles. These new prices will be posted after completing the Blog.
So ends another Daily Blog. The GFRC office will be quite busy with many new coins to add to the COIN database along with writing descriptions for coins already posted. Luckily, I worked through most of the shipping on Sunday. Thanks for stopping in......
January 29, 2017
Greetings on a quiet Sunday morning and thank you so much for visiting the Daily Blog.
The past week probably brought varying degrees of agreement or anxieties as Trump embraces the presidency like no other in history. Having the first corporate CEO as president brings a non traditional approach to government and tax payer revenue management. Having 24/7 global press coverage with every action analyzed from multiple perspectives is fascinating and reflects how modern day life is conducted. I will leave this topic here while intrigued by American history being made in front of our eyes.
Plugged 1844 Seated Dime
An 1844 Liberty Seated made an appearance on the GFRC price list and was quickly removed thanks to the detective skills of a certain consignor. This 1844 dime has EF40 details but had obviously been cleaned and retoned based on the unnatural colors. The obverse and reverse toning spots were also noticed but not fully examined. Here are the price list images.
Two days after posting the above dime, I received the following image and immediately pulled the listing. The plug and repair job was quite good but the individual misshaped the left ribbon end and was unable to cover his work when retoning the entire coin. The motto of the story? Everyone can make mistakes including me. I knew this coin was problematic but did not investigate enough before listing. Another lesson learned......
GFRC Consignment News
Busy is a blessing......
Yes, the GFRC consignment queue is brimming with new coins and more emails are arriving with consignment possibilities. It is indeed a blessing to support a collector community with active individuals pursuing their hobby. I believe numismatics brings three blessings. First is the thrill of the hunt as we set goals and work to locate historical artifacts consistent with those goals. Second is the sense of accomplishment when goals are achieved. And finally, as we mature in our hobby, an appreciation for like minded collectors develops. Many of these relationships can blossom into life long friendships. True numismatists, who are motivated by knowledge rather than monetary gains, are a special group of people.
Ok, back to consignment news as I seemed to be a bit philosophical this morning.
The new Osprey Collection consignment is posted to the price lists and shown in the following Client Gallery. During our Friday session at the GFRC office, Osprey and I tried to set retail pricing at competitive levels, especially for the United States gold offerings. Please do have a close look at these new coins and email me (or call) with questions. Yes, the GFRC office is open on Sundays just like Best Buy and Walmart. If you need a coin fix, I am here for you!
There are many top quality offerings in this Osprey group including the 1882 dime that is way undergraded in current NGC MS63 holder. I also really like the 1859 Seated half and the 1861 (New Reverse) $2.5 with its deep orange patina and cartwheel luster. Also please carefully examine the 1908 No Motto $10 PCGS MS63 eagle and the 1853 PCGS AU53 CAC $20 double eagle. I believe the 1853 double eagle is attractively priced for the current market and would be a great starting point for a $20 Type I set.
Osprey Collection Consignment - January 29, 2017
Please check back for an initial Saco River Collection client gallery preview by the end of day as I was able to photograph his coins on Saturday along with those of the Osprey consignment.
GFRC Open Registry Update
The registry continues to chug along with more collectors deciding to participate. My good friend Hampden added his gold type set on Saturday and provides an excellent example of certified and uncertified coins within a classic set. Of special note, is the first collector from China that registered yesterday and will be attempting to load his United States silver commemorative set over the Chinese Lunar New Year timeframe.
The Open Registry is approaching the 300 set milestone in a little over one month after release. More United States gold sets will be added as this is a popular collecting genre. Once the deliverables for the upcoming March Gobrecht Journal are completed, I will attempt to defined Basic Barber coinage sets and ask the Barber Coin Collectors Society for validation. The Open Registry can accommodate hundreds of participants similar to those of PCGS and NGC but with complete openness and CAC quality scoring premiums.
Featured Coins of the Day
Have you ever wondered how I select coins for the Featured Coins of the Day module? I do too!
There are mornings where a commitment has been extended to a consignor to feature his coins. There are other mornings where there is a sense of relief to have reached this section of the Blog...
Today's Featured Coins are from the Pleez B. Seated Collection. Yes, many offerings from the Pleez B. Collection have been sold but there are still a host of great pieces available that deserve attention and, ultimately, a new home. So let's illustrate some of my favorite Seated halves remaining in GFRC inventory.
Once again, thank you for making the Daily Blog a regular part of your day! Time for a health walk and then another day in the GFRC office.
January 28, 2017
Welcome and thank you for visiting the Blog on the last Saturday in January.
I'm pleased to report that the laptop keyboard is 99% functional except for the End key which allows indexing right within Excel and other Office products. The outcome could have been much worst requiring a new laptop and all of the software/data porting issues that would have resulted.
Central Florida will experience some cooler temperatures this weekend as highs will struggle to reach the lower 60s. Yes, there will be no sympathy here as Raymond, Maine will see mid 30s as daytime highs. On Friday, the approaching northern cold front brought sunny skies and faciliated a photography session. I was able to capture images for the following new purchases. Already the lovely 1848-O Seated half is on hold with the 1850-O Seated quarter being so choice for a mid grade set.
GFRC New Inventory - January 28, 2017
GFRC Consignment News
My good friend Osprey spent Friday afternoon at the GFRC office and brought another important consignment. We enjoyed several hours of reviewing and pricing his coins followed by examining more recent acquisition.
During his visit, two USPS deliveries arrived including the Saco River and West Texas shipments along with several duplicates from a top GFRC customer. I'm so pleased to report that GFRC now has nearly 100 new coins as a strong backlog. The shelves are once again full with PCGS blue photography and processing boxes and there is no possibility that I will be spending time relaxing at the condo association pool....
Following is a listing of the pieces within Osprey's new consignment. We've also dropped prices on some existing better date United States gold too.
Indian 1c: 1864 PCGS EF45 L on Ribbon..choice brown surfaces
Seated 10c: 1882 NGC MS63 so undergraded...I holdered this piece for Osprey and believe it would grade MS65...nope, MS63 and heading to CAC if not immediately sold.
Seated 25c: 1838 PCGS VF20
Capped Bust 50c: 1811 O-108 Small 8 PCGS EF45 crusty original; 1818 O-110 PCGS VF30 lovely ebony-gray
Seated 50c: 1859 NGC AU53 choice original, great luster and eye appeal
Gold $2.5: 1861 New Reverse PCGS MS61 old time orange gold luster, 1869-S PCGS EF45 copper gold rims
Gold $10: 1891-CC PCGS AU55 moderate cartwheel luster; 1901-S PCGS MS63+ satiny cartwheel luster; 1908 No Motto PCGS MS63
Gold $20: 1853 PCGS AU53 CAC conservative grading; 1883-CC PCGS EF45 CAC choice original
Following are the two duplicate pieces from a top GFRC customer;
Seated 10c: 1846 PCGS VF30 original with old album toning
Seated 50c: 1855-S PCGS VF35 original light gray surfaces and so scarce
GFRC Website Development News
GFRC website development is on hold during Chinese New Year as Matt Yamatin is on holiday in Thailand. Wishing Matt, Chikae and grand-daughter Natsumi a fun time in this Asian paradise. Once Matt returns to Beijing, we will be announcing new capability for individual GFRC customer accounts and the ability to access a complete list of past purchases from the COIN database.
Featured Coins of the Day
There are only three days left in January with GFRC business closing in on its sales forecast. I'm confident that the forecast will be achieved given the strong support from GFRC customers and the host of new coins that I will attempt to post this weekend. Please check the 30 Day price list often as I will be working overtime to get consigned pieces photographed and listed.
Following are some existing inventory items that would be ideal for starting a United States gold type set in the Open Registry. Collecting US gold provides numismatic and precious metal exposure and can be fun too....
So concludes another Daily Blog edition. Time for a health walk followed by order shipping and consignment photography. I'm hoping to have new offerings online during the evening hours. Thank you for stopping by and Happy Chinese New Year to our Asian customers.
January 27, 2017
Greetings on Chinese New Year eve and welcome to the Daily Blog.
Today's Blog is a bit late and your understanding is appreciated. A portion of the morning coffee was accidentially spoiled on the laptop keyboard shorting out a number of keys on the lower right and the scroll bar. A hair dryer treatment proved to be effective in regaining most of the keyboard functions so I'm moving forward with today's Blog.
Chinese New Year - The Year of the Rooster
One of my favorite aspects of China life was the Chinese Lunar New Year or Spring Festival holiday. Normal business life in China stops for up to 10 days as workers journey back to their home towns to be with family. The Chinese New Year holiday period is probably the largest migration of humanity on the planet and far exceeding Thanksgiving and Christmas travel in the US.
New Year eve is a special time as families have a traditional dinner followed by fireworks being present throughout cities and country sides. Every business would purchase substantial amounts of fireworks to greet the New Year in hope of good fortune. As I write this Blog, it is 9:00pm in Shanghai and fireworks activities are already active. Oh, how I wish to be back in Shanghai this evening but still have many great memories to fall back upon.
Gong Xi Fa Cai, Xin Nian Kuai Le
To all my current and older friends in China including Harry, Daniel, Gloria, Mei, Ricky, Taylor, XiaoWei and Yan, a sincere wish that the Year of the Rooster brings much good fortune and health.
GFRC Open Registry Community Project
Back to Venice home in the United States and with IT support from Beijng, I'm pleased to announce that several United States gold sets have been added to the Open Registry. A sincere thank you goes out to Osprey for defining each set and working with Matt to implement. The new sets include;
- Basic United States Gold type set
- Advanced United States Gold type set
- $20 Double Eagle Type 1 Gold set
Already three individuals are loading gold type sets including our own Matt Yamatin who purchased the 1932 $10 PCGS MS60 Gold CAC piece as his first gold coin. It is wonderful to see my son starting to add quality numismatic gold to his personal portfolio.
Global Financial News
Spot gold prices are once again on the retreat regardless of the political anxieties being communicated via the various online news and social media channels. Spot gold sits at $1184 this morning. President Trump is shaking up traditional politics and world leaders are closely watching. Today's meeting with Great Britain's Prime Minister Theresa May is huge in my mind and I'm hopeful to see the two leaders work closely together in the mold of Ronald Reagan and Margaret Thatcher. Following are several Seeking Alpha headlines to consider.
Theresa May last night offered to help President Trump to prevent the West from being "eclipsed" by China as she urged him not to shirk his "obligation" to lead the world. The U.K. Prime Minister also hopes he can be an economic ally - after Britain's divorce from Europe, she'll need a trade deal with the U.S. The pair will meet face-to-face today, making her the first foreign leader to step into Trump's Oval Office.
Past or current global financial issues still remain with us even though the media's attention has shifted to the United States and President Trump. Greece continues to struggle with austerity and its debt crisis while Japans economy remains in a precarious position.
Greece and its creditors failed to resolve their differences Thursday during talks held in hopes of finding a solution for the country's deadlocked bailout. Its government has been caught for months between the IMF's demands for more austerity and Germany's refusal to discuss major debt relief, while the country's debt stands at about 180% of its GDP.
The Bank of Japan is still ways away from its 2% inflation target. December's core consumer price index - which excludes fresh food - fell 0.2% on year, marking the 10th consecutive month of decline. The yen also came under downside pressure overnight, as the BOJ increased its buying in 5- to 10-year bonds, sending a message that a tapering of its asset purchase program isn't on the table.
Closing the Daily Blog Early....
I'm quite grateful to have been able to write a Daily Blog this morning given the marginal condition of the laptop keyboard and scrolling options. Let's end the Blog here as another trip to the bathroom for hair dryer treatment is in order to evaporate any remaining fluids within the keypad.
Have a great day and I will be back with a regular edition of the Daily Blog tomorrow.
January 26, 2017
Greetings and welcome to the Daily Blog.
Let's remember our Chinese friends as Chinese New Year arrives in two days. More on this topic tomorrow; the Chinese Spring Festival eve.
I am quite humbled this morning by the community that continues to grow around the Daily Blog and GFRC business. Many emails and text messages arrived during the past 24 hours. One in particular is from the Ft. Lauderdale consignor that is well written and addresses several topics brought forth in the Blog.
I really like where you are going with the community registries and being able to pull up old coins for provenance purposes. Being able to trace back a coin through different owners is fascinating to me. Our lifespans are so short compared to them. I think about what those bust quarters might have seen! It's also an invaluable resource for looking at different toning patterns for the different series. Looking through top tier dealers' stock has been a very worthwhile exercise over the years.



I had to laugh a bit in regards to your eBay post. It definitely is a place where substandard coins go to purgatory. Intermediate to advanced collectors of the classic series are often (not always) educated about obvious problem coins. eBay reflects this with many coins that are continually relisted for years because of glaring issues without a corresponding discount. I think many sellers are waiting for that 'fish' to take a damaged coin off their hands for pcgs guide prices. Very saoard. That being said, the tooooooccasional diamond in the rough does crop up and can be worth bidding on, as long as you know what sellers to avoid. Still, much better off with coin shows and t reputable dealers to get quality material. There is no replacement for in-hand inspection.o
Here are several responses to my eBay junkyard comments.
Agree with your blog this morning. eBay has loads of junk. Heritage prices have slipped I believe due to the grade inflation mentioned. The old adage, buy the coin and not the holder is still strong among savvy older collectors.

Ebay has become the "great wasteland" for coins, temporarily replacing those awful infomercials hawking melt Morgans for 20 times what they're really worth. Some of the "details" coins sold on major auction sites find their way to Ebay as "raw" coins from "Ye Olde New England Estate", ad nauseum. Unfortunately that's a huge problem when people find out their hundreds of dollars (if not thousands) is basically worthless and they've just been taken. Just like the "Romanian Box" scam of old - "Just put in a dollar bill, turn the crank and a 20 will appear. I'll sell you the box for $50 because I just want to share". What was it that P.T. Barnum said? "There's a... " . That's why your (and a few others') education on coins is of utmost importance.

Love the daily blog. E-Bay Junk Yard! Luv it!
GFRC Consignment News - The Saco River Cavalry arrives!
Another reason for feeling so humbled this morning is the immediate support to yesterday's consignment plea. Within hours, I received a commitment from the Saco River Cavalry for 40 pieces of quality inventory. Who is the Saco River Cavalry? This kind individual is a fellow Mainer and local wholesale dealer. We've set up together at several Manchester, NH shows and met at Diane's paint store to do deals. He immediately offered a portion of his inventory through the Whitman Baltimore show timeframe. Two PCGS blue boxes full of quality inventory is shipping to Florida today. Here are the contents.
Saco River Consignment
Seated 5c: 1837 NGC AU 55 CAC; 1838 NGC EF40 album toner; 1854 NGC EF 45; 1871 NGC AU 58
Seated 10c: 1854-O PCGS VF25; 1857-O PCGS AU58; 1858-S NGC VG8; 1860 NGC PF64 CAC pretty toning; 1860-S PCGS F12; 1876-CC NGC AU58 ex Eric Newman; 1883 PCGS MS64; 1887 PCGS MS62 toning
Barber 10c: 1892 NGC MS62 nice tone
Mercury 10c: 1938 PCGS PF64 CAC
Capped Bust 25c: 1832 PCGS VF25; 1833 PCGS VF30; 1838 PCGS VF35
Seated 25c: 1857 25c NGC AU53 CAC; 1877 PCGS MS66 beautiful toning; 1891 PCGS AU53
Standing Libety 25c: 1930 PCGS MS63
Capped Bust 50c: 1806 O-109 PCGS VF30 CAC; 1821 PCGS AU53 beautiful toning; 1823 PCGS VF25; 1825 NGC VF35; 1826 PCGS EF45
Seated 50c: 1843-O NGC EF40; 1853 A&R PCGS EF40
Barber 50c: 1912-D PCGS VF25
Walking Liberty 50c: 1942 PCGS MS64 toner
Seated $1: 1847 PCGS VF25
Trade $1: 1877 PCGS AU50
Morgan $1 Toners: 1878-S NGC MS64 blue toner; 1885-O PCGS MS65 toner; 1887 NGC MS64* CAC monster toning; 1890-CC NGC AU58 CAC ex Eric Newman; 1898 PCGS MS64; 1900 PCGS MS64 CAC rim toning

Gold $5: 1886-S PCGS MS62 CAC; 1906 PCGS MS62

Global Financial News
It appears that United States investors are pleased with Trump's initial steps to increase manufacturing at home. The risk metal, gold, saw a setback while the Dow Jones average broke through the 20,000 mark. Following are some worthwhile Seeking Alpha headlines.
The Dow took almost 103 years to reach 10,000 in March 1999, and another 17 years to double. But the last 1,000 points to reach the 20,000 milestone took just 42 trading days. The blue-chip index has been propelled by President Trump's moves to promote infrastructure projects and cut regulation, while recording the all-time high during his first week in office. As a whole, the U.S. stock market has gained $2T in wealth since Election Day.
Great Britain economic performance is also consistent after the Brexit vote.
The British economy showed no signs of losing momentum at the end of 2016, with a better-than-expected set of economic figures in Q4. GDP grew by 0.6% in the three months to December, the same rate of growth as the previous two quarters. Meanwhile, Theresa May is on her way to the U.S., where she will meet leading Republicans in Philadelphia this evening before tomorrow's audience with the President Trump.
The global automobile industry is taking President Trump seriously.
Worries in the auto industry... Kia Motors is drawing up a contingency plan in response to President Trump, reflecting growing wariness by Asian exporters about the prospect of new American trade policies. Trump has promised to revive industrial jobs by forcing automakers to stop making cars in Mexico, threatened to tax imports and pledged to make it more attractive for businesses to operate in the U.S.
Featured Coins of the Day
Liberty Seated halves continue to be very popular among collectors. At this point in time, GFRC has an outstanding selection of Seated halves to consider. Yesteday, I featured my favorite offerings between 1839 and 1855. The 1839 No Drapery NGC EF45 CAC example sold at end of day. So let's feature some of my favorites offerings between 1856 and 1864.
So ends another Daily Blog edition. Again, my sincere thanks go out to the Saco River consignor for immediately jumping in and supporting GFRC and corresponding community. I'm sure there will be more new consignment proposals forthcoming. Have a great day!
January 25, 2017
Welcome to the Daily Blog on a Wednesday morning.
Where have all the good coins gone? Since the GFRC consignment queue is empty (see next), I spent time on Tuesday going through eBay to assess the condition of that marketplace. The conclusion? eBay is mostly a numismatic junkyard. Have you ever visited an automobile junkyard to retrieve a used auto part rather than buying new? Those of us over 50 years of age probably remember walking through a huge yard of stripped cars seeking a working electrical generator or water pump. I was reminded of this while touring eBay. The offerings are mostly problematic coupled with major dealers using the venue to market their quality coins at premium asking prices to cover eBay fees.
Yesterday's eBay tour once again reinforced the fact that top quality coins are in collector hands. Our numismatic hobby remains strong as quality coins are quickly absorbed at full retail prices when arriving to market. The overall market may appear weak as the amount of off quality and problematic coins are not finding homes with collectors and piling up in marketplaces like eBay. Collector education through online resources, like GFRC, are having an impact. Major auction houses prices realized may be dropping a bit against the guides but that is easily explained by looking at individual lot quality and TPG gradeflation.
GFRC Consignment News
For those making a habit of checking the Daily Blog during evening hours for the latest consignment posting, my apologies. The consignment queue is empty. After months of operating with an strong consignment backlog, the shelves are bare. The timing is unfortunate as I had several hundred Liberty Seated dimes from my own reference collection that could be consigned to GFRC but these are sitting in a bank vault back in Maine. Bottomline....GFRC is seeking quality consignments to maintain its business model momentum. I would love to build up Barber and Commemorative product lines along with bread and butter Liberty Seated, Bust and Gold offerings.
Following are consignments that are forthcoming.
West Texas Collection - A 35 piece consignment that includes a substantial number of Barber coins. This shipment has already been itemzied in the Blog and is forecasted to arrive by weekend or early next week.
Osprey Collection - Osprey is visiting the GFRC office on Friday with a small consignment and to view the new GFRC 600 lbs safe.
Indiana Collection - The recent Seated dime varieties consignment has been very popular towards enabling Top 100 and Ultimate set building in the Open Registry. This individual has promised to dig out more potential offerings in the near term.
Who will be next? Now is the time to consider consolidating one's collecting goals and divesting duplicates that are no longer consistent with new goals.
GFRC Open Registry Community Project
Osprey and Matt are working together to fine tune several United States gold sets for the Open Registry. These may be online by the weekend.
Is anyone interested in working on Barber coinage set definitions for the Open Registry? Is so, then please contact me.
GFRC IT Development News
Matt has been busy in Beijing with GFRC website development. After the Chinese New Year holiday period is complete, GFRC will be adding customer account capabilities to the GFRC website. Customers will be able to log into their GFRC accounts and retrieve information concerning past purchases. The reporting format will be consistent with current GFRC price list displays. Purchases dating back to the COIN system implementation (May-June 2016) and afterwards will have complete listings including images and descriptions. Purchases prior to COIN system will be listed with basic information like date, denomination, grade and purchase price.
Global Financial News
Since the United States news media has become myopic with focus on President Trump and potential political controversies, little reporting is occuring on Europe or Asia matters. While checking Seeking Alpha headlines this morning, I stumbled on the following....
Heavy pollution enveloping much of Europe has prompted emergency measures across the continent, as extreme cold, no wind and heavy burning of coal and wood for heating left many regions shrouded in smog. In several countries, including Britain, France and Belgium, officials have cautioned against physical exertion for children and the elderly. Hundreds of flights have also been canceled and heavy polluting vehicles have been ordered off the road.
Canada is already preparing to renegotiate NAFTA with the USA
Canada will focus on preserving its U.S. trade ties during talks to renegotiate NAFTA, but may not be able to help Mexico avoid being targeted by the Trump administration. "We love our Mexican friends. But our national interests come first and the friendship comes second," government sources said on the sidelines of a cabinet retreat in Calgary. "The two are not mutually exclusive."
Featured Coins of the Day
Liberty Seated halves continue to be very popular among collectors. At this point in time, GFRC has an outstanding selection of Seated halves to consider. Following are some of my favorite offerings for dates between 1839 and 1855.
Thank you for visiting the Daily Blog and making this online resource a part of your morning (or evening) reading. Please remember the request for new consignments and also, please consider a purchase. I'll be back on Thursday morning with more ramblings.
January 24, 2017
Greetings on a Tuesday morning and yet another day in the numismatic world.
Before we discuss some upcoming new GFRC consignments, I would like to report an important die variety and die state analysis/discovery that occurred Monday afternoon during multiple conference calls with Kagins' David McCarthy. The subject was the die state sequence for 1876-CC F-121 specimen strikes in NGC and PCGS holders.
1876-CC F-121 specimen or proof strikes have been holder by both NGC and PCGS. However the surface conditions on those specimen strikes vary with some appearing to have more "pattern like" proof surfaces while a few others were struck from highly straited dies and have Philadelphia like wire rims. Here is an example of an ending die state proof holdered by PCGS and illustrated on CoinFacts. Clicking on the link will download a super high resolution image that can be used for detailed attribution.
I'm pleased to announce that David and I have concluded that the following die state sequence is highly likely and defendable for the 1876-CC F-121 die pairing.
First Die State - F-121 Business Strikes - Business strike dies were removed from production to create special proof strikes. The Carson City mint was intent on creating 1876-CC proof strikes consistent with those of Philadephia by refinishing this set of dies. This die state was previously listed as F-121a assuming business strike were produced after the specimen strikes.
Second Die State - F-121a Specimen Strikes - Dies are refinished, tested with copper strikes and then coining a few silver "specimen strikes" with lightly mirrored surfaces that are not consistent with Philadephia proof quality. This die state was previously listed as F-121.
Third Die State - F-121b Proof Strikes - Dies are acid treated and heavily polished leaving die pitting and die striations throughout obverse and reverse. The above PCGS holdered example is a F-121b strike from ending die state dies that closely resemble Philadelphia proof strikes. This die state has never been listed.
David McCarthy and I are planning a Gobrecht Journal article to discuss our conclusions for this previous Carson City enigma. The Liberty Seated dime web-book will be updated to reflect our findings and conclusions.
GFRC Consignment News
I'm pleased to announce that a GFRC customer has shipped an 1846 PCGS VF30 Seated dime and 1855-S PCGS VF35 Seated half dollar for consignment. Please email for potential FRoR as I'm sure the 1855-S will not last long.
Also arriving to the price lists today is this scarce raw 1855-O half dime that I've graded AU55 with rich old album toning. Below are initial images.
GFRC Client Gallery Update
I spent the better part of Monday evening performing maintenance on the website's Client Gallery module. Individual consignor Client Galleries, as displayed in the Daily Blog, have been transferred to the Client Gallery link. This is another service provided to GFRC consignors, allowing them to view and appreciate their coins long after they are sold. The Client Galley is also becoming a powerful tool for pedigree research within the GFRC community or simply locating older image links for your Open Registry sets.
GFRC Open Registry Update
The registry continues to grow with 273 listed sets as of this morning. I do wish to call out the multiple Newtown Collections that were posted yesterday. The Newtown Collection has immediately taken second place positions for Liberty Seated dimes and Liberty Seated half dollars. His sets are broad based with strong CAC approval levels.
Global Financial News
Spot gold briefly ran up to $1220 on Monday and is currently being quoted at $1211. The Trump administration is wasting no time in delivering on campaign promises. One parameter that Trump and his economic cabinet must address is the strength of the U.S. dollar. A strong U.S. dollar is a drag on exports and U.S. manufacturing jobs. We are starting to see comments attempting to talk the dollar down. Following is one excerpt from Seeking Alpha headlines. Please remember that a weak U.S. dollar is bullish for gold.
Treasury Secretary nominee Steven Mnuchin said yesterday that an "excessively strong" dollar can have negative short-term impacts on the U.S. economy and accused the IMF of not doing enough to combat currency manipulation. The greenback fell sharply on the comments, hitting a low not seen since late November, but it's regaining some ground today. Mnuchin is still awaiting confirmation by the Senate, which has yet to schedule a vote.
Featured Coins of the Day
Liberty Seated dimes are currently hot while Seated quarters and halves have gone quiet. So let's go with the flow this morning and feature some quality circulated grade Liberty Seated dimes for your consideration. There are a host of Seated dime sets in the Open Registry to consider as an enjoyable hobby adventure. Please pay attention to the 1874-CC offering that does need to find a good home and would be an excellent addition to any set.
So concludes another edition of the Daily Blog. Have a great day and please do consider a purchase!
January 23, 2017
Welcome to the Daily Blog as the last week of January 2017 is upon us.
Central west coast Florida finally received rains from the same weather system that spawned so many tornadoes in Georgia. Tampa's WFLA news channel has installed an advanced radar system that provides wind sheer measurements and can easily predict potential tornado formations. The graphics from this new "Max Defender" radar was short of amazing. Much needed Venice rains arrived around 8:30pm and continued through the night. Here is an image of the forthcoming storm at sunset from our lanai. Thank you Diane for the photograph.
Demand-Pricing Curve Featured Article Feedback
Feedback on the numismatic demand curve and pricing article arrived during Sunday and the overnight. The article's goal was that of aiding collectors understand the pricing and demand relationships at retail and wholesale levels when consignings coins to GFRC along with other marketplace options. Following are some feedback excerpts.
Denver Consignor writes...
LOVED the price elasticity of demand discussion and elaboration on the blog. For those of us who are collectors and not regular dealers, or even collectors who are able to attend shows more frequently than, say, I do here in Denver, it is enlightening to reinforce those factors that I recall from my economics/business school days and have some appreciation for but lack one decisive metric that is provided more consistently to others--information.
Placing quality pieces across a spectrum of series with GFRC has yielded strong results for this consignor. Some pieces within that consignment are, however, not among the more active series, at least at the moment. That long horizon you suggest conforms to personal experiences here.
Alternatively, some exposure to the selling side as well as to the buying side of the hobby gives one a better sense of the interplay between retail and wholesale levels. Items I've procured at strong retail prices have performed well as have items I managed to secure at wholesale in a smaller market (my state) that are more attractive at the larger national market level.
Tenafly Consignor commented...
I sort of knew going in that my small consignment would (mostly) take awhile to sell; that's just market reaction. For instance, if they were put on a major auction house or eBay for sale I'd get $ faster, but far less of it! Those buyer/seller fees are awful - only slightly better than taking one's coins to the local pawn shop. The Liberty Seated coins have a limited market, but a very astute one. Just like houses...
Ft. Lauderdale Consignor wrote after reading the preview post on Saturday...
I read the first part of your series on demand today. It's interesting because coins, like many specialized items, have multiple levels of demand. First the intrinsic metal value, then the value as a generic antique, then as a coin specifically, type, date, mm, die pair, die state, etc etc. This is even excluding factors such as grade, toning, problem coins, etc. At each level demand becomes more inelastic. The curve must look very complex! Probably with multiple rounded step functions. I agree many collectors (and some dealers) underestimate the inelastic nature of the market, especially for varieties or problem coins. A variety may be r7 but if only 2 people want it, it's going to be a long marketing process indeed. Looking forward to part 2.
Bill Bugert also liked the article and will be publishing a slightly longer version in the Liberty Seated Collectors Club's February E-Gobrecht edition.
GFRC Consignment News
Alexandria Consignment
The 1932 PCGS MS60 GOLD CAC $10 Indian housed in old Rattler holder already has two FRoR (First Right of Refusal) on the the books. This gold piece will be priced at $995 and should arrive today or Tuesday.
West Texas Consignment
One can always expect an eclectic selection from the West Texas consignor. Following are 37 pieces or so, across many denominations and coinage eras but so consistent with GFRC inventory positioning. This consignment ships today and should arrive by end of week.
Large 1c: 1855 knob on ear, N-9, NGC AU50 BN

Indian 1c: 1864 CN PCGS MS63 old blue holder
Seated 5c: 1866-S PCGS AU58, old blue holder.
Seated 10c: 1872-S PCGS AU55 so difficult at this grade level
Seated 25c: 1859-S VF raw; 1860-S VF/F details, raw, cleaned; 1868-S VF details, attractively retoned over a light cleaning; 1878-S F/VF detail, a filler coin; 1886 PCGS PR63 Cameo old blue holder; 1888 PCGS PR63 Cameo old blue holder; 1891-O PCGS VG08 original and nice for grade.
Barber 25c: 1898-P EF40 choice raw coin; 1909-S EF40 choice raw original;
Flowing Hair 50c: 1795, O-110 R4, Fine raw original skin
Seated 50c: 1842-O Med Date AU55 raw; 1844 PCGS EF45 original leather patina; 1848-P EF40 raw; 1849-P PCGS EF40 original; 1851-O PCGS VF25; 1859-O PCGS AU55 light golden toning; 1860-O PCGS EF45 choice with attractive rim toning; 1891-P PCGS PR55 medium gray
Barber 50c Holdered: 1894-O PCGS VF20 nice original; 1894-S PCGS VF35 original so close to EF40; 1897-O PCGS F15 choice original; 1905-O PCGS EF45 scarce; 1915-P PCGS VF30 nice original semi-key.
Barber 50c Raw: 1899-O EF40 original; 1902-O VF20 choice original; 1903-S VF20; 1907-O EF40/45 choice; 1911-D VF20 choice; 1912-D F15 original; 1914-S VF35 choice original
Walking Liberty 50c: 1921-S PCGS F-12 nice for grade
Morgan $1: 1879-P NGC MS64 flashy and original
Seated $1: 1847-P, PCGS EF45 fully original skin
Global Financial News
As we start the week, spot gold is holding recent gains at $1211/oz while crude oil rests at a little over $52/bbl. The United States media is all over Trump's next steps reporting along with amplifying the host of individuals who oppose him. I'm trying to tune out from any media outlet and stay focused on numismatics.
Seeking Alpha headlines are plentiful this morning and following are a few worth sharing. We lead off with another China headline; China's economic growth is being driven by Beijing government deficit spending. China foreign exchange reserves, capital flight and deficit spending should be closely watched during 2017.
China's stimulus programs have boosted economic growth, but they're also creating stability risks, Fitch said in a research report. "Short-term growth targets have been prioritized over some areas of structural reform, particularly efforts to reduce the economy's dependence on credit-intensive investment." Aggregate financing, which grew 12.4% in 2016 (excluding equity), rose faster than nominal GDP of 8%, pushing up the country's debt-to-GDP ratio.
Trade discussion with Great Britian and Mexico are becoming Trump's initial priorities as head of state meetings are planned for the coming week or so.
British Prime Minister Theresa May is set to visit Donald Trump in Washington on Friday, making her the first foreign leader to meet with the newly inaugurated president. The future of NATO, the EU, and a potential trade agreement between the two countries are likely to be key topics of discussion. The U.S. is already Britain's second-largest trading partner by country, after Germany.
Trade will also be part of the agenda for President Trump's meeting with Mexico's Pena Nieto along with immigration and security, Press Secretary Sean Spicer told reporters. The leaders spoke by phone on Saturday and discussed meeting on Jan. 31. Trump is also looking to begin NAFTA negotiations with Canadian Prime Minister Justin Trudeau and vowed to pull the U.S. out of the Trans-Pacific Partnership.
I never thought the day would arrive that high technology manufacturing would move from Asia to the United States. The Beijing government should be worried with this potential high technology manufacturing development.
Foxconn is mulling a joint investment with Apple topping $7B for a highly automated display facility in the U.S. The production site would eventually create 30,000 to 50,000 jobs, Foxconn CEO Terry Gou told the press, according to Nikkei. While American manufacturing is typically more expensive, Gou claimed that growing demand for larger display panels made U.S. production a better option than importing parts from China.
Featured Coins of the Day
The last week in January is here with GFRC sales being below forecast. The weak FUN show definitely had an impact on January sales and I'm in a dealing mood to recover some sale ground this week. If you've been considering a coin or multiple coins on the price lists, then please give me a call (or email) to see what I can do for pricing or purchase terms.
Here are some smaller denomination offerings to consider this morning for a type set. I don't have a theme in mind so selecting coins that are choice and I would personally enjoy owning.
That is a wrap for today's Blog. As always, thank you for stopping by and checking out the daily ramblings and coin offerings. I'll be back on Tuesday with another Information Technology development announcement that should please GFRC customers.
January 22, 2017
Greetings on a peaceful Sunday morning and welcome to the Daily Blog.
My thoughts go out to those in Southern California who will be experience severe weather conditions during the upcoming 48 hours. GFRC has many customers in that area and I do hope that everyone is safe along with properties.
Before moving into our Featured Article, let's highlight a few raw coins from GFRC inventory that were recently PCGS graded at the same exact grade as my prior listing. I'm quite proud of the fact of being consistent with current professional grading standards for raw coins. There are many more newly pieces to be posted in the upcoming week.
GFRC Consignment News
Indiana Collection Consignment
The Indiana Collection offerings of mostly Liberty Seated dime varieties are posted to the price lists and already, sales are taking place. I should have full descriptions by the end of the day.
Alexandria Collection Consignment
The owner of the Pleez B. Seated Collection contacted me with a single piece consignment that I'm excited to be handling. Tuesday brings the arrival of a 1932 $10 Eagle graded PCGS MS60 and housed in rattler holder with GOLD CAC approval. This piece will be attractive to those building a PCGS Rattler type sets or CAC GOLD type sets.
Featured Article: Retail vs. Wholesale Coin Pricing - Numismatic Market Demand Curves
In yesterday's Blog, I mentioned the following concerning the GFRC consignment business model and the reasons for structuring such a business with low commission rates.
GFRC business model is predicated on helping collectors sell their duplicates or entire collections on a consignment basis. I'm a firm believer that the highest quality coins are in collector rather than dealer hands. Moving quality coins from one collection to another at a reasonable commission allows collectors to avoid the uncertainties of working with a large auction house, the high fees and the possibility that one's coins end up in the Internet only back section of an auction catalog (dealer wholesale).
So far the business model has proven to be successful as nearly 2200 coins have been sold and net proceeds of $1,400,000 have been returned to consignments since late 2013.
One of the challenges with the business model is managing consignor expectations since there are varying degrees of consignment quality and pricing aspirations. My solution for this matter is ongoing education in the Daily Blog concerning the consignment process and the numismatic marketplace. Today's Featured Article is an attempt to explain the demand side of the consignment equation at retail and wholesale asking prices. Demand directly impacts the rate at which consigned coins sell. Pricing is also an important parameter but not as important as demand.
In Saturday's Blog, I briefly mentioned the term "elastic" with respect to demand for coins. Before going much further on this topic, let's define the term Elasticity via the online resource, Investopedia.
Elasticity is a measure of a variable's sensitivity to a change in another variable. In business and economics, elasticity refers the degree to which individuals, consumers or producers change their demand or the amount supplied in response to price or income changes. It is predominantly used to assess the change in consumer demand as a result of a change in a good or service's price.

The opposite of elastic is inelastic. When a good or service is inelastic, sellers and buyers are not as likely to adjust their demand for a good or service when its price changes.
Next let's examine the concept of a demand curve.
The Demand Curve is a graphical representation of the relationship between the price of a good or service and the quantity demanded for a given period of time. In a typical representation, the price will appear on the left vertical axis, the quantity demanded on the horizontal axis.

Following is an example of a potential demand curve;
Now let's look at an Elastic Demand Curve and compare with an Inelastic Demand Curve. The Elastic demand curve suggest a strong relationship between product pricing and subsequent demand. In numismatics, this may be the case for silver bullion items or other commodity products. The Inelastic Demand Curve indicates a weak relationship between product pricing and demand. In most cases, the demand is limited and adjusting pricing levels has minimal impact on creating more near term demand.
Let's return to the typical lifecycle of an advanced collection if the owner wishes to purchase and sell his coins at retail prices. Selling early type coins like Capped Bust and Liberty Seated at retail prices means confronting a market that is best modeled with an inelastic demand curve. Let's assume that Retail Demand for early type coins originates from other collectors rather than dealers as dealers must buy coins at wholesale levels. To sell coins at full retail, a collector must have a long horizon and wait for collector demand to appear. If a series is hot, then demand is higher with the probability of near term sales. If a series is quiet, then demand will be a function of collectors deciding to upgrade a set or new collectors entering the market. Therefore demand for specialty numismatics can be view as being somewhat inelastic at the full retail level. Collector should plan the same amount of time to sell a collection as to build it! This is where GFRC enters into the picture with its collector to collector Trading Desk whereby collectors can trade quality coins at fair market values.
I believe one more graph is necessary to accurately capture the full scope of rare coin divestment. This graph is essentially a hybrid between the Inelastic Demand Curve (rare coins sold or traded at retail levels) and the Elastic Demand Curve (rare coins sold at wholesale levels to other collectors, dealers or at major auction). Please consider the following graph as a model for the current marketplace for Capped Bust and Liberty Seated coins. Essentially collectors are dealing with mostly an Inelastic Demand curve when attempting to secure full retail pricing and, an improved Elastic Demand curve when willing to sell at wholesale levels. Dealer and collector demand at decreasing wholesale prices will increase much faster than collector demand at decreasing retail prices. Why? Everyone dreams of buying coins at wholesale bargain levels!
The Motto to the Story.....if wishing to divest a substantial collection at retail prices with small commission rates, then a collector faces a mostly Inelastic Pricing vs. Demand curve and time will be necessary to local other collectors who have the disposable income to purchase quality collector coins at retail levels. Anyone can exit a collection at wholesale prices and enjoy a quick sale due to Elastic Pricing demand from both dealers and collectors. Conversely, sophisticated collectors have a deep respect for their accomplishment and believe they are entitled to retail market value when divesting.
Featured Coins of the Day
Spot gold price continues to inch up and current stands at $1210 and has moved up 7% in the past 30 days. Will the trend continue taking us back to the $1300 level by end of Q1? I suspect it will given political dynamics and a polarizing media.
GFRC gold coin sales took a marked dropped once gold prices retreated. The Osprey consignor and I have decided to adjust prices to stimulate sales. Look for some pricing reductions in the upcoming week.
Small denomination United States gold is much less sensitive to spot gold prices and behaves more like a regular numismatic collectable. Following are several recommended $2.5 quarter eagles for your consideration on a Sunday morning.
January 21, 2017
Greetings and welcome to the Daily Blog on a quiet Saturday morning.
Today's Blog will focus on new GFRC offerings and not touch upon politics. Yes, I did watch the inauguration via streaming video and the Trump speech to view history in the making. Otherwise there will be no commentary here. The online media will be analyzing the speech for days and its potential domestic and global impacts.
GFRC New Consignments
We start the morning discussion with the final and most important offering from the Warnerville Collection; an 1879-S Reverse of 1878 dual side toner Morgan. During 1879, Morgan dollars were struck with two reverse designs; rounded breast and flat breast eagles. The latter is quite scarce in mint state and rare in MS65 or better. How about a PCGS MS64 CAC example that has beautiful two sided toning? Collectors attempting to build Morgan date or date/mintmark sets with attractive toning are probably missing the date and this 1878 reverse pairing combination.
Warnerville Collection Consignment - January 21, 2017
Not a Typical Toner Morgan - Please Take a Close Look
Next up are the most recent offerings from the Indiana Collection. This individual has been collecting Liberty Seated dime varieties ever since I've been in the hobby. He continues to construct and upgrade his various sets on the Open Registry and always has duplicates to offer. Following are the consigned pieces that arrived earlier this week.
The Indiana Collection client gallery opens with a superb 1840 Drapery half dime graded PCGS AU55 CAC. Next is an important 1873 Open 3 F-101 graded PCGS AU55 and a strong candidate for CAC approval. Then comes a treasure trove of raw varieties. Some of these dimes are market acceptable or cleaned but still important as starting points in a Top 100 or Ultimate set. The first offering is an 1840 Drapery dime graded EF40; everyone needs this design variety as so scarce. Other highlights include 1845 F-102a with repunching about the 8 digit, an 1869 F-101 date placement, an 1875-CC IW F-107c with reverse cud followed by the 1876 F-120 web-book plate coin. There are two 1877 F-107 Misplaced Date examples....a variety that I've found to be so elusive. We close with a cleaned 1891 F-109 double die obverse that I've also found to be incredibly difficult to locate and an 1891-O O/Horizontal O.
Many of these pieces are already under FRoR but it does not hurt to check in on availability. Pricing will be determined today and these should be posted to the price list on Sunday morning.
Indiana Collection Consignment - January 21, 2017
A Liberty Seated Dime Variety Treasure Trove
Featured Article Preview; Managing Consigned Coin Pricing
GFRC business model is predicated on helping collectors sell their duplicates or entire collections on a consignment basis. I'm a firm believer that the highest quality coins are in collector rather than dealer hands. Moving quality coins from one collection to another at a reasonable commission allows collectors to avoid the uncertainties of working with a large auction house, the high fees and the possibility that one's coins end up in the Internet only back section of an auction catalog (dealer wholesale).
Below is the typical lifecyle of a advanced collection if the owner wishes to carefully divest and ensure his cherish pieces find homes with other collectors rather than dumping into the dealer channel. Using a careful divestment approach requires patience and a longer time horizon than taking one's coins to eBay. Why is that you may ask? Please scroll down to the second graph and I will continue the discussion.
When selling an item in a marketplace, demand for that product is a key consideration followed by price setting. Economics 101 teaches us that the marketplace has a Demand:Pricing curve that is also applicable to selling quality coins on consignment. Not all Demand is equivalent however with two types of demand being categorized. These are Elastic Demand and Inelastic Demand. Each type of demand has a different relationship or outcome as a function of product pricing. The following graph illustrates the different relationships between Pricing (P) versus Elastic and Inelastic Demand (Qd).
In Sunday's Daily Blog, I will explore this concept further towards aiding GFRC consignors formulate an appropriate pricing strategy for their consigned coins. I receive many requests for pricing reductions from consignors but wonder at times if they truly understand the nature of demand and whether their pricing reduction will lead to desired results.
So please check back tomorrow for an in depth discussion on this topic.
Featured Coins of the Day
In yesterday's Blog, I featured several Port Matilda Collection offerings that reached the 120 day threshold for consignor return without incurring a 3% marketing fee. I'm pleased to report that one of those coins (1899 Indian Cent PCGS MS65RD) found a new home. Actually, there were two requests for the piece within three hours.
In today's Blog, the Motor City Collection consignor also has a few remaining pieces in a longer term consignment that have not sold. This individual asked for their return so let's featured these one last time for potential interest and offers. If Motor City pieces do not sell at GFRC, then they are heading to a major auction house for disposal.
So ends another Daily Blog edition. Time for health walk followed by several hours in the packing and shipping department. Please check back on Sunday morning for more numismatic ramblings and the Elastic/Inelastic Demand discussion. Have a great weekend.
January 20, 2017
Welcome to the Daily Blog on Presidential Inauguration Day 2017.
Regardless of your political party affiliation, this is indeed a historic day as each incoming administration brings about a renewed vision for America. The information technology revolution remains in hyper drive with American citizens being exposed to unimaginable amounts of media content. Now we have drone video feeds along with omnipresent cellphone videos and police body cams. I am careful to not use the word "information" as information, to me, has a positive and useful context. Sifting through media content to extract useful information towards opinion development has become challenging for many and overwhelming for some citizens.
Luckily, we have the numismatic hobby to remind us of earlier times during out country's history. Collecting Bust and Liberty Seated coinage provides a physical stimulus for researching and gathering information about the leadership and their challenges during 19th century America.
GFRC New Offerings Update
With the Venice office back in normal operating mode after the safe installation, new coin image processing and price list loading became an immediate priority. Much was accomplished as shown below.
GFRC received two single coin consignments this week. Both are rare date Seated coinage that deserve special consideration.
The 1866-S Seated quarter is a rare date with a rapidly increasing pricing structure at higher grades. Many collectors would be pleased with this PCGS G6 CAC example that is a gem at the grade level. This was the case as the offering only lasted several hours as a Blog preview item before being scooped up.
The 1855-S Seated half graded PCGS AU50 with CAC approval is at the opposite each of the rarity grade and price curve. Few examples of first year San Francisco half dollar strikes exist in higher grade choice condition. PCGS has graded only one mint state (MS64) and four examples at the AU58 level. How about CAC population report for 1855-S halves? One at AU50, two at AU58 and one at MS61 (NGC). If CAC is a proxy for choice surviving examples, then the offered PCGS AU50 is in the condition census and an important opportunity for the advanced collector. Priced at $8900.
Rare Seated Date Consignments - January 20, 2017
In between client consignments, I've tried to find time to load more GFRC owned coins to the price lists. Below is a decent group of Flying Eagle and Indian Cents that remained from the Maine Collection dispersal during early 2016. These pieces just arrived after a several month PCGS economy submission and are loaded onto the price list. All were stored in Wayte Raymond album and spent several decades in a bank vault in Auburn, Maine.
Maine Collection Flying Eagle & Indian Cents - January 20, 2017
GFRC New Consignment Status
Grey Soldier Collection Consignment
The Grey Soldier lot of outstanding Seated half dimes is loaded on the price list. Already one of the offerings is on hold. Great coins don't last long so please check.
Warnerville Collection
This consignment is now at the top of the queue for pricing and posting. I hope to have these pieces on the pricelists by Saturday.
Indiana Collection Consignment
The Indiana Collection Seated dime consignment has been photographed and targeting for a Client Gallery display within tomorrow's Blog. Demand for Seated dime varieties is strong with many of the Indiana offerings under FRoR.
Who's Next?
The GFRC consignment queue is thin once again as I become much more efficient with marketing, processing images and loading price lists. Starting the week of January 23, there will be substantial bandwidth to take on more consignments. Otherwise, I will have to consider hanging around the Auburn Condo Association pool or Venice Beach towards idle time and relaxing. What a scary thought!
Global Financial News
All eyes are on the Trump presidential inauguration today with questions as to his immediate executive actions starting afterwards. Spot gold is resting at the $1200/oz level. Seeking Alpha headlines are unexciting this morning with only a few announcements worth mentioning. The first concerns China's Q4 GDP performance; as expected, the Beijing government always hits its forecast......
Boosted by higher government spending and record bank lending, China's economy grew 6.8% in Q4, giving it a solid tailwind heading into what is expected to be a turbulent year. That means GDP expanded 6.7% in 2016, roughly in the middle of the government's 6.5%-7% growth target, but still the slowest pace since 1990. Other full-year data: Retail sales jumped 10.9%, industrial production rose 6%, and fixed asset investment increased 8.1%.
Puerto Rico's new governor is expressing a positive signal to creditors of the debt ladened island; accountability and the willingness to pay.
Puerto Rico's newly-elected governor, Ricardo Rossello, wants to take a "philosophical shift" from the prior administration's handling of creditor negotiations and "show there is a willingness to pay." "There will be real fiscal oversight," he said. "It's not a political bumper sticker anymore. What we are asking for is runway to establish these reforms and have Washington recognize that they have a role to play."
Featured Coins of the Day
Last Chance on Port Matilda consigned coins...... This consignor is retrieving his coins as they reach the 120 day mark. Following are quality offerings that will be removed from the price list if not immediately sold. This would be an excellent time to make an offer on pieces of interest.
In an upcoming Blog, I plan to discuss Elastic and Inelastic Demand for coins as an educational guide for consignors. Rare coins experience mostly Inelastic Demand as the collector population desiring a particular coin within a 120 day timespan is probably small as compared to the entire numismatic market. Moving coins to a large auction house for disposal means adding dealer demand component but comes with wholesale pricing levels plus auction house fees.
So concludes another edition of the Daily Blog. Thank you for visiting and reading these ramblings. Have a great presidential inauguration day!
January 19, 2017
Welcome to the Daily Blog and thank you for stopping in.
Today's Blog will be brief due to a fully consumed day on Wednesday moving a 600 lbs safe into the GFRC Venice office. Preparations and the physical move of the 5' high safe from the point of delivery into the GFRC office took substantial planning, on the spot engineering, a trip to Home Depot for 2x8 planks etc. By 6:00 pm, the project was completed with no crushed fingers or toes, floor tiles or holes/scratches in the walls. Amazing..... A sincere thank-you goes out to my brother-in-law Mike for partnering on this significant task.
I was mentally and physically exhausted after the installation and went to bed by 8:00 pm
GFRC Consignment News
Several "smaller" consignments have arrived as the queue remains steady. Boredom is definitely not an issue here in Venice office.
There was a flurry of FRoR emails on the raw Indiana Collection consignment as collectors are aggressively working on Top 100 and Ultimate Liberty Seated dime sets. This consignment will be photographed today. I've registered the multiple requests and will be contacting customers once images and prices are finalized.
Following are the two consigned pieces that just arrived. The quantity is small but the dates and grades are noteworthy.
Seated 25c: 1866-S PCGS G6 CAC so choice and original for the grade
Seated 50c: 1855-S PCGS AU50 CAC perfectly original with old time light gray patina and luster
GFRC Open Registry Community Project
The rate of new set creation in the registry is slowing a bit with the count currently standing at 260. I'm aware of several advanced collectors who will be adding their sets shortly.
John Frost emailed yesterday offering to define the Liberty Seated double dime set(s). This denomination is so fortunate to have John as an advocate.
Follow-Up - 1871-CC PCGS AU50
Matt did further Internet searches on the 1871-CC PCGS AU50 dime, discussed in yesterday's Blog, and located a 2015 Scotman's auction listing. This dime was described as being from the Gavin "John" Rose Collection and was lot 355 in the Collectors Auction 2015. It does not appear that the dime sold. No full size images of the PCGS holder are shown. Please note the difference in image quality between that of the Scotman auction and current 2017 marketplace offering. The difference is considerable with the more recent appearing "juiced up".
Featured Coins of the Day
GFRC sales, across the many product lines, seem to move in cycles. Sometimes Liberty Seated halves are on fire and then go cold. Now Liberty Seated Dimes varieties are hot as a result of the Open Registry being back online. Toner Morgans also move in similar cycles and have been quiet lately. Therefore, let's feature my favorite peices that are currently in inventory. If I really like these Morgans, then there is a decent chance that you will too.....
This wraps up today's Blog. Time for a quick showever, then returning an appliance dolley to U-Haul rental agency followed by more shipping and photography. Please do consider a purchase or simply call me after 10:00am to discuss potential coins of interest. Have a great day!
January 18, 2017
Greetings once again as another edition of the Daily Blog is written. Leftover Chinese take out and a dark roast coffee are breakfast and will hopefully provide early morning energy and inspiration.
GFRC Consignments News
Just when the consignment backlog queue was growing a bit thin, exciting new shipments are beginning to arrive. Liberty Seated dime sales are once again robust due to the Open Registry launch and I'm so pleased to report that another die variety treasure trove appeared in yesterday's mail. The Indiana Collection consignor had previously indicated that a shipment was forthcoming but without specifics. I was pleasantly surprised when opening the package and finding two slabbed and fourteen raw pieces that are ideal for Top 100 and Ultimate set construction. Following is a brief contents listing of the Indiana Collection consignment. I've not had time to grade the individual raw pieces but nearly all are in the VF through EF grades with a few being cleaned.
Indiana Collection Seated 10c Raw Varieties:
1840 Drapery; 1845 F-102a; 1869 F-101; 1875/18 F-105; 1875-CC IW F-107c with massively cracked reverse; 1876 Type 1 F-120; 1877 F-105 MPD F12 grade; 1877 F-105 MPD VF20 grade; 1877-CC Type 2 F-107; 1877-CC Type 2 F-108; 1887-S F-104 EF; 1887-S F-107 shattered reverse VF20; 1891 DDO VF so rare; 1891-O O/Horiz O VF
Indiana Collection Slabbed Pieces:
1840 Drapery Half Dime PCGS AU55 CAC so choice original; 1873 Open 3 Dime PCGS AU55 crusty original
Warnerville Collection is a new GFRC consignor and pleased to present his first Client Galley display as follows. GFRC can always use quality Liberty Seated halves in inventory. I particularly like the 1856-S G$2.5 piece residing in old NGC holder and graded AU53.
Warnerville Collection Consignment - January 18, 2017
This incredible 1902-S PCGS AU58 CAC $5 half eagle reached the pricelist yesterday. I like the offering so much that a special call out in the Blog is warranted.
New GFRC Pricelist Addition
Purchasing Big Four Carson City Dimes Can Be Risky
A GFRC customer emailed around noon time on Tuesday and ask for an opinion on an 1871-CC dime graded PCGS AU50 that is currently in the marketplace. This dime is a substantial purchase and careful due diligence is warranted. In the past, I've made mention of checking provenance records when purchasing five figure coins to ensure no buyer's remorse if subsequent surprises are located within online records.
Once contacted and given the link for the 1871-CC PCGS AU50 dime, I studied the images (below left) and felt something was wrong. The toning appeared to be too good (perfectly iridescent) and atypical for a first year Carson City Seated dime strike. Nearly all specimens seen while building my own Seated Dime date and mintmark set where either dipped white or toned natural gray.
I immediately went to Heritage Auction records and located a prior preservation state of the same dime in a different PCGS holder (below right). Heritage images from their March 2011 Sacramento sale indicate this dime was mostly untoned with some faint gray verdigris or toning spots on the reverse. Heritage provided a 360 deg view for the dime with a realized price of over $21,000. There are obvious die markers on both the iridescent toned piece and the Heritage piece. I've drawn small outline around the markers. So another important Carson City dime has been retoned with the numismatic community needing to take note of the change and potential buyer's remorse risks.
1871-CC Dime - AU50 Condition
January 2017 Market Offering March 2011 Heritage Auction
Global Financial News
Spot gold is holding the $1211/oz level after currency market movements yesterday. Investors should be watching currency markets during 2017 as these will play a key role in determining the direction of equities. More newsletters are warning that China has no choice but to devalue the Yuan further and the question is how and when. In this morning's Seeking Alpha headlines, we see that the markets are responding to Trump and Theresa May's statements.
President-elect Donald Trump's comments suggesting the greenback is "too strong" sent the dollar index tumbling to its lowest level in more than a month, but the currency recovered some of that weakness in trading overnight. Adding to the dollar's weakness was sterling strength, which surged 3% - the biggest one-day climb since 1998 - following Theresa May's Brexit speech. She pledged to walk away from negotiations if Britain didn't get a good deal from Brussels.
The Puerto Rico debt crisis is appearing once again....
"If we don't make a dramatic adjustment, there could be a total collapse in upcoming months," said Elias Sanchez, the governor's representative to a federal control board created last year to oversee Puerto Rico's finances. The Secretaries of the U.S. Treasury and Health and Human Services also called for fast congressional action, saying a bipartisan task force report failed to go far enough on recommending a low-income tax credit for the commonwealth.
Mainstream media don't often report on these types of meetings but should....
President-elect Donald Trump has asked Lockheed Martin to reduce costs on the $379B F-35 program by "many percent, into double digits", according to the chairman of BAE Systems, which is a key subcontractor on the program. "We respect that and we'll work towards a contribution towards that," Roger Carr said from the World Economic Forum in Davos.

More price cuts... Boeing CEO Dennis Muilenburg had a "very productive" meeting with Trump on Tuesday and was encouraged by progress in talks on the Air Force One replacement fleet and fighter planes. "We made some great progress on simplifying requirements on AF1, streamlining the process... all that is going to provide a better airplane at a lower cost. I'm pleased with the progress there."
Featured Coins of the Day
As mentioned earlier, Liberty Seated Dime varieties are selling well driven by the return of the Open Registry. GFRC Open Registry is the only online forum (outside of message boards) that allows collectors to publicize their in depth variety collections. Following are a few candidates to consider on a Wednesday morning. Yes, the 1839-O F-104a is the Ahwash Plate Coin. Please email or call on any of these coins if there is potential interest. Offers will be entertained as these peices are here to sell.
So concludes another Daily Blog edition. It is my imagination or are these daily posting becoming longer? There always seems to be information to share on a daily basis..... Have a great day.
January 17, 2017
Welcome to the Daily Blog on a Tuesday morning.
Venice weather remains ideal for January with highs in the mid to upper 70s but the lack of rain is telling. Water retention ponds and decorative "lakes" are quite empty and will need days of steady rain to recover. Back home in Maine, Raymond temperatures are forecasted to be normal for January. Normal are highs in the mid 30s and overnight temperatures in the low 20s.
Tonight brings an LSCC Leadership Team meeting to wrap up the day. LSCC membership currently stands slightly above 650 but 2017 club member dues renewal will bring some attrition. Non renewals and approaches for securing increased 2017 membership along with the forthcoming March Gobrecht Journal publication will be the main topics.
GFRC Open Registry Community Project.
Positive feedback on the Open Registry module continues to arrive. Monday brought a phone call from East Coast advanced collector who was thrilled with collection entry simplicity and the CAC premium scoring. He plans to add more sets in the coming days along with embellishing each set with images and commentaries.
BTW, I suggest that Blog readers take a look at the Seal Beach Seated half dollar set in the Open Registry. The overall grade consistency and quality (CAC approvals) are outstanding.
Matt and I are also pleased to announce the addition of three Early Commemorative sets to the Open Registry along with Carson City and San Francisco Mint subsets for Liberty Seated half dollars. Since Early Commemoratives are typically collected in gem and superb gem preservation states, scoring weights were set based on a combination of Sheldon rarity scale and PCGS MS66 populations. Followings are the new sets for your potential review;
- 50 Piece Early Silver Commemorative Designs
- 11 Piece Early Gold Commemoratives
- Combined 61 Piece Early Silver and Gold Commemoratives
The Seated half dollar Carson City and San Francisco Mint sets will automatically populate if a Basic Set has already been listed.
As of Tuesday morning, total Open Registry set count stands at 253.
GFRC Consignment News
The Ft. Lauderdale and No Name Collection consignments reached the price list on Monday, and already there is sales action. GFRC and consignors love to see early sales as a validation of consignment quality.
I spent early evening processing Grey Soldier Collection images as shown below. His latest consignment deserves serious attention by Liberty Seated half dime collectors. Each piece is fully choice with the lot being a variety/late die state treasure trove. We start with an 1837 Large Date piece graded PCGS MS63 with shattered obverse. The 1840 No Drapery is graded NGC MS64 with vertical bisecting die crack; I love this piece! The 1843 half dime offers a bold double date (FS-301) and is graded PCGS AU55....this one will not last long. Then there is a marvelous 1848-O half dime with what appears to be late die state (probably lapped) reverse with many die cracks. This piece resides in PCGS MS63 holder with CAC approval. The lot closes with a frosty 1871-S example graded PCGS MS62 CAC that is hammer struck and developing a cud below the ribbon bow.
Grey Soldier Collection Consignment - January 17, 2017
Up next in the image processing queue is the Warnerville Collection and hopefully, these offerings from a first time consignor, will be featured in Client Gallery format before heading to bed.
Featured Article: Threat Assessment: Perils Are Pointing To The Possibility Of Heartbreaking Losses
I'm always scanning Seeking Alpha articles towards capturing alternate viewpoints on gold and equity markets. Some articles are simply opinions with little research while others are well prepared and substantiated with data. Gary Gordon is a consistent writer with strong following and offers an early 2017 equities risk assessment in new article entitled, Threat Assessment: Perils Are Pointing To The Possibility Of Heartbreaking Losses. Mr. Gordon, is the president of Pacific Park Financial, Inc., a Registered Investment Adviser.
Gary starts the article by reminding us of the 1999-2000 NASDAQ run up and the subsequent 80% losses during 2000-2002 timeframe. Could this happen again? Mr. Gordon provides some sound advice and then makes the case that risks are abound at current equity valuation levels. Let's start with his simple advice.
Why is it important to rediscover risk now? In essence, when everyone around you is feeling triumphant about high water marks in real estate and/or stock assets, it is critical to safeguard your fortress and to minimize the extent of financial harm.
To wet your appetite towards reading the entire article, following are three plots that suggest substantial risks when considering to invest in equities at current valuation levels.
The current United States economic recovery (from Great Recession) is the weakest in over 60 years...look at the bottom light blue line.
United States Economic Recovery Durations and Growth
U.S. Corporate debt and equity values are at 1999-2000 levels when compared to corporate value creation. The corporate binge on debt financing for acquisitions and stock buyback programs due to ZIRP is most evident in this graph.
An finally, domestic labor market conditions, as measured by the Federal Reserve on a moving average basis, look awfully anemic.
My conclusion is that equities are over valued and high risk with Mr. Gordon closing his article with the following;
Bottom line? The very things that have led to painful financial loss in the past - deterioration in the economic cycle potentially leading to recession, asset valuation extremes, tighter borrowing costs, accelerating inflation, political and/or financial instability - are noticeably present at the start of 2017. The fact that these perils are largely present does not mean that a bear market or severe losses are imminent. On the flip side, the fact that these perils are largely present convey the sensibility of lowering one's exposure to the risk of severe loss.
Featured Coins of the Day
Spot gold continue to move up and is being quoted at $1215 this morning. The Trump presidency will be like no other and the level of perceived risks should be bullish for gold prices. Adding quality gold numismatic pieces to an overall financial portfolio is a long term opportunity.
At GFRC, we offer a host of quality early date $20 double eagles including a run of Civil War San Francisco mint pieces. Prices will not stand still forever on these. Here are a few to wet your appetite.
So concludes today's Daily Blog edition. Thank you for stopping by and do please consider a GFRC purchase for your numismatic holdings.....
Considering selling and redirecting numismatic capital? Then please give me a call to discuss how we can work together to market and sell your holdings to other advanced collectors.
Have a great day!
January 16, 2017
Greetings on a Monday morning and Martin Luther King national holiday.
A fairly strong ship day was planned for today but realization that the Post Service is closed set in during the weekend. Those with outgoing package will see their USPS email notice today with physical shipment moving into the USPS system on Tuesday morning.
Liberty Seated Dime Variety Web-Book Updates
Sunday was a back to collector roots day as spent considerable time on Seated dime die variety attributions. The subjects were the 1849-O rotated reverses, 1850 unlisted specimen on price list and 1875-S with reverse cud. Attributions are resulting in web-book updates as follows;
1849-O F-103ad
The F-103a die pairing (lapped obverse die) with multiple rotated reverse positions is documented in the web-book. I've simplified the listing nomenclature with F-103ab, F-103ac and F-103ad being used for the three different rotated reverse. This web-book update is complete. The F-103ad plate coin is not for sale.
1850 F-108a
Attribution of the 1850 F-108a die state is an important breaking news situation and solves one of the 1850 Philadelpha strike puzzles that has been bothering me for years. The following 1850 NGC MS63 dime on the GFRC price list was purchased by a customer under the condition that I complete the variety attribution. Obverse 6 is straightforward to attribute due to an easy to recognize die crack through the lower date digits. However, the reverse was clearly unlisted during inspection for price list posting.
1850 F-108a - Interim Reverse Die State Discovery
Placing the reverse under a stereo microscope, on Sunday, revealed die cracks that were difficult to catch with a 10x loop. Those die cracks are the same as the 1850 F-111 listing in the web-book. When preparing the web-book during 2002-2003 timeframe, the following was stated;
Obverse 8 is paired with a heavily cracked reverse die. Please see the enhanced mapping of the Reverse I die cracks. Undoubtedly, this reverse die has seen previous usage by the mint. However I have not been able to identify any earlier die pairing where the cracking had begun to appear. The pairing of Obverse 8 and Reverse I was described in a 1984 issue of the Gobrecht Journal by John McCloskey from a Seated dime made available by Bill Carpenter.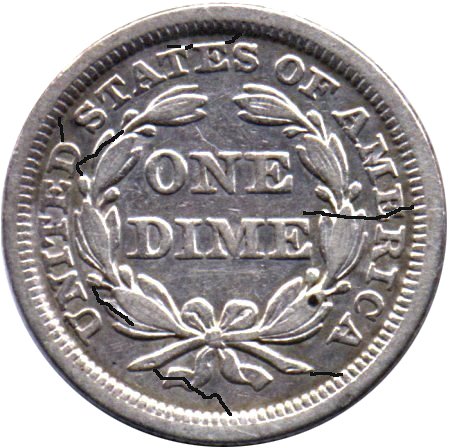 We finally can say with certainty that the above cracked die is a terminal die state of Reverse F rather than being listed as Reverse I. The GFRC 1850 NGC MS63 specimen will be posted in the web-book as F-108a (Reverse F.2) and the F-111 listing will be corrected with reverse die designation of Reverse F.3. Attribution of the GFRC 1850 dime in inventory finally solved the puzzle!
1875-S Below Wreath F-123
I studied the 1875-S Below Wreath dime with lower left reverse die cud (posted in Daily Blog on January 15) and reached the conclusion of a new die pair. The obverse has a tiny abnormality to the left of the scroll that could a misplaced 1 digit while the reverse mintmark position does not match those listed to date. This piece will be listed as F-123 in the web-book.
GFRC Open Registry Community Project Update
If not busy enough on Sunday with Seated dime die variety attributions, the definitions of a 50 piece early silver commemorative type set and 11 piece early gold commemorative type set were completed and forwarded to Matt for review. Matt is checking and once approved, three new Open Registry sets will be made available under a Commemorative tab as follows;
- 50 Piece United States Silver Commemorative Type Set
- 11 Piece United States Gold Commemorative Set
- 61 Piece Combined United States Commemorative Set
I'm looking forward to having Shanghai and Beijing based customers as part of the Open Registry.
GFRC New Consignment Galleries
Ft. Lauderdale Collection
Rather than watch the Pittsburgh - Kansas City AFL playoff game, time was allocated to catching up on residual consignments that arrived at the FUN show. We open with a quality consignment from the Ft. Laudersale collection. At the FUN show, I had an opportunity to meet this individual in person and enjoyed a long chat. Our backgrounds are similar (engineering in high tech industries) which allows the exploration of variety topics outside of numismatic. This young man has a keen eye for originality and enjoys searching out Capped Bust and Seated type coins. I'm in love with the 1835 Capped Bust quarter graded PCGS EF45 and the 1839 Reed Edge half graded PCGS EF45 is also choice for the grade.
Ft. Lauderdale Collection Consignment - January 16, 2017
Unnamed Collection
A long time GFRC consignor, who wishes to remain anonymous, sent along the following duplicate coins in the hopes of locating new owners. Please check this Client Gallery carefully as the first two offerings are challenging 1858-S PCGS EF45 and 1859-S PCGS VF30 dimes in older blue label holders followed by a infrequently seen higher grade 1856-S Seated quarter and lovely 1862-S quarter graded PCGS VF25. These should be reaching the price list by Wednesday.
Unnamed Collection Consignment - January 16, 2017
Global Financial News
More newsletters are starting to worry about a stock market swoon in the next 30-60 days. The Dow has attempted to break the 20,000 without luck and the overt warfare between Democrats and an unconventional Trump administration is scaring many investors. I will try to touch upon this subject in the upcoming days. There are obvious economic indicators that the market is over valued with the Trump election rally starting to lose momentum.
Featured Coins of the Day
GFRC has enjoyed strong sales during the first half of January. Now the challenge is to maintain that momentum during the balance of the month and meeting the 2017 annual forecast. Yes, GFRC operates like a large corporation with monthly sales and gross profit goals. Since GFRC continues to invest in new product lines and Information Technology development, these initiatives must be funded out of gross profits.
Your ongoing purchases are appreciated, but more importantly, your referrals to other potential customers are critical. The United States numismatic hobby is vaste and only a small subset are aware of the GFRC business model and commitment to quality offerings and collector education.
Following are some random quality GFRC offerings to close out today's Daily Blog. Thank you for visiting with me this morning. Have a great MLK holiday!
January 15, 2017
Welcome to the Daily Blog on a Sunday morning.
January 15th is always a special day for the Fortins as Matt's birthday. Our well wishes go out to Matt and his many adventures in Beijing.
GFRC and the collecting community are blessed to have Matt information technology development support. For example, in just a little over three weeks, the Open Registry Community Project is closing in on 250 sets and nearly 40 participants. I've always believed that simplicity and efficiency are beautiful in the context of large initiatives. Matt possesses that important skill for distilling complexity down to core features as we've seen with COIN and now, Open Registry. Happy Birthday from your Dad and thank you for all you do for GFRC and the numismatic community.
New Liberty Seated Dime Variety/Die State Discoveries
We open the Daily Blog with two cool die variety/die state discoveries that arrived at the FUN show. Yes, these were submitted by the same individual who consigned the major Seated dime die varieties featured in the January 13th Blog. During his year's of successfully cherry picking varieties, consistent with the Liberty Seated Dime web-book, this individual located his own discoveries and is now sharing with our community.
The first important discovery is another reverse die misalignment position for the F-103 die pair. For those not being Seated dime variety junkies, F-103 catalogs a 1849-O die pair with weak date obverse and small O reverse. The obverse die is lapped between F-103 and F-103a die states with the F-103b die state capturing different reverse die misalignment in the minting press. I'm renaming all the F-103a rotated reverses with designations F-103a, F-103ab, F-103ac and now F-103ad. Prior to the FUN show, these three reverse die positions were known.
F-103a (Normal Coin Turn) F-103ab (85 Degrees Left) F-103ac (105 Degrees Left)
Now a third rotated reverse position has been identified at 65 degrees left. The discovery of additional rotated reverse position indicates that the reverse die (hammer die) was not properly configured in the New Orleans minting press and rotated during a portion of the F-103a die state strikes.
New 1849-O F-103ad Reverse Die Rotation Discovery - 65 Degrees Left
The same individual also submitted the following 1875 San Francisco Below Wreath strike with a lower reverse rim cud for the web-book. I've not had time to attribute this piece but will do so today and report back on Monday.
1875-S Below Wreath Dime with Lower Reverse Rim Cud
GFRC News
The Early United States Commemorative price list received a shot of new inventory on Saturday. All FUN purchases are now imaged, priced and available. I'm also working on an additional deal to secure Lafayette, Columbia and Cleveland pieces.
It seems that every day brings email or phone calls to discuss new consignment possibilites. Yesterday brought a discussion concerning 1855-S Seated Quarter (ANACS AU58) and 1855-S Seated Half (PCGS AU50 CAC) pieces as an example. Both are strong four figure coins for those with serious collections.
What can GFRC customers expect today? Two smaller consignments remain from the FUN show (Ft. Lauderdale) and an unnamed. Images were processed in Saturday evening and there is a good chance these new offerings will be featured in a Client Galley on Monday morning. Then it is onward to the new Grey Solder consignment and relisting the many GFRC coins returned from PCGS. Included in the submission is the following nice lot of Indian 1c peices that were left over from the Maine Collection brought to market during late 2015. If you remember, the Maine Collection coins were all stored in Wayte Raymond holders and in an Auburn, Maine bank vault since 1965. These are the balance of the Indian cents from that collection.
Flying Eagle 1c: 1858 Small Letter PCGS EF40; 1858 Large Letter PCGS EF40...a nicely matched pair.
Indian 1c: 1864 Bronze PCGS AU53; 1879 PCGS AU50; 1882 PCGS MS62BN; 1887 PCGS MS62BN; 1888 PCGS MS62BN; 1891 PCGS MS63BN; 1909 PCGS MS64BN...all are nicely matched and would be a great starter lot for complete Indian cent collection.
Consignments Wanted!
Several weeks remain in January and the existing GFRC consignment backlog should be easily absorbed in that timeframe. Come early Februrary, GFRC will have the bandwidth to take on several larger consignments going into the Whitman Baltimore and Central States shows. What do I consider a larger consignment to be? Probably 40 or more coins in a single lot consistent with the Pleez B Seated and Saw Mill Run Collections that were handled in late 2016. Following are possibilities that would compliment the GFRC business and probably launch a few more Open Registry sets.
- Early Silver United State Commemoratives
- Barber Coinage Collections
- Liberty Seated Coinage - All Denominations and Varieties!
- Capped Bust Coinage - All Denominations with priority for Half Dimes and Dimes
- United States Gold
Featured Coins of the Day
Today's Feature Coins spotlight shifts to Barber quarters. The quarter denomination has always been the workhorse for United States commerce. Seated quarters circulated heavily with low mintages and survival rates. Barber quarters also saw much circulation and locating choice and gem AU and mint state examples is not straight forward. I will add superior Barber quarters to inventory whenever the opportunity presents itself. Actually, two of the raw Barber quarters on GFRC price list were in the PCGS submission and graded exactly at my raw grade designation.
Thank you for making a Daily Blog visit a part of your Sunday morning. It is close to 8:30am and time to publish today's edition. Have a great Sunday and MLK Day for those with Monday as a time off holiday. I will be back tomorrow....you can count it!
January 14, 2017
Greetings on a Saturday morning and thank you for visiting the Daily Blog. I'm glad to see that everyone survived Friday the 13th....
New coins are arriving to the GFRC office on a daily basis and it is challenging to keep up along with start up support for the Open Registry. Your patience is requested as each new consignment is assigned a processing position in the queue.
Rumors of slow PCGS processing times are true. I submitted a 46 piece Economy lot at the November Baltimore show (beginning of November) and received the graded coins yesterday. So approximately 2.5 months but in all fairness, there were the Thanksgiving, Christmas and New Year holidays in the timeframe. There are new purchases in this lot along with a substantial number of currently listed GFRC raw coins that were holdered to speed up sales. Grading results were quite consistent with my raw grade designations. Raw coins that are now slabbed will be relisted on the 30 Day price list to raise awareness. More customers are indicating that slabbing is a requirement for purchase these days and if GFRC will not conduct the slabbing, then individual refuse to purchase raw. So be it as GFRC will only conduct submission at major shows and as a large Economy lot to save costs.
GFRC New Consignments
Grey Soldier Collection
Grey Soldier is back with a new consignment of Liberty Seated half dimes. This wonderful friend responded to my plea for incremental Seated half dime inventory after strong FUN show sales. He visited the bank box and sent along the following top quality pieces with shattered dies and, in the case of the 1843, bold repunched date. As usual, FRoR is in order. Thank you so much Grey Soldier for sharing these wonderful varieties/die states with GFRC customers!
Seated 5c: 1837 Large Date PCGS MS63 shattered obverse, 1840 No Drapery NGC MS64 a gem with vertical bisecting obverse die crack; 1843 PCGS AU55 bold RPD choice original; 1848-O PCGS MS63 CAC so choice with frosty luster; 1871-S PCGS MS62 CAC frosty luster with cracked reverse
Warnerville Collection
New consignors continue to join the GFRC Trading Desk. Several days ago, a first time consignment arrived from existing GFRC customer. The motive is typical; selling pieces that are not central to new collecting goals. More and more collectors are feeling comfortable with the GFRC Trading Desk for disposing of their unwanted coins and I'm grateful for being the conduit. Following are the offerings from the Warnerville Collection.
Seated 50c: 1845-O WB-12 R4 NGC EF45 very early reverse G die state; 1854-O NGC MS61 choice frosty original luster; 1856-O NGC AU53 blast white; 1871 ANACS AU50 OWH pretty gun metal gray blue patina with few stray obverse lines
Morgan $1 Toner: 1879-S PCGS MS64 CAC Rev 1878 dual sided toned gem
Gold $2.5: 1856-S NGC AU53 accurately graded
Ft. Lauderdale Collection
Consignments arrive to the GFRC office on a regular basis, but on occassion, a coin arrives and literally stops me in my tracks due to absolutely superior eye appeal. The Ft. Lauderdale Collection consignor dropped off a new lot of freshly graded coins at the FUN show and this 1835 Capped Bust quarter is in that lot. I believe this piece is so darn attractive that a special higher resolution image preview is in order. Don't you just love the crusty original eye appeal? This one resides in PCGS EF45 holder...... definitely a CAC candidate!
GFRC Early Commemoratives Product Line
As mentioned in prior Daily Blogs, GFRC is expanding its United States Early Silver Commemorative inventory for the China customer base. My pleas for a large consignment failed to attract a submission, therefore I started carefully buying inventory at the FUN show. Below is an initial group of decent offerings to populate the Early Commemorative price list. Look for these to be priced and online by Sunday.
FUN Show New Purchases - January 14, 2017
Featured Coins of the Day
Ok, let's wrap up today's Blog with some featured coins from the Capped Bust Half dollar price list. GFRC may not be the top seller of Capped Bust halves but overall quality is well above average...... Please consider a purchase!
Wishing loyal Daily Blog readers a great numismatic weekend!
January 13, 2017
Oh Boy....has anyone noticed that today is Friday the 13th? Let's hope that Daily Blog readers are not superstitious.
Jeff Beck Group - Truth
But to mark the occassion, I immediately started the morning by playing Ain't Superstitious YouKu video featuring the original 1968 Jeff Beck Group recording from their debut album Truth. This classic song has been recorded by a host of other artists including The Grateful Dead and Santana. But only Howling Wolf (original 1961 recording) and the Jeff Beck Group (Jeff Beck and Rod Stewart) have rightful ownership claims..... To start your Friday the 13th, here is YouKu video link with enough black cats and howling dogs for the day.
GFRC Open Registry Community Project
The Open Registry continues to grow in popularity as set count stands at 232 with 32 collectors participating. Obviously, Liberty Seated coinage sets are dominating the Registry, at the moment, but more sets are in the definition phase. My goal for 500 sets by the end of 2017 should be easily achieved.
Matt released an Excel worksheet for new set definition. In true Matt form, the worksheet is simplistic and efficient. Already Osprey will be starting to use the template for defining United States gold type sets and I will attempt the early United States silver commemorative set this weekend.
A new Open Registry user asked an important question on Thursday.... How does one delete an erroneous entry from the registry? Answer: Remove any content including image link and comments and then make the grade selection a blank (very top of the selection box). This will delete the entry.
GFRC Consignment Update
Within two of the Daily Blogs issued during the FUN show, I made mention of important consignments that included Liberty Seated Dime variety rarities. Diehard variety collectors were rushing for FRoR on these pieces and have been asking about their status ever since. Last evening was spent processing images to treat everyone to this major release of key Seated dime varieties. These are all R6 or better pieces and I'm unable to remember a time when so many appeared at once. One consignor spent years searching these out and finally decided to "cash them in" for other collecting objectives.
So you know, pricing HAS NOT been settled with the consignors as of this morning. Images were processed to wet everyone's appetite while pricing discussions are initiated with the two consignors today. Enjoy......
Major Liberty Seated Dime Varieties Consignments - January 13, 2017
Global Financial News
Spot gold is holding recent gains and is being quoted at $1198 to start the day. Crude oil has given up some gains after OPEC and non-OPEC producers reached production cut agreement. Seeking Alpha headlines are interesting this morning and let's review several. We open with China slowing economy; a topic that should dominate news this year as global exports continue to drop under ongoing pressure from Trump.
China's massive export engine sputtered for the second year in a row in 2016, with shipments dropping in the face of persistently weak global demand. Exports fell 7.7% and imports declined 5.5%, resulting in an annual trade surplus of $510B, below the $594.5B trade surplus in 2015. It may also be tough for trade this year, with President-elect Donald Trump vowing to brand Beijing a currency manipulator and threatening to slap high tariffs on Chinese goods.
Recently Fiat-Chrysler announced the construction of a new automobile plant in the United States. Now this.....NBC News and CNN love this type of stuff.
Building on yesterday's 10% plunge, shares of Fiat Chrysler are down 3% premarket, after the EPA accused the automaker of using software to allow excess diesel emissions. The notice affects over 100K cars, including trucks and SUVs, and the maximum fine that could be imposed would total $4.6B. CEO Sergio Marchionne called the regulator "belligerent" and said if anyone believed the allegation, then "they had been smoking something."
This one fails into the category of never believing this would be possible as all electronics manufacturing is done in Asia, right? Maybe that Trump phone call with Taiwan's newly elected president, Dr. Tsai Ing-wen is paying off?
With President-elect Donald Trump pushing for American manufacturing, Taiwan's Foxconn and its Japanese subsidiary Sharp are studying the possibility of building an LCD plant in the United States. The plan is "on the table," a company executive told Nikkei. "We will make a decision carefully." Foxconn, a major producer for Apple, is also considering iPhone production in the U.S.
Featured Coins of the Day
With Osprey working on United States gold types sets for the Open Registry, how about some attractive type gold for this morning's Featured Coins? Spot gold is recovering and now maybe the ideal time to take a small position in the precious metal via a numismatic purchase. Yes, I am aware that the 1914-D G$2.5 Indian graded PCGS MS64+ CAC is not a type coin...... I just could not help myself when selecting images.
So ends the Daily Blog on January 13th. Wishing everyone lots of good fortune today and hopefully, a reciprocating GFRC coin purchase! Thank you for stopping by.
January 12, 2017
Greetings on a Thursday morning as January races forwards to the half way mark.
GFRC Coin Show Planning
Coin show planning for the first half of 2017 is an immediate priority to ensure acceptable arrangements. Already the GFRC staff is scheduling travel for the Whitman Baltimore show in late March and the Central States Shaumburg IL show in late April along with a potential trip to Shanghai the middle of that month. The Shanghai trip would be an exclusive GFRC Shanghai weekend show and educational seminar at a hotel meeting center.
I'm also pleased to announce that GFRC has secured a corner table at the Sarasota Coin Show on February 24 - 27. This growing show is held at the Municipal Auditorium near the bridge to St. Armands Cirle. GFRC is planning to have 8 cases of quality inventory consistent with that displayed at the Ft. Lauderdale FUN show.
What about the ANA National Money Show in Orlando on March 9 - 11? I've still not committed on a show table but will be walking the bourse floor as a vest pocket dealer and buyer. Since exhibiting at Sarasota just two weeks earlier, I'm questioning the payback for setting up at the ANA show that is only 2 hours away from Sarasota and typically does not draw national attendance. The ANA does not bus local coin club members to their Florida shows as FUN does therefore walking the bourse may be the better GFRC option.
GFRC FUN New Purchases
Astute GFRC customers are realizing my strategy for marketing new purchases and are becoming accustomed to visiting the Daily Blog twice a day. By 8:30am, the "regular" Daily Blog edition is published and then towards the end of the day (typically by 10:00pm), the next day's postings of new purchases and consignment Client Galleries are featured on a "preview" basis. The Massachusetts Collection consignor is well aware of this strategy and texted me slightly after midnight to grab the gem 1855 PCGS MS63 Seated dime in the below gallery.
Below are more exciting FUN show new purchases to consider with the 1832 Capped Bust and 1855 dimes already on hold. Please note the opening coin; an 1865 Seated half dime graded PCGS VF35 with Childs Collection pedigree that should be on many want lists. The 1849-O F-102 and 1856 F-111 dimes are also quite special offerings to consider. For larger denominations, the gallery contains several exciting Seated halves including 1861-O PCGS AU50 CAC, 1866-S No Motto PCGS EF40 and an 1870-S PCGS EF40 CAC examples. Attributions for the 1861-O (W-7 LA Strike) and 1870-S will be done after publishing the Blog. We close with a beautiful 1926 toner Morgan Peace dollar that has bold luster and vivid coloring that is 100% natural.
GFRC FUN Show New Purchases - January 12, 2017
Numismatic Book Review: A Register of Liberty Seated Half Dollar Varieties - Volume V - Philadelphia Mint 1839 to 1852
A shipment of books arrived from Bill Bugert yesterday that includes five copies of Bill's latest Liberty Seated half dollar variety thome for Philadelphia mint struck pieces.
Having prior experience with researching Liberty Seated dimes struck at the Philadelphia mint gives me the insight into the amount of time and effort it has taken to prepare this amazing Volume V within Bill Bugert's research series entitled, A Register of Liberty Seated Half Varieties. In the previous Volumes I through IV, Bill shared an in depth analysis of die varieties for the San Francisco, Carson City and New Orlean struck halves. Now he has moved on to the Philadelphia mint which presents an even greater challenge due to the lack of mintmarks. Separating Philadelphia die varieties requires a keen attention to date punch placement and die cracks to identify and catalog the various dies.
Bugert's latest thome is simply a masterpiece in research and useful presentation format. This 436 page book covers the Philadelphia period from 1839 through 1852. Owners of Bill's prior books will be incredible pleased with this offering. The opening section contains concise discussions on Design Types, Logotype Styles, Device Naming Conventions, Date Grid Measurements, Edge Reeding and Counting, Emission Sequence and Rarity Ratings. Then the fun really starts...... Bill utilizes full page date punch position layouts to provide a quick look up guide when attempting to attribution Philadelphia struck examples. Even more impressive are the Half Dollar Reverse Die Crack Diagrams that make attributing a Philadelphia strike so easy. If there are reverse die cracks on the Seated half dollar being attributed, then Bill's book simplifies the process and time taken for attribution. Image quality continues to improve with those in the Philadelphia Register being cystal clear for further attribution ease.
In summary, if I ever considered taking my own Liberty Seated Dime variety web-book to paper, I would want it to be presented in the same exact format and quality as Bill Bugert's Philadelphia Register. This thome is a must have for your numismatic library and should sell out quickly. This is why I've order extra copies for myself and GFRC customers.
Global Financial News
Spot gold pierced the $1200/oz level overnight and is currently quoted at $1204. The $1200 is a psychological barrier for many investors in the yellow precious metal and hopefully will translate into renew United States gold coin sales at GFRC. What is behind the upward move? Let's check Seeking Alpha headlines for clues.
The U.S. dollar is weakening as global financial markets remain uneasy about Trump's upcoming fiscal policies.
The U.S. dollar nursed widespread losses overnight after President-elect Donald Trump's long-awaited press conference provided little clarity on future fiscal policies. Most of the discussion centered on Russia and his potential conflicts of interest, but the defense and healthcare sectors ended the day in the red after some notable mentions. Trump again criticized the cost of Lockheed Martin's F-35 program and argued the drug industry is "getting away with murder" by overcharging for medicines.
For all the talk in the financial press that the Euro would reach parity with the U.S. Dollar due to European economic difficulties, the beginning of 2017 news is positive concerning Germany's economic growth and Brexit risks.
German economic growth accelerated more than analysts forecast last year to its fastest pace since 2011, as falling unemployment and record-low interest rates boosted spending. According to the Federal Statistics Office, GDP growth rose 1.9%, after a gain of 1.7% the previous year. Germany is the first of the world's biggest developed economies to provide preliminary GDP data for 2016.
Brexit is no longer the biggest single risk to Britain's financial stability, according to Bank of England governor Mark Carney. "In the run up to the referendum, we felt it was the largest risk because there were things that could have happened which had financial stability implications... Actions were taken to mitigate that, but having got through the day after, the scale of the immediate risks has gone down."
Featured Coins of the Day
After being fairly quiet during the second half of 2016, Liberty Seated dime demand is growing as a result of the Open Registry Community Project. Following are some recommended offerings across all grade levels. GFRC currently has an incredible stock of later date dimes in MS62 through MS66 collector grades.
Thank you for visiting with me at the Daily Blog! It is time to move into the packing and shipping department as Osprey will be visiting the GFRC office this afternoon. I will be back on Friday morning with more new coins and regular ramblings. Have a great day!
January 11, 2017
Welcome to the Daily Blog on a Wednesday morning.
Venice Florida weather returns to above average temperatures for the balance of the week with highs in the mid to upper 70s. Unfortunately, there is no rain in the forecast. Local lakes and ponds are several feet below normal levels and require extended rains to recover.
If not busy enough with GFRC business and post FUN show activities, two Auburn Lakes Condo Association board meetings took place since returning from the FUN show. Those are behind me, for the time being, and full attention can be placed on loading a substantial amount of new coins to the price list.
GFRC Open Registry Community Project
I'm pleased to report that the Open Registry set total stands at 217 with 28 participating collectors. We've easily exceeded the old system set total with expectations for 500 sets by the end of 2017. Osprey continues to work on United States gold type definitions and I will probably prepare a United States early commemorative set so that Chinese customors can participate in the Open Registry.
Liberty Seated Half Dollar Sets Available
Matt and Bill Bugert completed the Liberty Seated half dollar set fine tuning yesterday. Collectors are therefore invited to start loading their half dollar sets in the Basic, Top 100 and Ultimate categories. Based on the GFRC client base and ongoing Seated half dollar sales, I'm aware of many collectors of this denomination and hope for a strong participation rate.
GFRC Consignment News
Progress is at hand for posting consignments that arrived immediately before and during the FUN show. Below are two consignments with excellent offerings.
The Peak Collection consignment includes three Liberty Seated Dollars, all graded PCGS AU58 and residing in older blue label holders. These pieces are already loaded onto the price list with full descriptions being complete today. All are accurately graded with ample luster and eye appeal. The 1847 example achieved a choice quality rating and is my favorite of the three due to bold luster and just a trace of rub. If in the market for a quality Seated dollar for type set, then please consider one of this lovely selection from the Peak Collection.
Peak Collection Consignment - January 11, 2017
At the FUN show, a collector of superb gem grade level type coins approached GFRC for handling his duplicates pieces. This is a market area where GFRC wishes to start participating including the possibility of sales to advanced Chinese collectors. Handling close to top population 20th century type coins well complements the existing Liberty Seated and Capped Bust product lines. Below are the initial three offerings, all graded PCGS PR67 and approved by CAC. A collection name will be defined with the consignor today. The lone Buffalo and two Mercury dime proofs are a joy to inspect and view.
Winesteven Collection Consignment - January 11, 2017
Featured Article: Mauldin Economics - We're All Low-Skilled Workers Now
The global community continues to be blessed (or maybe cursed) by constant developments in high technology. Semiconductor integration continues to race forward with unimaginable computing power on a single piece of silicon. Armed with incredible amounts of computing power, software developers are free to explore in the Artificial Intelligence (AI) realm. Science fiction is beginning to meet reality and once innovations are unleased and implemented as commercial products, there will be further impacts to society and the job market.
Patrick Watson, of Mauldin Economics, has published an article entitled We're All Low Skilled Workers Now that I recommend as a quick read when time allows.
The term "Low Skilled Workers" traditionally brings to mind those in the workforce who may only have a high school degree. However, with rapid developments in technology, many individuals with college bachelor degrees are also finding themselves with inadequate skills sets for the ever evolving employment market. With AI developments starting to become reality, white collar skills sets (knowledge workers) and employment will be impacted and also moved into the Low Skilled Worker category.
This article offers its important content on AI towards the end of the article. Here are a few points to wet your appetite.....
The trend toward AI replacing humans in the workplace is not some sci-fi fantasy anymore. Nor is it just affecting factory jobs. The technology to replace highly skilled white-collar workers exists right now… and an iconic American company will happily sell it to your boss tomorrow.
Starting this month, Fukoku will replace 34 claim adjusters with IBM's Watson artificial intelligence technology (no relation to me). Turns out the AI system reads and evaluates medical documents and other information faster and better than humans can.
Featured Coins of the Day
Since the Liberty Seated half dollar denomination is available in the Open Registry, how about a few lovely EF-AU halves to close out today's Daily Blog. Seated halves are, by far, the most popular Seated denomination due to size and availability.
Thanks for stopping by this morning and do please check back later in the day as more FUN show new purchases and consignments will be loaded into the Blog on a preview basis. Have a great day!
January 10, 2017
Greetings on a quiet Tuesday morning and thank you for visiting the Daily Blog.
Today's edition features the beginning of many new consignment postings along with FUN show purchases.
Before getting started, a sincere thank you goes out to everyone who visited the GFRC table at the FUN show and also to those who stopped me on the bourse floor to indicate being Daily Blog fans. Writing the Blog on a continuous basis is not an easy task. There are mornings when fresh topics quickly arises while other days bring a mental struggle to assemble a series of coherent thoughts that deserve attention. When the latter is the case, a visit to the Seth Godin blog for inspiration is often done. Today's Seth Godin offering named "Entitlement is optional" has close parallels with my own philosophy on life and may explain the need to write the Blog each day. Godin's blog is a gem and worth reading several times towards deeper self understanding....
Entitlement is optional

It's not forced on us, it's something we choose.
And we rarely benefit from that choice.

That emergency surgery, the one that saved your life, when the ruptured appendix was removed—the doctor left a scar.
We can choose to be grateful for our next breath.
Or we can find a way to be enraged, to point out that given how much it costs and how much training the doctor had, that scar really ought to be a lot smaller. And on top of that, he wasn't very nice. We're entitled to a nice doctor!

Or we can choose to be grateful.

Marketers have spent trillions of dollars persuading us that we can have it all, that we deserve it, and that right around the corner is something even better.
Politicians have told us that they'll handle everything, that our pain is real and that an even better world is imminent.
And we believe it. We buy into our privilege as well as the expectation that our privilege entitles us to even more. It's not based on status or reality. It's a cultural choice.
And you're entitled to your entitlement if you want it.

But why would you?

Entitlement gets us nothing but heartache. It blinds us to what's possible. It insulates us from the magic of gratitude. And most of all, it lets us off the hook, pushing us away from taking responsibility (and action) and toward apportioning blame and anger instead.

Gratitude, on the other hand, is just as valid a choice. Except that gratitude makes us open to possibility. It brings us closer to others. And it makes us happier.

Everything could be better.
Not because we deserve it (we don't, not really).
But because if we work at it, invest in it and connect with others around it, we can make it better. It's on us.
It's difficult work, counter-instinctual work that never ends.
GFRC Consignment News
Monday's consignment processing focused on Woodlands and Highwoods Collection consignments that arrived prior to the FUN show. About six consignments remain in the queue and will be processed in FIFO (First In, First Out) sequence during the balance of the week.
The Woodlands Collection consignment features an amazing selection of high grade Liberty Seated dimes for the advanced collector. The 1838-O F-101 dime, graded PCGS AU55, is so choice with even gun metal grade patina and is ideal for a type set or date/mintmark set. Brilliant frosty luster and a hammered strike characterizes the 1838 F-107 example graded PCGS MS65 CAC. How about the With Stars key date 1846 dime, also with a hammered strike, that resides in PCGS EF45 CAC holder? This example would be difficult to upgrade for most collectors. The second row of offerings is just as impressive. The 1872 F-102 is graded PCGS MS65 with CAC approval and is in the condition consensus as few collectors realize that 1872 strikes have a systematic luster issue that limits them to MS65 as the top grade possible....there is only one graded MS66. Then there is the 1878 dime from the Eugene Gardner Collection graded PCGS MS66 CAC that is a premium gem. We close the Client Gallery with another gem, an 1887 PCGS MS65 CAC from the Birmingham Collection initial sold by GFRC in late 2014. Enjoy!
Woodlands Collection Consignment - January 10, 2017
The Highwoods Collection offerings are focused on small denomination United States gold and also include a choice 1806 B-5 (R4+) Capped Bust quarter that deserves attention as a Dansco or Whitman type set album purchase.
Highwoods Collection Consignment - January 10, 2017
Global Financial News
I believe 2017 will bring three key financial topics that will often be re-visited in the Daily Blog. The first is Donald Trump's pressure on global industries to expand production in the United States. The second is China's economic woes and the third will focus on blockchain technology. The latter is quickly gaining acceptance for secure financial transactions; a technology that enables increased security against omnipresent hackers. Let's check examples of these topics in this morning's Seeking Alpha headlines.
First the Donald Trump effect....
Amid pressure to build products at home, Apple is seeking to conduct "high-tech manufacturing" and assemble data center server gear at one of its plants in Mesa, Arizona. "The nature of the product is not for end users but for other global data centers what will be supported from the site," according to a notification published by the Federal Register.

Donald Trump had a "great meeting" with Alibaba's ack Ma on Monday, when they discussed creating 1M new American jobs in five years. Some are calling the assertion a stretch, however, based on the company's definition of the goal. "Alibaba will create 1M U.S. jobs by enabling 1M American small businesses and farmers to sell American goods to China and Asian consumers on the Alibaba platform."
Then China's struggle for a soft economic landing....
China is vowing to contain high corporate debt levels and further cut excess coal and steel capacity, as investors scrutinized inflation data for signs of improved demand in the world's second-largest economy. The consumer price index for December climbed about 2.1%, on higher pork and fuel prices, while the producer price index jumped 5.5%, the fastest pace since September 2011.
And fnally, the emergence of blockchain technology...
Wall Street's largest back-office processing service is partnering with IBM to upgrade how payments and record-keeping for credit-default swaps are handled by putting the system on a blockchain by early next year. "This will be one of the first globally where we are using distributed ledger technology to become a piece of the infrastructure in a very critical market," said Depository Trust & Clearing Corp. CEO Michael Bodson.
Featured Coins of the Day
January is an indoor month due to cold and nasty weather throughout mainland United States. Hobbies are a convenient avenue for passing the long evenings and an alternate to mindless network television. At GFRC, there will be a constant flow of new offerings along with many quality coins in current inventory. Most are consigned and need to find a new home. Following are the remaining offerings from the Port Matilda collection. This individual has aggressively reduced prices to enable quick sales. If these coins don't sell in the next 30-60 days, they will be returned. Someone really needs to purchase the 1917 Type 1 Liberty Seated quarter as so darn attractive!
January 9, 2017
Welcome to the Daily Blog on a post FUN show Monday morning and thank you for stopping by.
Venice, Florida weather has been down right cold with wind chill advisory and a 40 degree low the past two evenings. Nearly all of the United States is experiencing some type of challenging weather including Maine which is currently at -5F. The Florida cold spell does have one blessing and that is clear skies with a bright sunny conditions. The timing was ideal given the substantial number of new purchases and consignments that were photographed yesterday. The imaging process was chilly but the results were quite good.
I'm happy to report that the GFRC Venice office is back in full operation. It took the entire day to reassemble inventory coupled with FUN show accounting and COIN system updating. Other than emerging from the office for lunch, dinner and coin photography, the day was fully consumed. As a result, there is nothing prepared for this morning's Blog.
Below is an important group of new GFRC offerings to start the week. All but the 1914-D PCGS MS64 CAC Barber quarter are on hold. Readers should immediately recognize the 1846 key date half dime, an 1840 Drapery dime and an 1855-S quarter at rarely seen grade levels.
FUN Show New Additions - January 9, 2017
There are many more exciting consignments to be added to the price lists during the upcoming week so please check back frequently.
GFRC Shipping Update
I worked late into Sunday evening preparing outgoing shipping and still have a few more to package this morning. Thank you for your patience on slower than normal shipping given our Disney World family reunion, the January 1 holiday USPS closure followed by travel to the FUN show. GFRC quick order shipping will be back to normal standards today.
Global Financial News
Spot gold is being quoted at $1180 and has recovered a bit from its recent swoop. I'm hoping to see gold break through the $1200 level shortly to support numismatic gold sales. Crude oil has settled in at the $53/bbl level.
Seeking Alpha headlines have several important insights into China that global investors should be watching. McDonald's has essentially decided to exit the China market by selling most of its properties to an investor group. This announcement definitely deserves scrutiny as McDonald's, like Walmart, is a proxy for economic conditions. The next Seeking Alpha headline also indicates ongoing capital flight out of mainland China as foreign exchange reserved fell once again. With a Trump administration on the horizon, the Beijing government must have concerns as the Yuan continues to weaken and rich Chinese move their monies overseas to Canada, United States and Australia.
McDonald's has entered an agreement to sell 80% of its 2,200 stores in China and Hong Kong to a consortium including Citic and Carlyle Group. It decided to keep a minority stake to benefit from exposure to future growth, a source told Reuters. The deal, which includes 20-year mass franchise rights, will value the business at as much as $2.08B and likely help McDonald's trim its overall operational costs and preserve capital.
China's foreign exchange reserves fell for the sixth the consecutive month in December, but held just above the critical $3T level, as authorities stepped in to support the weakening yuan. According to PBOC data, the world's largest stockpile of foreign currency plunged by $41.08B to $3.01T, the lowest level since March 2011.
Featured Coins of the Day
The United States $20 double eagle gold market is currently weak. Some individuals believe that the best buying opportunities are during a weak market as bargain can be hand. At the FUN show, GFRC attempted to sell the following quality Civil War San Francisco strikes at reduced prices on behalf of the Watch Hill consignor. Rather than sell these items to wholesale dealers, I've decided to offer special pricing directly to collectors and hope they will be able to aquire these at attractive levels. New prices are listed directly above each $20 gold piece. Special payment terms are available so please email or call me if there is potential interest.
Watch Hill Consignment - $20 Double Eagle Price Reductions
1862-S - $9,000 1863-S - $7,250
1864-S - $8,250
So ends another edition of the Daily Blog. A busy morning is at hand with more order shipments, a trip to Venice Island PO to locate a registered package not delivered before the FUN show and an Auburn Lakes Condo Association board meeting at 11:00am. I will be back tomorrow morning with more ramblings and maybe a featured article. Have a great week.
January 8, 2017
Greetings from Venice, Florida on a Sunday morning. My apology for a late publishing time as sleeping in for a hour was a priority after another busy week.
The 2017 Winter FUN show is behind us with the upcoming quiet time in the Venice office being most welcomed. Can you believe that Liberty Seated half dimes were the most popular Seated denomination at the FUN show? We sold more Liberty Seated half dimes than any other Seated denominations. The traditional wisdom would be that Seated halves would be the most popular followed by Seated dimes and quarters and we did sell those but not to the level of Seated half dimes. As a result, GFRC Seated half dime inventory is a bit depleted and consignments are requested.
FUN Show Day 3 Report
Saturday observations were consistent with the balance of the show. Collector traffic was slow with the occassional CDN or Gray Sheet "wannabe dealers" shopping at the GFRC booth and offerings 75% on the dollar for our quality coins. These wannabes always appear on Saturday and their behavior is no surprise. Before closing the booth at 3:00pm, we enjoyed a large four figure sale and received several cool Liberty Seated coinage consignments.
Saturday FUN Show Consignments
The first consignment to arrive was a choice original 1855-S Seated quarter graded NGC AU53 and off the market for over six years in strong collector hands. This individual has upgraded the date with an AU58 example, purchased from GFRC, and decided it was time to share the duplicate with the collecting community. This lovely 1855-S quarter has not visited CAC either but should. Images will posted in the next 48 hours and if interested, email me quickly for FRoR.
The second consignment appeared just as we were breaking down the GFRC table. An old numismatic friend appeared at the table and shared a recent purchase.... a lovely circulated grade Seated dime 1852 F-110b with bold die crack traversing the bottom of the date digits. This piece is one of the highest grade examples known with GFRC selected to market and offer for sale.
LSCC FUN Results
John Frost reports a most successful show for the Liberty Seated Collectors Club. The club signed up four new members and received six 2017 dues renewals at the show. The counterfeit 1872-S Liberty Seated half dollar announcement at the LSCC meeting and accompanying bulletin have been welcomed by PCGS and NGC. Numismatic News issued an electronic alert for the counterfeit and I expect that Coin Wold will do the same.
GFRC Open Registry Community Project
I'm incredibly pleased with Open Registry collector acceptance. As of this morning, the Registry has 198 sets and 25 participating collectors. It took 10 years to reach the 195 set level, on a manual entry basis, while the new system obtained a similiar threshold in two weeks. Expectations are for continued growth as the collector community awareness increases and more set categories are added.
Matt has completed the Liberty Seated Dollar set and also added plus (+) grade entry capability. Plus (+) grades will be scored with a 0.5 point adder. Please do not use plus (+) grades for uncertified coins rather for those PCGS or NGC coins with that designation.
Attention shifts to wrapping up the Liberty Seated half dollar sets this week and their release.
While at the FUN show, I spoke with my show partner, W. David Perkins, concerning the addition of a Bust Dollar Open Registry module. He is considering this possibility, so stay tuned for future news.
Some comments on automatic GFRC image posting in the Open Registry is in order since receiving questions via email on the topic. GFRC converted image file naming convention to TPG serial numbers during June 2016. If collectors purchased coins after June 2016 and they have TPG serial number image file names, then these will automatically load in the Open Registry once the TPG serial number is entered. Coins purchased from GFRC prior to June 2016 do not have the TPG serial number as the file name and will not automatically load.
GFRC Forecast for Coming Week
Between FUN show new purchases and consignments along with pre FUN show consignment arrivals, there are over 100 new coins to be photographed and added to the price list in the coming week. I strongly recommend that GFRC customers check the Daily Blog and 30 Day New Purchase price list on a regular basis for new posting. There will be a substantial amount of great new inventory to consider in the coming days.
Major Consignments Wanted.
GFRC now has an open calendar for soliciting and absorbing several major consignments during the balance of January. If you've been considering the divestment of a major collection or just duplicates, now is the time to contact me to discuss potential approaches for marketing and sales of your numismatic properties.
Featured Coins of the Day
Let's wrap up this Daily Blog edition with some lovely Draped and Capped Bust halves on this Sunday morning.
As always, your patronage and GFRC support is cherished and appreciated. Building a new age collector community portal is a long process and I'm committed to the effort. Our hobby is dynamic and exciting for those who share a passion for United States history and its artifacts. Thanks for visiting with me and I will be back bright and early on Monday morning. Have a great Sunday.
January 7, 2017
8:45 am Update From FUN Bourse Floor
Matt just emailed to announce that the Liberty Seated Dollar set is available for collection listing in the GFRC Open Registry.
FUN Show Day 2 Report
Greetings on an early Saturday morning and welcome to the Daily Blog.
OK but not Great is the consensus for the Ft. Lauderdale FUN show.......
The Ft. Lauderdale FUN show will go down in the numismatic history books as an average show with dealers a bit disappointed. Everyone I spoke to shared the same opinion and looks forward to the FUN show returning to Tampa (2018) followed by Orlando (2019) venues. The core issue was lack of collector traffic. Many of the "regular" LSCC members that would be seen at Baltimore or Summer ANA shows did not make the trip to Ft. Lauderdale. The drop in bullion gold prices also was a drag on the gold side of the numismatic market. $20 Saints and common date Liberty pieces could be purchased in MS 63 for approximately $1200 at wholesale level.
The tragic Ft. Lauderdale airport shootings and deaths casts further negativity. At approximately 3:30 or so, the convention center announcement arrived of the airport shootings with the lone shooter being apprehended. A chill ran down my spine as I heard the news and knew we were just miles away from the event. Many collectors had outgoing flights on Friday evening and were wondering on their situation when arriving at GFRC table.
GFRC is having an OK show given our broad product lines and quality coins. Collectors that shopped at the GFRC table consistently commented on the quality and originality of our Seated and Bust offerings and bought without much hesitation. But there were simply not enough collectors on hand to generate great show results. Luckily, several of the FUN show opening day purchases and subsequent consignments sold quickly via announcement on the Daily Blog. For example, the 1846 PCGS VF30 OGH gem half dime sold yesteday for a strong $3500 to a GFRC consignor/collector. GFRC sales were broad based across all product lines. Our "yield" was high with most collectors arriving to the GFRC table walking away with a purchase.
CoinWeek staff was circling the bourse floor with camera seeking interviews and I agreed to do a feature interview highlighting the 1839 Pie Shattered Obverse Seated dime. It was a quick video shoot and I will announce the CoinWeek link in the Blog once available.
LSCC FUN Meeting
The LSCC meeting was an excellent event with much positive feedback. John Frost announced the discovery of an 1872-S Liberty Seated dollar counterfeit and passed around an example for inspection. My review would indicate Chinese origin as the surfaces were typical of the higher quality Trade dollar counterfeits seen in the Shanghai Yunzhou market. The piece was well struck but lacked the luster for its AU55/58 level preservation state. There was some "mint frost" but too many subtle hairlines along with dull fields. Look for detail articles in the upcoming February E-Gobrecht and March Gobrecht Journal.
The Norweb 1874-CC Liberty Seated dime also surfaced at the LSCC meeting as owned by Tom Davison. We had discussed the piece via email and made plans for the introduction at the meeting. This incredible piece resides in NGC MS62 Fatty holder and was originally graded MS63/MS65 at the Norweb auction.
GFRC Open Registry Community Project
The Open Registrys is approaching 200 sets within just two weeks of launch. I spoke with one individual at the FUN show who has reviewed the Open Registry and is well versed in numismatic IT projects. He believe that GFRC has developed an important alternative to the "closed" TPG registeries that will catch on with collectors. His advice was to size the GFRC IT resources to support a much larger population of sets and image hosting as he believes the demand will grow quickly.
Matt is back in Beijing along with family. He emailed last evening and is working on the Liberty Seated Half dollar sets and will be consulting with Bill Bugert for clarifications on the Top 100 and Ultimate half dollar entries. The Top 100 set will be designed to be a subset of the Ultimate set for ease of entry. Matt is also starting to look at Stephen Petty's revised Sheldon rarity numbers for the Seated Dollar set.
Time to Close the Blog
Yes, it is time for a shower and quick Dunkin Donuts breakfast before heading to the Broward Convention Center and Day 3 of the FUN show. Saturday is traditionally a slower day and GFRC will be closing down at about 3:00pm followed by return drive to Venice.
Thank you for visiting with me this morning at the Daily Blog. Have a great weekend and let's remember those who lost their lives at the Ft. Lauderdale shootings. When will the carnage of innocent people stop in in the United States?
January 6, 2017
FUN Show Day 1 Report
Welcome to the Daily Blog on a Friday morning and initial FUN show report.
Don't I love attending a major coin show that has a healthy bourse floor "buzz" throughout the day. This was the case on Thursday after the official opening at 10:00am. One could feel the energy in the convention center as attendance was quite strong. The GFRC booth was active throughout the day from 10:00am until about 5:00pm without a break for lunch. On a very positive note, FUN came through with signage so GFRC was made whole by about 10:30am.
Sales were strong for Liberty Seated inventory and reasonable for the balance of the product lines. Immediately after the show opening, one of my ANA summer seminar students came by for a nice visit and purchased a 6 piece Seated half dime deal. Half of the pieces from the fresh Liberty Seated dime collection, purchase on Wednesday, immediately sold along with the 1875-CC PCGS VF35 CAC quarter. We sold several high grade $2.5 gold quarter eagles to an individual who won a bronze medal in the 800 meter sprint at the Rio Olympics. How cool is that? World coins also saw considerable attention, given the GFRC booth location adjacent to the Foreign and Ancient section of the bourse.
In between sales, more consignments arrived with each lot being noteworthy. I've fallen in love with the 1846 PCGS VF30 OGH half dime and this piece will not last long. The Seated dime consignment is a variety treasure trove and has been accumulated for years and finally being released to market. Please pay attention to the following list of consigned items for potential first right of refusal. Several of these will be placed into the display cases and may not last long.
GFRC New Consignments
Seated Half Dimes: 1846 PCGS V30 OGH gem original with substantial eye appeal; 1865 PCGS VF35 Childs pedigree choice original
Seated Dimes: 1839 F-105a PCGS AU58 so nice; 1856-O F-108b F15 full reverse cud; 1856-O F-109 VF; 1886-S F-102 PCGS EF40 nice original gray; 1887-S AU55 F-107 very late die state shattered reverse; 1890-S F-112 die gouge VF choice original
Seated Half Dollars: 1846-O Med Date PCGS AU58 choice original; 1866-S No Motto PCGS EF40 No Motto
FUN Friday Agenda
Friday morning will be incredibly busy with the LSCC regional meeting at 9:00am then returning to the bourse floor for 10:00am and show open. At 11:00am, I am giving a one hour presentation on Developing a Passion for Liberty Seated Dimes in rooms 122/123. Wow, FUN provided a substantial write-up in the show program directory and two meeting rooms. At 12:00 noon, I return to the GFRC 1827 booth and will be able to relax for a few minutes.....but hopefully for not too long.
So concludes today's Blog. Time for a shower, a wholesome breakfast and booth opening at 8:30am. Have a great day!
January 5, 2017
Welcome to the Daily Blog and Ft Lauderdale FUN Show report.
The drive from Venice to Ft. Lauderdale was uneventful and our first time through I-75 "alligator alley." Alligator alley is a east-west highway that connects southern Florida between Naples and Ft Lauderdale. We arrived with ample time, had a nice lunch and located the Broward County Convention Center. Arriving by car can be confusing as accessing the convention center and Port Everglades ship port is from the same road. One has to carefully read signs while driving.
FUN Show Dealer Setup Day
GFRC typically has bad luck with FUN and ANA organizations with dealers directories and signage. Yesterday was typical. Upon arriving to booths 1825/1827, there was no GFRC signage. Yes, W. David Perkins has his sign but nothing for Gerry Fortin Rare Coins. After several complaints, we were informed that other dealers had similar problems and signage was being made and overnighted to the show. We shall see.......
At least, the GFRC listing in FUN show directory is correct this year.
If visiting the FUN show today, Gerry Fortin Rare Coins is at table 1827 and please look for the W. David Perkins 1825 sign. We are easy to spot with two connected corner tables.
Dealer setup went smoothly though the bourse floor was like a sauna with no air conditioning for the first few hours. Dock doors were open to allow large dealer staging items to enter until 4:00pm, then the air conditioning finally was turned on. Otherwise a smooth setup.
Since GFRC is a retailer dealer, the focus of dealer setup day is careful buying. A fresh Liberty Seated dime set debutted on the floor and I was provided early access. Then my favorite wholesale dealer arrived with more purchases. Following are new purchases to consider and please email me quickly for FRoR, prices and camera photos as these coins are or will be in the bourse case by 10:00am.
Capped Bust 10c: 1832 JR-4 PCGS EF45 CAC choice original
Fresh to Market Seated 10c: 1840 Drapery PCGS AU55 rare grade, frosty while with cartwheel luster; 1849-O PCGS EF45 F-102 small O undergraded and pretty; 1856 F-111 DDO PCGS MS63 gem original hammered strike OGH; 1855 PCGS MS64 choice original full strike; 1855 PCGS MS63 gem for grade full strike; 1873 PCGS MS63 Open 3 CAC rare grade and one of the finest; 1886 PCGS MS63 CAC OGH undergraded gem
Seated 25c: 1875-CC PCGS VF35 CAC choice original gray, difficult date!
Seated 50c: 1870-S PCGS EF40 CAC choice original medium gray, tough date!
GFRC Open Registry Community Project
Wow..... The Open Registry set tally is 188 this morning as more collectors are finding time to showcase their hobby efforts. In the Liberty Seated half time category, the Electic Peak collector has taken the number 1 spot with an awesome 94% complete mint state set with average grade of 65.1. I can't wait to see the images......
Early Close to Today's Blog
Yes, it is time for a shower, then breakfast and heading to the Broward Convention center for bourse floor open at 8:30am. Thank you for visiting and please check back tomorrow for a Day 1 FUN show report. Have a great day and if attending, please come by Table 1827 to say hello.
January 4, 2017
Greetings on a Wednesday morning as the much anticipated FUN show arrives with dealer setup at 2:00pm!
Tuesday turned out to be a long day with a host of preparation tasks but GFRC is ready for the Ft. Lauderdale drive this morning. While hand picking each coin to be transported and offered for sale at FUN, some price reductions were in order on several consignments. Please check the price lists as all price reductions have been marked with the New Price label.
Today's Blog will be brief given the pending drive and last minute preparation. I will attempt to write FUN Daily Show reports each evening so please check at regular Daily Blog publishing times.
GFRC Open Registry Community Project
Tuesday saw the GFRC Mountain View consignor adding his Liberty Seated quarter sets. Congratulations go out to this collector for loading the first 100% complete Seated quarter date and mintmark set on the Open Registry. GFRC has sold many duplicates from this consignor and he has purchased a fair amount also!
Matt assessed the Liberty Seated half dollar changes from Bill Bugert and reports a substantial rewrite of the Seated half dollar portion of the database will be necessary for the multiple set loading function as part of the release. He is projecting to have the rewrite completed by mid January and asks for your understanding.
The total number of sets in the Open Registry climbed to 169 overnight and I believe we are just getting started.
Global Financial News
Spot gold prices continues to slowly march forward and are quoted at $1167 this morning. Seeking Alpha headlines suggest a pick-up in European inflation. There is even positive news about Japanese factory activity.
Consumer prices across the eurozone reached a high not seen for almost four years, jumping 1.1% in December, mainly supported by a surge in energy prices. It's good news for the ECB, which has a current inflation target of just below 2%. Data overnight also showed a strong end of year for euro area business activity, with the bloc's final composite PMI climbing to 54.4 last month, the highest level since May 2011. Euro +0.3% to $1.0436.
Japanese factory activity expanded at the fastest pace in a year in December as orders picked up, in an encouraging sign that the struggling economy may be regaining momentum. The final Markit/Nikkei Manufacturing PMI rose to 52.4 on a seasonally adjusted basis, higher than a preliminary reading of 51.9 and a final 51.3 in November. The Nikkei closed up 2.5% on the news.
FUN Show Highlights
GFRC will have all major coins in inventory on display (and for purchase) at the show. Following is a reminder on why collectors should be visiting Tables 1825/1827 on Thursday through Saturday. A second reminder that Gerry Fortin will be giving a presentation entitled, Developing a Passion for Liberty Seated Dimes, on Friday morning at 11:00am. Please check the FUN show program for the meeting room location.
Thank you for stopping by and looking forward to seeing many GFRC customers, consignors and friends at the FUN show. Have a great day.
January 3, 2017
Greetings on a Tuesday morning and welcome to the Daily Blog.
Today will be a mad scramble towards preparing for the FUN show drive to Ft. Lauderdale tomorrow morning. Shipments must be brought to the Venice Island post office while retrieving packages that are on hold from last week. Then there is a visit to NGC in Sarasota to pick up a United States gold submission along with a day of last minute consignment preparations. Wednesday brings 2:00pm GFRC setup at the much anticipated FUN show.
Yesterday saw a record number and amount of consignment payments being prepared. Each consignor received a courtesy email with COIN account report. One of those consignors was Poetic Candy and, of course, provided a poem for the occasion.
MONEYCHANGER

To me I never understand,
In fact I think it funny,
That to everyone I know,
The most important thing is money.

As for me, I need no money,
And I'm not telling any lies,
The only thing I really need,
Is what the money buys.
GFRC Consignment News
Prices were settled for the latest Osprey Collection lot of United States $2.5 quarter eagles with those pieces added to the price lists this morning. Please pay special attention as the lot offers several tiny mintage dates and overall rarity including the 1843-O Large Date, 1874 and 1880 examples. If interested, please contact me asap as these will be in the FUN show bourse floor cases along with the rest of GFRC's United States gold offerings.
If time allows, I will process Highwood Collection images today for Wednesday's Blog.
GFRC Open Registry Community Project
It seems that each day brings more participants and sets to the Open Registry as the number of sets grew to 157 on Monday.
Bill Bugert completed his Liberty Seated half dollar rarity weight assessments and added WB-1xx variety numbers to all set entries. Matt has the file and indicated being able to update the database by coming weekend. So Liberty Seated half dollar collectors should plan to start entering their sets next week.
Osprey has already proposed two United States gold type sets to start the rollout of gold sets in the Open Registry. My attention will move in this direction after the FUN show.
The Massachusetts Collection consignor also jumped in to lend a hand! In yesterday's blog, I mention that many photography questions were arriving via email as collectors wish to add images to their Open Registry sets. I remember writing a Blog with detailed review of the GFRC photography process and committed to locate and republish. The Massachusetts consignor located the content in the July 2015 Blog and save me considerable time. Many thanks Tom! Following is the entire article.
Featured Topic of the Day: Coin Photography

Smart phones and tablets contain optics and software to capture adequate photographs but when it comes to high resolution imaging for numismatic retail business, more sophistication equipment, software and techniques are necessary. I'm sure that others believe they are experts on coin photography so today's topic is an explanaton of the techniques employed at GFRC. The goal of this discussion is not to judge who has the best images or which photography process is superior. The GFRC process has been optimized over a period of 13 years and I'm still learning new tricks every week.

To bring about high quality digital coin images, each step in the photography and imaging process must be optimized. If there is a weak link in the chain, then the overall chain strength is diminished. The same applies for digital imaging. I see the following parameters as being absolutely critical towards generating quality photographs;
- Lighting
- Camera settings and operation
- Digital Image processing techniques

Then one has to consider the item to be photographed. Raw coins are much easier to photograph than TPG holdered coins. The latest generation of PCGS and NGC edge view holders are very challenging due to new holder designs with multi angled plastic edges that will reflect light at unexpected angles.....

So let's start with Lighting. Lighting selection is a critical parameter as each lighting source option generates its own color bias during photography along with emphasizing or hiding defects on a coin's surface. I believe that natural sunlight is the best lighting source for generating images that most closely capture a coin's natural colors. Have you tried viewing coins under halogen, incandescent, flourescent and natural lighting? Each lighting source produces different results. Therefore it is critical to decide early on which lighting source best fits your publishing needs. At GFRC, I believe in selling coins with beautiful original toning so natural lighting is selected.

Next is the Camera. Camera technology continues to evolve with super Mega Pixel options. I don't pay much attention to the latest developments as I use an old camera dating back to a 2002 release; the Nikon CoolPix 995 with bayonent mount. This is a large solid camera that is easily mounted on a stereo microscope with adapter that slides over one of the lens pieces. A "photodome" is also available that mounts on the camera and provides a simple but elegant solution for "setting up" the photography bench where ever bright sunlight is available. The "photodome" solves many problems including the proper focal length between coin and camera, eliminating lighting source shadowing and providing portability. Much more expensive photography benchs are common with multiple lightning sources and a stand mounted camera. These bench's are not portable (they remind me of the old time audiophile component racks) and have their limitations though producing incredible images. PCGS TruView is an example of a sophisticated bench mounted system with special lighting sources.

Camera Operation: To capture the best possible images in terms of natural contrast and colors, my rule of thumb is F-Stop > 7.0 and Shutter Speed at 1/500 sec. Today's blog will not go into F-stop or shutter speed explanations....you can Google those topics at your convenience. The best possible image contrast is captured at the highest F-Stop possible in conjunction with the fastest shutter speed. Too much light exposure eliminates (washes out) the delicate details of a high quality coin.

Image Processing: Everyone has their favorite image processing software so use the one you are most comfortable with. But always work with TIFF formated files when processing images. The JPEG format is ideal for publishing due to its compressed format and small file size but is lousy format for image processing but has considerble loss of delicate image details due to compression at each image processing step. You must use TIFF regardless of large file sizes during image processing. So take that fresh camera image and immediately save as a TIFF and when done, save as a JPEG.

Image processing has the following steps; 1) save as a TIFF, 2) rotational aligment, 3) RGB color compensation for lighting and camera bias, 4) contrast and brightness tuning to exactly match the coin in hand, 5) cropping in the white background, 6) resizing to standard website presentation size and 7) saving from TIFF to JPEG format. Within these seven steps, there are lots of subtle tricks that I have acquired over the years....experiment and decide what produces the best results for your needs.
Global Financial News
We start off 2017 with a strenghtening US dollar while gold is holding on to recent gains at $1147/oz. Crude oil starts the year at $55/bbl and let's see if production cut agreements will stick between OPEC and non-OPEC producers.
The dollar index kicked off the new year by making its biggest one day gain in over two weeks, rising 0.4% to 102.63. Most analysts expect the greenback to continue strengthening in 2017, because the economy appears likely to withstand multiple Fed rate hikes, making it more attractive to hold dollar-denominated assets. Despite pressure from a strong dollar, gold also extended its positive run into the new year following an 8% gain in 2016.
It will inevitably be another big year for crude watchers as the truth over whether oil producing countries will cap output is made clear. Jan. 1 marked the official start of the deal agreed by OPEC and non-OPEC member countries in November last year to reduce production by almost 1.8M barrels per day. In the session today, crude is pushing higher: WTI +2.4% to $55/bbl.
The British manufacturing sector appears to be doing just fine regardless of the Brexit vote.
The Brexit bashing continues after British manufacturing growth soared to a two-and-a-half-year high last month, fueled by new orders from both home and abroad. Markit's U.K. Manufacturing PMI rose to 56.1, from 53.6 in November, faring much better than many economists predicted in the aftermath of the vote to leave the EU. The FTSE 100 hit a new record high on the news, rising 0.5% to 7173.50.
And finally, Finland is experimenting with a radical idea. As long as you are an adult and alive, you get paid.... This is an example of what economist call "helicopter money" ie. free money from the sky to boost economic activity.
Finland has started a radical experiment: It's giving 2,000 citizens a "universal basic income" of €560 a month, with funds that keep flowing whether participants work or not. The program is hoped to cut government red tape, reduce poverty and boost employment, and could be expanded to include all adult Finns if successful.
Featured Coins of the Day
I'm rather partial to Liberty Seated dimes and Top 100 Varieties for some reason..... Here are a few candidates to dress up an existing set or to start a new Top 100 Varieties set.
So concludes another edition of the Daily Blog. Time for shower and queuing at the Venice Island post office for opening time and then a drive up to NGC. I will be back tomorrow morning with a short Blog followed by the drive to Ft. Lauderdale. Have a great day and please do stop by tables 1825/1827 to say hello if at the FUN show this week.
January 2, 2017
Welcome to the Daily Blog on Winter FUN show week. This year's bourse floor is massive and will provide collectors with outstanding access to all types of numismatic products.
Once again, here is the bourse floor map and the location of Gerry Fortin Rare Coins - W. David Perkins Numismatist. We invite you to visit booths 1825/1827 first for a look at quality Bust, Liberty Seated, United States Gold and also a strong array of World coin offerings.
Gerry Fortin Rare Coins - W. David Perkins Numismatist - Tables 1825/1827 - Winter FUN
LSCC News
Overnight, Bill Bugert sent out a preview article of an alarming 1872-S Liberty Seated half dollar counterfeit that resides in recently graded PCGS AU55 holder. There are reports that several more were seen being offered on eBay. This counterfeit will be available for viewing at the LSCC regional meeting on Friday 9:00am and at the LSCC club table. Just click here to download and read the article.
GFRC Consignment News
Venice weather was partly cloudy on Sunday but I did manage to photograph the new Osprey and Highwoods Collection consignments. Below is the latest Osprey Collection consignment with some important United States $2.5 quarter eagles. Most Blog readers probably don't realize the 1880 date has a tiny mintage of 2,960 and is far from a bullion piece. The 1853 quarter eagle is graded PCGS MS64 CAC and has incredible old time luster. Finally, the 1860 Indian Cent is a JUST BUY IT NOW recommendation with Eagle Eye approval and certificate.
Osprey Collection Consignment - January 2, 2017
GFRC Open Registry Community Project
The first week Open Registry participation rate is well beyond my expectations as quality sets are being listed. The number of sets is already at 150 without Liberty Seated Halves being active. In particular, I am most impressed with The Iowa Collection of Liberty Seated Quarters.
Loading Open Registry Images
Matt has remove error checking on the image upload portion of the input template so that collectors can try loading images from their favorite hosting sites. Please give it a try and report back with potential issues. Just remember that the proper URL systnax does not contain any "(" or ")". The URL should begin with http: or https: and end with a number or letter; no control characters please as part of the image URL link.
Coin Photography
I've received several emails from individuals concerning coin photography. This topic requires a long instructional discussion and believe that one was written in a Blog during 2016. Will look for the Blog edition after the FUN show and republish then.
Featured Coins of the Day
Today's Featured Coins focus shifts to small denomination United States gold. Following are quality gold $1 pieces seeking a new collector home. GFRC will have over 1.5 cases of quality United States gold at the FUN show; that includes double stacking given the limited number of cases available vs. the size of GFRC inventory.
Do please consider a GFRC purchase today to get the numismatic year rolling! GFRC office is open all day as FUN show preparation are underway. Thank you for visiting the Daily Blog this morning. Have a great Monday holiday......
January 1, 2017
Greeting from Venice and Happy New Year as 2017 has arrived! Thank-you for starting off the new year with a visit to the Daily Blog.
Did I stay up until midnight to watch the Times Square ball drop? After a busy week in Orlando and fighting a nasty head cold, bedtime arrived at 9:00 pm and I missed the event. Feeling rested and being ready to tackle another busy numismatic day was a much higher priority. 2017 is off to a great start as an order arrived at 11:30pm December 2016 for the gorgeous Upstate New York 1853 A&R NGC MS61 quarter. I'm quite superstitious after years of working in China and believe these is something to the Chinese Lunar calendar, associated horoscopes and good fortune. Opening emails this morning and seeing an initial four figure order to start 2017 is an excellent omen for the upcoming year.
LSCC January 2017 E-Gobrecht
There are certain things that run like clockwork in the world. One of those is the publication of the LSCC's E-Gobrecht by editor Bill Bugert. The January 2017 edition arrived to my Inbox last evening at 7:30pm and is another great issue. This is the 13th year that the E-Gobrecht is published, providing timely Liberty Seated Collector Club news, monthly columns and featured articles. In this issue, the featured articles include the announcement of the GFRC Open Registry Community Project along with A Tour of the San Francisco Mint 1856 Part 3 by Jim Laughlin.
LSCC FUN Show Regional Meeting and Gerry Fortin's Developing a Passion for Liberty Seated Dimes Presentation
January 6 will be a busy day at the Winter FUN show in Ft. Lauderdale. The LSCC regional meeting takes place at 9:00am with the following agenda;
- Attendees Group Photo - 9:00am (so be on time)
- Attendee Brief Introductions (name, rank and serial number...)
- Club News including discussion of the LSCC at 2017 ANA Summer Seminar - Gerry Fortin
- Discovery of Deceptive 1872-S Liberty Seated Half Dollar Counterfeit - John Frost
- Featured Educational Presentation: Liberty Seated Dollars - Stephen Petty
At 11:00pm, I will be breaking away from the GFRC table at 1825/1827 and will provide a one hour crash course on Liberty Seated dimes. This presentation will cover design types, grading, how to develop set collecting objectives followed by a deep dive into key vs. commond dates and major varieties. There will be a substantial amount of material to cover in hour's time so this presentation is geared for individuals with basic to advanced numismatic vocabulary and skills.
GFRC Open Registry Community Project Update
It appears that the GFRC Open Registry is just starting to gain momentum as the set total sits at 145 this morning without inputs for Liberty Seated half dollars. Here is what we can expect during the month of January.
- Bill Bugert is finalizing his changes to the Liberty Seated half dollar sets.
- Further Seated Dollar set inputs are pending Matt availability to change the weights to Sheldon scale as devised by Stephen Petty.
- United States Gold will be the next focus area for incremental sets. Osprey has agreed to begin the definition of gold type sets.
Please remember that coins purchased from GFRC will automatically have their images loaded into the Open Registry once the TPG serial number is entered. For raw coins, I will provide the links on a request basis.
GFRC Consignment Update
Osprey visited the GFRC office yesterday to drop off yet another consignment consisting of United States $2.5 quarter eagles and a gorgeous gem 1860 Indian Cent graded PCGS MS64 with CAC and Eagle Eye approval beans. Also, a shipment from the Highwoods Collection arrived. Following are the details. These will be photographed today and hopefully posted as a Client Gallery on Tuesday morning. Two additional consignments are waiting for me at the Venice PO and Tuesday pickup.
Osprey Collection
Indian 1c: 1860 PCGS MS64 CAC, Eagle Eye approval and absolutely stunning example for the most selective collector
Gold $2.5: 1843-O Large Date PCGS AU50; 1853 PCGS MS64 CAC a wonderful gem with stunning luster; 1854-O NGC MS61; 1856-S NGC AU58; 1861 PCGS MS64 pretty satiny luster; 1874 NGC AU58; 1880 NGC AU55
Highwoods Collection
Draped 25c: 1806 VG10 gem for the grade with perfectly original color...should be an instant CAC is accurately graded at TPG
Gold $2.5: 1853 NGC MS62 choice with nice satiny luster; 1856 NGC AU58; 1878 PCGS AU55 better date
Gold $5: 1878 NGC AU58
Featured Coins of the Day
GFRC has come a long way in building up Liberty Seated half dollar inventory and is now the leading dealer in the industry for this design and denomination. Following is a sample of the broadening inventory; 1839 No Drapery and With Drapery Seated halves. These two designs are always in demand by both type and date and mintmark set collectors. Offers are welcomed on any of the following six pieces if not sold at the upcoming FUN show.
So ends the Daily Blog for the first day of 2017. Once again, Happy New Year to all GFRC consignors, customers and special friends. Our numismatic community continues to grow and I believe 2017 will be an exciting year for the hobby and gold bullion prices. I will be back tomorrow with more ramblings. Have a great holiday weekend.