Gerry's Daily Blog Archives - April 2015
April 30, 2015
The last day of April arrives which means full fledge Spring is upon us in Maine. May brings blooming flowers and trees with the stark landscape coming to life. My office overlooks the front yard and looking forward to enjoying leaves on the trees rather than bare branches. As always, thank you for visiting with me at the Blog.
Today's first topic is a GFRC policy change with respect to helping customer secure TPG grading for their raw coins as part of the purchase process or having their holdered coins reviewed at CAC. These services will no longer be offered. All raw coin purchases must be paid for at the time of purchase and will be immediately shipped with typical 10 day return policy. The same applies for holder coins. Though I believe in being flexible and offering the best customer service possible, prudent steps need to be taken to bring the GFRC operations complexities into a more managable situation. One of the most challenging and error prone service task is holding raw coins purchased by customers and having them graded or holding TPG certified coins and coordinating a submission loop via CAC. There are multiple issues involved....please allow me to explain the decision basis;
Raw Coins
1. Customer acceptance of raw coins is skipped in liu of grading service opinion. In most cases, my grading is spot on or conservative but there are cases of where the services have not agreed with my grading. This usually results in customers not wanting the coin after a long Economy submission grading cycle. However, when coins grade higher than my advertised grade, they are gladly accepted.
2. As I've pointed out in earlier Blogs, the grading services work with a certain amount of grading variance. Essentially, I am subjecting myself to this variance. There are times when I must resubmit my own collection coin to secure what I believe to be the appropriate grade.
3. Managing customer coins throughout long Economy submission cycles and hoping the TPG opinions match mine is taking too much of my valuable time. This is an atypical process within a business that needs to stay focused on locating top quality coins coupled with rapid execution of customer sales orders and acceptance. Improving operational efficiencies as GFRC volumes grow is paramount if I am to maintain a one person business and offer attractive pricing on quality coins.
TPG Holdered Coins to CAC
1. I will usually kit customer purchased TPG coins with my own holdered coins for a CAC submission to save shipping charges. The time required for holding customer coins/kitting into a single order and then the shipping/review cycle can vary. Customers wish to take possession of their coins asap regardless if they requested a CAC review. Now that I am attending national shows, the kitting and return shipping window will grow and only lead to customer dissatisfaction for the amount of time required for CAC review. It is best that GFRC not provide this service.
GFRC New Policy For Raw and CAC reviews
I will gladly submit customer's raw and TPG holdered coins to the grading services or CAC review once they are accepted and ownership transfers from GFRC to the customer. In this manner, the customer accepts the responsibility to grade and validate his or her purchase. Sending customer accepted coins to the TPGs and CAC at a later date is an excellent exercise for validating one's grading skills. I will continue to provide this service with TPG grading and CAC review outcomes belonging to the owner. Submission cycles times will vary.
Finally on this topic, I will no longer hold raw or TPG holderted coins for customer pickup and acceptance at a major show when that timeframe is longer than 2 weeks.
Financial News...
Yesterday's US Q1 2015 GDP growth report of 0.2% was a shock to the global financial markets. A strong US$ is finally having its impact on United States exports along with ongoing debt growth issues for everyday consumers. When 50% of United States households do not participant in the stock market, lack home equity borrowing facilities and have no interest income then one should not expect a robust economy other than areas in high tech, pharmaceuticals or health care. The dramatic drop in oil prices resulting in new well drilling delays is also a key issue.
As expected, the Fed will not be able to raise interest rates anytime soon regardless of speculations that are more drama than substance. The US middle class is critical for a healthy economy and current Fed policies are not well targeted to support the bulk of the US population.
Featured Coins of the Day
I would like to offer two coins today. The first is an incredibly original 1864 San Francisco Seated quarter graded PCGS F12 that is fully choice and would be difficult to improve upon at this grade level. The surfaces are covered with original gray/rose patina and lack any blemishes for a Civil War piece with considerable wear. The 1864-S date is infrequently seen on the market.
The second is a cool offering from the World Coin price list. This 1808 Spanish Duro (5 Pesetas) grade NGC EF40 and from Gerona province is a one year issue. Gerona or Girona is a maritime frontier province located in the extreme northeast corner of Spain. You can read more about this Spanish region by clicking here and well worth the time. This silver Duro features surfaces with light wear and are covered with uniform gun metal gray patina with rose hues. The rim reeding on each Duro is hand cut therefore each piece is unique to itself. Please forgive the short vertical white lines at 5:00 as this is light reflections from the NGC holder that I can't seem to eliminate with current photography methods.
April 29, 2015
Welcome to the mid week Blog edition...where in the world does time go these day?
The news of the day is that the 1839 F-105c Pie Shattered obverse graded PCGS EF45 Green CAC will be traveling to Denver Coin Expo next week for display at the GFRC table. Accompanying the 1839 Pie will be the earlier F-105a (PCGS EF45 Gold CAC) and F-105b (PCGS AU50 Green CAC) die state examples. At the Friday May 8 LSCC regional meeting, I will give a presentation on the 1839 Pie Shattered obverse dies including a review of known pieces and valuations. Prior Denver regional meetings have been poorly attended so I'm trying something new to attract potential attendees. Following are images of the three unique die states. These dies were initially used to strike a few proofs before being converted to business strike production.
1839 F-105a - No Die Cracks - PCGS EF45 Gold CAC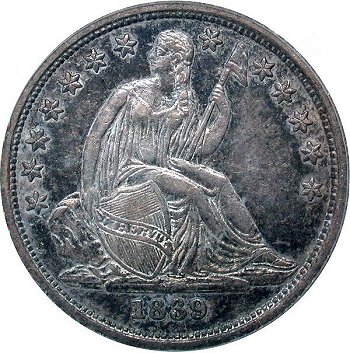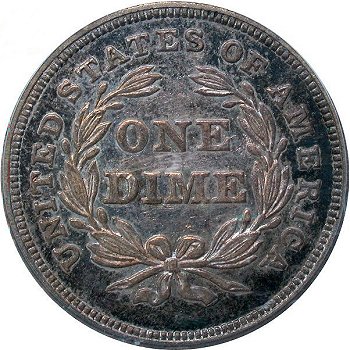 1839 F-105b - Single Vertical Die Crack - PCGS AU 50 Green CAC
1839 F-105a - Pie Shattered Obverse - PCGS EF45 Green CAC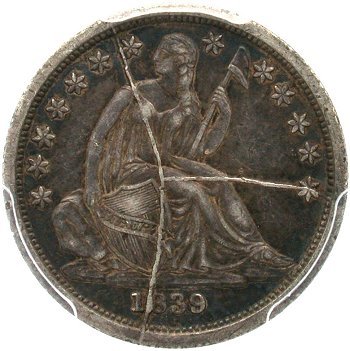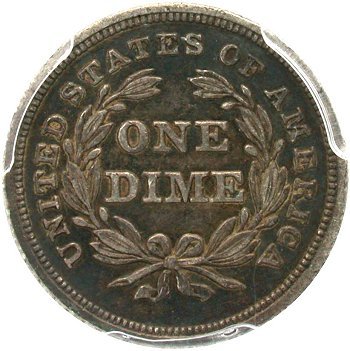 Yesterday's order rate was strong as GFRC customers checked in on new listings and were immediately ordering. The 1864 PCGS EF40 Seated quarter sold to the first person with FRoR and the 1864-S PGCS F12 has been offered and I'm waiting for buy/pass decision. World coins were also popular on Tuesday as a wonderful 1734Mo Mexico 8R graded NGC AU58 sold along with 1836NG Central American Republic 8R graded NGC AU53 and 1935 Canada $1 graded PCGS MS64. Coins with strong eye appeal along with better dates that offer original problem free surfaces are always in demand.
Today's priorities are shipping GFRC and some GFRC-Coins orders and then loading more Newps/Consignments on price list. There is a substantial amount of new coins still in queue and I hope you might consider checking back during mid afternoon as the packing and shipping will be done during morning hours.
Tomorrow's blog may feature another Federal Reserve article as everyone in the financial press is on the edge of their seats today awaiting the latest Fed policy decision on interest rates. I've read more detailed analysis on ZIRP and the Fed's prior use of "forward guidance" to announce that very low interest rates were be around for an extended period. It appears that the "too big to fail" banks have made substantial monies playing the spread between short and long term interest rates in an environment of no risk since the Fed was broadcasting its policy intentions several years ahead of taking actions.
The featured coin of the day will be posted this afternoon to the Seated half dollar price list. This 1874-CC WB-3a Railroad Track Reverse half dollar graded NGC EF40 Green CAC is a superb example. In hand, this R6 piece offers original even light to medium gray surfaces but when angled under bright light, then wow...the obverse rims, stars and date turn sky blue and the fields rose. Reverse is similar with the rim being blue under bright light but quickly transitions to gold. This piece obviously sat in an old album to acquire these colors. It is CAC approved and should be. Just a real pretty and above average example of a key date in the Seated half dollar series. Priced at $5950. (On Hold)
April 28, 2015
Happy Tuesday to loyal Blog readers! Thank you for stopping by and checking in. I promise that there will be no in depth financial commentary in today's Blog......
There is considerable news today. First up is an announcement concerning PCGS using the Liberty Seated dime web-book for variety attributions. At the Central States, I heard a rumor that PCGS was planning to add a complete Fortin varieties set (1400+ entries) into their Set Registry. I was taken back by this information and decided to email BJ Searls and Steve Poliquin at PCGS to confirm. They responded immediately and indicated that PCGS has loaded the entire Fortin web-book into their database and will be attributing Seated dimes accordingly moving forward. Steve Poliquin asked if I could be available as a consultant on difficult attributions which I agreed to do. BJ indicates that PCGS is targeting the fall of 2015 for adding an expanded Seated Dime varieties set to their Set Registry......What was only a dream in 2004, when I released the web-book and my own Open Registry, is becoming a reality eleven years later.
Secondly, I was also contact by Skip Fazzari concerning supporting ICG with their Liberty Seated dime variety attributions against the web-book. Already, Skip has identified a late die state 1856 small date dime in AU condition with severely eroded dies and a large die crack through the Liberty device. ICG will be sending me images for a web-book update and may take the discovery to Numismatic News and Coin World.
Consignment News Update
I spoke with the Birmingham Collection owner yesterday. We discussed the strong Part III sales and as a result, the final installment (Part IV) will be shipped in several weeks and includes another 20 or so quality Seated dimes.
Last evening, I was contacted by a GFRC customer/consignor asking if I would take on his Capped Bust quarter collection including the very rare 1822 20/50c. These pieces will be shipping after Denver show.
Another installment of the West Coast collection consignment arrived yesterday. These are all Seated dime graded by PCGS and perfect collector grade coins. Here comes the list....1838 F-105 EF40 original gray, 1850 VF20, 1856 LD F-101 VF25 CAC, 1872 F-106 RPD VF25, 1873 C3 F-103 RPD VF35, 1875-CC IW F-110 Shattered Obverse VF25 CAC and really nice, 1876-CC DDR F-108 G4, 1876-S AU55 and so choice, 1887-S VF30, 1891-O F-106a VF30 and super nice, 1891-O F-106a EF40.....also a raw 1876-CC F-111 MPD F15
Maine Collection Update
I spoke with the Maine Collection owner yesterday and we have set a meeting date during the week of May 10 for transfer of three complete Barber sets in Wayte Raymond album pages along with an absolutely incredible Lincoln cent set also in Wayte Raymond album. I previously inspected all of these sets in an earlier session and was blown away by the uniform high grades in the Lincoln set with many being full reds. The Lincoln set must have been the pride and joy of this collector. The Barbers sets are only missing the 1901-S quarter otherwise complete and ranging in grades from G/VG to AU/MS.
Today's goal is to load more coins on the price list, get those into inventory boxes and make room on my desk for all the other consignments that continue to pour in. I also need to sell coins so please don't hesitate to contact me about multiple coin lot deals as I definitely need make room for new arrivals.
The featured coins of the day are two Seated dimes purchased as part of a large lot at Bay State. The source is an old time Maine dealer who turned 75 and decided it was time to start clearing out his bank boxes. He offered me the seated dimes first and I bought a fair number as just so original and fresh to market. The 1843-O (on hold) and 1846 that were listed last week are examples of the lot quality. Yesterday, I listed a raw 1838-O F-101 grading F12 and an 1848 F-101 grading EF45+. These are not expensive coins but perfectly original for their assigned grades and should be scooped up by astute collectors as so difficult to locate this quality in today's market. Both are On Hold.
April 27, 2015
Another work week is already here and hopefully Maine weather will provide some photography sunshine for CSNS acquisitions. Thank you for visiting with me.
There were multiple responses to yesterday's posting of the 1864 and 1864-S quarters as truly special pieces for date/mintmark set builders and also for those collecting multi denomination Civil War coinage. The FRoR priorities are set and with a little cooperation from the weather, these pieces will be posted by end of day along with asking prices.
You will note that the Currency price list is gone from the For Sale page as those pieces were sold on eBay by GFRC-Coins. There was no response to GFRC currency offerings so best to move on and rechannel the monies towards other projects.
Consignment news brings correspondence with the West Coast Collection owner. He has already shipped one lot of Seated dimes (~10-12 pcs) with a second shipment due this week. His shipments are limited by the physical space taken by PCGS holders within two day USPS priority boxes. West Coast dimes are always nice and original with many being CAC approved. I will report contents of the first shipment after arrival.
Today's priority is to load the balance of Bay State show newps and a world coin acquisition along with photographing Central States new coins. I'm also preparing two shipments for Shanghai customers and retrieving raw coins from bank vault as yesterday's orders were mostly for raw offerings.
I would like to close today's Blog with a very interesting article from Mauldin Economics entitled The Third and Final Transformation of Monetary Policy. Essentially, this article discusses how the Federal Reserve is adapting its tools for managing the United States economy given current QE and ZIRP environment. Understanding that the Federal Reserve has adapted and has engineered a game plan is important to avoid unnecessary doom and gloom fears (myself included). The article is a short read and a tad technical. To understand the "Third and Final Transformation", one must first recognize where we have been since the 2008 financial crisis as background. I've tried to summarize the background points as follows;
1. The Federal Reserve lowered its overnight rates to banks to practically zero percent during and since the 2008-2009 financial crisis and has not been able to increase those rates back to a historical level of 4%. This is true for other G7 economies with Europe implementing negative interest rates.
2. The Federal Reserve implemented Quantitative Easing (QE) and increased the size of its balance sheet to $4.5 trillion. Now that QE has stopped, the question is how the Fed will shrink its balance sheet and return a normal level. (The strategy for moving these monies off the balance sheet is not well understood by most of the United States population and is unnerving to most as some entity has to absorb these securities).
3. The way that the Fed conducts monetary policy needs to be re-invented since the traditional approach of changing the Fed funds interest rates no longer works. The Federal Reserve has invented two new tools to conduct monetary policy that were unknown prior to 2008. Many of us have credit card and home mortgages that are tied to the Fed funds rate.
The two new Federal Reserve tools are 1) the interest paid to banks for their monies held in free reserve and 2) the use of a reverse reposession interest rate for large financial entities other than banks.
For 1) the logic is that the Fed can select an interest rate paid to banks as an incentive to control their lending. Banks will not lend monies to third parties at a rate lower than the rate paid by the Fed (no risk interest payments). The higher the Fed interest rate, the more pressure on short term interest rates to go up.
For 2) the logic is that non banks but instituations like Freddie Mae and Freddie Mac can park their excess monies at the Fed for a given interest rate. These institutions will be unwilling to loan monies to third parties at a rate lower than the "reverse repo rate" offered by the Fed.
How will the Federal Reserve eliminate the $4.5 trillion of mortgage securities on its balance sheet. The logic here is straightforward....over a period of 10 years, the Fed will pay down the principal by slowly ceasing to buy these types of securities and moving that responsibilty to other parties. This action means the transfer of debt held by the Federal Reserve to other entities in the United States economy. The question is who will be the entity to take transfer and hold that debt?
The featured coin of the day is an 1833 LM-3.2 bust half dime with some serious cartwheel luster in hand and under bright light. The surfaces appear to be completely natural. This is the LM-3.2 variety with both obverse and reverse heavily clashed along with faint repunching on the 1 digit. Close inspection of my images will show a radial line in front of Liberty's face and another through the tops of the date digits. These are heavy die clash marks. The reverse die has been lapped prior to this pairing and has weak olive leaf details and a filled S2 in STATES.
April 26, 2015
Greetings from Maine once again and thank you for visiting this morning. The return trip to Portland was uneventful but long since connecting through Newark. This trip marked the last usage of United frequent flyer miles accumulated during the many years of overseas travel. The stop through Newark was necessary since the direct flight from Chicago Ohare to Portland required too many miles. I arrived home at 11:00pm.
Let's start this Blog edition with reflections on the Central States show. Overall the show was weak and I would have to seriously question taking a table there again next year. Wednesday brought no business from the early birds, Thursday was good as the advanced collectors attended the show and spent time at the GFRC table. I saw some customers after Friday's 9:00am LSCC meeting while Saturday floor traffic was poor. As mentioned in an earlier blog, one grows use to hearing a "buzz" on the bourse floor when a show is healthy; people are walking the floor and sitting at dealer tables chatting. I heard the "buzz" on Thursday but that was it. As usual, dealers who could do some wholesale business had a better show than those positioning themselves for retail trade. I believe that retail sales continue to migrate online and we will see an ongoing shift of second tier shows towards more dealer to dealer wholesale in support of their online business. Heritage enjoyed significant auction sales at CSNS.
Saturday floor purchases were limited but I did manage to dig out three important Seated quarters that are completely fresh to market and should be attractive to GFRC customers. There are 1864 PCGS EF40 choice original with gun metal gray/blue patina, another 1864 PCGS F12 choice original gray/rose and finally, 1864-S PCGS F12 that is so choice with bold rims and lovely gray/rose toning. None of these have been through CAC and I would expect all three to sticker if an attempt is made. As you can imagine, I had to pay strong for these given their scarcity but the GFRC mission is to locate and provide the best possible Seated "investment grade" coins. We will be using FRoR on these three as I doubt they will last long on the price list.
While in Newark, I received an email from an LSCC member about potential Seated quarter consignment and currently in discussions with that individual.
Today is a travel and CSNS recovery day as I must re-organize all inventories, wrap up the show finances and then move on to imaging new purchases and work through customer orders that arrives while at CSNS. To be honest, the backlog of unlisted coins is starting to grow along with Open Registry submissions and I need 3-4 uninterrupted days to properly work through the backlog. Attending Bay State and CSNS shows on consecutive weeks does not allow much time in the office to update the GFRC online presence and this will be addressed this coming week.
Next weekend is a small Maine show on Sunday that is only a 40 minute drive and always fun to attend. I will be only buying at that show. On May 5, I fly to Colorado for the Denver Coin Expo and will be sharing table with Jim Poston on May 6 through 8. The GFRC strategy will be different at Denver. Instead of traveling with high grade Seated inventory, I will bring raw and lower priced slabbed coins with the goal to do some inventory rotation. The Denver show crowd is primarily focused on Morgans, 20th century series and bullion and not strong crowd for high grade Liberty Seated coins.
The featured coin of the day is a lovely AU 1822 Bust half acquired at the Bay State show. This is an attractive example with light toning covering problem free surfaces that offer significant luster under bright light. The obverse features faint aquamarine coloring around the stars while the center is light silver gray. The reverse offers pretty gold around the legend. The O-109 variety is easily diagnosed via Star 7 being connected to the cap. This is a well struck half dollar and ideal for a Dansco set. I am slowing increasing Bust half dollar inventory when unable to locate quality Seated coinage.......
April 25, 2015
Thank you for checking in at the Daily Blog.....CSNS Day 3 was lightly attended and a bit disappointing. Floor traffic was essentialy gone by 3:00pm while the bourse remained opened until 6:00pm. Many dealers were shutting down booths starting at 5:00pm and calling it an early day. The CSNS show is well organized and offers top rate accommodations but is unable to compare with the Spring and Fall Whitman Baltimore shows in terms of floor traffic.
Today's highlight was the LSCC regional meeting with strong attendance (~20 people) and an outstanding presentation by Stephen Petty on the United States monetary policies that brought about the creation of the Trade dollar. Steve's presentation was very well researched and sheds light into the challenges of the Treasury Secretary and Mint Director's efforts to manage Seigniorage (difference between face value and metal value of silver coins), the Gold Standard (attempting to keep face value of coins to same value as the bullion in the coins) and finally, the Dual Standard (the historical ratio of gold and silver coins at ~15 times.) Steve's conclusion was that United States monetary policy (too much silver bullion being mined in the West) lead to the creation of the Trade dollar as solution by which to export the excess silver to China avoiding a shift in the Dual Standard.
Also at the meeting, Charles Morgan of CoinWeek announced that they are working on a CAC pricing guide and will be releasing some denominations within 4-5 months. I spoke with Charles one on one in the afternoon about potential LSCC and CoinWeek cross marketing opportunities and one easy implementable idea was agreed upon.
GFRC Day 3 results were decent as new purchases on Wednesday and Thursday were selling at the show and to online customers via the Blog. Notable sales today included; 1873 NA Open 3 PCGS AU53 CAC 50c, 1866 PCGS MS63 25c, 1871 PCGS PF64 RPD 10c (Top 100), 1884-S PCGS MS64 10c (Birmingham) and the 1861 PCGS F12 Type I reverse 25c.
On the purchase side, I was once again very selection but did manage to buy several really choice pieces. It seems that wholesale dealers either had boxes full of high grade MS/PF 65 offerings while others were shopping around very low quality coins. The middle ground....nice original and problem free collector coins grading EF through MS62 were no where to be found and several dealers were commenting that this market segment is just drying up. Day 3 purchases were limited to the following....
Seated 10c: 1838 F-103b choice original EF40 (Top 100)
Bust 50c: 1807 Large Stars 50/20c PCGS VF25 CAC choice original gray, 1813 O-101 UNI/50c PCGS EF40 choice original rose/gray, 1830 PCGS AU55 blast white luster.
Seated 50c: 1858-O AU58 gem original...taken in trade out of a blue Whitman type set album.
On the consignment side, I took in only one coin today but it is a special addition to GFRC inventory; an 1874-CC NGC EF40 CAC seated half that is strictly original, choice even gray in hand and lights up with patel colors under bright light. Serious Seated half dollar collectors should take notice of this offering when posted next week.
The featured coin(s) of the day results from a conversation with the consignor of Bust dime love tokens. We are both scratching our heads as to why these scarce exonumia pieces have not sold quickly given the fair pricing. I told the consignor that the issue would be brought up in the Daily Blog and hopefully attract some attention to these cool pieces. Following are 1831 and 1834 dated pieces that are worthy of your consideration.
April 24, 2015
Welcome to the CSNS Day 2 show report and thank you for dropping in today.
Day 2 brought decent sales and more newps to report. As a whole the show was somewhat slow with a number of people commenting that the floor lacked the normal coin show "buzz". David and I were busy throughout the day with only a few moments to chat in between customer visits. At one point in the "early" afternoon, I thought it best to make a quick run to the concession stand for a late lunch. Checking the time on smartphone indicated 4:15pm which was a pleasant surprise and I settled for a granola and yogart snack as a bridge to dinner.
There are numerous items to report in today's blog but the central theme was Seated quarter transactions.
- I bought 1866 PCGS MS63 and 1877-S NGC MS64 Seated quarters from an advanced collector in the morning. These have been off the market for at least 10 years and are eye appeal coins. The 1866 is blue/rose with lots of flashy luster while the 1877-S is nice satiny lavendar gray with luster.
- The 1849 and 1873 NA Open 3 quarters bought yesterday are sold. This transaction brought chance to buy nice original common date quarters at fair prices. Those include 1857 PCGS EF45, 1857-O PCGS F12, 1858 PCGS EF45, 1858 PCGS EF40 and 1877-CC EF45 raw. Several of these coins were purchased from me and upgraded so now coming back for a second GFRC showing. All are choice with original medium gray surfaces.
- A special consignment arrived with more nice Seated quarters and world coins. Following are the quarters; 1857 PCGS EF45 CAC, 1861 PCGS VF35, 1861 PCGS F-12 Type I Reverse (scarce) and 1873 NA Open 3 ANACS VF30. It really is amazing that I've handled at least six different 1873 NA Open 3 quarters in the past year as so popular. For World Coins; 1836 Central American Republic 8 Reales - NGC AU55, 1935 Canada $1 PCGS MS64 (incredible luster and 64++) and 1734 Mexico 8 Reales NGC AU58 and so sharp.
- A consignor/collector stopped by the table and reporting spending some serious monies at the Heritage auction. He was motivated to reduce pricing on a particular offering and highlight in Friday's blog to stimulate interest. The price on this scarce 1838-O mint state dime (PCGS MS62) will be reduced from $4950 to $3950 to generate a quick sale. This original piece was struck from worn dies, has soft luster and adequate flash under bright light. 1838 New Orleans dimes are hard to come by in mint state with MS64s being the most offered in the $10,000 to $12,000 range.
This pretty much wraps up the Day 2 report. Please check back later Friday evening or Saturday morning for the Day 3 report as each day is a new adventure in the coin business.
April 23, 2015
Good morning from Chicago! I slept like a log after Wednesday's travel day along with dealer setup and working the bourse floor. There are advantages to living on the east coast flying west as one can secure a 6:00am flight and be in Chicago by 8:00am or even San Francisco by 11:30am. The challenge is being awake at 3:30am for drive to airport, clearing security with boxes of coins and natural tendency to work consistent with the destination's time zone. After years of flying back and forth between US, China and Europe and attending customer meetings immediately upon arrival, the coin business is a great alternative.
A few comments from yesterday's CSNS floor walk through....
1) any better date Seated quarter is not available unless a dealer has fresh collection to sell. I was lucky to locate that situation and only purchased three pieces since being so selective on originality.
2) Seated dimes are next in terms of challenge. One will see mint state common dates, proofs or the 1871-CC through 1874-CC key dates in details holders and not a lot else. GFRC has the largest selection of quality Seated dimes in the industry.
3) Seated halves are next in availability though finding the Carson City dates takes effort. I looked at a fair number of halves yesterday but acquisition were limited, again being selective on orignality and eye appeal. Even though halves were in TPG holders, many were rejected due to surfaces that did not meet my standards.
4) Seated dollars can be located with many having marginal or problematic surfaces. The better pieces are already in collector hands.
CSNS Day 2 opens to the public at 10:00am and I'm looking forward to meeting regional customers who are picking up orders, dropping off consignments or have already asked for FRoR on yesterday's newps. The social interactions at the GFRC table are an important part of the bourse floor experience.
A reminder that the LSCC regional meeting will be held Friday at 9:00am.
Finally, let's review Jim Poston's Seated half dollar consignment that arrived just in time on Tuesday afternoon to be packed up and included in CSNS case display. Listed by date, following are the new halves.
1843 NGC AU53 original gun metal gray/blue, 1843-O NGC F15 original gray, 1849-O NGC AU55 CAC Eric Newman label and patina, 1870-S PCGS VF30 choice original gray, 1875 NGC AU55 an eye appeal coin and 1876-CC PCGS VF25 choice original gray.
The featured coin of the day is a nice original 1850-O Large O half dime that is raw and graded EF45. Half dime demand and sales have been slow as the series remains under appreciated by most collectors. I believe there is currently good value in this series and better dates are not trading at substantial premiums to the guides and the average dates are actually selling below trend guides.
April 22, 2015
Today's Blog edition is written from Marriot hotel room after CSNS dealer setup day. It was a slow day since GFRC business is primarily retail; dealers and early birds were looking for wholesale pricing.....so this turned out to be perfect opportunity to spend time on the floor searching out better seated coins with emphasis on Seated quarters and halves. Actually, I'm pleased with the day's results as searching out quality coins can be a combination of routine and pure luck. When being so selective, it is easy to wear out shoes walking bourse floors. Here goes;
- A nice original group of seated quarters picked from a dealer's recent partial set purchase in southern US. I selected these....1844 AU50, 1849 choice EF45 compass point reverse and 1873 NA Open 3 choice EF45; one of the nicest I've handled at this grade.
- A small lot of choice halves from a small IL dealer who had the "eye" for choice coins. These are 1841-O PCGS AU50 choice original gray, 1857-O PCGS EF45 nice original gray, 1871-S PCGS AU55 choice original gold, 1871-S AU58 choice original gold and a wonderful 1873 NA PCGS AU53 CAC that has super eye appeal.
- The final lot just walked up to the table and I could not resist. Four 1896 Morgan $1 double sided toners with sharp reverse rainbows all from the same long term storage. These pieces are well matched and I look forward to posting to price list next week (if they don't sell here). Each piece is just back from NGC grading with no CAC attempt.....NGC MS64*, NGC MS63*, NGC MS64 and NGC MS64.
- In the odds and ends category....an 1838 EF45 F-111a cracked obverse raw EF45 with light to medium gray toning.
That will do it for tonight's report. I will write another blog Thursday morning before heading to the bourse floor to announce the Seated halves in Jim Poston's consignment. Thanks for visiting today.
The featured coin is from half dollar price list. This 1868-S half resides in PCGS VF30 CAC holder and offers even original gray surfaces and decent eye appeal.
April 21, 2015
April is turning out to be an incredible month at GFRC thanks to great customers and consignors. I sincerely appreciate everyone's trust and support for the trading desk business model. Also thank you to everyone who visits the Blog each day.
Coins news is limited to fact that all Birmingham Part III dimes are now online with substantial early sales and a Jim Poston's express shipment that arrives in a few hours. This consignment will be heavy in half dollars and foreign coins. Otherwise, I am focused on Central States preparations with the primary challenge being the decision process for what coins to transport since flying a smaller United regional jet and the carry on bag must fit under the "spacious" seats. W. David Perkins and I will have seven cases of quality Seated and Bust coins at table 1710 starting tomorrow.
Yesterday brought an incredible article from Mauldin Economics entitled, Half a Bubble of Dead Center. The title is fitting for those of us old enough to remember using wood or metal levels with center bubbles; a bubble half off center meant a problem down the road with the cinder block foundation or other construction in progress. The Mauldin article is available online here and is a long and challenging read but worth the effort if there is spare time. The article acknowledges that everyone is starting to feel uneasy with present economic situation as the central banks' financial engineers continue to explore new territory with cheap money that is not stimulating global economies as planned. Unintended consequencies are starting to appear, for example, negative interest rates in Europe and permanent zero interest rates in the United States.
Already, there are casualties in the United States. Pension fund managers are unable to meet growth targets meaning numerous government pension funds will remain underfunded and are ticking time bombs. Retires who planned to handle later life expenses with interest income and social security increases are now realizing that these plans will not materialize. One example in Maine is country people who are land rich but cash flow poor. As local tax burdens continue to increase due to higher education system support costs, these individuals find that 20% of the annual income must be allocated just to pay local taxes and if unable, then property becomes a target for liens and eventual confiscation. I don't see discussions in the media about this collaterial damage from central banker experimentation. Rather the financial media loves stock market increases and global company consolidations towards ultimate business efficiencies that employ less people.
Back to Half a Bubble of Dead Center....there are multiple topics worth considering including a review of different types of debt and how companies will move from one debt form to another and resulting consequences. Debt can be a good thing when used properly. Small businesses use debt to growth productive assets and increase cash flow and profits. To summarize for Blob readers, there are three types of debt;
Hedge debt - profits from taking on a loan are used to payback the loan
Speculative debt - profits from an asset (loan) can only maintain the interest payments and the loan must always be rolled over. (Lots of lower income folks trapped with this type of credit card debt)
Ponzi debt - selling of the loan or purchased asset at a higher price than fair market value (stock market margin debt may be a good example)
Economies that are fundamental stable will employ Hedge debt as loans are paid back via economic growth. However, the use of Speculative debt and Ponzi debt leads to increased volatity during any financial crisis as the debt overhang cannot be supported and default is required. The article indicates that capitalist economies move from stable financing (Hedge debt) to structures that over emphasize Speculative and Ponzi debt as a progression and results in cycles of prosperity and then recessions.
There are more stimulating thoughts in the article that are beyond the scope of this Blog. You are invited to read as we in the Middle Class need to maintain economic development vigilance and attempt to plan and protect ourselves for the unintended consequences.
The featured coin of the day is a lovely 1806 PCGS F15 Browning 3 quarter that also has CAC approval. This piece has considerable details for the assigned grade and strictly original surfaces coupled with decent eye appeal. It will be loaded on the price list by noon time today and available at Central States show.
April 20, 2015
Welcome to Central States show week and thank you for visiting the Blog this morning.
I will be traveling to Chicago on a 6:30am flight Wednesday so there will be no blog that morning but will be writing show reports on Thursday, Friday and Saturday. There is lots to do within the next 48 hours including a large number of shipments today and tomorrow.
Yesterday was a special day as we traveled to Boston to spend time with Matt, Chikae and one year old granddaugher Natsumi. It really is amazing how quickly babies transition to toddlers and find their mobility. Boston was teeming with tourists and locals due to the outstanding spring weather and today's Boston Marathon. I was back home by early evening and worked until 12:00am responding to the day's orders, processing more Bay State newps images and loading Birmingham Part III offerings on price list.
During the Boston visit, Matt and I took some time to chat about GFRC and its online presence. We agreed there were numerous opportunities to automate some of the website functions with the highest priority being the Open Registry. The Open Registry concept is an important aspect of the GFRC "collecting experience" but the manual update nature is now a constraint given my waking hours are consumed with the coin business. Reconstructing this function along with direct Want Lists and FRoF submissions into a database were explored. Bringing about a new user interface whereby individual collector can access via login/password is possible and locating a suitable HTML programmer to accomplish will be a near term goal with potential help from Matt.
We also discussed the Daily Blog as Matt was curious about the readership level and audience. Millennials (Generation Y) are keenly aware of online information access as a social medium so there was common interest and excellent dialogue as we walked the narrow Boston North End streets. It was a pleasant discussion that lead to the April 4 post concerning the Federal Reserve, the current ZIRP environment and loss of interest incomes by the Middle Class. I was interested in hearing Matt's perspective as a Millennial since my commentary is always from the Baby Boomer perspective. In response, Matt send along the following thoughts later in the day....thank you Matt for sharing.
Interesting blog article on April 4th. It is definitely a different economic world than it was only a decade ago. The power of businesses to limit costs through various avenues is having a long line of impacts. While the substitution concept within the inflation index has probably been used too aggressively, the ability of companies to reduce costs largely at the expense of the middle and lower classes is likely just as significant in the near flatlining of the inflation index. As you rightly noted, this has changed the old world notation of how to save.
One thought that has been on my mind is how leveling off population growth may be resetting the expectations of economic growth. With the exception of Africa, Middle East and southeast Asia, population growth is more or less flat or declining and given that economic growth is a mix of productivity, inflation, and consumer growth, there are no drivers left for economic growth. My thought is we are in the start of a long-term transition to a no growth/consolidation phase of the world - China and India can likely stall the full transition for another decade (I have really no idea what Africa is going to become). In this sense, unlike the old world, the available pie becomes smaller. Will the rich just hold on to their share and push out the middle/lower class further? I'm not entirely sure, but it will definitely introduce a new host of issues previously not considered.
Jim Poston's consignment will be arriving today as the express shipment was held up until Saturday due to some late arriving coins that Jim wished to be available for CSNS display. I will highlight Jim's consignment pieces in tomorrow's blog.
Please look for nice original 1843-O and 1846 dimes (today's featured coins) to be loaded on price lists during the day along with the remaining Birmingham Part III dimes. Given the size of current GFRC inventory, it is unlikely that I will be bringing raw coins to CSNS since booth space is limited to one corner table shared with W. David Perkins. If you wish to see certain raw coins at CSNS, then please send notice today or no later than 3:00pm tomorrow.
The featured coin(s) of the day are two nice original Seated dimes acquired at Bay State from an old time Maine dealer as mentioned in the April 18 blog. These are key dates for the With Drapery portion of the Seated dime date/mintmark set and always in demand by Dansco set collectors. They will be priced and added to price list shortly. First up is a sweet 1843-O with ample residual details and a healthy natural appearance. Immediately following is an important 1846 with even gray patina and in the perfect collector grade.
April 19, 2015
It is a lovely Maine morning with bright skies and no snow piles! Thank you for visiting the Blog today.
As most GFRC customers may have noticed, Saturday's primary task was posting Birmingham Part III offerings to the price lists and I did manage to get about 70% of the items online. Already those who asked for First Right of Refusal have responded and many of the new Birmingham dimes are on hold. This is great news as it saves me from the long task of writing individual item descriptions. The Birmingham dimes are clearly above average in quality and should be purchased for those seeking to build a long term advanced collection. I do wish to express my thanks to customers who used the FRoR method and immediately came forward with purchase decision or passes once the images and offer prices were online.
Along with loading Birmingham Seated dimes, all the newps from Bay State were photographed and already several have sold prior to reaching the price list. There are many collectors seeking top quality coins and when I am able to locate what is considered to be a "gem", then the inquiries mount quickly. For example, this wonderful 1876 20c residing in NGC AU58 holder received four inquiries based on the Blog posting. It sold in the matter of hours at a fair price.
Another marvelous Bay State purchase is this double sided rainbow toned 1858 Seated half residing in NGC AU58 holder. The toning patterns are attractive since the underlying surfaces are proof like. One unfrequently sees double sided toned seated coins in this preservation state. This piece has been offered to a GFRC want list customer and may be available or not...... I believe it is important to highlight some of the coins being handled at GFRC that are not reaching the price lists.
Along with the early type coin purchases at Bay State, time was spent building an MS64/MS65 grade Washington 25c set for old Shanghai friend and GFRC customer. The Shanghai market lacks top quality United States coins and I am pleased to be helping improve that situation with some hand picked gems.
In terms of what is coming next at GFRC.....after Central States show (W. David Perkins and I are at table 1710), an appointment is scheduled with Maine Collection owner to start evaluating complete Barber dime, quarter (no 1901-S) and half dollar sets in the same Wayte Raymond album pages as previously mentioned. My current plan is to take these to the GFRC price lists and start expanding into Barber coinage with these sets as the seed.
I was also contacted yesterday concerning the potential sale of a lot of Carson City Seated dollars and will be sharing more information as this opportunity matures.
Finally, the 1861-O Seated half dollar hoard (36 pieces total with 14 at TPG for grading) is next on my list of projects. I expect to be listing these pieces by mid May with all fully attributed to Randy Wiley numbers. Also, the hoard comes with multiple copies of the Gobrecht Journal #94 and #97 issues that contain Randy Wiley's famous articles on 1861-O half dollar die marriages and subsequent rarity estimates. By the way, in Gobrecht Journal issue #97, I published my award winning article on Liberty Seated Dimes - Top 100 Varieties Survey Results.
Have a wonderful Sunday and I will see you bright and early on Monday morning....
The featured coin of the day is a new offering from Birmingham Part III and is still available. This 1854 dime resides in old blue label PCGS holder and is graded MS64. One immediately notices the sharp strike and the light lavendar toning. The fuzzy reverse spot is wear on the PCGS holder and not on the coin. This is a wonderful dime and would be a wise type set selection at the offer price.
April 18, 2015
Day 2 of the Bay State show was lots of fun but the day sure proved to be hectic. I drove back to Malborough during early morning hours and timed the drive well to miss the I-495 traffic congestion. The show opened to the public upon arrival; there was a long line of attendees waiting to get onto the bourse floor and the rush was on. My first order of business was visiting the LSCC table hosted by Dennis Fortier and Todd M and expressed my gratitude for the time taken to present a strong club presence at the show. There were more nice original Seated halves in the LSCC case than on the bourse floor.....
Next order of business was settling on several purchased slabbed lots from the day before and starting to hunt down coins for Shanghai customers. While working on that task, an old time Maine dealer approached me. This individual has been in the business since I started collecting back in 1988...my 1840 With Drapery PCGS AU55 CAC 10c was purchased raw from him during 1989 at coin club meeting as background. This dealer is now 75 and decided it was time to start clearing out a bank box or two and offered me first shot at his raw Seated dime holdings and other items. We found a quiet place to work and proceeded to go through a double row 2x2 box with each coin net priced. This material was obviously fresh with strictly original gray surfaces that matches "the Gerry look.". So buy I did with the following pieces coming back to Maine...all are choice and perfect for Dansco set.
Bust 10c: 1821 F12, 1834 VF25, 1835 EF40
Seated 10c: 1838-O F12, 1843 VF35, 1843-O F15, 1846 VF20, 1847 F15, 1848 EF45, 1859-S VG10, 1860 VF20, 1862 VF30, 1864-S VG8, 1868 VF25, 1876-S Type II Rev VF30, 1890-S VF30
Next up was the transfer of 1843-O PCGS EF45 and 1862-S PCGS EF45 dimes sold from the Birmingham Collection to their new owner. Mr. TC was so pleased with the acquisition with that gleen in his eye after inspecting the 1843-O in hand. He introduced me to his wife and we settled in the lunch room for a lovely chat and discussed the fact that her husband has been buying Liberty Seated dimes fro me since the 1990s when I would sell research duplicates on eBay. After lunch, I visited the bourse floor to settle on lots and then drove back to Maine early enough to again avoid the I-495 evening rush hour congestion.
After dinner and a well deserved double scotch, I was back at it until 12:30am completing the Birmingham Part III consignment pricing recommendations and catching up on Bay State administrative stuff since CSNS is this coming week. Birmingham Part III offerings will be posted to price list today and I will honor the FRoR list for those individuals who expressed a desire for certain pieces.
Back to Bay State, following are more newps....you will note the common theme of strictly original coins with gray patina and decent eye appeal.
Bust 50c: 1811 NGC VG10 rich gun metal gray and pretty, 1821 PCGS EF45 rich original gray, 1824 NGC EDF40 choice original gray, 1839 NGC EF45 CAC original and excellent type coin possibility
Seated 50c: 1840 Rev 1839 PCGS EF45 light original gray, 1844 NGC VF35 original gray, 1858 NGC AU58 proof like with double sided rainbow toning and so choice; 1876-S PCGS AU50 original gray
Today's primary goals are to get the Birmingham Part III coins online and photograph all of the Bay State newps for early sales prior to leaving for CSNS mid week. Jim Poston's Seated half dollar consignment is due to arrive today along with a substantial world coin lot for grading at CSNS. With all of these task, I will consolidate packaging on Sunday and make one large shipment trip to the Post Office on Monday morning.
The featured coin of the day is from Birmingham Part II. Though 1844 dimes are frequently seen in lower circulated grades (as compared to mintage and much more elusive 1846 key date), in AU or better the 1844 is rare. This offering should garner careful consideration from those individuals working on an advanced set of Seated dimes.
April 17, 2015
The Bay State show is one of the oldest coin shows in the country with most of its tenure in downtown Boston. A few year ago, the show move to Malborough, MA which is near Worcester and the intersection of I-495 and I-90. The new venue is a Best Western hotel complex and the location is so much easier to access including free parking. The dealers are mostly from New England along with several from New York and Maryland.
Dealer setup was fast and furious as everyone was attempting to locate new inventory before the show opens on Friday morning. Overall, there continues to be a lack of better date or quality Seated coinage on bourse floors. Given the size of the Bay State show, one would expect to see a fair amount of Seated coinage but that was not the case. Sure, there are the old time dealers who stock "collector coins" that have one problem or the other and never seem to sell much of anything. During conversations with several wholesale and retail dealers, we concluded that the collectors are holding the better Seated material and availability will happen with those collectors decide to sell duplicates or entire collections. These coins are immediately absorbed once reaching the market as demand is much larger than supply.
My goal at Bay State was to continue seeking out choice silver type coins with bold strikes and original gray patina. This may sound simple, but the execution can be challenging....in essence, I am now buying top quality coins and paying the prices necessary to acquire. Following are the Bay State Day 1 newps;
Seated 10c: 1838 Small Stars PCGS AU53 choice light gray, 1841-O F-105 PCGS EF45, R5, shattered reverse of 1842-O with all the reverse die crack diagnostics (I did not cherry pick this one and had to pay a substantial premium to acquire as it belongs on GFRC price list and no where else.)
Seated 20c: 1876 NGC AU58 gem original (my favorite purchase so far)
Bust 25c: 1806 PCGS F15 CAC B-3 choice with eye appeal
Seated 25c: 1838 PCGS EF45 CAC choice original
Bust 50c: 1809 O-103 EF40 with old album rose/blue toning; 1825 O-114 EF45 choice original gray; 1826 O-106 choice original gun metal gray/blue; 1828 O-121 R3 AU50 choice original gray.
Tomorrow will bring more newps and those will be listed on Saturday's blog. Time to head to bed before driving back to Malborough in the morning.
The featured coin for Friday is one of the five 1845-O PCGS AU50 coins extant. The Birmingham Collection example was sold at Spring Baltimore show which allowed this example to come to market. Surfaces are strictly original. What sets this specimen apart from most others is the hammered strike and lovely gray patina. Yes, the asking price is above the guides but for choice early date New Orleans coinages, the guides are irrelevant as not well maintained.
April 16, 2015
I'm glad to see that everyone survived Tax Day and is back again. Seriously, thank you for stopping by each day for the latest Blog edition. Readership is consistently over 200 a day which is flattering but brings the challenge of being creative at 6:30 each morning.
Yesterday was a flurry of activities. Packaging and shipping in the morning, an oil change for the Toyota Avalon and then more photography at high noon. The entire afternoon was dedicated to Great Lakes and Birmingham Part III image processing and by 3:00pm I was loading the Great Lakes seated quarters on price list. Most of them are loaded with another four to go along with five Seated dimes and a nice charcoal gray 1821 Capped Bust dime. After dinner, the initial orders came in on the Great Lakes offerings including several customer/consignor phone calls. At 9:30pm, I called it a day and headed to the basement sound room and loaded Jefferson Airplane's Bless Its Little Pointed Head for a return to 1968 Fillmore East and West concert treat. If one carefully listens to Jefferson Airplane live recordings, it becomes obvious that the heart of the band was David Freiberg's powerful bass line which is so apparent on Rock Me Baby. While David renders his strong bass line, the balance of the band seemed to be in controlled chaos with vocals that lacked harmonies we grew to love from Crosby, Stills and Nash.
Today bring's the Bay State show setup and I will be attending as an early bird followed by a return on Friday to meet with several customers and hang at the LSCC table. I'm looking forward to a break from the office routine and working the bourse floor for a much needed change of pace.
It seems there is little inspiration this morning for a financial news dialogue and I don't dare delve into political topics but I'm sure readers understand my conservative bias. What disappoints me the most with our political process is the tranformation of news media into sound bite reporting focused on drama and less on substance. As I've outlined at the Blog, our country's financial issues are very complex and take considerable time to explore and comprehend. Financial engineering at the Federal Reserve, the FOMC and the banks lead to sophisticated solutions for managing a global economy. Presidential candidates will resort to slogans that fit the sound bite media or will use negative advertising through their PACs. Am I being too pessimistic this morning as only through my first cup of coffee?
Breaking news just in from this morning's Seeking Alpha headlines....Just a day after the ECB pledged to fulfill its €1Trillion bond-buying program, eurozone government borrowing costs slid to new lows on Thursday, while regional stocks took a step back from this week's multi-year peaks. "We see no end in sight to any of these trends," said Ciaran O'Hagan, rates strategist at Societe Generale in Paris. Germany's 10-year yield fell almost a basis point to 0.087% in early trade, while yields on all German government debt out to January 2024 were negative. Other notable levels include France's 30-year yield, which fell below 1%, and the yield on two-year Portuguese bonds, which is on its way below zero.
I really was not kidding about European negative interest rates due to massive ECB money printing in yesterday's blog.
The featured coin of the day just arrived to the price list yesterday. This lovely and most scarce 1871 Seated quarter resides in an old PCGS MS61 holder. The 1871 date has a meager mintage of 118,200 with few availabe in mint state. This offering has nice soft luster in hand which comes to life under bright light. (On Hold)
April 15, 2015
April 15 has arrived and time to settle with the "taxman". The Beatles (on Revolver) said it so well....
Let me tell you how it will be
There's one for you, nineteen for me
'Cause I'm the taxman, yeah, I'm the taxman
Should five per cent appear too small
Be thankful I don't take it all
'Cause I'm the taxman, yeah I'm the taxman
If you drive a car, I'll tax the street,
If you try to sit, I'll tax your seat.
If you get too cold I'll tax the heat,
If you take a walk, I'll tax your feet.
Another innovative form of daily life taxation soon to arrive to the United States is negative interest rates. The concept of negative interest rates is so counter to the normal human psyche whereby savers are rewarded with some amount of interest for "loaning" their monies to a bank or other party. Now thanks to innovations by the European financial engineers, the world is quickly moving toward negative interest rates whereby larger institutions must pay a bank or other party for the inconvenience of "holding" their money. You may think I am joking on tax day but please be assured that I'm completely serious....this is April 15 and not April 1.
You can read how European banks are already employing negative tax rates on short terms bonds. The online article is here. Sweden, Switzerland, Denmark and the European Central Bank all have negative short term interest rates. The European Central Bank (ECB) introduced negative interest rates last year and was immediately joined by Switzerland, Denmark at -0.75% and Sweden at -0.85%.
From the John Mauldin online article, "For the most part, individual savers don't have to pay for the privilege of leaving money in the bank, but institutional customers—even in the US—are getting nailed. JPMorgan Chase recently announced it will charge institutional clients as much as 5.5% on deposits, and several banks are already charging corporate clients to hold eurodollar deposits." The banking system must find methods to generate profits and recover their operating costs in an environment of Federal Reserve QE/ZIRP and the subsequent ECB copy cat actions this year.
Where this is all headed remains to be seen. But once again the middle class is at risk for more taxation that will be toxic on a long term basis but so difficult to understand and react as it unfolds in the short term. Holding physical fiat monies, gold or non trackable collectibles may be the only response. Holding land means taxation, dividend stocks means taxation also. The internet and electronic banking brought new efficiencies to modern life...but the dark side is that the taxman can see your life in intricate detail and develop innovative approachs for confiscating more of your hard earned incomes.
Back to GFRC news....shipments this morning and loading the Great Lakes consignment on price lists this afternoon while continuing to process Birmingham Part III images. I will be at Bay States show tomorrow afternoon and on Friday. Saturday brings the arrival of another significant consignment from Jim Poston (GFRC-Coins on eBay) right before Central States show.
The featured coin of the day is from the Great Lakes consignment and well illustrates the consistent gray patina that is found across all the Seated dimes and quarters from this collector. The 1872 Philadelphia 25c date is scarce in higher grades with a mintage of only 182,000. The soon to be offer example is a wonderful proof strike (mintage of 950) with light wear, choice original surfaces and graded PCGS PF55. The eye appeal is rock solid original. Please forgive the fact that image is fresh and uncropped.....priced at $400.
April 14, 2015
Good morning and welcome to another Blog edition. Thank you as always for visiting.
Yesterday saw the arrival of Birmingham Part III and a significant consignment from the Great Lakes area. The consignments were most complimentary. Birmingham Part III is a solid group of mint state Seated dimes with many gems in the lot that will be fun to load on the price list. The Great Lakes consignment is a strong array of better date Seated dimes and quarters in circulated grades with consistent original gray surfaces. As a result, there will be a host of new offerings by this weekend. Following are the contents of the Great Lakes consignment...these are all fresh to market and just back from PCGS. First Right of Refusal is in effect here so that all early requests are properly captured.
Bust 10c: 1821 PCGS VF25 JR-6 R2 original gray
Seated 10c: 1843-O PCGS F15, original gray, 1867-S PCGS VF30 F-102 original gray; 1873-S F-102 PCGS EF40 even gray, 1874-S PCGS F15 even gray, rotated reverse
Barber 10c: 1895-O PCGS VF30 Micro O, nice original gray
Seated 25c: 1847-O PCGS F12 real solid example of key date; 1850 PCGS VF30, very choice original; 1858-S PCGS G6 nice original, 1863 PCGS F12 choice original gray, 1865-S PCGS VG8 rare and choice original, 1869 PCGS G4 rare and choice gray, 1870 PCGS F15 original gray, 1872 PCGS PF55 excellent eye appeal
Now is a great time to be starting a Seated coinage collection as lots of new material is entering the market. One customer/consignor recently commented that the GFRC business model (consignments, collector to collector trading desk) has enabled more nice collector coins to reach the market since the sale risks are low and the online visibility is high. Collectors enjoy knowing that their coins are being placed with other collectors rather than entering the dealer network as often happens with auction sales.
Today brings John Frost to my Maine home for a short visit. John has assumed the LSCC Education Director position and we will be reviewing the LSCC website and discussing potential improvements. John is building a large number of Seated coinage presentations for usage by club members at their local club meeting or even assembled for a potential multi day class at the ANA's Summer Seminar in Colorado Springs. Lots of good stuff happening here and we wish to capture all of it on the LSCC website. After a visit with me, John drives to see Steve Crain to discuss Seated half dimes.
The Bay State show arrives on Thursday through Saturday. My plans are to attend dealer setup as an early bird on Thursday to rebuild recently sold inventory and then return on Friday to hang out at the LSCC club table and work the floor for items requested by my Shanghai customer base.
Speaking of China....have Blog readers been watching the Shanghai stock market for the past six months (index increasing from 2200 to yesterday's 4100). This market is a classic case of a financial bubble with the players rushing in with hot money. Just yesterday, the Seeking Alpha daily newsletter published the following report once again indicating that poor economic performance translate into higher stock prices due to anticipated government stimulus (aka money printing).......the term "investors" is used but "gamblers" may be more appropriate.
China's exports surprisingly tumbled in March while import shipments fell at their sharpest rate since the global financial crisis, setting a poor precursor to the country's closely-watched Q1 GDP figure due on Wednesday. According to official data, Chinese exports plunged 15% and imports fell 12.7% last month in dollar terms as weak demand and the impact of the lunar new year weighed heavily on Chinese factories. The soft trade figures sent Chinese shares higher, with the Shanghai Composite closing up 2.2%, as investors bet on more stimulus from Beijing.
I will leave you on this note....the featured coin of the day is a wonderful 1832 Capped Bust half dime residing in NGC AU55 CAC holder and from the Highland collection. This piece offers strictly original surfaces that are covered with light gray patina. Under bright light, the back ground luster springs to life. Surfaces are completely blemish free. The LM-13 variety is rated as R3 and considered scarce. Diagnostics include the filled lower loop of the 8 digit as the second time this obverse is used while the reverse has been lapped and features weak legend and the "5" digit in 5C.
April 13, 2015
Welcome to the dreaded Federal tax week as April 15 arrives on Wednesday. Is it my imagination or is the tax/health care cost burden climbing for the middle class? Let's hold this thought for another day.....
As for GFRC news, more coins were added to the World Coin list and also a single love token with old style ironing pictorial. Maine home spring chores took the bulk of my time on Sunday so once again, I worked late into the evening to continue processing images and adding coins.
Response to yesterday's posting of Birmingham Part III offerings was strong with five customers and over 40% of the listed pieces now under First Right of Refusal (FRoR) in my new database. I expect to have prices and images ready by this coming weekend given the Bay State show on Thursday evening and Friday. One person emailed and asked about the FRoR methodology so best that I clarify the GFRC approach for allocating important coins that are in strong demand. Fairness towards all GFRC customers is paramount so the FRoR approach is use to ensure that everyone has a chance to acquire top coins. Some dealers may use Mail Bid sales to level the playing field, while other dealers may first offer rare coins to their top customers. The GFRC approach is a combination of Want List servicing and FRoR.
Since I write a daily blog, then GFRC is in unique position to publish the contents of new consignments and acquisitions real time. Loyal blog readers have the opportunity to see new coins as they arrive and make reservations on those of interests. Want lists are reviewed as a first step for determining potential customers followed by blog posting and collecting of FRoR requests. Requests are made by email and the time stamp on the email is used for setting the offer sequence once prices and images are available. Bottomline....active GFRC customers who stop by at the Blog on a daily basis are rewarded with acquisition news and the best chance to obtain quality coins for their collections. You have my commitment that consignment price setting is an independent exercise based on the attributes of the coin (including rarity) and is not influenced by RFoR demand. Once prices are agreed to with the consignor, then GFRC customers are notified for a purchase decision. Up until the March Baltimore show, this process had been informal but as GFRC major offerings grow, a policy for allocating coins was necessary to ensure that I don't over promise and disappoint customers.
Another ongoing challenge facing coin dealers is setting the correct retail price point for their offerings. My philosophy is to research as much market data as possible before setting an asking price and arriving at a "fair price" that will not need subsequent discounting to make a sale. This approach is different than those dealers who may use a pricing adder on top of typical retail. The belief that discounting is part of pricing negotiations is a valid business approach especially throughout Asia. If a collector really wants the coin, then he may need to pay a pricing adder. If the coin does not sell in a reasonable time, then the pricing adder can be removed so the coin appears to be "a deal" due to the pricing reduction. The use of pricing adders and discounting is complex and time consuming to manage. It also can leave a few collectors buried in coins as having paid too strong a premium. At GFRC, I do not believe in using pricing adders with the plan for later discounting. My offer prices are well researched and I attempt to set fair retail prices at the point of initial offering. This philosophy results from spending more years as a collector than dealer in the hobby. Most of my collector purchases were with dealers who did not use the pricing adder/discount approach as I disliked the feeling of paying strong premiums or having to play the guessing game on what was fair market pricing and negotiate towards that price point...... Simple is beautiful when it comes to numismatic purchases and I strive to keep things simple for GFRC customers.
There are several featured coins of the day..both are desirable Seated dimes for the advanced collector. The first is an 1863-S dime that was in the Gerry Fortin Collection years ago and sold when I purchased the Frog Run Farm NGC63 example (now in PCGS64 Gold CAC holder). This 1863-S was in my collection for simple reason....bold strike and nice original toning though a circulated piece...now it has returned home to be sold again. Later this afternoon, this example will be posted to price list.
The second is an 1872 F-115 Doubed Die Reverse dime with choice original gray surfaces and grading full EF40. Once does not often see doubled die reverse (180 degree die doubling) at this grade level and preservation state. This piece has been on the price list for awhile and needs to find a new home in an advanced varieties set. I believe it is fairly priced, but an offer would be welcomed if you might be interested at a lower price.
April 12, 2015
I'm enjoying a quiet Sunday sunny morning as this edition of the Blog is written. Sunny skies are overdue and the next few days are forecasted to have clear skies and temperatures in the low 60s. My 1993 Miata is sitting in the garage after a long winter and calling me......this little gem is just a few more years from qualifying for antique car status whereby I can avoid paying registration fees.
Today's primary chore is the road sand pickup ritual. We live on the side of a hill and any delays with removing the road sand means it will flow down the driveway and onto the lawn during heavy rains. So best to be scrapping and brushing today to prevent a more difficult job in a few weeks.
In terms of numismatics....the next two weeks will be busy with the Bay State show in Malborough, MA this Thurs/Friday followed by Central States the following week. I'm planning to be an early bird at the Bay State show and will probably stay over into Friday session.
As mentioned yesterday, Birmingham Part III is in transit and will become a Central States show highlight. Following are the Part III selections and I'm looking forward to having these in hand on Tuesday. After catalogging and selling a substantial portion of Birmingham Part I and Part II dimes, GFRC customers appreciate and respect the care by which the Birmingham collection was assembled. I'm sure there will be some gems or great varieties in the Part III group. None of these dimes have been through CAC evaluation and with Central States so close, there is no time for a submissions. Instead, these dimes will be featured at Central States and those that do not sell will be sent on for CAC review.
Please email me with potential interests and your requests will be captured in sequential order on new First Right of Refusal spreadsheet. (11:35am update; four people have already made requests and those are captured in sequential order of email time stamp....don't delay if some of these pieces might be for you)
Birmingham Part III Seated Dimes:. 1837 NGC MS62 Sm. Date; 1848 PCGS MS63, 1849 PCGS MS63; 1854 PCGS MS64; 1857 PCGS MS64; 1860-O PCGS VF20; 1869 PCGS PF64; 1870 PCGS MS64; 1871 PCGS MS63, 1872 PCGS MS63; 1873 Open 3 PCGS MS61; 1873-S PCGS MS63, 1874 Arrows PCGS MS64; 1874-S PCGS MS62; 1875-S IW PCGS MS63; 1875-S BW PCGS MS64; 1876 PCGS MS66; 1878 PCGS MS64; 1881 PCGS PF60, 1885 NGC PF64; 1885 PCGS MS65; 1886 PCGS MS65; 1887 PCGS MS65; 1888 PCGS MS66; 1888 PCGS MS65; 1890-S PCGS MS64; 1891 PCGS MS65, 1891-S PCGS MS64
If Birmingham news was not enough, another exciting consignment will arrive on Monday/Tuesday. This consignment is from an good friend who helped launch GFRC back in mid 2013 with a large Seated quarter seed consignment. He indicates this 20 piece consignment will have a strong selection of better date circulated Seated coinage and a few surprises.
Finally, the World Coin lot out for grading at NGC should be arriving also during the Monday/Tuesday timeframe. An example from this Baltimore consignment is this previously PCGS graded 1754 Portugal 4 Escudos belonging to Robert Clive (The Clive of India) and recovered from the Doddington shipwreck. Poor Robert lost his treasure chest of 830 gold pieces during the Doddington shipwreck off of the South Africa coast during 1755 but he survived the journey while sailing on the Stretham to India. This mint state piece contains 14.3 grams of gold.
The featured coin of the day is a gem circulated 1865 Seated quarter residing in a NGC Good 6 holder. How often does one see a Seated coin designated Good 6 with such original gray surfaces, no marks whatsoever and bold eye appeal? I really enjoyed working with this offering and believe someone else might like owning it too! (On Hold)
April 11, 2015
Good Morning dear blog readers and thanks for visiting....lots of great news this morning! Maine weather finally shifts into Spring mode with highs climbing into the 60s today.
I was quite pleased when an email arrived yesterday morning from the Birmingham Collection owner. Following is an excerpt from his email.
Gerry - I see the strong sales are continuing w/ one or two more of my coins on hold. I really do appreciate your hard work and know I made the correct decision in going w/ you over the auction houses. I know that I said my last consignment would be the end, but would you be interested in taking the remainder of my coins? It's 28 dimes in total.
We continued to correspond and Birmingham sent along the list of 28 mint state Seated dimes and indicated they were shipping immediately to catch the Central States show opportunity. The incremental 28 pieces will be listed in tomorrow's blog along with having the FRoR system ready to capture names of those who wish to reserve select pieces (pending images and prices).
Next up was a new customer phone call mid morning. This individual has been a Seated coinage collector for years and also an LSCC member since the early 1970s. We enjoyed a lovely chat and then he makes an offer on two rare Liberty Seated quarter varieties; 1840-O WD Large PCGS EF Details and 1842-O Small Date PCGS AU Details. Those offers were accepted and these are now on hold.
Immediately following this phone call, Jim Poston calls to catch up and indicates a shipment is forthcoming next week. This shipment will feature more attractive seated halves and a large lot of choice original world coins from the 1600-1700 timeframe that will first be sent to NGC certification (at CSNS) and subsequent consignment to ramp up World Coin price list.
As the day progressed, more Baltimore show coins were loaded on price lists and this task is nearly finished. Since the GFRC physical inventory was under reasonable control, I opened two more consignments that had been waiting in queue. After reviewing the consignments, I spoke with both owners and we are ready to start photographing today, set asking prices and load on price list by Monday. The combined consignments including the following pieces;
Bust 25c: 1828 25/50c PCGS G6 light gray and honest wear
Seated 25c: 1850 VF25 even gray, 1865 original F15; 1866 NGC VF30 light gray, 1884 F15 old clean, retoned.
Seated 50c: 1848-O VF35 choice original gray; 1858 EF45 choice original gray......these two pieces are a test offering to align quality expectations with more to come from bank vault.
I have not said much about World Coins recently, but did take in an important consignment at Baltimore that immediately went to NGC for grading. Those results are in and following is what is due to arrive early next week as new World Coin offerings.
Portugal: Gold 1754 4 Escudos, Ex. Clive of India - PCGS UNC Details, Shipwreck recovery....much more to follow on this lovely piece.
Central America Republic: 1846/2NG AE, 8 Reales NGC AU55 and choice
Spain: 1808 Gerona, 1 Duro NGC EF40, very original
Netherlands: 1828 1 Ducat NGC AU55
Italy: 1488-1494 Naples Ferdinando I, 1 Coronato NGC MS63
Denmark: 1873 HC, 20 Kronos NGC MS65
The featured coin of the day is a choice original 1840-O Seated half residing in PCGS EF45 holder. It is the Wiley-Bugert 3 variety with shattered reverse and pie shaped die cracks. The surfaces are covered with attractive gun metal gray/blue patina. This piece belongs in an advanced collection and should not last long.
April 10, 2015
Another Friday arrives....thank you for visiting with me this morning.
When any business grows, the owner(s) need to make decisions about adding staff or improving efficiencies to accomplish more work with the same resources. With years in the semiconductor industry including managing chip manufacturing and testing facilities, learning how to increase workforce efficiencies was paramount since the constant reduction in electronic gadget prices translated into 15% year on year cost reduction goals. This is a brutal industry and I am so pleased to have left it behind in early 2013. Many of the learning however, are being applied while building the GFRC business since I am a staff of one and must handle all imaginable tasks. GFRC is blessed with a great customer base and many quiet supporters and ensuring that my service is responsive and error free is a personal challenge.
One of the new issues that arose as a results of a large inventory increase after the Baltimore show consignment was tracking who I promised First Right of Refusal (FRoR) on coins. These were coins mentioned in the Blog prior to being posted in the price list. Since the Blog has a substantial readership, I received many requests for FRoR and believed that my memory was capable of keeping those requests in order. This assumption turned out to be less than 100% accurate and I managed to forget FRoR on two coins this time around. After humbling apologies, I am instituting a new business process that will document each FRoR request in a spreadsheet that can easily be referred to. Integrating Want Lists servicing and FRoR will happen this weekend. This change will ensure smooth customer service after the Bay State buying show and Central States. My apologies go out to the two customers on FRoR issues and appreciate the understanding that the operating system has been improved.
Another issue to discuss this morning is the Open Registry. Submissions into the Open Registry continue and the backlog is growing. This is a manual system and takes considerable time to process. In the past, I would accomplish the entries on a first come first out (FIFO) basis but with the growing backlog, I am changing the loading priority to active GFRC customers first and those who are not active customers as second priority. The Open Registry has transformed from a pure hobby initiative to a supporting function at the GFRC "collecting experience" and with a staff of one, I must set priorties.
Yesterday brought a host of new coins to the price lists and I finally called it a day at 9:00pm with some residual pieces being posted this morning. The ordeal of moving the business from Florida to Maine will be completed as of today. There are several unopened consignment boxes plus a large World Coin lot waiting for my attention, one consignment is in transit and Jim Poston (GFRC-Coins subsidiary) just emailed that he is also sending another large consignment the middle of next week. The bottomline is that GFRC customers will be treated to a constant flow of new material over the next few weeks.
The featured coin of the day is a special offering as few ever come to market. The 1840-O With Drapery Large O quarter is a recognized rarity among the Liberty Seated collecting community and I have the pleasure of offering an example that resides in new PCGS holder and is graded EF Details, Cleaning. In my opinion, this example is borderline with respect to the PCGS cleaning designation. The base surfaces are an even steel gray which are covered with rose/gold patina that probably resulted from sitting in a paper envelope for years. If this piece was cleaned, then it occurred years ago with some mild field reflectivity but no hairlines. Device details are well struck for the variety (reverse has several die bulges) and on a strict wear basis, I would be at EF45 grade level. Remember that this is an R6 variety. I believe the asking price is reasonable given the PCGS designation.
April 9, 2015
Good morning from snowy Maine as we have a few inches on the ground and 28F temperature. This appears to be the last significant cold spell as temperatures are forecasted to be in the 60s by early next week. As always, thank you for visiting with me this morning.
Is the market for better date/better quality coins active at this time? I believe so based on GFRC April sales and a disappointing visit to my favorite local coin shop. Since having to drive to Lewiston to retrieve a tax return, it was decided to head north and visit my preferred Maine supplier of nice bust and seated raw coins. The trip resulted in complete disappointment....the owner's inventory had been well picked over during the past month and I walked out with a $10 purchase as compared to a typical $2000 check. The owner reported the local market to be very active and early type coins are selling as quickly as they can be purchased. His comments match those of Baltimore show dealers who sold at the wholesale level and reported strong show results. Conclusion is that the numismatic market is alive and well and demand for earlier series is strong at this time.
Closer to home at GFRC, I've enjoyed a strong start to April. A quick review of individual price lists will reveal numerous coins marked on hold. Yesterday, seven of the new Walking Liberty halves posted on Tuesday are already sold. GFRC customers are vigilant and monitor the Daily Blog and price lists seeking first access to new additions. My challenge is to keep the operational aspect of the business flowing to balance sales with more new purchases or significant consignments. Now that Diane is back to her paint business, I am operating GFRC on a solo basis and clearly miss the fine support that was in place while in Florida.
All week, I have been trying to load the balance of the Baltimore newps and consignments onto price lists and today will be the day...I promise! The images are fully processed and once I can get through the morning's packing and shipment cycle, the rest of the day will be dedicated to completing this task. There are lots of great and interesting coins to be offered including nice original semi key date Seated quarters in PCGS/NGC AG3 and an 1866 $1 graded NGC G4 that is strictly original and problem free. At GFRC, we offer a broad range of early type coins with one common denominator....quality! Some collectors with substantial means can collect at the mint state level while others choose to collect in lower grades. I enjoy working with all customers and do my best to provide fast service to everyone. Following are two Baltimore selections that indicated the diversity of coins being handled...these wil be loaded on price list next.
First up is a pretty 1867 Seated quarter residing in old PCGS PF63 holder. This lovely quarter is conservatively graded as the fields are hairline free and toning is attractive in hand and spectacular under bright light due to highly reflective field. Mintage is a low 625 pieces. The old PCGS holder does have a fair amount of lines, none of which are on the coin. The PF63 grade probably results from a reverse field mark between (S)TATES and the left scroll.
Next is a rare 1873 No Arrows Closed 3 quarter graded Good 4 by PCGS. I've studied the date position with respect to the underlying denticles and do believe this piece to be an elusive business strike as indicated on the PCGS label. This piece has been freshly graded. Briggs rates the 1873 No Arrows Closed 3 as an R5 in G/VG so don't miss this opportunity.
One a final note, I will be heading to the bank vault later this afternoon to retrieve several Seated dimes that were purchased directly from my collection by M.A. and D.M. I have not forgotten you and have allocated the time today to locate and ship these.
Thanks for visiting with me each day!.
April 8, 2015
Welcome to another Blog edition and thank you for stopping by on this mid week morning.
Yesterday was a busy day with much being accomplished. The best news of the day came at the monthly LSCC leadership team conference call; our club membership level stands at 630 after the annual dues renewal process and some excellent recruiting results by the Regional team during March. This membership level is unprecedented and bodes well for achieving the elusive 700 member goal by end of 2015. Dennis Fortier and John Frost are aggressively expanding our regional meeting show presence including a new West Coast initiative. Carl Feldman quietly works to greet each new club member with a welcome package and also an initial phone call. Also during the conference call, preliminary discussion started on potential LSCC convention (within 3 years) and hosting a multi-day Seated coinage class at the ANA summer seminar during 2016. One has to remember that the LSCC is staffed with passionate volunteers who give so freely of their time. Expanding club programs will require more resources, especially assembling and coordinating a group of volunteers to bring about an LSCC convention. Might this be a role for a retired professional who wishes to join our LSCC leadership team?
GFRC sales during the first week of April are strong as prices were announced for the major Baltimore show consignment and those who requested first rights of refusal made their purchase decisions. The concept of facilitated trading among collectors is working well at GFRC and validates that major collections can be dispersed into the numismatic community without using an auction house. Sales of the Dallas and Birmingham collections are moving towards closure and I will be seeking other major collections in the upcoming months. Please contact me to discuss a potential offering as the summer ANA show is only several months away.
Just this morning, I received an email from a long term West Coast customer and consignor. He has been so wrapped up with his professional career of late and has managed to holder most of his raw Seated dimes through PCGS and the blue boxes are just piling up in his home office. His email was a call for help and discussions are forthcoming about a consignment/purchase. Another email arrived this morning concerning a separate 20-30 piece Seated dime and quarter consignment from an individual who was instrumental in helping stock GFRC with Seated quarter inventory during mid 2013 start up phase.
In yesterday's blog, the contents of a Walking Liberty half dollar consignment were listed; these lovely halves were quickly posted without images and already one piece is on hold. If Maine weather can deliver a chilly but sunny day, then there pieces will be photographed today along with the 1842 F-103b seated dime previously mentioned in an early blog.
Finally, I worked until 12:00am to complete the processing of the remaining Baltimore show images and will continue loading more newps and consignment pieces today. Included in this group will be a run of semi key date San Francisco quarters in AG3, all residing in PCGS or NGC holders. One never knows what might appear on the GFRC price lists as I strive to service a broad range of collectors.
As a reminder, the Central States show is coming up in late April. GFRC and W. David Perkins are teaming up once again and will be at table 1710 with our usual offering of quality bust and seated coinage. This will be the first time that I attend the CSNS show as a collector or dealer.
The featured coin of the day is double sided rainbow toner Morgan dollar purchased over the table at the Baltimore show. This lovely 1887 piece resides in a PCGS MS65 holder with colorful natural toning over bold luster. The toning is much more transparent in hand than that illustrated below.
April 7, 2015
Good morning everyone and welcome to another edition of the Blog. This is one particularly sweet as yesterday brought a significant downsizing event.
As close friends know, we've had a lake front property on the market for four years and yesterday, the property changed ownership. Little has been said about the pending sale in the Blog as I am quite superstitious after six years in China and believed silence was the best approach to ensure the sale came to closure. But within today's Blog, there is an ability to mention the lifting of this property maintenance burden off of our shoulders. The sale event also indicates the start of life's downsizing process and this thought well connects to prior blogs about consumerism and also the eventual need to disposition numismatic collections and the amount of time and effort required to secure a best possible outcome.
The Baby Boomer generation has been well known to be staunch consumers. This fact was realized on Sunday when preparing the lake front property for transfer. The deal was an "as is" sale with the contents to stay other than personal items. During the clean up process, it was difficult to leave brand new tools or old cooking wedding gifts or the like behind but resolution came when we asked "why do we need this item and where will it be stored in the future?" The realization that a downsizing process was underway set it and we were able to walk away from items that had been moved to the lakefront property due to incremental storage space. Like other Baby Boomers, I worked during a time of strong economic growth and excellent job opportunities and as a result, acquired a significant amount of material items including several properties, their contents, a large coin collection and yes, a massive model rocket collection on top of that. But now that I am approaching retirement age, one has to seriously consider why all of these items remain important and then develop a long term disposition strategy. The idea of simply passing the burden to the next generation may not be viable as personal values about consuming have changed due to challenging economic conditions, less attractive home ownership and the overall erosion of the Middle Class. I'm not quite sure where this thought process is heading this morning....rather the lake front property sale is a wake up call that made me realize the need to start carefully planning the disposition of other accumulated items over the next 10-15 years. My priorities are changing towards more volunteerism coupled with growing the GFRC business and time moves along much faster than anticipated. More will be forthcoming on this topic in future blogs as the tie to the disposition of numismatic collections is evident. Please see the March 31 Blog to catch my point.
Moving back to GFRC news, several new consignments arrived yesterday on top of the residual Baltimore coins still needing to be posted. I've opened the first promised consignment and I am so pleased to announce the broadening of GFRC into quality 20th Century coinage. This consignment contains a nice selection of mint state Walking Liberty halves all recently graded at PCGS except for the 1941-D and 1946-S, which reside in OGH MS66 holders. The lot is as follows and I'm sure that my Shanghai customers will be taking note of this new offering.
1937-S PCGS64, 1938 PCGS64, 1938-D PCGS64, 1939 PCGS65, 1939-D PCGS66, 1939-S PCGS MS64+, 1941-D PCGS66 OGH, 1945-S PCGS65, 1946-S PCGS66 OGH, 1947 PCGS65 and 1947-D PCGS65.
Today's priorities include catching up on the balance of customer shipments after the Florida to Maine transition, loading the rest of the Baltimore acquisitions and consignment prices and finally, an LSCC monthly leadership team meeting this evening.
The featured coin of the day is from the World Coin price list. This 1824M Central American Republic 1 Real graded NGC AU55 is a little gem with old album radial toning. Many world collectors pursue Central American Republic (CAR) pieces as quite rare but still affordable. The CAR was a 15 year confederation of Guatemala, Honduras, El Salvador, Nicaragua and Costa Rica during the 1823 to 1839 time period. The Republic's coinage only takes a little over two pages in the Krause 1801-1900 World Catalog and makes for an interesting foreign coin silver and/or gold type set challenge. This lovely example would be an excellent starting point.
April 6, 2015
Welcome to the first full work week in April and thank you for visiting with me this morning. Please remember that April 15 is approaching quickly. Some tax accountants are indicating this tax season is especially difficult due to health care subsidies and income threshold. I'm sure there are cases of individuals claiming their incomes would allow for health care insurance subsidies only to learn that their adjusted income level was above the subsidy threshold and a sizable refund is due to the government rather than the other way around. Isn't financial engineering wonderful?
The GFRC business will have the bulk of my attention this week with lots of new coins on pricelist, checks sent out to consignors and of course, the routine order shipping. A pricing proposal was prepared for the large consignment taken in at Baltimore and I'm waiting for the consignor to approve and inform those who asked for first right of refusal. I am also heading to the local coin shops this week for over due visits and inventory reviews. Finally, I speak with the Maine Collection owner to start the disposition of large cent and half cent sets housed in more Wayte Raymond album pages. Once these are completed, the focus will shift to complete Barber 10c, 25c and 50c sets (only the 1901-S 25c is missing).
The Central States Numismatic convention show arrives towards the end of April and once again, GFRC and W. David Perkins will be sharing a corner table. Stay tuned for more information on this show. Immediately following CSNS is a local Maine show on May 3 which I will also be attending as a buyer.
I very pleased to announce the purchase of an original 1842 F-103b dime grading solid VF30. For those not familiar with the F-103b variety, following are the web-book plate coin images. This late die state features two rims cuds; the first at 10:00 and the elusive second at 4:00. I have seen a total of four examples since the early 1990s including the specimen purchased last week. The plate coin was purchased at the American Numismatic Rarities' Frog Run Collection sale during November 2004. Frank Van Valen noted the raw F-103b piece among the Frog Run consignment and ensured it was listed as a separate auction lot after reading my just released Seated dime web-book. I clearly remember having to battle Liz Coggin (JJ Teaparty) at the floor auction and paying a considerable $750 when the dust settled. The VF30 example will be photographed and listed shortly.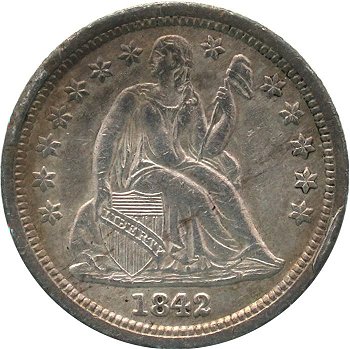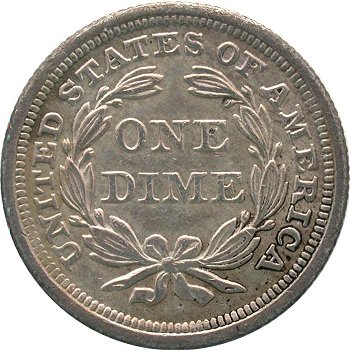 In consignment news, a GFRC customer is sending a lot of Walking Liberty halves that are just back from TPG grading. This will help improve the inventory position for that price list and the support is sincerely appreciated. There is still time to consign coins for the Central States show and please do not hesitate to contact me this week to discuss what you might have to offer. The GFRC customer base continues to grow and the demand for quality coins is evident by the record March sales.
The featured coin for today is the finest known example (to me) of the 1841-O F-108a variety. This is probably the ugliest 1841/1842 variety and termination die state produced at the New Orleans mint. These images were also added to the web-book last evening to document fact that a mint state example does exist. Surfaces are wonderfully original with mostly uniform gold/rose across obverse and more of a mottled toning on the reverse. The die relief after being excessively lapped is very shallow and little remains of the reverse devices. Few examples are known in AU or better and if still actively collecting, then this specimen would be staying in Maine. This piece has lovely frost on the main devices and has decent luster under bright light. Advanced Seated dime variety collectors should carefully consider this opportunity.
April 5, 2015
Good morning everyone and thank you for stopping by at the Blog on Easter morning. Southern Maine is a warm 20F at 7:00am and quite a mental and physical adjustment as compared to living in Florida. The woodstove has been burning non stop since arriving back on Thursday.
I'm still in a GFRC catch up mode as made substantial progress in loading new coins on price list yesterday. The transition from Florida to Maine took a full four days of productive time out of my week and attempting to climb out of this hole has been challenging. Some of you have pricing inquiries for Baltimore coins listed without prices; these are from a significant consignment and will be addressed in the next 36 hours as my day is already booked with a family Easter lunch and then clearing out personal items from our lakefront home. Yes, this property is under contract and the closing is on Monday. So the balance of today is consumed with driving to the property with two vehicles to move out important items. Life is not dull....seriously, I do wish to thank GFRC customers for your understanding. You have many choices for securing rare coins and ask for patience as I work through a host of other priorities.
Yesterday was a productive GFRC day as I did manage to process another 20 or so pieces and many reached the price list before calling it a day at 8:30pm. I've recreated the Florida inventory and order processing system here which is another positive step. By middle of this coming week, I expect to be completely settled in and back to steady state operating mode. Consignment checks and orders will start shipping on Monday.
Given the remaining workload and limited time today, it is best that I keep today's Blog short and focus on preparing retail pricing proposals back to consignors before heading out for Easter lunch.
The featured coin of the day is a lovely 1806 O-120 draped bust half residing in 2013 generation PCGS Fine 15 holder. This is a Baltimore show newps. In hand, the surfaces are light to medium gray with a hint of coloring. Under bright is when this piece is a joy to view. The obverse offers a light blue center while the rim area surround stars and LIBERTY turns to rose/gold. The reverse is similar but the blue center expands into the legend leaving only the rim a light gold.
April 4, 2015
Happy Easter weekend to loyal Blog readers! As always, thank you for stopping by and reading the latest GFRC news and other ramblings.
Friday was a good day as the GFRC business is mostly unpacked, the website is ungoing price list updates and I was able to clear out snow for access to front door and do some grocery shopping. However, I already miss the convenience of Florida life including the constant sunshine and ease for conducting outdoor photography. Back in Maine, the weekend will be cloudy with rain and dropping temperatures. Anticipating the poor Maine weather, I photographed all Baltimore new inventory while in Florida and simply need to process here.
Regardless of the Florida to Maine transition, sales continue to be strong with the 1877-CC NGC MS63 quarter and 1863-S PCGS MS65 CAC half dime selling yesterday. Collectors strive to acquire top quality coins given their beauty and solid financial value upon resale. March turned out to be an incredible sales month but to continue offering top quality coins, hard work and a bit of good fortune is necessary. If you have quality Bust and/or Seated duplicates that you would like to convert to cash or consignment credits, then please do not hesitate to contact me. The GFRC customer base is expanding rapidly and I need help to satisfy want lists.
For the balance of today's blog, I would like to once again discuss the plight of the American middle class by comparing our situation to the old folk warning about the frog and boiling water. If you throw a frog into boiling water, he will immediately jump out. But if you put a frog in a pan of cold water and raise the temperature ever so slowly, the gradual warming will keep the frog happy and slowly have him doze off. You know the outcome, the frog will eventually cook to death, without ever waking up. I believe this is the exact approach being employed against the middle class by the Federal Reserve and those top 1% individuals who control the majority of United States business and infrastructure. Please read on....
The Federal Reserve Act of 1913 established the Federal Reserve central bank as a source of liquidity for the United States banking system. Those of you who collect paper money will remember the 12 separate regional banks located throughout the country. However, the Banking Act of 1935 called for further changes in the Fed's structure, including the creation of the Federal Open Market Committee (FOMC) as a separate legal entity. Following World War II, the Employment Act added the goal of promising maximum employment to the list of the Fed's responsibilities. In 1956 the Bank Holding Company Act named the Federal Reserve as the regulator of bank holding companies owning more than one bank, and in 1978 the Humphrey-Hawkins Act required the Federal Reserve chairperson to report to Congress twice annually on monetary policy goals and objectives. Our country has surrendered economic policy control to unelected officials who have 14 year terms. These economic experts originate from the financial (banking) industry and have a vested interest and ties to the banking sector. The banking sector has undergone radical changes in recent years with financially engineered derivatives and lightning speed computerized trading. All of these changes are beyond the capabilities of the average middle class person to comprehend much to our detriment.
The Great Recession of 2008 (a banking industry caused event) brought about an unprecedented change in Federal Reserve policies including Zero Interest Rate Policy (ZIRP) and Quantitative Easing (QE) that were established to save the United States and global economy from a depression. In reality the Fed saved the banking system with free money and debt at the long term expense of the American middle class. Since 2008 and with ZIRP, Americans have lost a staggering amount of income previously associated with normal interest rates of 4-7%. Retirement planners and those who manage large pension funds would use rate of return models that assumed yields in the 6%-8% range. But today, the middle class has lost this income while the United States government continues to under report inflation and local governments find creative approaches for raising the tax burden to maintian its stucture and employee pension programs. The following graph published yesterday by John Mauldin (Mauldin Economic - Outside the Box newsletter) well illustrates how the Federal Reserve has engineered a windfall for the banks.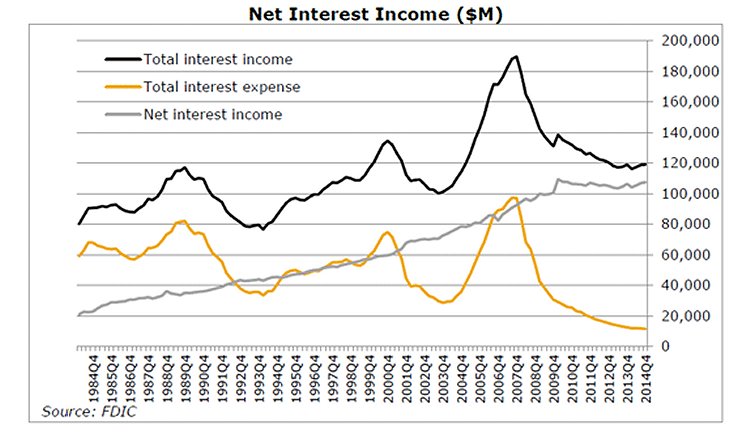 Note the growing gap for the banking sector (as repored by the FDIC) between total interest income and total interest expense (interest paid out). The Q4 2014 difference is ~ $100 Billion. These monies were traditional paid out to savers and retired individuals. Not today, as these monies are held within the banking sector and employed for stock market growth and other financial products. There is speculation that the Federal Reserve will raise interest rates during 2015. If so, the banking system's current windfall will be impacted....I will leave this topic here and let Daily Blog readers ponder a bit....might the Fed's ZIRP actually be causing price deflation?
The featured coin of the day is a choice original 1831 Capped Bust dime that I took in trade at the Baltimore show. This piece was purchased by former owner in NGC AU55 holder, cracked out and placed in a Dansco type set album. He provided the NGC label with the coin. Surfaces retain substantial luster along with light gray patina. The variety is JR-1 and is common. This dime would be an ideal type coin for another collector building a Dansco type set.
April 3, 2015
Greetings from GFRC's Raymond, Maine location and thank you for visiting this morning. After a long two day drive, Diane, Buddy and I arrived home around 8:00pm. The house survived the harsh winter intact and there is still a substantial amount of plowed snow in the driveway. The amount of road sand that flowed into the driveway is considerable and a mess. One of today's tasks is to shovel the snow bank blocking our front door so that Doug, the mailman, can deliver packages. When living in Maine, starting the trusty wood stove is paramount until late April. Our stove is a key part of the home's passive solar/super insulated design and is used to warm the masonry. This morning, the house is already starting to feel comfortable.
Today's primary tasks are to debug why the new Dell laptop won't connect to home router (I miss the simplicity of Windows XP), then unpack the GFRC business including all the double row slabbed and raw boxes along with files and other necessary items. If all goes smoothly this morning, I still have another 50 or so Baltimore show purchases and consignments to load on price list. Also an important task to be completed tomorrow is the settlement of consignor payments after strong March sales month...March brought about a new revenue record and number of coins sold (a sincere thank you to GFRC customers and consignors.) Many consignors have sales balances on file and are due payments. Consignment tally spreadsheets will be sent via email and checks will be mailed on Saturday or Monday.
A number of customers have made inquiries on Baltimore show acquisitions; these will be responded to today.
Today's blog will be short as lots of work and catching up to do. The featured coin of the day is a wonderful 1877-CC seated quarter residing in very early NGC fatty holder with the embossed NGC logo on the reverse. This quarter has incredible eye appeal for the assigned MS63 grade and walked up to my Baltimore show table. The decision to buy this lovely quarter was made quickly. A full description will be added today; in the meantime, I hope the images are worth a 1000 words.....enjoy! (On Hold)
April 1-2, 2015
Thanks to all GFRC customers and friends for checking in today. I'm in transit and taking a much needed break from writing a daily blog at 6:30am each morning.
The next blog will be published on April 3 from chilly Maine.
Don't be bashful....you can still order coins via email and I will acknowledge those orders during my over night stop in Virginia or when arriving back home in Maine.
I don't know if I am mentally prepared for the snow piles and snow banks this coming Thursday but well cherish the three months in Florida.
Thank you all, and see you on Friday.
Gerry