1875-CC
CC In Wreath
Variety 107b
Obverse 6.2a: Filled Die at Liberty's Head, Late Die State, Medium Level Date
Reverse C.2: Small CC, [mm Rt,L], Cracked Reverse
Collar: 113 Reeds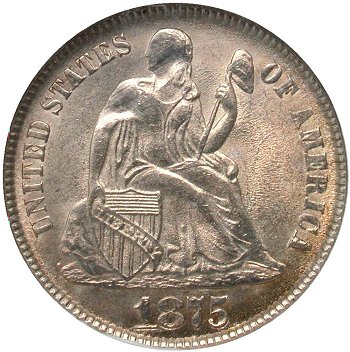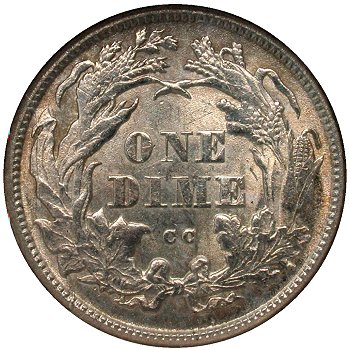 Obverse 6.2a Reverse C.2
Obverse Diagnostic Point(s) Reverse Diagnostic Point(s)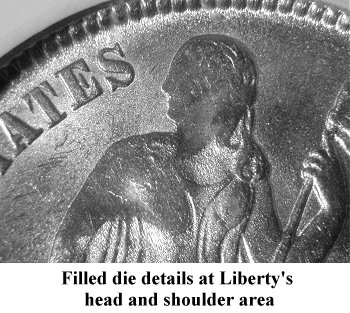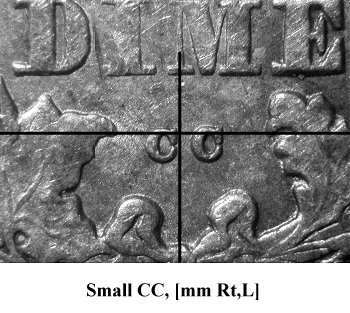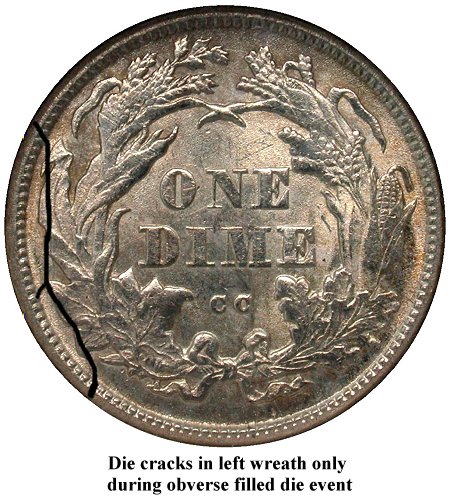 Comments: During the Obverse 6.2 die state, two examples with filled dies surfaced during the 2012 - 2013 timeframe. Liberty's head and shoulder are effaced to different degrees on the two examples illustrated here. The Chris Majtyka VF and Fortin MS specimens both show the loss of shoulder and facial details. However, a close examination of Liberty's face on both dimes indicates slightly different filled areas with the MS coin having a deeper indentation at Liberty's throat into ear region. The VF specimen exhibits more of a left facing semi circle filled die that completely eliminates Liberty's face. Also note from the above macro image, the lack of mint frost in the filled die areas as compared to the right breast and fields.
Reverse C is in a slightly earlier die state on the filled die specimens with only the die cracks in the left wreath being visible.
The filled die variety is labeled as F-107b for convenience. As a result, the terminal reverse die state with cud at 8:30-9:30 is renamed to F-107c. The C.2 designation is maintained for Reverse C die states with varying amounts of die cracks until the terminal die state with left wreath cud. The terminal die state is labeled as C.3.
Special Filled Die Submission by Chris Majtyka
March 2013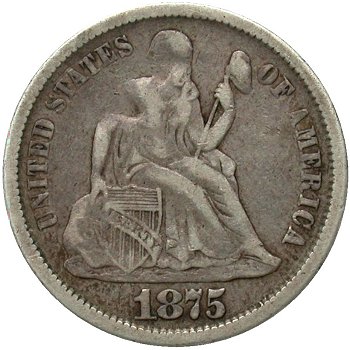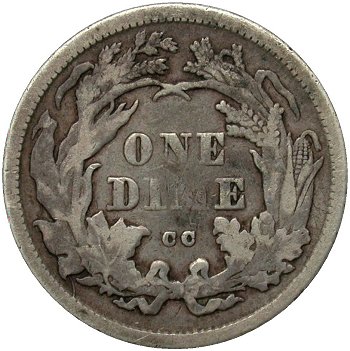 During ongoing online and email discussions with Chris Majtyka, the subject of filled dies was touched upon after the author posted 1840-O F-104a filled die dime from Angelo Macero III during February 2013. Chris offered two filled die dimes for the web-book; 1862 F-106 and 1875-CC IW F-107a. Illustrated above is an F-107a dime with portions of Liberty's face and left shoulder completely eliminated by a filled die. Filled die occurences on Liberty Seated dimes are quite rare.
Plate Coin: G. Fortin Collection, NGC MS61