1875-CC
CC In Wreath
Variety 104
Obverse 3.2: Late Die State, High Date, Downward Slope
Reverse B: Small CC, [mm Rt,C]
Collar: 113 Reeds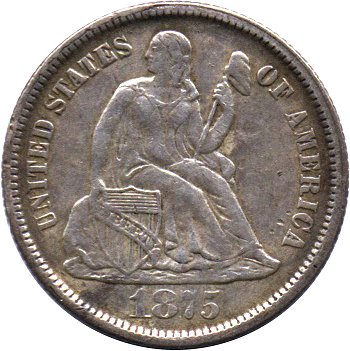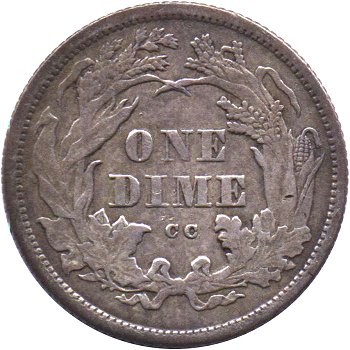 Obverse 3.2 Reverse B
Obverse Diagnostic Point(s) Reverse Diagnostic Point(s)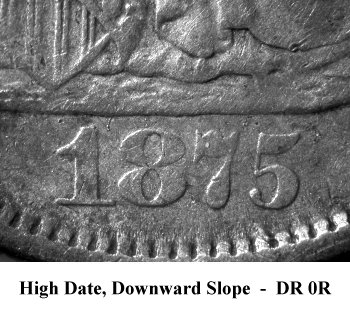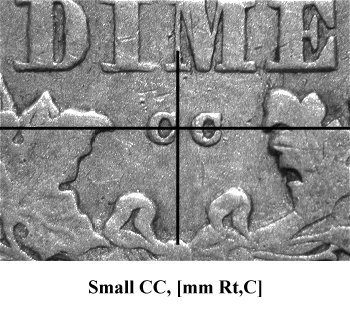 Comments: Obverse 3, while in a later die state, is paired with a second reverse die, Reverse B. The late die state diagnostics for Obverse 3 are erosion of the denticles throughout the obverse. There are faint die cracks connecting the bottom of the 187 date digits; otherwise there are no other die cracks on this late die state obverse die. The large block die defect on Liberty's mid section is still visible on high grade examples.
Reverse B can be diagnosed by a Small CC mintmark that is centered in the vertical direction and positioned right in the horizontal direction with little space between the individual CC die punches.
Previous/Subsequent Die Pairings - In Wreath Obverse 3
IW Obverse 3 will be subsequently paired with BW Reverse E. Within the Below Wreath chapter, this die is designated as BW Obverse 6 and continues progressive die cracking below the date until a terminate die state cud appears. Please see BW Varieties 107 and 107a for illustrations of obverse die through its terminal die state.
Previous/Subsequent Die Pairings - In Wreath Reverse B
This is the first known die pairing for Reverse B. A second die pairing will occur with IW Obverse 5 during which the die develops die cracks throughout the wreath and a large rim cud between 6:00 - 7:00. Please check IW Varieties 106a and 106b for later die state illustrations.
Plate Coin: G. Fortin Collection, EF45