1875-CC
CC In Wreath
Variety 110a
Obverse 7: Cracked Obverse, High Date, Downward Slope
Reverse F.2: Die Cud 3:30 - 5:00, Small CC, [mm Lt,L]
Collar: 113 Reeds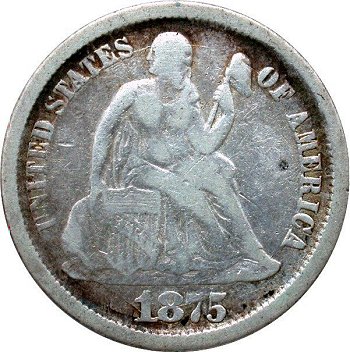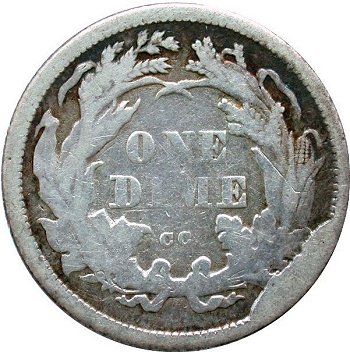 Obverse 7 Reverse F.2
Comments: The Reverse F die has degraded and shattered. A large die cud has formed between 3:30 and 5:00. Obverse 7 continues to show radial die cracks.
Previous/Subsequent Die Pairings - In Wreath Obverse 7
Obverse 7 was initially employed to strike 1875-CC Below Wreath dimes. During its earlier die state, IW Obverse 7 was paired with BW Reverse A and exhibits the beginning of the radial die cracks but more subtle in nature. During the Below Wreath die pairing, I have label the obverse as BW Obverse 2. After the Below Wreath die marriage, IW Obverse 7 is paired with IW Reverse E and Reverse F. When paired with these In Wreath reverse dies, IW Obverse 7 becomes extensively cracked. I have seen more examples with the IW Reverse F pairing than IW Reverse E. Finally, Obverse 7 is paired with In Wreath Reverse D and is assumed to be in a terminal die state.
Previous/Subsequent Die Pairings - In Wreath Reverse F
Variety 110 and 110a (with reverse cud) is the only known die pairing for Reverse F at this time.
Plate Coin: G. Fortin Collection, VG8