1875-CC
CC In Wreath
Variety 115
Obverse 11: Cracked Die, Medium Date, Slight Downward Slope
Reverse J: Shattered Die, Small CC, [mm Lt,L]
Collar: 113 Reeds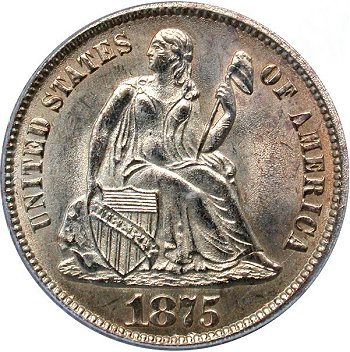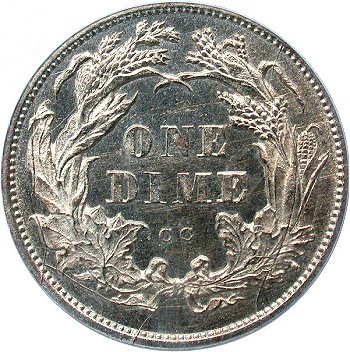 Obverse 11 Reverse J
Obverse Diagnostic Point(s) Reverse Diagnostic Point(s)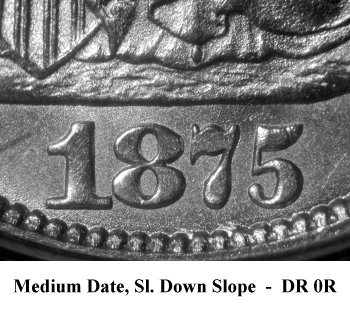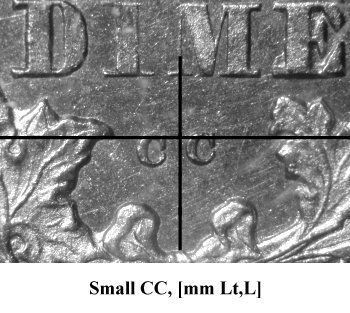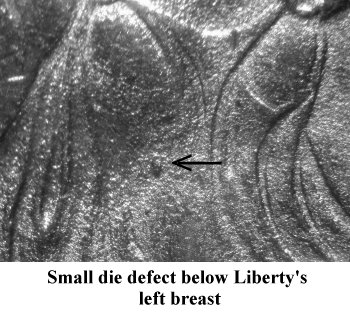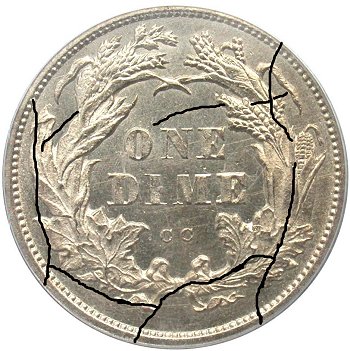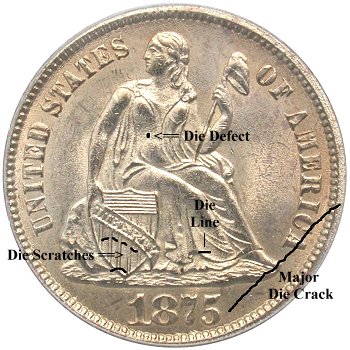 Comments: Variety 115 features another spectacular shattered In Wreath reverse die. Obverse 11 and Reverse J are paired during their near terminal die states. Obverse 11 can be diagnosed by several visible markers; the most important is the die defect below the left breast followed by die scratches in the lower shield. Both diagnostics should be visible on dimes grading down to VF. Obverse 11 also exhibits a large die crack starting to the right of 5 digit and proceeding diagonally upward through the foot, across AMERI(CA) and into the rim.
Previous/Subsequent Die Pairings - In Wreath Obverse 11
IW Obverse 11 is a later die state of BW Obverse 5. Early definition of the die crack is visible on BW Varieties 106a and 106b. Therefore the majority of dimes struck with this obverse die will be seen with a Below Wreath reverse.
Previous/Subsequent Die Pairings - In Wreath Reverse J
Presently, this is the only known die pairing with Reverse J.
Special Note
Reverse J is in a terminal die state with severe die cracks through the wreath. The plate coin exhibits a prooflike reverse with several die striations. Also note the center weakness at D(IM)E as a potential diagnostic. The identification of Reverse J without die cracks is difficult due to mint mark position that is almost identical to Reverse A. Please see a comparison below and check the position of the left C mint mark against the vertical cross hair for both Reverse A and J.
In Wreath Reverse A In Wreath Reverse J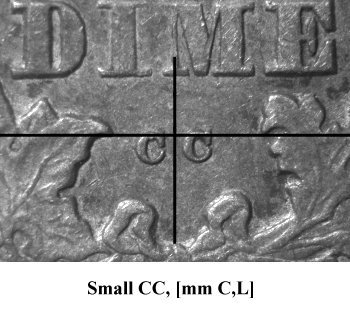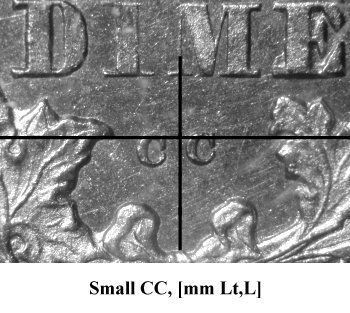 Plate Coin: G. Fortin Collection, PCGS MS63 CAC Green