1875-CC
CC In Wreath
Variety 119
Obverse 7.2: Terminal Die State, Shelf Metal at Date
Reverse D: Small CC, [mm Rt,L], Soft Die Scratches At 10:00
Collar: 113 Reeds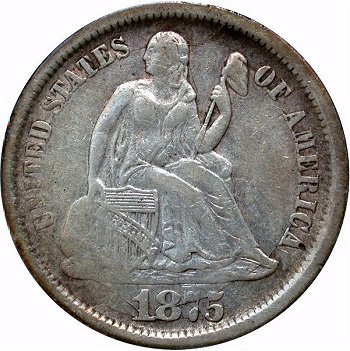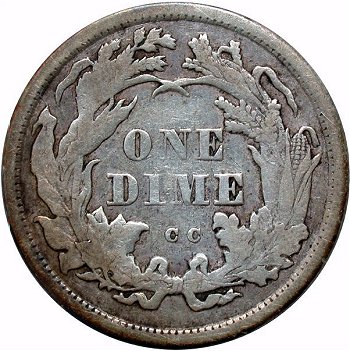 Obverse 7.2 Reverse D
Obverse Diagnostic Point(s) Reverse Diagnostic Point(s)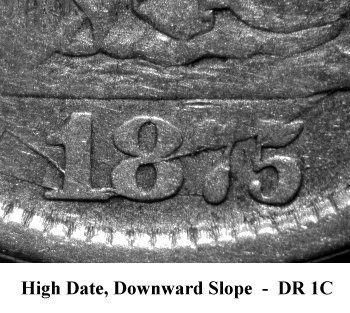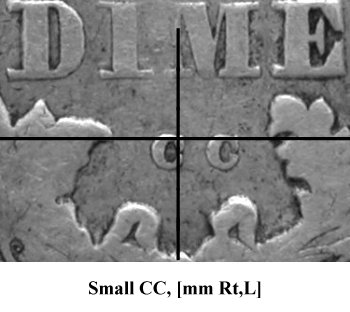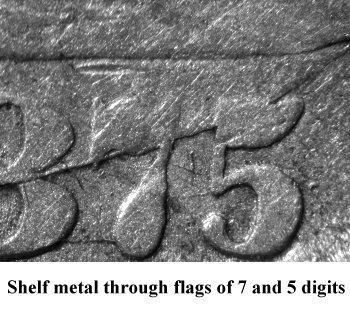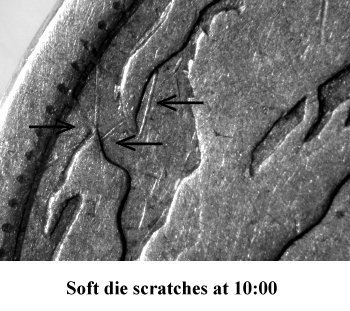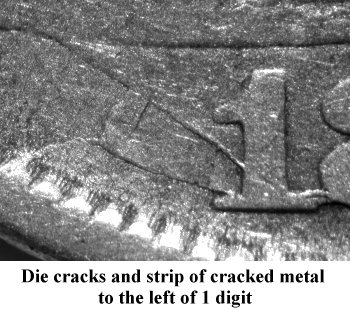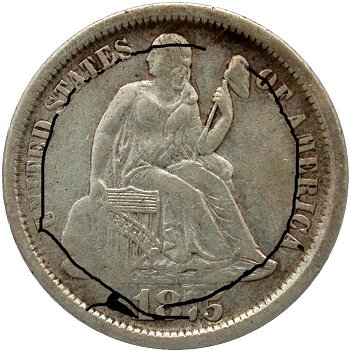 Comments: Obverse 7 is at or approaching terminal die state and is paired with an early die state In Wreath Reverse D.
The Obverse 7 die cracks are more severe with raised shelf metal through the flags of the 7 and 5 digits. The die is also shattering to the left of the 1 digit with what appears to be a strip of raised metal.
Reverse D is in an early die state without die cracks. The die features a CC mintmark that is positioned low and far right. The distance or spacing between the two C's is considerable, but not as large as that of Reverse H commonly known as the "Wide CC Mintmark" variety. There are several soft die scratches in the upper left wreath at approximately 10:00.
This die pairing and Obverse 7 terminal die state is initially listed as R6.
Previous/Subsequent Die Pairings - In Wreath Obverse 7
Obverse 7 was initially employed to strike 1875-CC Below Wreath dimes. During its earlier die state, IW Obverse 7 was paired with BW Reverse A and exhibits the beginning of the radial die cracks but more subtle in nature. During the Below Wreath die pairing, I have label the obverse as BW Obverse 2. After the Below Wreath die marriage, IW Obverse 7 is paired with IW Reverse E and Reverse F. When paired with these In Wreath reverse dies, IW Obverse 7 becomes extensively cracked. I have seen more examples with the IW Reverse F pairing than IW Reverse E. Finally, Obverse 7 is paired with In Wreath Reverse D and is assumed to be in a terminal die state.
Previous/Subsequent Die Pairings - In Wreath Reverse D
This is the first known die pairing for Reverse D. After being paired with terminal die state Obverse 7, Reverse D is paired with In Wreath Obverse 6. Based on observations, the Obverse 6 and Reverse D die pairing struck a substantial amount of Carson City coinage. During the production of that coinage, Reverse D develops multiple die cracks. No other die pairings for Reverse D are currently known.
Plate Coin: G. Fortin Collection, EF40