1875-CC
CC In Wreath
Variety 107
Obverse 6: Medium Level Date
Reverse C: Small CC, [mm Rt,L], No Die Cracks
Collar: 113 Reeds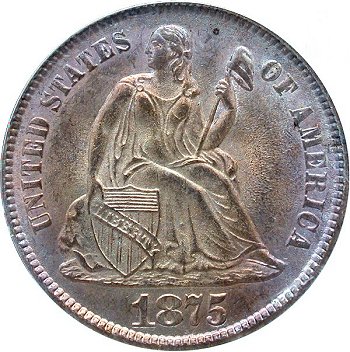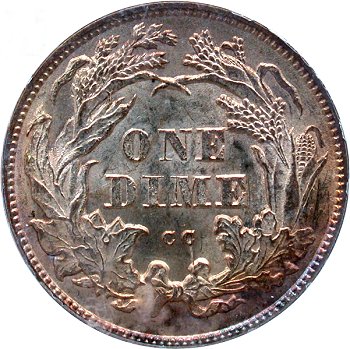 Obverse 6 Reverse C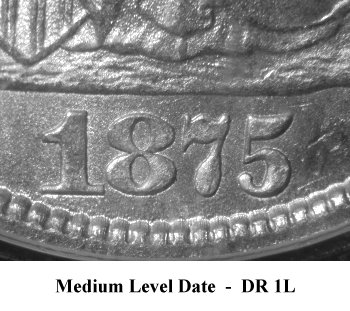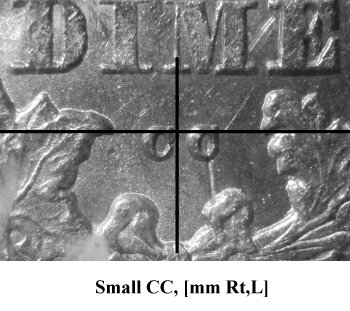 Comments: Obverse 6 features a medium level date with bold date digits and already exhibits metal flow to the right of Liberty due to previous usage.
The CC mintmarks on Reverse C are level and close. Reverse C initially shows no detectable die cracks during the Variety 107 listing. This die pairing will strike a significant number of dimes with Reverse C being utilized until it is fully cracked. See Varieties 107a, 107b and 107c for illustrations of the the ongoing degradation of the reverse die. Variety 107, with Reverse C in an early die state and exhibiting no die cracks, is considerably scarcer than its later cracked die reverse counterparts. Variety 107b is a filled obverse die event while Reverse C is cracked only in the left wreath.
Previous/Subsequent Die Pairings - In Wreath Obverse 6
While in an early die state, Obverse 6 was initially paired with BW Reverse B. During that pairing, the obverse die is labeled as BW Obverse 1. After the pairing with Reverse C, Obverse 6 will continued to be used and paired with another In Wreath reverse die (Variety 108 - Reverse D) for additional strikings.
Previous/Subsequent Die Pairings - In Wreath Reverse C
Reverse C is only known to be paired with Obverse 6 at this time.
Plate Coin: G. Fortin Collection, PCGS MS63 CAC