1875-CC
CC Below Wreath
Variety 111
Obverse 1: Medium Level Date
Reverse B: Small CC, [mm C,L,TL2], Vertical Die Lines Right DIM(E)
Collar: 113 Reeds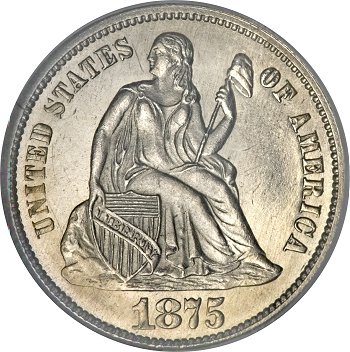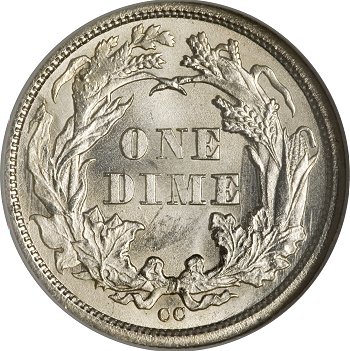 Obverse 1 Reverse B
Obverse Diagnostic Point(s) Reverse Diagnostic Point(s)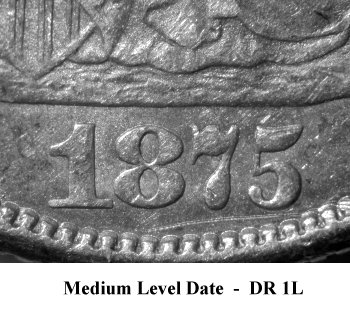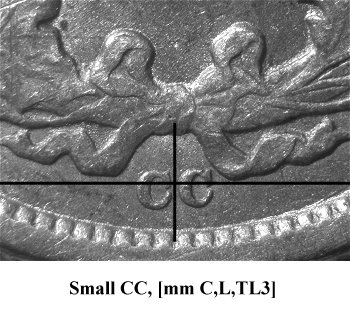 Comments: Variety 111 is a pairing of two dies in early dies states. Obverse 1 is in the first known die state with no evidence of metal flows lines or denticle erosion. During its earliest die state, Reverse B exhibits multiple diagnostic points. The most obvious is a large group of vertical die lines between DIM(E) and the right wreath. There is also an obvious die scratch below the right ribbon end.
Previous/Subsequent Die Pairings - Below Wreath Obverse 1
Subsequently, Obverse 1 is paired with another Below Wreath reverse die (BW Reverse A), then two In Wreath reverse die (IW Reverse C and IW Reverse D) and will show significant die erosion and heavy metal flow lines. While paired with In Wreath reverse dies, the obverse die is labeled as IW Obverse 6.
Previous/Subsequent Die Pairings - Below Wreath Reverse B
After being paired with BW Obverse 1, Reverse B then strikes coinage with BW Obverse 4 (BW Variety 105) with the characteristic vertical die lines still visible during this die pairing. These die lines will disappear during the last die marriage with BW Obverse 3.
Special Note
One must carefully examine the mintmark position and tilt in order to separate examples of BW Variety 105 (earlier die state Reverse B) from BW Variety 104 (Reverse C). On BW Reverse B, the vertical die lines are on the right side of the die while for BW Reverse C, the vertical die lines are on the left side of the die. Please see mintmark position and vertical die lines illustrations below.
Below Wreath Reverse B Below Wreath Reverse C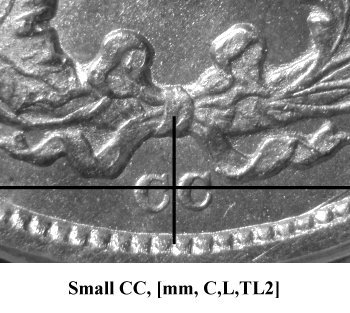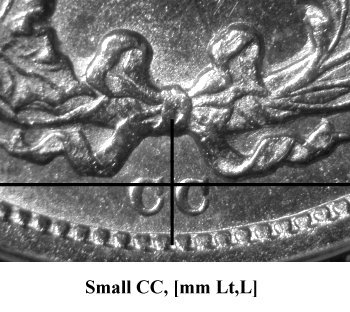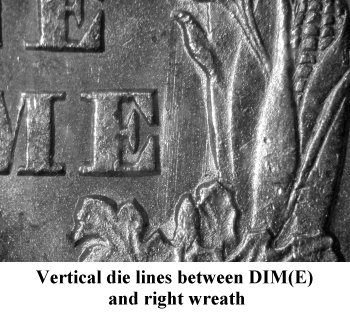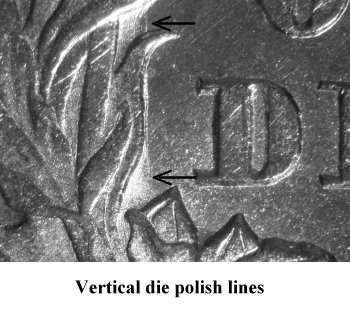 Plate Coin: Courtesy Heritage Auction Archives, NGC MS65