1875-CC
CC Below Wreath
Variety 108a
Obverse 7: High Date, Slight Downward Slope
Reverse E.2: Rim Cud 5:30 - 7:00, Small CC, [mm Lt,L,TL2], Die Cracks In Wreath
Collar: 113 Reeds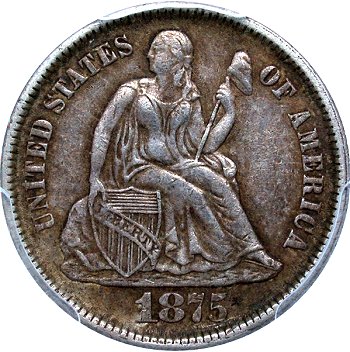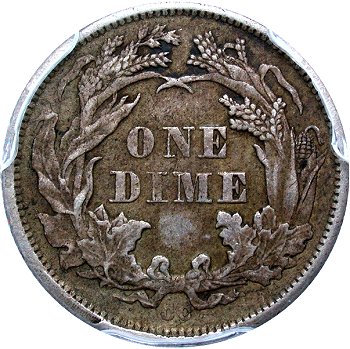 Obverse 7 Reverse E.2
Obverse Diagnostic Point(s) Reverse Diagnostic Point(s)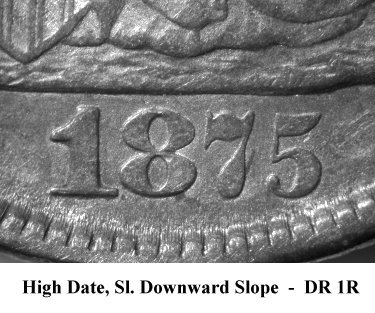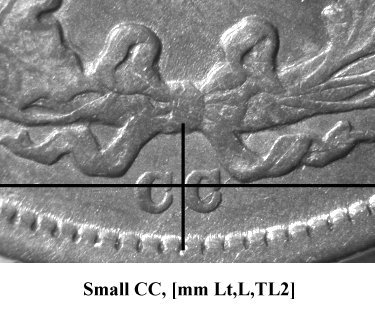 Comments: Variety 108a designates Obverse 7 as having additional die wear with increased metal flow lines in the denticles. However, no die cracks are visible at this stage.
Reverse E is in a later die state with an increased presence of die cracks highlighted for Variety 108 including an extended die crack into the right corn ear. A significant rim cud is visible on the lower reverse between 5:30 to 7:00.
Currently, the plate coin is the latest known die state for Reverse E. The above plate coin appeared on eBay during January 2013. Below is another Variety 108a example graded AU50 by PCGS. Note the reverse rim cud is directly below the left ribbon bow and is a subset of the rim cud shown on the plate coin. I've editted the reverse image to shade portions of the PCGS holder prong to best illustrate the rim cud's position.
PCGS AU50 - Reverse E Rim Cud between 6:00 - 6:30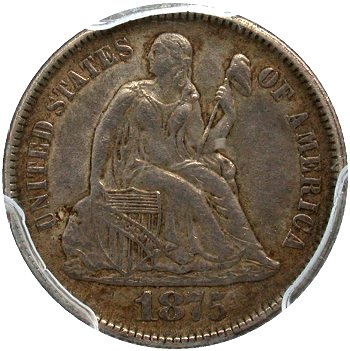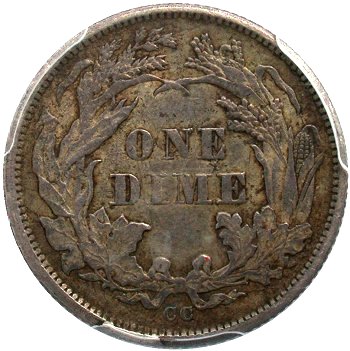 Previous/Subsequent Die Pairings - Below Wreath Obverse 7
During earlier die states, BW Obverse 7 was paired with an In Wreath reverse die (IW Variety 105) and is previously designated as IW Obverse 4. BW Obverse 7 will be paired with two additional Below Wreath reverse dies; see BW Varieties 109 and 110.
Previous/Subsequent Die Pairings - Below Wreath Reverse E
This listing of Reverse E is the only known die pairing so far. However, the die cracks on the plate coins for Variety 108 and 108a suggest the possibility of earlier usage and another unknown die pairing.
Plate Coin: G. Fortin Collection, PCGS AU50 (above top)