1875-CC
CC Below Wreath
Variety 107a
Obverse 6.2: Retained Die Cud, High Level Date
Reverse D.2: Cracked Die, Small CC, [mm Lt,L,TL3]
Collar: 113 Reeds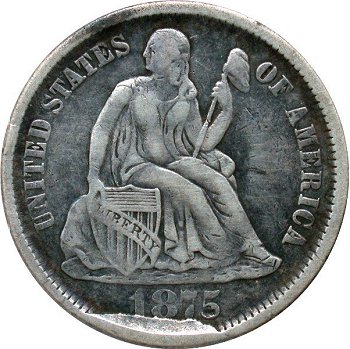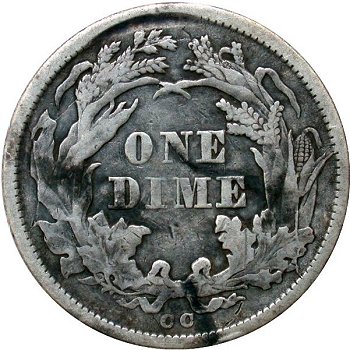 Obverse 6.2 Reverse D.2
Obverse Diagnostic Point(s) Reverse Diagnostic Point(s)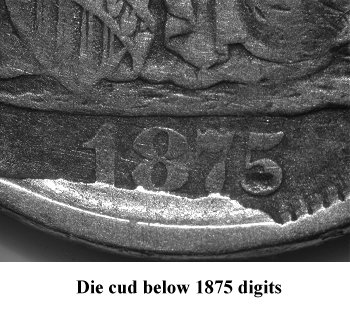 Comments: Previously, Variety 107 exhibited a die crack that began from the rim to the left of the date and proceded through the bottom of the 187 digits. The date is weakly punched into the obverse die. Variety 107a is the terminal die state for Obverse 6. The obverse die is shattered below the 187 digits with a piece of the die steel having completely broken off the die. A significant die cud extends below the die crack discussed for Variety 107. On the plate coin, a reverse depression results from the position of the obverse die cud and lack of striking pressure from the obverse die.
The reverse die cracks on the plate coin are consistent with Variety 107 Reverse D descriptions. It appears that only the obverse die suffered incremental metal fatigue.
The first known listing of Variety 107a occurred during the May 2005 Heritage St Louis Bullet Sale. This variety was subsequently published by Tim Cook in the #93 issue of the Gobrecht Journal. The example offered in the May 2005 Heritage sale was the same dime published in the Gobrecht Journal. Two years later, the author was fortunate to locate a higher grade Variety 107a example through the help of Benjamin Kock. Ben was kind enough to offer the plate coin for my purchase.
Plate Coin: G. Fortin Collection, VF20 Cleaned