1875-CC
CC Below Wreath
Variety 109
Obverse 7.2: Late Die State, High Date, Slight Downward Slope
Reverse F: Small CC, [mm Lt,L], Rim Cud at 12:00, Die Erosion
Collar: 113 Reeds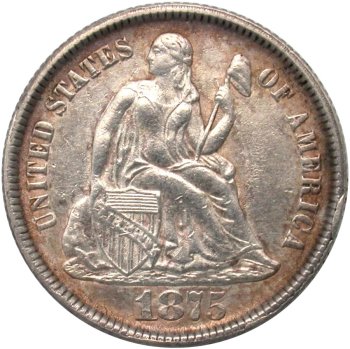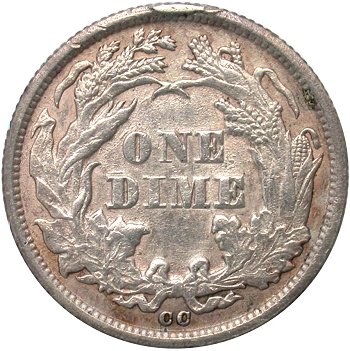 Obverse 7.2 Reverse F
Obverse Diagnostic Point(s) Reverse Diagnostic Point(s)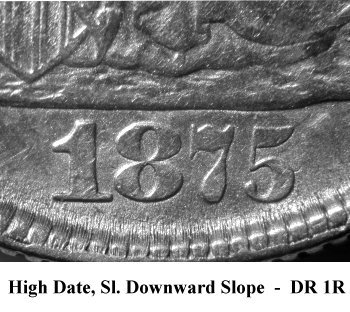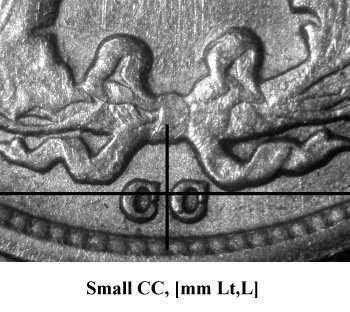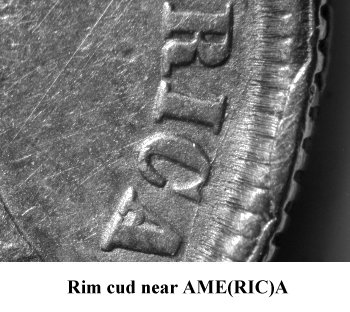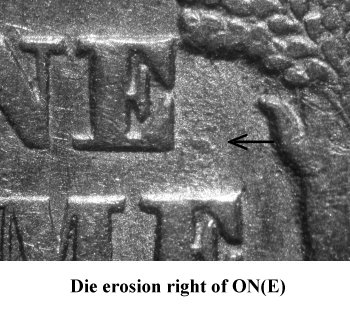 Comments: During the Variety 109 die pairing of Obverse 7 and Reverse F, the obverse die continues to degrade with severe erosion of the denticles being most evident. Obverse 7 exhibits a die crack from the top of UNITE(D), through the middle of (ST)ATES and across the bottom of ST(ATES). For Varieties 109 and 110, Obverse 7 is in the same die state on both plate coins and it is difficult to determine which obverse/reverse die pairing occured first. I've selected the Obverse 7 and Reverse F pairing as being struck first based on die crack strength.
Previous/Subsequent Die Pairings - Below Wreath Obverse 7
During earlier die states, BW Obverse 7 was paired with an In Wreath reverse die (IW Variety 105) and is previously designated as IW Obverse 4. BW Obverse 7 was previously paired with BW Reverse E (BW Variety 108) and will be paired with BW Reverse G (BW Variety 110).
Previous/Subsequent Die Pairings - Below Wreath Reverse F
Reverse F is the second Below Wreath reverse die to be paired with BW Obverse 7. The Reverse F die is quite eroded at this point suggesting a prior die pairing(s). There is an obvious rim cud at 12:00 and the (O)NE and (DIME) are doubled north.
Special Note
Attributing Reverse F vs. G is a difficult task as the mintmark positions are quite similar. From the Variety 109 and 110 plate coins, there are sufficient diagnostics to separate the two reverse dies. Let's start with the mintmark position comparison and note that the right C on Reverse G is higher than left C while on Reverse F, the two C punches are level. Reverse F also exhibits a die scratch below the lower left wreath at 7:00 and the (D)IME is obviously doubled above the D.
Below Wreath Reverse F Below Wreath Reverse G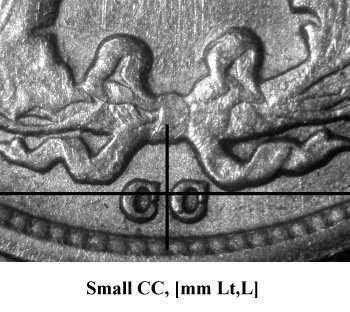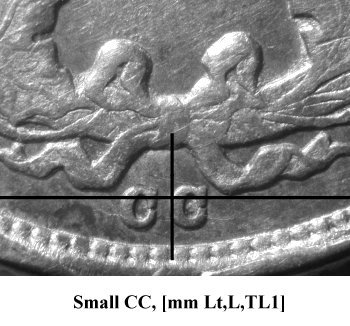 Specific Diagnostics for Reverse F Only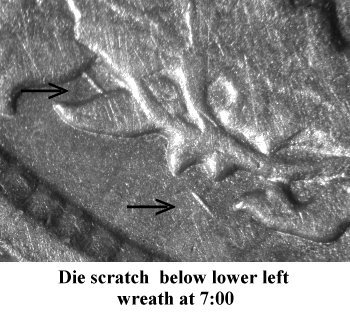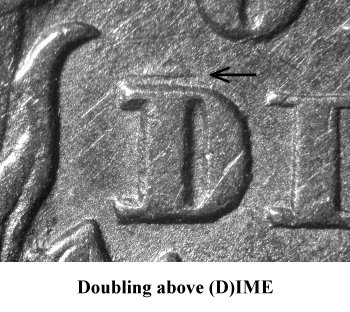 Plate Coin: G. Fortin Collection, AU50